No exaggeration — our house is made up of Costco fanatics. To us, Costco isn't just a place to buy some typical household items in bulk — it's the first option and if Costco has it, that's typically where we prefer to purchase it. Their customer service is fantastic and their return policy can't be beat. They stand behind everything they offer, take pride in their stores, and their negotiated prices are lower than most anywhere else. While we don't take advantage of everything, even when were were a family of two, we weren't deterred when it came to stocking up. We are conscious of the size/quantity of certain items, since we are a smaller family and don't want to waste (plus, that wouldn't actually be considered "savings" 😉 ), when we are making our selections. I can't say enough about the value and the quality and while I was just impressed by the savings from national brands when we were "newbies", over time, we've converted to "Kirkland" — Costco's house brand — in most everything. Kirkland brand everything has impressed us, from paper towels to organic food items and most items are made at/are re-branded premium brands (you can find that info in small print on a lot of the items). All that said, similar to the reaction when I share Trader Joe's finds (you can find those must-haves HERE), I always get questions about our Costco shopping list and favorite finds. And that's just what today's post is dedicated to 😉
*Posts on KelleyNan.com may contain affiliate links. Click HERE for full disclosure.
Costco Shopping Tips
Below are some tips if you're new or still unsure about how to tackle Costco. It can definitely be overwhelming — I remember when we got my dad a membership and in the first year, he still didn't know what kind of items would make "sense" value-wise… I think he may have only purchased a package of toilet paper the entire year.
Make a Costco shopping list based on the sales booklet that is sent monthly. We typically go weekly or at least every other week; in planning our Costco shopping list, we always run through the monthly specials and make note of the items on sale. (Getting that monthly sale catalog in the mail is like my adult version of the Sears Wishbook, haha).
Purchase when it's on sale, not necessarily when you run out. Now, this one can be a little tricky because it does require a little foresight and you don't want to waste or purchase so much of a single item that it will take years to go through. However, most snacks, personal items and household items go on sale every few months. Once you become familiar with the sale booklet, you get more familiar with patterns and can better anticipate what should be going on sale in the next few months. If we don't need something for several months, we won't purchase it just to have excess but typically, we try to only purchase our regular items when they are on sale. That means items like vitamins, q-tips, body soap, snack packs, etc.
If you see it, buy it. As a note, items sometimes come and then go, either with the season or sometimes forever, so if you love an item when you first see it, go for it! It's my understanding that big brands that negotiate wholesale deals with Costco can require a lengthy process internally and sometimes, there are crazy surprises on the shelves — from designer personal tools to high end housewares. But, you can't always count on those items returning as sometimes, they're a one-off.
Be realistic with what your household will use. If you won't go through a huge container of grapes, don't buy them. Even if something seems like a good deal, it's only a good deal if you actually use it. We cook most every night, so items like large containers of seasonings and condiments work well for our house. But, if you aren't a cook-at-home-every-night type of family, you may skip some of the larger quantities of typical grocery staples.
Keep the same route. If you're consistent in your path through the store, you won't miss anything and you'll familiarize yourself with what your store carries.
Watch for end-cap specials. There are lots of in-store specials that may not be advertised in the sale booklets. Keep an eye out for discount signage, especially on the end-caps displays.
If an item ends in ".97," that's the lowest the price will go. It also typically represents a deep "clearance" discount. Again, the item may never be available in the future or at least during the same season.
If there is an * in the upper right corner of the pricing sign, it typically means the item won't be reordered again and the price may be on clearance.
Go online to check reviews. If you aren't sure about an item — from diapers to laundry detergent (especially Kirkland brand items) — the online reviews provide a wealth of personal experience from customers.
Shop in store when you can. Some items are only available online but typically, items that are in store are less expensive than how they appear online. It can be a few dollars difference to hundreds of dollars — especially when it comes to larger pieces like patio furniture.
Check the middle of the store for seasonal items. Even if you typically stick to the outer aisles, venture on the inside for fun seasonal items and surprises.
The Executive Level Membership is worth it. While the Executive Membership ($120/year) costs more initially than the standard membership ($60 that just grants you the ability to shop in the store), you will get 2% back on all purchases via reward certificate, annually. *Plus, if you don't make up the difference in cost between the Gold and Executive levels, you will be reimbursed the difference between the two levels. *This is something I haven't verified recently but was in place when we initially signed up years ago. There are tons of other service-related perks with the Executive level, too.
A trunk organizer is a good idea. There are no bags and you may be lucky to get a spare box; it's a good idea to have a trunk organizer, ready to go, to store all of those smaller items. I love THIS folding trunk organizer.
Try to go during off-peak hours. You've heard about the hysteria and massive crowds at Costco on Saturdays — it's all real and you may have experienced it yourself. If you can get to the store on a weekday — especially a weekday morning — it is so much less overwhelming and so much more enjoyable!
Costco Shopping List
Like I mentioned, if it's something we need, I want to get it from Costco. While a lot of our Costco shopping list items and favorites are generic, there are also a lot of hidden gems. Here's a list of Costco must haves that we have accumulated over time.
Costco Shopping List for… Produce
This is an area where our purchases are limited, due to the size/quantity. But we still have some must haves here!
Salad Kits — great as a quick side, especially when you are having guests for dinner. The avocado ranch is our favorite — it's a little different than the smaller grocery store version and is delish!
Onions — onions last so we keep the bag in the downstairs fridge
Green Beans
Veggie Tray — not just for parties, you can grab a $10 veggie platter and use it across your dinners, healthy snacks, etc.
Spinach — while we don't buy a ton of produce because of the amount — and I'm not sure we'd eat it all before it spoiled — I love getting containers of spinach at Costco. It wilts down to nothing when it's cooked, is great for salads and sandwiches, is my go-to when I'm going through smoothie phases, and I swear — the Costco spinach lasts longer than anywhere else!
When entertaining, we do find great fruit and veggies here for trays, boards and skewers!
Romaine Hearts — we love to get these, split the six hearts with my mom, and chop them up all at once. THIS salad spinner that I always rave about helps keep these fresh for way longer than you would expect lettuce to last!
Costco Shopping List for the… Meat Department
Boneless/Skinless Chicken Breasts — one of our favorite must haves, for sure! You can find two fav KN chicken recipes here: Pressure Cooker Cheesy Chicken & Brown Rice | Homemade Chicken Tenders (one pack of chicken will yield TONS of tenders for meals all week, from individual dipping fingers to wraps and salads)
Seafood — while I'm not a big seafood fan, Dave gets his king crab legs and scallops during their Seafood Road Shows
Beef Specials — we scored a beef tenderloin this past year for an amazing price — after Dave cut it into individual filets, we had the most tender, delicious steak for months (the cost ended up being somewhere around $2/steak cut)!
Chicken Pot Pie — pre-made and ready for the oven, this prepared meal is delicious!
Chicken Wings — these come in individual packs of 10 and are what Dave uses when he smokes wings on the BGE!
Cocktail Shrimp — again, not just for parties, we get these for meals for our family, too. They are bigger than typical prepared grocery store shrimp and are peeled and de-veined, My mom and I shared a container for lunch several days this past week. I shared their shrimp during a recent board post HERE.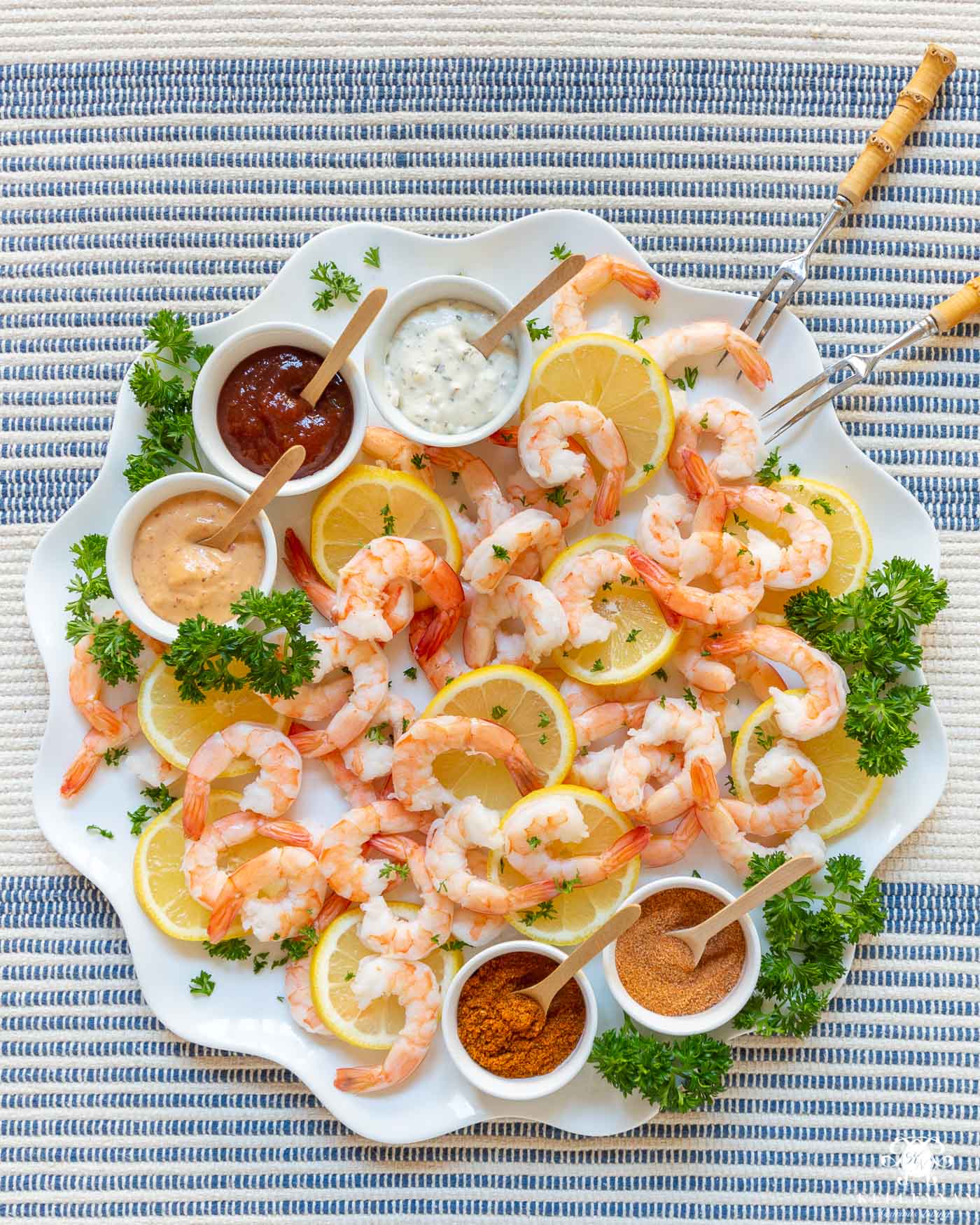 Costco Shopping List for the… Refrigerator Department
Low Country/Palmetto Pimento Cheese — I don't know why this stuff is better than any other pimento cheese, but it is! The jalapeño one is my fav 😉
La Terra Fina Spinach Artichoke Dip — just do it. Hot or cold, just do it.
Stonefire Naan Dippers — perfect for any of the above dips! I keep them fresh in the freezer and just zap them for a few seconds in the microwave.
Salsa — I love both the Kirkland Organic Salsa & Organic Jack's Cantina Style Salsa
Individual Guacamole Cups — great for individual portions, snacks and lunches. While it doesn't beat homemade, it's pretty dang good. You can find my guacamole recipe HERE — if you haven't tried it, add it to your to-do list!
Annie's Cinnamon Rolls — a recent find that's unbelievably delicious and so much less expensive than in the grocery store
Fresh Chicken Salad — I can't tell you how many showers I've used this for, as a menu shortcut. You can see two showers I hosted here: Noah's Ark (Twin) Baby Shower | (Indoor) Garden Party Bridal Shower
Bacon — the good, thick stuff if you like the meaty, less fatty strips
Bags of Kirkland Shredded Cheese — this is one of those things that all families may not go through — it's two huge bags of cheese. But, we manage to get through it every time haha.
Costco Shopping List for the… Frozen Foods
Kirkland Farmed Tilapia Loins — these are packaged individually in vacuum-sealed packs and are easy to grab as singles. You can see one of my fav tilapia dishes HERE
Royal Asia Vegetable Spring Rolls w/ Edamame — these are our favorite!
Kirkland Frozen Berries — great deals, especially if you are into smoothies!
Costco Shopping List for… Canned Goods/ Dry Goods /Bakery
Chicken Broth — we go through chicken broth like it's going out of business; they rotate between having cartons and cans and we purchase it in every way it's available
Rotel — we use this in a lot of our casseroles, soups and meals so it makes sense for us!
Canned Mushrooms — we keep just a few canned veggies in bulk to have on hand
Canned Green Beans — we keep just a few canned veggies in bulk to have on hand
Canned Corn — we keep just a few canned veggies in bulk to have on hand
Organic Strawberry Spread — if you don't use jelly/jam often, this is can be a hard one to get through. But, if you are a regular jam user, this spread is amazing.
Dave's Killer Bread — great price and we keep the loaves in the freezer.
Sheet Cake — the best ever!
Spices — Garlic Salt, Lemon Pepper, Cayenne Pepper, Cinnamon
Kirkland Organic Fruit & Vegetable Pouches — comes in a box with two flavors and Eliza loves them. Great value for these and an easy way to sneak in some quick vitamins.
Kirkland Organic Extra Virgin Olive Oil — We cook a lot so we move through this stuff pretty quickly. I'm not an olive oil connoisseur but the pros say its the good stuff!
Coffee K-Cups — we always watch for the months they're an additional $$ off (this month, they are $7 off and you can grab a case of 120 of the Kirkland brand for $29 at our local store. Of course, if you prefer other coffees, they go on sale also and are such a better value than at a grocery store. My k-cup organizer fits in the cabinet and each drawer pulls out and drops down with a brilliant design. I shared this on Instagram stories and had so many messages and requests for a link; you can find it HERE.
Costco Shopping List for… Snacks
Skinny Pop Popcorn — my go-to snack, they usually have either the big bags or the boxes of individual bags on sale
Kirkland brand popcorn bags — so buttery and so good! If you do a lot of movie nights with your fam, definitely try this!
Tortilla Chips — even though the bags of chips are large, they are such a good value and somehow, they don't have as much air as the typical grocery store bags. You get so much more in the actual bags than what you typically do in smaller bags!
Individual Snack Bags of Chips
Diamond Smokehouse Almonds for Dave — these go on sale often, when they have them
Kirkland Signature Trail-mix
That's It Mini Fruit Bars — dried fruit without extra sugar, in bar form — Eliza loves these!
Costco Shopping List for the… Pets
Pet Bed — inexpensive and the best we've ever had and the first to never get ripped open
Pet Treats
Kirkland Super Premium Dog Food (lamb, rice & vegetable formula) — our late girl, Penny, had such a sensitive stomach, we spent so much time trying to find a brand that didn't upset her tummy. We went through all the premium petstore brands and ultimately tried this food. It was the one and only winner — our other two pups still use this.
Costco Shopping List for… Household Supplies
Toilet Paper and Paper Towels — obviously and we prefer the Kirkland brand!
Trash Bags — it took us a while to try the Kirkland brand but after we were sold on everything else "Kirkland", we went for it in the trash bags and became total converts
Ziploc Bags — it's great when they have a special on the variety pack of different sizes!
Downy Laundry Scent Beads — I am new(ish) to using these but love them (See my laundry room reveal post HERE)
Laundry Detergent/Pods — we get both Kirkland and Tide brand, depending on what's on sale but I love the Kirkland free and clear laundry detergent (See my laundry room reveal post HERE)
Clorox Wipes
Kirkland Dishwasher Tablets — depending what's on sale, we also get the "Finish" tablets (see how I store them HERE)
Party Supplies — plastic/paper plates & nice cutlery
Jugs of White Vinegar — what I use in the laundry room 
Dryer Sheets — using THIS as a dryer sheet dispenser cleaned up my laundry room in a major way — along with looking nice, it provides one sheet every time.
Vanity Fair Everyday Napkins — wait for a discount month!
Thin Velvet Hangers — if you haven't converted your closets yet, this is a game changer. These also go on sale from time to time and are the best place to score these. If you've been here a while, you know how I feel about the hangers 😉 (See my laundry room reveal post HERE)
Fire Extinguishers — random, yes, but something everyone should have. These come in packs of a large and small and are often $10 off
Newport + Home Essential Oil Hand Soap — in the amber bottles, I love when they have these packs of four! 
Batteries — THIS battery organizer holds the most I've found, while still working as it should!
Costco Shopping List for… Personal Care Items
Vital Proteins Collagen — definitely the biggest quantity and best price if you use Vital Proteins — they just had a nice discount on tubs last month
Kirkland Diapers — the best! (see how I organize them and Eliza's dresser HERE)
Kirkland Wipes — there's a reason these have a cult following. We also use THIS wipe dispenser and it fits a single pack perfectly
Deodorant — they carry the Secret Ultimate (and occasionally Clinical Strength) which is my fav
Body Wash — (Oil of Olay or Dove — whichever is on sale at the time)
Dental Care Items — We love the disposable Oral-B Pulsar toothbrushes when they have them!
Vitamins — I recently got THIS 2x/day supplement organizer and love that I can take individual compartments with me if I run out of the house
Costco Shopping List for… Seasonal Items
Pre-Lit Christmas Tree — The best tree I've ever had! You can find it in the living room in my Christmas Home Tour HERE
Pre-Lit Christmas Wreath — What we use on our front door
Pre-Lit Christmas Garland — See my mantel draped in it HERE
Fresh Cedar Garland — if you go fresh, this can't be beat! I've used this on my banisters in years past
Christmas Tree Ribbon — see my Christmas Tree Ribbon tutorial HERE
Mums (in the fall) — the biggest and best! See our front porch with them HERE in 2019 and HERE in 2020
Thanksgiving Pies — We've had the pecan, apple and pumpkin. It's so hard to pick a favorite!
Storage Bins — There are great deals to be found after the holidays!
Christmas Tree Bag — it's on a metal frame and a dolly
Halloween Trick-or-Treat Candy Packs
Live Plants — my favorite find was a big, inexpensive Japanese Maple that earned its spot in the front of our house
Beach Wagon — we just got one for our upcoming beach trip that accordions 
Sunbrella Deck Umbrella
Deck Furniture — I always get so many questions on both our table and chairs and our corner sectional — both of which came from Costco years ago and holds up amazingly well. The cushions are also made by Sunbrella
Sunbrella Outdoor Pillows
Ferns (in the spring) — They come in 12″ containers and are huge right out of the plastic. Here's this year's on Day 1 of getting set out!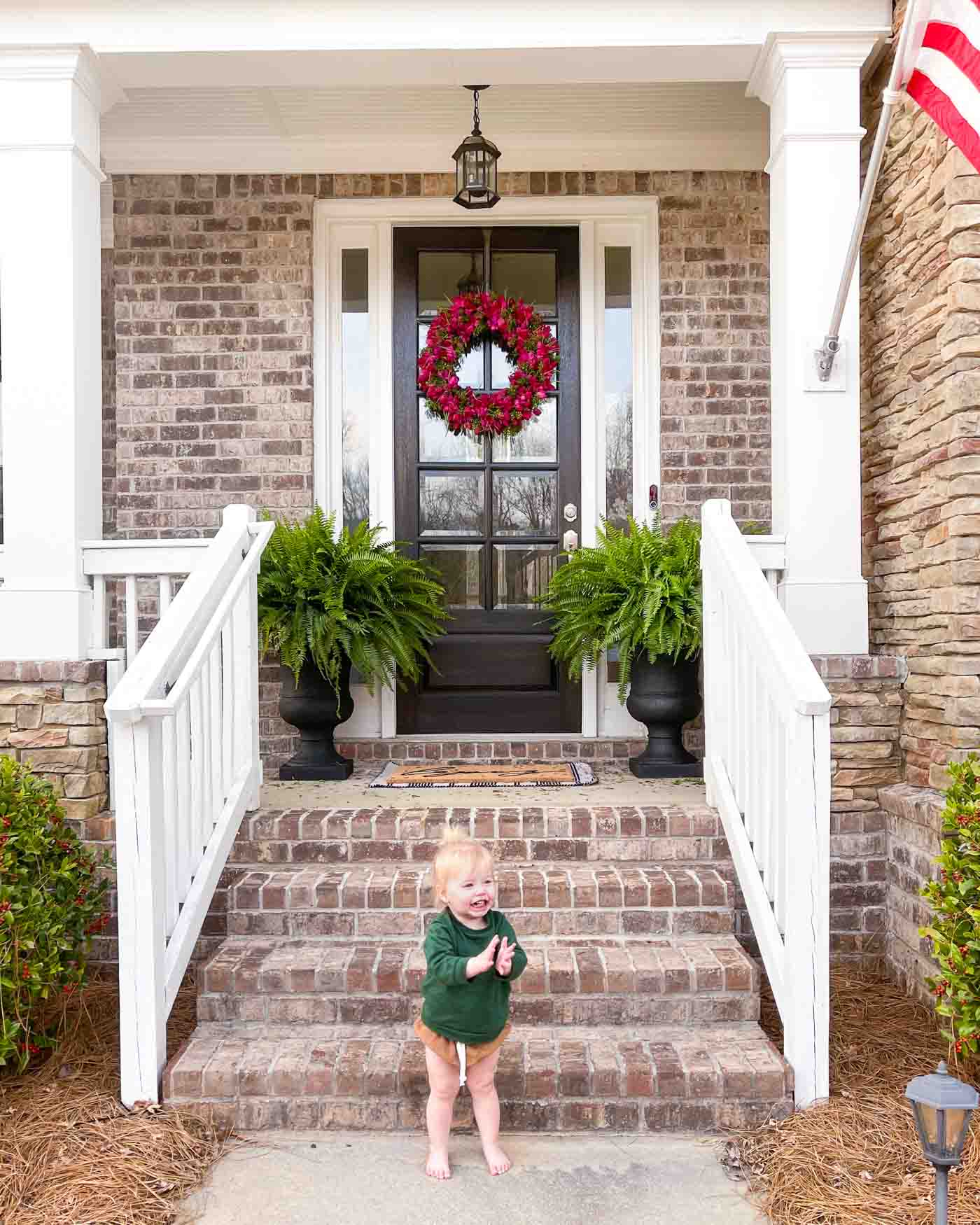 Sources: Wreath (new version) | Doormat | Striped Layering Rug | Urns (similar)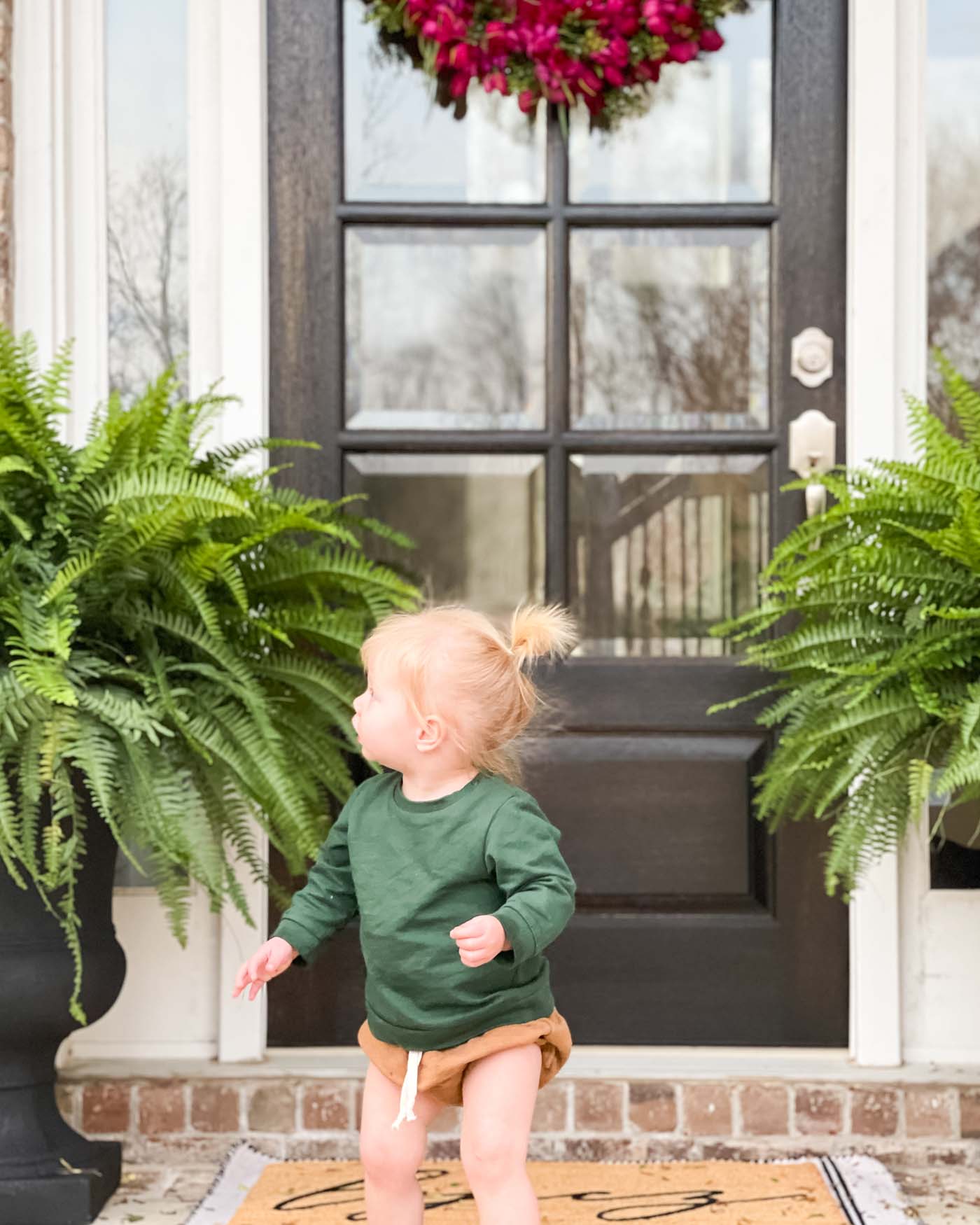 Costco Shopping List for… Miscellaneous
Wine — great variety and prices — they have Kim Crawford and La Marca, which I love, but their Kirkland brand wines are phenomenal. My go-to is the Kirkland Prosecco
Fresh Flowers — of course!
Kirkland Water (bottles) — I can't taste the difference in most water and stick to our home filtered water, but Dave can. For instance, he likes Dasani but not Aquafina. He also loves the Kirkland brand water that's a crazy good deal in the bottled water world
Books
Caphalon — I've gotten some pot and pans sets here around Christmas — on sale for $100 off — for Christmas gifts
White Bowls — my favorite set of deep white bowls came from here a few years ago. If they ever come back, I will be buying another set!
Melamine Bowl Set w/ Lids
Reduce Insulated Cup — my daily insulated cups came from here. I loved them so much, I ordered another on Amazon once I couldn't find them anymore — you can find a two-pack HERE.
Trinity EcoStorage Wire Storage Shelving Units — these are the best and are on wheels. We have these in our basement and garage and they hold lots of stuff! They occasionally go on sale for $10 off.
Propane Gas Tank and Refills
American Flag
Moving Dolly
Safes
Ladders
Frame TV
Chest Freezer
Frame TV (online only, I believe)
Folding Tables
AirPods — they go on sale for $50 fairly often
Keurig Coffee Maker — get them when they're on sale!
Vitamix
LG Washer and Dryer — when ours went out, we got a fantastic deal on our set. We loved them so much, when my mom moved, she got the same set. Watch for sales!
Dyson Stick Vacuum — while they sell previous models, they occasionally sell current models for unmatched prices. My mom got the v11 recently for a fraction of what I paid for v10 several years ago.
Greeting Card Set
Gift Cards — they usually have lots of restaurant and experience-type gift cards for something like $80 for $100 gift cards
Collegiate Gear — the camping captain chairs are the best!
Socks
Hunter Rain Boots — I don't do Hunter boots but wanted to note since they do get them in and list them for a stellar price
American Girl Bitty Baby
OXO Pop Canister Sets — they occasionally do the sets for $20 off, which is a great time to get them. See how I use them in my pantry organization post HERE
Outdoor String Lights — these have lasted for years and are (I think) commercial grade. Dave has changed a few bulbs over the years but the box comes with extras. These go on sale for $10 off regularly.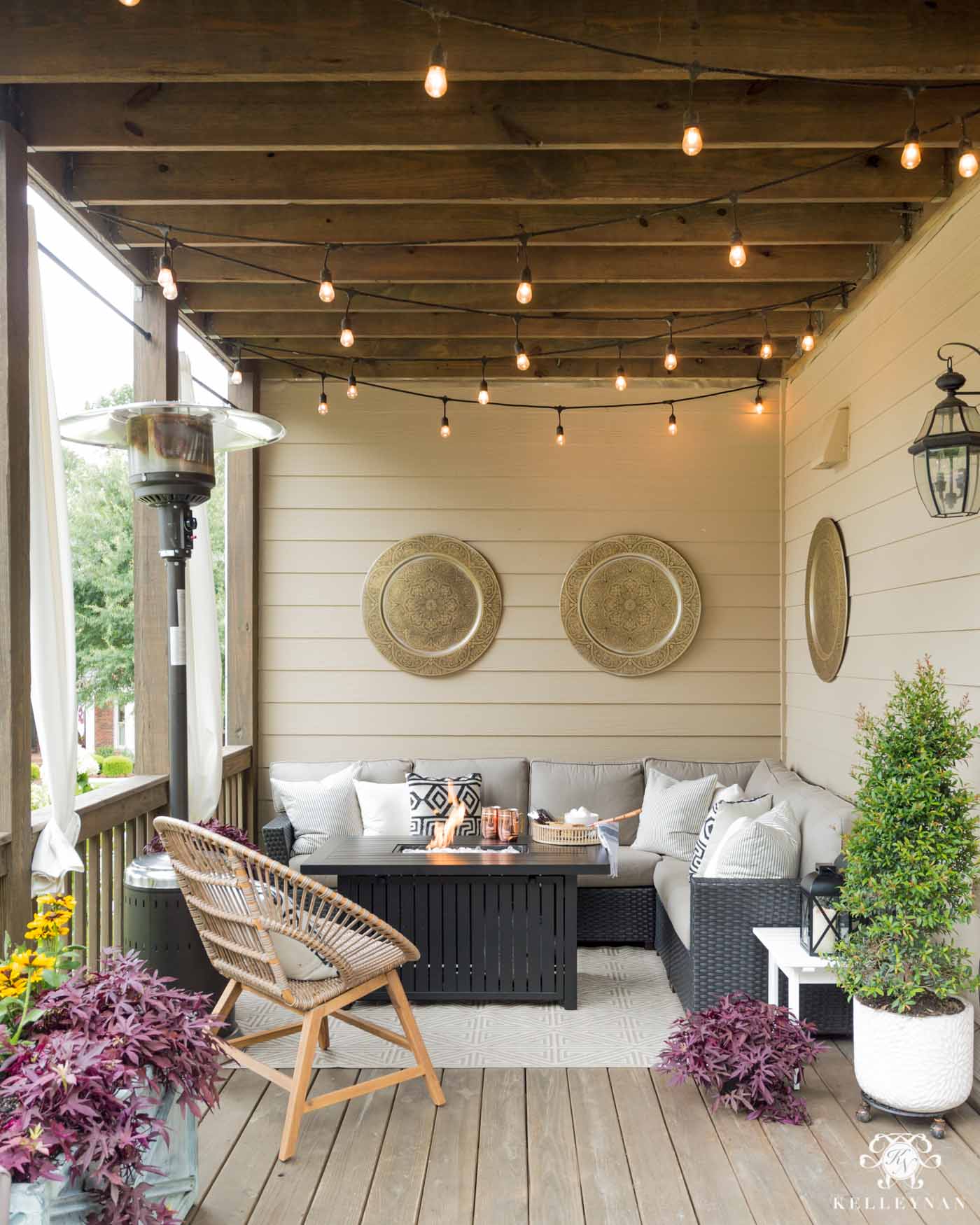 Sources: Sectional (Costco) | Lights (Costco) | Rug | Embossed White Planter | Wall Discs (similar)| Fire Table (no longer available) | Heat Lamp | Outdoor Curtains | White Side Table | Wall Lantern (similar) | Chair | Graphic Pillows
Phew! That got a little out of control, haha. I'll also note — that you can't tell — but a lot of people consider Costco the same as any other wholesale retailer; I don't. They're just something… extra. So, I know lots of you have to be Costco fanatics, also — what did I miss that you love that stays on your Costco shopping list? We were just in store this morning (Dave or I have been four times in the past week — yikes), and they've started bringing in a lot of fun summer inventory. Plus, a small quantity of those Japanese maples were back so Gran Nan was able to grab one! If you try something from this list, I'd love for you to circle back and share! I have updates coming soon so if you aren't already, you can drop your email at the bottom of this post to catch all upcoming posts!
Other Posts You May Enjoy