If organization befores and afters are your thing, well, do I have a treat for you today! I think I like organization makeovers even more than full room makeovers because it isn't just about adjusting design and aesthetic; it's about creating systems and improving functionality with smart solutions. It's tricky though. Because we all have different sized spaces, filled with different "stuff", with different needs, it's highly unlikely you can take a page of The Container Store catalog and replicate it to a "T". And, if you did, the chances of it working well for you aren't great. It's about coming up with ideas for your own spaces that will work for your own stuff with your own family. A lot of us don't have the luxury of a large, walk-in pantry; I've even seen pantry rooms with windows (#dreams #goals) and while I am sharing ideas to organize a small pantry with wire shelving, most of the principles will still apply for even the dreamiest food storage spaces ;).
*Posts on KelleyNan.com may contain affiliate links. Click HERE for full disclosure.*
NOTE: All sources and organization solutions can be found linked at the bottom of this post.
Here are the full stats for me (and my pantry):
Family of two (no kids)
(Plus three dogs)
Cook dinner most evenings and we are home 99% of the time
But, we try to only keep a lean stock since we meal plan, weekly
We do shop at Costco and buy some items in bulk
We have a reach-in, small pantry closet with wire shelving that we don't want to change at this point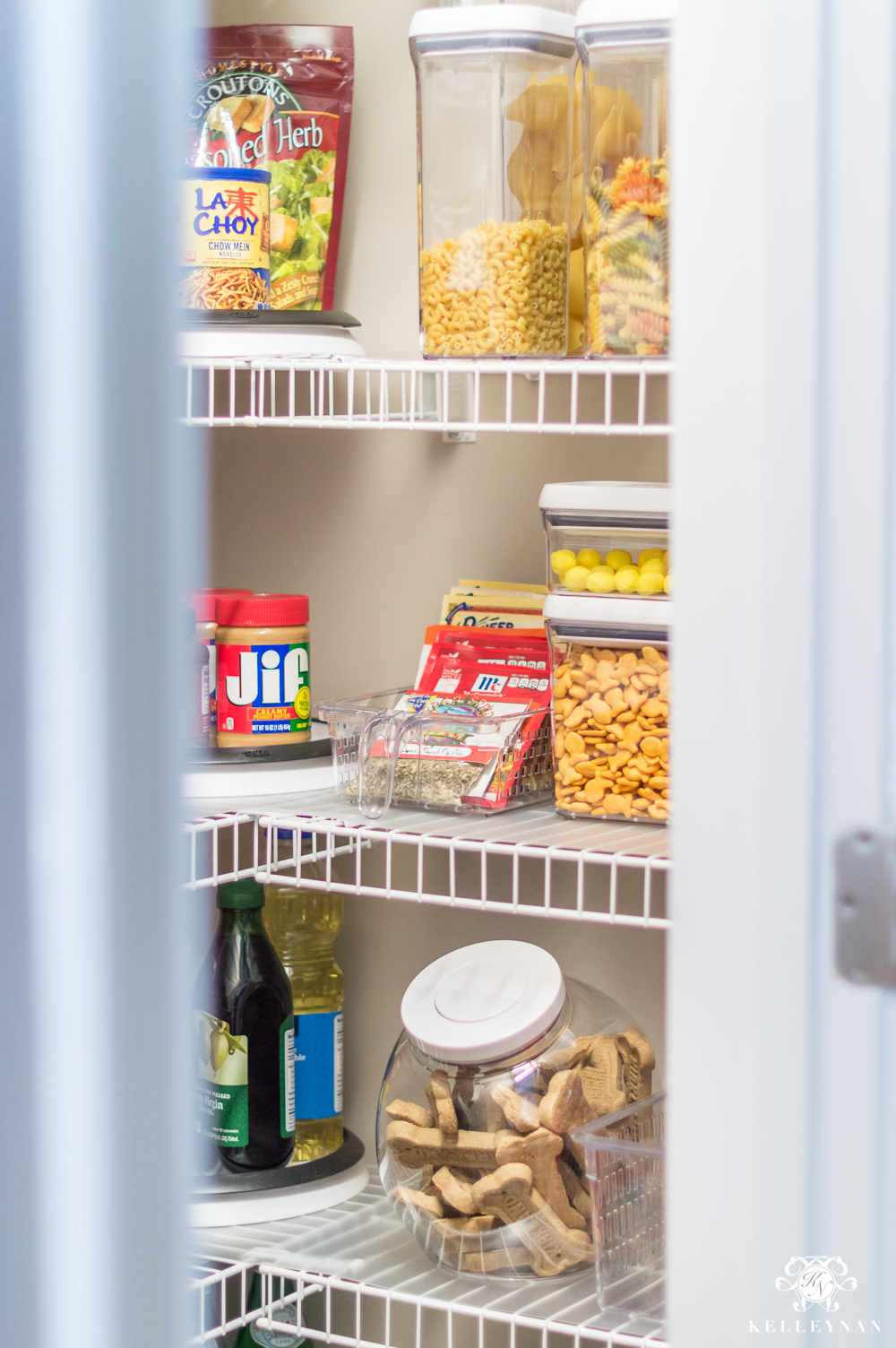 It was a real struggle to capture the photos in this post. The pantry closet is in a corridor with zero windows (natural light) and the inside is so tiny, I couldn't use a tripod or get a full shot with even  my widest angle lens. Nonetheless, you will be able to see what a huge difference there is from where we started to how our pantry looks today. As I share the solutions and ideas that worked best for our space, I'll share nine tips to consider when you're tackling your own.

START FROM SCRATCH
Most anyone will tell you this but seriously, don't cheat. Take every single thing out of your pantry. EVERY. SINGLE. LAST. THING. My kitchen counters were already cleared so as I pulled everything, I separated items into categories. And, I checked the expiration date on every last item. The two most shameful discoveries- a can of beans that expired in 2009 (which means it made its way through multiple moves), and bread crumbs that expired in 2012. I actually had a few organizational pieces in the pantry (like the can risers I've used for years and even the Elfa door system from our last house that made the move with us), but I never actually took the time to fully organize and implement a system. And when you don't, this is what ends up happening…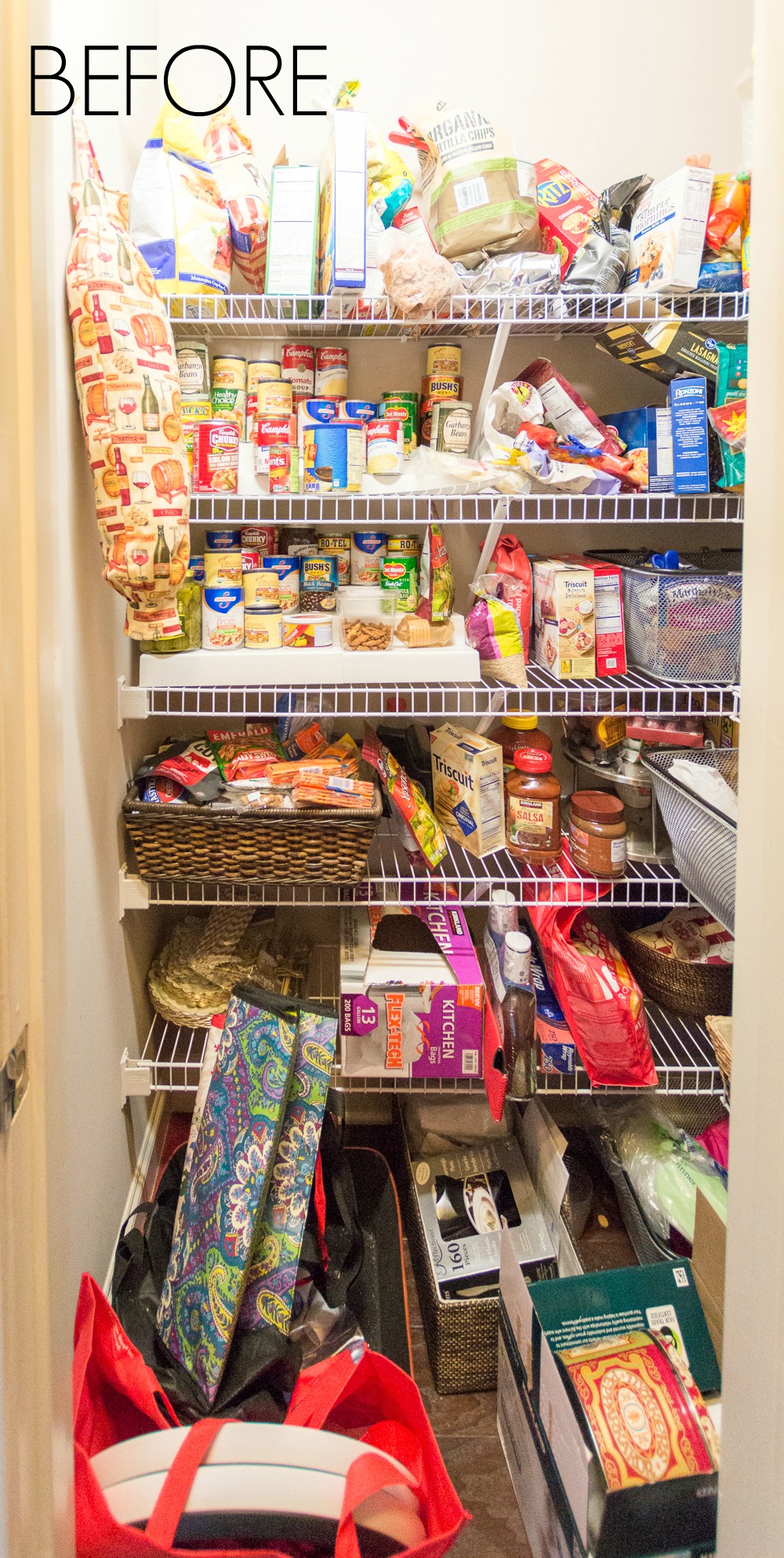 Another thing- you can have as many baskets and containers lining the shelves as you want, but if they aren't dedicated and the correct size for what they are allocated for, it won't do you much good. Here's the crazy part. Of course, we purged expired food (we didn't have much that needed to be tossed other than that), and with some simple solutions and refining, here is where we ended up. Keep in mind- most everything shown in the first picture is, in fact, still in the pantry.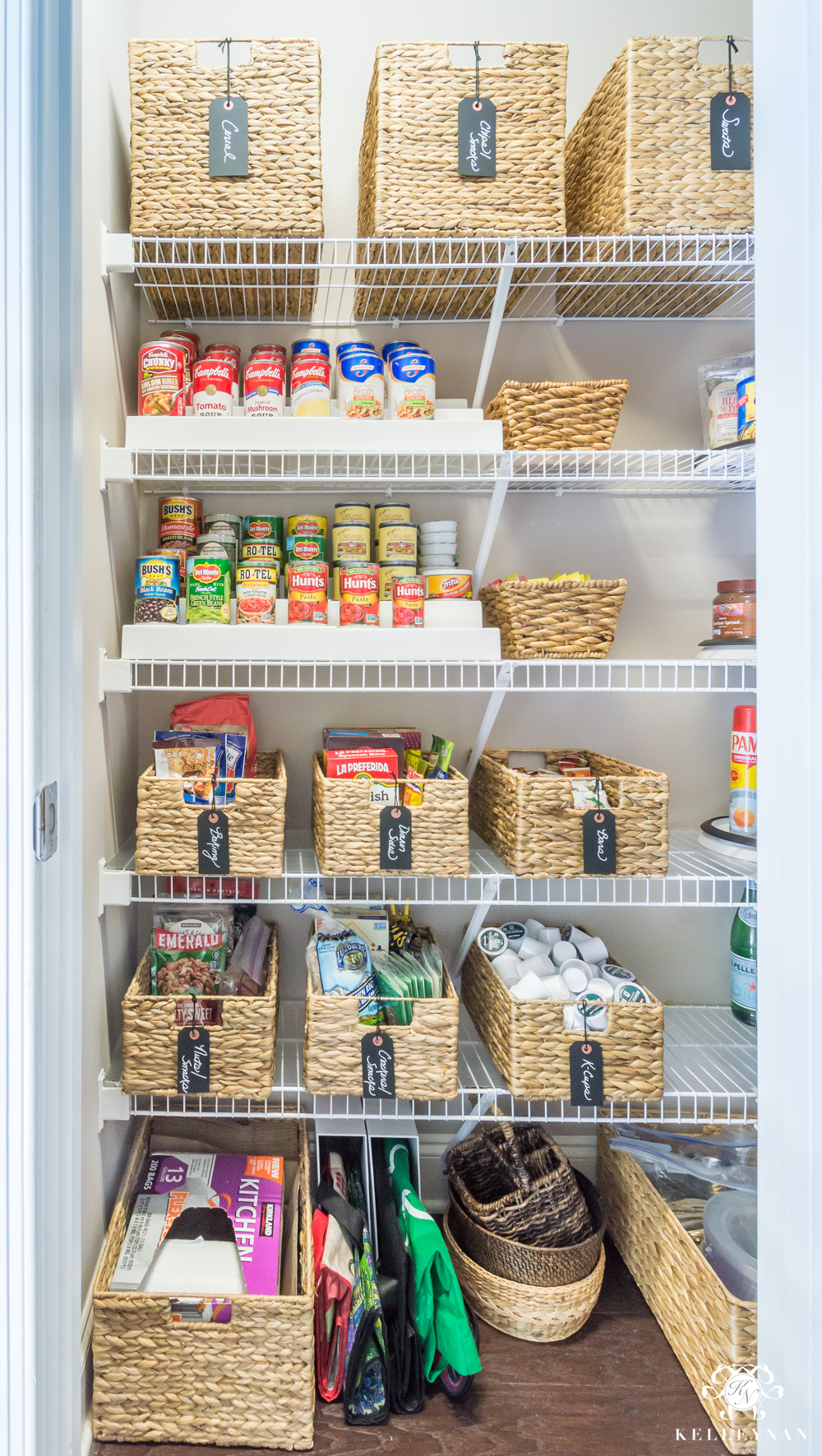 ---
SCROLL & TAP TO SHOP THE ORGANIZATION

---
Sort, organize like items, and purge. I had multiple freezer bags filled with picnic plasticware that I knew we would never use. I sorted and kept the nicer silver and gold, and sent the rest with Dave to donate to his break room at work.

TAKE ADVANTAGE OF THE BACK OF THE DOOR
The back-of-the-door baskets were my first introduction to Elfa about five or six years ago. This one has a clamp on the bottom and top and attaches with no screws. You can customize the baskets with the number and sizes you want, depending on what you plan to store. Here is what it looked like before last week…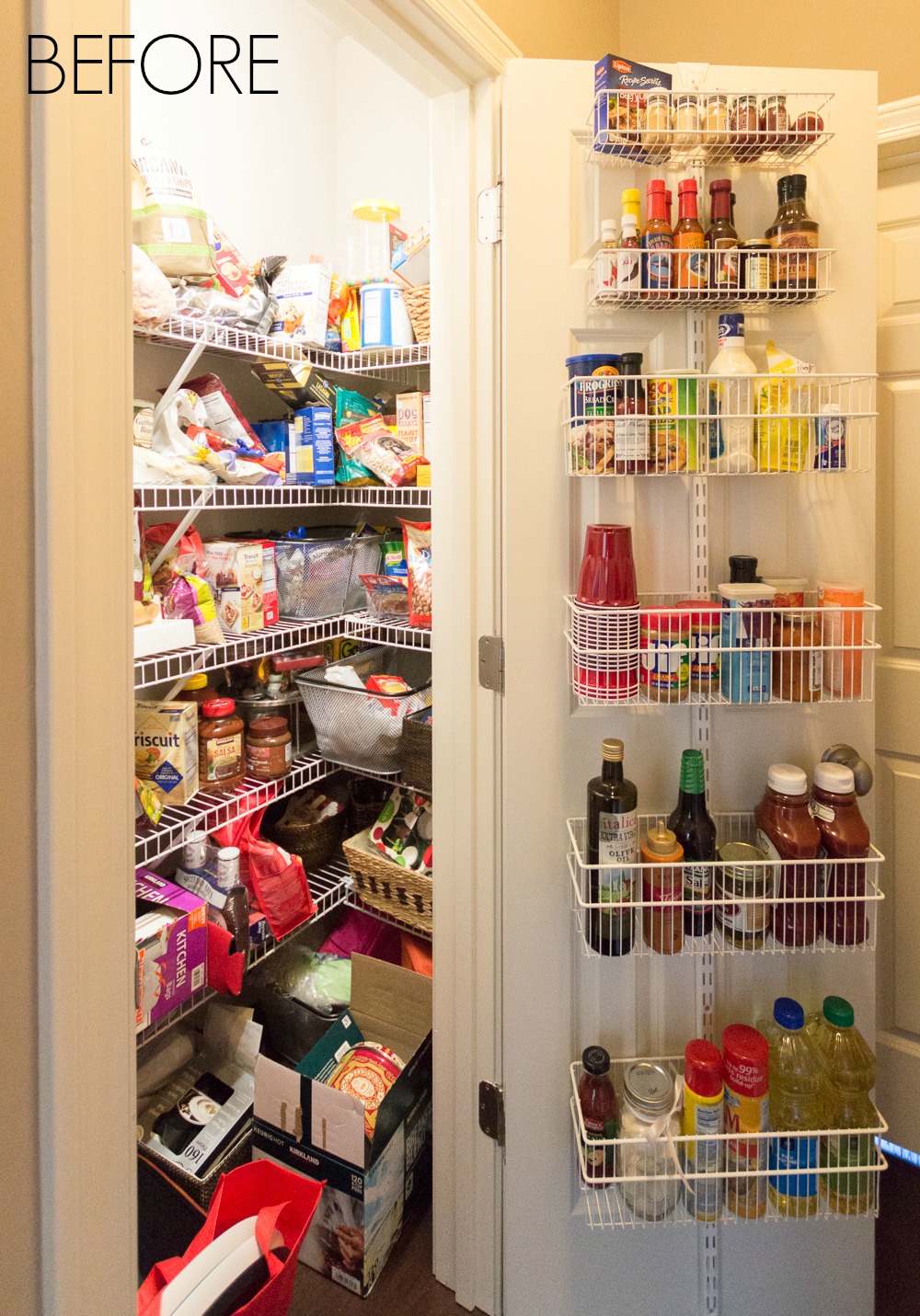 And here is how we transformed it.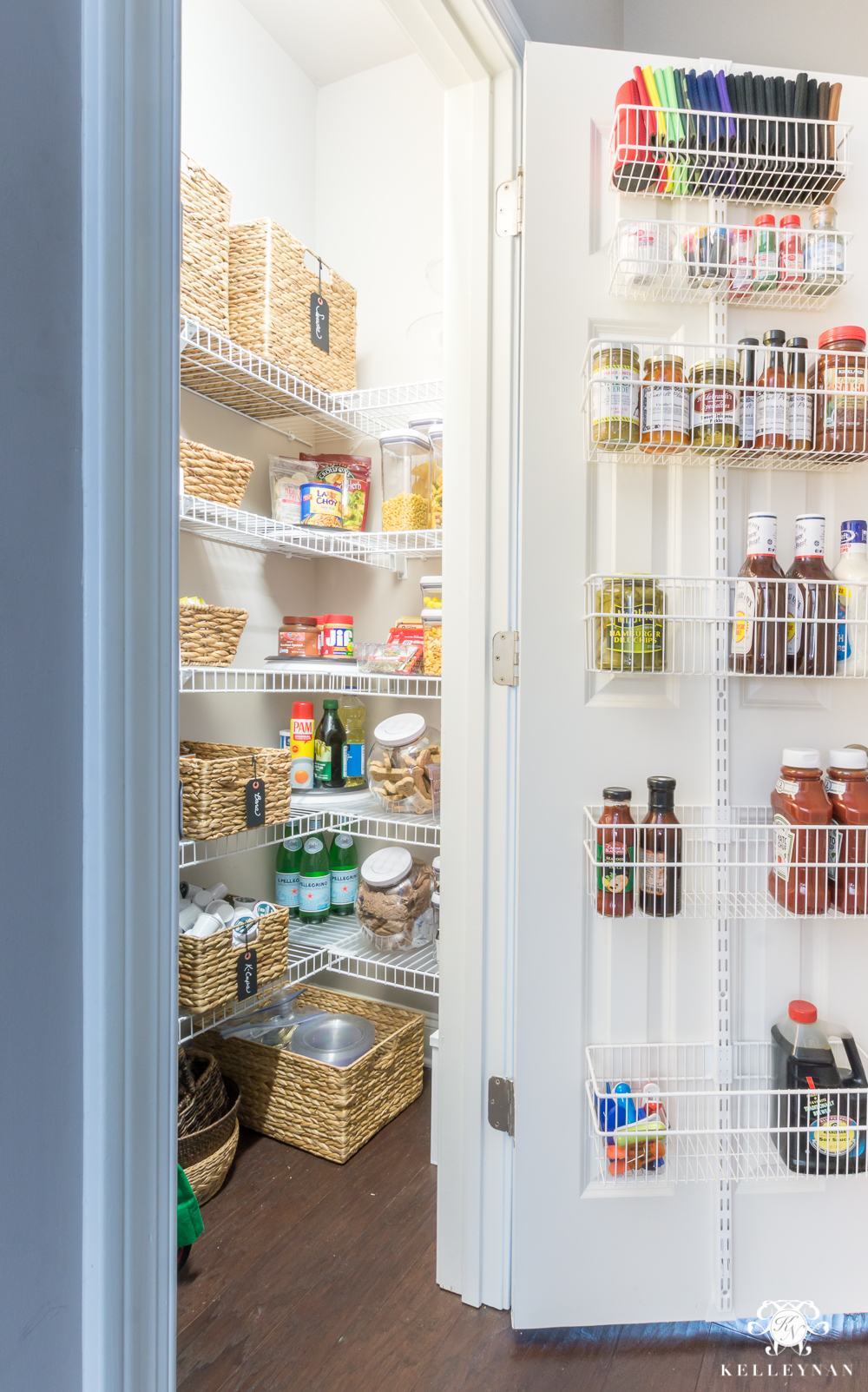 It allows the main pantry shelves to be free from Costco-size bottles that will ultimately transfer to the fridge, a container of chip clips, a shelf for baking (sprinkles, cupcake liners, etc.), and finally, an organized space for koozies. Speaking of koozies, we had a huge basket filled with them before I started the project. I kept the koozies from special events and to keep things "responsible", I allowed myself to keep ONE from each wedding we attended (not the three and four we had somehow ended up with).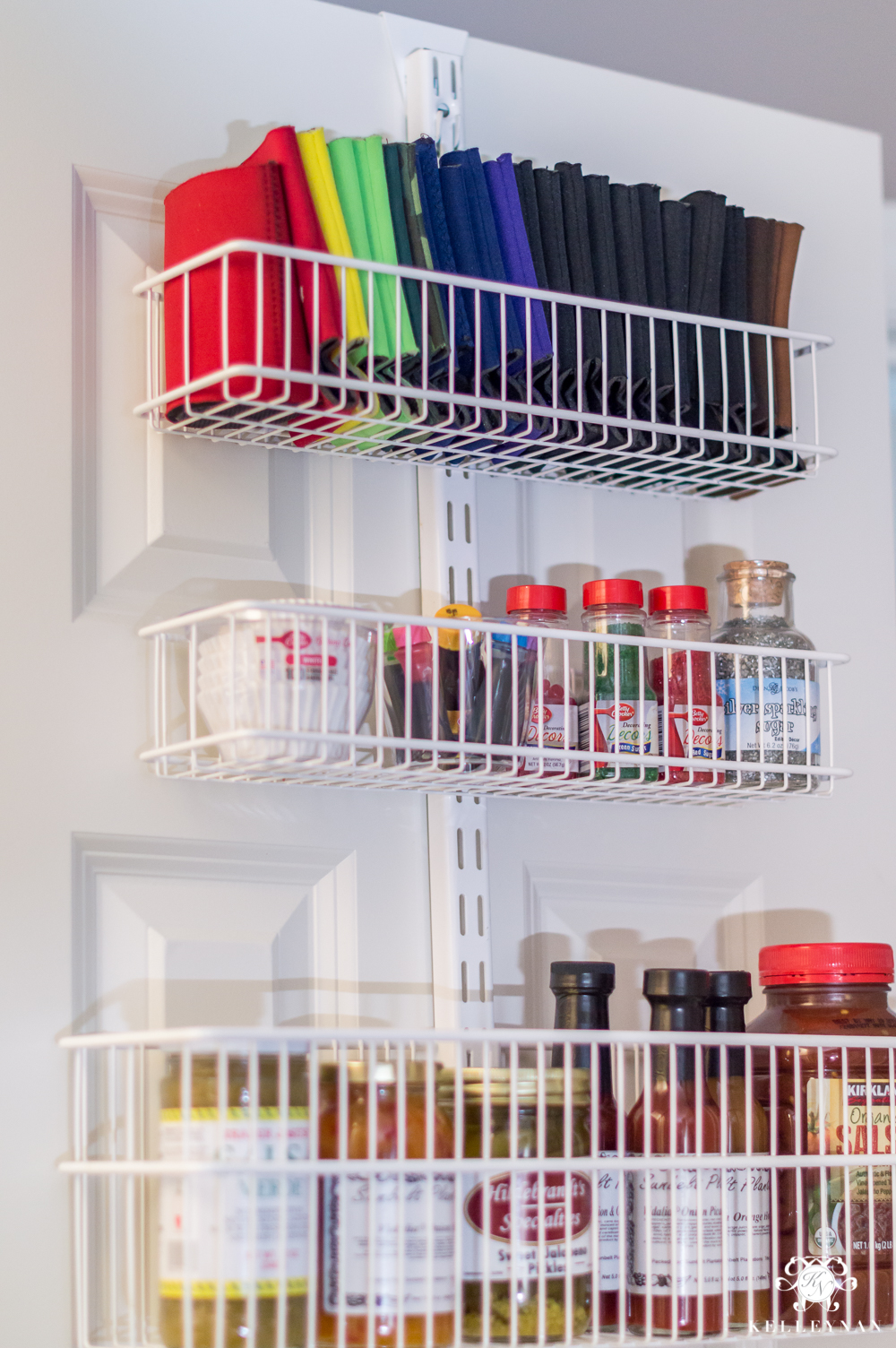 COME UP WITH A SYSTEM THAT WORKS FOR

YOU
Depending on your categories (which should become apparent when you take inventory of your kitchen counter piles), your system may look different from mine. If you have kids with a ton of bulk lunch snacks or, if you have zero dry snacks in your home, your needs may be totally different. Our solutions are based off of what we keep in the pantry… not what I think we need. Here is where we started (obviously, NO system in place)…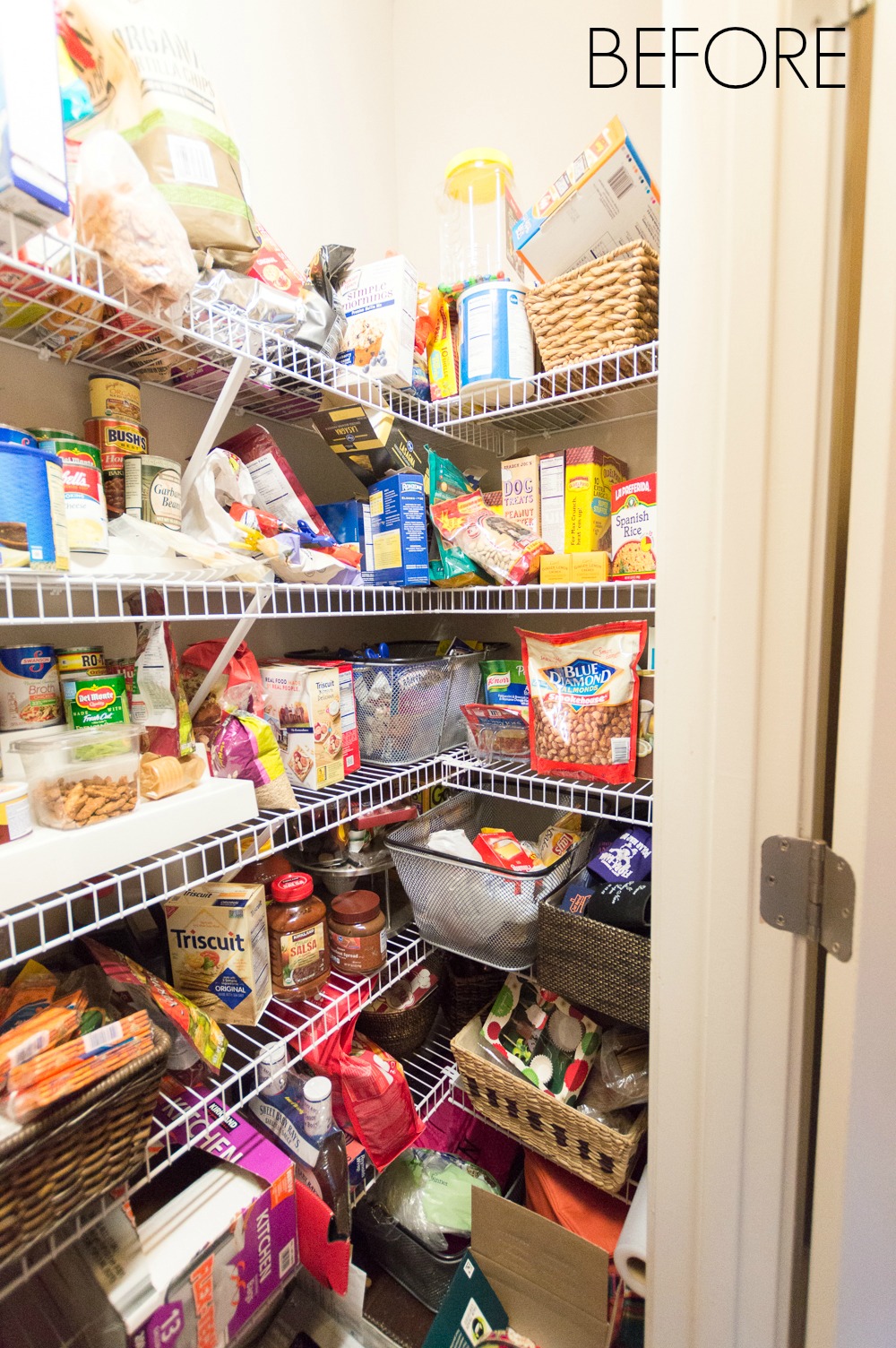 and here is where we ended up after categorizing and storing our food appropriately.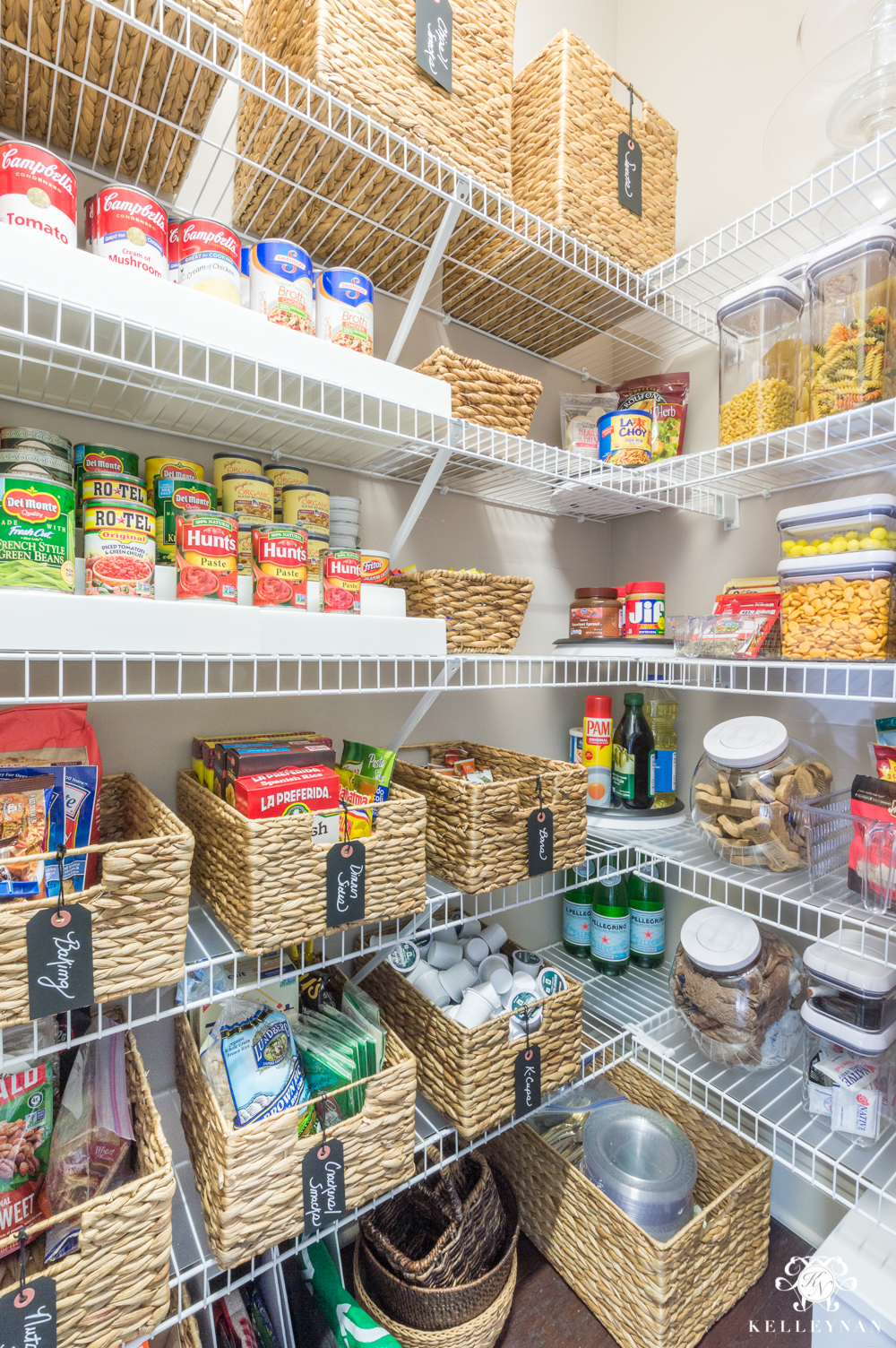 I actually had two expandable shelves for cans before, but one was the "original" and one was the "large". The "original" doesn't hold full sized cans as well and since that's what we really needed, I traded the smaller in for two large. They actually expand wider than what is shown but the shelf bracket restricts how far I can expand them on our shelves. (If you use a full Elfa shelving system, you don't have to worry about this ;)).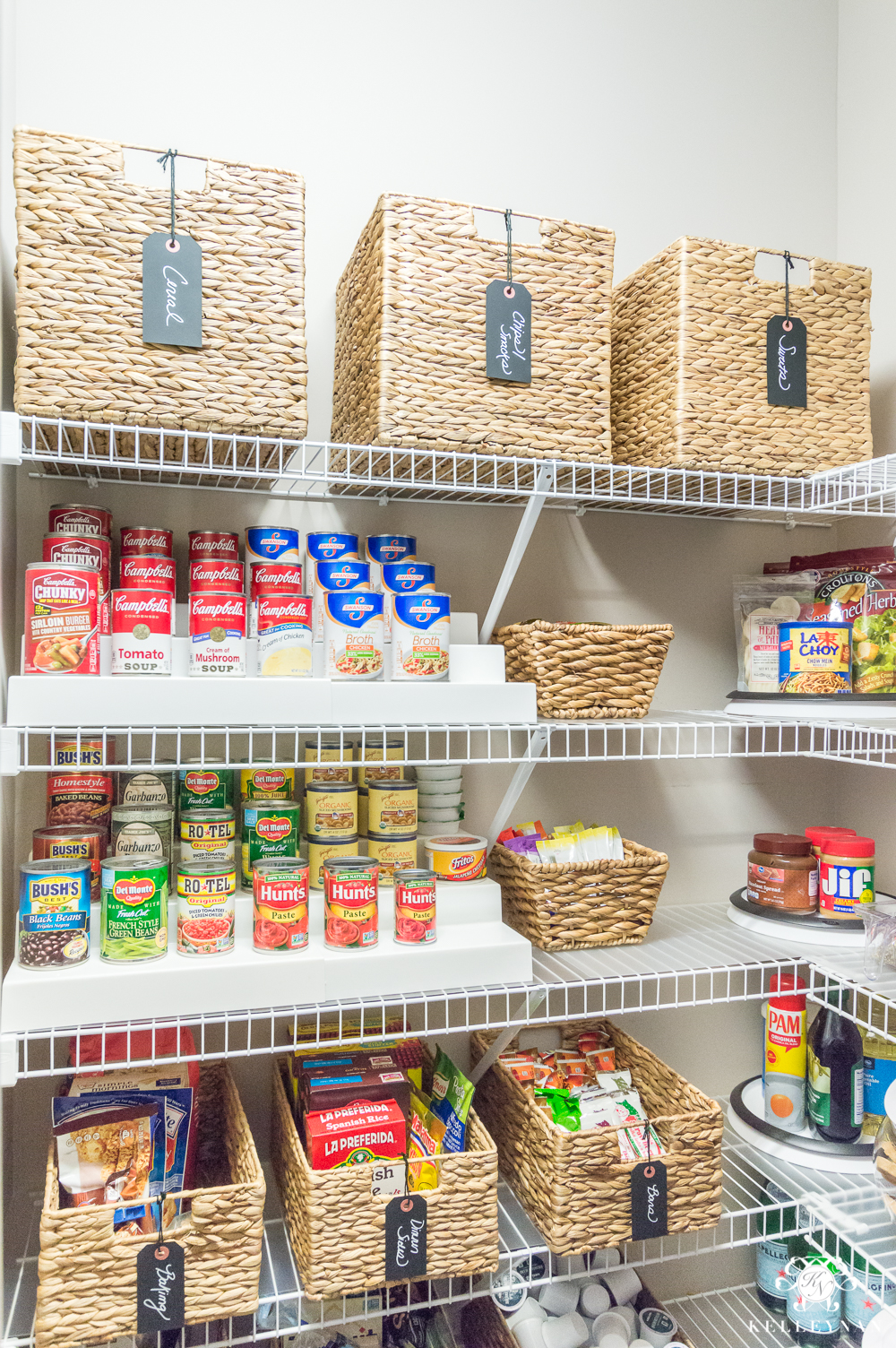 SHELF LINERS EXPAND THE WIRE SHELF POSSIBILITIES 
One of the biggest downsides of wire shelving is not having a solid surface for not just food, but for organizers (like the expandable shelf). Shelf liners may not be necessary for every single shelf, but you can find them perfectly pre-cut HERE. Also, they are easy to cut yourself if they are too long. I didn't measure before I "went for it" so some of my dimensions are slightly off 😉 Most of my liners are 12″x18″.

YOU DON'T HAVE TO LABEL EVERYTHING
I label baskets (that we can't see inside or that are holding several items) for easy, instant identification, but labeling every single thing can be a difficult system to maintain. My rule is that if I label one bin out of necessity, I will label the others, also, but, I keep categories more general unless it's a basket I have designated for a food item I always have on hand.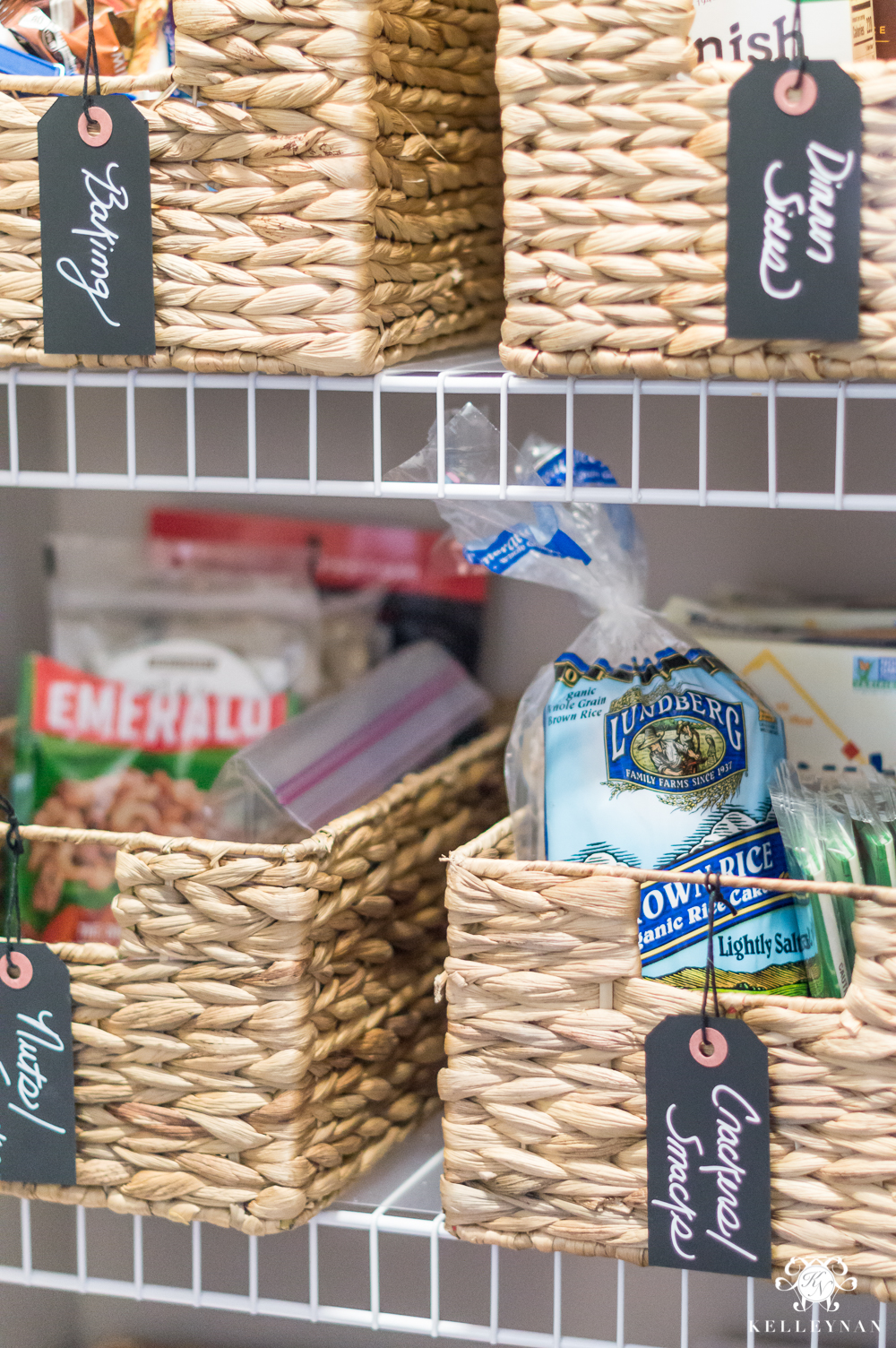 I use these black chalkboard tags (similar) (they come in a pack with two sizes) and this chalk marker for my labeling.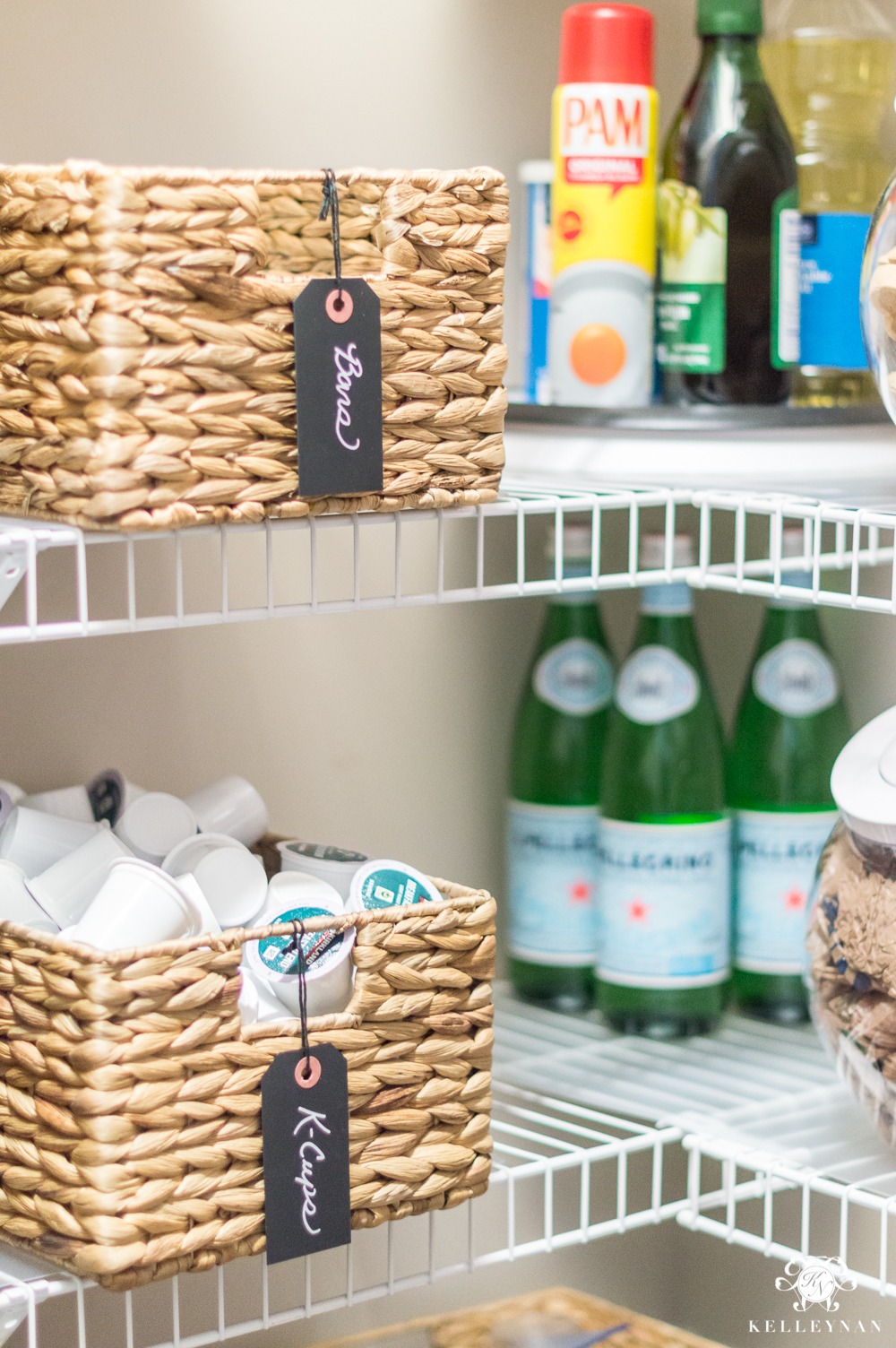 If I have a clear container with pasta, I don't label it "pasta". If I have a clear container of flour, I will label it, along with other containers (like in my spice/baking cabinet here). See the full spice/baking cabinet organization project HERE.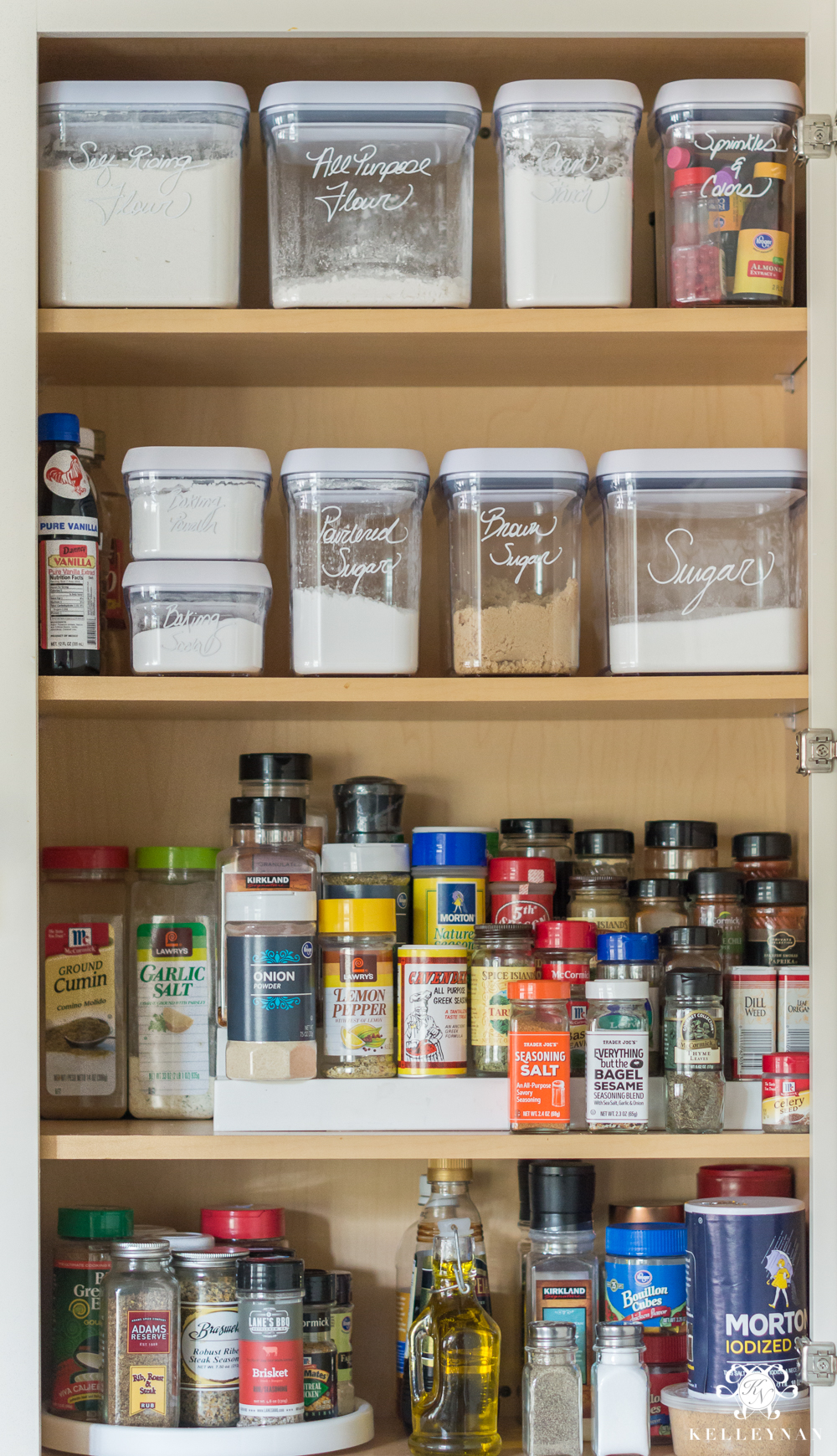 USE TURNTABLES FOR HARD-TO-REACH CORNERS
Whether it's a corner that is difficult to reach, a place that is hard to see/disappears, or you don't want to put items in front of each other in a line, lazy susans are the answer to so many dilemmas.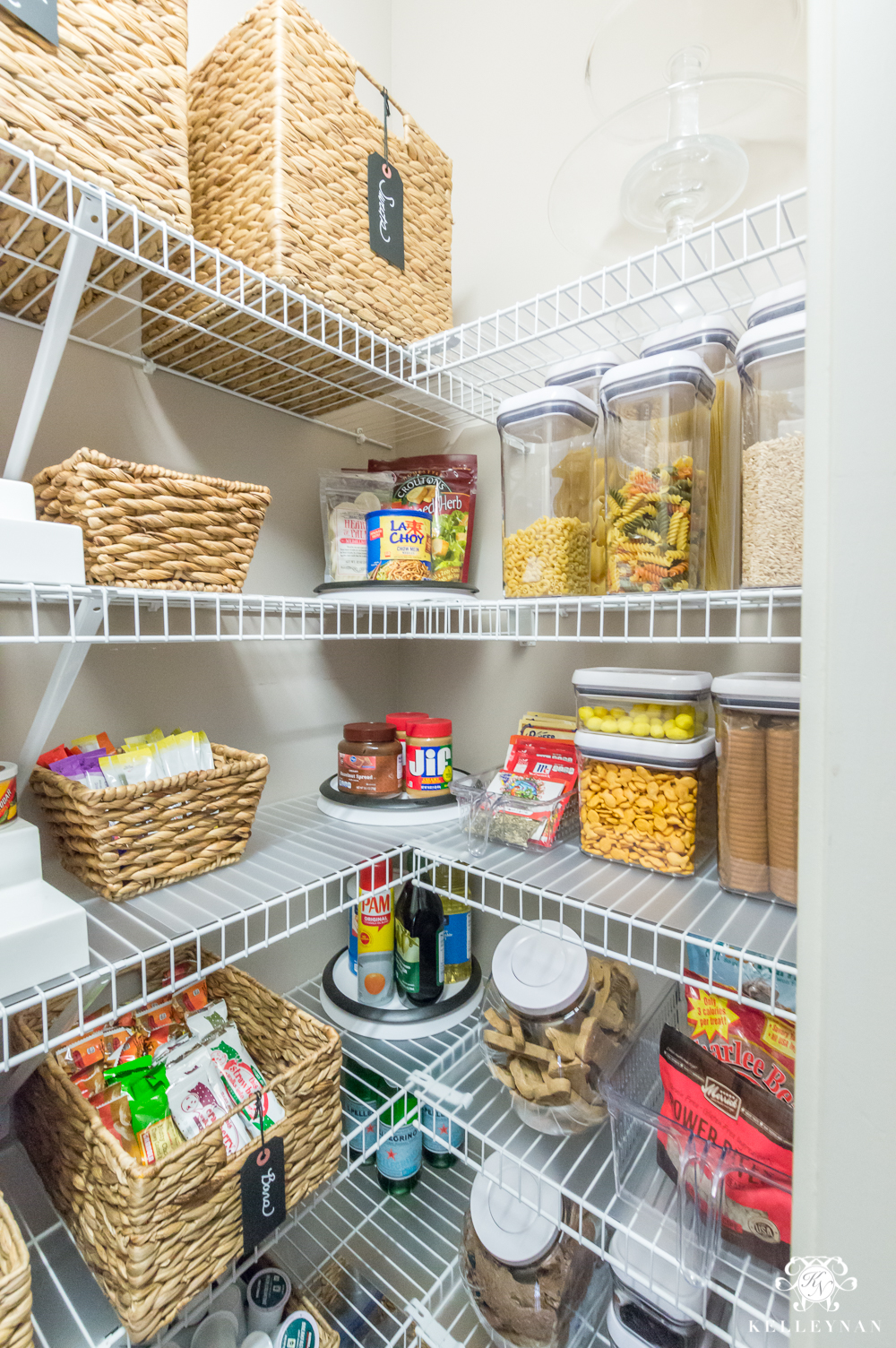 A 16″ actually does work; it just overlaps the intersection of shelving a tad. I only needed the 11″ since the space to the sides were more valuable. Mine are categorized into salad toppings (one of our most important/frequently used), spreads, and cooking oils.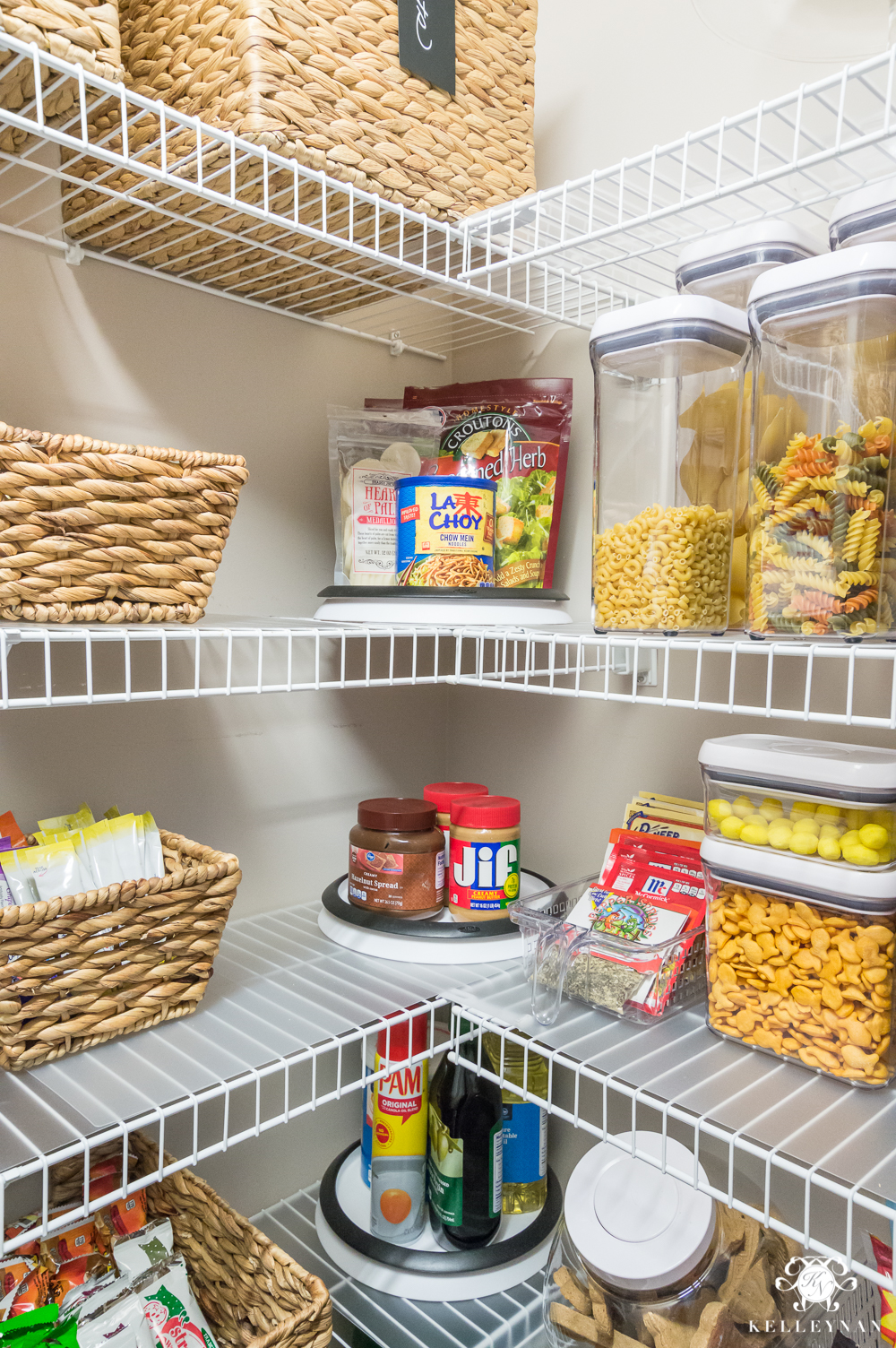 FREQUENCY & QUANTITY CAN HELP DETERMINE BIN VS. CONTAINER
How often I use an item actually helps determine whether it gets corralled into a basket, or gets its own designated POP canister. For example, I love the cereal pourers (and maybe one day I'll feel differently), but with us having multiple cereals on hand and buying different types often, it makes  more sense for us to keep boxes in a large cube on the top shelf.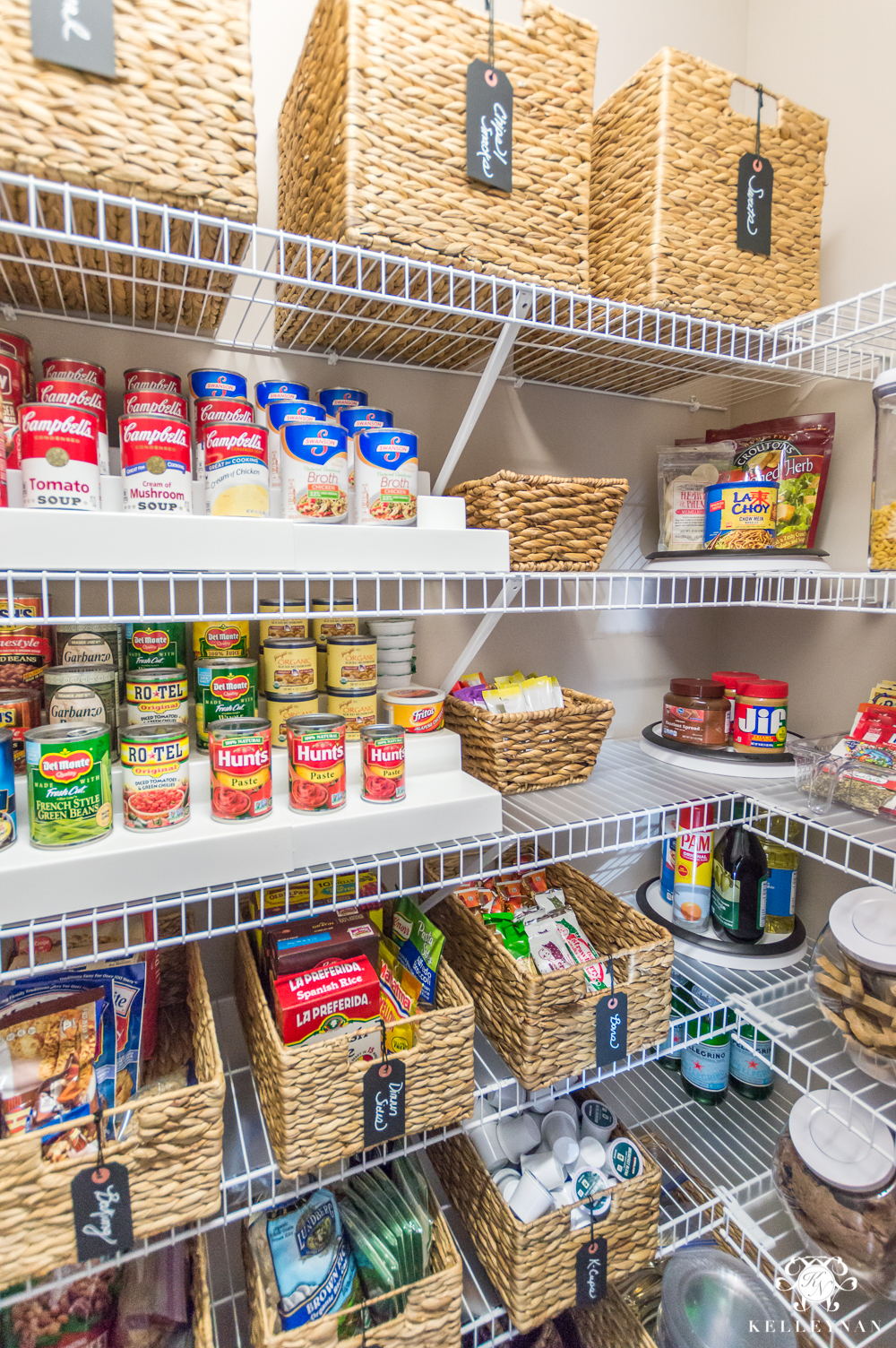 Brown rice, pasta, goldfish, ritz… those are items we always have on hand and always replace when we run out. They are permanent staples. They get their own designated Pop canisters. I love them (and you know I have them everywhere) for freshness and the style of easy seal they have, but also not having multiple cardboard boxes and plastic bags to spill out and get crushed is huge. I also only use plastic/acrylic food storage. When I am stacking/arranging on shelves, I only see potential accidents with glass jars. If it's something I reach for often, I totally don't trust myself. For us, glass would be reserved for the counter.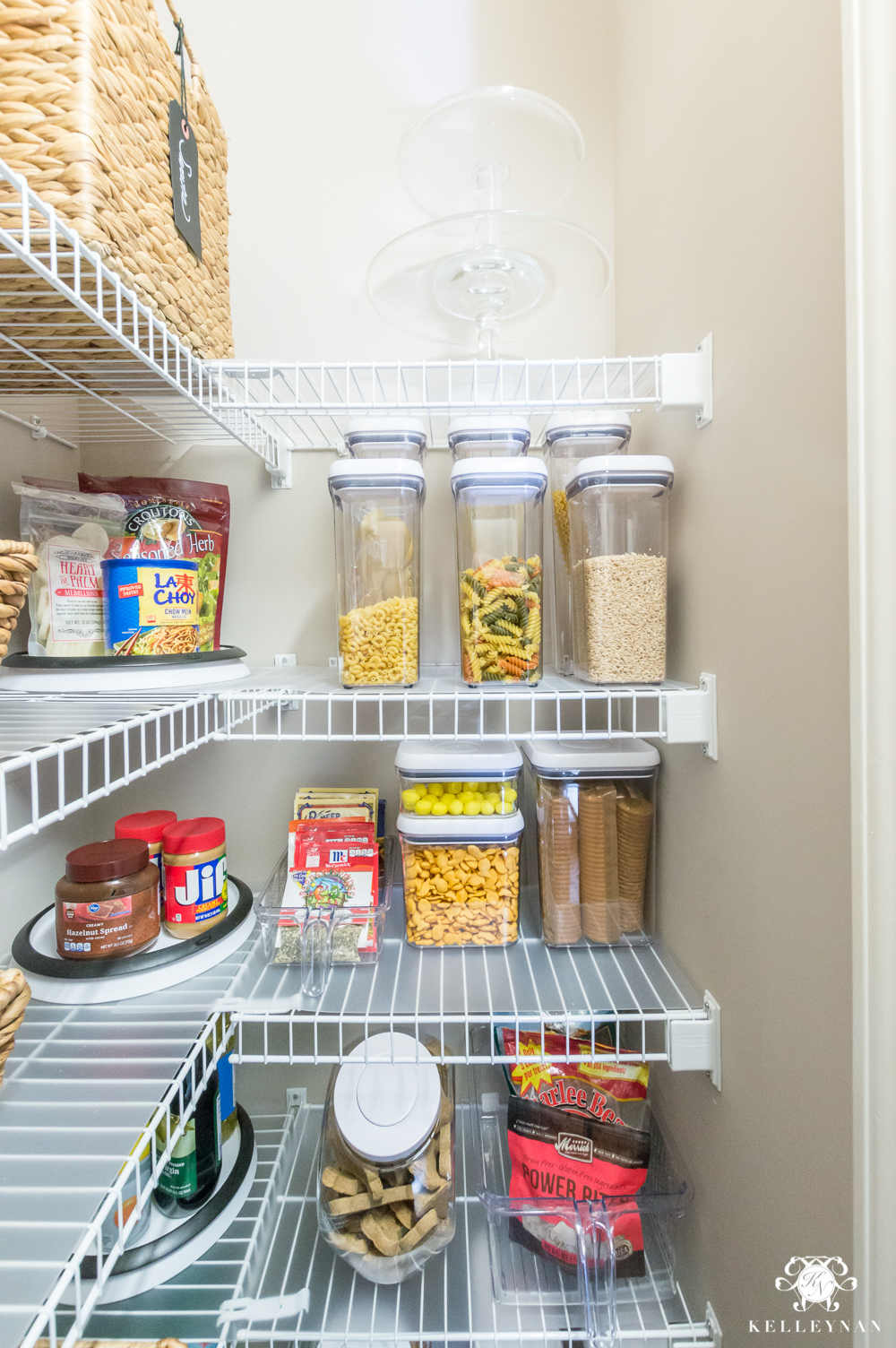 My favorite POP canisters by far are the large slanted containers. I have them here for easy, reach-in dog biscuits and my new favorite- plastic bags. You. Guys. I had an unwieldy bag holder (with no elastic) hanging on a small nail before. It fell every time we shut the door. This compact slanted POP canister actually holds MORE than what I had in the designated, fabric bag holder.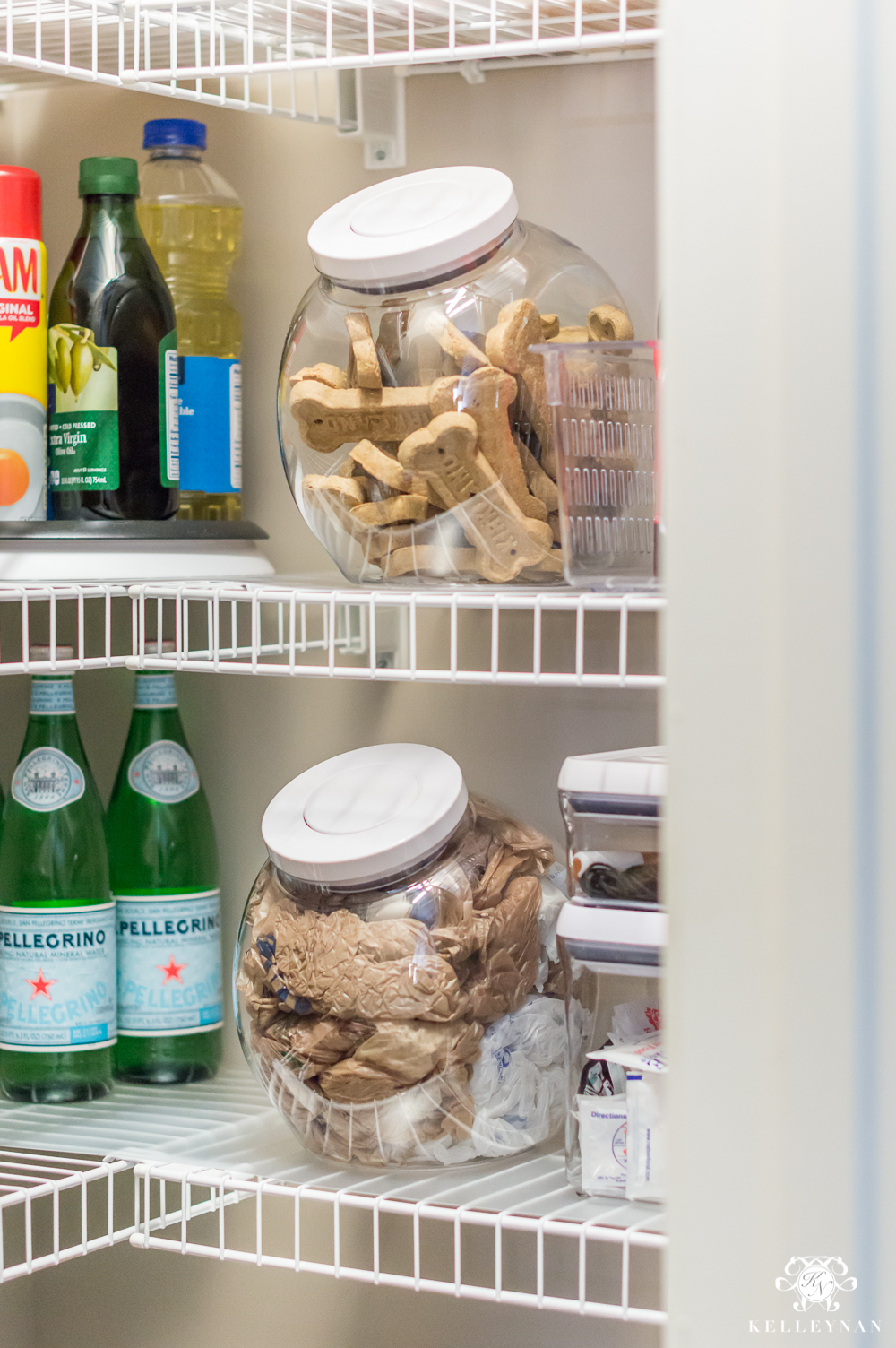 You may remember, I also have one of these babies under the sink for dishwasher pods. Favorite solution ever. You can see my full post on organizing under the kitchen sink HERE.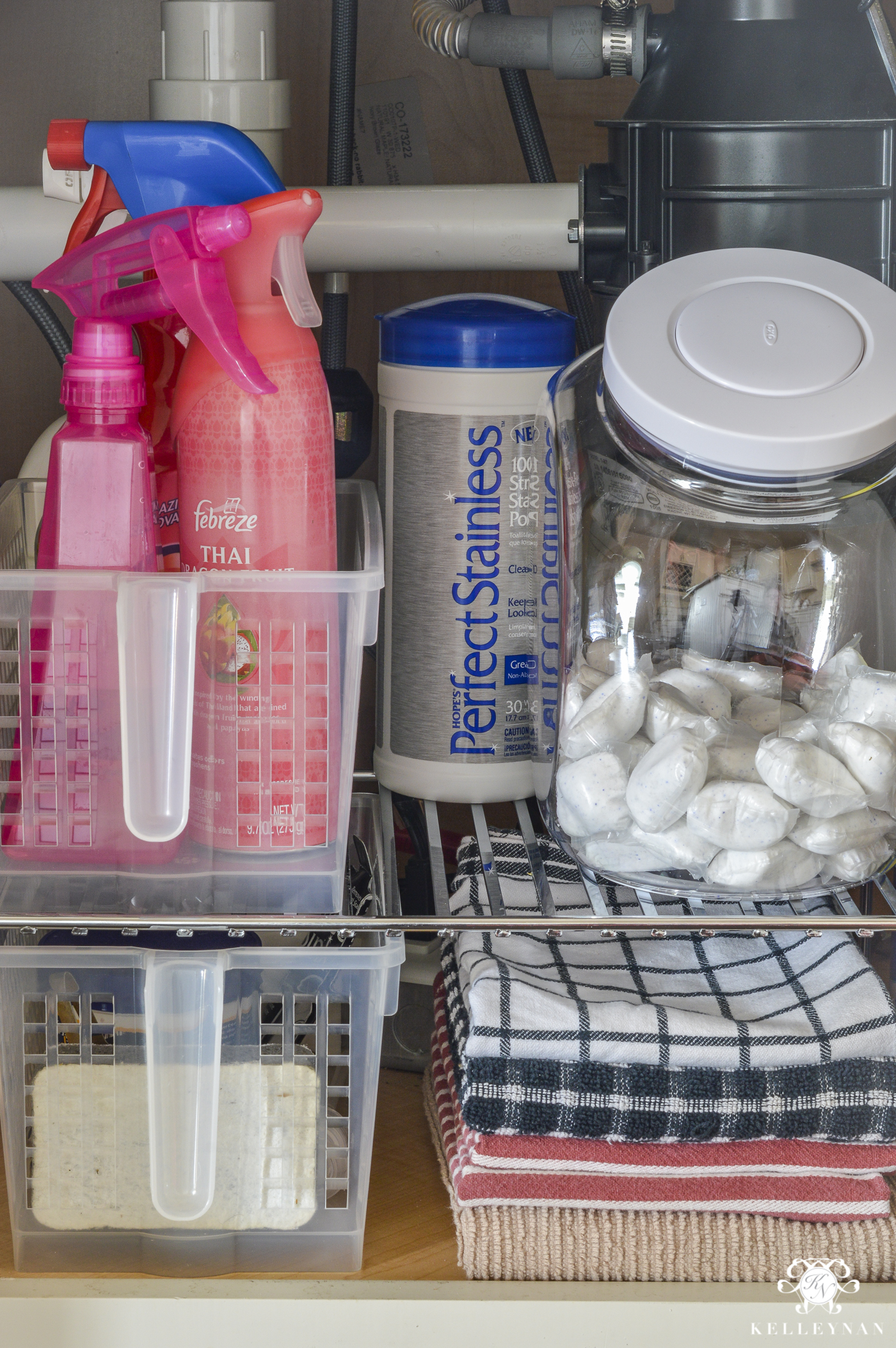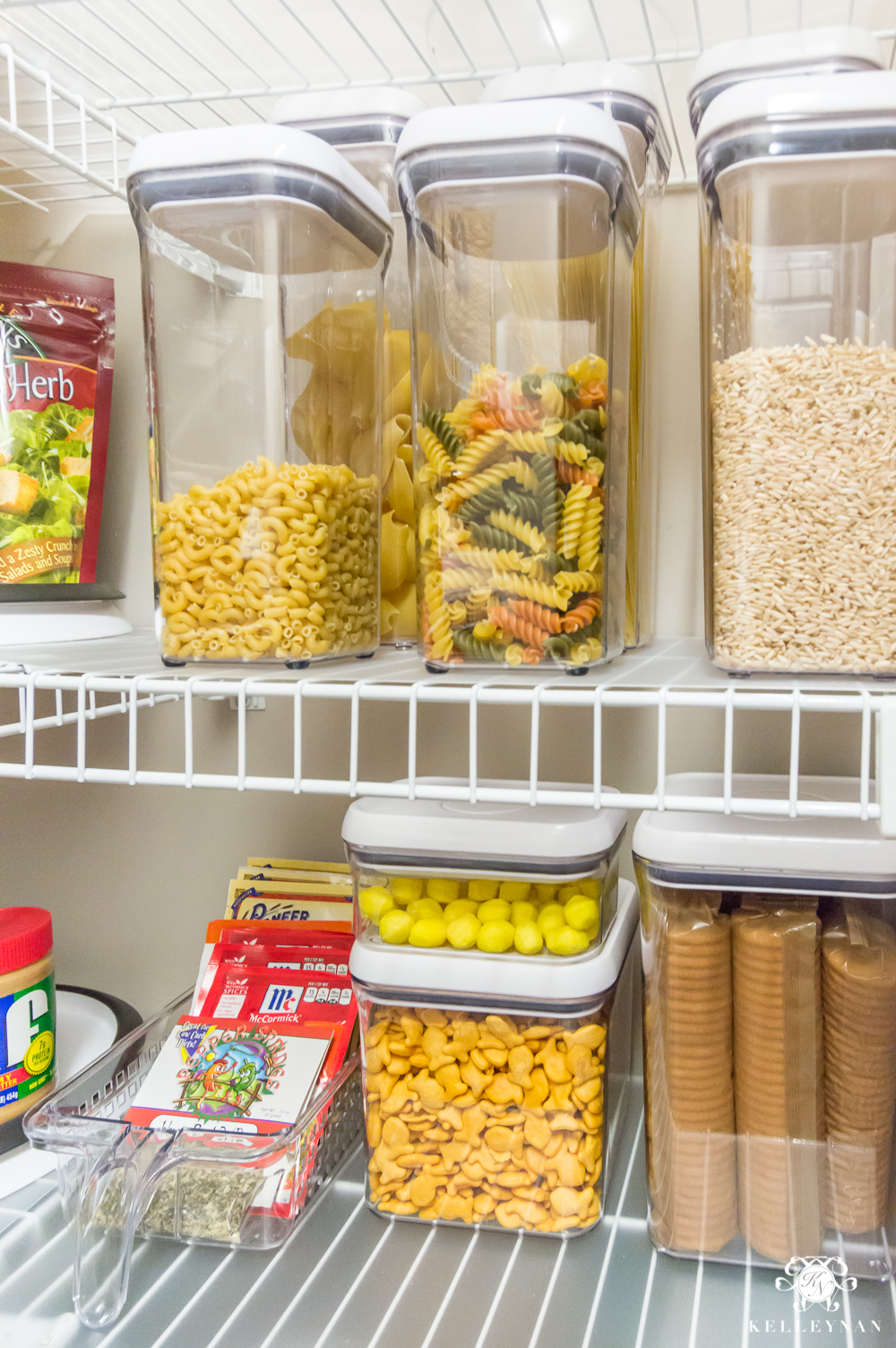 USE PROPER SIZED STORAGE
One thing that held me back before organizing the pantry is that I had several container and a lot of baskets lining the shelves before, but they didn't make sense. They were too big (aka wasted space) and I couldn't locate/sift through them, and several were awkward, too tall and obviously required more effort than I was willing to give to keep them filled with the content for which they were intended.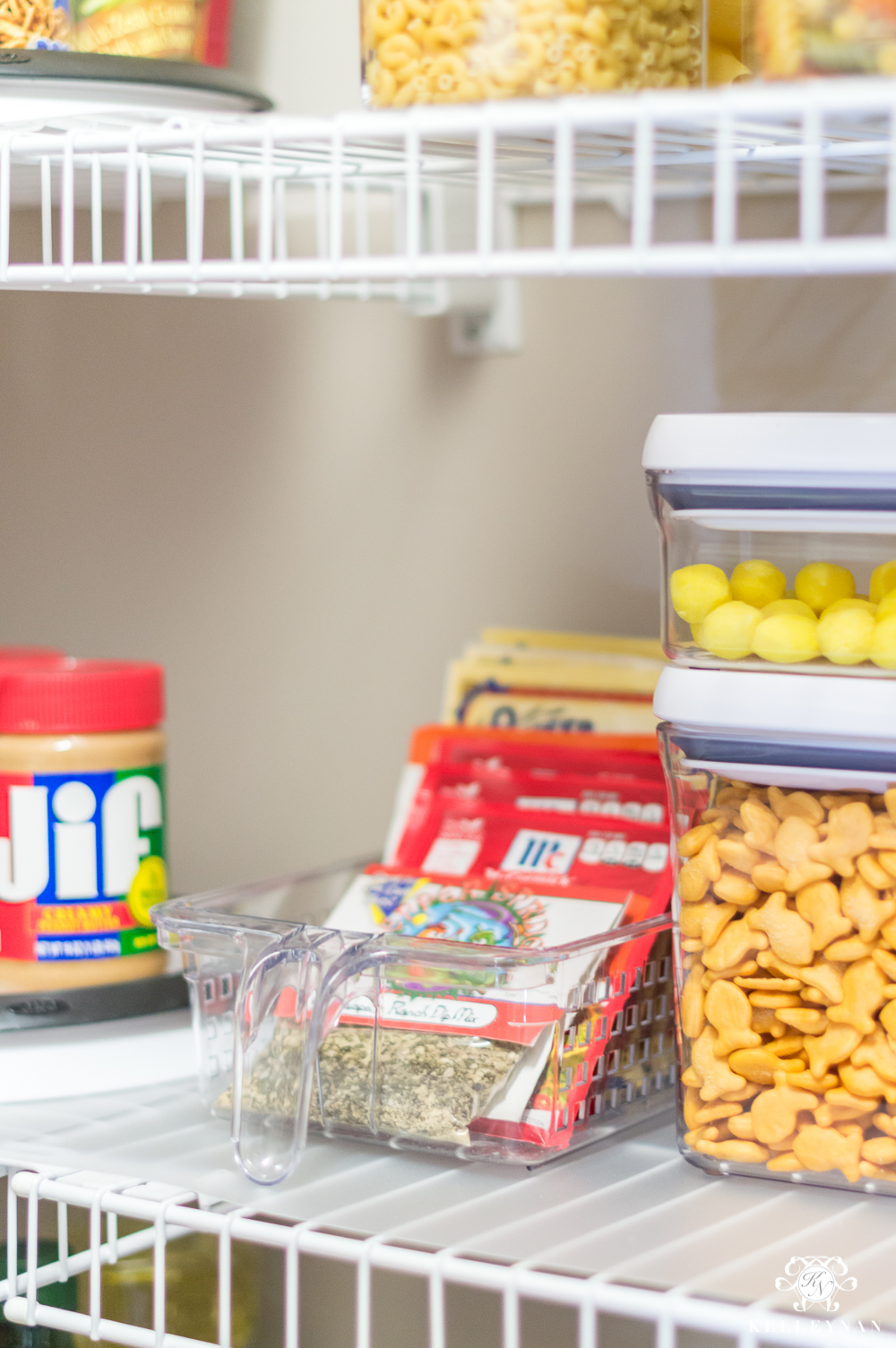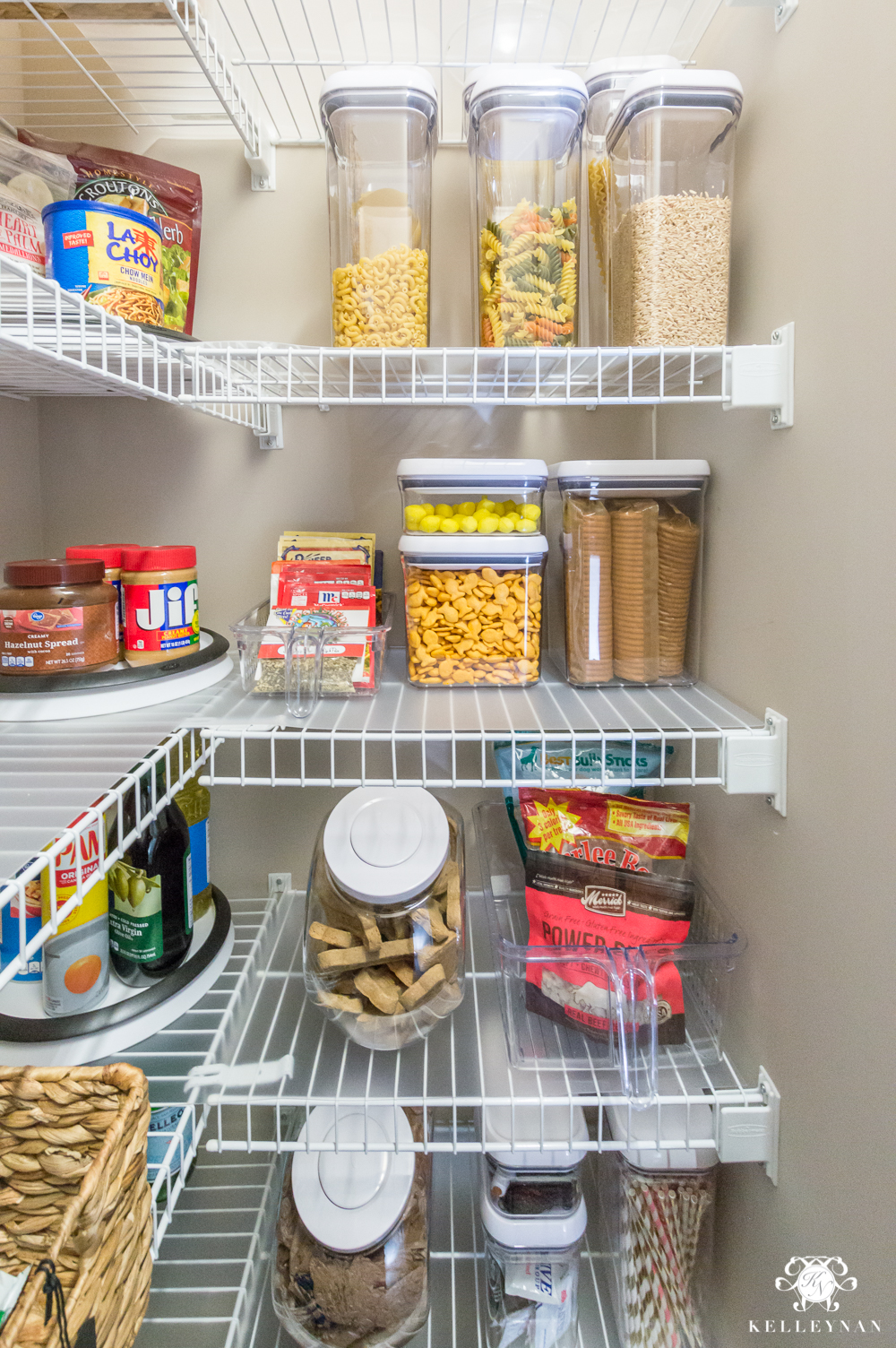 You can look to some items you have on hand to see what could actually be useful (I did), but when it comes to the bulk of your bins, don't settle for just "whatever you have". Make sure they are the correct size, and, having the same repeated bin allows things to fit more nicely. You aren't competing with edges and angles of multiple types of storage. PS: POP containers are designed to stack 😉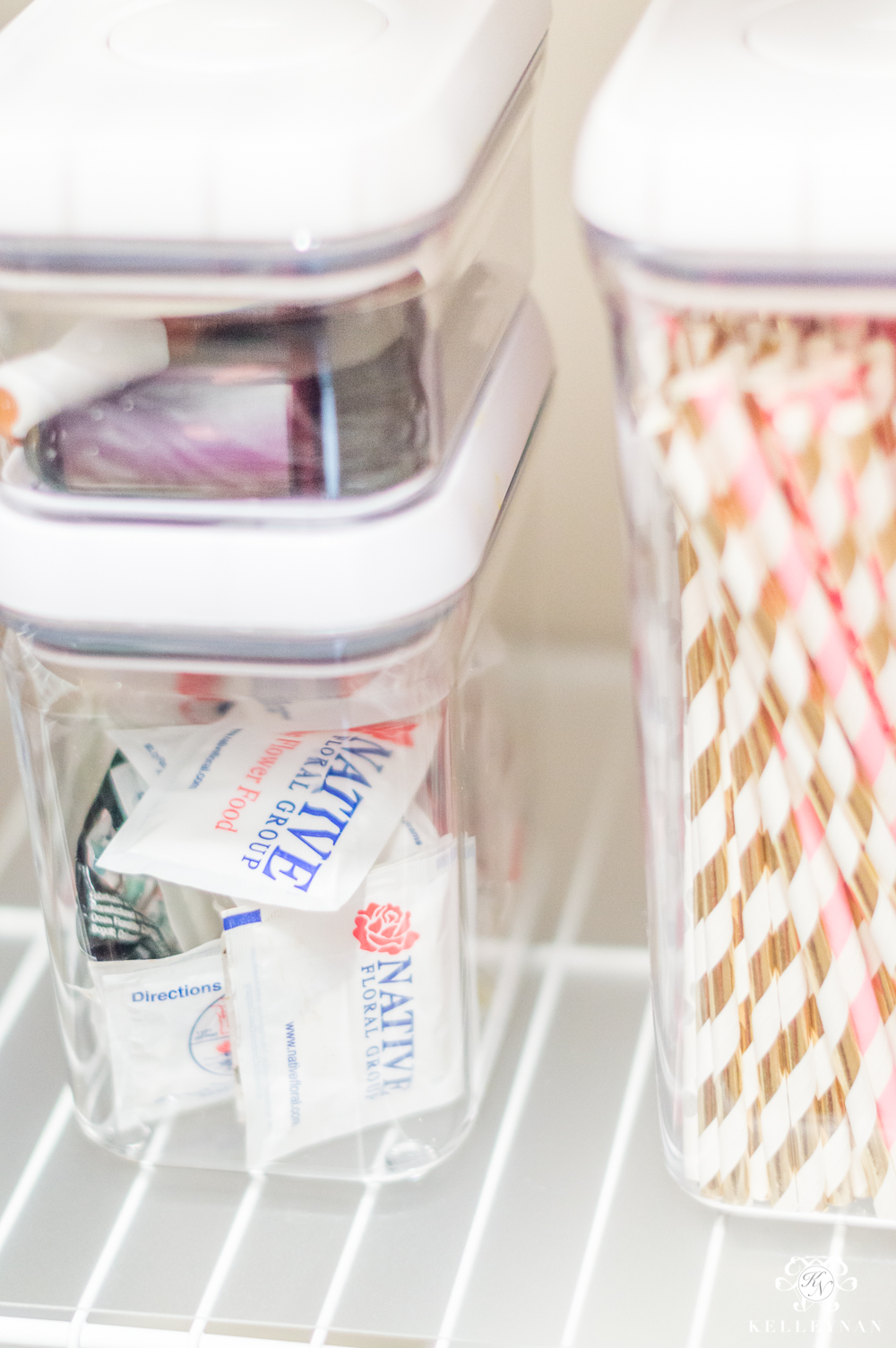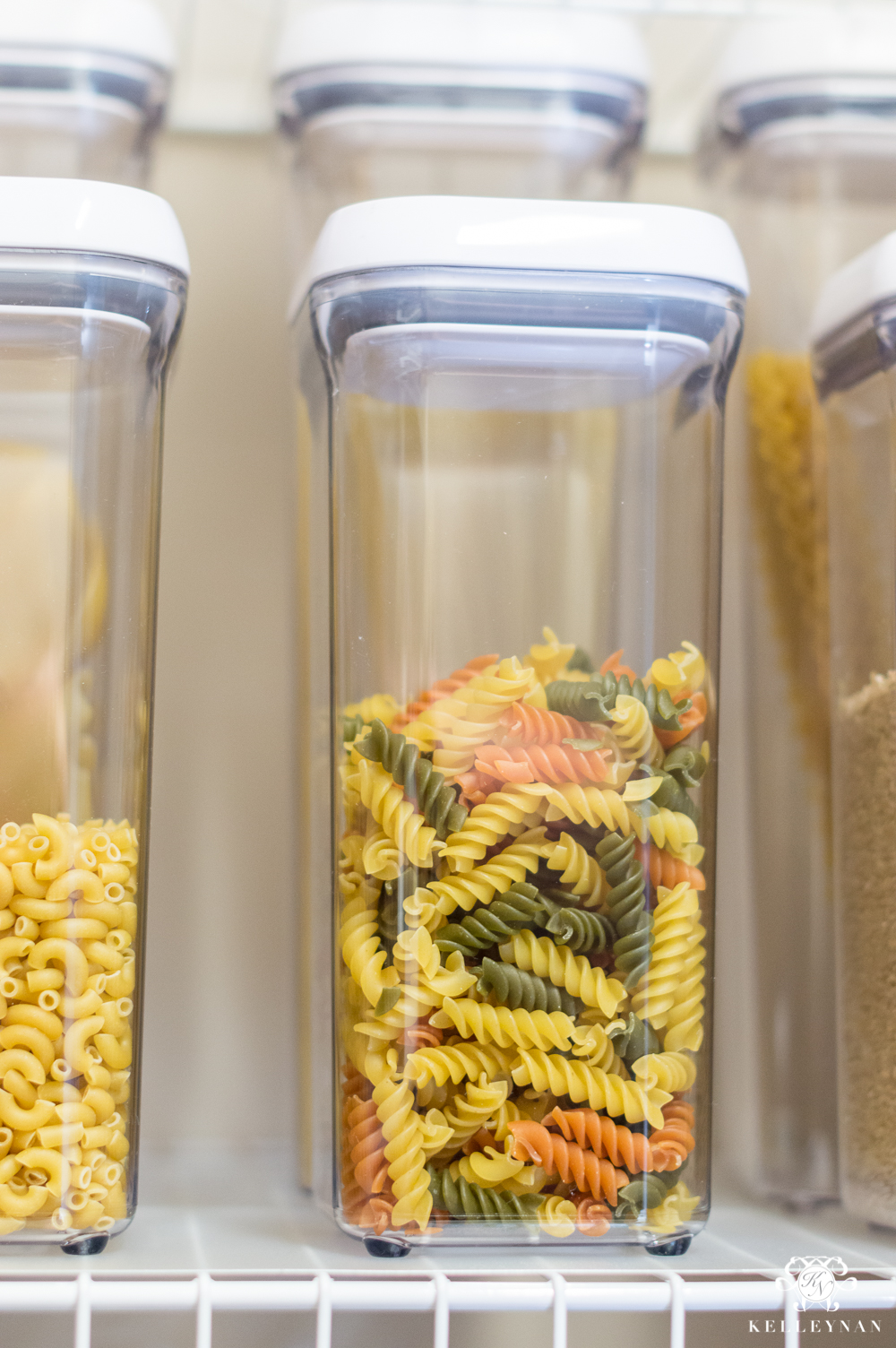 Two items I did use that I had on hand were a couple of magazine files I laid on the floor to hold folded cloth bags, and a desktop file that was the perfect size for my huge stock of beverage napkins.

LEAVE SPACE FOR GROWTH & ADDITIONS
I've talked about this before but organizing doesn't mean fitting everything in like a jigsaw puzzle. If you don't have room for additions, your new system will quickly be destroyed. And, just because your pantry looks tidy doesn't mean it can't be maintained by the others in your home. Remind them to return items to where they found them. These are pantry bins, not rocket science 😉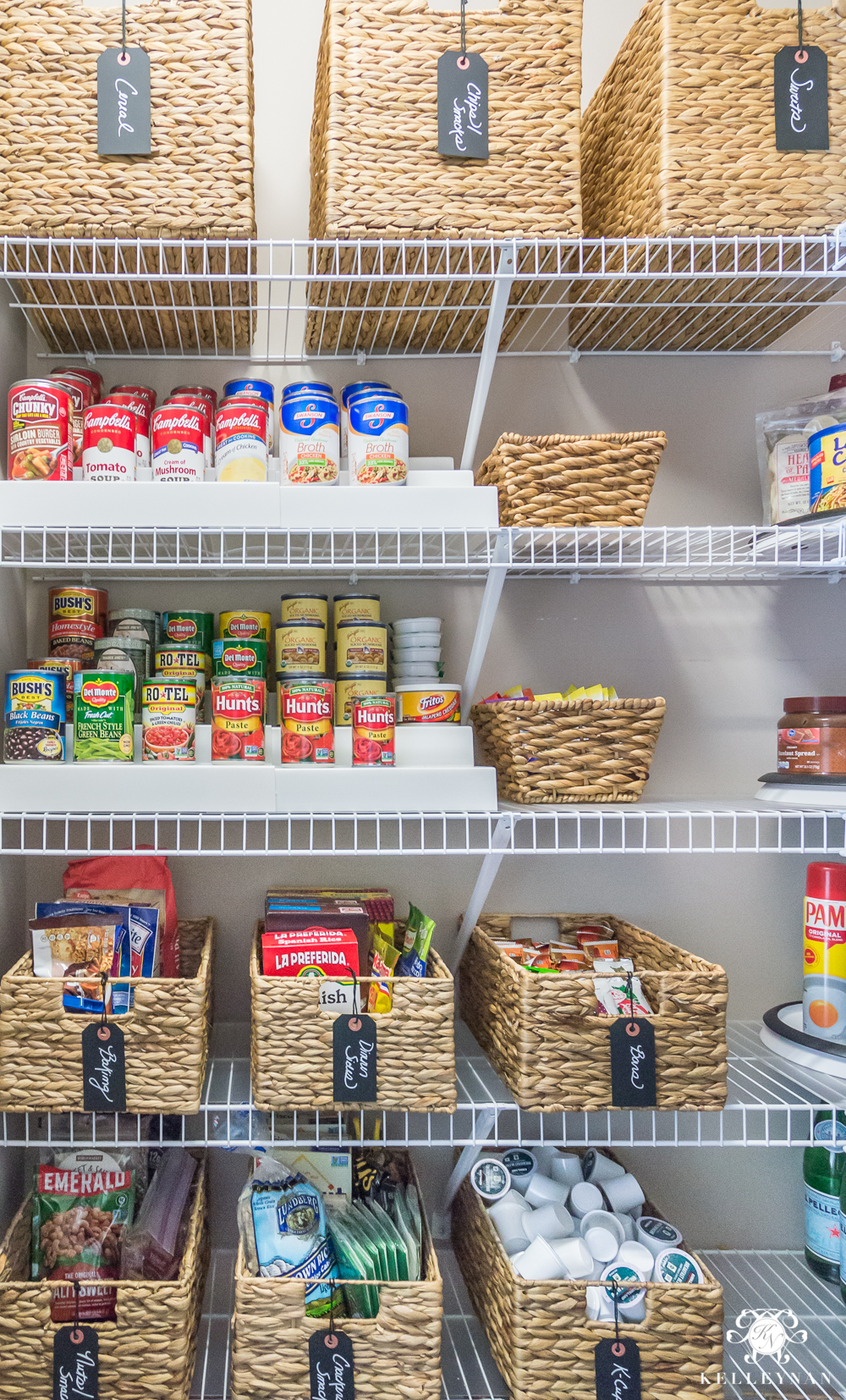 Elfa Door Organizer | 3 Tier Expandable Shelf (Large) | POP Canisters (variety of sizes used) | POP Slant Canister (5 qt.) | Shelf Liners (available in several sizes – 12″ used here on standard shelf width) | Clear Handled Baskets | 11″ Turntables | Water Hyacinth Baskets (Small on Center Shelves) | Water Hyacinth Cubes (Large on Top Shelf) | Water Hyacinth Baskets (Large on Floor) | Black Label Tags (similar) | Chalk Marker for Labeling | Magazine Holders | Desktop File (on floor for beverage napkins)
For more organization ideas, visit my organization gallery HERE. Be sure to subscribe to receive my updates below so you don't miss future projects!