I hope you have had a wonderful weekend; I just realized I am covered in drywall dust. Yes, literally just now. Here's why- remember this lantern I pulled the trigger on last weekend for my foyer? Well, it wasn't supposed to arrive until mid-late March… so, when I got the shipment notification on Thursday with a scheduled Friday delivery- done! Weekend plans scheduled! Well, there was a flush mount ceiling light obstructing the view to the foyer and I wanted it to be "clean line" so on Friday afternoon, my husband came home with tools to replace the fixture with a can light. I'll skip all the details for now and share when I reveal the new foyer light, but long story short, we did not get by with a straightforward task of taking down one light and hanging another. And, that's why I am covered in white dust. Meanwhile, I was am also preparing for some spring tours which means a 2 hour round trip trek to Trader Joe's, marathon flower arranging sessions, cleaning and picking up from all those other projects (like the foyer closet makeover that still has the dining table cluttered with tools). I felt broken last night with sore bones and ladder foot and as soon as this post is wrapped, I will have to get back to it as I'm shooting spring photos today and it still looks like a tornado hit our house. A smaller tornado than yesterday but still a tornado, nonetheless. I have to tell you/ask you about one more thing and then I'll finally get to the point of this post – a project I completed two weekends ago – organization for under the kitchen sink.
Ok, so to ease my aches and ailments last night (and to get clean obvi), I did a shower/bath soak "cocktail". It was midnight but it was amazing. I don't care if I have to make time for this ritual in the middle of the night – I want to start doing this at least once every other week. If you have never showered and then relaxed in a bath (work before play 😉 ), I went through the full shower process, got out and started the tub. I brushed my teeth, cleaned the residual off my face, and brushed my everyday thickening spray through my hair. I wrapped my head so my hair wouldn't get messed up and tangled – my hair dresser showed me a trick about tucking the tail of the towel wrap tightly at the base of my neck, something else I had never considered. And here is where I need your help. My mom always brings me goodies and special finds when she visits – some are random but they are so thoughtful. Two weeks ago when she was visiting, she brought a single packaged bath bomb. I had never used one before! Bubble bath, yes. Bath salts, not much but yes. Even bath oil beads when I was younger. Well, I am in love. Addicted. I want a big tub of them. Do you/have you used bath bombs? If so and you have a fav, please please let me know! I am desperate to order some more (like, today).
So, now that I've talked about drywall, lights, my messy house, bath bombs, ladder foot, etc., I'm ready to share one of my latest organizational updates- underneath the kitchen sink. It's a difficult area because if your home is like mine, it isn't pretty behind those doors and you don't fill it with pretty things. It doesn't matter. You still deserve efficiency 😉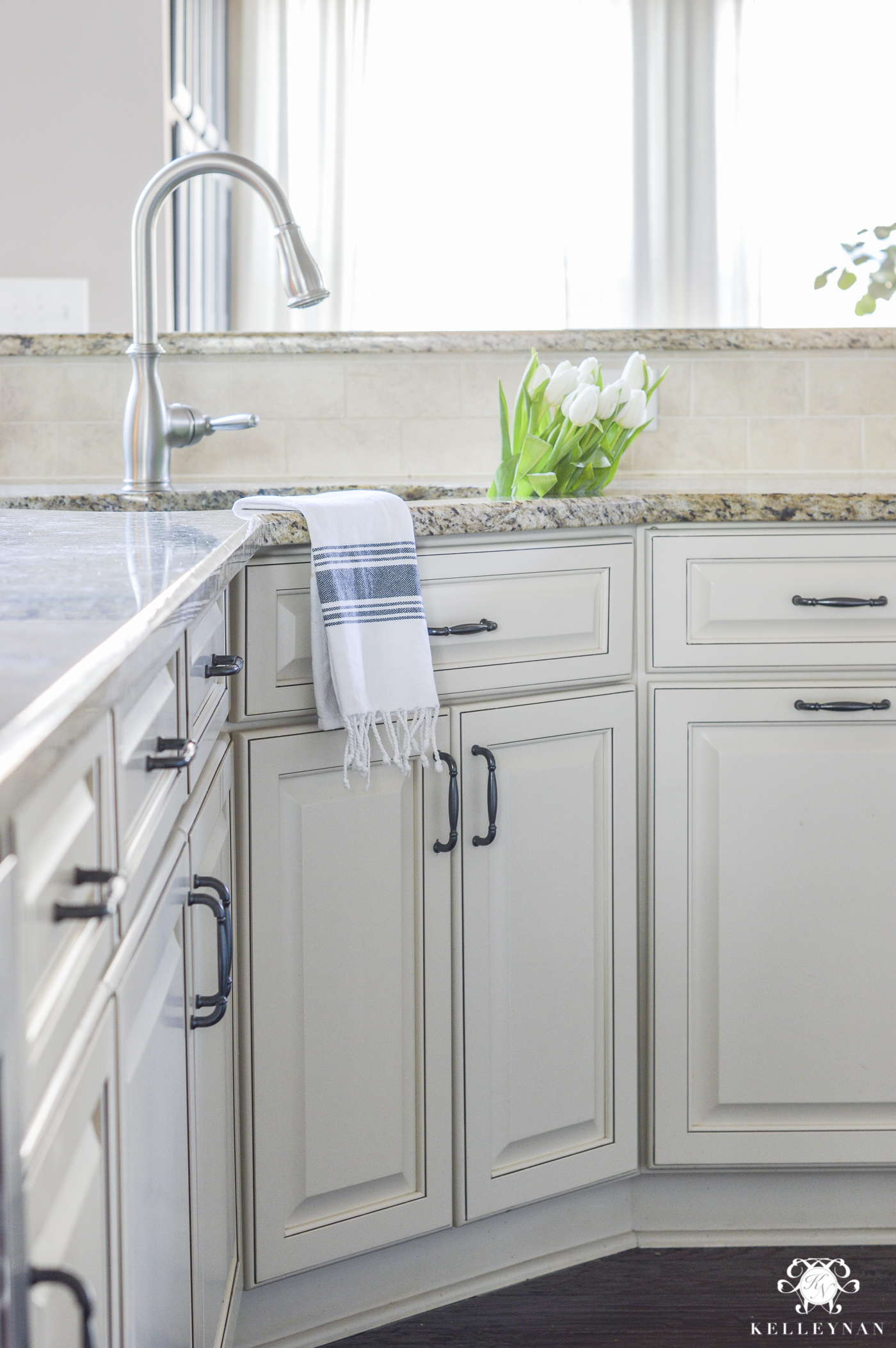 PS: That modest little "flowers in the sink" shot was from a modest bouquet a couple of weeks ago. I'll share the obscene thing I shared on my Instagram account in my spring tour next week 😉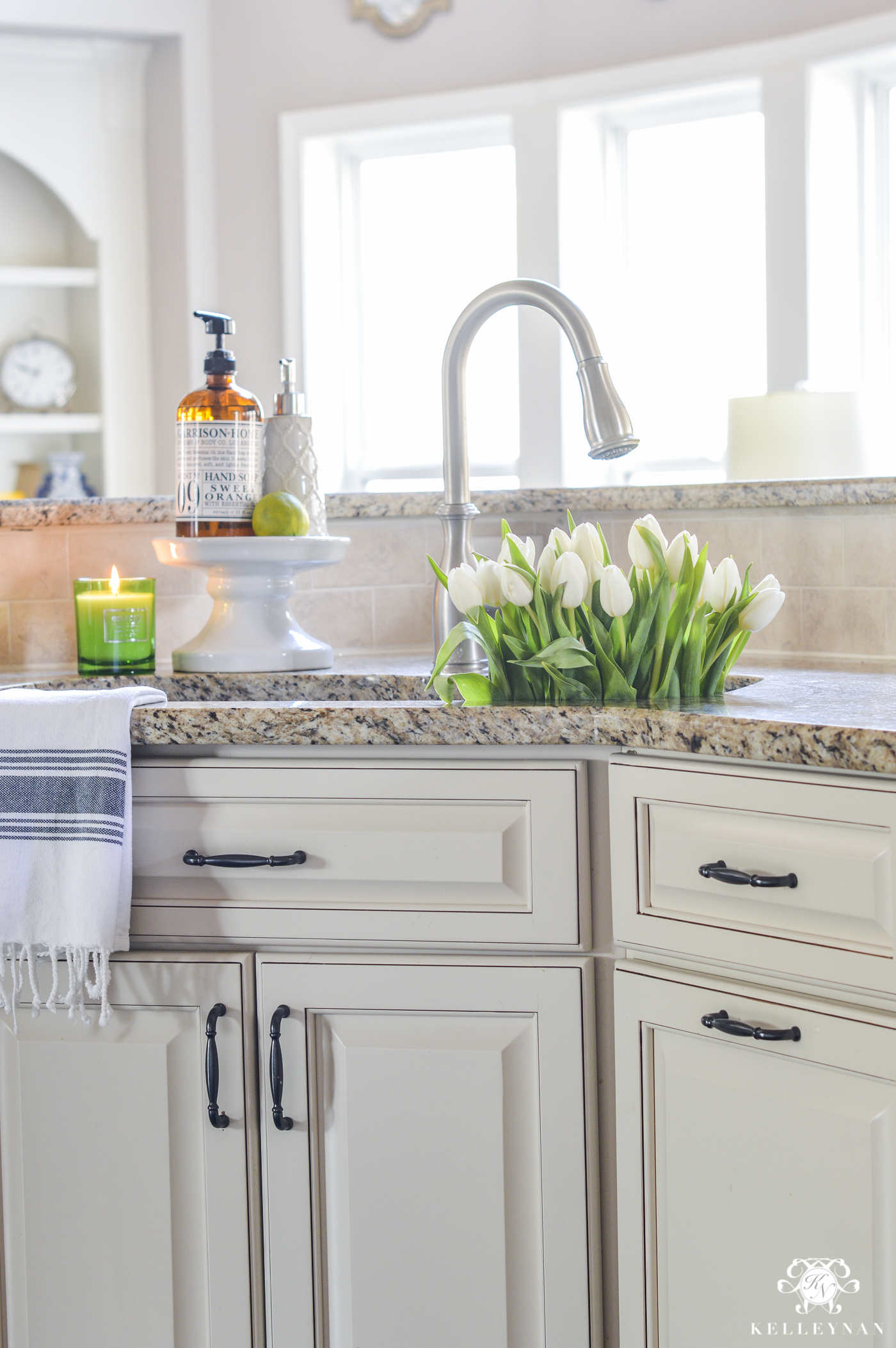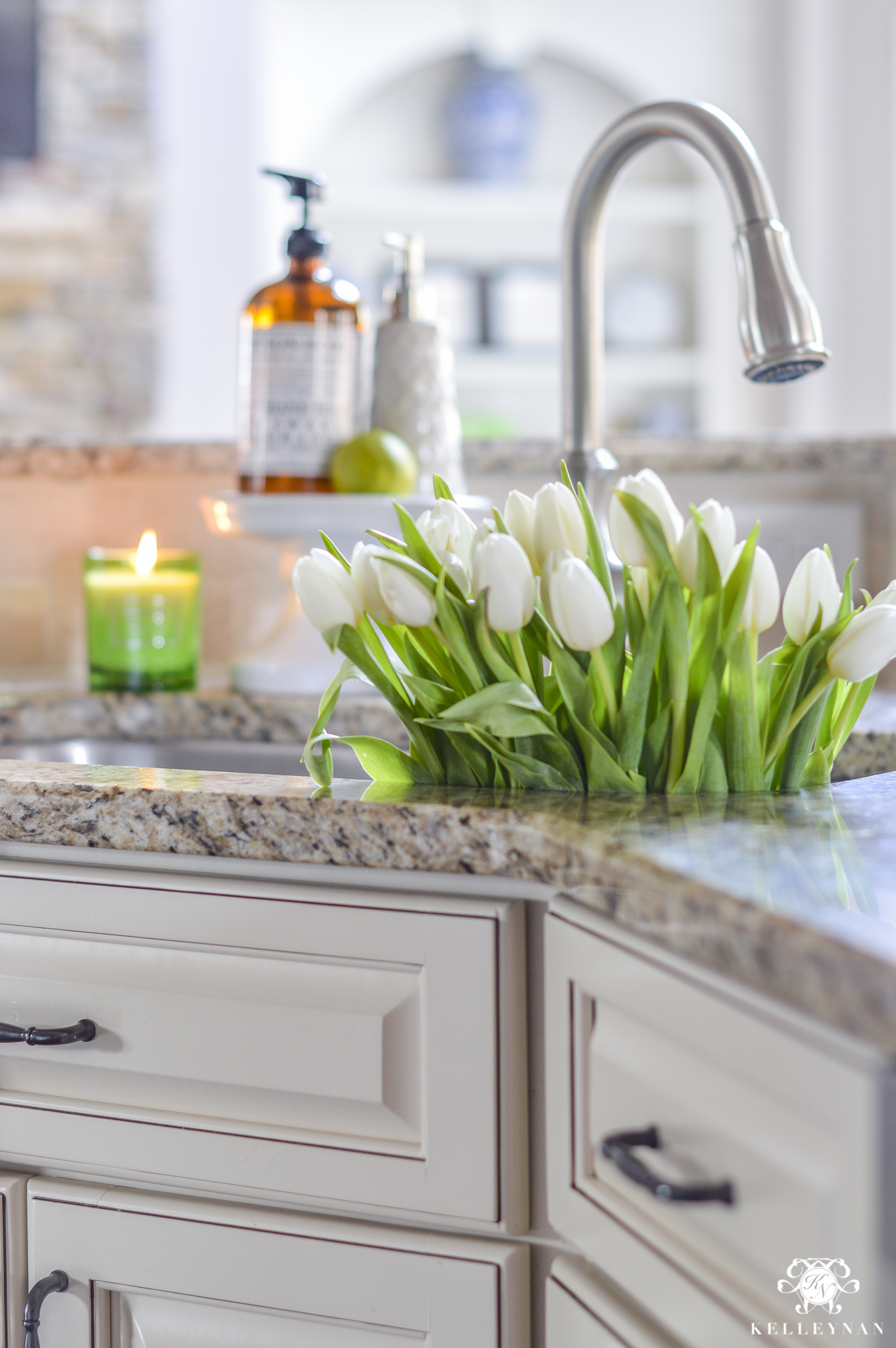 I am not a plumber or an electrician and I'm sure there is a reason why all the piping and cords have to be smack dab in the center of the cabinet, but really?! The most space in the entire thing is actually  located BEHIND that mess. The disposal, I get- it has to come straight down. but some of the other stuff? Like positioning the outlet right there?! In the middle?! Ok, so I despise the space under the sink. But, it was in desperate need of help and attention.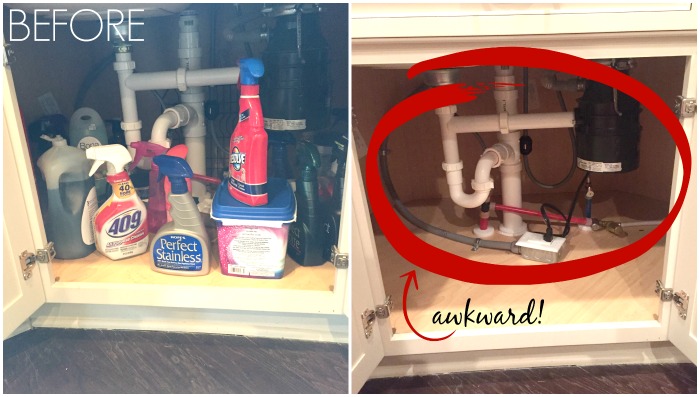 It actually took me a couple of trips to The Container Store to get my allowed space "right". I exchanged a few types of shelving and a too-big-for-the-space lazy susan but am so tickled with the end result. Here's how she looks now.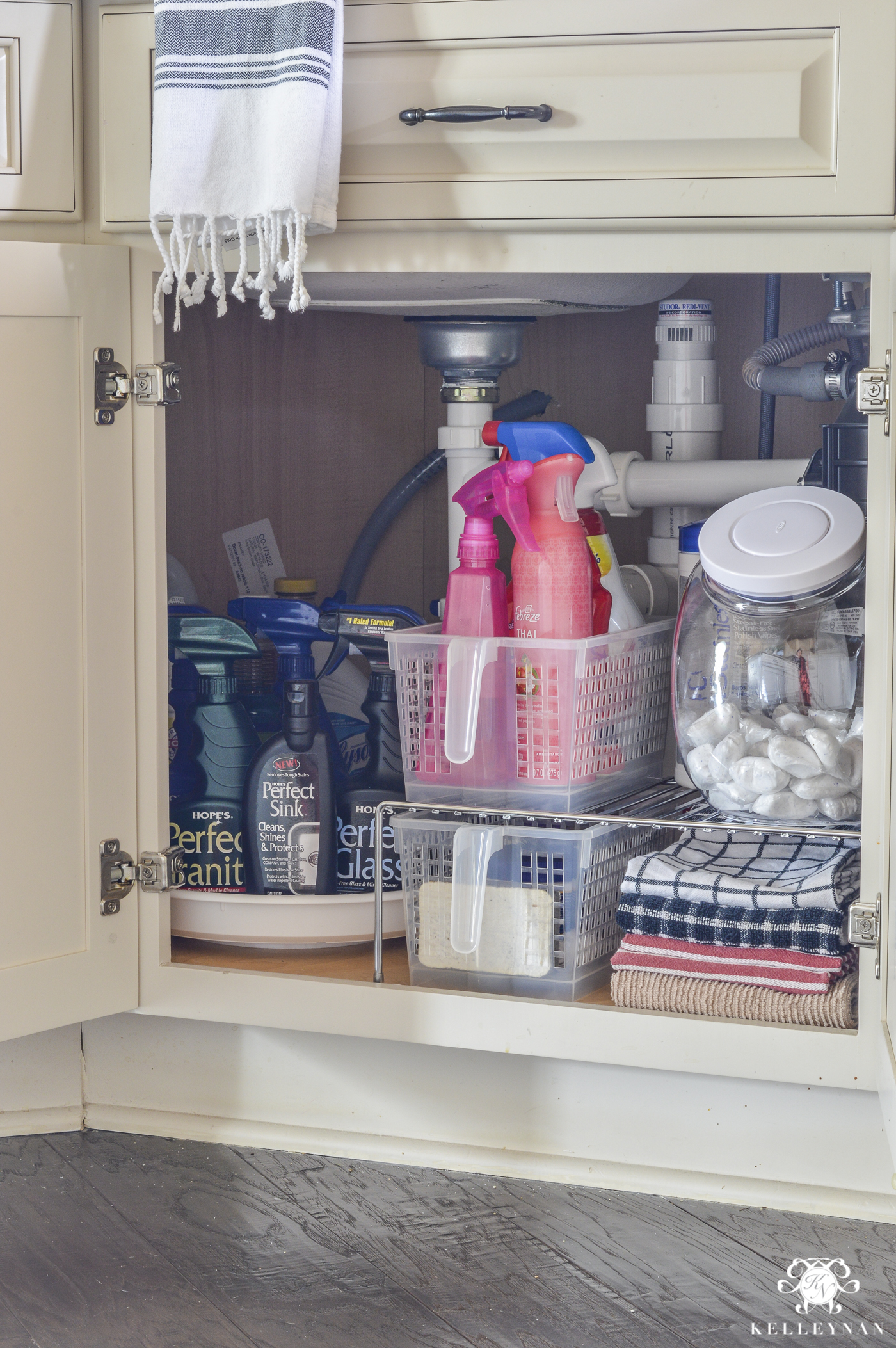 The first thing I did was take everything out. If it belonged in the garage/basement/trash, that's where it went. We shop at Costco so we do have extra stock of a lot of items; with the limited space, I was fine with those going in the back left corner. All of my most used Hope's cleaners were arranged on a 13″ lazy susan for easy access (I told you I loved the Perfect line ;)) – if you can go larger, I totally would… and I tried but in my corner cabinet, with the pipes, there just wasn't enough room.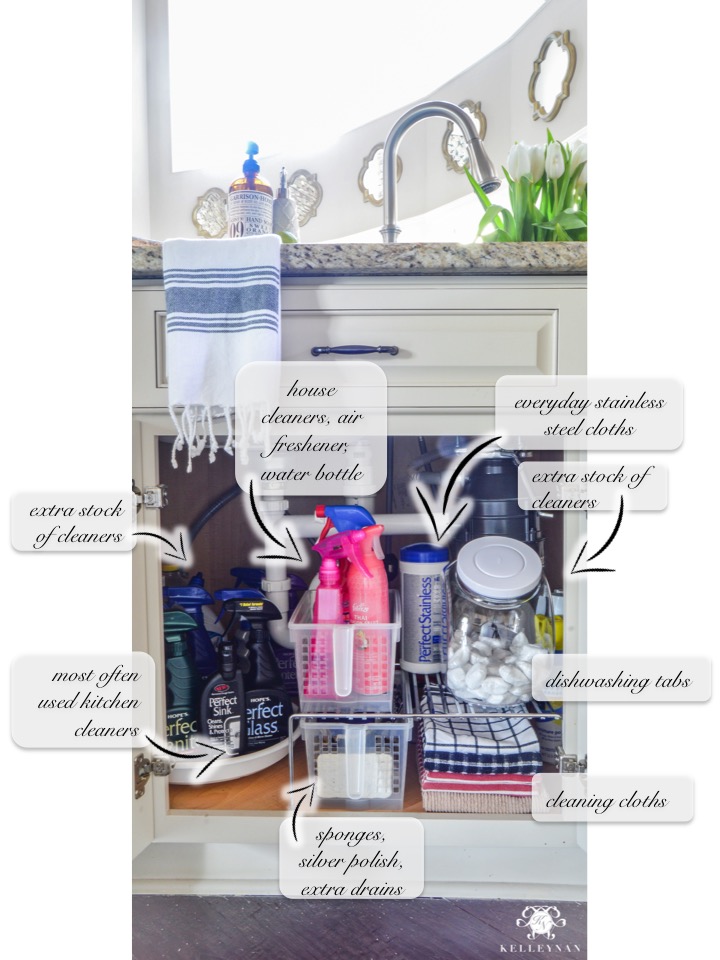 I used this substantial plate rack for two-tiered storage and found handled baskets which could fit underneath to hold sponges, extra drains, and all the "small stuff". One of the biggest game changers though was this OXO Pop slanted jar for our dishwashing tabs (this is the 5qt.). As I mentioned, we are huge Costco people so we buy in bulk, but the buckets/boxes of tabs are so unwieldy! This new system may be Dave's favorite thing ever. If you aren't familiar with the POP containers, the center of the lid is a big button. You push it down and it unlocks the airtight seal. when you close it, you just press it in. They are more costly than some other options but if I had just another container with a locking lid, I wouldn't use it easily and in the same way.
Old dish rags are also stored underneath the rack for cleaning and spills.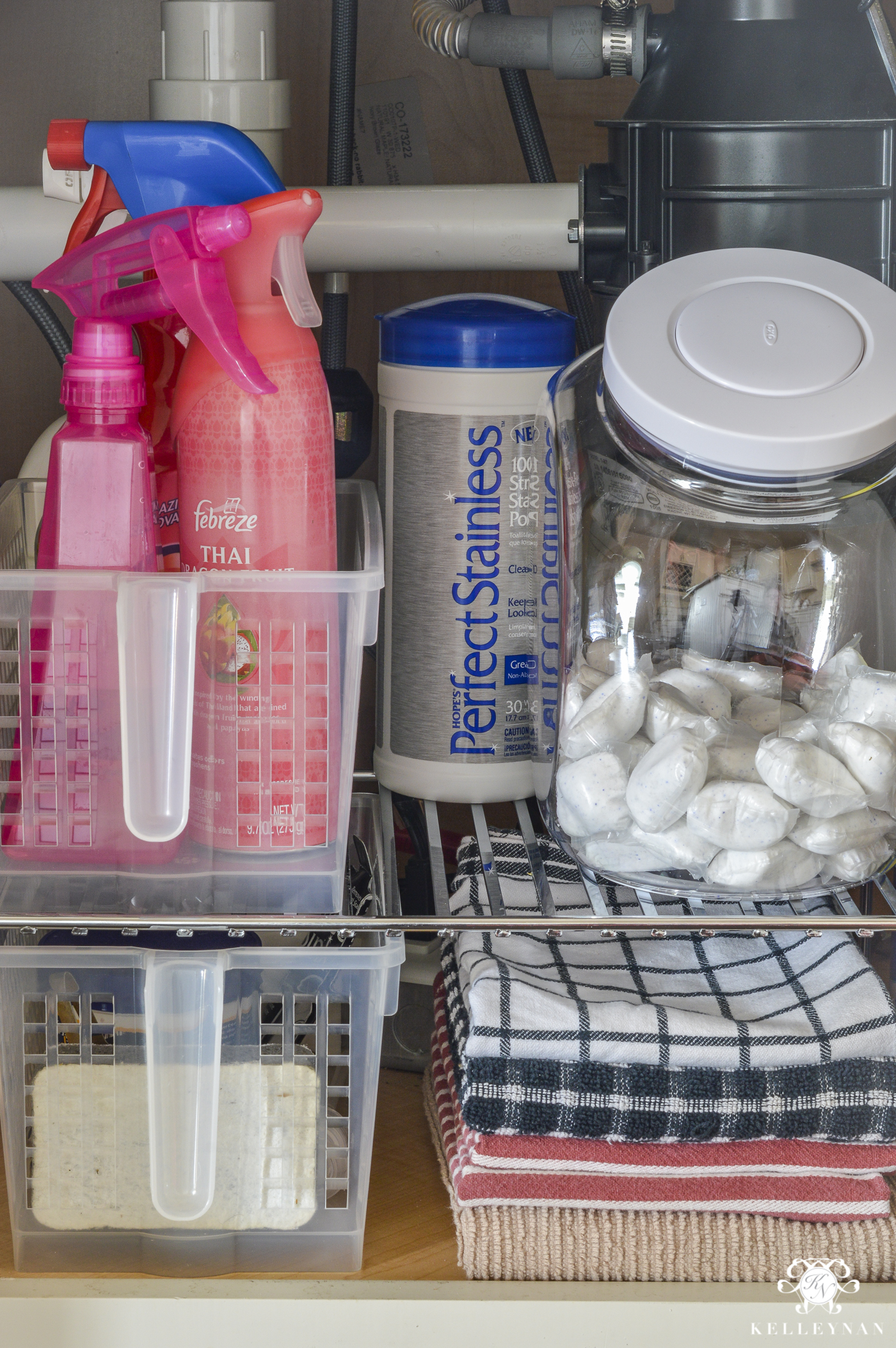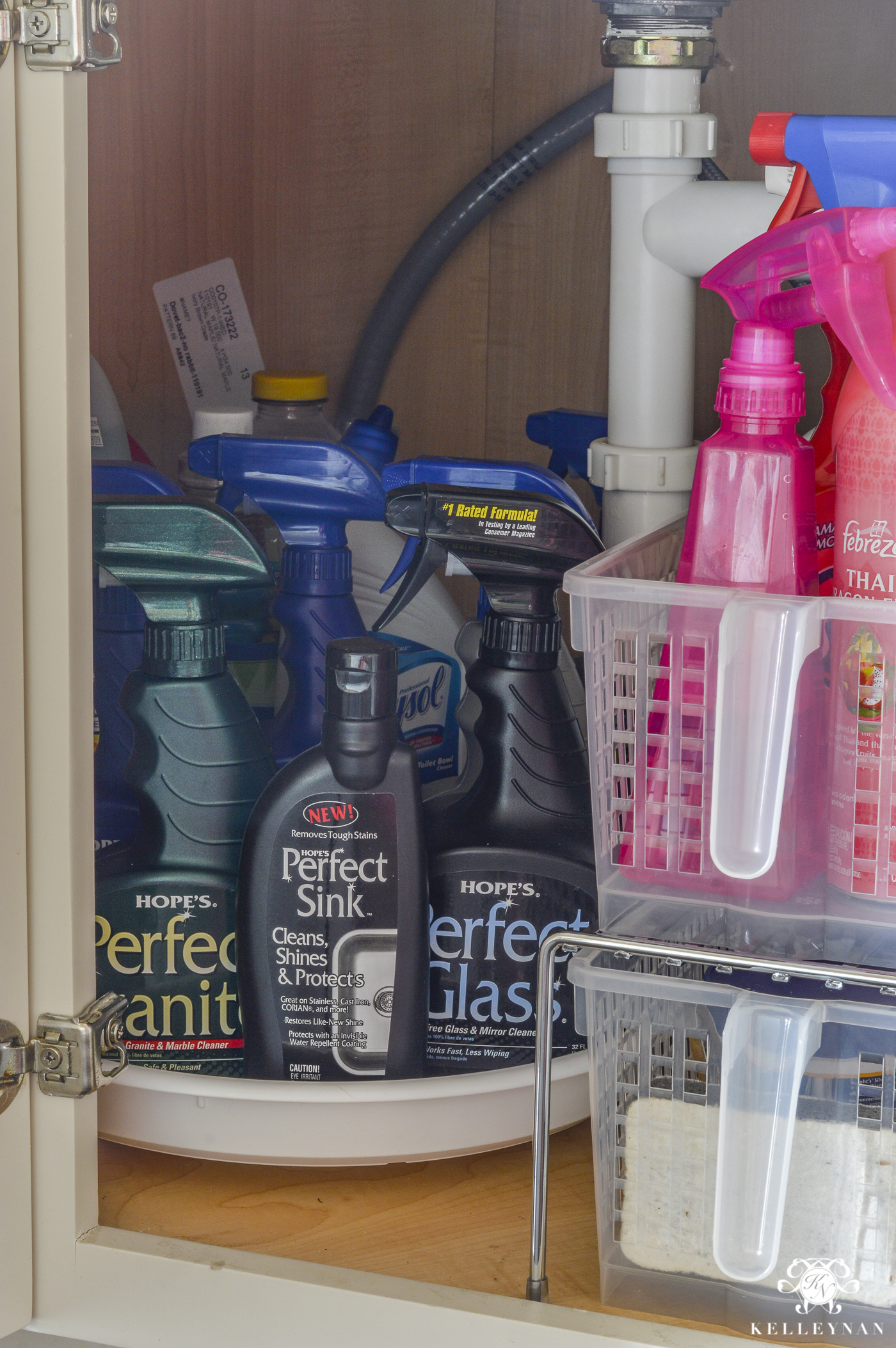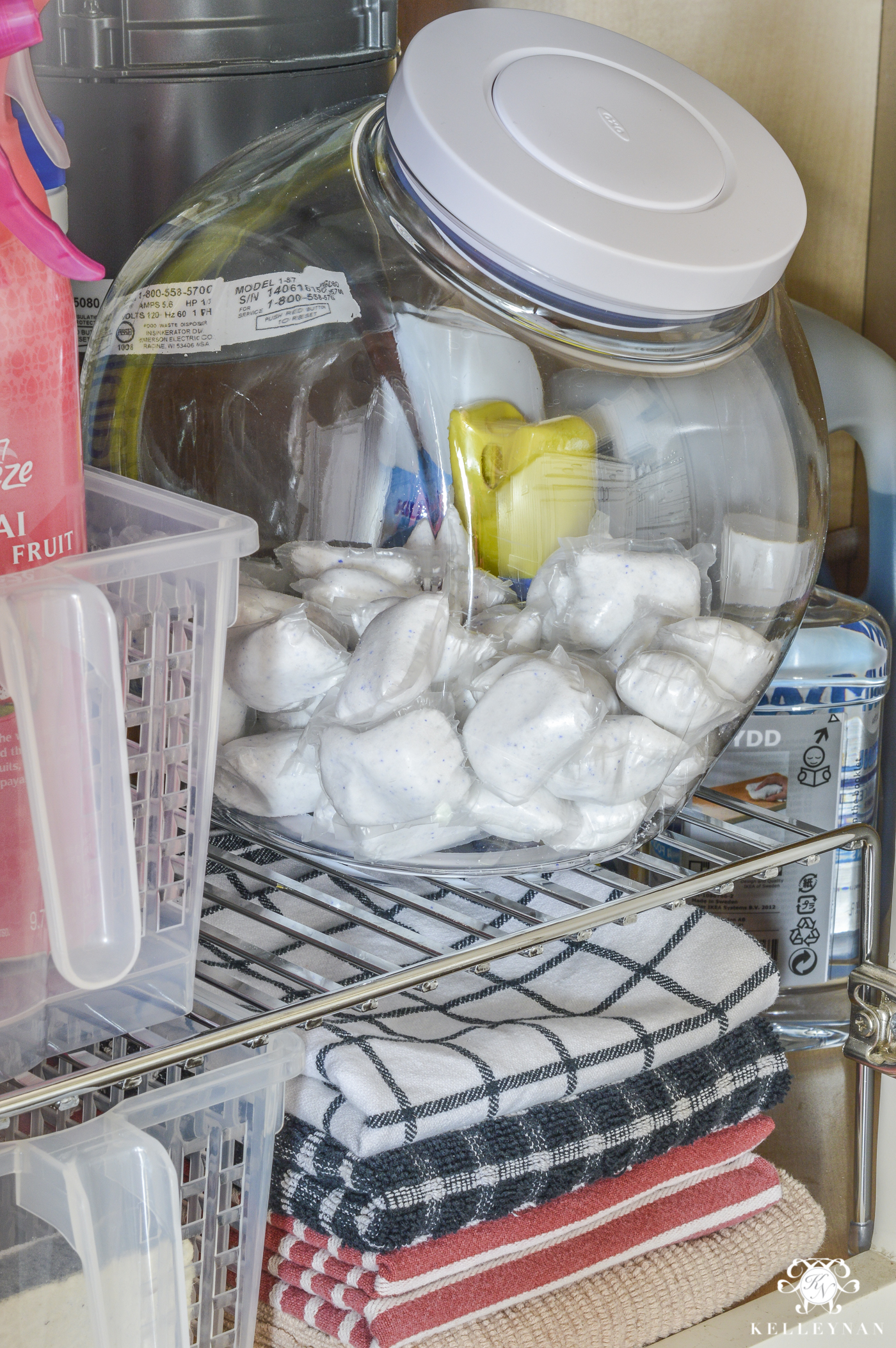 Here's a peek into my bottom basket- Mr. Clean magic eraser, silver polish, spare drains, sponges…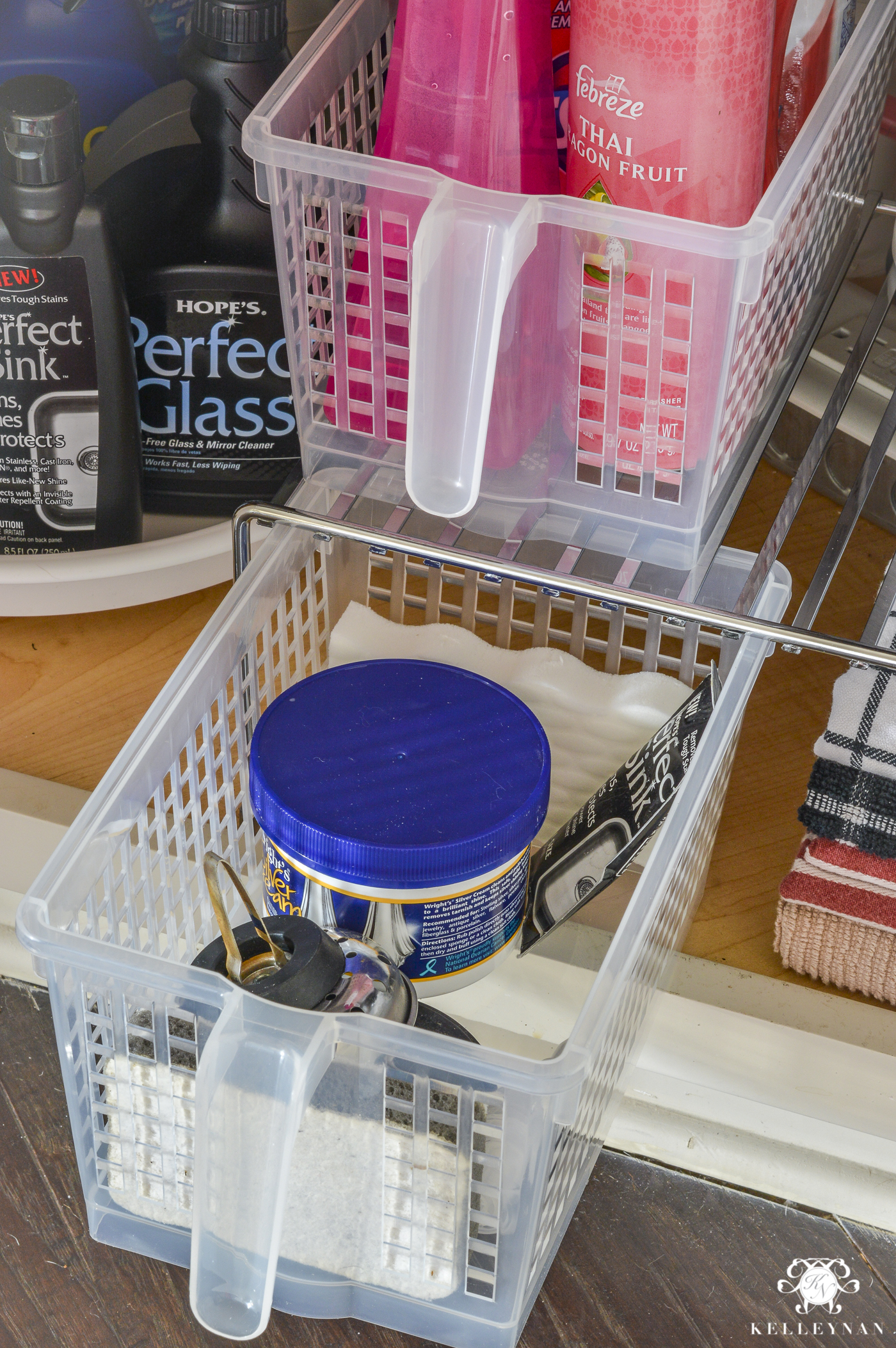 Having used our new system for about two weeks now, I am totally thrilled. Take inventory of what  your space allows for and consider turntables, risers, shelves, baskets, and containers. Leave easy access for items you used most often- front and center.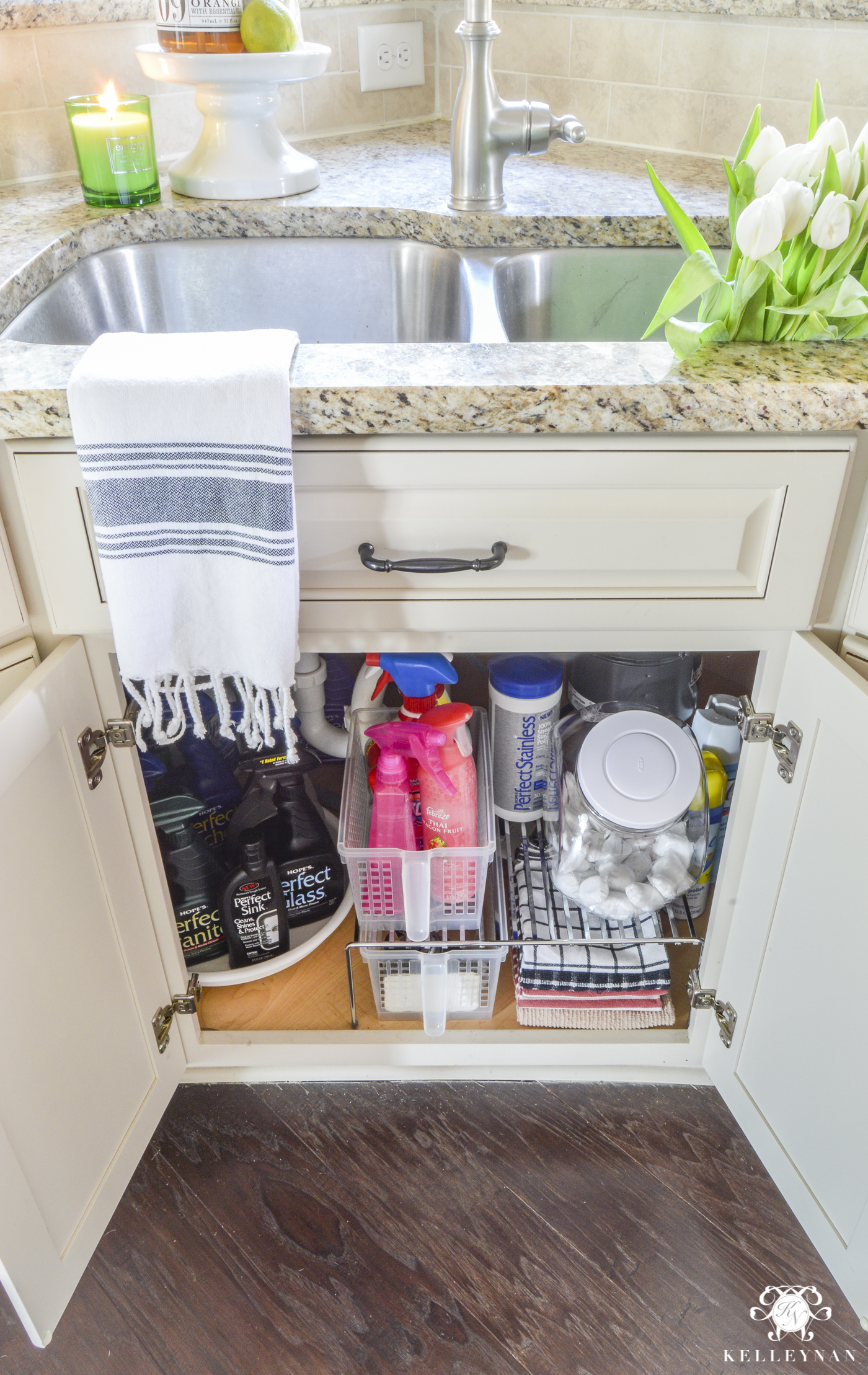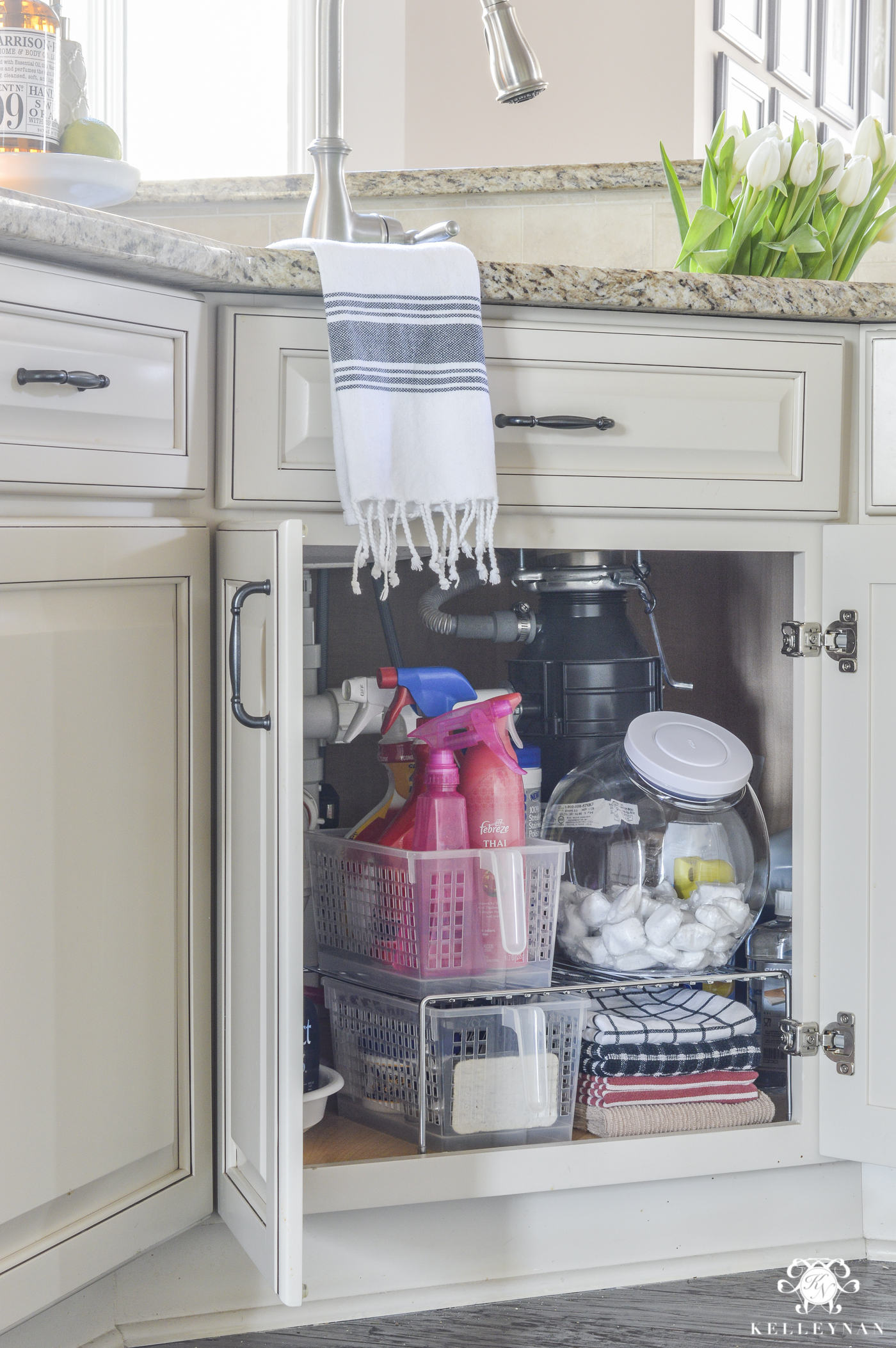 Full kitchen sources and colors available HERE.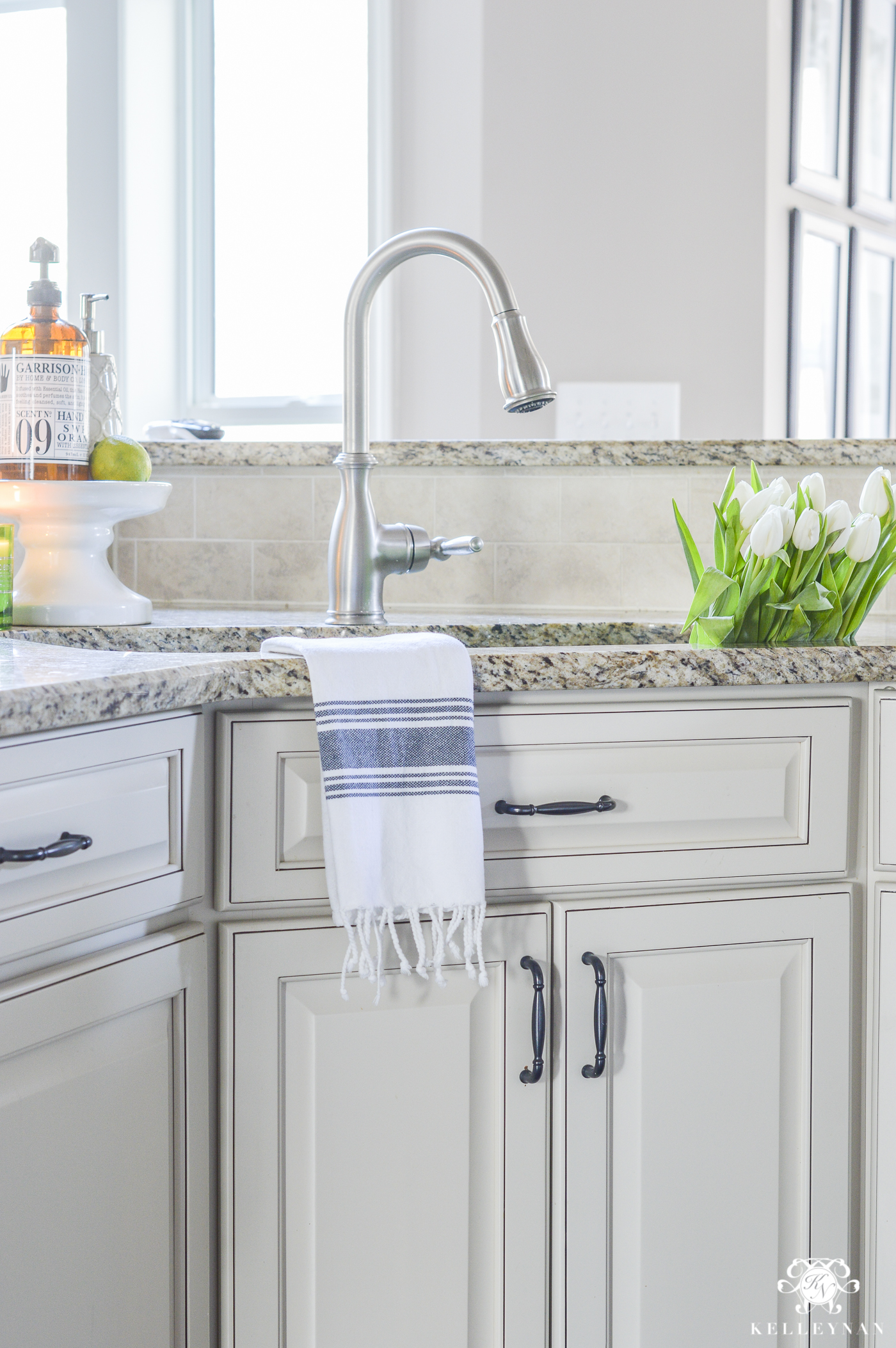 Stay tuned for more organization posts coming soon and if you missed them, you can check out other recent organization projects HERE.
*post contains affiliate links*
HOVER ABOVE THE BELOW IMAGE TO PIN FOR LATER!