Remember a few weeks ago when I asked the question if I should prepare for a master bedroom re-vamp (since I have never actually finished our master bedroom) or whether I should do a full makeover on our last guest bedroom? Between the hundreds of you who weighed in (thank you!!), input from friends, and changing my mind 4857 times over the last few weeks, I finally reached a decision. The spring One Room Challenge begins in early April and I will be taking on the last guest bedroom from scratch, and sharing the reveal at the end of the six weeks. BUT the majority of you (almost 68%) did suggest the master bedroom – and I agree with you. I think the master revamp will make me happier but the guest bedroom will be a room I can mark as "complete" more quickly. I have more flexibility in designing the guest bedroom and want to be able to take more time to make sure I love the updates I make to my bedroom… really get it right without a strict timeline. So, I will be working on the master also but it will likely be a more gradual process. Thank you again to all of you who shared your insights and took the time to cast your vote. I'm declaring 2017 the year of the bedrooms! 😉 I've already started to brainstorm the direction of my guest bedroom and one thing I have decided is what will be used at the foot of the bed. Whether you need extra seating, surface space, storage, or just prefer a little extra pizazz, I love using pieces that become an extension of the bed. If you struggle with layout ideas and find yourself shoving things against walls, try pulling a piece out in front of your bed. To get you thinking, I've compiled a list of seven ideas to decorate the foot of your bed.

BENCH
Easy and fool proof, a bench can literally act as an extension of your bed. I used one in our white guest bedroom (the full reveal and sources can be found HERE) to provide extra seating and to serve as an area to set/open luggage.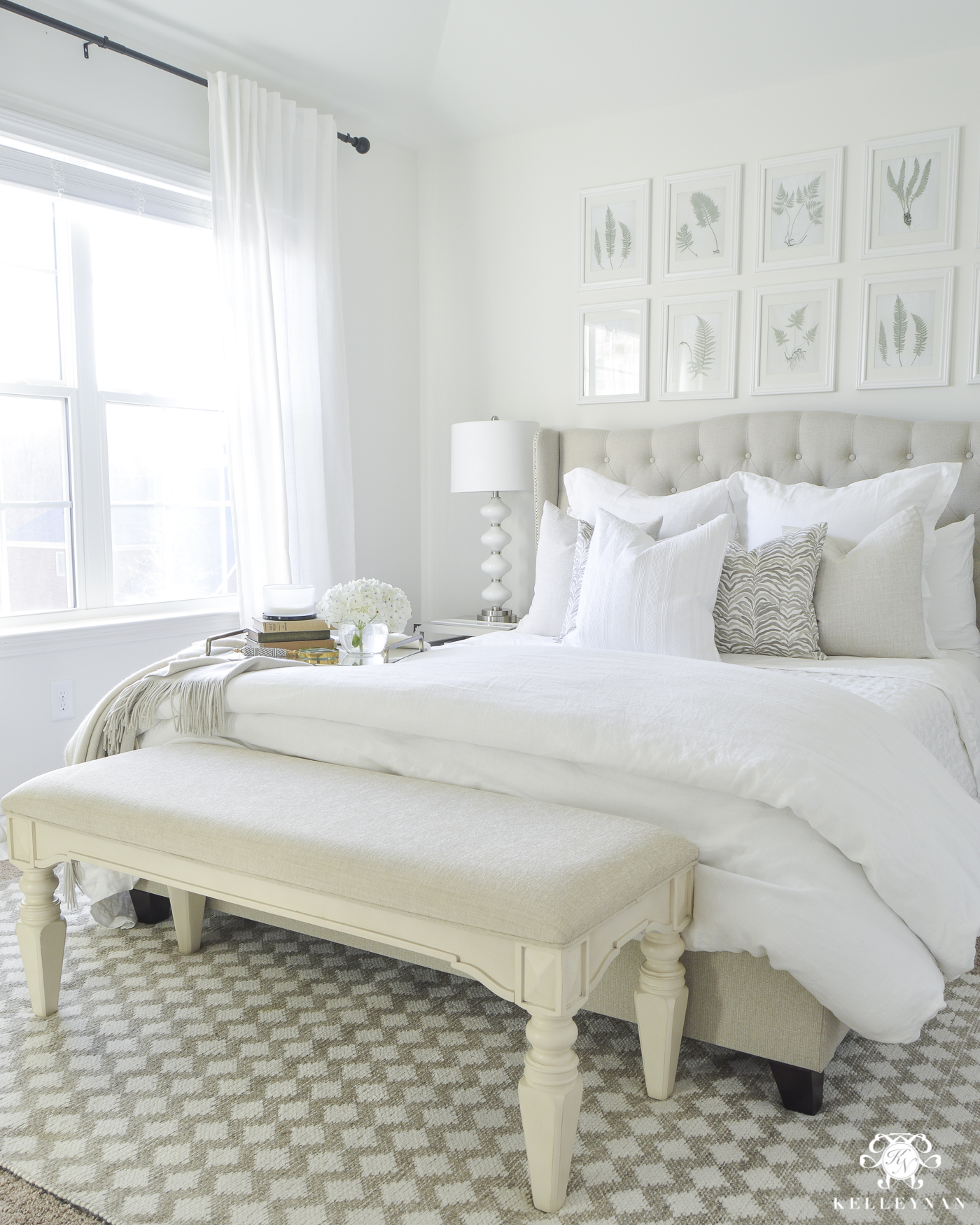 Tap the Photo to Shop the Room


PAIR OF OTTOMANS
In our master, the mirrored x ottomans are multi-functional. I literally move them around and use them as step stools, they are my laundry basket holder when I'm folding cloths, and if the bed is made, we can sit to finish putting on shoes. For full room sources and colors, click HERE.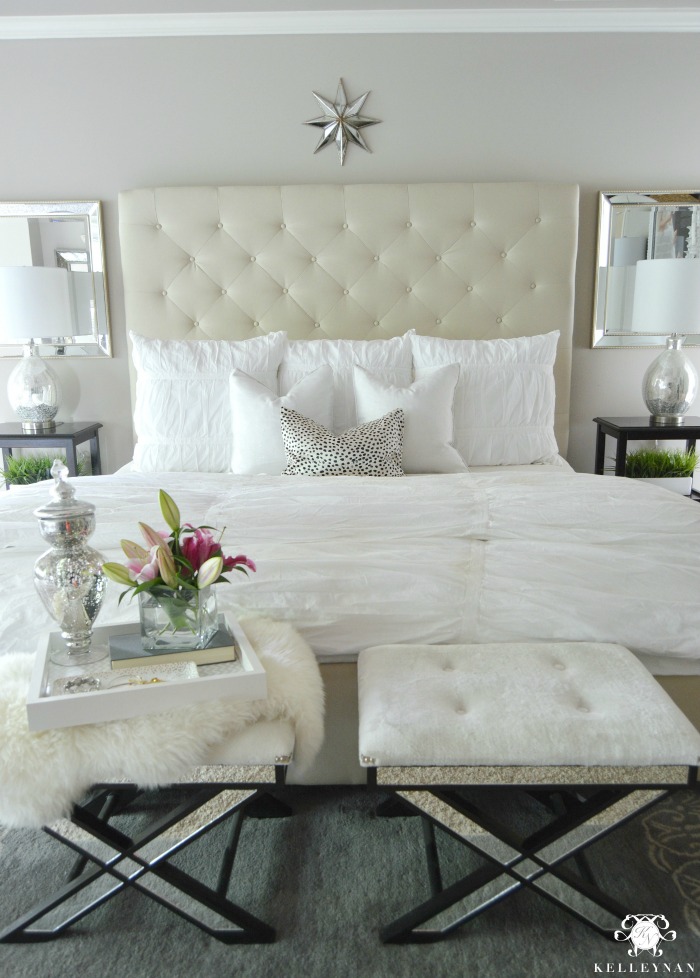 Tap the Photo to Shop the Room


CAMP STOOLS
Similar to the ottomans, Kris of Driven by Decor used a pair of camp stools to outfit the end of her bed. When she shared her bedroom reveal for the One Room Challenge a year ago, my eyes immediately went to those cuties; she is always thinking outside the box and if you have never seen her master bedroom reveal, it is truly a treat. You can check that out HERE, along with her room sources.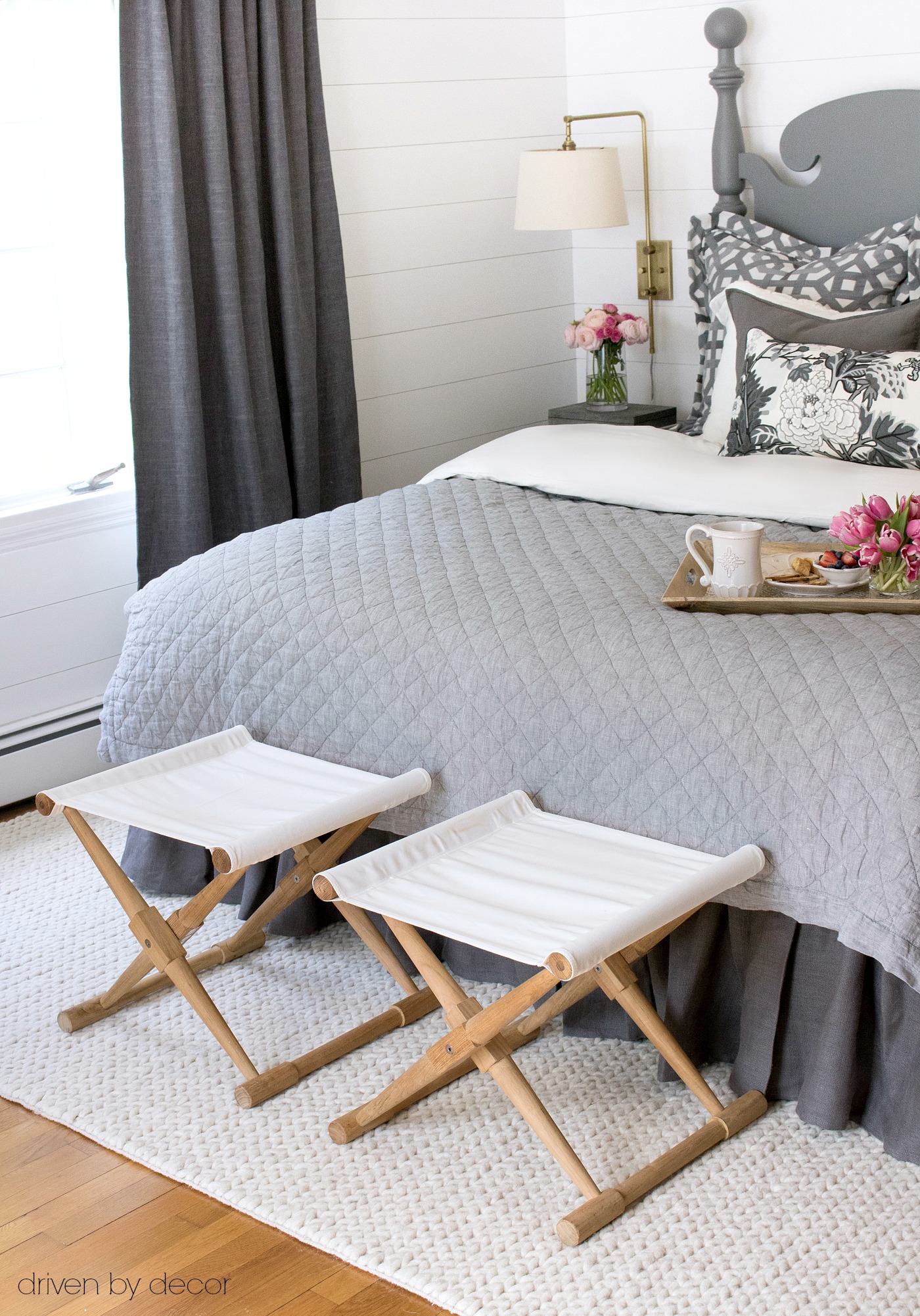 SETTEE
Jennifer of Decor Gold Designs has one of the most recognizable bedrooms on Instagram. Undoubtedly, it is FAB-U-LOUS! She used a full sized furniture piece to add a sitting area which is an especially good option if you don't have a dedicated space for seating. Have any old love seats/settees in the basement you're thinking of donating? Consider recovering and bringing them into your bedroom. You can visit with her for more bedroom magic and to see all her room sources HERE.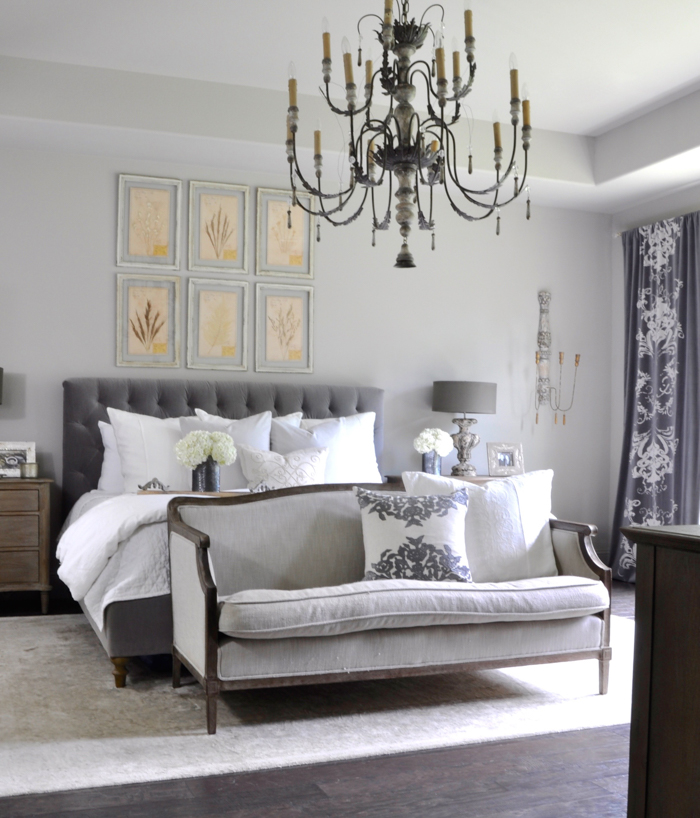 GARDEN STOOLS
Tamara of CitrineLiving has a bedroom that is constantly evolving. She has used benches, stools, and ottomans but one of my favorite ways she styled the end of her bed is when she brought in one of her garden stools. These versatile pieces take up little space and can be used in all sorts of ways all over (and outside) the house. You may have seen her bedroom scrolling through Pinterest – to date, this photo has been pinned over 100,000 times! You can see more of her bedroom and view all of her sources HERE.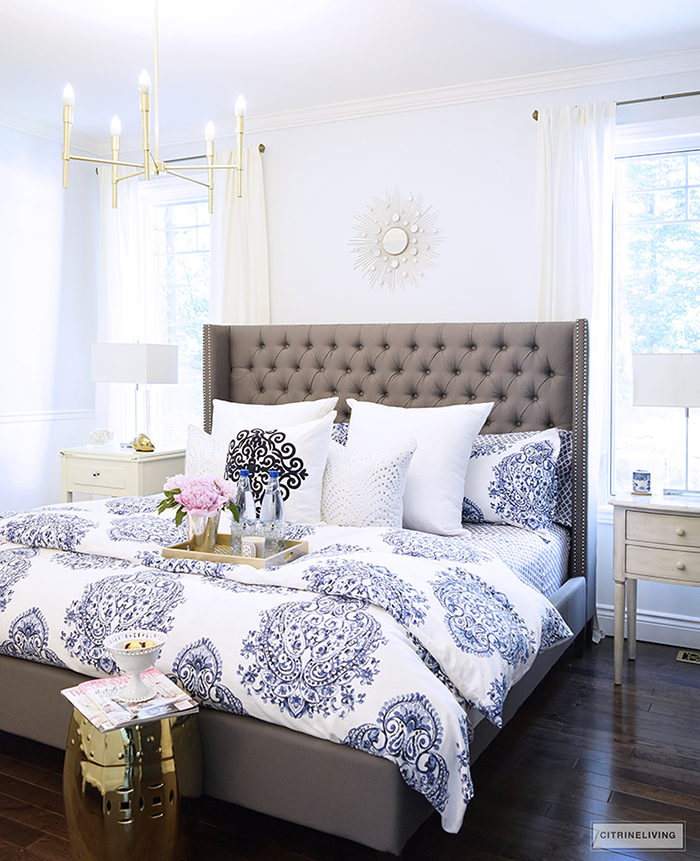 CHAIRS
Jen of StyleHouse Interiors has actually updated her bedroom since this photo but I am still in love with the little conversation moment she created her slipper chairs. Like the love seat, if you are looking to bring in a sitting area but are doubting the space, as long as your bedroom isn't too shallow, try setting up at the foot of your bed. You can find her gorgeous, newly renovated bedroom HERE.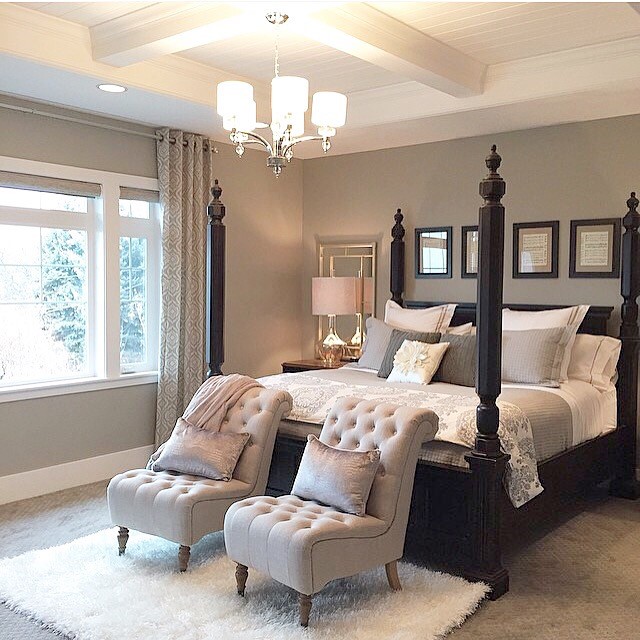 TRUNK
Growing up and to this day, my mom has always had a trunk at the foot of her bed. From storage for extra bedding and pillows to hiding spots for gifts and treasures, a beautiful trunk is timeless and functional. It covers seating, surface space, and storage (I think I'm going to coin "the three s's") and is the perfect option if you aren't sure which to go with in your own room. This classic beauty from Pottery Barn can be found HERE.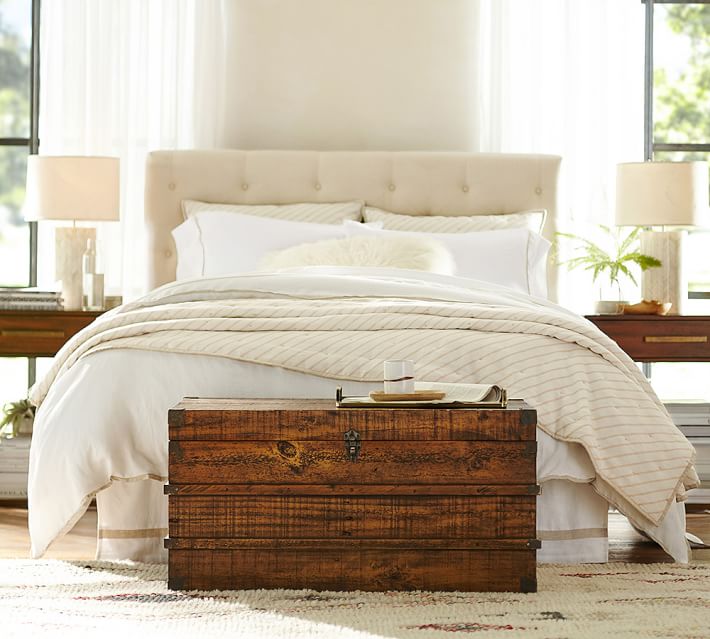 Here's a recap (you can hover and click the pin-it button to save for later):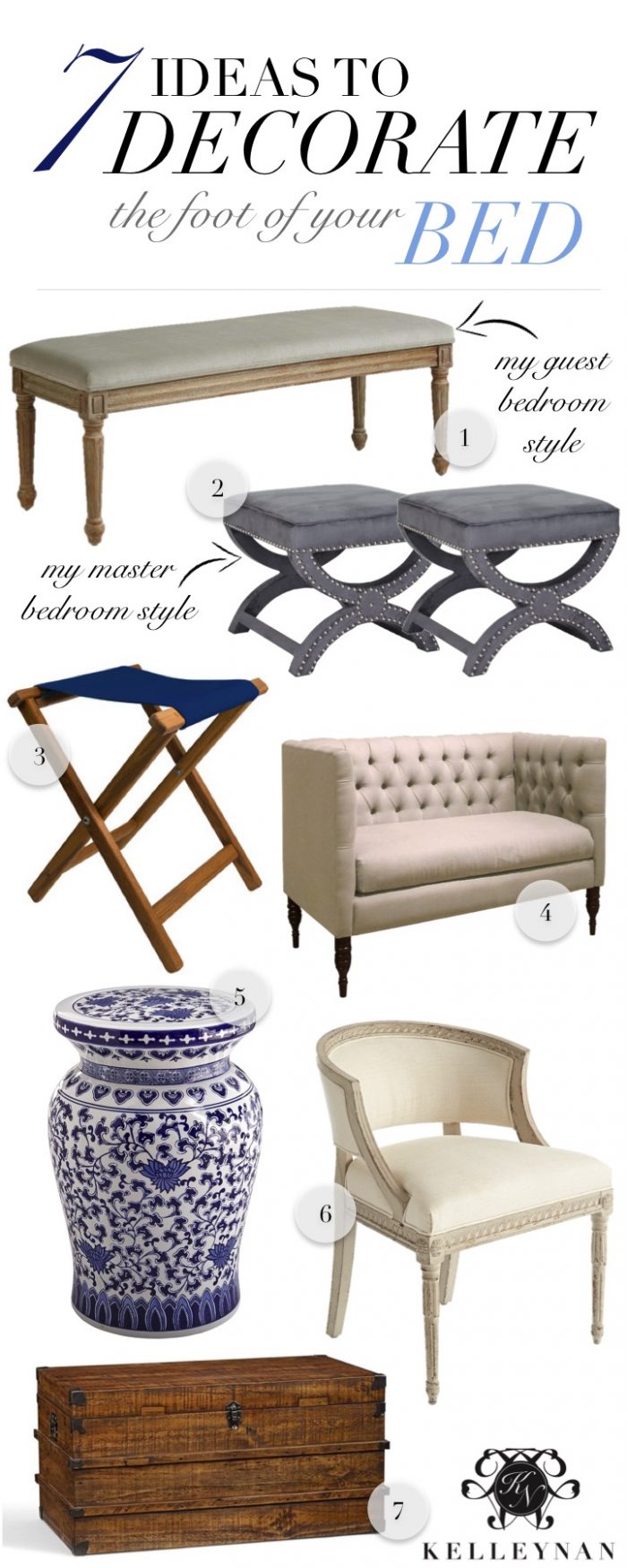 *Tap the corresponding number to be taken directly to the source*

What do you have at the foot of your bed? Let me know in the comment section below! Stay tuned for new bedroom action coming your way VERY soon! 😉
*post contains affiliate links*