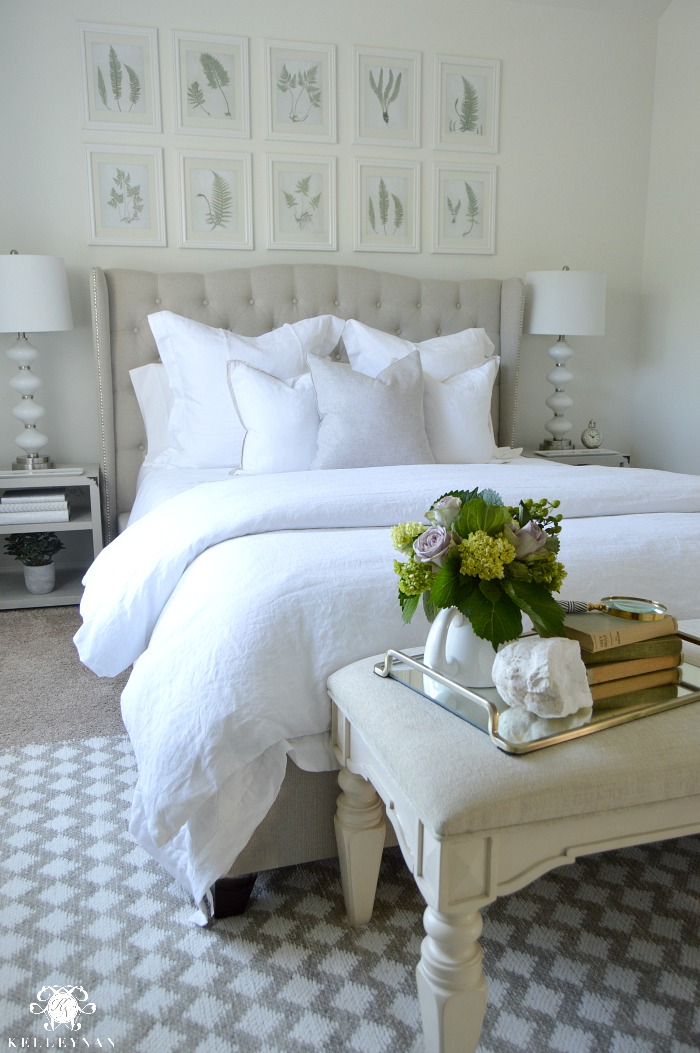 I have eluded to the fact that while we have officially been in our home for one year, there are still rooms in our house I have not yet shown. I would venture to say that I still consider every room an ongoing "work in progress", but some rooms, we have not only completely ignored but have turned them into an easy access junk room storage space. Before we built, we wanted five bedrooms – a master, an office, two guest bedrooms, and a potential future children's room. Of those, our bedroom (HERE) isn't quite finished, but I am happy with its direction. The downstairs guest bedroom (HERE) ("reserved" for our most frequent visitor, my mom) is where most of our previous master bedroom furniture went. There are some things I will ultimately change, but in the meantime, I like it overall. My office still claims the title as "The Land of Misfit Toys", but I am determined to tackle it later in the year. I outfitted the upstairs guest bedroom with affordable basics, pretty much just providing a place for people to "crash", but with it resembling a college dorm room, I keep that door shut 😉 Lastly, there is the room that would potentially be a children's room. Upon moving in, it became the "just stick it in there to get it out of the way" room, and then while I was away one week, my husband moved everything downstairs to the basement except for an elliptical and a pair of dumbbells and it became the "workout room". (haha)
We have a large family with very few living locally, so plenty of guest space is key for us. If you caught my announcement last week (HERE), you know that I finally transitioned our sad little room after finally getting motivated to give my guests a room they deserve. When I talked to my husband about making over the "dorm room", he quickly rallied behind leaving that room alone for now, but transforming the "workout room" into a guest retreat for more guest space. Ultimately, he won.
When you stay at a hotel/resort that is light and bright with a heaping pile of plush white bedding, it makes you feel like you are on vacation. That is what I wanted for this guest room. A relaxing retreat – not too stuffy, not too girly… just a place where guests would feel comfortable and welcome. I didn't grab a photo of what this room looked like when it was filled, but you can catch a glimpse of Phase II below- our home gym (haha). The first order of business was to lighten this room up with paint; we went for Sherwin Williams' color of the year: Alabaster. What you may not be able to tell from these photos is that the ceilings are vaulted and HIGH. Because we were going lighter (and silly me, without primer), it took over three gallons to get this bad boy fully covered. I always say I am never painting again, but this time, I really mean it. Please remind me of that next time I get a big idea 😉 The day the bed arrived, it felt like things were really going to start moving along and from there, the process went quickly.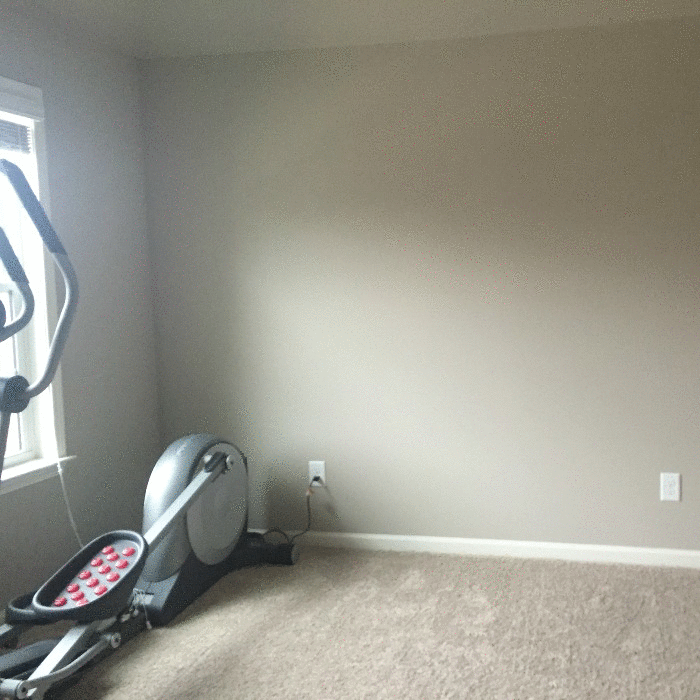 Here she is! She hasn't welcomed a guest just yet, but she is ready and waiting. My husband has asked on more than one occasion if we can have a sleepover in here; I will take that as his official stamp of approval.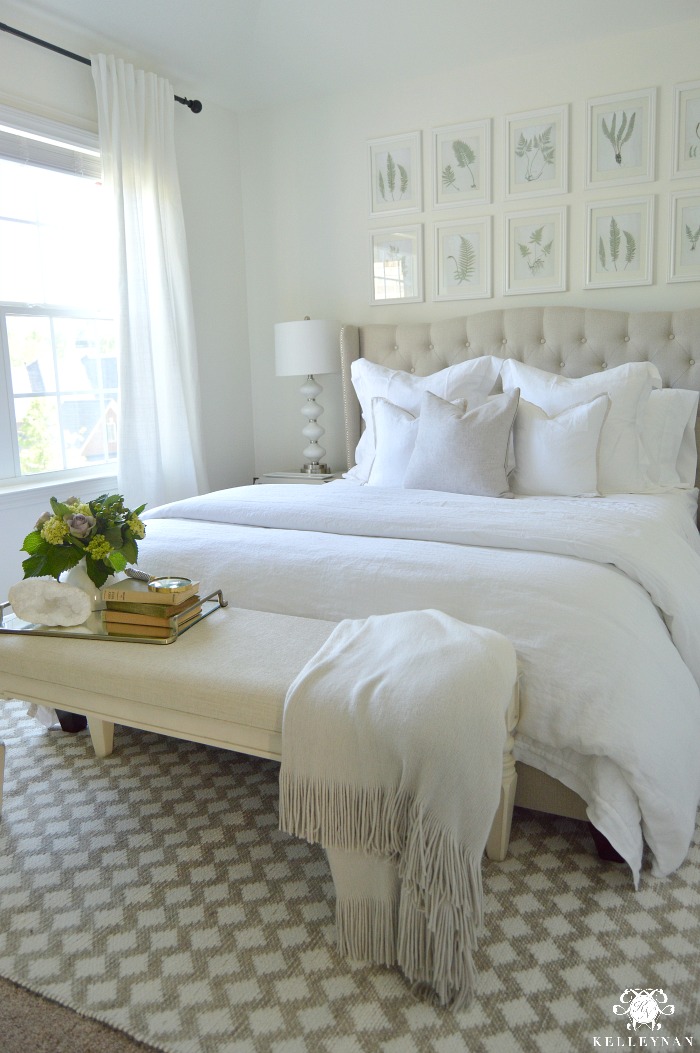 When I was creating this room, I thought about everything that I would want in a guest room. Comfortable bedding and places to sit are key, but something that is often overlooked is a full length mirror. I am always grateful for a place to stay but depending on where you are, it can be uncomfortable to go to the master bedroom to ask for permission to use a mirror. I used one that was formerly in our bedroom and painted it a light gray. This little tip is so simple and will be much appreciated.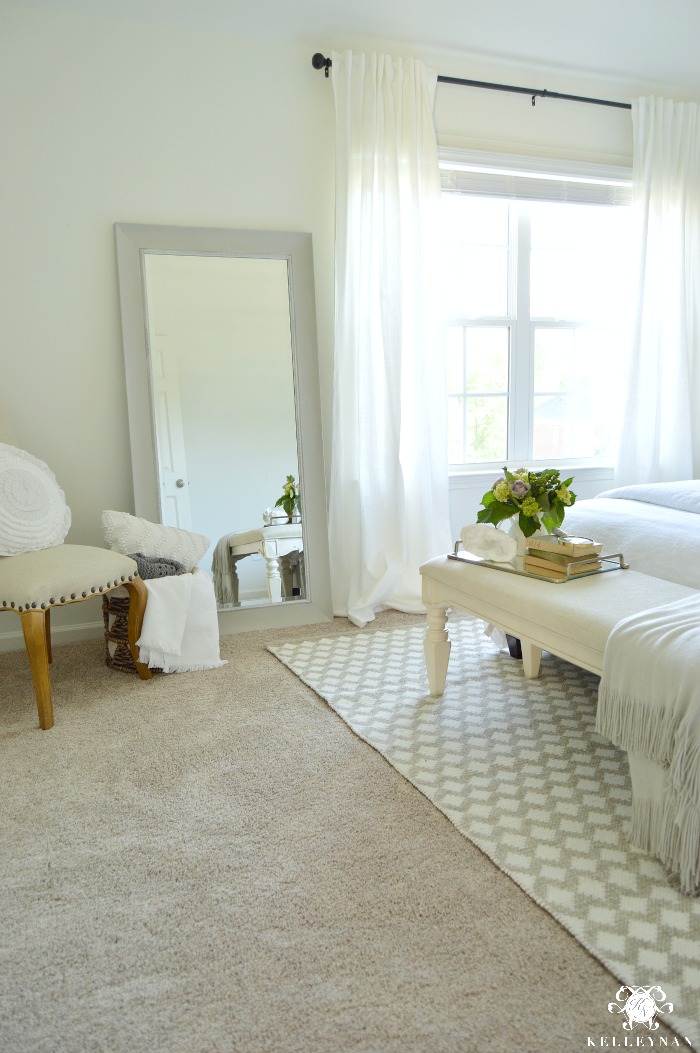 I haven't mastered the art of thrifting just yet, but I did manage to find these books at a little antique shop in Fairhope, Alabama while visiting my mom. I had plans to put them in my formal living room but decided that this is the space they were meant to be.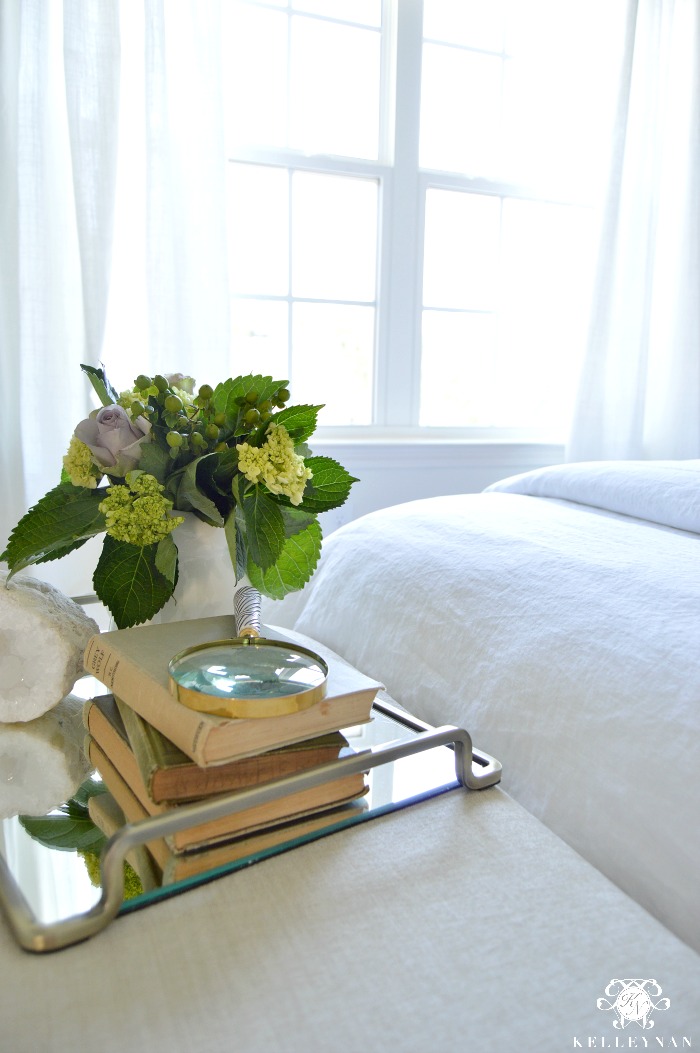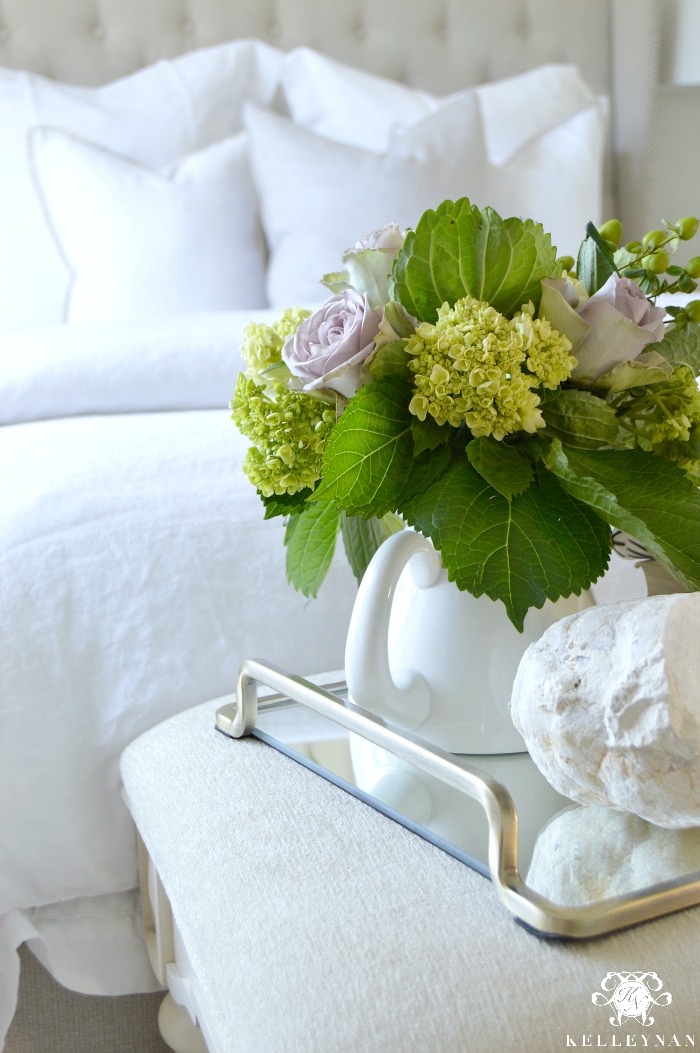 Like most of my friends, I am all about the brass/white combo right now so I was thrilled to find this mirrored brass tray. Shiny enough to be feminine, structured enough to be handsome.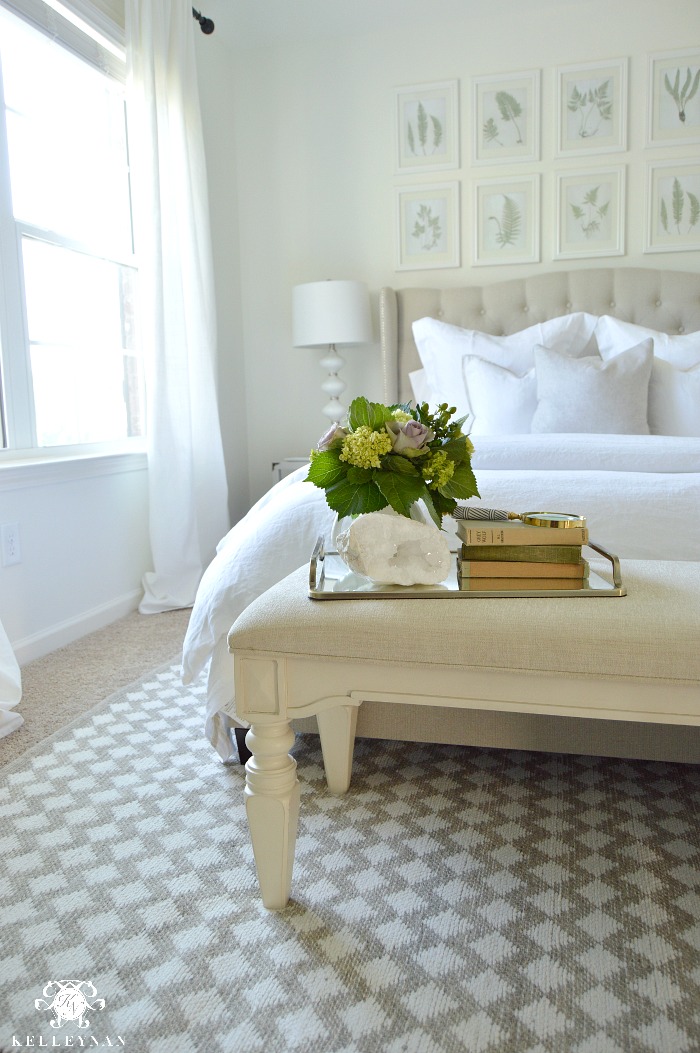 Instead of keeping extra blankets and throws hidden away in the closet, consider keeping them on hand for your guests in a basket. Soft layers in the room helps create a warm feeling in a white room. I wanted to go for plush; not stark.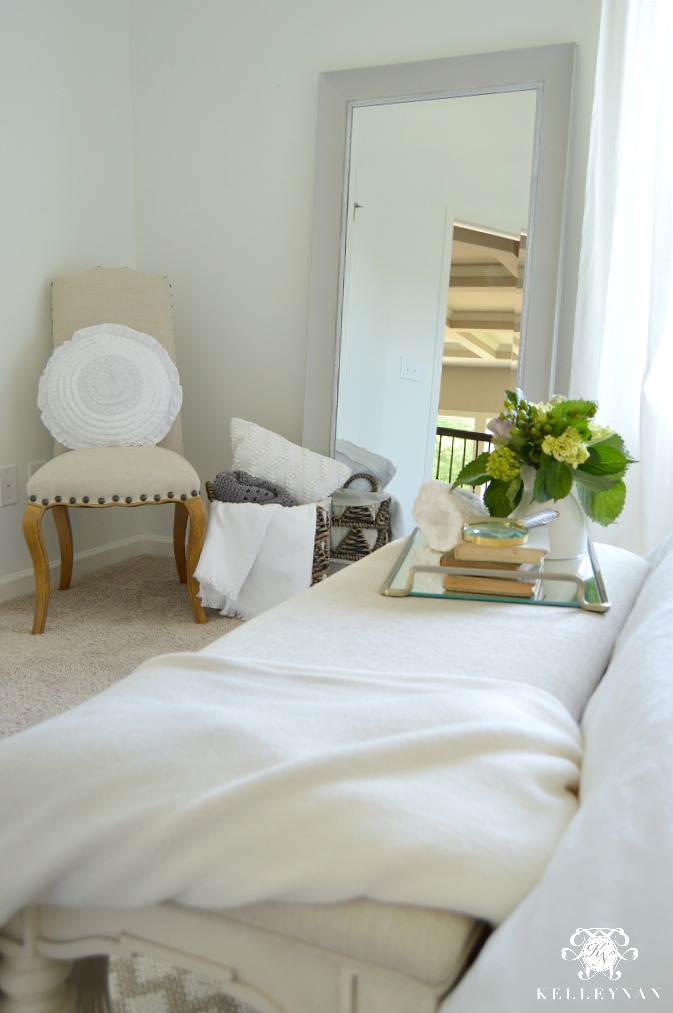 You don't have to have a big chair; even using a more slender side chair to add seating a guest room can be a welcomed addition. If you have an old parson chair in your attic/basement, a slouchy slip cover can do the trick.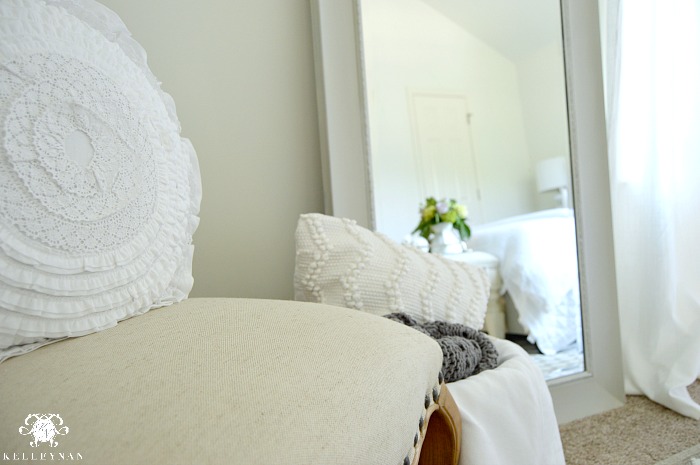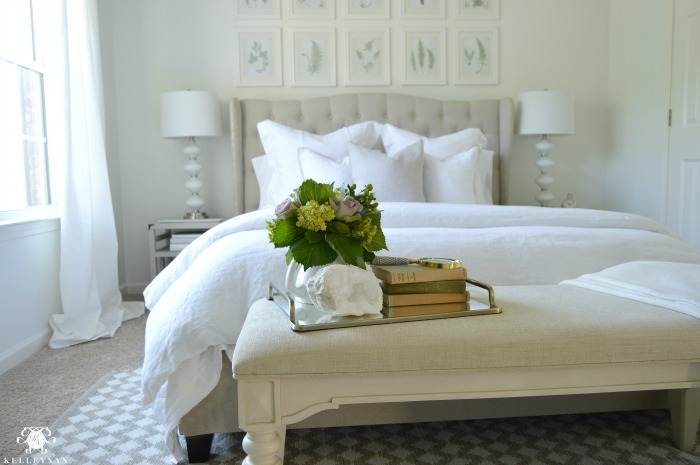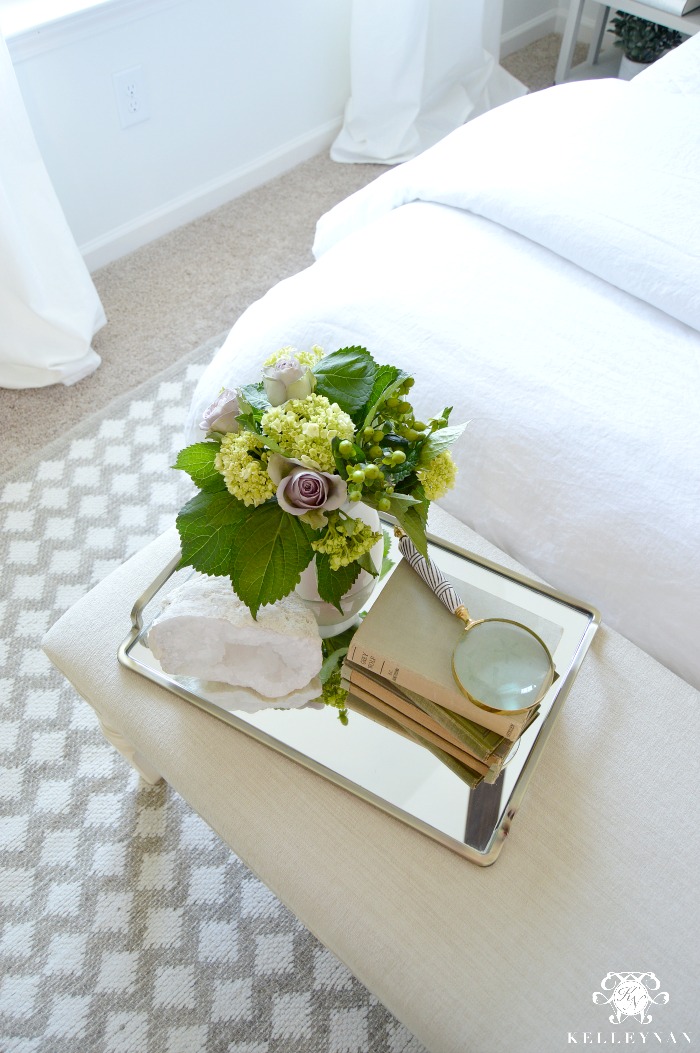 If you are thinking about creating a white room or a super neutral space, keep in mind that you don't have to match all of your whites, beiges, and grays. I have a whole slew of tones happening in here but they all come together in the big picture. If you are mixing several tones, you can try to create a more intentional and uniform look by getting close throughout various elements. For instance: my headboard coordinates with the diamond outline of the rug.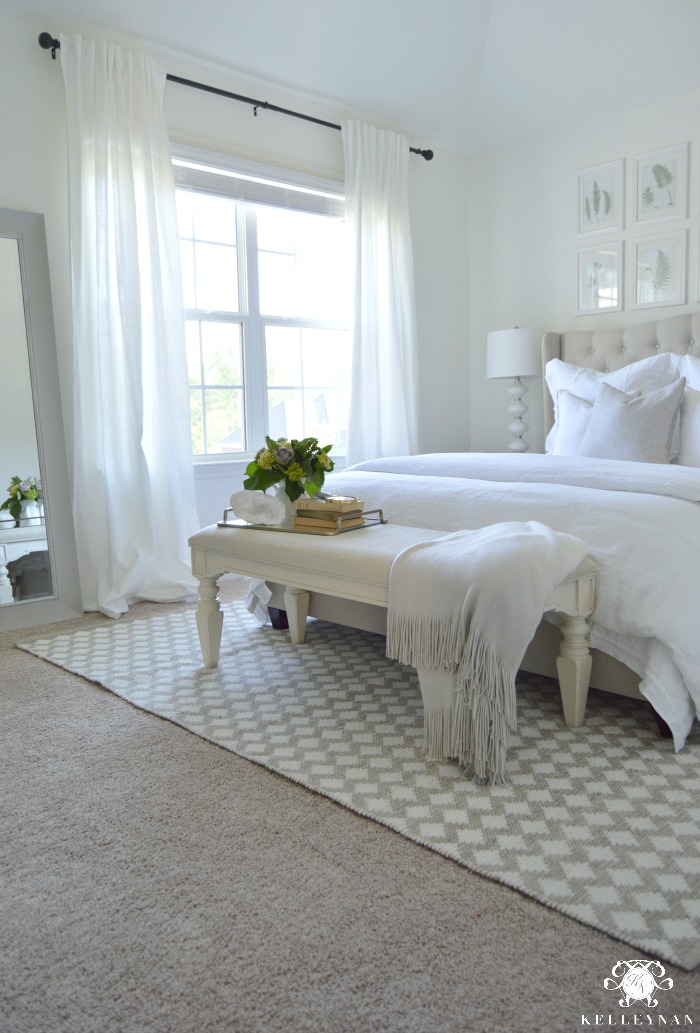 I used my faithful linen copy-cat curtains for this room and I love how romantic and retreat-like they make this space. I wrote an entire post on these curtains which you can find HERE.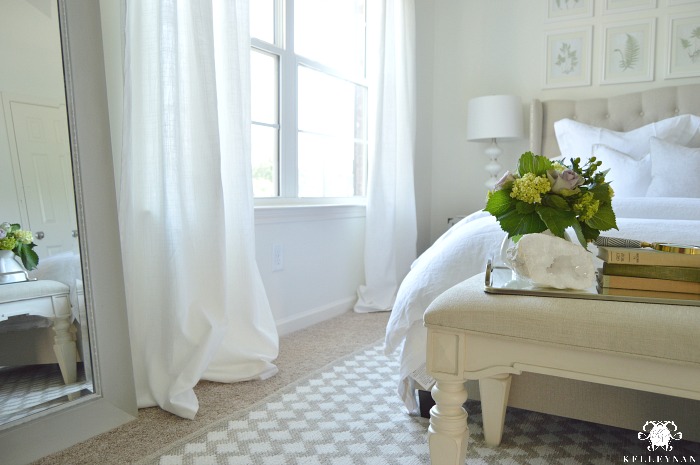 One place to forego the imitations though is the bedding. Once we invested in quality bedding for our own bed, I vowed I would never skimp again on this one simple luxury. For this bedding, I used: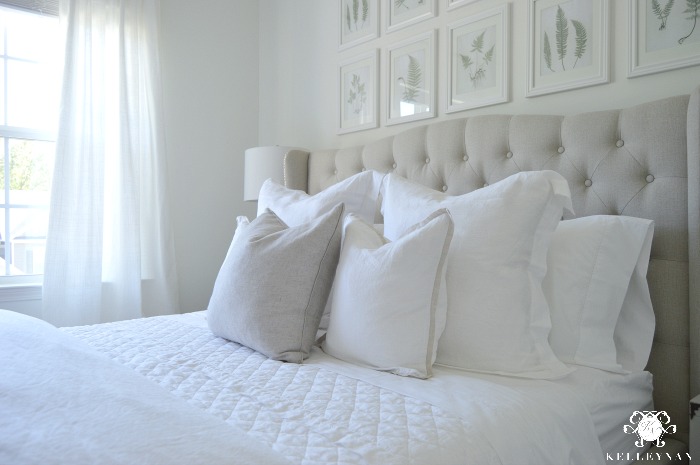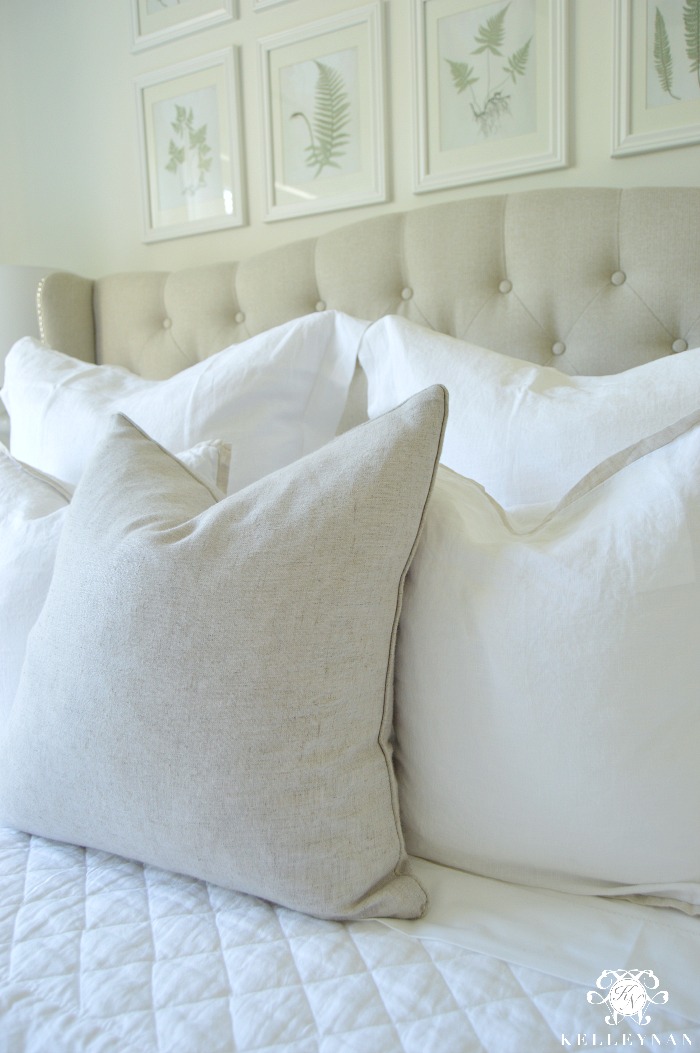 I was able to create this gallery wall for around $60. I have been wanting to incorporate botanical prints in my home and these ferns were perfect. I found a free download at The Painted Hive, edited them to be a little more of a muted tone, and sent them to Staples to be printed on regular, thin copy paper. These frames were on sale at Michaels, but you can find similar frames, perfect for a gallery wall HERE. Stay tuned, I have a post lined up to share my easy, fool-proof method to hang an even, straight gallery row of art.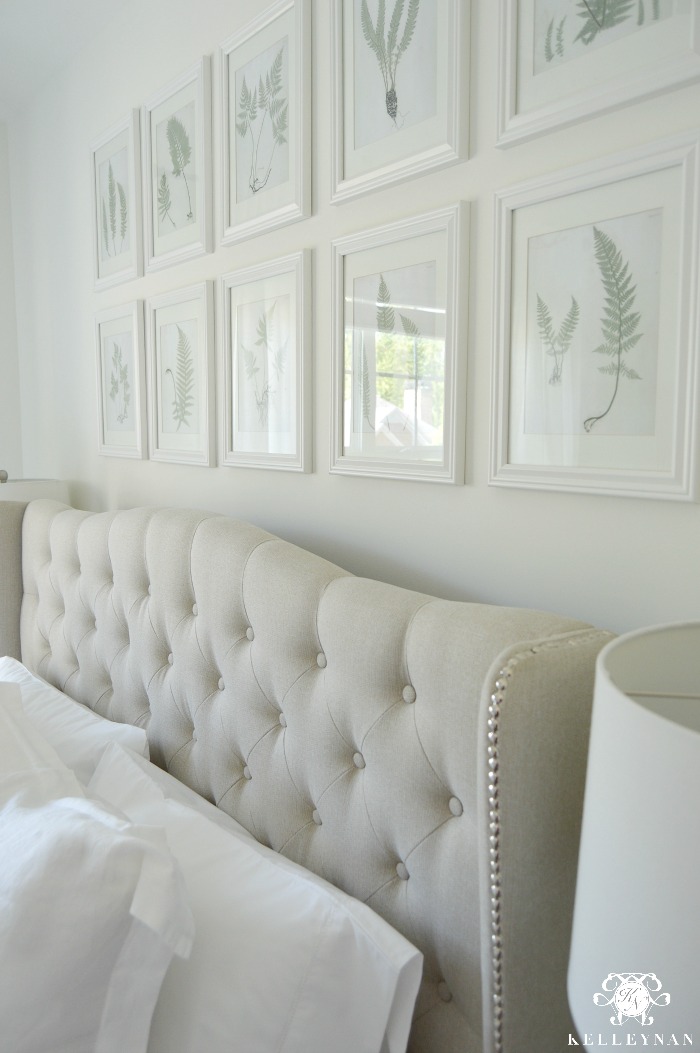 For the night stands, I used a pair of basic black side tables which were previously in our living room. I painted them the same color gray as the leaning mirror, and then ordered these corner bracket embellishments and literally just hot glued them on to give a little pizzazz. Another detail which I outfitted the nightstands with was a little guest catch-all. I found these rectangular serving dishes at HomeGoods, but I bet you could find something in your cupboard you don't use on a regular basis which would also work. Teacup saucers would be adorable. Lastly, I used wrapping paper I had on hand as tone on tone, patterned book covers.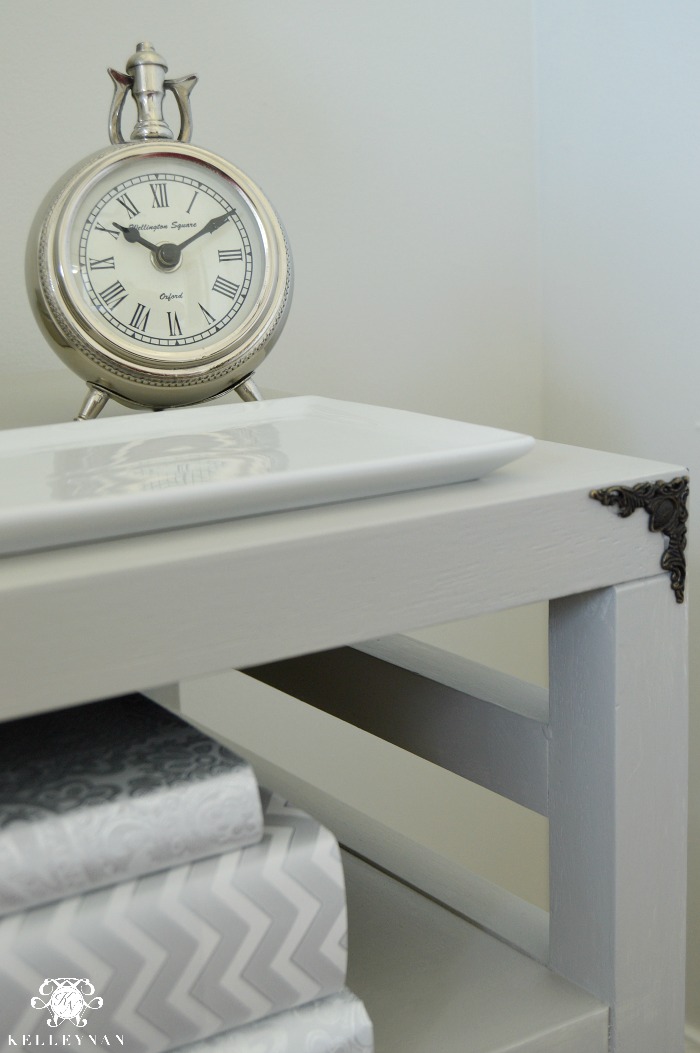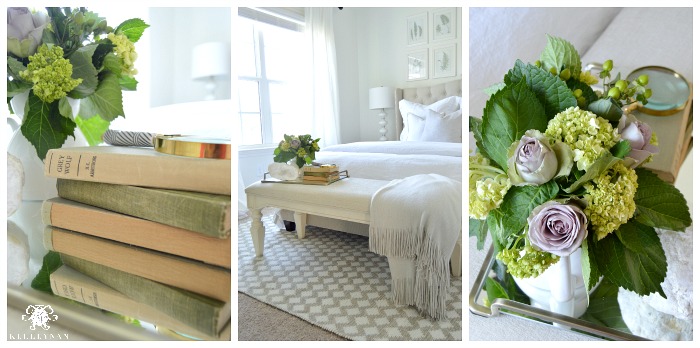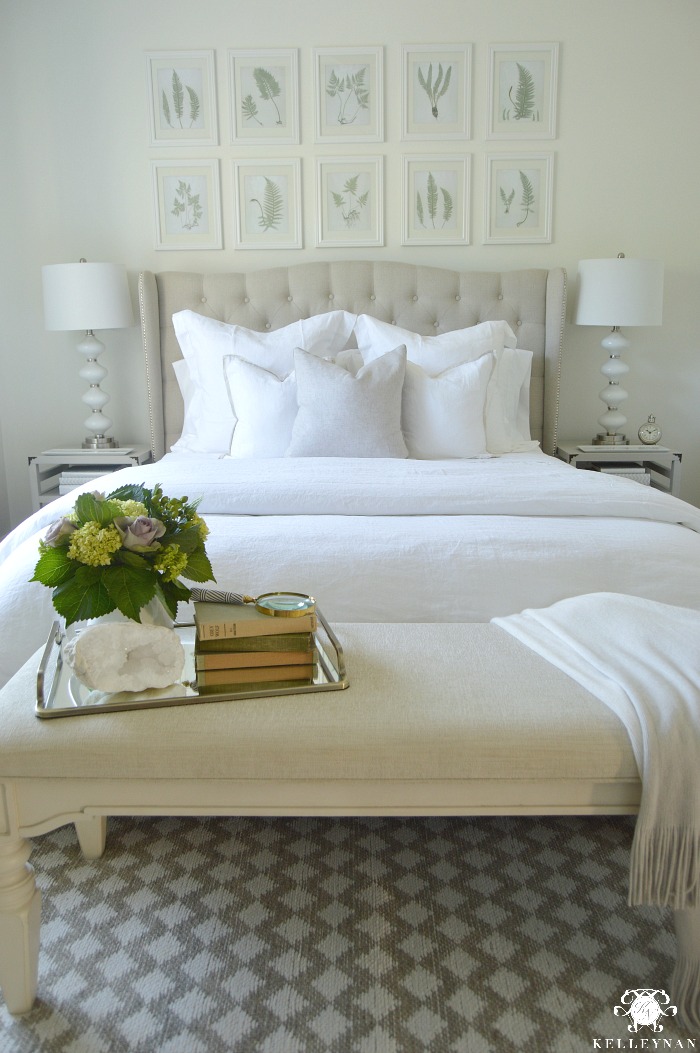 Later this year, I will be taking on the guest room which shares the Jack and Jill bathroom to this room. I'm already making plans, determining what will stay and what will go… what will be painted, and what can stay as-is.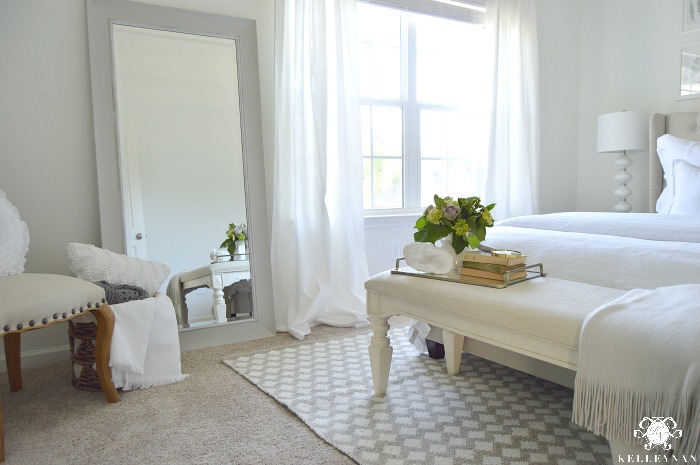 GET THE LOOK

OTHER SOURCES & DETAILS
Paint: Alabaster by Sherwin Williams | Lamps: HomeGoods | Bench: HomeGoods | Mirror: DIY Project | Night Stands: DIY Project
*Affiliate links used. Where exact product is not/no longer available, a similar substitute has been provided*