Total honesty — my front door mat still has Rudolph on it. I'm calling it an "oversight" but the truth is, my rocking chairs are still rocking the red plaid, too (*insert emoji, shamefully covering eyes*). If nothing else though, they've just served as a reminder that it's just about an acceptable point in the year to start livening some of the front porch decor up a bit for spring — probably more "acceptable" than still having reindeer prints below the front door, actually haha. When it comes to my spring front door decor I never deviate much (I'm lookin' at you urns with ferns 😉 ). But, if you're feeling the same itch and are getting closer to wanting to zhoosh up your outdoor welcome, today I'm sharing some easy, pretty front door decor — from spring wreaths for the front door, to fresh doormats, accessories, and planters.
*Posts on KelleyNan.com may contain affiliate links. Click HERE for full disclosure*
Spring Wreaths for the Front Door
Depending on your front door situation, local climate, sunlight, and shelter, when you're choosing an outdoor wreath, be sure to read the fine print to make sure it's a viable option that will withstand the elements. Some wreaths, especially dried/preserved, likely wouldn't last long on my front porch but make a perfect statement accessory indoors. On the other hand, if the price is right and I wouldn't be crushed if one season was the max use I got, I'm a little more lenient on locale. In the past, I've gone for all green wreaths…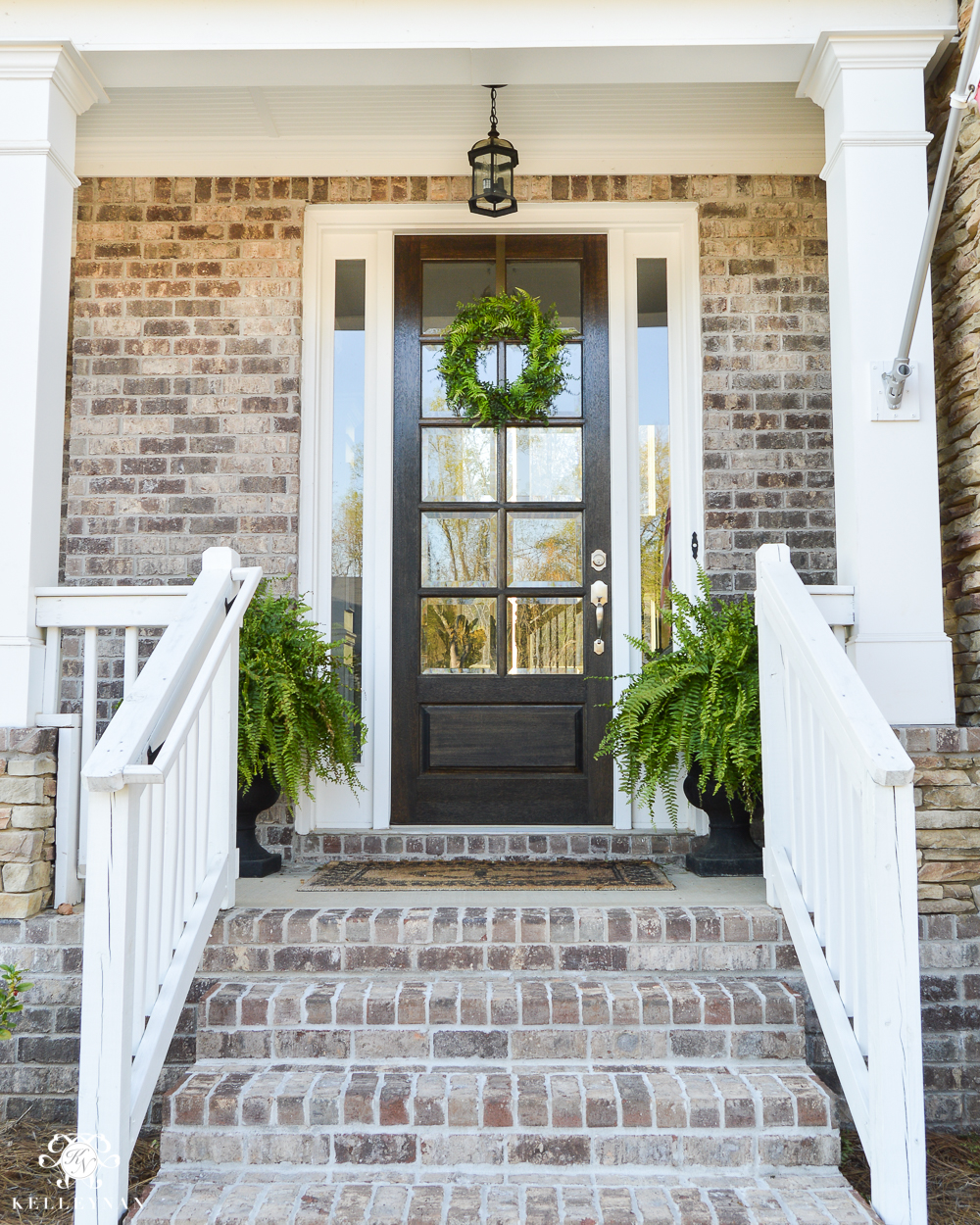 hydrangea wreaths, statement wreaths…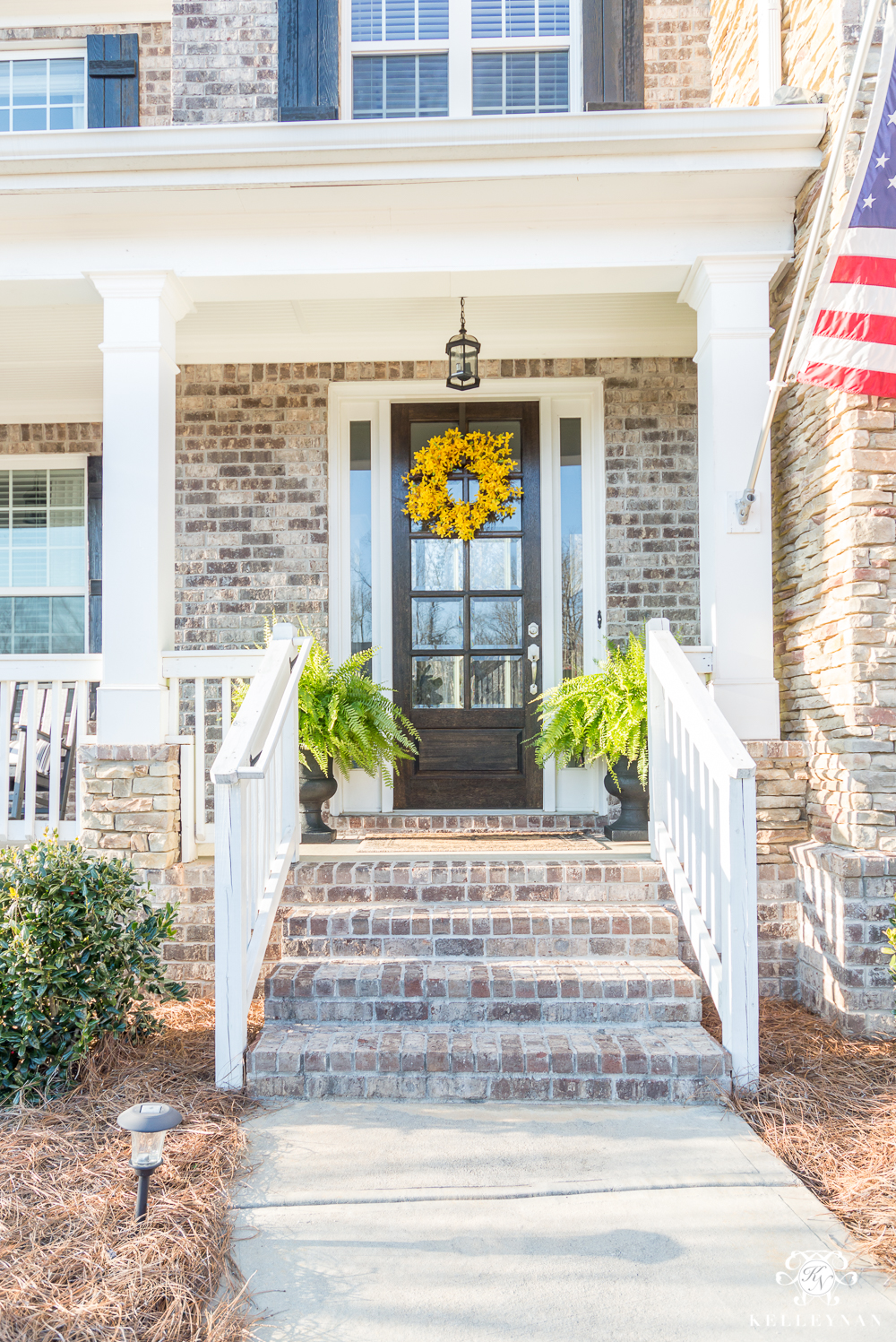 and last year's wreath was maybe my favorite, filled with lemons, blueberries, and greenery. When I was searching for a photo though, it doesn't look like I actually ever took a photo of it?? You can find it HERE in several sizes.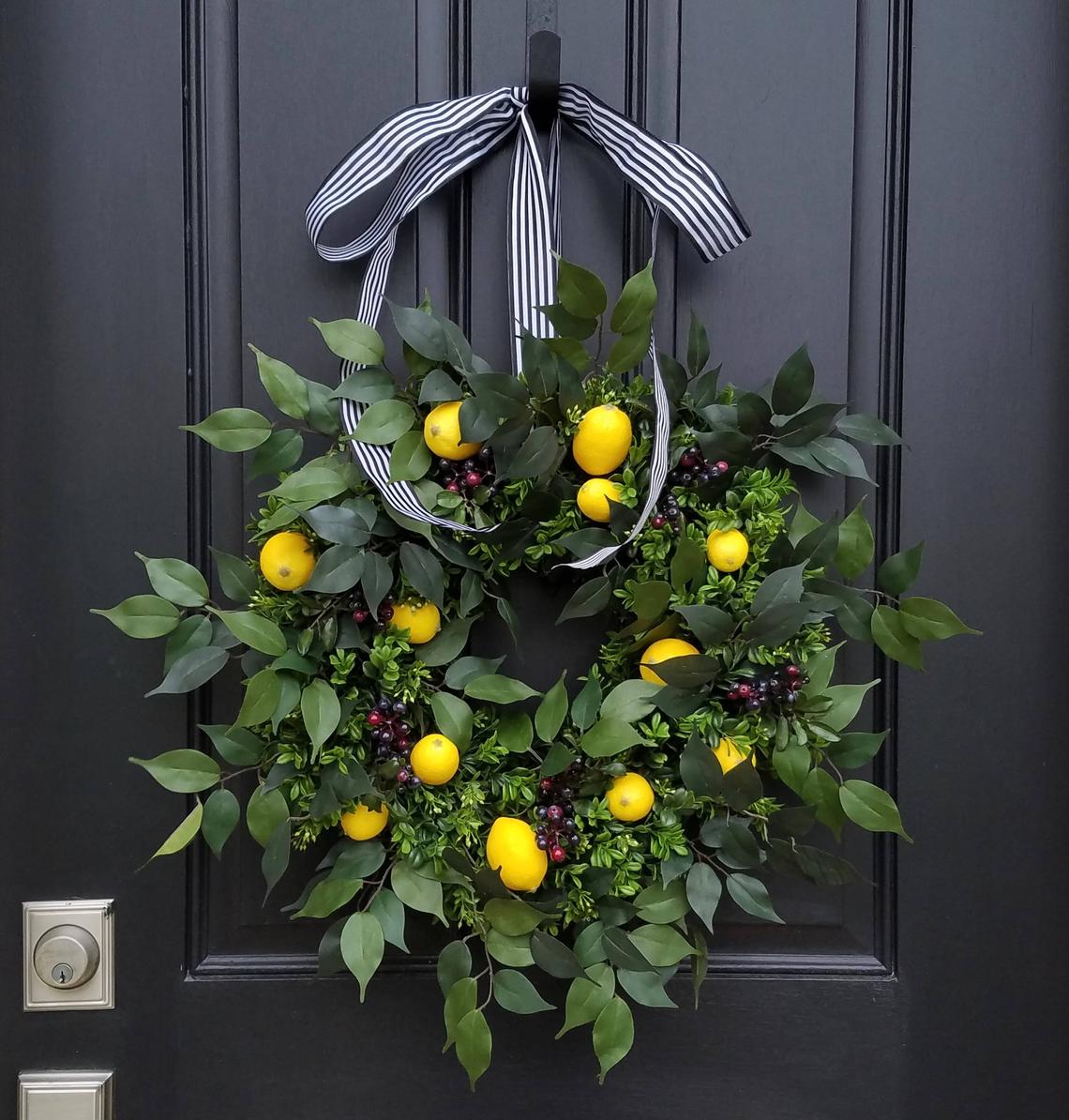 Lemon & Blueberry Spring Wreath (photo via TwoInspireYou shop)
This year, I was looking for a little more contrast and something different than what I've done in the past. Having loved all my wreaths I've purchased from the TwoInspireYou shop, I ordered THIS spring wreath for the front door for the upcoming season (I go for the 26″ option for our front door).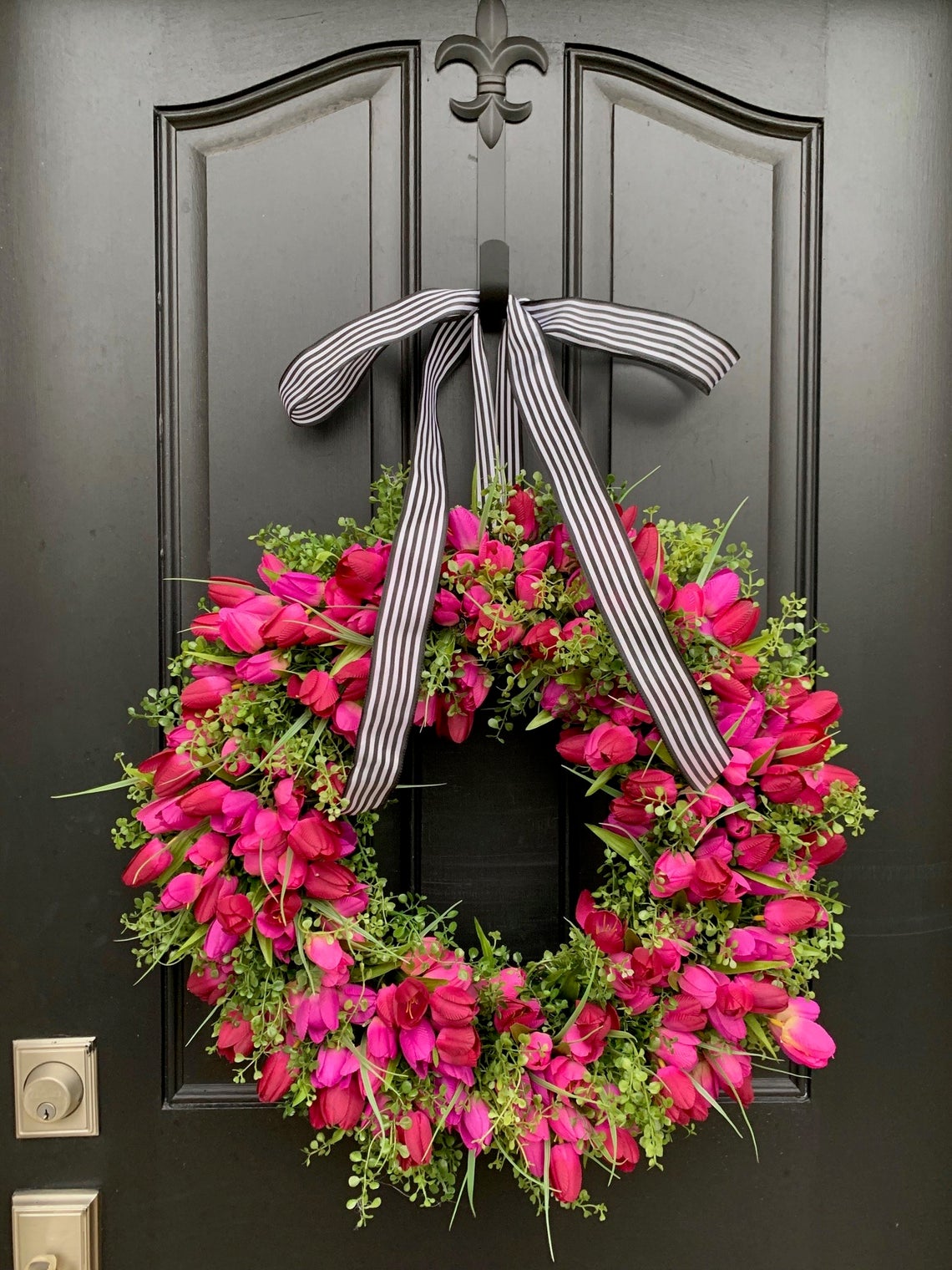 Purple & Pink Tulip Wreath with Greenery (photo via TwoInspireYou shop)
At the time of publishing, it looks like it is currently sold out, but there are a ton of similar tulip wreaths in similar (and totally different!) color schemes in the shop — you can browse all the wreaths HERE. While I was browsing for my own spring wreath for the front door, I gathered some of my favorite finds — from lush, green, and simple, to totally loaded with florals.
*All links are included below the image.*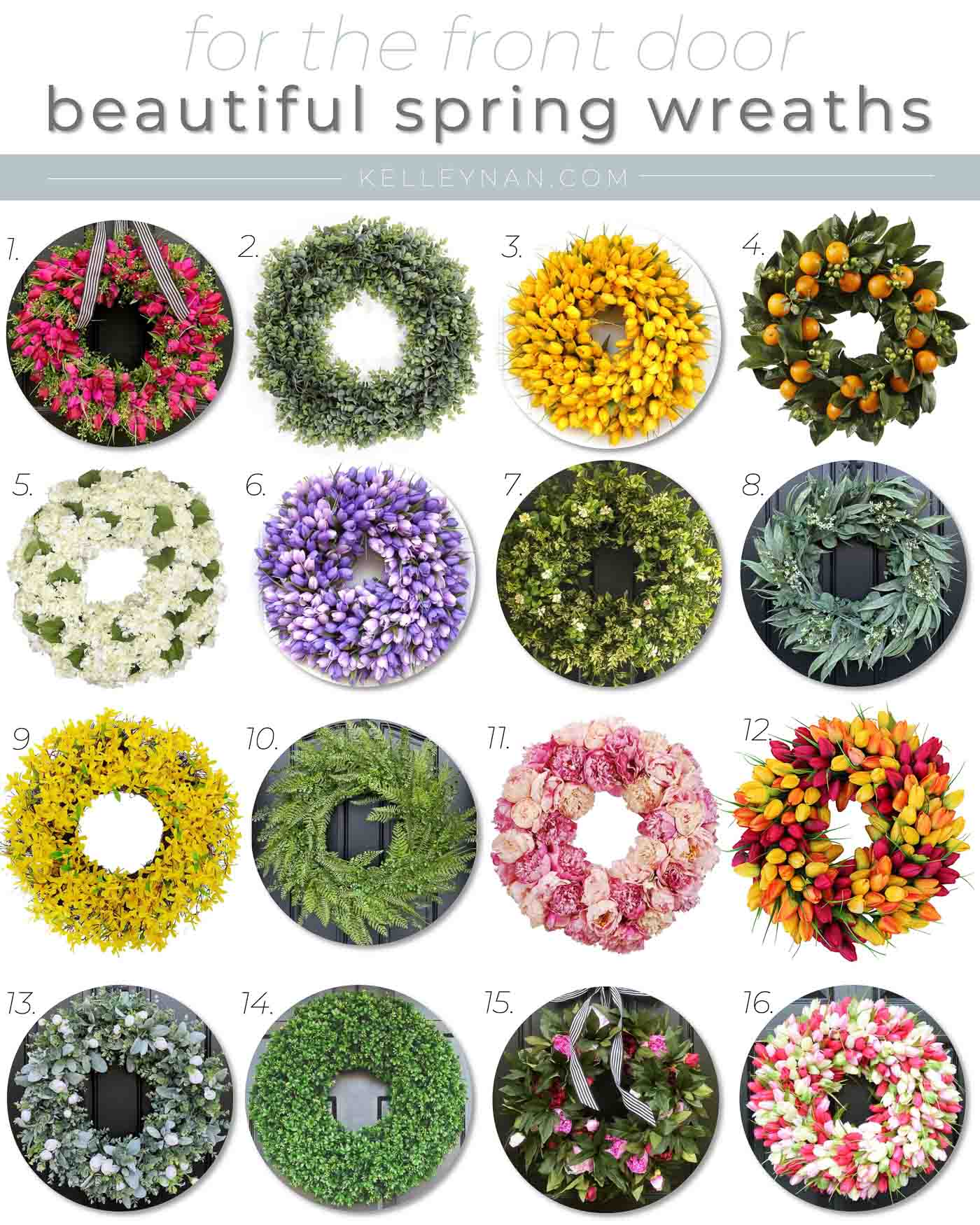 1 | 2 | 3 | 4 | 5 | 6 | 7 | 8 | 9 | 10 | 11 | 12 | 13 | 14 | 15 | 16
While the tulip wreath I ordered (Number 1) is vibrant, it is balanced out with greenery, also. I love how striking Number 3 and Number 6 are! Number 9 is a essentially a budget friendly steal, but Number 2 — the eucalyptus wreath — is the best deal of all, coming in under $30. Number 4 would be gorgeous on an oversized mirror in a dining area or breakfast nook, and I just love the whimsical simplicity of the greenery wreath (Number 7).
Fresh Front Doormats for Spring
So even though I'm acknowledging the long overdue switch-out of my doormat, he is actually still there — red nose and all. But, I did get it together enough to order a fresh new mat for spring — it's officially shipped and on its way! I wanted a doormat that was versatile enough for year-round use so I went with THIS personalized doormat.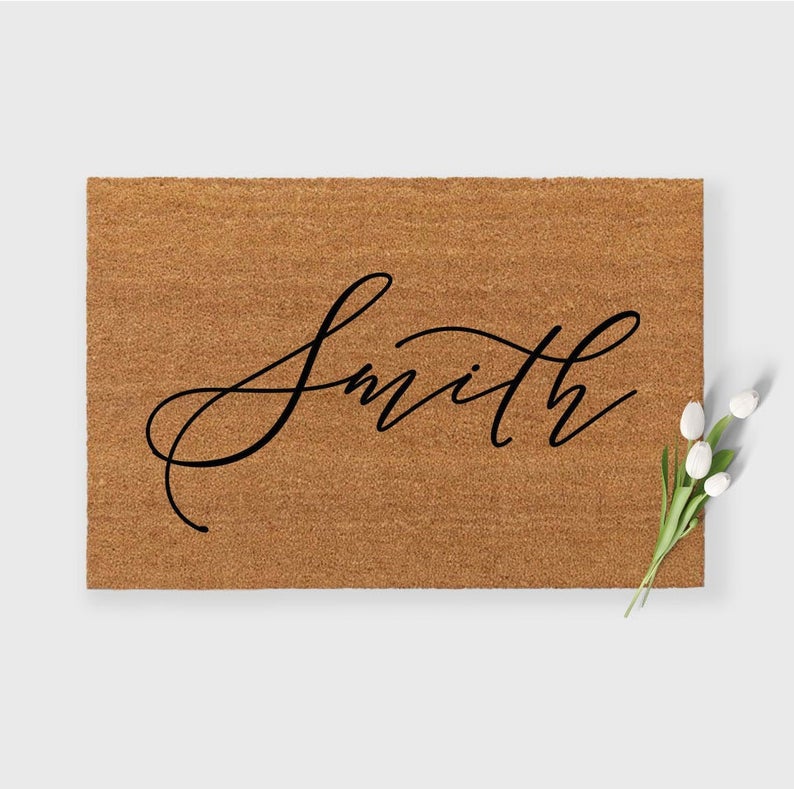 Doormat (photo via shopHomeMaven)
After I purchased it, I even sent a message requesting a mock-up with both an uppercase "L" and lowercase "l" so I could determine how I wanted the script to appear, and the shop owner had a draft to me for review in the same day (I went all lowercase). I will layer it on top of THIS small striped outdoor rug that I've loved and used for the past few years. While there are some cute Easter or spring-specific doormats out there, I tend to lean more toward something fresh in general — not something spring-specific.
*All links are included below the image.*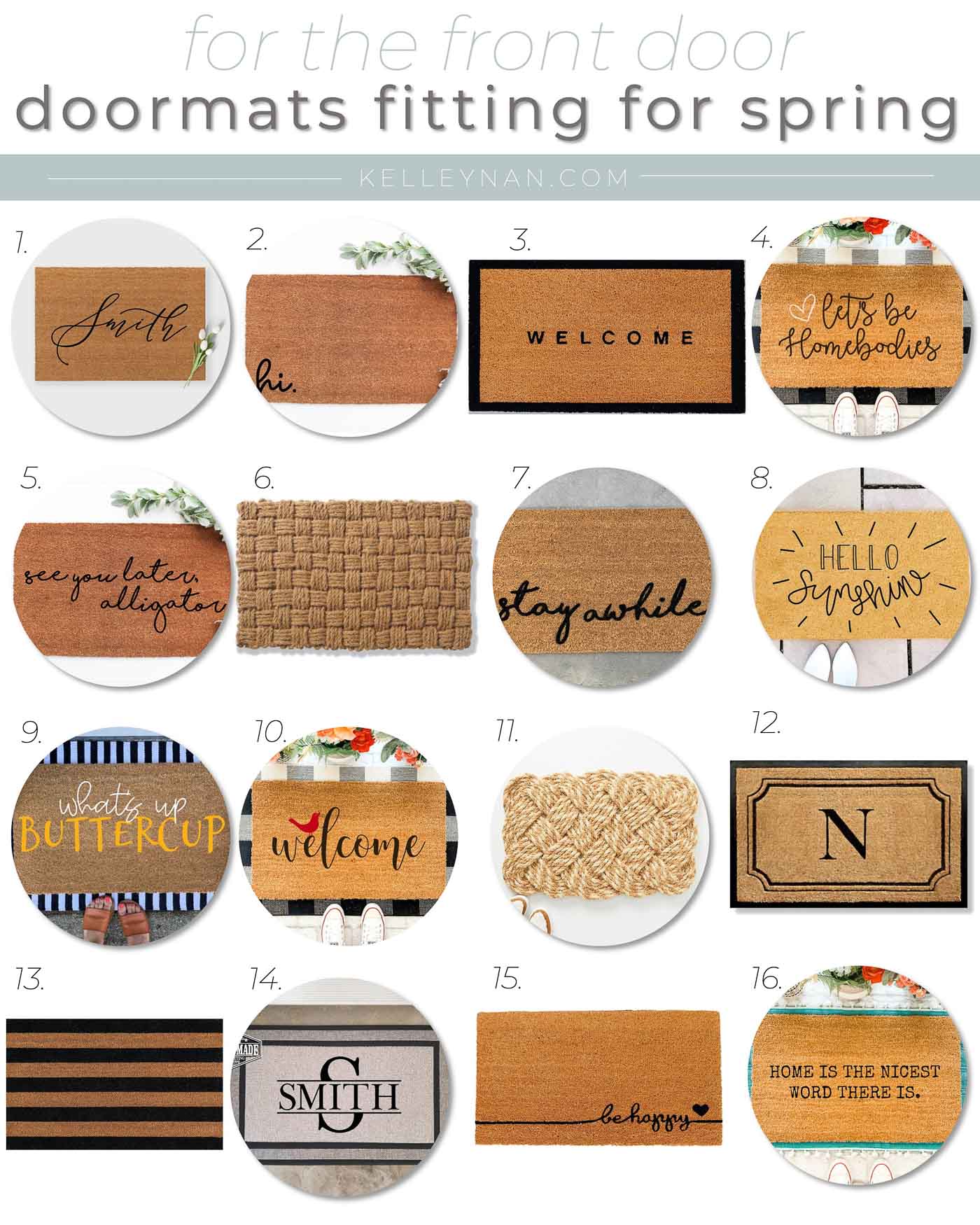 1 | 2 | 3 | 4 | 5 | 6 | 7 | 8 | 9 | 10 | 11 | 12 | 13 | 14 | 15 | 16
Number 5 is the mat I used for the majority of 2020 and Number 1 is what I'm currently waiting on for this year. Number 3 is affordable and totally classic and if you aren't into words, I like the bold stripes on Number 13 (also really affordable and ships free) and unique weave and color tone of Number 11.
Statement Planters to Flank the Front Door
I've had the same urns on my front porch ever since we moved in. They are lightweight and look as good as new whenever I give them a new coat of spray paint every few years. To lift my ferns inside, I stack large bricks so that the plastic planter is positioned just below the lip of the urn. Here are 16 statement planters that would look great in pairs, flanking the front door — with urns or otherwise 😉
*All links are included below the image.*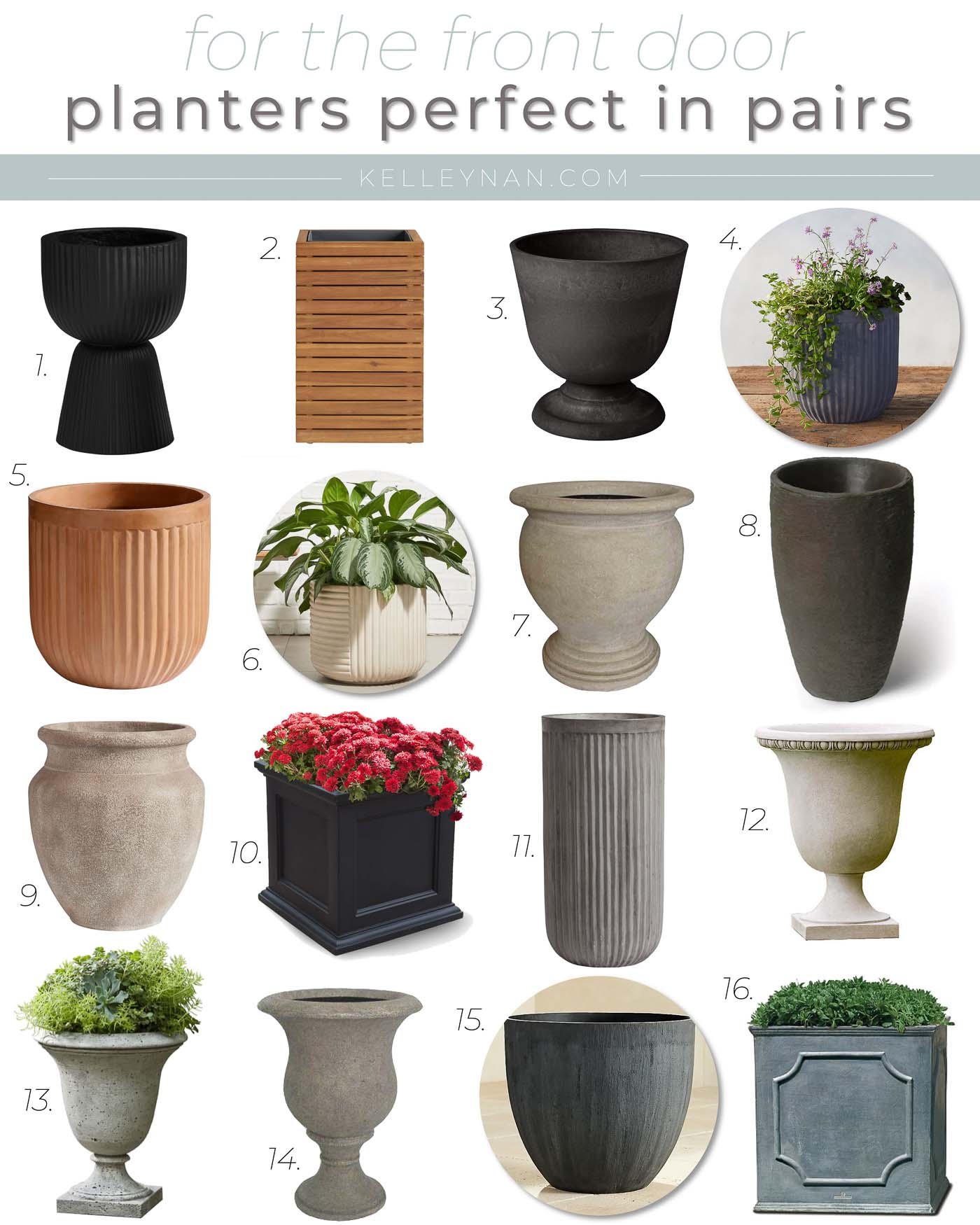 1 | 2 | 3 | 4 | 5 | 6 | 7 | 8 | 9 | 10 | 11 | 12 | 13 | 14 | 15 | 16
I actually have Number 4 and ordered a pair last year for the back porch. They are beautiful in person and comparatively speaking, I was surprised they weren't more expensive. While planters can err on the more expensive side, Number 10 has 200 5* reviews, ships free via PRIME, and also comes in white. They're a totally classic shape, has a built-in water reservoir function (if you plant directly within the planter), and if you prefer something taller, there's also THIS 28″ tall version that comes in three colors.
Miscellaneous Front Door & Front Porch Decor
When you're tight on space there's still some fun ways to add personality and functionality. From custom house numbers to door knockers, here are a few pretty ways to dress up the front door area.
*All links are included below the image.*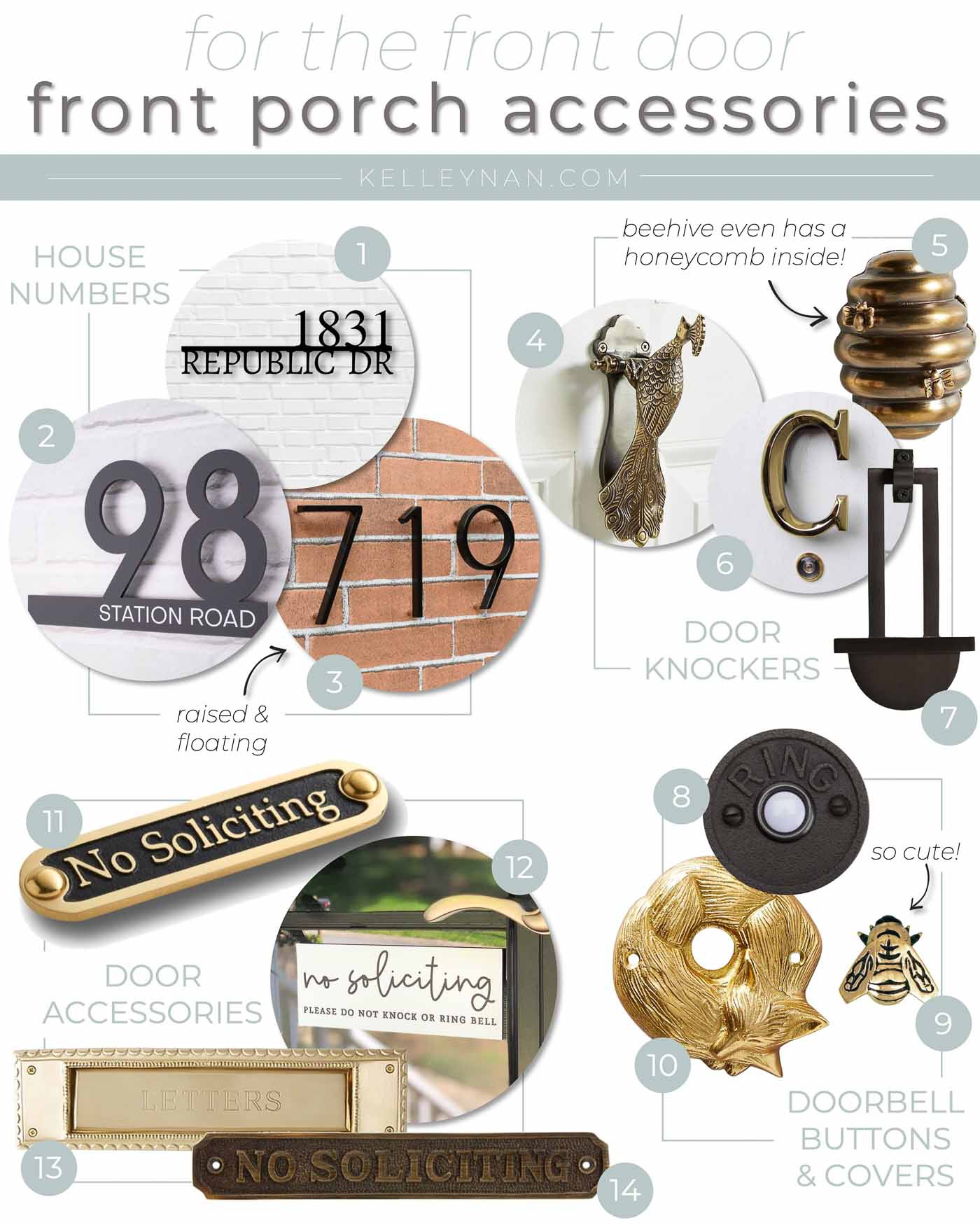 1 | 2 | 3 | 4 | 5 | 6 | 7 | 8 | 9 | 10 | 11 | 12 | 13 | 14
I love the look of this clean, modern home street address (Number 1) — you can also customize the size and color, but for something a little simpler, I also really like the clean house numbers (Number 3) with spacers that allow the numbers to "float". The Number 5 door knocker is so cool- when you open it to knock, the beehive actually has a little honeycomb inside! Number 6 has all the letters of the alphabet if you like the idea of a monogrammed letter for a custom, unique door knocker — it comes in both brass and nickel finishes. I am planning to order Number 11 for our own house — we are long overdue for a solution and I love how this plated disclosure looks more like decoration, and less like a notice 😉
As lax as I've been since Christmas when it comes to our outdoors, and apparently I never even gathered photographic evidence of last year's front door, I'll be sure to share how this year's spring front porch look comes together when it's all in place 😉 I did find a pair of really inexpensive pillows on Amazon (HERE) for our rocking chairs — they aren't classified as "outdoor" but since they were under $16 for the set, I decided to take my chances… and I'm glad I did! They come in a lot of colors and sizes (I went for 20″x20″ in the "light beige" color) and they arrived via free shipping the next day. They are thick and durable feeling — almost like they were intended for outdoor! If you're looking for inexpensive pillow covers for outdoor, especially covered outdoor spaces, I would absolutely give THESE a try! For upcoming spring decorating and all the latest projects, be sure to subscribe to my emails below.
Other Posts You May Be Interested In