While I didn't have a Christmas doormat positioned at the front door until March this year (haha), things haven't looked too stellar since the red bows and evergreen branches retired at the end of 2021. My planters have remained empty, my rocking chairs are naked, and I haven't had a front door wreath since the holiday version came down. But, I'm ready. After a hard winter for more than a handful of reasons, I'm really ready. I'm ready for my annual ferns, warm weather, green on the trees and I'm ready to hang a spring wreath on the front door. I've browsed searched, and narrowed down for weeks now and today, before the morning frost has totally left us just yet, I'm sharing 16 of the prettiest spring wreaths for the front door.
*Posts on KelleyNan.com may contain affiliate links. Click HERE for full disclosure*
Spring Wreaths for the Front Door
Many of the wreaths I'm sharing are made to order — from shops I've come to frequent for seasonal front door decor. As with most goods over the past two years — especially seasonally-sensitive and MTO items, resources are more limited so shipping times are longer. If you're in the market for a new spring wreath for the front door this year, I'd go ahead and find one you love and get it carted, ASAP.
Depending on your front door situation, local climate, sunlight, and shelter, when you're choosing an outdoor wreath, be sure to read the fine print to make sure it's a viable option that will withstand the elements. Some wreaths, especially dried/preserved, likely wouldn't last long on my front porch but make a perfect statement accessory indoors. On the other hand, if the price is right and I wouldn't be crushed if one season was the max use I got, I'm a little more lenient on locale.
I am all about sumptuous tulip wreaths — especially single-tone tulip wreaths. So, this year, I'm using the same magenta tulip wreath I ordered last year. Mine is a 26″ version but it comes in tons of size options — I've invested in a lot of wreaths from THIS wreath shop now, and I've never been disappointed. Take a look back at my sweet girl this past spring – my word, I can't believe the difference a year can make!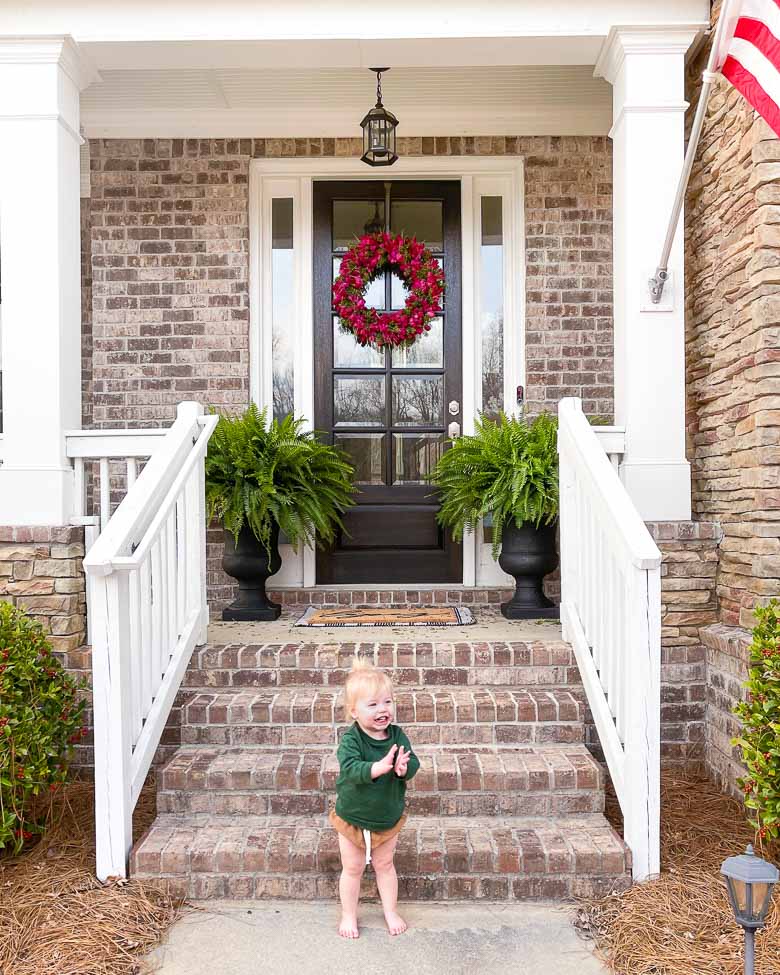 Sources: Tulip Wreath | Wreath Hanger | Door Mat | Outdoor Striped Layering Rug | Urns (similar)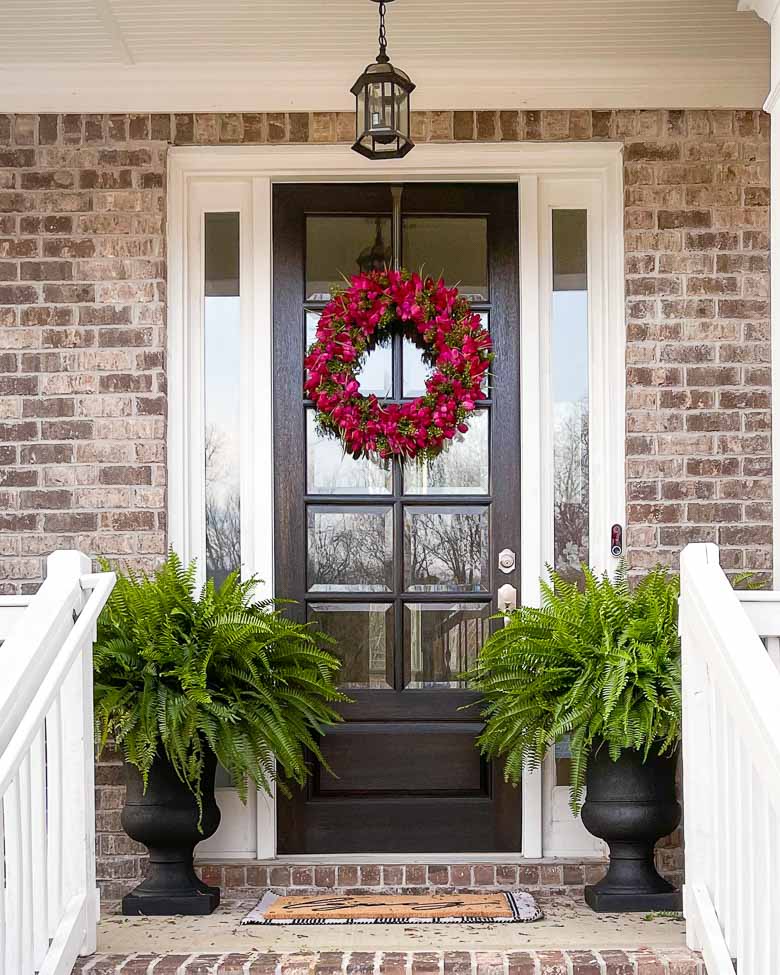 Sources: Tulip Wreath | Wreath Hanger | Door Mat | Outdoor Striped Layering Rug | Urns (similar)
This is the stock image — all the wreaths come with a ribbon but I prefer mine without so I remove them when they arrive.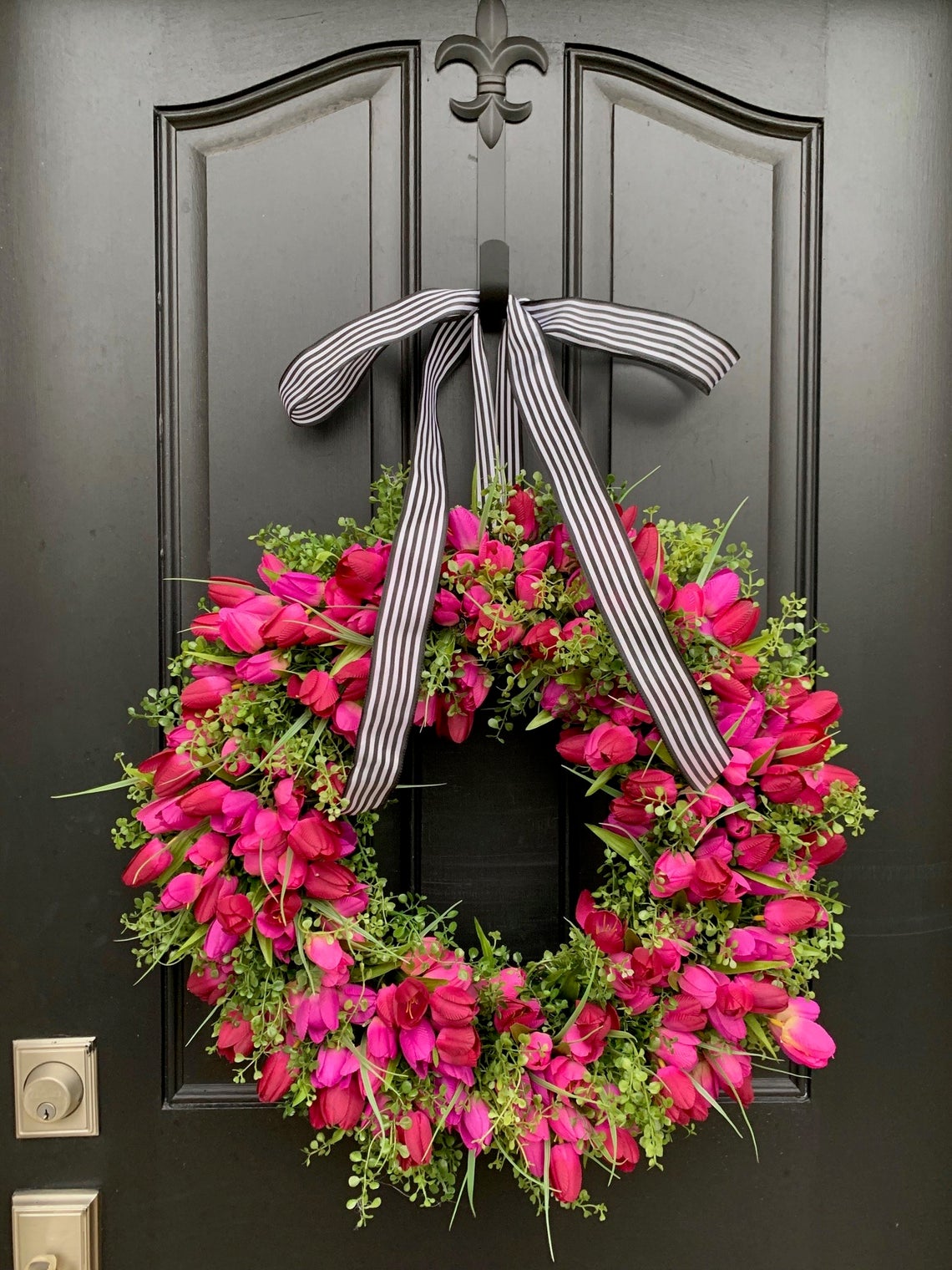 Purple & Pink Tulip Wreath with Greenery (photo via TwoInspireYou shop)
While my magenta tulip wreath is still available HERE, like I said, I found a lot of gorgeous spring wreaths for the front door — some tulip wreaths, but some wreaths that are more unexpected. Here are the 16 favorites I found and collected from all across the web that are currently available.
*All links are included below the image.*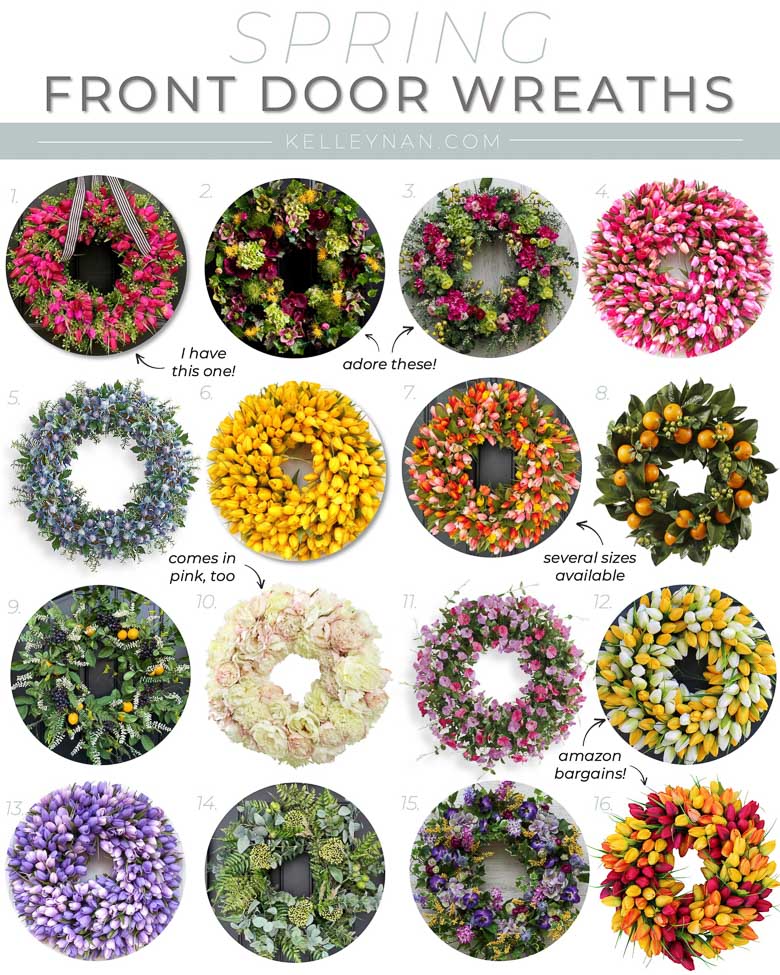 Sources: 1 | 2 | 3 | 4 | 5 | 6 | 7 | 8 | 9 | 10 | 11 | 12 | 13 | 14 | 15 | 16
THIS wreath (2) is just. stunning. I love the colors, the deep purple orchids are so unique and while it's on the pricier end, I may grab this one for summer. It's especially stunning on a dark door!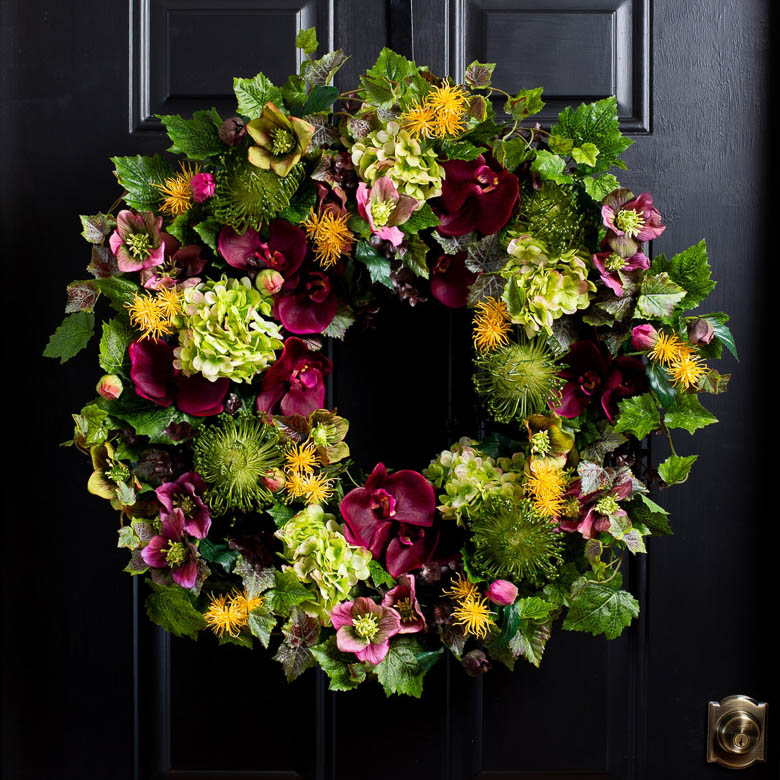 Real Touch Orchid, Protea & Hellebores Wreath (photo via Darby Creek Trading)
I also love the gorgeous vibrant colors in THIS wreath (3) — especially the ranunculus blooms that are incorporated.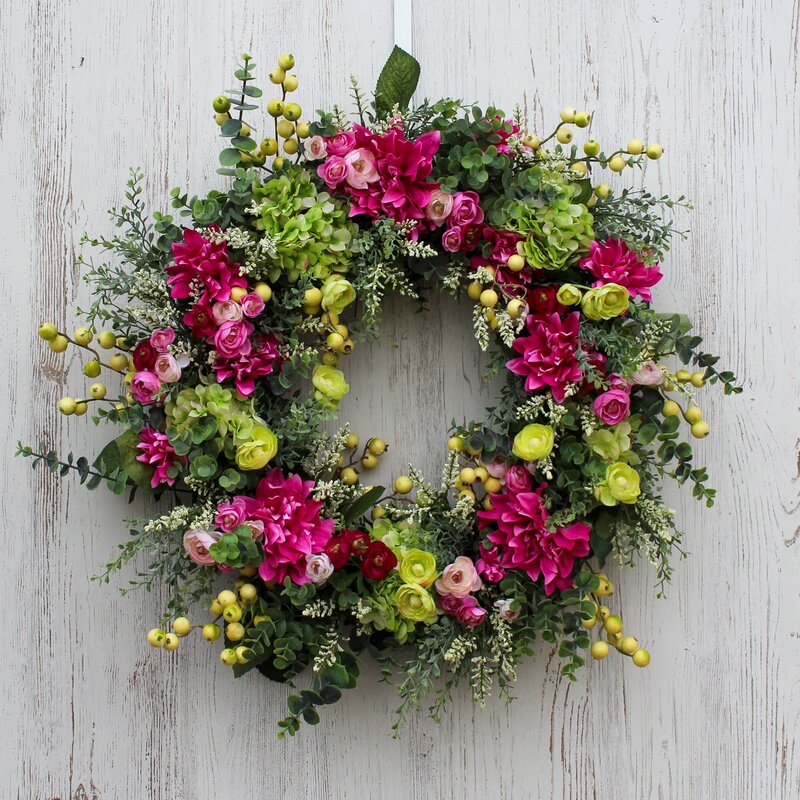 Hydrangea Dahlia Eucalyptus Wreath (photo via Wayfair product listing)
I adore the unique flowers and how all the pretty purples come together to make up THIS spring wreath (15)! Stunning, stunning, stunning in every way — it comes in two sizes, the largest being 30″!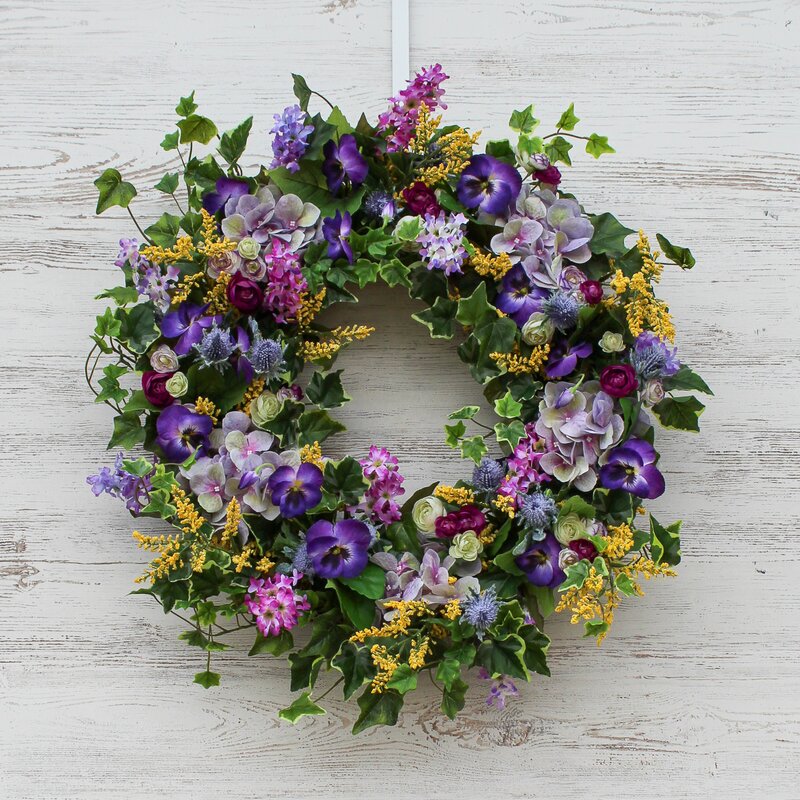 Lavender Hydrangea and Purple Larkspur Berry Wreath (photo: Rosecliff Heights via Wayfair)
THIS pink tulip wreath (4) is full, explosive, and gorgeous! While it reminds me of the pink statement of my tulip wreath, it seems a little more full, has less greenery, and is less than half the cost of mine! I love one major moment in all the same color — or varied shades of the same color.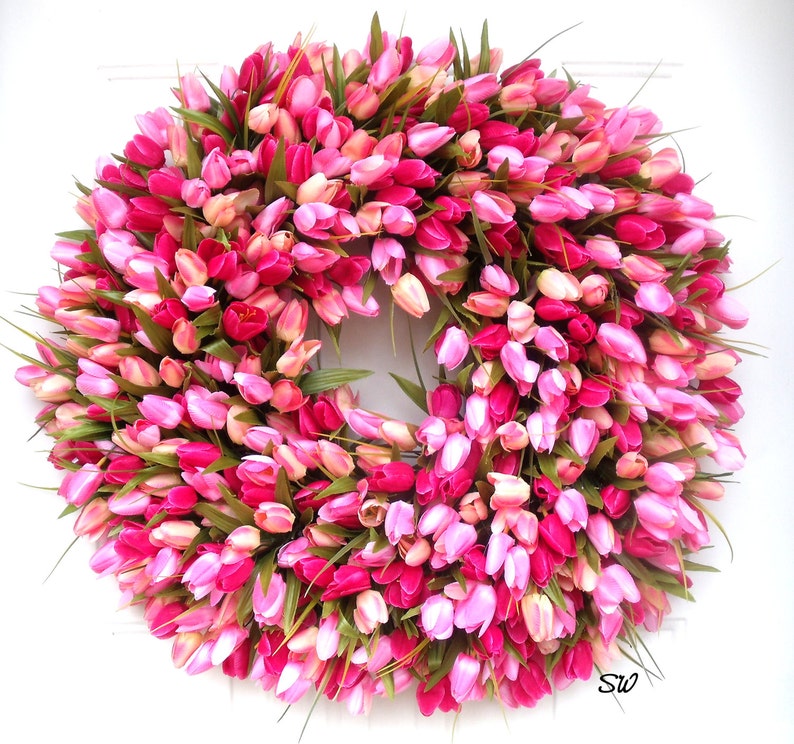 Spring Tulip Wreath (photo via: Seasonal Wreaths Etsy product listing)
And speaking of single color wreaths, I'm a sucker for an all-yellow wreath in spring. I use my yellow forsythia wreath everywhere from the front door to the dining room…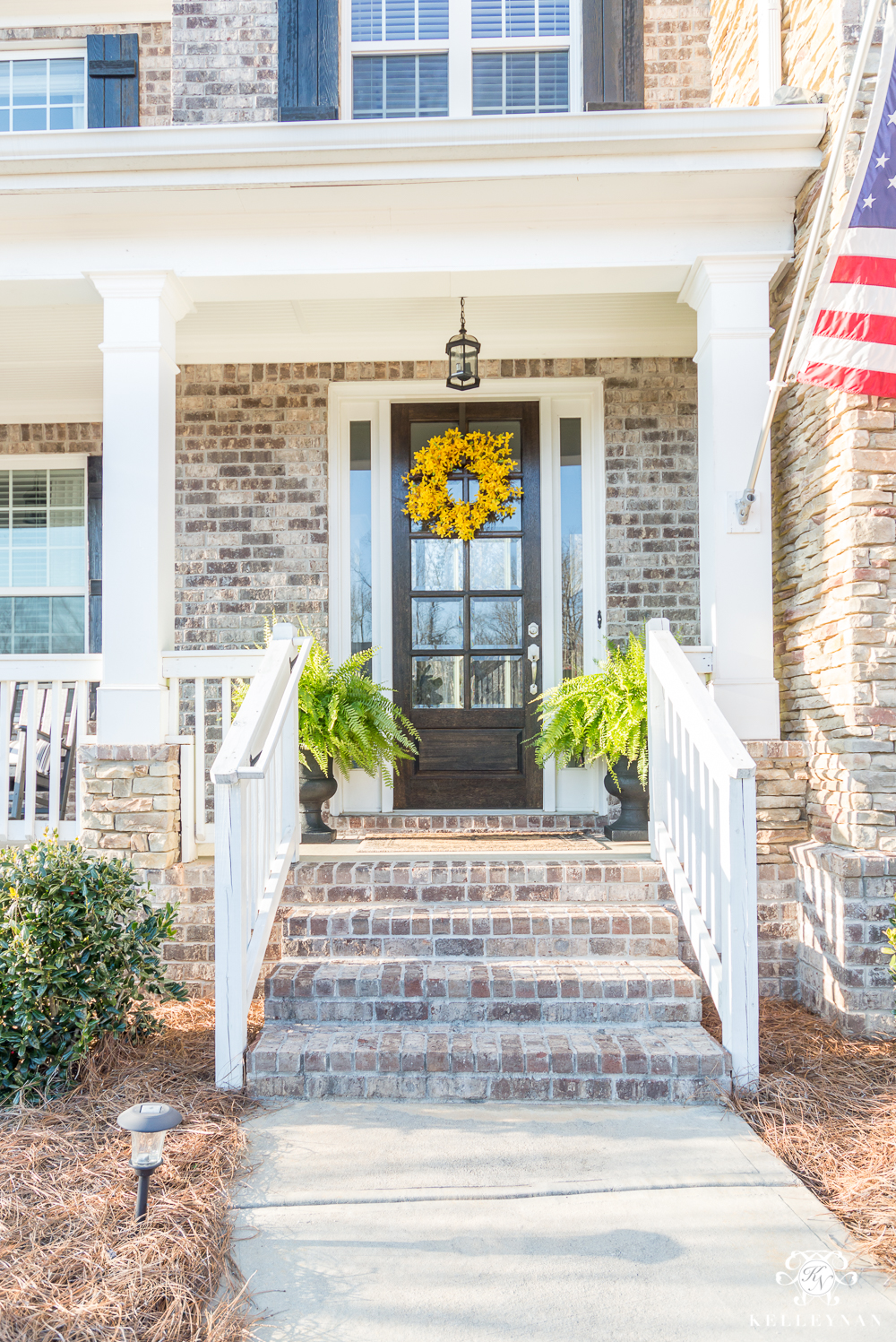 Forsythia Wreath (similar)
and since I'm totally into tulip wreaths, I LOVE THIS all yellow tulip (6) spring wreath for the front door!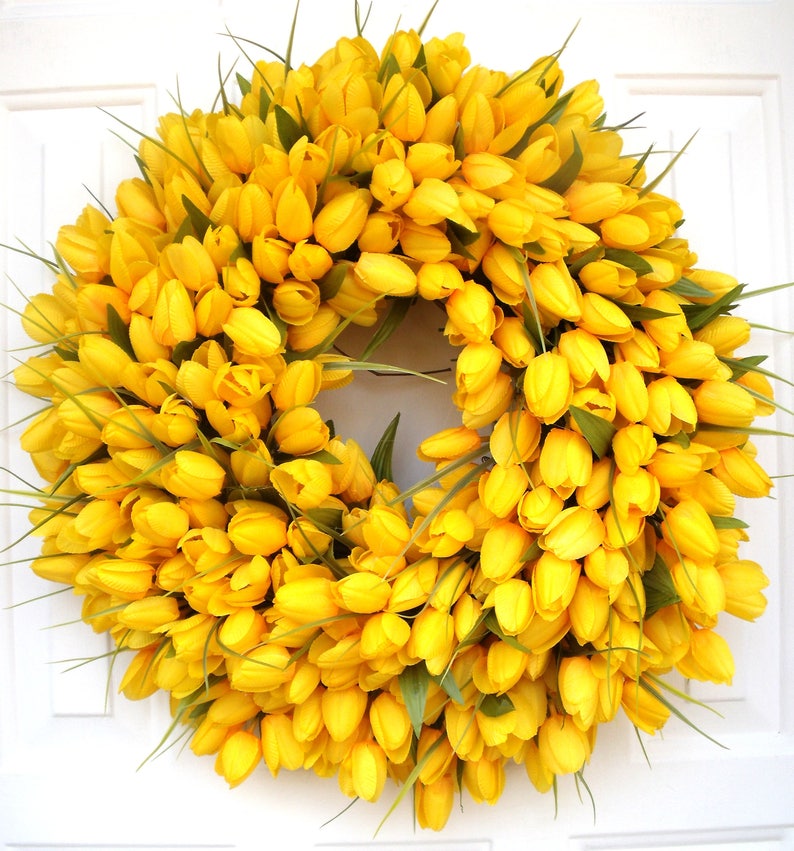 Yellow Tulip Wreath (photo via: Seasonal Wreaths Etsy product listing)
If you prefer more color variation, THIS yellow tulip wreath (12) has white and green mixed in and is also beautiful. An Amazon find, it's one of the most affordable wreaths in today's spring favorites collection.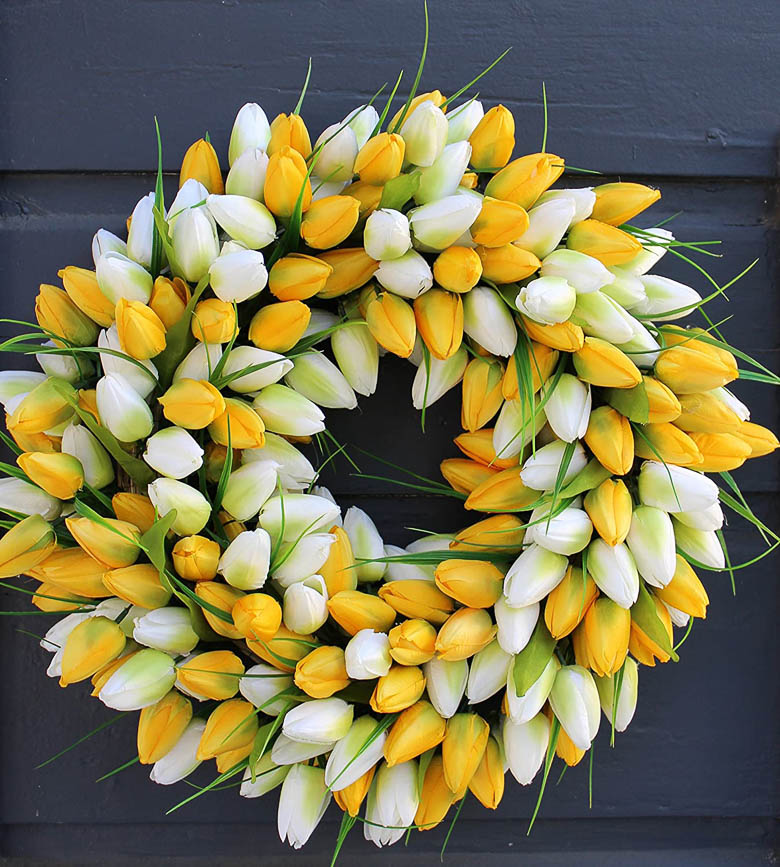 Yellow and White Tulip Wreath (photo: The Wreath Depot via Amazon)
THIS tulip wreath (7) has just a little yellow but is more focused on the other warm colors — reds, oranges and pinks. It's available in four sizes HERE.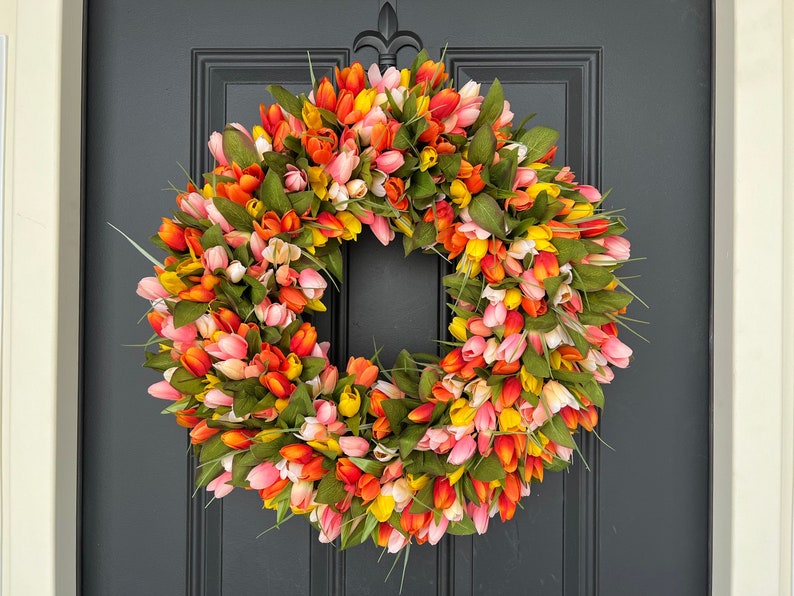 Orange, Yellow and Coral Tulip Wreath (photo via TwoInspireYou shop)
I felt I'd reached my limit on tulip wreaths but this next one was too pretty not to include. The varied purple tones of THIS purple tulip wreath (13) are gorgeous and it would look stunning next to fresh green plants. While it is handmade and MTO, the price is phenomenal for the quality.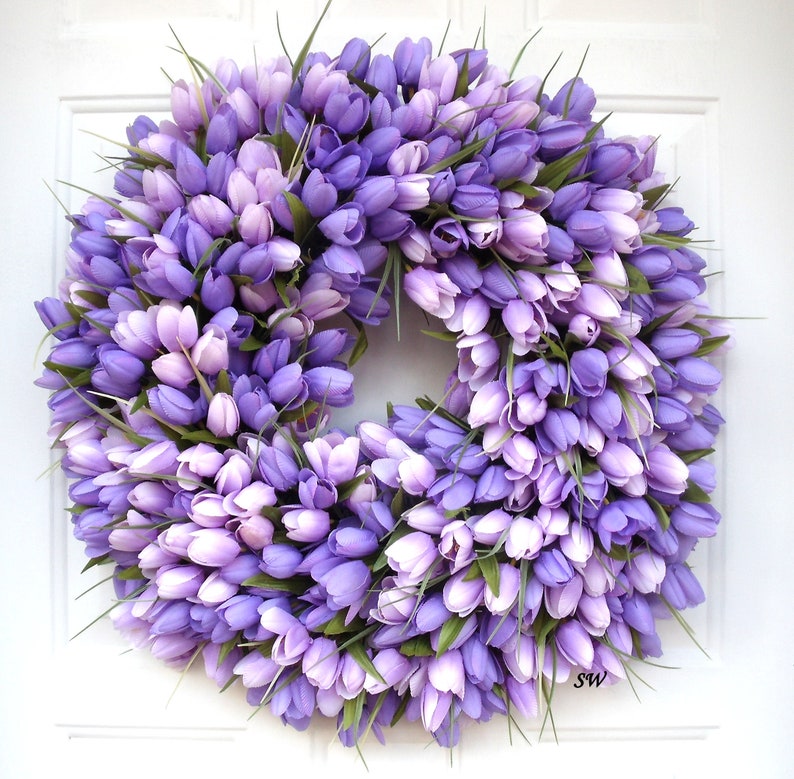 Lavender Tulip Wreath (photo via: Etsy)
I love the versatility of THIS faux orange wreath (8) so much that I shared it last year and went back to see if it was still available this year. Hang it on the front door, or, in the kitchen, dining room, or breakfast nook. I love the idea of hanging this wreath in my black dining room! I love fruit wreaths in general for how they can easily be moved around the house…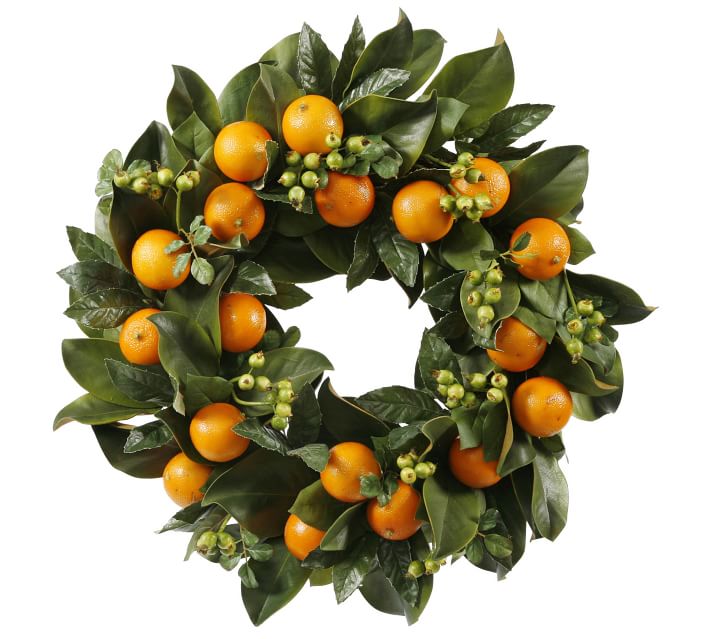 Faux Orange Wreath (photo via: Pottery Barn)
and I've been using my lemon and blueberry wreath from a couple years ago in just that way. I couldn't find a personal photo of it but you can find it HERE in several sizes. Again, while it comes with a bow, I typically choose to leave the bow off mine once they arrive.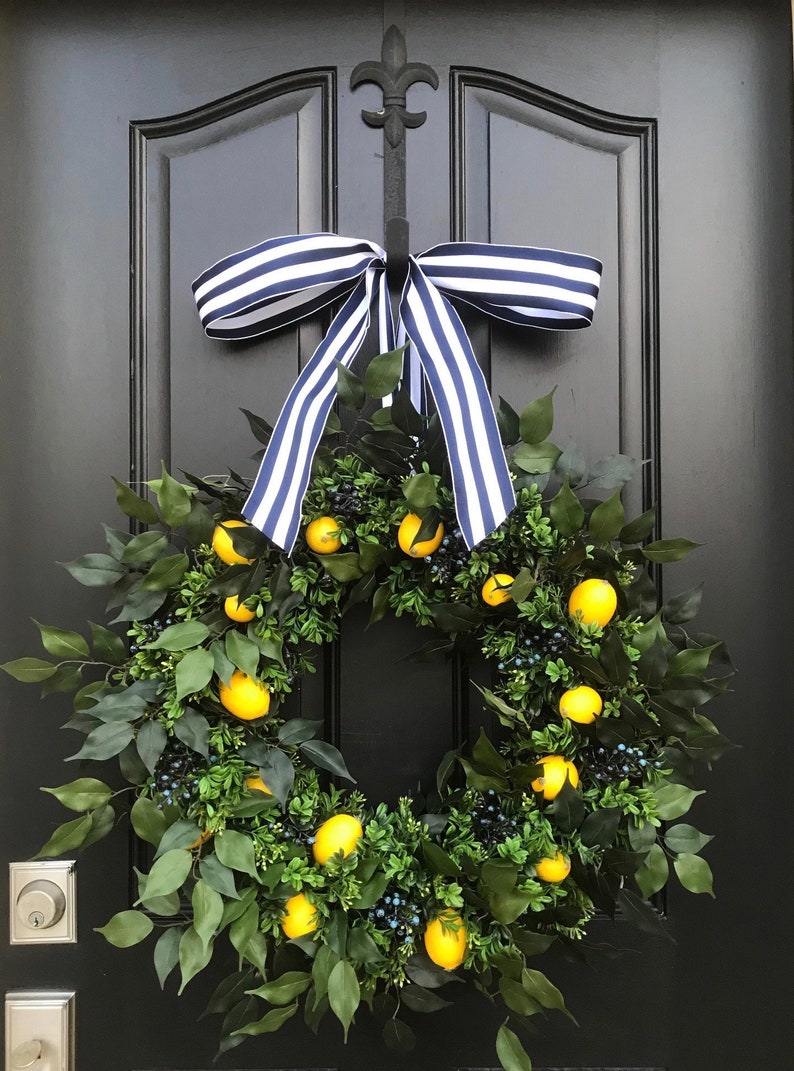 Lemon & Blueberry Spring Wreath (photo via: TwoInspireYou shop)
I LOVE THIS version of the lemon and blueberry wreath (9) because the lighter tones help the wreath pop off the door a bit more. While I love mine (HERE), it can get a little difficult to see from far away since I have a dark door on a covered porch.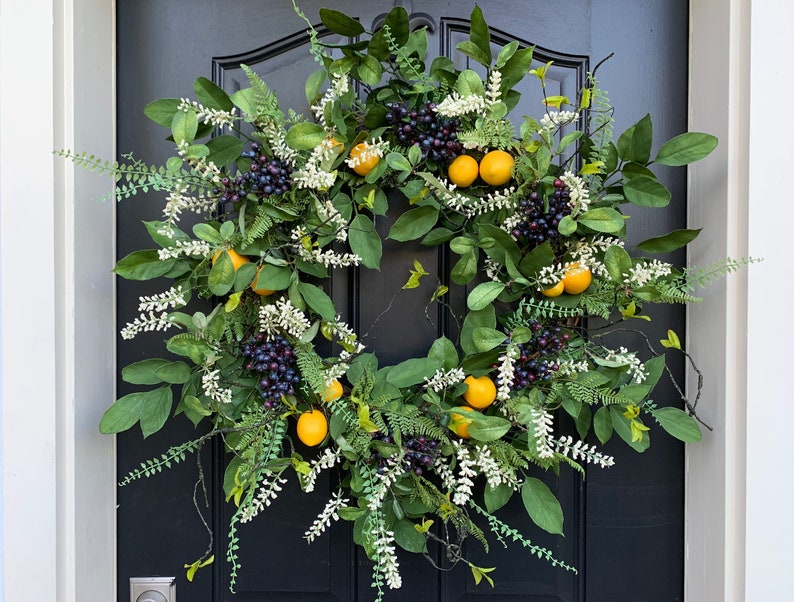 Lemon and Blueberry Wreath (photo via: TwoInspireYou shop)
If you're into feminine and soft florals for spring, THIS peony wreath (10) is beautiful — it also comes in a darker pink version HERE but has been in and out of stock.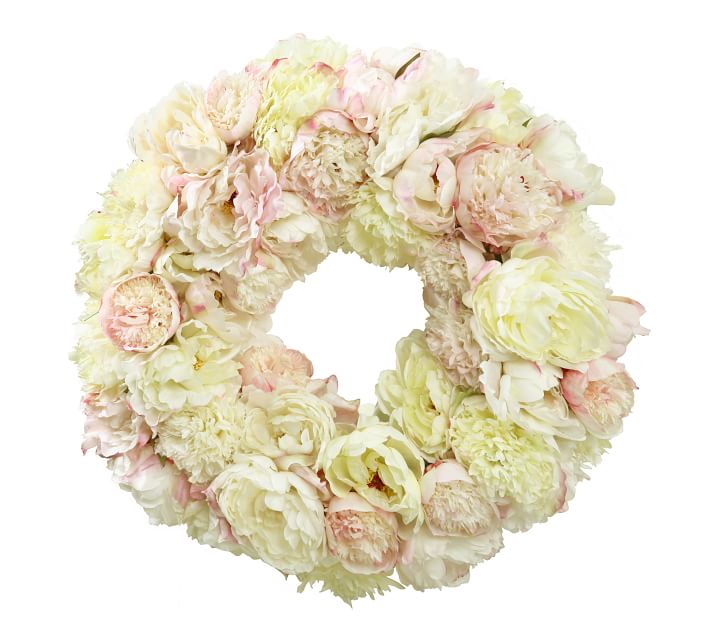 Faux Peony Wreath (photo via: Pottery Barn)
Some years, I want to go more simple and veer away from florals altogether. Greenery wreaths — from eucalyptus to fern to magnolia leaf — are probably my most used wreaths because they look good with any colors, in any season. Here is one of my favorite simple spring wreaths in a spring front door look from the past…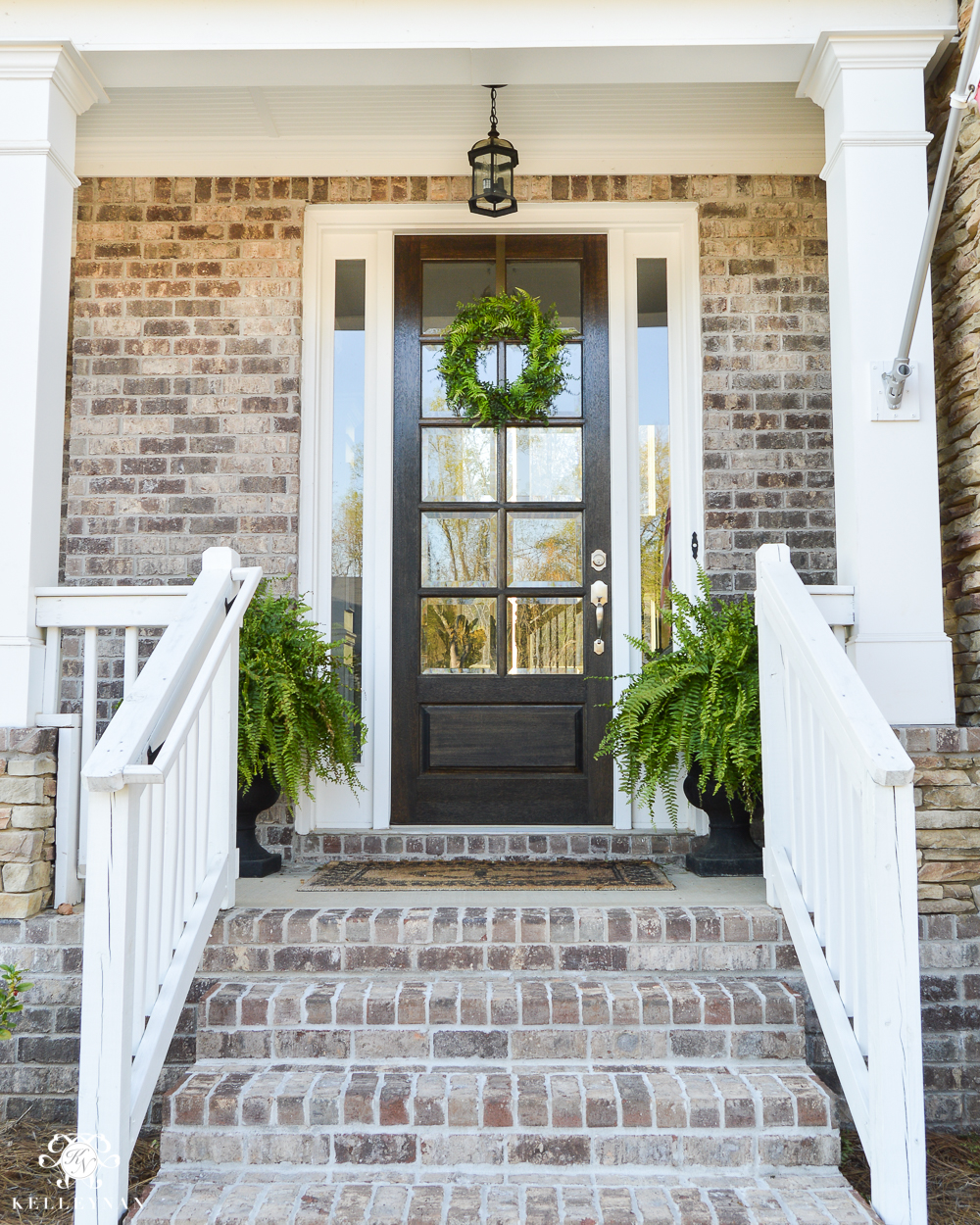 that reminds me of this stunning, best-of-all-worlds leafy spring wreath (14) HERE. While it's another pricier wreath, the wreaths from THIS SHOP have been worth the investment as I use them year after year.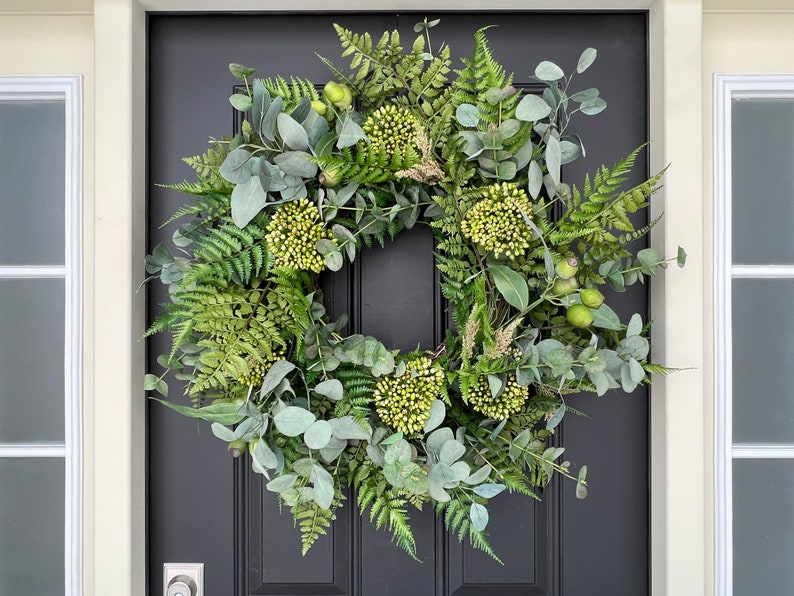 Fern and Eucalyptus Wreath (photo via: TwoInspireYou shop)
Do you have your spring planting on the calendar yet? When do you plan to start decorating your outdoors and dressing your front door for the season? I running full force into the next season this year 😉 For personal updates, upcoming projects, room reveals and more, be sure to subscribe to emails at the bottom of this post.
Other Posts You May Be Interested In