I haven't looked just yet but I'd be willing to bet that Costco will be bringing out their ginormous monster ferns any day now. And, with the mild weather we've had — well, for as long as I can remember — I'm also betting that I won't hesitate adding them to my porch a little earlier than normal this year. But first, I need to get my front door into spring-shape and replace that dull evergreen wreath that's been hanging since Thanksgiving with something fresh. I've been on the hunt and today, I'm sharing some of my favorite spring wreaths, from green and leafy to bright and floral.
*Posts on KelleyNan.com may contain affiliate links. Click HERE for full disclosure*
Depending on your front door situation, local climate, sunlight, and shelter, when you're choosing an outdoor wreath, be sure to read the fine print to make sure it's a viable option that will withstand the elements. Some wreaths, especially dried/preserved, wouldn't last on my front porch but make a perfect statement accessory indoors. On the other hand, if the price is right and I wouldn't be crushed if one season was the max use I got, I'm a little more lenient on locale.
I've had my front doormat ever since we moved in (I can't believe it's been four years!) and haven't moved it a single season. It's showing its wear a bit so I just ordered THIS new, cute welcome. How cute is that?! As a bonus, you select a pre-populated nonprofit at checkout in which the vendor designates 10% of the purchase price. LOVE that!
Spring Wreaths for the Front Door
So with a new front door mat on the way and ferns that will likely be popping up any day now, I guess I better get on the spring wreath front door focal point 😉 *All links are included below the image.*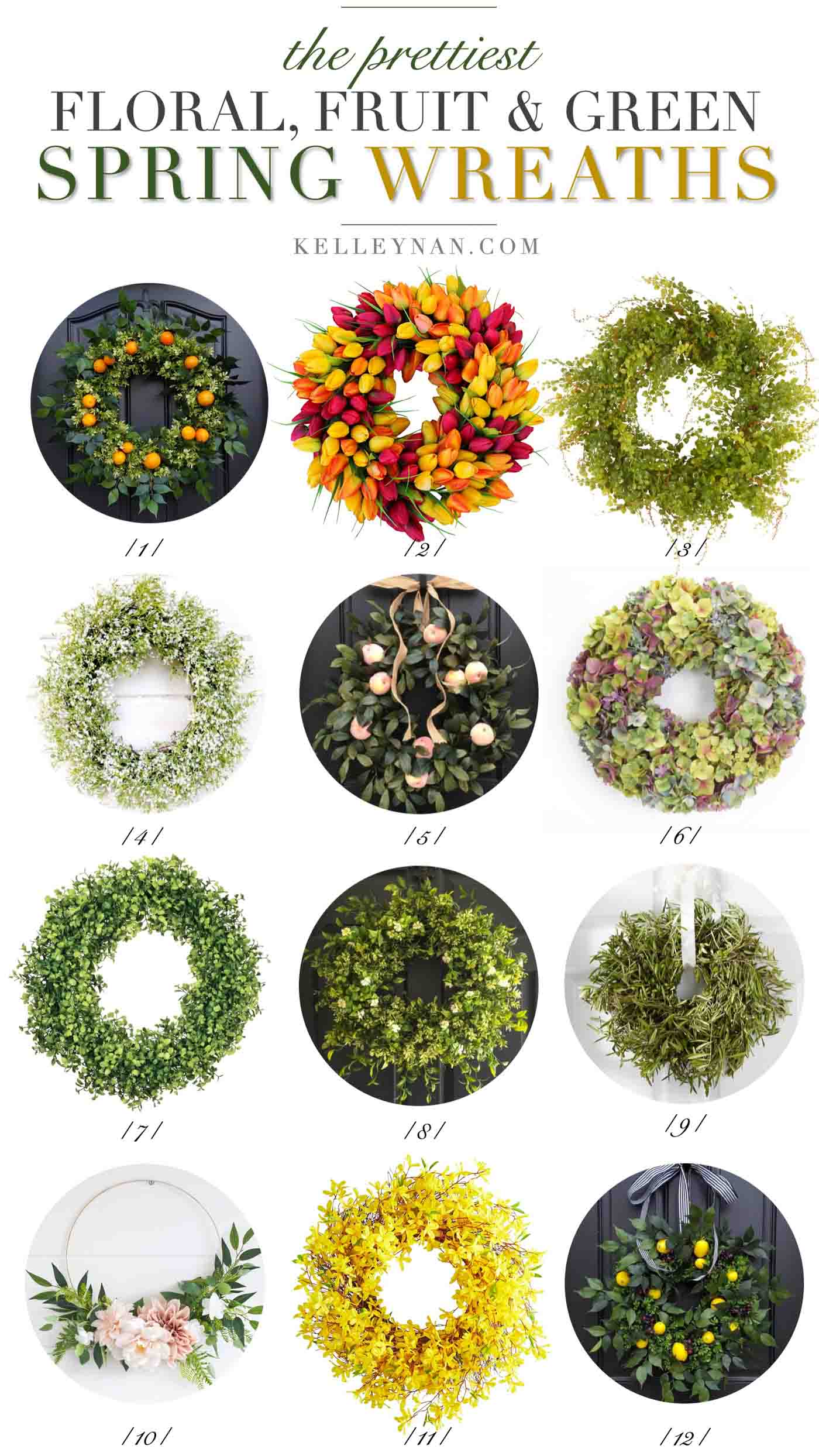 1 // 2 // 3 // 4 // 5 // 6 // 7 // 8 // 9 // 10 // 11 // 12
The wreath I am dying over for myself this year — but also one of the most expensive of the lot — is THIS orange wreath. Isn't that how it always happens? Dang it. The shop makes multiple sizes available and the other fruit wreaths (the peach wreath HERE and the lemon and berry wreath HERE) are also stunning. I don't know that it's in the budget this year so I'll probably sit on in for a few days 😉 I have and love the yellow Forsythia wreath (HERE) and if you have a covered porch like I do, it's the perfect, sunny pop of color that you don't get with some of the more muted/green wreaths. Use code FREESHIP49 for free shipping on this one 😉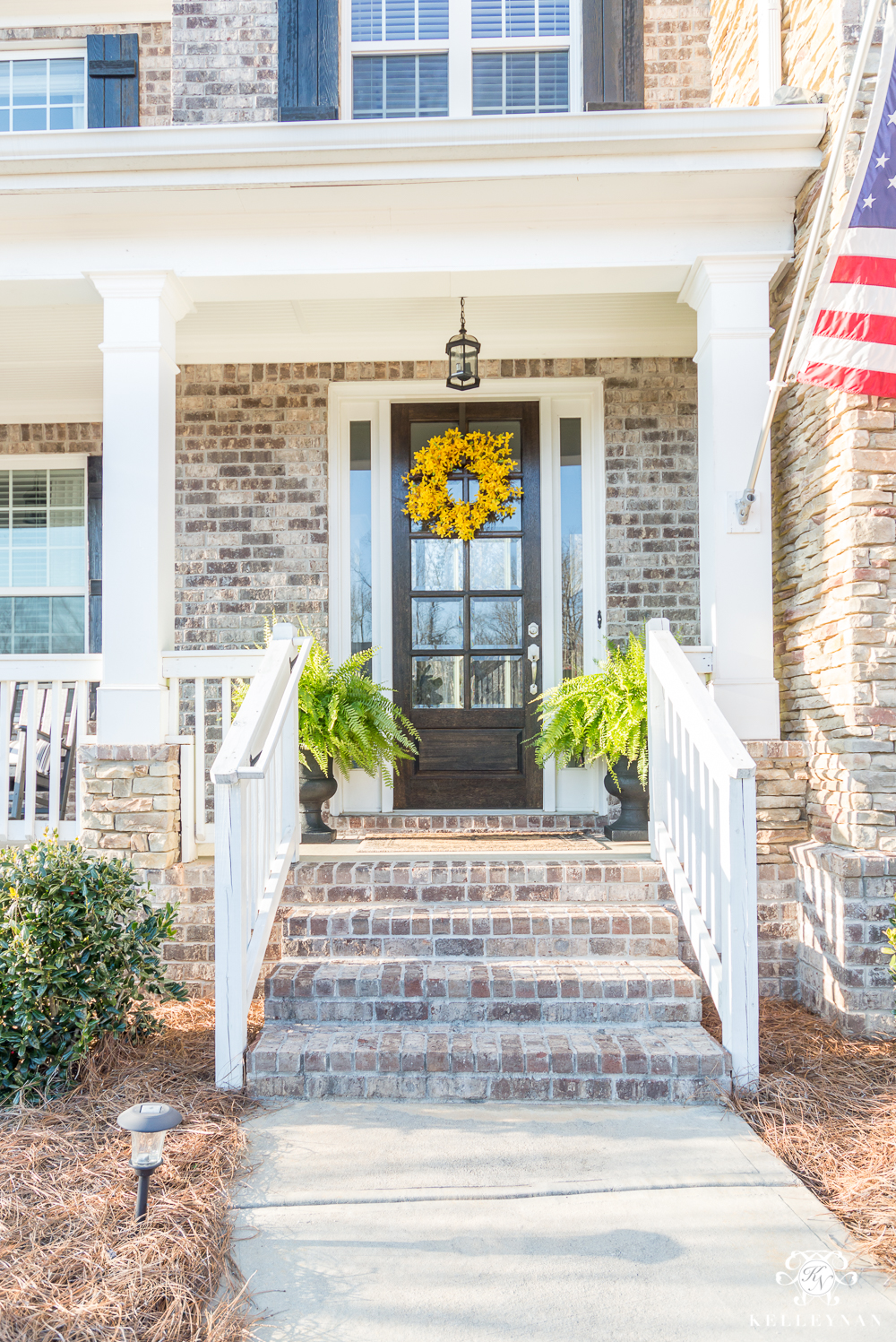 But as much as I love a bright, cheery front door, I also love a pretty, wispy, green wreath! THIS ONE is stunning but THIS ONE also looks beautiful and is a fraction of the price.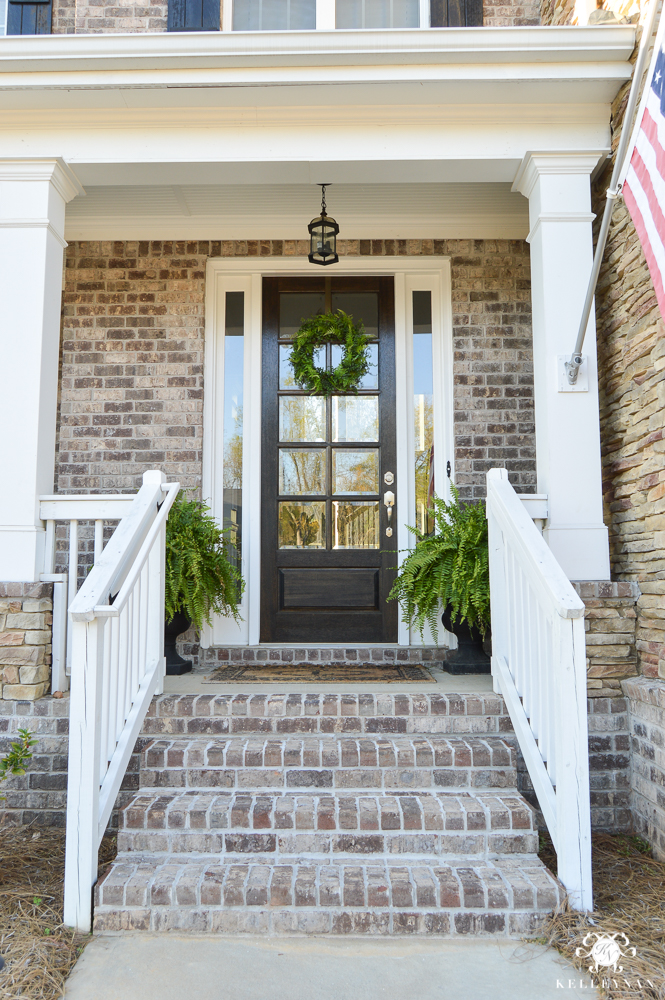 Sometimes, I'll justify the price of a more expensive wreath (or any seasonal decor for that matter) if I can find a way to use it across multiple seasons.
THIS
hydrangea wreath is pretty for Easter but also looks to have hues that would work well in the fall. You guys- can you believe tomorrow is the first day of March?! At least in the south, we're seeing little green sprouts in the ground and I've worn flip flops more than once over the past week. It's officially time.
---
Scroll & Tap to Shop the Post

---
For upcoming spring decorating, entertaining, and all the latest projects, be sure to subscribe to my emails below!
Other Posts You May Be Interested In