One of the most common requests I receive is to create a post with tips on styling a specific surface — a console table, coffee table, buffet, and last but not least, a kitchen island. The short answer is simple; I play around until I land on something I like. The more thorough answer, well… read on 😉 Over the years, I've come up with a pattern/theme — a formula of sorts — to help guide me. Today, I'm sharing my thought process when it comes to kitchen island decor and am dishing up my best tips, especially when it comes to a spring refresh in the kitchen and mixing and matching centerpieces, functional kitchen items, and countertop groupings.
*Posts on KelleyNan.com may contain affiliate links may be used in this post. Click HERE for full disclosure.*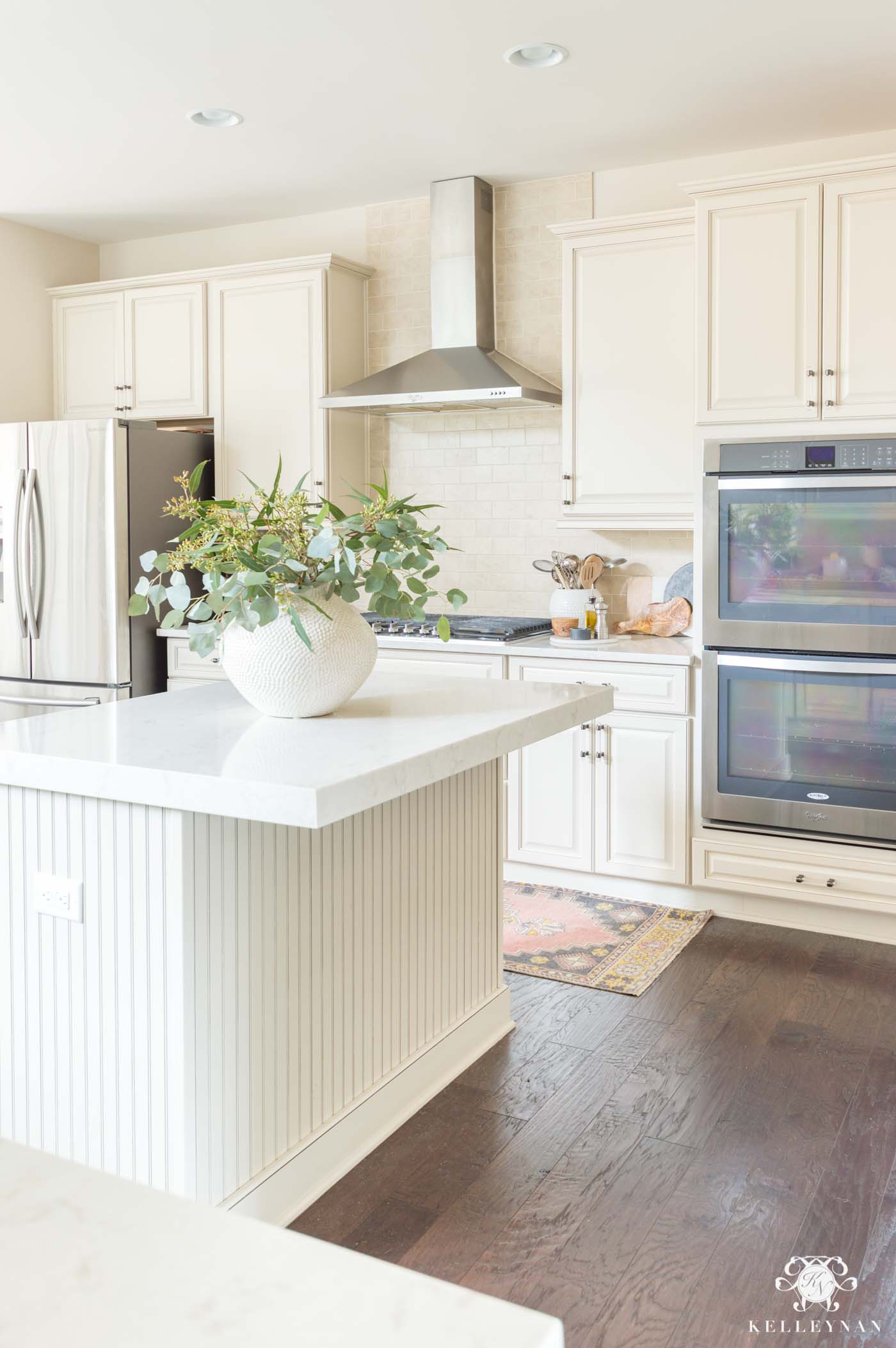 1. Sometimes, One is Enough
One of my main goals isn't just to keep physical clutter, but also visual clutter to a minimum in the kitchen. I don't have a large, spansive island but even if I did, I wouldn't view it as a space that needed to be filled. So, kitchen island decor tip #1 is easy — whether it's a bowl of fruit or a floral arrangement, sometimes it's best to not overthink it and keep your kitchen decor simple by sticking to one item.
Out of all the accessories and pretty entertaining pieces I'm sharing in this post, the this round vase is easily in my top three favorites. I wish you could jump through the photo and into my kitchen to see how big she really is — perfect and substantial enough for hoards of eucalyptus or long, leggy spring branches from the yard. When you have something that makes this much of a statement, you need nothing else. It serves as the centerpiece and focal point of the entire kitchen. And, I am so here for it. Update: Admittedly, this centerpiece has been on my kitchen island 24/7 for the past year.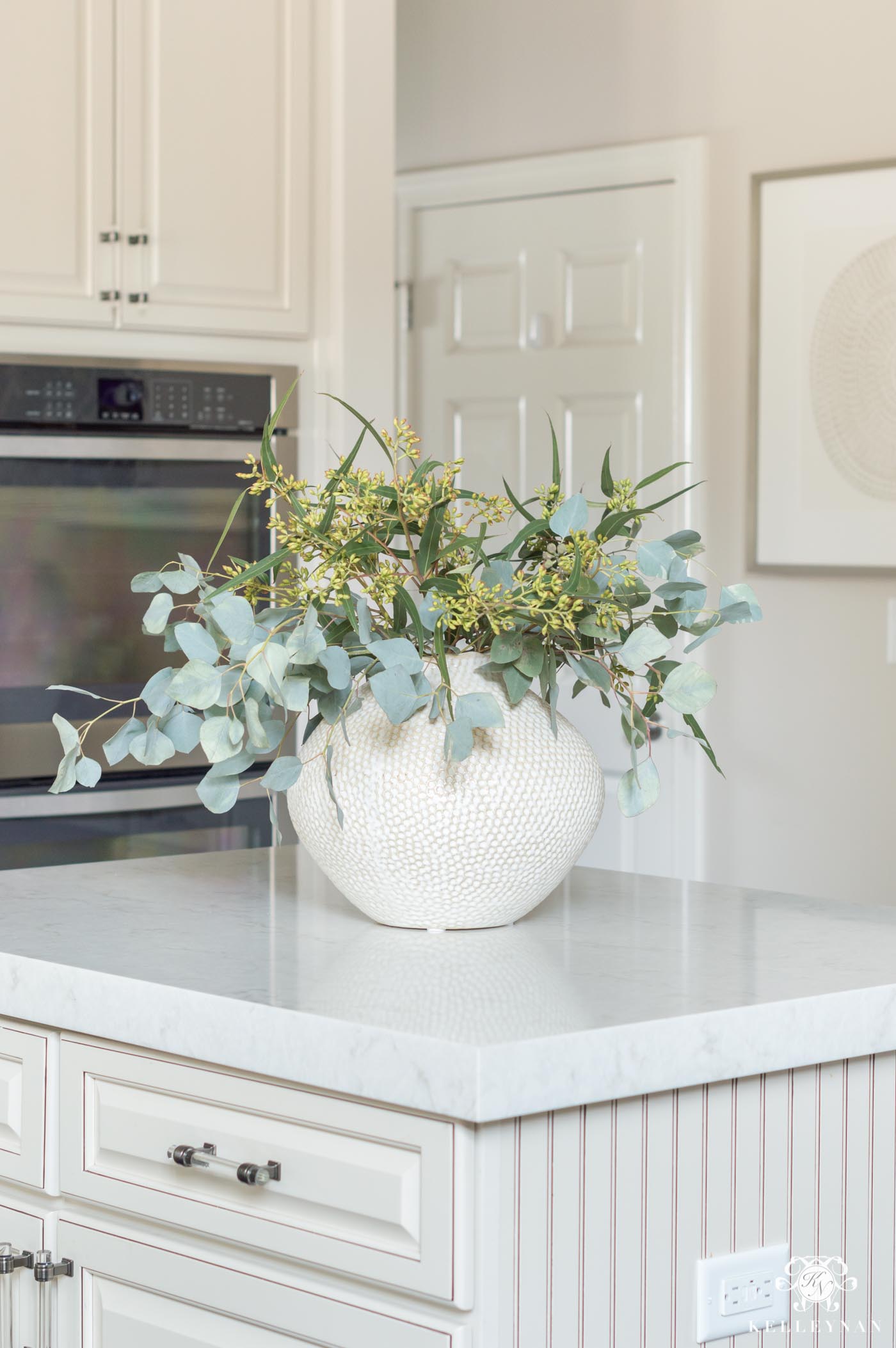 Eva Round Vase | Eucalyptus Stems (faux)
But even if you don't have enough foliage on hand or if your outdoor blooms are still in hibernation mode, you can scale it back a bit and stick to something a little more simple. This green-tinted, hand blown glass bowl is large enough to stand on its own and provides virtually zero obstruction to the countertop prep space.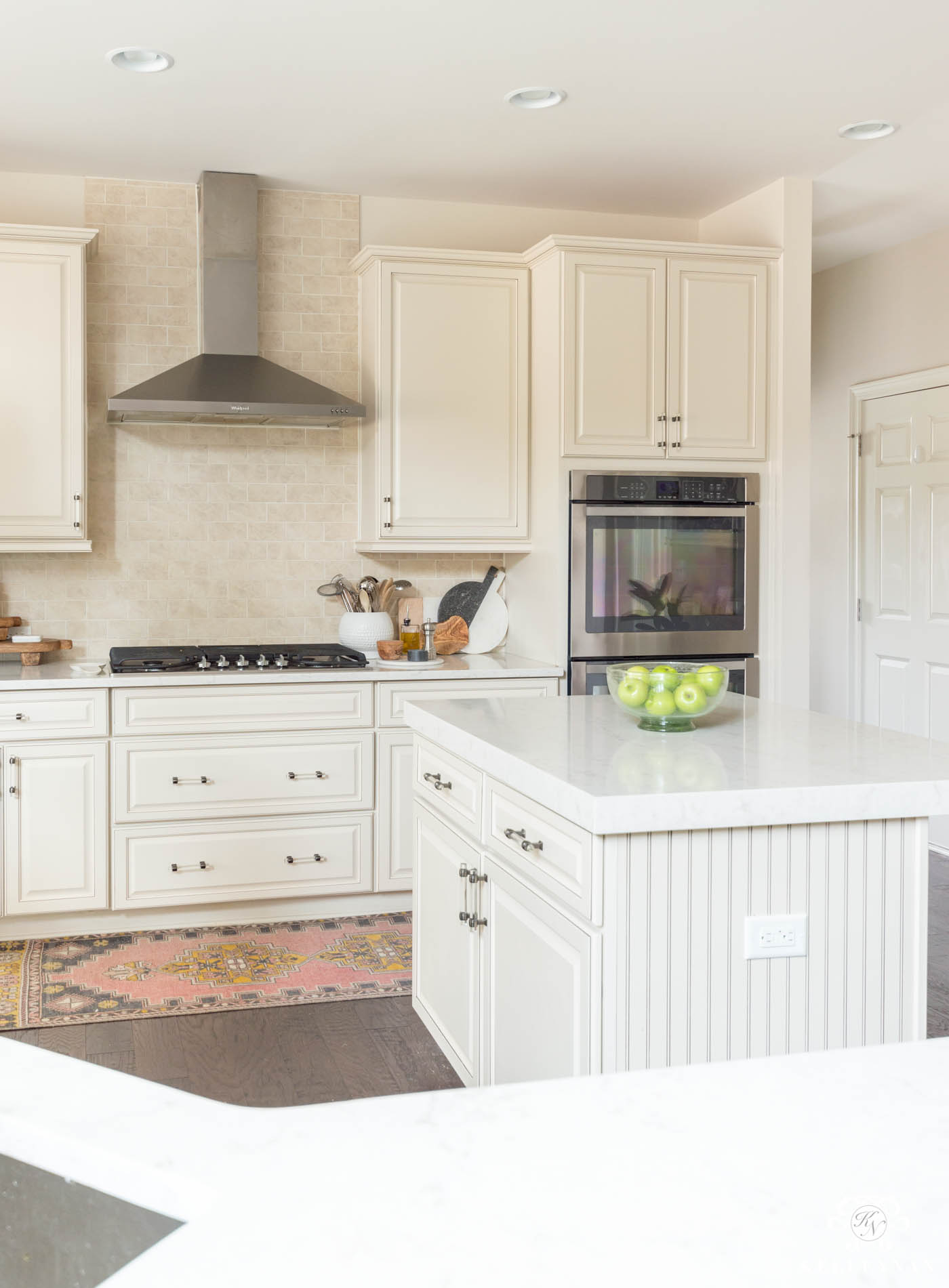 Stellan Hand Blown Footed Bowl — not available | Runner | Cabinet Pulls
Simple, scaled-back basics.
2. Display Fruit & Flowers of the Season
If you've been a reader for awhile, you know I'm really big on investing in pieces that are versatile enough to transcend seasons (and can be moved throughout the house from room to room). For that reason, instead of going season-specific on a lot of items I'll have to find storage space for, I tend to try to bring in seasonal feels through produce and plants. The neutral vessels I keep in regular rotation serve me well year-round with just a few fruit and flower switches.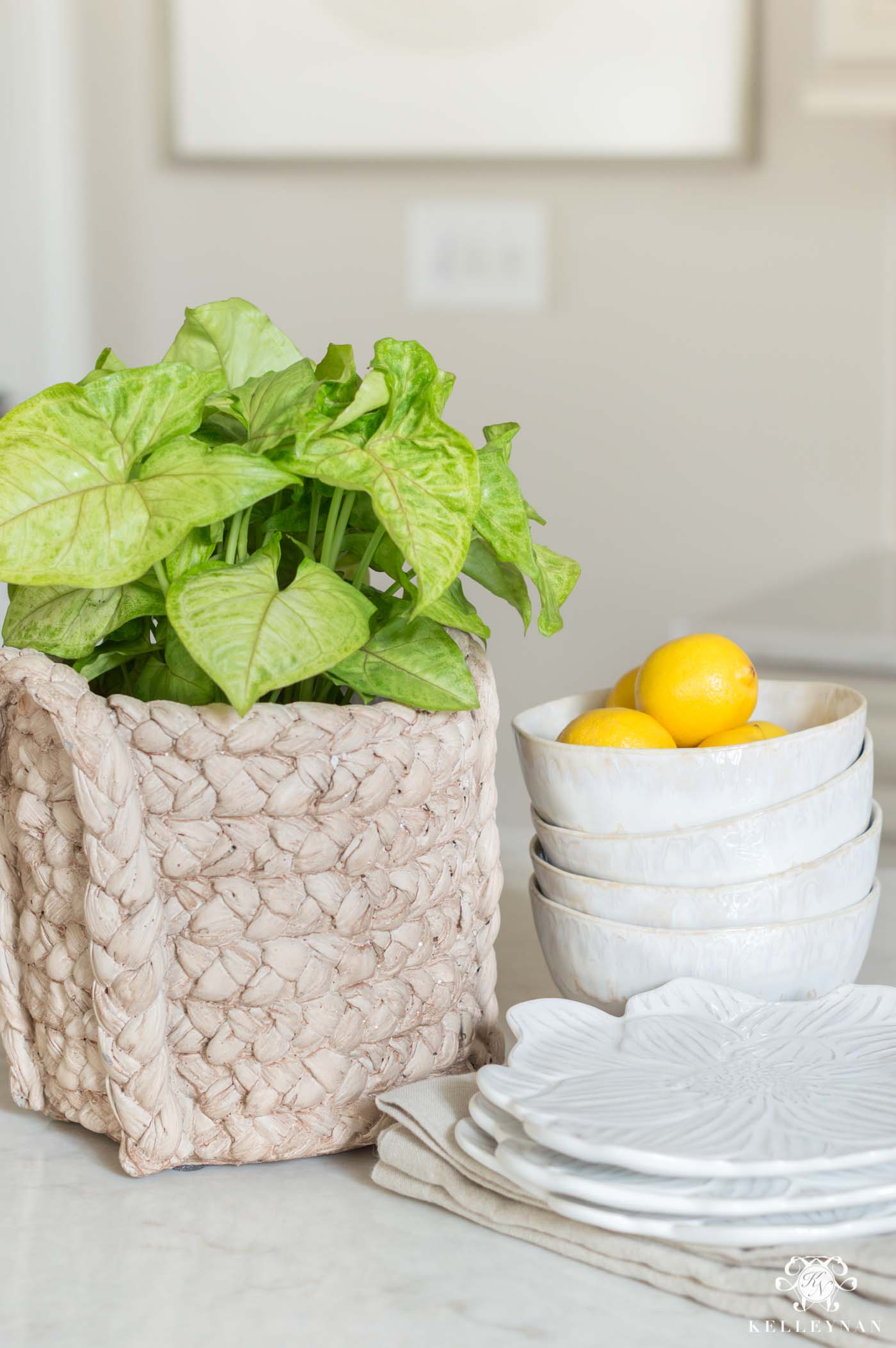 Woven Long-Handle Planter — not available | Bela Cereal Bowl (set of 4) | Plates (similar)
The small cement planter that looks like a basket rotates between the kitchen, living room, and breakfast nook and is one of my favorite planters for houseplants.
3. Cluster But Don't Over-Crowd
I'm sure you've heard the "rule of threes" and how things typically look better grouped in odd numbers. (PS: there's always exceptions and sometimes, I totally break this "rule" 😉 ). Well, the same goes for kitchen island decor and kitchen counter decor vignettes. I like to imagine I'm sort of nestling items together — items at varying heights, shapes, and textures. I like things to be staggered. But, what I don't want to do is end up rendering the island countertops totally unusable. So, I try to stick to no more than three items sitting on the actual countertop.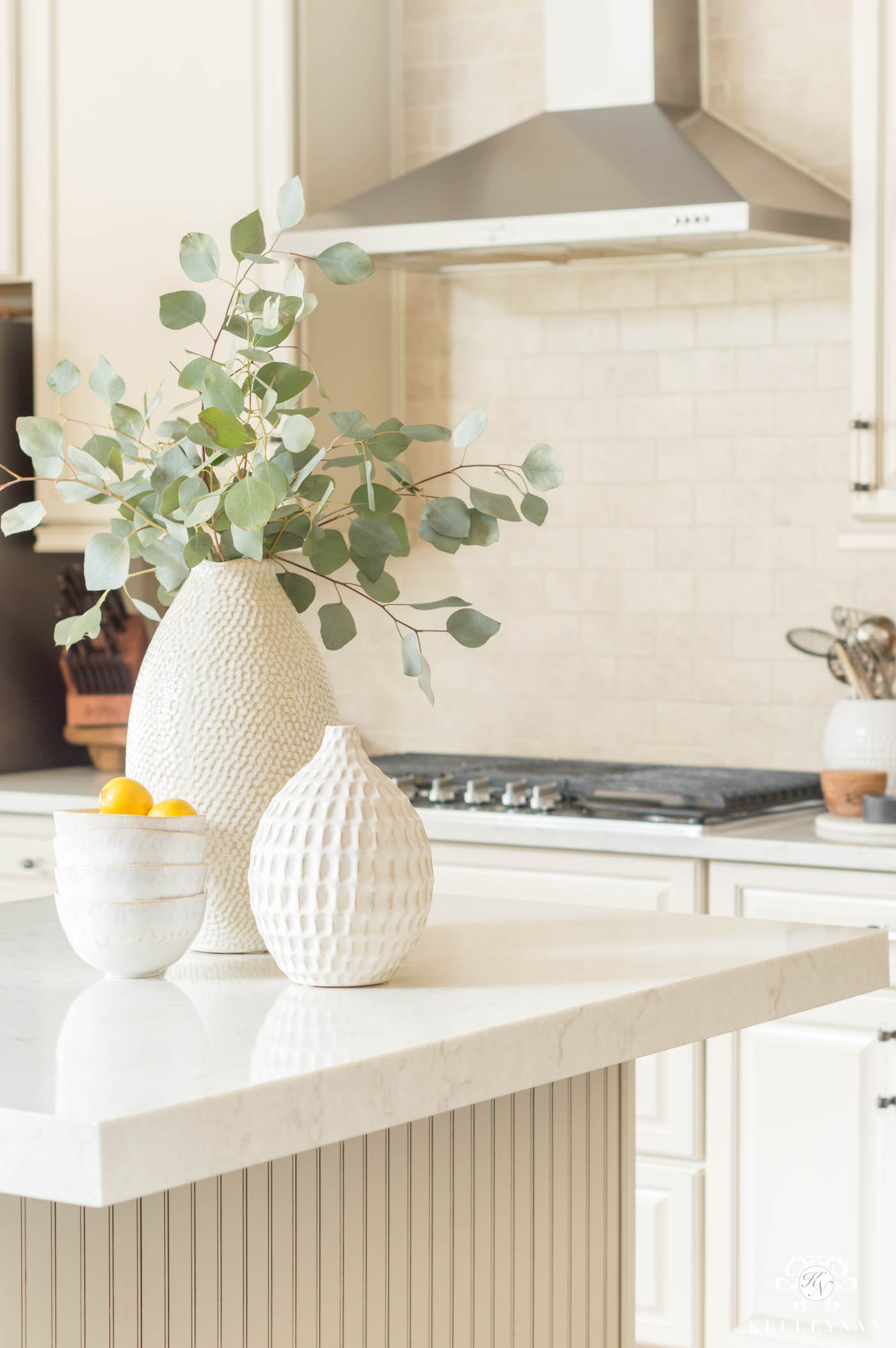 Eva Tall Vase | Eva Bud Vase | Bela Cereal Bowl (set of 4) | Eucalyptus Stems (faux)
The large round vase from earlier in the post is a part of the same collection as the this tall vase and this bud vase pictured here. I love them together but they've become staples for easy styling on my living room console table and breakfast sideboard, too.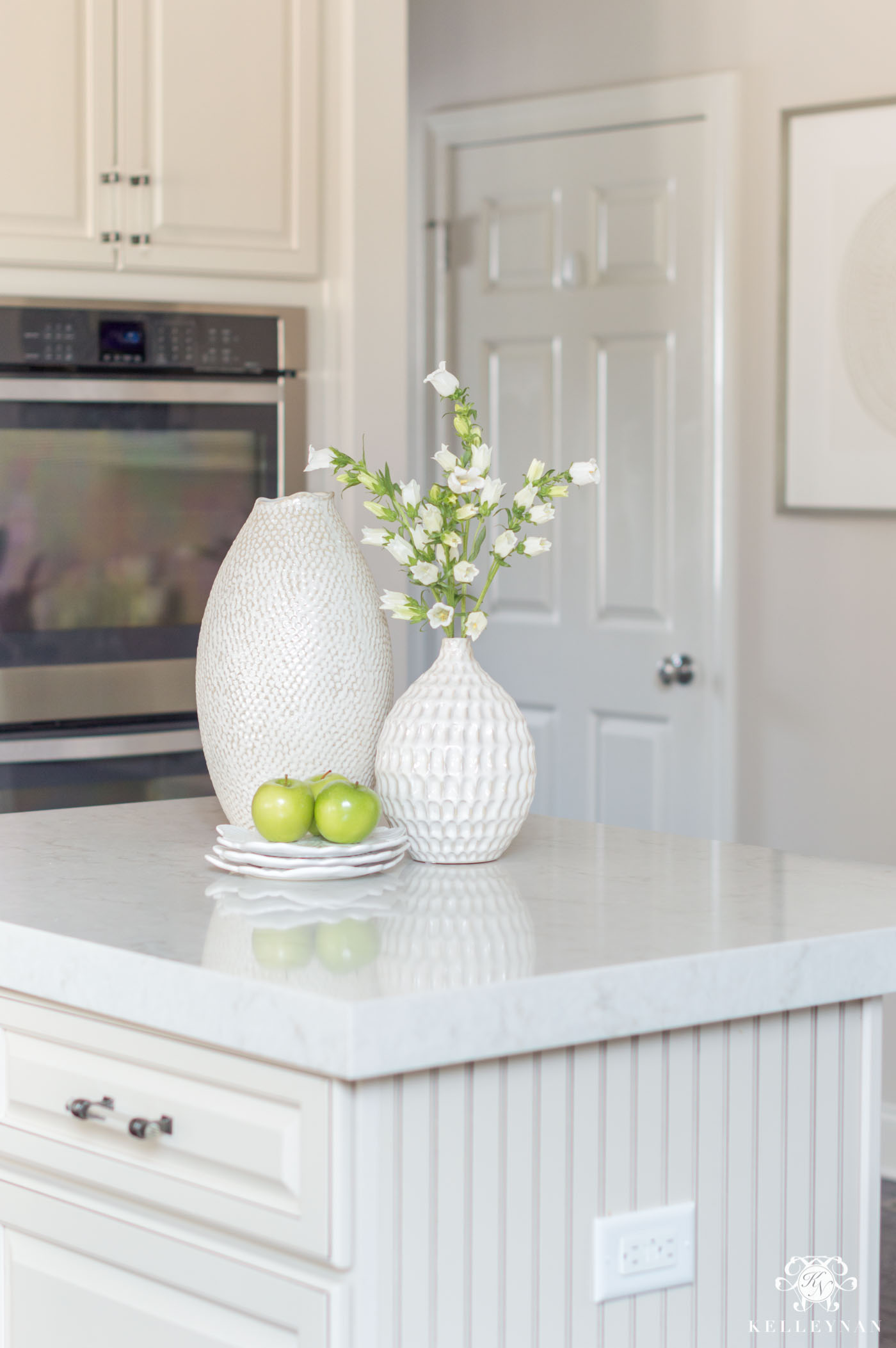 Eva Tall Vase |  Eva Bud Vase | Plates (similar)
You can layer and stack vertically if the vignette calls for it but once you go past three main items on the actual counter surface, it can start getting a little over-crowded.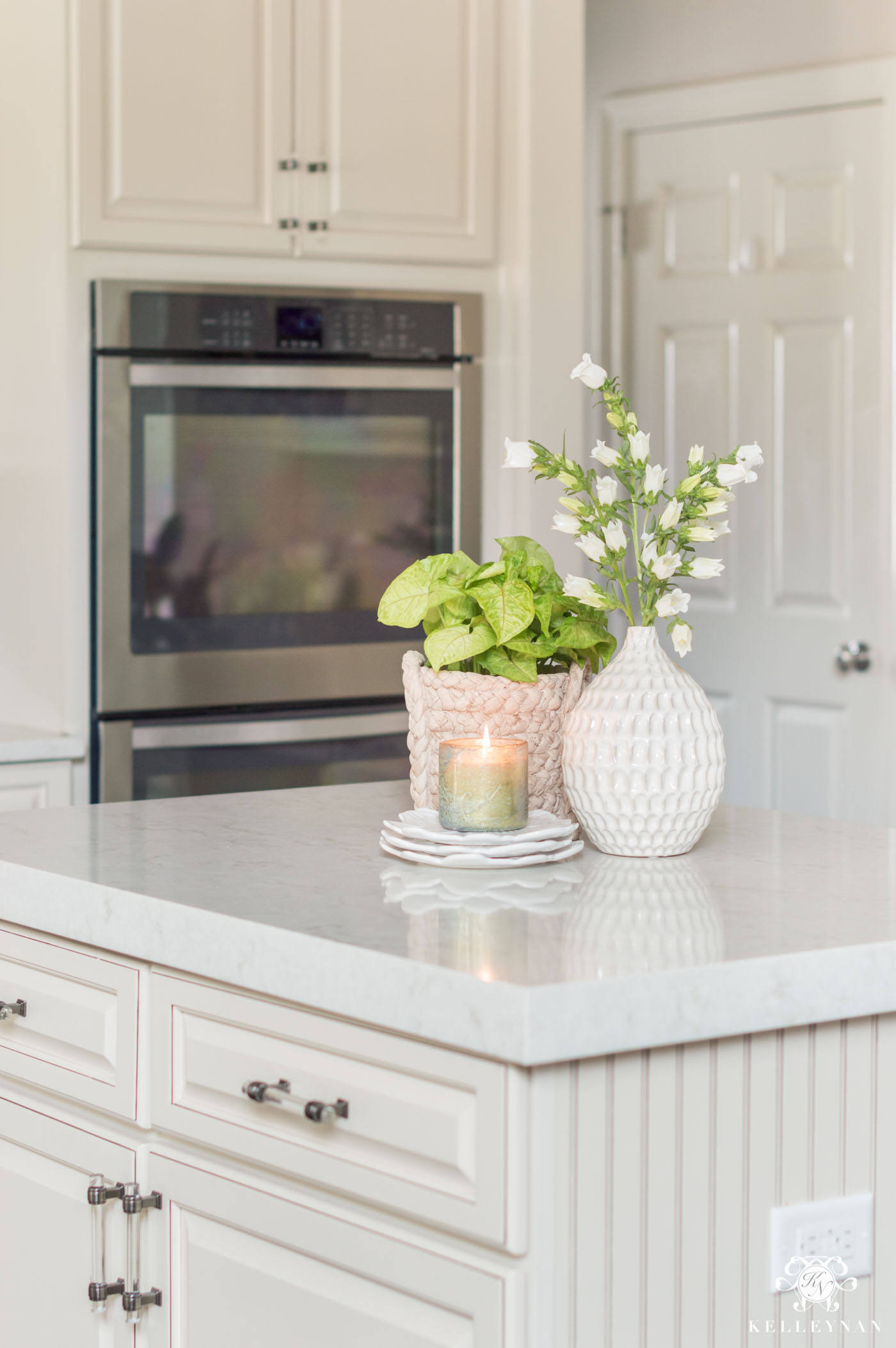 Woven Long-Handle Planter — Not available | Wild Fig Tree Hand Blown Scented Candle | Eva Bud Vase | Plates (similar)
4. Use Your Prettiest Kitchenware
Because kitchen countertop space is already at a premium — and let's be honest, so are the kitchen cabinets — I like to identify opportunities to display some of my favorite dinnerware/kitchen pieces in my sideboards, on my bar cart, and on the kitchen counters. I also think that because we're trying to steer clear of clutter, that unless they're vessels or serving a purpose, I'm not really into bringing in a bunch of random decor that could be better served being displayed in a different room. This is when you can bring out those fun patterns and shapes that may only see a rare party occasionally.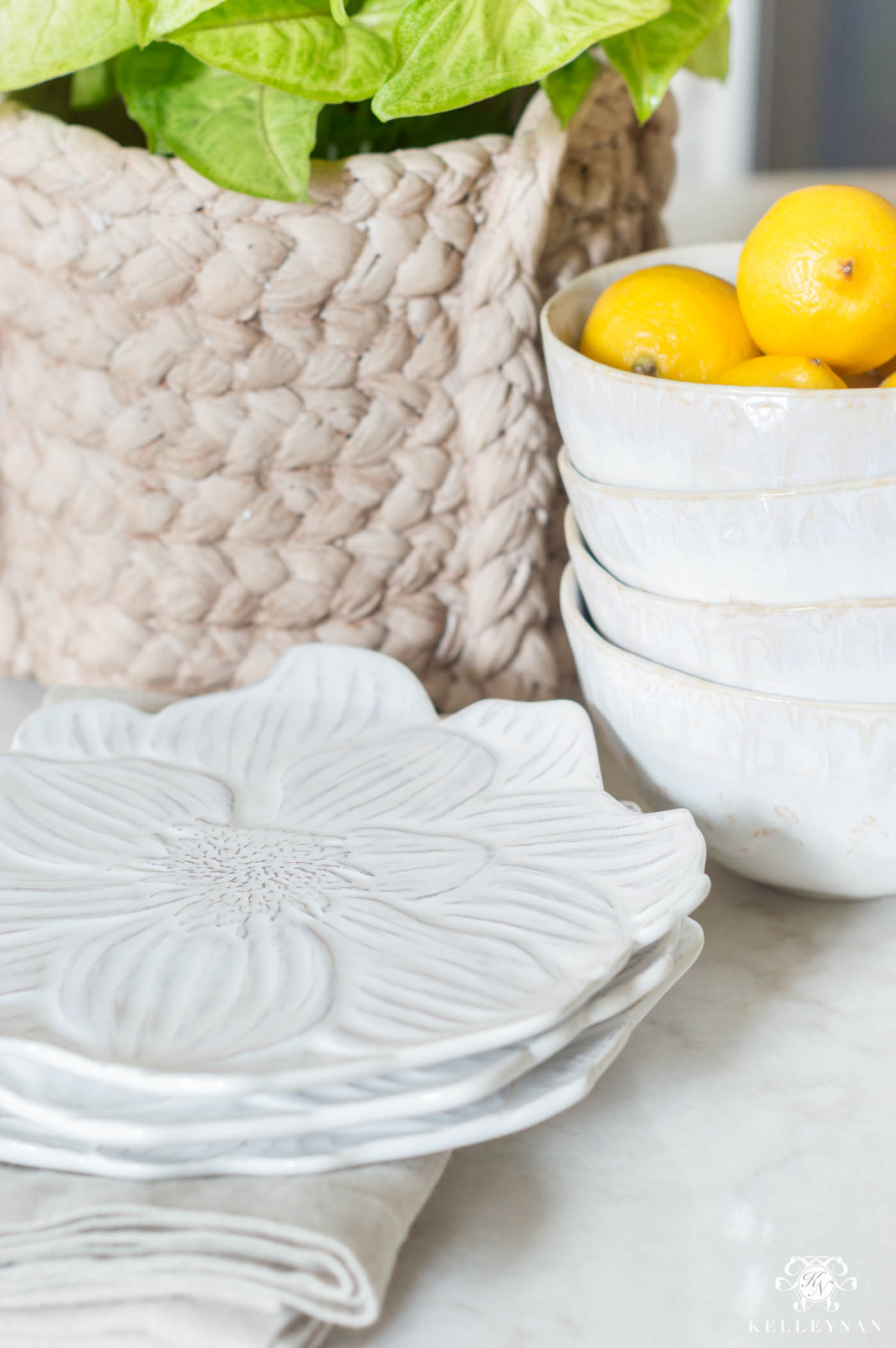 Woven Long-Handle Planter — not available | Bela Cereal Bowl (set of 4) // Plates (similar)
The varying hues of these organic shaped cereal bowls blend all the colors of my kitchen; you can see how perfect they look with my quartz countertops.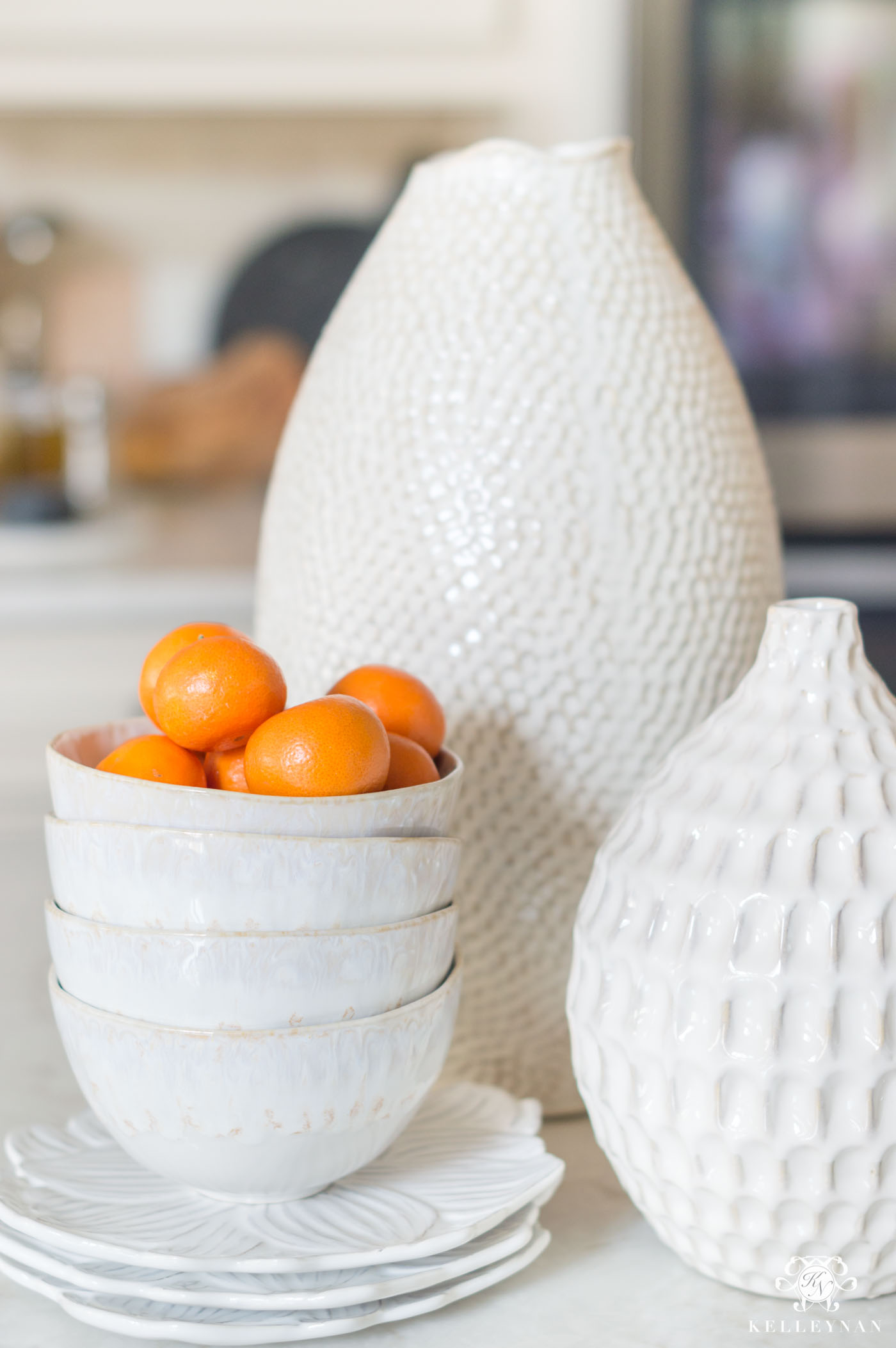 Eva Tall Vase | Eva Bud Vase | Bela Cereal Bowl (set of 4) | Plates (similar)
5. Go with a Theme
Display your collection of hand blown glass jugs, ginger jars, blue and white pieces, or your grocery haul. Whether you use coordinating vessels to hold your collection, or the vessels are your collection, similar groupings in the center of the kitchen can make a strong visual impact.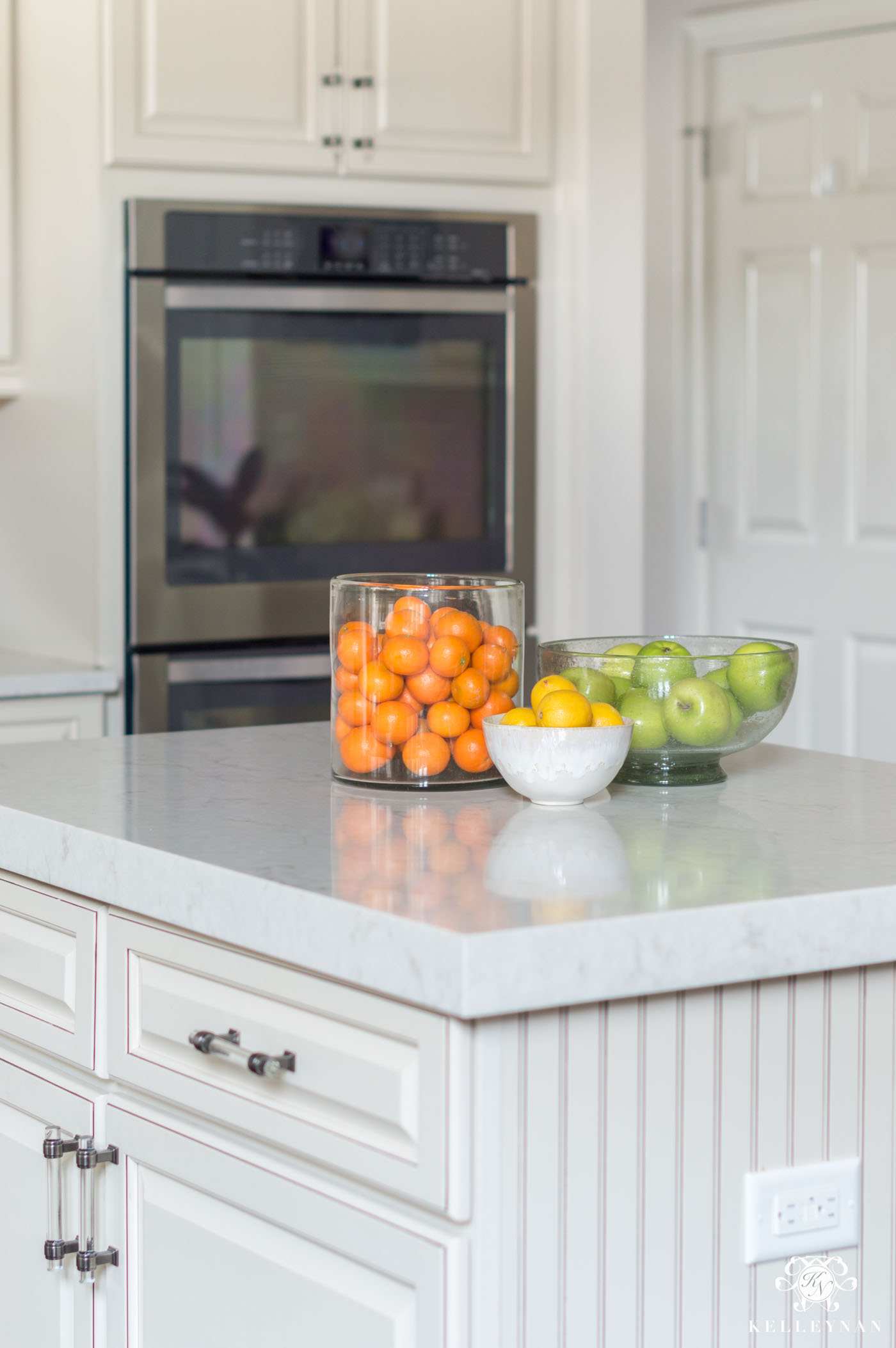 Bela Cereal Bowl (set of 4) | Bowl & Cylinder — not available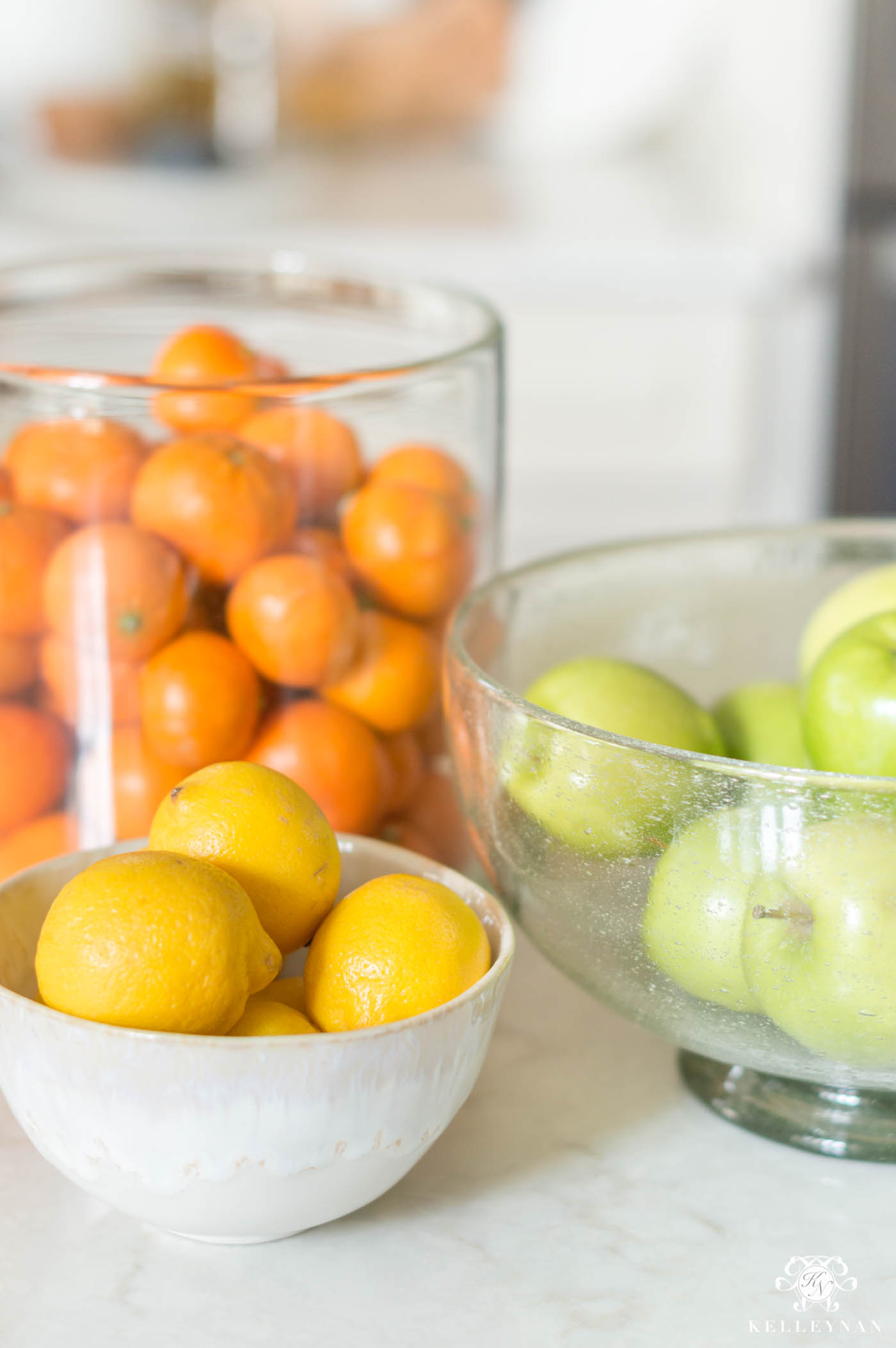 Bela Cereal Bowl (set of 4) | Bowl & Cylinder — not available
Or maybe the color is what makes your grouping a coordinated collection…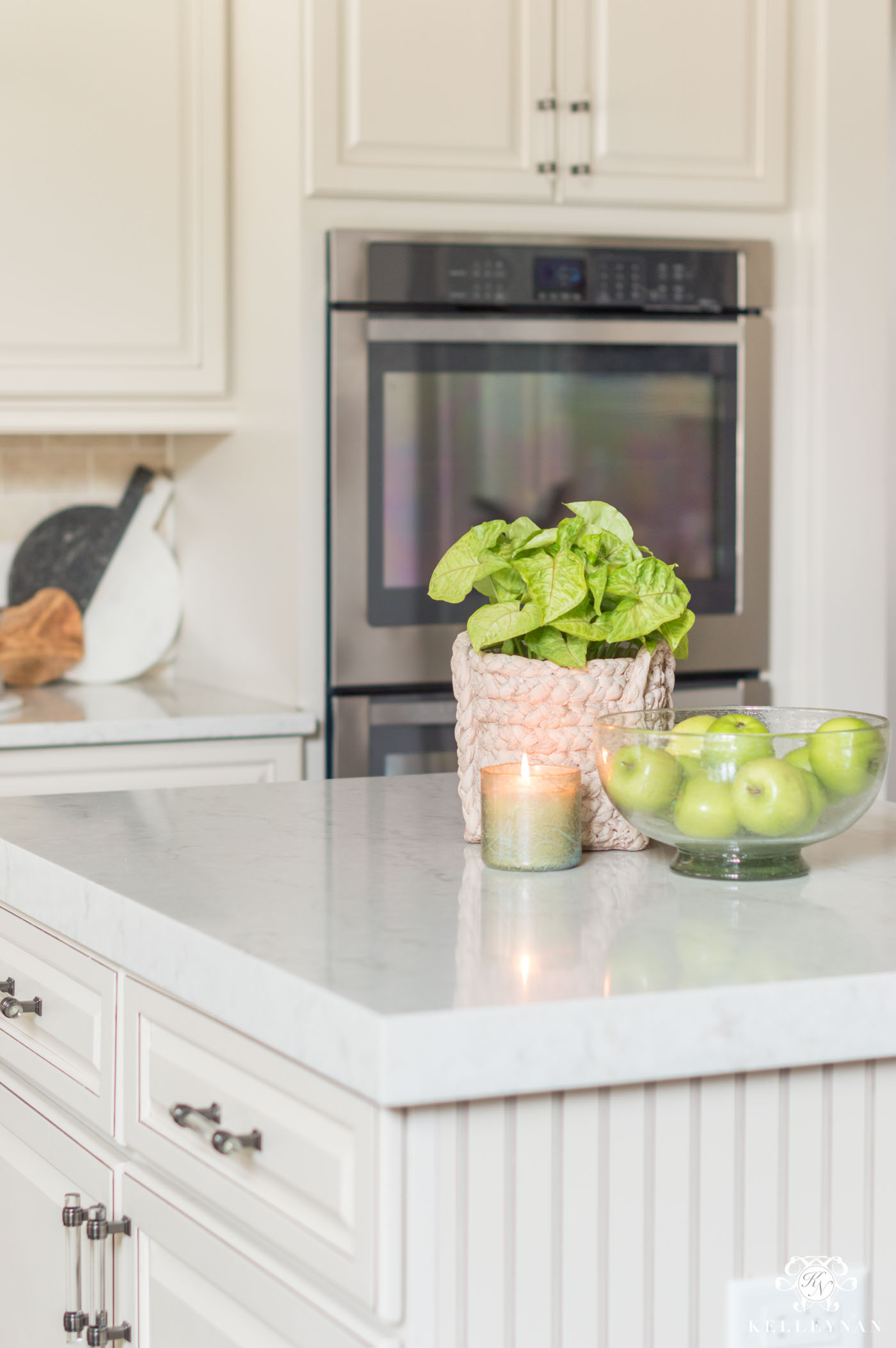 Woven Long-Handle Planter — not available | Wild Fig Tree Hand Blown Scented Candle | Bowl — not available
Look for similarities and group accordingly.
6. Corral, Don't Clutter
And if the items in your kitchen island grouping don't have much in common? No problem. Corral them on a tray and just like that, it all makes sense! Sure, there are some commonalities between the greens and spring vibes of the tulip/apple combo below but with the matte black lantern, bowls, and shiny candle, there's a lot going on. Keeping them grouped in a tray makes it feel more intentional, not just like they're taking up counter space temporarily. As a bonus, if you have pieces that lack height or look slightly puny grouped together, putting them in a tray will make it feel instantly larger. By the way, I love using lanterns as vases; you can see my post on other lantern flower arrangements HERE.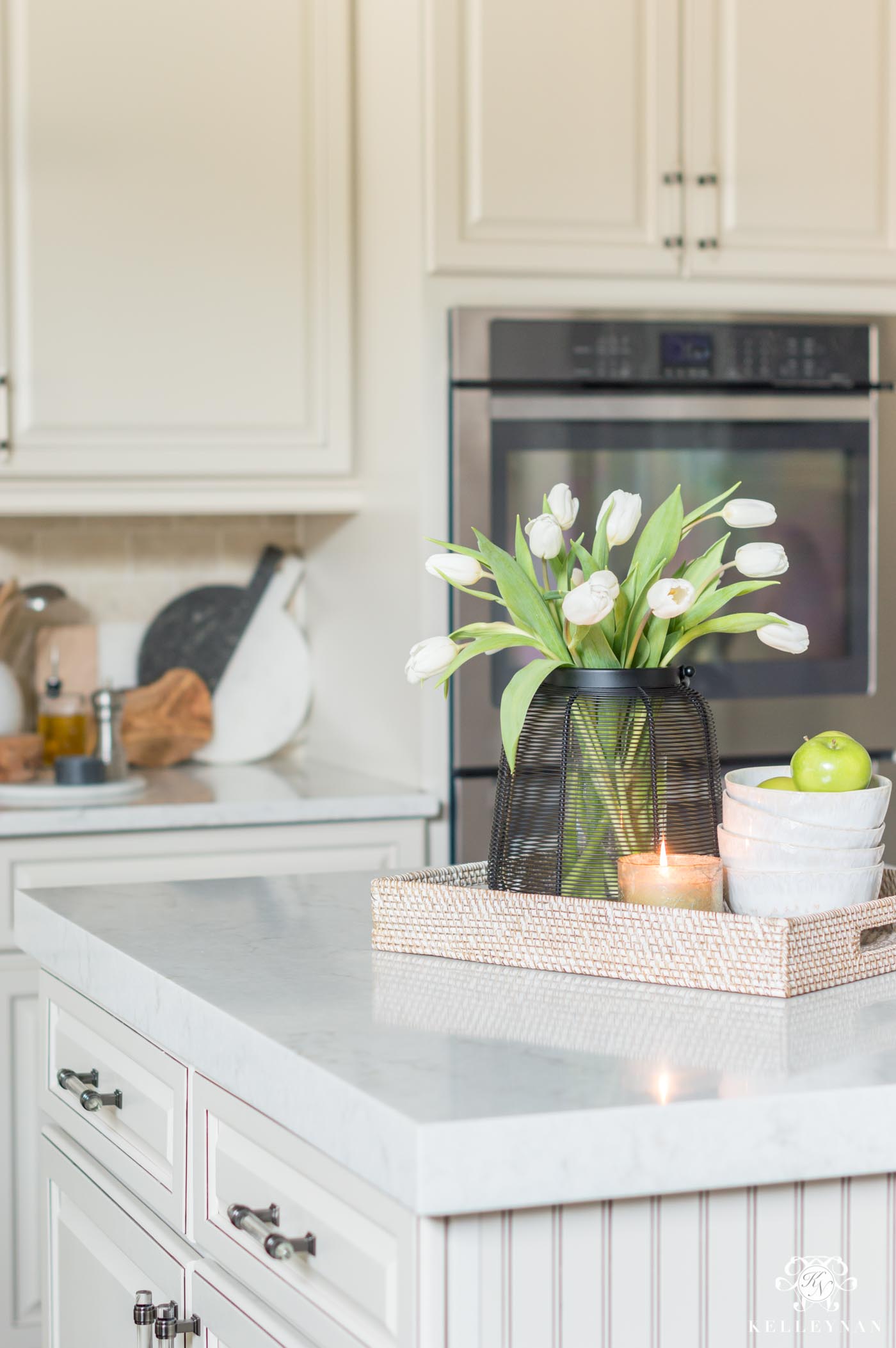 Wild Fig Tree Hand Blown Scented Candle | Bela Cereal Bowl (set of 4) | Rattan Serving Tray | Black Lantern — not available
Now that spring is officially here, have you started transitioning your home? I have some major work to do (my front door is still winter and my urns are naked), but I'll be sharing some ways I've incorporated spring into my office next week!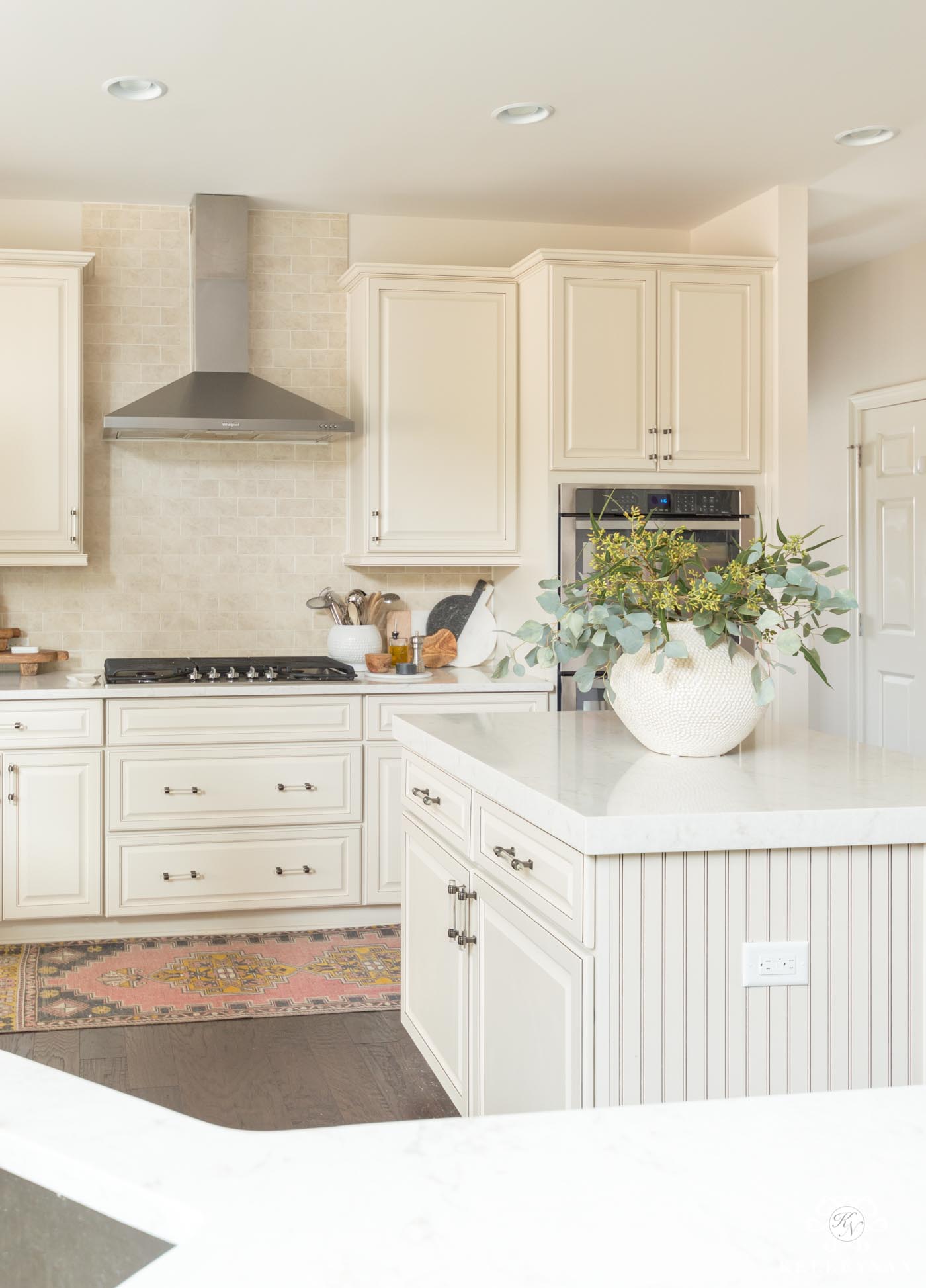 Eva Round Vase | Eucalyptus Stems (faux) | Runner | Cabinet Pulls
For all the kitchen colors, finishes, materials and sources, visit my kitchen reveal post HERE.
---
Be sure to subscribe to my emails at the bottom of this post for fun projects ahead and where I share seasonal decor, warm weather recipes, baby "things", organization, some entertaining, and everything in between!
Like this post? Here are some others that may be helpful…
Favorite Kitchen Island Decor