A few months ago, I didn't realize a few cracks in our granite kitchen countertops would end up turning into a full kitchen makeover project. Within a week, I went from ignoring and praying them away to deciding maybe their happenstance had initiated the opportunity I needed to update our too-traditional, dark (and let's be honest – a little dated) cream kitchen. Because it was a little bit of a surprise and it wasn't on our immediate to-do list, I knew we wouldn't be gutting the thing (nor did we need to). In fact, after coming up with a full wish-list of potential projects, it became super clear that I was going to need to get creative and prioritize. The overall goal – to brighten up my windowless cream kitchen and make it a little more modern.
Two of the biggest contributors to making my kitchen look less-than-current were the cream, glazed, raised panel cabinet doors and the khaki-colored backsplash. But, after examining my list of priorities, I realized they were two places we weren't ready to put money into. So instead, I would embrace them, do what I could to update them (or at least their surroundings) and use them as my starting point. Could I accomplish my goals going this route? I was hopeful and proceeded. You can catch all the details leading up to this point here:
KITCHEN PLAN (WHY, WHAT, CHALLENGES)
KITCHEN PROGRESS (THE HALF-WAY POINT)
Let me tell you – trying to brighten a kitchen when you aren't starting from scratch isn't an easy feat. Most colors that compliment creams are in the brown family… which is what I was trying to move away from. Picking complementary materials and paint aren't as simple as choosing something "white" out of a lineup. I quickly learned that without the right tones, undertones, shades, etc., my cabinets and backsplash could easily yellow or contrast against their new surroundings too much, emphasizing that they were out of place. Well, fast forward a few months and I have an updated, more modern (but still cream) kitchen that I love. If you're working to update your space and have a few work-arounds (like cream cabinets), it can be done.
UPDATING A TRADITIONAL, CREAM KITCHEN
Before we head in, I wanted to share that one of the most notable updates wasn't even in the actual kitchen. We have a two-story great room (which I love) but there's a huge, bare wall that's always looked… well… kind of awkward. Remember that molding project to frame the kitchen from my progress post HERE? Well, here's the result. The difference of this view is huge; it brightens things up before even moving past that wall and gave a much-needed-break to that boring, wasteland of a wall. It's an easier update than you make think, too. My carpenter used strips of molding to create the picture frames (like our master bedroom) and built a column to match the columns on the opposite side of the room. Painted with glossy paint, matching my trim, and it all looks like one piece. Plus, no more scuffs under the bar!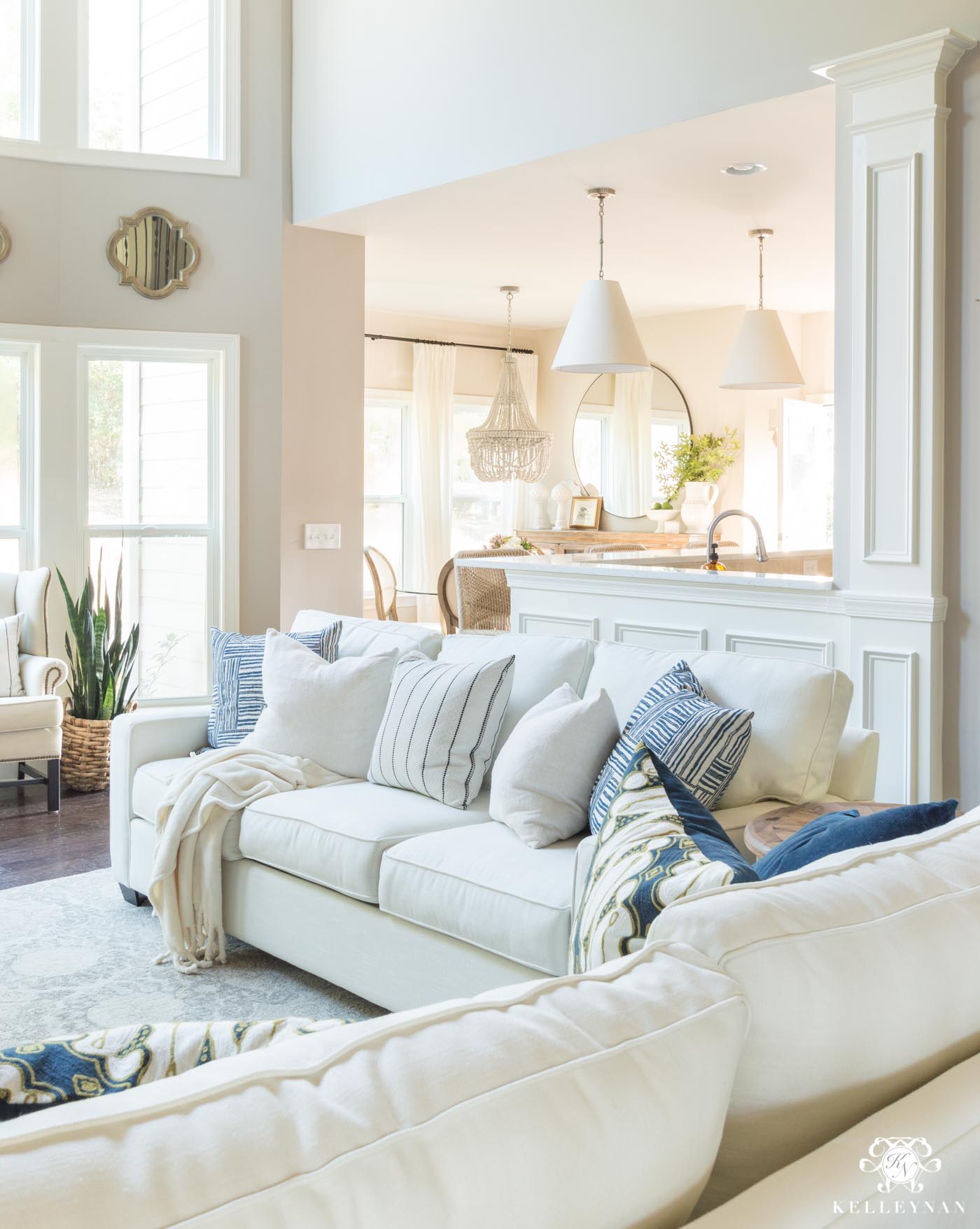 Sources: Rug | Sofas | Wingback Chair | Tassel Throw | Cone Pendant Lights | Beaded Chandelier | Round Mirror | Curtains | Curtain Rod
Ok, so let's go take a peek behind my new trimmed out, separator wall view… One last thing – most "before" photos used throughout are from about two and a half years ago, because #dramatics 😉
So, here is where we started…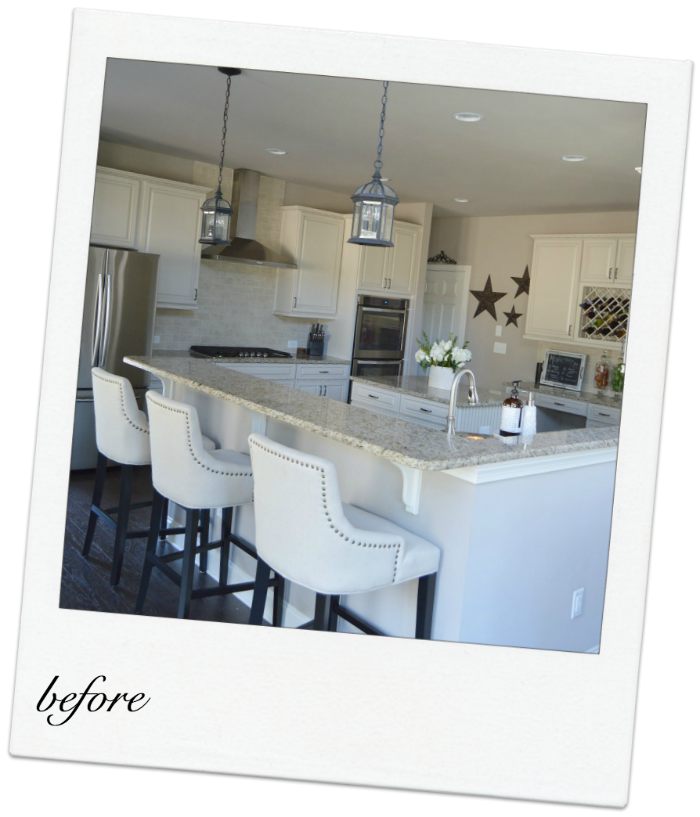 And this is what it looks like today.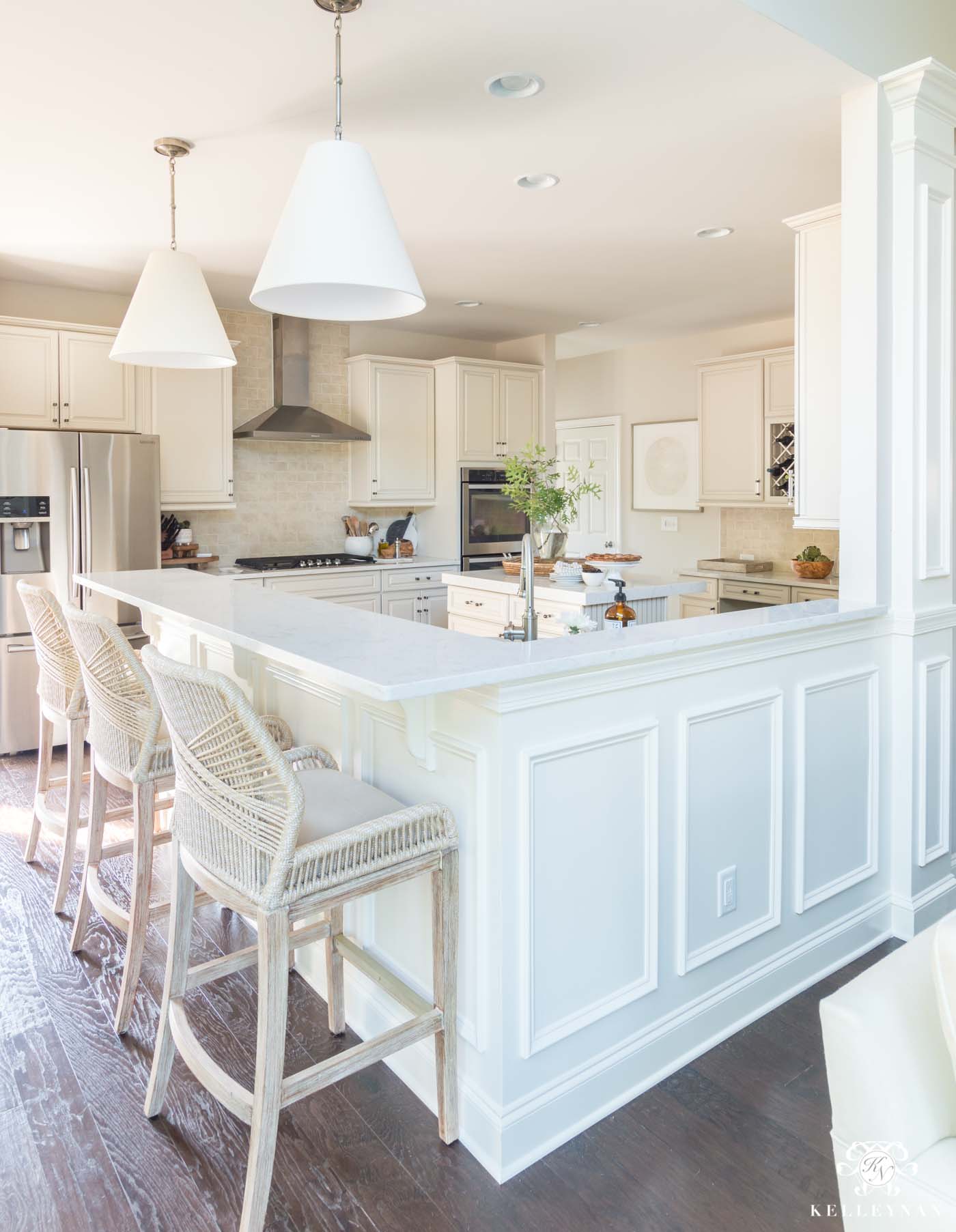 Sources: Cone Pendant Lights | Bar Stools
You guys… seeing the transformation laid out (along with my slightly improved photography skills haha) makes me want to cry. If you were thinking "how different can it really look without changing cabinets and backsplash?", this is how different. Here's how I did it.
MARBLE-LIKE QUARTZ KITCHEN COUNTERTOPS
The countertops were the first major decision. I mean, they were the entire reason we were taking on the project in the first place. I went into extensive detail on making selections in my initial plan post HERE, but I really can't stress how important (and challenging) it was to select the right white quartz. I had to find something that would marry the traditional elements of the kitchen that were staying, with the new, modern touches I was bringing in. Something stark white or more contemporary with a large, drastic veining wouldn't have blended. I wanted something that could lend itself to multiple styles, and something that could compliment both cream and white cabinetry. I also needed to veer away from some of the marble-looking quartz finishes that had more blue-gray tones. The LG Viatera Soprano quartz I found has more subtle movement and marbling, has a more creamy base, and has both gray and gold marbling.
*Make sure to pick up samples; depending on cabinets, paint and surroundings, the quartz can take on a different shade. Do not depend on website samples.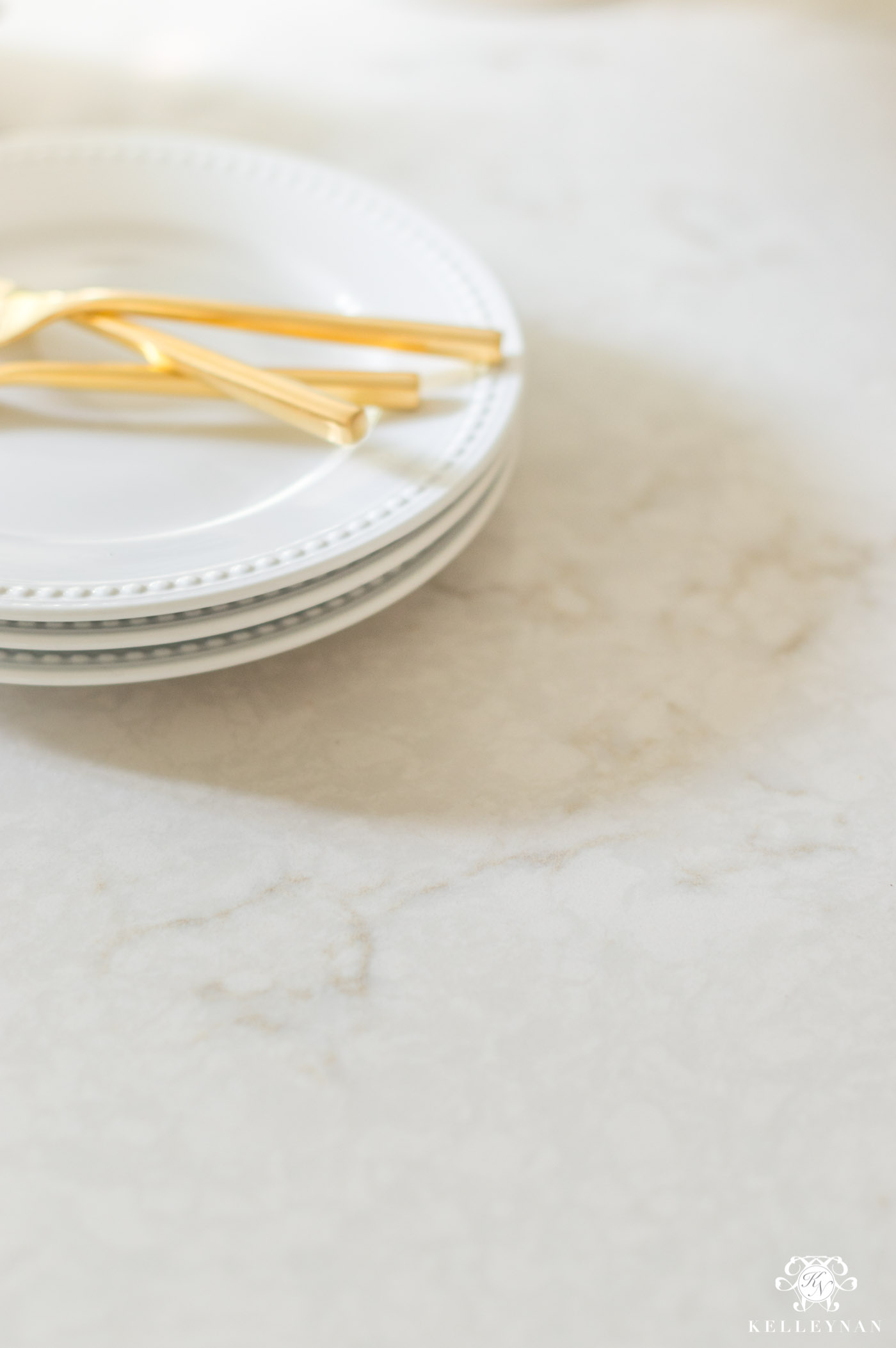 Since I initially shared my challenges, what I was doing, and the countertops I was going for, I have had readers come out of the woodwork, sending emails that they are in the exact same spot – cream cabinets and dark granite. I think updated countertops can be overlooked in the prioritizing and budgeting stage because they aren't flat against the wall and people may discount their potential impact. Well, I've lived with mine for a couple months now and the difference in brightness is crazy with the surface reflecting light to such a higher degree.
Check this out- here's what the center view looked like before…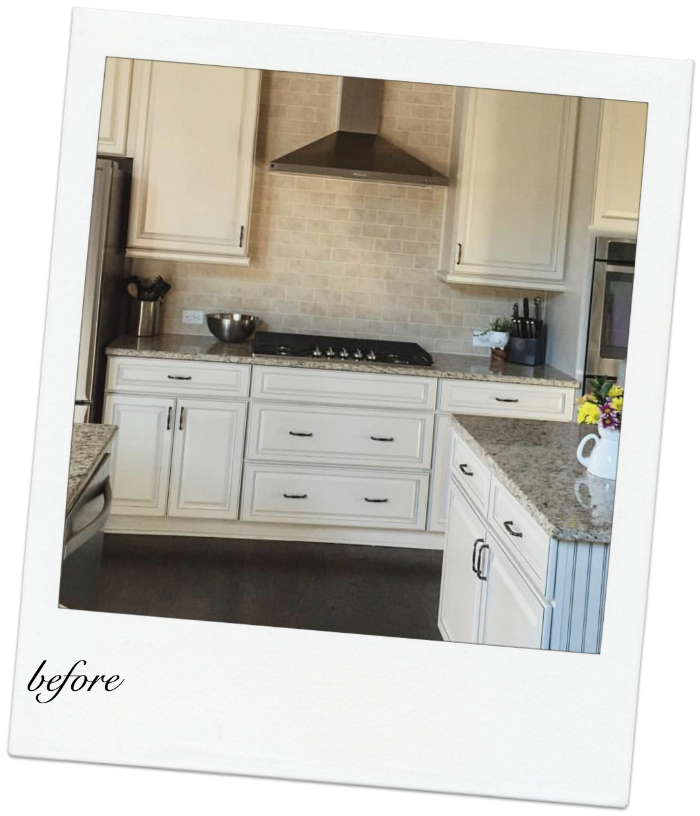 And this is what it looks like with the Soprano quartz countertops.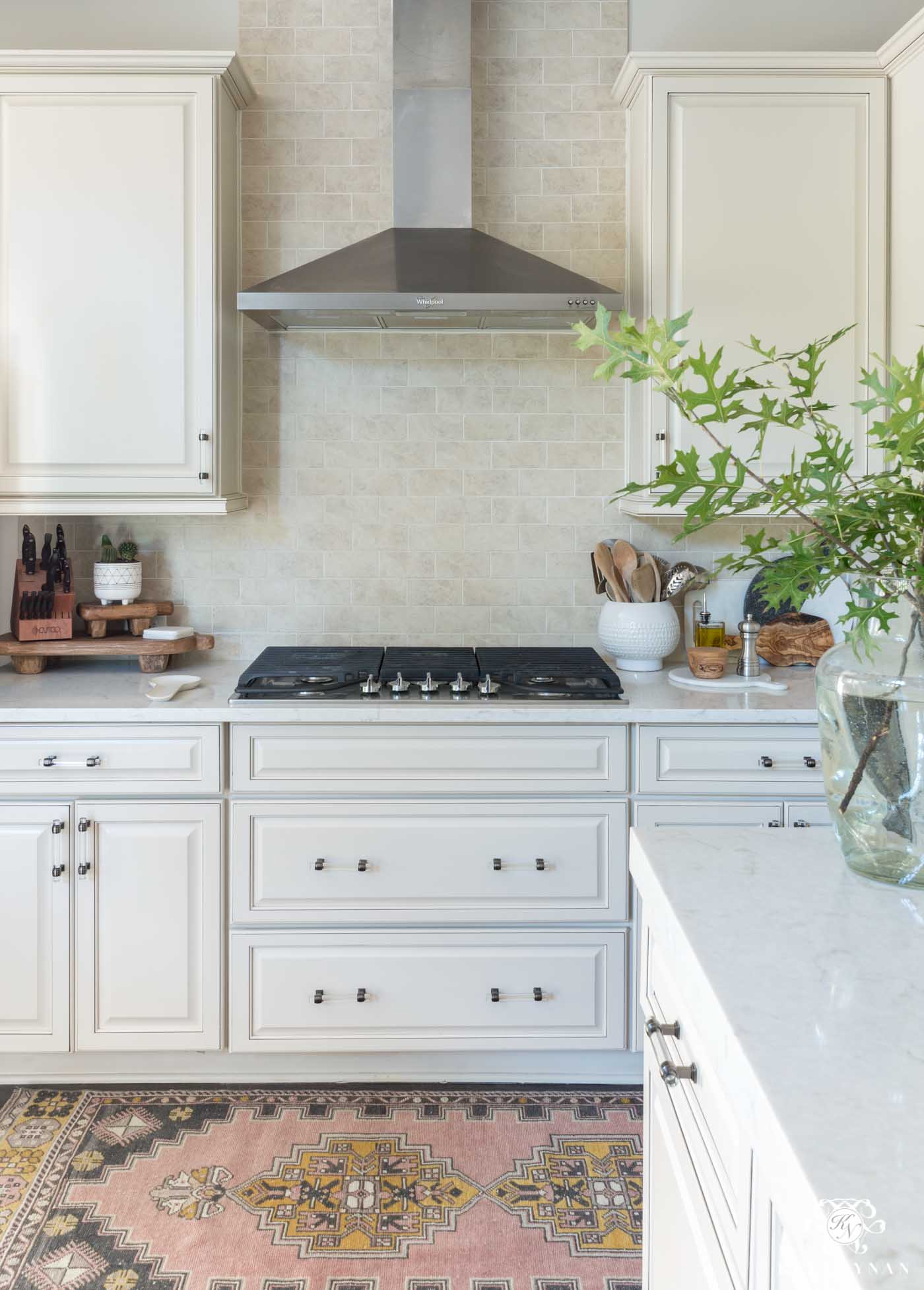 Sources: Runner | Cabinet Pulls | Spoon Rest | Pepper Mill | Olive Oil Dispenser | Salt Box | Olivewood Cheese Board
---
As opposed to the potential drawn-out process of painting/replacing cabinets, the countertops only took one day to install. Literally. I share more about that process in the progress post HERE. After Atlanta Stone Creations came out to measure, they were able to demo and install in the same day. There was also zero mess (this isn't the kind of kitchen project that puts you behind tarps, covered in dust for weeks).
Since the install, I have heard some nightmare stories from some of you about not using a quality quartz (not all brands are created equal!), using a fabricator who didn't put thought into where seams were placed, having to have tile ripped up, etc. In fixing our builder's mistake (stupid cracked granite), quality was my top consideration. I wanted it done correctly. I started researching, looking for best experiences and top reviews (which is how I found Atlanta Stone Creations), and then asked local friends I trusted (who coincidentally, also recommended them). As much as they held my hand and took all the worry away, I think my favorite part is the beefy, mitered edge island that they are known for. If you aren't familiar with a mitered edge, that island slab is actually not that thick – it's only available in two to three cm (I went with three around the perimeter). The mitered edge is where they take the quartz, cut it at perfect 45 degree angles to make it look super thick. I'm crazy about ours but I will say – if you aren't in metro Atlanta and want to go with a mitered edge, definitely make sure to see some examples of what your fabricator has done previously. Ours looks like one perfect slab and is worthy of *all the heart eyes*. 😉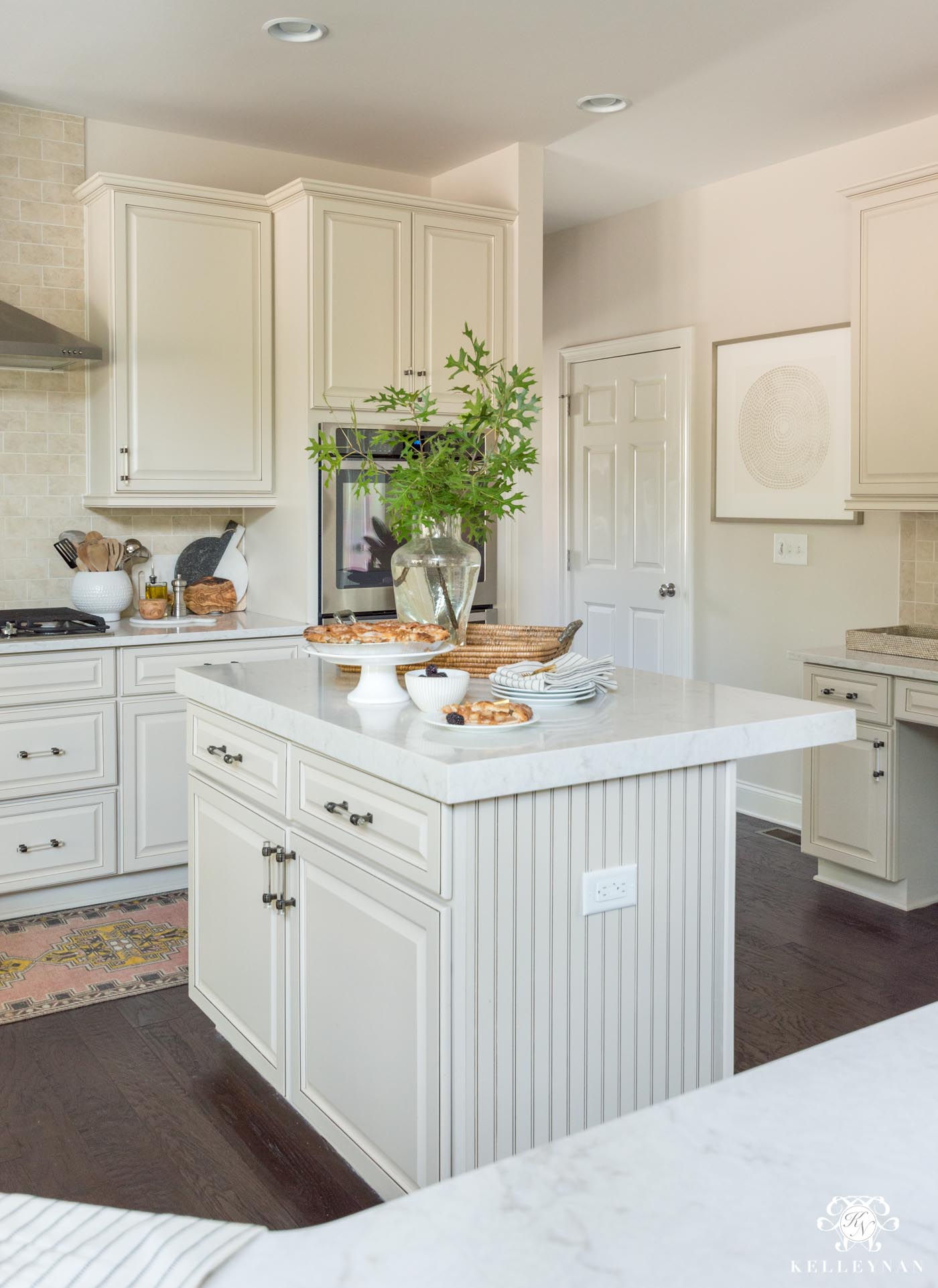 Sources: Wall Art | Vase | Runner | Cabinet Pulls | Spoon Rest | Pepper Mill | Olive Oil Dispenser | Salt Box | Olivewood Cheese Board
UPDATED CABINET JEWELRY (THE HARDWARE)
Just because I wasn't changing the cabinets didn't mean I couldn't change the cabinet hardware. Because I committed to not changing/painting the cabinets, I stuck with uniform pulls, in the same spread as my former pulls, across the kitchen. After researching and sampling several pulls, I quickly figured out I was drawn to the way two-toned hardware looked against my cabinets. Even those THESE are clear (I went with the gunmetal finish), they are so much more substantial and sleek than the more dainty ones I switched out. Plus, the finish kind of accentuates the glazing, but in a subtle (almost pinstripe way).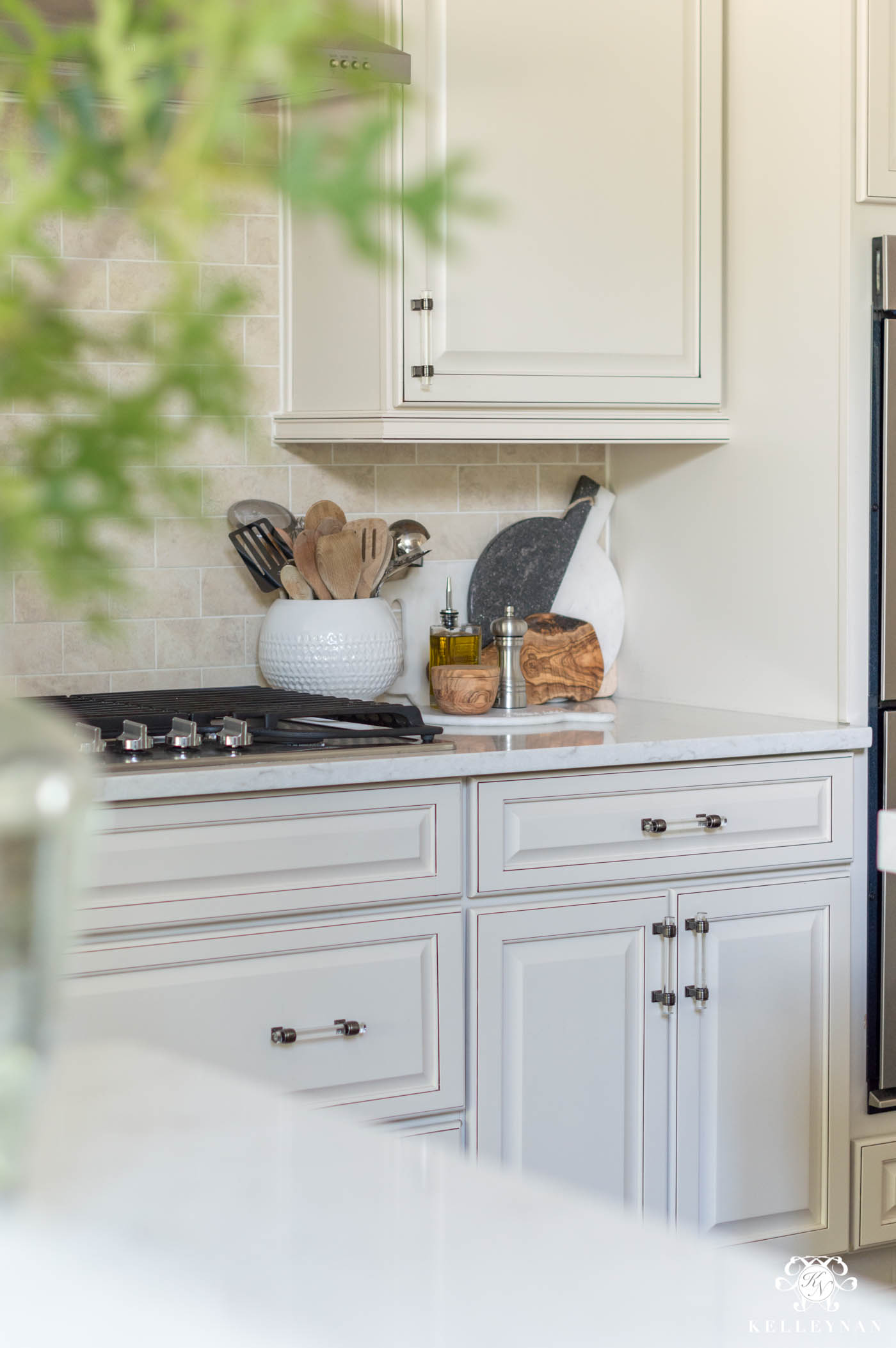 Sources: Cabinet Pulls | Pepper Mill | Olive Oil Dispenser | Salt Box | Olivewood Cheese Board | Marble & Wood Cheese Board
---
I think they're gorgeous; Dave thinks they look like "dilithium crystal" – I have no idea what that is but bottom line, we're both happy 😉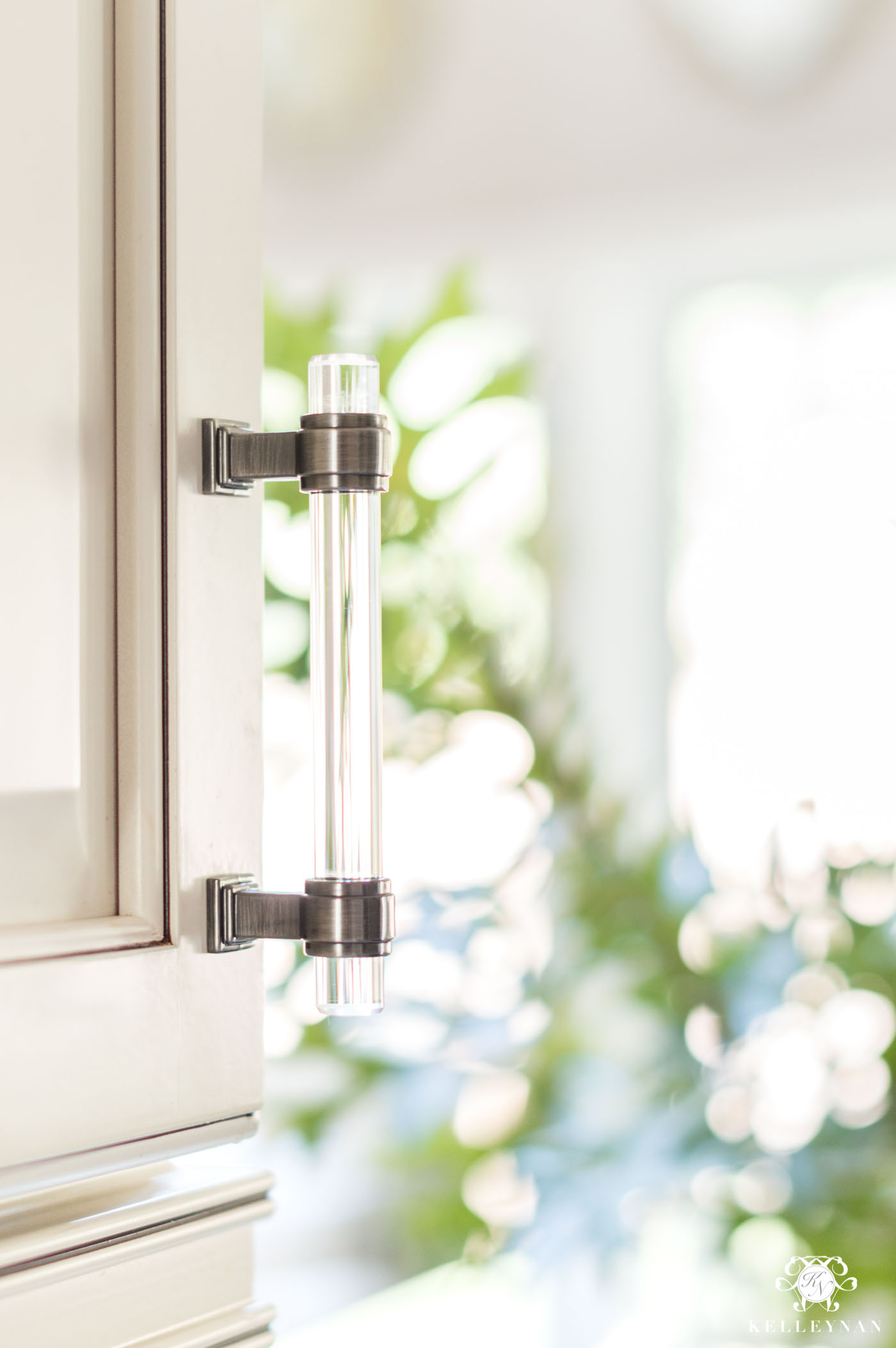 I even upgraded our paper towel holder to coordinate (y'all would laugh if I showed you what we were working with before, haha ;).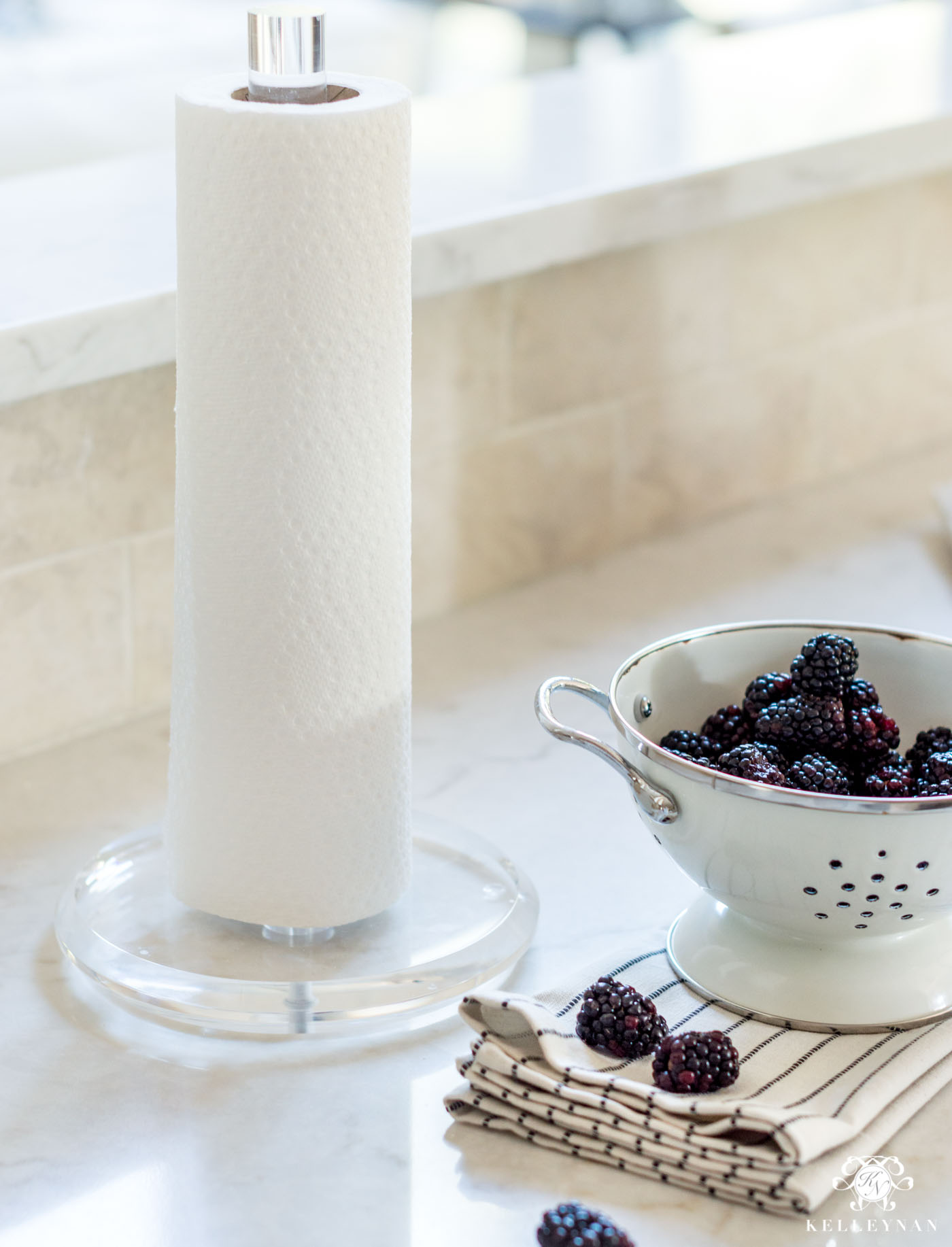 Sources: Acrylic Paper Towel Holder | Striped Towel
---
I really struggled before in using some of my wooden and woven accessories, baskets, etc. in the kitchen because it made it feel even more dark and weighted down. Now, with the new light backdrop, I can actually bring in some of my favorites.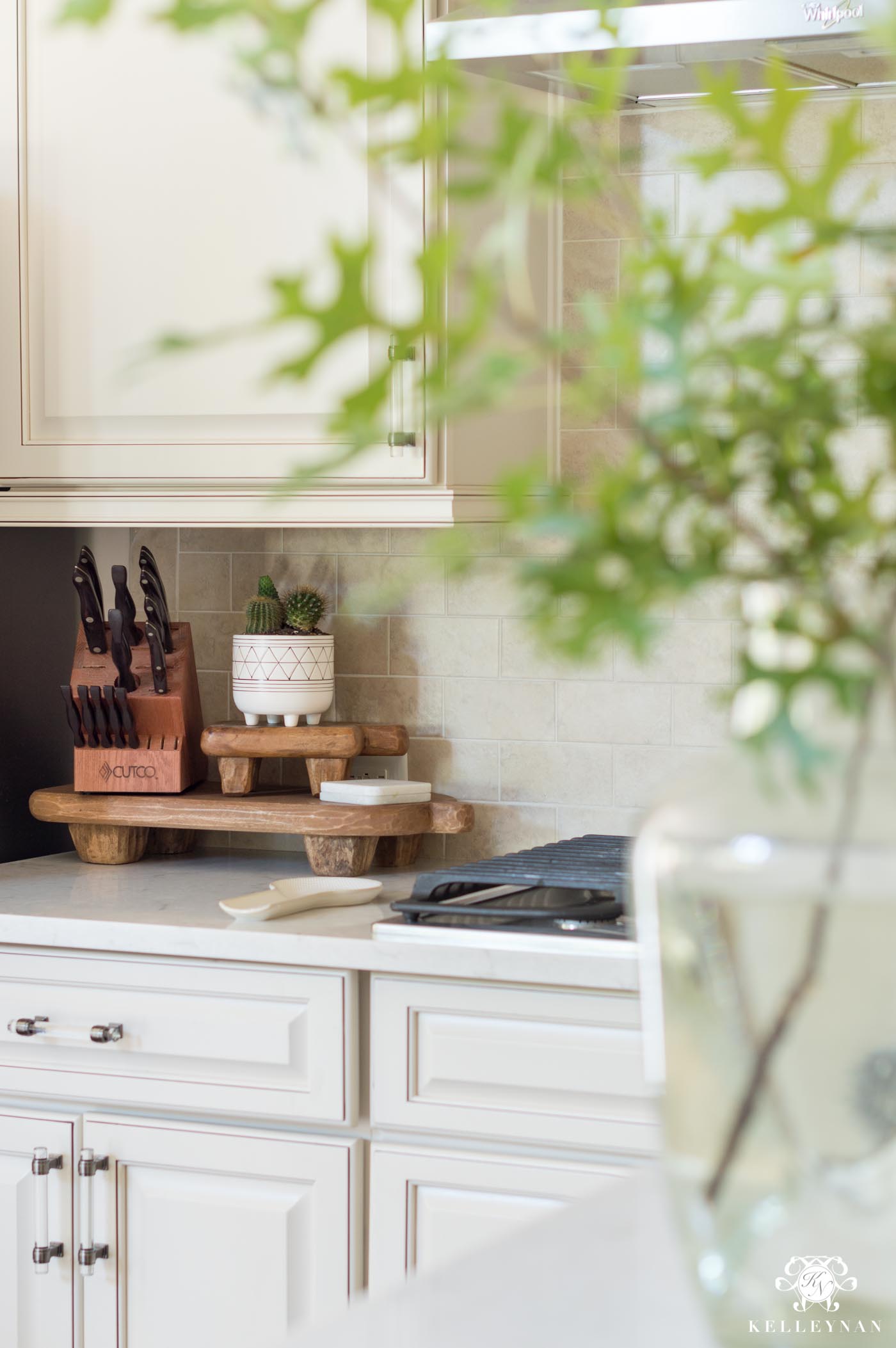 Sources: Spoon Rest | Wood Pedestals | Marble Coasters | Cabinet Pulls 
---
TRANSITIONAL CONE PENDANT LIGHTING
Once upon a time, I had little bitty lanterns that weren't doing a whole lot of anything. I switched those out a few months ago to a glass lantern with champagne finish which helped, but their purpose was to blend in with the old granite. Once we switched to the brighter quartz, they felt too heavy. Here's where we started…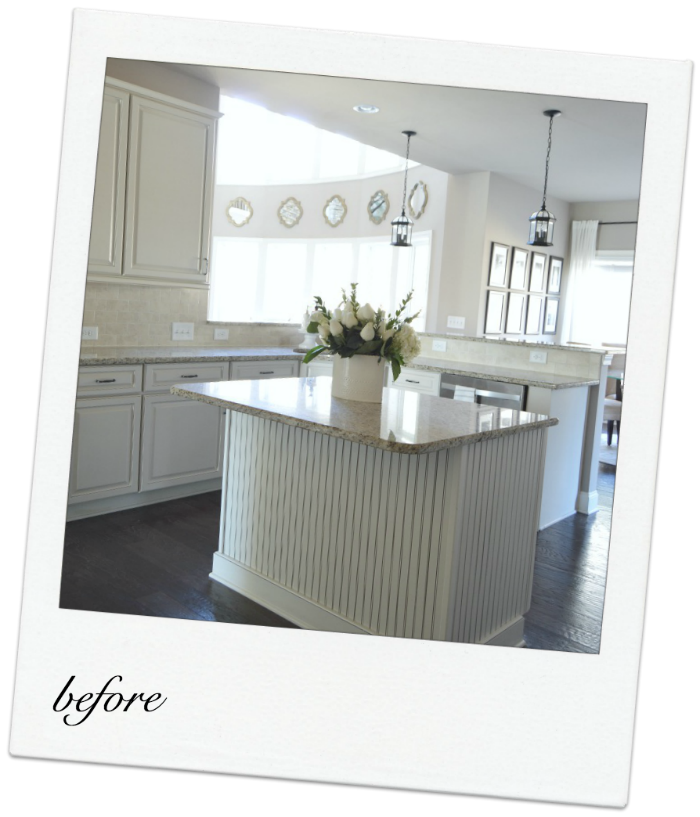 And here is what may be my favorite view today.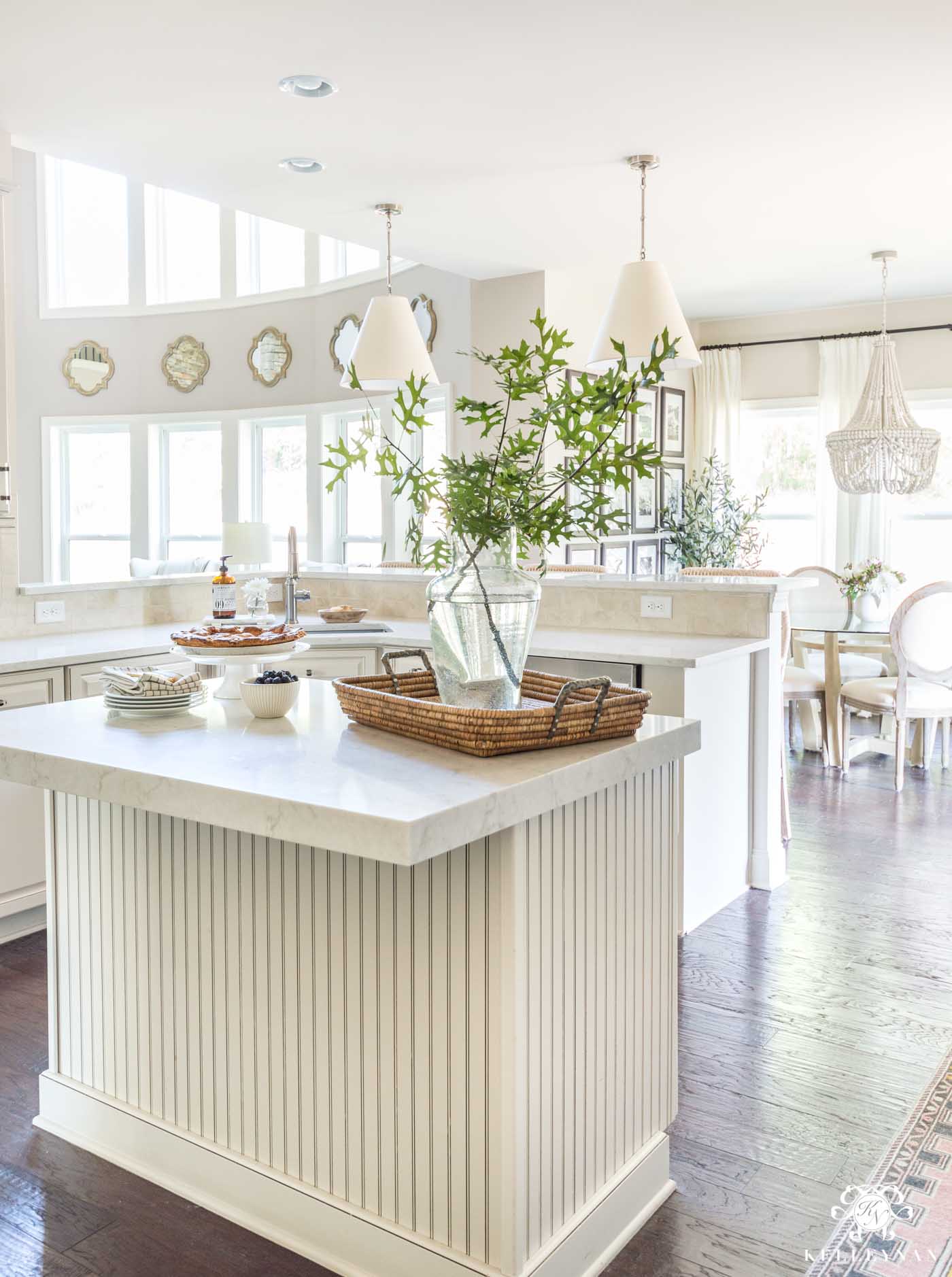 Those Goodman pendants aren't cheap but you may remember in THIS post – I found one "open box" from a lighting retailer on eBay and then purchased the other new HERE. (These are the medium, paper shade, antique nickel chain finish.)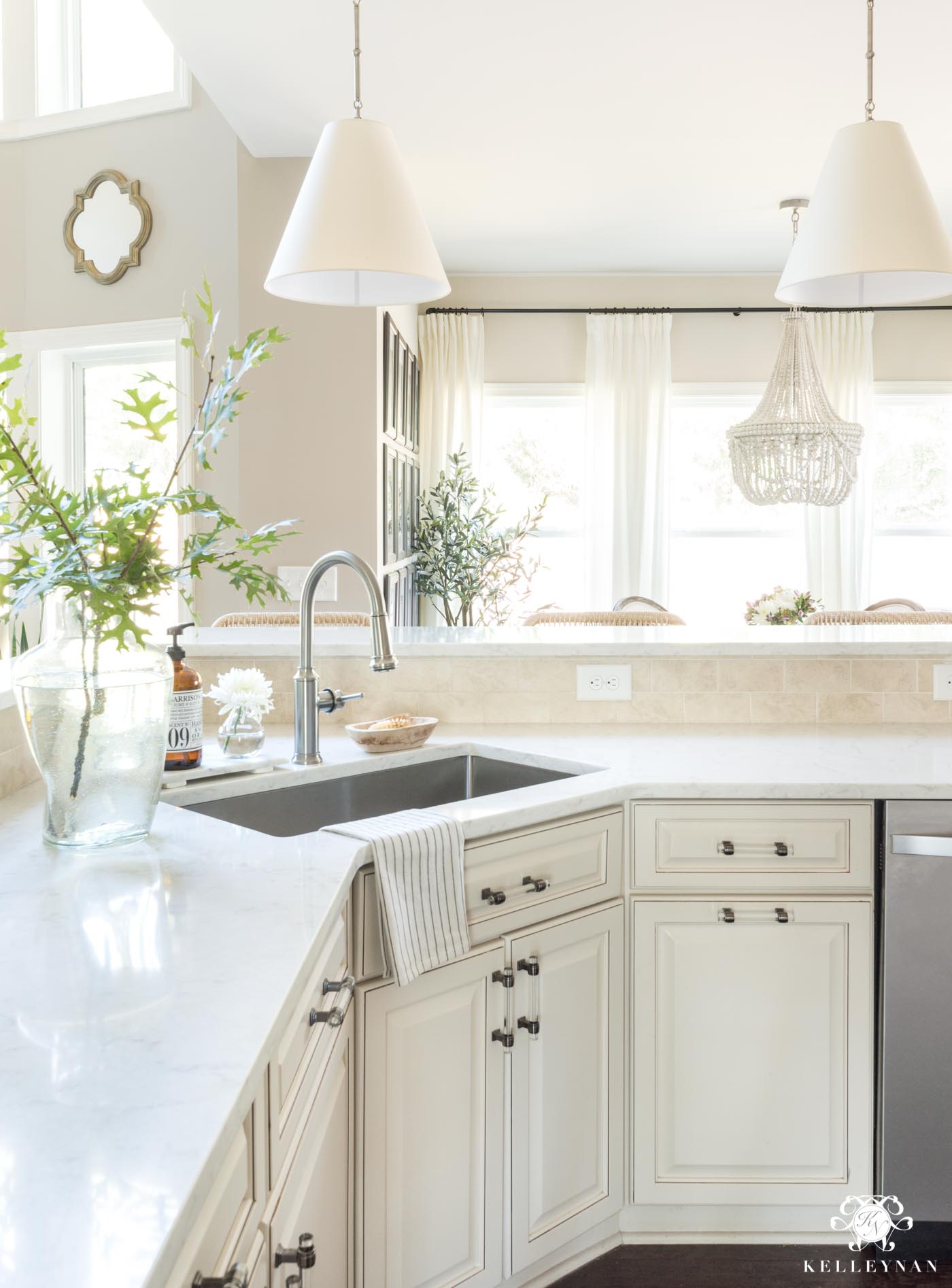 Sources: Cabinet Pulls | Faucet | Bud Vase | Striped Towel | Cone Pendant Lights | Bar Stools | Beaded Chandelier | Curtains | Curtain Rod | Faux Olive Tree | Gallery Wall Frames
---
THE SINGLE-BASIN, UNDERMOUNT, STAINLESS STEEL SINK
Another huge improvement that I almost didn't take on – switching the sink. We had a double-basin undermount before and in theory, two compartments sounded better than one. That is, before I had to use it and couldn't actually fit more than one pot in at a time, lay pans flat, etc. I was interested in the idea of one big basin but it was actually the curved cut-out that I decided was "dated" that made my decision. Trying to bring in edges and elements that were more streamlined, straight, and sleek were huge in updating the overall look of the kitchen. Because the countertops would have to be cut anyway to the specs of the sink, there was literally no better time. It was now or never.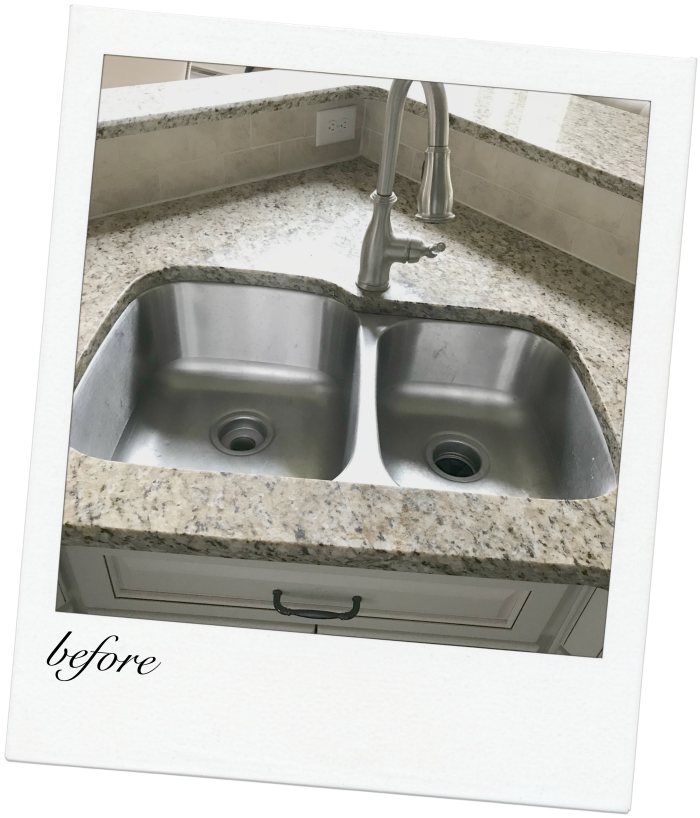 And this is why changing the sink would be one of my top three, non-negotiable changes if you are looking to bring a little more sleekness (and function) to your kitchen.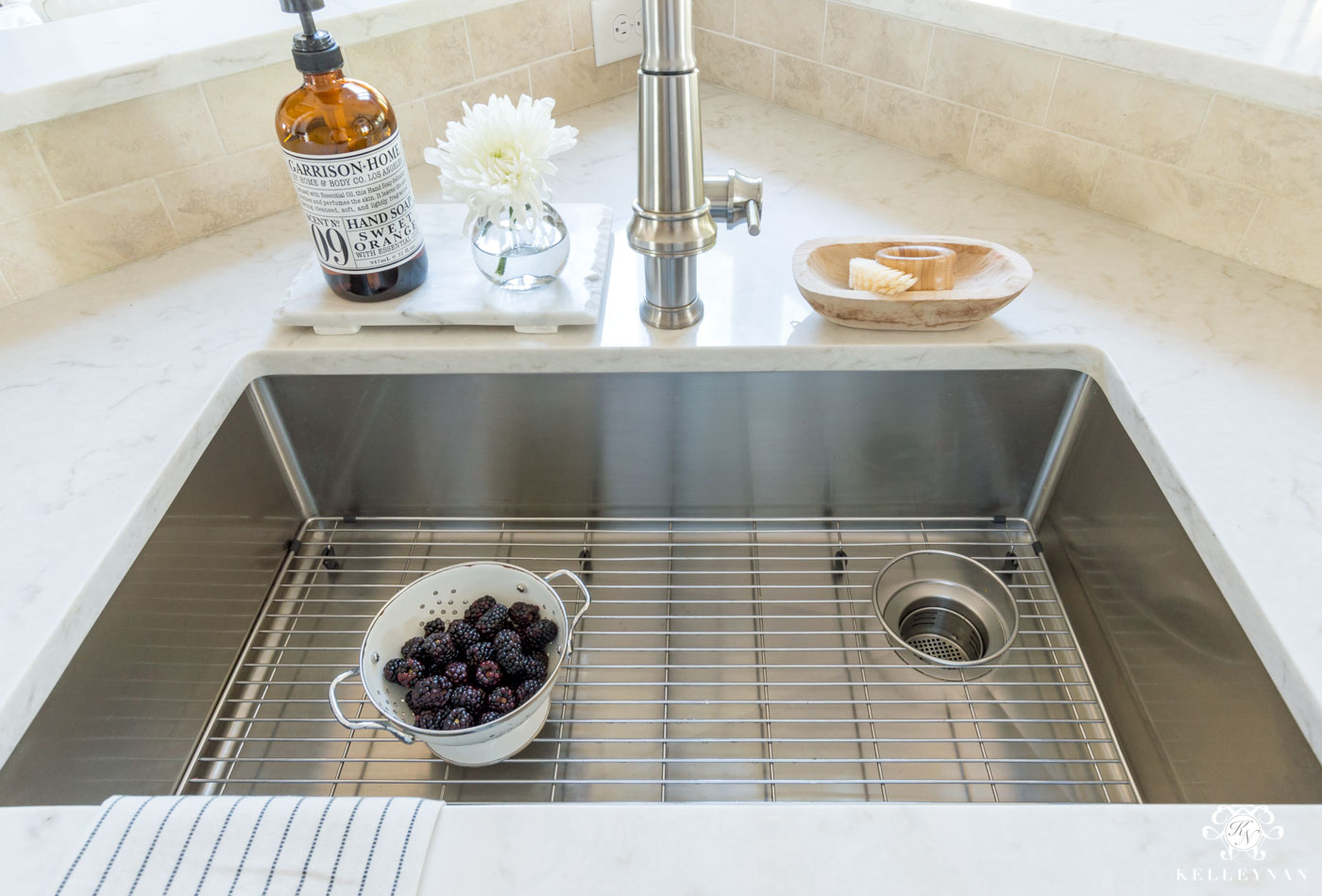 Blanco recently came out with a single basin with side drain; I have so much room (33″) and zero reservations about ditching the two-compartment basin I had previously. I also had no idea how much I would love having the grate on the bottom – not just for washing pans without having them sit in their own dirty-water-run-off, but for colanders, too.
I liked the design concept of my previous faucet (pull-down sprayer, goose-neck) but was happy to find one that was a little more streamlined, especially since the sink is basically the center point of the kitchen/living room area. There's no hiding! There's a lot of power behind that nozzle.
The sharper edges and clean lines made a 100% improvement aesthetically, but also made tackling those dishes a little less terrible 😉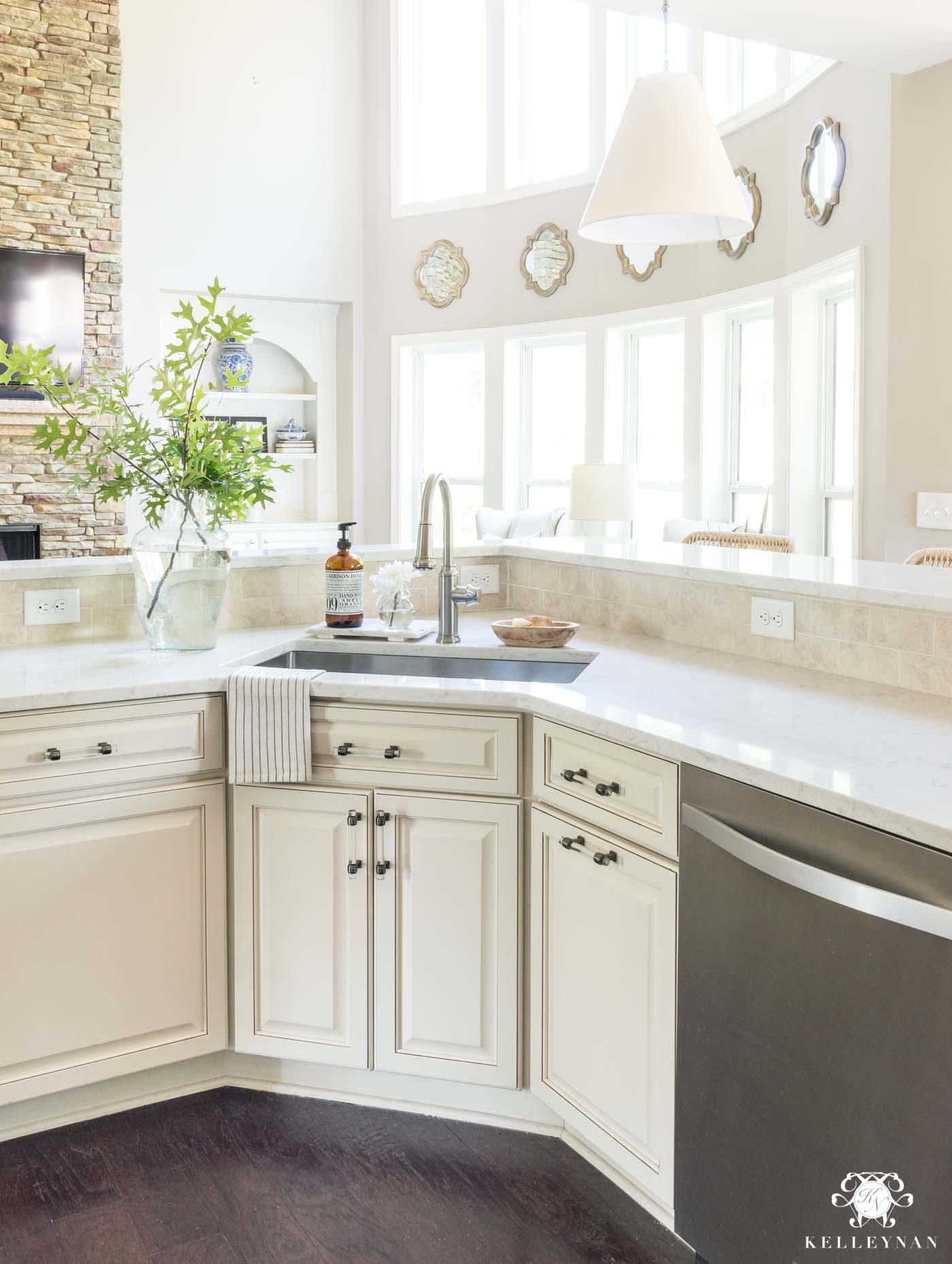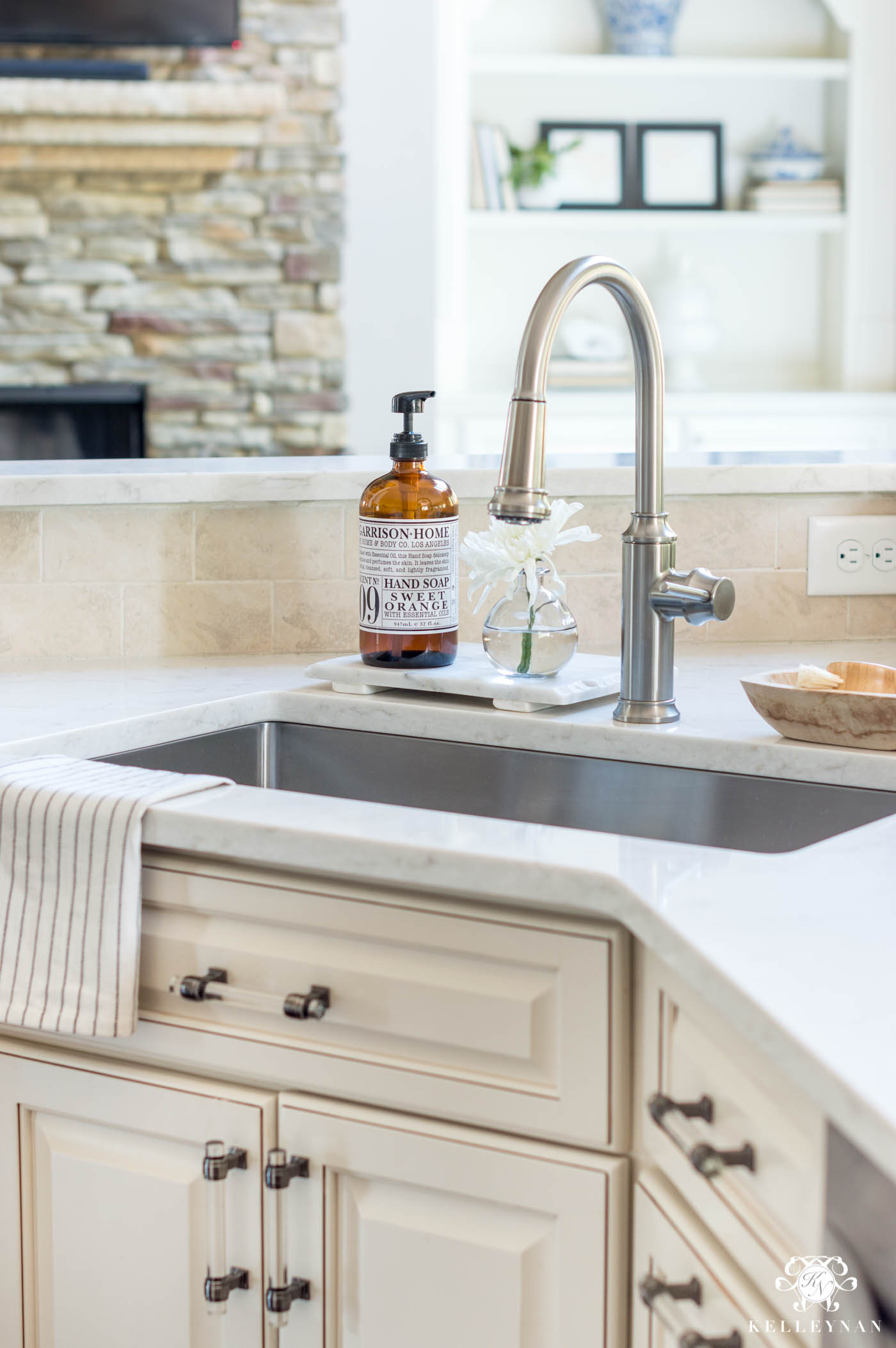 THE PAINT: BENJAMIN MOORE EDGECOMB GRAY 
We've talked about the paint dilemma. Extensively. No matter which direction I considered, it seemed like a double edge sword – too dark of a paint would lighten the cabinets and make the space look too dark. Too light of paint would brighten the space, but the contrast between the walls and cabinets would make the cabinets look like short, yellow boxes. When I painted the samples of Edgecomb Gray on my walls, it looked WHITE compared to my former paint color (which made me nervous), but after following through, it came across as a pale warm greige that almost matches the tone of the cabinets. Mission accomplished. Remember this heavy look?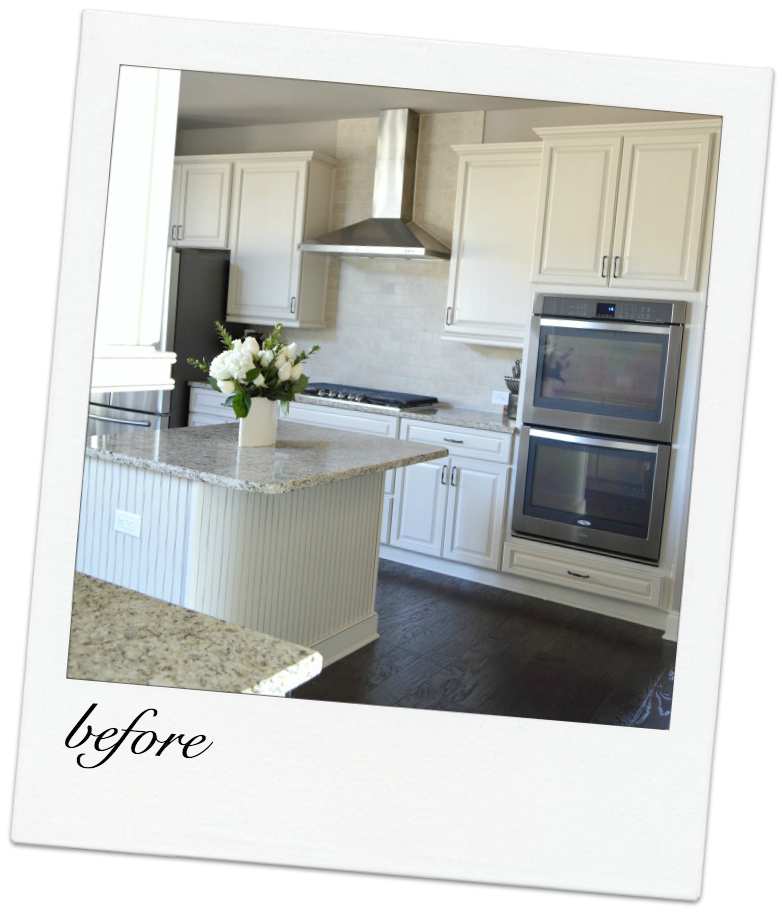 This is what it looks like now.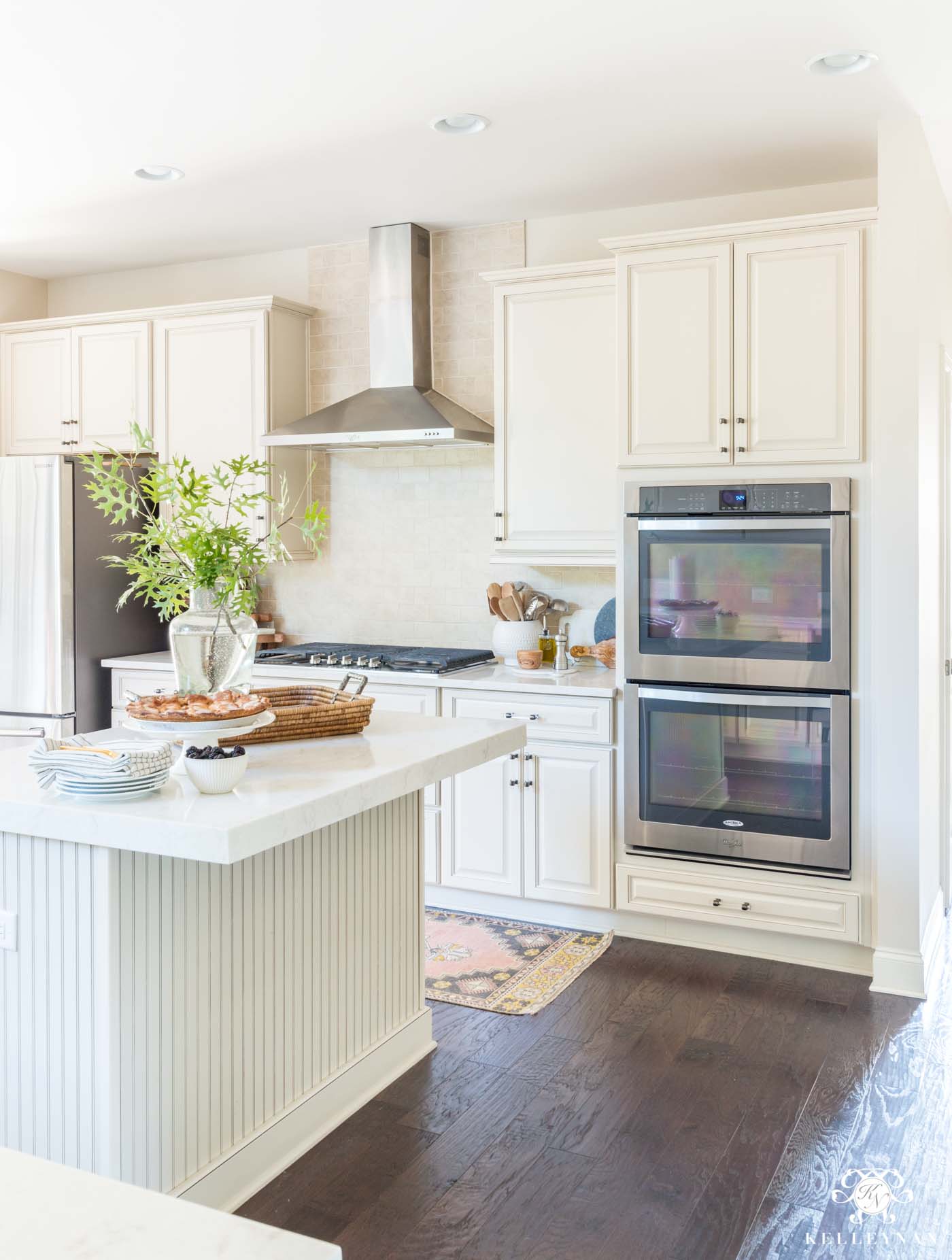 For the first time in this house, I actually painted the ceiling a little differently than the walls. I took the recommendation of the paint store owner and cut the ceiling by 50%; it definitely lightened up my shadowy spaces- hallelujah!
COUNTERTOP ACCESSORIES & KITCHEN EXTRAS
Like I mentioned before, with my old, dark, speckled countertops, I felt I had to steer clear of any warm woods, dark materials – even things like yellow olive oil – to try to balance some of that darkness away. Now, I can put my eclectic mix to use and put my collections on display. Mixed finishes and organic materials are totally in; I bet you have more pieces hiding in your cabinets than you realize.
I'm crazy over the planter I ended up using as my utensil crock. I scored it at At Home recently, not knowing exactly where it would go, and threw my utensils in there to corral them while I was waiting on the actual utensil crock I ordered to arrive. It ended up being a classic Bob Ross "happy little accident" because once the actual marble crock I'd ordered arrived, I decided to stick with my planter.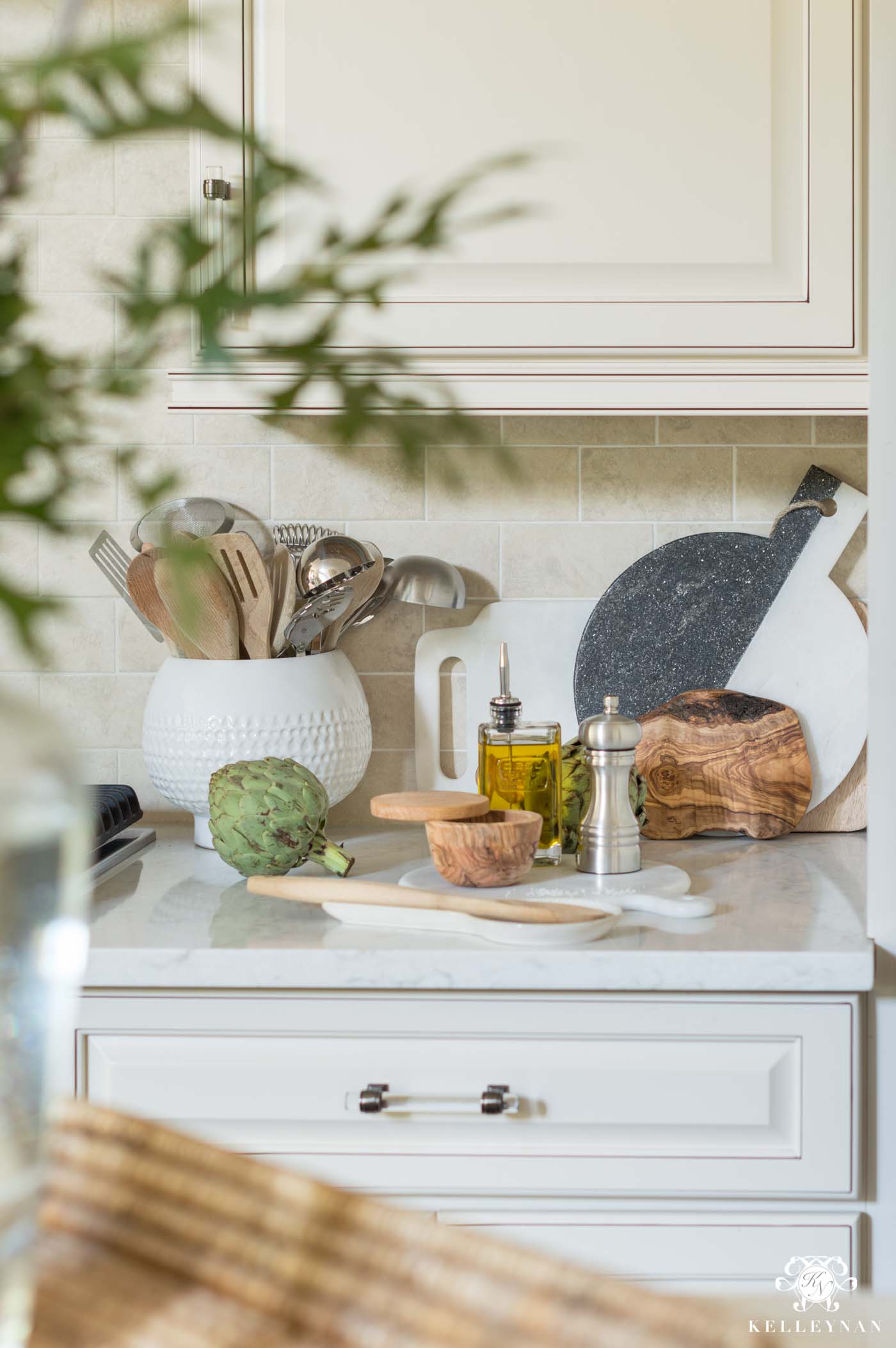 This little salt cellar my mom gave me a few years ago is what started my love affair with olive wood.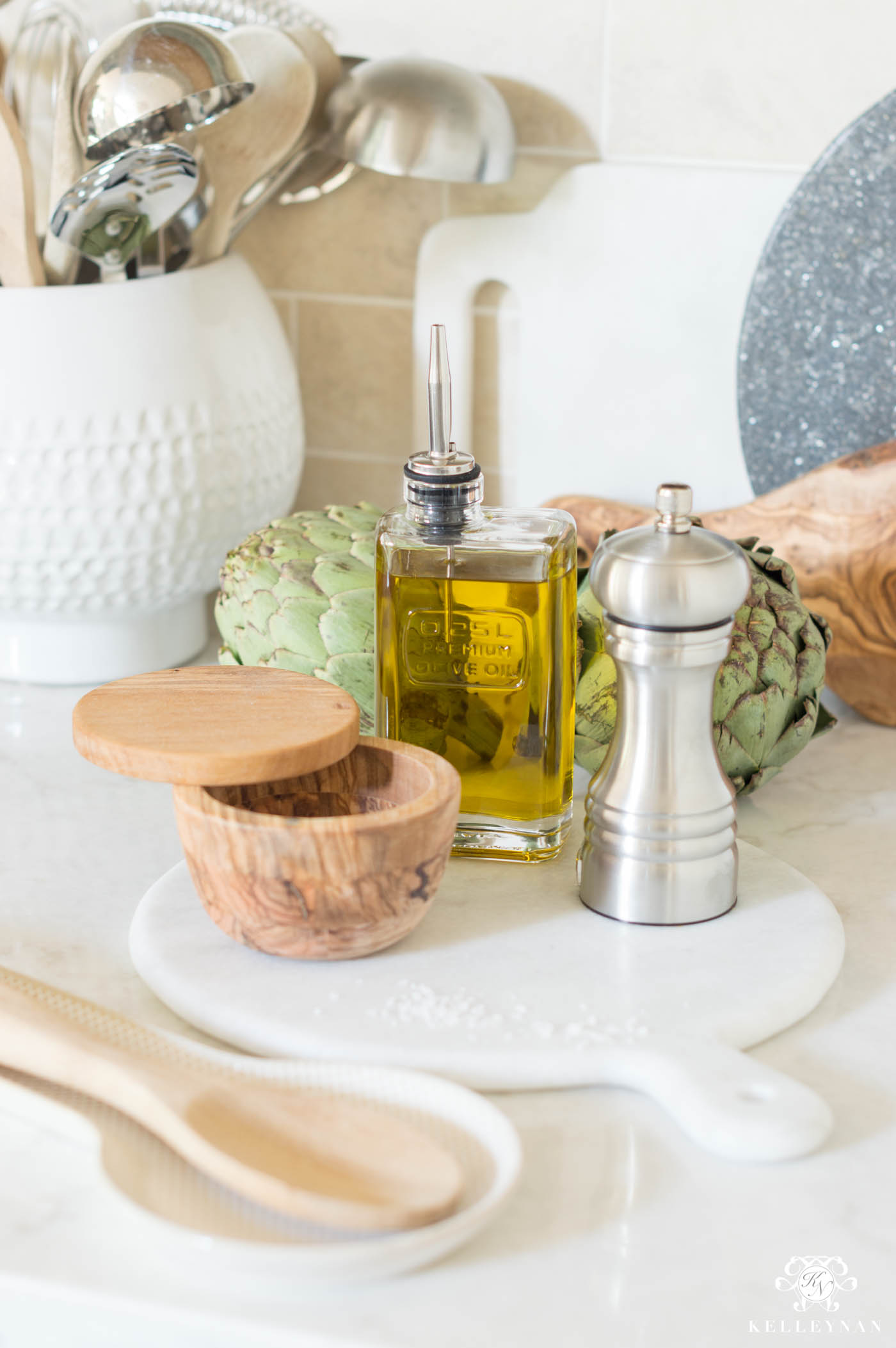 Sources: Spoon Rest | Pepper Mill | Olive Oil Dispenser | Salt Box | Olivewood Cheese Board | Marble & Wood Cheese Board
---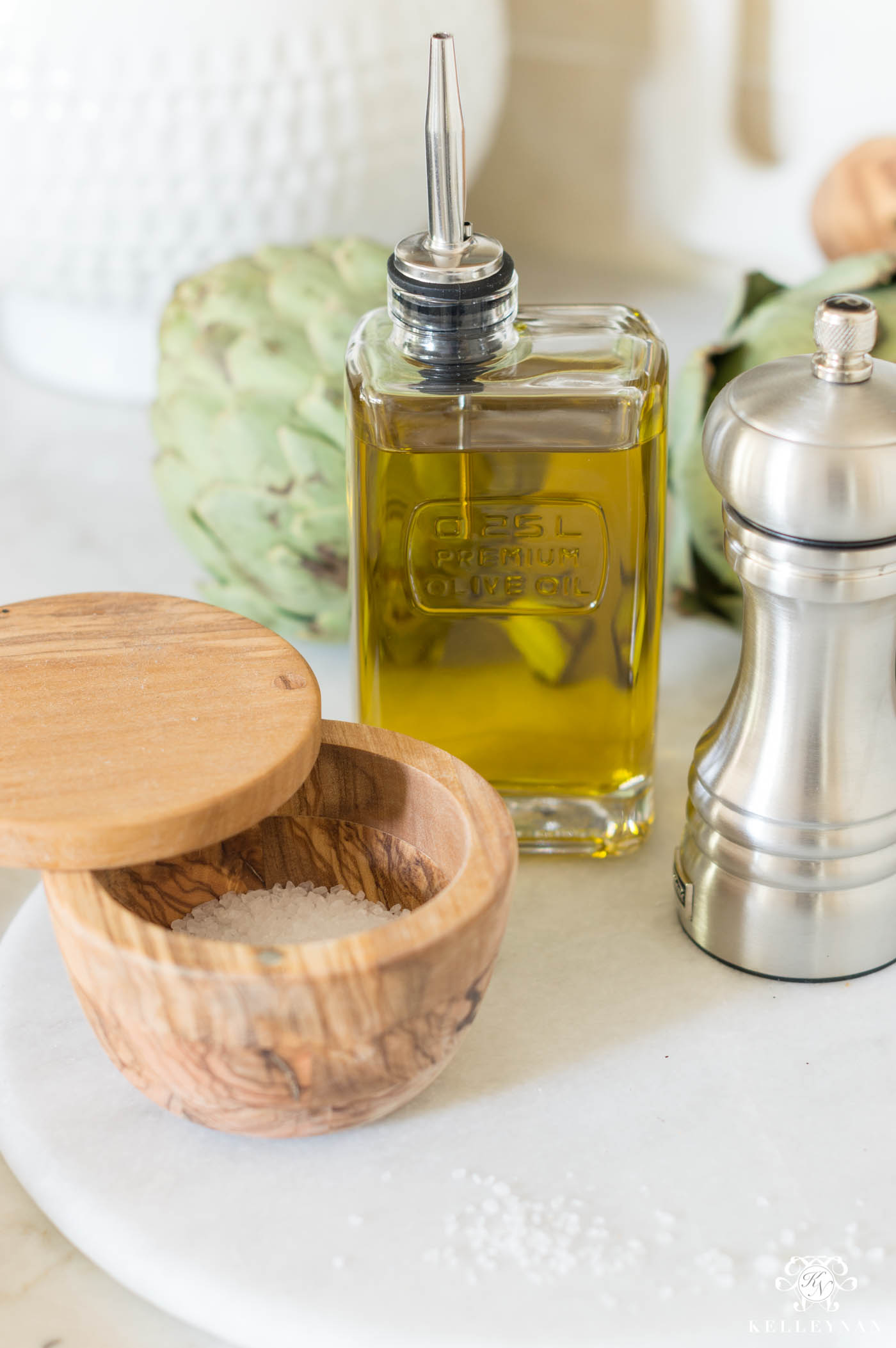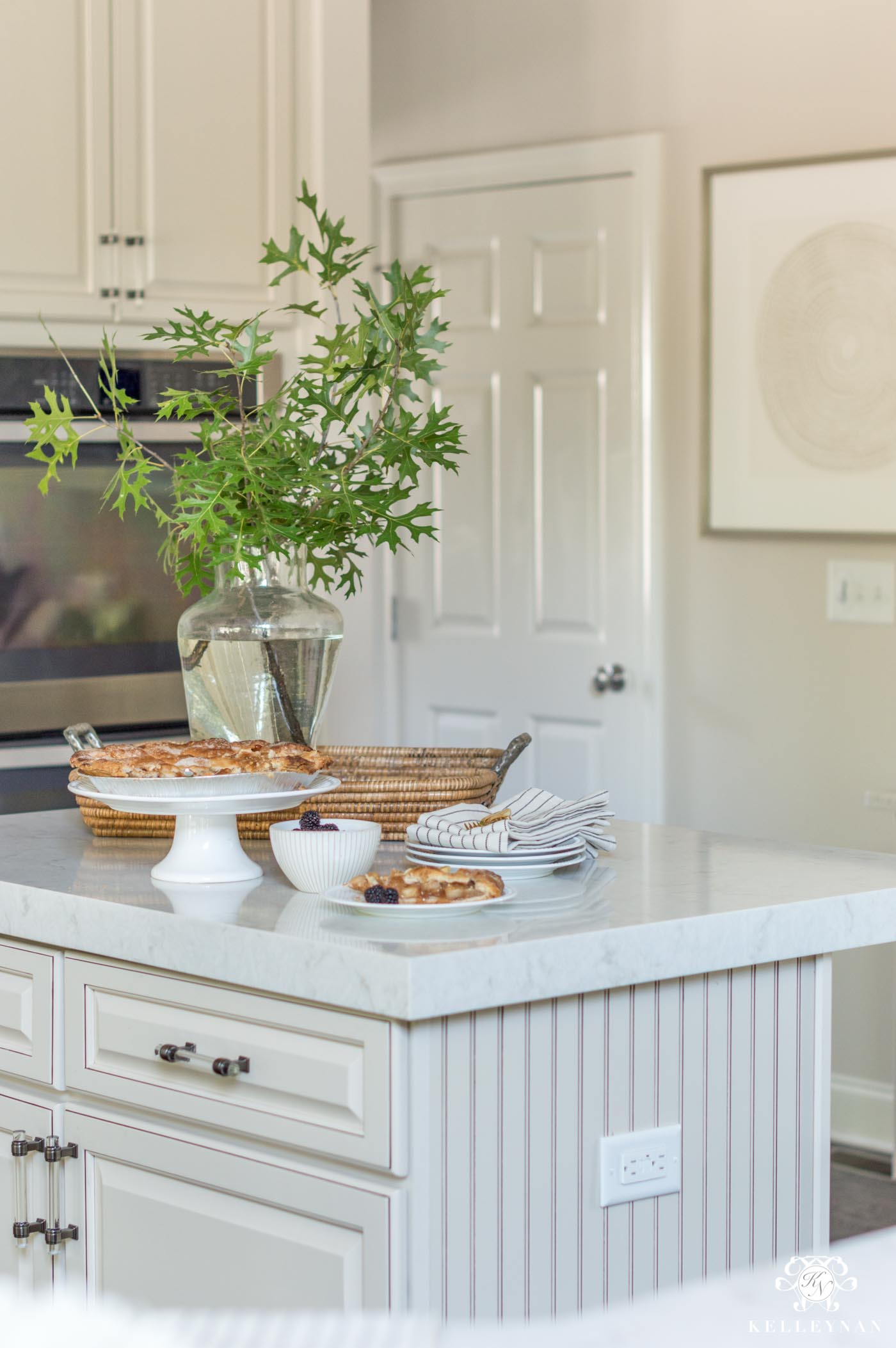 The lighter space let me share more eclectic finishes in general – white washed woods, warm wood, cane, mixed metals, white ceramic, etc. Remember that pretty olive wood bowl (similar) (one of the first things I purchased)? These sweet little art prints were among the first items I selected a few months ago, too (one in a 5×7; one in an 8×10). During my last trip to visit my mom, I snagged this cane stool she had out of sight on her upstairs landing, and last week, I picked up a turquoise planter and took a few minutes to coat it with fresh, white, satin spray paint.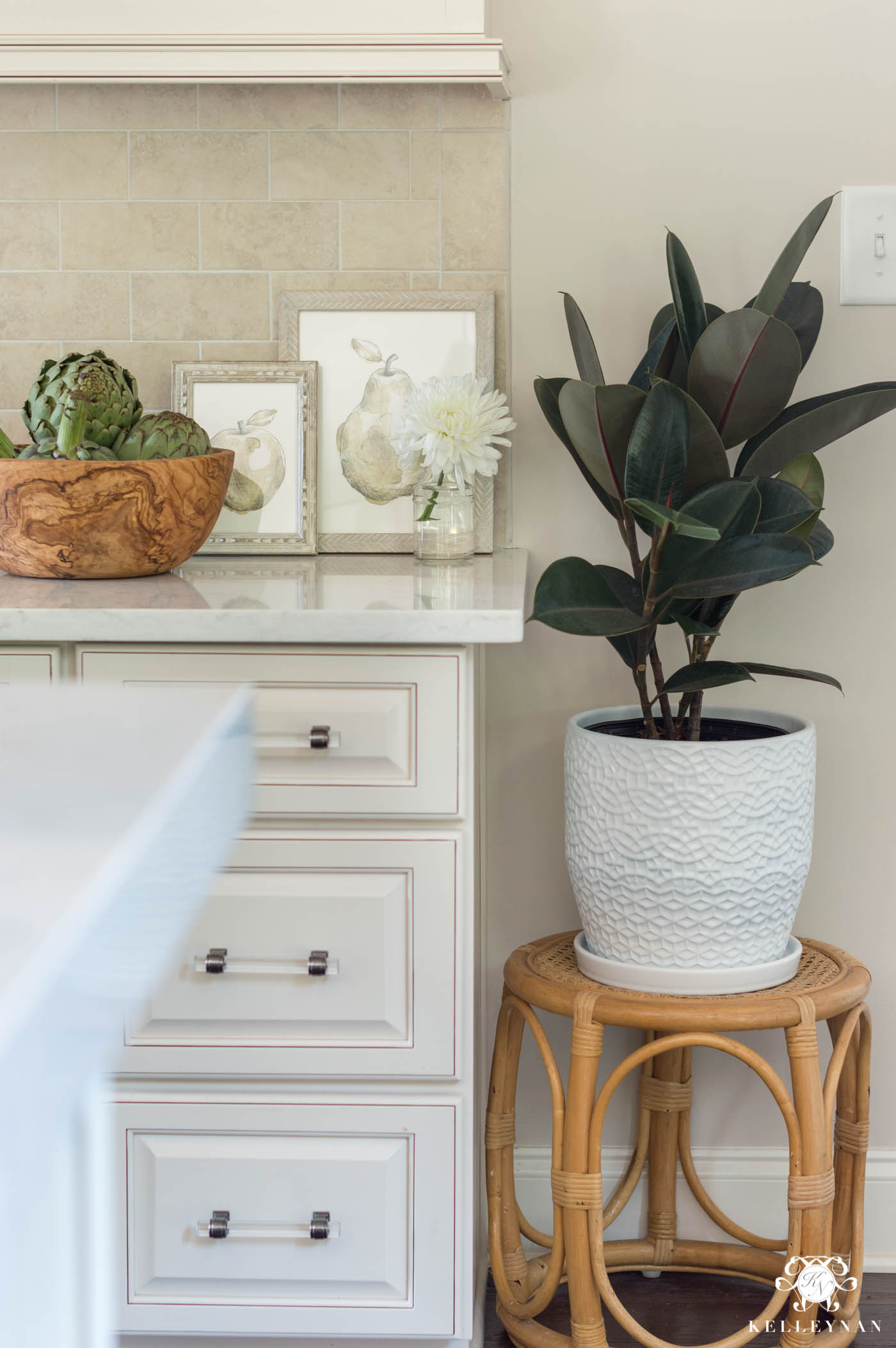 Sources: Cabinet Pulls | Wall Art | Olive Wood Bowl (similar) | Pear Art | Apple Art | Bud Vase (set of three)
---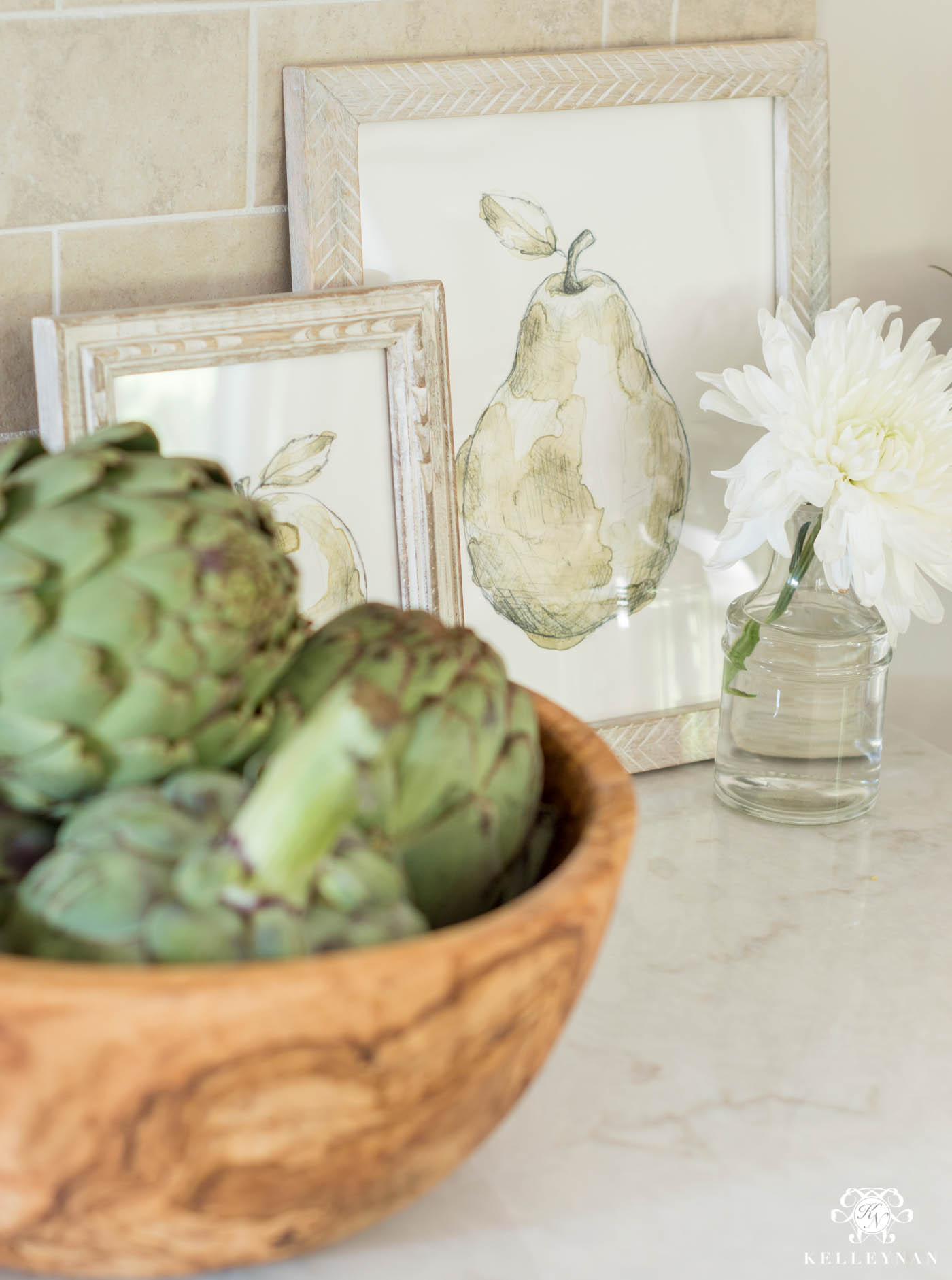 The original art I had selected a few months ago for the back wall was totally wrong; it was relocated to the sitting room and I instead brought in THIS fresh piece. It's subtle, but just what I needed in that awkward space between the garage door and stationery desk cabinets.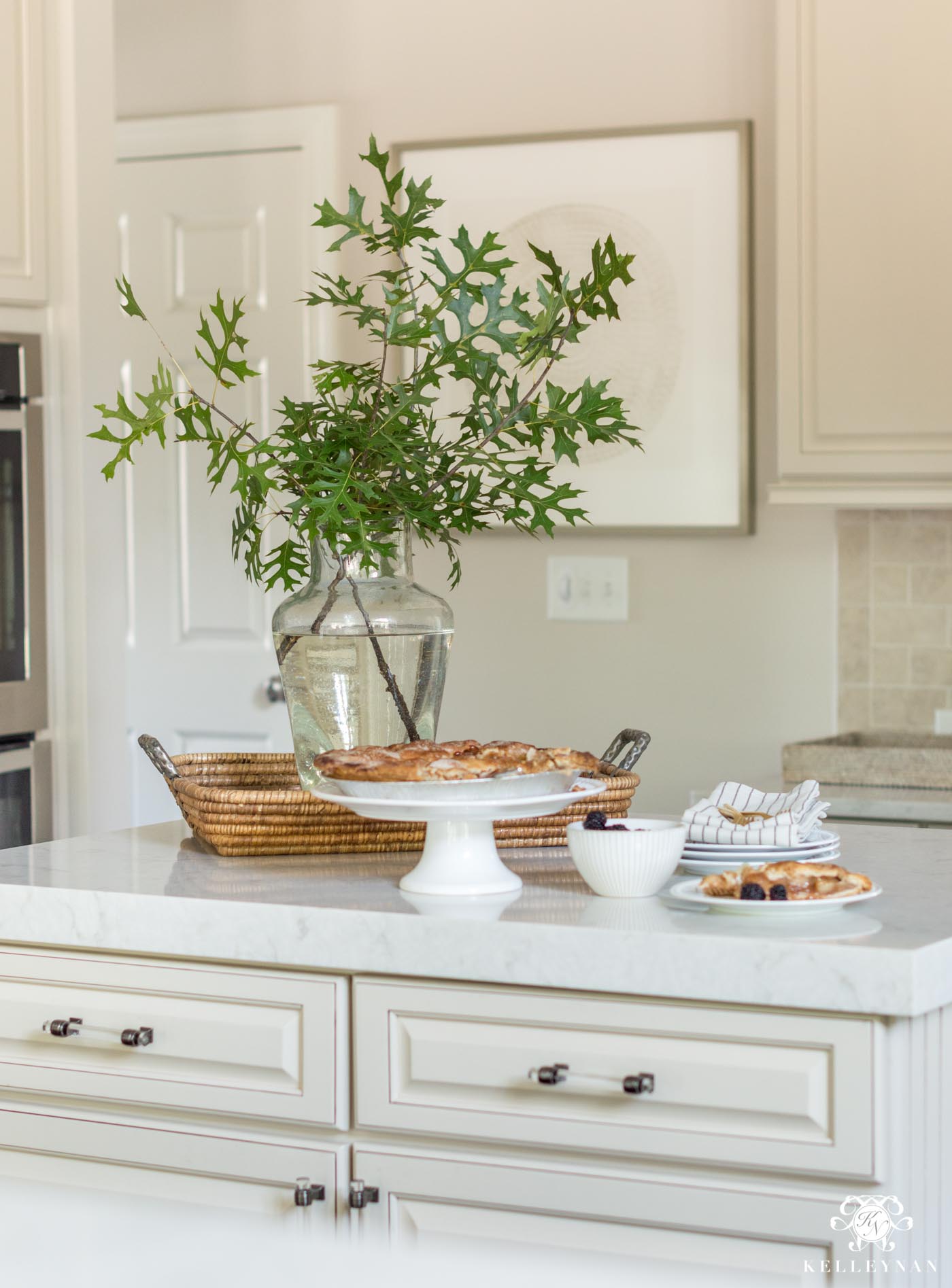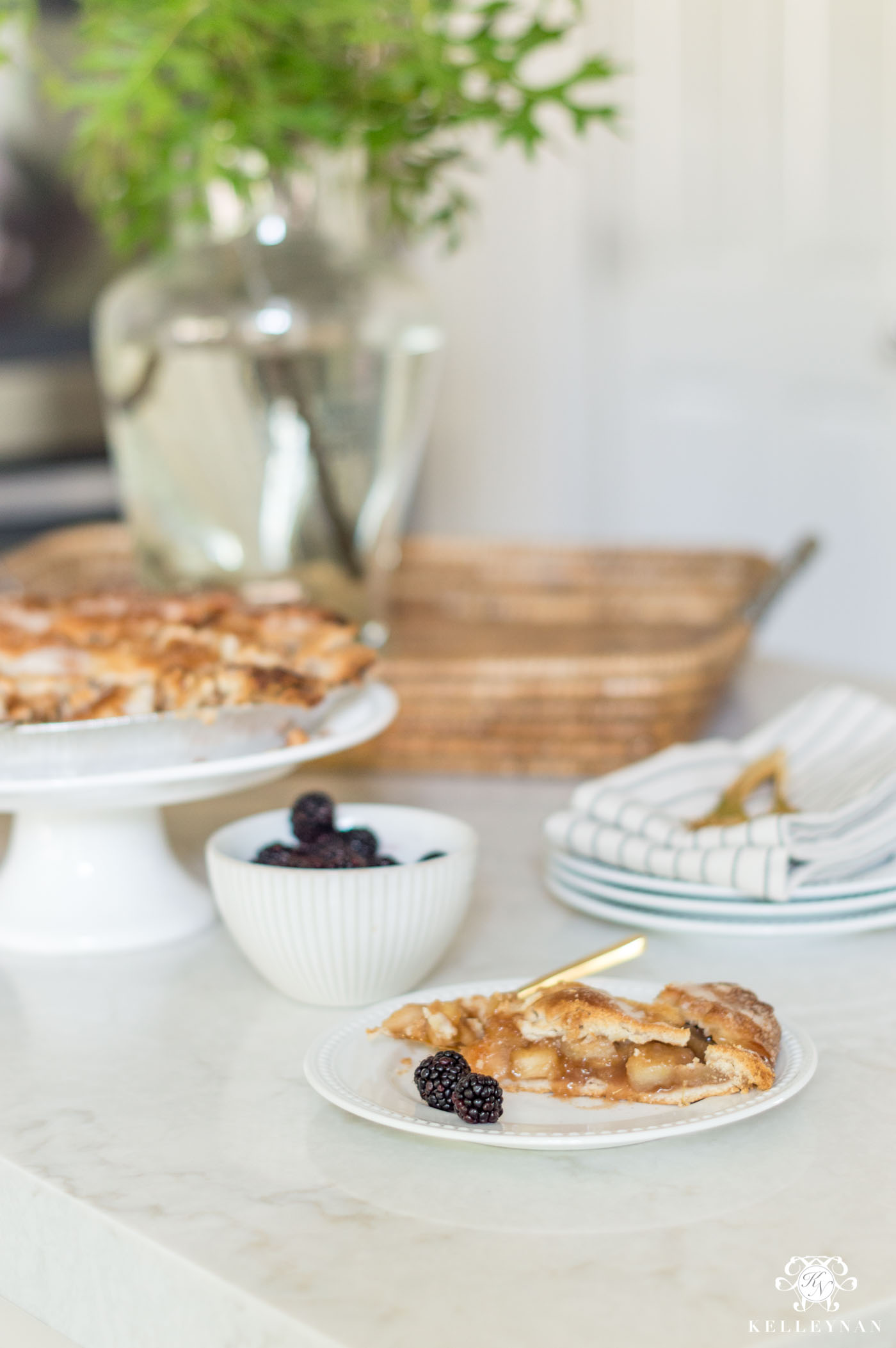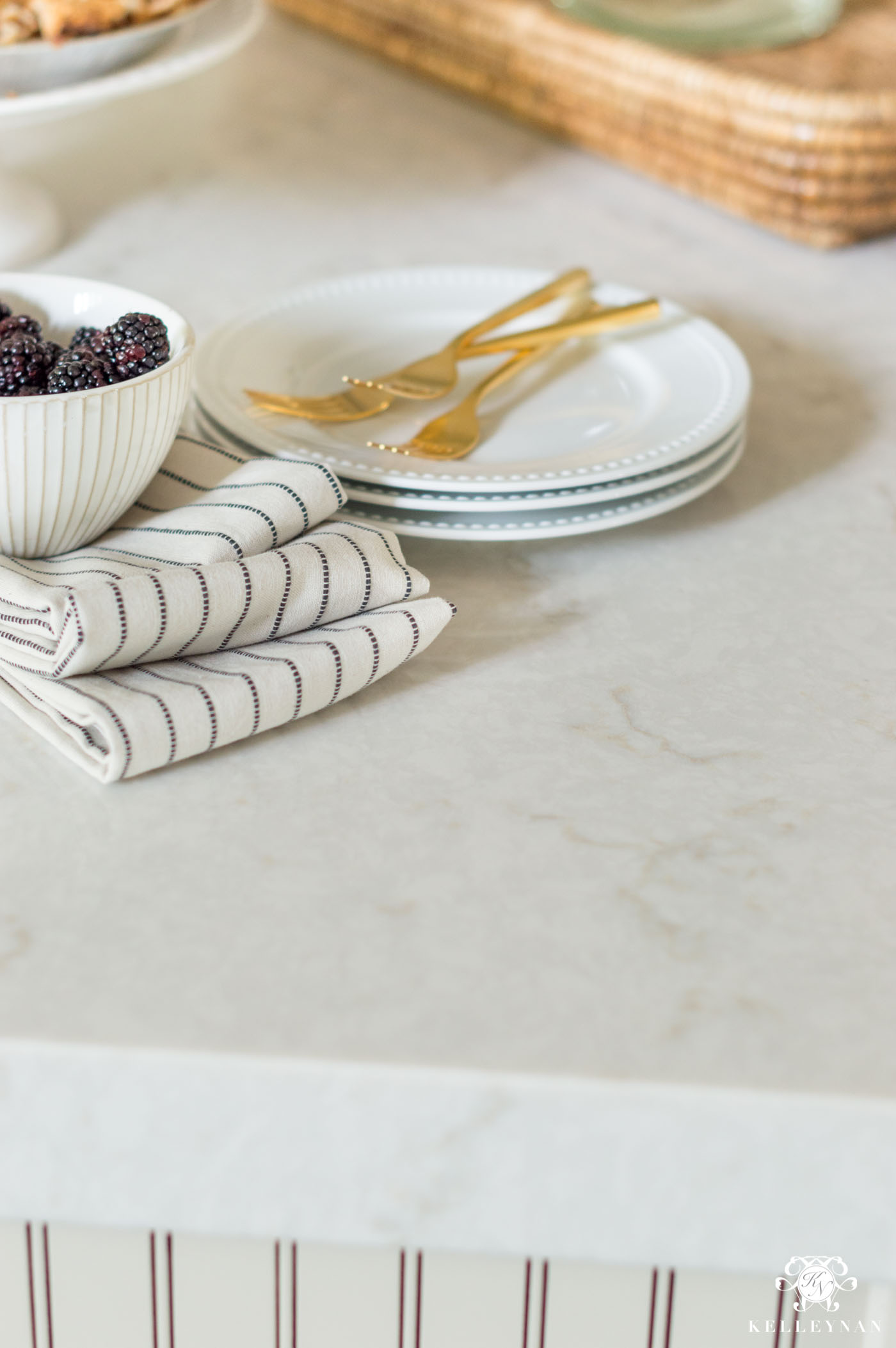 Sources: Flatware | Bead Rimmed Plates | Textured Bowl | Striped Towel
---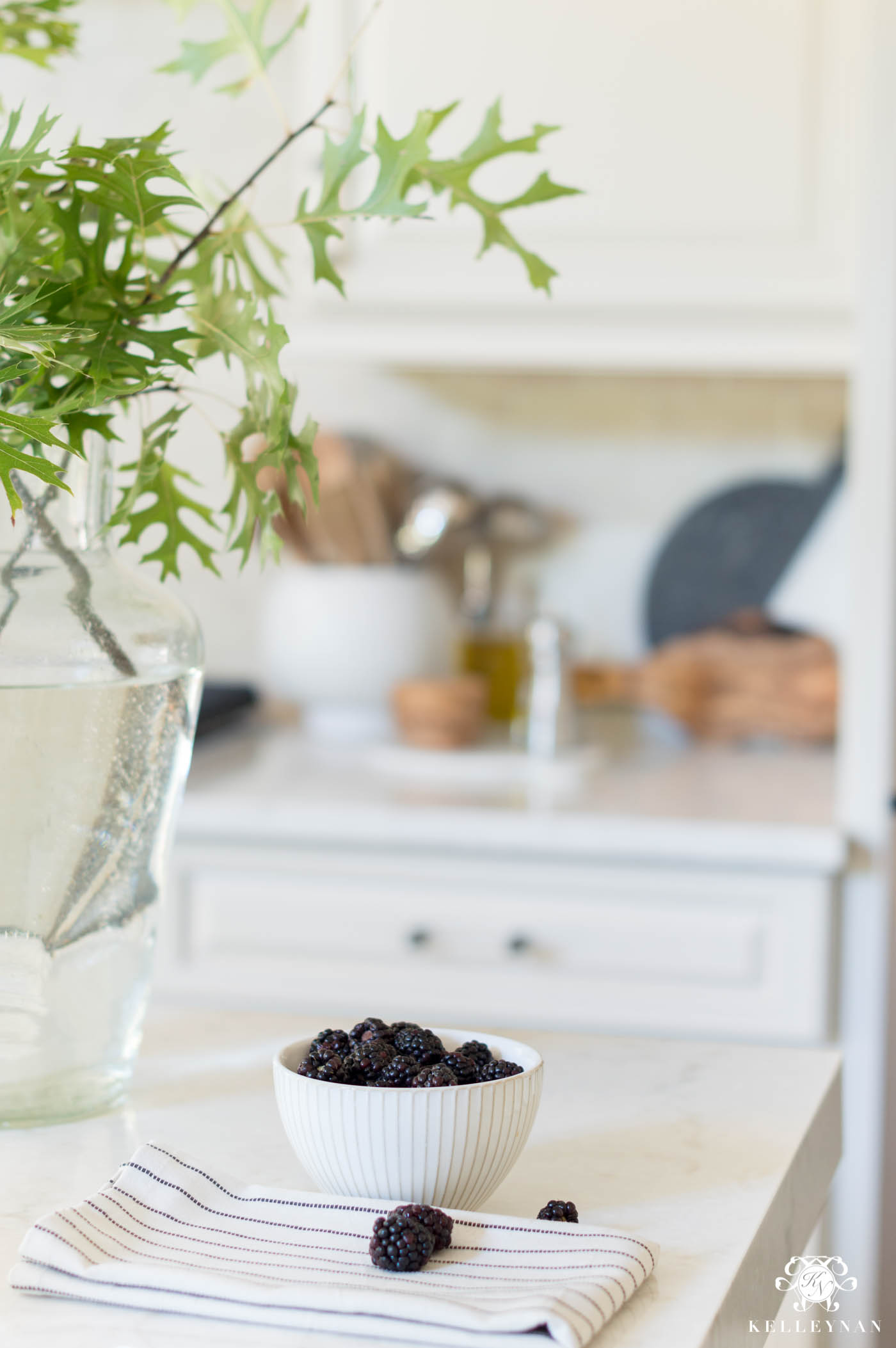 I used to have bulky faux wood white blinds on this door. They were constantly in the way, the cord was a wreck, and they would never stay anchored. I've been dying to outfit this door in the same cordless, woven shades as our upstairs bedroom deck door and along with a quick fresh coat of door paint, WOW. Yes, the look is an improvement x 1 million, but it functions SO MUCH BETTER without having blinds sway and thrust back and forth every time the door shuts.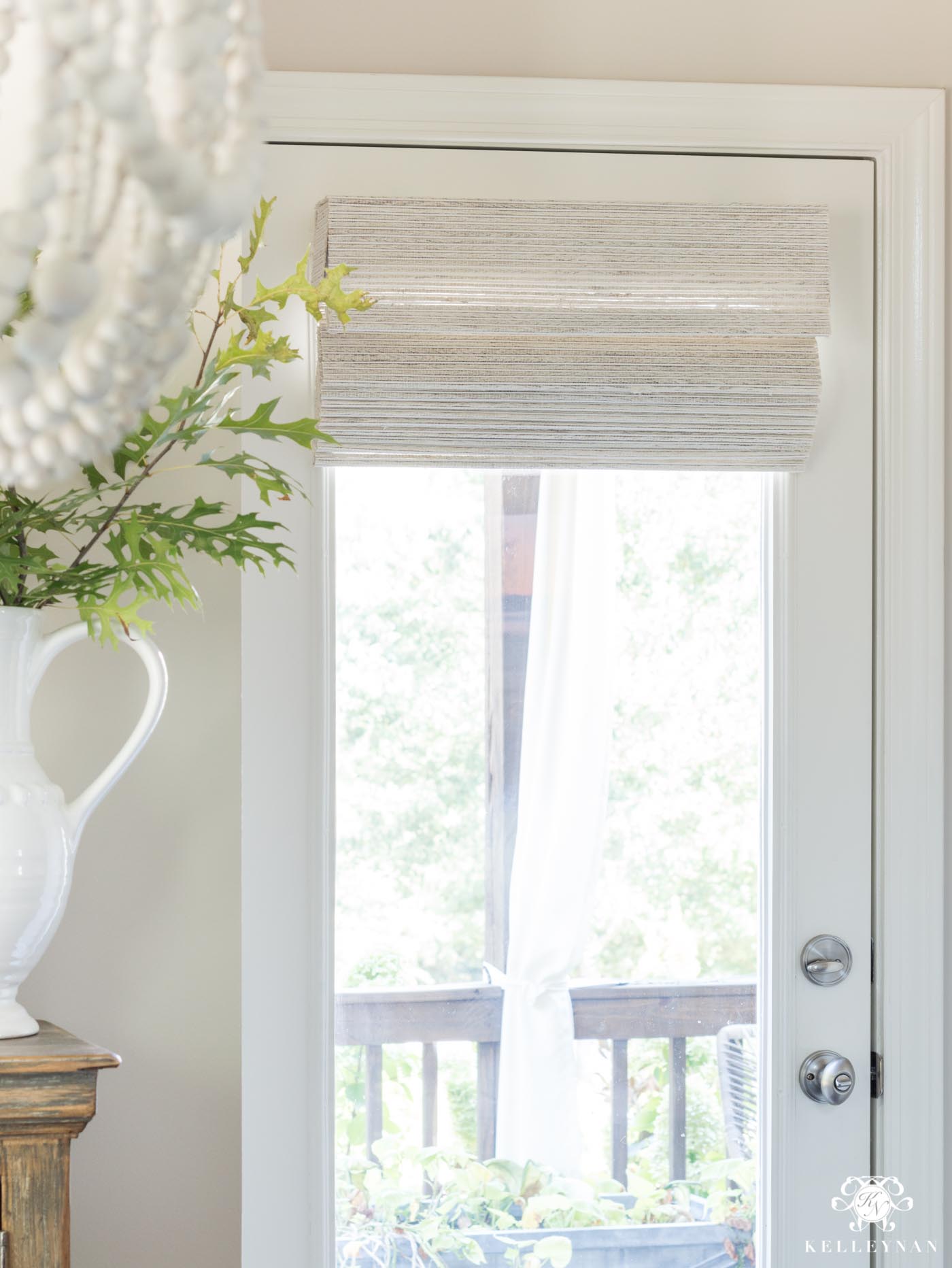 You guys know the story on the barstools; I love them and yes, am still using that one on the far right as a daily office chair, haha. It's worked out to be the perfect, prime spot to consider living room/kitchen projects/orders as I've been working on the two spaces. Those two round mirrors in the living room will soon be replaced with this large rattan mirror I ordered (set to arrive in December) to carry the bar-stool vibe over a little bit.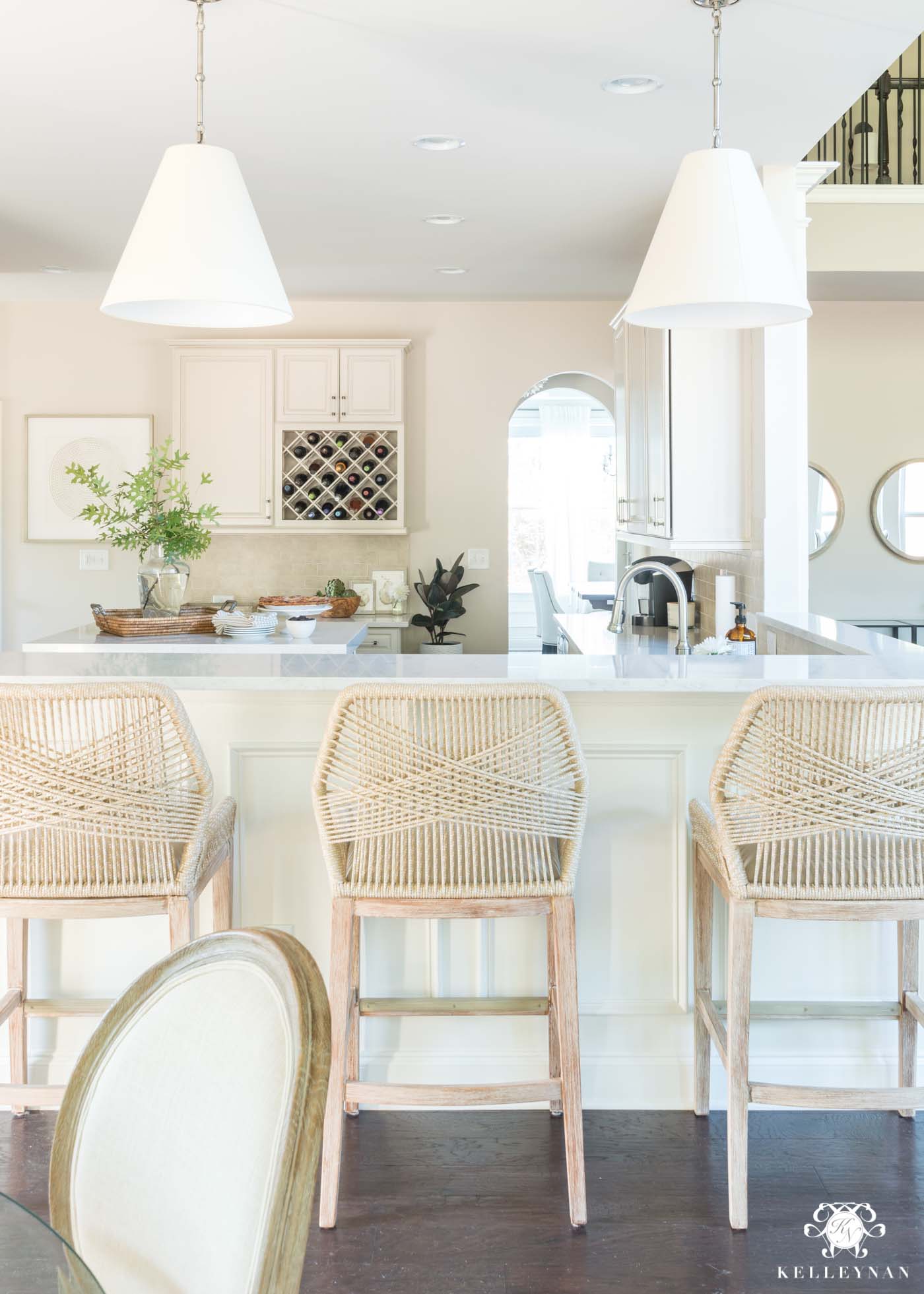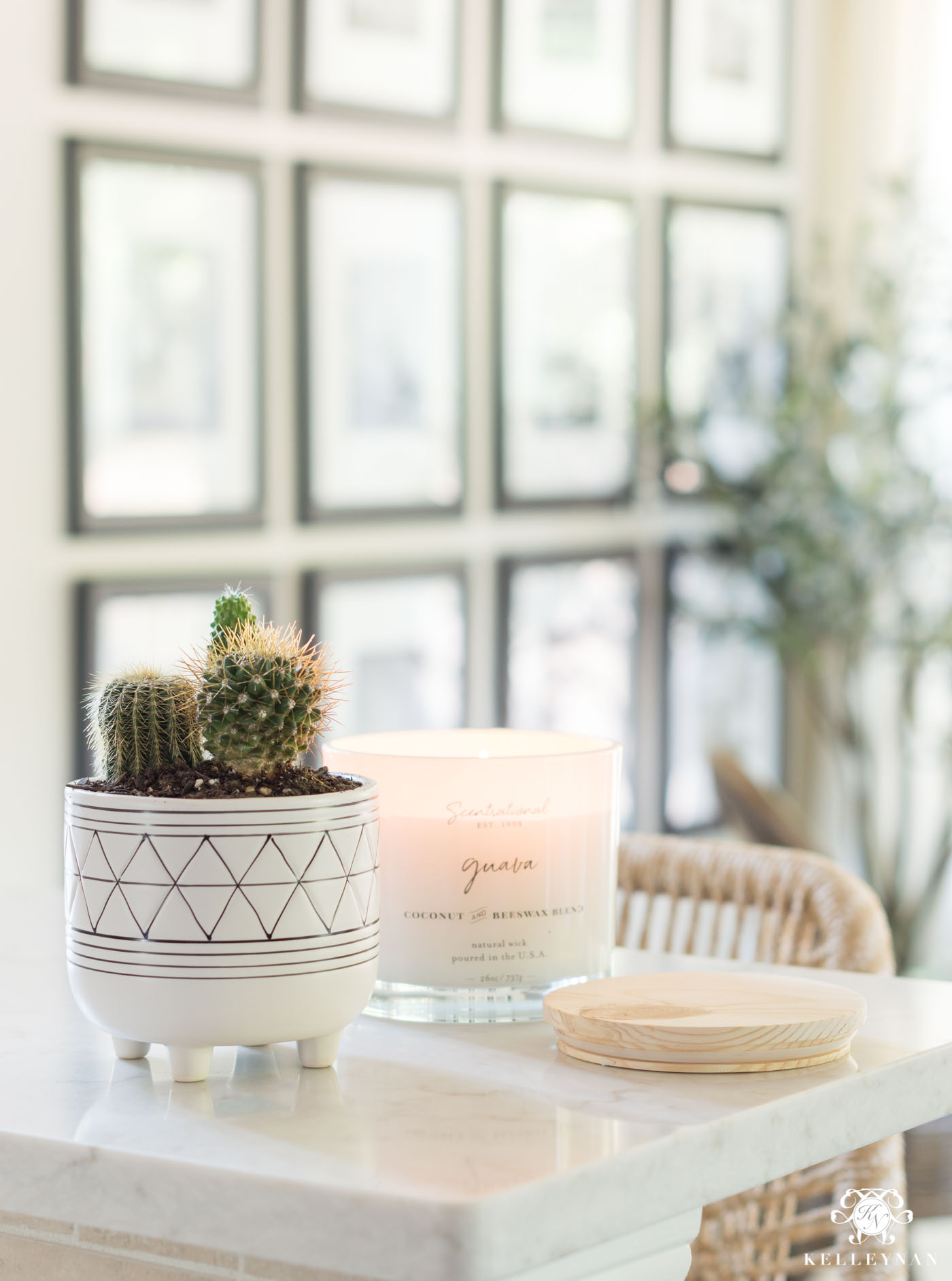 THE BREAKFAST NOOK
The breakfast nook is a space that has been evolving since we moved in and honestly, even though we have made some changes that have made a big difference, a lot of the same pieces remain. Proof that you don't have to nix everything to create a different vibe. You may or may not have ever seen what this space looked like in the beginning – this is circa summer 2015…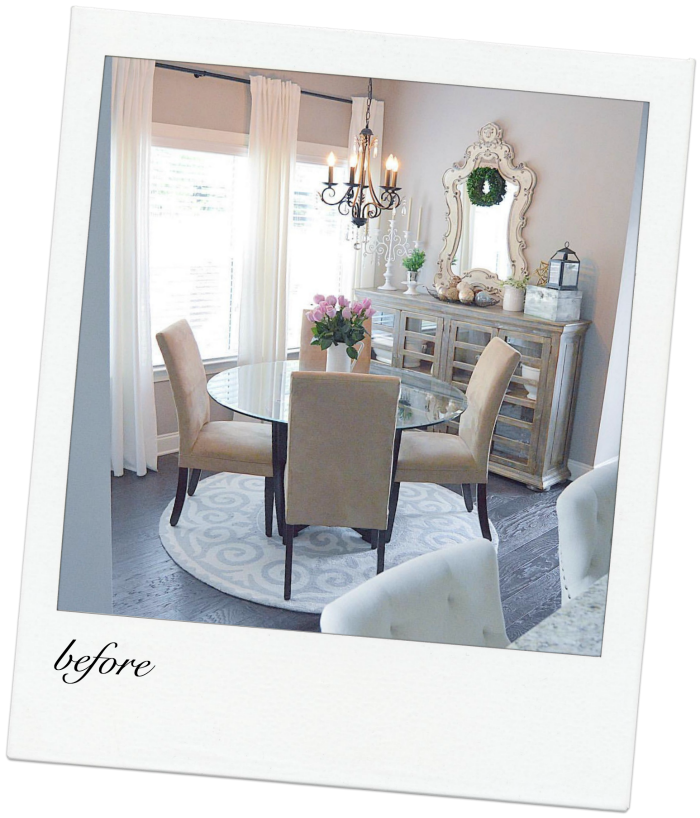 And here's what that same space looks like today. Same table, same sideboard, same curtains…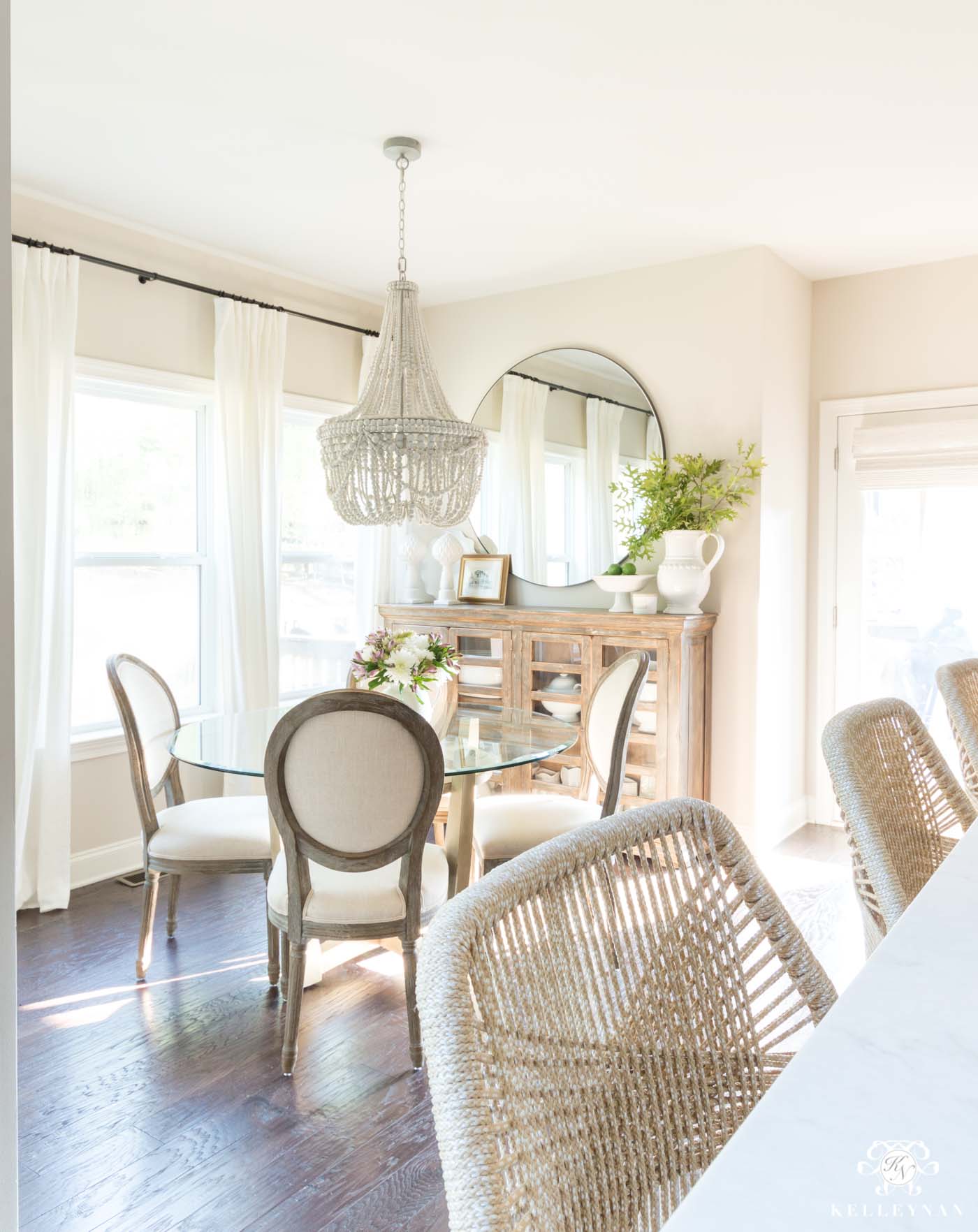 Because this has been an evolving space, y'all have seen most of the updates but the large, oversized round mirror was a new addition. I actually had a round mirror in its place, in a brass finish, that was significantly smaller. After getting this 48 incher, the former looks like a dinner plate haha. If you go back to the very first photo I shared in today's post, this mirror did everything to reflect light, fill the wall space, and give this entire area a fresh look. Fewer, larger pieces > several smaller pieces.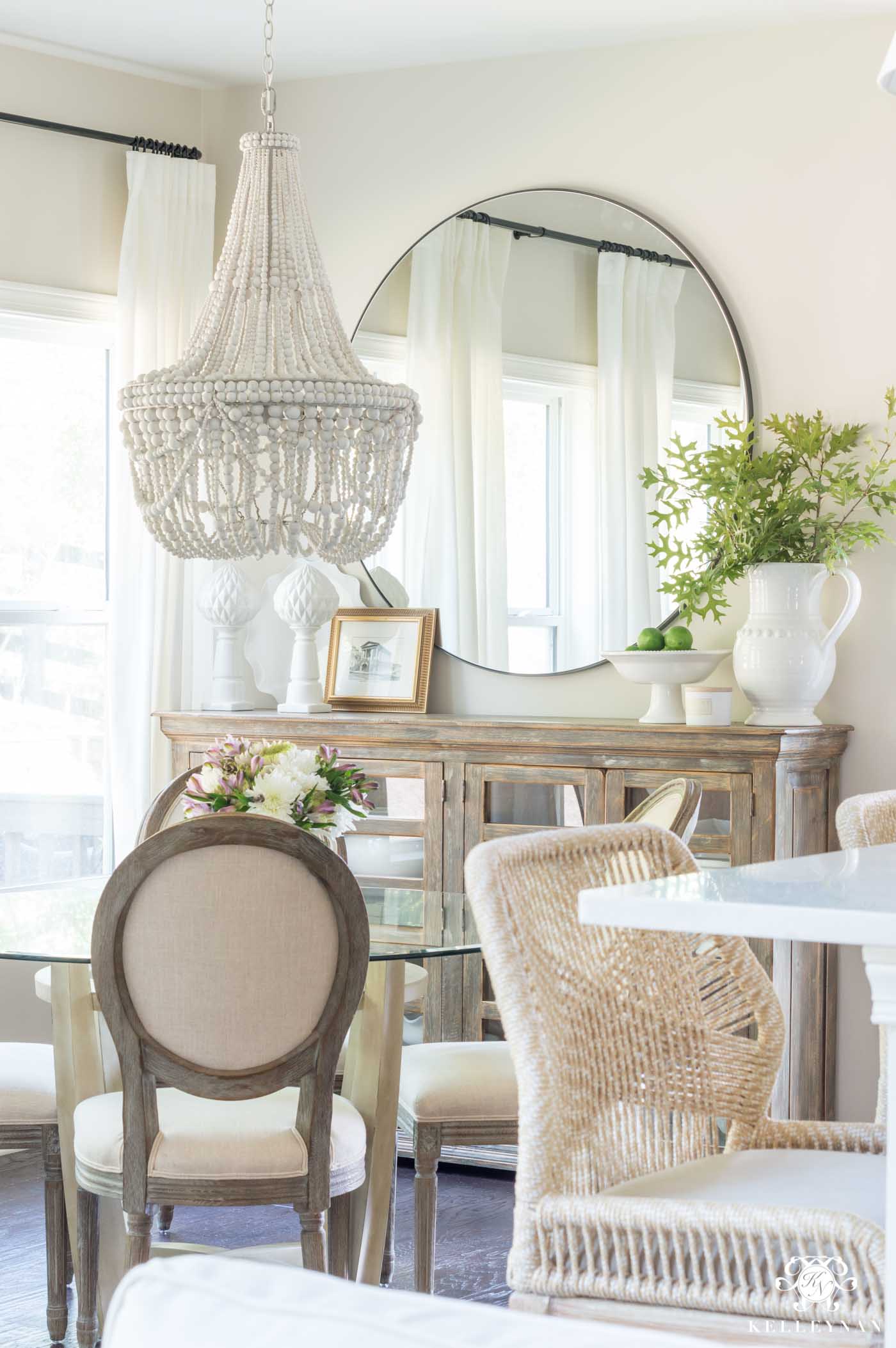 Sources: Bead Chandelier | Mirror | Dining Table | Dining Chairs | Sideboard (similar) | Curtains | Curtain Rod | Bar Stools
---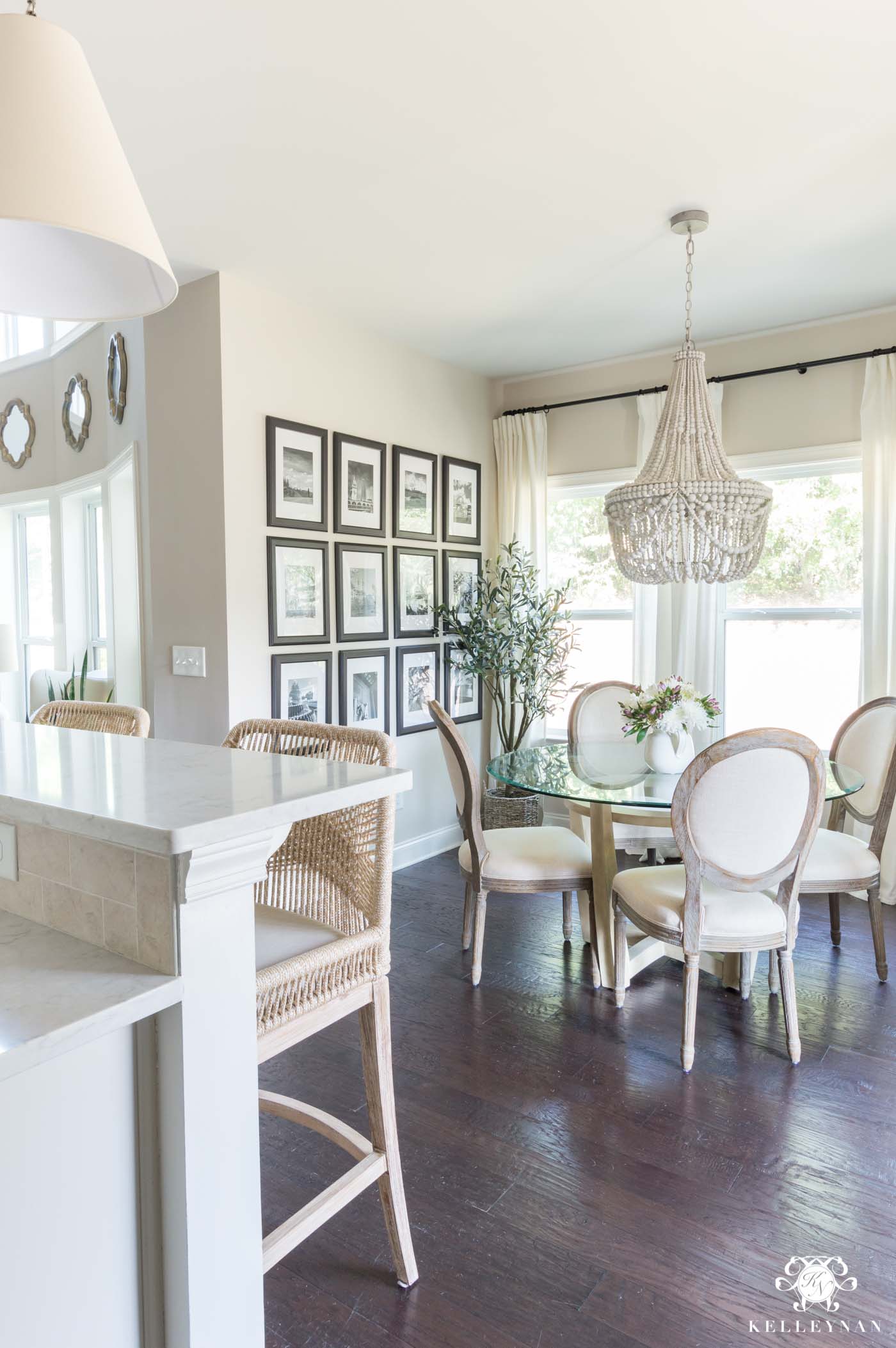 I also finally added a third row to my black and white travel gallery wall – you can see more on this project from the initial post HERE.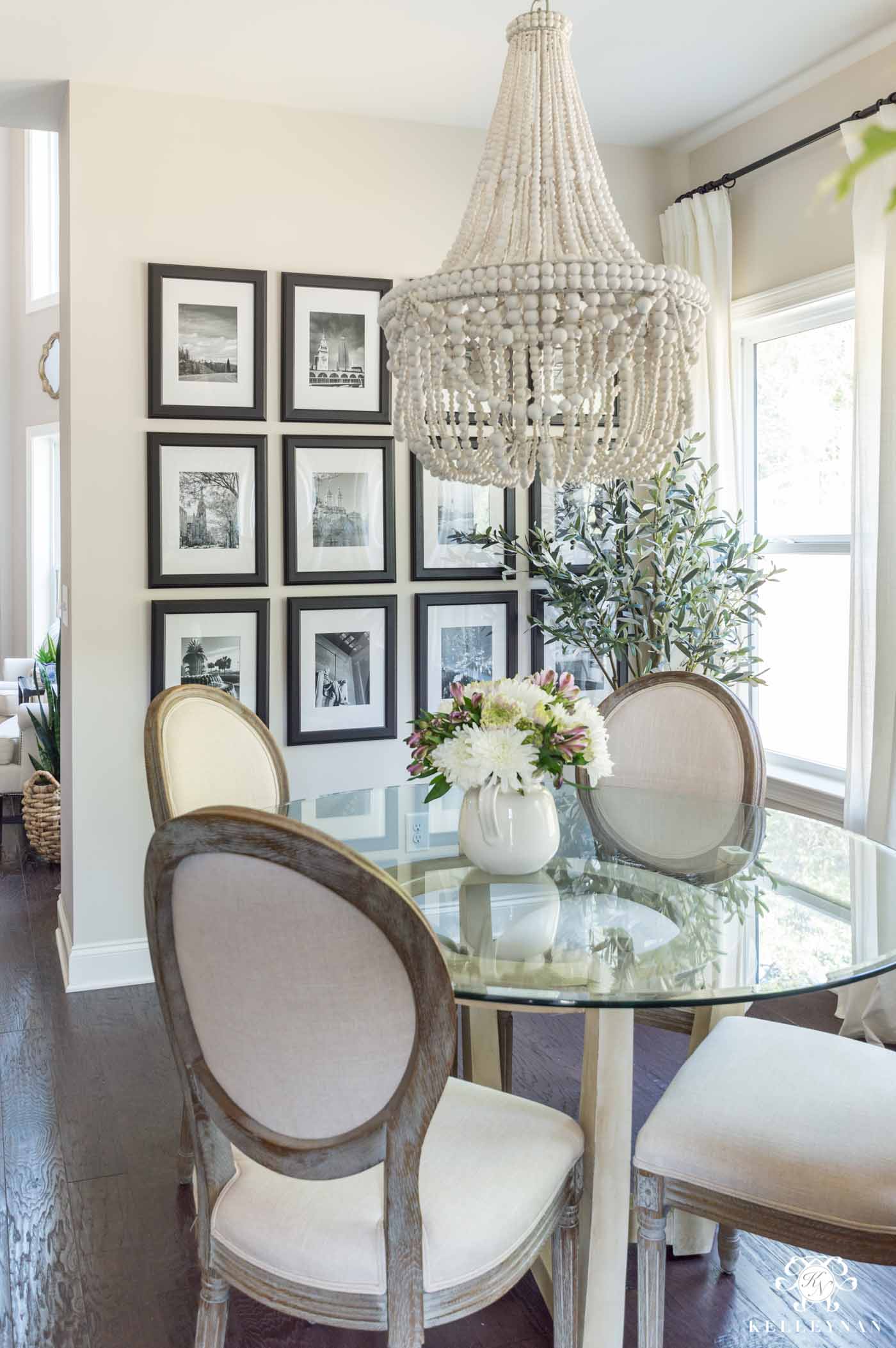 And after my palm was down to one half-brown frond, I took that as permission to replace it with this faux olive tree. It takes some spreading and situating right out of the box, but once she's set, she's pretty 😉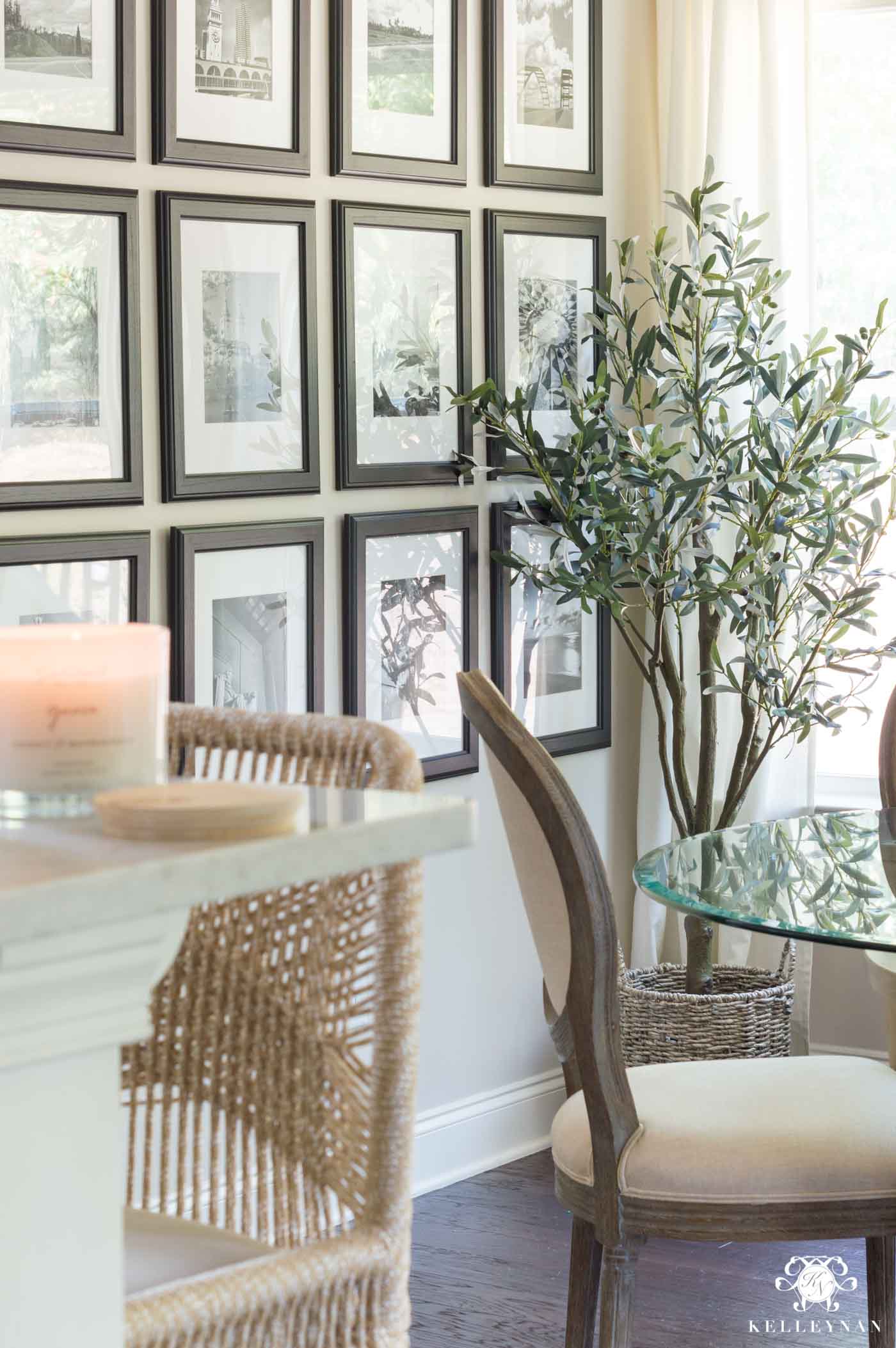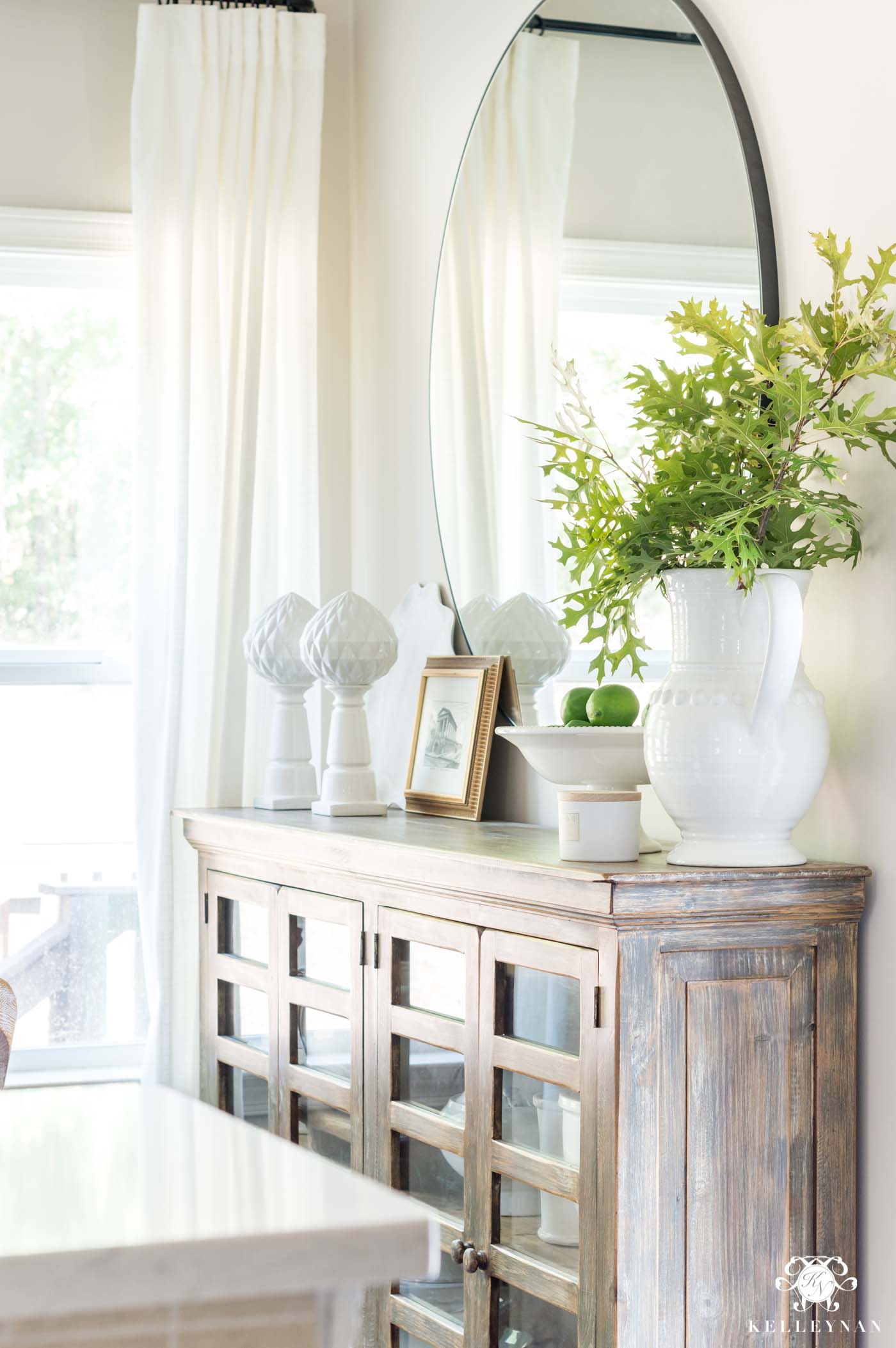 Kitchen makeovers can get expensive (and totally out of hand) quickly. If you don't have the budget to make a change, don't. Focus on bringing in quality improvements as you can. Start with the countertops; it will make a bigger difference (and add value) than you think. Replace your sink at the same time. Painting the walls is one of the most affordable updates you can make. Accessories can be collected over time. Pulls will make you re-love your cabinets and can be switched at any step of the process. Same goes for lighting. I bet you'll even uncover some areas and pieces along the way that you'll have a whole new appreciation for, once their surroundings start transforming.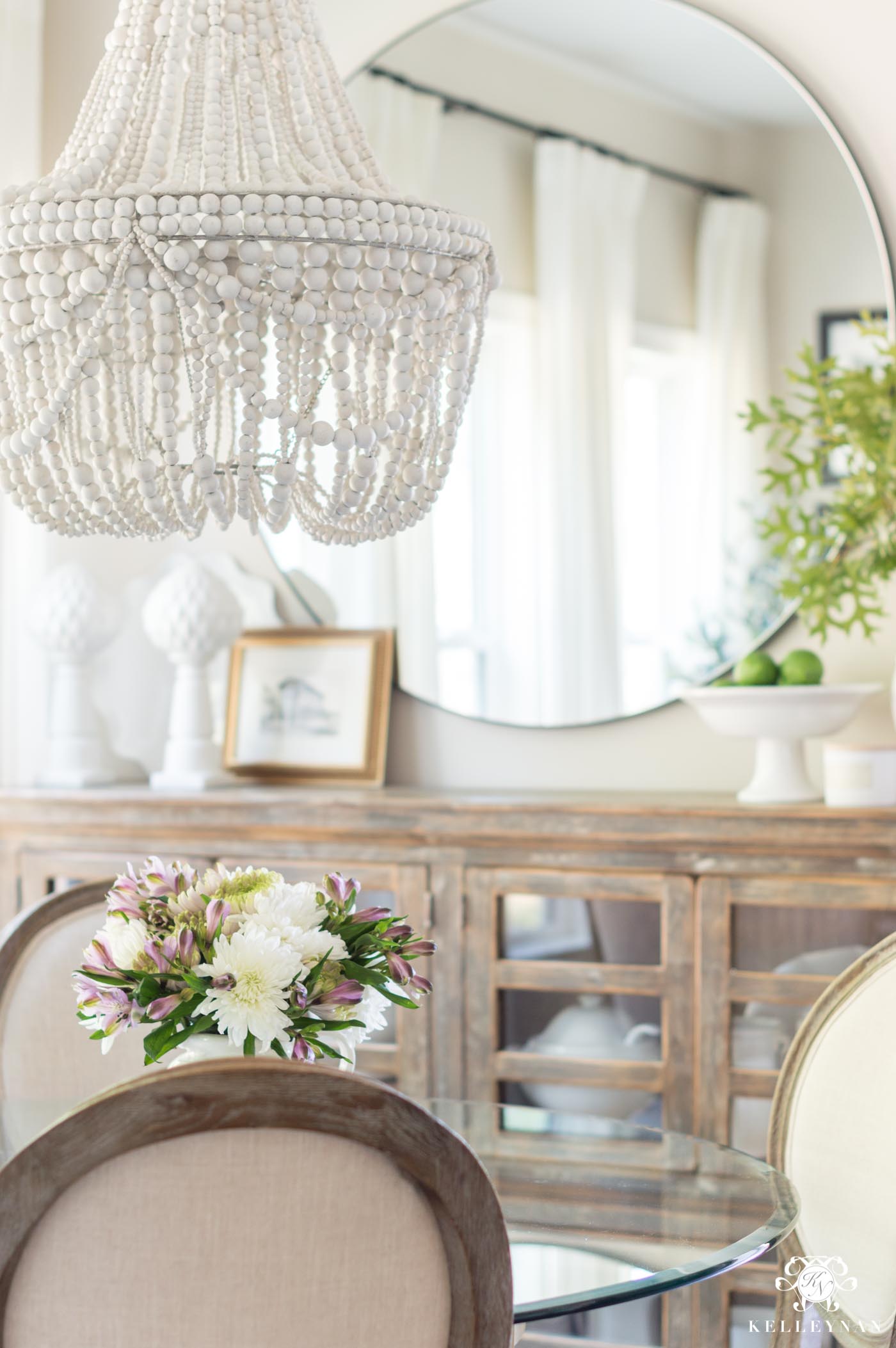 Thank you all for hangin' in there with me as I worked my way through our kitchen project; it's still the same space – just a better, more updated version of itself.
Beyond the kitchen and breakfast nook, you can peek into the living room where some other updates have been gradually happening; I'll be sharing more soon so be sure to subscribe to my emails at the bottom of the post and catch all the details 😉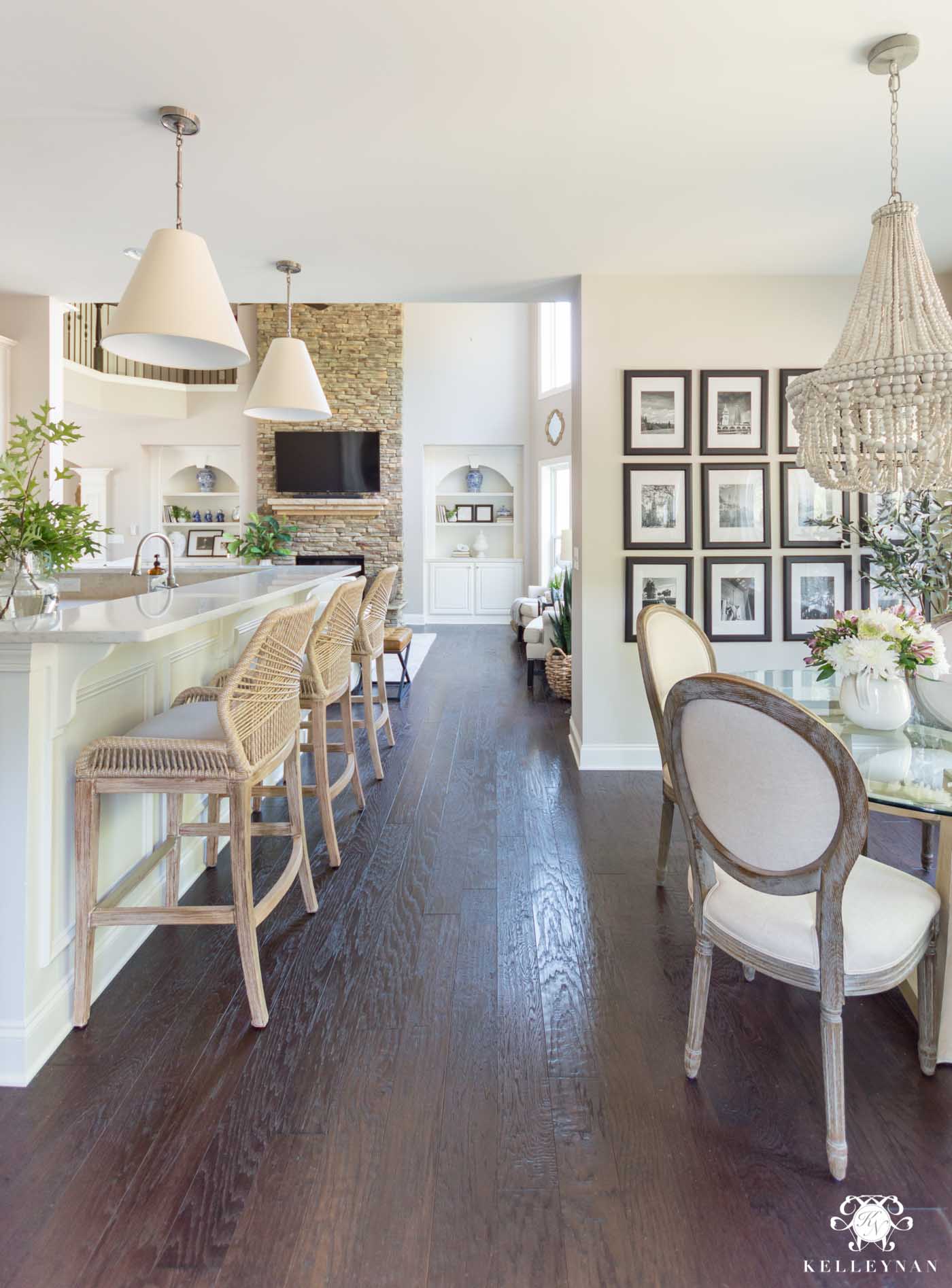 LIKE THIS POST? CHECK OUT A FEW OTHER ROOM MAKEOVER REVEALS
SOURCES & DETAILS
Paint Colors: Walls- Benjamin Moore Edgecomb Gray | Ceiling- Benjamin Moore Edgecomb Gray (at 50%) | Trim/Moulding- Sherwin Williams Creamy
Fabrication & Installation: Atlanta Stone Creations
Hard Surfaces: Countertops- LG Viatera in 3″ Soprano (with mitered edge island) | Blanco Quatrus 33″ Sink | Blanco Empressa Faucet (stainless) | Amerock Glacio Cabinet Pulls (3 3/4″ gunmetal) | Flooring: Nottaway Hickory in Weathered Saddle (5″  Planks) | Cream Cabinets: Color Unknown | Backsplash: Puebla Travertina Beige (3″x6″ tiles)
Lighting: Cone Pendants (medium, paper shade, antique nickel finish) | Wood Bead Chandelier
Furniture: Bar Stools | Breakfast Nook Chairs | Cane Stool – Old | Faux Olive Tree | Sideboard (similar) | Breakfast Table
Walls/Art/Windows: Cordless Shades (Bali White) | Large Circle Art in Matted Frame (champagne silver frame)  | Apple Art (5×7) | Pear Art (8×10) | Large Round Mirror (black, 48″) | Travel Gallery Frames (Ikea Virserum) | Curtain Panels (98″)
Kitchen Accessories: Wood Paddle Boards (medium & mini) | Olive Wood Bowl (similar) | Large Organic Shaped Island Vase | Pinstripe Napkins | Acrylic Paper Towel Holder | Olive Oil Bottle | Olive Wood Salt Cellar | Stainless Pepper Mill | Oversized Spoon Rest | Stationery Desk Tray | Island Tray (SIMILAR) | Rubber Tree Planter (painted) – Home Depot | Breakfast Table Pitcher | Clear Glass Bud Vases | Marble Sink Slab Board (similar) | Small Wood Bowl (at sink) – Local Boutique | Wooden Vegetable Scrub | Small Olive Wood Board (SIMILAR) | Round Marble Board | Two-Toned Marble Board – At Home Stores | Rectangle Marble & Wood Board | Utensil Crock (planter) – AtHome Stores | Wavy Platter on Buffet (similar) | Blackberry Bowls | Gold Flatware | Cake Stand (SIMILAR) | Runner Rug (Vintage) – tons of styles from the shop I used HERE | Soap – HomeGoods | Cabinet Pulls