Hey, guys! Kelley Nan here (in case you forgot about me haha). I've learned a lot over the past few weeks but probably the most evident and surprising is that I couldn't have anticipated that cracks in our granite countertops would ultimately lead to 4045920 subsequent decisions. While I am taking on more than I initially thought, the purpose and point of the makeover has remained in tact – brightening and updating our traditional kitchen while keeping the same cream colored cabinets and backsplash. So, I've been here but just not here. The perk of getting to make these decisions while "on the clock" is not lost on me –  I know most people don't have the luxury of scrolling through website after website for hours on end, hunting for barstools. But between juggling projects, I haven't made time for a new blog post in about a week. I hope that in the end, the time I've put into each decision pays off, comes together, and can serve as a collection of ideas for all of you facing similar challenges. Today, I'm giving some updates (all the major stuff is done!), and sharing what's next for our transitional cream kitchen makeover.
*Posts on KelleyNan.com may contain affiliate links. Click HERE for full disclosure.*
Because I'm not gutting our kitchen or doing a totally insane renovation, I've decided to save the bulk of the kitchen views for the end of the project when I'm ready for the full reveal. If you are an email subscriber, you've already caught a peek of the countertops and hardware against the cream cabinets and butler's pantry. If you aren't an email subscriber, be sure to sign up at the bottom of this email to get the perks, sneak peeks, and regular updates moving forward. I don't have an exact date for the reveal just yet but it will likely be the end of September.
The Countertops
So… what's been happening over here? Almost two weeks ago, Atlanta Stone Creations came out, ripped out my old granite, and installed the most gorgeous quartz. If you follow me on Instagram, you may have seen that day unfold in my stories 😉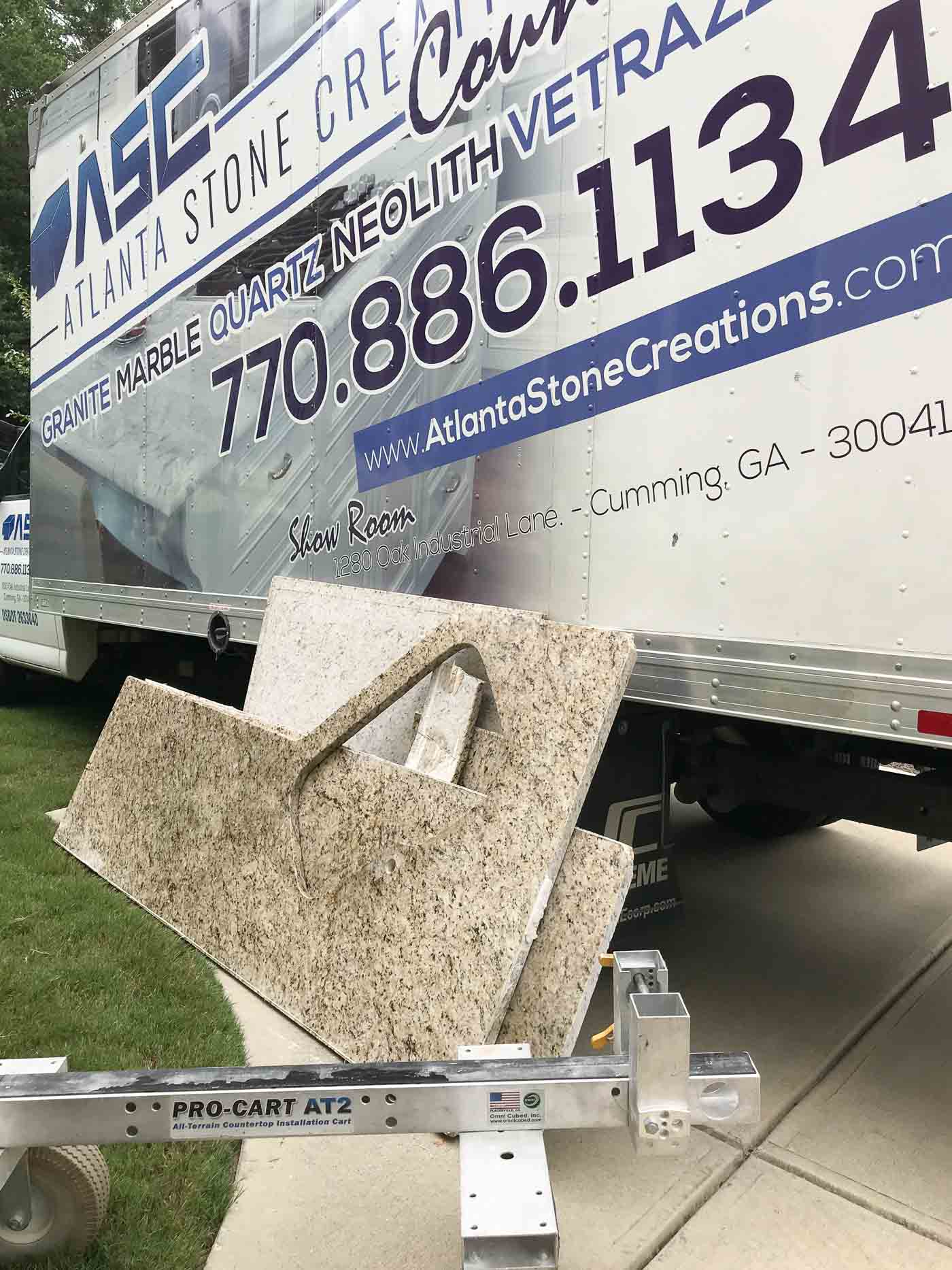 I was shocked by how quickly they removed the old, and how beautifully they installed the new. They even fixed mess-ups (unknowingly made by my builder) as they went along. For those who have asked and didn't tune into stories, Jason (Operations Manager of Atlanta Stone Creations) immediately identified why the granite around my stovetop cracked. The cabinetry wasn't level and one side was slightly lower, leaving a gap underneath the cooktop. The builder never added any shims to level it out and the weight made it crack over time. I know this isn't that uncommon but I was also surprised to see the boxes that were found in the deadspace once the countertops were removed, left by the builder. And, the crumbly caulk at the edge where the builder had mixed the grout and caulk. Ok, I'll stop now but the longer the day went on, the more annoyed I was with our builder and the more thankful I was to have the quality team I had to fabricate and prepare the countertops, install them, and fix the mistakes from the builder along the way.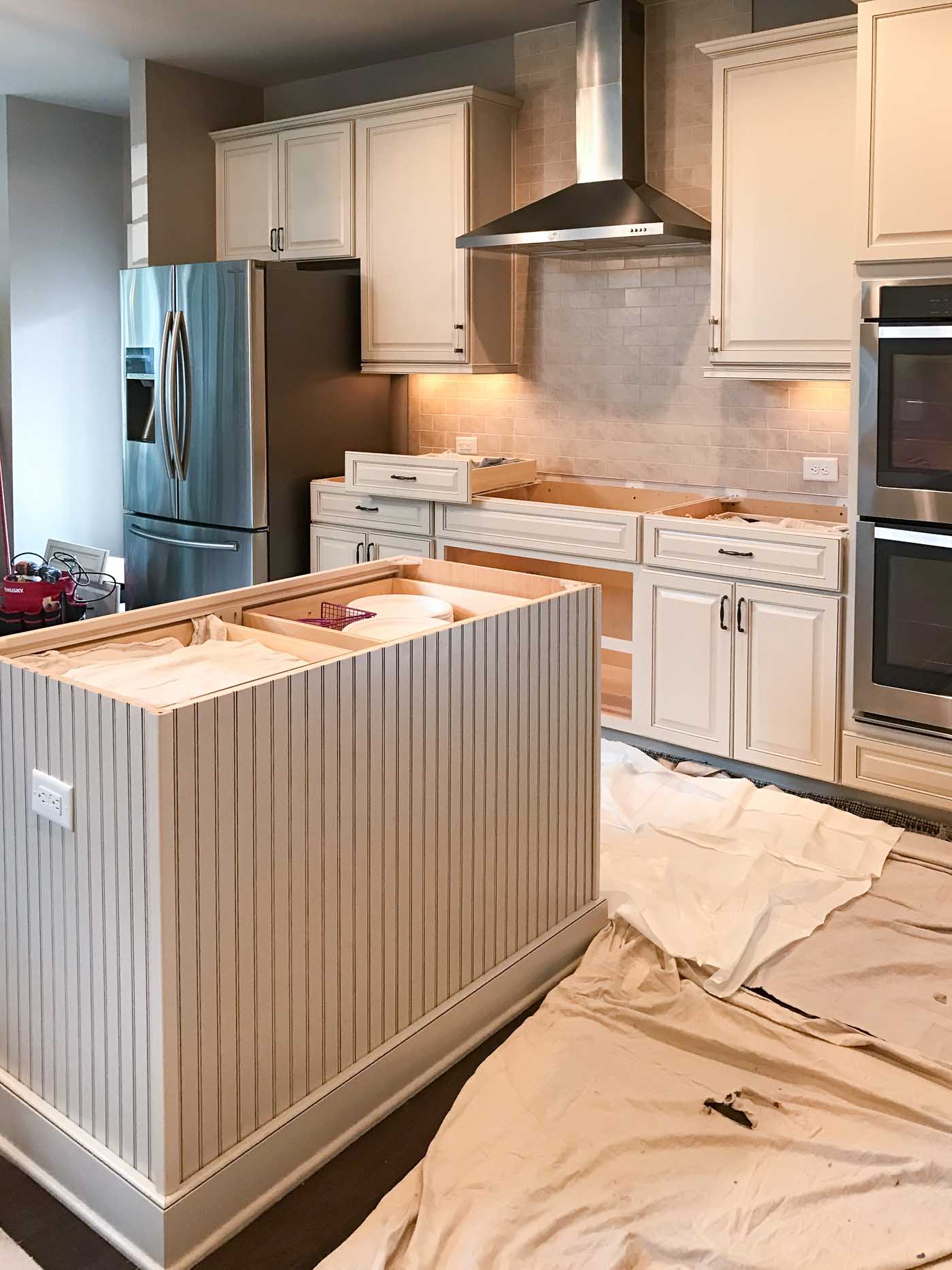 One question I was asked by a reader was if Atlanta Stone Creations would have to remove my first row of backsplash tile to install the quartz. They didn't! They actually cut it in some areas to level it and when they finished, it looked like nothing had changed. My carpenter (for another kitchen project) was beyond impressed at how seamless everything was. I'll be sharing the countertops in more detail in later posts, along with the process, what to look for, etc., but for now, just know that we are 100% in love with what we went with (Soprano by LG Viatera) and they compliment our cream cabinets perfectly.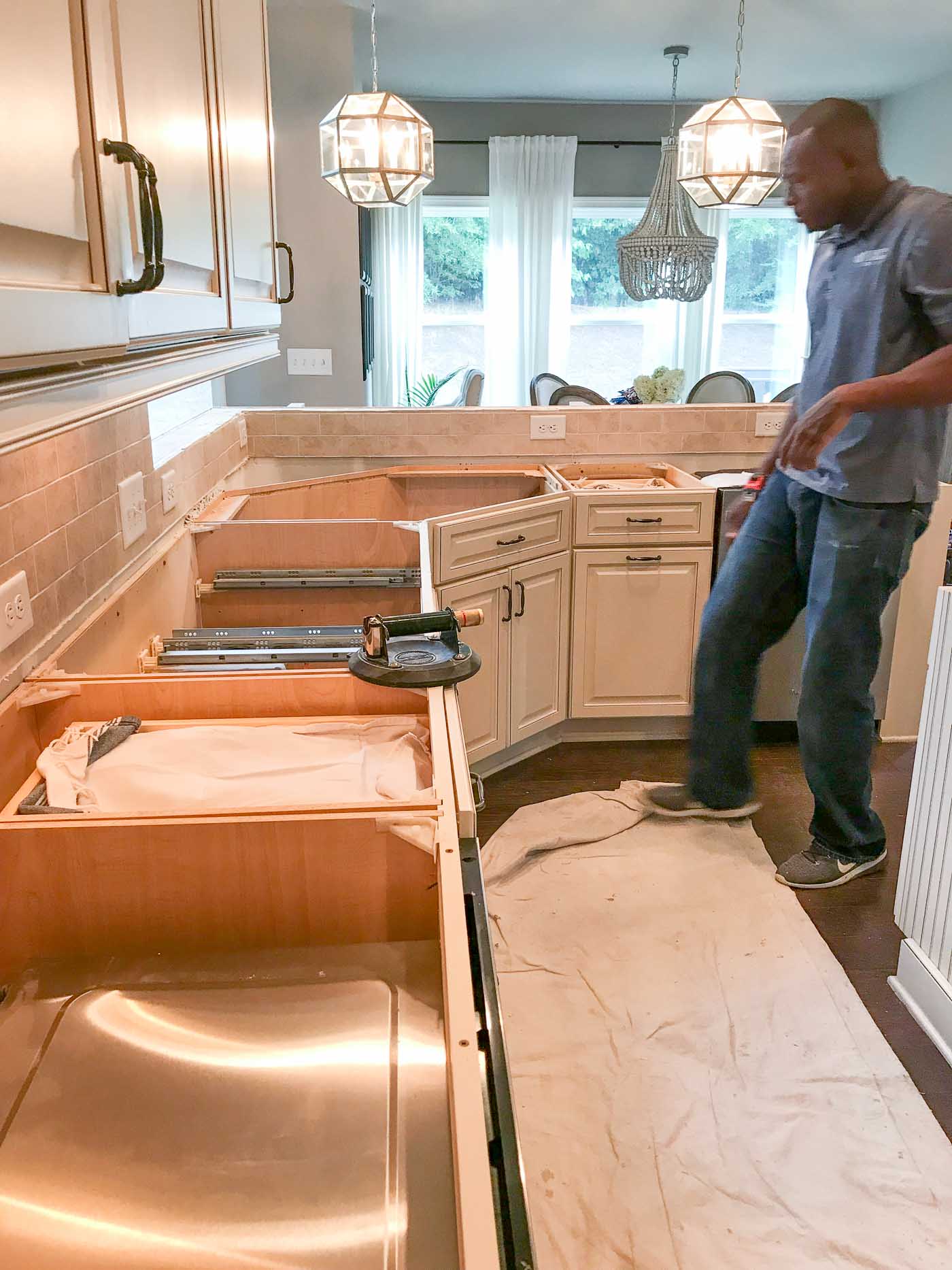 I spent one full day last week changing out all the pulls on our cabinets and drawers. Again, if you are an email subscriber, you've already caught a better glimpse than the grainy, shadowy iPhone photo below. You can find the Amerock Glacio pulls HERE, in several finishes (mine are gunmetal).
The Paint
When I wasn't screwing in new hardware, I was driving back and forth to the paint stores and throwing samples up on my wall. Believe it or not, as days went by, by the time I finished, my entire kitchen looked like this. This little area is child's play compared to the craziness that happened on every speck of wall between the kitchen and breakfast nook. By Thursday of last week, I had reached a whole new level of analysis paralysis and the 25 samples (literally) were all impeding my ability to see each individual sample. Nothing seemed right. I wanted something that would brighten the space, was light but not too light, was warm but not brown, and didn't have crazy undertones. Y'all, my kitchen is window-less and dark. And I knew that whichever color I chose would look different in every part of the kitchen but I didn't want anything to end up looking bleh. Finding something that wasn't too stark against my cabinets (or making them appear more yellow) and didn't make my backsplash even more pronounced was such a chore. I made the mistake of having Sherwin Williams color match a Benjamin Moore color, and then after I was considering it, I had Benjamin Moore mix it. Totally different shades. I mixed paints and played chemist one afternoon. And I spent more money on samples than I did on the actual paint. But y'all- I DID IT! I finally picked a color.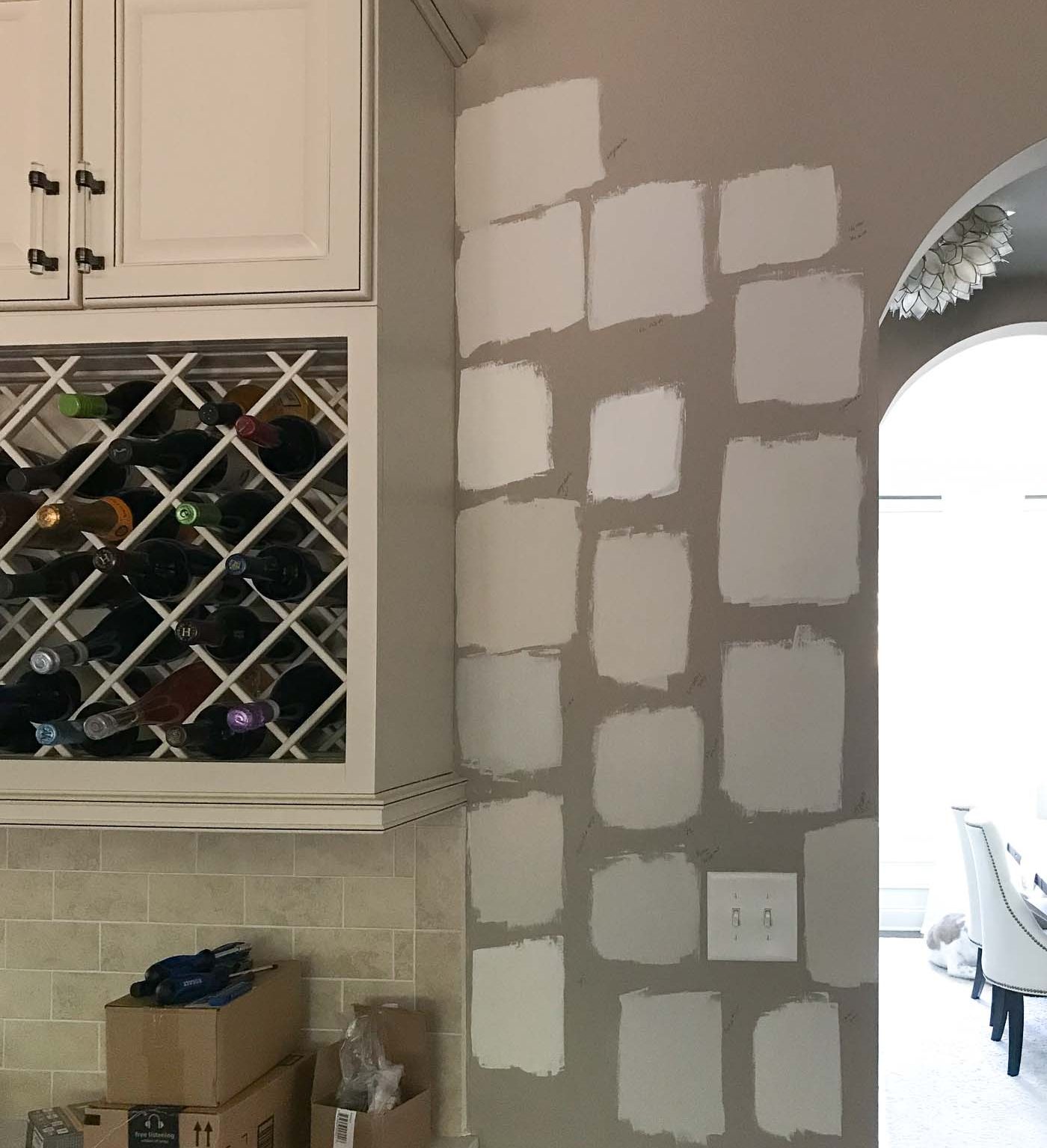 Ultimately, I decided to go for Edgecomb Gray by Benjamin Moore. It's a pale, warm gray and after painting it in swatches all over our kitchen (and crossing my fingers and toes), it ended up being such a great shade against our cream cabinets. I actually took the ceiling to 50% Edgecomb Gray in contractor-grade flat ceiling paint, and went with Regal Select in Matte on the walls. It does vary shades throughout the day  (our only windows are north-facing, on the far side, in the breakfast nook) but it maintains a nice light greige creaminess. Sometimes more gray, sometimes more beige, and sometimes, it even almost looks like the color of our cabinets.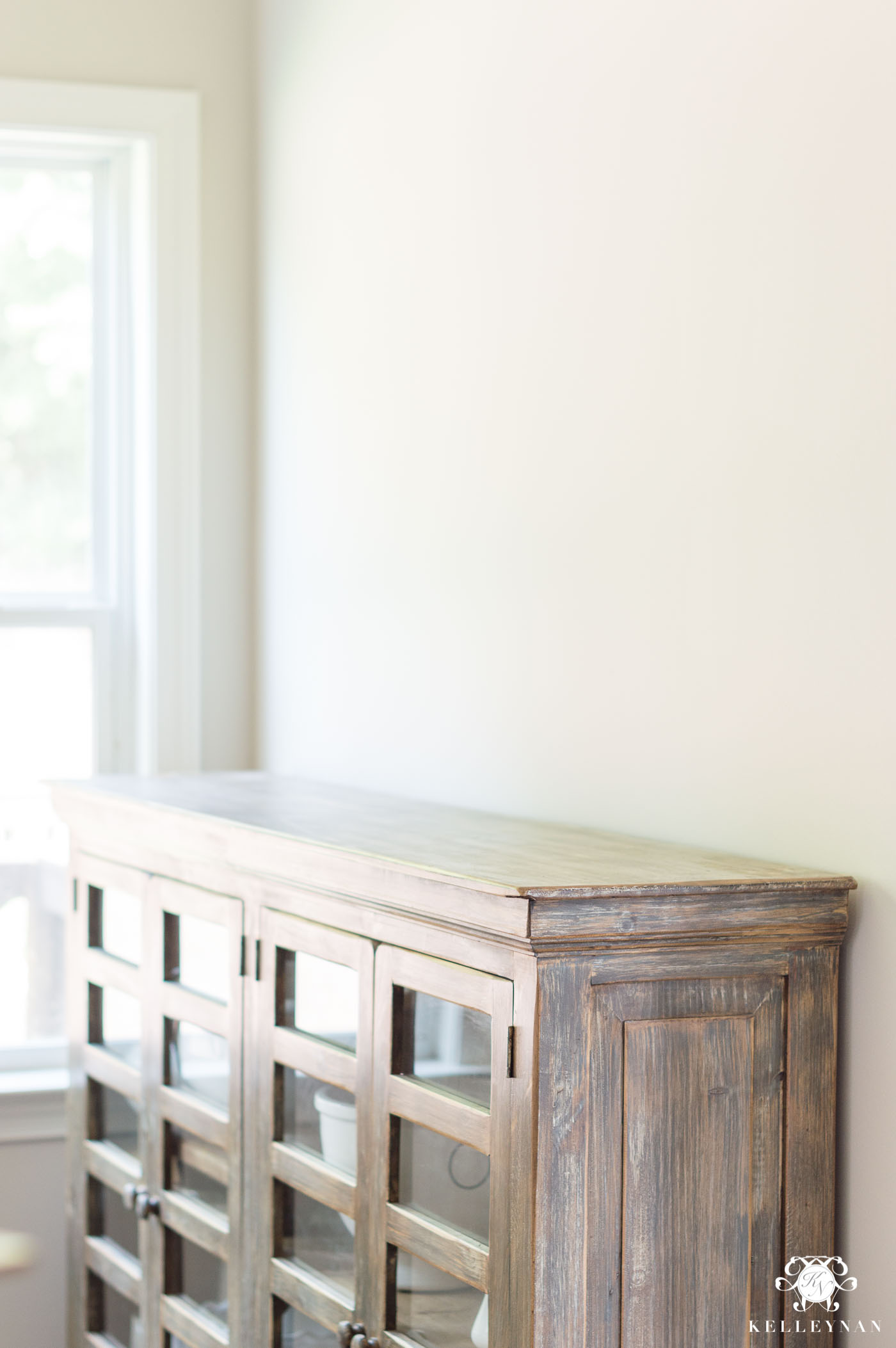 I've said it before and I'll say it again- TEST TEST TEST. And then TEST SOME MORE. I do not advise ending up like I did with 25 shades on your wall, but once you narrow it down, make sure you test your finalists in different light throughout the space. I had every intention of doing an entire post on the paint I was considering but… I won't be. Seriously, this decision wrecked me and I'm not even sure of the colors and tones I was looking at. That being said, you can see how the Edgecomb gray almost mimicks the tone of the cabinets- a little brighter up top and a little cooler and more gray in the shadows below.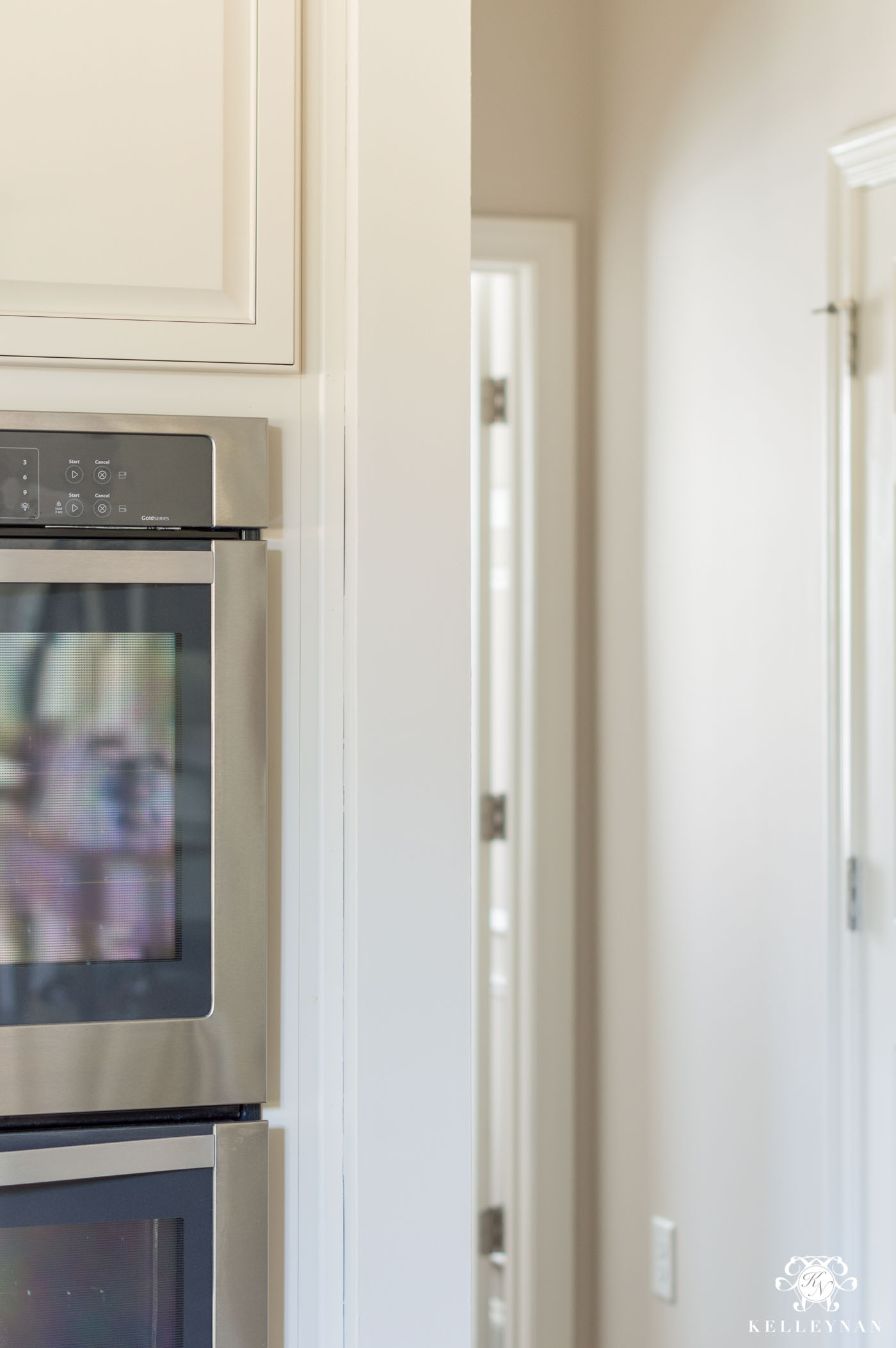 I have a space between the door and the stationery desk where I wanted to add a piece of art – nothing with too much contrast but more contrast than my former medallions that were filling the space. I found (what I hope to be) the perfect piece to blend in some of the warm and cool colors throughout the room; Dave likes it because it looks like a foggy river parting autumn trees. (Ok- full disclosure- that was actually my description to him, trying to get him on board haha) At 36″x36″, it's fairly large; it also won't be here likely until mid-September. It is on sale right now (HERE) which is why I decided to go ahead and grab it.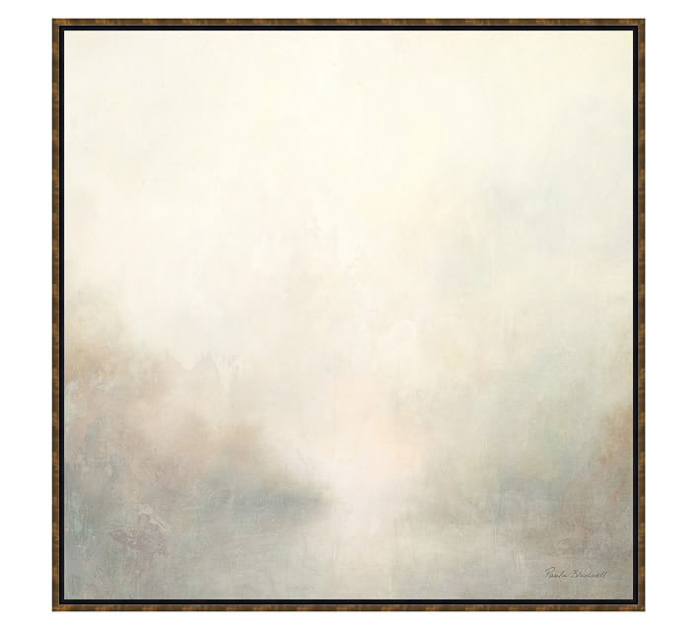 Beneath the Bar
One of my "might-as-well-go-ahead-and-do-it" projects was coming up with a solution for underneath the bar area. It was flat, boring drywall that was scuffed to heck (and not scrubbable). It looked terrible. I originally thought of adding picture frame molding below the bar only and finishing with a glossy paint, but then thought the corner joining the great room wall may look awkward without something finishing it off. The countertop ledge facing the great room was too shallow to add a short balluster-style column so I decided to go ahead and wrap the picture frame molding around to the side of the great room. That entire wall is so basic, bare, and spansive and it's always bothered me. I had a column added for the molding to run into, which stretches up the entire side of the kitchen cut out. Darryl Ponquinette of Ponquinette Fine Woodworks (our carpenter who also crafted my office built-ins and did the molding in our master bedroom) was able to match our other columns perfectly, just by a quick Facetime meeting and a photo.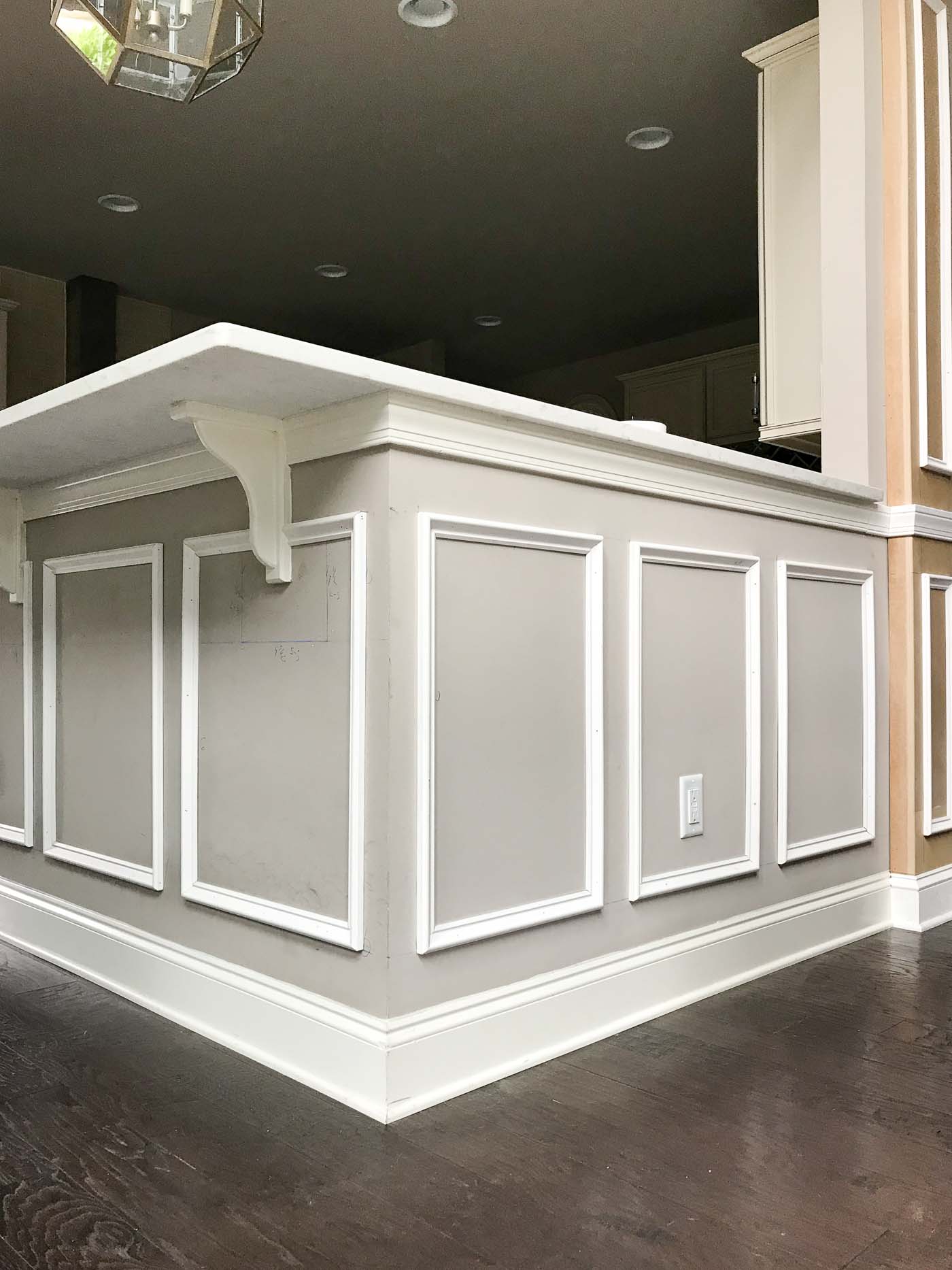 Here's a peek of the after, painted in Creamy by Sherwin Williams (our house's trim color)…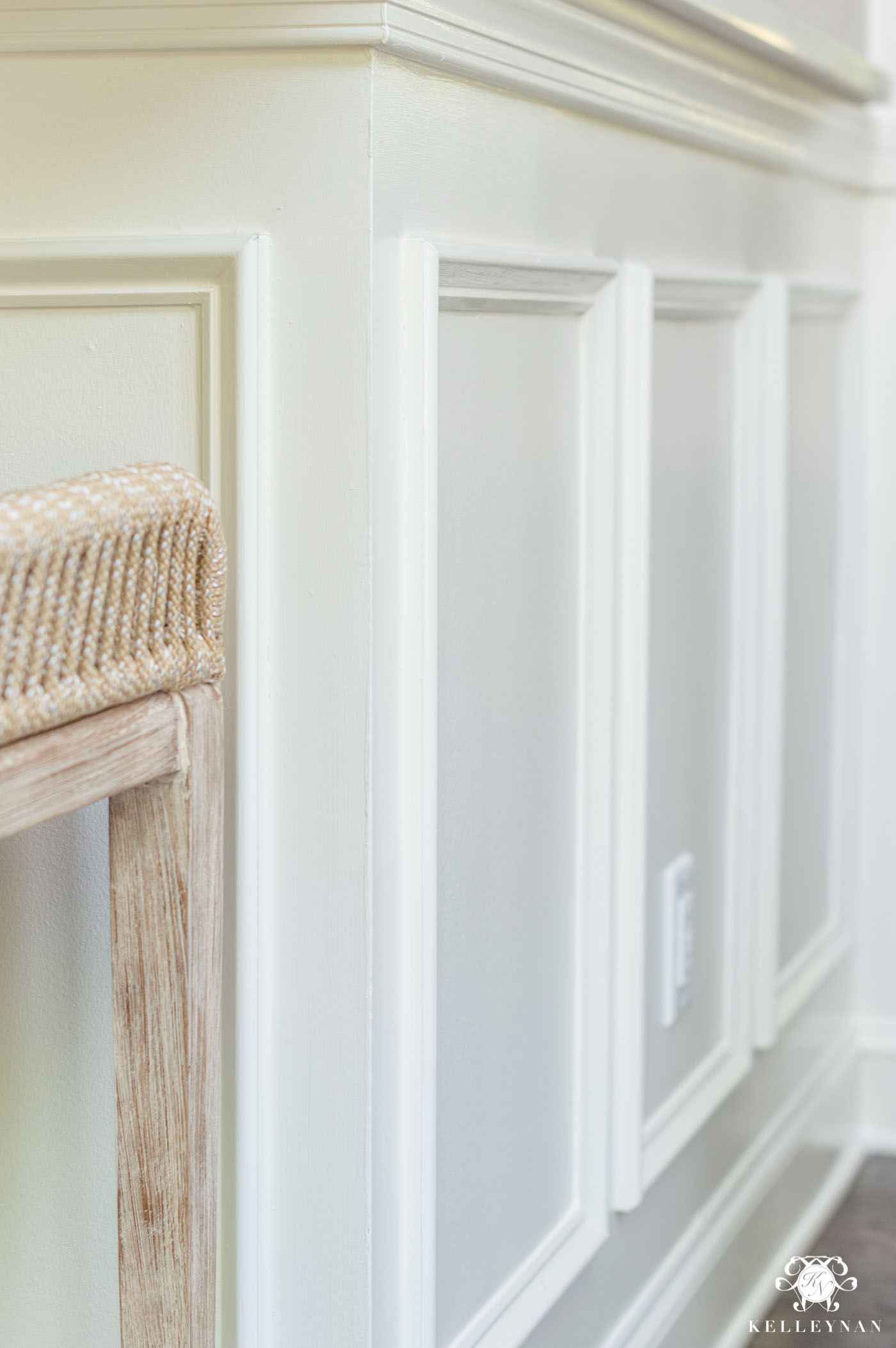 I'm obsessed. It frames the kitchen beautifully and makes it all look custom and built in. I'll be sharing wide-angle views in the reveal but was shocked at how many of you were messaging me about having the same challenge. So, I wanted to give a little preview as to what I decided to do.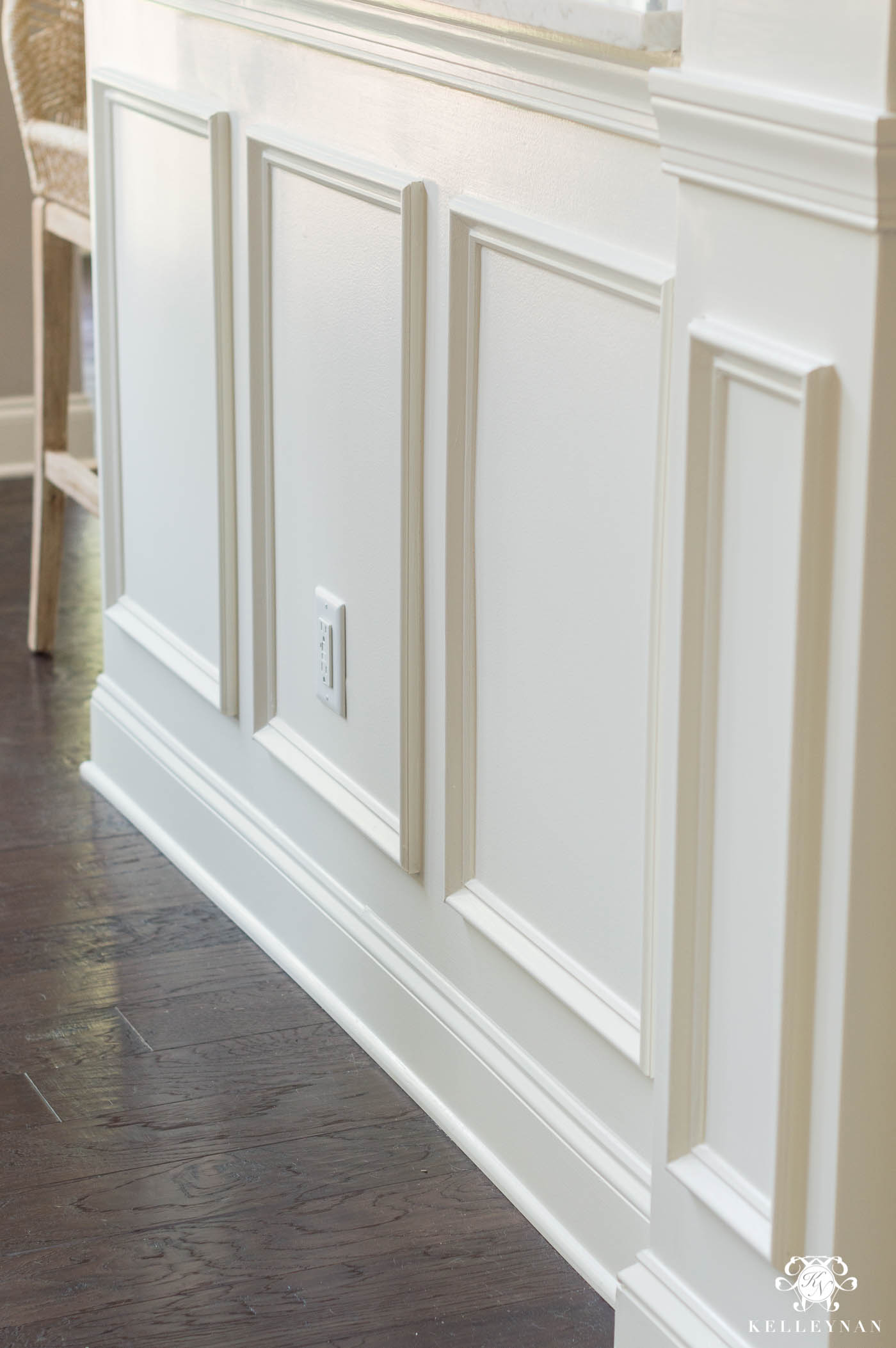 The Kitchen Things
And yep, our bar stools (that I wrote about HERE) arrived a few days ago! The seat is slightly taller than our previous (which Dave loves) and I've continued my poor habit of working all day from the bar without any problem, so I guess they're pretty comfortable, too 😉 A lot of sites have sold out of them but I found them, still available HERE.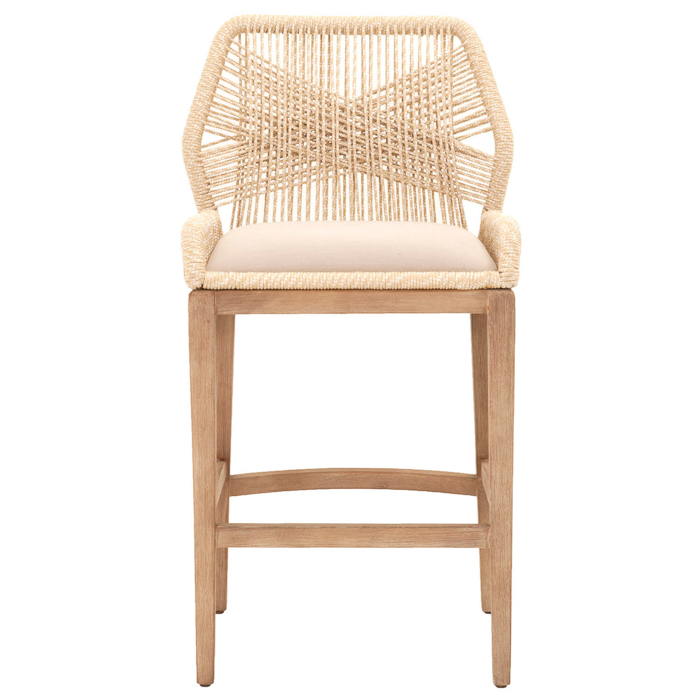 We had some ugly faux wood blinds on the door leading to the deck so I decided to replace those with the Select Blinds shades I used in my bedroom  – same color (Bali White), same style- cordless with no liner. These things are addicting and I know it's going to improve the current situation 110%. Here is a look back at what they look like in our bedroom, on the door leading to our screened in porch.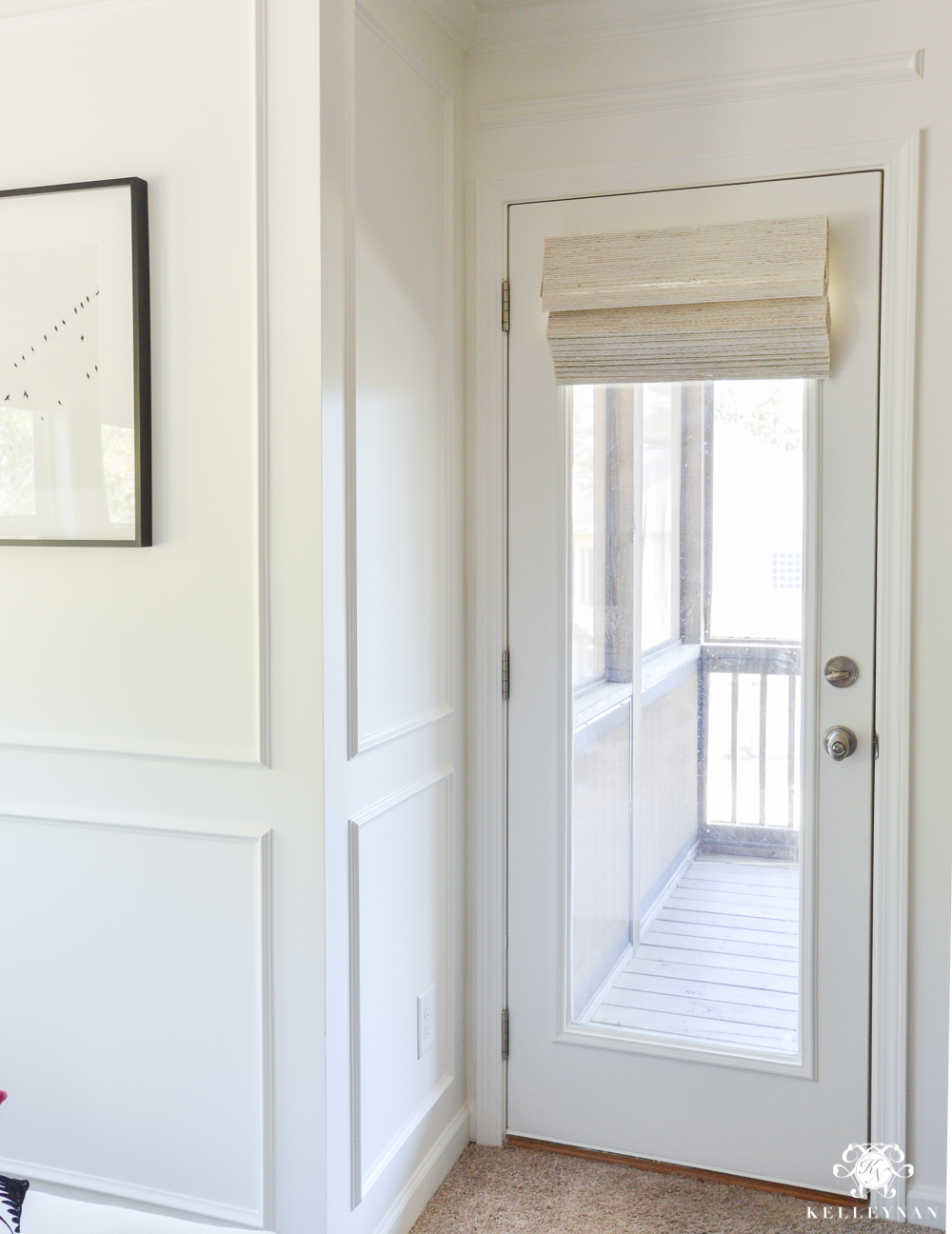 But. There is one thing I've been nervous to share. One of those things that makes me cringe a little bit (I don't know why- I'm sure it's happened to most of us). I never want to seem frivolous or out of touch but sometimes, situations change and we just have to adapt. Remember how I installed new lantern pendants above the bar earlier this year? In my defense, I had no clue then that our countertops would crack, leading to a kitchen makeover. I still love the lights but the champagne finish was intended to lighten the dark granite. Once we switched our countertops and painted, they just seemed heavy – like they were weighing down the space. Setting up the barstools confirmed it. So, I had a decision to make – do I live with them because I got them not that long ago? Or, do I suck it up, and replace them to be happier with my overall end result? What do you think I did? I've come full circle. Before we even replaced our pendants the first time, I wanted the Visual Comfort Goodman pendants. The price stung and the lighting I went with was a fraction of the cost of the metal Goodman pendants I was eyeing. After going cross-eyed, looking for lighting options over the past week, I re-visited the Goodman pendants. While I think the metal (there are a few finish options) would have been too heavy for the look I was going for, they also had a paper shade version (still expensive but considerably less than the metal shades). I looked at every retailer who carried them (the pricing was the same) before I lucked out and found one in the size, shade material, and chain finish I was looking for on eBay, listed as an "Open Box" special for almost half price. I ordered that one and then placed my second order HERE. I went for the paper shade, medium-sized, in the antique nickel finish. They're on their way and I'm stoked.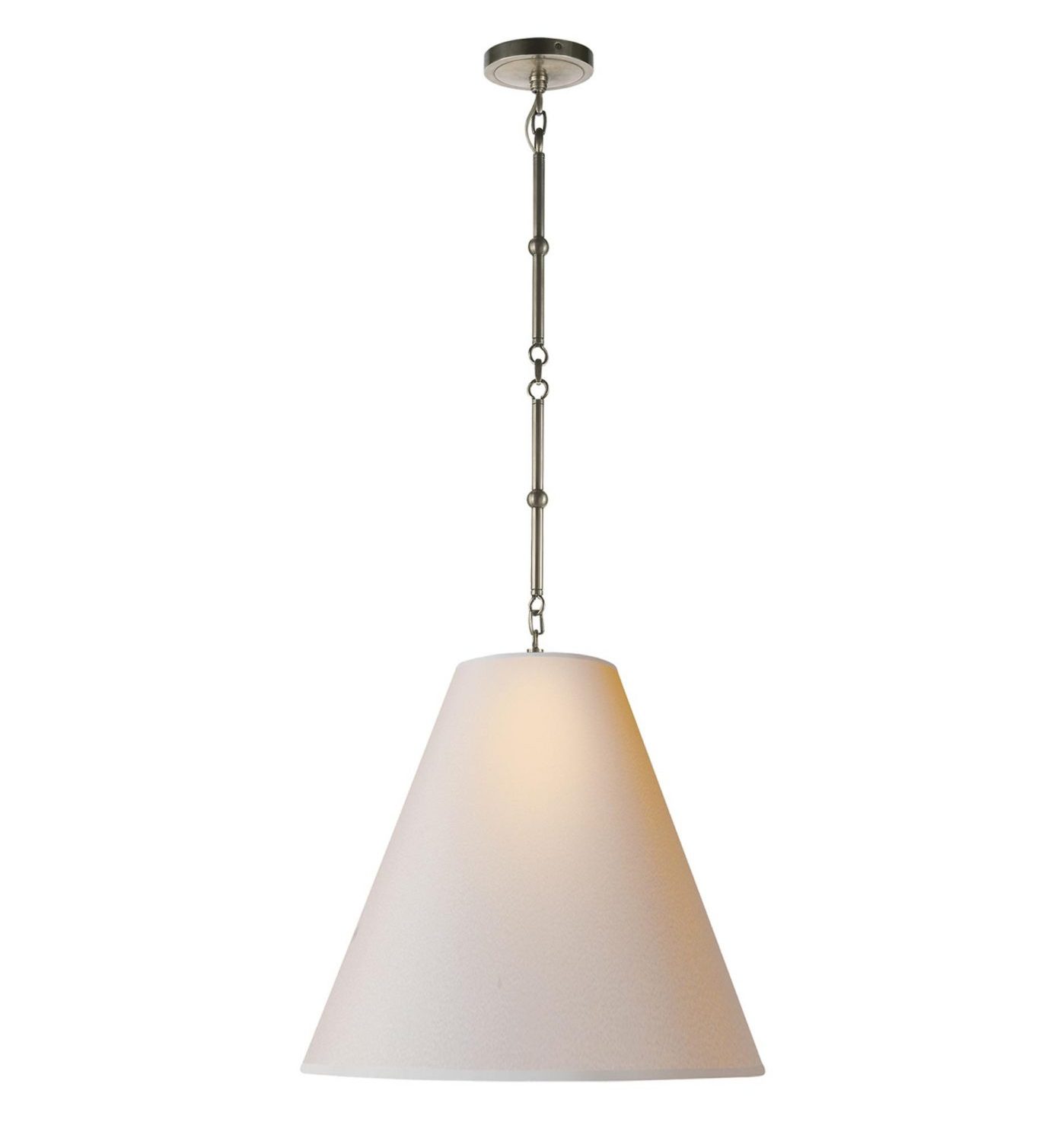 Finding lanterns that tied in the kitchen and breakfast nook and coordinated with my beaded chandelier may have been a tougher task than picking barstools but I think I'm gonna love 'em.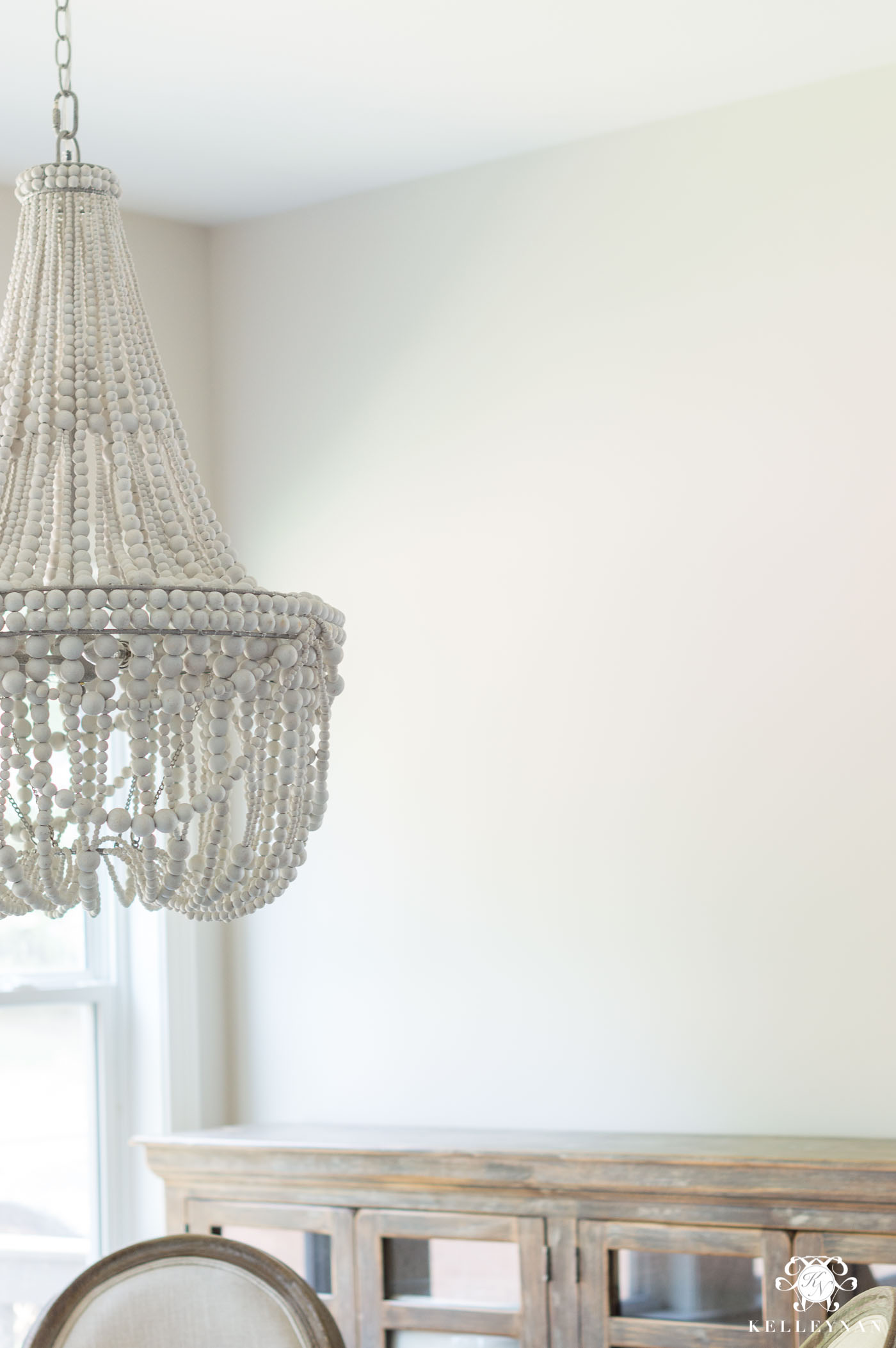 I'm adding a row to my travel gallery wall, am excited for some new kitchen accessorizing, and am also 90% sure this mirror is going to be ordered within the next week. I need something a little more streamlined and modern in my nook and this infinity mirror (at 48″) would make a huge statement and brighten everything up even more. It comes in three colors but I'm going for the black frame.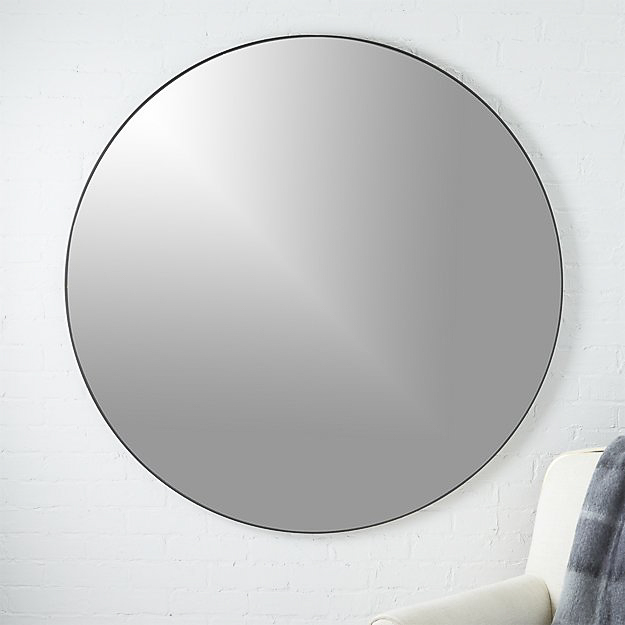 Other Updates
So, bear with me, guys! We're getting there but playing the waiting game for a little bit. As far as other projects? Our new sofas should be here next week! (See which I chose HERE). And remember my four potential powder room designs (HERE)? Well, that space has been put on hold indefinitely after unexpectedly jumping into living room and kitchen projects, but I did have my contractor go ahead and add molding to the walls while he was here for the kitchen. No kidding, this room will remain unpainted, just like this for a while to come. But, he travels from south Atlanta so when he does come, he likes to put in a full day's worth of projects (good for me and him) so we went ahead and got started in here. Here's a little peek at where we're starting.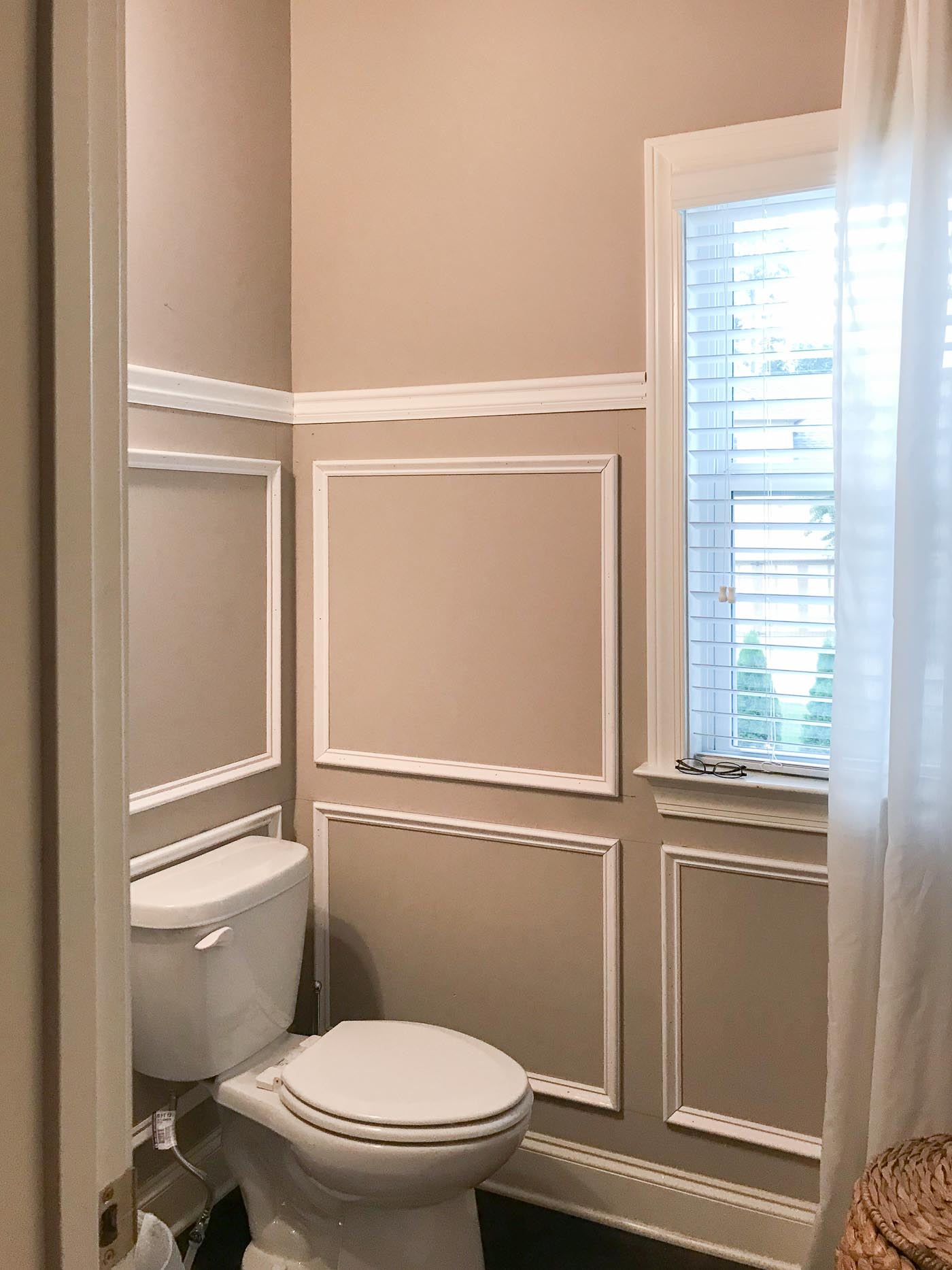 And if you're annoyed that it will be a little time before my kitchen is ready to share (haha), I have a fix for you! My friend Kris at Driven by Decor has been working on her kitchen for literally, the past year. She has an older home in Connecticut and has been working on a full kitchen renovation (we're talkin' jack-hammering floors and taking out windows!) in which she's faced so many challenges along the way – and as of this past week, she finally finished and shared her full reveal! I was lucky enough to go along with her and watch her carefully weigh and consider each and every decision and the result is insane. She was confined to 7 1/2′ ceilings and still made her new space look like a million bucks. You guys, this is what her kitchen looked like when she purchased her home…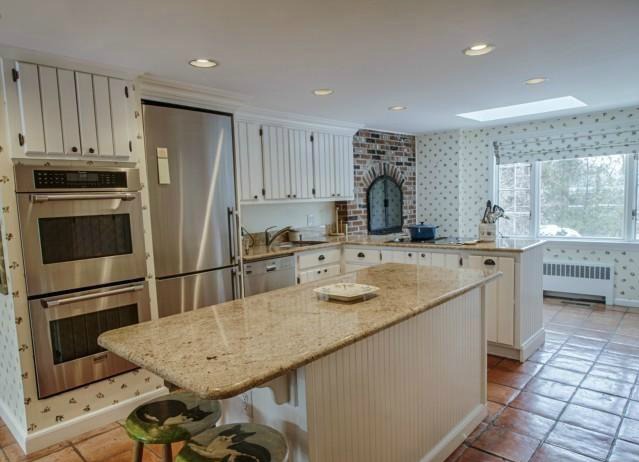 You have GOT to see what the after looks like – it's seriously before/after Hall of Fame worthy. Check out her full reveal HERE.
To catch my upcoming kitchen updates, reveal, and all the projects along the way, subscribe to receive my emails below.