When I had my regular Saturday morning phone chat/coffee date with Mama Nan, the first thing she said was "you've been kind of off the map!" Yes, yes I have been. I've spent the last week crippled by kitchen bar stool indecision (sounds dramatic, right?), scouring the Interwebs for the right fit for our kitchen update. I have been eating, living, and sleeping kitchen stools and I can't tell you how many times I have gone back to review the same options, trying to consider each in a different way. Each time I would go to write an email, I would find myself off-task pulling up stools. I scrolled them while eating dinner. I even fell asleep studying them on my phone. If you missed last week's Snack Around the Plate, I shared that I had worn a hole in my current stools (one, actually), after sliding off and on the same corner repeatedly, day after day – this discovery came one month after my current stools were discontinued. I wasn't too heartbroken since it gave me an excuse another area to add a little more modern update, but working around what we have has been a tough chore. After 15 minutes into my call with my mom yesterday, I pulled the trigger and finally ordered three. If you missed my kitchen plan post, you can see why and what I'm taking on HERE. 
*Posts on KelleyNan.com may contain affiliate links. Click HERE for full disclosure.*
Even though we are updating the kitchen, I'm not starting with a blank slate. We are still working around those cream, traditional cabinets and backsplash and the breakfast nook is located just behind the kitchen bar.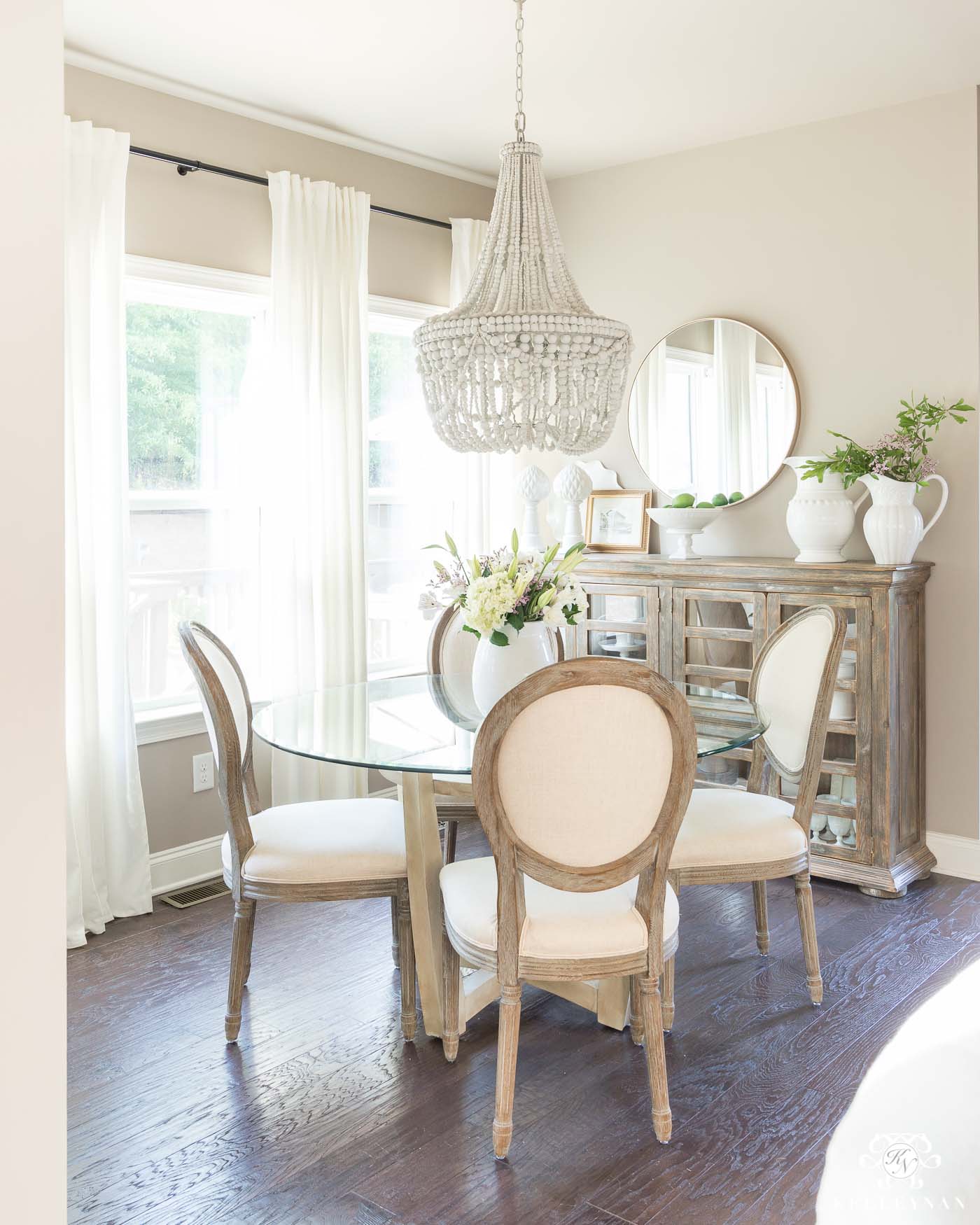 Sources: Wood Bead Chandelier | Mirror | Sideboard (similar) | Table | Chairs | Curtains | Curtain Rod
---
Another major decision was deciding whether or not to level the elevated bar to be flush with the counter. I've had a lot of questions on that specifically, and while I typically love the more open look and feel, with our home's specific layout, I ultimately decided to keep the elevated bar. The bar falls almost in the center of the room, between the great room and kitchen, and the sink would literally be dead center. I like having that hidden and I like having more of a dedicated space for us to do evening work. That being said, I did ask my wonderful countertop fabricators, Atlanta Stone Creations, (who originally asked my preference) if it was a big deal to level it; they said most of the time, it isn't at all. Speaking of countertops, mine were installed this past week! You. Guys. I can't stop starting at (and petting) them. If you follow me on Instagram stories, you may have seen it all go down on Tuesday (you can still catch it in my highlights if you missed it), but I'll be sharing all those details in the full reveal. It will be a little while before I'm ready (I have a painter and carpenter coming for projects this week), but I'll be sharing a little sneak peek in the next week to my newsletter subscribers. If you aren't already, you can sign up for my emails at the bottom of this post.
I discovered a few things in my kitchen stool search. Number one- we lucked out in a major way, scoring our previous bar stools at such an affordable price. Seriously. Number two- with counter-height kitchen surfaces being more "in", it's more difficult to find bar-height stools. Most all stools I found come in counter-height but fewer are also available in the taller, bar version. Even for my stools that were discontinued- they brought in the counter-height version and phased out the bar version.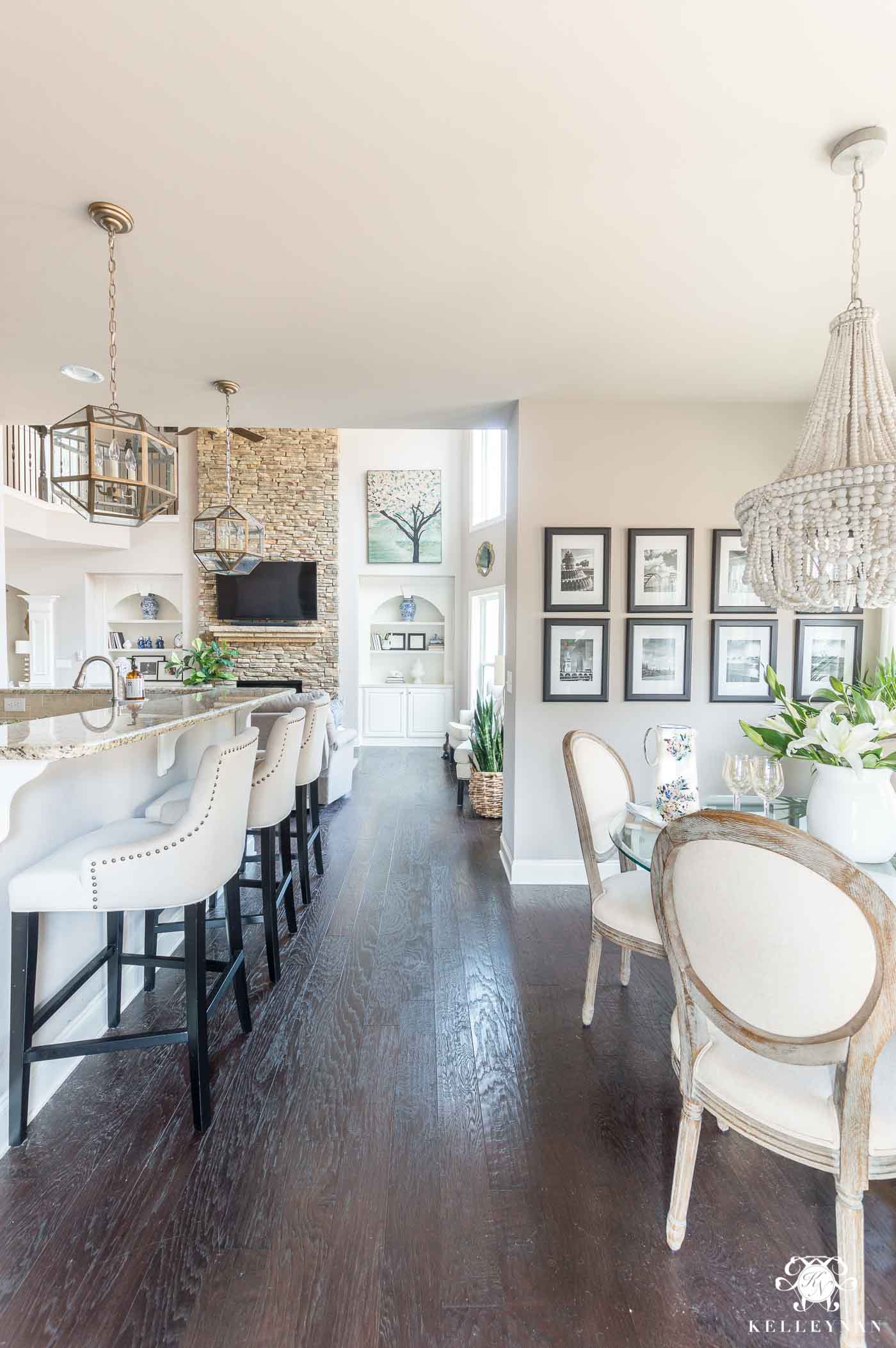 Sources: Wood Bead Chandelier | Table | Chairs | Gallery Frames
---
To be honest, I was all over the map in my search. I wanted them to be sturdy and had accepted that as long as they were comfortable for eating and shorter periods of time, they didn't have to feel like I was lounging on a sofa like my current stools. I was also in a little bit of a state of sticker shock so I tried to confine myself to under a certain amount (including shipping). There are a lot of gorgeous stools out there, but for my kitchen specifically, I ruled out stools with brass/chrome legs. And even though I was attracted to a lot of the rattan/natural stools, I thought a lot of the styles that had that honey-esque finish would stick out like a sore thumb against my kitchen and breakfast nook. And even though I was looking for something a little more modern, it would look ridiculous for me to throw some super contemporary stools in. A BIG thank you to my friends Kris of Driven by Decor and Sarah of Life on Virginia Street, who listened, and face-timed with me countless times as I weighed my options. Below are 16 kitchen stools that were contenders at some point during the past week.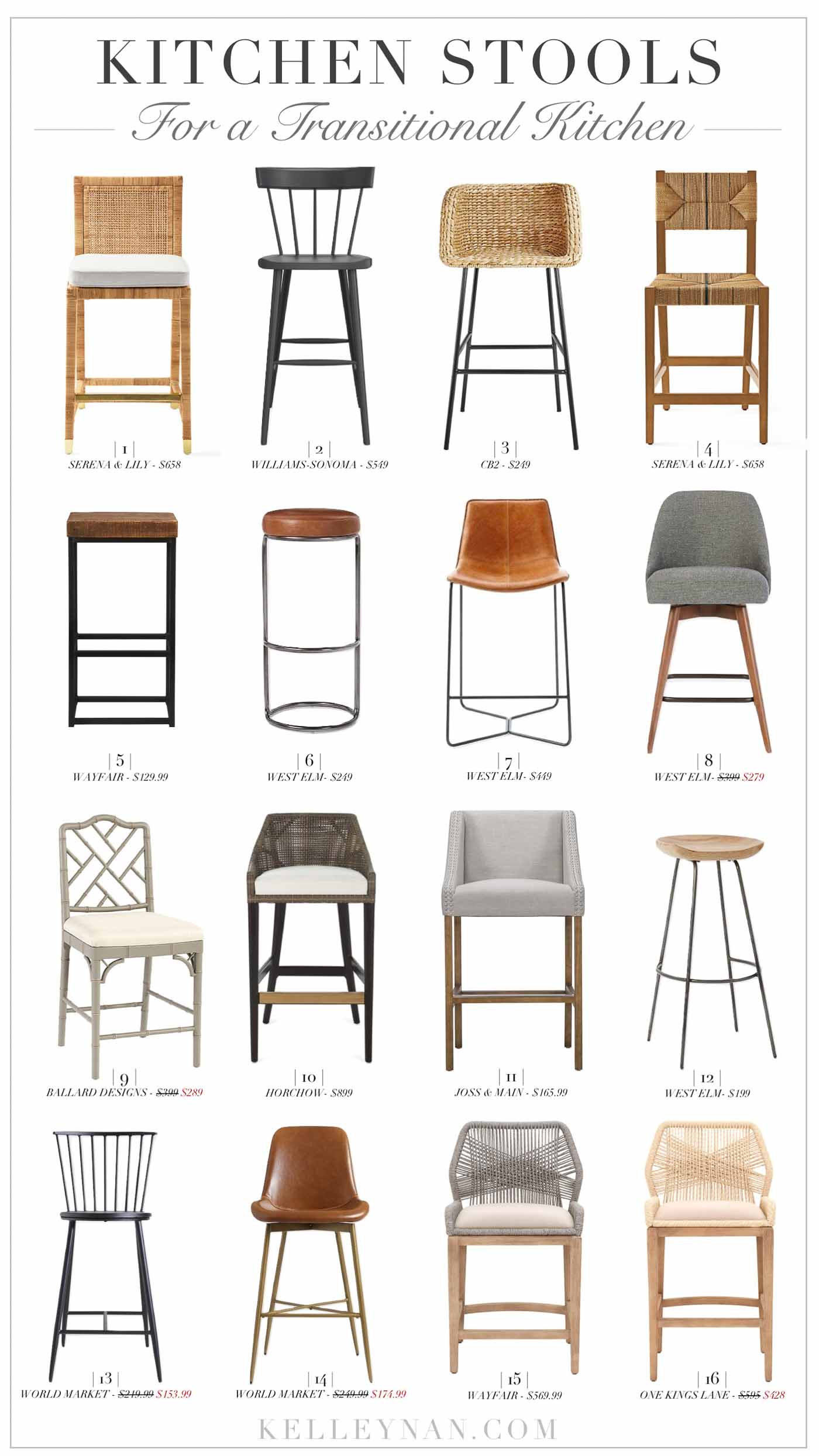 1 // 2 // 3 (similar) // 4 // 5 // 6 // 7 // 8 // 9 // 10 (similar) // 11 (similar) // 12 // 13 // 14 // 15 // 16
Admittedly, the counter stools were immediately ruled out as soon as I realized they didn't have a bar-height counterpart. Like #1 – gorgeous (but pricey), they wouldn't have worked at my bar but I also don't know if I could have pulled off that honey color in my space. Kris said she just wanted someone to have them; I agree haha. #2 was a frontrunner (and comes in multiple colors) but since it was made to order in all colors but black, it wouldn't arrive for 6-8 weeks. I was already struggling with the price tag so even though I pulled it up in consideration every day this past week, I ultimately ruled it out. I am really digging the thin spindle look though… I thought I'd struck gold when I saw #13 but then realized they only came in counter height. At first, I wasn't considering backless stools – until I realized I don't really recline in my current stools. Those were brought into the mix later in the week and I do like the clean look. Tan and cognac leather was also a style I didn't consider in the beginning but the more I searched, the more convinced I was that it would be the perfect way to warm things up. I am loving that look right now, especially mixed in with a little black contrast and green plants. I just don't know if I could pull them off with my current kitchen (and ultimately, Kris and Sarah convinced me to keep looking). If I had white cabinets, I would have ordered #7 by Thursday. One stool I continued re-visiting though was #16. When I saw that they were on sale this weekend for 20% off, plus, they ship for free (most don't), they went to the top of my list. When my mom found them (I hadn't even mentioned them) and suggested them too, I placed the order. I spent more that what I thought when I started my search but less than what I had accepted by mid-week. Dave is just thrilled there's a padded seat 😉
Stay tuned to see the stools and ALL the kitchen updates coming soon. Again, email subscribers will be seeing a progress peek in the next week so if you want to see it, be sure to sign up below.