When we built our house, we went with a soft, traditional design. We knew we would do more upgrades in the kitchen than anywhere else – and, we did. But, we still cut costs in practical ways. It's easy to get carried away with all those extras and materials but you gotta draw the line somewhere 😉 If I did it all over again, would I make different decisions? Yes. That can be said for tons of things throughout our house (#firsttimebuilders) – but, that's a list best saved for a different day 😉 Today, I'm going to share how and why our kitchen went from the bottom of "the list" to the top (yes, that powder room will have to wait), and why my approach is probably a little different than you may expect.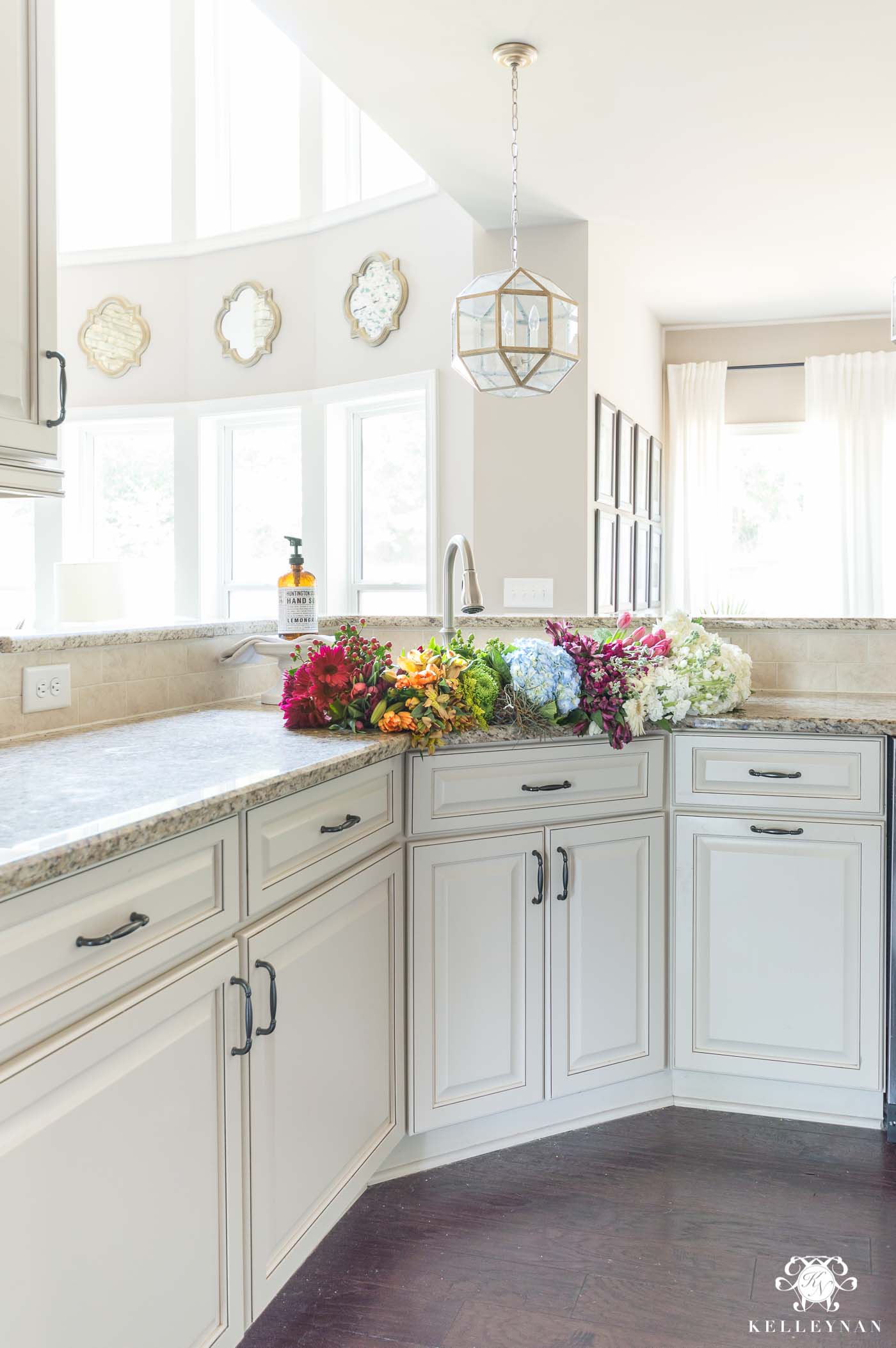 THE "WHY"
I went into the kitchen one day and glaring at me, from across the room, were our granite countertops, totally cracked by the stove. I'm not talkin' hairline… I'm talkin' busted. This kind of damage ran along each side of the stovetop, from the edge to the backsplash.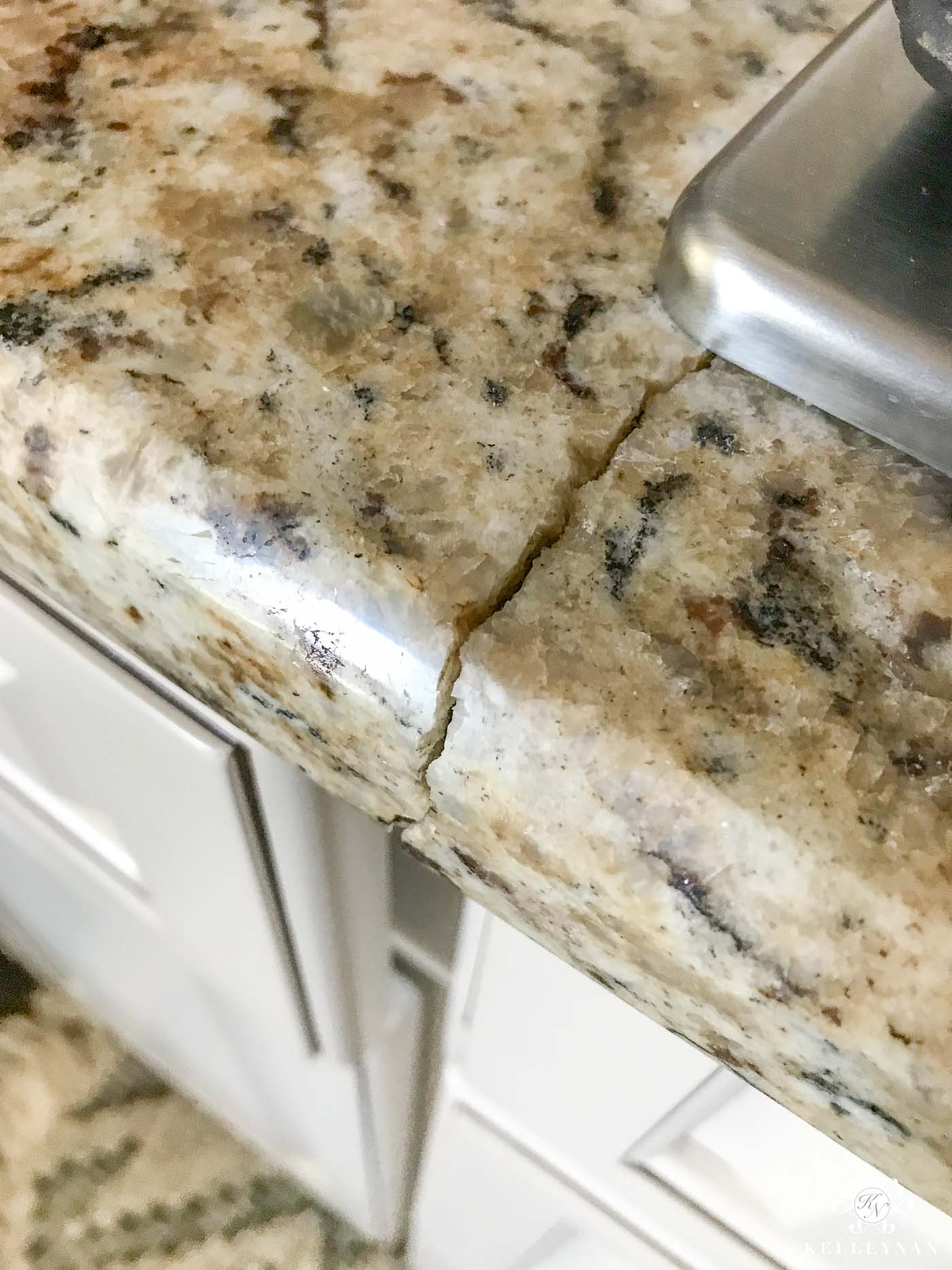 A couple days later, the single crack that could have been considered "hairline" in the center of the stovetop looked like this, too.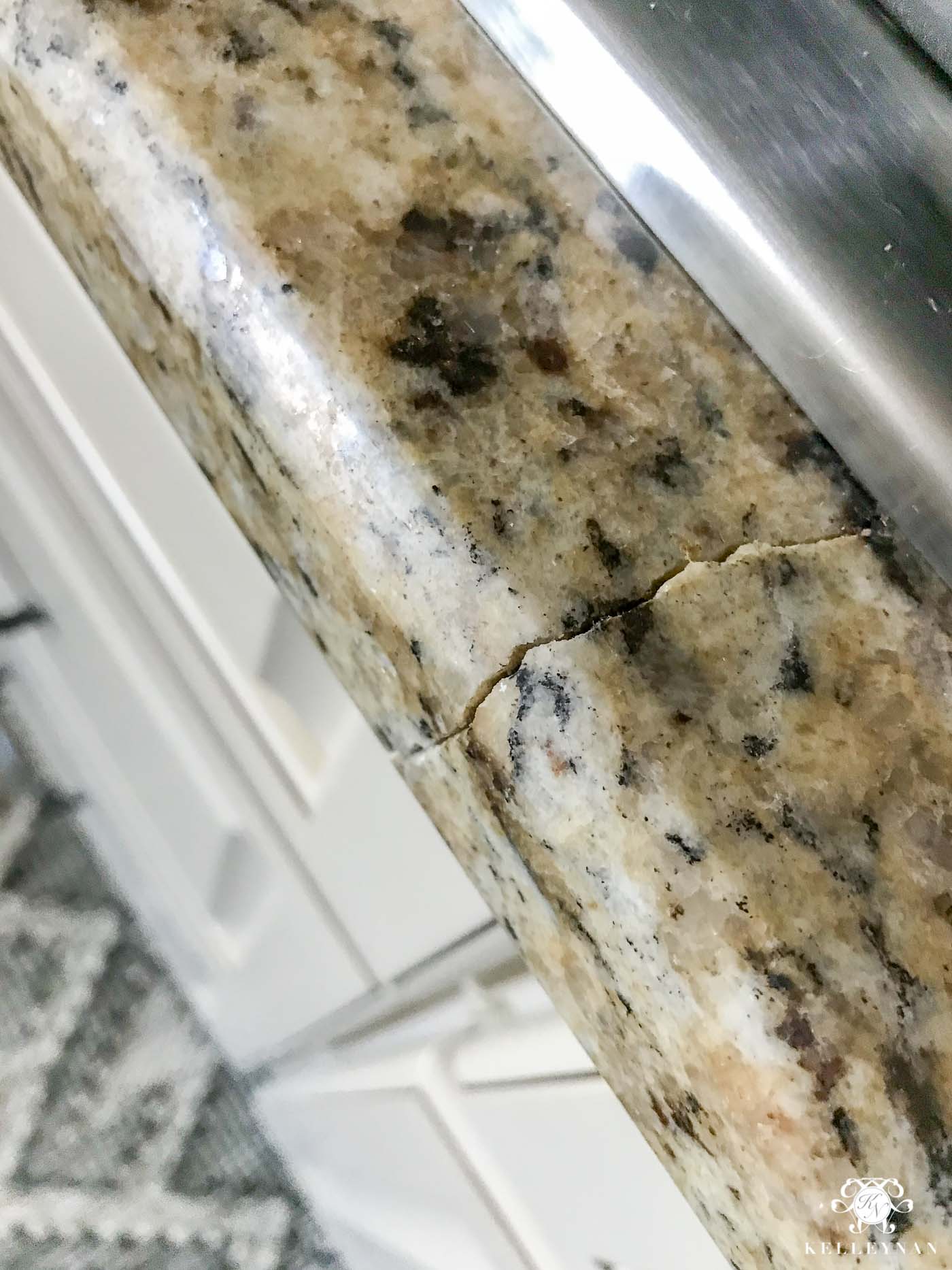 Our countertops were basically crumbling. Crazy, right?! More on that in a few. The tricky thing with granite is that because it's a natural stone, no two slabs are the same. You can't just replace an area of the kitchen without replacing the other areas. We considered having it patched and I'll be honest- I can't even tell you the possibility/improvement that could/would have come from that because we didn't consider it for long. I wasn't confident in its soundness and didn't think a bandaid would help. Ok, and maybe part of that is because our next consideration secretly had me a little excited.
Something we didn't know before moving in is that with zero kitchen windows (only a couple in the adjoining breakfast nook) and because even those face north and back up to a wooded area, we don't get much sunlight. Actually, our kitchen is pretty dark most of the time. I'm able to brighten my photos but the darker greige paint we chose (Sherwin Williams- Perfect Greige) coupled with the dark speckled granite certainly wasn't helping. We like a lot of the tradition in our kitchen but even some of that seemed to weigh down our kitchen more. Don't get me wrong, I think it's a pretty kitchen, but as much as we are in it, it felt far too… brown and blah.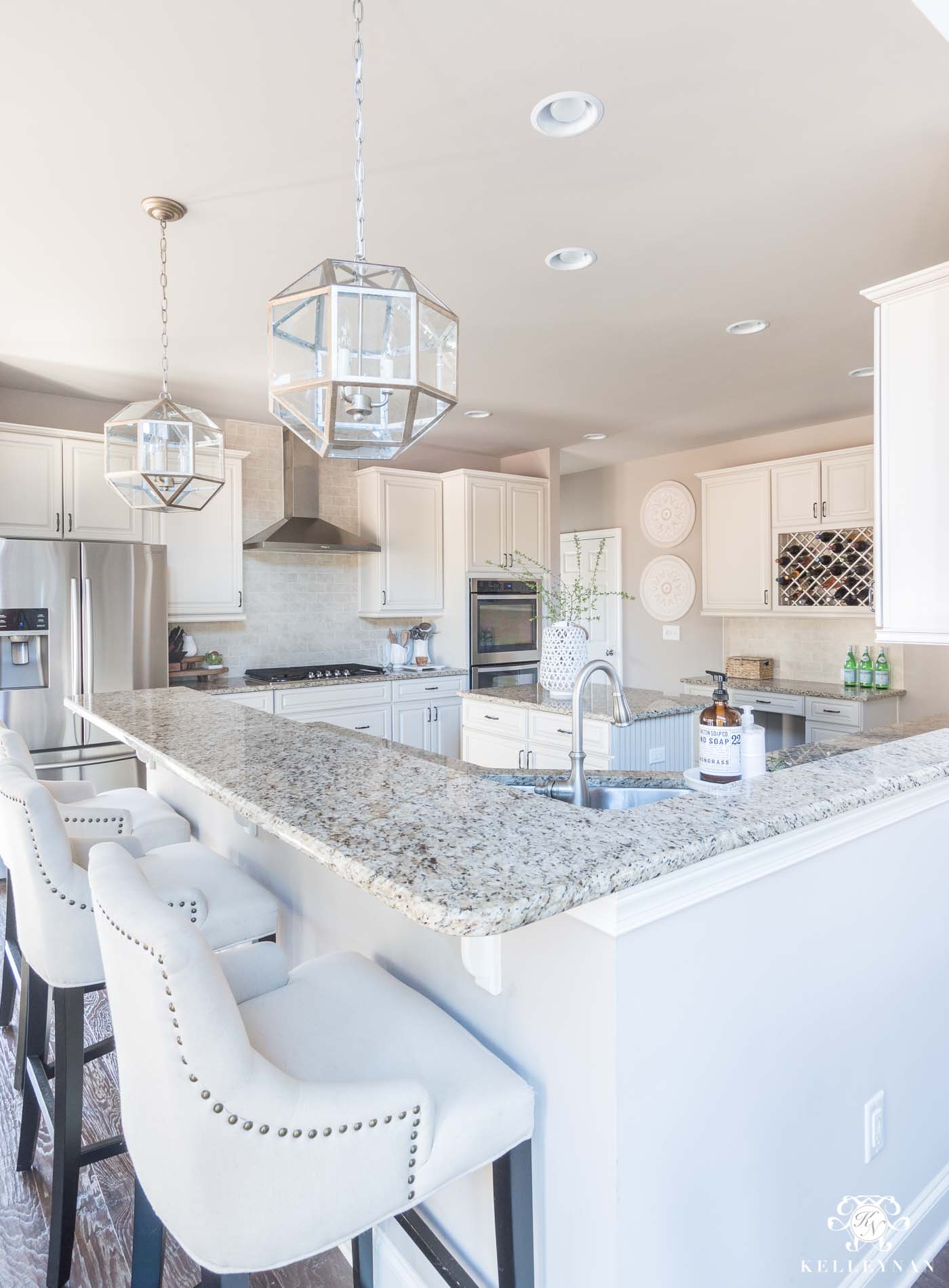 One of our regrets was that we didn't go with quartz from the beginning… it wasn't until I had my reason – I'll just pretend it was a wink from God – that we decided to consider new countertops. But, this is where it got tricky. As I mentioned, it's way too easy to get carried away making changes in the kitchen. When the thought of countertops first entered my mind, it went something like this- "I want something that will brighten up the kitchen- something white-ish. But, I'm afraid that will make the already cream cabinets look too yellow… so, we'll have to paint those. And if we paint those, we have to change the backsplash. But then, there will be too much contrast in the walls- so, we'll paint the walls white. Which also means the breakfast nook. But then, we can't have the kitchen and breakfast nook white with the great room looking greige- we'll have to paint that too. And if we are already doing paint on the cabinets, I wonder how much it would be to go ahead and do a custom hood… And then…" Got the idea? And then I came back down to earth.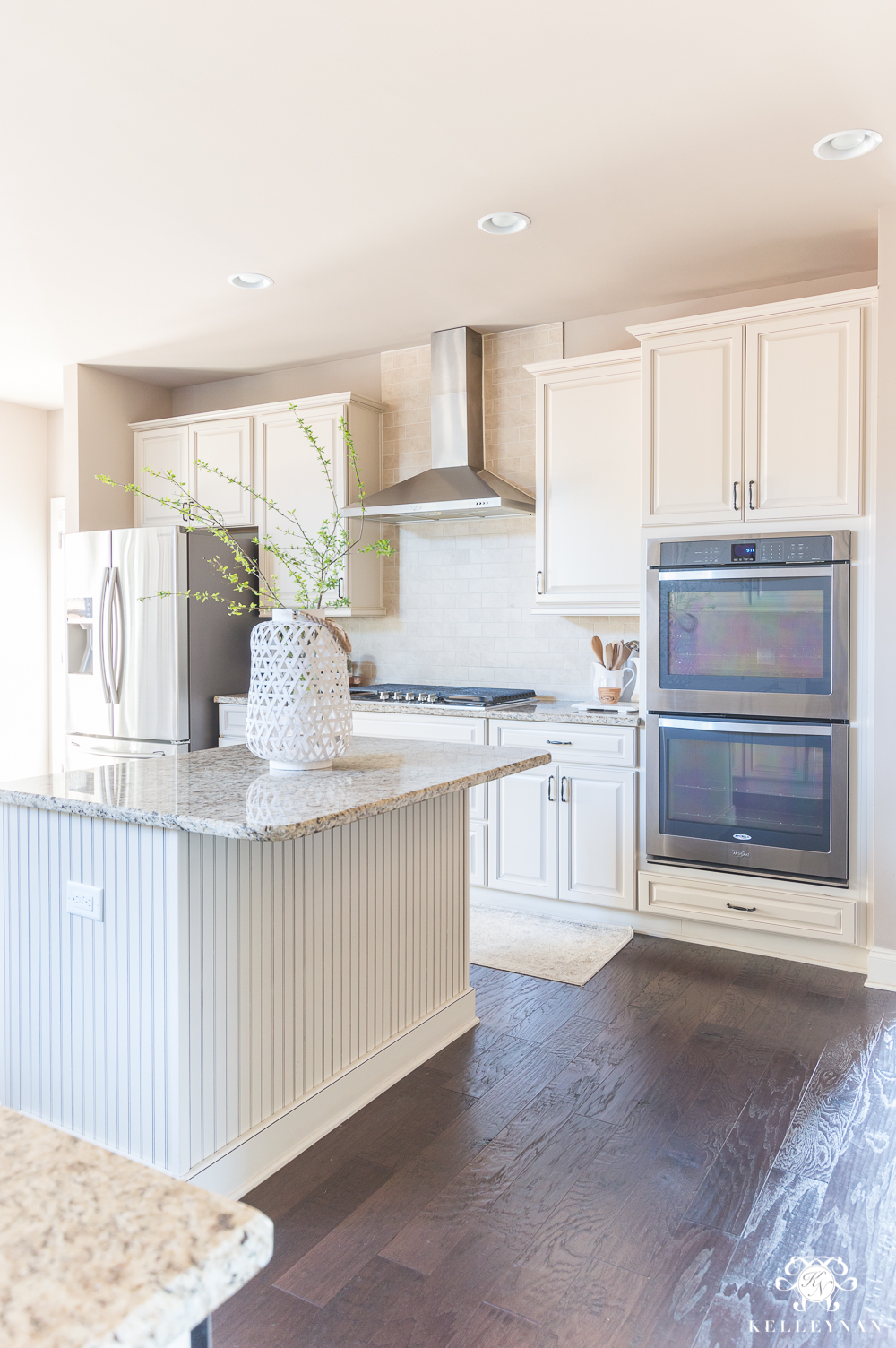 THE PLAN
The idea of an entire kitchen renovation for a perfectly lovely kitchen seemed frivolous and ridiculous – and quite frankly something so far beyond our budget that it almost makes me embarrassed that I let my mind even "go there" for a second. I reined myself in and brought myself back to the beginning.
Q: What was my goal?
A: To brighten the kitchen while infusing a few more modern touches that more accurately captured our transitional style.
Q: If I'm being realistic, what elements need to stay put? (What are the potential obstacles I would need to circumvent?)
A: Cream, raised panel cabinets; cream backsplash; no structural changes
Q: How can I achieve my goal while keeping some of the uber traditional elements in tact?
A: Lighten surfaces; use more streamlined (read- less round and curvy) edges where possible; create some sort of juxtaposition for those cabinets.
And here's how I plan to do it-
Trade in those dark (and thank the Lord- broken) countertops for a  durable, light quartz to brighten up the kitchen. Ditch the beveled edge for a straight, eased edge. Even those surface angles will count in trying to modernize our traditional space.
If I'm trying to bring in more straight edges for a more sleek surface space, one of the most curved areas is around the sink. Plus, the double basin model is another one of those regrets that was "fine", but if the sink was ever going to be changed, now – when you're switching countertops – would be the only time to do it. A deep, stainless, under-mount basin with straight edges would clean up that corner immensely. Also, I like the function of our faucet but the shape is super traditional. Something a little more sleek would help, especially since that area opens to the great room.
Change my cabinet pulls to something more substantial that will compliment but update the overall look of my cabinets.
Way more do-able than going the kitchen renovation route, right? And, the solutions will address each area in a manageable way.
THE CHALLENGE: FINDING WHITE QUARTZ TO COMPLIMENT CREAM CABINETS
Possibly even more challenging than finding a tasteful way to add modern touches to a traditional kitchen though? Finding a white/light quartz to go with cream cabinets. I looked at so many options, both online and in person. I brought home samples, only to be disappointed each time. You guys- do you know how hard it is to find something that will coordinate with your brown tones while you're trying to move away from those brown tones? There are some gorgeous surfaces out there. With white cabinets, the problem would likely be having too many options. But finding a light quartz that looks good with cream and glazed cabinets? Ugh. Most of what I found was too stark, making my cabinets look yellow (something I was trying to downplay), or was too cool, or was too busy, or too dark… but then, I found it. I stumbled upon the unicorn of quartzes – Soprano quartz from LG Hausys Viatera – a soft, creamy marble-esque surface that had the soft gray I was looking for, mixed with light hints of natural golden tan. Before getting my hopes up, I rushed out, grabbed four mini samples, taped them together, and started positioning them all over my kitchen. Forgive the quick iphone shots (you know that's my go-to for in-progress projects 😉 ).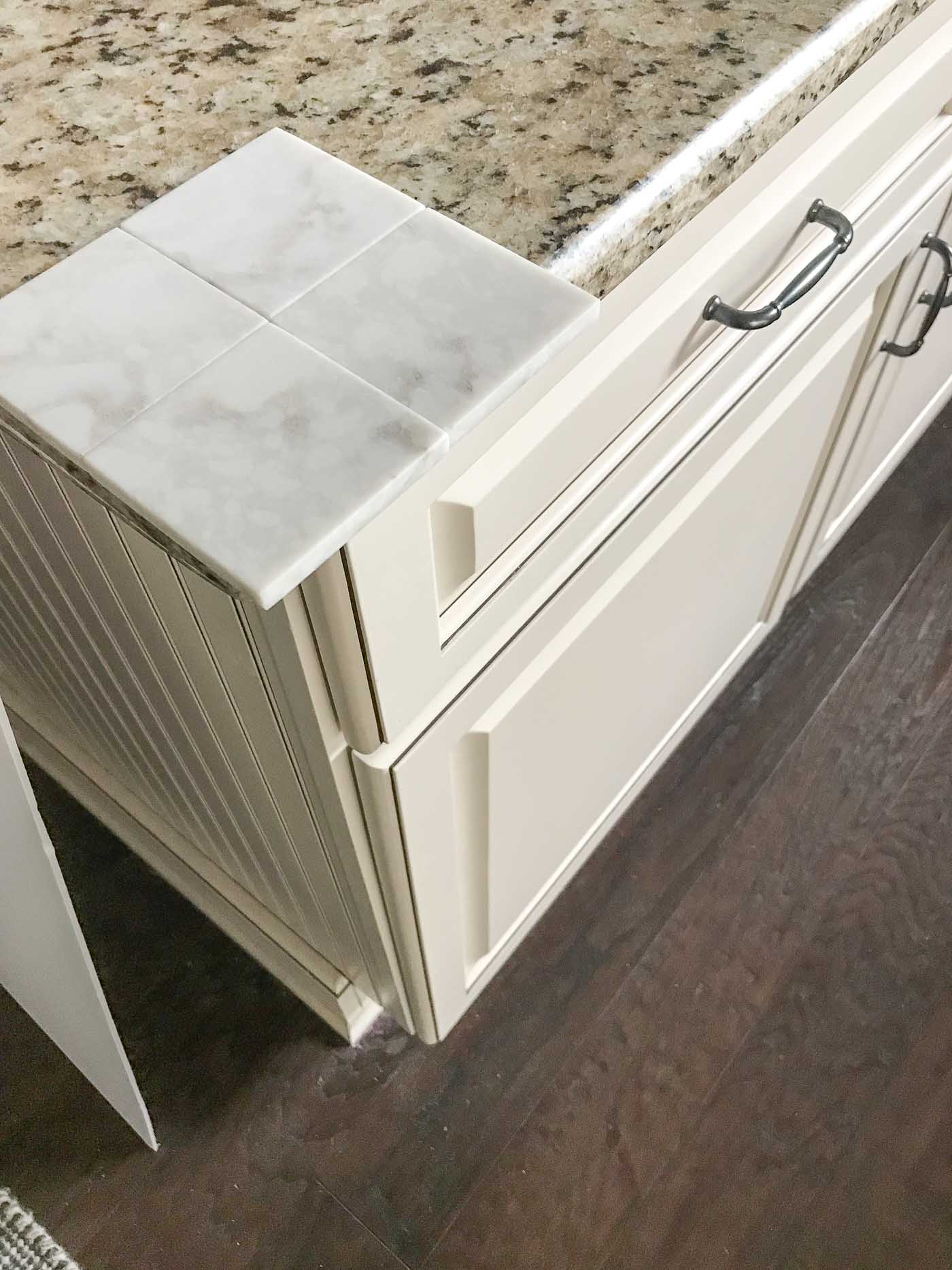 I loved how it looked against my cabinets but couldn't believe how well it worked with my creamy backsplash. Here it is (on the far right) and while there is a little more leniency since it's laid flat, not up against the backsplash, I was stoked that it went so well, even in a more unforgiving position.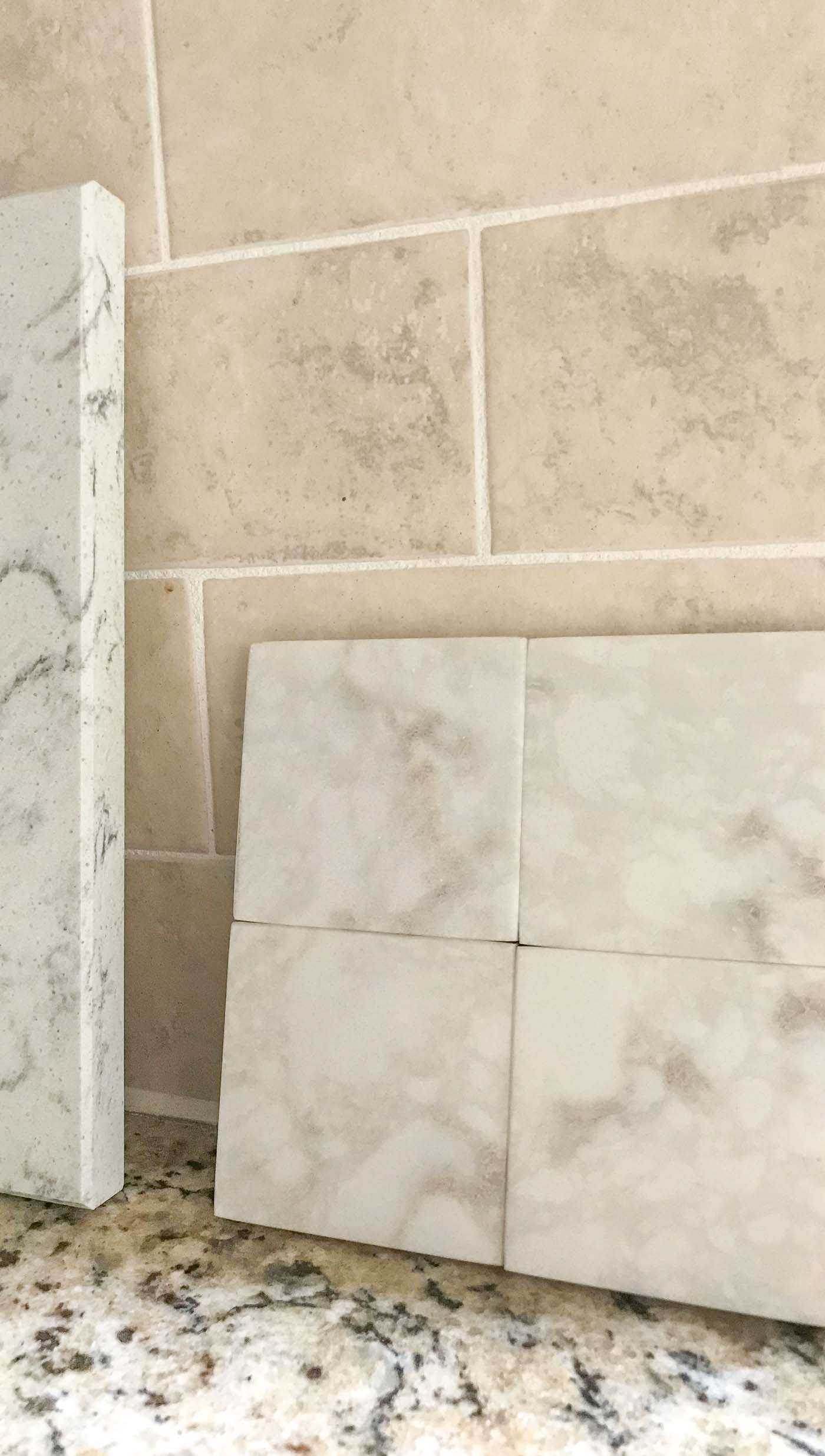 And as happy as I am about how it looks with my cabinets in their current color, Soprano looks gorgeous against white cabinets, too. If we ever do make other changes, it will go with just about any direction we choose. Something else to note- full slabs look different than samples and quartz in a warehouse looks totally different than in your kitchen. I would look at some slabs that looked like a possibility in bright light, bring them home and be shocked at how different they looked in my darker kitchen, surrounded by different finishes.
I spent about a month, stagnant and paralyzed by indecision before researching local professionals to help. After reading reviews, and receiving fabrication referrals, I reached out to Atlanta Stone Creations – a surface specialist in north Metro Atlanta. Holy cow- this team has become "my people". I can't tell  you how relieved I was after first meeting with Val – I didn't have to pretend like I knew what I was talking about (because I didn't)… she just knew the best way to explain everything. When I explained my vision, she immediately was able to show me what kinds of colors to rule out- what colors would read too "this" or too "that", based off my cabinets, paint, and other factors I hadn't even considered. Leo came to template a few days later and I continued to gather as much information as I could. I'll be sharing more details on the process, quartz, and specifics in a following post, so stay tuned 😉 All that to say, when you find yourself in a state of confusion, especially in an important (semi-permanent) decision, surrounding yourself with the best makes a world of difference. I trusted them implicitly from the beginning. I stopped by this past week and got to see my Soprano slabs, laid out and approved the plan. They had already carefully thought out each portion and identified the best places to make the seam, lining up commonalities between slabs. It's things like this that I appreciate even more- one less thing I have to think about or go back and check because I know they've already identified the best option.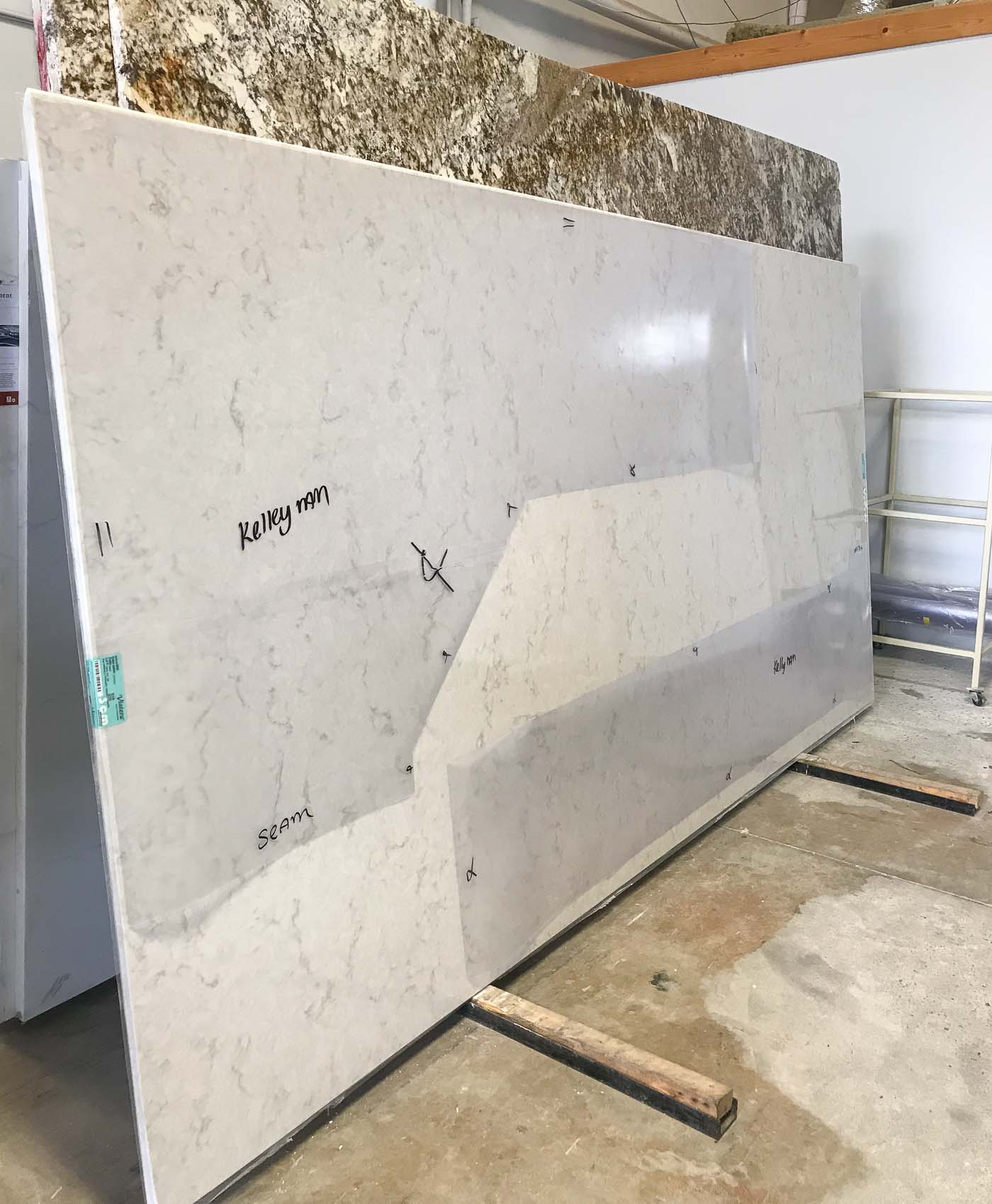 I'll be sharing more progress on Instagram stories in the coming week(s) so be sure to follow along over there! I'll also be sharing the "how the heck did that happen?!" in regards to the cracked granite soon- you better believe that was one of the first questions I was dying to ask ASC and they were able to explain 😉
BRINGING IN MODERN TOUCHES TO MAKE A TRADITIONAL KITCHEN A LITTLE MORE TRANSITIONAL
As I mentioned, I love a lot of tradition in the kitchen and I don't want to lose some of the classic look we already have. But, bringing it a little more up-to-date in some areas will help blend our most traditional room with the rest of house. Here's the vibe I'm going for…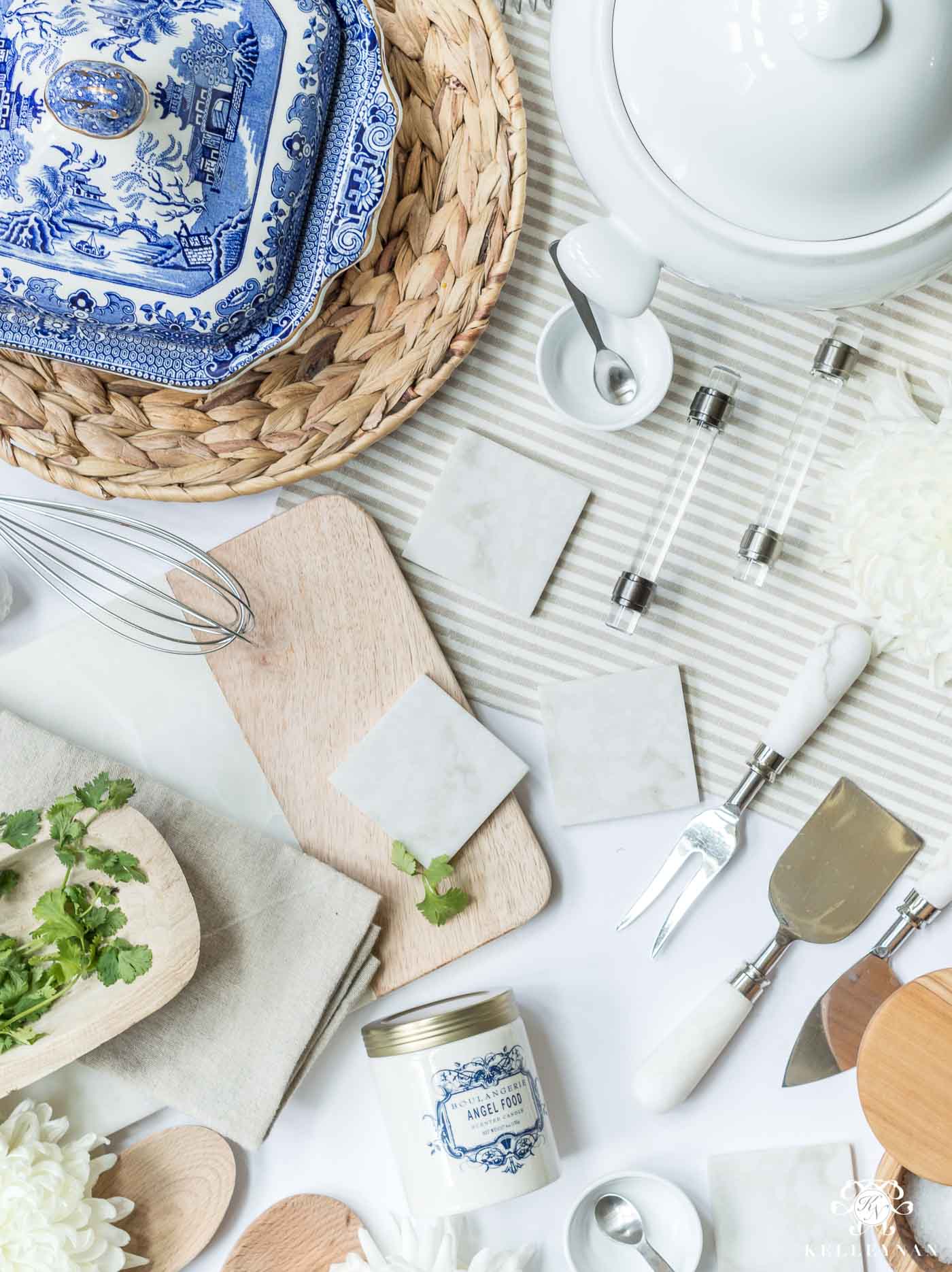 Lots of textures, mixed metals, whites, woods… it's a classic look that can support more modern touches. See how those Glacio cabinet pulls (HERE) – both in gunmetal and satin nickel finishes – fit right in? Oh, and the small Soprano quartz samples? They are a near identical match to the marble in my wood & marble cheese board pictured (HERE).
UPDATED CABINET PULLS
I looked through so many Amerock pulls in silver tones but a few things I established pretty quickly were:
"Streamlined" and "substantial" were going to help me achieve the look I was going for- especially since I wouldn't be altering my already set 3 3/4″ cabinet pull spread.
Against my cream cabinets with coffee glaze, two-toned pulls looked better.
I'm still not 100% but I think the gunmetal finish looks better in bridging the coffee glaze to the stainless steel appliances.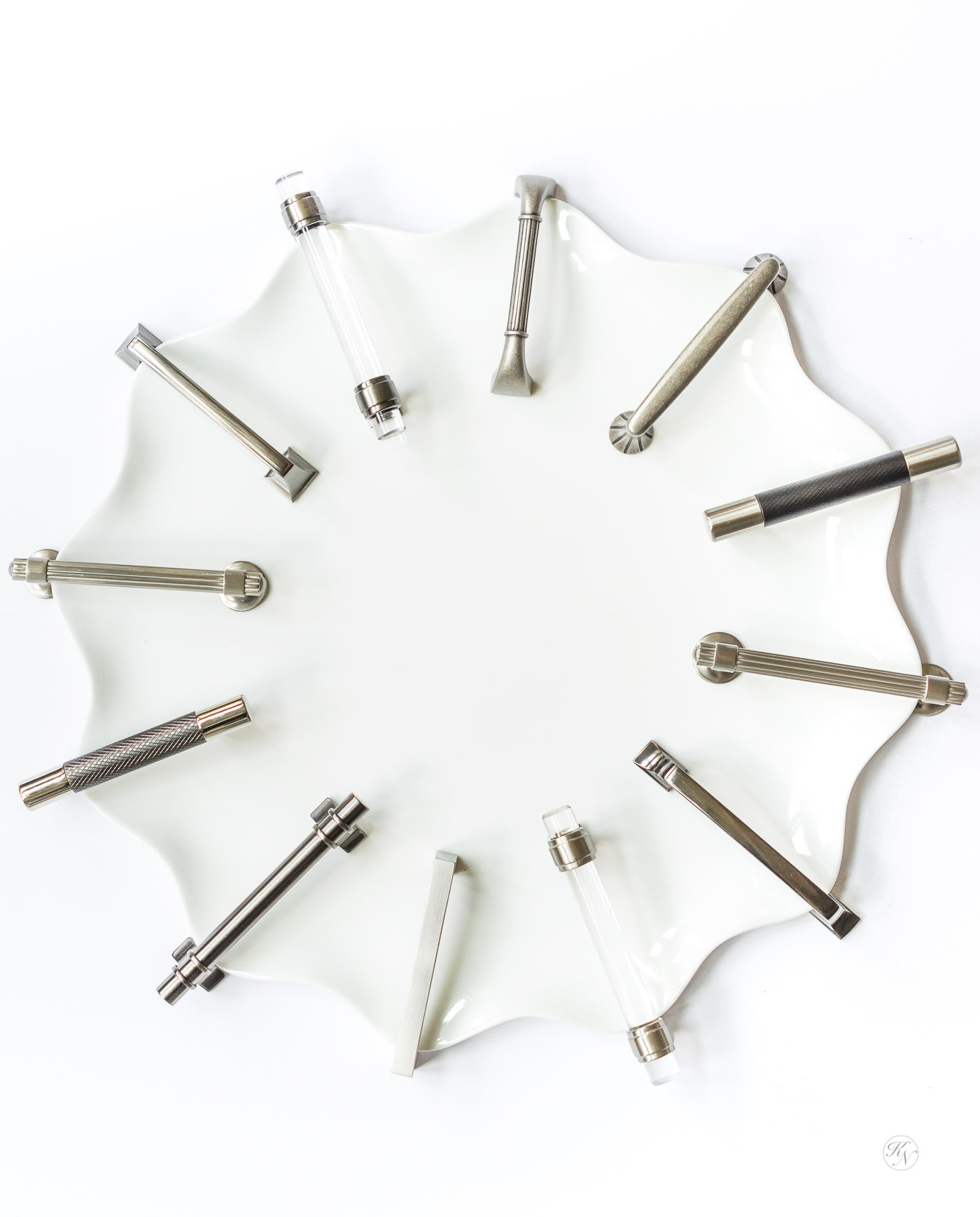 *Note: all pulls come in a variety of finishes and sizes
From top left: Glacio – gunmetal | Eydon – weathered nickel | Vasari – antique nickel | Esquire – polished nickel/black/bronze | Sea Grass – satin nickel | Revitalize –  | Glacio – satin nickel | Monument – satin nickel | Davenport – gun metallic | Esquire – polished nickel/gun metallic | Sea Grass – satin nickel | Mulholland – satin nickel
The above requirements resulted in the Glacio style pulls in these two finishes (satin nickel and gunmetal) being the two finalists. The Esquire collection was a close second. The clear makes a huge different against the cream cabinets and the two metal ends look so custom and intentional. I love the look but I'm saving that for the upcoming reveal post 😉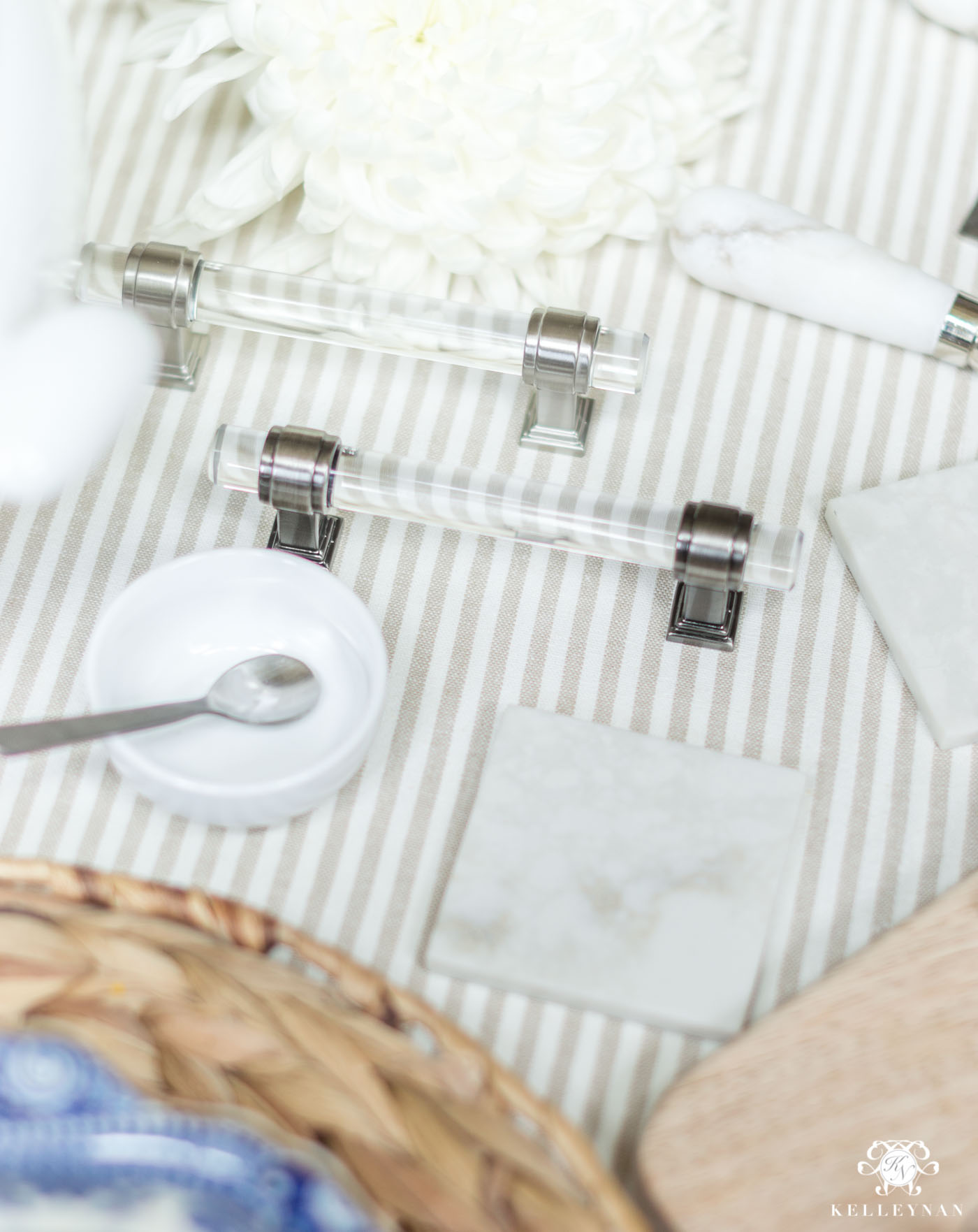 A STREAMLINED SINK AREA
When I was considering how I could streamline my edges to modernize my kitchen's appearance, my eyes went straight to my sink. In regards to functionality, I didn't like the double basin as much as I anticipated when I picked it out a few years ago but even the curved look feels dated in a space I'm trying to update. Here's a peek back from when I organized underneath the sink.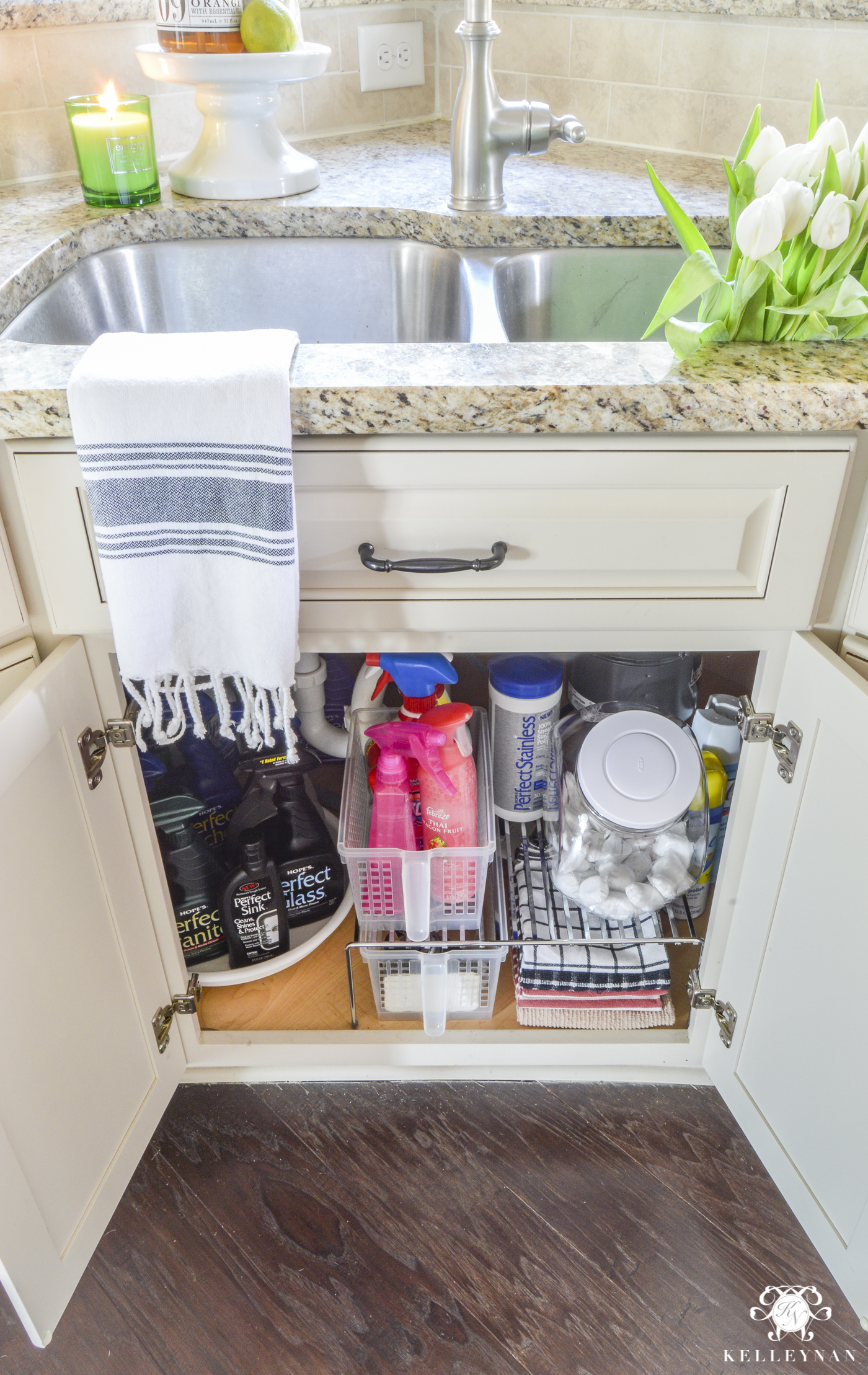 I decided I wanted a stainless, under-mount, single basic with sharp(ish) edges. But, I had grown used to having the disposal on one side and didn't like the idea of having one basin with a center drain. Dave liked the compartments but to me, I didn't feel like I had enough space to wash and set large cookware. And then I found the Blanco Quatrus R15 with a drain in the top right corner. It even has slight indentions to direct water-flow from the other side. Wanna see how big of a difference a sink can make? Take a look…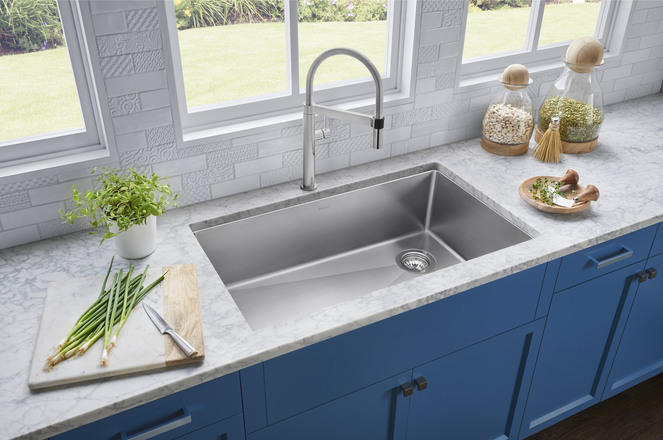 Photo Source: Blanco Sink Catalog
When it arrived and I took a peek in the box, I had a "holy cow- that thing looks huge! It's not gonna fit!" moment. But, after re-measuring and positioning it on top of our current sink, we realized it was an optical illusion. It's perfect.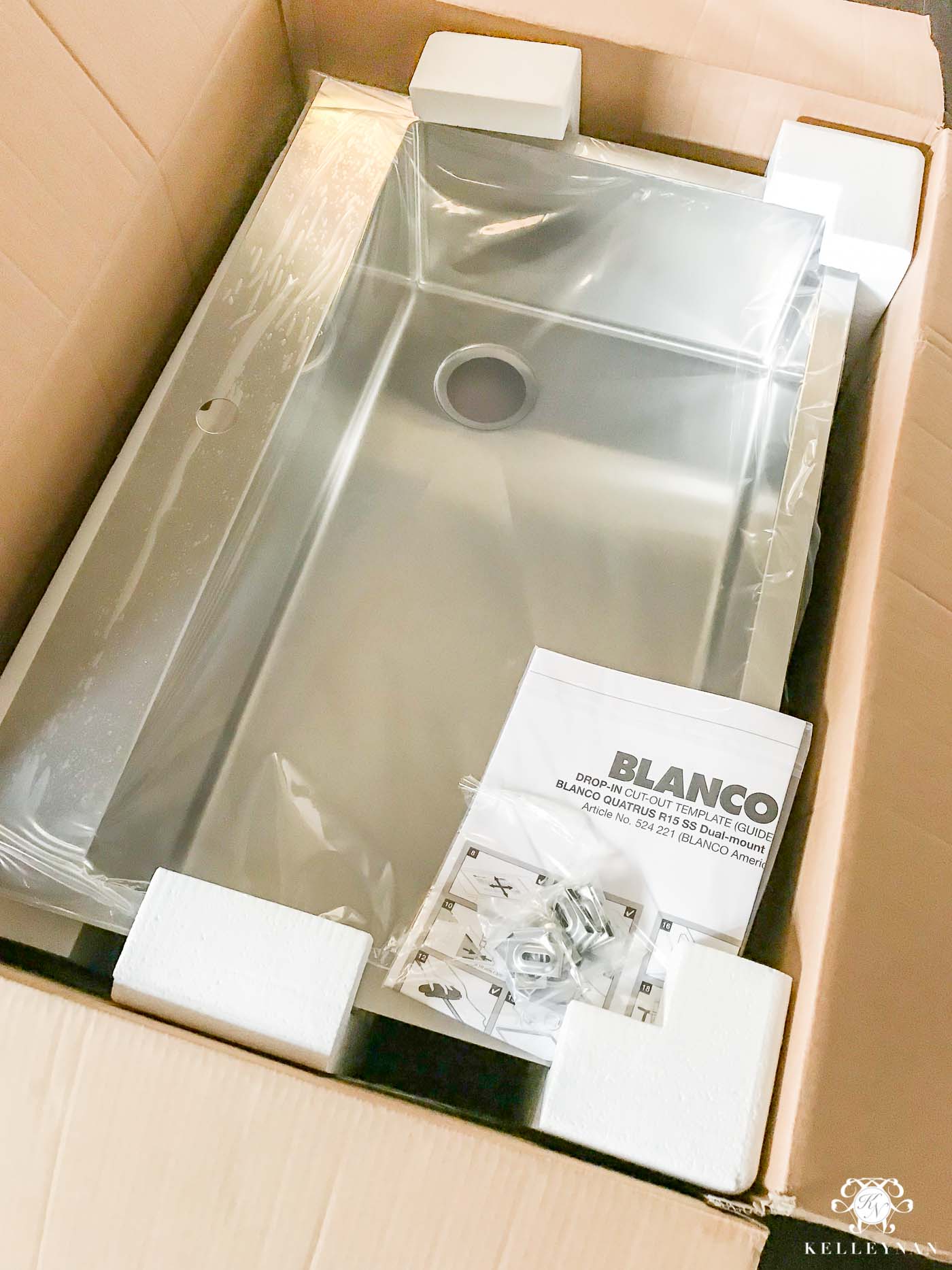 After Dave saw this beauty, he immediately forgot why he ever thought he preferred the two-compartment style sink. Look how much space there is on the left to set pots and pans!
We also decided to update our faucet to complete the corner look; we appreciated the functionality of our faucet but wanted something a little more sleek. We found this gorgeous Blanco Empressa goose neck model and opted for a stainless steel finish (there are several finishes available).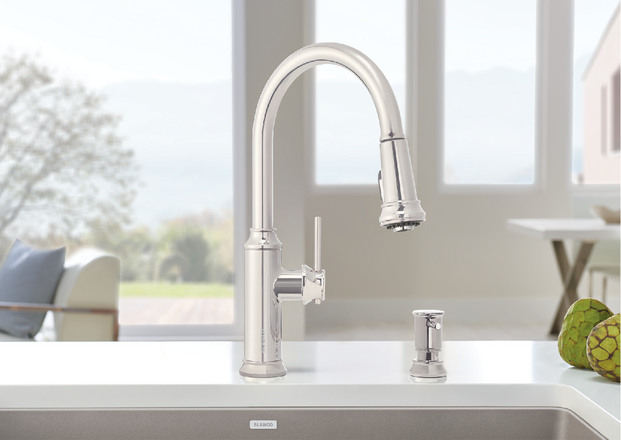 Ok- so now you know everything I've been thinking over the past couple of months and the challenge I've assigned myself (and accepted). I am so beyond ready to see how everything comes together and am hoping the result will prove that 1. a few key changes (in the right areas) can help you achieve your kitchen goals without a full renovation; 2. mixing uber traditional with tasteful bits of modern style can work; and 3. cream cabinets are not just meant for brown granite! But, as optimistic as I am, this is just the plan- we'll know soon enough what the end result will be 😉
If you aren't already, be sure to subscribe to my emails at the bottom of this post so you won't miss the final reveal! Plus, I'll be giving more insight and details on everything.
Thank you to my generous partners – for believing in my vision, agreeing to take on this project with me.
Atlanta Stone Creations | LG Hausys America, Inc. | Blanco | Amerock