I'm not gonna lie- it's been an expensive past two months for us. Between starting a living room project (HERE), to unexpectedly taking on a kitchen makeover (HERE), the powder room was put on hold and things started adding up quickly. It is not typical for us to be working on multiple projects/rooms at once but somehow, this is where I've found myself haha. And, while I'm working to do things completely and correctly, I've also been looking for ways to sharpen that pencil and not pay more than I have to. For the most part, I will say that if there is something I want, I find a way to get it – whether it's saving, budgeting, sacrificing in other areas, or just trying to find ways to pay less. So today, that's exactly what we're talking about. Getting what you want for less. I've partnered with eBay to share eight practices I've used for years, that have saved me a ton. You may already be using some of these tips, but there may be a few you've never considered. Here are eight ways to save, to help you furnish your home for a fraction of the price.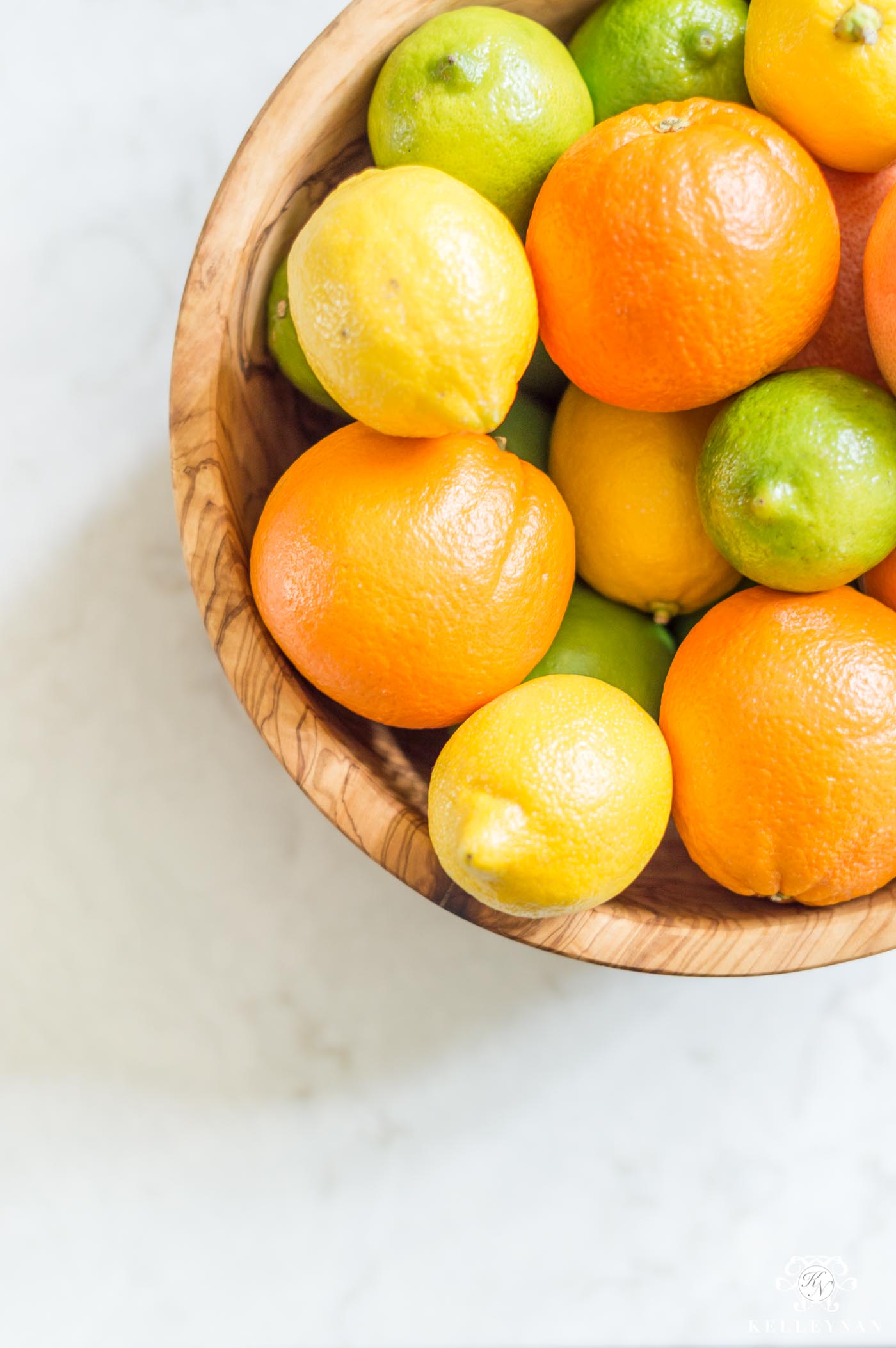 *Posts on KelleyNan.com may contain affiliate links. Click HERE for full disclosure*
1. Learn to Love Look-Alikes 
I recently found a large olive wood bowl that I fell head over heels for, but when I saw the price tag, I almost cried. I know olive wood isn't a cheap material but the bowl – a standard, 10″ bowl – was listed at $200. I like to think of myself as fairly practical when it comes to purchases but if I see something that makes my heart race and I can't stop thinking about it, I also don't have that hard of a time justifying pulling the trigger. Couple those feelings with a current makeover project (you want everything perfect), and you've got a pretty dangerous recipe. (See my kitchen plan HERE and progress HERE). I actually emailed this bowl to a few people, hoping one would do the work of justifying the purchase for me. I imagined at least someone would tell me it was actually a good price for the bowl, or that I deserved to treat myself, or that it would be an investment piece. But… no one did. After about a week into coming up with new cases to plead to myself, I decided that if I really loved the bowl that much, surely there were other avenues of finding a large olive wood bowl that wouldn't leave a pit in my stomach every time I looked at it. I got on eBay and searched "olive wood bowl" and tons of search matches popped up. The second one down- a beautiful, hand-crafted, 12″ olive wood bowl. It was 2″ larger than the one I had been lusting after and was $80 less. The seller specializes in olive wood, had a 99.6% positive rating out of almost 20k reviews. Um- sold! It arrived within three days and it is more beautiful in person that I ever imagined from the picture online. Ultimately, I was able to support an artisan without paying for the name of the brand. (Find it HERE) *Note: itty bitty kitchen peeks ahead 😉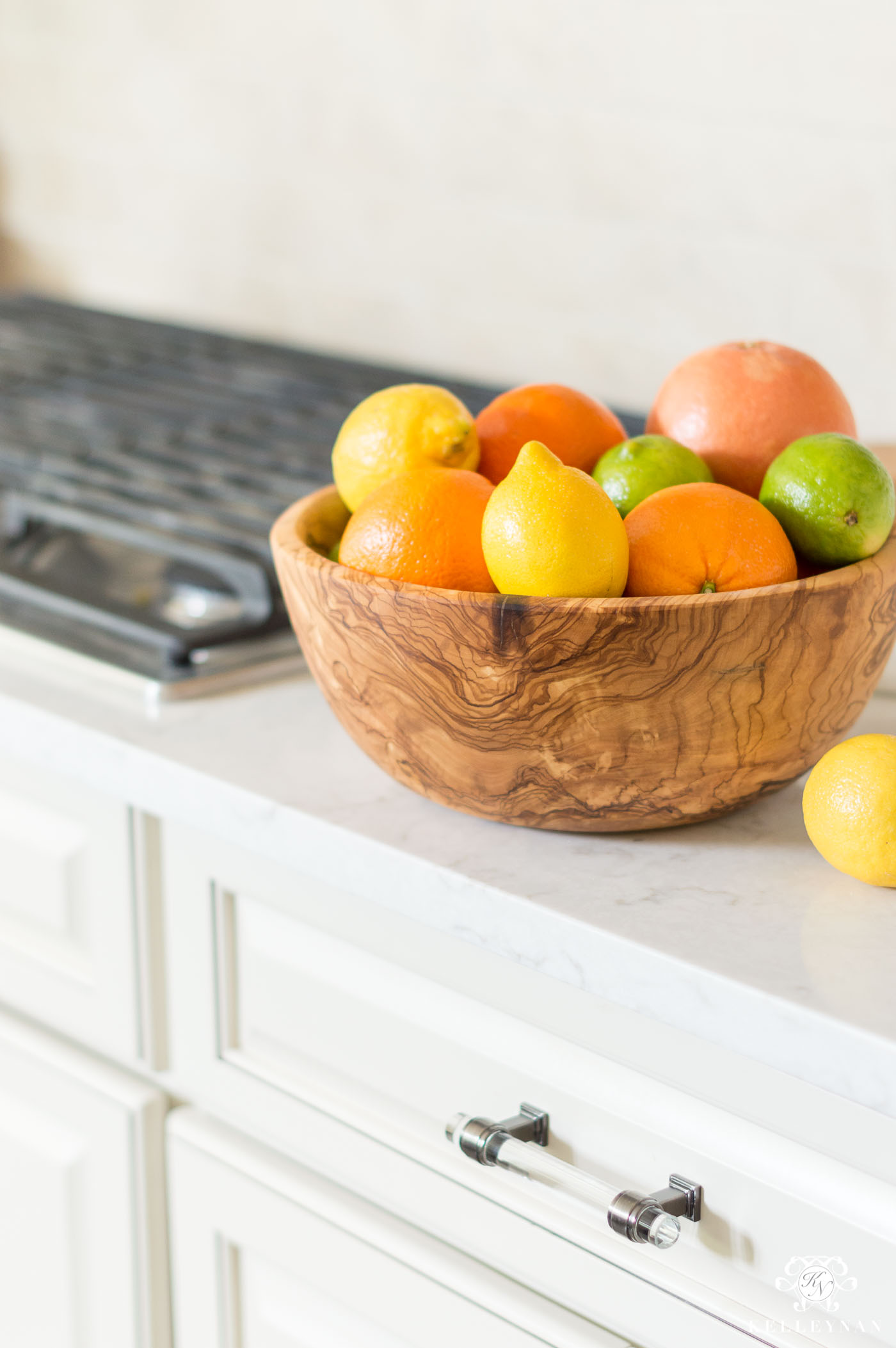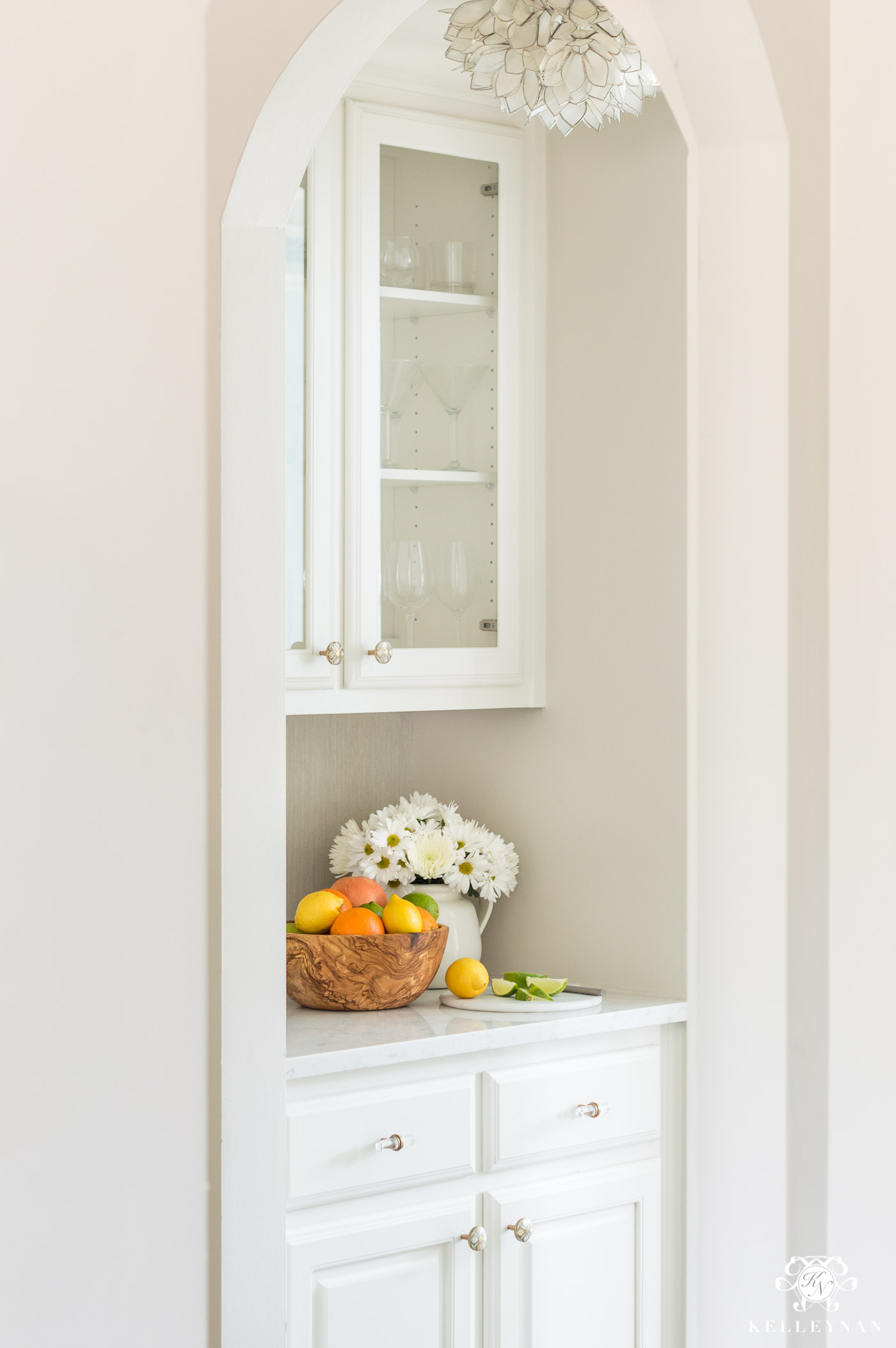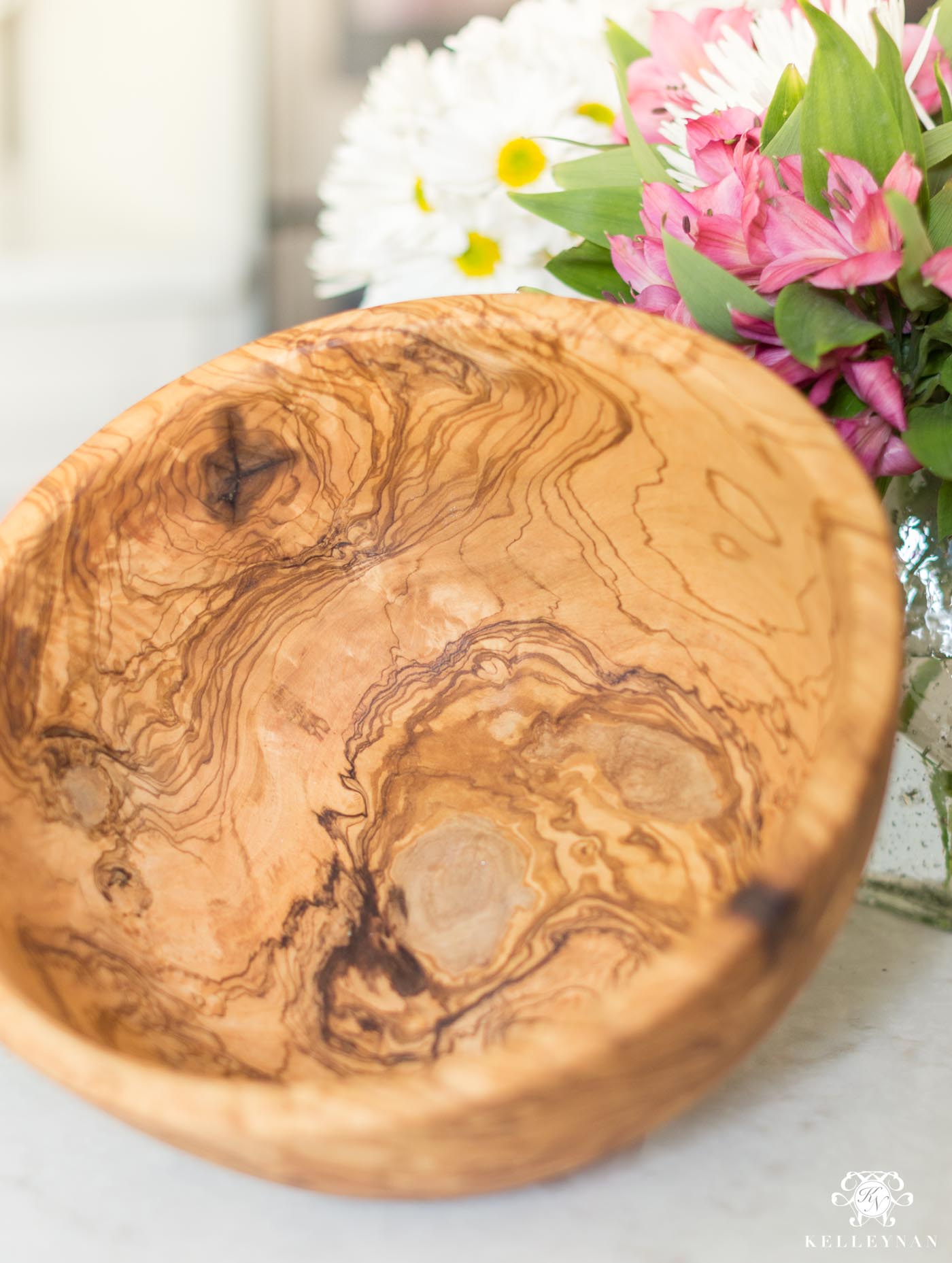 ---
TAP TO SHOP THE OLIVE WOOD BOWL

---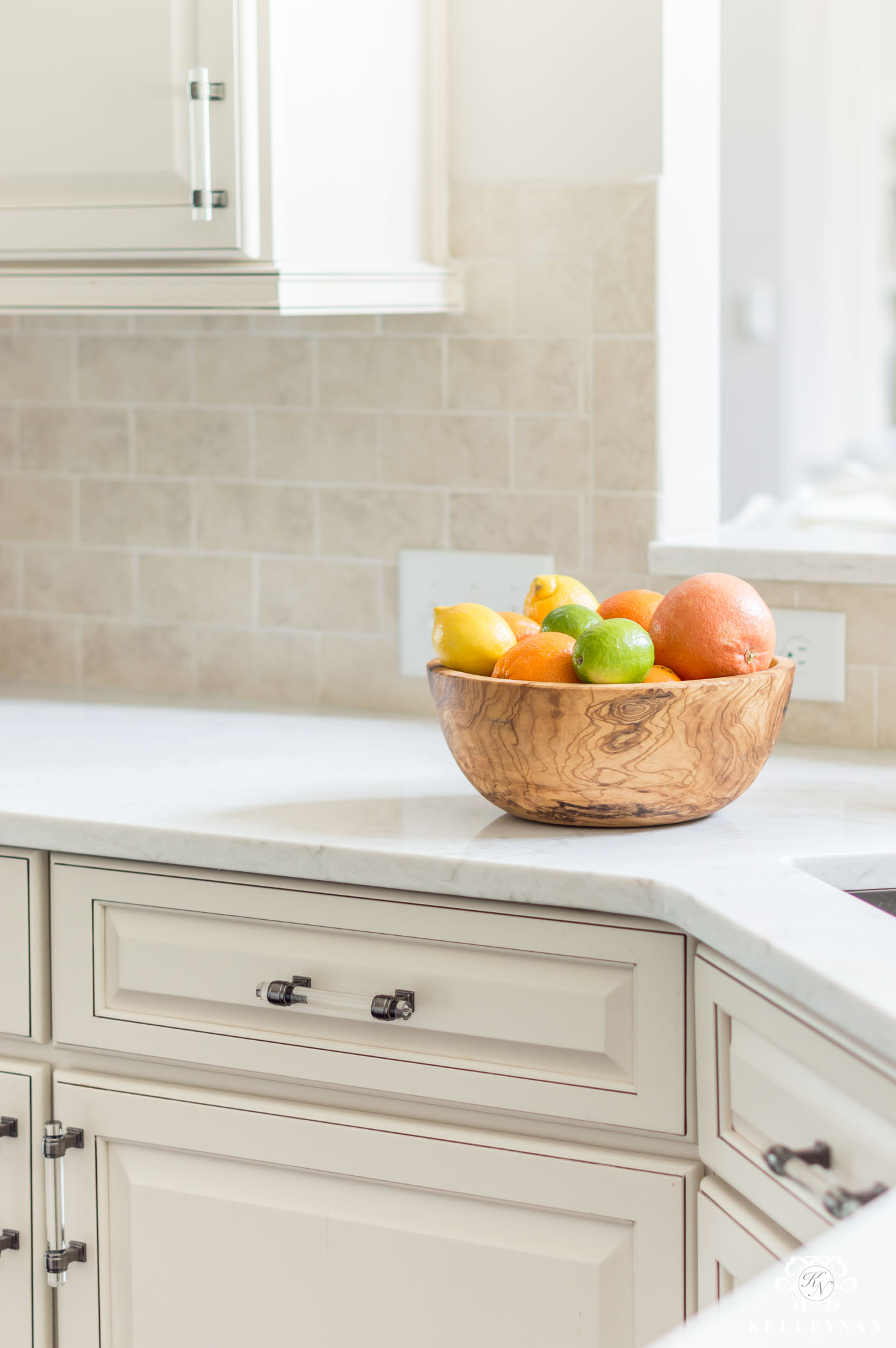 2. Search Brand Names Outside of the Brand's Website
It wasn't that long ago that I was ready to start trading in some of my cheaper furnishings for a few quality pieces. I remember in my first house, I so badly wanted to upgrade my black-sleeping-bag-material comforter to a duvet with a pretty, ruched duvet cover. I couldn't afford it – even with coupons, it was too far of a stretch. I found it on eBay in "new" condition with a "Buy Now" option, alongside "or best offer". If you haven't been on eBay in a while, more than 81% of their inventory is "New" and 88% is "Buy Now", without the bidding model you may remember. For "best offer" I could make a lower offer than the "Buy Now" option and the retailer could accept or reject the dollar amount I input. I offered a lower amount than listed and it was accepted! I got my new white ruched duvet for significantly less than the retailer's listed price and I still have that duvet cover today.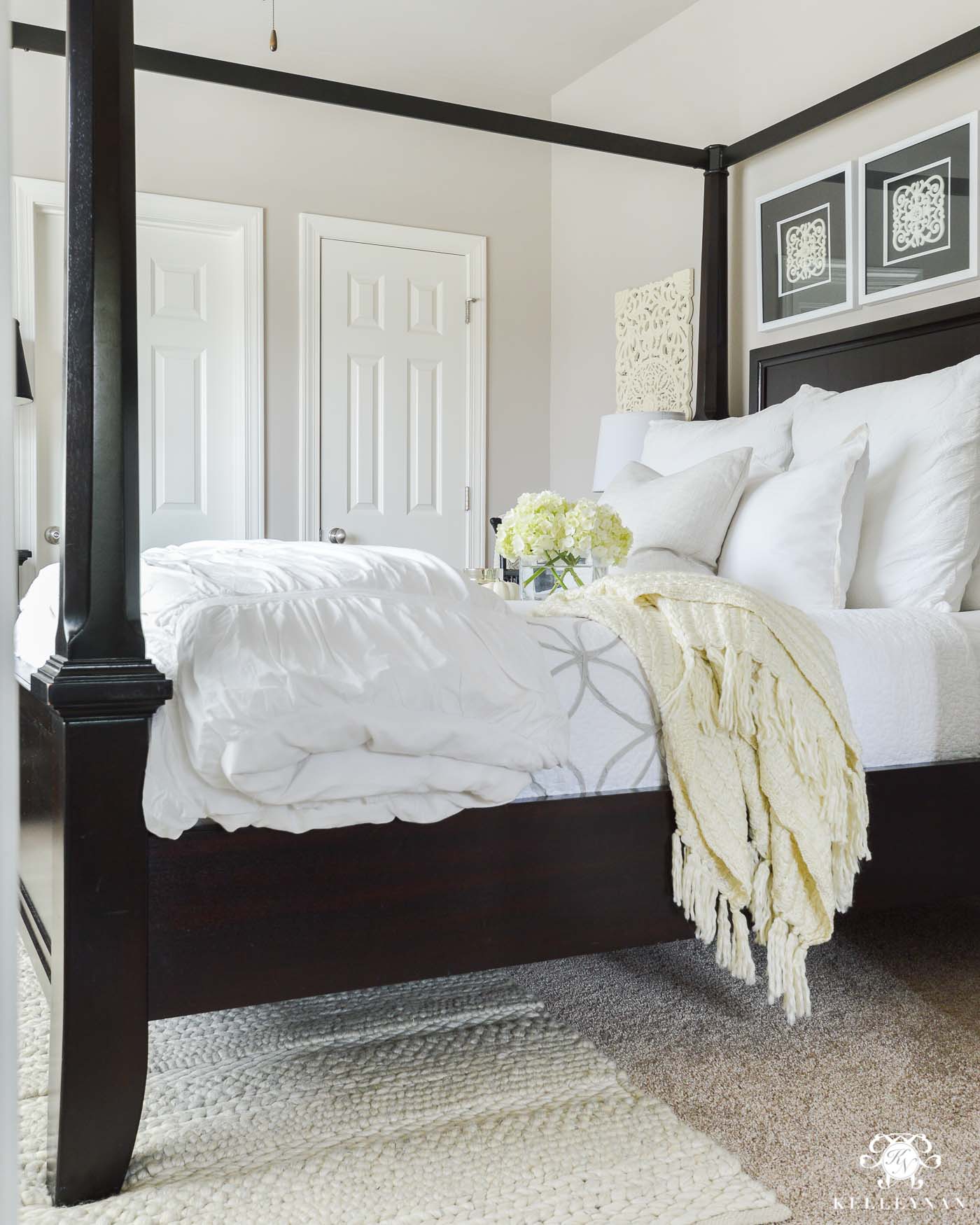 There is a lot of NEW linen bedding listed – some for "Buy Now" and a few for bid. Here are a few examples of the bedding pieces I own.
---
TAP TO SHOP BEDDING FOR LESS

---
3. Don't Rule Out Like New/Refurbished
Since the start of 2018, I've been working to upgrade some of my builder-grade lighting. It is SUCH a process, y'all! It's a project that can't be done all at once, at least for us, so we've been saving, selecting, and switching out as we've been able. One of my favorite lighting brands, Visual Comfort, has so many modern but timeless designs; they aren't cheap so we've only purchased one fixture in all the lighting we've upgraded. I set out to see if there was a way to get any Visual Comfort lighting for less – the price is set almost identically from each retailer who carries their lighting. And then, I hit a hidden gem jackpot. I found a Visual Comfort sconce for our stairwell for 60% off. It was listed as "Open Box" with this descriptive note:
"Open Box light fixtures are new or like-new fixtures that were displayed in one of our New York showrooms or have been returned to a showroom. These items have been returned, usually due to customer remorse, have been thoroughly inspected, and tested before repackaging for shipment to you. Due to the deep discounts we are offering, all open box sales are final."
Good enough for me! It was discounted from $600 down to $239 and based on the description, I was all over it. After I ordered the sconce, I decided to browse around the seller's store HERE. They carry a ton of designer lighting – many listed as "New" but several "Open Box" options, too – had almost a perfect rating out of over 1,700 reviews, and had over 80,000 items listed. So, I searched their shop for other Visual Comfort lighting. You. Guys. They had Goodman pendants in all kinds of sizes and finishes, listed with the "Open Box" discount. If you remember my post from last week on my kitchen progress (HERE,) I went into a whole "thing" on the bar lighting. Goodman pendants were what I had initially wanted months ago, but they were a bit steep with all of our lighting changes. I searched the size, shade, and finish I needed (18″, paper shade, antique nickel chain) – they had one. And, it was almost 50% off. Even getting one at a discount would save a ton. I pulled the trigger and brought my inner, back and forth, week-long pendant battle to an end. They don't currently have my identical pendant in stock, but they do have several other finishes/sizes HERE.
---
SCROLL & TAP TO SHOP DESIGNER LIGHTING LESS


---
Both my sconce and pendant arrived within three days, all in original packaging – even the new cellophane covered the lampshades, which would have totally fooled me had I not known they were "Open Box".
Here's a look at the dated light fixture my stairwell was rockin' before…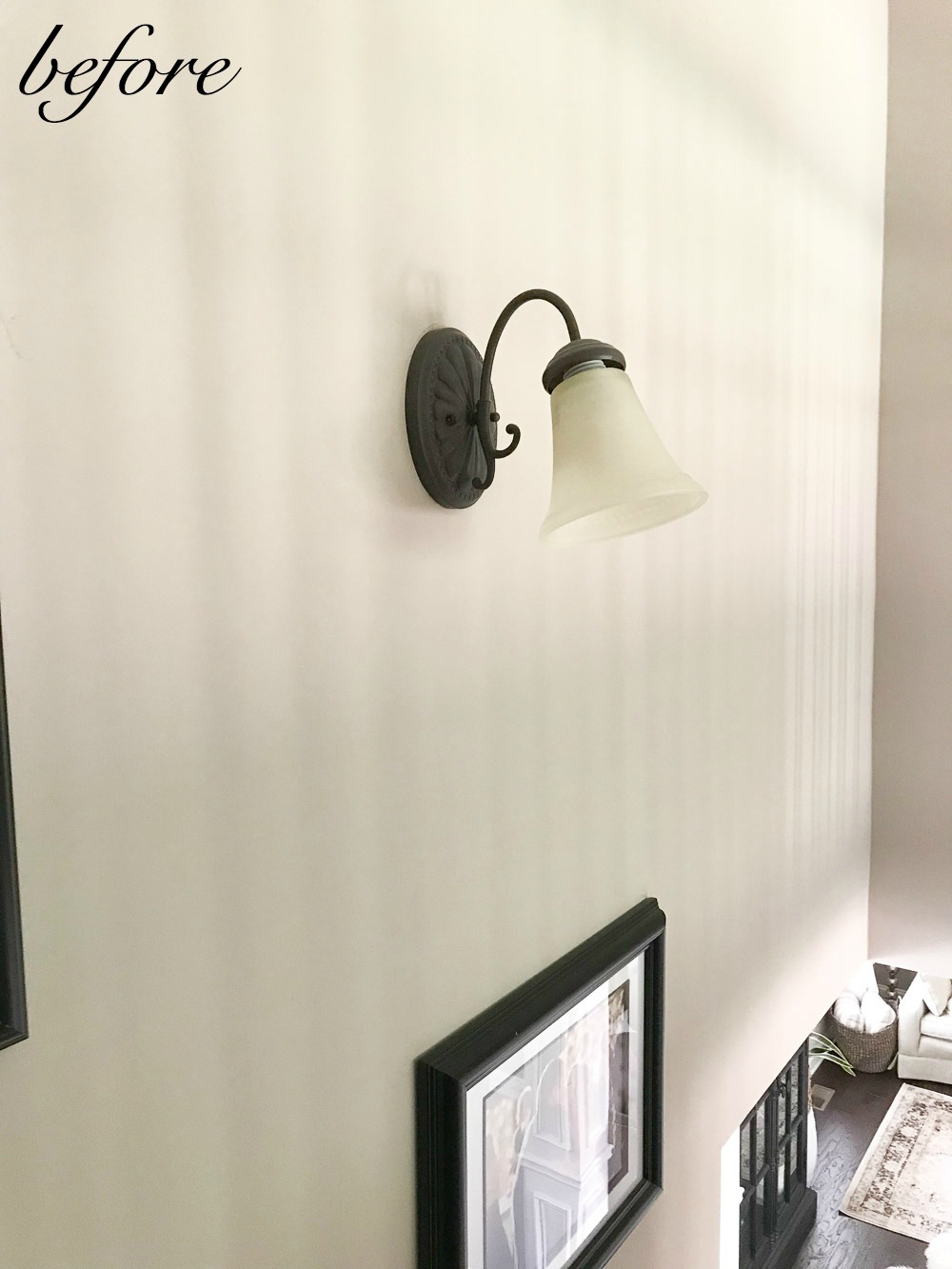 And here's the upgrade, a little more transitional, I scored for almost $400 off. (You can shop it HERE).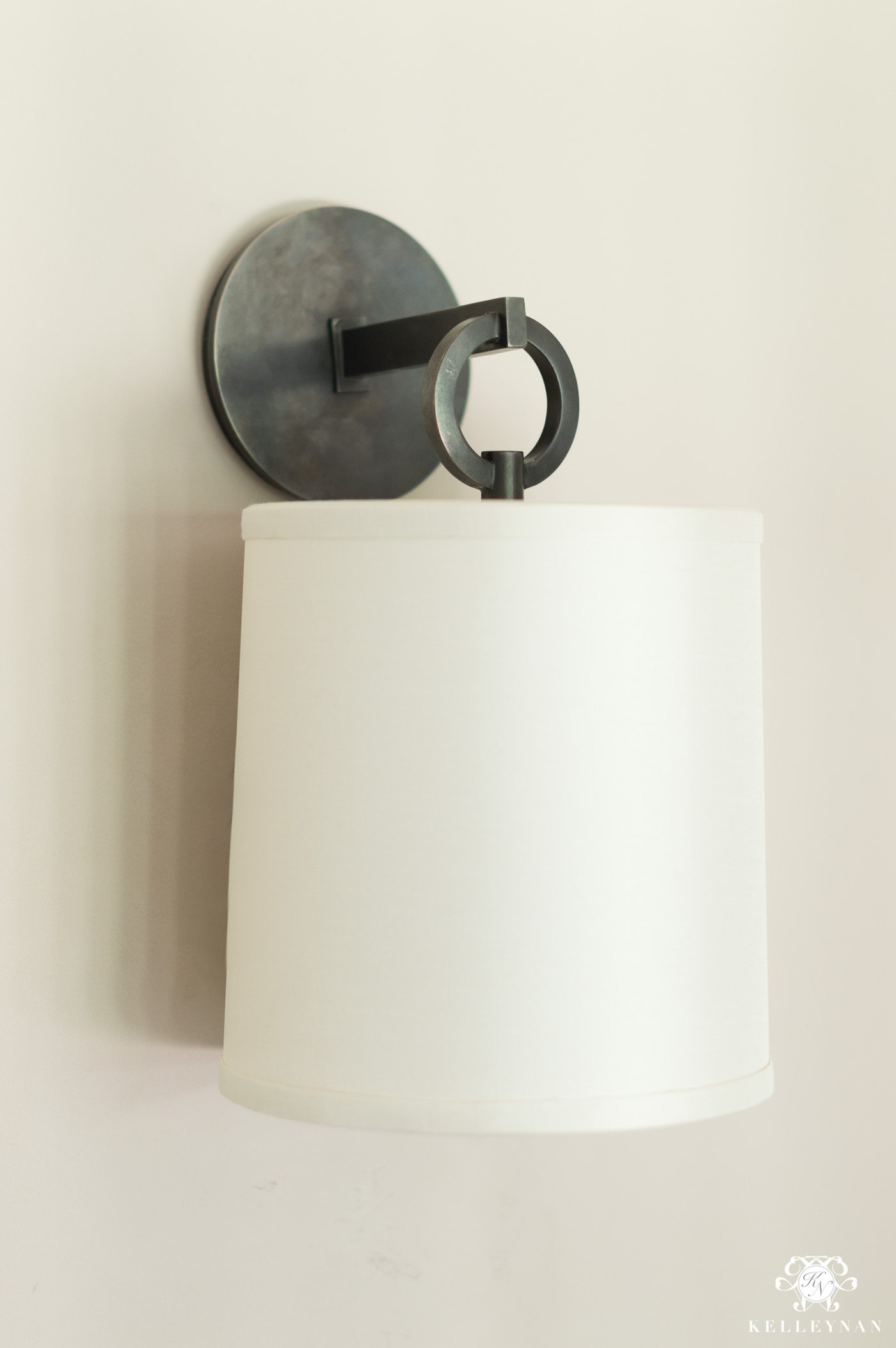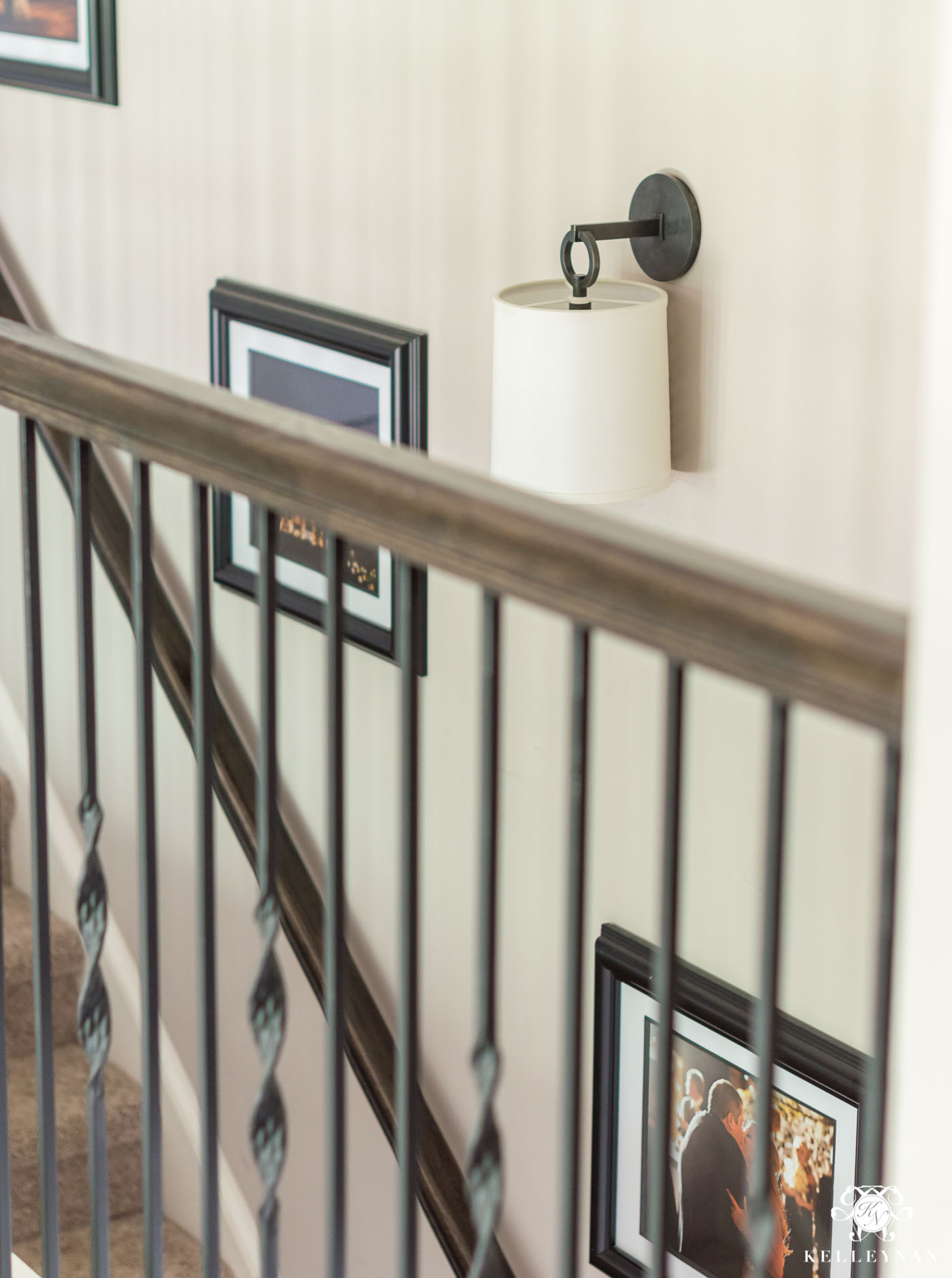 We haven't installed our bar lighting just yet, so stay tuned for that in my upcoming kitchen reveal! If you aren't already, make sure you subscribe to my emails at the bottom of the post so you won't miss it 😉 Here's a peek of it, out of the box in all its glory.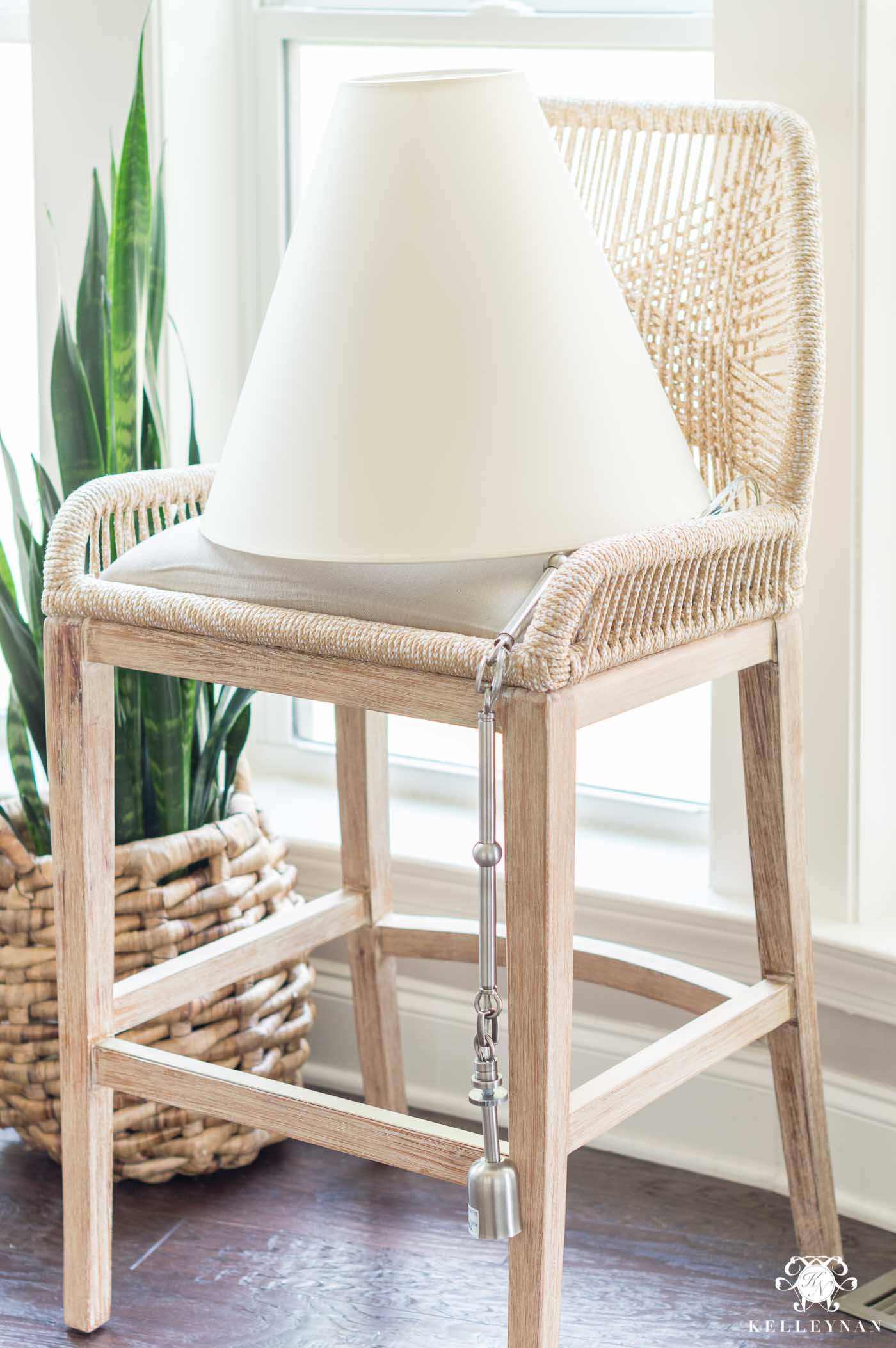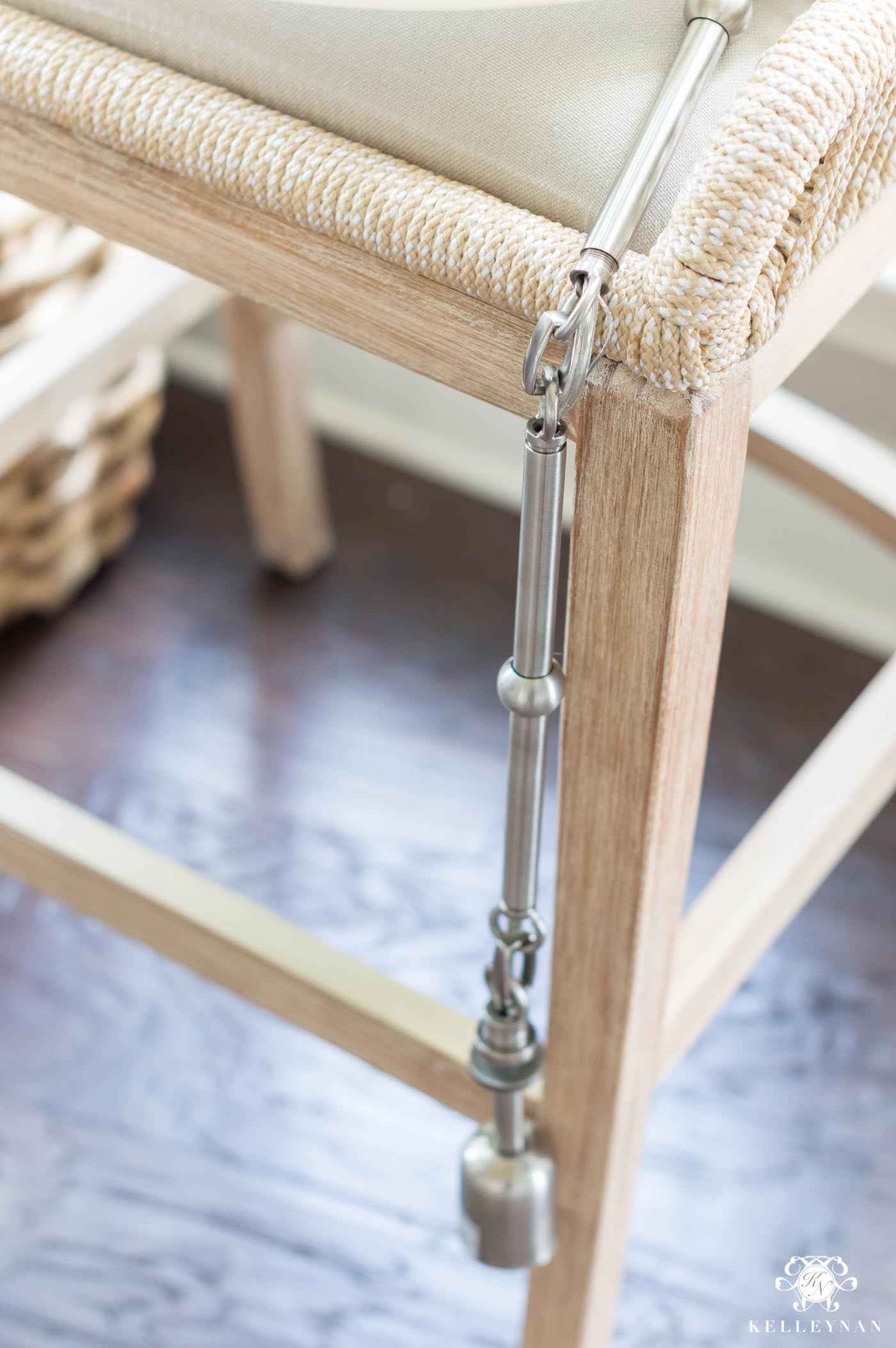 You can also frequent re-sale sites, thrift stores, or local Facebook groups for used items in good condition/DIY projects. Some dealers may be looking for top dollar while others are listing for next to nothing, just to get rid of whatever they're selling.
4. Shop End of/Out of Season
You guys, we've talked about this. I know that once a season is winding down or a holiday has passed, you're probably ready to move on. But, if you can take inventory at the end of the season, you can save a ton. Throwing myself back into Christmas after December 25th isn't my favorite, but when the next year rolls around, I'm so glad I stocked up after the previous season so I'm not paying full price for wrapping essentials. We aren't even finished with summer (and good Lord, I'm ready for fall) but discounts for outdoor gear has already started popping up everywhere. eBay is currently running their End of Season Sale for everything warm-weather – from clothes to patio furniture. You can take a peek at everything HERE. There's yard tools, grill covers, fans, etc. that aren't even exclusive to summer that are brand new, discounted up to 70%. Here are a few stand-outs that have been marked down substantially.
---
SCROLL & TAP TO SHOP END OF SEASON STEALS


---
5. Do Your Homework on Previous Models
Not all things are created equal and sometimes you want the latest and greatest. I get it. I won't be shopping for a cell phone that debuted in 2014 and when I invested in my cordless Dyson, I splurged for the v10 Absolute because all the latest technology features were important to me. That being said, there are plenty of products whose prices immediately drop as soon as a new version is released. Do your homework on the new features and upgrades of the latest models. Are their significant functionality improvements that matter to you? Are they just cosmetic upgrades? Or maybe the improvements were minor and offer no real significant value to how you would use the product. Something I've had on my list for a long time is a KitchenAid mixer. They've been around for years and have had version after version released. As a total novice, I know that I don't need the latest, most expensive model. There are a ton of options listed HERE that will save hundreds.
6. Become a Coupon User
I hope you're already doing this. I never make a purchase without searching for a coupon online – whether I'm purchasing in-store or buying online. Here are a few ways to land the coupons, aside from waiting for the physical mail.
There are a ton of coupon sites that list current codes and if multiple are available, I will always see if they can be stacked.
If you've been eyeing something and there's no sale in sight or coupons to be had, check the benefit of signing up for emails. A lot of retailers will offer a sign-up bonus, usually 10%-15% off, just for signing up.
Also, put what you're considering in your online shopping cart. Retailers are smart and have a lot of technology to help bring sales. Just last week, I received a 20% off coupon from a retailer from whom I was considering purchasing barstools. It read something like "We noticed your cart is still full. Here's 20% off your entire purchase with this special code.)
If there's no cost, sign up for the rewards program.
7. Use Google Image Search
I discovered Google image search when I started realizing the issue of image theft – but, that's a different topic for a different day 😉 What it is also incredibly helpful for is seeing if products you are considering are listed for less on other sites. A lot of retailers will use the same stock image so the image is easily searchable on Google. Right click the image you want to search, and click "Search Google for Image". Sometimes, there aren't matches, but sometimes, there are. And, from time to time, there are some true surprises.
8. Wait for the Sale
Get familiar with the retailers you frequent. There are some I know who run sales every other week, and others where I've never seen a sale or promo code offered. Resist the urge of having to have it "this very second" if it's a place that continually offers discounts. Or, make sure you are stocked up on #6. If you are eyeing something that seems to never go on sale, consider all the tips above before pulling the trigger. A lot of times, you will be pleasantly surprised by what you can find.
Have other tricks to save that aren't mentioned in these eight tips? Have a proud moment where you scored something at a fraction of the cost? Let us know in the comment section below!