You know how I said I've been itching to jump into a new project? I'm still not 100% on what I'm going to take on just yet but at the top(ish) of my list is our downstairs powder room, just off the kitchen. It's bare, basic, and boring and aside from switching out the mirror when I first moved in (which Mama Nan deemed as a bit "gaudy" after a night of wine on the porch), I haven't touched it. It has a pedestal sink with the tiniest bowl – a standard sized soap barely fits. There's no room for storage, the ceilings are tall, and the window is too narrow for anything but custom shades. Because I'm dying to dig into my more creative parts, this little half bath may just become the front runner for my next transformation. To see how "excited" I could get to take it on, I pulled together four potential powder room design ideas. You probably won't see any super loud prints from me but I am looking forward to branching out a bit and making this powder room a bit more "fun".
*Posts on KelleyNan.com may contain affiliate links. Click HERE for full disclosure.*
The Goals for These Powder Room Design Ideas
It may be small but this half bath is our primary downstairs bathroom. It's what we (and all of our guests) use most often – just typing that out makes me sad that I have yet to touch it haha. Here's what I'm looking for:
Functional
Looks like it still belongs in our home
Heavy on pattern
Modern femininity – I always remember my grandmother's powder bath. It was feminine with blush tones and ambient light and while it was more traditional than the direction I'm going, I loved that space and want to bring some of that sweetness into my own.
I will also add that because it's small, it can handle a little more personality. Even though we visit the space often, we aren't hanging out in it. I am willing to use pattern and color in here that I wouldn't consider for other rooms.
Because I'm tight on storage now, I thought I definitely wanted a vanity. I wanted a light toned, reclaimed wood-look (cane as a bonus) but, apparently, that doesn't exist. Well, at least in the small dimensions I need. My tiny powder room can only handle a 24″ vanity… do y'all know how hard that is to find? I came across this one (from the same collection of the bed I want for another guest bedroom) and just my lucky, the smallest width is 36″.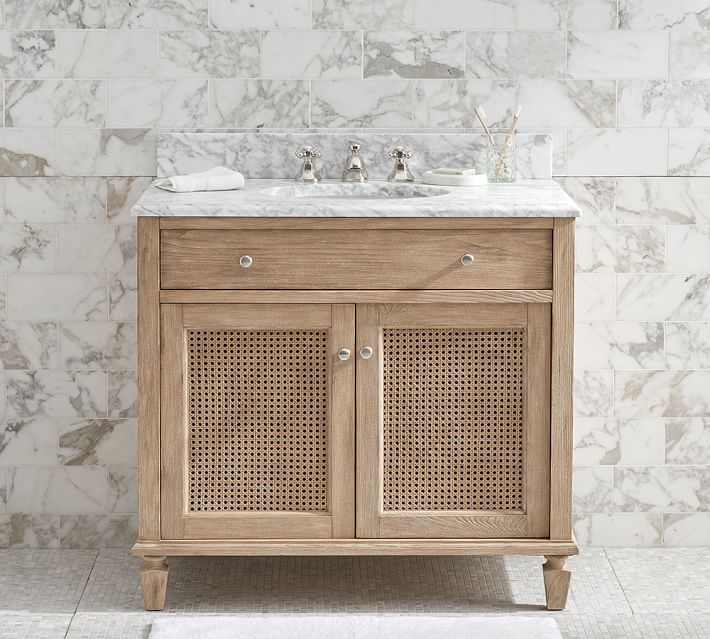 If your space can handle the size (or larger- they have a double vanity option), this could be gorgeous! There are tons of white and gray vanity options but we'll talk about that more in a bit 😉 After spending hours and hours online, I finally assembled a few powder room designs that I love. The final may follow one of these to a "T", or it may use a few elements from all.
1. Charcoal & White Floral Powder Room with Brass Accents
For each of my four design ideas, I first selected wallpaper I loved and based my inspiration boards off the pattern. I don't do a lot of wallpaper but in this half bath, I WANT WALLPAPER! I have some brass throughout my house but when it comes to utilitarian/fixtures, I have always been more of a chrome girl. This is the only design I decided to use a warm, brushed brass – but you guys – I think it is gorgeous against the muted tones here. I also went with another pedestal sink – just a larger one. I still like the look of pedestal sinks but they have to have more space to set things – at least hold a bottle of soap. What I really like about this design is there's a little bit of everything- feminine and masculine touches, traditional mixed with modern… all my favorites. And how darling are the toilet paper holder and towel ring?!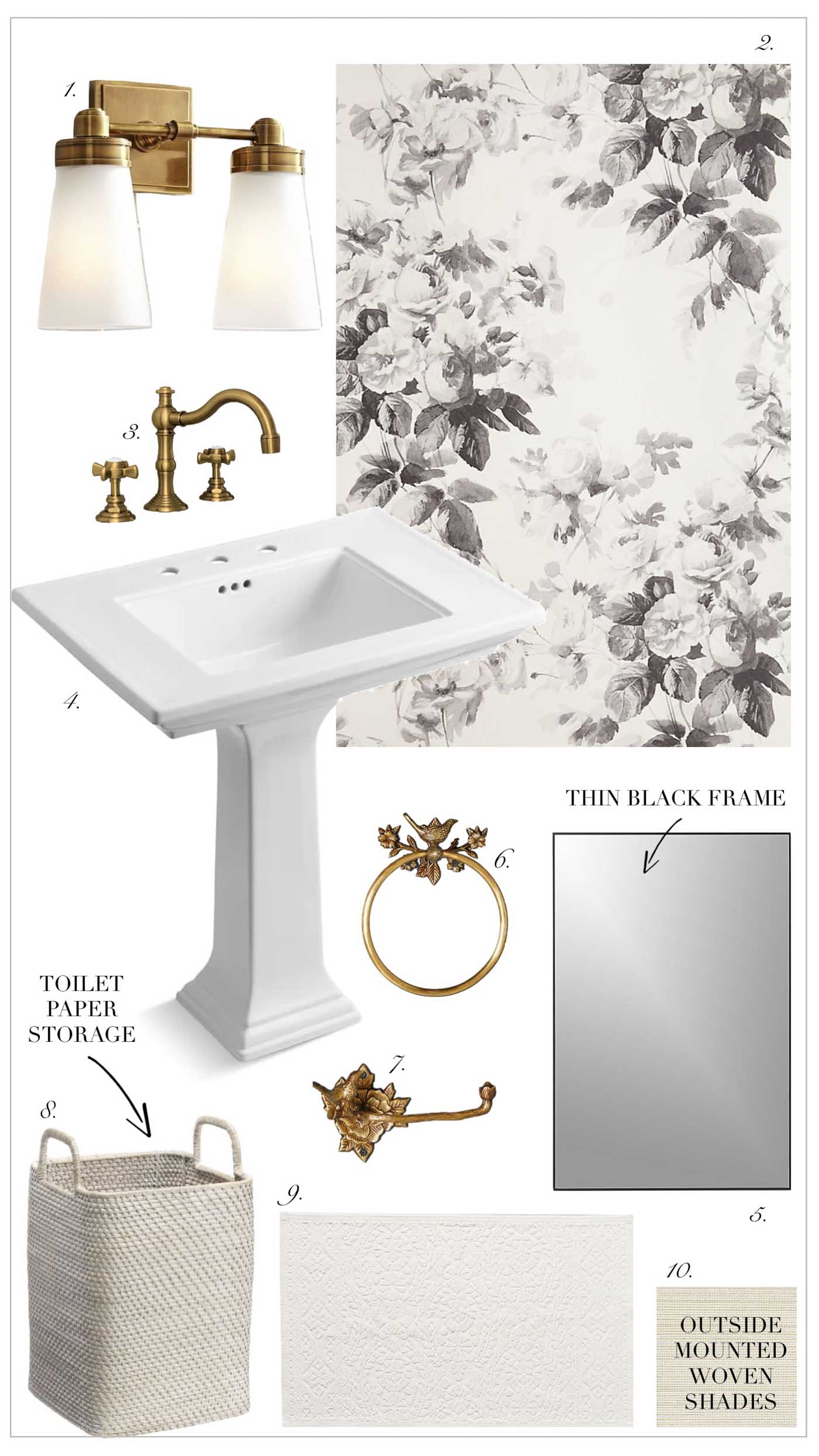 ---
Scroll & Tap to Shop

1. Brass Sconce | 2. Wallpaper | 3. Brass Faucet | 4. Pedestal Sink | 5. Mirror | 6. Towel Ring | 7. Toilet Paper Holder | 8. Basket | 9. Bath Mat | 10. Woven Shades in St. Lucia
---
2. Gray & White Abstract Powder Room with Chrome Accents
While the first design I envisioned floor to ceiling wallpaper, the next three I would consider a wall detail – like board and batten – maybe 3/4 of the way up. I think it would be hard to get tired of this neutral design – even with the floral print. And, I think even if you aren't a fan of florals, this large-scale abstract can appeal to everyone. Because my ceilings are so tall but my window is not, I'm thinking of doing an outside mount for my shades to give the window some height.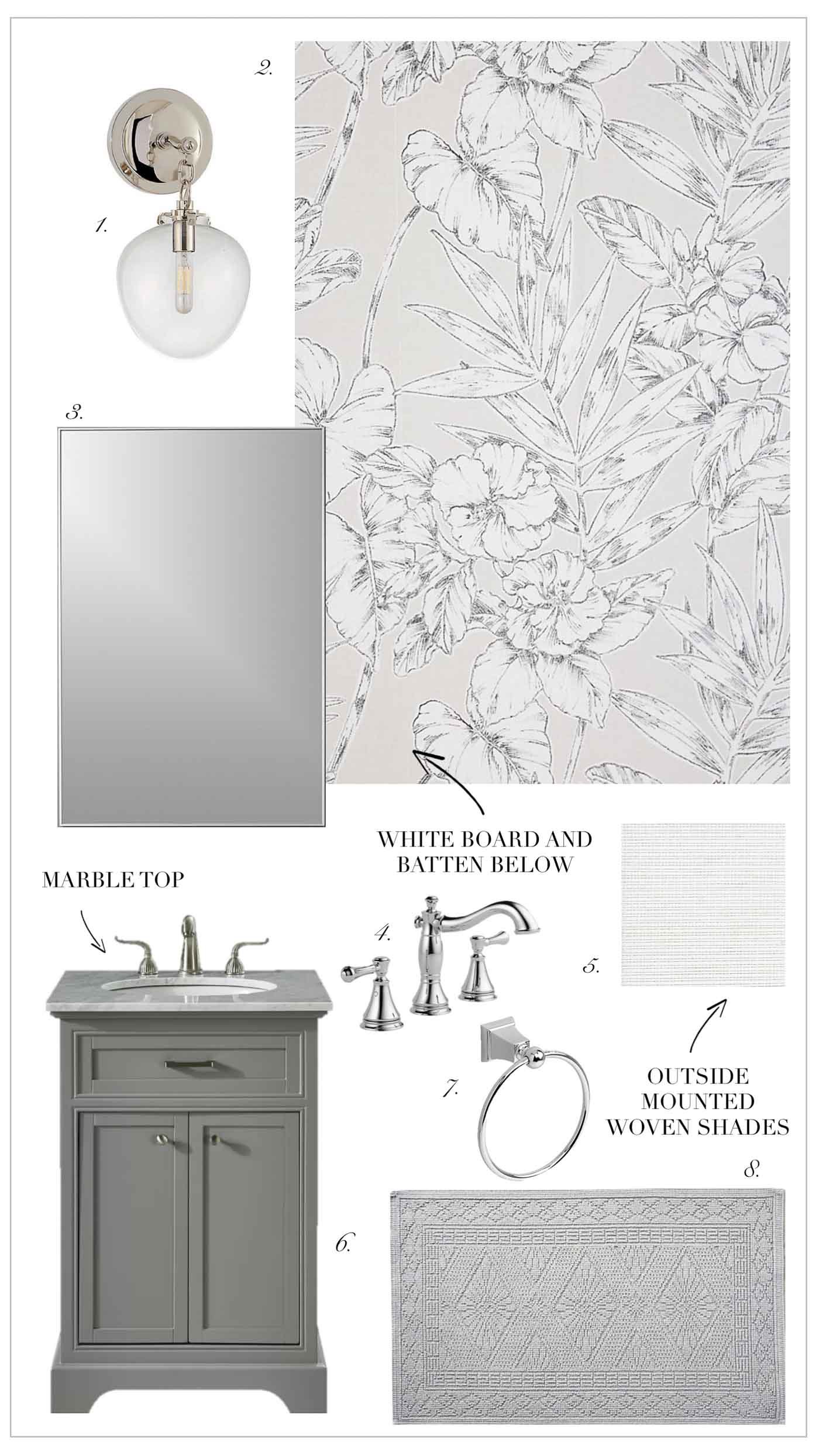 ---
Scroll & Tap to Shop

1. Sconce | 2. Wallpaper | 3. Mirror | 4. Faucet | 5. Woven Shades in St. Kitts | 6. Vanity | 7. Towel Ring | 8. Bath Mat
---
3. Blue & White Floral Powder Room with Natural Accents
The color punch of the blue and white floral would probably be the most difficult (and expensive) to pull off without being too "offensive" but in the world of powder rooms, this is what I love. It's a little more brave and with the board and batten, I don't think the color would be too overwhelming. And, because I haven't found a wood-toned vanity I like, I love the idea of bringing it in in other ways – like the bamboo mirror.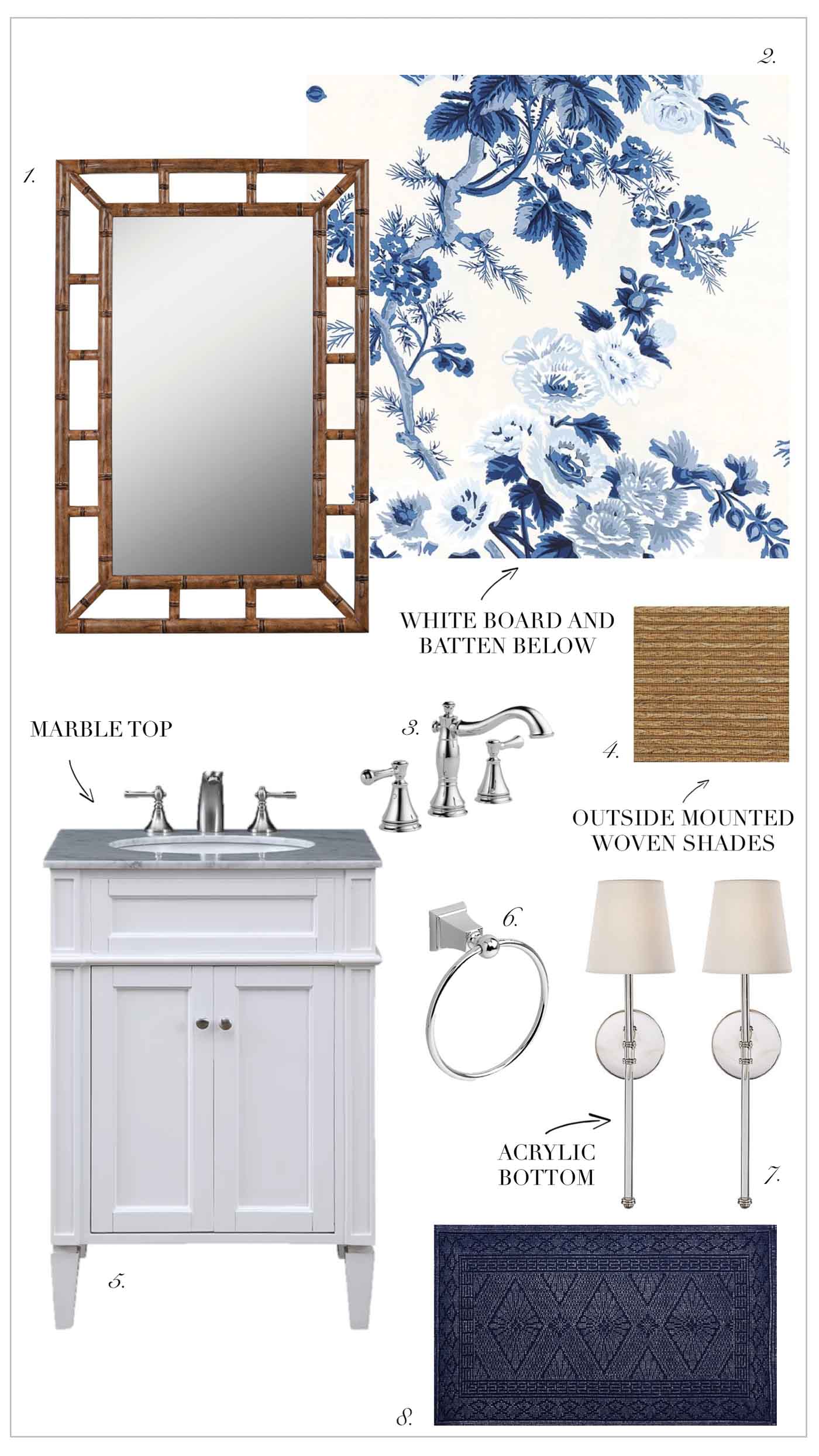 ---
Scroll & Tap to Shop

1. Mirror | 2. Wallpaper | 3. Faucet | 4. Woven Shades in Bali Pecan | 5. Vanity | 6. Towel Ring | 7. Sconces | 8. Bath Mat
---
4. Patterned Powder Room with Natural Accents
Even though this design has color in the wallpaper, in my book, it may as well be considered a neutral. I think it could be a perfect compromise of everything – a little understated boldness. Also, I currently have an over-the-mirror sconce and while I would prefer two sconces framing the mirror, I don't know that I have the space to pull it off- that decision will be dependent on an electrician and mirror width 😉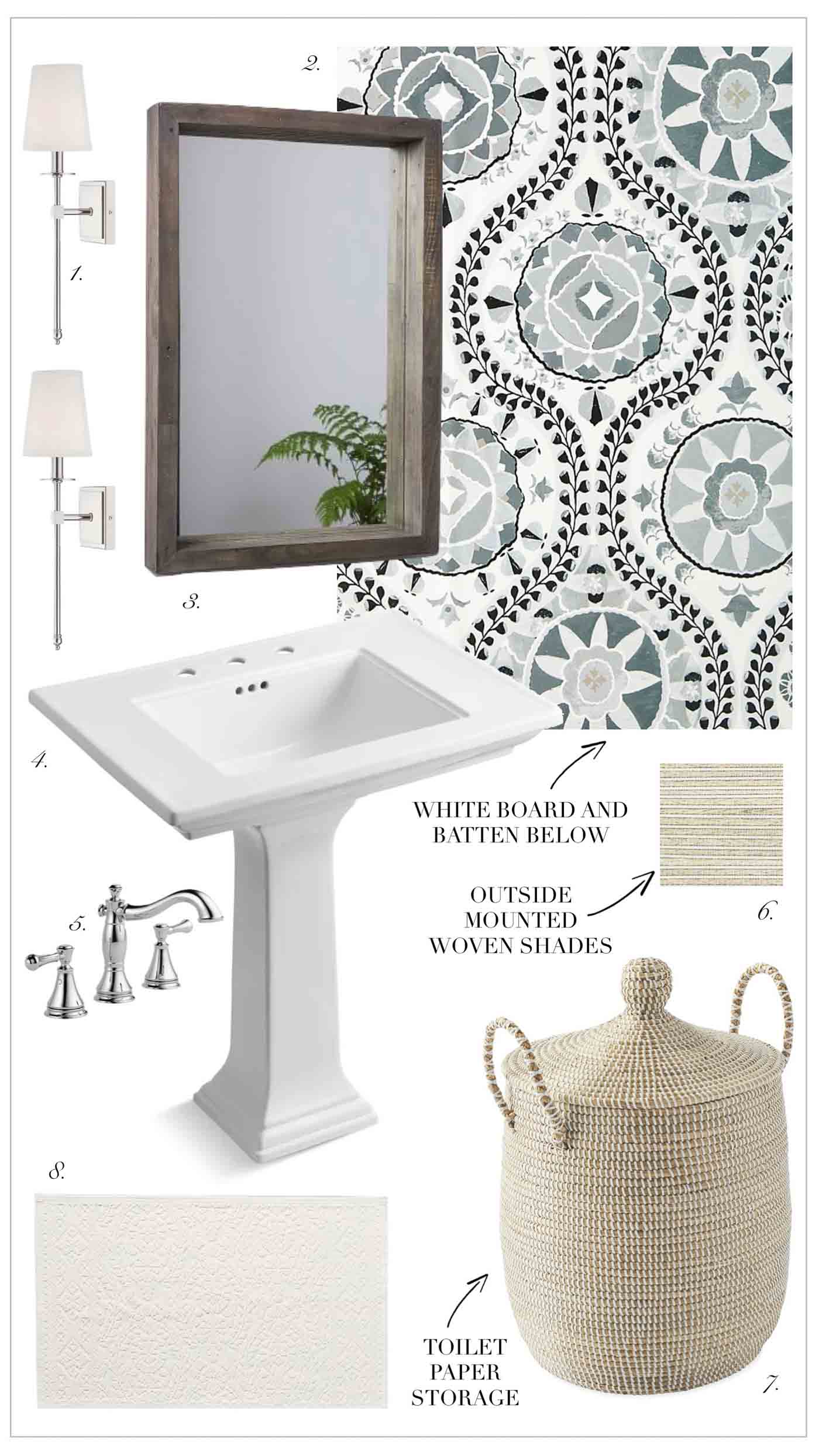 ---
Scroll & Tap to Shop

1. Sconces | 2. Wallpaper | 3. Mirror | 4. Pedestal Sink | 5. Faucet | 6. Woven Shades in Bali White | 7. Basket | 8. Bath Mat
---
Ok, so here's where I need your help. Do you have a favorite? Don't care for any of them? Like certain elements? Weigh in below in the comment section and help a sista out! And, if you don't already, subscribe to my emails at the bottom of the post to catch my powder room updates and my projects to come!
Check Out A Few Favorite Room Transformations Here