I've cranked out huge rooms in the past, from start to finish, in six weeks time. But our tiny little powder room — the smallest room in the house — well, it took almost two years. Today, it's finally finished! I'm sharing all the details below but first, before I reveal our completed modern, coastal powder room, let's chat about why the smallest room took 2987445x longer than the others.
*Posts on KelleyNan.com may contain affiliate links. Click HERE for full disclosure.*
*All room sources and details can be found at the bottom of the post*
Coastal Powder Room Design
Well, the answer is simple. Typically, when I take on a project, I go all in and work on it continuously. The powder room though was never made a focused project until recently. When we did our kitchen update (HERE), we had our contractor add picture frame moulding and wall details so while he was here, we went ahead and had him add the moulding in the small powder room. I wasn't even kind-of ready to take on the powder room at that point so for probably a year, we sat with pen-scribbled, unfinished walls and no mirror. Last year, I started re-visiting previous plans (see the initial inspiration possibilities HERE), revising them, fine tuning them, and started ordering some of the larger features. We had it painted, had the vanity installed, and then, when I determined the wallpaper (see the wallpaper options I considered HERE), things changed a little. I went into the room re-do thinking I was going to go traditional and more on the feminine side (this mirror was even one of the first things I ordered) but once I decided on a wallpaper, I modified my former plans (again) and made a few switches. I still used some traditional finishes but it has a way more streamlined, modern feel to it. Let's go ahead and take a look at the coastal powder room that almost never was.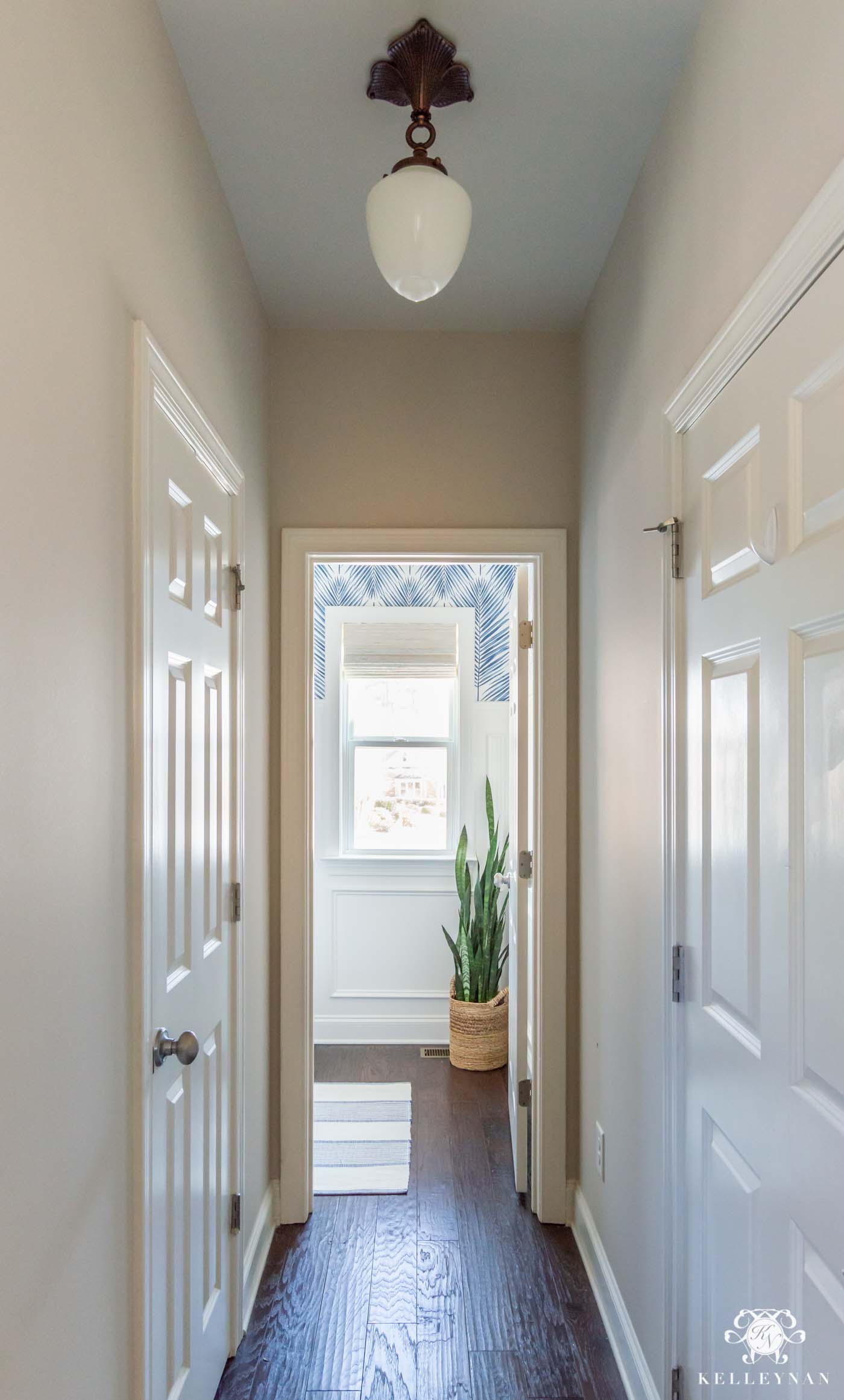 | Light Fixture (acorn shape with antique copper finish) |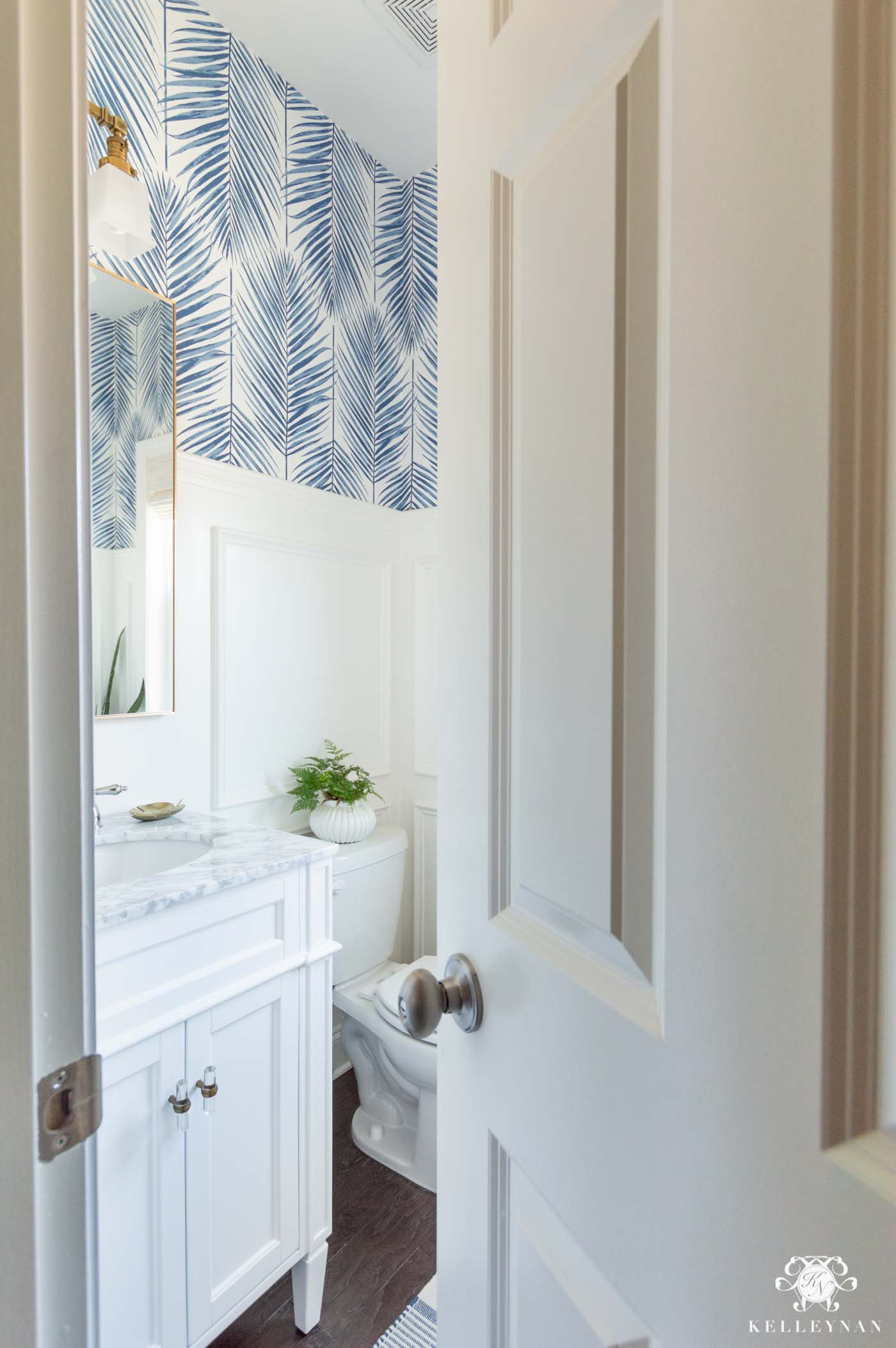 I couldn't find a "total before" before but I did manage to grab a "sort of" before — after the art was taken down and the picture frame moulding had been added. So, here is where we started(ish)…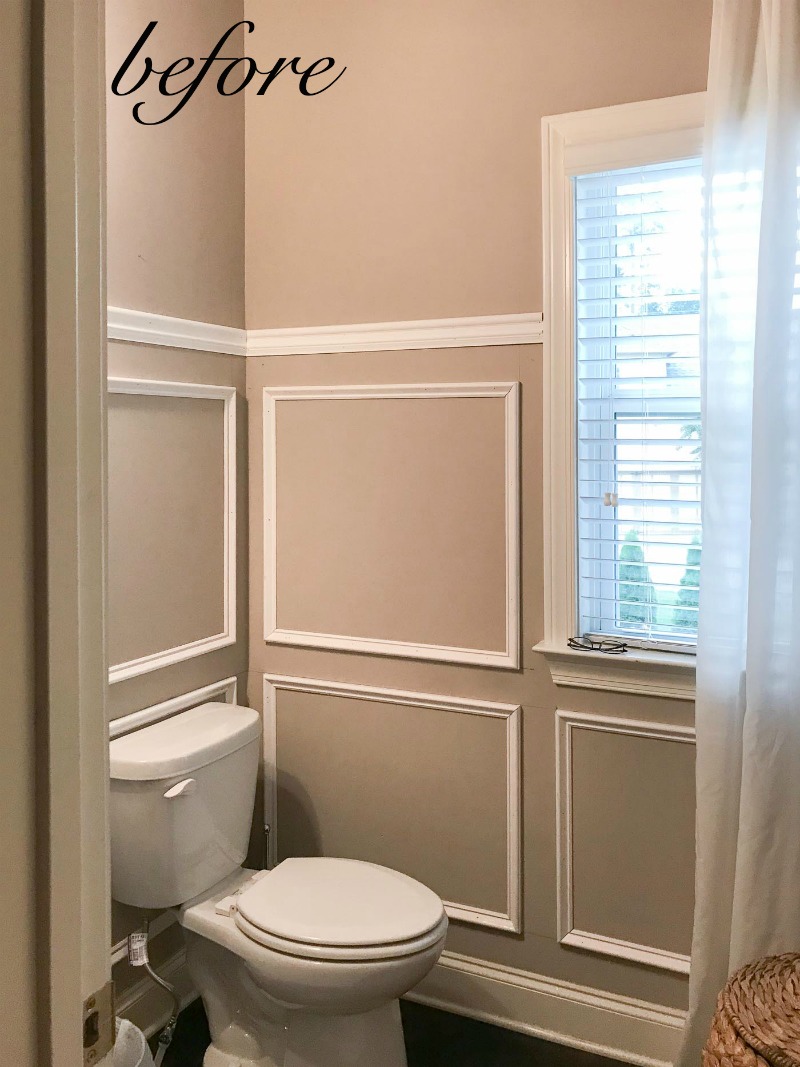 and here is the finished space today!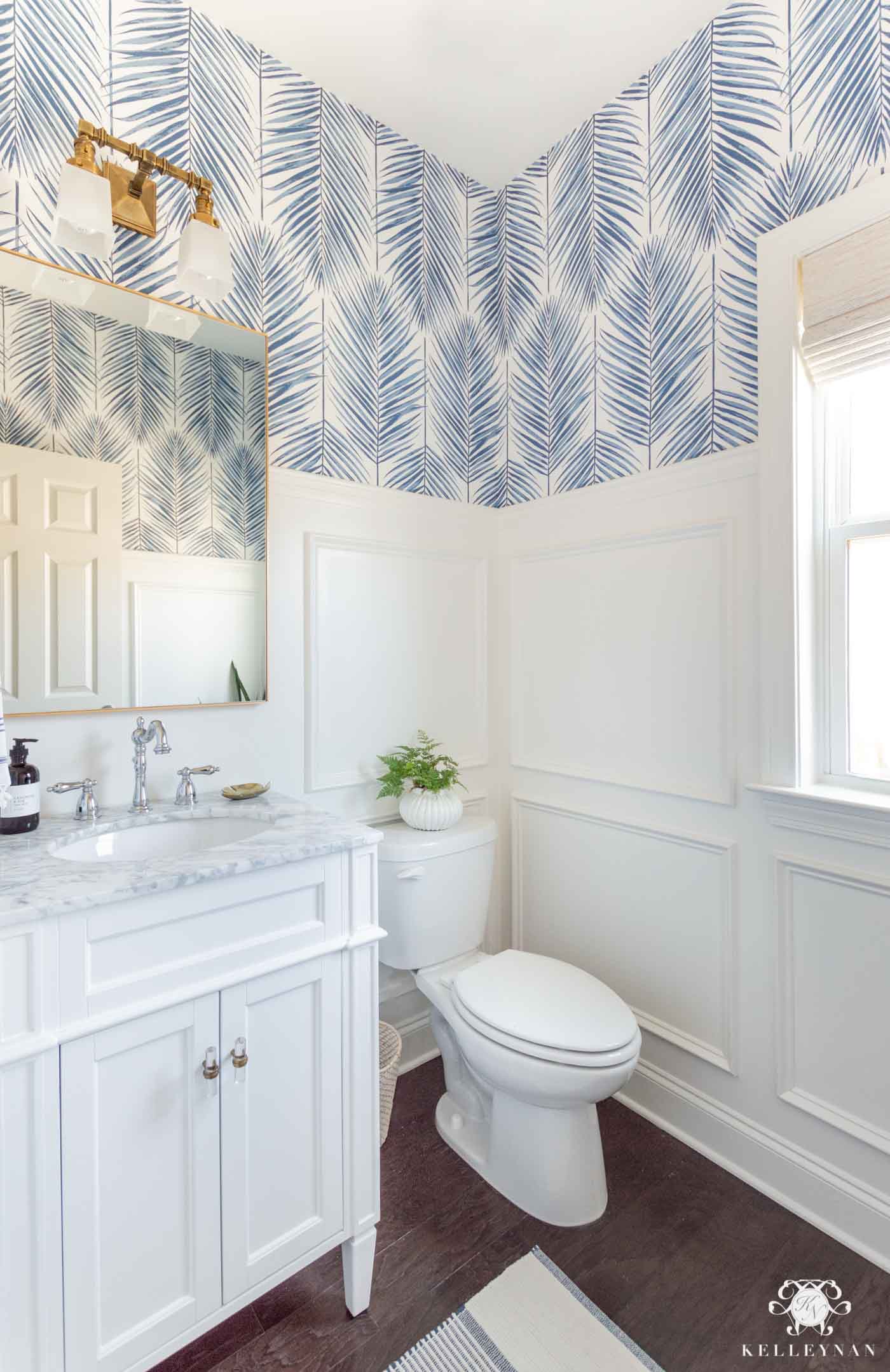 ---
Scroll & Tap to Shop the Room


---
It was a slow moving process but I'm grateful that I had the time to adjust as I went along because I absolutely love the result. The blue palm fronds won the wallpaper debate and I couldn't be more pleased. It's definitely more bold than I typically do but in a small space like this, it was fun to step out of my comfort zone a bit. Even before I started though (two years ago), I knew while I wanted wallpaper, I only wanted about 1/3 of the upper wall covered. I love the balance of the bold top with the classic picture frame moulding on the bottom. By the way, I was new to measuring for wallpaper and while I had a lot of scraps left over, it took the wallpaper installer every bit of two rolls to install it properly. When in doubt, order more than you think you need to make sure you get the same rolls from the same dye lot (you can always return any unused rolls).
Coastal Powder Room — The Design Details
One of the first big decisions was A. a larger pedestal sink or B. a small (had to be 24″ or less) vanity. I actually like pedestal sinks — especially with my original vision —  but the one I had was way too small (it wouldn't even hold a bottle of soap without the small faucet handle hitting it) and I really wanted some downstairs bath storage. Here is the before…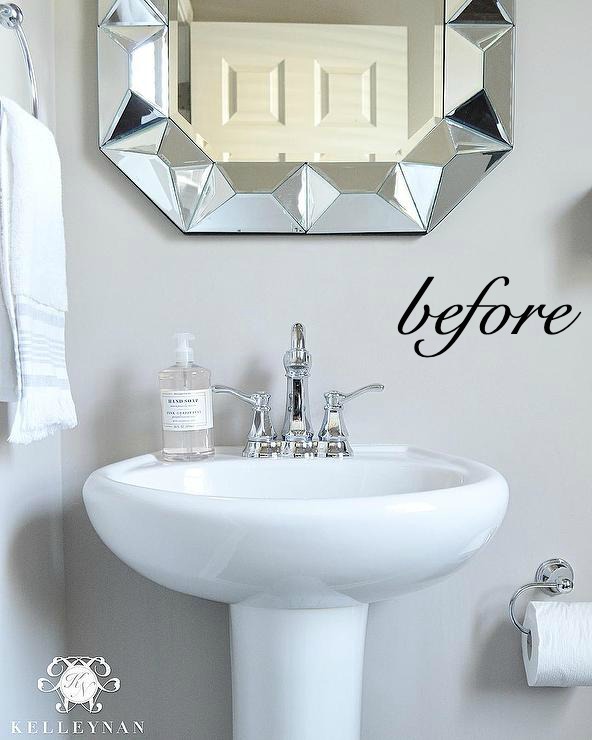 and this is the finished result of switching the tiny pedestal to a small (but way bigger than what I had) vanity.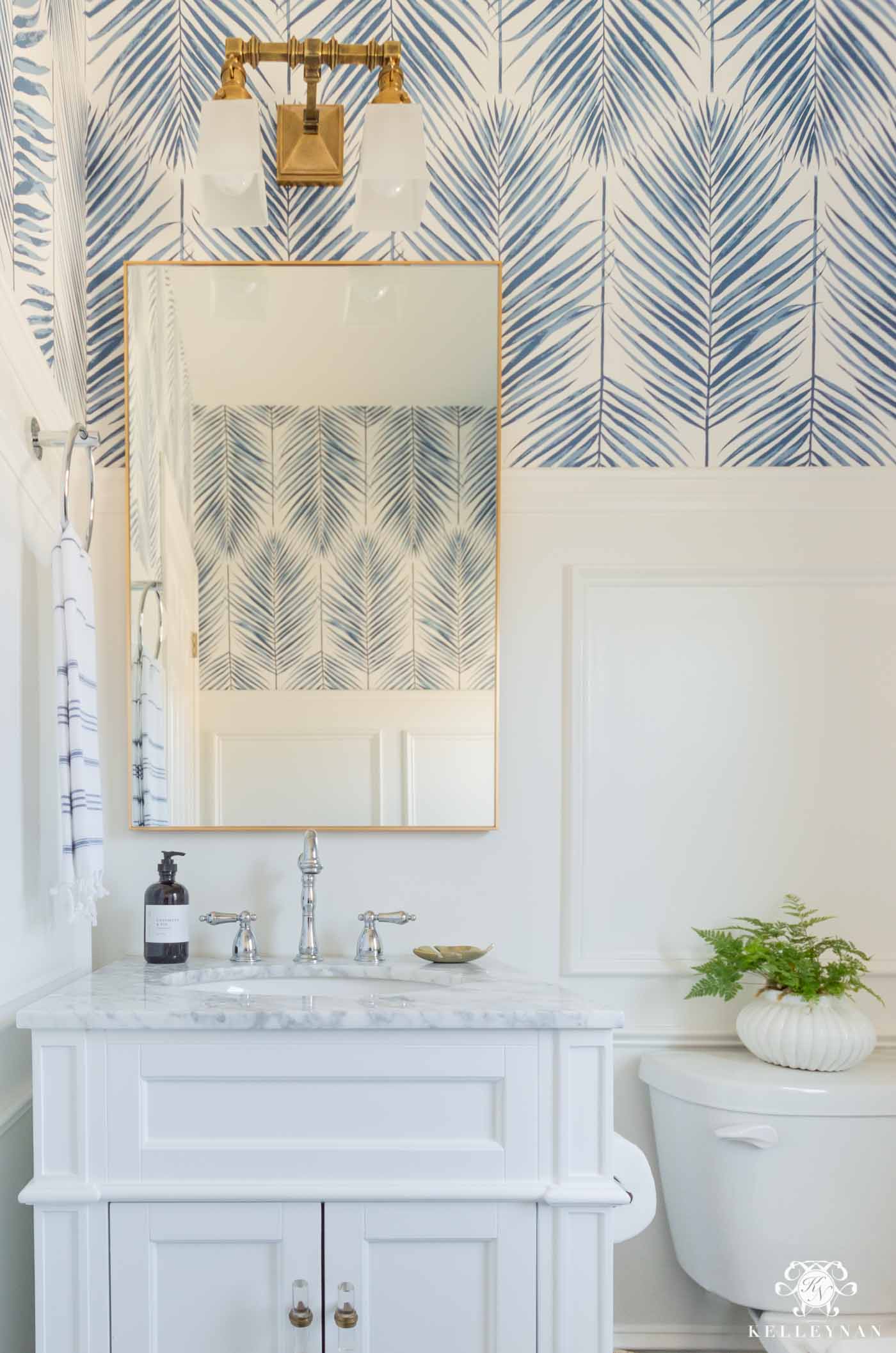 My final decision was made when I saw this vanity go on sale; it comes with the marble top and soft-close cabinet doors with dual shelving inside. I actually switched the basic hardware to this pair of Tuva knobs I already had on hand (I loved them so much from another project, I got additional sets for future projects). I purchased the widespread faucet when I bought the vanity (it comes in seven finishes), had great reviews, and was easier on the budget than comparable designs. It has a more traditional structure that I wasn't sure about after I changed up my plan but after everything came together, I actually love the juxtaposition between the faucet and the more sleek, streamlined elements in the room.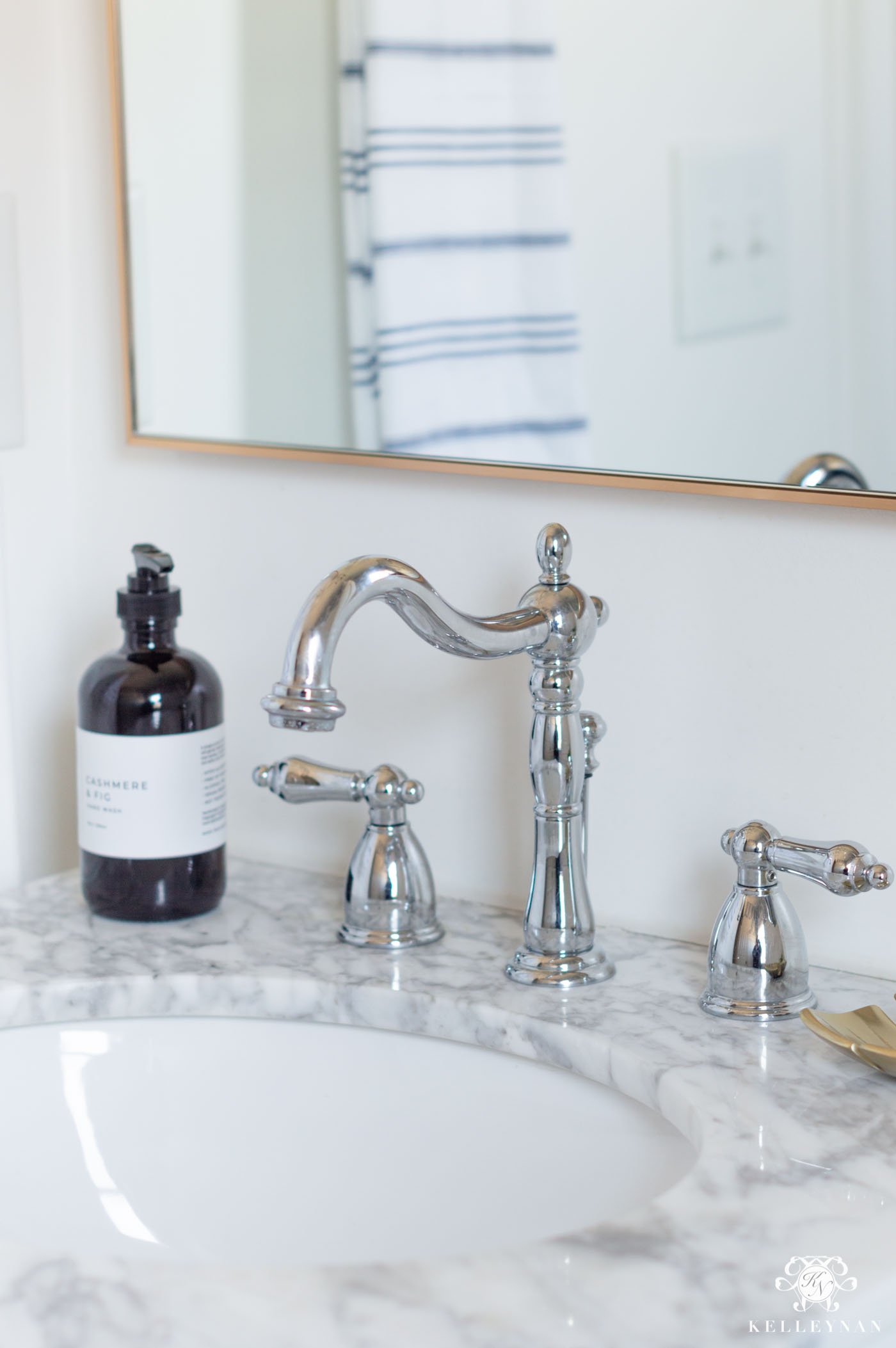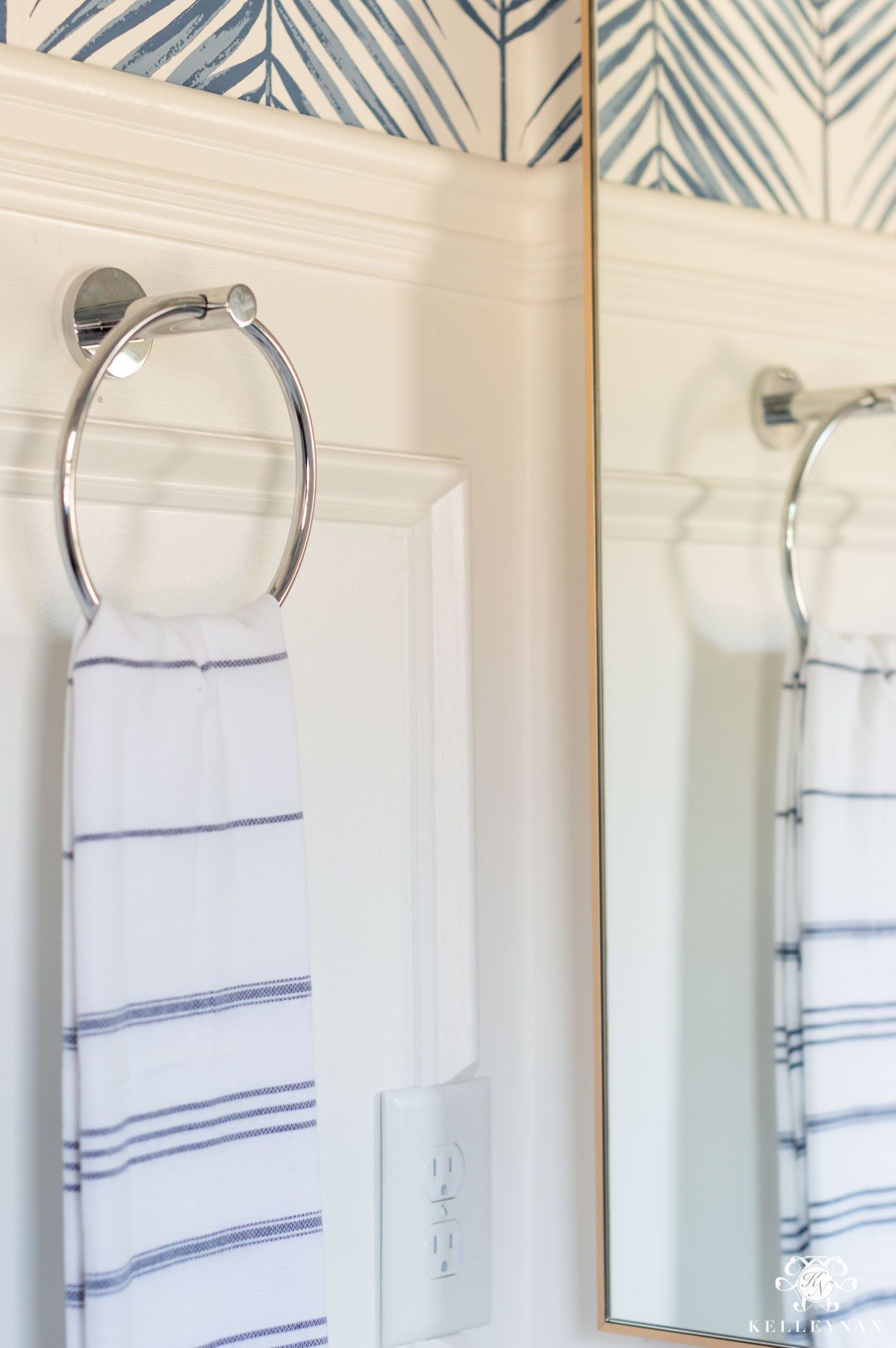 The budget-friendly West Elm towel ring and toilet paper holder are on sale often and if you're outfitting an entire bathroom, they also have towel bars and hooks in the same collection.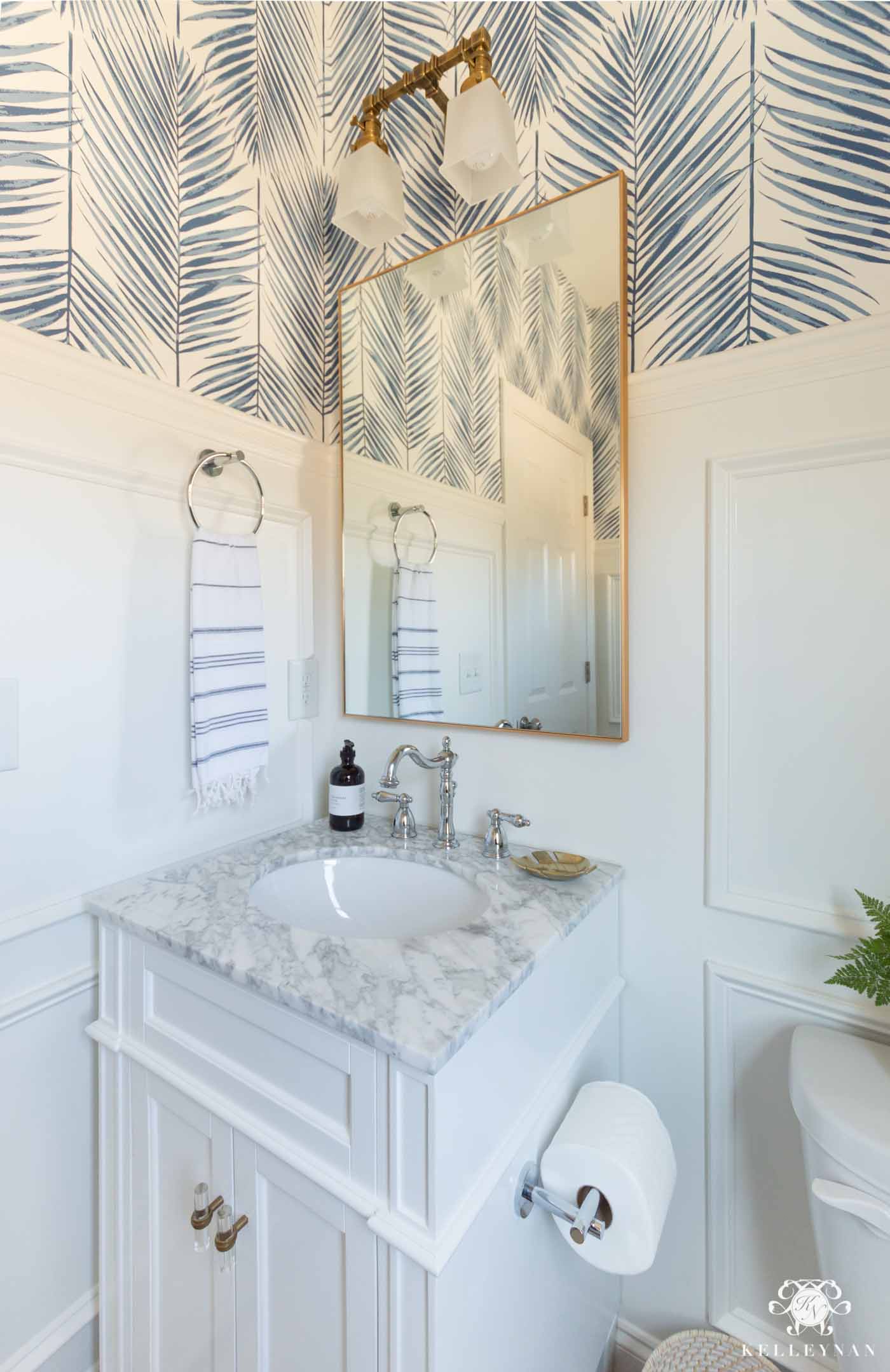 The Visual Comfort double-sconce light fixture, well, that was one of my splurges. I really wanted sconces flanking the mirror but with the limited space and current wiring, it wasn't a viable option. I purchased this fixture early on (it comes in five finishes) and while it was pricey, I love it (and justified it by scoring some of my other big pieces on sale 😉 ).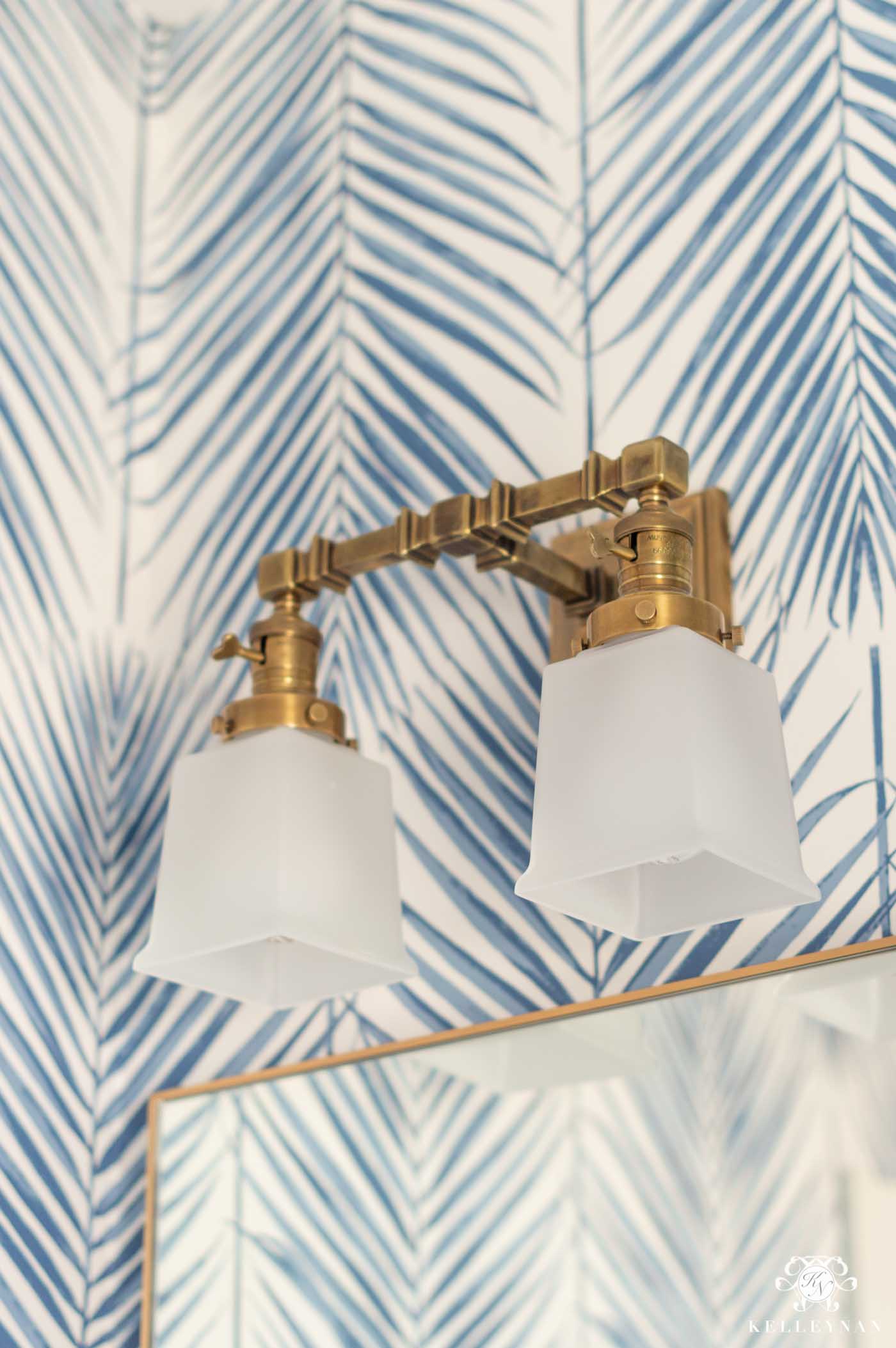 I went through THREE mirrors throughout the process, though. I mixed a warm, brassy metal with chrome (which I love) but after switching gears and ditching my first (more feminine) mirror (with too many details next to the sconce), I had a hard time finding something that wasn't too gold. I also wanted something more sleek with a really slim frame (the second mirror I got was off on coloring and the frame was just too chunky for the look I was going for). I ended up going for this 24″ x 36″ infinity mirror in copper, but it totally reads a more aged brass and coordinates well with the other brass elements in the room. The "copper" color has been discontinued but "brass" has been introduced and they look incredibly similar — maybe even the same with a different name?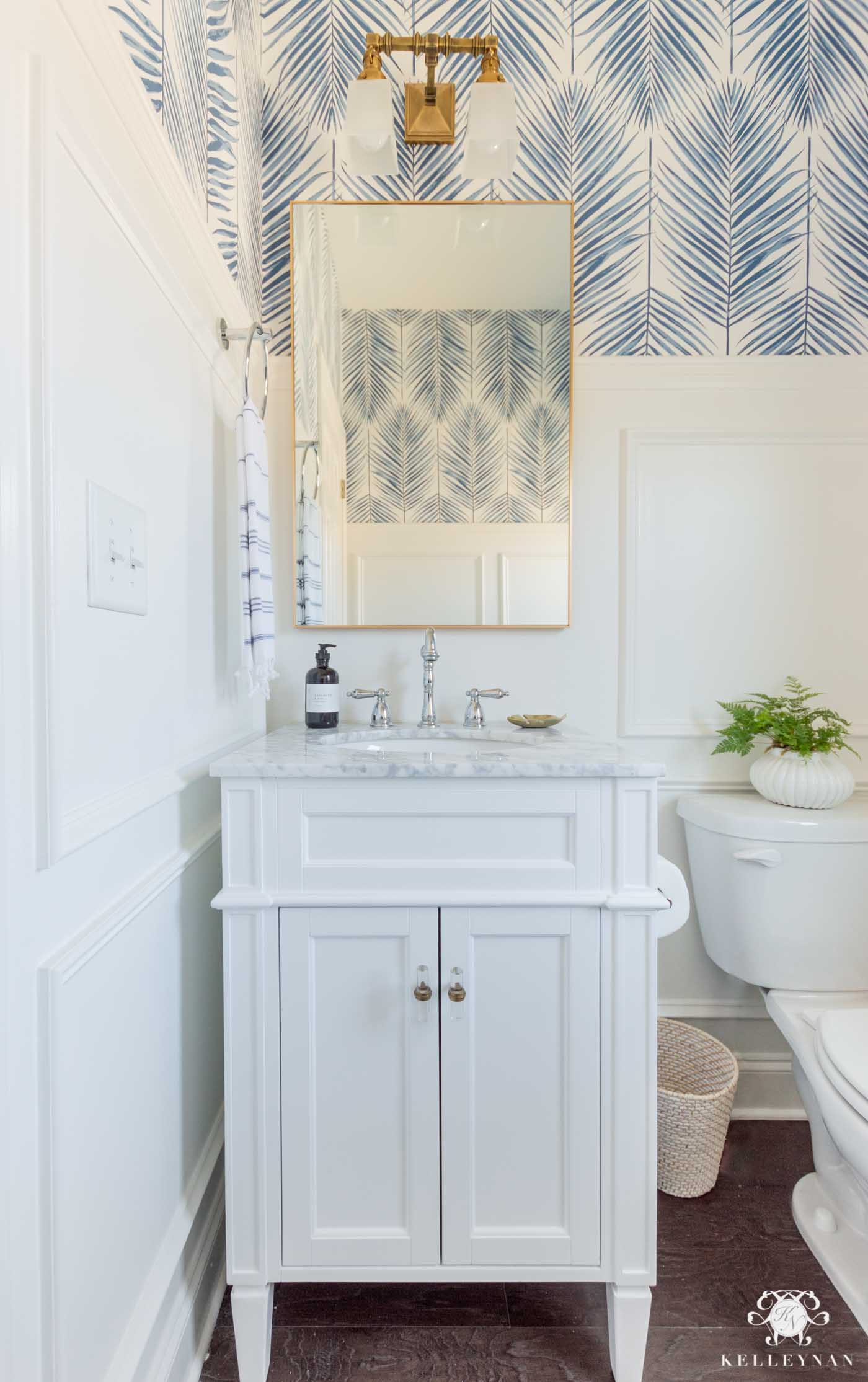 ---
Scroll & Tap to Shop the Room


---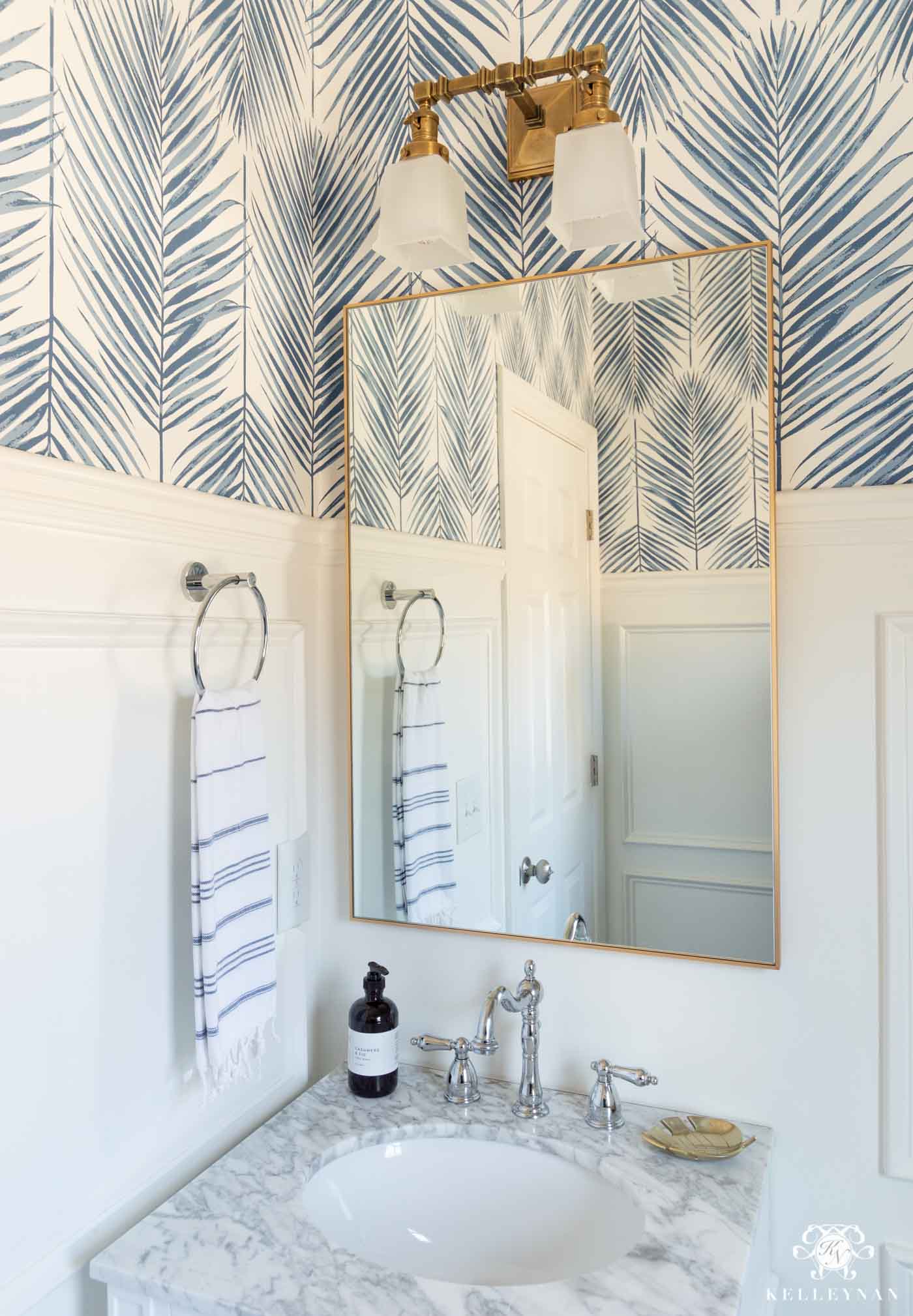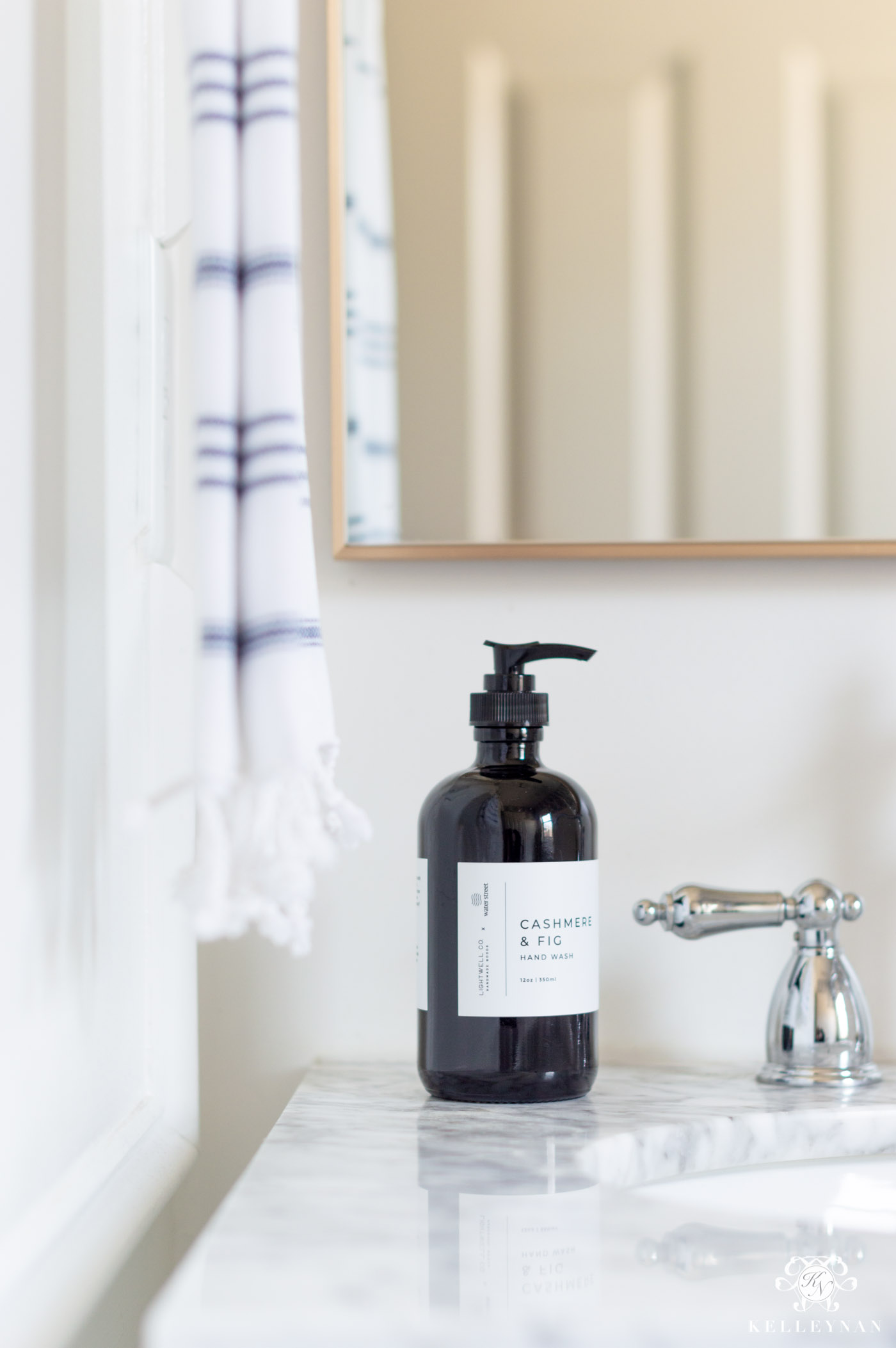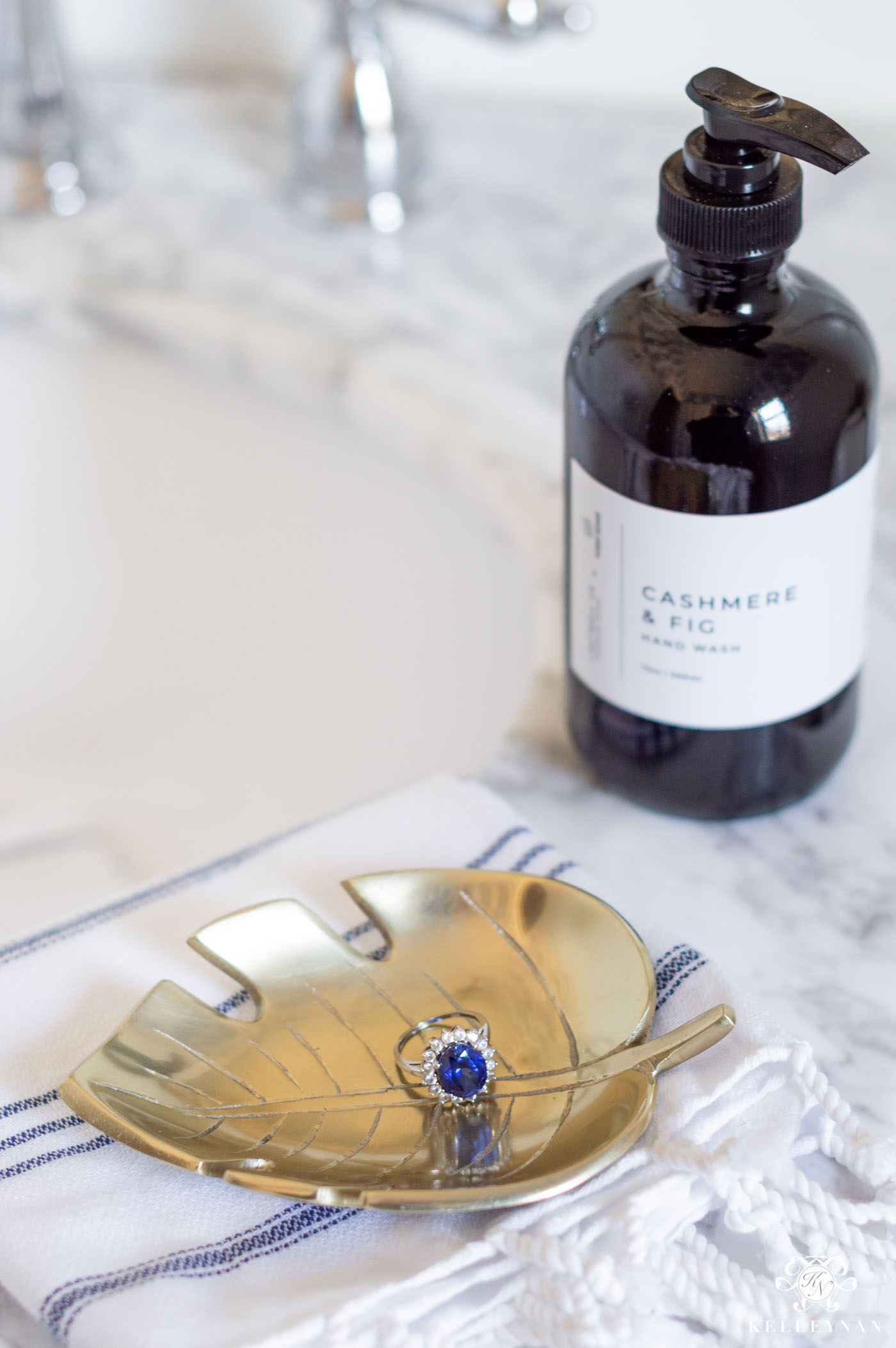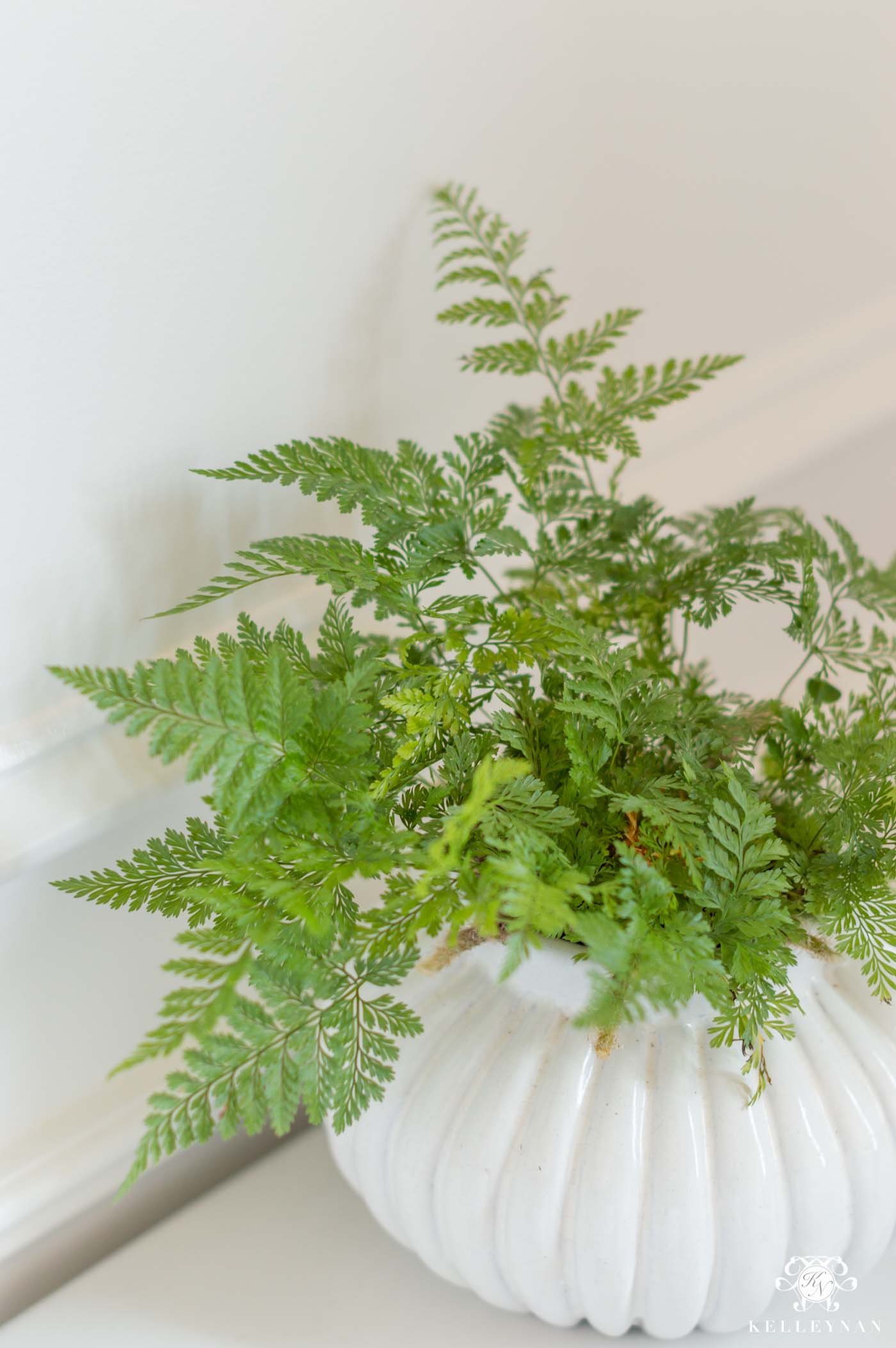 I still need to add a rug pad under this Dash & Albert rug but after looking for a long time, I was so happy to find this little coastal addition.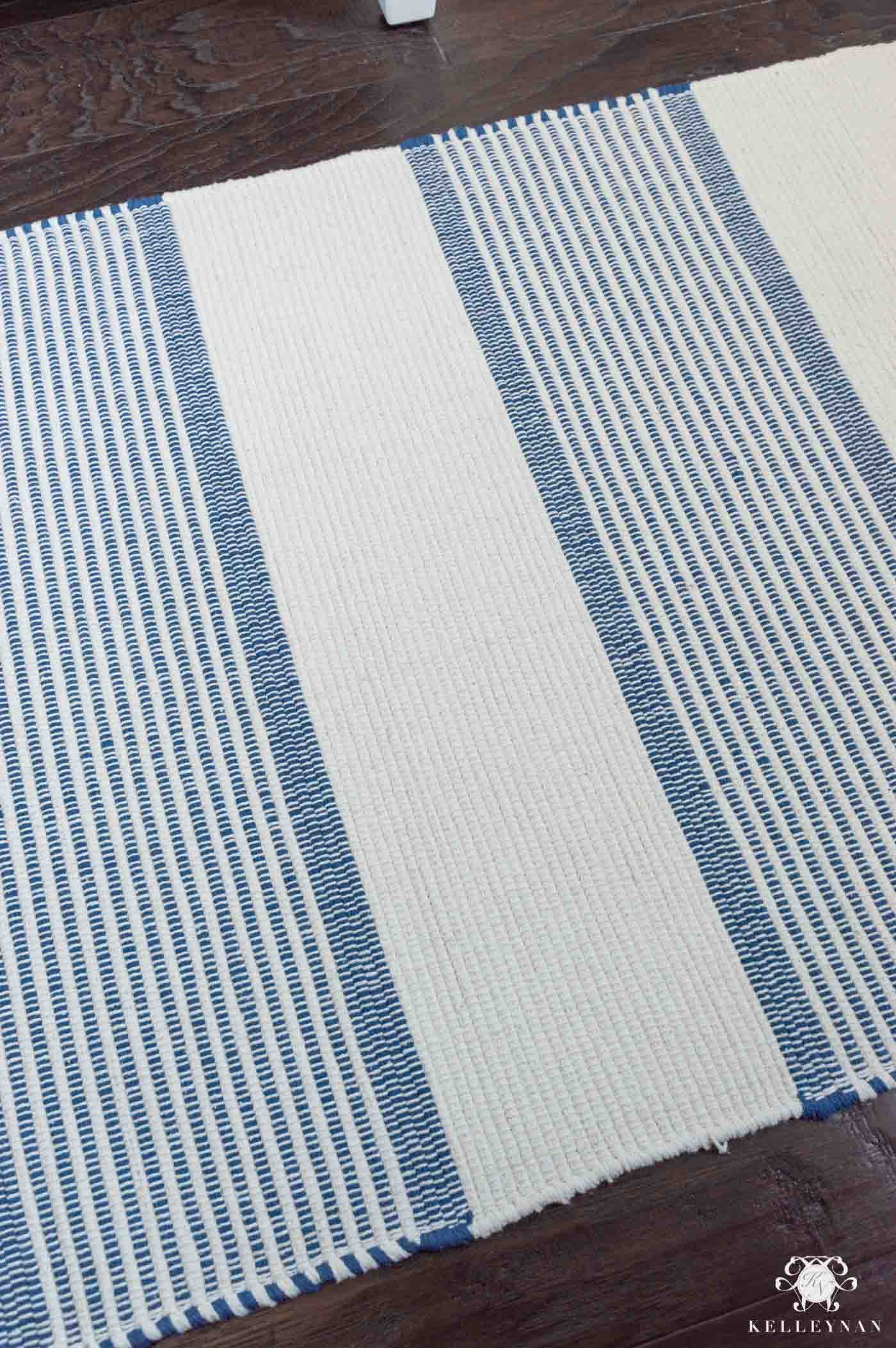 Coastal Powder Room — The Window Treatment Debate
I was originally considering a linen-fabric roman shade for the single, small window but after the wallpaper was installed and I saw just how much white was in the room, I decided that something rattan-looking would better suit my modern coastal powder room decor and that it would be the perfect place to bring in my favorite woven shades (c/o Select Blinds). If you've been a reader for a while, you have seen these shades pop up in almost every space I've tackled. The color I've used most often is the Bali White (a sandy, light natural) with color variants that make it so easy to incorporate them into almost any room…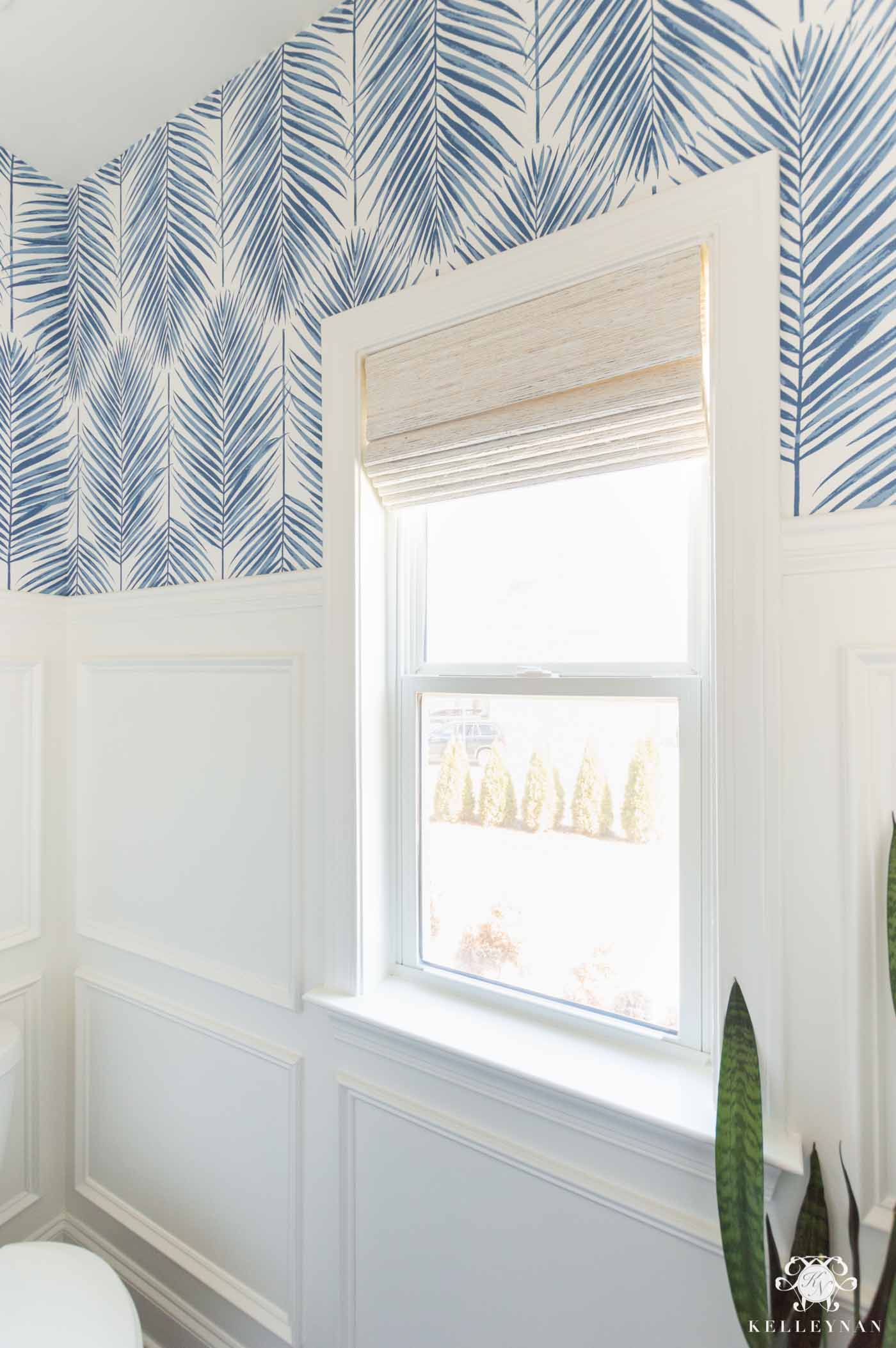 and I always choose the cordless option. They've elevated my windows beautifully each place I've installed them (Dave does it easily, in minutes).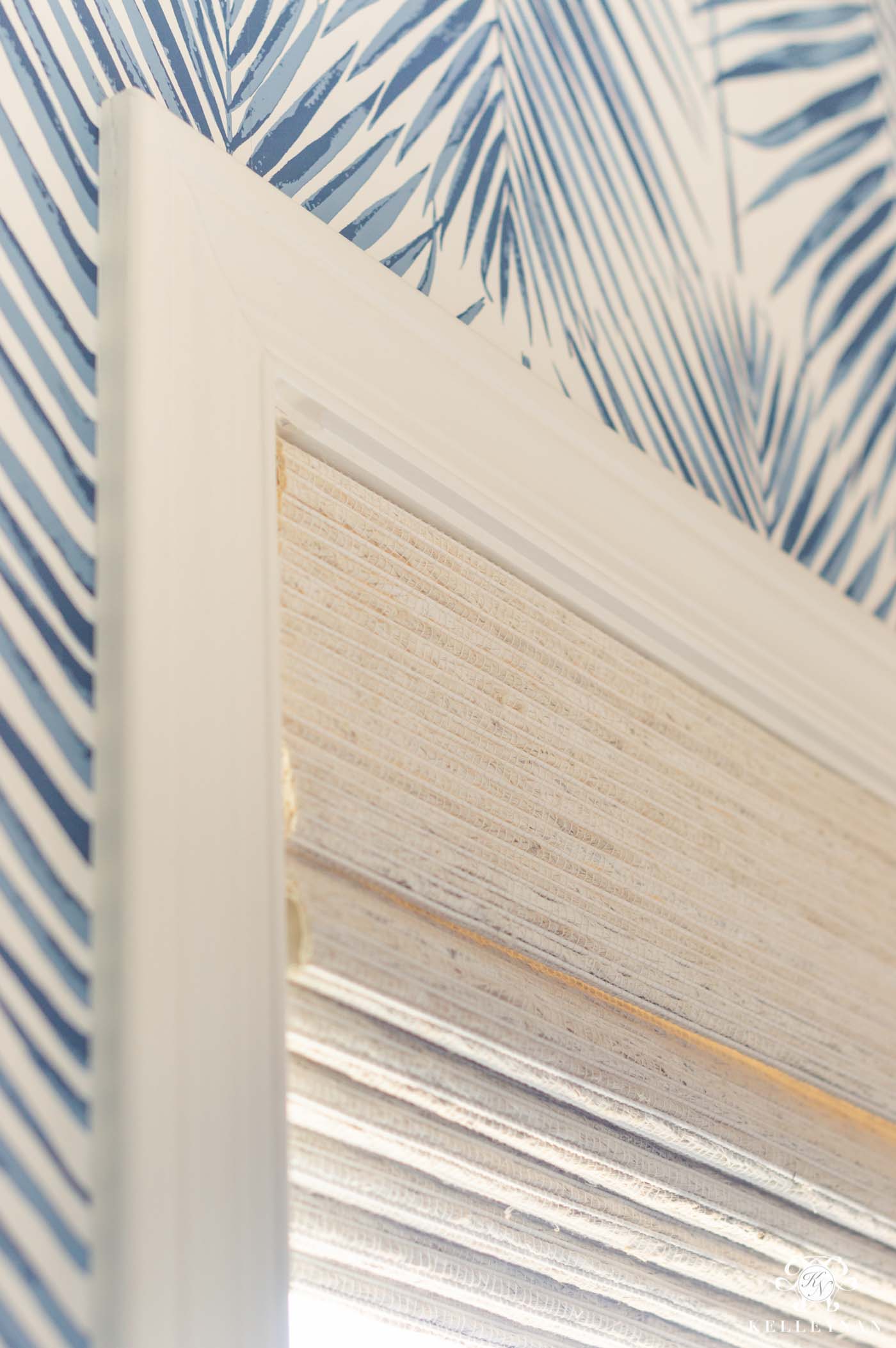 I opted for the privacy liner on these…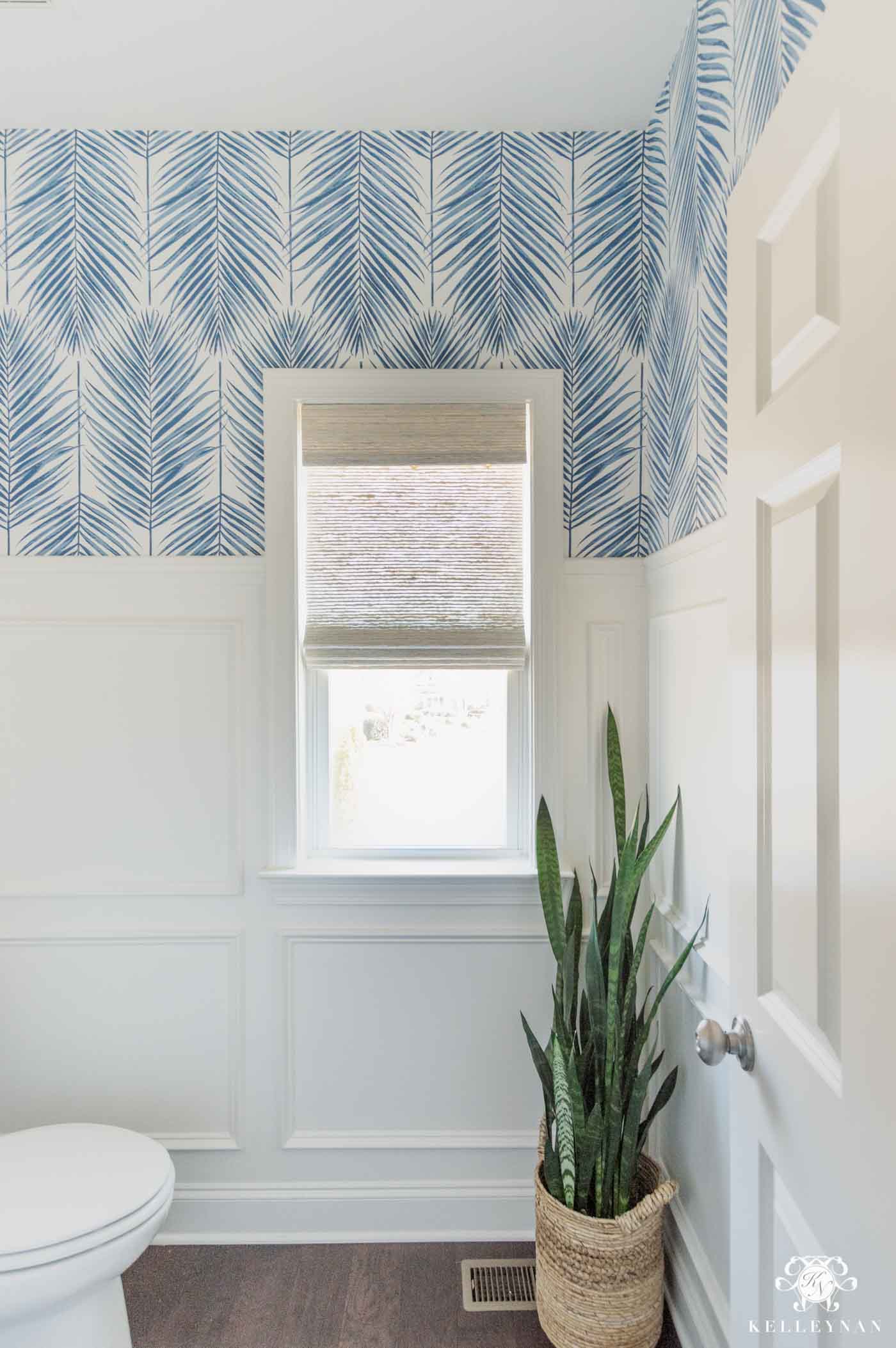 and these in our bedroom, which you may recall…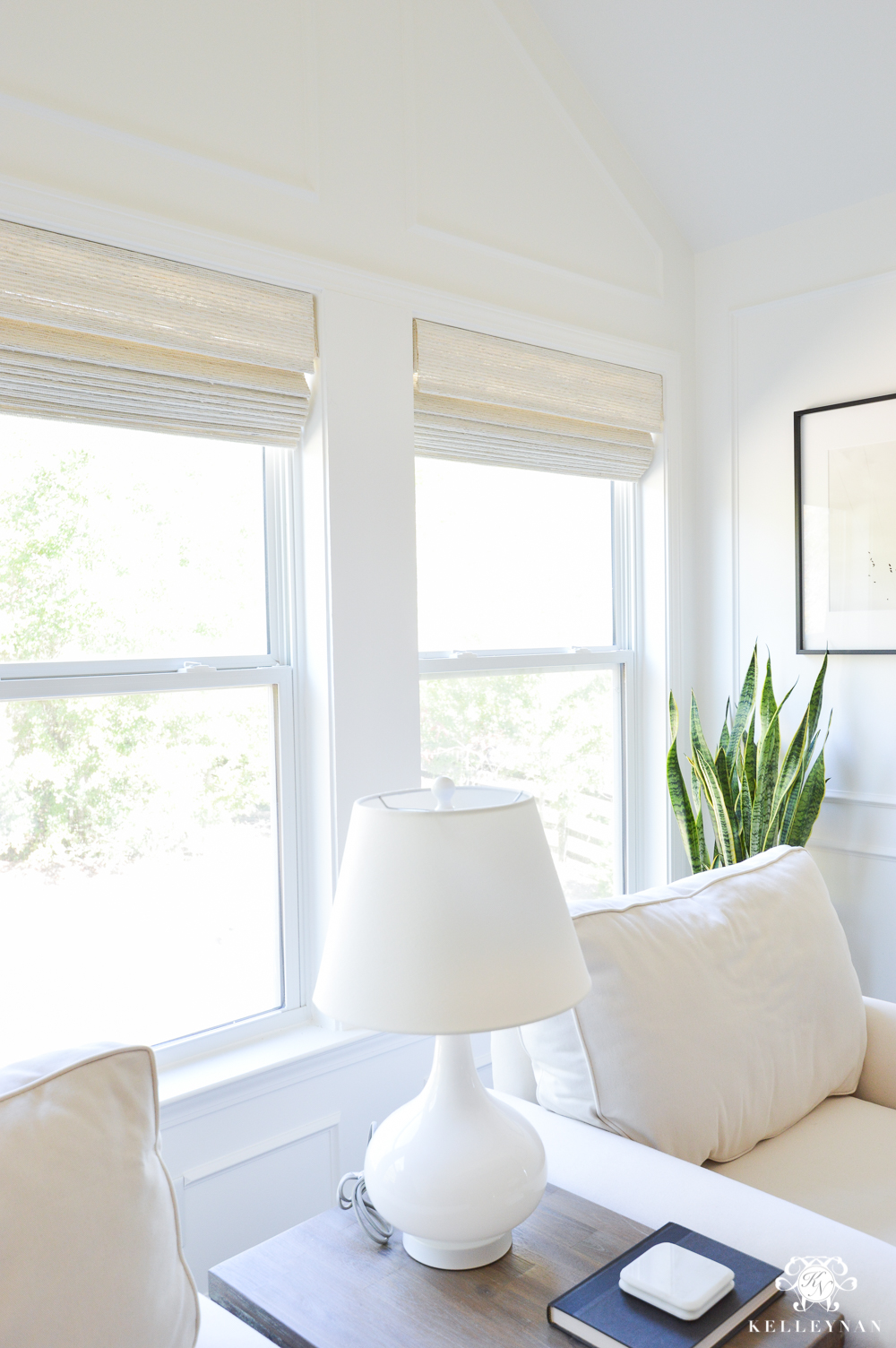 but if you remember my nursery window shades, I went for the blackout liner option.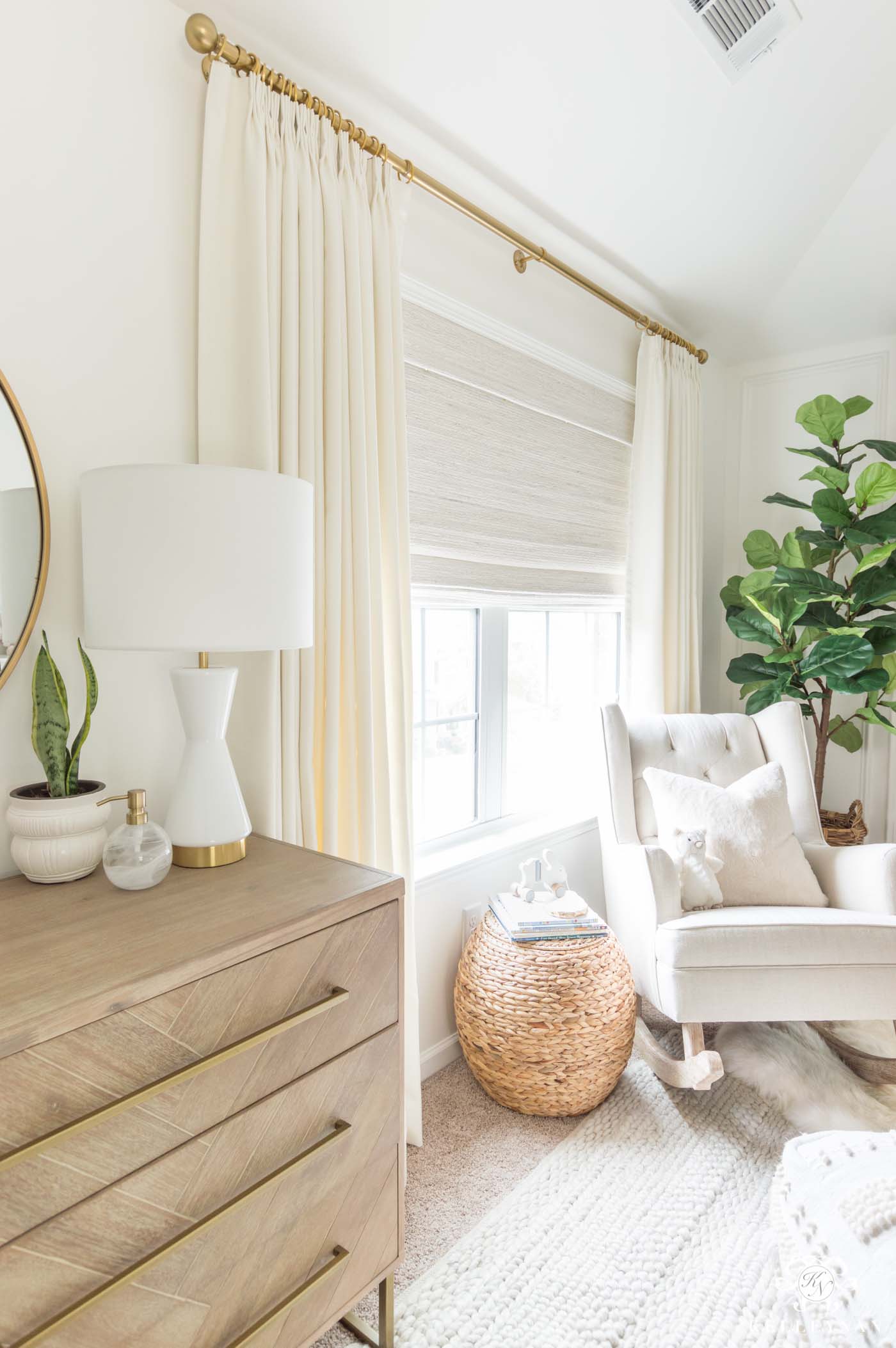 (See the full nursery reveal HERE)
I typically go for the inside mount option (I like how clean it is), but I have an outside mount on our doors…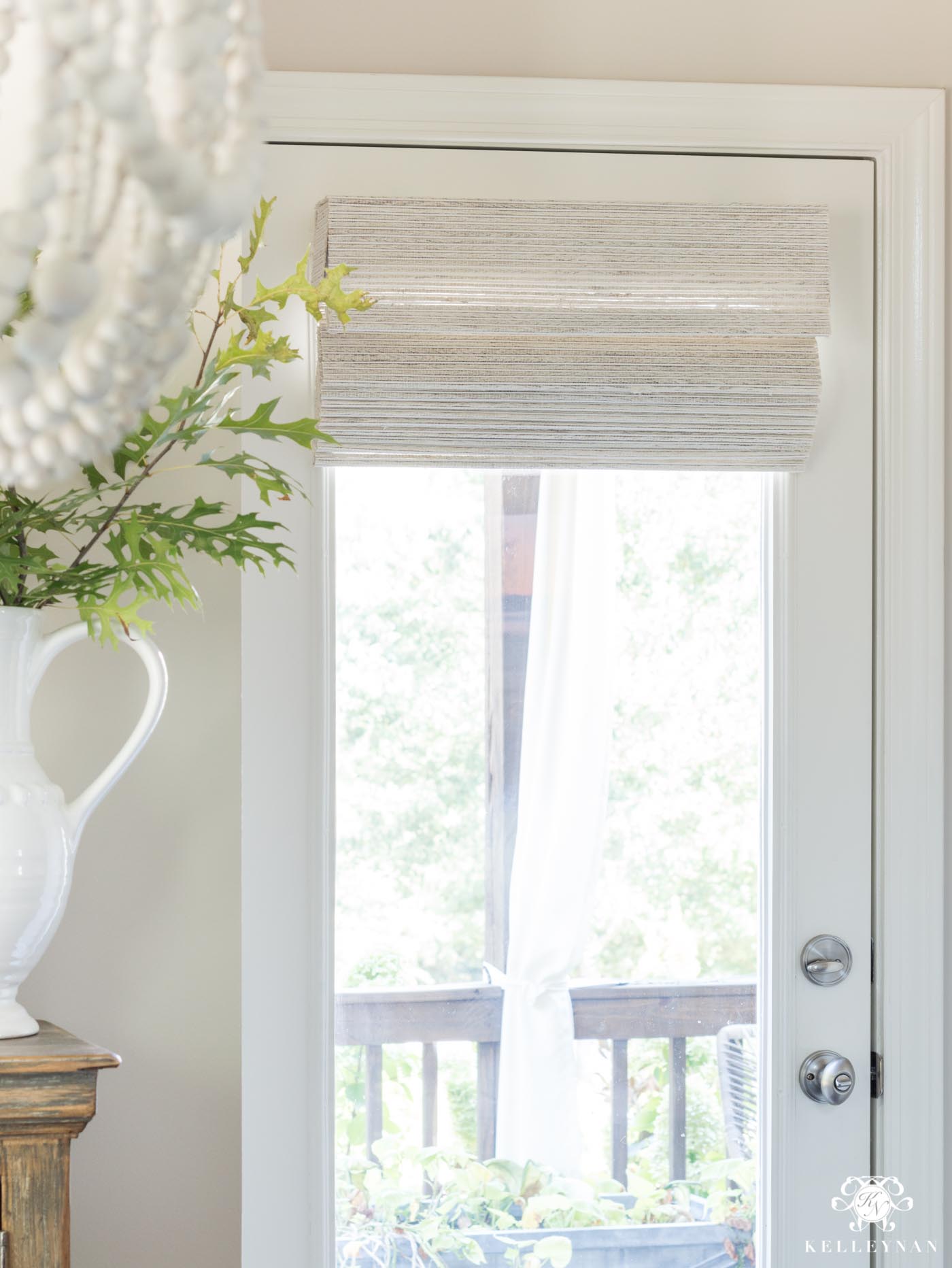 While it's the smallest room I've transformed, this coastal powder room ranks toward the top of my list for favorite makeovers in our home. I don't think my heart and patience could stand taking this long on every room but in this case, taking my time and assembling the design a little bit at a time paid off 😉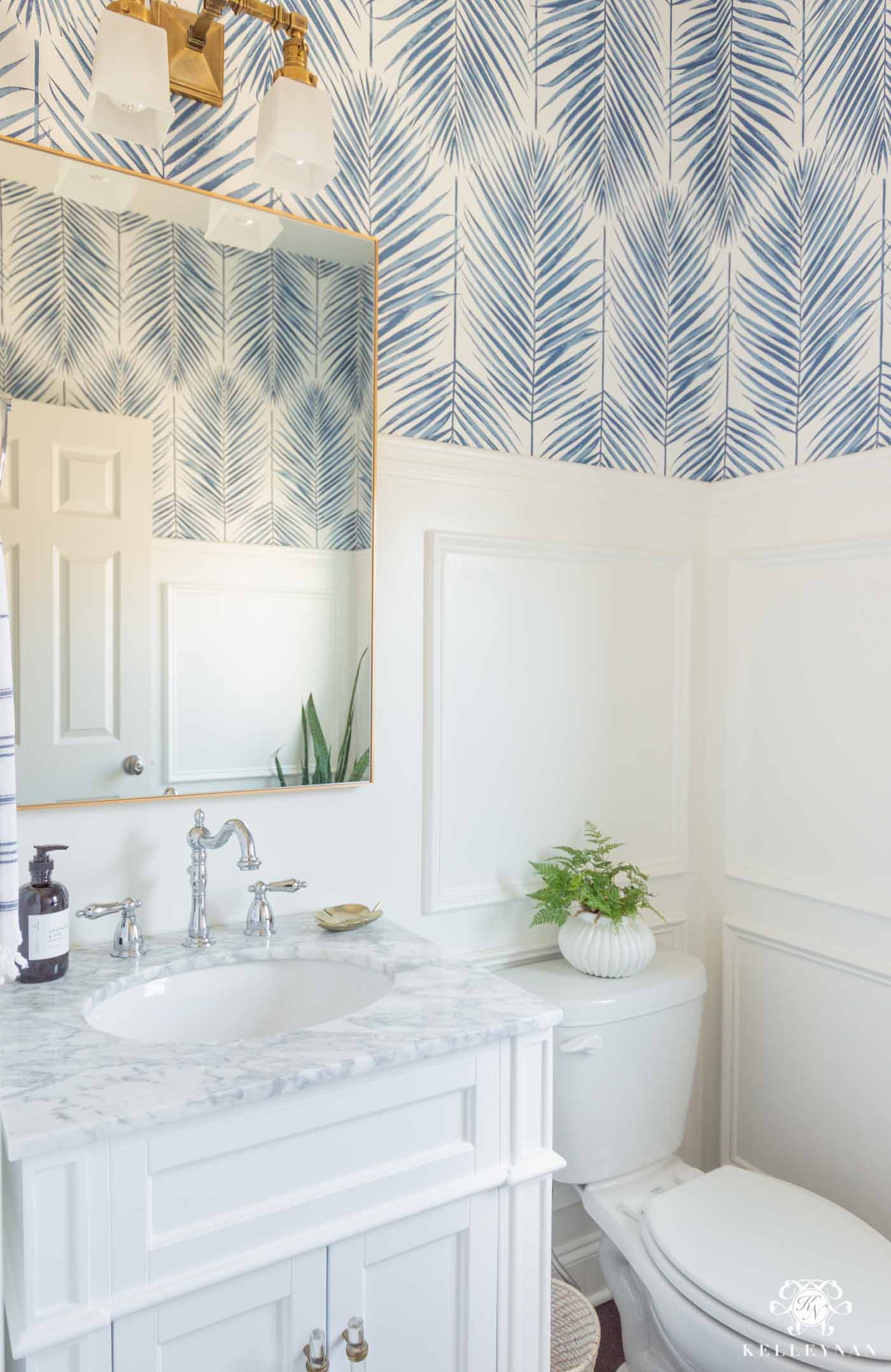 Are you tackling any rooms this year in your home? Looking to transform any of your spaces, either on a small or large scale? Let me know about it! And, if you aren't already, you can subscribe to my emails HERE to catch upcoming projects this year (and sneak peeks from time to time 😉 ).
Room Sources & Details
Walls: Palm Wallpaper // Simply White by Benjamin Moore (Regal Select Eggshell Finish; Flat Ceiling Paint on Ceiling)
Windows: Shades (Bali White, Cordless, Privacy Liner)
Vanity: 24″ Vanity (White w/ Marble Top) // Widespread Faucet (Chrome) // Hardware Knobs (set of 2)
Lighting: Visual Comfort Boston 14″ Double Vanity Light (Hand Rubbed Antique Brass)
Mirror: 24″ x 36″ Infinity Mirror (Copper — updated color closest would be brass)
Accessories: Dash & Albert Rug (2′ x 3′) // Whitewashed Rattan Waste Basket // Turkish Hand Towels (set of 2) // Cashmere & Fig Soap // Towel Ring (Chrome) // Toilet Paper Holder (Chrome) // Leaf Trinket Dish