Happy New Year (and new decade)! I've been on break over the past couple weeks, from Christmas through New Year's, and we took some time to cull a few donations (we've only scratched the surface), get the house back to normal, and check a few small home projects off the list. We installed some of our Christmas goodies — Nest Hello (finally!), Amazon Echos for our cars (LOVE IT!), and Dave even taught himself how to tap into the water line to install an icemaker in the new basement fridge. We had our first solo date since Eliza was born (we would both definitely recommend Richard Jewell) and I binged the entire series of The Office (again) while I worked on chores. I set up some more "baby zones", tried some new recipes for black eyed peas and collard greens that Dave actually ate (and liked), reinstating the New Year's meal tradition in our house, and I finally cleaned out my office that had become a dumping ground in 2019. We had a great first family-of-three holiday season and feel ready to take on 2020 and all that it will bring.
Maybe though, the most satisfying thing we did over the past week though was move along two overdue room transformations — we are officially finished with the powder room (after taking our time the past two years) and are close with the downstairs guest bedroom (Nan's room). The powder room reveal will go live in two days and I'm targeting February for the bedroom reveal (woo!) so today, to kick off the year and in celebration of finishing another space, I thought it would be fun to take a look back at the room makeovers and space transformations we've tackled over the past couple of years. Also, I'll be sharing another room that will be added to the list later this year 😉
*Posts on KelleyNan.com may contain affiliate links. Click HERE for full disclosure.*
Office Makeover
My office was the first major makeover I took on in my home a few years ago. I spend a huge amount of time in here and it's still one of my favorite makeovers I've ever taken on. As with a lot of rooms, this was a function-only space until I could really do what I wanted. Here was the before…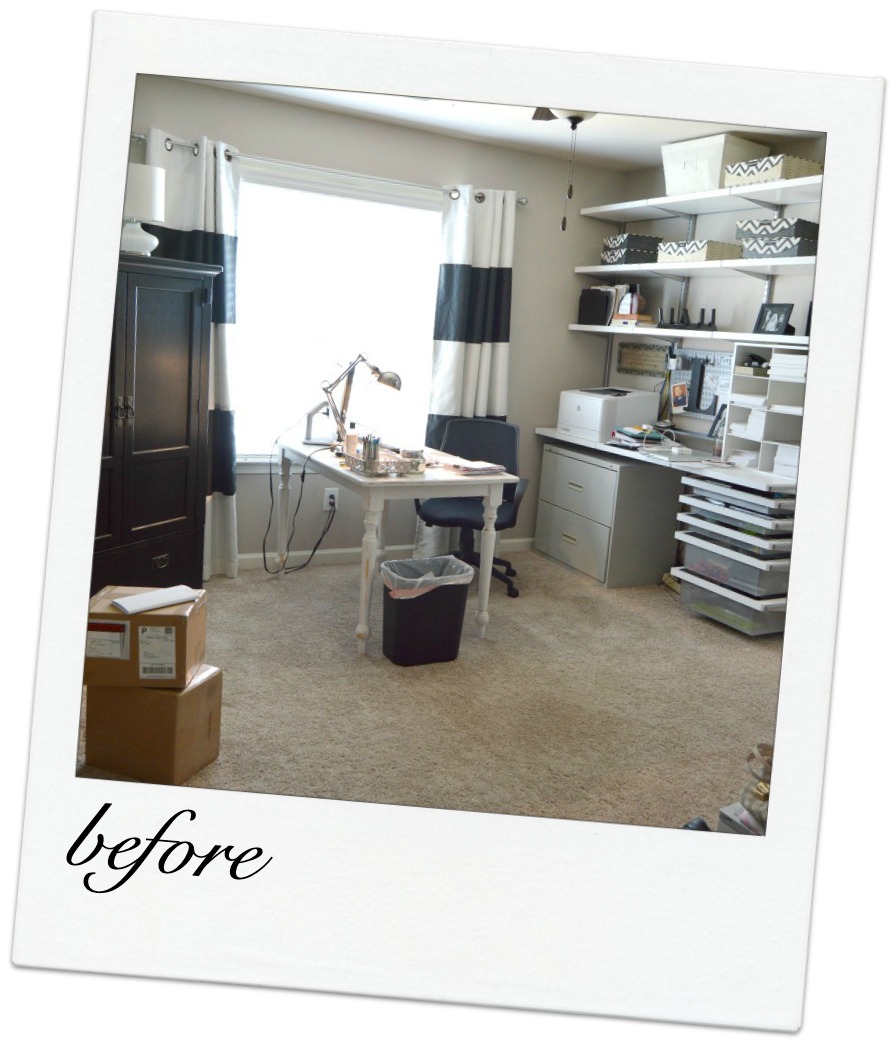 And in six-weeks time, this was the result.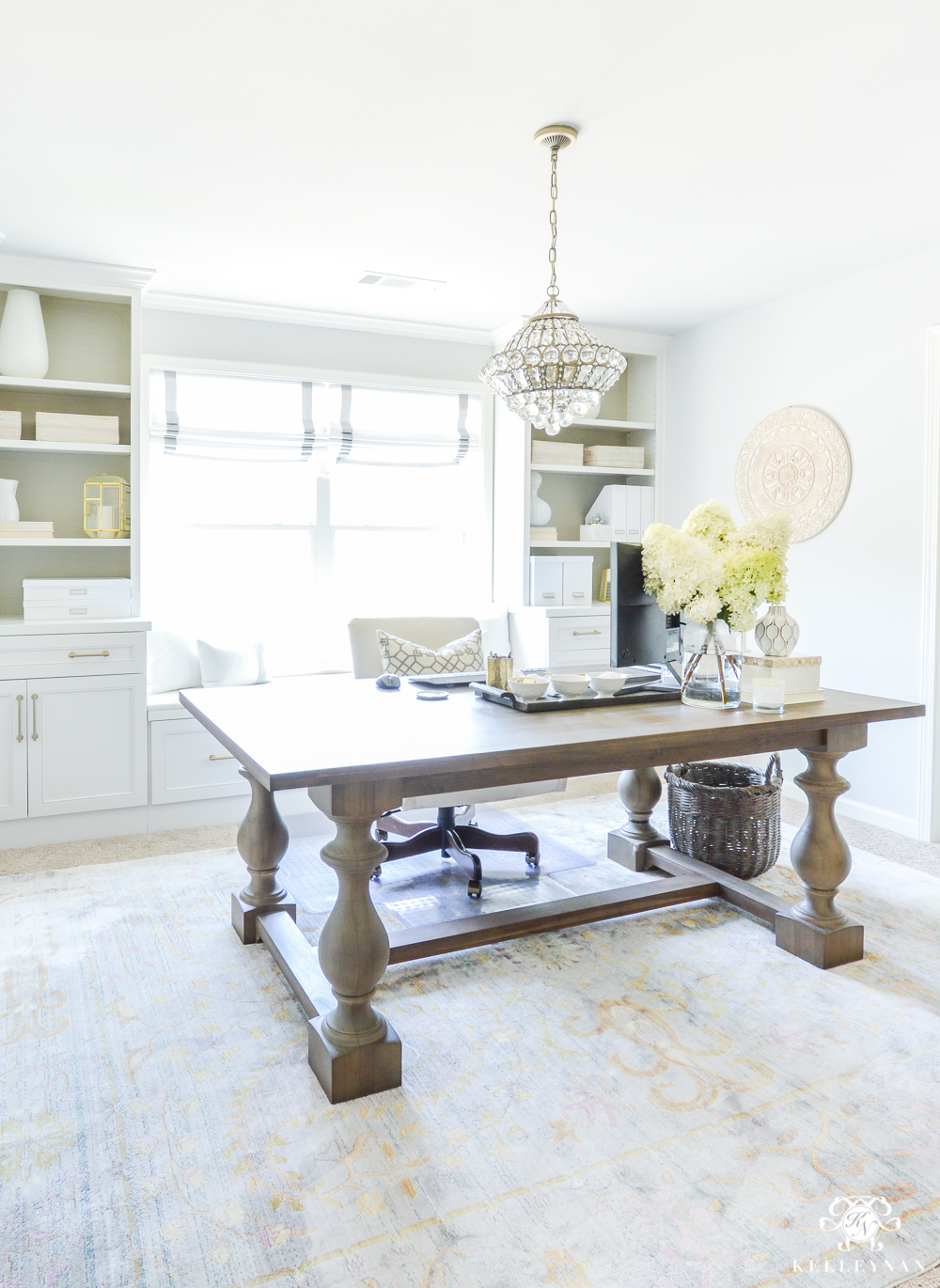 Scroll & Tap to Shop the Room


See the full room reveal HERE.
Kitchen Makeover
If you've been a reader for a while, you may remember that our kitchen mini-makeover was initiated by accident. After our countertop cracked, I took the opportunity to go ahead and make other updates to brighten up the space and make it a little more current. Cabinets weren't touched, nor was the backsplash (although I wouldn't be opposed to taking that on as an individual project at some point), but the small changes made a big difference. Here is where it started…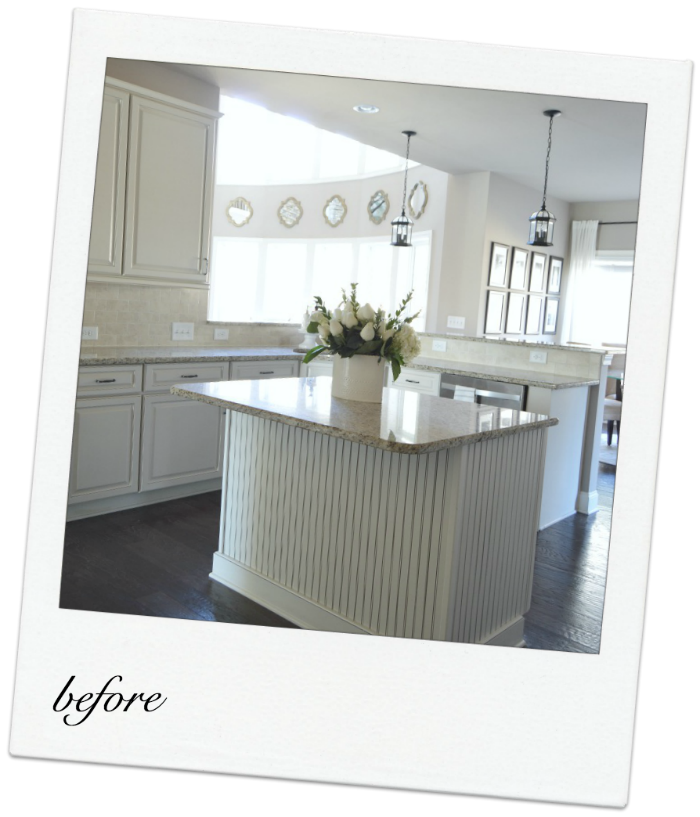 and this is the lighter, brighter "after".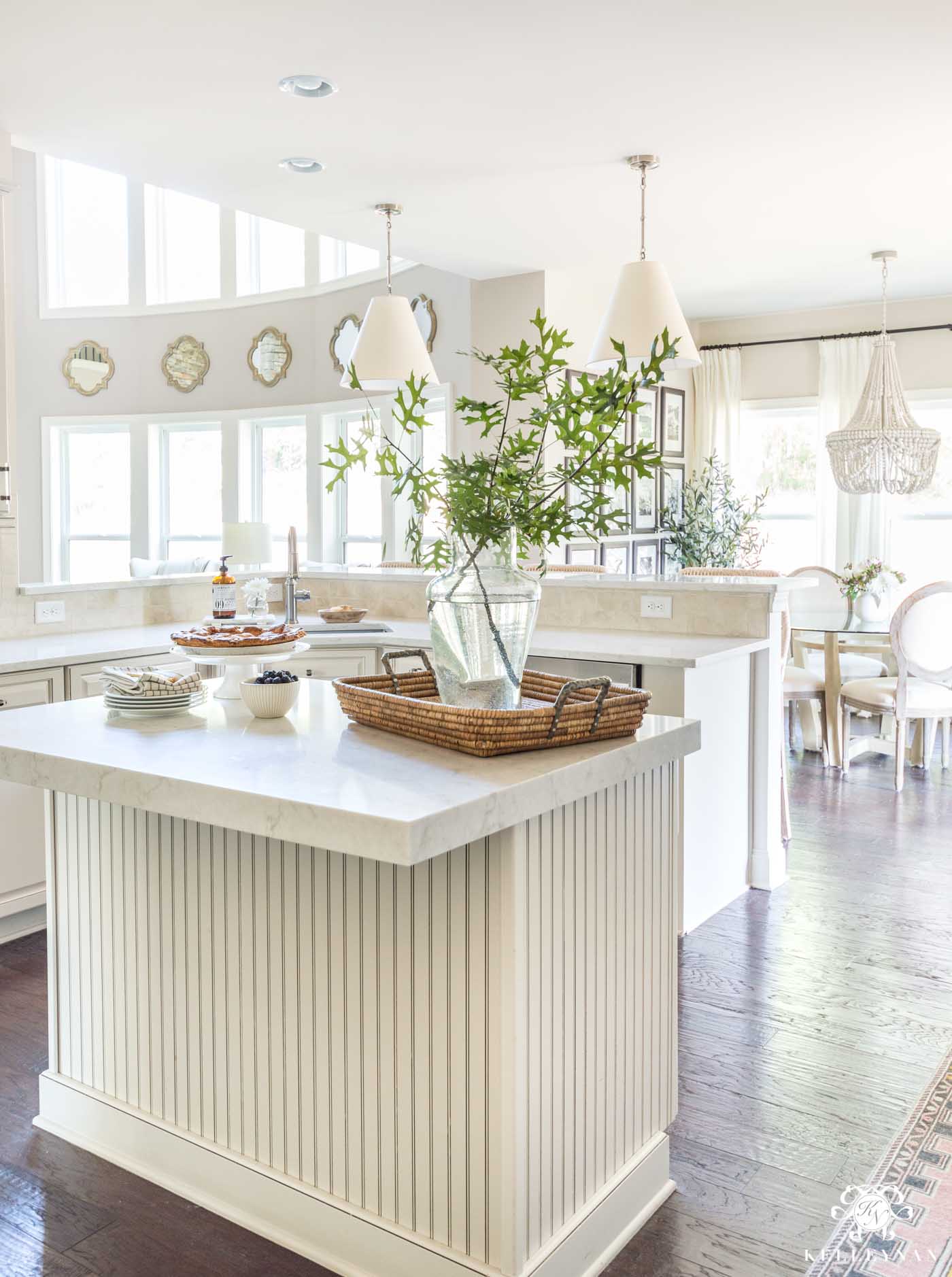 Scroll & Tap to Shop the Room

See the full room reveal HERE.
Butler's Pantry Makeover
Another mini-makeover, our butler's pantry quartz was added when we took on the kitchen update. The only other minor changes I made were updating the lighting, switching the cabinet hardware, lightening the paint, and adding a little leftover grasscloth to the wall. This is what it looked like before…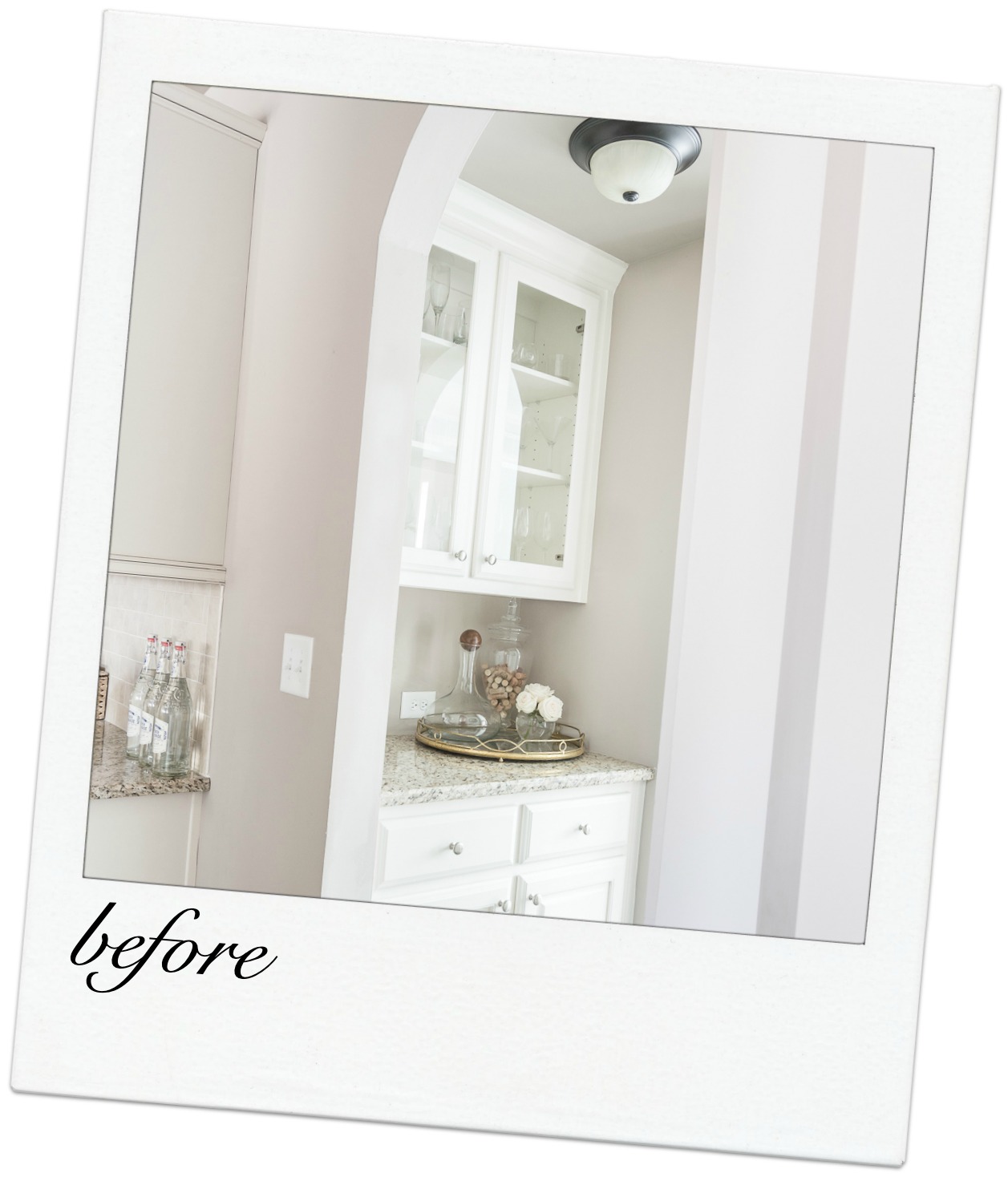 and this is the final, simple facelift.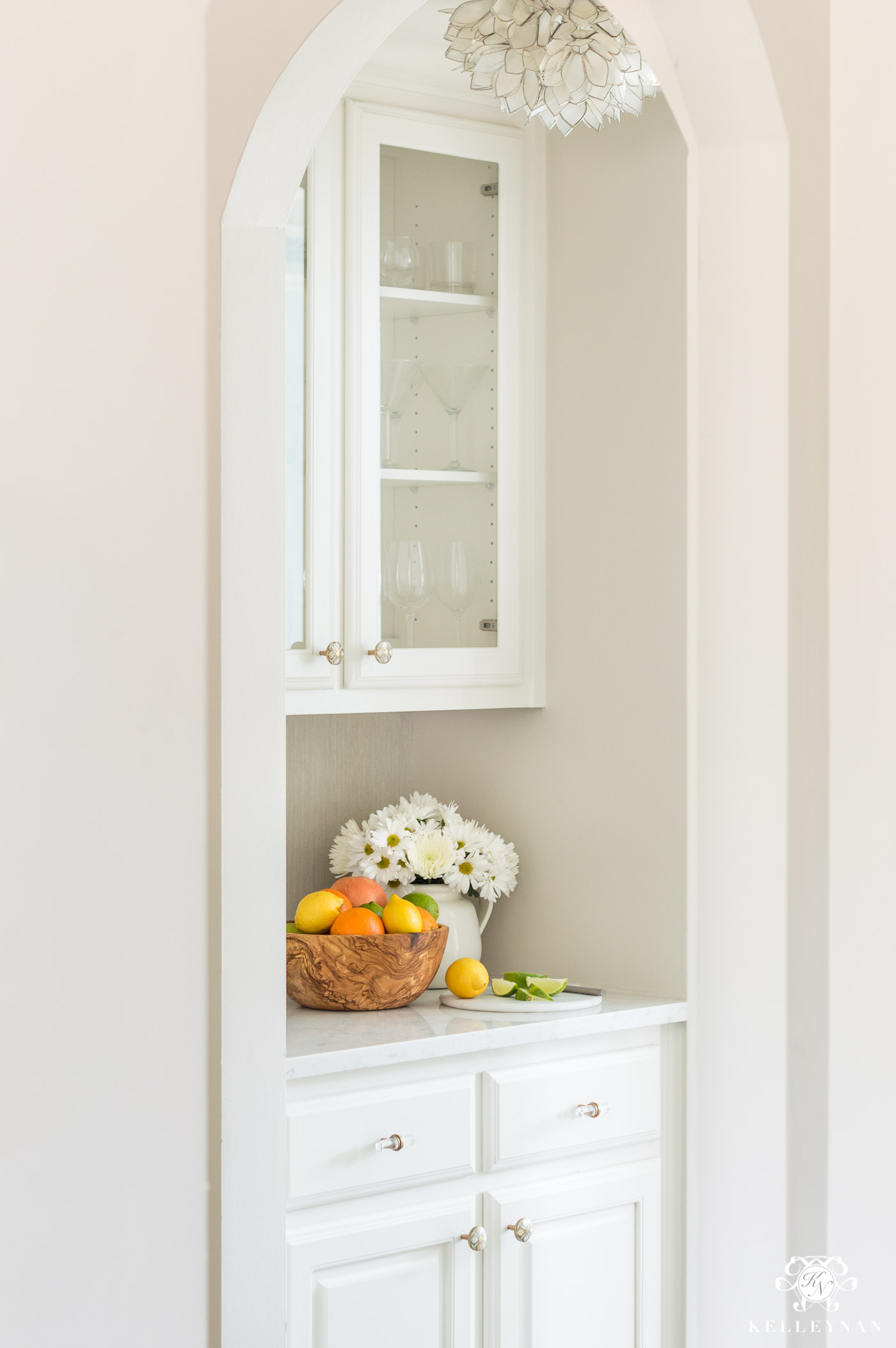 Scroll & Tap to Shop the Room

Entry Makeover
Another small update was the entry; the only changes made here were updating the furnishings and upgrading the lighting. This is what it originally looked like — kind of a mish-mosh of random pieces…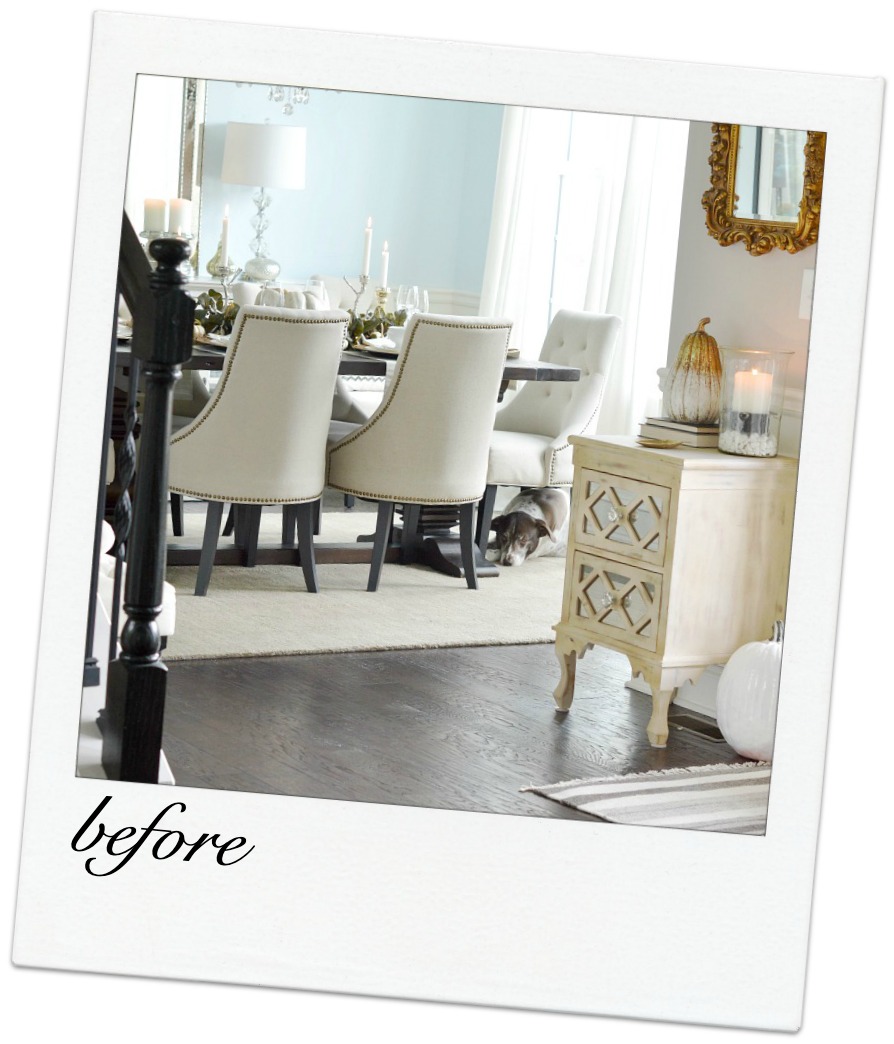 and with minimal effort, this is how the entry looks today.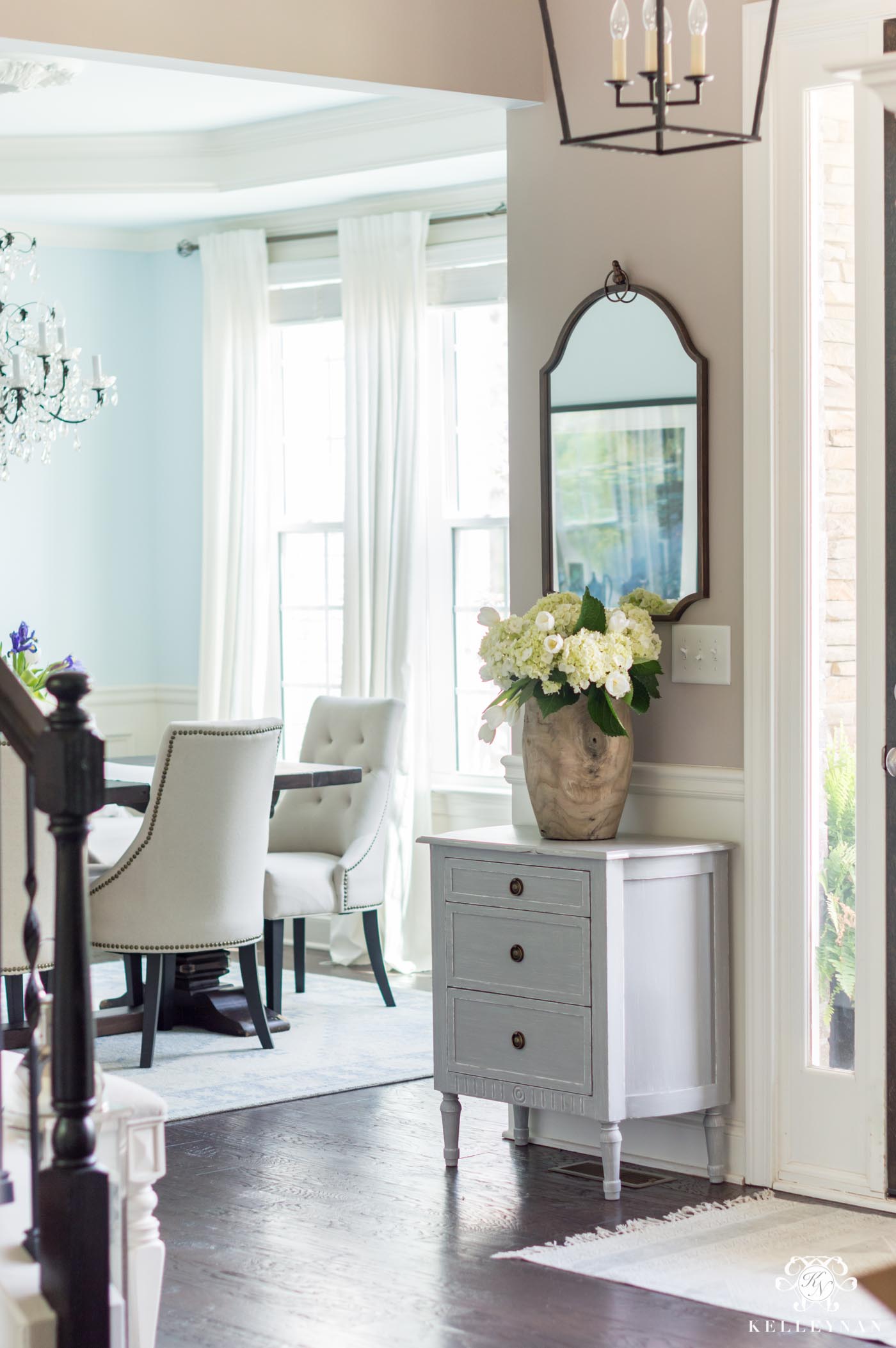 Scroll & Tap to Shop the Room

Living Room Makeover
The living room also started as an "oops" when we broke the mirrored coffee table; we sat with a cracked table for almost a year before deciding to go ahead and reconfigure the space to furniture that better suited our needs and better fit our space. We started off with a huge sectional that took up most of the room…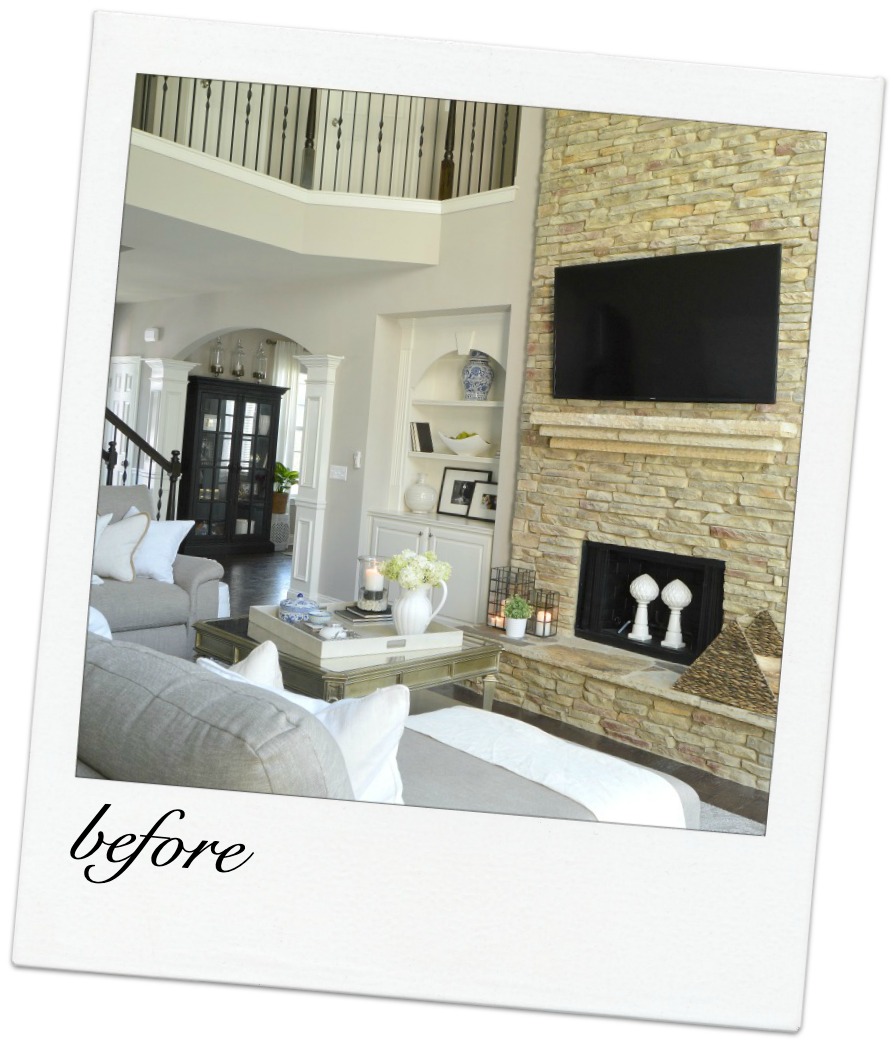 and turned it into this after opting for a sofa/loveseat combo. We have only updated furnishings in here; I would love to switch the light and paint but when we eventually do, it will be a huge undertaking. The rest of the common areas will have to be painted also, scaffolding will be involved, and even the inside of the coffered ceiling will have to be painted. For now, I'm putting this one off 😉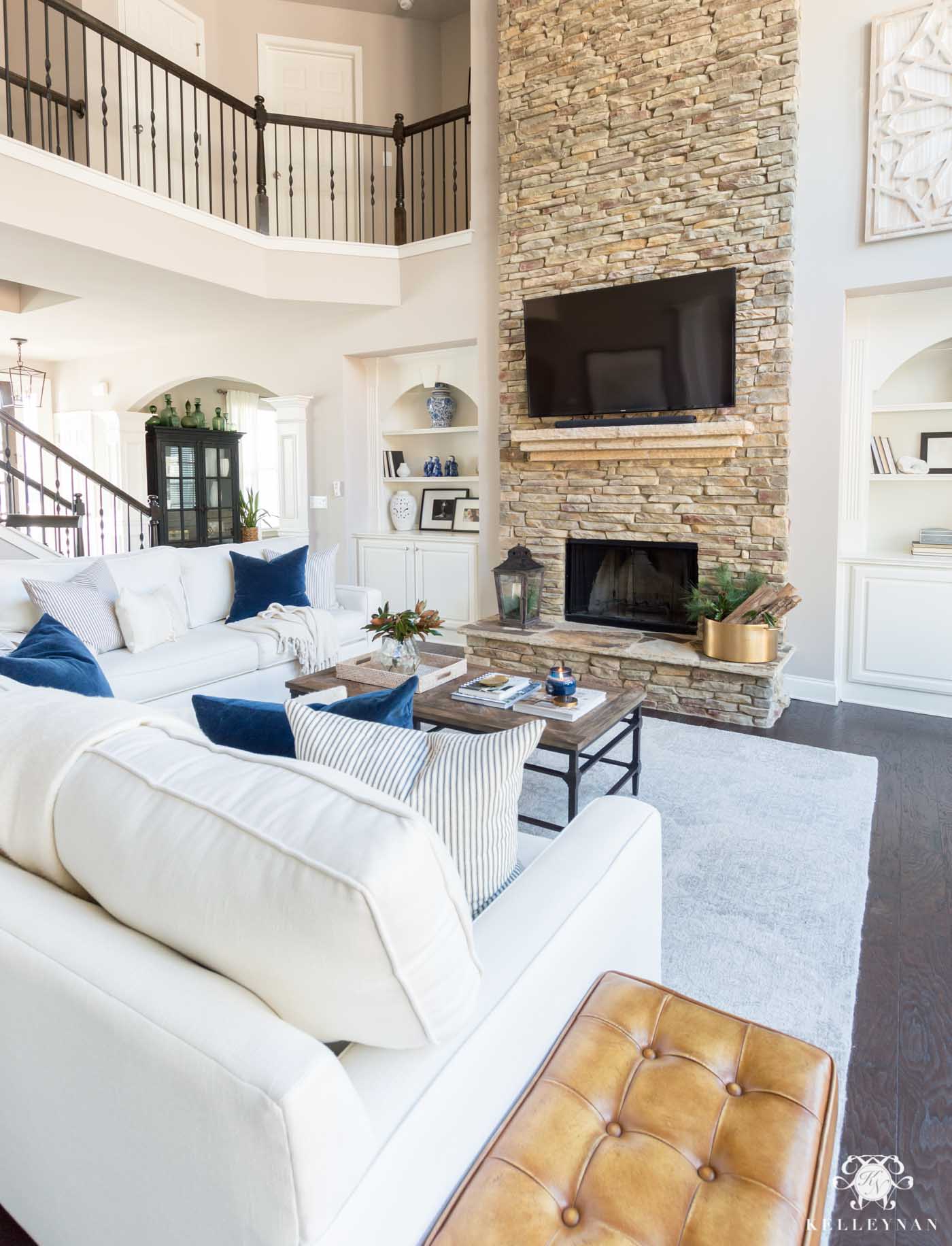 Scroll & Tap to Shop the Room


See the full room reveal HERE.
Breakfast Nook Makeover
The breakfast nook transitioned over time; I made small updates along the way but when we did our kitchen mini-makeover, I went ahead and expanded into this space. Even though the changes have been gradual, it's crazy to see how different it looks today. Here is what this room looked like shortly after we moved in…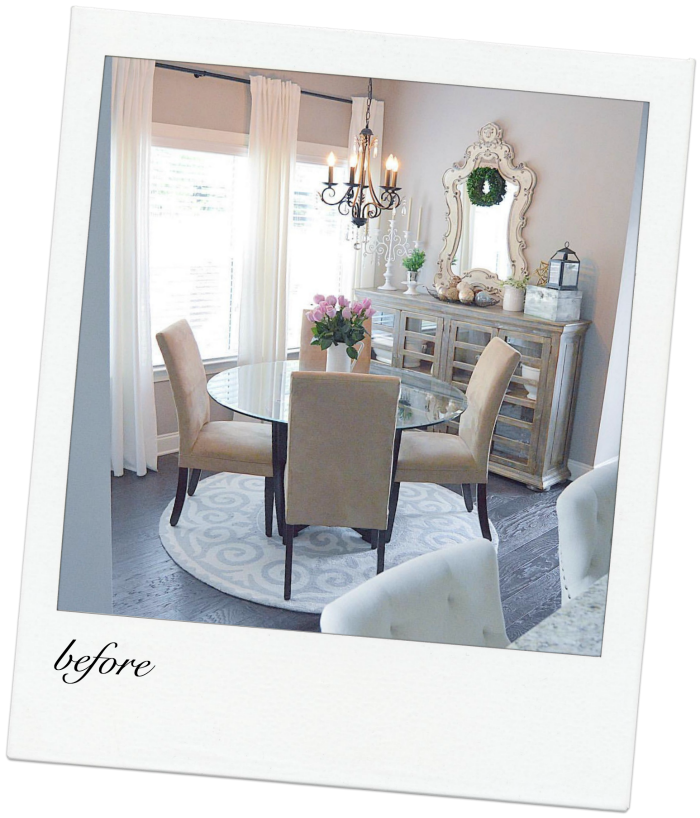 and here it is now.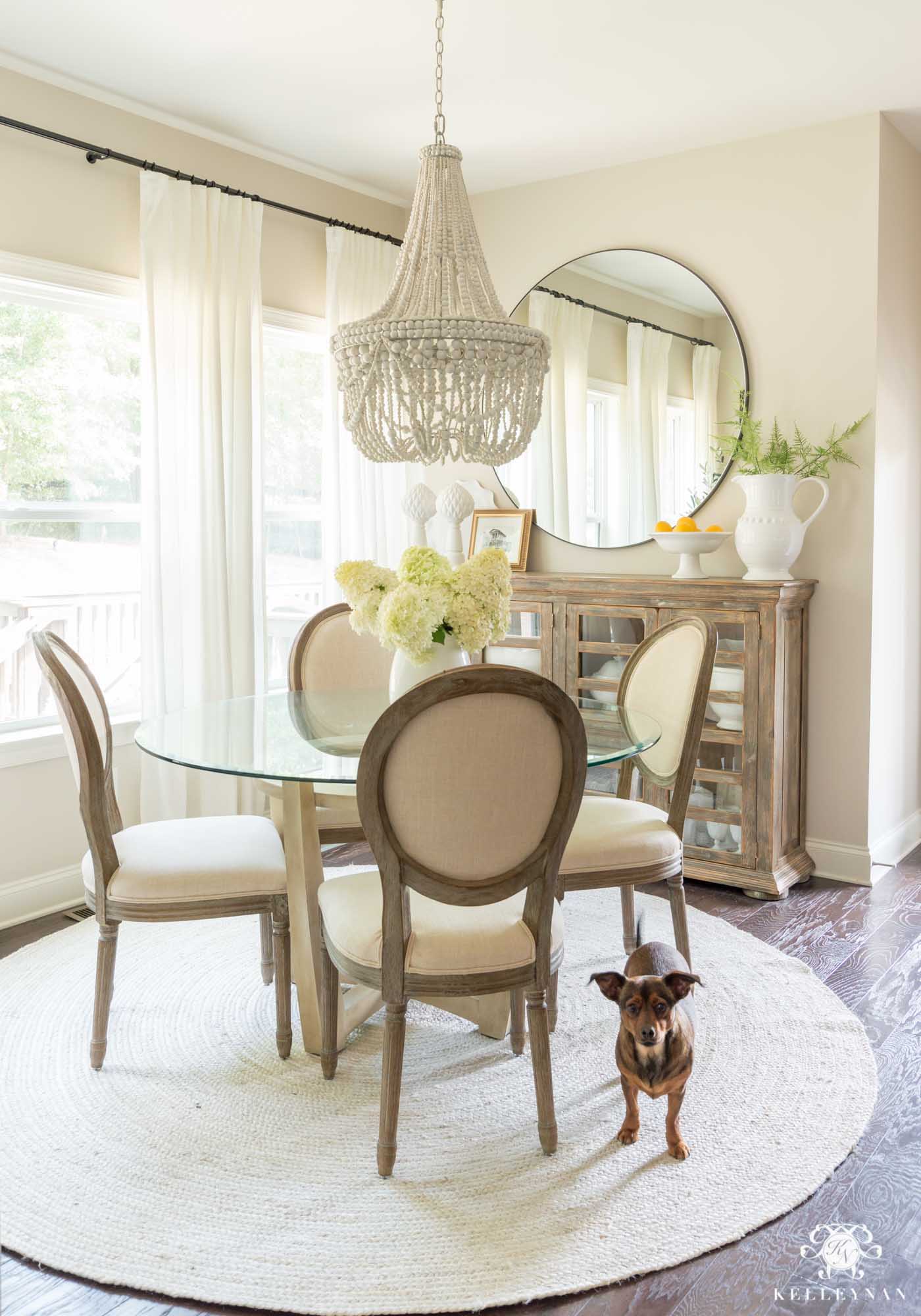 The window treatments and sideboard are actually still the same and the table is the same piece but I painted it a couple years ago. I am still wanting new chairs in here (remember THIS post?) but then I think I would want a new table… and well, you know that goes and the domino effect that would surely ensue haha.
Scroll & Tap to Shop the Room

See the full room reveal HERE.
Guest Bedroom Makeover
Another six-week makeover project I took on was our upstairs guest bedroom. It started off kind of dark with leftovers from a spare room in our former house…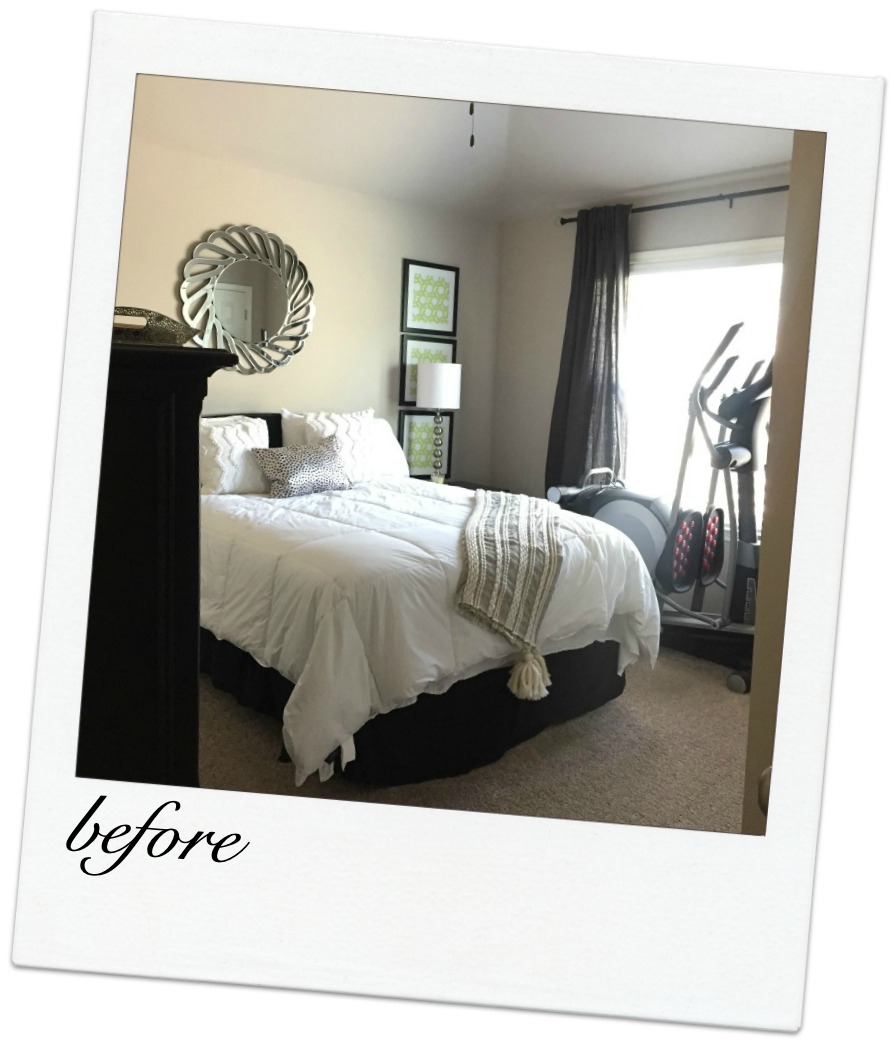 and was transformed into this intentional space.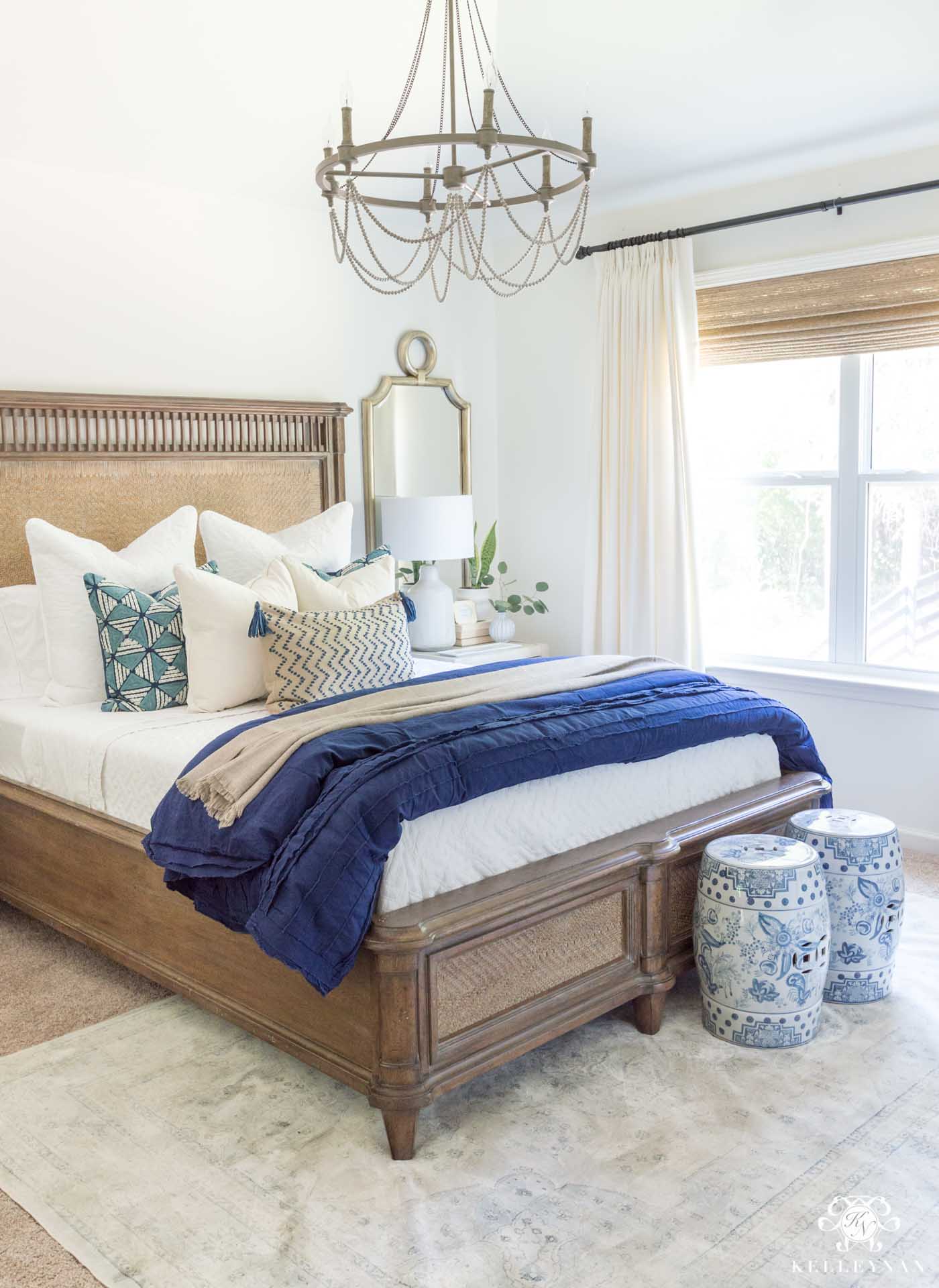 I love this room; as a matter of fact, even when we had three guest bedrooms, this is the one I would always assign guests to. But… soon… this room will be transitioning into a PLAYROOM. I'll be honest, I never understood playrooms before. Now, I GET IT! As much as I love this guest bedroom, we will be taking it down to one guest bedroom and turning this into a space that actually gets used. When I saw how much stuff kids have, it kind of made me sweat, wondering where all of it is supposed to live and be stored. We aren't in a huge rush to get this space changed out but it will likely get started in late summer/early fall. I don't have a clue what I'm going to do but I'm excited!
Scroll & Tap to Shop the Room


See the full room reveal HERE.
Nursery Makeover
Before we had a need for a nursery, I had transformed a dumping ground spare bedroom into a budget-friendly guest bedroom. This is what the room looked like before baby life…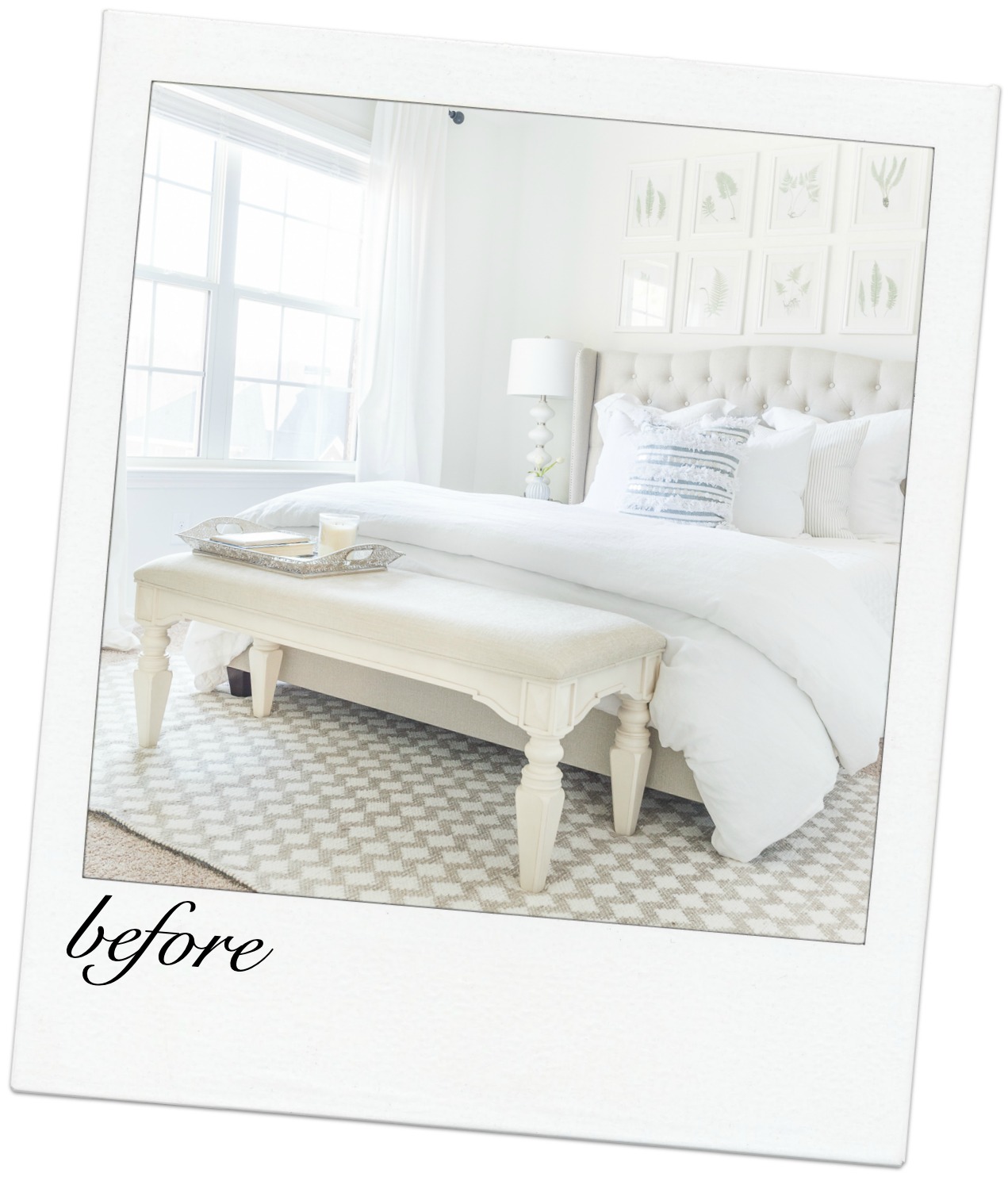 and here's how it looked, just before we brought Eliza home. We started into the nursery design plan, not knowing which gender we were preparing for, so I wanted to make sure it would be fitting for a baby boy or girl. Because of sentimental reasons and the thought I put into all that went into this space, it's definitely my favorite room makeover 😉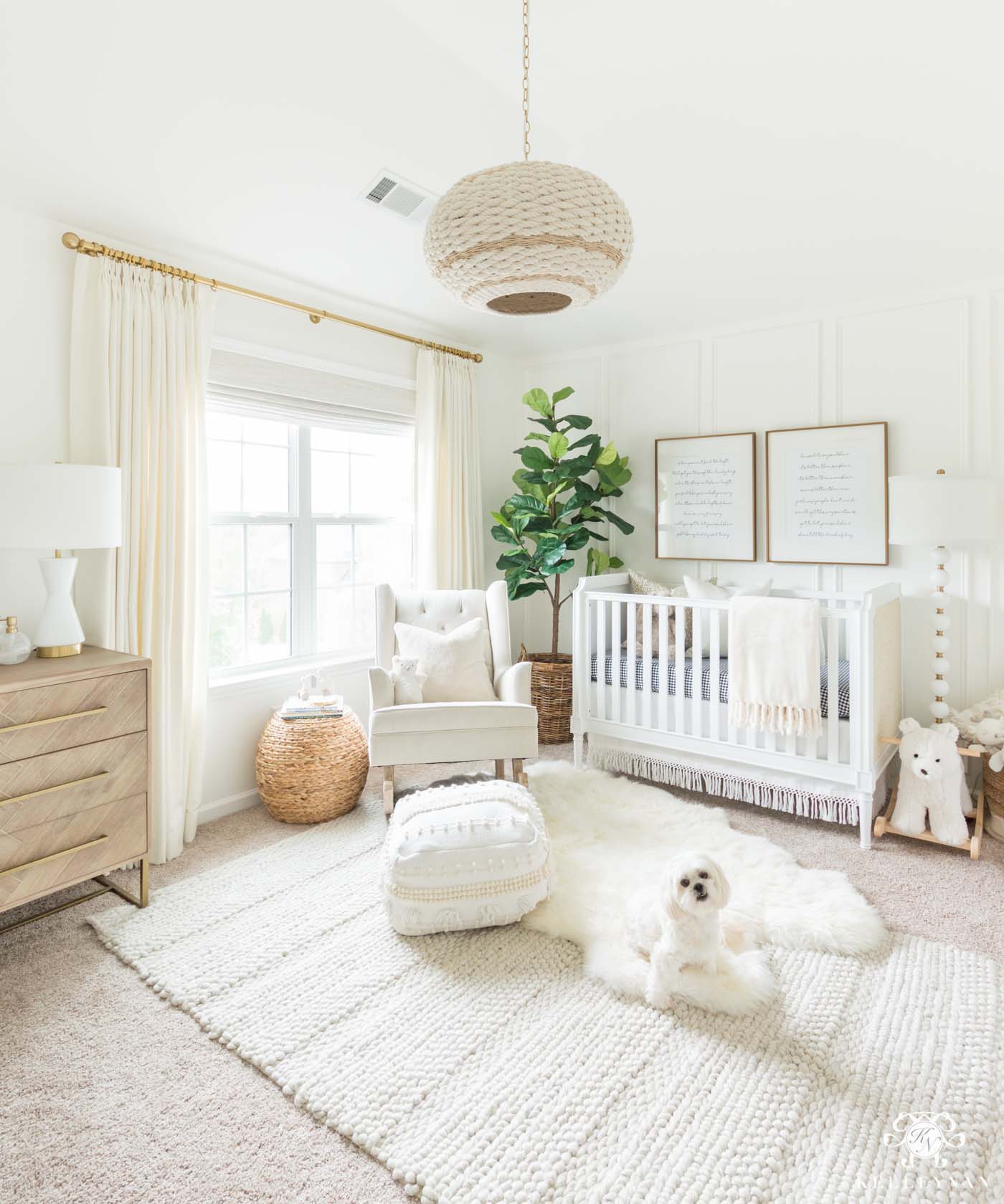 Scroll & Tap to Shop the Room





See the full room reveal HERE.
Master Bedroom Makeover
One disappointment I had after living in our house for a bit is realizing I didn't account for how much natural light each room got before making purchases and deciding on paint. Our house faces north/south and especially on the wooded back-side of the house, we get very little light. Some of the darker taupes I originally chose didn't help, especially in the bedroom. I decided to do an overhaul and I still wanted a classic-ish look, but just a little more modern and sleek (without compromising the cozy). This is where I started…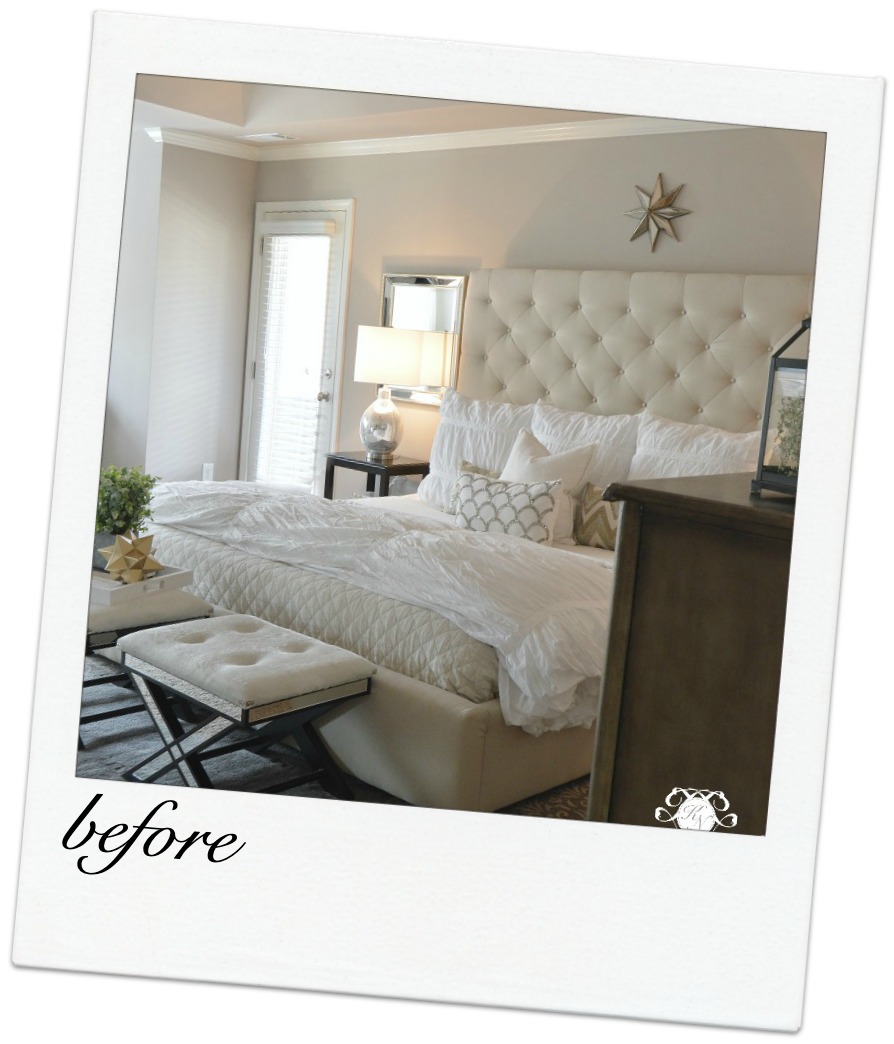 And this is the result.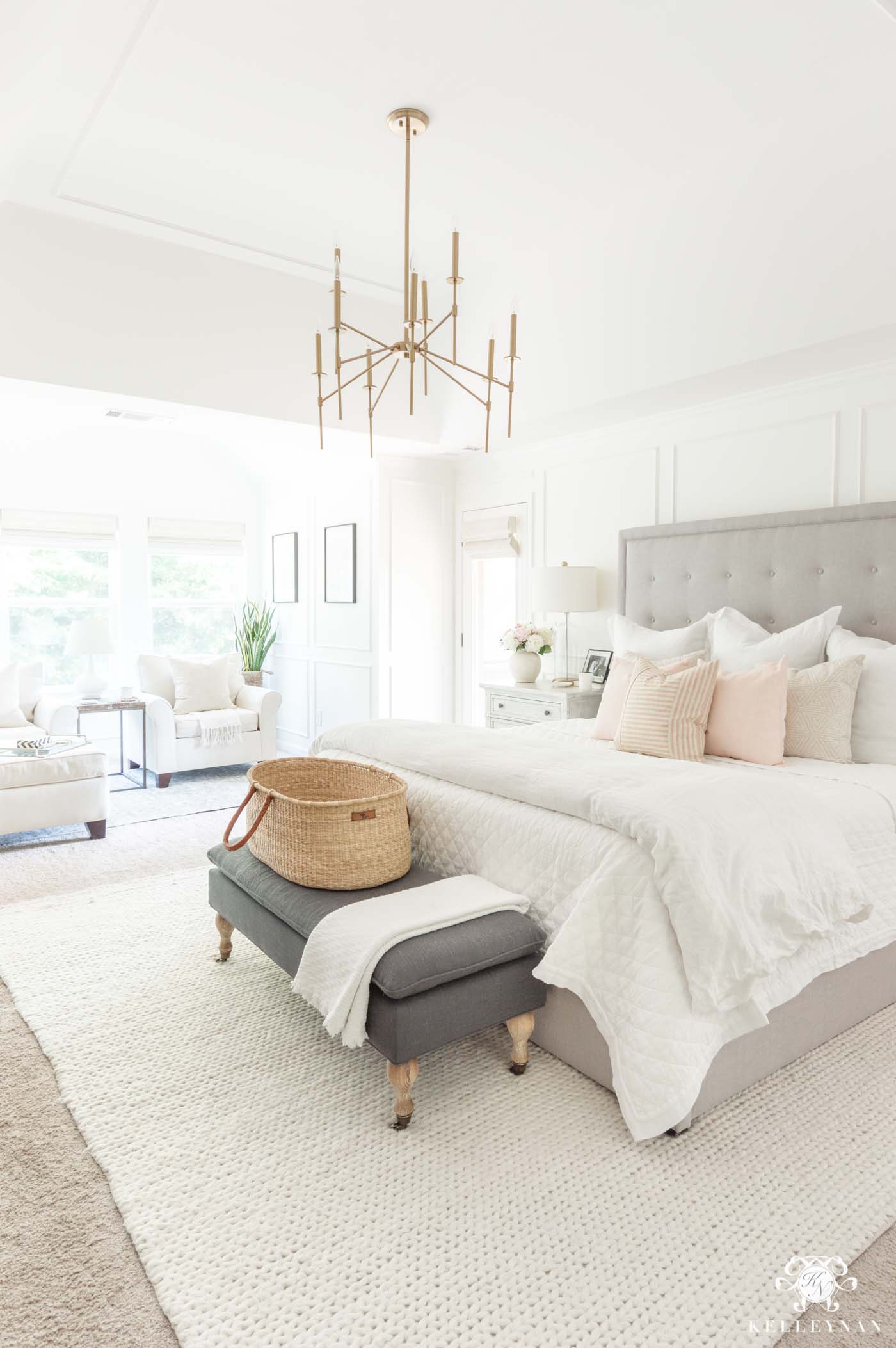 Like the nursery, the simple picture frame moulding detail that I added makes a huge difference without being taste specific (a wallpaper or bold wall color would have been too committal).
Scroll & Tap to Shop the Room


See the full room reveal HERE.
I don't think I'll ever consider myself "done" because I love evolving spaces so much. Tastes and needs change and I can't imagine not having a primary project focus to work on and plan. When it all comes together, it's so dang satisfying 😉 The powder room that is finally finished — well, that's one of those I'm really proud of. It was never made a "primary project" so I had to slowly transform it as I had time and funds to allocate but the end result feels so good. I can't wait to share! If you aren't already, you can subscribe to my emails to make sure you catch it (along with other transformations this coming year) at the bottom of this post. Thank you all for visiting with me and making this a place you check in on, and here's to a fantastic new decade!