Last summer, I started working on a living room makeover. Well, scratch that. It actually wasn't a makeover as much as it was a re-furnishing. The spiral started as 2017 came to a close and a two-person jumbo Jenga game ended in a busted mirror-top coffee table. We had already started considering new sofas in the next couple years since our large sectional took up a ton of space in our narrow room so instead of replacing the glass/coffee table, I worked to conceal it (and pretend it wasn't there) for about eight months before finally making the first move and choosing new sofas (you can see the whole decision process and details on that HERE). The goal: make better use of the space while dressing it up just a smidge without losing comfort. Unlike a lot of the projects I take on and share here, where I try to present a concise plan and reveal a month or two later, the living room has been more of an evolution. I watched for pieces to go on sale and then after they were delivered, would determine my next move — a little bit at a time. You've probably seen our family room transition throughout several posts but I'm finally in a space, after Christmas, where I'm ready to share all the changes that have taken place over the past six months.
*Posts on KelleyNan.com may contain affiliate links. Click HERE for full disclosure.*
*FULL SOURCE LIST AT THE BOTTOM OF THE POST*
Had we gone full-makeover mode, I would have painted (which can't be done without painting the full guts of the bulk of the house); I'm also still on the hunt for catwalk light fixtures and a replacement for the overhead fan. These are expenses I'm working up to 😉 That being said, I love seeing how far this space has come in terms of being relaxed and comfortable enough to Netflix and chill, but is tailored enough to be the center of the house. Because the center of our house is a two story living room, it looks a lot more spacious than it really is. Envision a ceiling at the top of the TV and you can imagine how cramped things were with a giant sectional. Here's the living room in 2016-2017ish…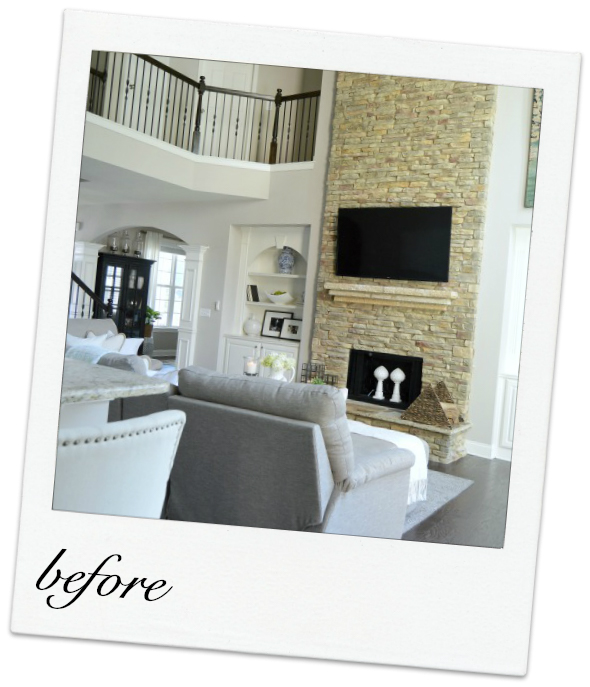 … and here's the living room today.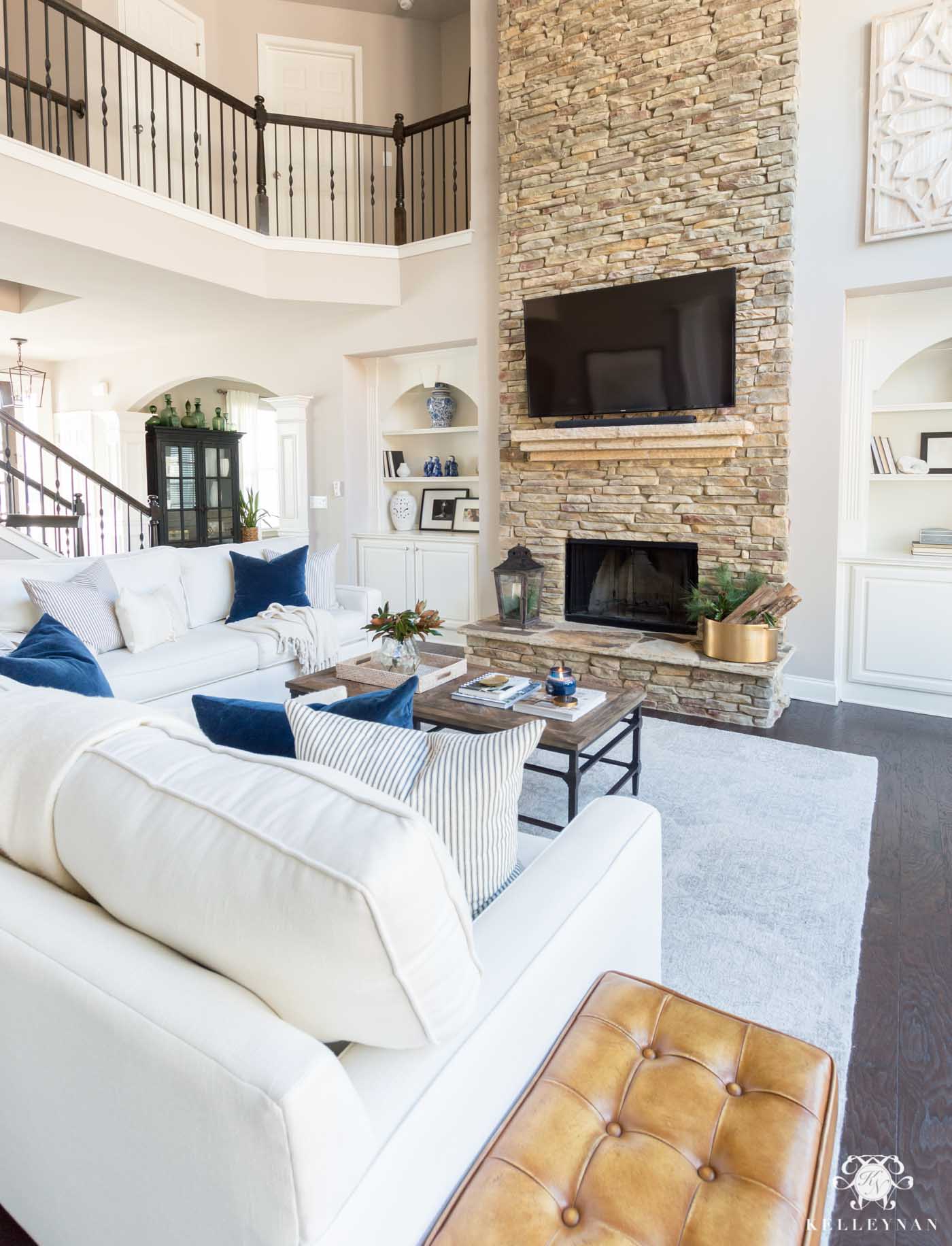 And even though we didn't paint or do much in terms of wall detail, check out how much of an improvement this added column and large-scale art makes…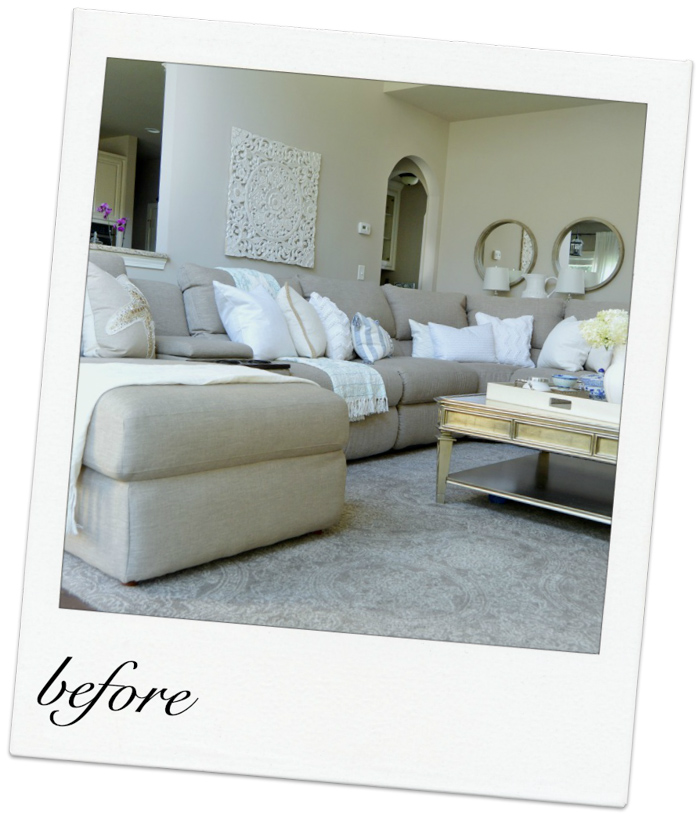 You can see more on the wall detail and column in the kitchen makeover reveal HERE. Even though there's still almost just as much sitting room, eliminating the chaise portion; the large, curved sectional connector section; power console; going with more narrow units; and using a longer, more narrow coffee table works so much better in this rectangular living space.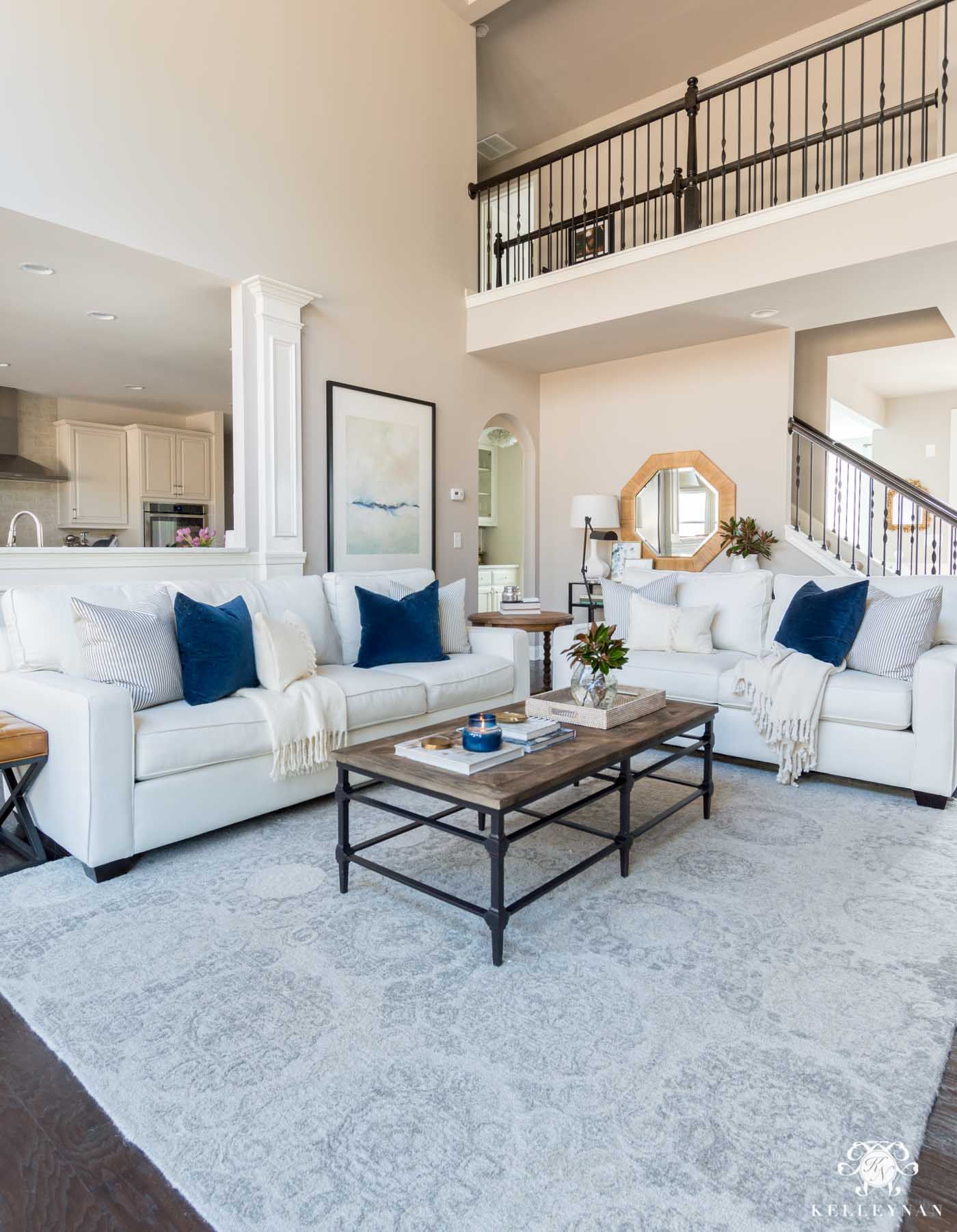 I also love being able to have a side table and lamp within the room now — not just on the periphery. Since sharing this reclaimed, spindle-legged side table the first time, I found it for a fraction of the price HERE.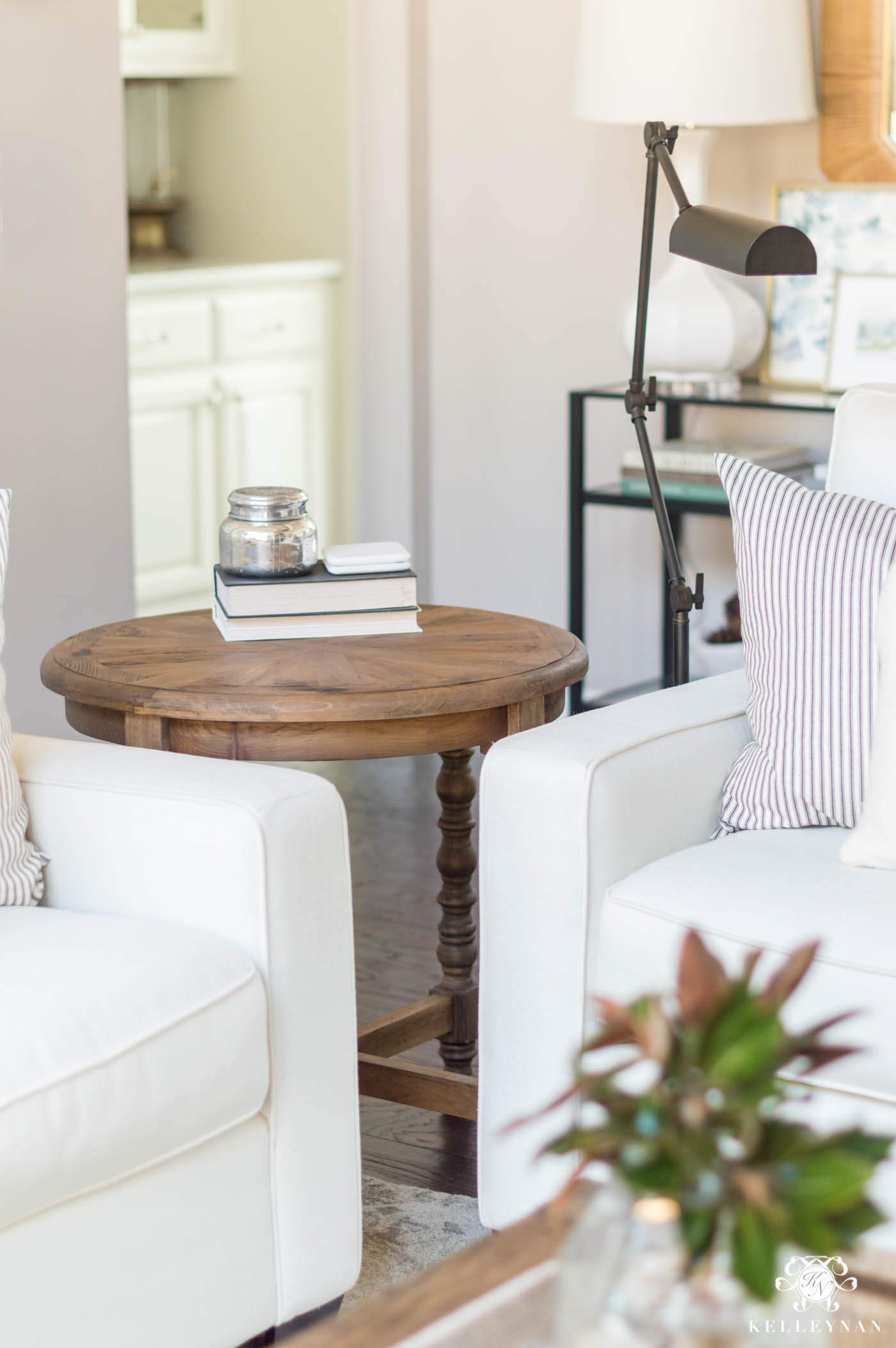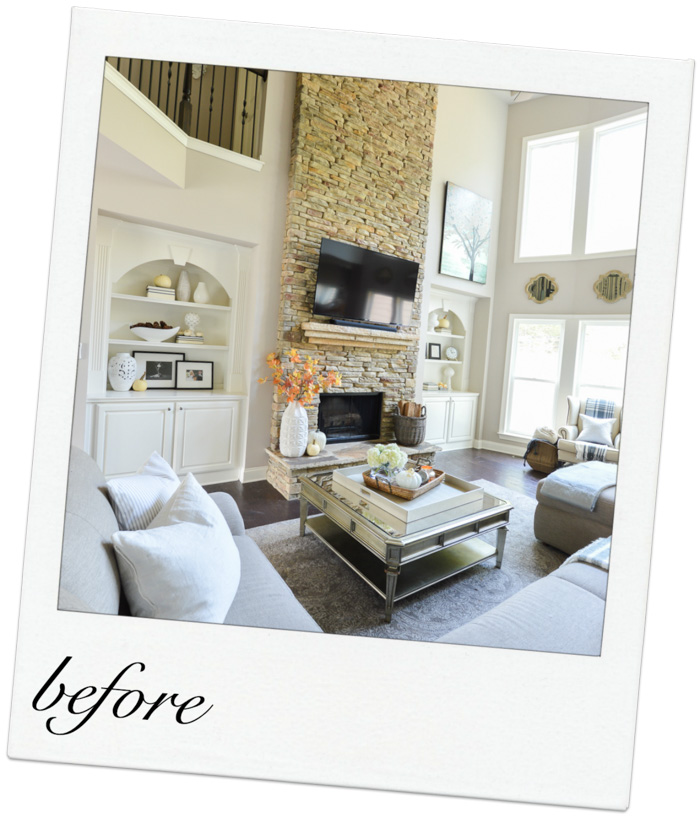 We're still in a winter transition but things will be brightening up in here even more in about a month. THIS brass party tub found an immediate and unintentional home on my hearth a couple months ago – I didn't know then that when I purchased it for entertaining that it would become one of my favorite, versatile home accessories. It's been holding firestarter and kindling all season long.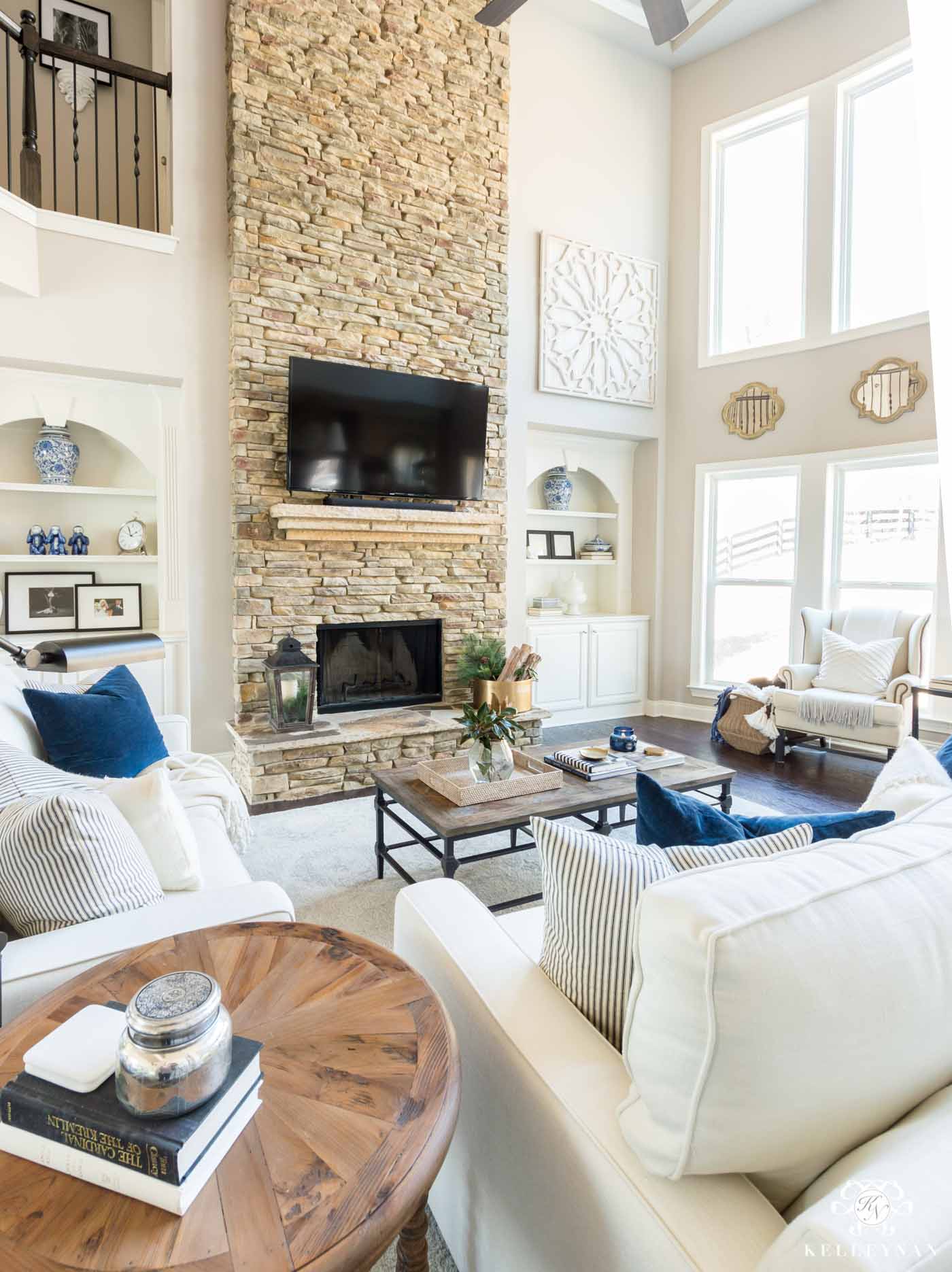 I initially tried to skimp on the coffee table; I went with a look-alike that was a little less money but after waiting for two months, I was beyond disappointed with how it looked. It ended up costing me more money to send it back and incur a re-stocking fee than if I had just gone with the coffee table I really wanted from the start. When my reclaimed replacement arrived, I was so much happier; and while I don't know if you can tell from the photos, THIS is one heavy piece.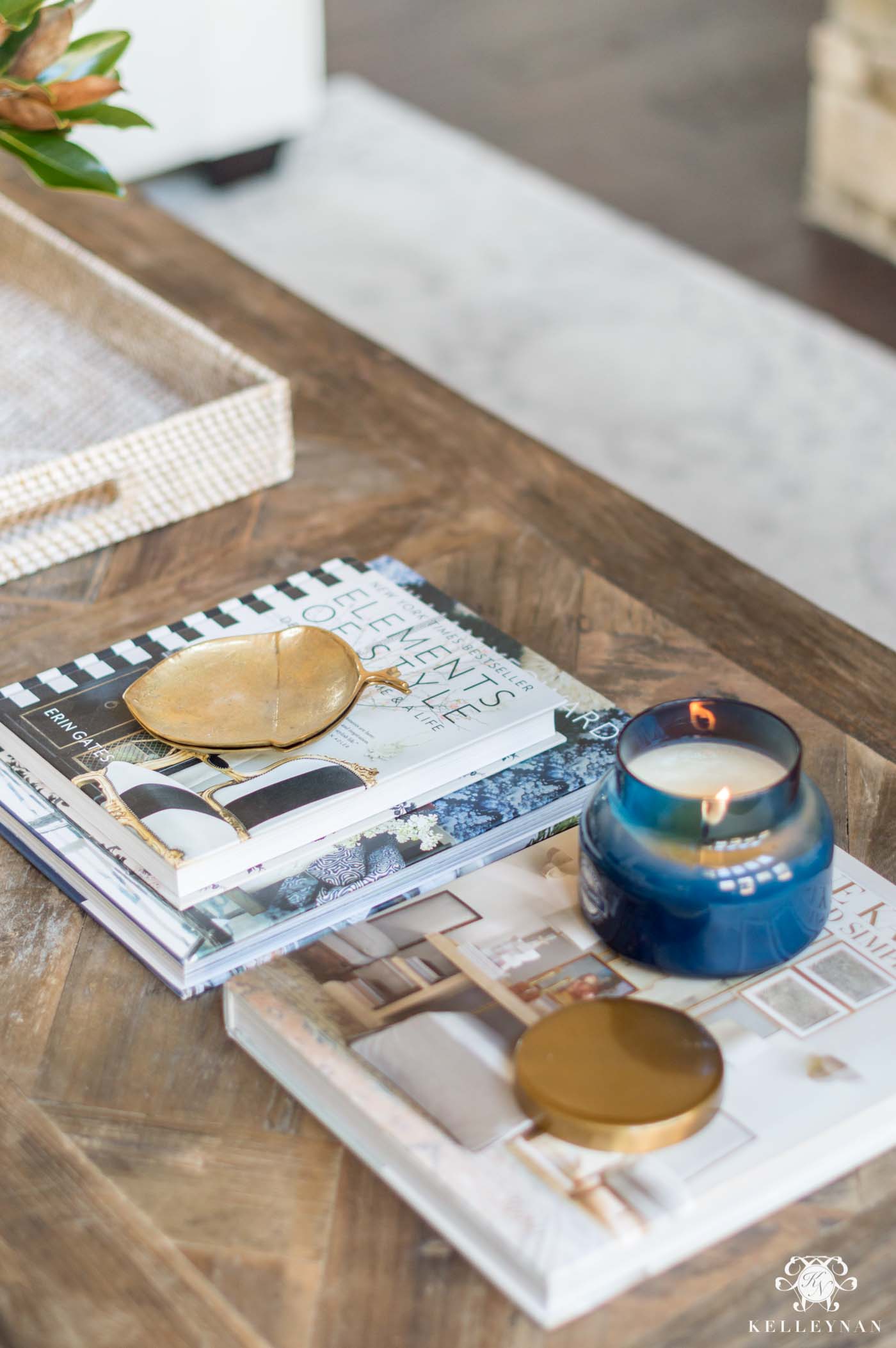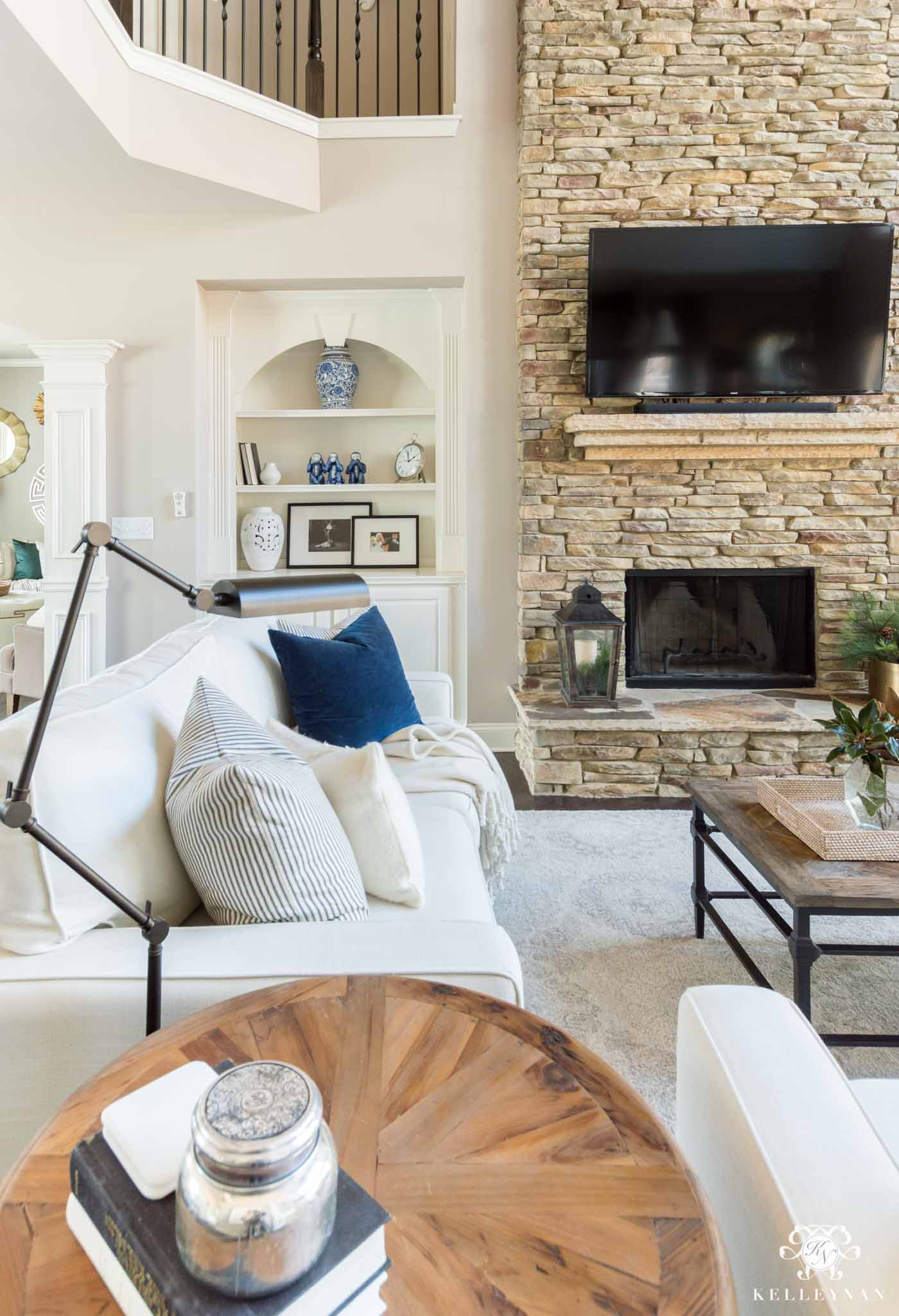 I used to hate looking across the living room into the breakfast nook; the furniture looked too big, the walls looked spansive compared to the smaller-scale items. Now, the spaces have come together in a way that I don't know if I would have been able to blend had I not been semi-working on them at the same time.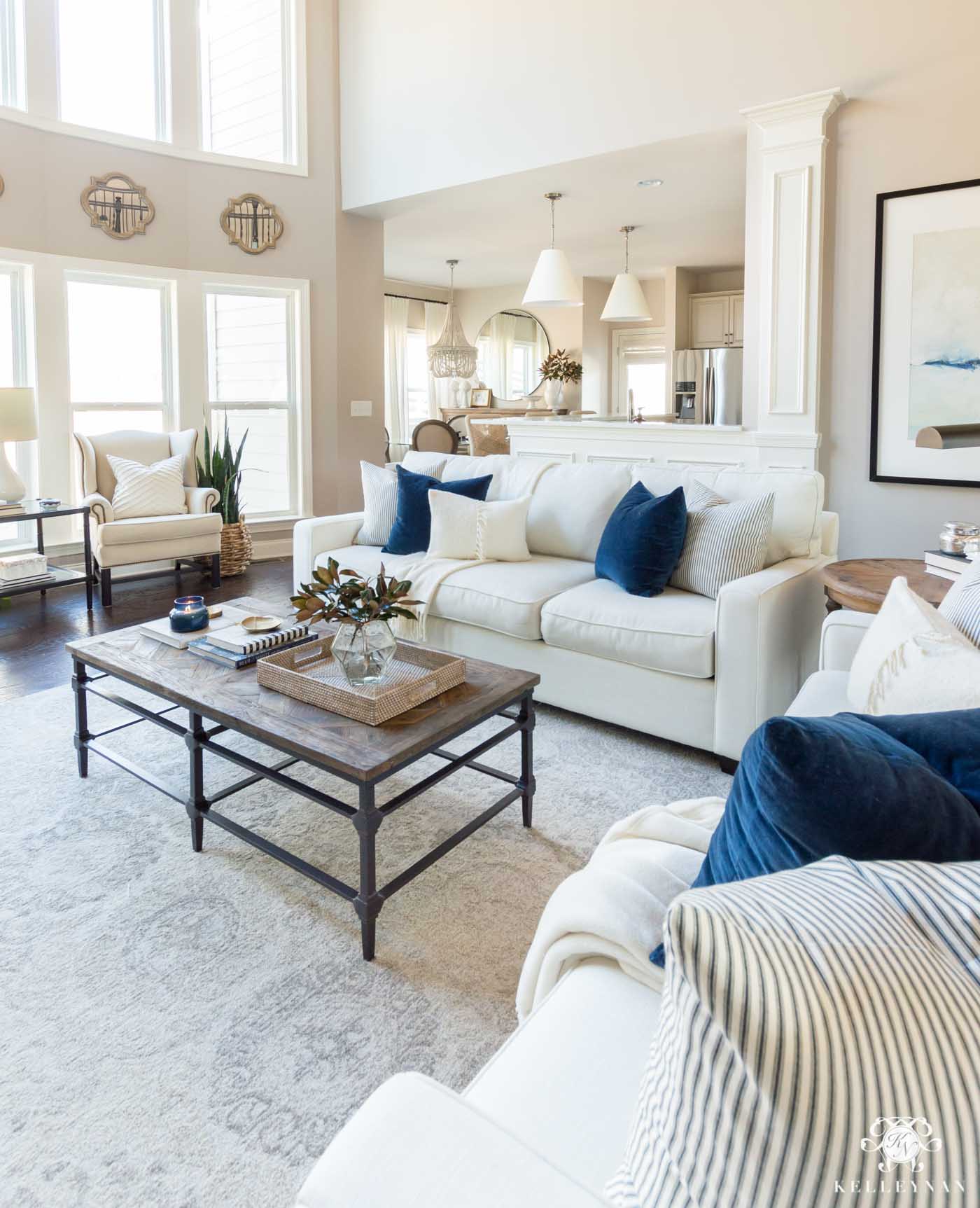 ---
SCROLL & TAP TO SHOP BREAKFAST NOOK & BAR

---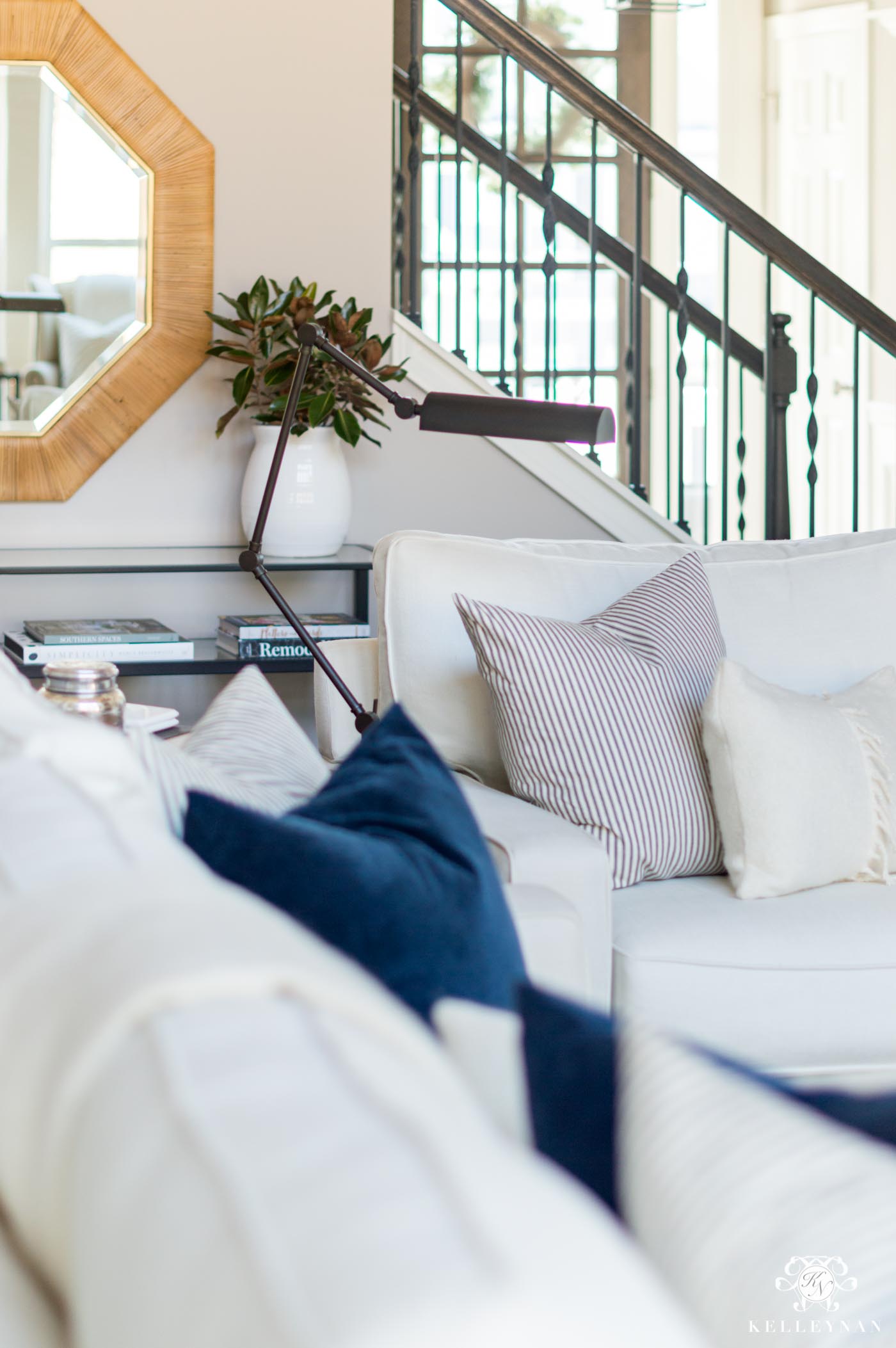 This mirror took months to come in… and then it was discontinued :/ While a different shape, I did find a rectangular rattan mirror with brass rim HERE.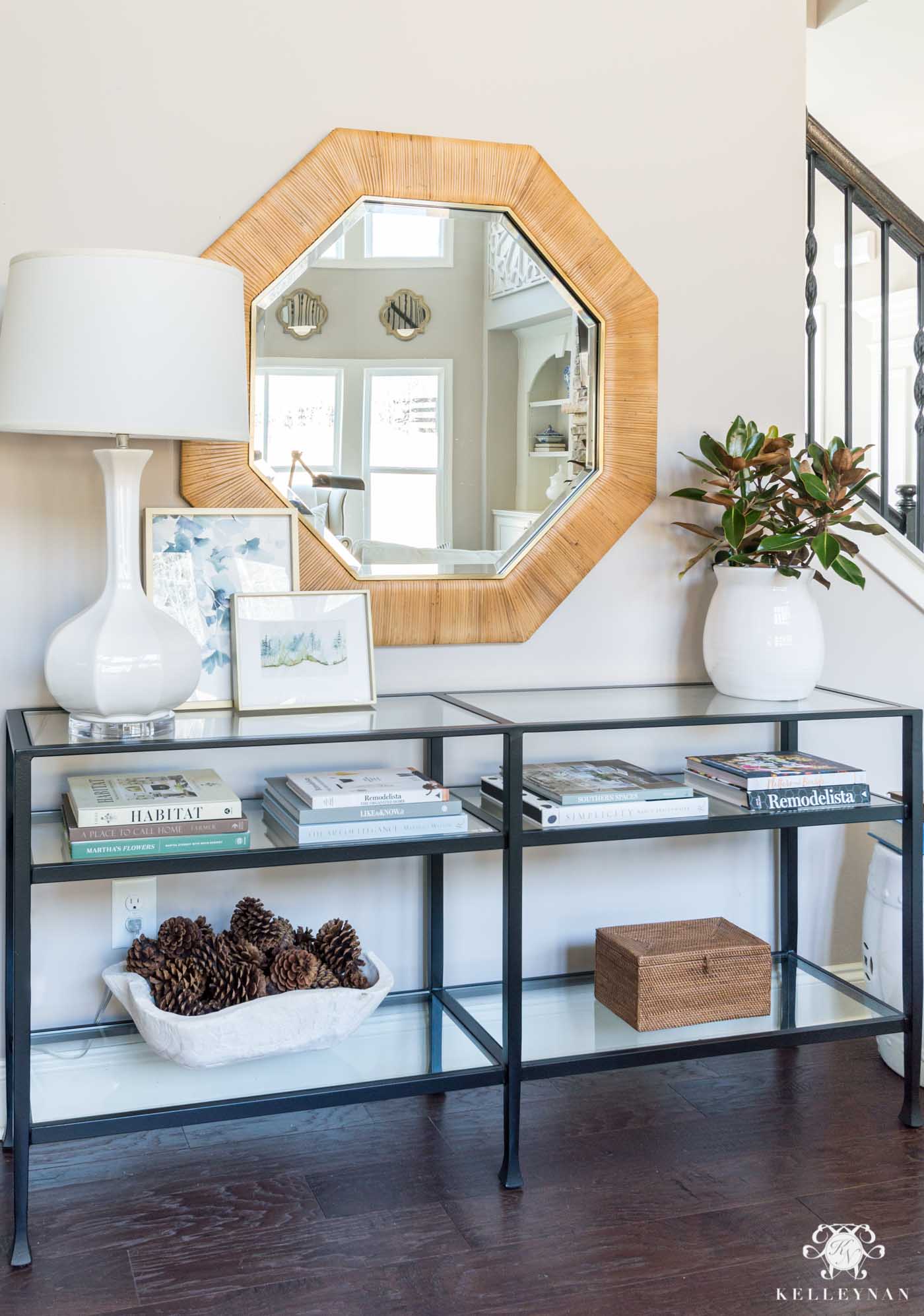 I love the sweet little forest watercolor/sketch (HERE) so much that I'm considering ordering a large-sized print for the nursery…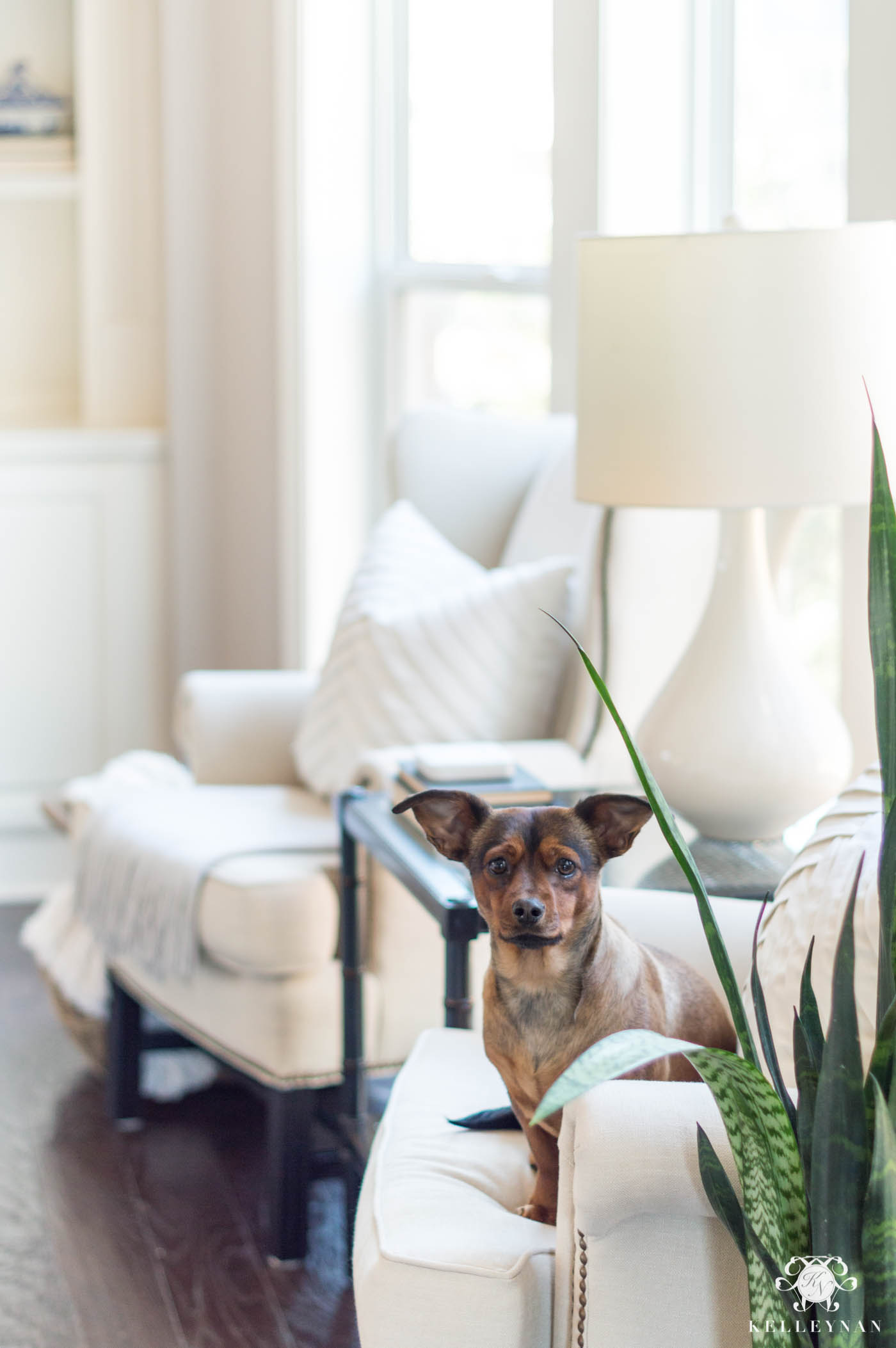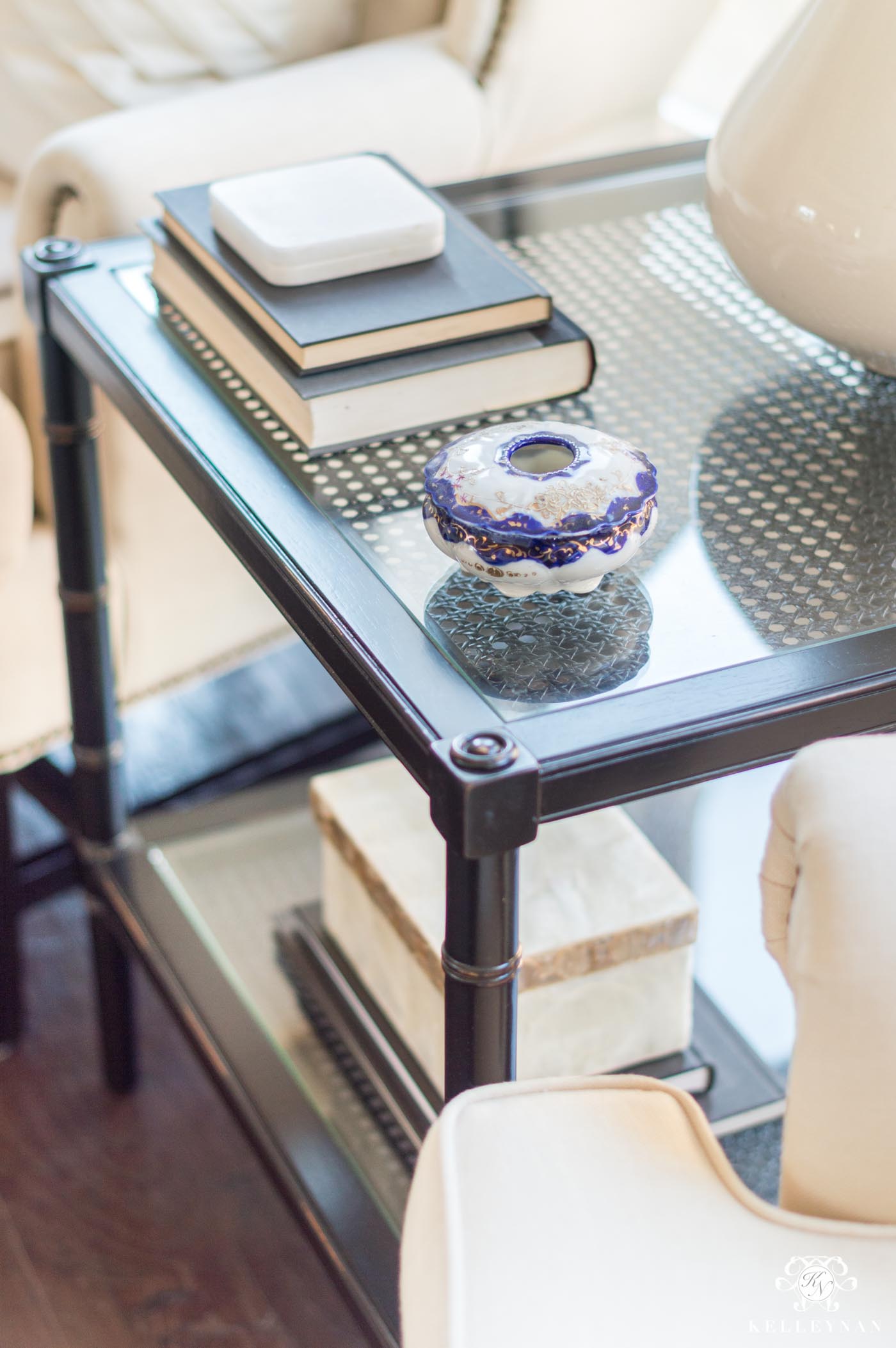 Since we brought the sofas in, I've had a lot of people wanting reviews. To date, here's the best way I can describe them- we started off with objectives when we were choosing the sofas (as listed in THIS POST). We wanted something that was nice and would be with us for several years, but wasn't too nice and modestly priced. We had no interest in investing in "forever" sofas. We ordered them on sale in a performance fabric (Ivory Crypton which has saved us!) and got a fantastic deal. They require some breaking in but I love lounging on them. Since there's just two of us, we probably use them a little more lightly than some families. So, do we like them? YES! They totally checked all our boxes. Will the cushions sag eventually? I have no idea. Are they right for your family? I'd recommend testing them in-store.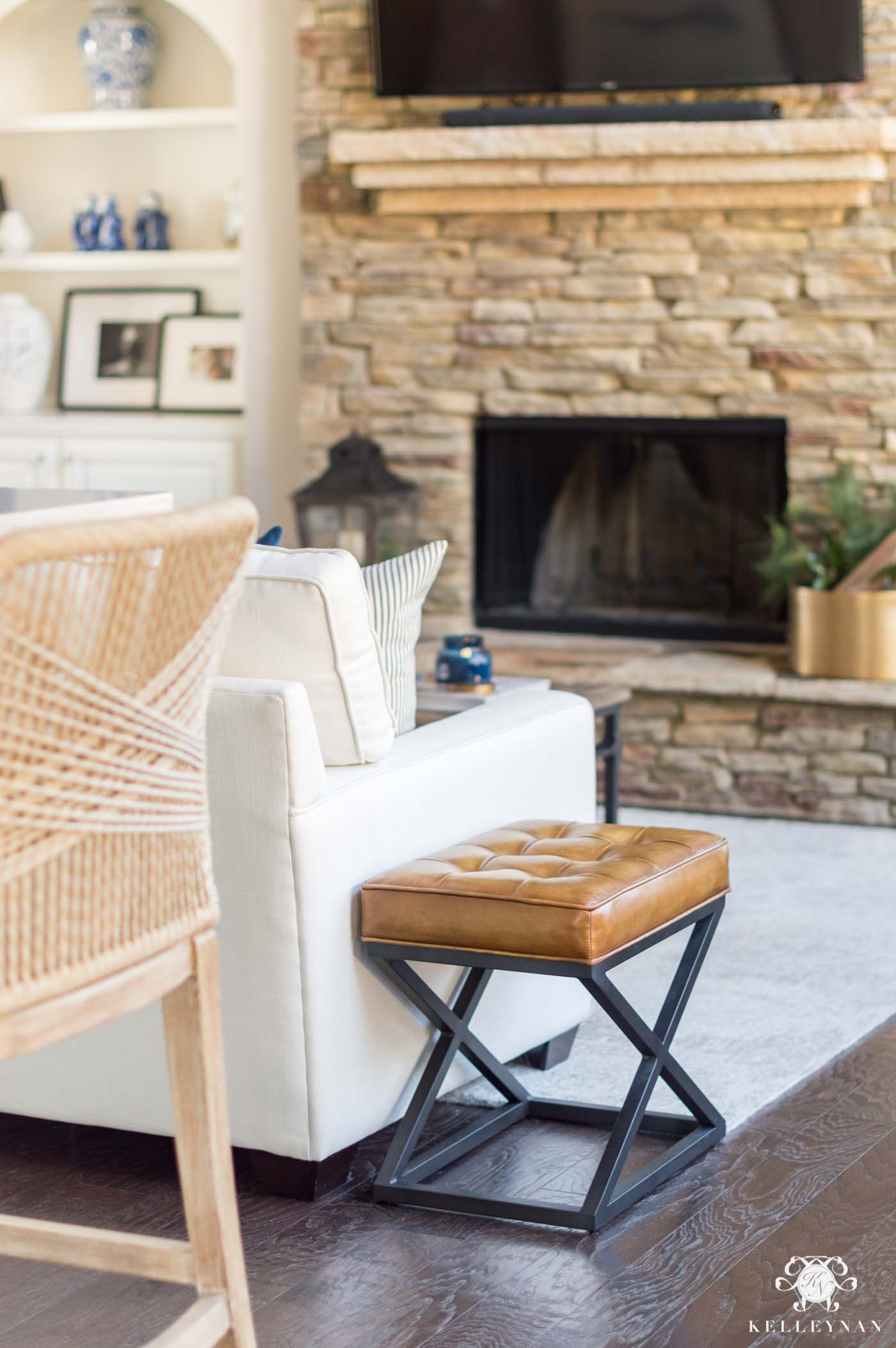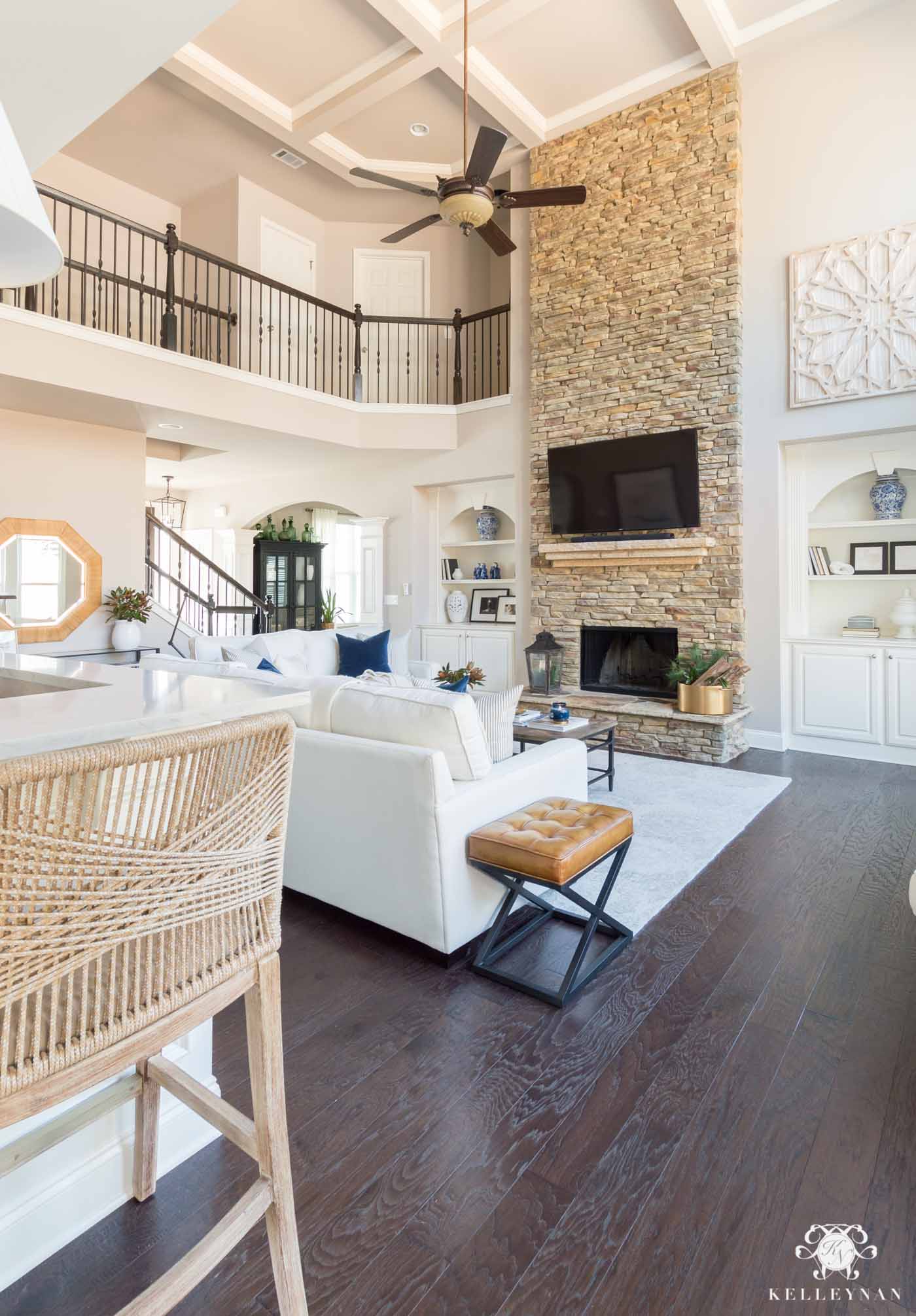 In addition to the nursery (see the plan HERE), I am actually getting ready to start another room makeover project that I'll be sharing next week. Oh, and the powder room? I have plans to pick that up again, too! I don't know if this qualifies as "nesting" or "crazy" but if you aren't already, be sure to subscribe to my emails at the bottom of this post so you won't miss any of the upcoming projects!
---
SCROLL & TAP TO SHOP THE LIVING ROOM






1. Black & White Ticking Stripe | 2. Indigo Velvet | 3. Cream Velvet Pleated
---
LIVING ROOM SOURCES
Paint: Versatile Gray by Sherwin Williams | Flooring: Nottaway Hickory in Weathered Saddle

Furniture: Buchanan Sofas (Loveseat & Grand in Ivory Crypton Performance Fabric) | Coffee Table | Tanner Console Table | Reclaimed Wooden Spindle Side Table | Black Cane Side Table (SIMILAR)- no longer available | Rug | Leather Ottoman Stool | Thatcher Wing Back Chairs | Garden Stool |
Art/Walls: Square Whitewashed Wooden Carving | Oversized, Matted Black Framed Abstract | Blue Floral in Brass Frame on Console | Forest Drawing on Console | Large Rattan Mirror | Quatrefoil Mirrors Between Windows | Gold Foil Texas & Georgia State Art Prints |
Lighting: Bronze Floor Task Lamp | White Table Lamp on Long Console | Cream Lamp on Black Cane Side Table | Fan: Progressive Lighting
Accessories: Brass Party Bucket on Hearth | Soft Cream Tassel Throw | Snake Plant | Rattan Tray | Monkeys- Vintage | Blue & White Ginger Jars (SIMILAR) | Terracotta Vase | Blanket Basket | White Lidded Urn | Volcano Candle | Alarm Clock