It's master bedroom makeover reveal day and I will say, I couldn't be more thrilled with the result of the past few weeks' efforts. I had considered taking on my master bedroom in previous One Room Challenge cycles but was intimidated to complete the entire space with a tight timeline, without compromising things I love and settling for what my timeline could offer. Well, it's all said and done and I can honestly say, we love it. LOVE IT. Yes, even Dave and even without an overhead fan! haha I feel like I've been showing the same little sitting area corner for the past few weeks so I'm absolutely tickled to finally share how far this room has come!
*Post contains affiliate links. For full disclosure, click HERE*
Before we jump in, I'd like to offer a huge thank you to all of my room sponsors and contributors. Honestly, this room would not have come together in six seven weeks without them.
The Mine | Tonic Living | Minted | Pottery Barn | Select Blinds | Metrie | Wayfair 
*A full room source list is provided at the bottom of the post.*
---
Master Bedroom Makeover Reveal
After sleeping in two guest bedrooms and a mattress on the floor, we finally have a master retreat we adore.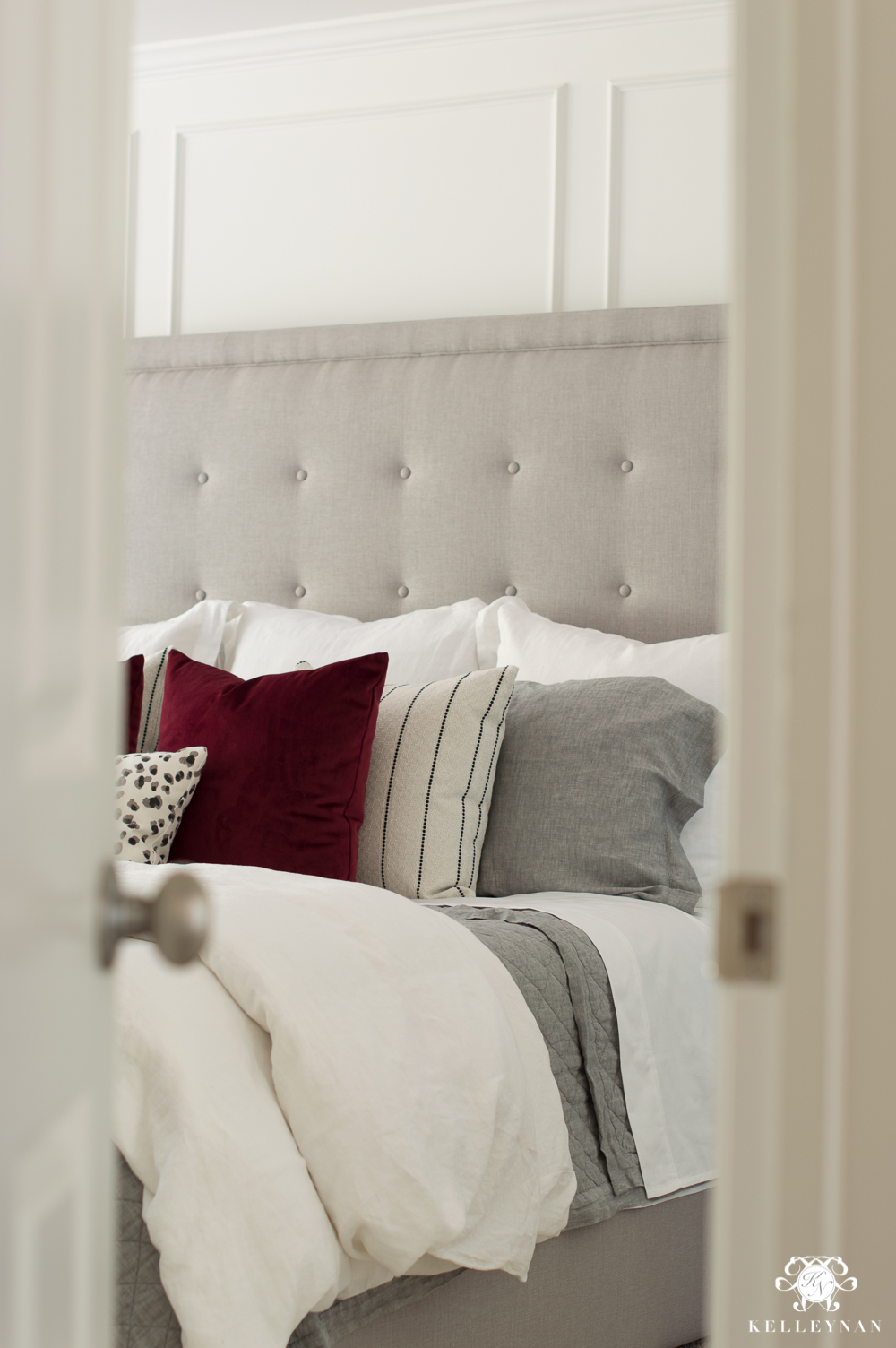 Before I invite you in though, let's take a quick look at where we started. Granted, no, the bed wasn't made so the before is a little unfair but you get the gist 😉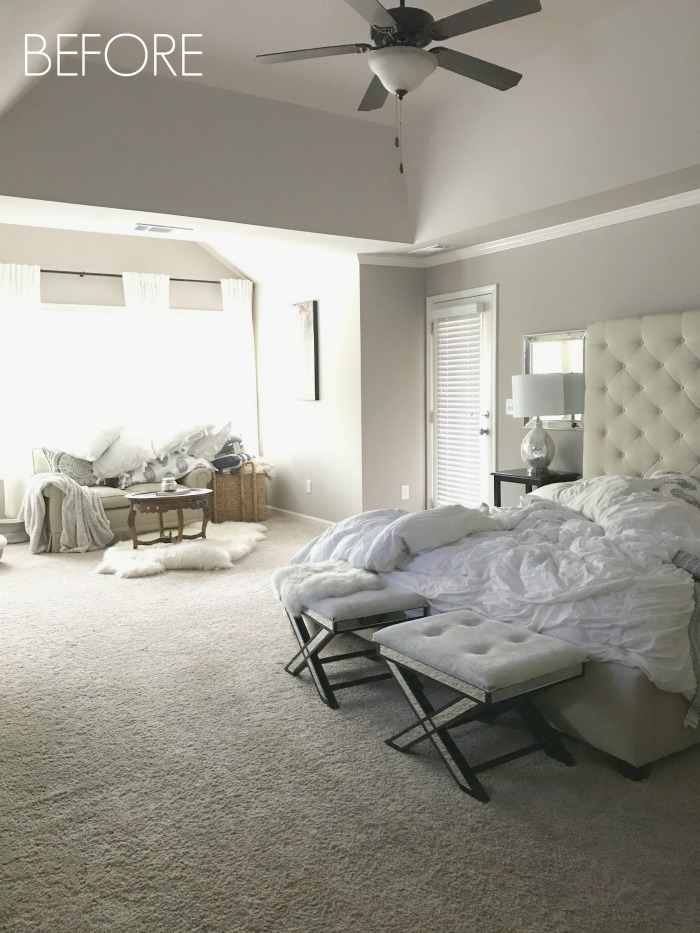 Even though the walls were the same color as the majority of our house, it looked SO dark with the only light coming in through the sitting area. Our rug had been gone for a while, the blinds on the deck door were not cute, and everything in general just seemed brown. After a little planning and a lot of white paint, here's where we are today…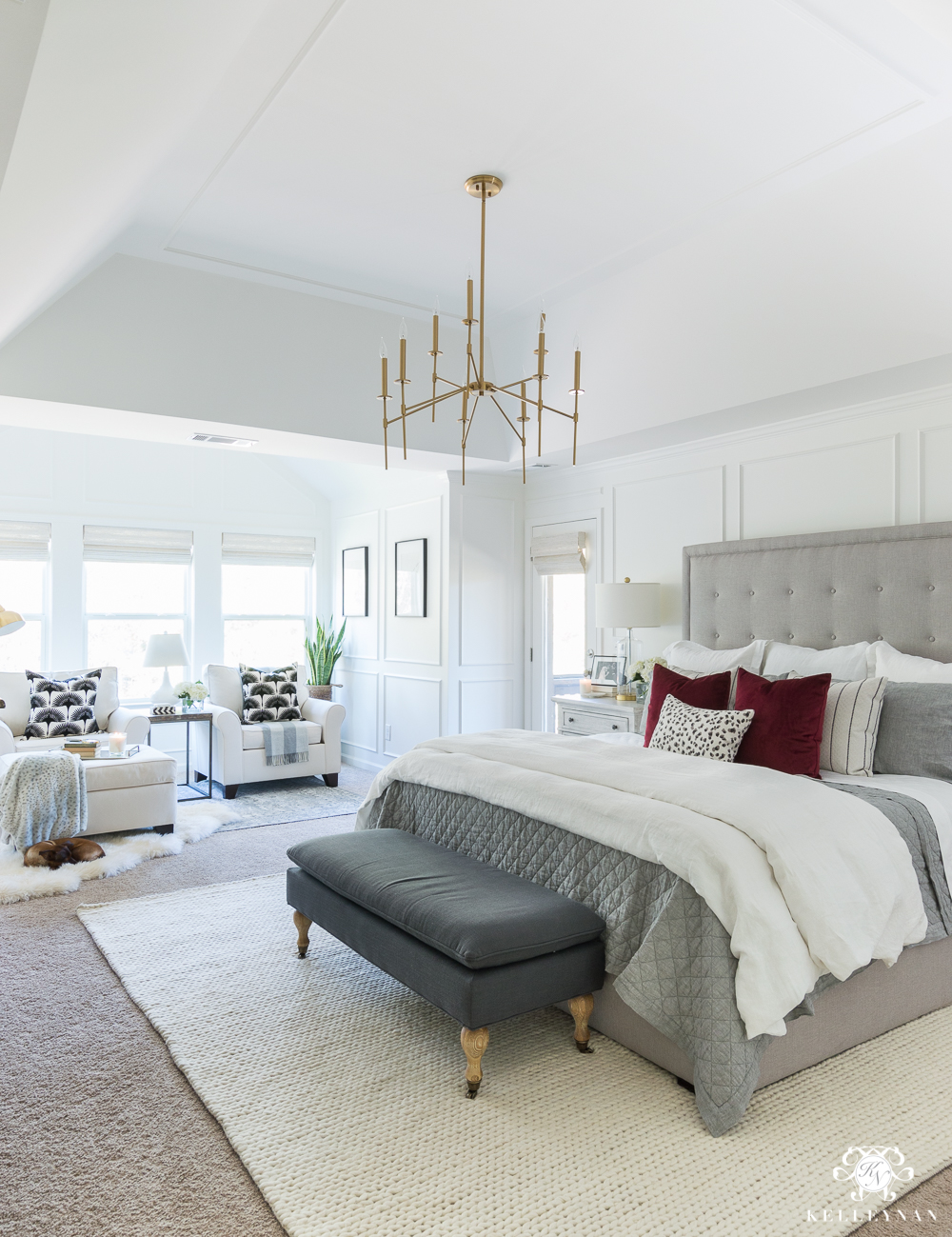 Y'all. Is this even the same room?! You know I'm a strong believer in neutrals and I wasn't about to change things now 😉 Even though most all the furnishings are a version of white or gray, I tried to use enough textures and finishes to keep things exciting. With a simple change here and there, I could go in a totally different direction/color scheme at a moment's notice (which of course, I love!) (But I won't because let's face it- if a project I take on ends up blocking the entire catwalk again for two months, Dave will probably divorce me haha) Let's go through this beast, k?
Because the room is so big, I wanted some sort of wall treatment. I didn't want to commit to wallpaper, I already knew I wanted white, so classic moulding seemed like a valid choice. First and best decision of the entire room, y'all. I used 560 feet of this panel mould from Metrie (I explained my vision to my carpenter and he sent me the best options to choose from); one of my favorite details is so simple but the thin outlining box he added to the ceiling made a world of difference. See how it took a boring, flat surface to have a little dimension? I painted it all in Simply White by Benjamin Moore; it's not too warm and not too cool. For this dim room, it ended up being just what I was hoping for.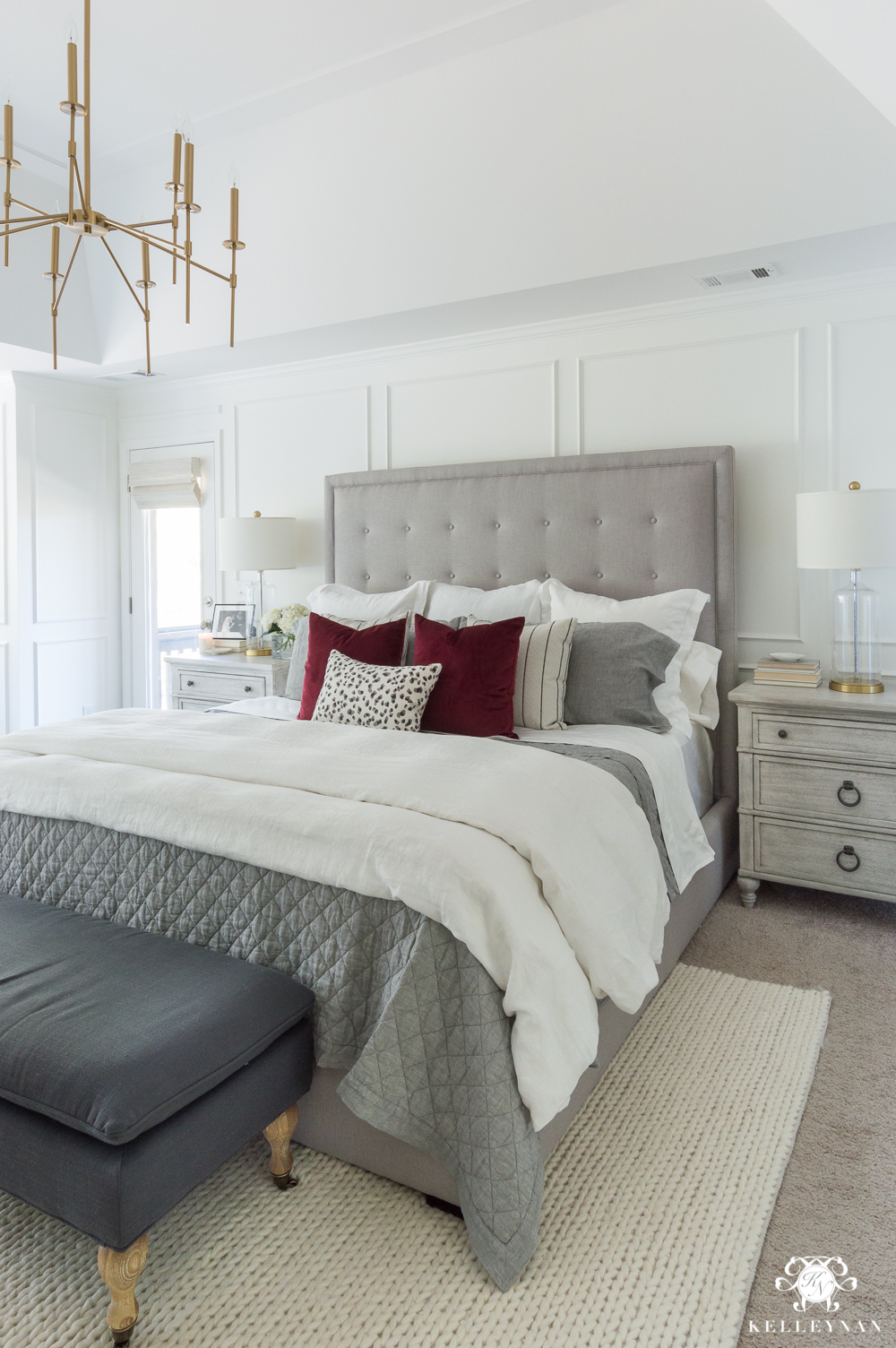 Obviously, the kids aren't complaining about their new digs, either 😉 They We are stoked to be out of the literal dog pile in the queen beds and back in a more spacious king. Let's be honest though – when you have three cuddly dogs, it doesn't matter how big the bed is, it will never be big enough haha.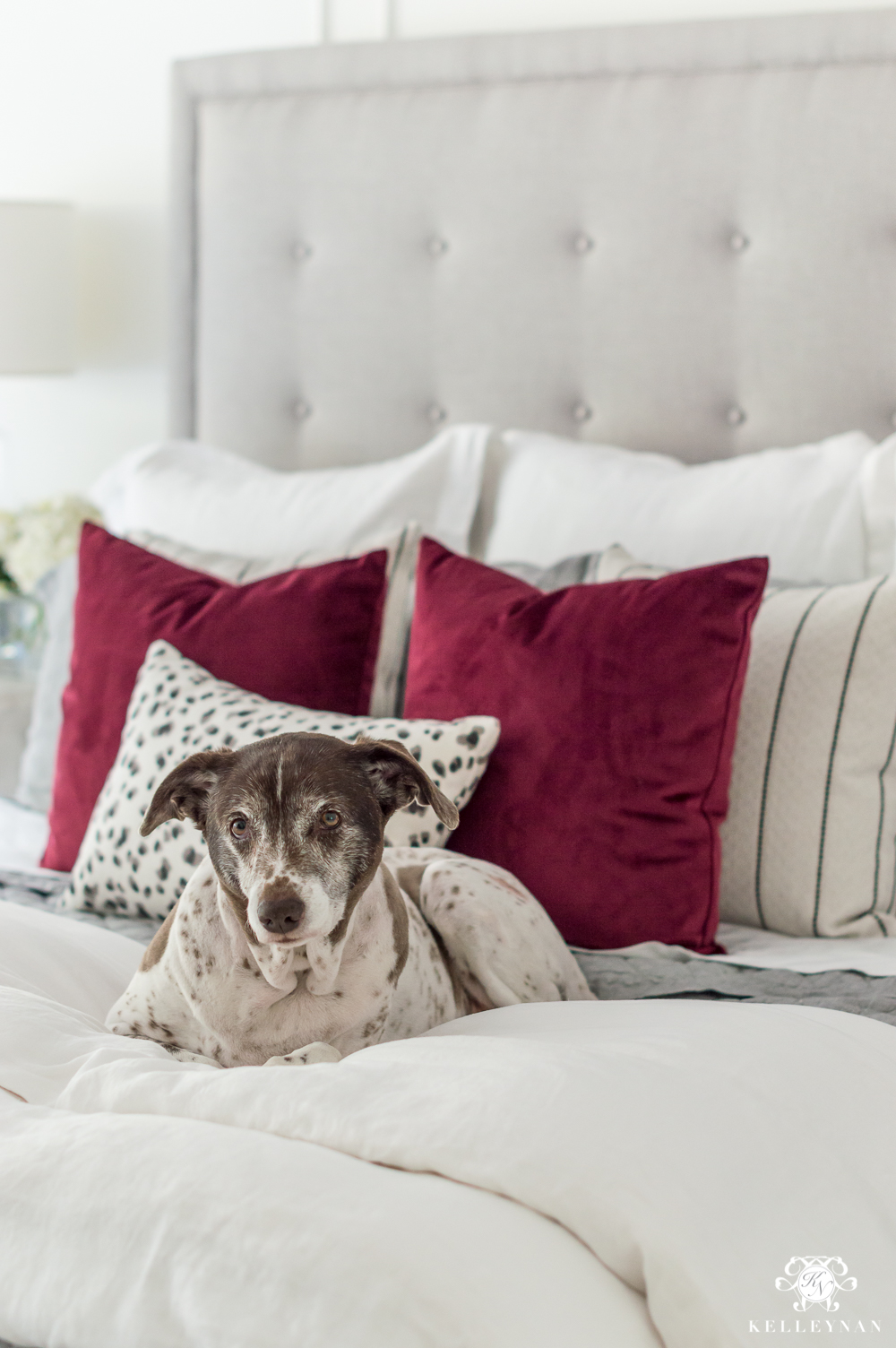 I talked about my reasons for going with different furniture in previous posts so I'll try not to be too redundant, but y'all, the more modern tufted bed sets the tone of the room and it makes a HUGE difference having substantial bedside tables. The lamps on our previous nightstands took up over half the surface space, leaving just enough room for a drink and maybe a charging phone. We now have more room for our nighttime essentials, and more storage for our over-capacity dresser. We kept our metal dresser and with it having an "interesting" coloring, I was very specific about the kind of pewter-esque hardware I wanted in our nightstands, and also in the legs of the sitting nook side table. I'll show that in a bit. Also new and oversized are our I-can't-believe-what-a-difference-these-make bedside lamps. They are without a doubt, the nicest, most substantial lamps I've ever owned.  (I made sure Dave knew this fact, too ((i.e.- "you better not break them!")) haha).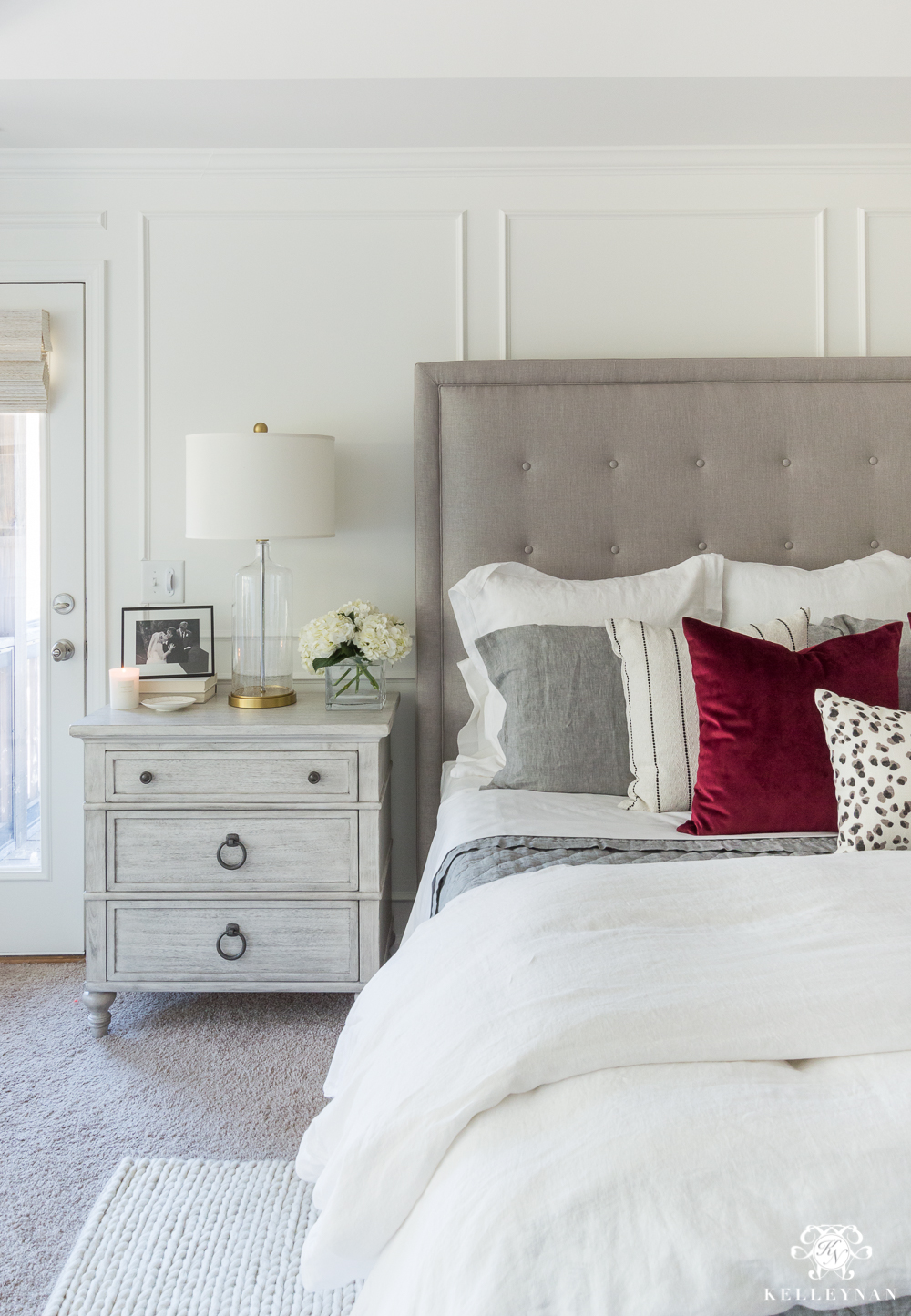 ---
Scroll & Tap to Shop


---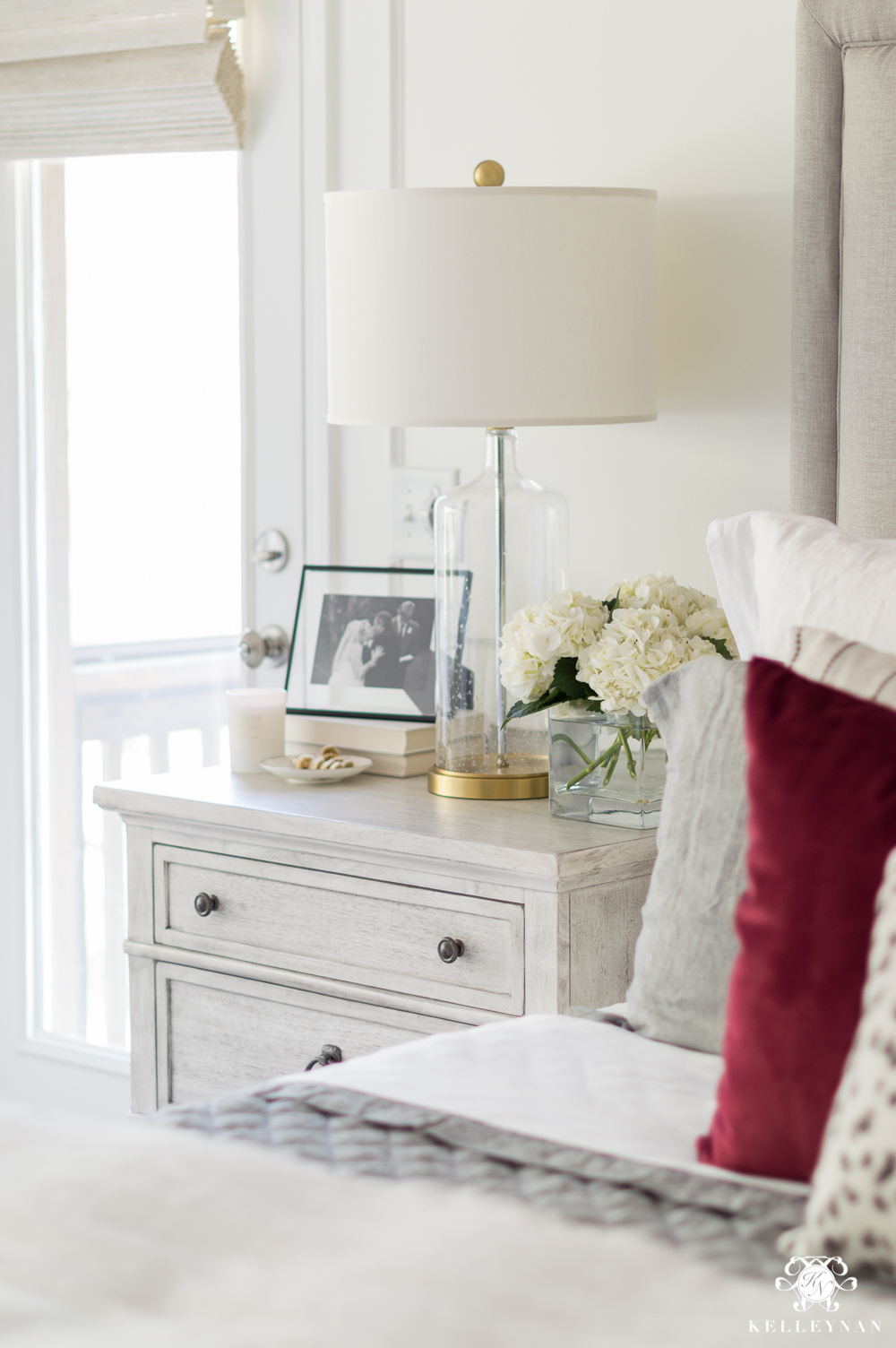 I used some of our china saucers as bedside catch-alls on each nightstand. One thing I'm super proud of this time around is that I shopped the house for almost all accessories when I was pulling everything together. I didn't make any dumb or expensive last minute runs 😉 Speaking of shopping the house, before I bring another single thing into this house, I have got to go through my "accessory stock" in the basement and pull to donate and list. One day, on a day I don't care about being embarrassed, I'll show a little tour on Insta-stories.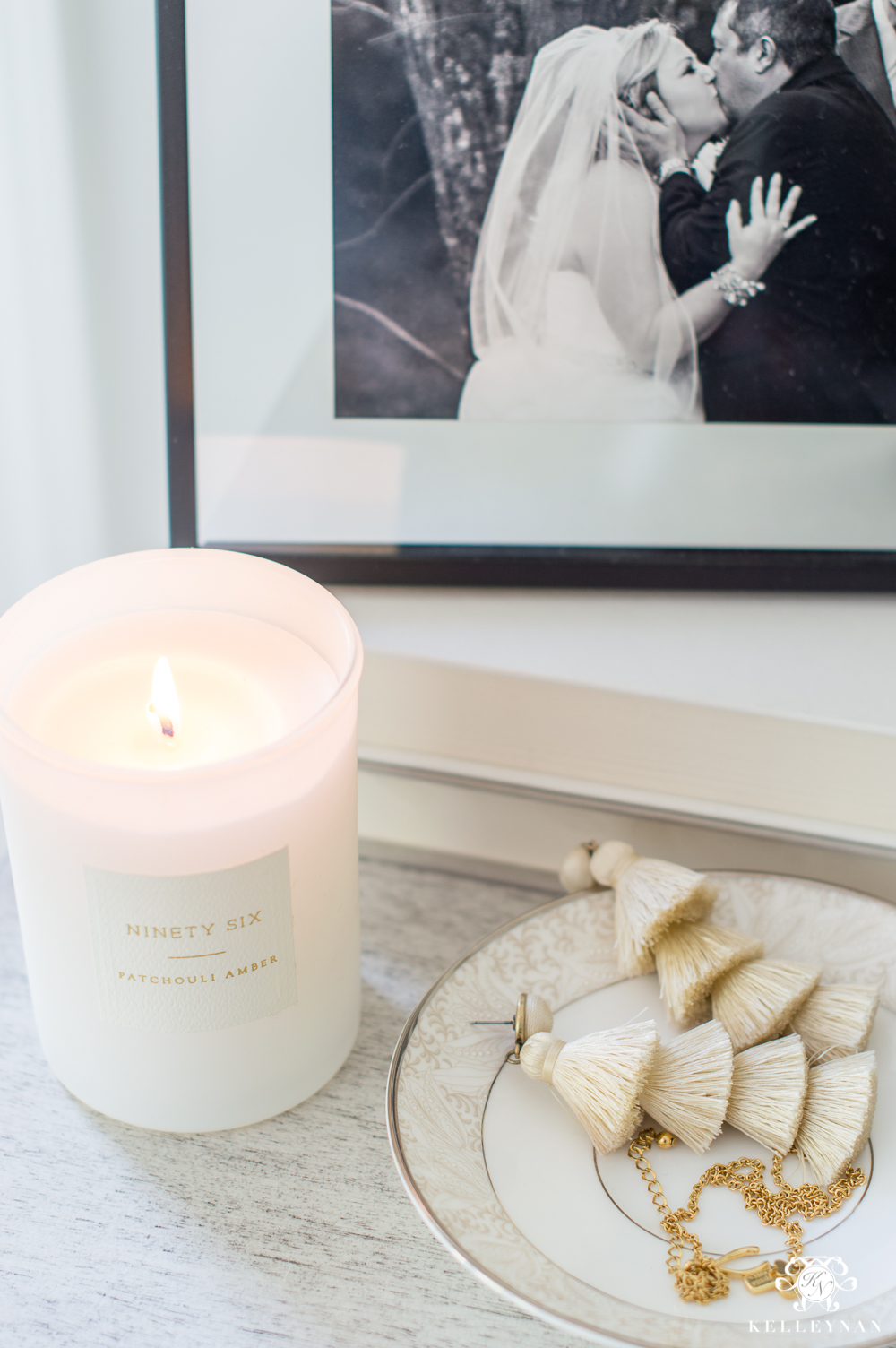 ---
Scroll & Tap to Shop

---
I wanted to go with a bold velvet something to make a statement on the bed. I'm probably just as surprised as you that I ended up going with this wine color pillow! I loved them so much when they came in though, I think they are likely responsible for half of my Christmas inspo for this year.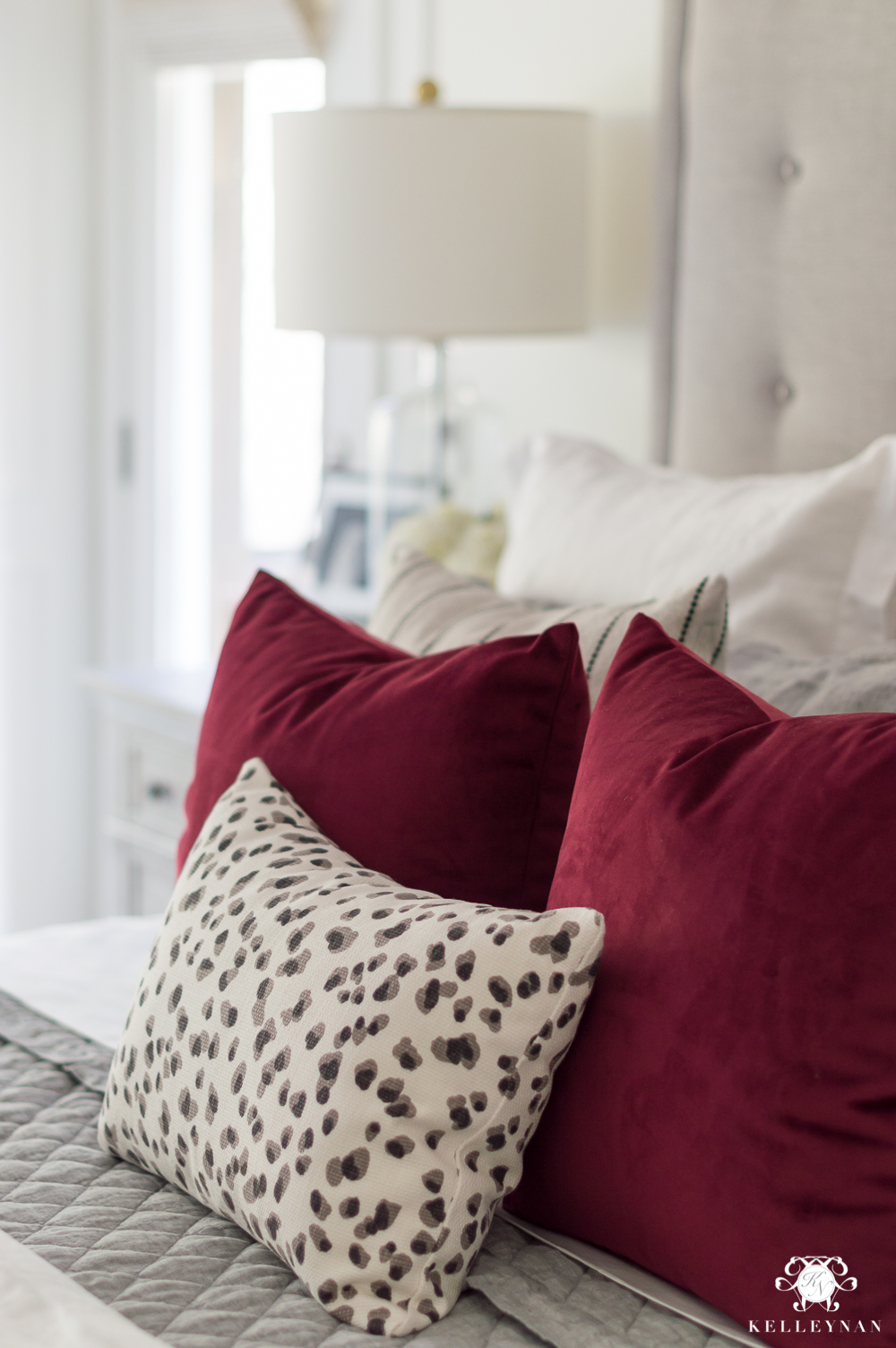 The bedding may look familiar, and that's because it is 😉 We have the same gray linen quilt in white and natural, and the same linen duvet cover in white. We've established they are our fav bedding so we have no shame in doing what works in basically every room haha. I wanted our bed to be nice, but casual. A place to flop down. And this past week, at the end of our over-committed days, that's just what we've done.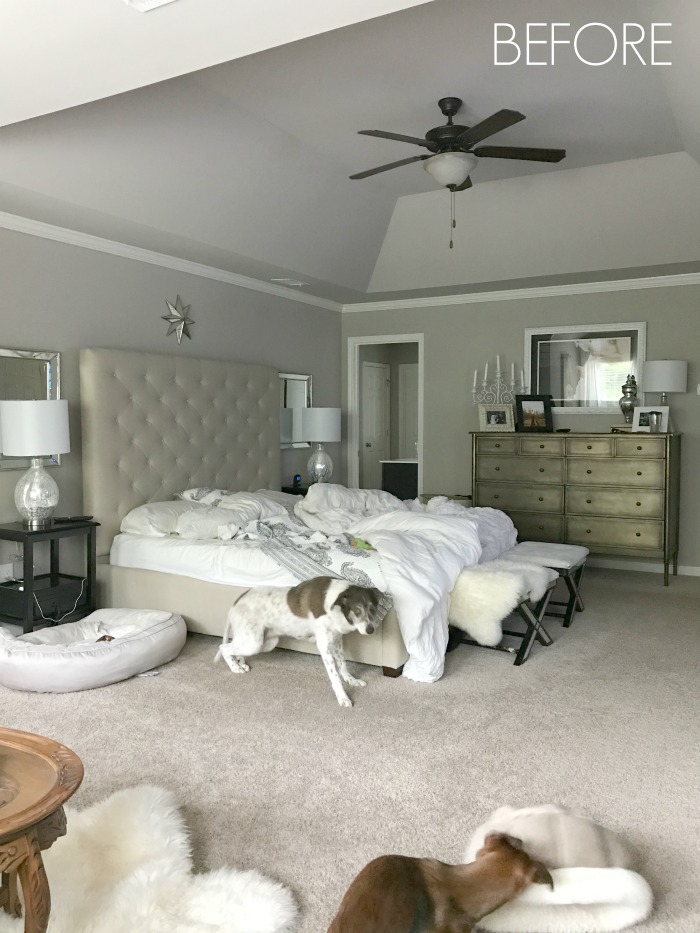 If you're wondering the latest on the Nan vs. Fan debate, my solution totally won! Dave has had nothing but positive things to say about our new system – both in feel and sound. As in most of our rooms, he put the chandelier on a dimmer. If you don't have a dimmer in your master bedroom, put it on your list!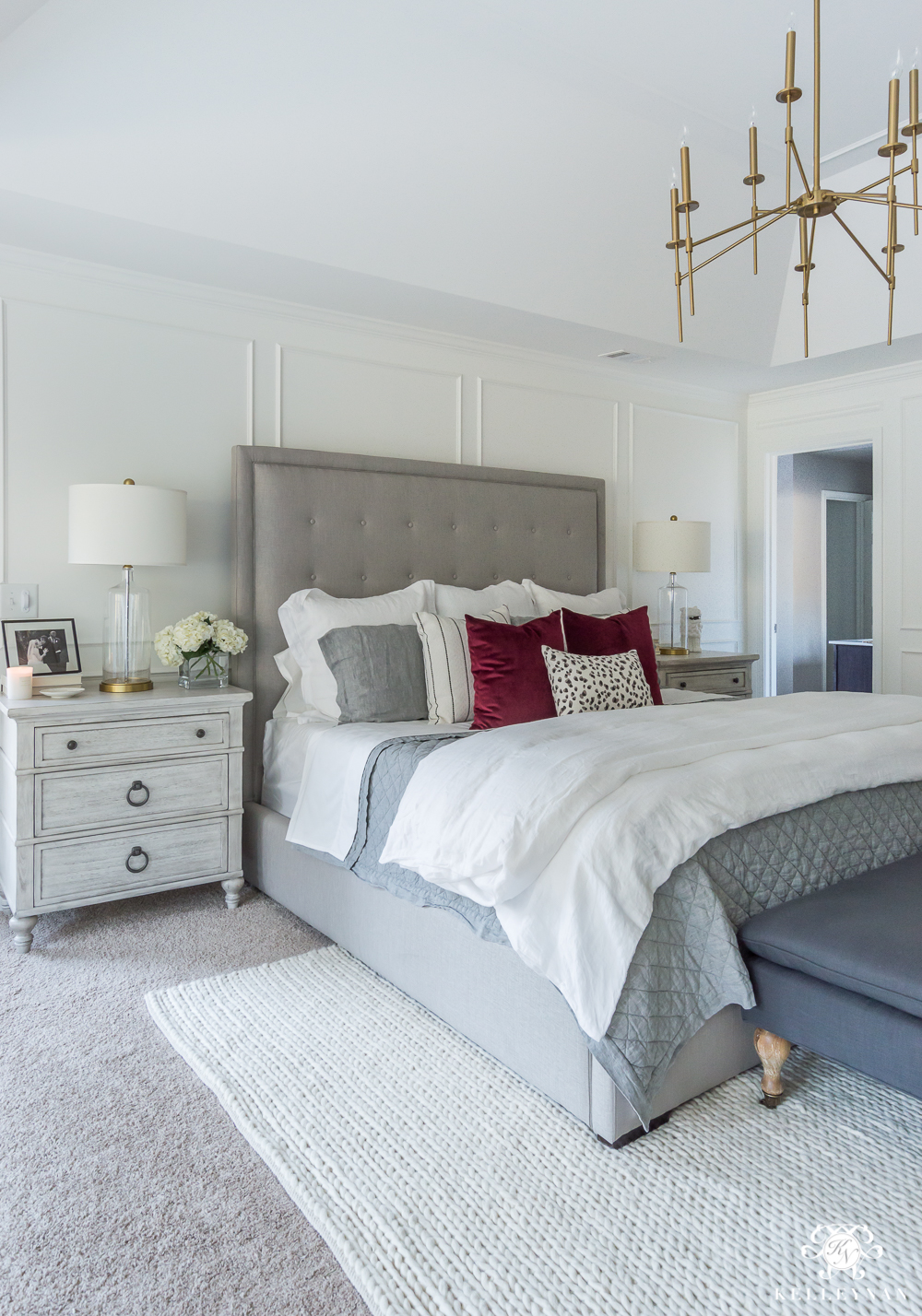 I've had this little ceramic foo dog for almost a year but it hadn't made it past the storage closet. When I brought him out, Dave loved him so much, I made sure to make his home on his side of the bed 😉 I totally got the "unexpected animal accessory" habit from Mama Nan.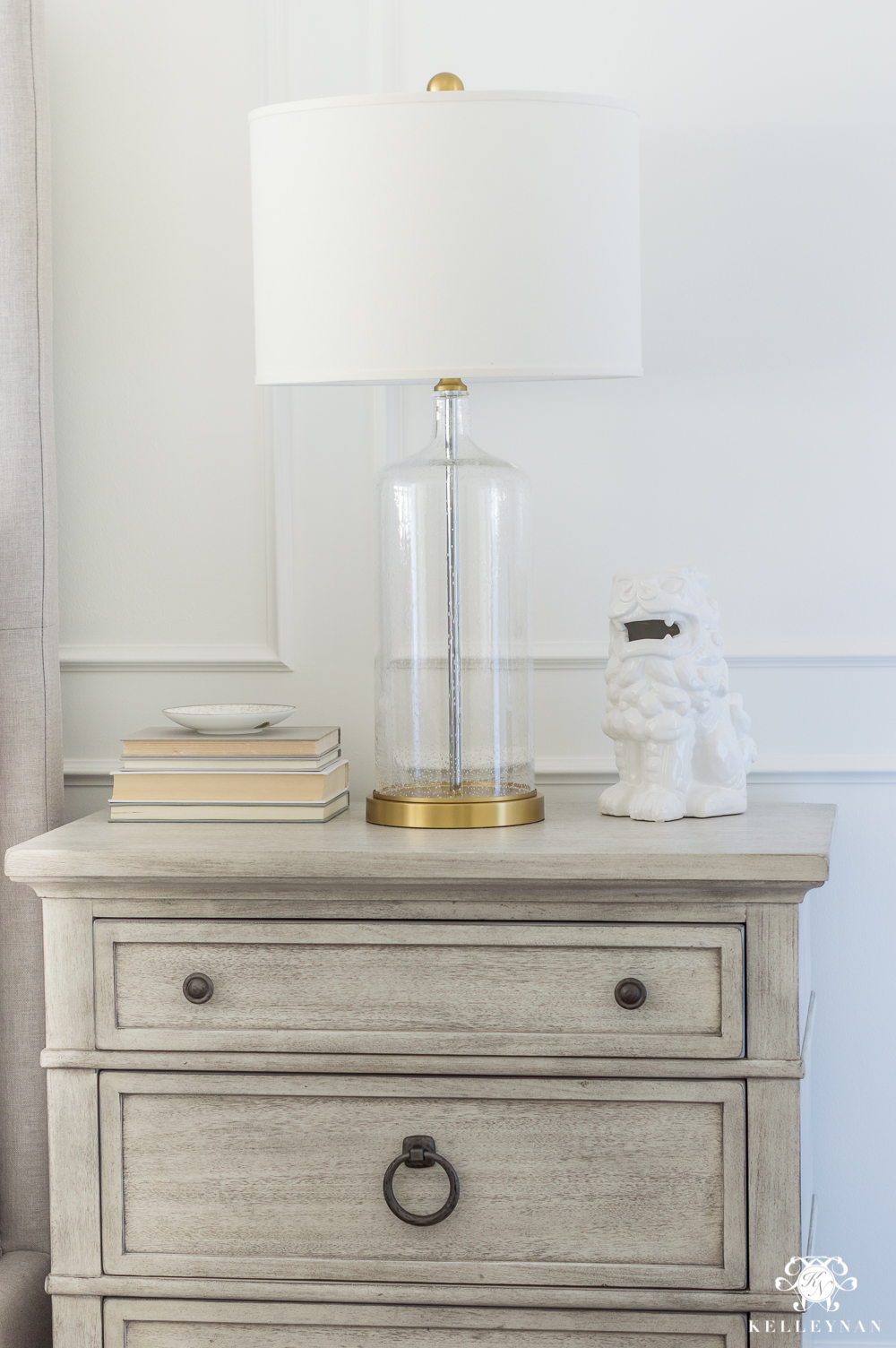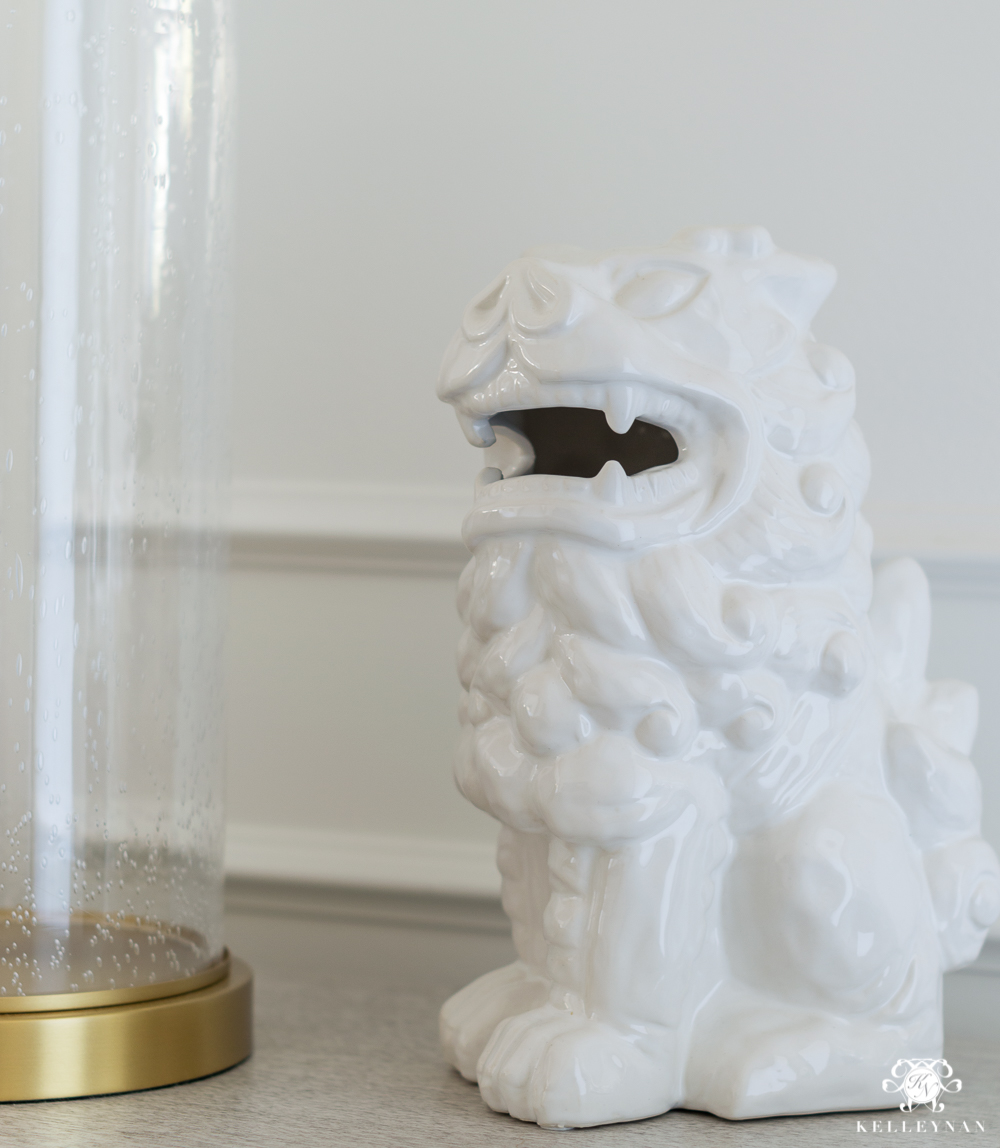 We initially moved the dresser because we will eventually have a sliding barn door on the wall the dresser was on previously. I actually like it here better and it works perfectly under our already hung tv.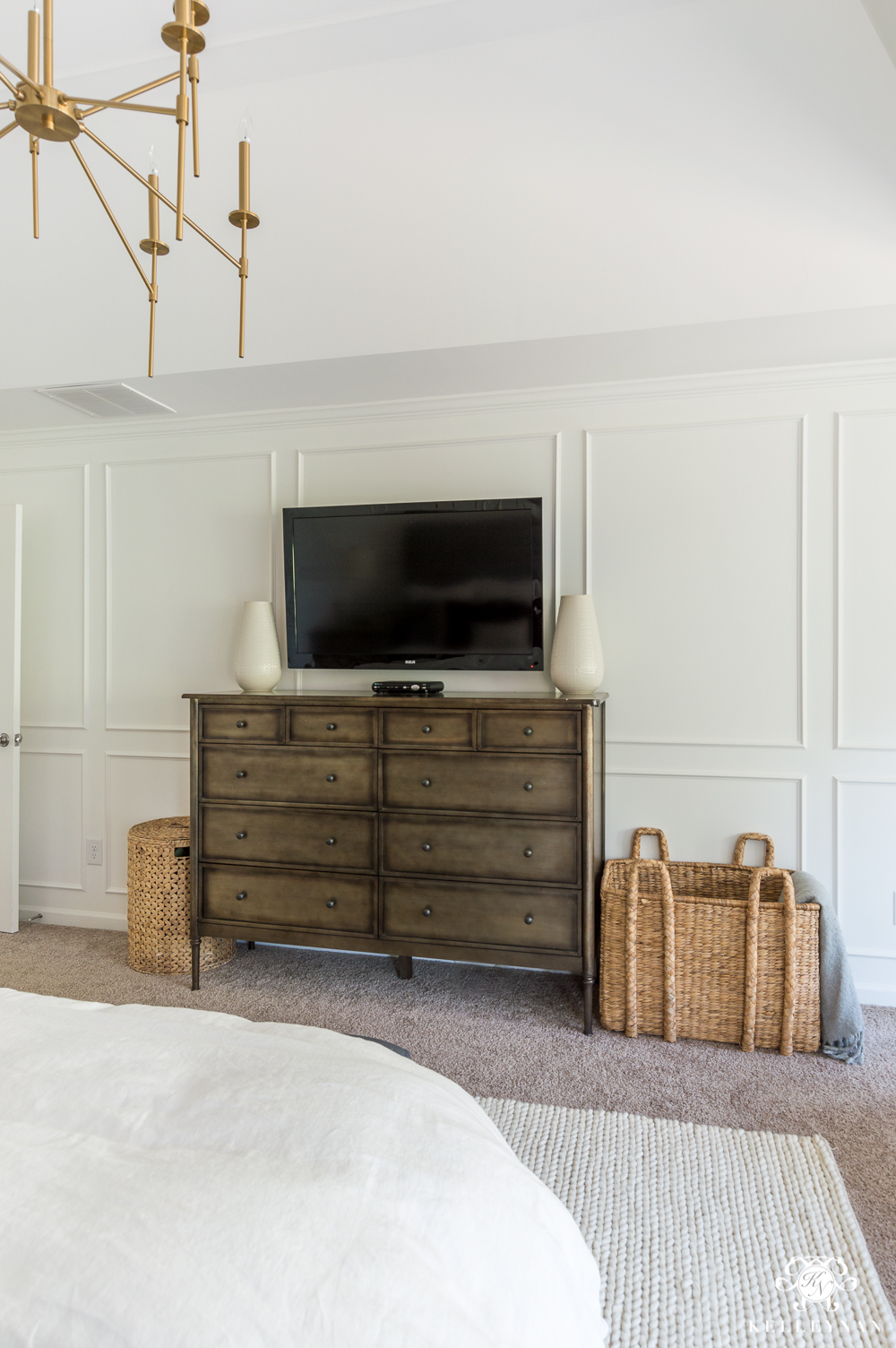 And see that huge basket? We put our throw pillows in there at night, but during the day, it gets to hold our new favorite toy (the fan).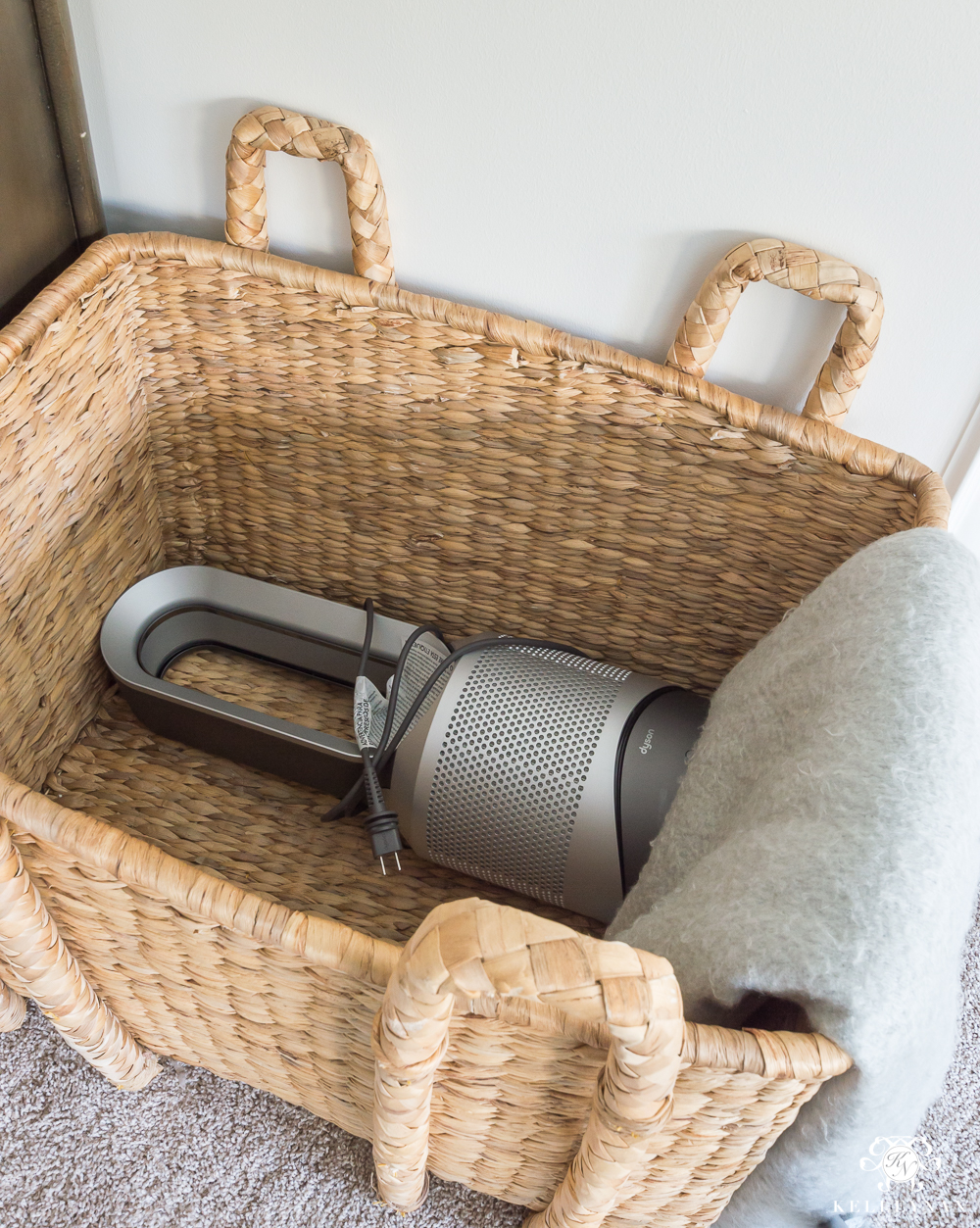 Before the makeover, I was wishing we didn't have a sitting area because ours wasn't outfitted properly or proportionately. The dated (albeit, only re-covered three years ago) loveseat wasn't doing it any favors and it held well, just a bunch of leftover things. Now, I truly love this little nook. Letting the moulding stand alone as the "art" for the majority of the room, the nook is the only place we hung a few pieces on the wall.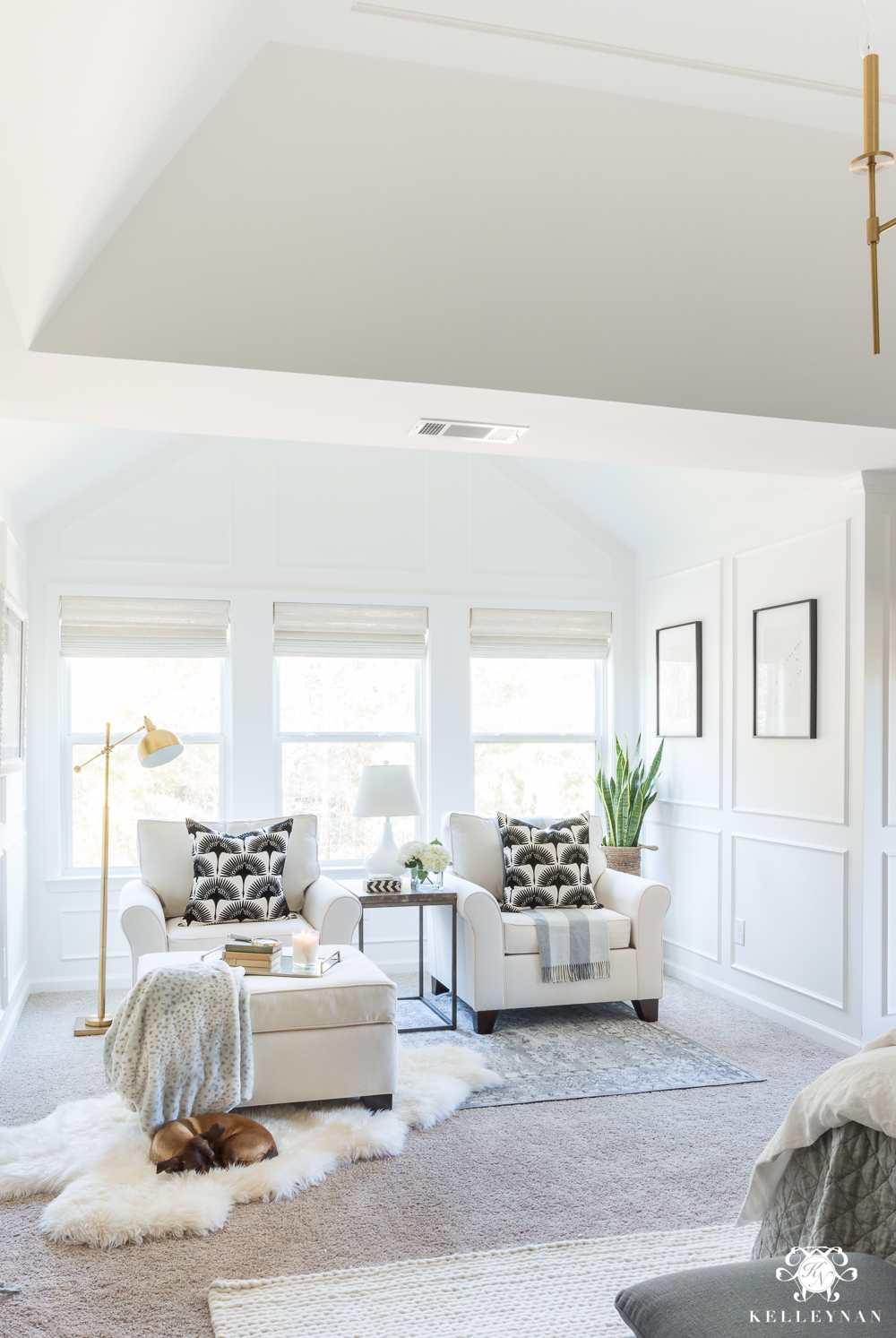 I kept my fur rug but instead of it being the only rug in the space like it ended up being before, I used it as a cozy layering rug and paired it with this new, inexpensive rug from Wayfair. The chunky knit wool rug underneath my bed is a new household FAV! (sitting area rug is 5×7; bed rug is 8×10)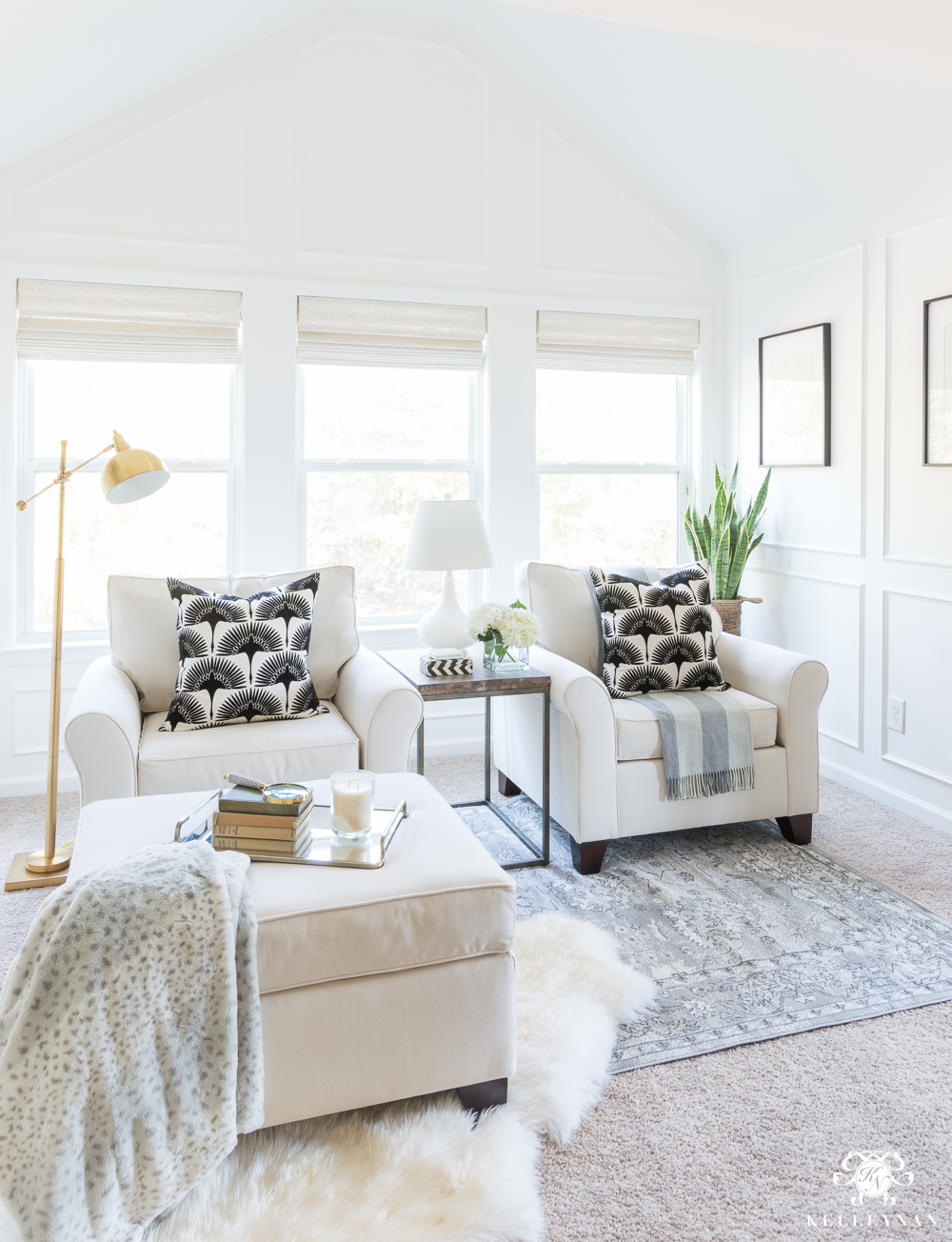 ---
Scroll & Tap to Shop

---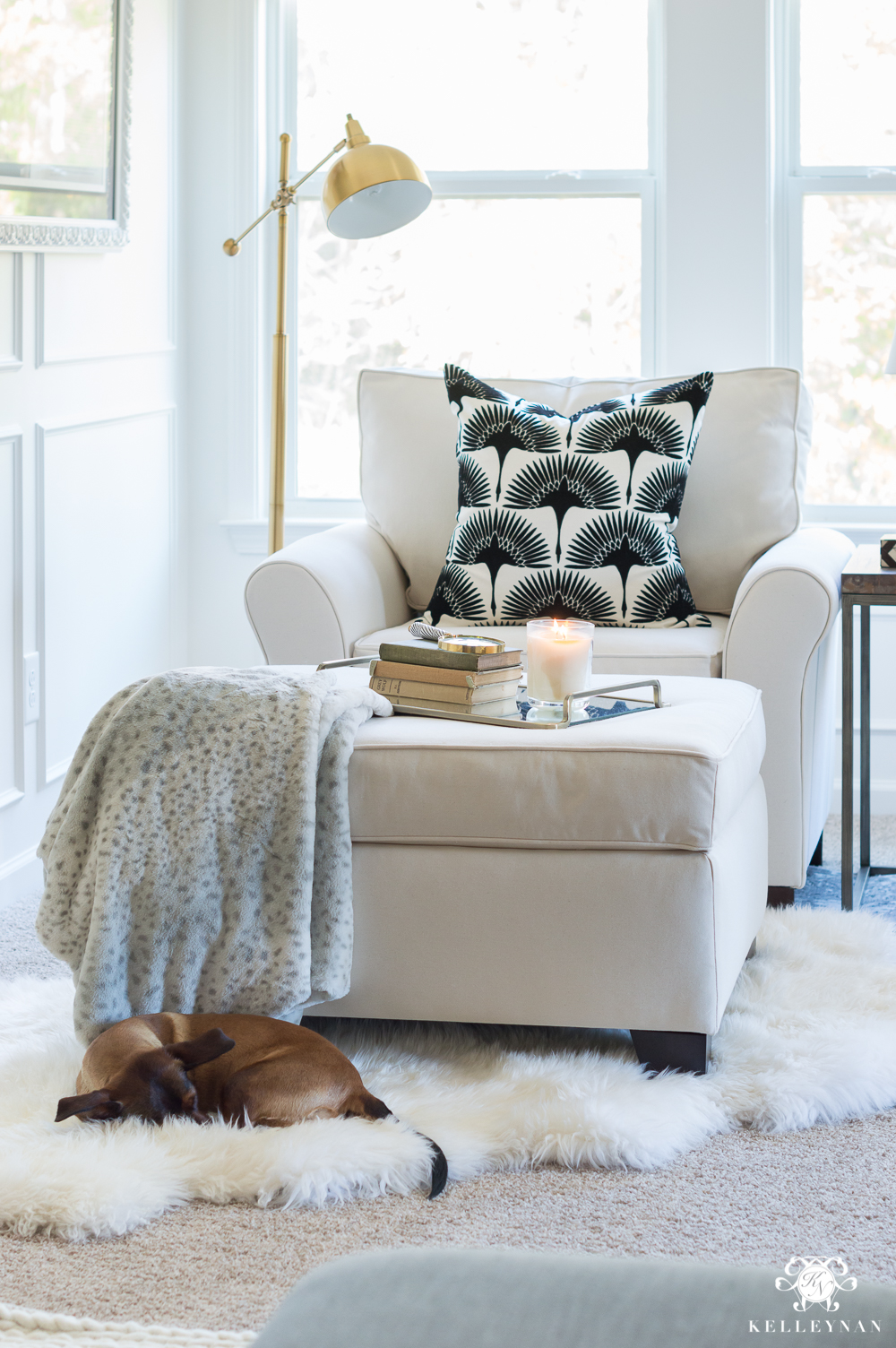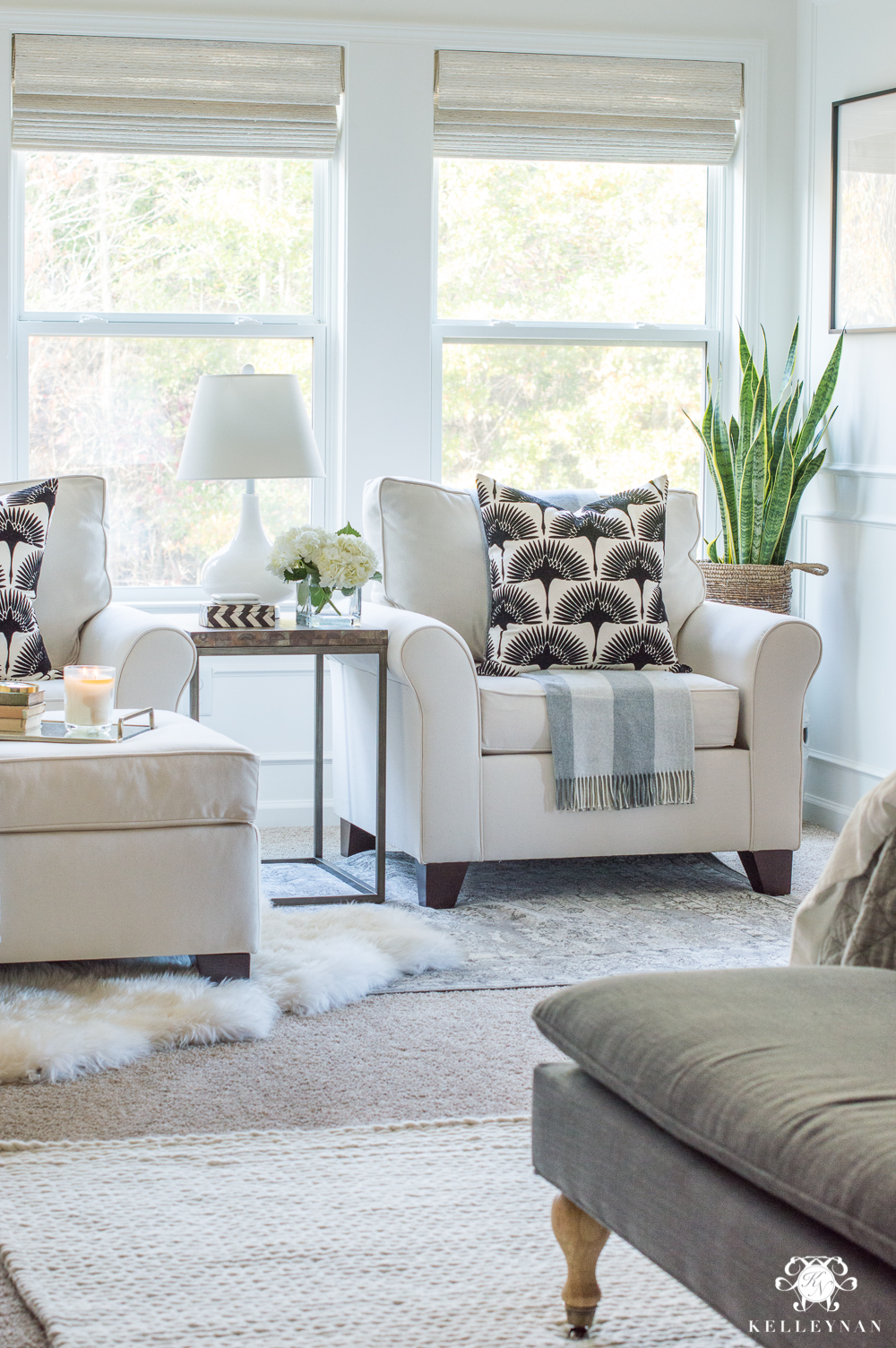 So now that you've seen all the brass accents and the metal dresser, see how the pewter finishes kind of marry them together? The legs of this table are the perfect combo of all the metals in the room.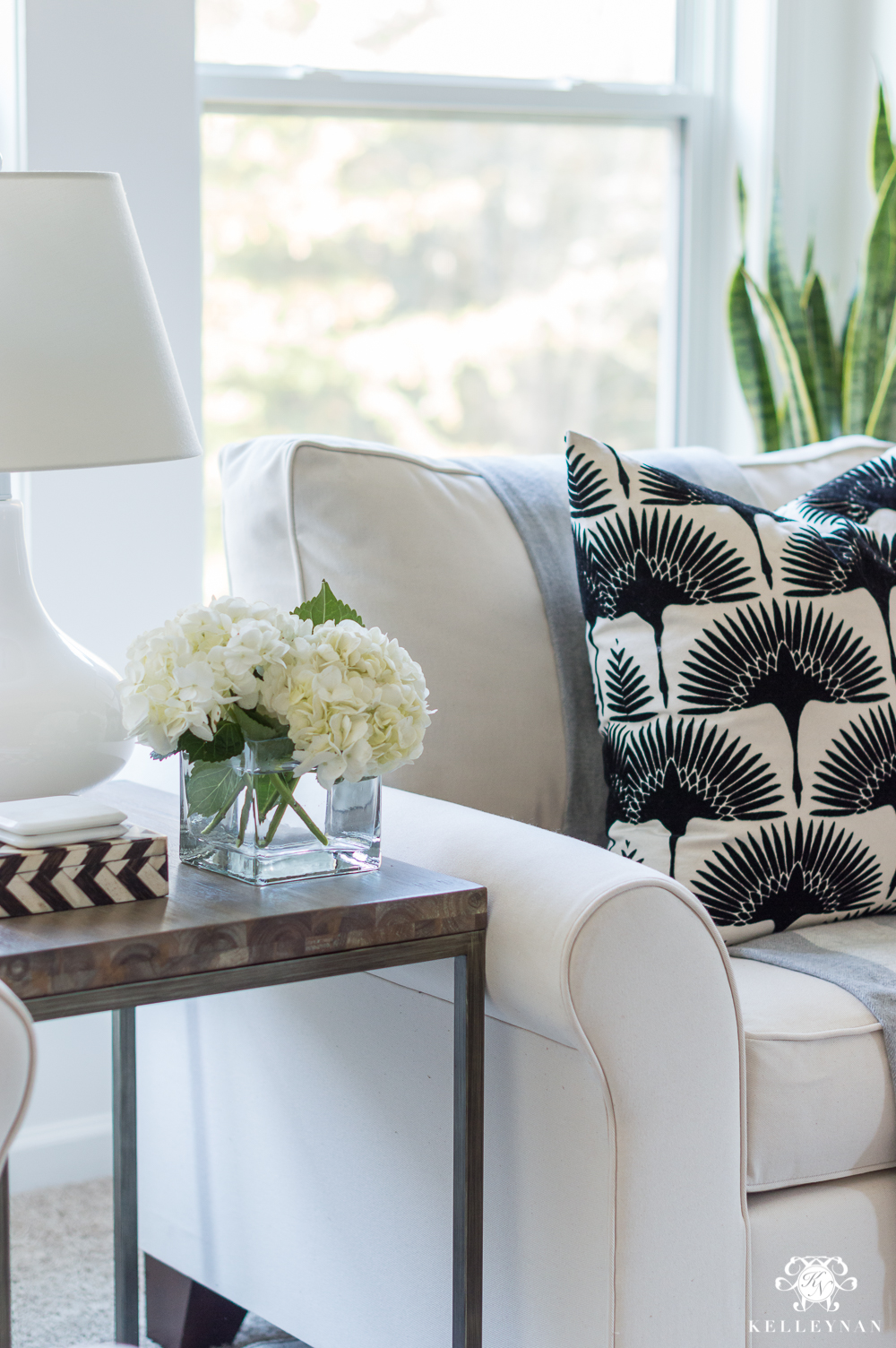 After the room came together, I was even more glad we went with these streamlined woven shades from my fav, Select Blinds, in lieu of curtains. They don't detract from the moulding and keep everything in the nook all neat and tidy.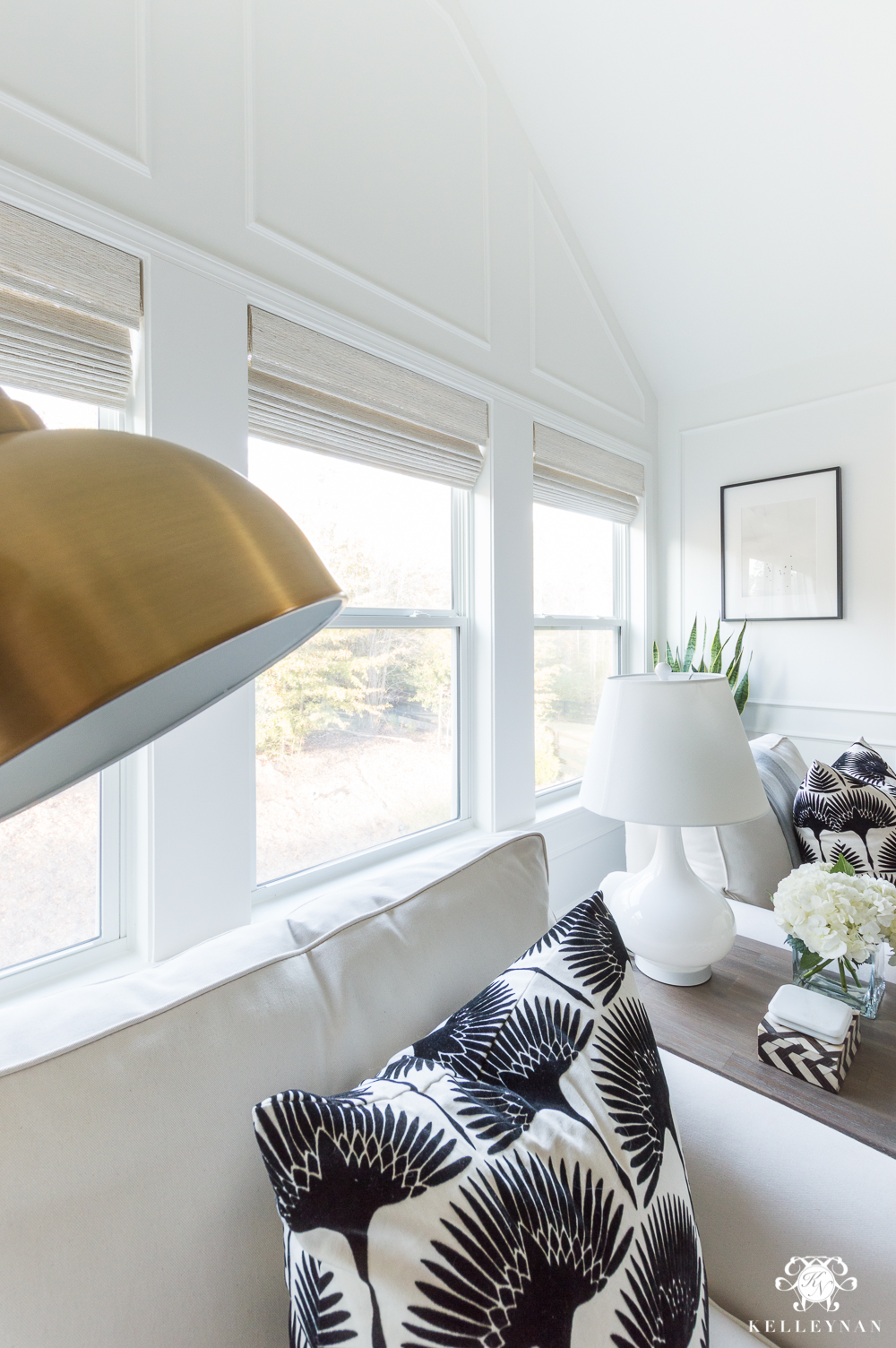 I'm still borderline obsessed with how my flock pillows from Tonic Living work with my bird art from Minted. One of those happy coincidences that I'm going to pretend was totally intentional 😉 Something else that was totally lucky- see how perfectly level and even those art pieces are? Know who did that with only one extra hole? This girl 😉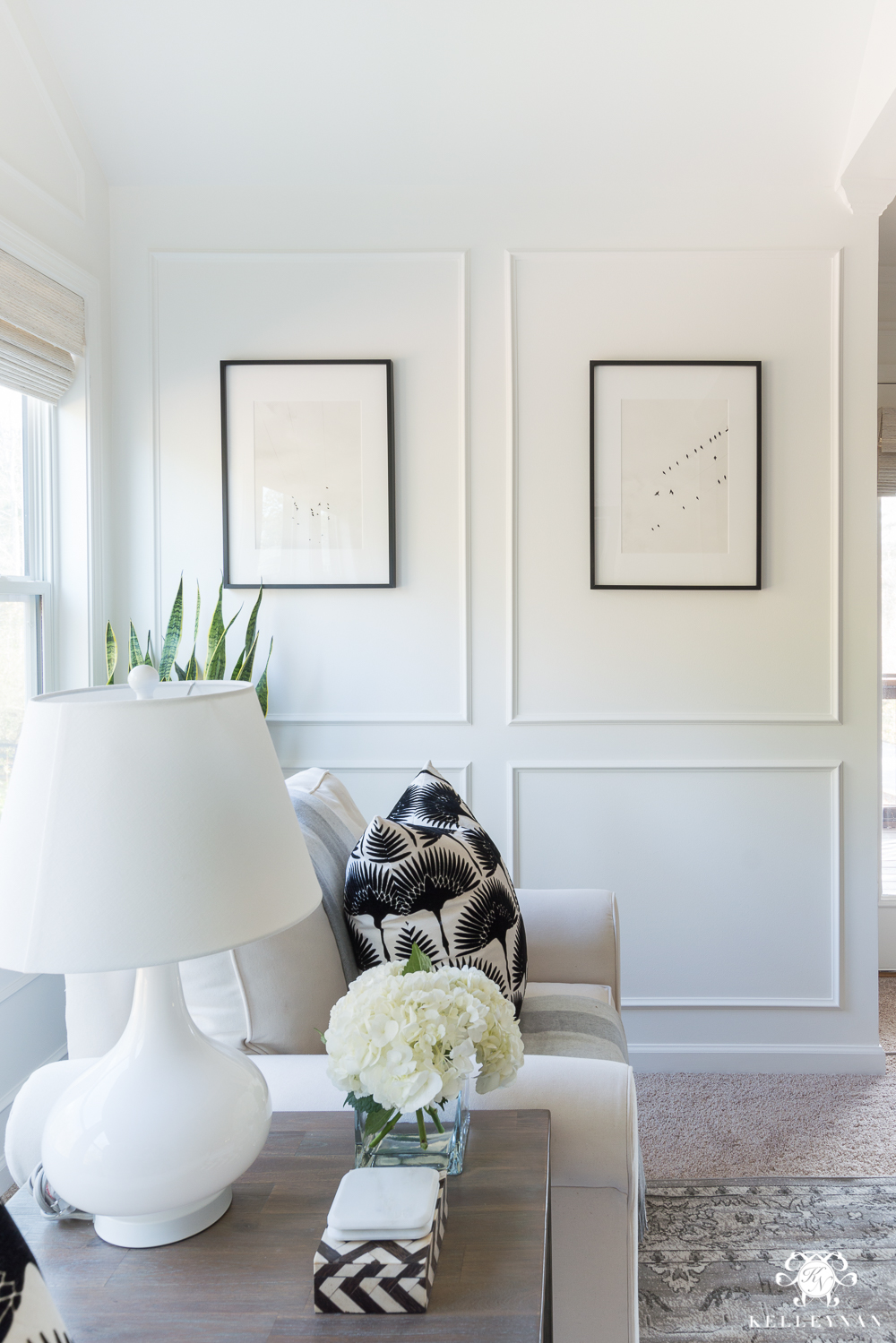 A simple bit of space planning that made a world of difference in the nook is that before, because the loveseat was small, I felt like pulling it out from the wall made it look like a dinky little floating piece that didn't belong. Now, with furniture that fits in the space, I was able to pull everything away from the wall and make it into a more intentional conversation area.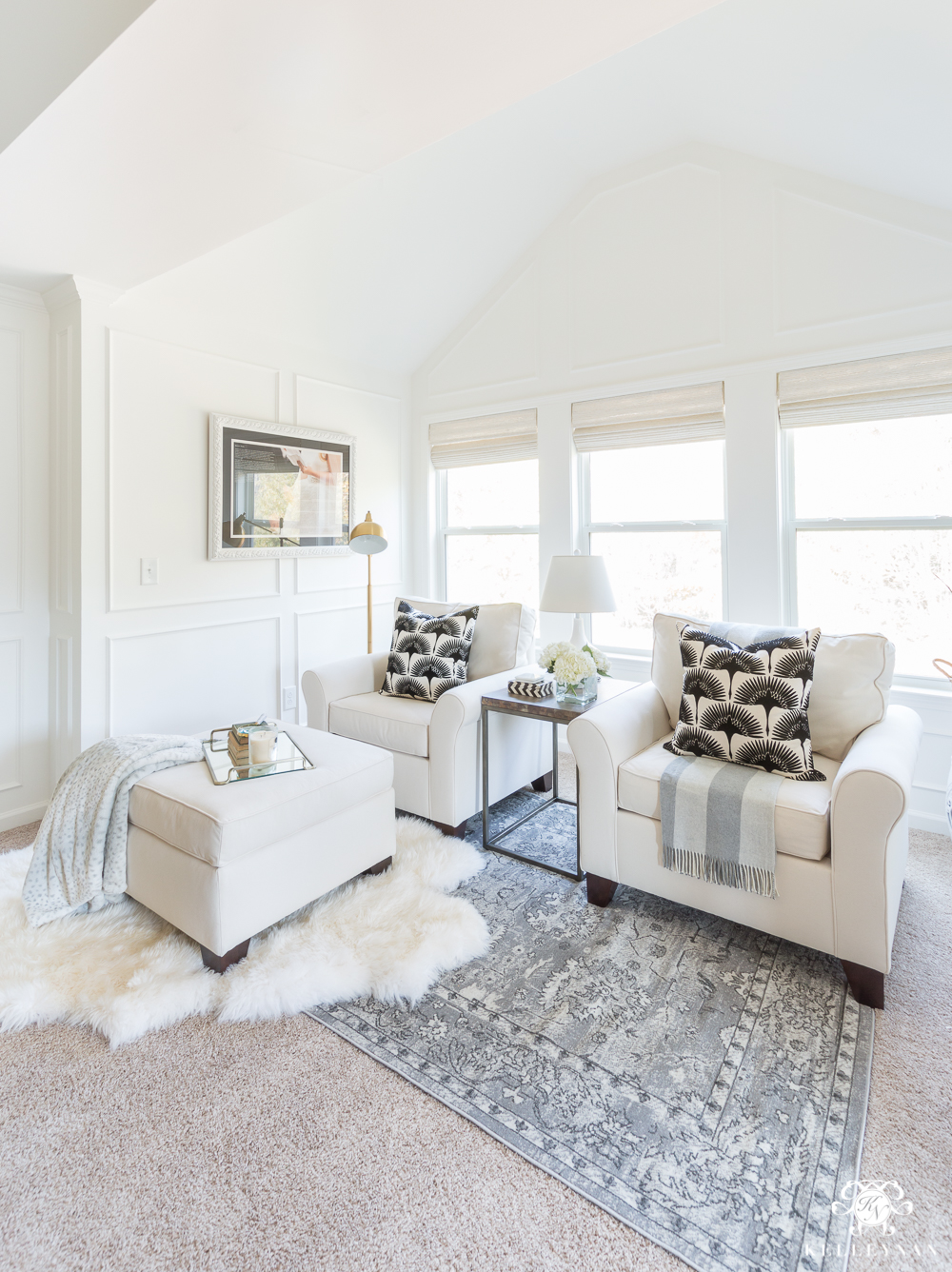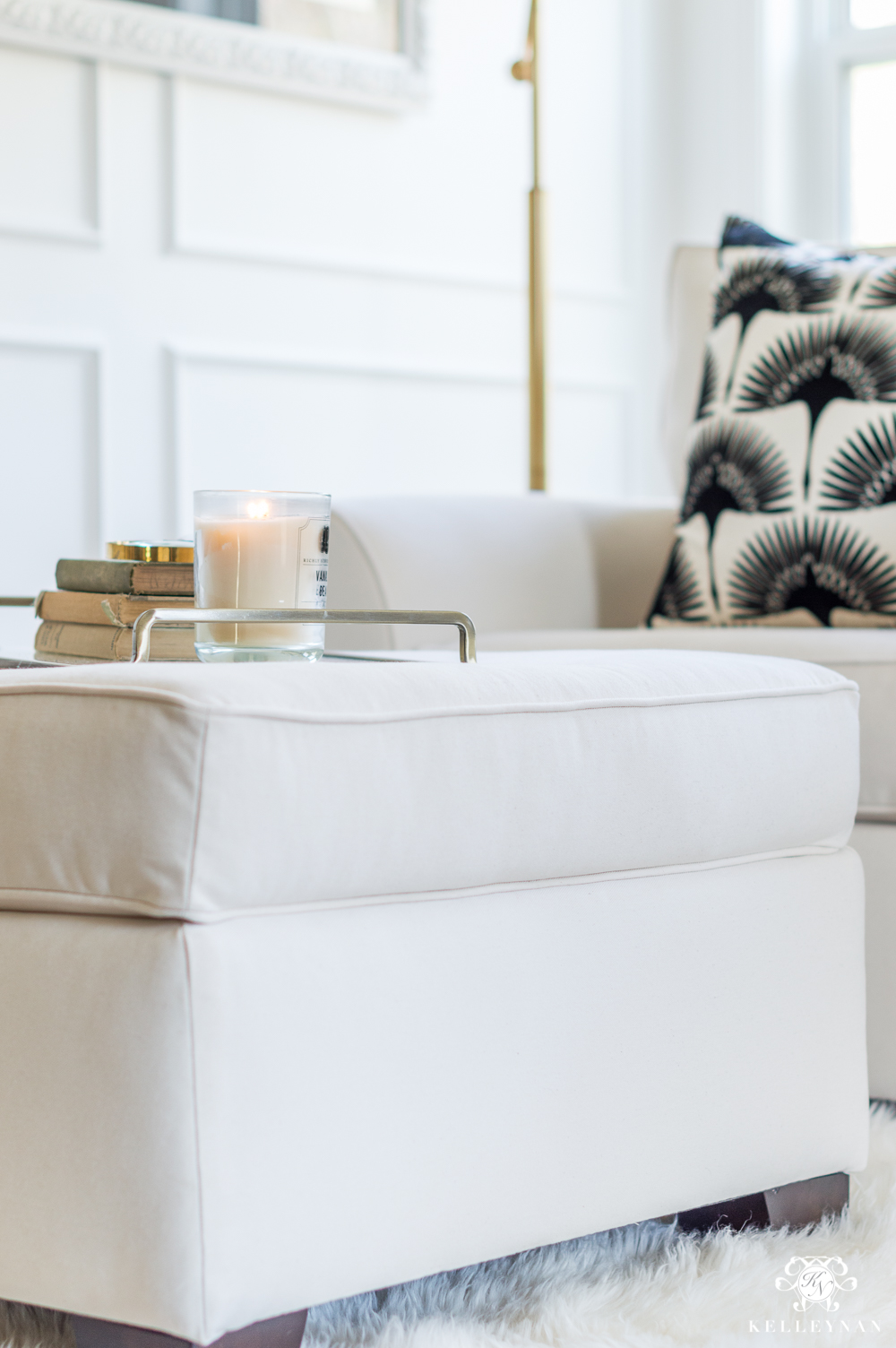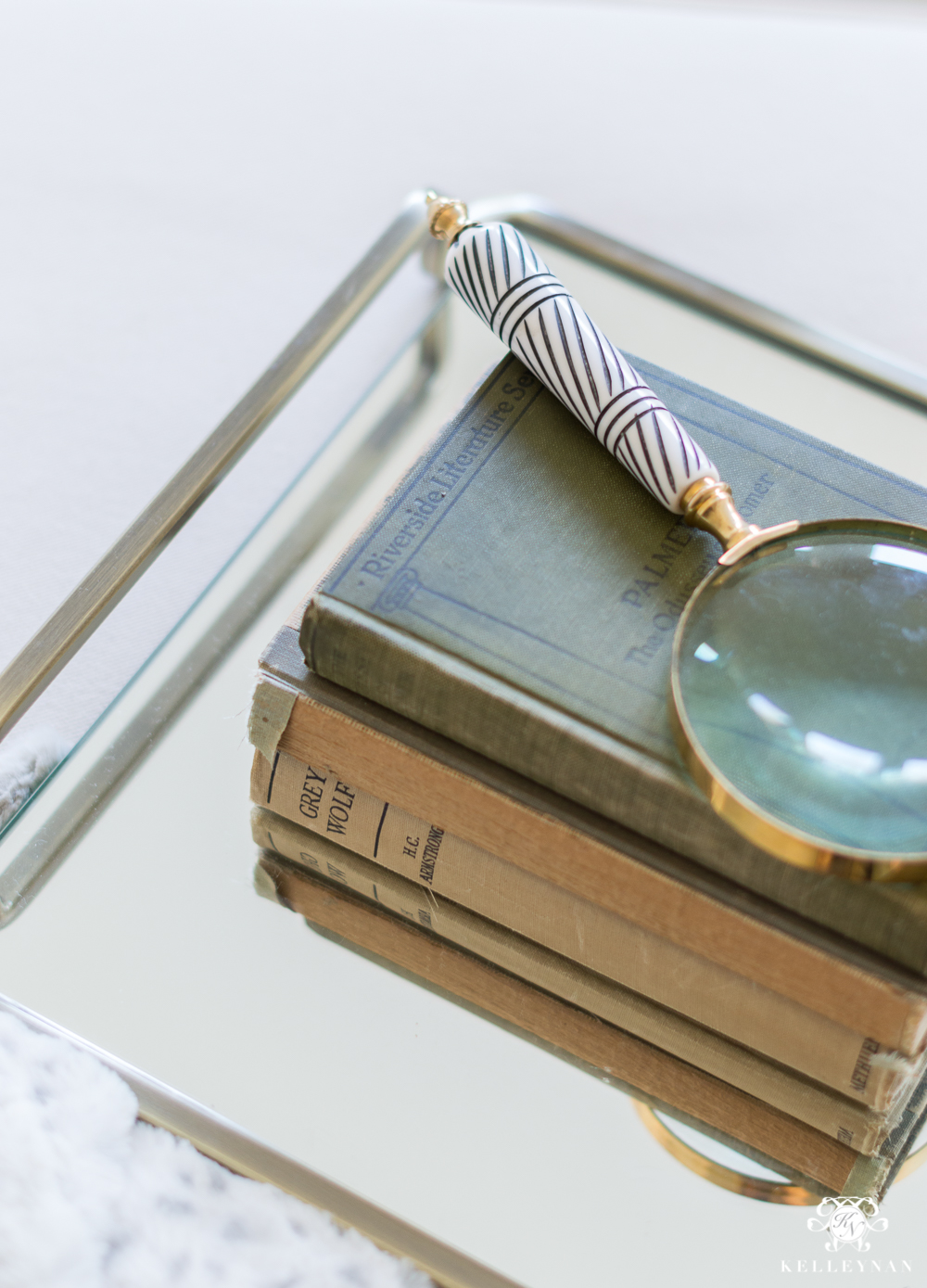 Even though we were bringing in a lot of new pretties, I didn't want to purge our most special, sentimental pieces. I relocated our wedding vows as a standalone piece in this space and even though I meant to get it re-framed, I'm kind of liking the more intricate frame now!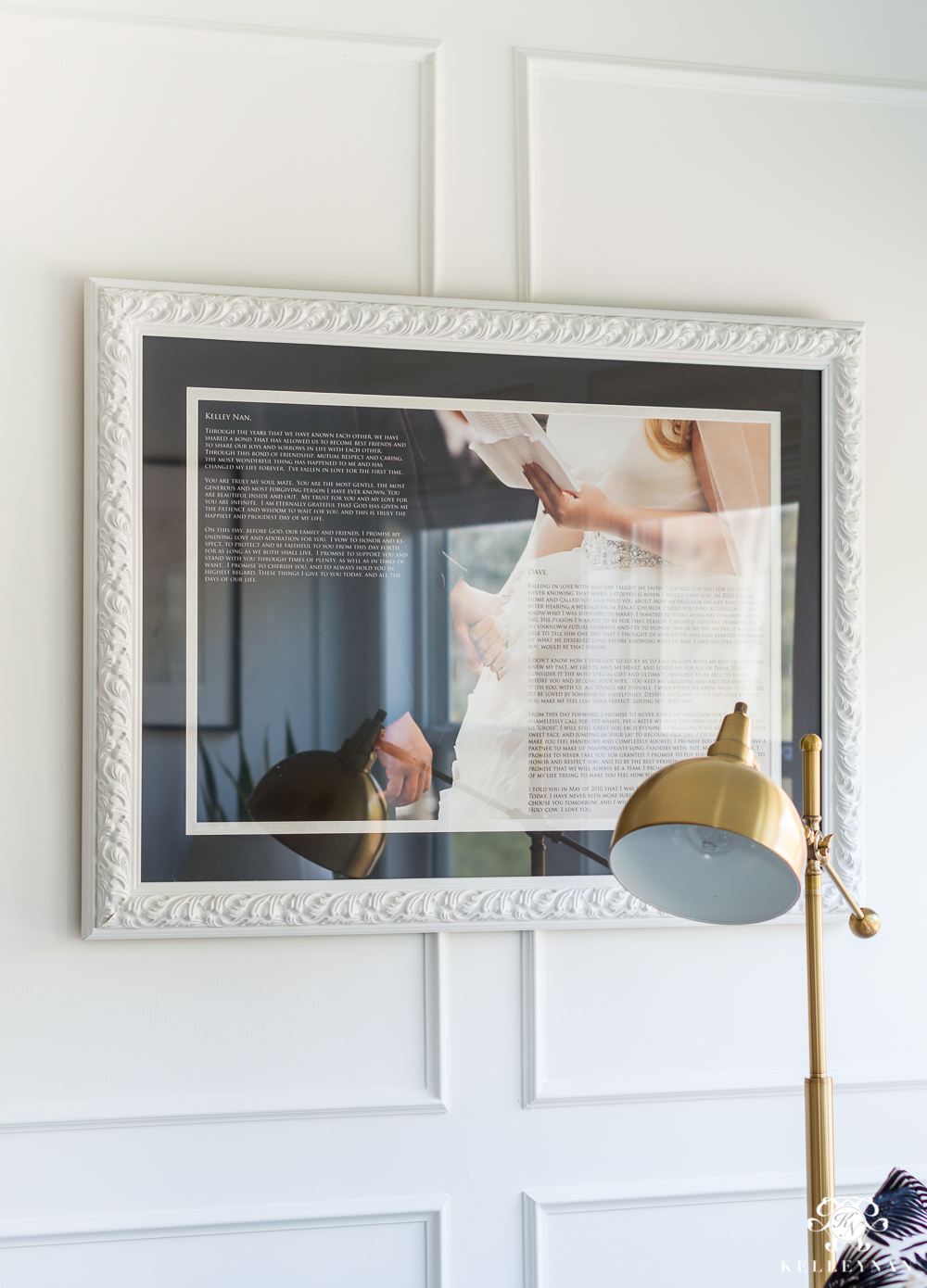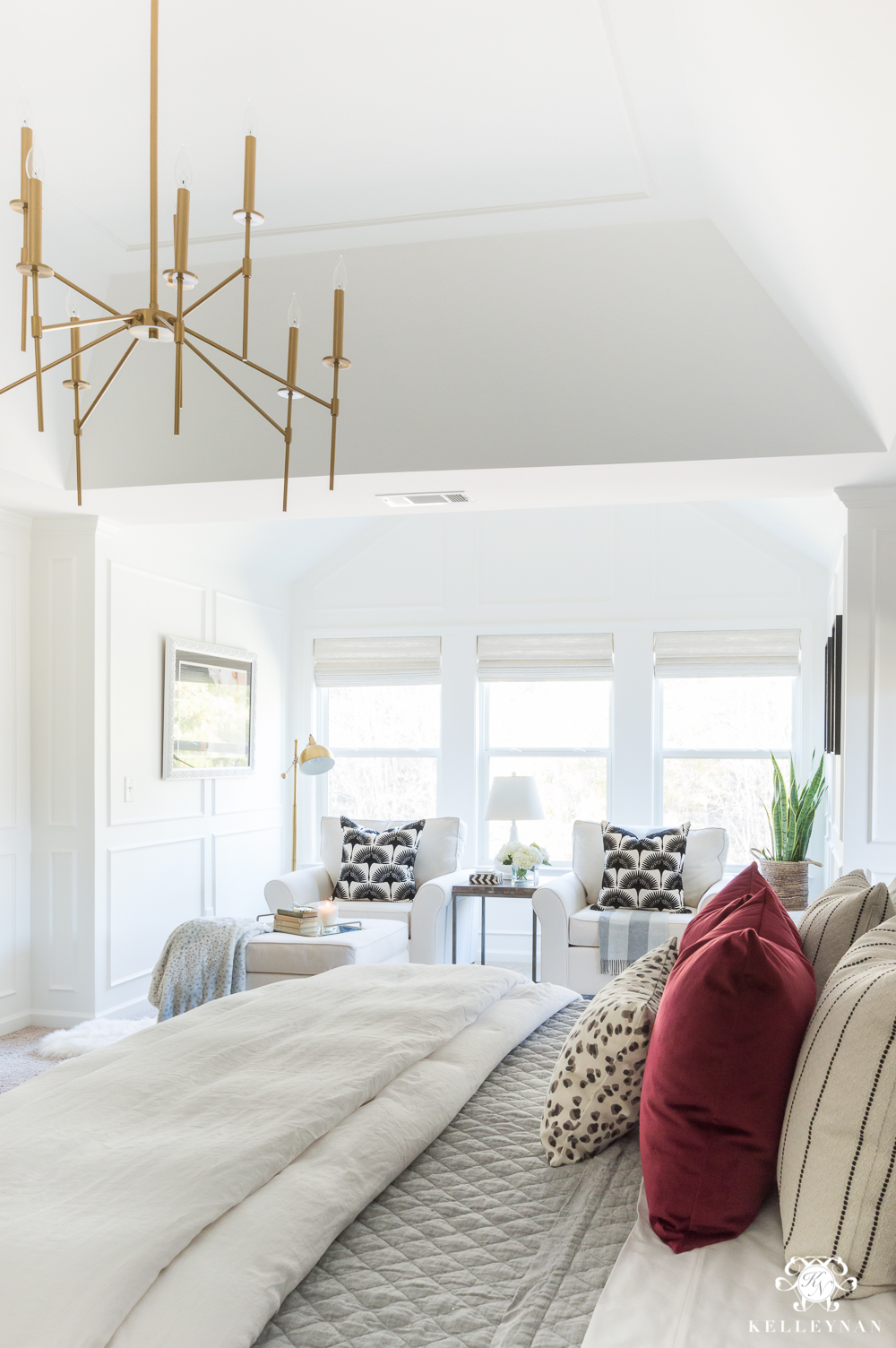 No, your eyes aren't deceiving you. Between Maggie and my hair, I'm not sure who rules the bedroom more.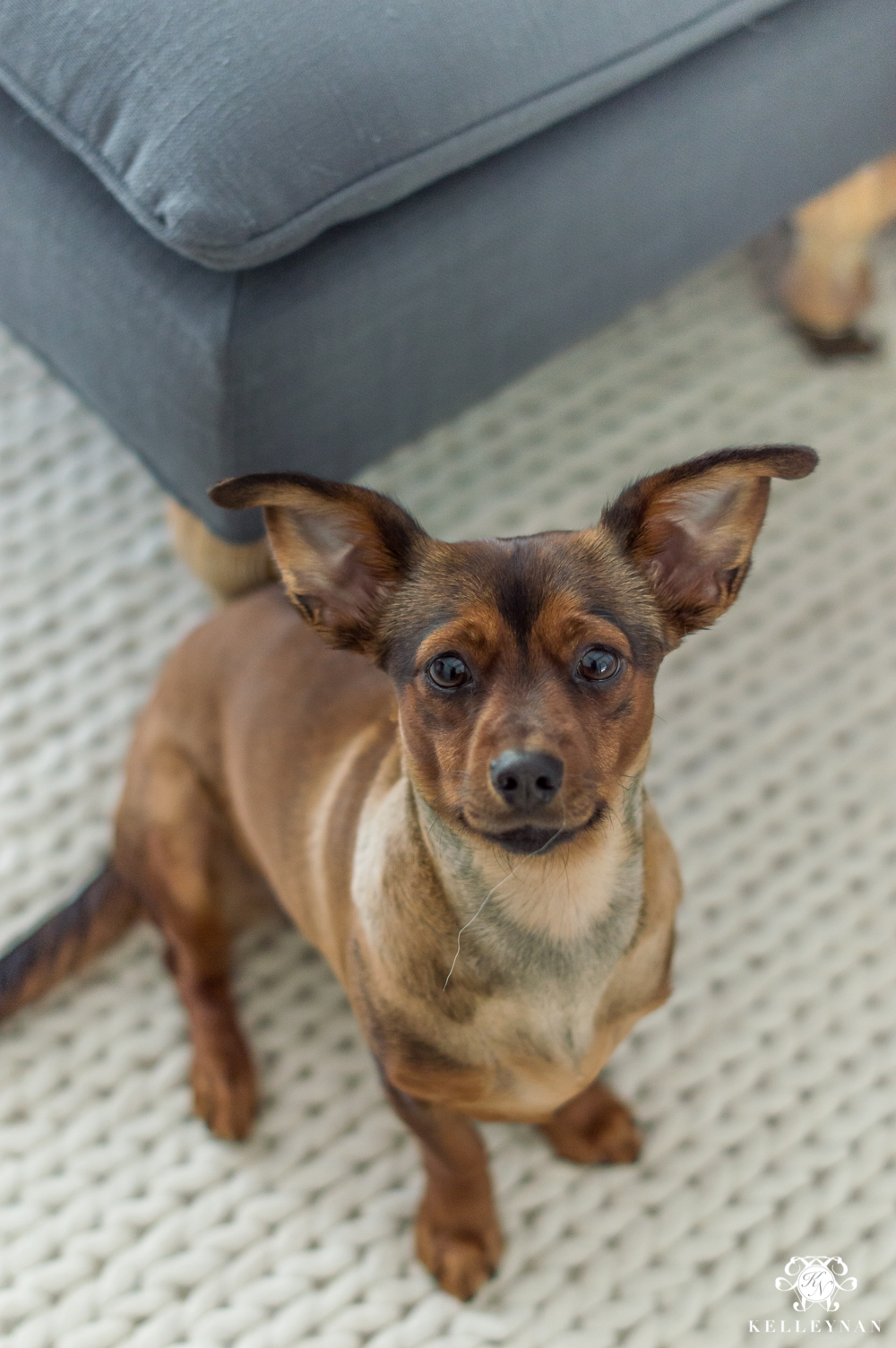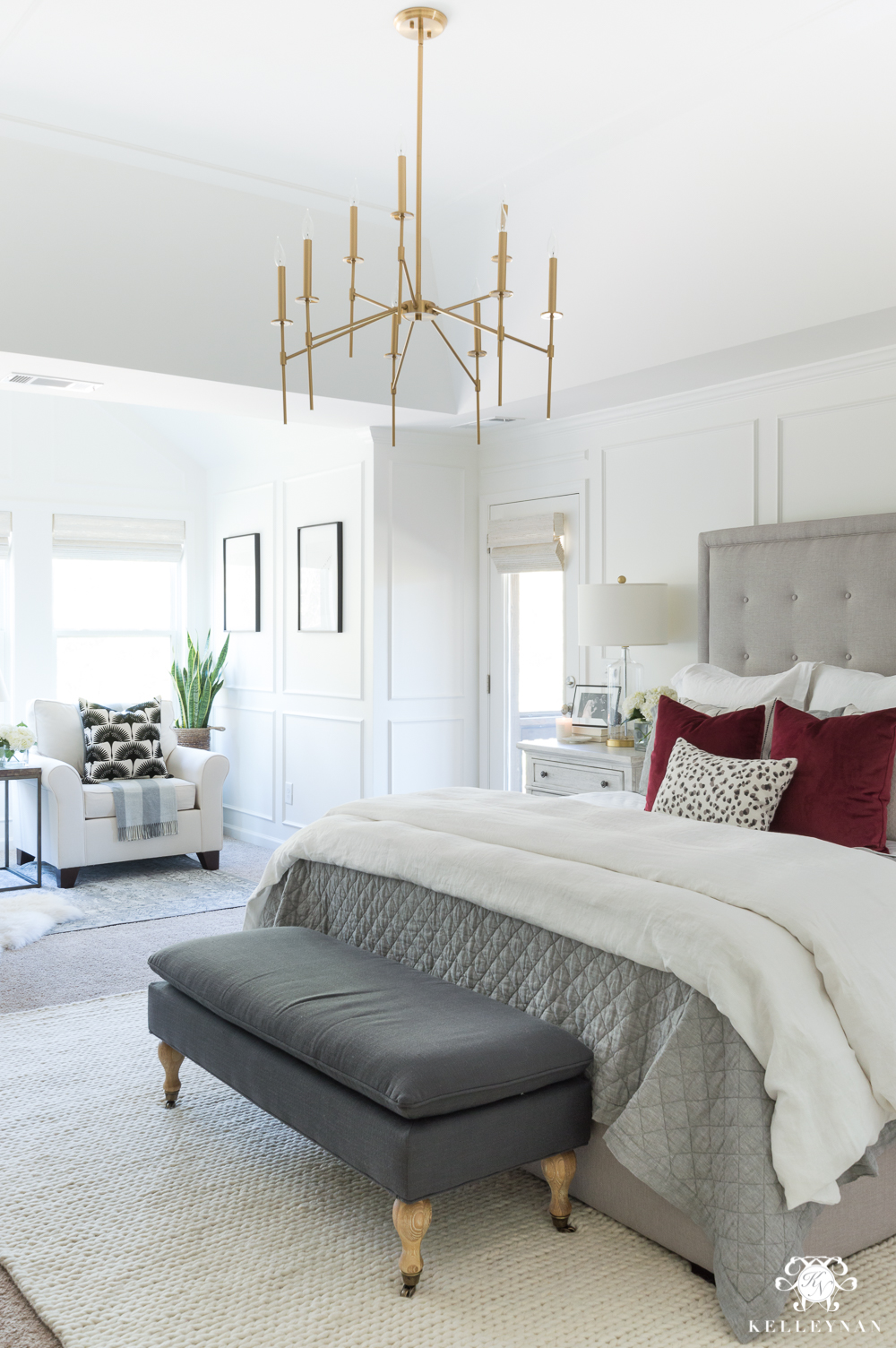 If you missed any progress weeks, you can go back to the beginning here:
WEEK 1 | WEEK 2 | WEEK 3| WEEK 4| WEEK 5 | WEEK 6
Thank you all for hanging in there with me over the past several weeks! Your enthusiasm and kind, supportive words (along with our motivation to have a place to sleep again) kept me going. Dare I say I'm already considering my next room makeover?! Actually, scratch that. Even though I DO have an idea, I'm not gonna think about that any time soon. Stick a fork in me for 2017! If you are new over here, we do a lot of other fun things (room makeovers included); you can sign up for email updates at the bottom of the post to make sure you catch the next project. I'll be bringing out the Christmas any day now 😉

Thank you to Calling it Home for another fantastic One Room Challenge cycle. Be sure to check out the other completed room makeovers HERE.




LINENS: White Linen Duvet Cover & Euro Shams| Belgian Flax Linen Linen Quilt (in Flagstone) | King Linen Shams (in Flagstone) | 700 Thread Count Sheets | Black & White Flock Pillows | Leopard Pillow | Wine Velvet Pillow | Black & Cream Striped Pillows
FURNITURE: Bed | Nightstands | Dresser- Restoration Hardware (no longer available) | Oversized Chair (no longer available- SIMILAR) | Ottoman (no longer available- SIMILAR) | Side Table in Sitting Nook | Garden Stool | Bench 
WALLS & WINDOWS: Bird Art Print 1 | Bird Art Print 2 | Moulding | Woven Shades (Bali White; Cordless) | Leaning Floor Mirror- HomeGoods (SIMILAR) | Paint: Simply White by Benjamin Moore
LIGHTING: Chandelier | Bedside Lamps | Floor Lamp | White Sitting Room Lamp
FLOORS: Gray Rug in Sitting Nook (5×7) | Chunky Cream Wool Rug (8×10)| Sheepskin- Costco
ACCESSORIES: Vases Flanking TV | Brass & Mirror Tray on Ottoman | Foo Dog- HomeGoods (Similar) | Catch-all China Dish | Leopard Throw- HomeGoods (Similar) | Oversized Double Handle Basket- HomeGoods (Similar) | Hamper- HomeGoods (Similar) | Inlay Box- HomeGoods | Gray Striped Throw- HomeGoods | Bladeless Fan