Friends, I can finally stop talking about the upcoming master bedroom makeover because the One Room Challenge has officially commenced! I've been thinking about what exactly I planned to do for a while but this week, when it finally matters, I realized aside from a few furnishings and details, my mind was blank. I even put off the master bedroom last go round to give myself plenty of time for planning and to get my ducks all in a row. Well, even though I am far from prepared to get this baby wrapped up in less than six weeks, I'm just gonna jump in and go for it! If you've been around here for a while, you are probably already familiar with the bi-annual ORC. If you are new-ish, I'll break it down for ya. The One Room Challenge is a six-week room makeover challenge, hosted by Linda of Calling it Home; literally, hundreds of bloggers participate and post their progress each week. As a linking participant, that will be each Thursday until the final reveal on November 10. At the bottom of the post, I'll leave a link so you can check out all the projects and bloggers who are participating this round. Master Bedroom Makeover- One Room Challenge: Week 1… let's do this.
*Post may contain affiliate links. Click HERE for full disclosure*
The Project
This will be my third consecutive ORC makeover. The projects I've completed in the past were my office which started out like this…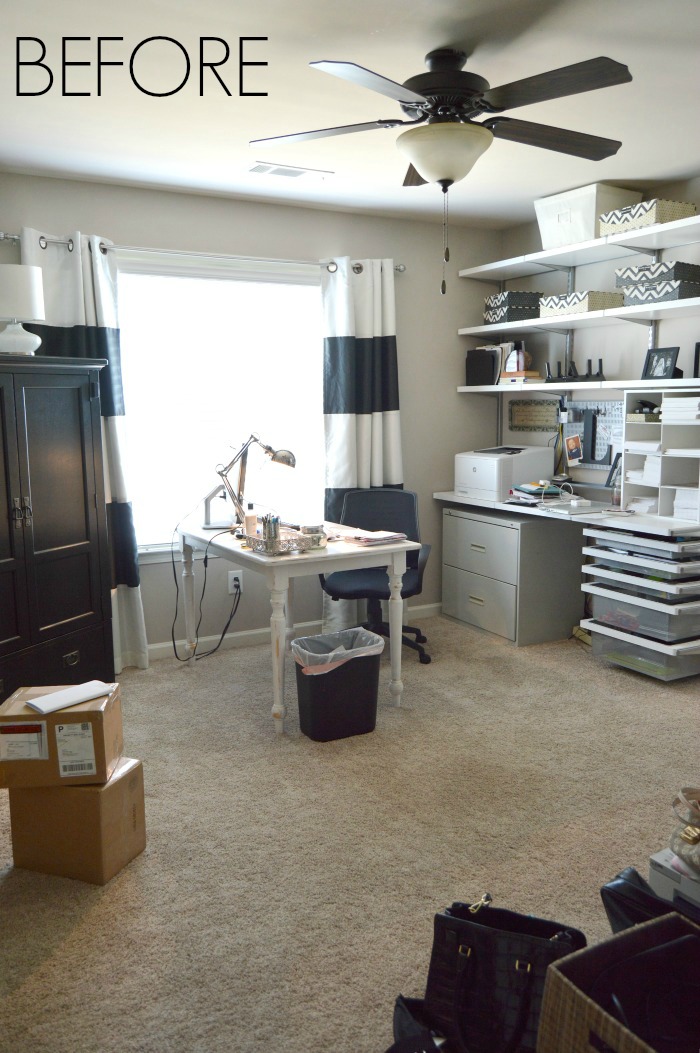 and after six weeks, was transformed into this. You can see the full final reveal HERE.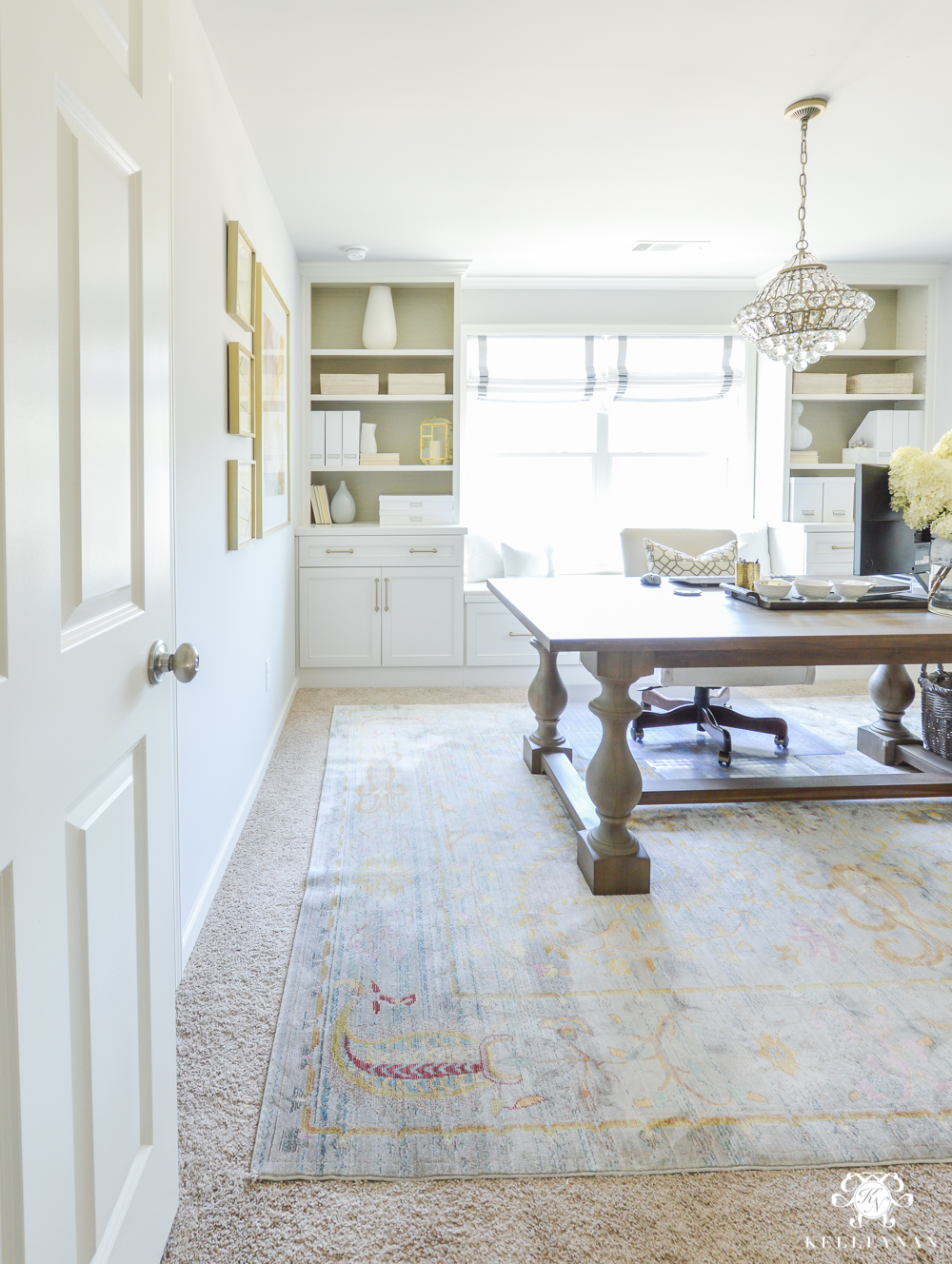 This past spring, I tackled one of my guest bedrooms. It started out very basic…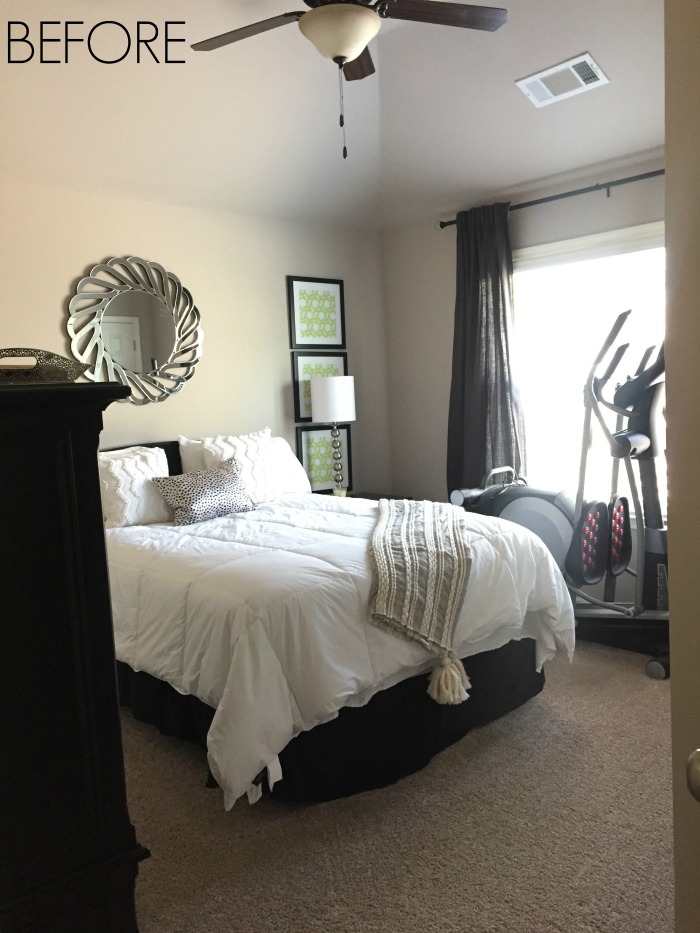 and this was the final result. You can see that full reveal with all the details HERE.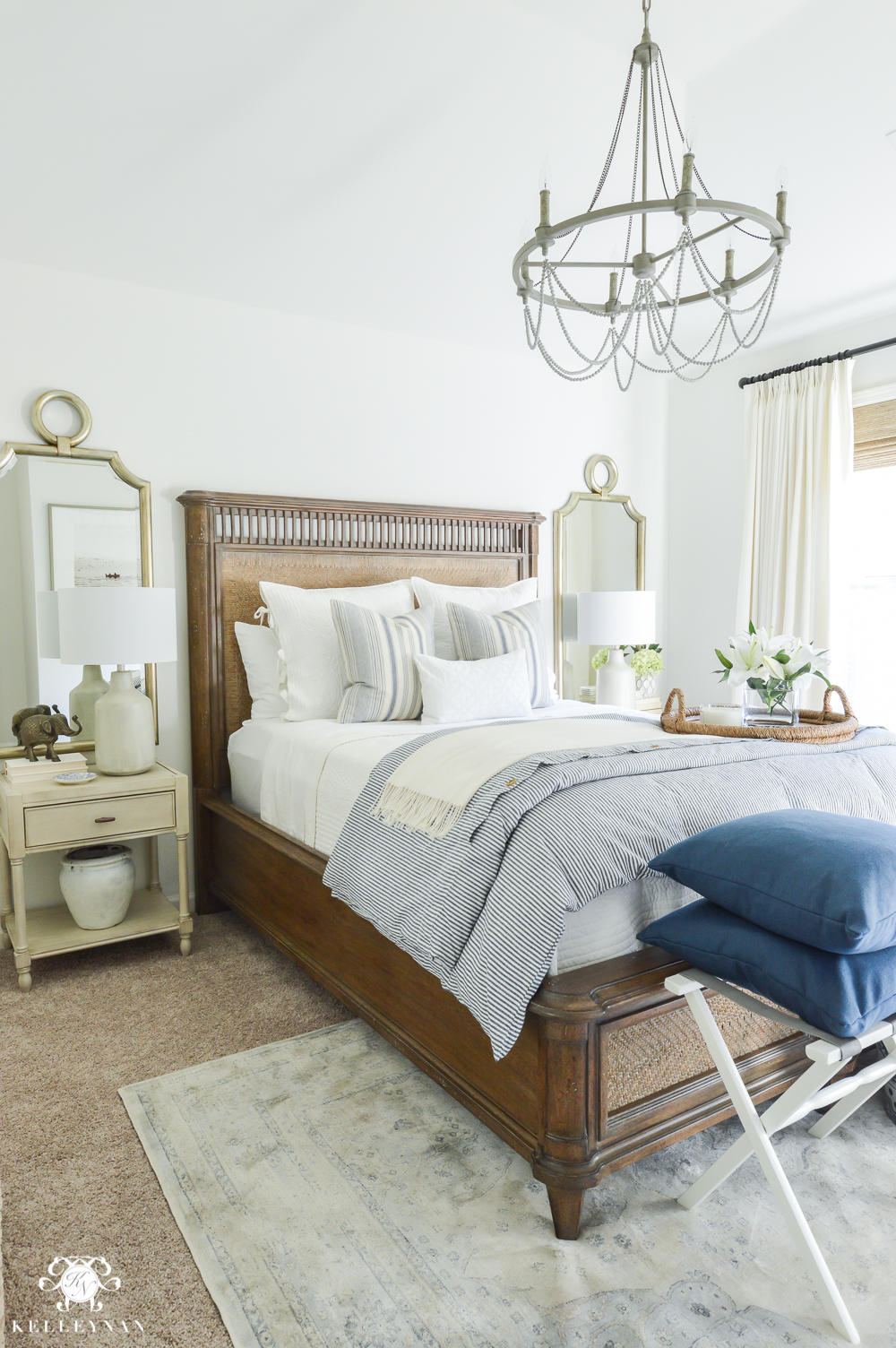 Pretty fun, right? Drastic befores and afters are my fav so not only do I love the design part of the challenge, but I love scouring through all the makeover reveals and progress posts along the way. Ok, so my master bedroom. The truth is, I actually receive compliments on my bedroom. But, there is a big difference in styling a bed and styling an entire room. This is what I usually show.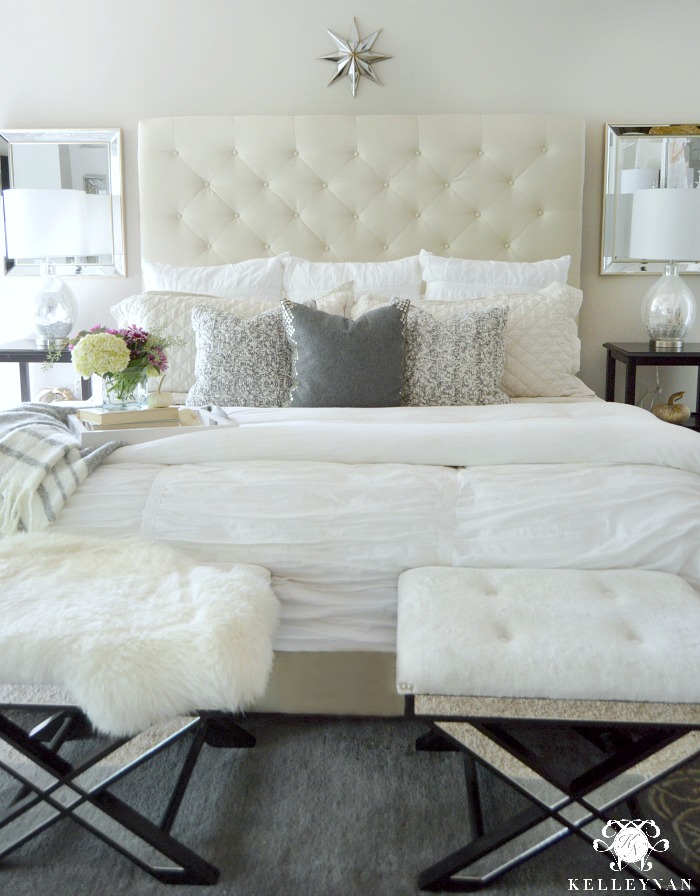 Not bad, right? I love our bed and bedding, and am always switching out throw pillows. But, I have never actually done our master bedroom. One of the dogs chewed the rug that was never replaced and like other unfinished spaces, it holds a lot of pieces and decor that don't have another home. This is a more accurate representation of the uncropped state of our bedroom.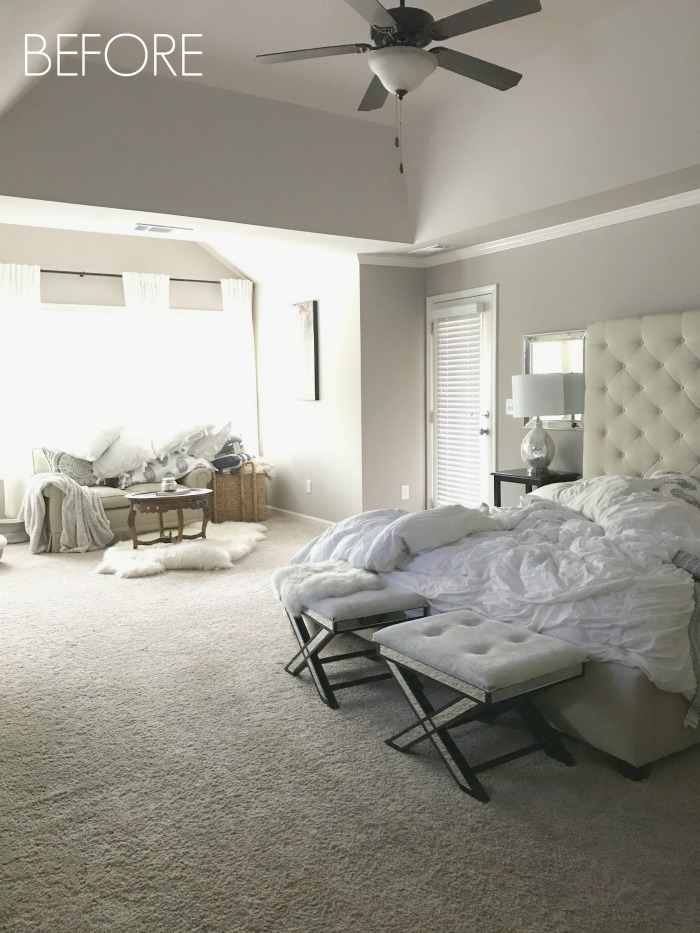 I try not to make it a habit of having an unkempt bed but on this day, this was real life.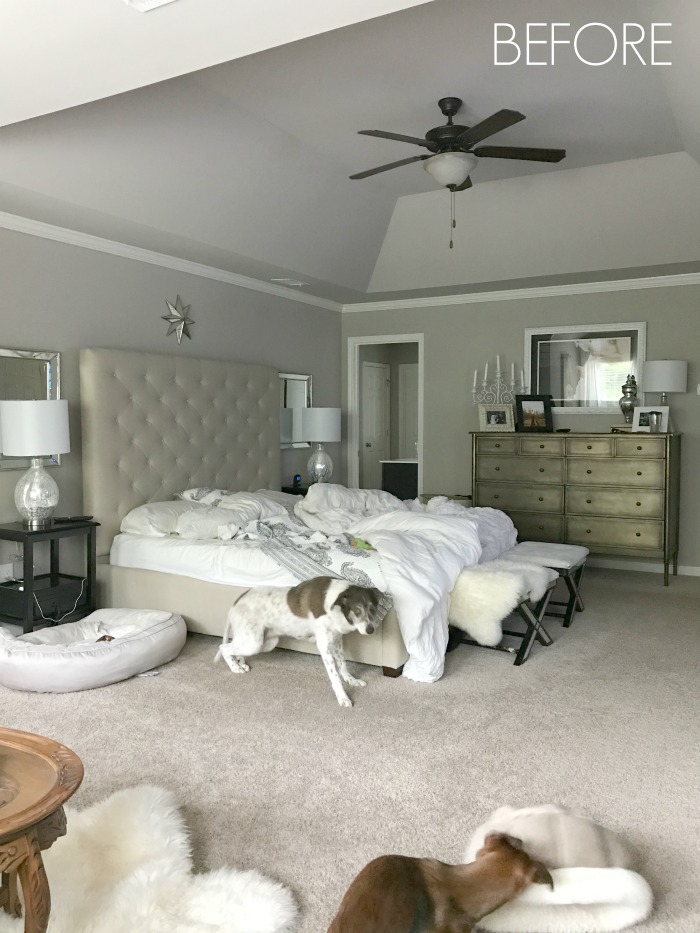 I'm sure a lot of you may think it's great to have a big master bedroom. Truthfully, I just see more space to have to furnish; I would have loved to have sacrificed some of this for a larger laundry room or closet but I suppose having too much space is better than having too little. Here are the challenges and primary areas I want to address.
As big as the room is, the only natural light comes from the far side of the sitting room (which faces trees). It doesn't get any direct sunlight so the room stays dark. Always. It needs to get brightened up without losing its cozy vibes.
The walls are pretty blah- especially with the style of ceiling. The entire room just appears very builder-grade.
The door going into the bathroom opens into the door that goes into the laundry room. I will have to take a video to show just what a challenge that whole nightmare is. (I actually plan to have a more modern sliding barn door there but it won't be finished in time for the reveal. It will likely be a follow-up project.)
I want to add more storage without adding additional furniture pieces
I need to better define the spaces so it doesn't look so much like an unfinished loft apartment.
So, I came up with a starting game plan. It's light, bright, and transitional an yes, y'all, it even has a chandelier. Dave has seen this plan but I don't think that part actually registered with him just yet… As a compromise, I plan to invest in a sleek, powerful fan that can also be tucked away, out of sight, when it needs to be. If you have one you love or have experience with a Dyson bladeless fan, let me know your thoughts in the comment section.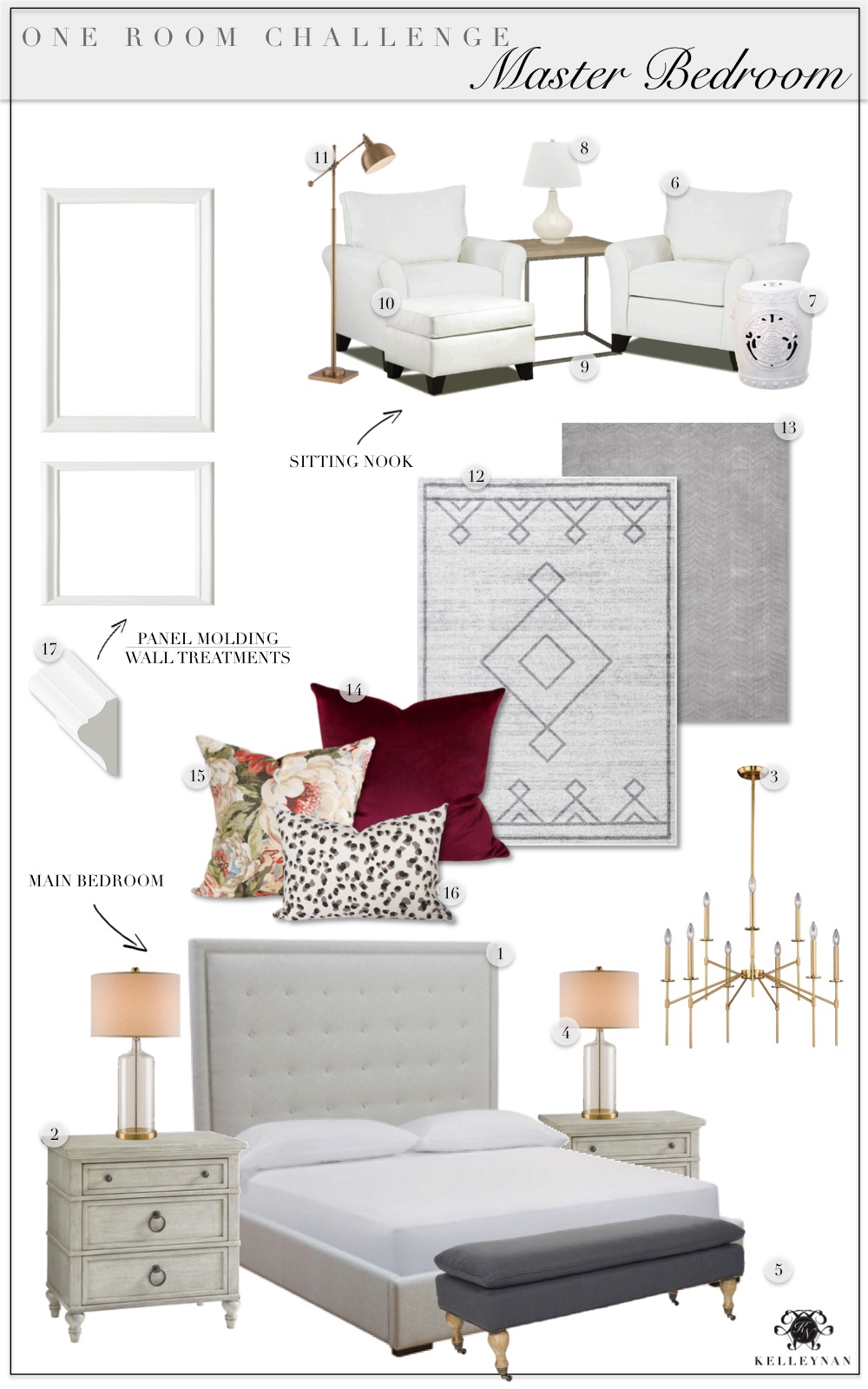 TAP THE CORRESPONDING NUMBER TO SHOP THE DESIGN BOARD
1 | 2 | 3 | 4 | 5 | 6 | 7 | 8 | 9 | 10 | 11 | 12 | 13 | 14 | 15 | 16 | 17
I know I am going to get this question so I will go ahead and address it now. I truly love our current bed. It is wonderful quality and I love the look. But, with as dark as our room is, the color tends to show up more of a darker khaki in the shadows. Reupholstering would have been super expensive (I've been down that road before). I am fortunate to have been able to partner with some of my favorites brands to sponsor a good bit of the room, making this all possible. I will absolutely be going into detail as the weeks go along but many of the furnishings above are in the process of being provided by The Mine and Metrie is helping me do something with my walls that I am stoked about. (Details on that coming next week). To get the latest updates each week, you can sign up for my emails at the bottom of this post.

To check out the other bloggers and their projects, be sure to visit the link-up page HERE. And, you won't want to miss the 20 featured bloggers (HERE). Head over, find some projects, and have fun followin them throughout the process!