I've been back from my whirlwind trip for a little less than 48 hours and I still have one foot hanging off the struggle train. My bedroom makeover starts THIS WEEK (woo!) and I'm working to get acclimated back into a regular schedule. With such sadness and tragedy, a busy to-do list will be a welcome distraction. Because I have a lot of content and projects coming quickly over the next little while, today is a mash-up of my fall front porch inspiration and some BHG Stylemaker snapshots.
*Post contains affiliate links. Click HERE for full disclosure.*
---
Fall Front Porch Inspiration
Each year, I try to shake up my seasonal motif on the porch by using the same method, but going for a fresh look. I don't get too complicated, I don't use any big props (think scarecrows, hay bales, corn stalks, etc.) – I just try to use my porch as the stage. Here's a peek back at previous years so you can see what I mean. Here's a green and white color scheme for 2015…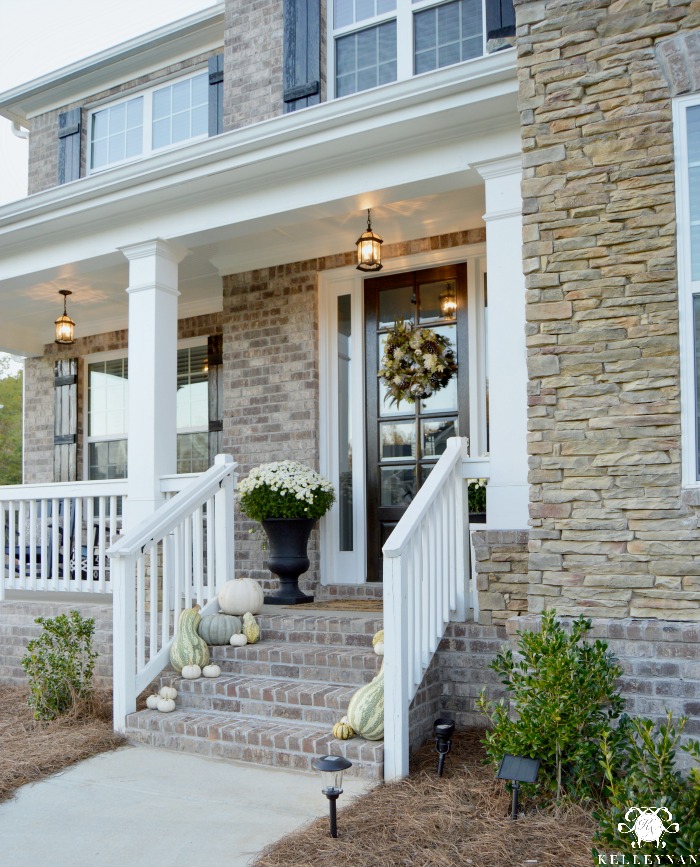 …and orange and red for 2016.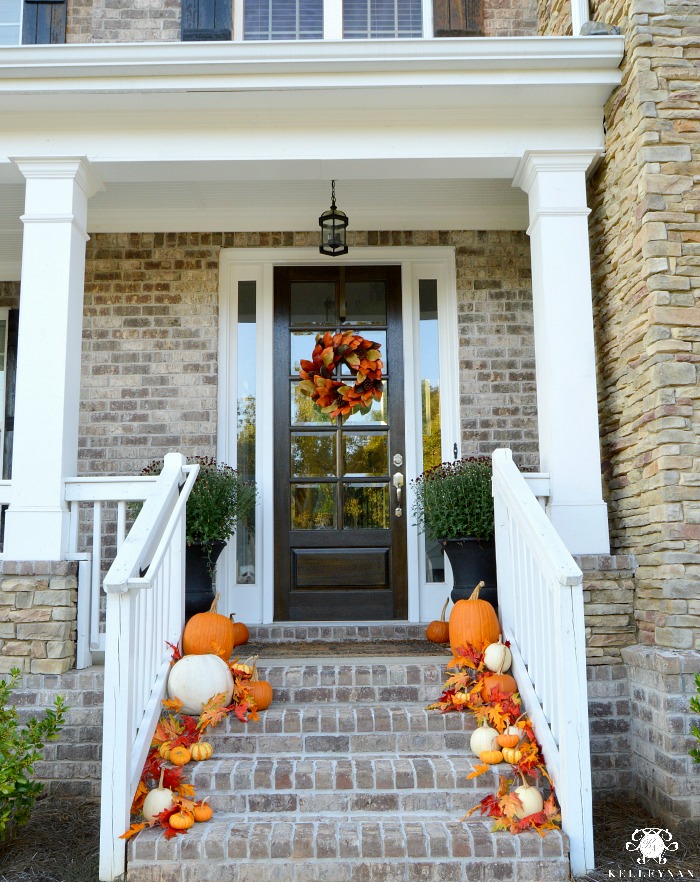 Almost an identical layout with a few additions but you know what else these have in common (along with my 2017 fall porch)? I used the same single piece as my starting point and inspiration. My fall front door wreath. I try to look at the wreath as the art focal point and everything else as its supporting compliments. If you start with the wreath first, you can know before you head out for pumpkins, flowers, etc. what exactly you're looking for. THIS was the wreath I purchased this year. I love the unexpected purple berries.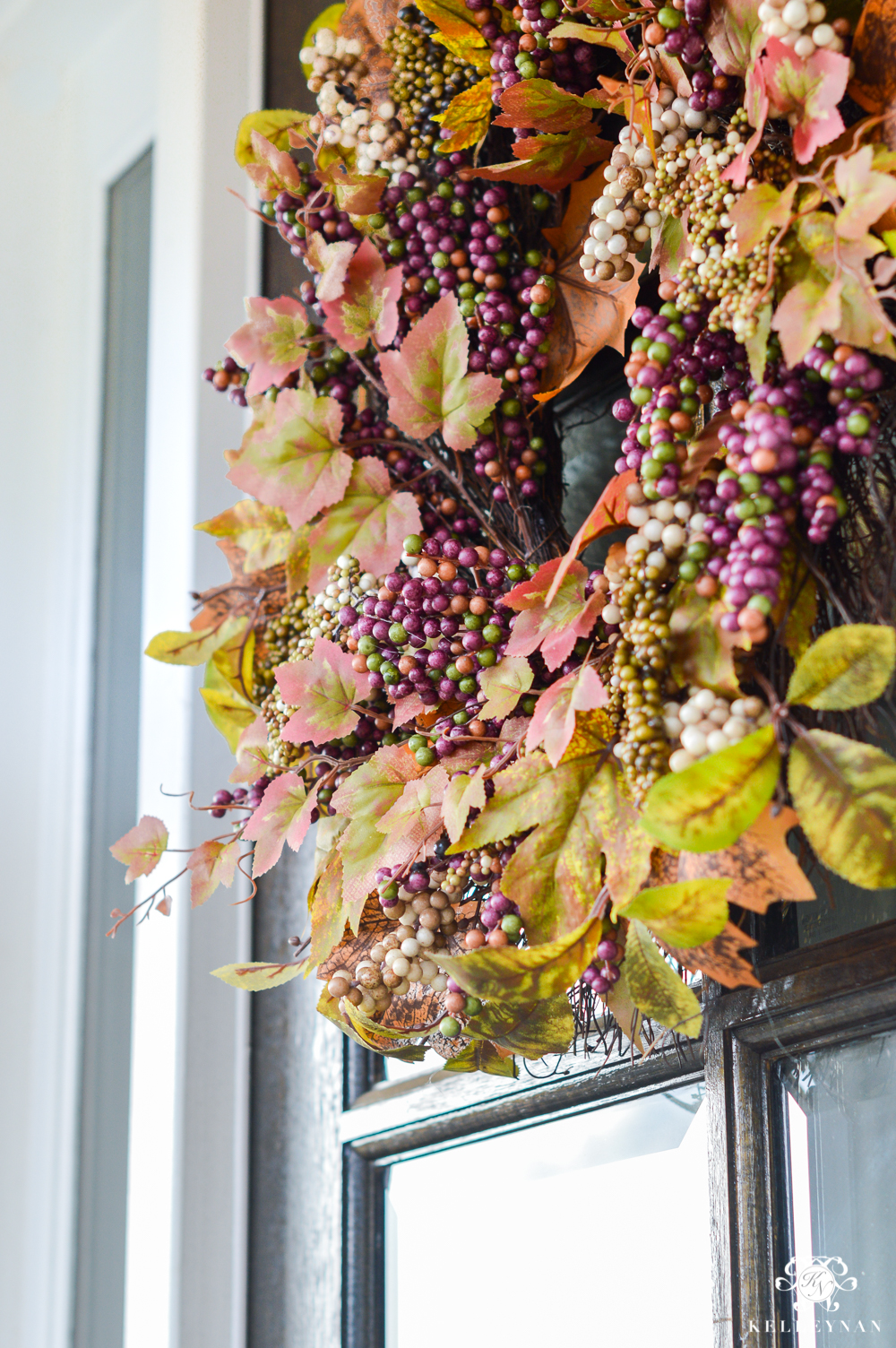 In the past, I've used my urns with mums to frame the door. This year, I went with my HUGE lanterns. These are from ZGallerie from several years ago.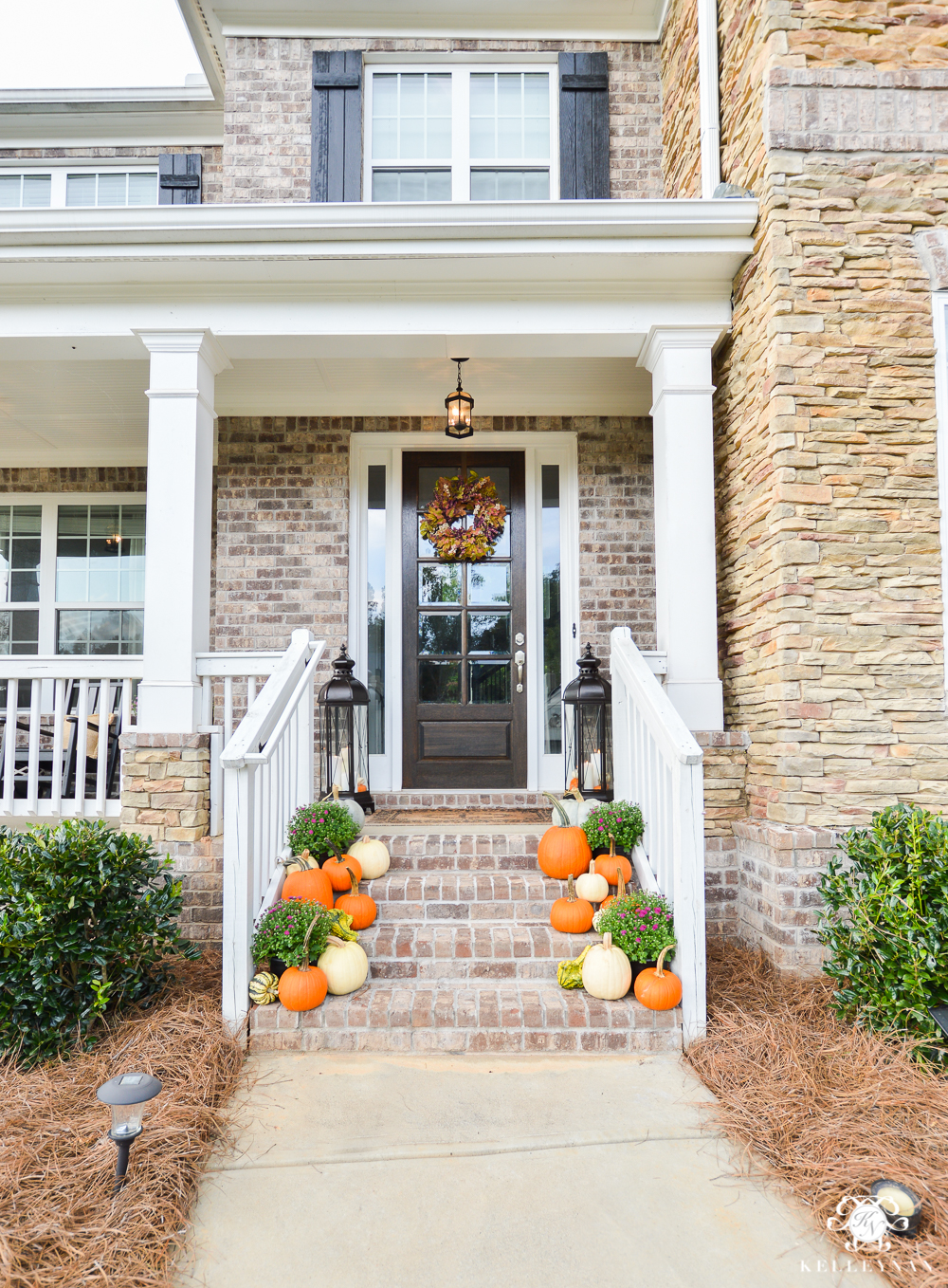 I also added smaller mums to the steps to mix in with the cascading pumpkins this year. You know how at weddings, you'll find the aisle lined with flowers, candles, etc.? That's how I view my front steps. It guides your eyes up and to the center of the door.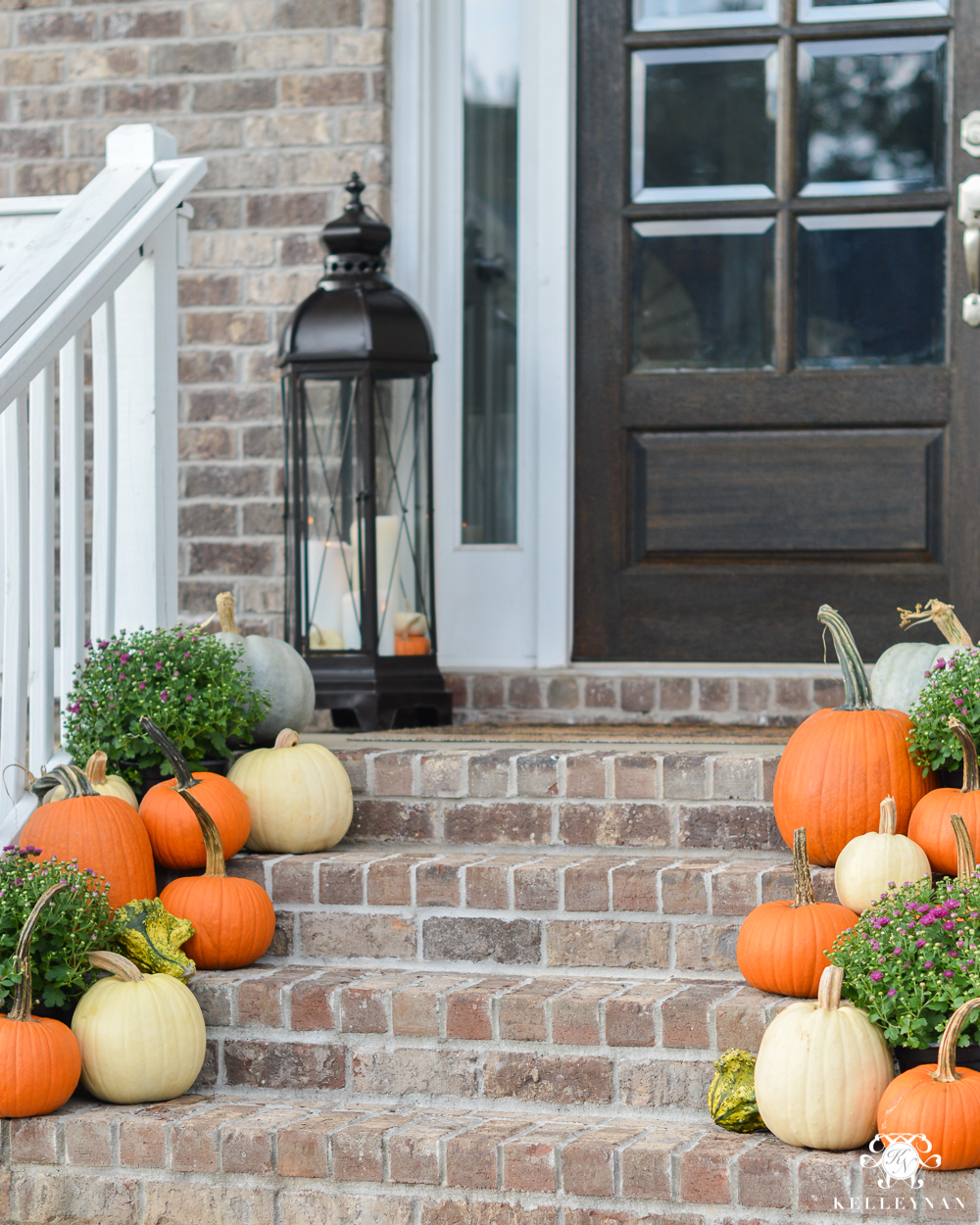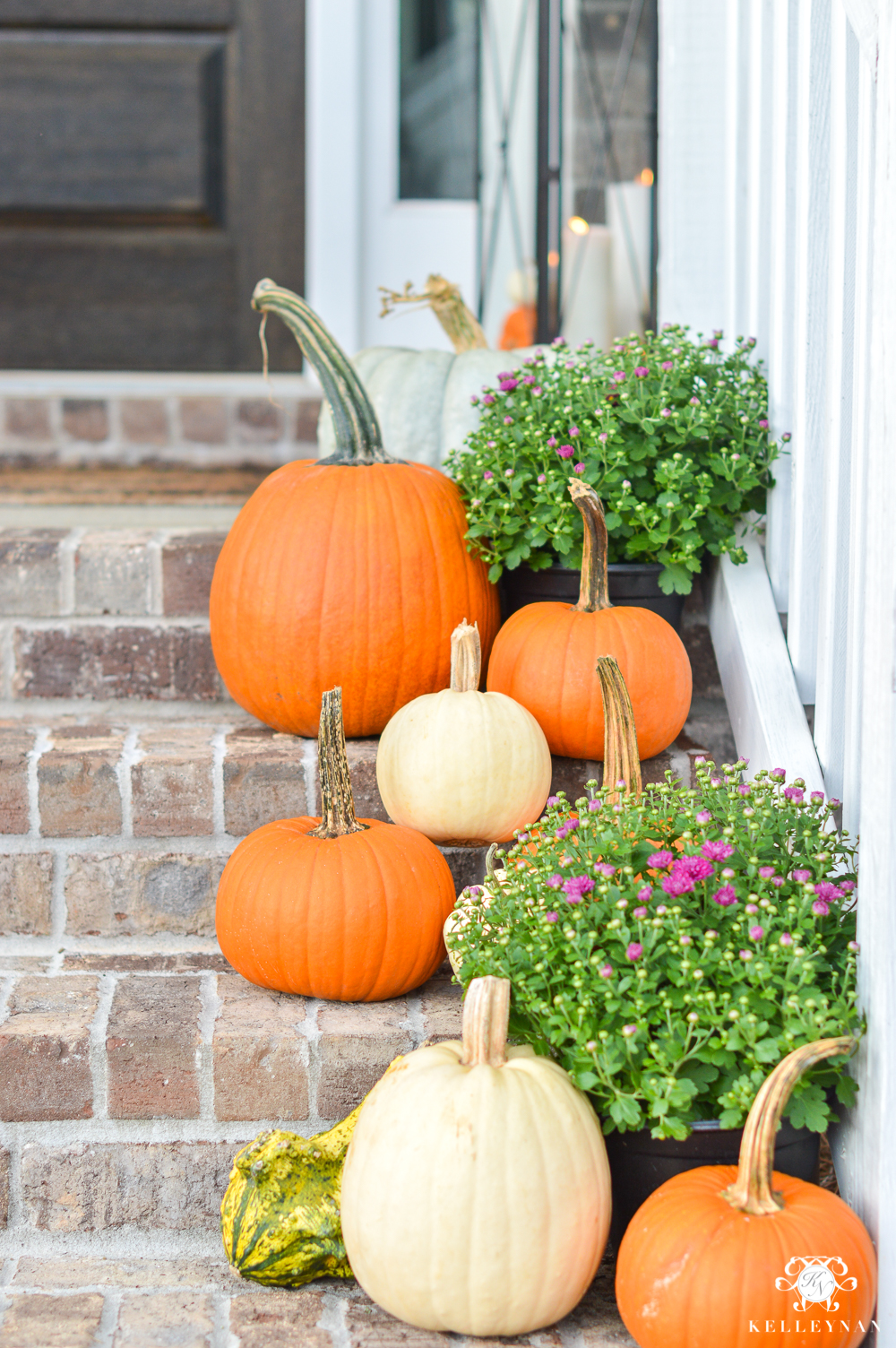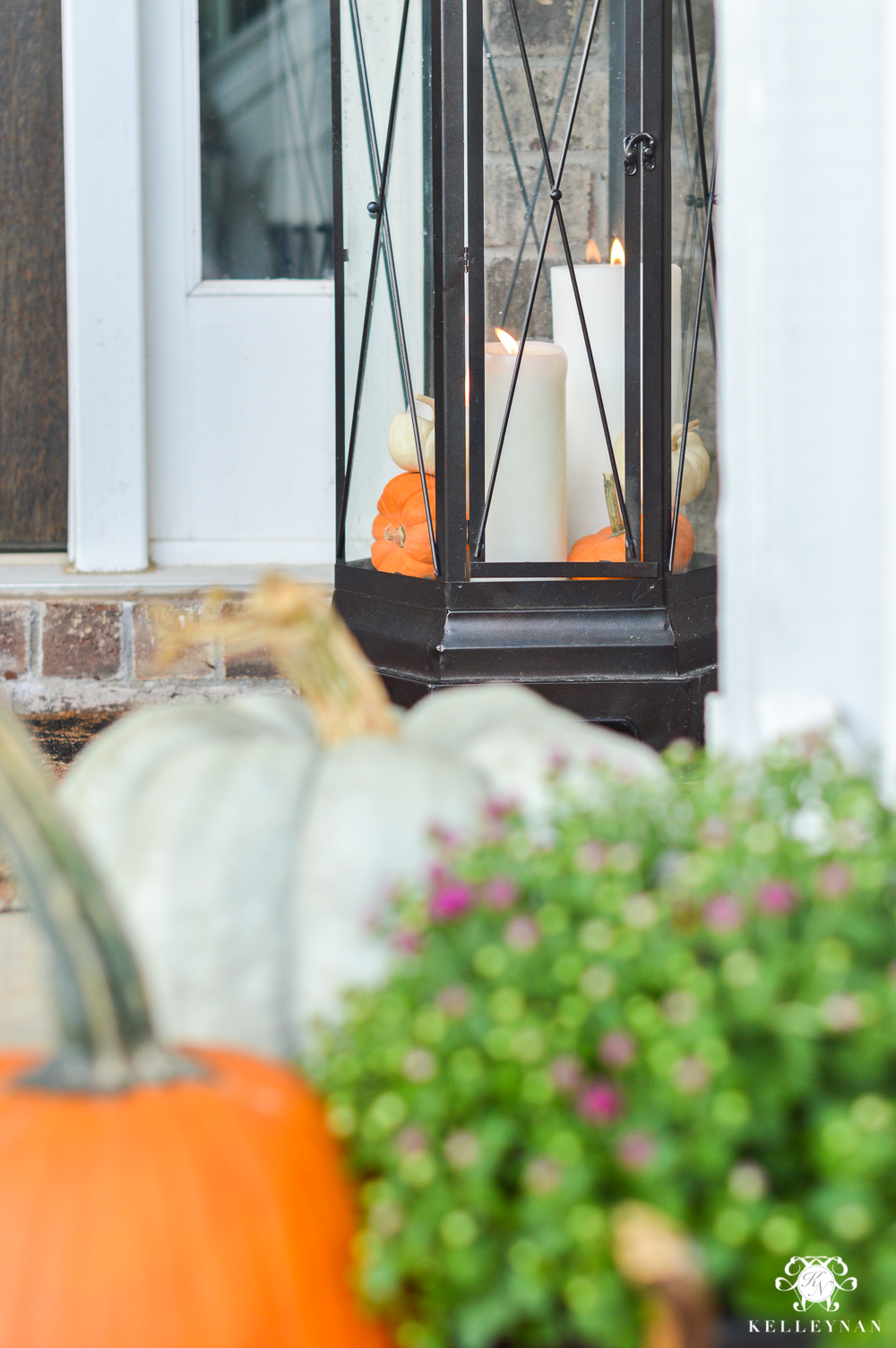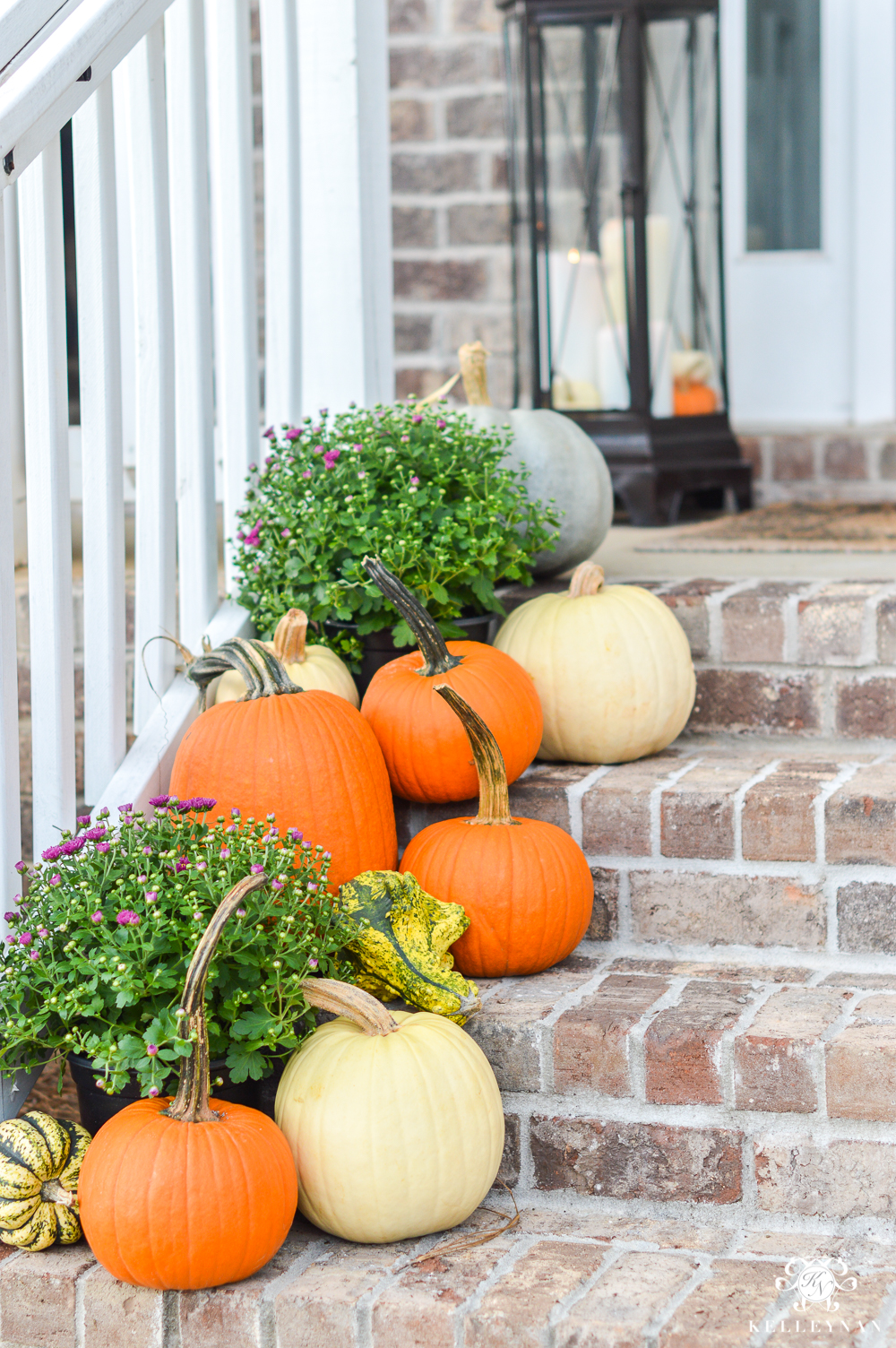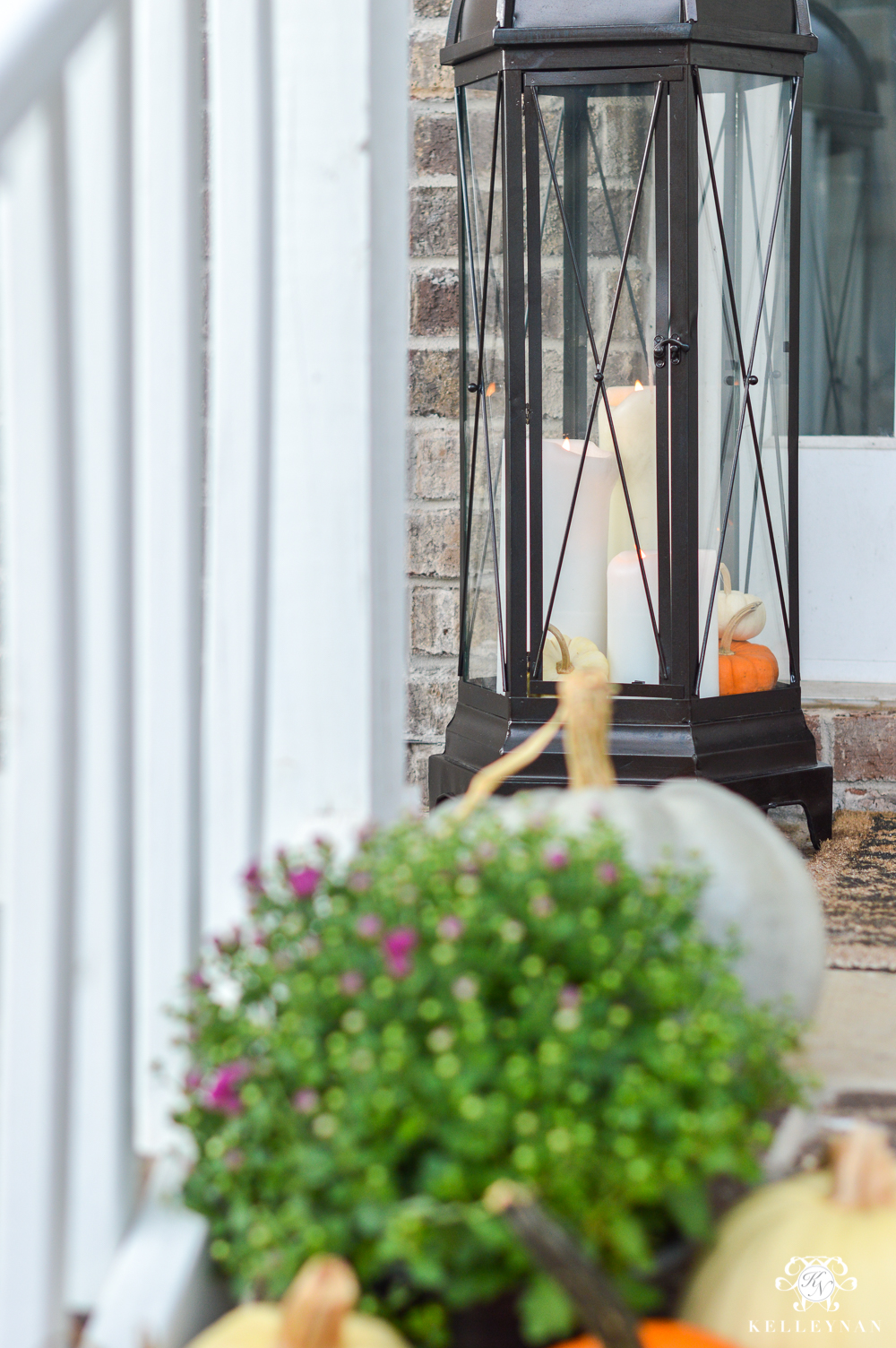 Remember my pumpkin patch story from my fall home tour (HERE)? Well, unfortunately, as soon as the mums started blossoming (the below was taken about a week after the above photos), my pumpkins started to get umm… even less fresh.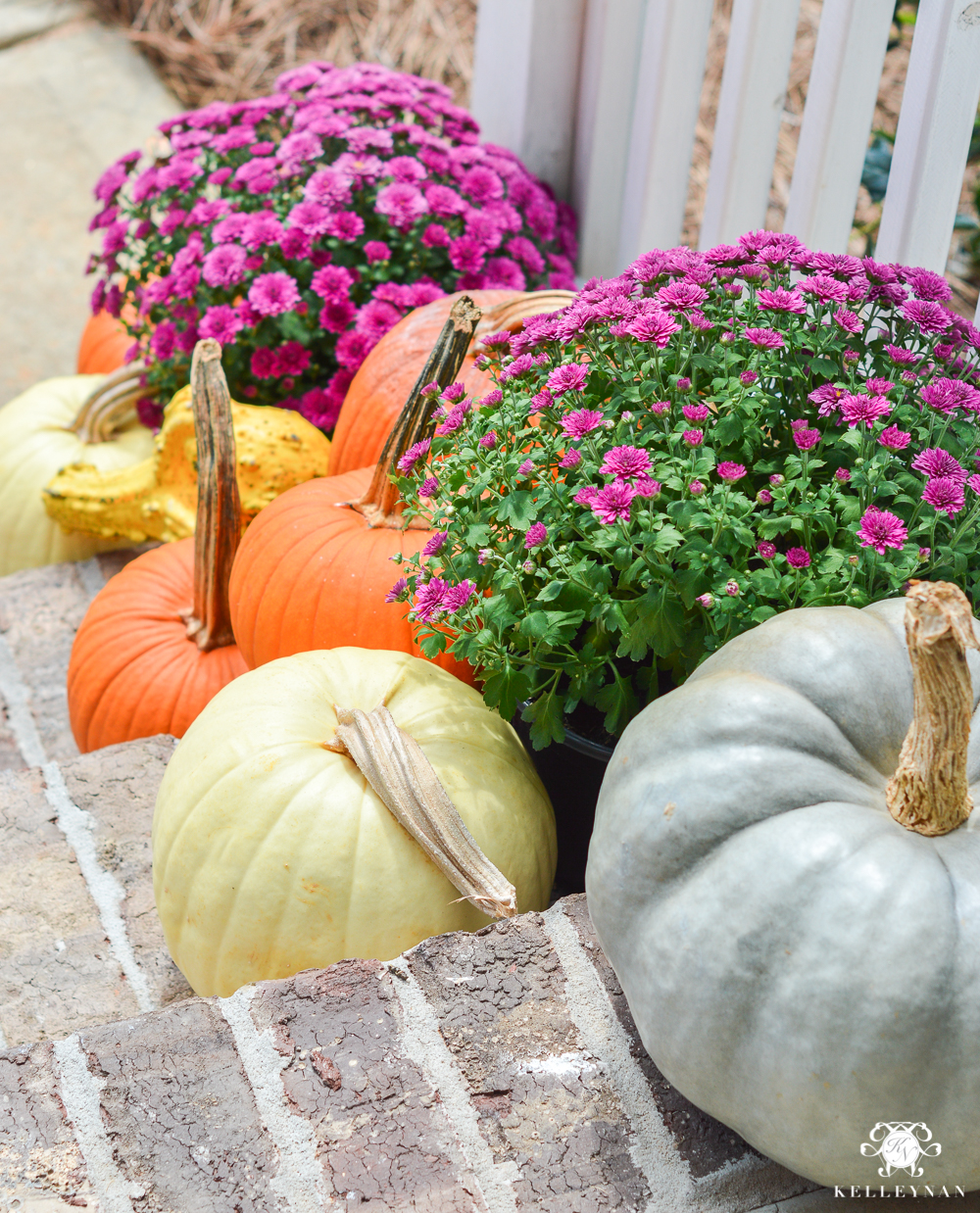 They are disguised well here but about half will have to be tossed with tomorrow's trash. I have had such incredible luck in the past getting my pumpkins to last through Thanksgiving, but this year, with my "woops", I'll be lucky to hang on to just one til Halloween!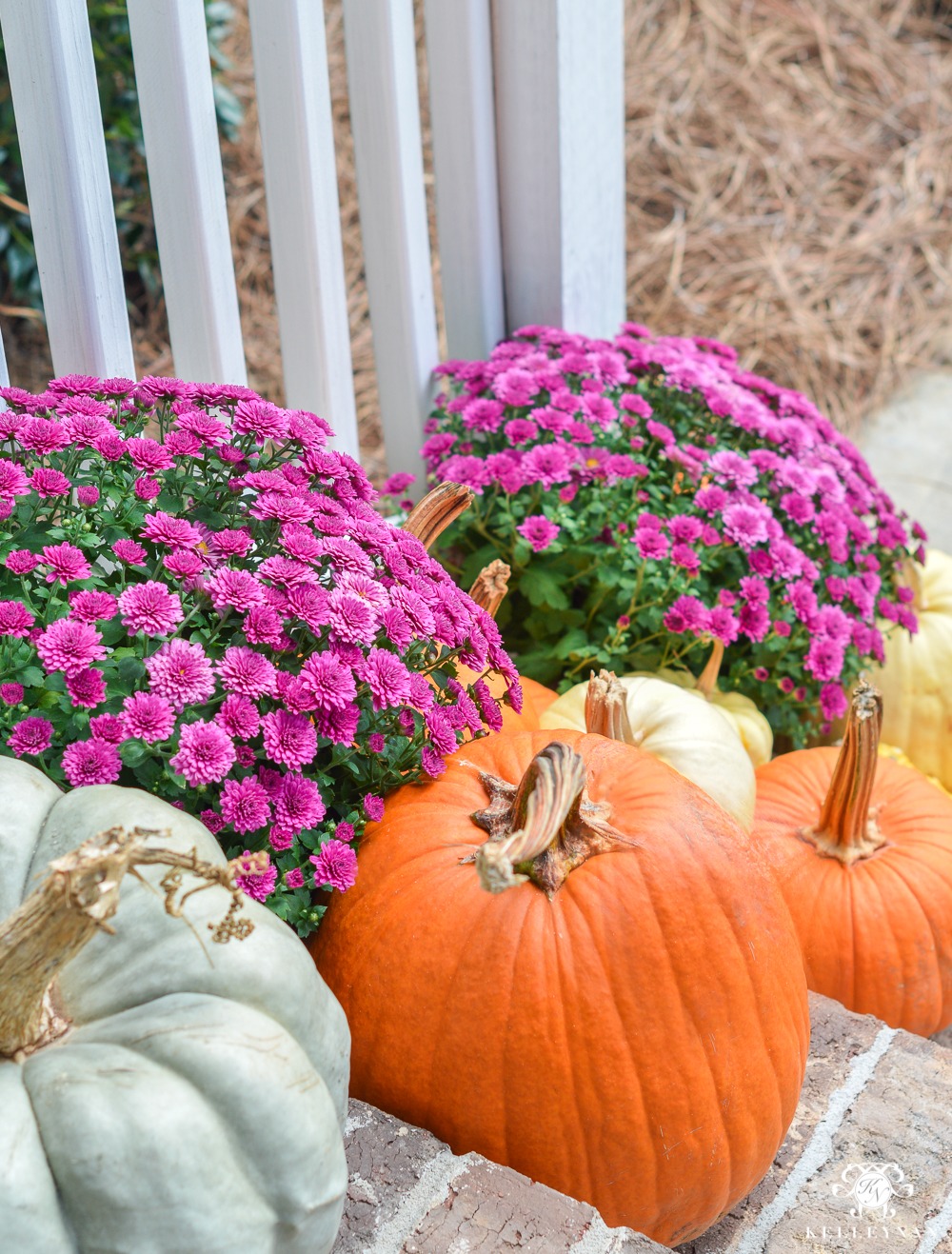 I still used the urns on the porch; I just used them on the upper portion, flanking the rocking chairs. The purples are a slightly different shade- an early decorating struggle I dismissed once I realized my pumpkins were on life support anyway.
I used these pillows in the summer and thought they gave a "tiki hut" vibe. But realized I loved them in the fall too and decided they favor straw harvest. I think it totally works!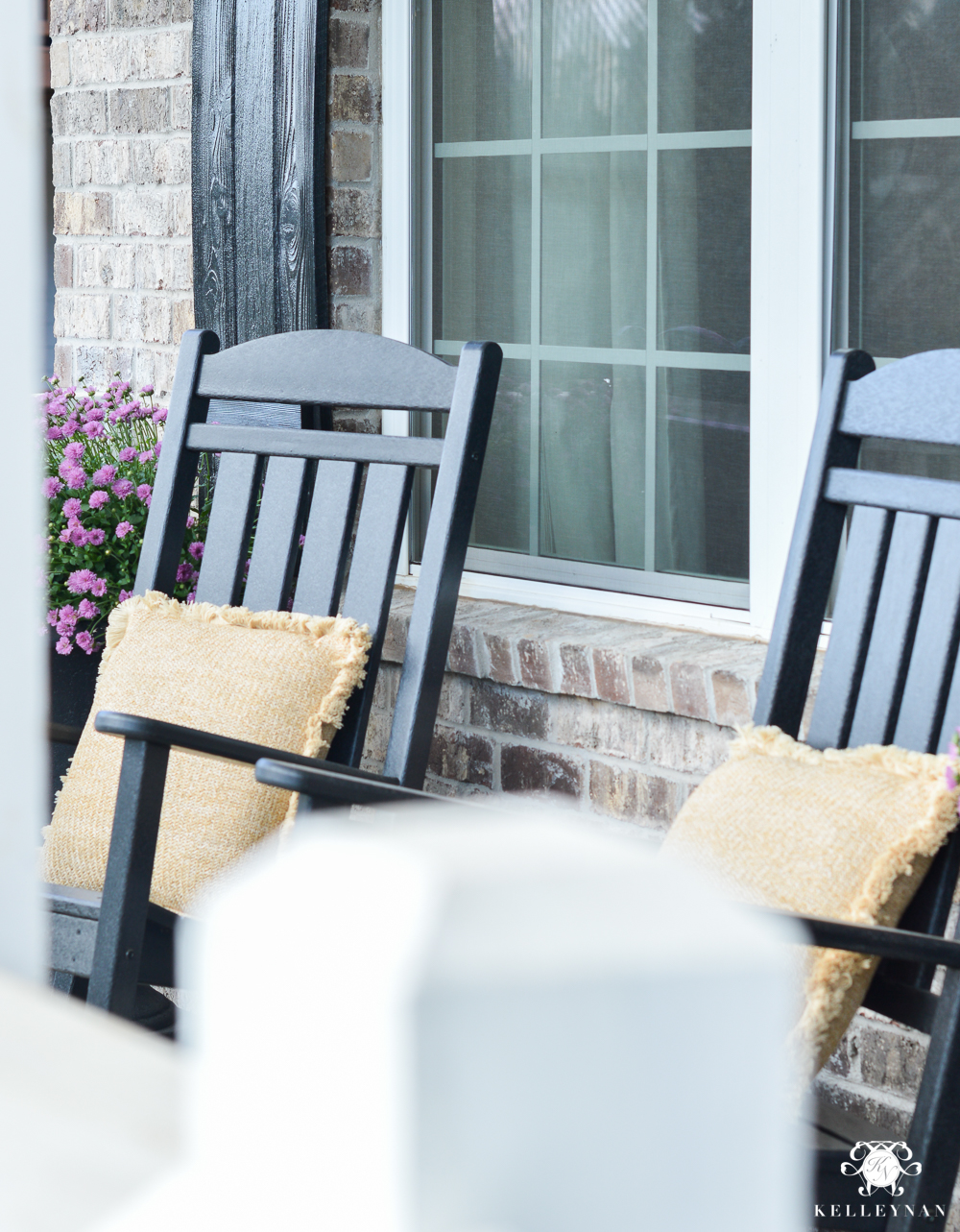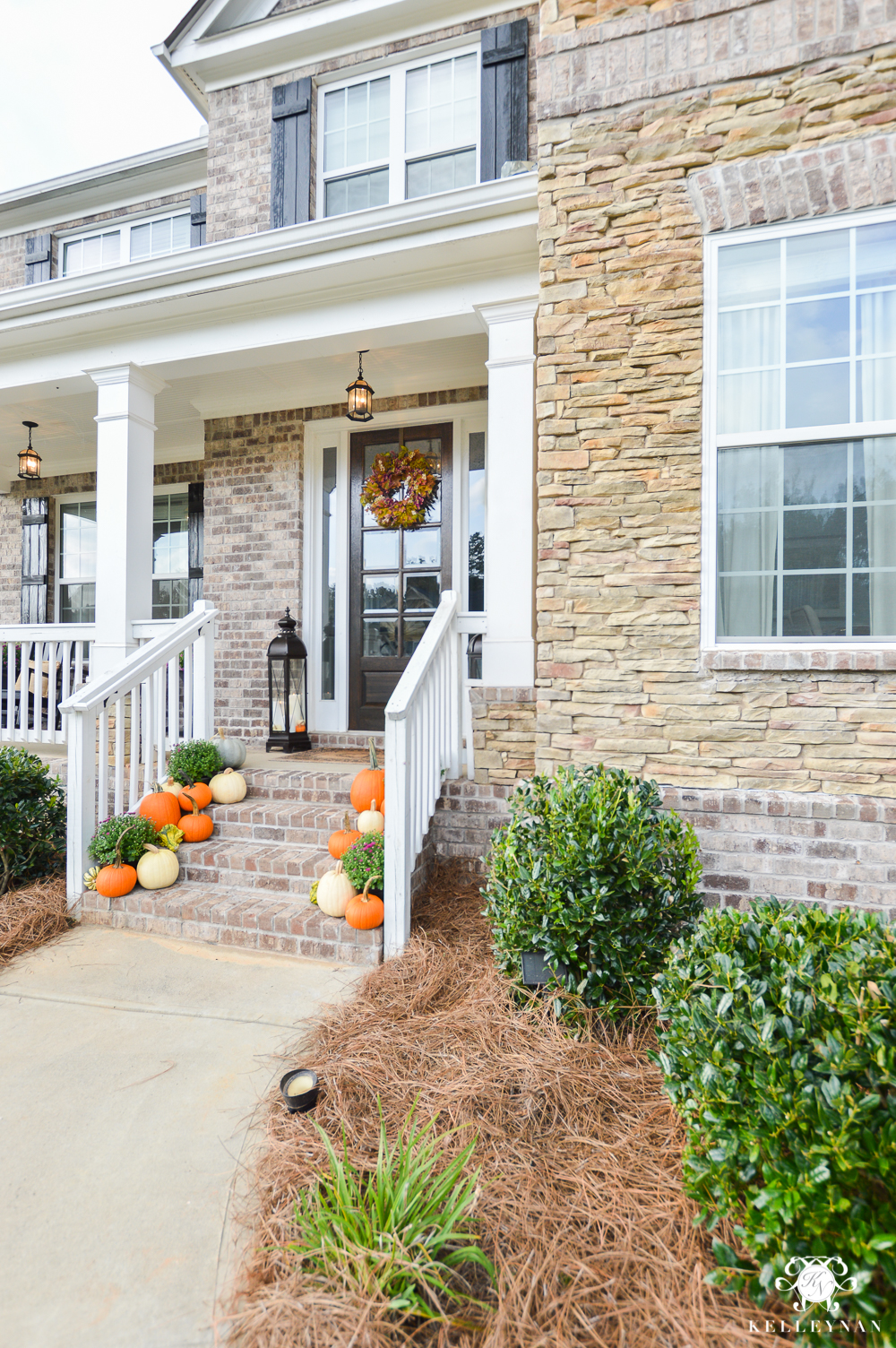 ---
BHG Stylemaker Snapshots
Last week, I was thrilled to be invited to New York by Better Homes and Gardens. The icing on the cake was that some of my closest friends were also among the 75 who were invited across various home/food sectors. If you followed along on my Insta-stories, some of these photos will be familiar. I won't bore you with all the event details, but instead, will just pretend we are sitting down with a cocktail and I'm flipping through a few snapshots from my trip.
Made it to my gate at the Atlanta airport- after almost forgetting all my luggage at home!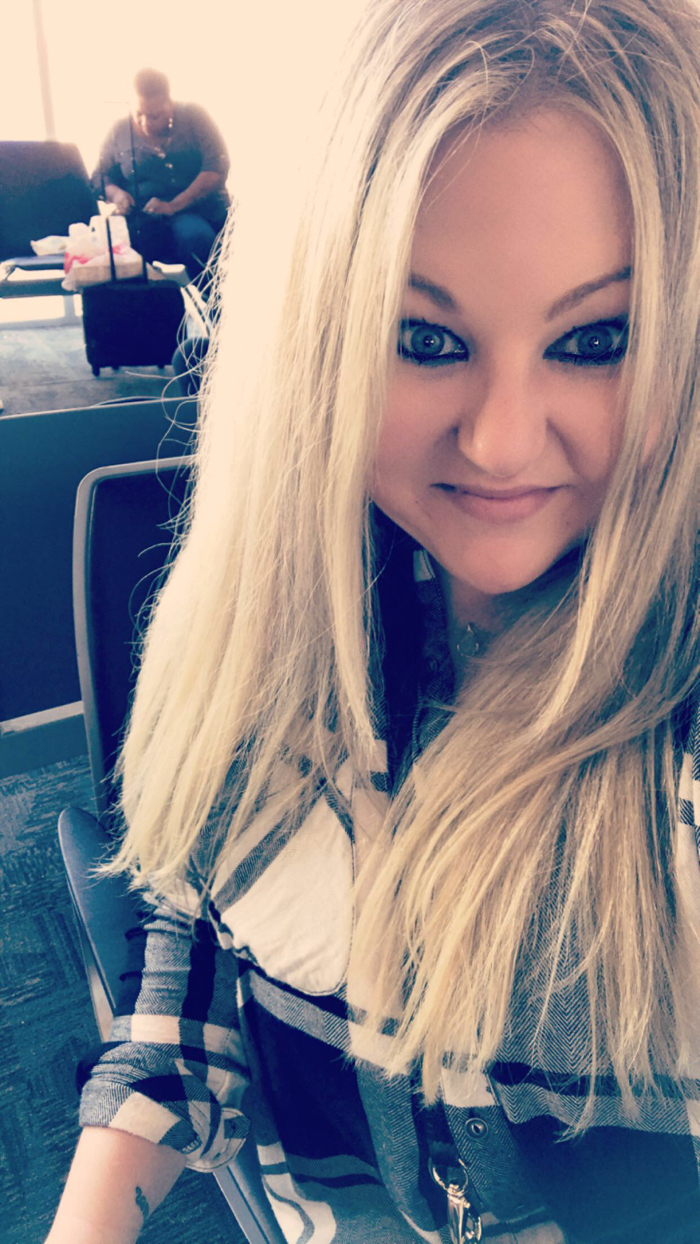 After my friend Bree and I took a $100 car ride (not even kidding!), we made it to our hotel (One Hotel Brooklyn Bridge).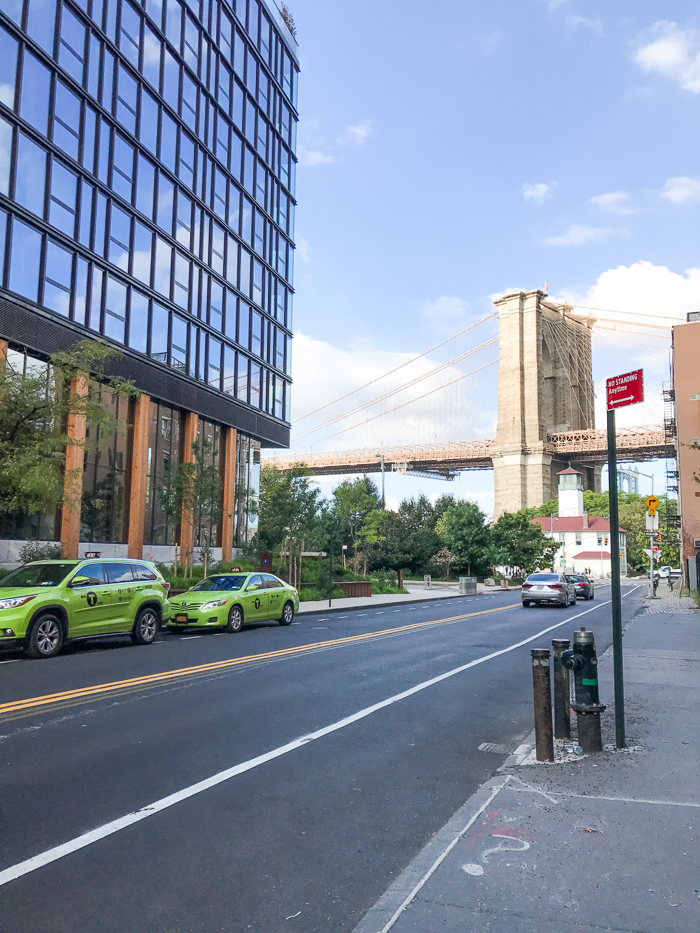 One of the views from the hotel. I LOVED staying in Brooklyn! The hotel was eco-friendly with some room amenities I wasn't familiar with but it was such a cool place to stay with the perfect locale, and, some of the best customer service I'd ever experienced. When I passed a gentleman who worked at the hotel, he greeted me by name level of customer service.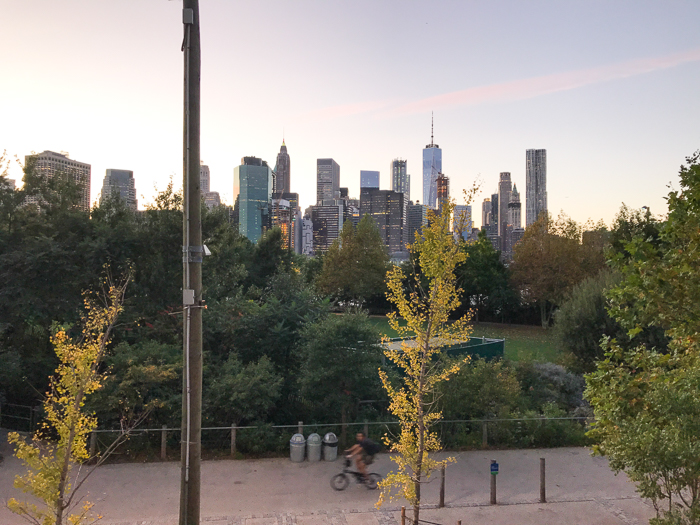 Brittany of Addison's Wonderland was mine and Tamara of CitrineLiving's honorary third roommate. She was staying in Manhattan since her hubby came on the trip.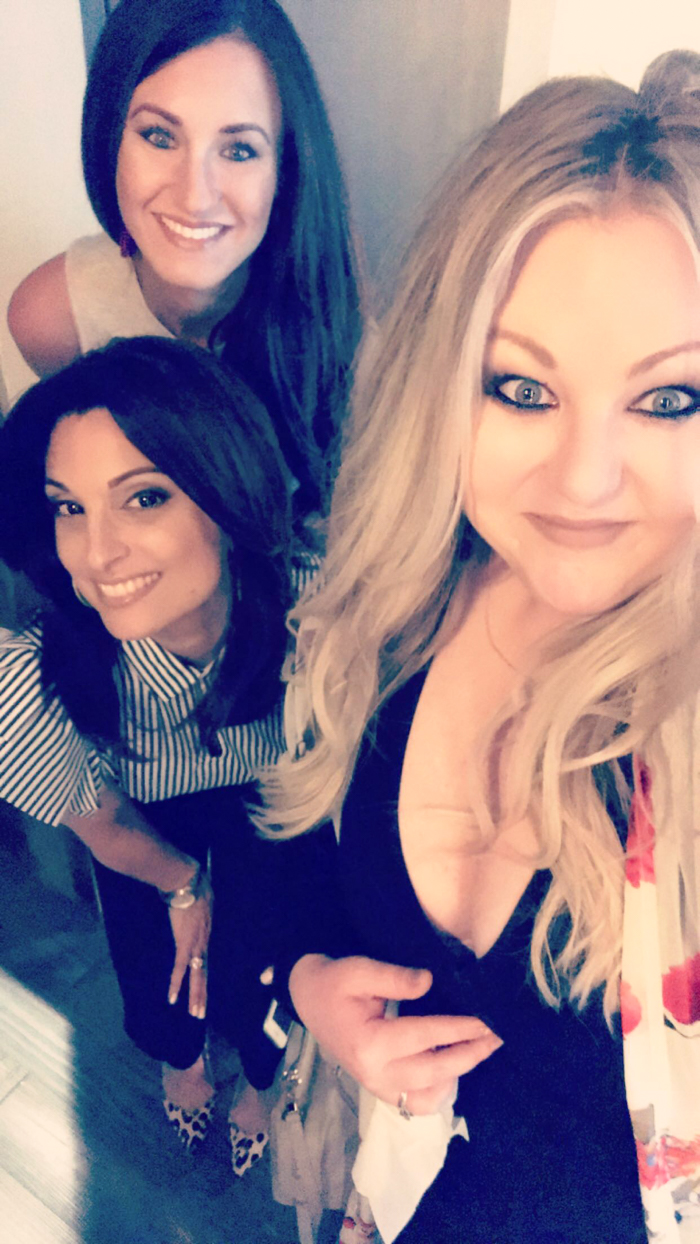 | Slit Leg Balloon Joggers | Body Suit (similar) | Shoes | Earrings |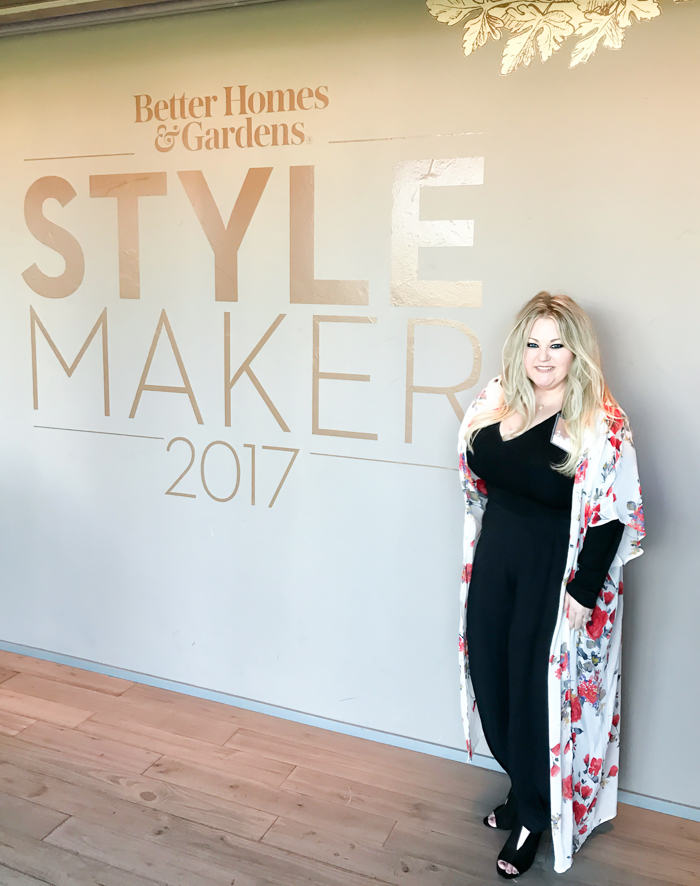 One of my very best friends (and familiar to you regular readers) Kris of Driven by Decor.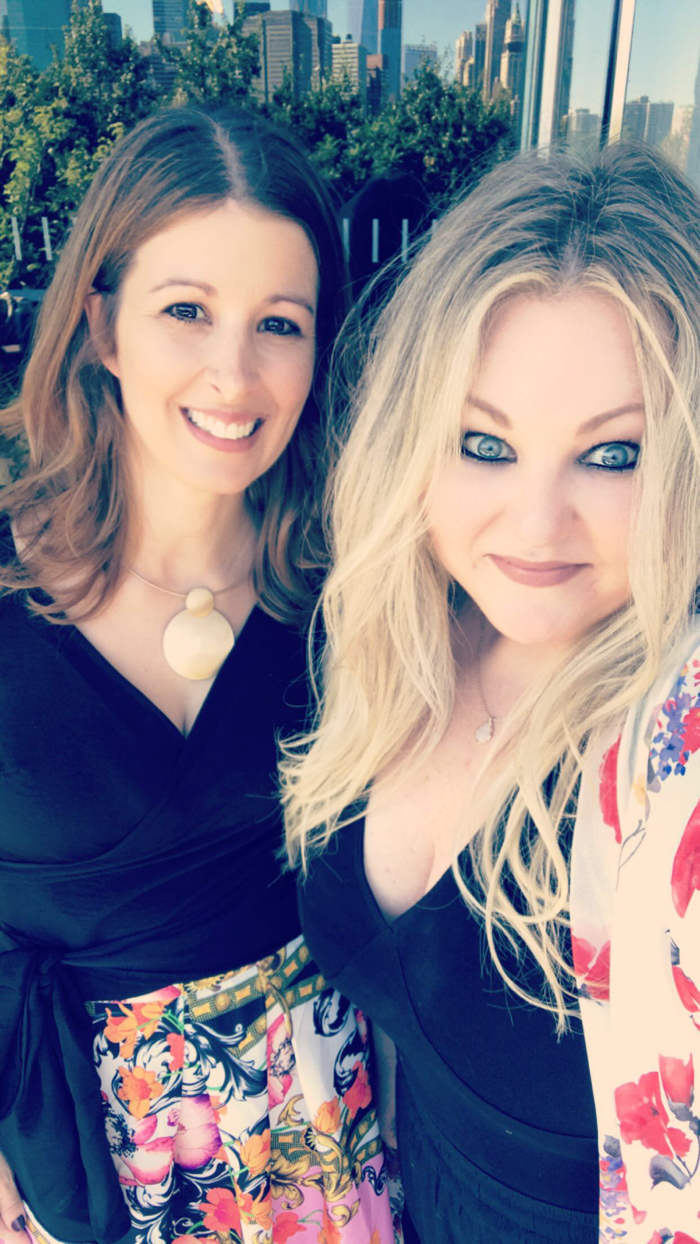 And another one of my favorite people ever – Jennifer of Decor Gold Designs.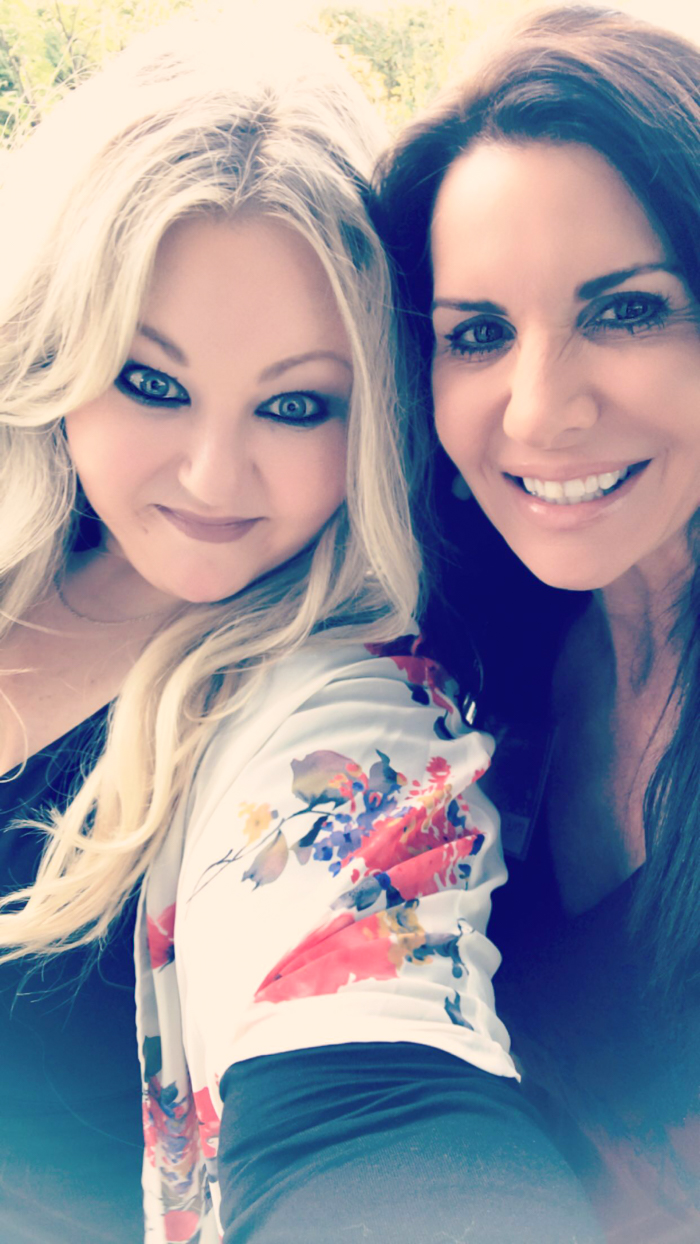 I was SO thrilled Sarah of Life on Virginia Street made the trek from Nebraska.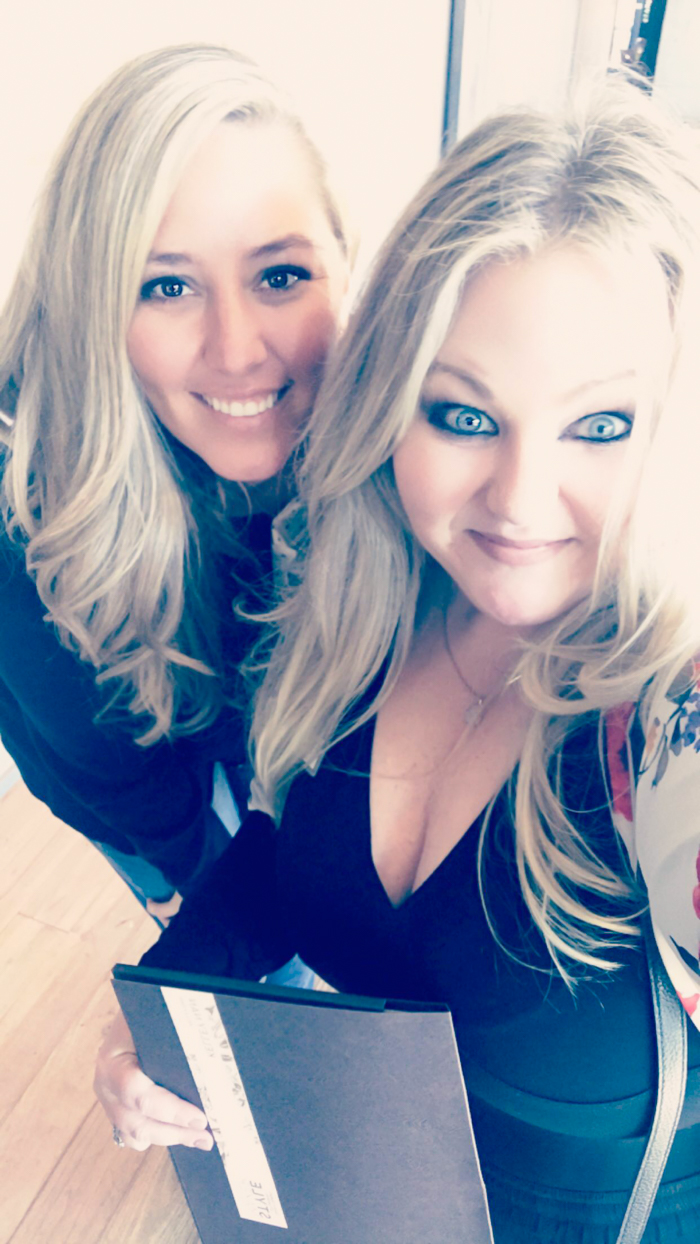 These are my new favorite shoes – just not after wearing them for 12 hours several days in a row haha. I wore these with all my dresses, jeans, and harem pants.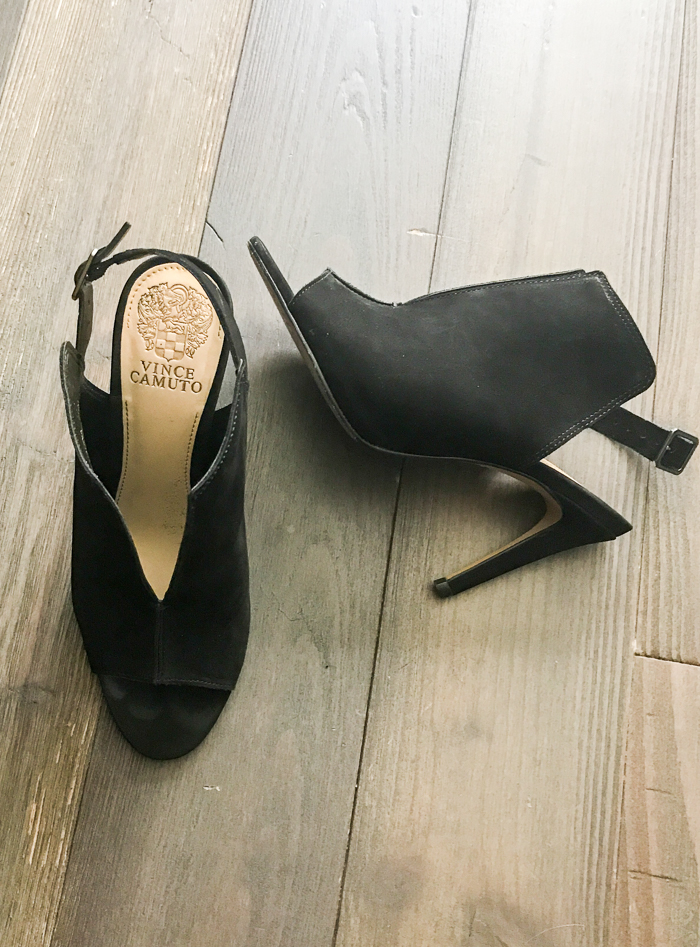 Getting ready for our cocktail event. Something I was surprised about (even though I shouldn't have been since I monitored the weather leading up to the trip) was that while I was hoping for crisp fall air, New York got a wave of heat (and humidity) the day we arrived. Note the different stages of my hair throughout these photos haha!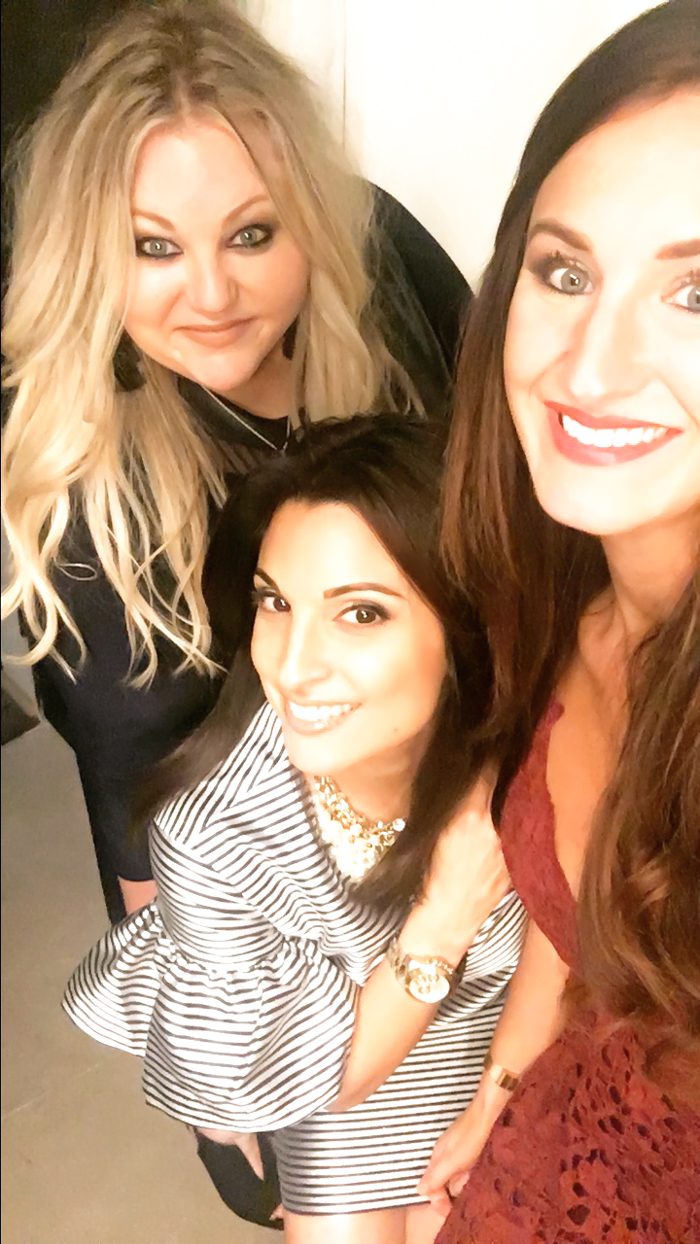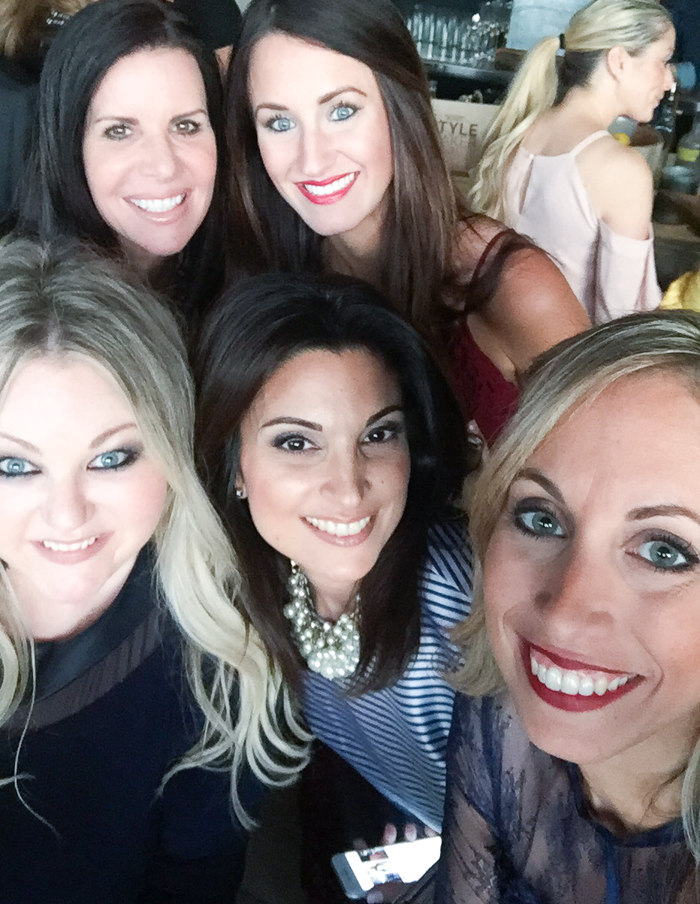 My clutch (faux leather and suede) is on sale right now for less than $15! It has a magnetic fold-over.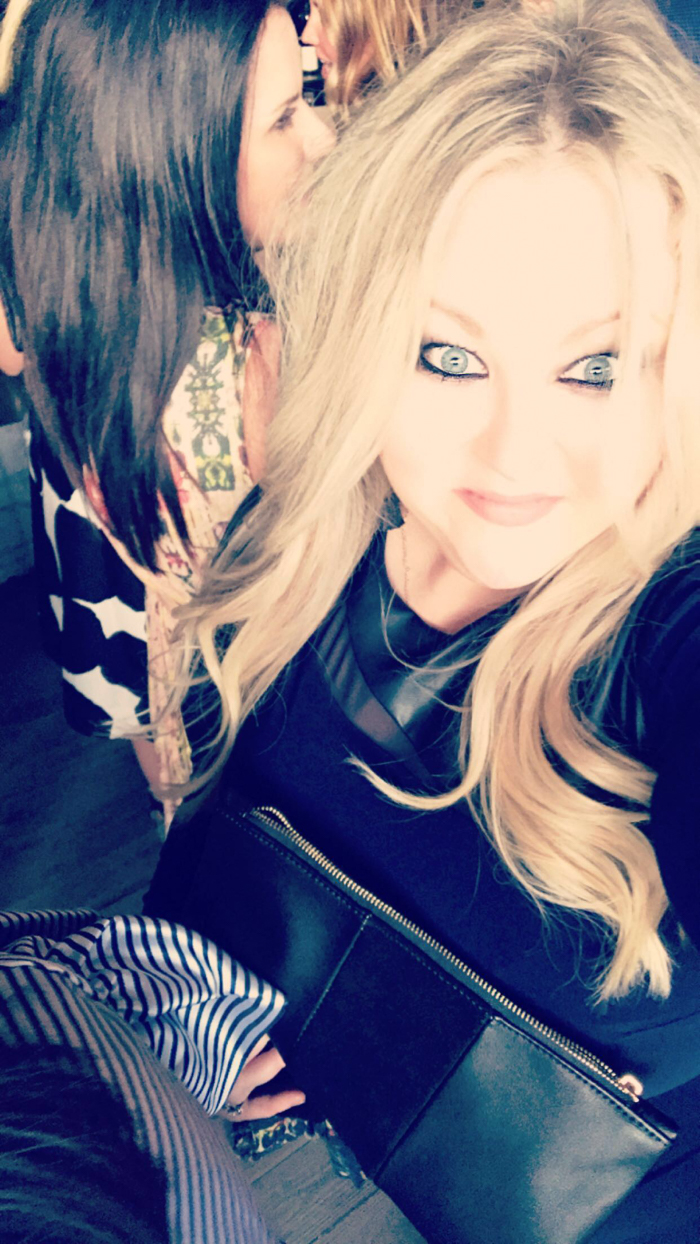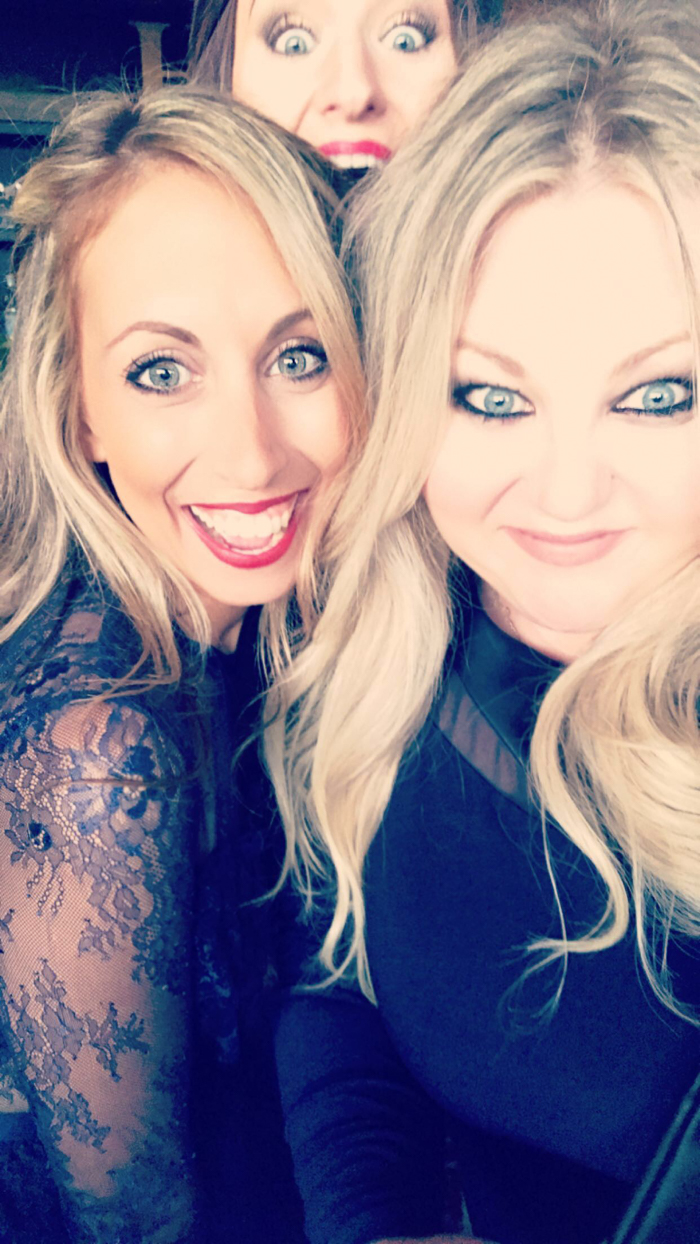 I left the cocktail party early to pack since I had an early flight the next morning, but got talked into reuniting with my girls on the rooftop after putting on my pjs. So glad I didn't miss these views!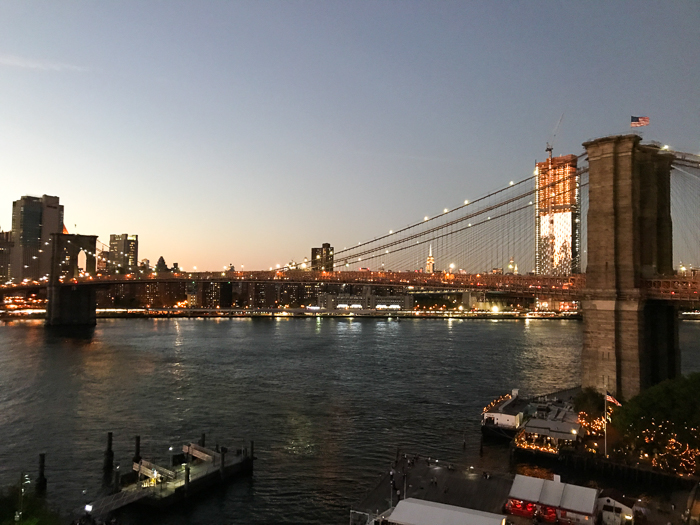 I think one of these are going to have to find a place in my black and white travel gallery wall in the breakfast nook.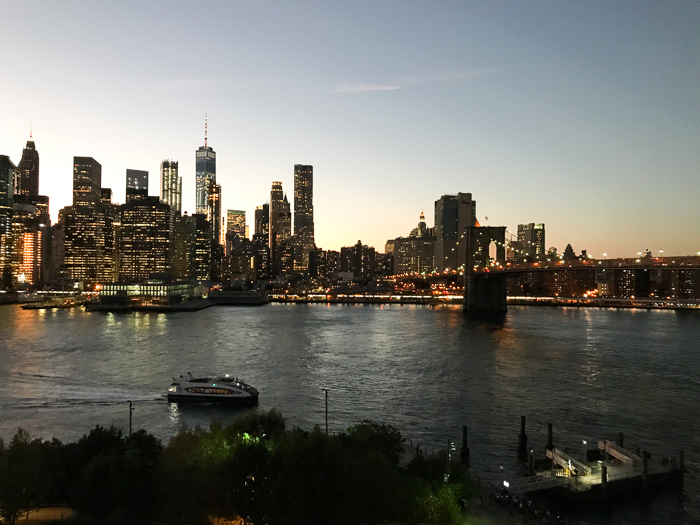 My crew from top (L-R): Bree of Z Design at Home; me (hiding in my poncho amongst a sea of still-dressed beauties); Jen of Decor Gold Designs; Tamara of CitrineLiving; Kris of Driven by Decor; Brittany of Addison's Wonderland; Erin of Sunny Side Up; Haneen of Haneen's Haven.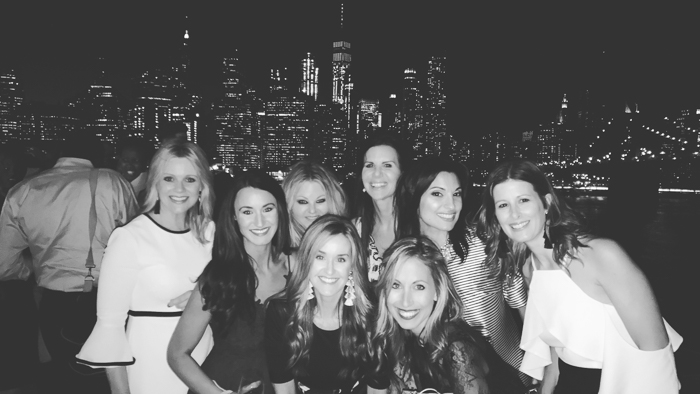 I did get to wear my new Ugg poncho a good bit (around the hotel and for travel) and confirmed my totally-in-love status but never got a pic. Soooo, here's a video still where you can catch a glimpse of the coziness. Don't judge the face haha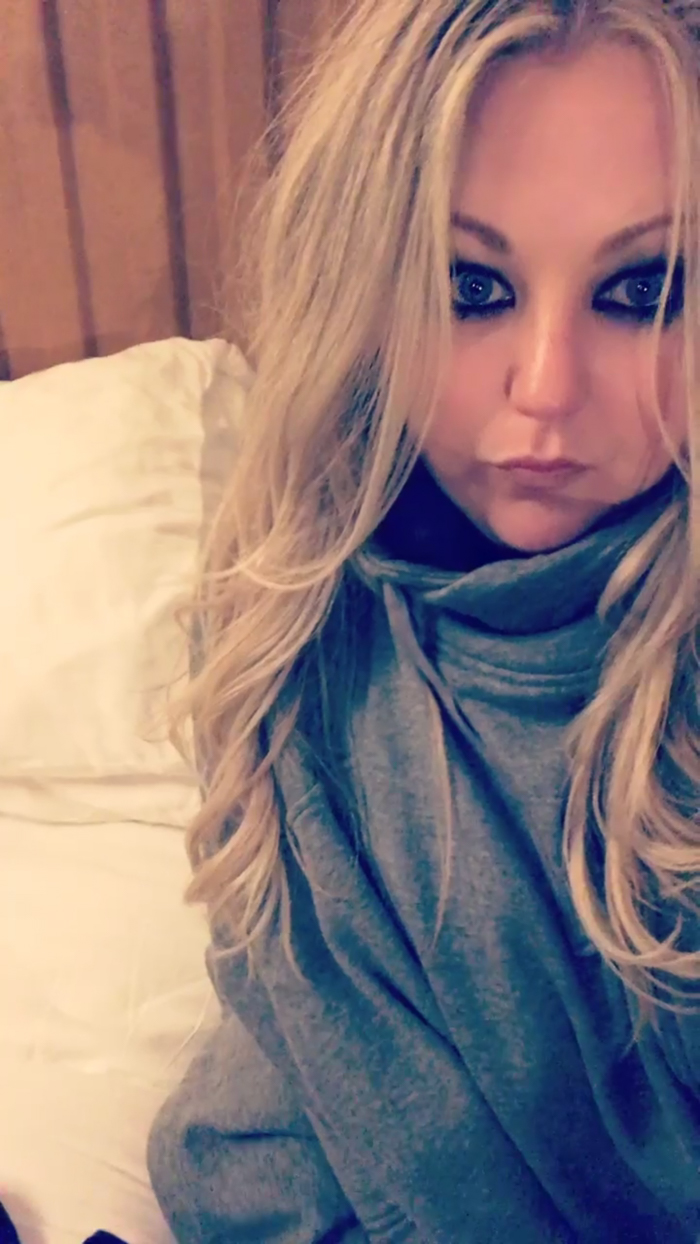 | Ugg Poncho |


I woke up Friday morning and headed to the airport, flew back into Atlanta, made the drive down to the Gulf for my brother's wedding. These are the only photo proof I even have of the trip! Obviously, it was a busy, disconnected whirlwind.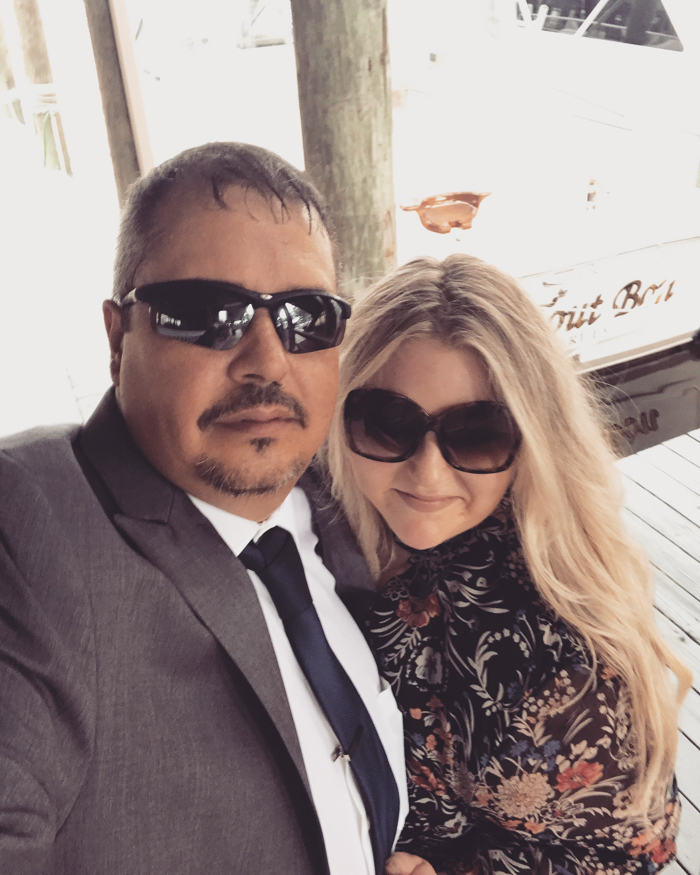 I didn't get any photos of my brother and his gorgeous bride- only this…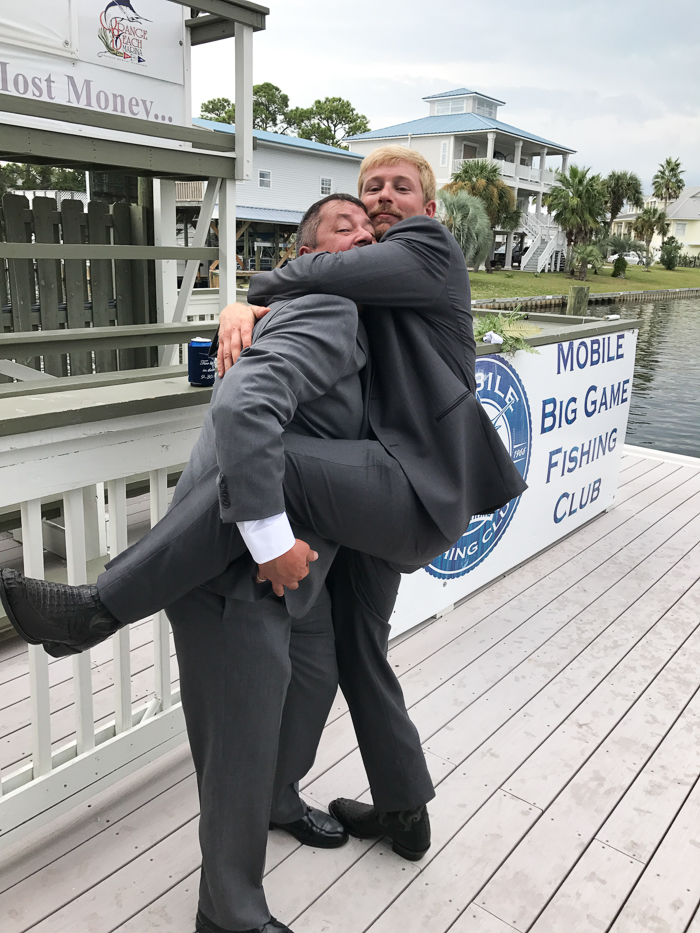 Dave is sick and I'm starting to feel it myself, but ain't nobody got time for that! The first week of my bedroom makeover is underway (Week 1 will be launching Thursday) so I hope 1. you will come back to see my plan, and 2. that I will fend off this icky feeling that's creepin' in so I can be as productive as possible. You can subscribe to receive my emails below to get updates each week throughout the process.
Lastly, none of our hearts are immune to the pain of the recent tragedies. Whether you have been directly or indirectly affected, I'm sending love and hugs to you all this week.