I've been a busy little bee, neglecting (basically everything) in preparation for my 2017 Fall Home Tour. After some hurricane activity, last minute guests, and a few rotten pumpkins (more on that in a bit), I finally pulled it all together for the autumn season and the Fresh Ideas for Fall Home Tour (phew!). Thank you to Tamara of CitrineLiving and Bree of ZDesignAtHome for hosting us this year! Per my usual (and it seems per the majority of you, your preference), this will stand alone as my one and only "home tour" this season. I will be heeding some of your fabulous survey suggestions this time around though and will be posting a few follow-up posts in more depth on some of the deets 😉 The ladies I've joined are no strangers to you regular readers and I hope you'll take some time to enjoy the blogs and ideas I've linked at the bottom of the post! I even get to join most of them next week in NYC for a fun event 😉 As always, thank you for "being here" and celebrating the launch of the best (100% favorite ever) season!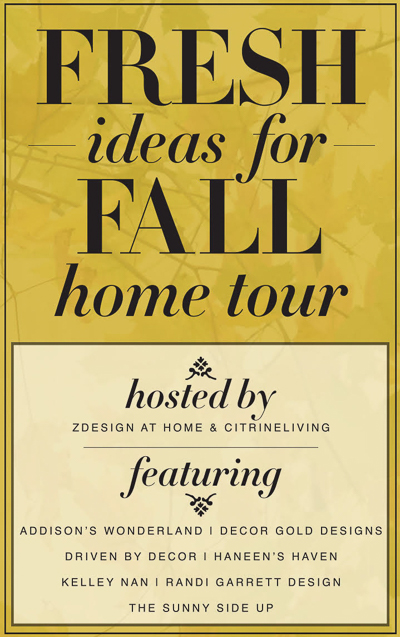 *Posts and pages on KelleyNan.com may contain affiliate links | Read the full disclosure HERE.
---
2017 FALL HOME TOUR
If you are joining me today from my dear friend Jennifer of Decor Gold Designs, welcome and thank you for visiting! If this is your first time, you can see more of who I am and what I'm about HERE. Living in north Georgia, we are fortunate to experience all the seasons, just none in their extreme states. In the south, we love the outdoors, celebrate a break from the heat and humidity, and are hardcore football fanatics. Basically, I think God may have had us in mind when he created this season 😉 We are already "all in", even though we're still getting some mid-eighty degree days. This year, it's a little different in our home. For the first time in a few years, we aren't hosting Thanksgiving (early Christmas decorating, I see you!) and instead of "all the stuff", I wanted to pare it down a bit. Our basement storage is out of control and will have to be dealt with sooner than later, but instead of hauling out boxes and boxes, I made a few selections, and kept things simple. I know I will be thanking my fall to winter transitioning self in a couple months.
Where I did lose my mind a little was at the pumpkin farm. Oh. My. Word. We took our Miami guests to Burt's Pumpkin Farm (a classic in Georgia) just as they opened for the season, but while they were preparing to close for the impending storm. Because it was a weird time, their selections were a little less than they typically are, but it didn't stop us from loading a wheelbarrow to a "Dave-can-you-handle-this-without-wrecking?" capacity. Without a plan, I loaded up on every size and color and we even treated ourselves to the expensive homemade preserves and pecan pralines. When we got home, we started preparing our home for the rough winds and obviously, decided to leave the pumpkins in the back of the car until the weather improved a few days later. You. Guys. Do you know what happens to pumpkins in a humid, stagnant-aired car after several days? When I went to take them out, my first hint that they may have "suffered" a bit was that the white pumpkins were now more of a dark cream (Ok, yellow. They were yellow.) When I started pulling them out, all the stems were covered in fuzzy, gray mold. Ok, not the best circumstances but at least none were rotten. Wrong. A few had deteriorated from the inside and despite Dave suggesting we "glue the stems back on", I decided to call it a loss, wash the moldy-but-salvageable guys, and celebrate my not-quite-white pumpkins.
*A Full Room Source List is Provided at the Bottom of This Post*
In anticipation of a master bedroom makeover (starting in just a couple weeks!), and in celebration of paring things down, we aren't going to be peeking into any bedrooms or upstairs areas today – just the main downstairs areas that were touched by the graces of autumn. (Ahem, the areas I was able to zhush up over the weekend before begging for a foot rub and a back massage haha).  Now that I've "talked" your ear eyes off before even heading inside, let's get right to it. Come on in, y'all, and welcome to my 2017 fall home tour!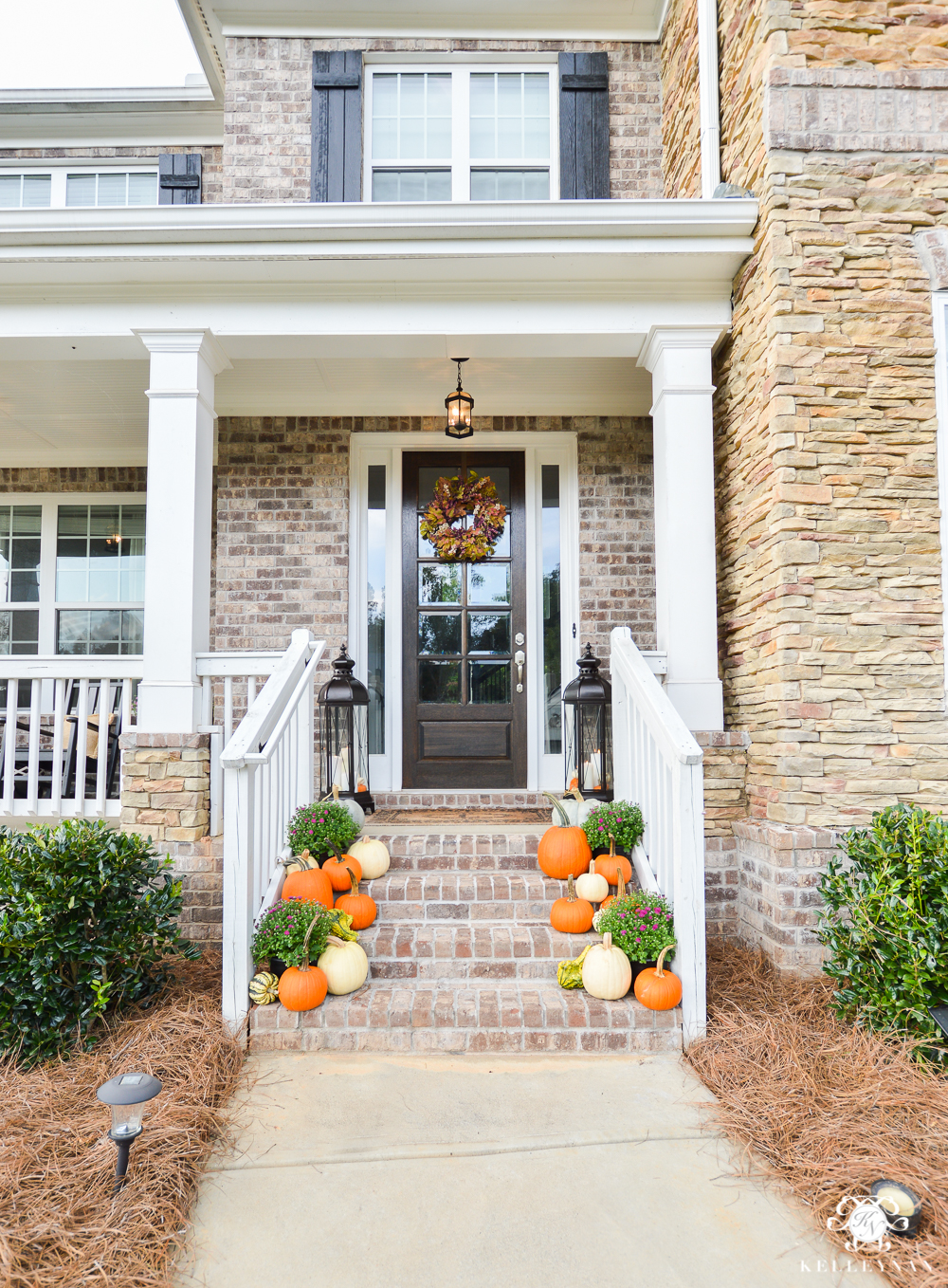 We will kind of just run up the steps and head inside as I will be talking more about my front porch specifics next week 😉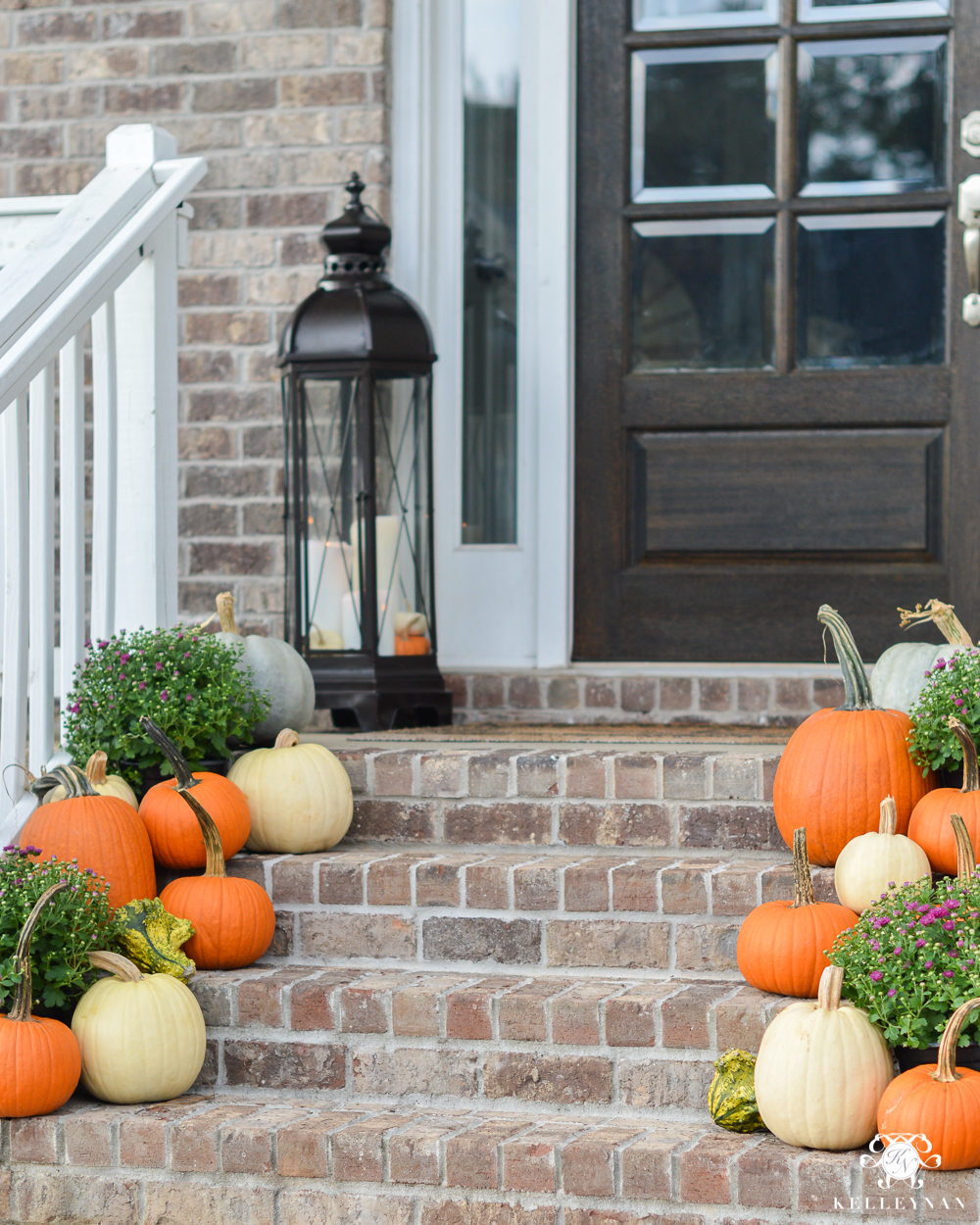 My fall wreath (HERE) was my inspiration for the concept and I can't wait for my mums to bloom all over to bring more of that purple down to the steps. If you plan on mums, I always say this but Costco is my go-to. I snagged the four on the steps for $11 total and two larger ones in my urns for $8.99 ea. The oversized lanterns were purchased for my wedding several years ago, from ZGallerie, and I continue to use them all over my house.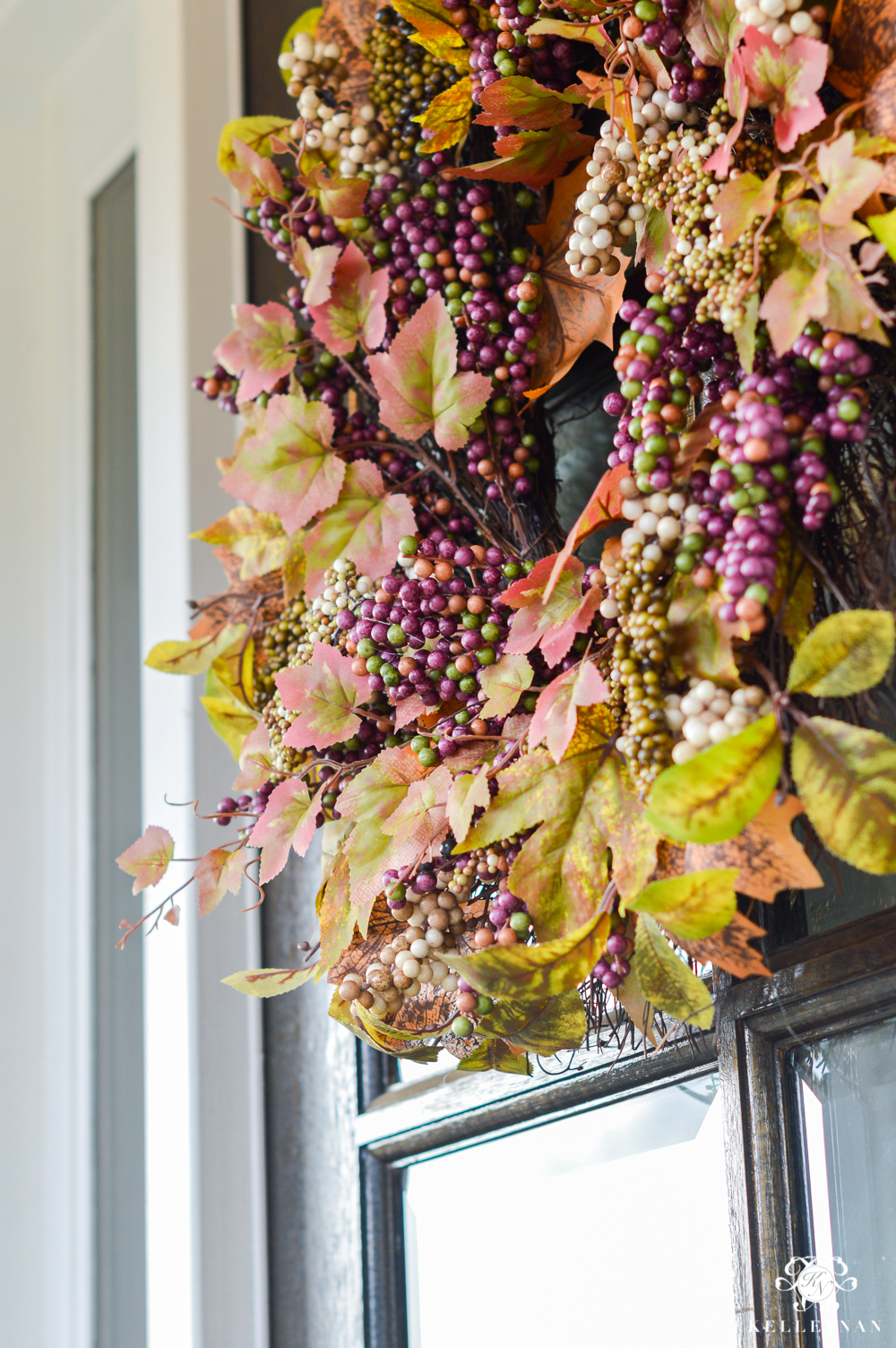 ---
GET THE LOOK | SCROLL & TAP TO SHOP

---

Just inside, I kept everything pretty simple in the entry. I use the lantern on this table seasonally and switch out the filler (moss, ornaments, saux snow…). It's versatile pieces like this that help you make easy and budget friendly seasonal switch-ups. Plus, filler is a lot easier to store than huge pieces for each season 😉 I set the tone for the whole leaf trend you'll see throughout the house right here. These specific leaves were plucked from preserved branches I found at HomeGoods. The stems were in rough shape but I was able to get some distance out of using individual bits of foliage.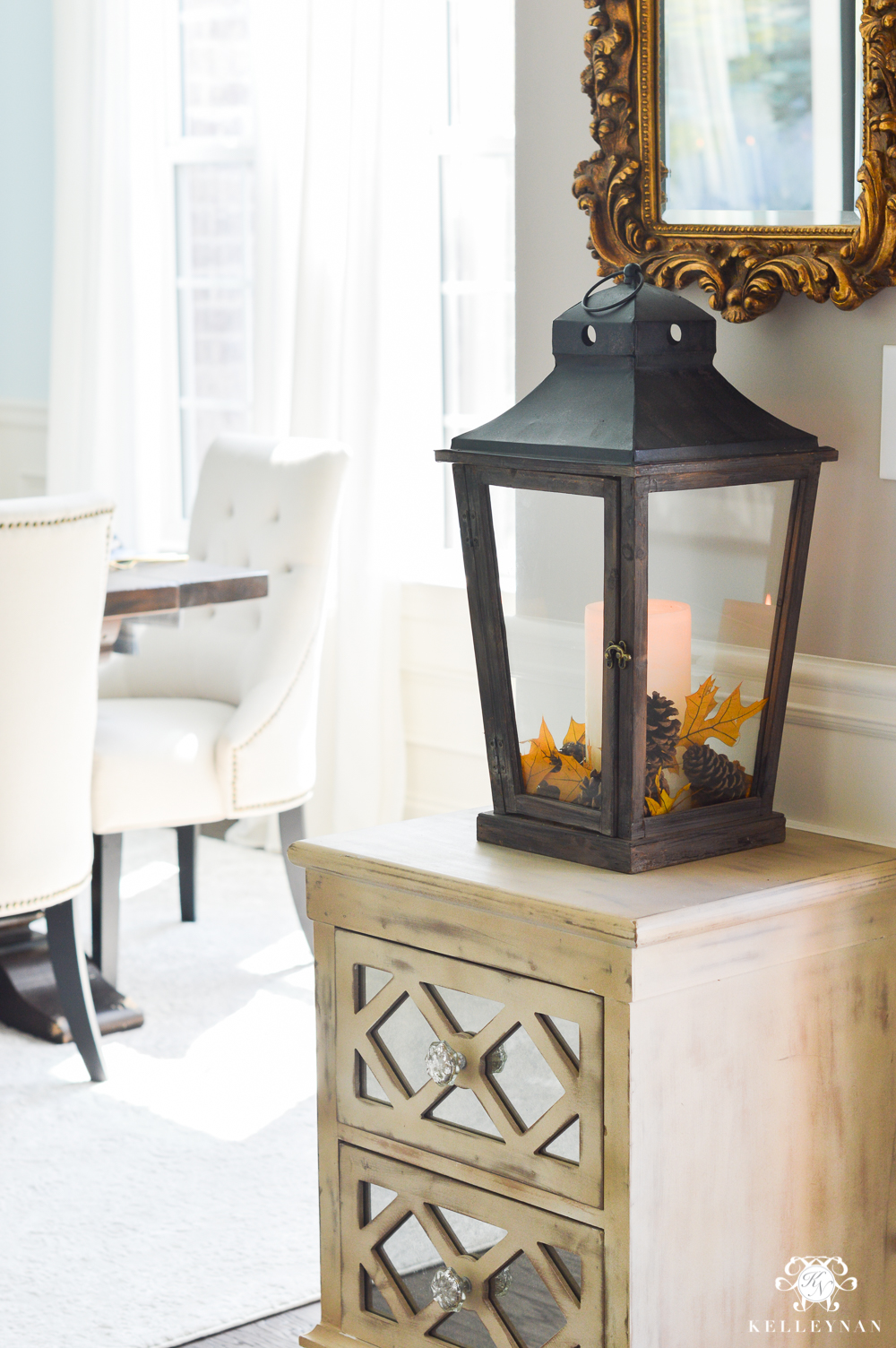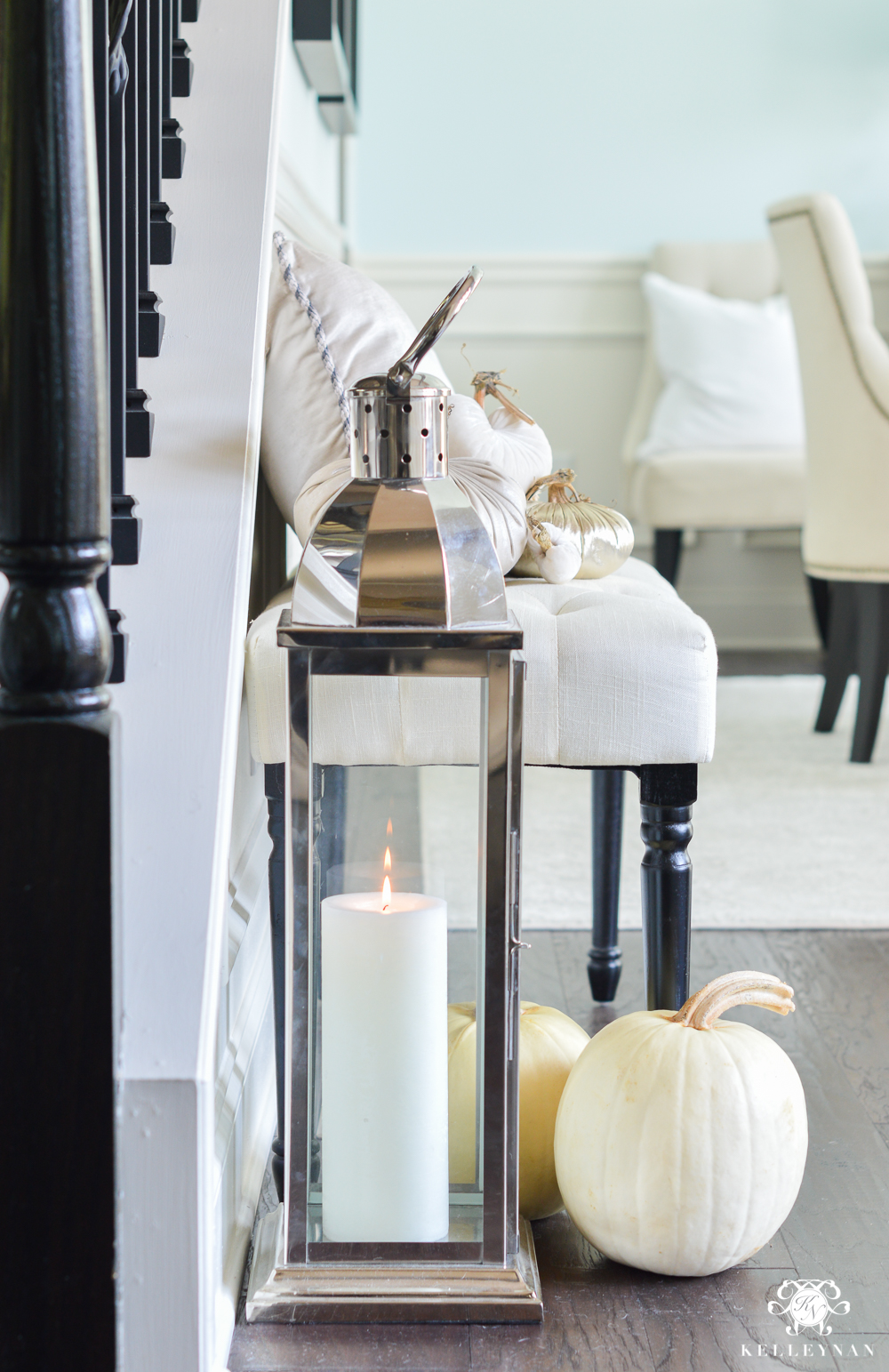 ---
GET THE LOOK | SCROLL & TAP TO SHOP

---

If you've been here before, you know the dining room is my favorite area to "create". I'm going to be sharing what I've done in here (one of my favorites yet!) in another follow-up post next week, also. Oh, and if you think things look a little different, you're right. I recently traded in our old rug (that I LOVED) because after trying to wait out Maggie's chewing stage to invest in a new one, I eventually gave up and gave in. Y'all, she had seriously destroyed it. It looked like we had taken a weed wacker to it. So embarrassing. (If you don't know Maggie, she is a pup, not a child human child). She is so bad (we love her too much), rules the house, and she'll be making an appearance a little later.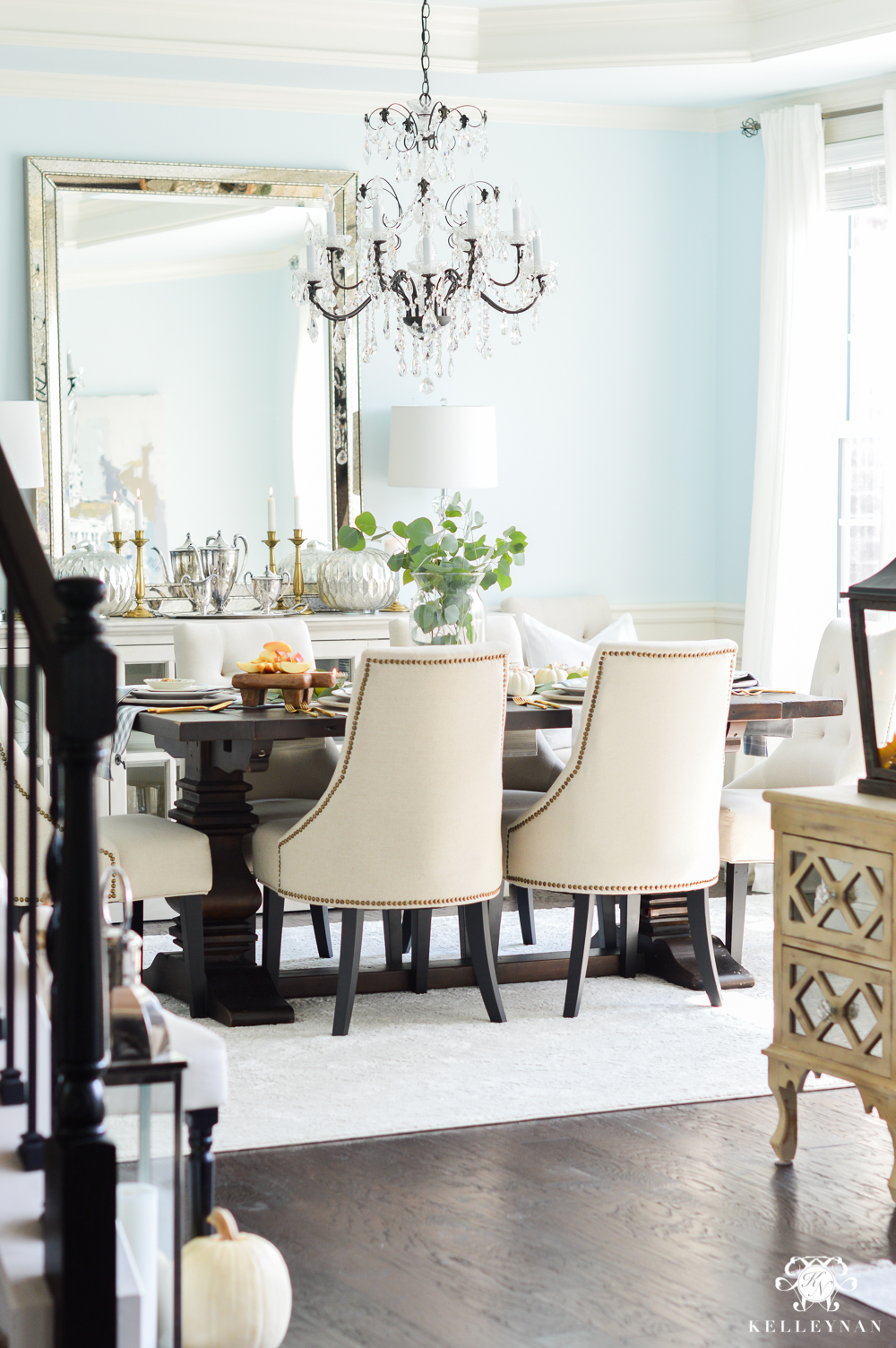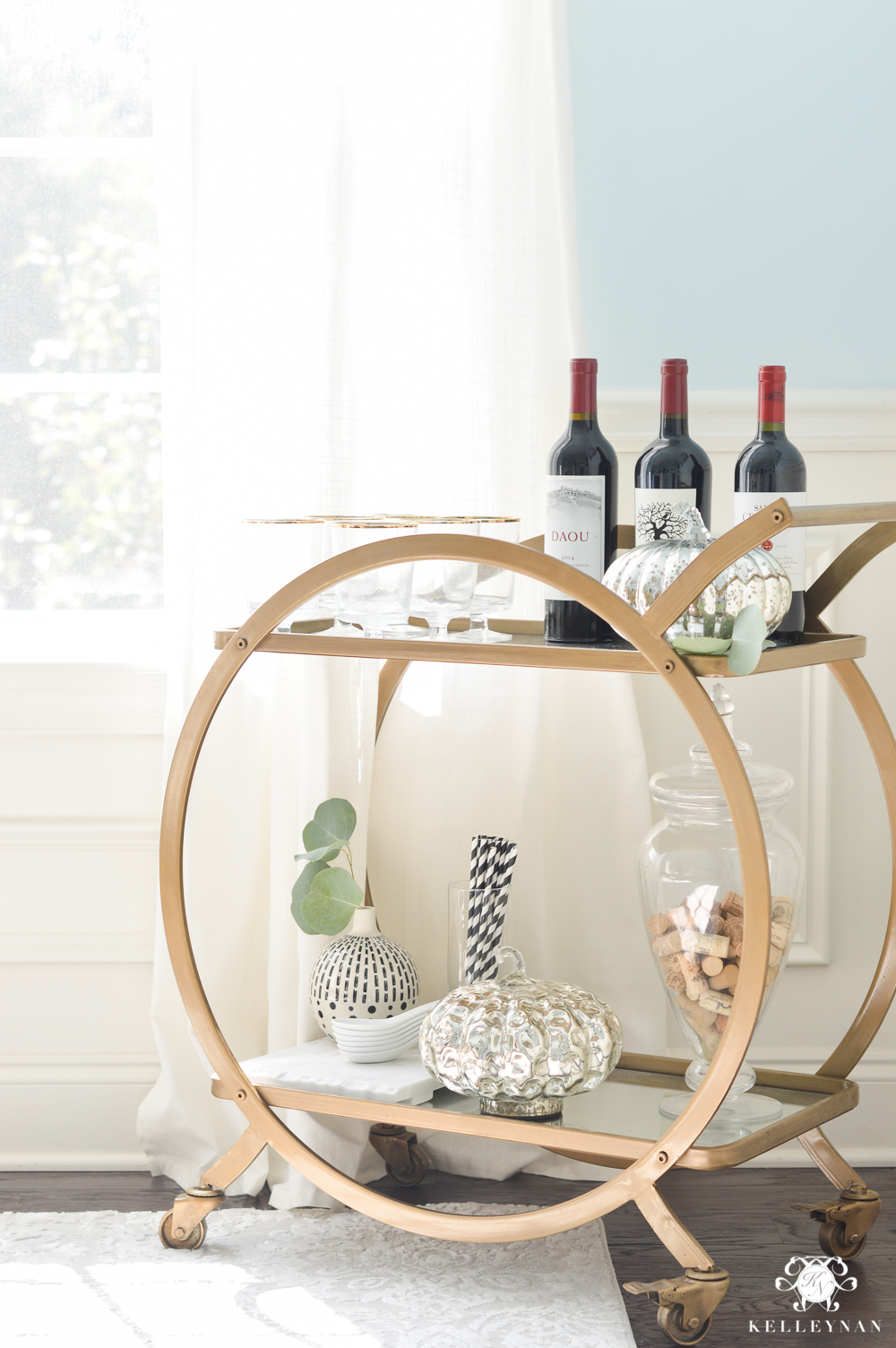 Here's a little overhead peek…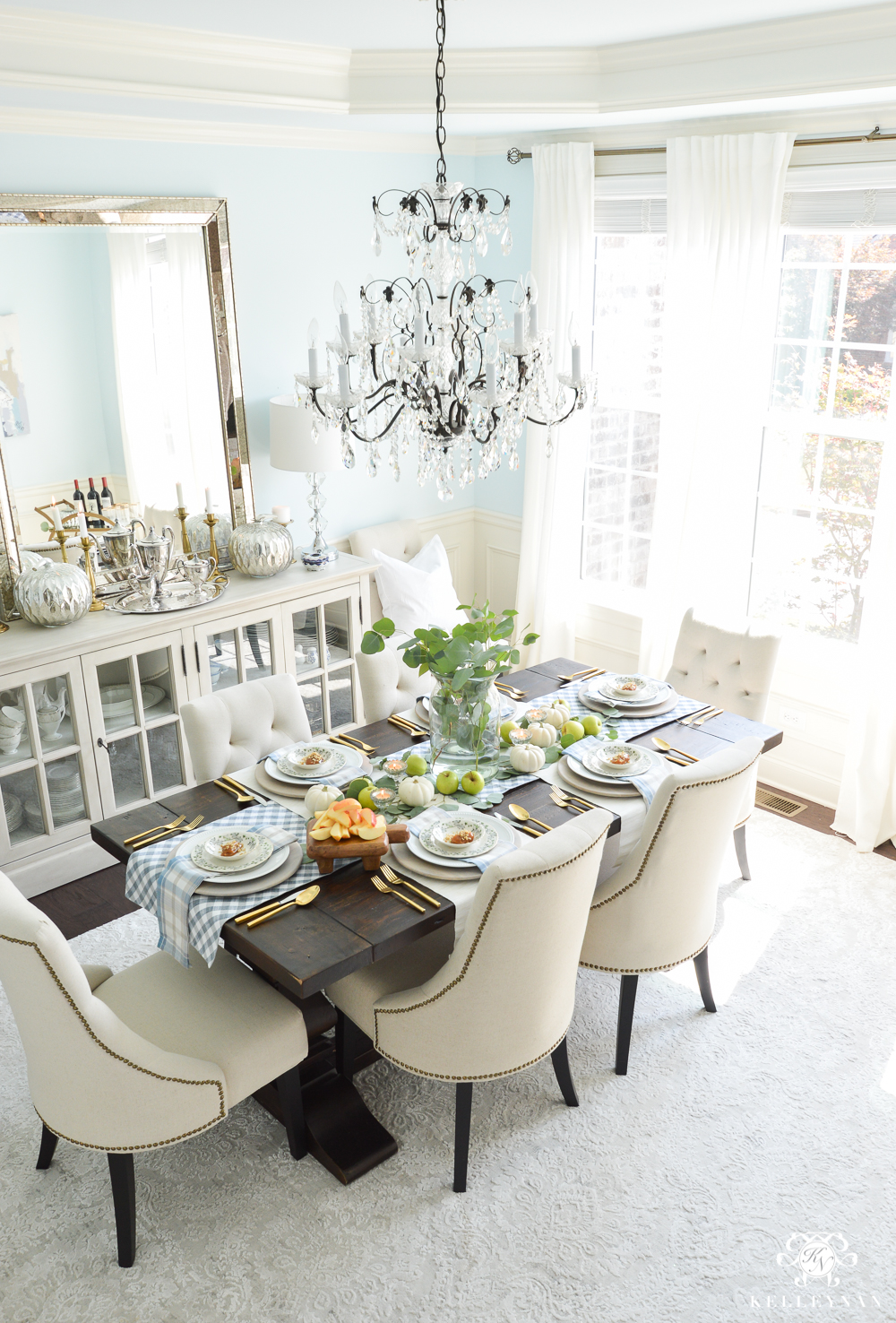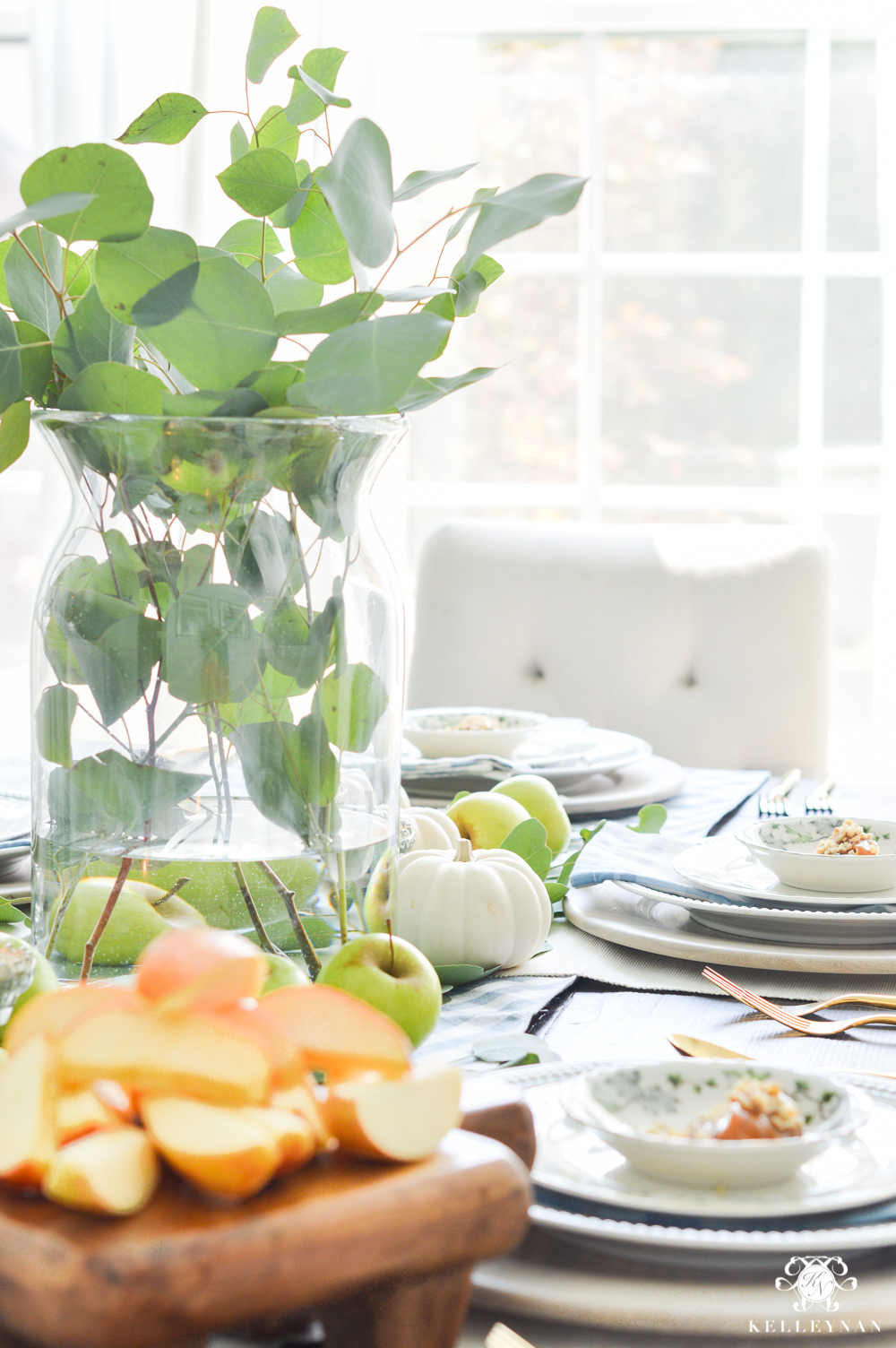 I finally polished the silver tea set after months of neglect. I think while spring is known as the time for purging and organizing, fall should be known as the time to make things look their best. It's like giving them a suit and tie for the upcoming holidays 😉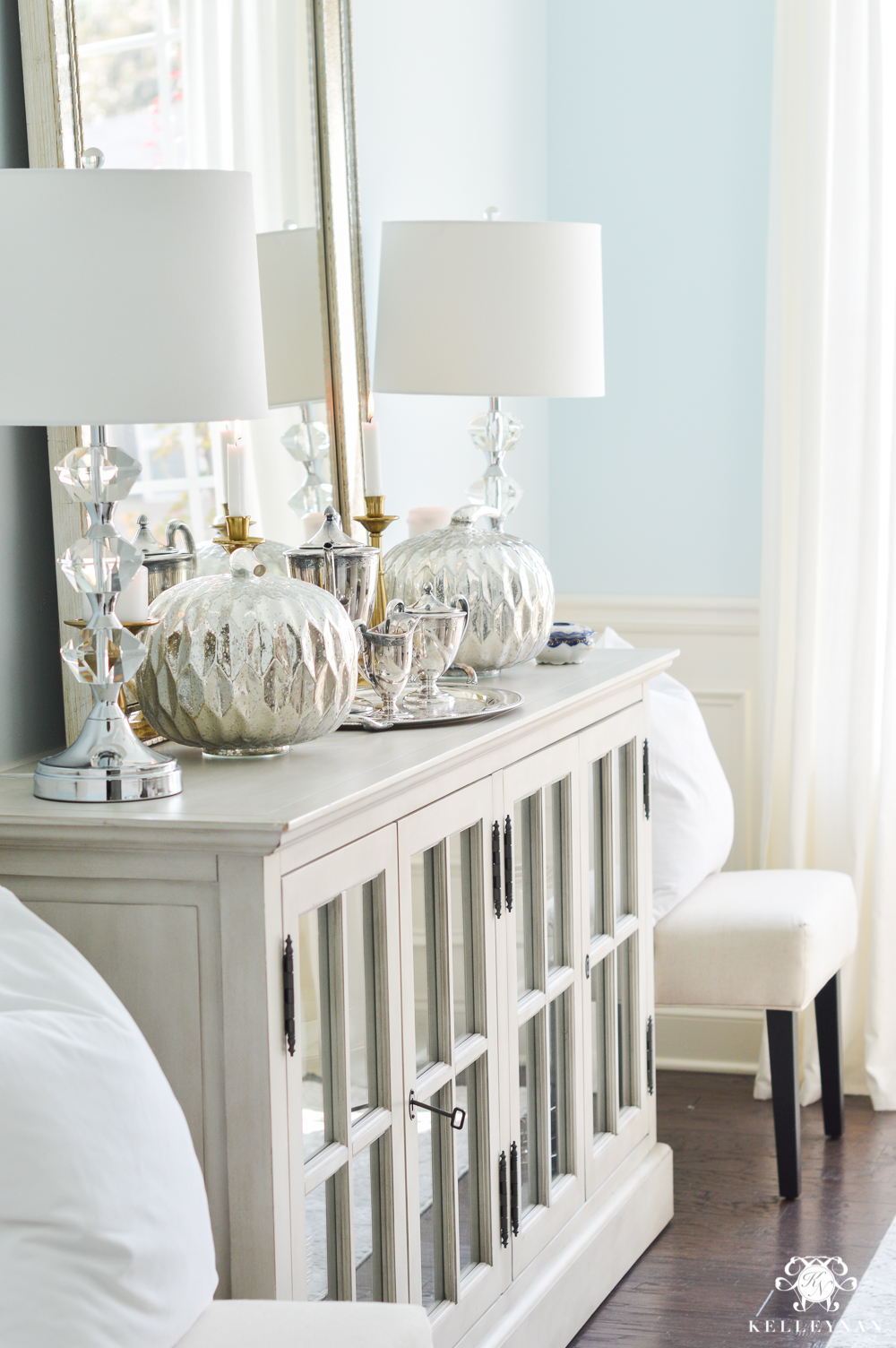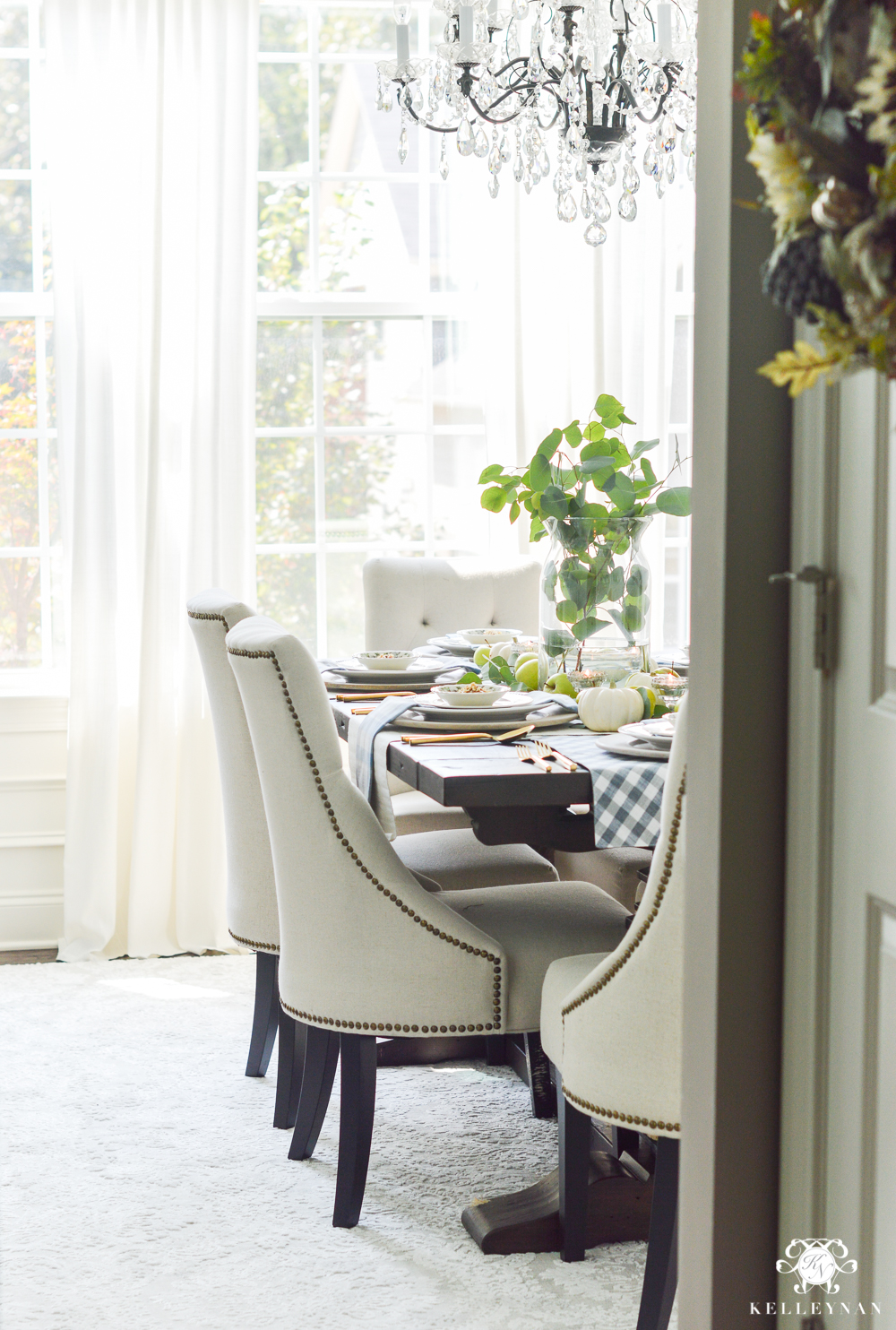 ---
GET THE LOOK | SCROLL & TAP TO SHOP

---

Through the butler's pantry and into the kitchen, I depend on my local grocery store for my seasonal vibes (I think I say this every season haha). My favorite recent find is the wooden bowl on my island. I've hunted for one for so long but only came across ones that were too polished, too small, too cherry, etc. This raw wood is perfect in every way; unfortunately, it was a score from the Pottery Barn Outlet. If you have one if your area, they may still have them! I found a more shallow similar one HERE on clearance.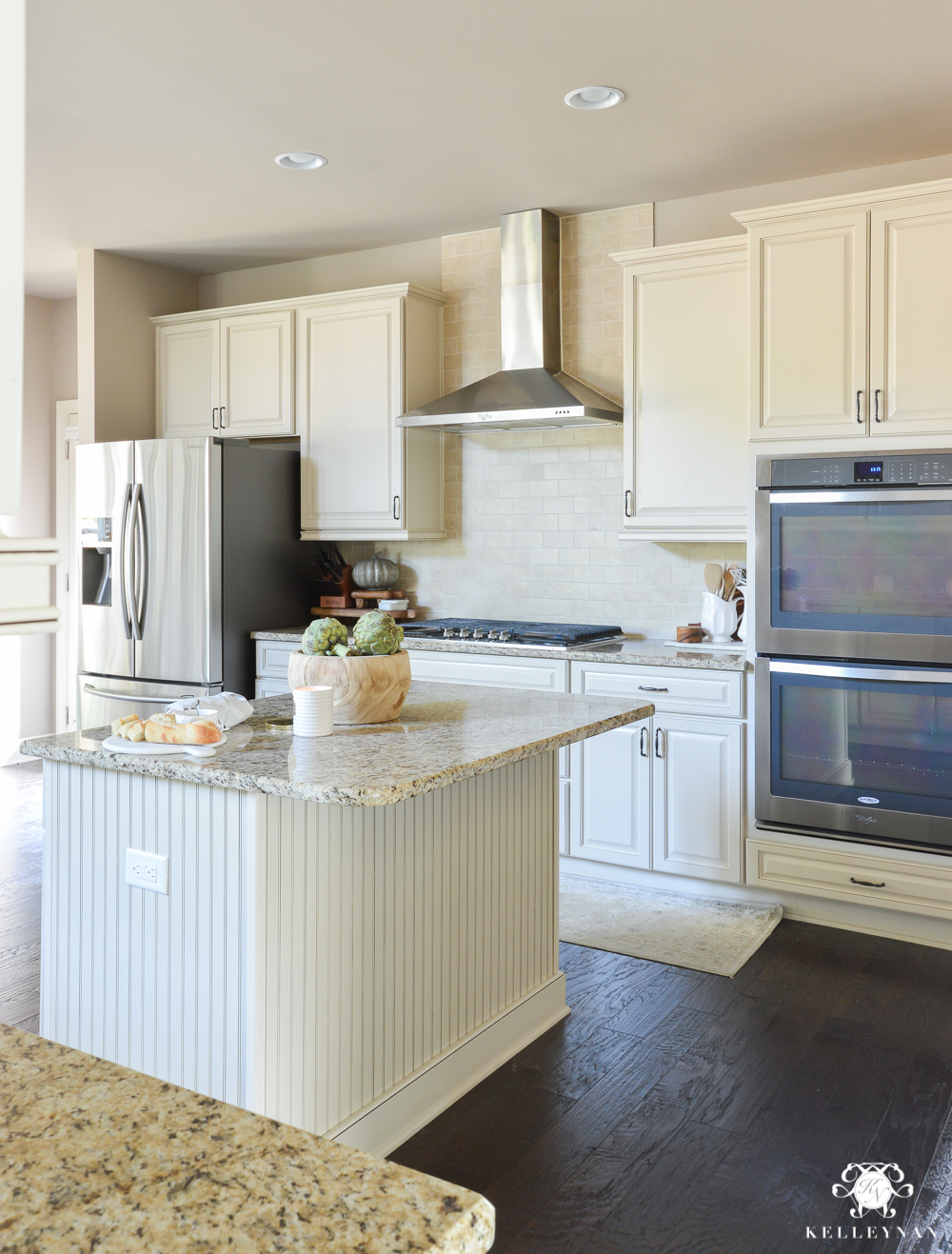 As with a lot of little vignette moments throughout our house, if items seem too scattered, put them in a tray and they immediately become more polished. This acrylic tray has been so versatile since I got it this past summer.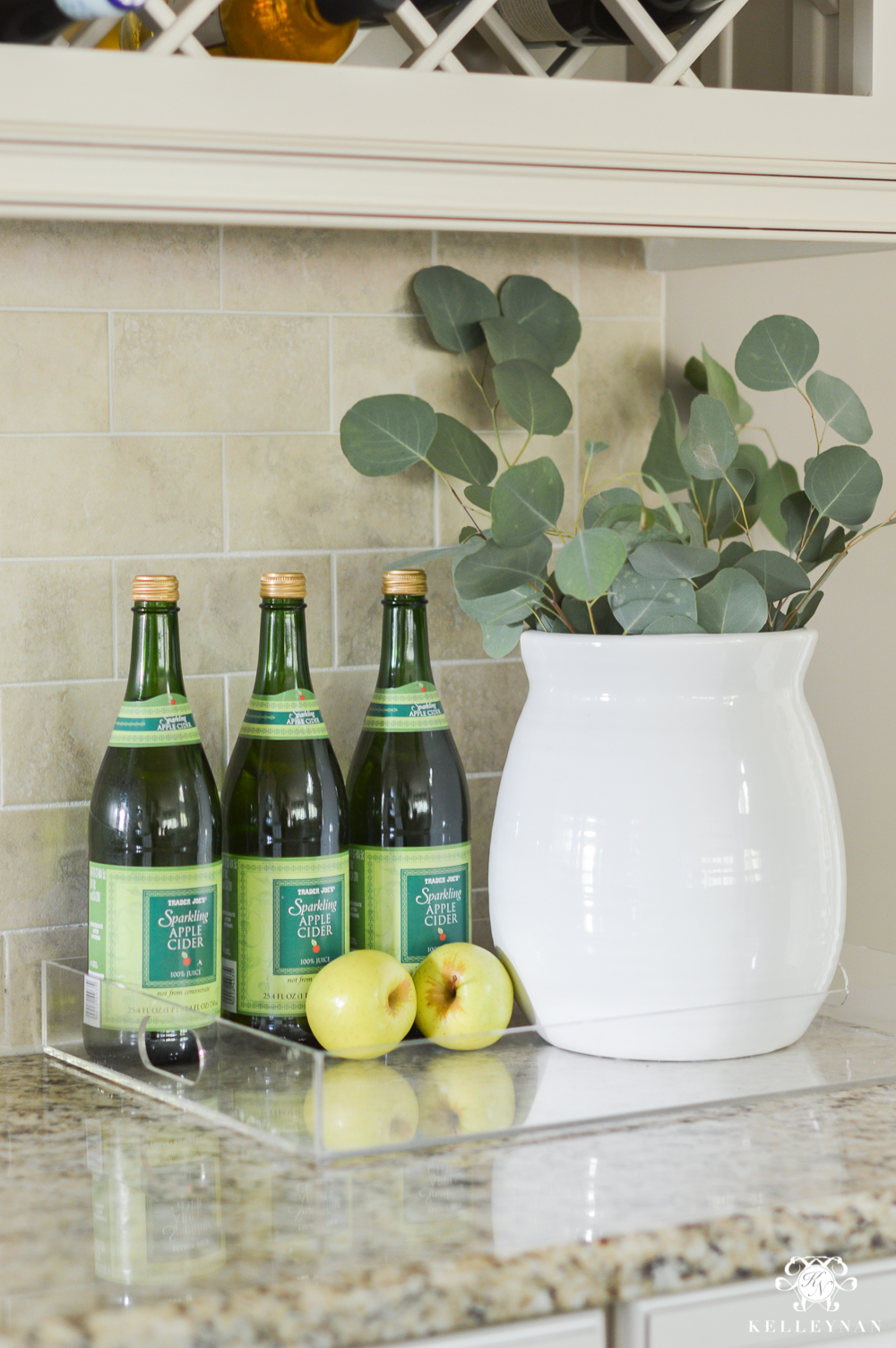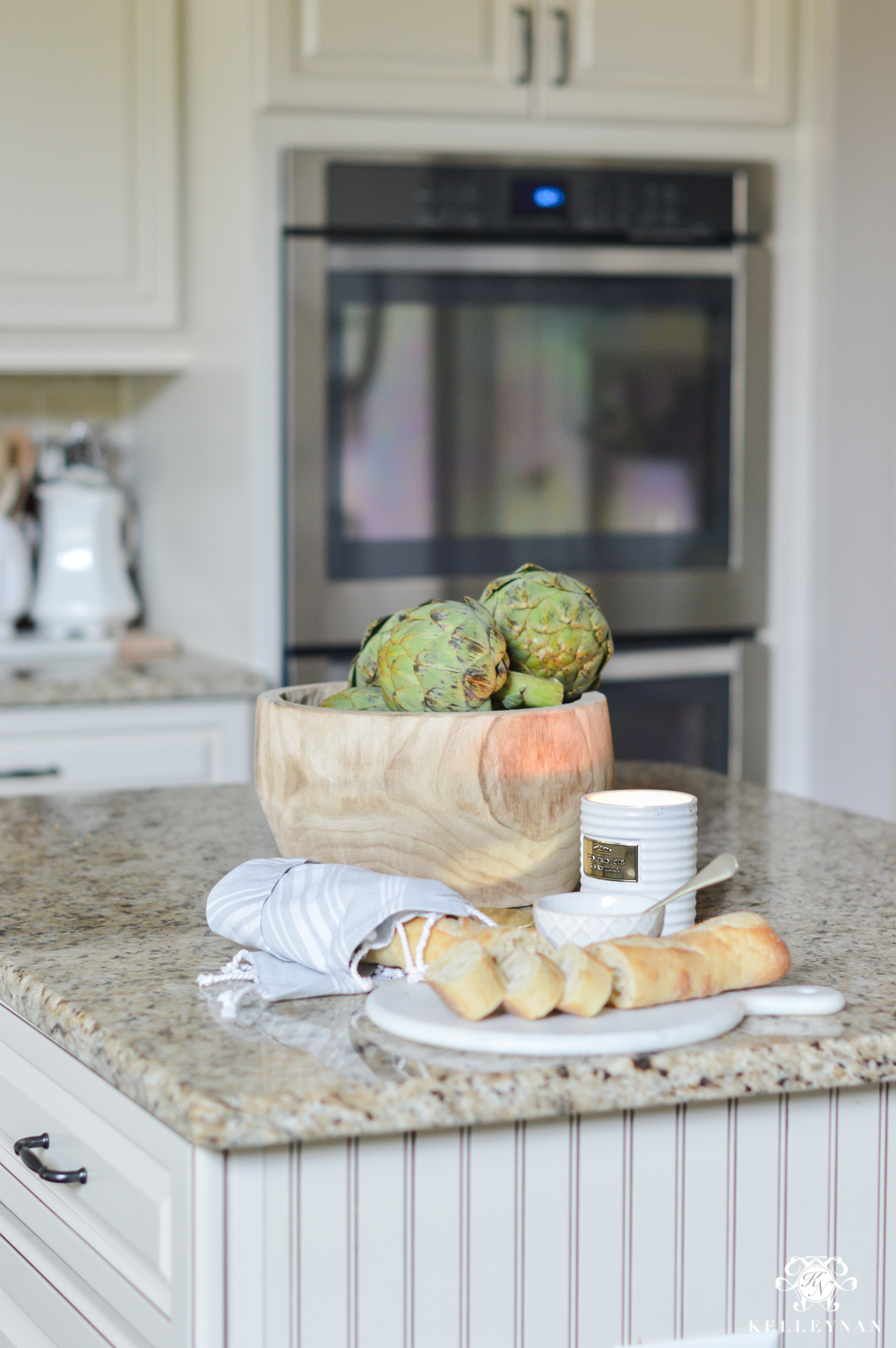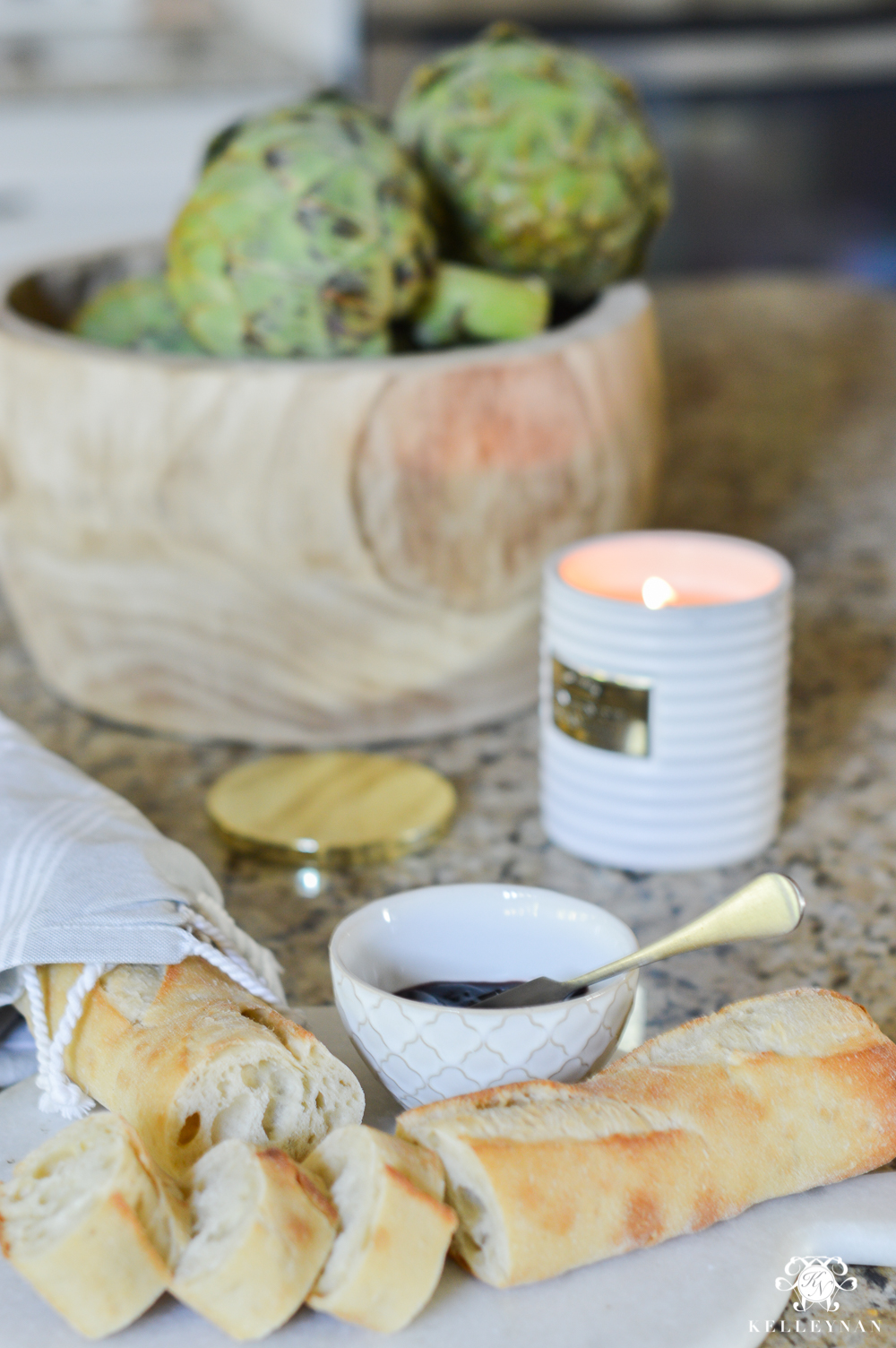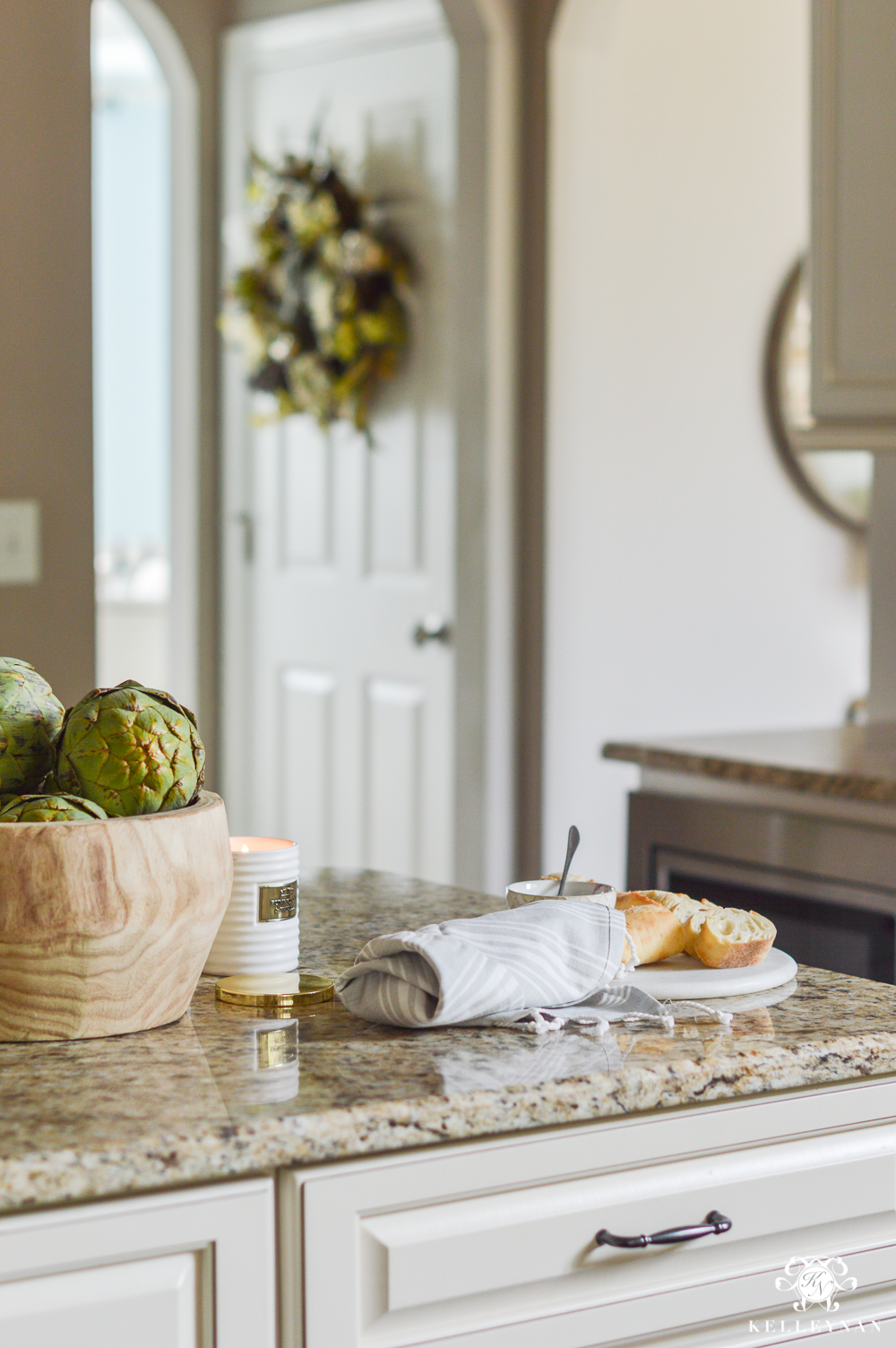 ---
GET THE LOOK | SCROLL & TAP TO SHOP

---

Joining the kitchen, you'll start to see a lot more autumnal colors used in the breakfast room and the rest of the downstairs. My oversized HomeGoods white pitcher has served as my faithful centerpiece vessel on this table the entire year. We don't start seeing the leaves change until October so most of my faux branches are from Michaels.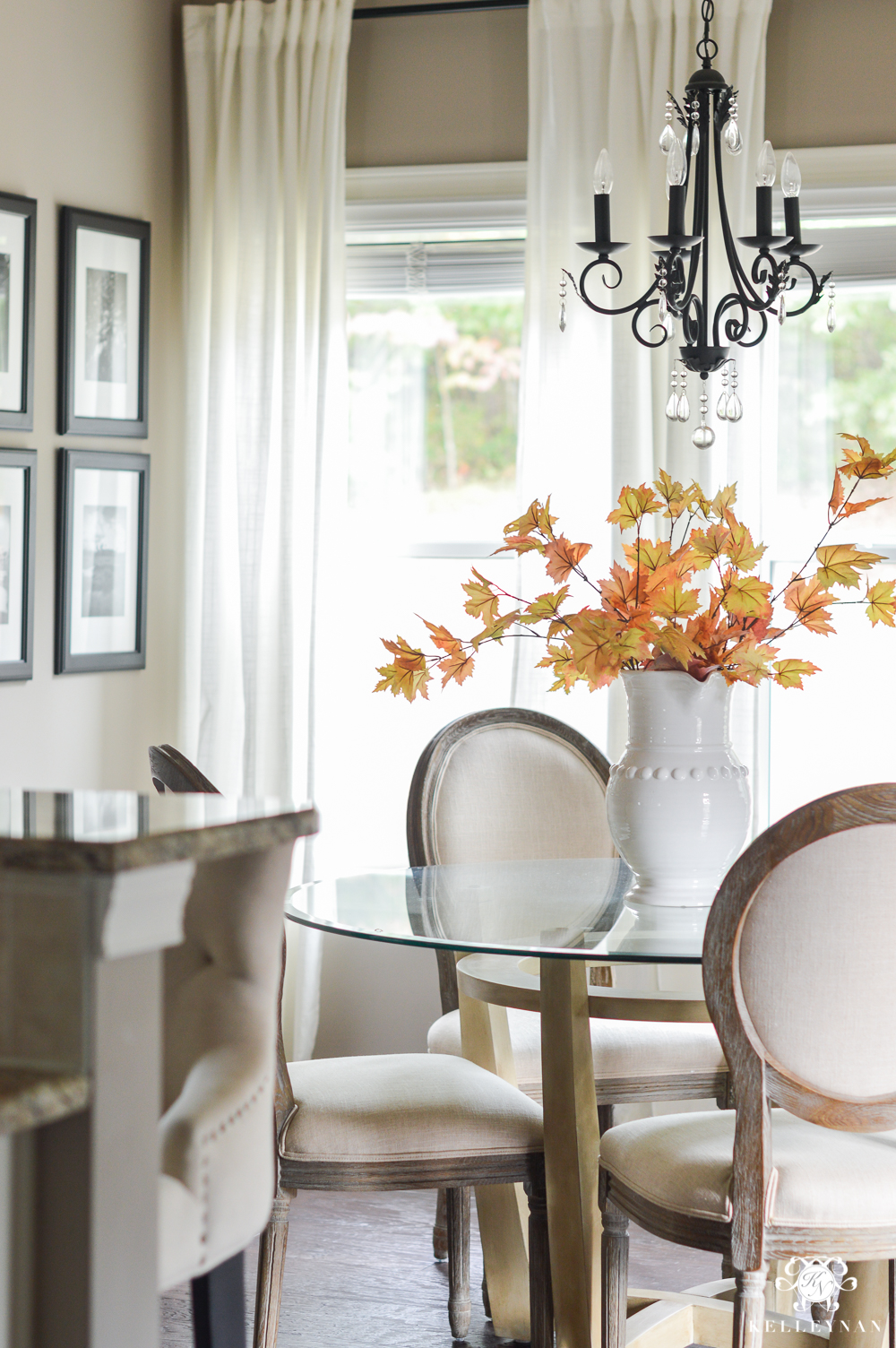 Don't be afraid to bend your stems. I have the bases bent inside the pitcher and adjusted the limbs a little; without this step, they would look like a few ridiculous, unnatural straight sticks.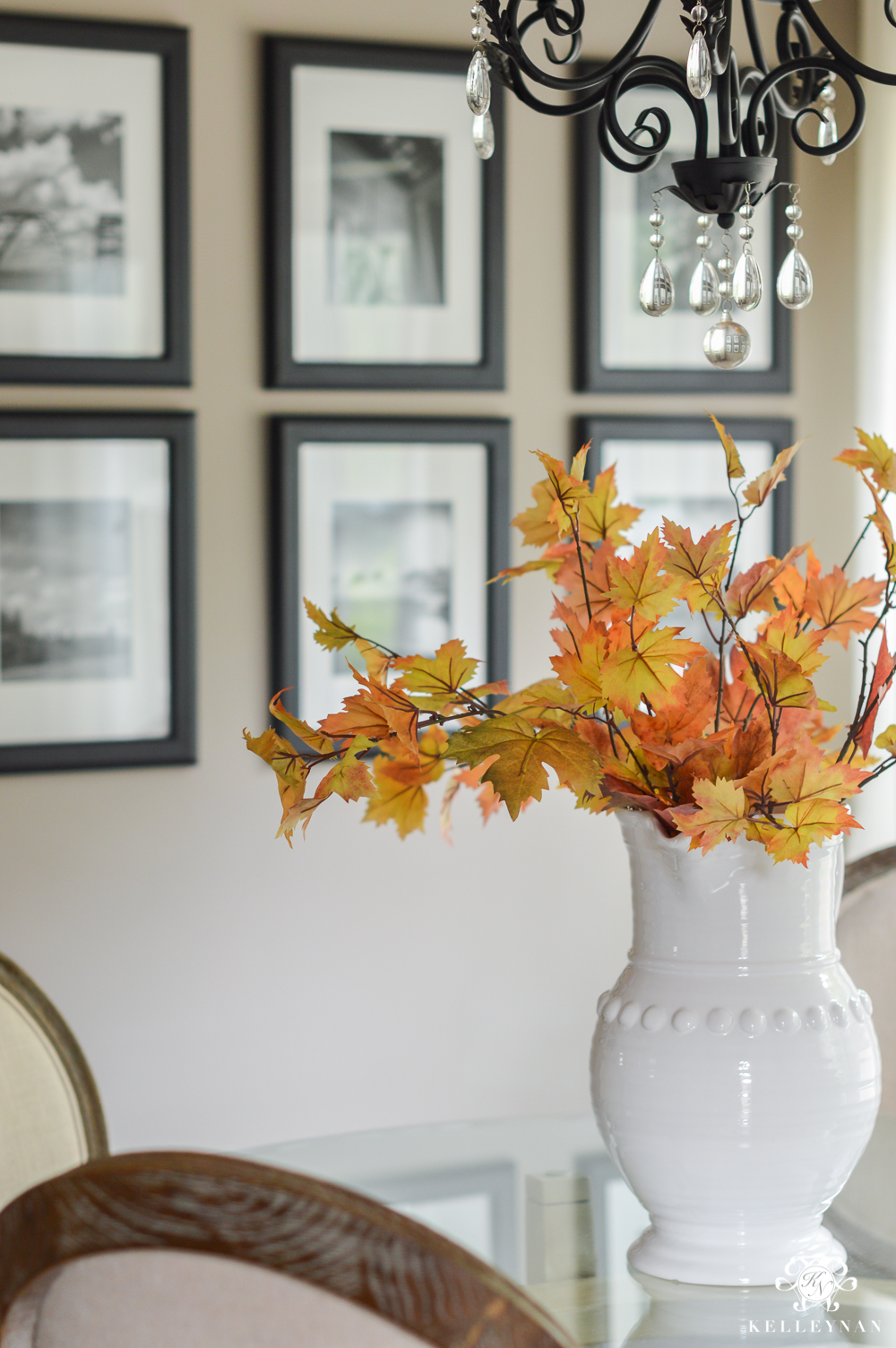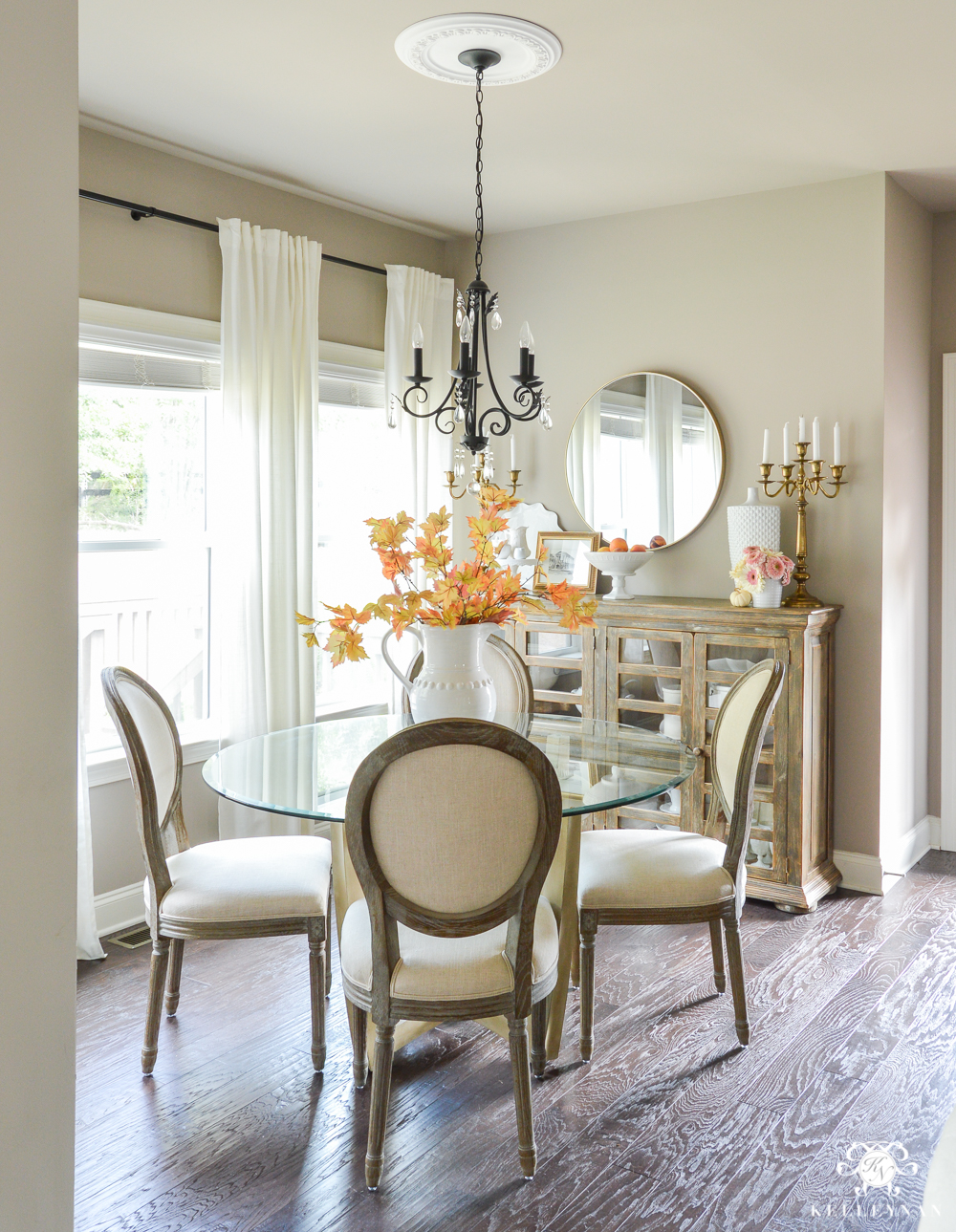 Stems of leaves are some of the only new items I purchased this season but y'all. I can't believe how hard it was to find good looking, affordable oak-leaf shaped branches! Pottery Barn and Crate and Barrel have had beautiful stems in the past but I had a hard time finding what I was looking for this time around. And, I have a hard time spending $30+ on small seasonal stems (when I need 15 of them); hopefully, they will get the memo next year 😉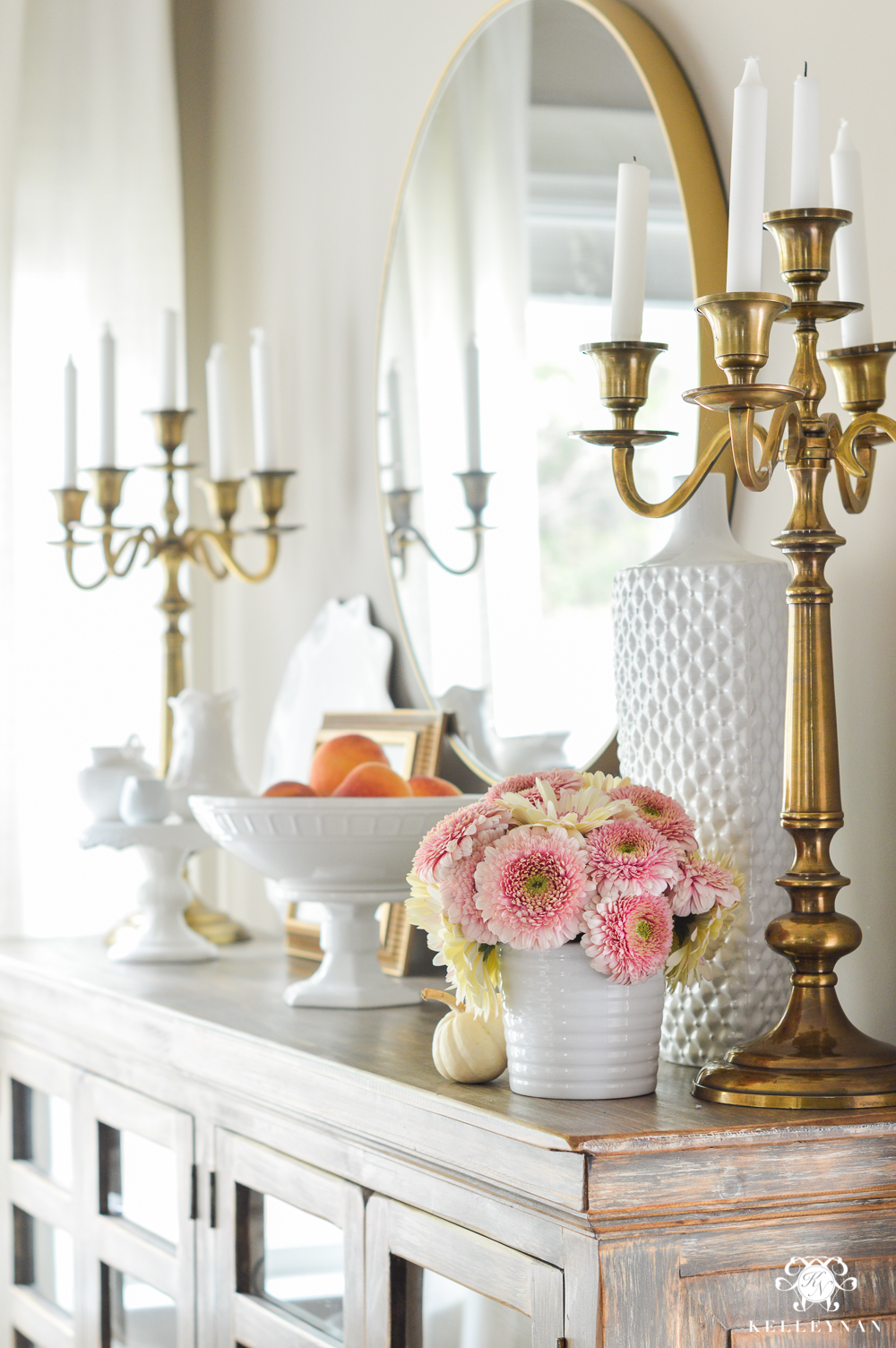 I only used about 1/3 of my faux pumpkin arsenal and instead used a few real baby boos sprinkled throughout, and produce like these peaches. I wouldn't normally think of pink as being "fall" but I love how they worked with the warm tones in here. Plus, these gerbera daisies last forever.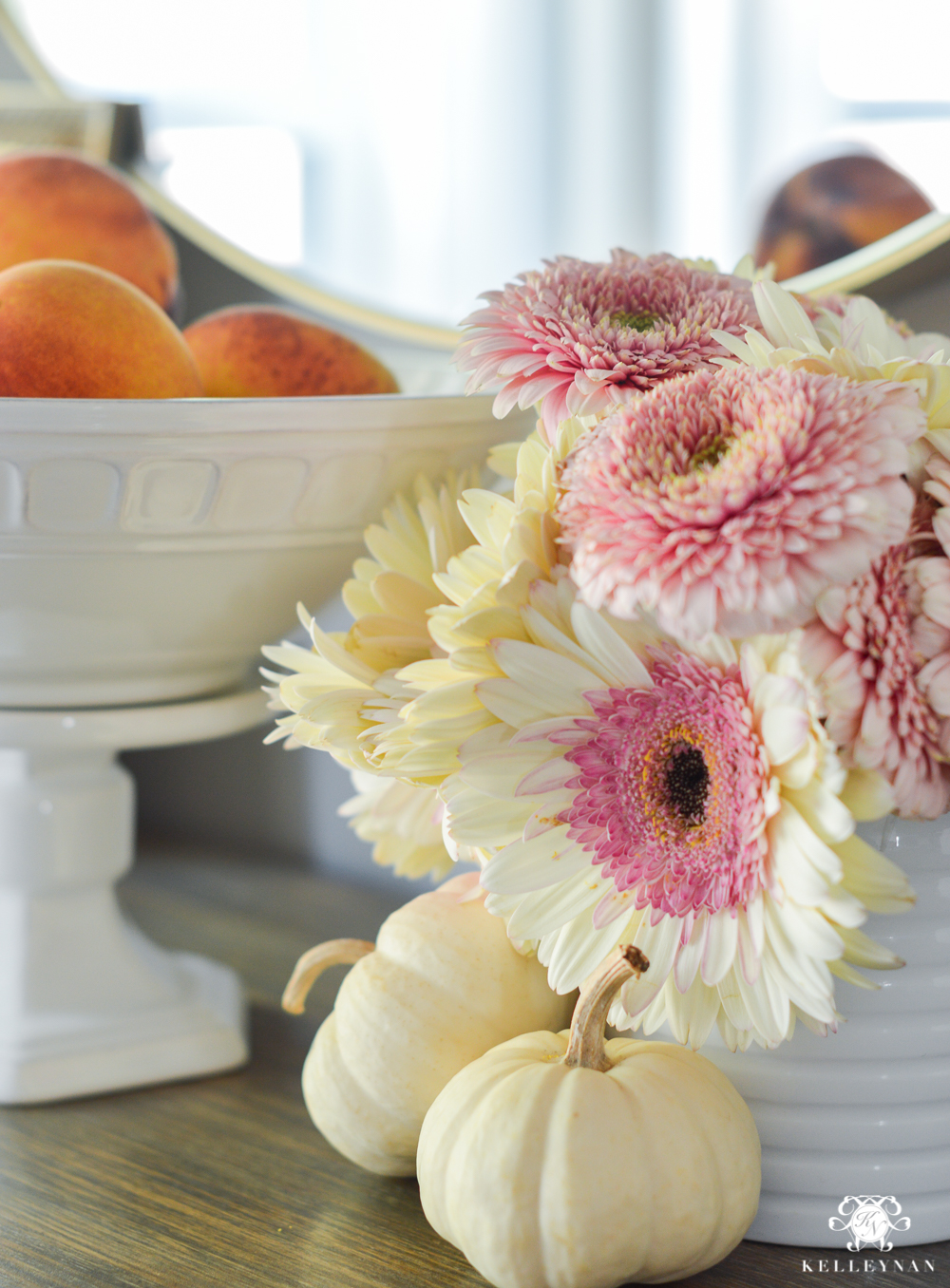 ---
GET THE LOOK | SCROLL & TAP TO SHOP

---

Most of my efforts (and this tour) are focused in the great room. It's the center of the house and you can see it pretty much from anywhere in our home.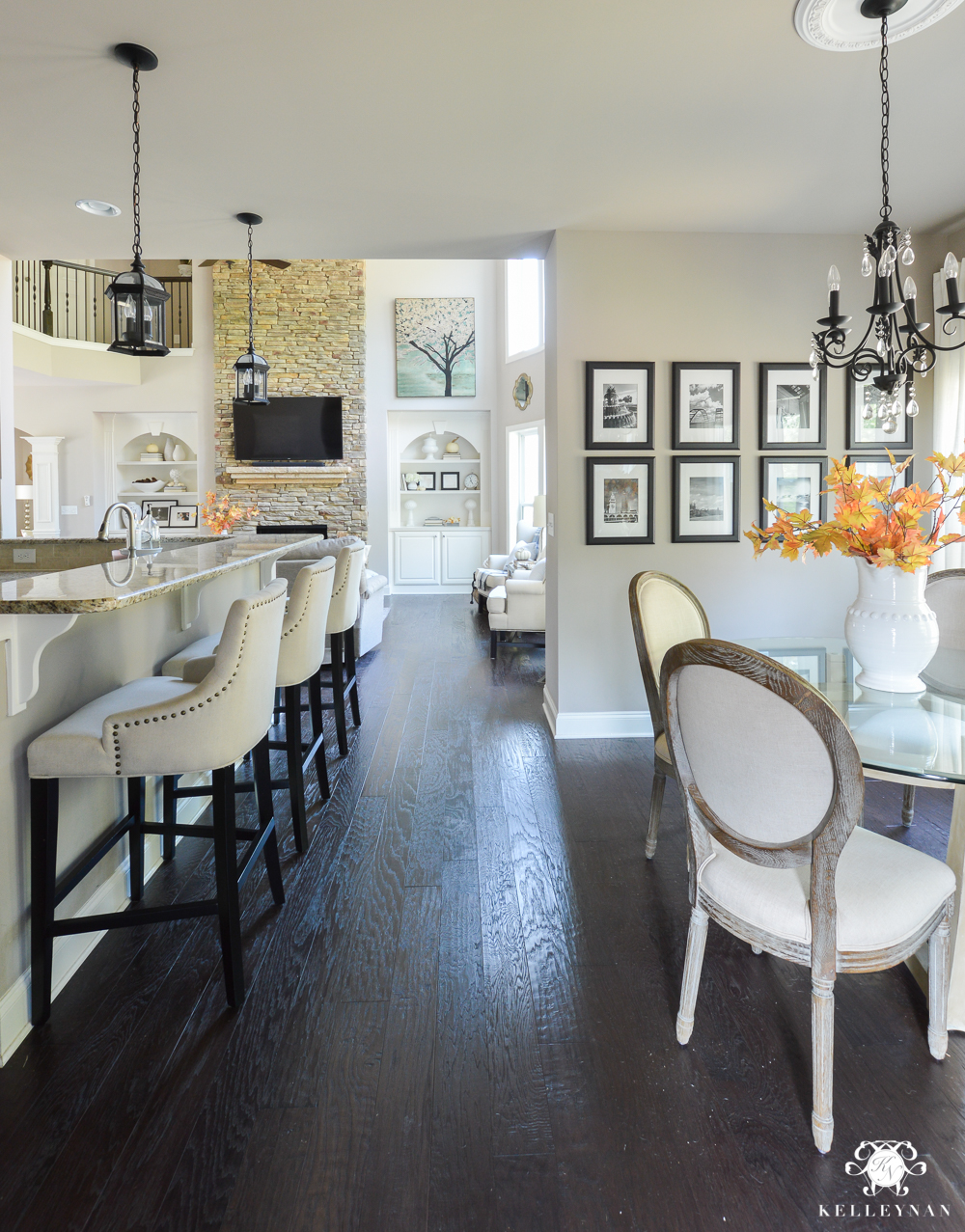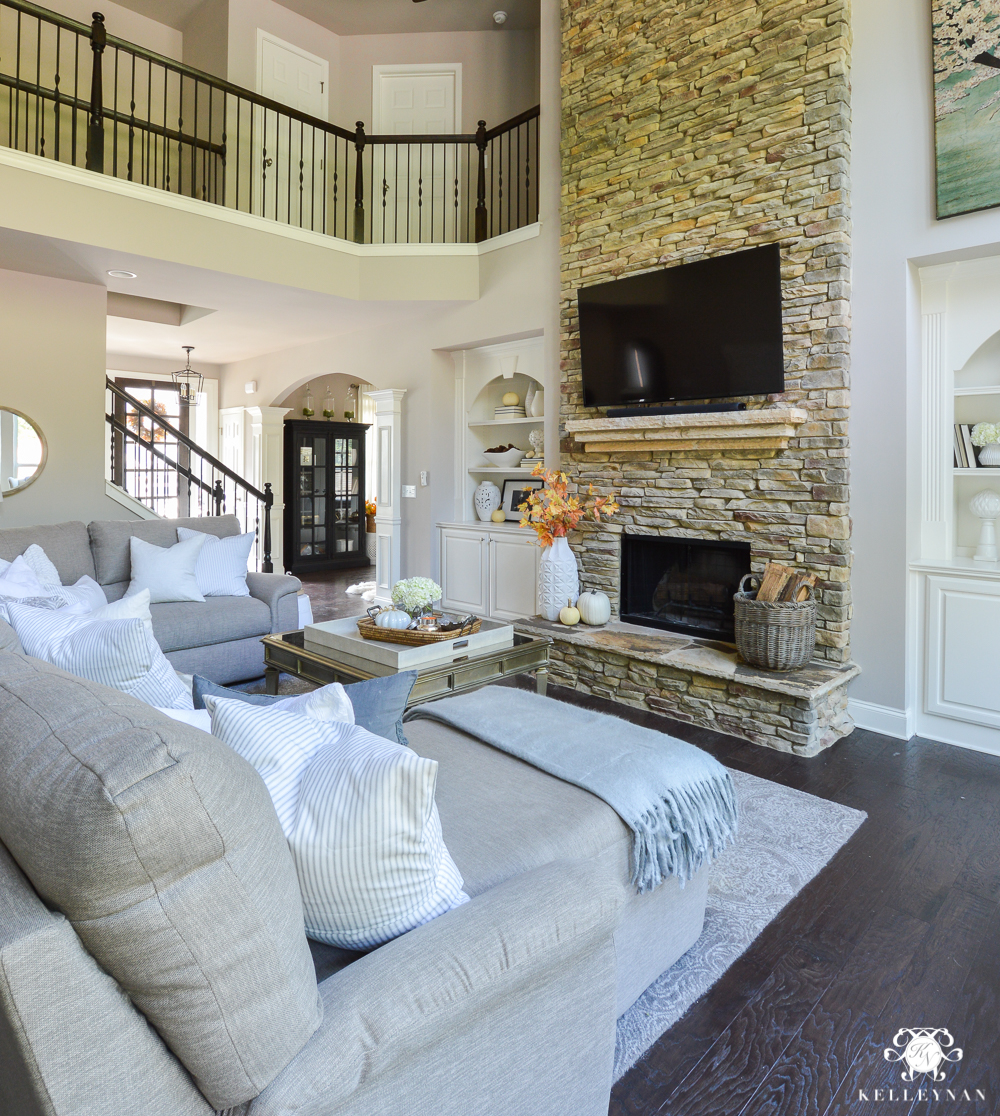 Last year, I was all about rich velvets. This year, I switched things up and went for a more light, "harvesty" ticking stripe to compliment my foliage, plaid, and chunky knits. I mixed in these ticking striped pillows , gifted by ElemenOPillows in several sizes and shapes with neutrals I already had. Even though I got them for fall, I could totally use them for spring, too. And summer. And… haha!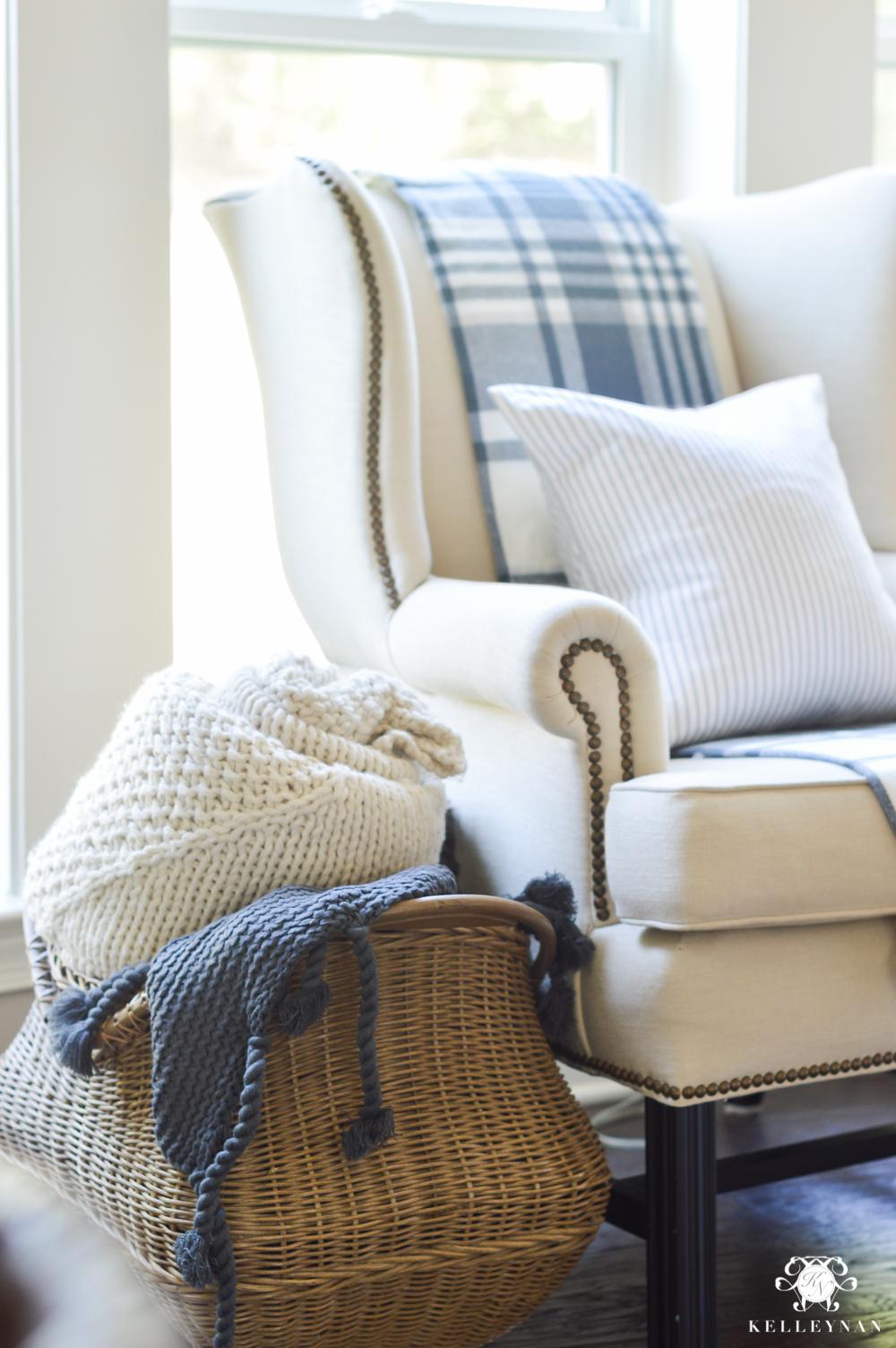 ---
GET THE LOOK | SCROLL & TAP TO SHOP

---
The light weight blankets have been put away for the year and my coziest gals have come out for the next several months.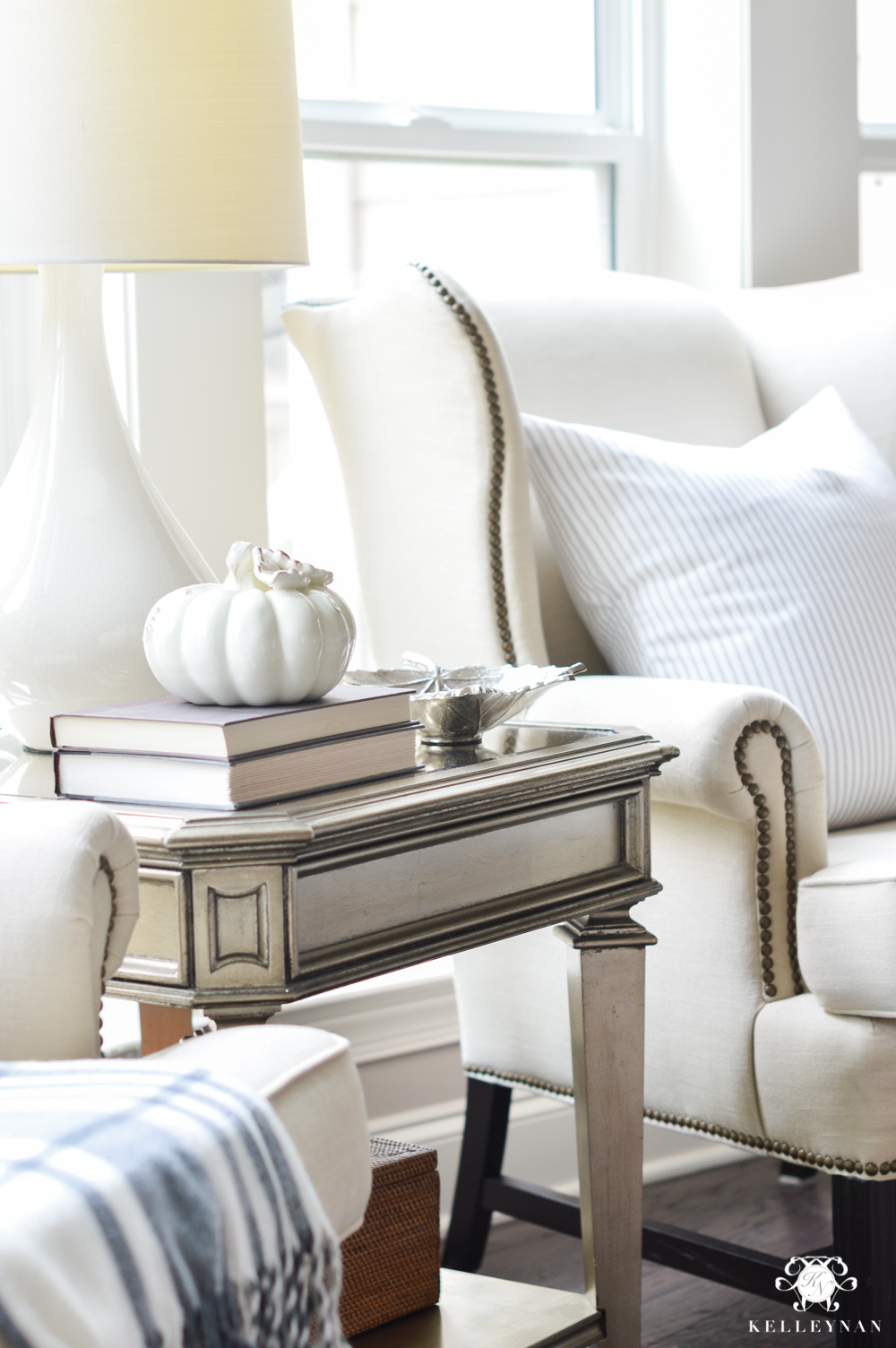 ---
GET THE LOOK | SCROLL & TAP TO SHOP

---
In years past, I have covered my built-ins with faux pumpkins. This year, I didn't even change the basic styling configuration. I'm totally loving how simple they look and how simple they were to style.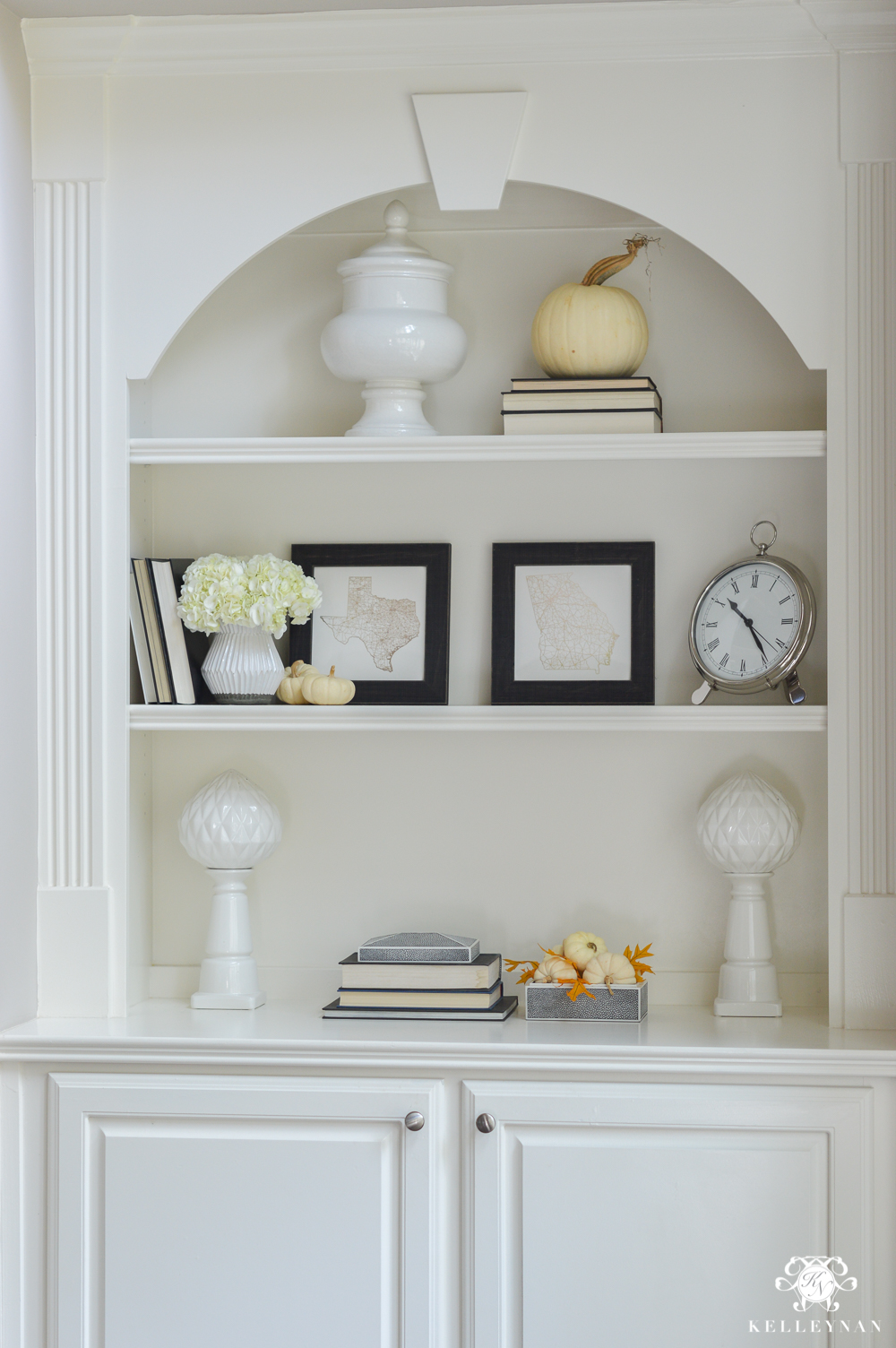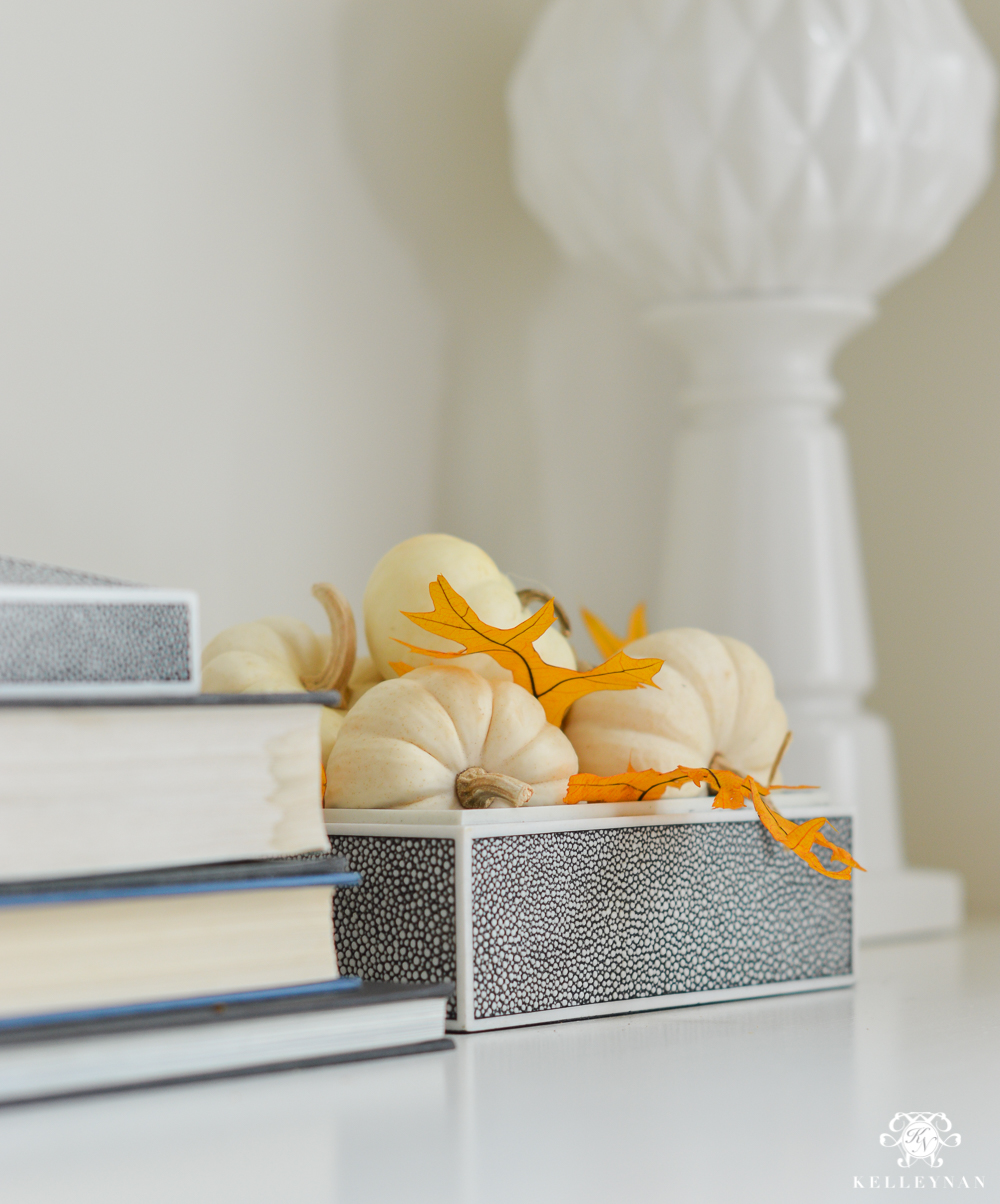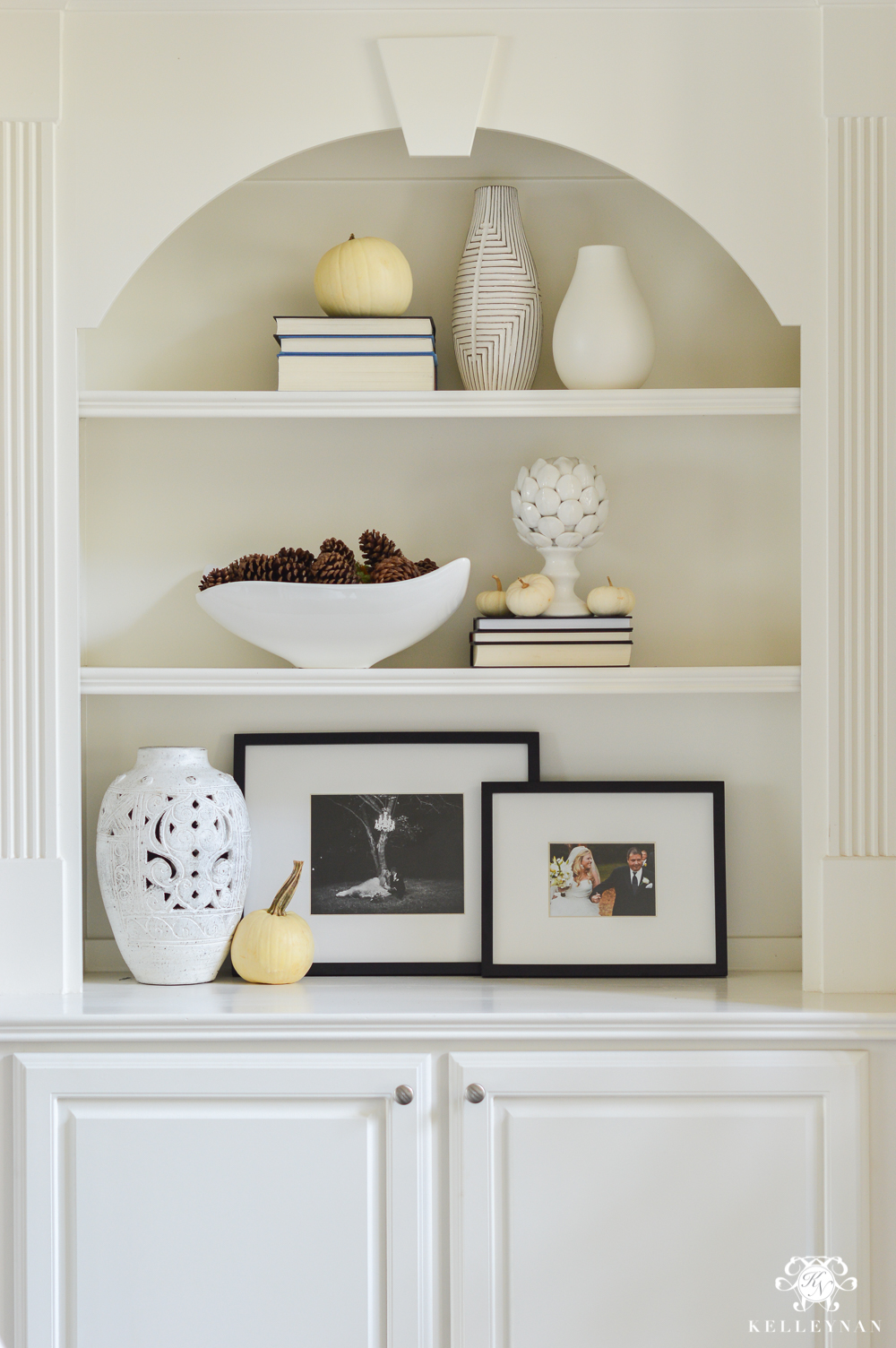 ---
GET THE LOOK | SCROLL & TAP TO SHOP

---
My volcanic ash vase that held fiddle leaf fig stems for the past several months was filled with the same foliage as the breakfast nook. And instead of my normal log carrier, I decided to take my basket trash can from the office to load with firewood.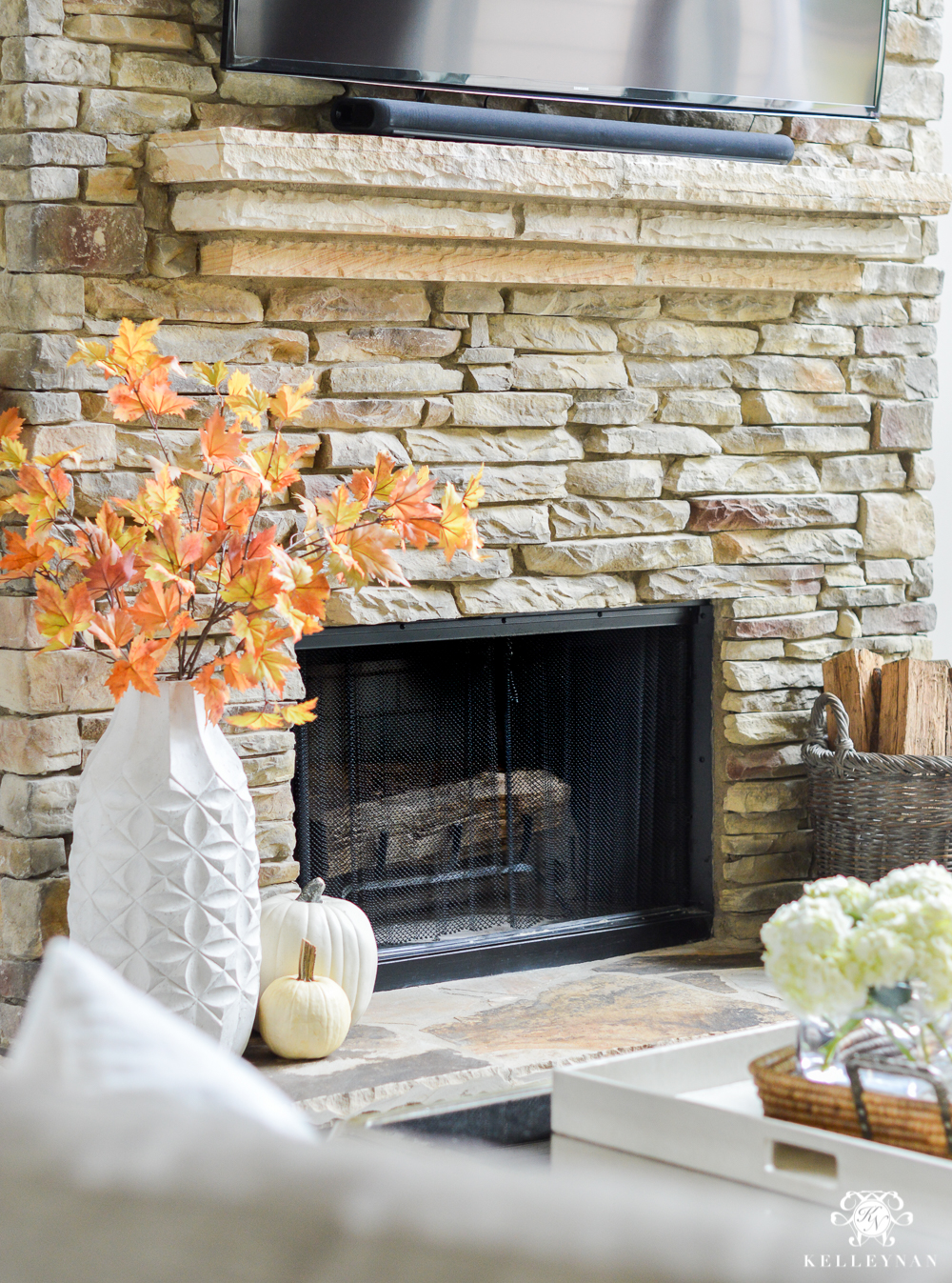 Around this point, someone started getting a little curious. THIS is Maggie.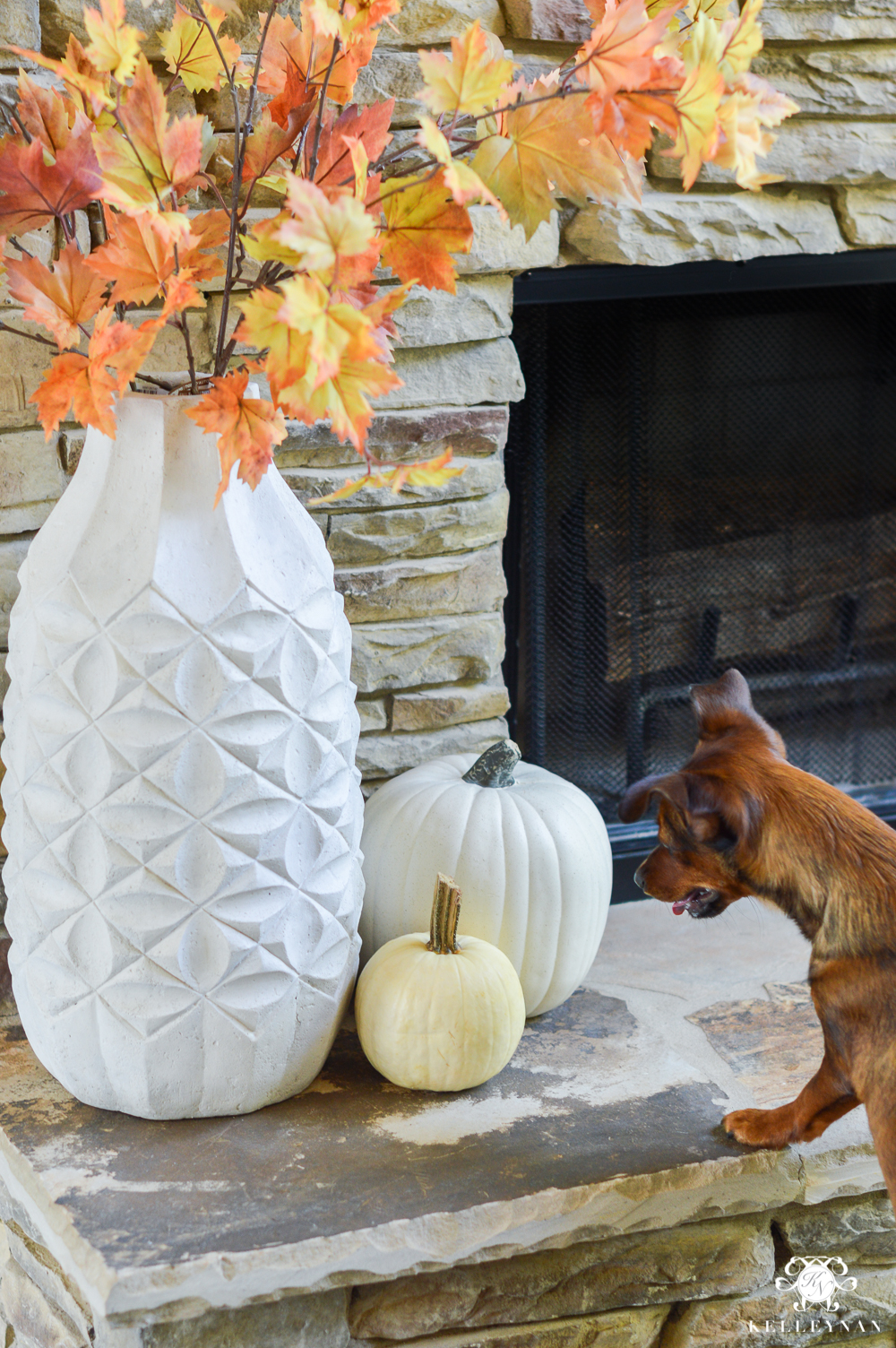 A little glimpse of the white pillows (totally good for any season), that I deemed as "fall". The ticking striped pillows are so subtle that they give just the right amount of "extra" without showing too much contrast.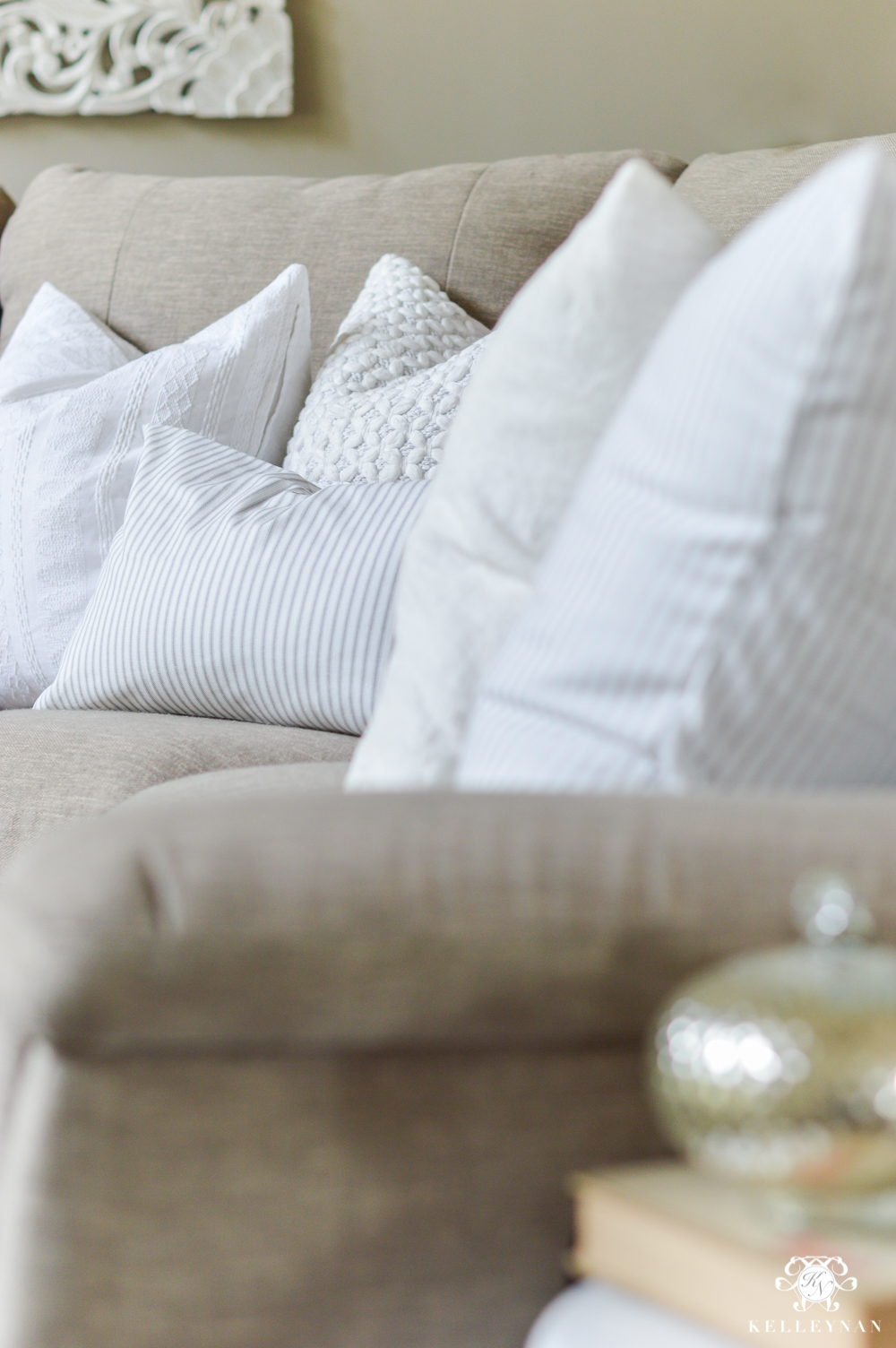 She's just as feisty as she looks 😉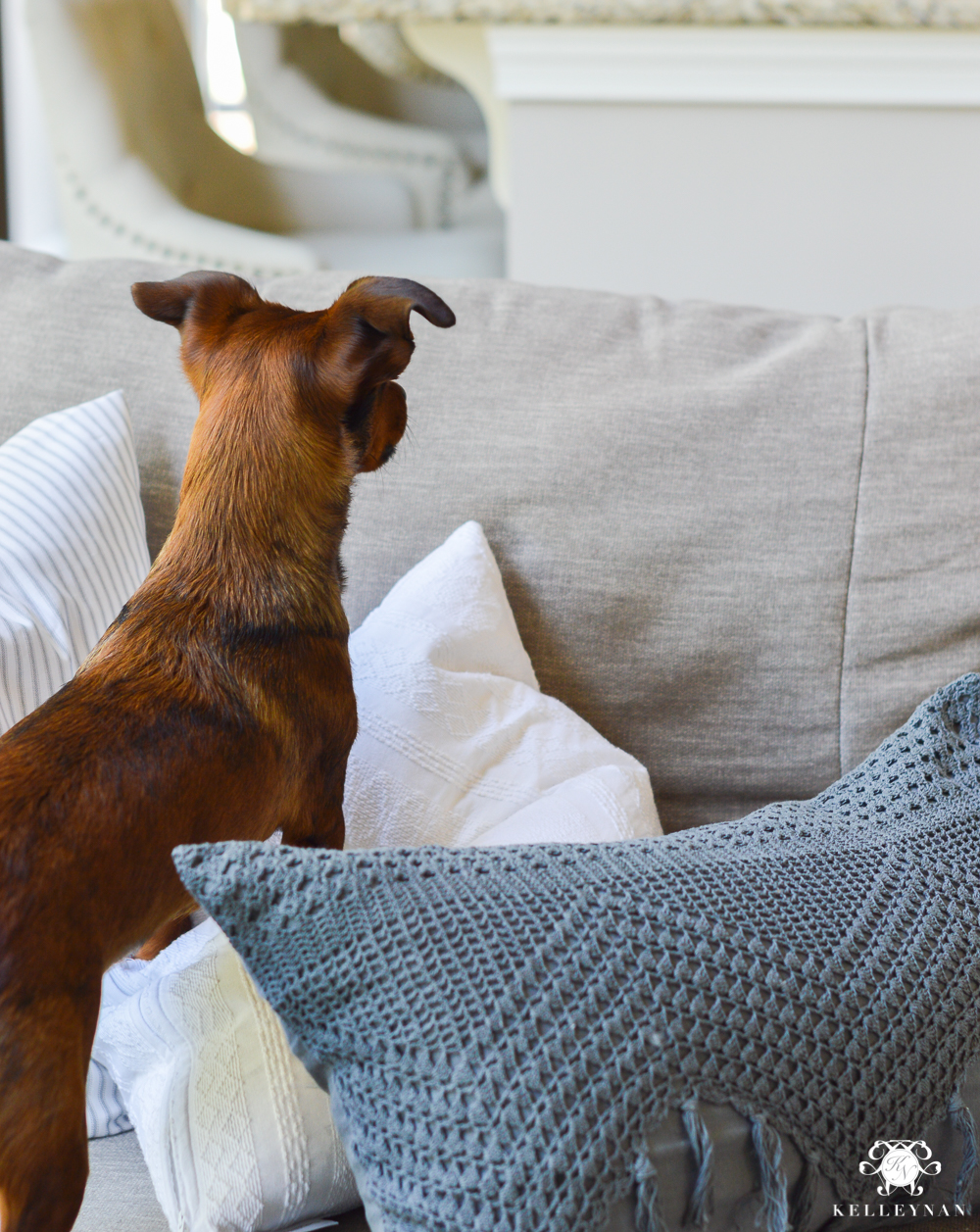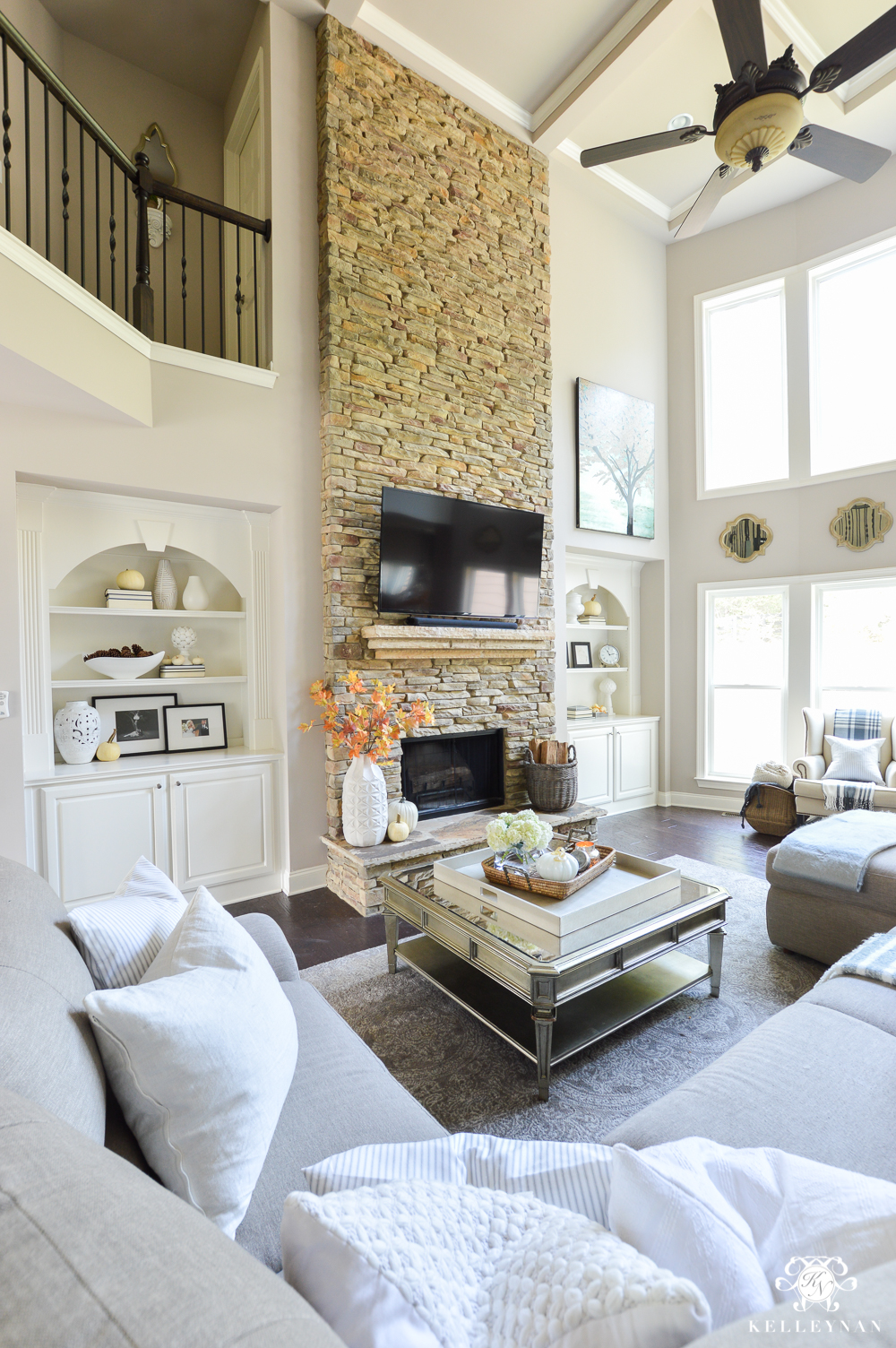 Remember those preserved leaves I talked about in my entry? They weren't in good enough shape to use the stems so I came up with the idea to take a variety of clear vessels and fill them with leaves as a little montage.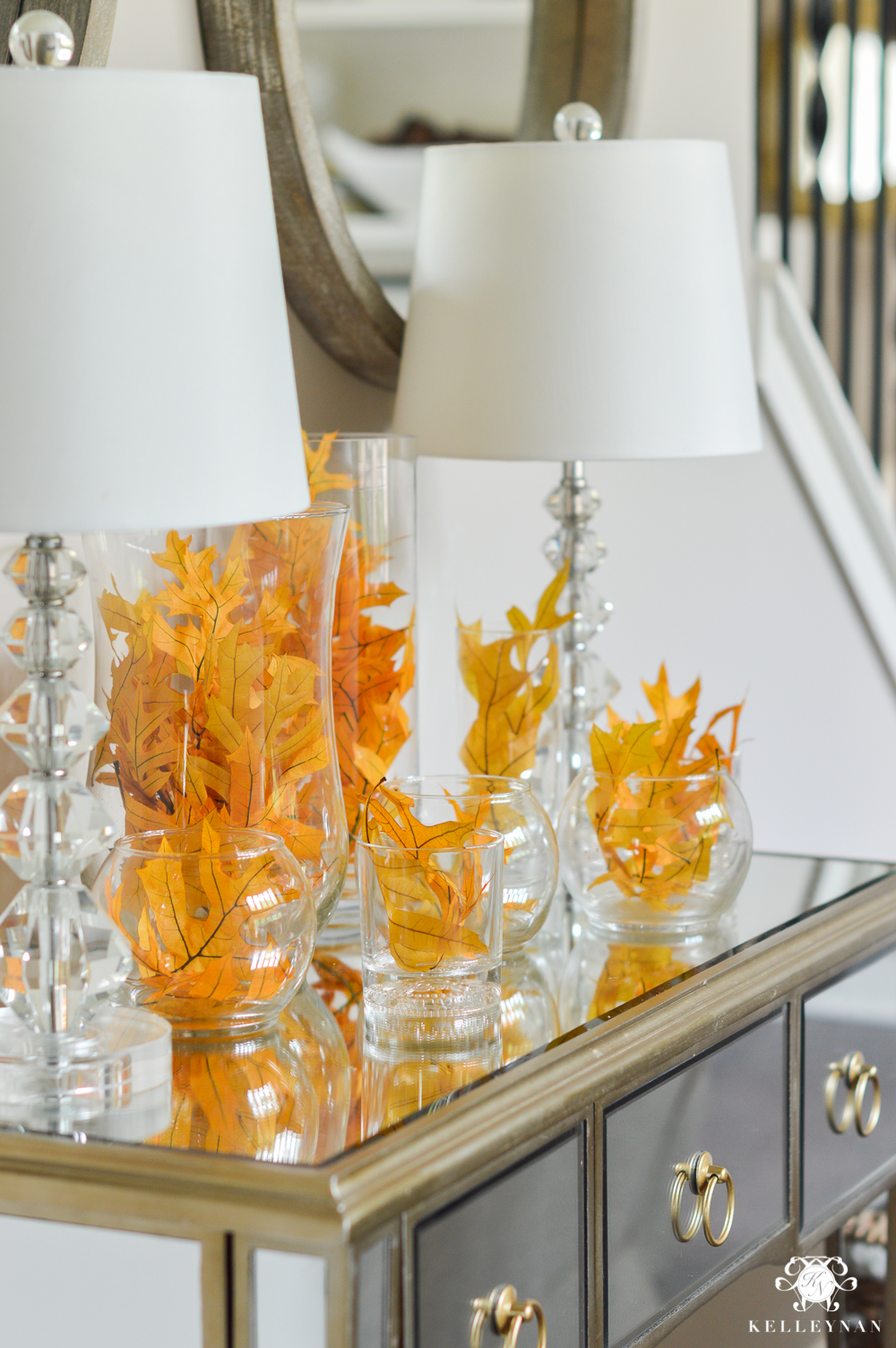 I don't really know what this is and I don't really care… because I love it!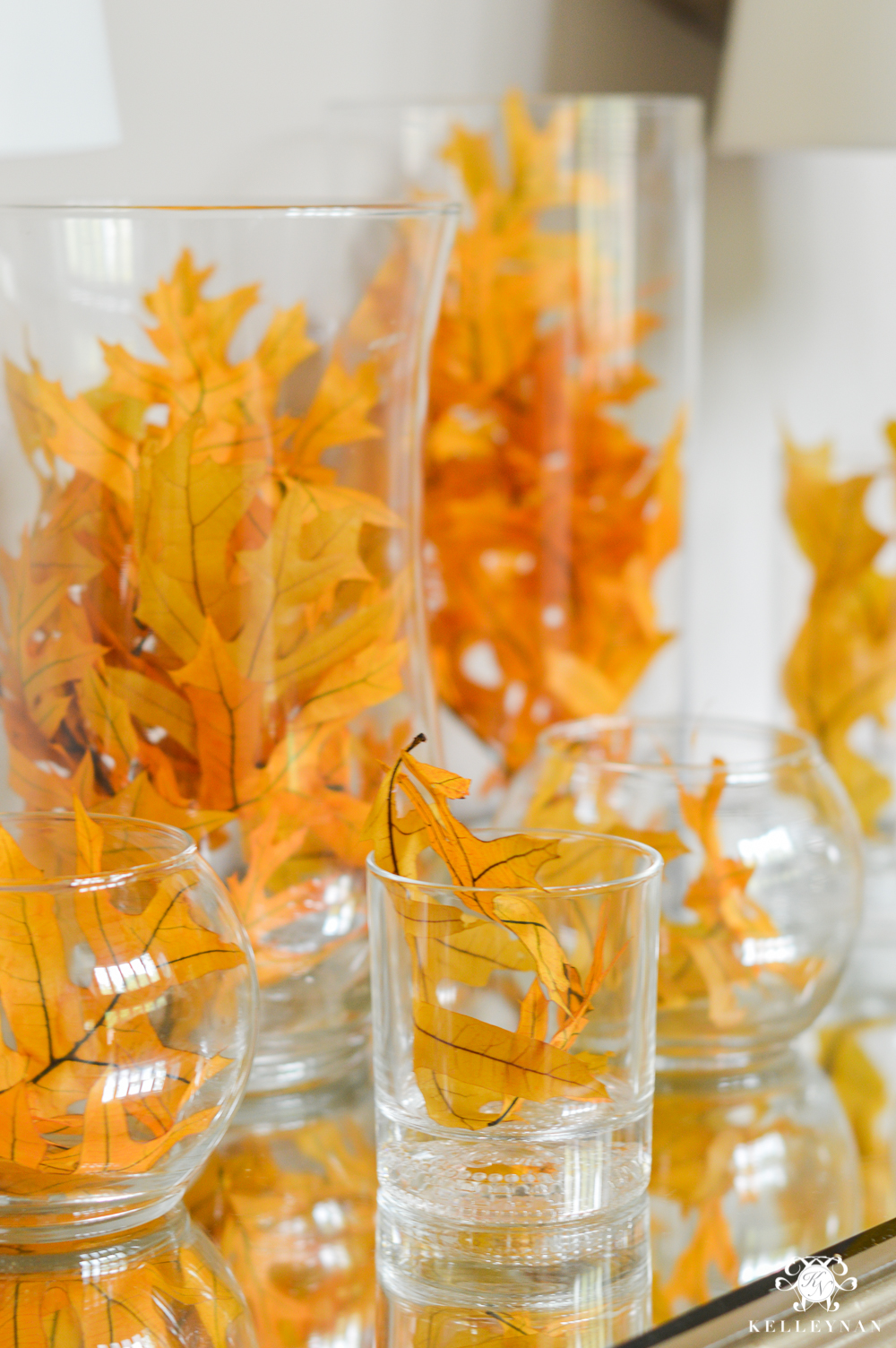 This is where we will be football watchin', Netflix bingin', and couch cuddlin' all season long <3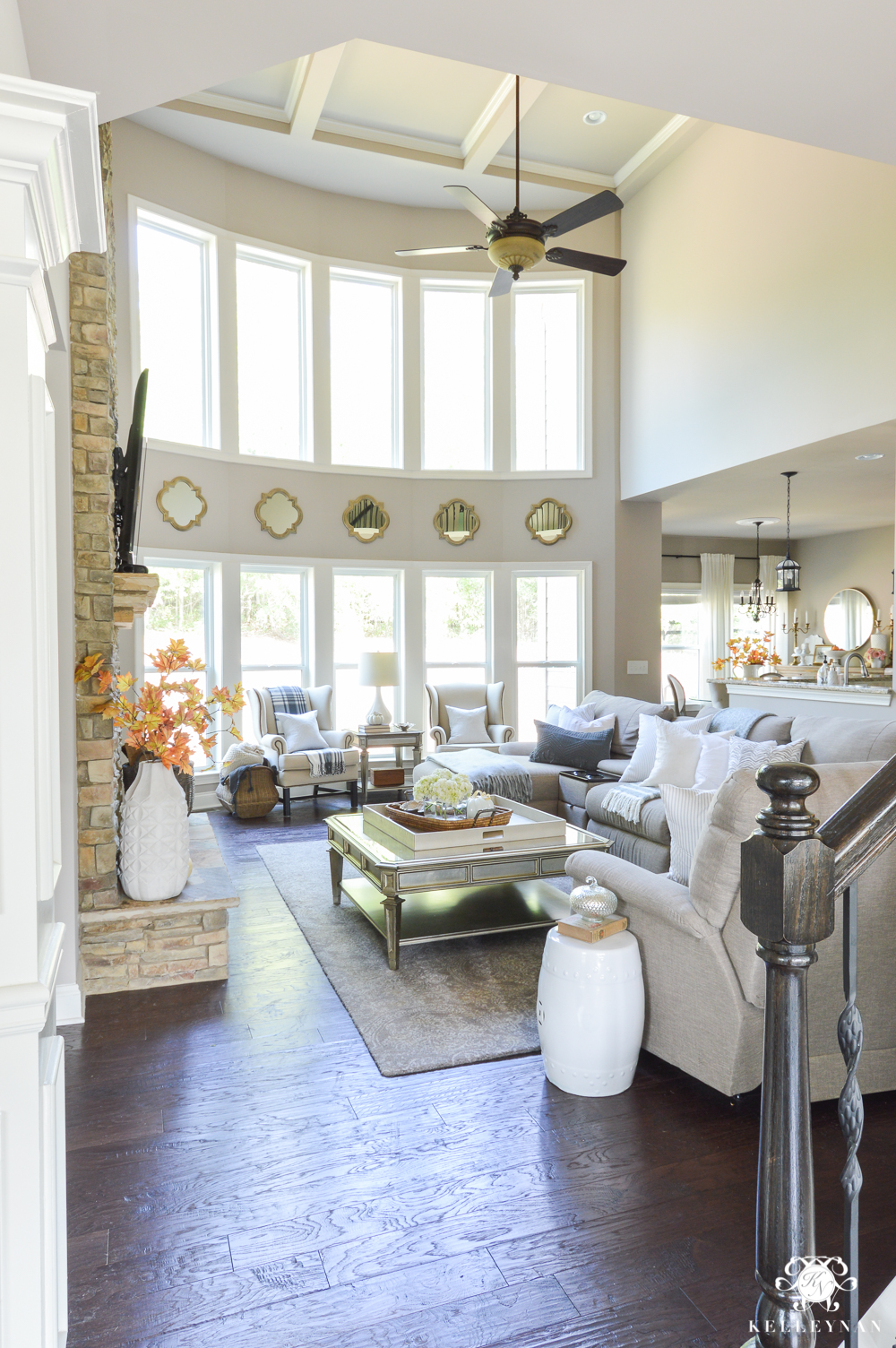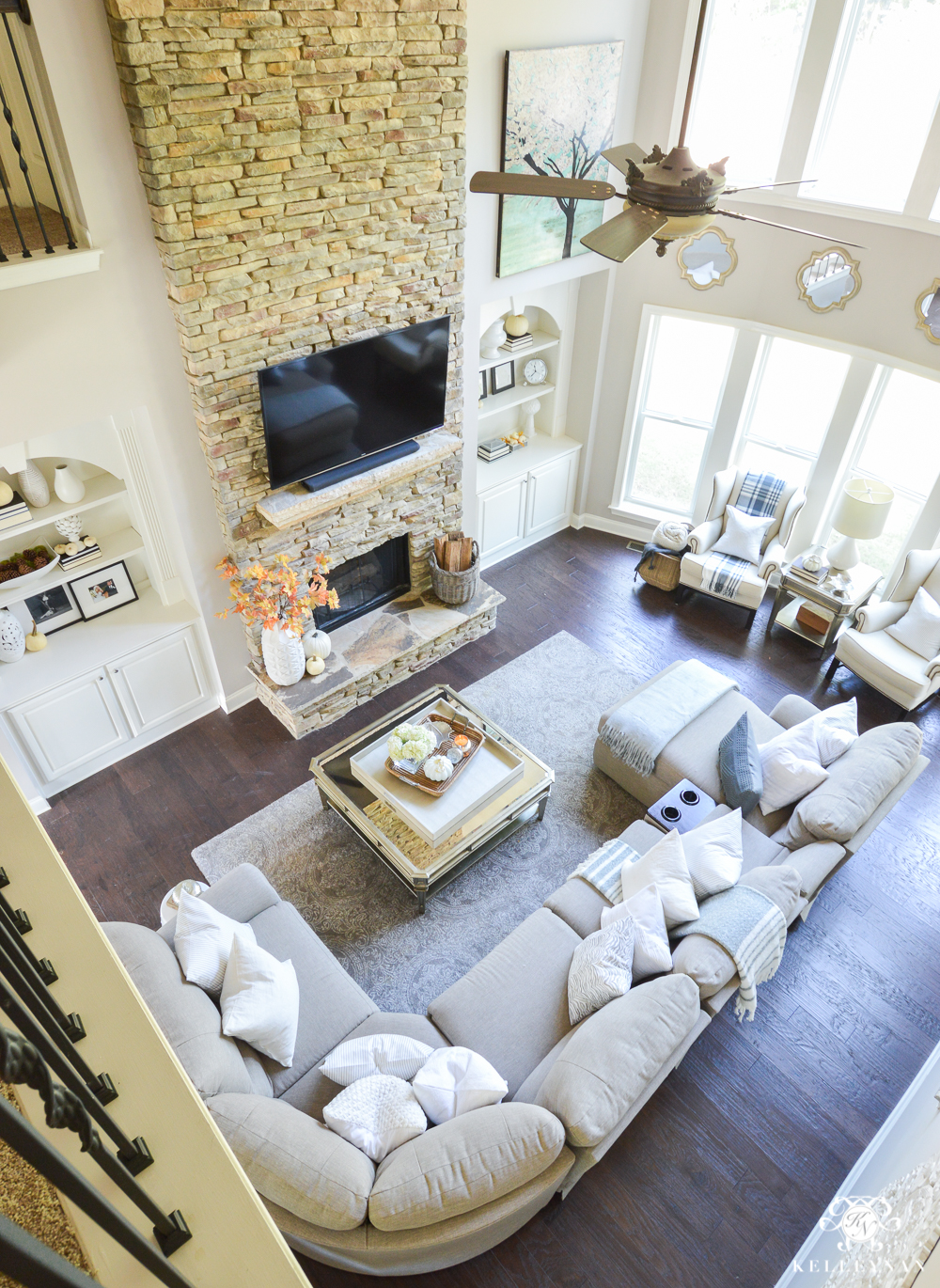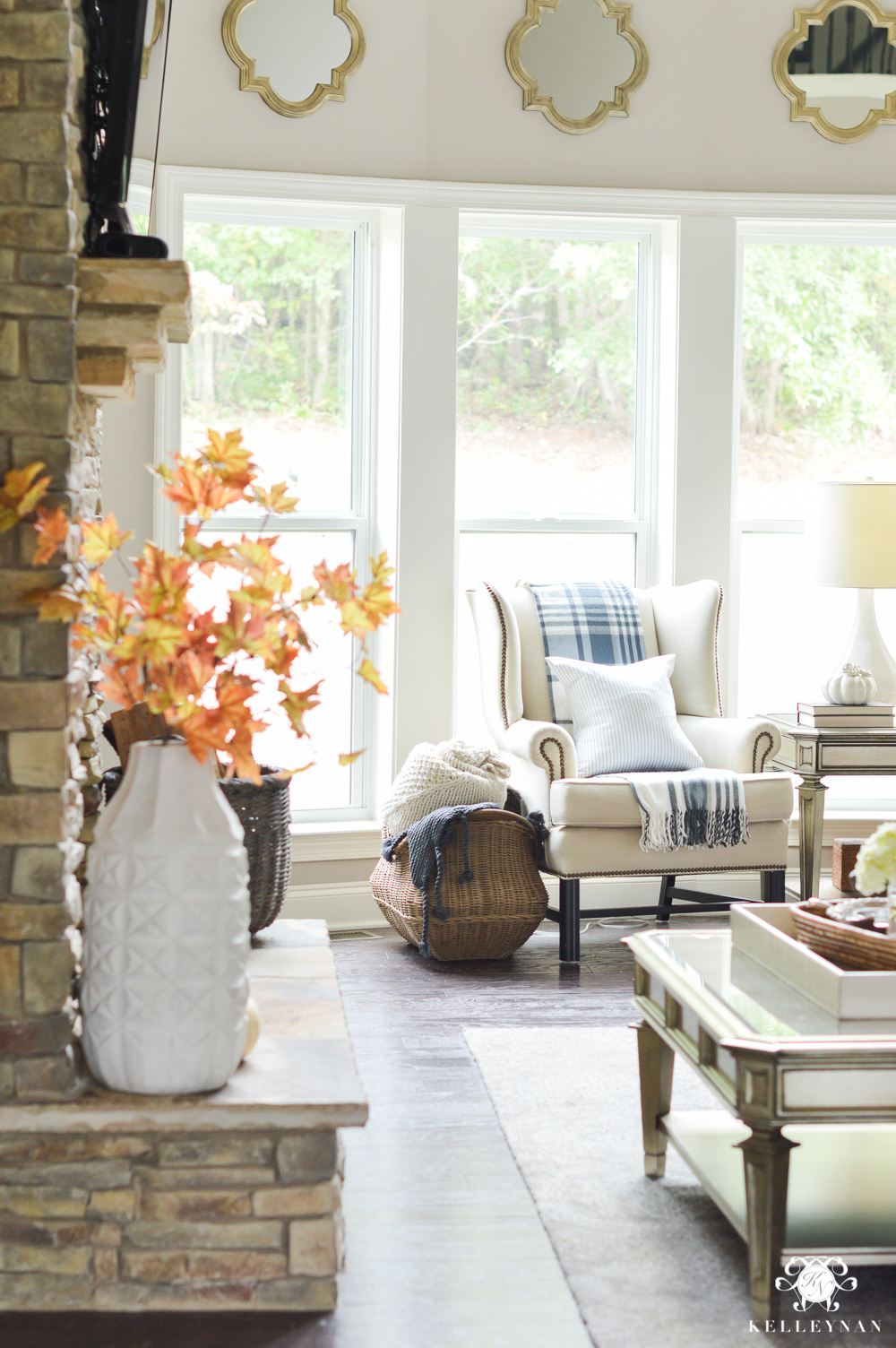 ---
GET THE LOOK | SCROLL & TAP TO SHOP

---

The last room we'll hit, just before heading out the door, is the sitting room. Few changes were made but with the warm metals, I think she looks best during this season 😉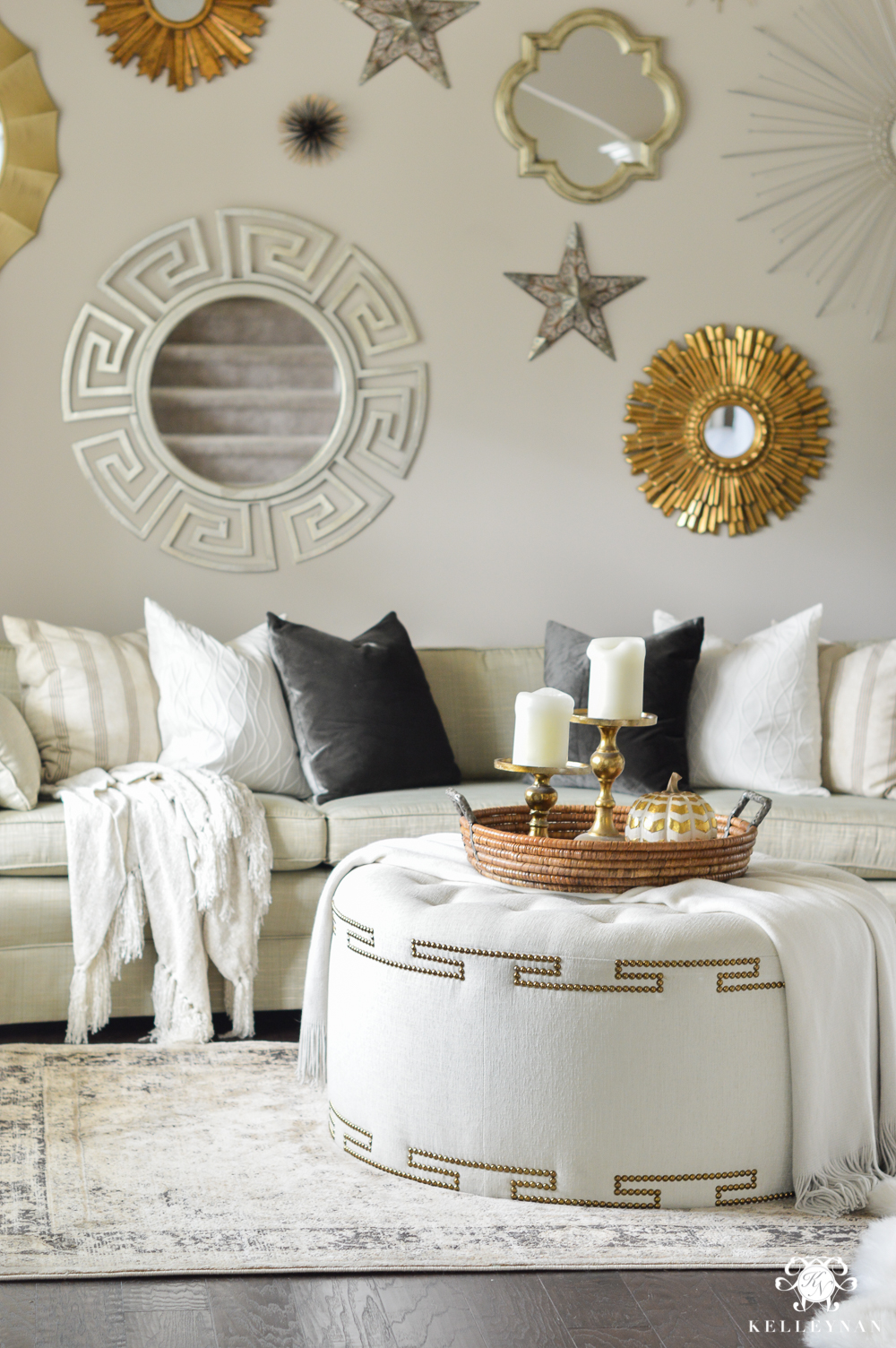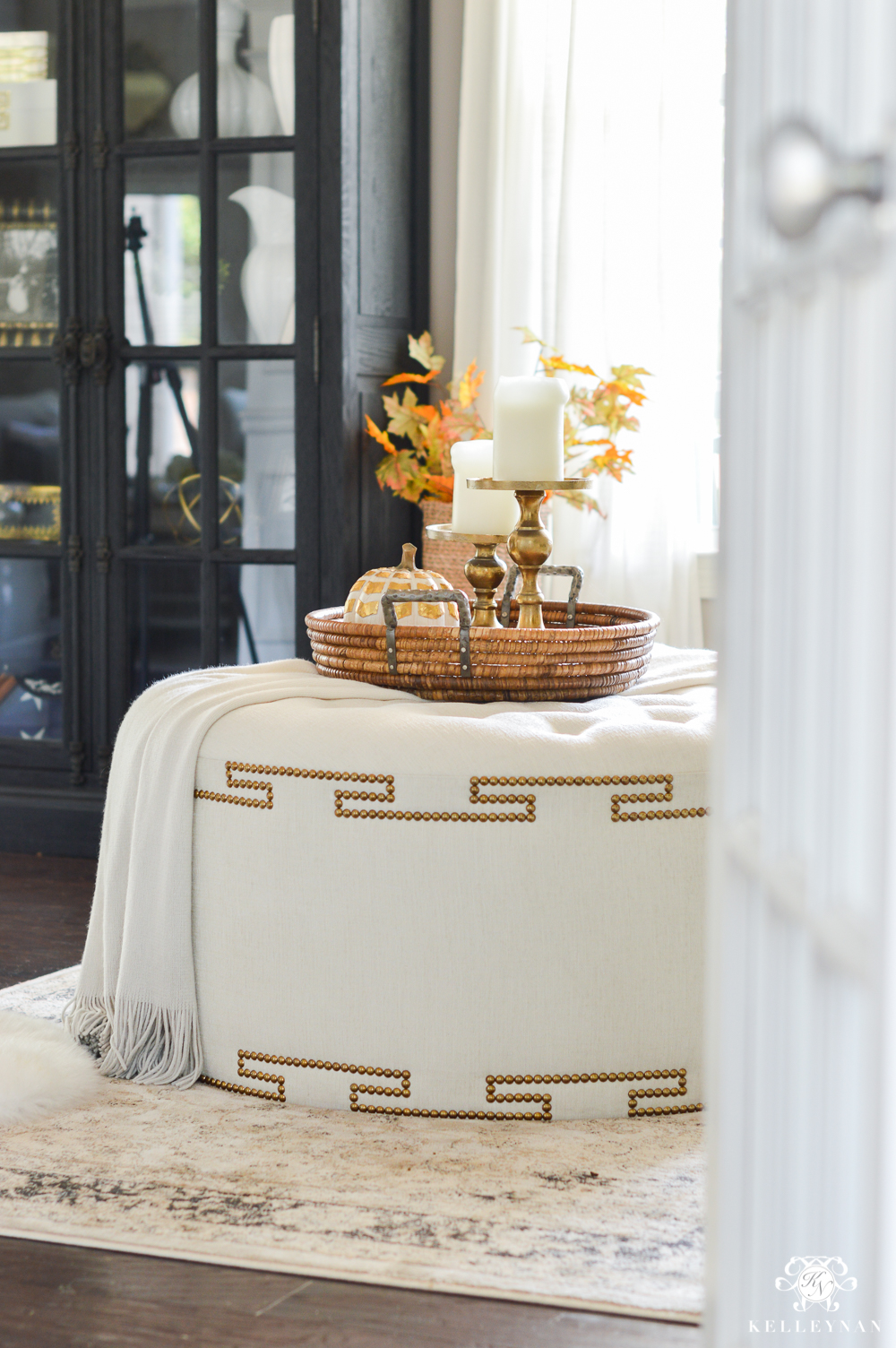 Ok, I fibbed 😉 Just beyond the French doors is one of our guest bedrooms. I shared a little update on that earlier this week, which you can see HERE. Yes, it has a couple of small pumpkins but the real fall update is that after 6 months, IT IS FINALLY CLEAN! 😉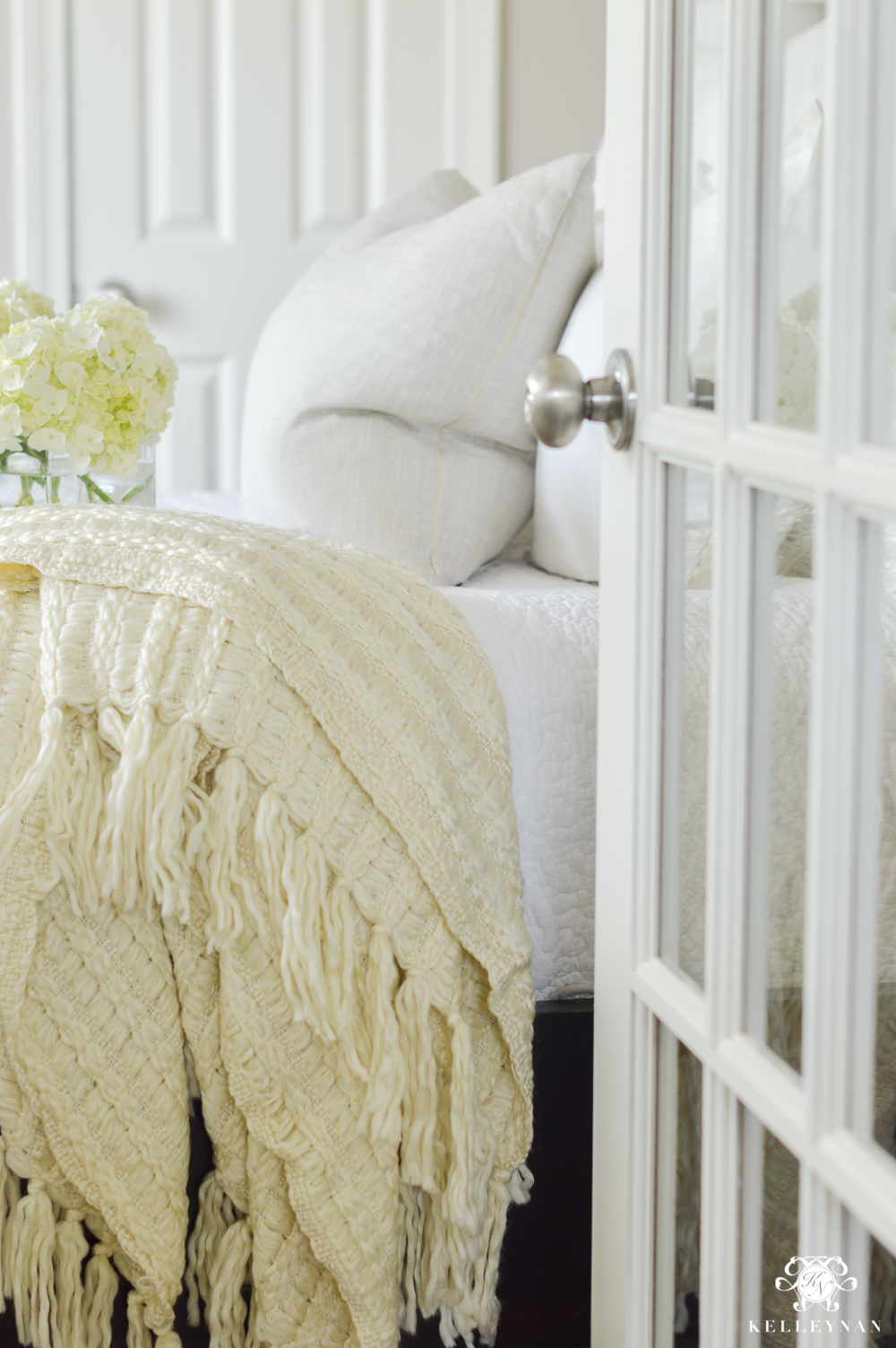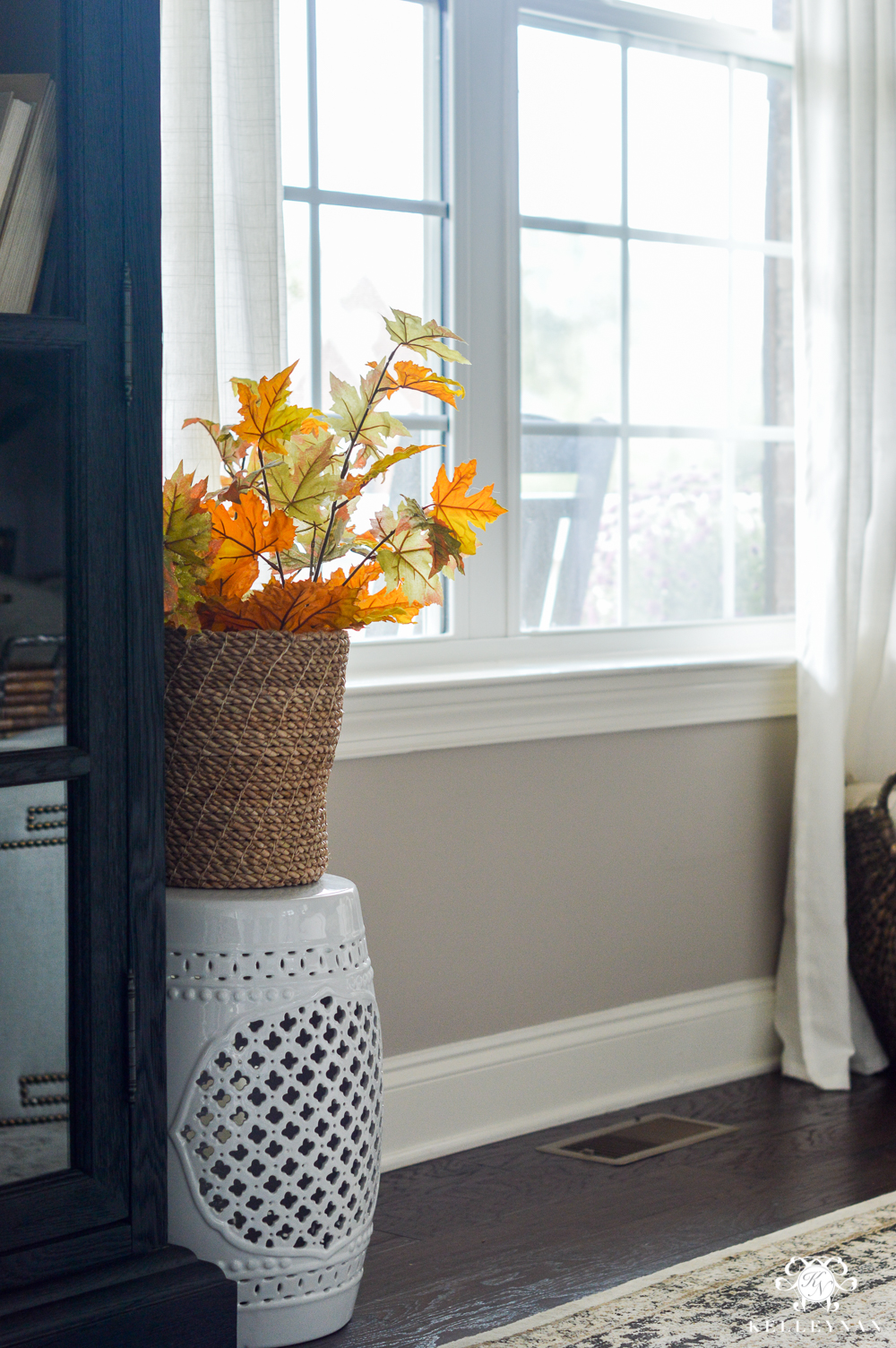 ---
GET THE LOOK | SCROLL & TAP TO SHOP

---
Thank you for stopping by and visiting with me today; I know it was a hefty tour and you may have finished your cup of coffee by now. Go ahead and pour another cup, settle back in, and next, head over to my friend Haneen of Haneen's Haven who is sharing her family room all decked out for the season! This lady isn't afraid of color so if your eyes got a little sleepy seeing all the neutrals in my home, Haneen will wake you right up! Here's a little peek-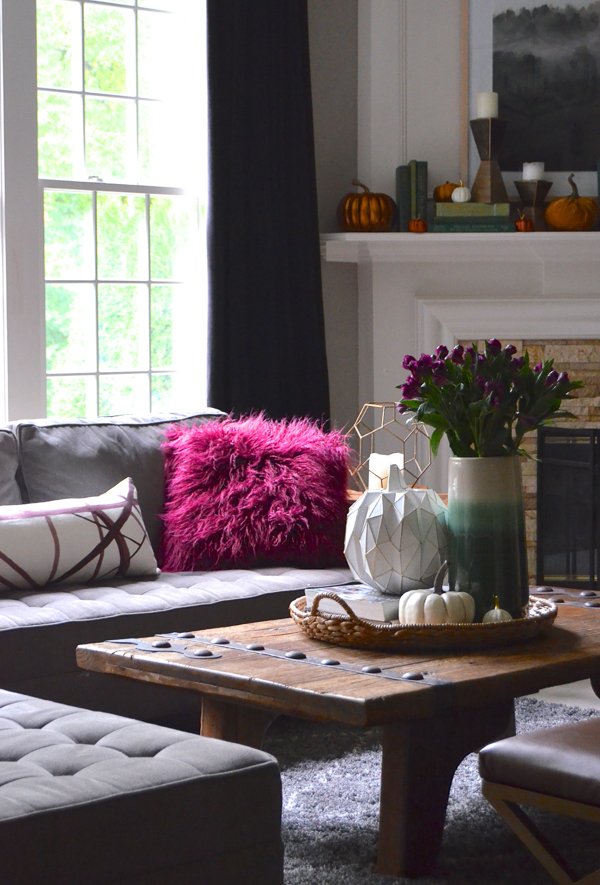 You won't want to miss my other talented friends I'm joining today so be sure to catch each of them via the links below. If you run out of time, you can bookmark this post and come back as you have time. Here are all my talented girls:
Haneen's Haven
Addison's Wonderland
Z Design at Home
Sunny Side Up
CitrineLiving
Randi Garrett Design
Driven by Decor
Decor Gold Designs
And, as I said in the intro, I will be sharing a few more details and space specifics over the next couple of weeks. To make sure you catch those, along with my upcoming master bedroom project, you can subscribe to my emails at the bottom of the post. Happy fall, y'all! xoxo

GREAT ROOM

Gray Plaid Throw | Gray & White Ticking Striped Pillows | Chunky Gray Throw with Tassels in Basket| Cream Chunky Throw in Basket | Gray Faux Mohair Throw on Chaise | Volcano Ash Floor Vase | White Vase | White Vase 2 | Accordion Vase | Terracotta Vase | Box with Pumpkins on Bookshelf | Ticking Striped Pillows | Tiger Striped Pillows |  Thatcher Wing Back Chairs | Table Lamp | Garden Stool | Blanket Basket | Quatrefoil Mirrors Between Windows | Gold Foil Texas & Georgia State Art Prints | White Lidded Urn | Tree Art | Log Basket | Round Mirrors: World Market – no longer available (SIMILAR) | Wooden Tray: Pottery Barn – no longer available (SIMILAR) | Volcano Candle | Mirrored Console Table: HomeGoods (SIMILAR) | Console Table Lamps: HomeGoods (SIMILAR) | Oversized Tray | ZGallerie Palais Side Table (IDENTICAL) | ZGallerie Palais  Coffee Table (IDENTICAL) | Rug: HomeGoods (SIMILAR) | Alarm Clock | Sofa: La-Z-Boy Aspen Collection | Fan: Progressive Lighting | Paint: Versatile Gray by Sherwin Williams | Flooring: Nottaway Hickory in Weathered Saddle
FORMAL LIVING ROOM



Faux Fiddle Fig (SIMILAR) | Basket (SIMILAR) | Greek Key Ottoman | Floor Lamp | Silver Garden Stool | White Garden Stool | Curtain Panels
: (98″ in White) | Curtain Rod | Ottoman Basket Tray: Pottery Barn – no longer available (SIMILAR) | Chair | Sheepskin: Costco (SIMILAR) | Table Lamp | Rug: HomeGoods (SIMILAR) | Apothecary Jars | Brass Candle Holders: HomeGoods (SIMILAR) | Sofa: Antique | Restoration Hardware French Casement Double-Door Cabinet in Black Oak Drifted | Side Table: HomeGoods (SIMILAR)| Basket (SIMILAR) | Pier One Art – no longer available | Striped Pillows | White Pillows: HomeGoods (SIMILAR) | Gray Velvet Pillows: HomeGoods (SIMILAR) | Sunburst Mirrors: Various Sources – (Similar HERE, HERE, HERE, HERE) | Quatrefoil Mirror | Wall Urchins | Paint: Versatile Gray by Sherwin Williams | Flooring: Nottaway Hickory in Weathered Saddle
KITCHEN
Bar Stools | Marble Cheese Board | Wooden Paddle Board | Soap Pedestal | Acrylic Tray | Marble & Wood Cutting Board | Wooden Bowl: Pottery Barn Outlet | Round Wood Wall Decor (SIMILAR)| Coasters | Pedestal | Ceramic Artichoke (SIMILAR) | Pedestal Bowl: HomeGoods (SIMILAR) | Candle Holders | Refrigerator | Cabinet Pulls: Pewter (SIMILAR) | Gravy Boat | Faucet | Stainless Cooktop
 | Stainless Steel Canopy Pro Style Wall Mount Range Hood
 | Paint: Perfect Greige by Sherwin Williams | Cabinet Paint: Unknown | Granite: Giallo Ornamental  | Backsplash: Puebla Travertina Beige in 3×6 tiles with Snow White Grout | Flooring: Nottaway Hickory in Weathered Saddle
BREAKFAST NOOK
Chairs | Table: Refinished (PROJECT HERE) | Chandelier | Round Mirror (SIMILAR) | Curtain Panels
: (98″ in White) | Curtain Rod |  White Soup Tureen | Platter | Sideboard: HomeGoods (SIMILAR) | Candelabras (SIMILAR) | Ice Bucket | Wine Cooler | Wine Trough | Cake Stands: HERE, HERE, HERE| Espresso Cups & Saucers | Ceramic Vase (SIMILAR) | Paint: Perfect Greige by Sherwin Williams | Flooring: Nottaway Hickory in Weathered Saddle
DINING ROOM
Chairs – Linen | Bar Cart | 12-Light Chandelier
 | Tapered Candle Sticks | Pillar Candle Holders | Gold Flatware | Mirror: Homegoods – (SIMILAR) | Dining Table:  (84″ in Salvaged Brown) | Buffet: (72″ in Distressed White) | Curtain Panels
: (98″ in White) | Rug: HomeGoods- Safavieh | Lamps: HomeGoods – (SIMILAR) | Silver Tea Service: Family Heirloom – (SIMILAR) | Cream Table Runners | Plaid Table Runner & Plaid Napkins: HomeGoods | Church Painting | Water Lillies Art | Paint: Lauren's Surprise by Sherwin Williams | Flooring: Nottaway Hickory in Weathered Saddle
*Note: Post contains affiliate links and sources throughout the post. Where product is no longer available, a similar substitute has been listed.