It's just about time to launch this year's Christmas annual Christmas Home Tour and right after questions about how I add ribbon to our Christmas trees (see that full tutorial HERE), one of the next most popular questions is how I embellish my mantel garland. Today, we're gonna break it down, step by step with the exact process I go through to achieve the final look for our Christmas mantel garland.
Each year, I do a lot of decor repurposing and I try to work with what I have to reinvent my decor from year to year. I work with a few basic essentials that I can personalize each year which, 1. cuts down on costs; 2. cuts down on storage space (let's face it though, holiday decor will always take up a ton of space!); and 3. gives me the ability to approach each season as a blank canvas for creativity. And with my repeat decor that I haul out each year, one of my favorite projects is concepting and "building out" our Christmas mantel garland.
*Posts on KelleyNan.com may contain affiliate links. As an Amazon Associate I earn from qualifying purchases. Click HERE for full disclosure.
Before we get into it, you can find some of my latest Christmas highlights in the annual home tours of the past few years…
And here's an idea of how I embellish my same base strand of Christmas mantel garland each year — similar but different…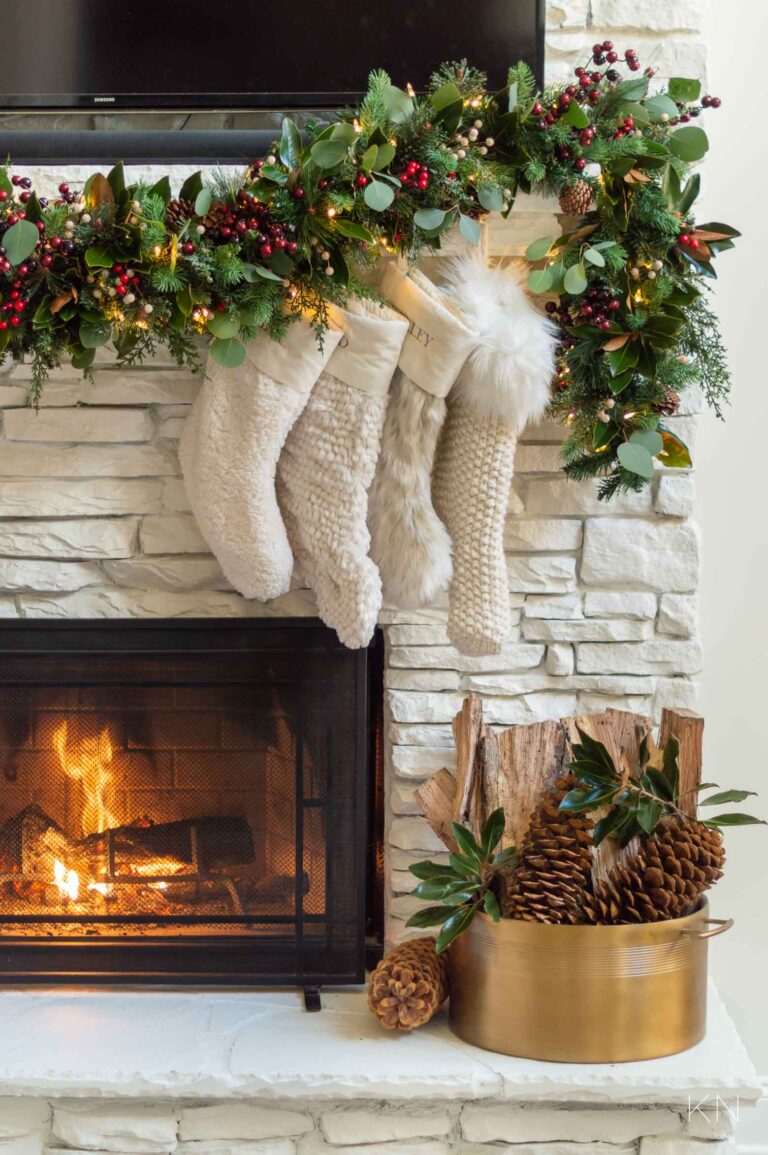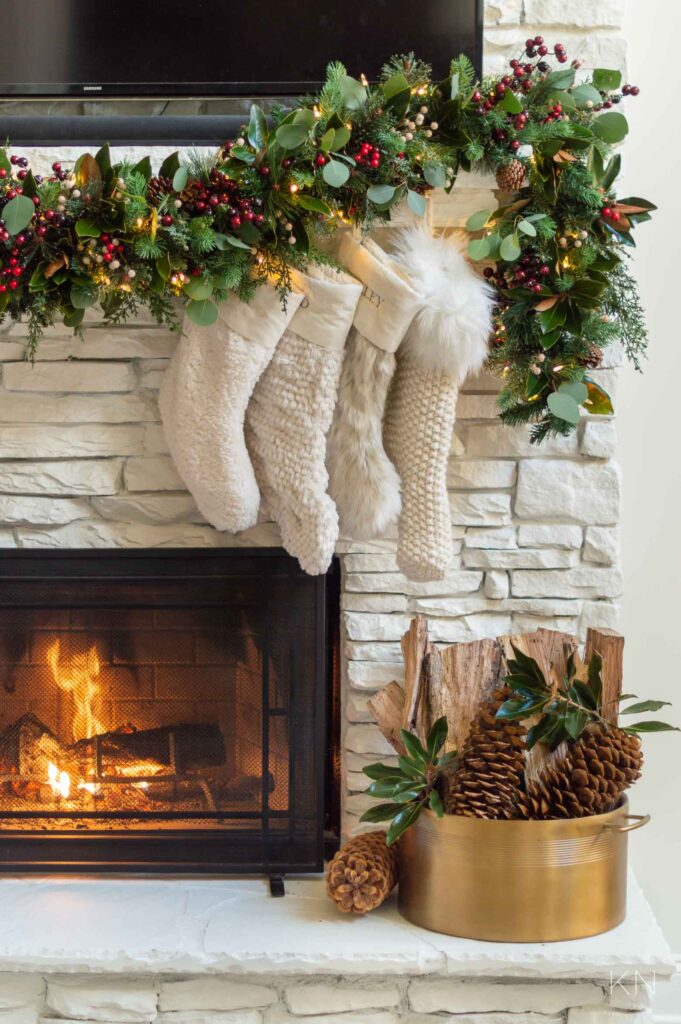 Once you have the garland, let's get to it!
Step 1. Put Yourself in the Holiday Spirit
Obvi 😉 Light a holiday candle, put on the Christmas tunes, fix a winter cocktail, turn on Hallmark movies, or put in your AirPods with a Christmas audiobook! Whatever it is that gets you feeling those holiday vibes, do that so you set the stage to enjoy your annual seasonal decorating, instead of treating it like a chore.
Step 2: Invest In a Piece of Christmas Mantel Garland
There are some beautiful garlands out there, dressed in all kinds of ornaments and glitz. But, if you enjoy mixing up your Christmas decor, changing colors and themes, and personalizing your garland each year to coordinate with your motif, switching garlands each year can get expensive quickly. It also limits your own creativity with what has become one of my favorite decorating projects. Instead of opting for a fully embellished garland, I use the same piece of green garland each year, adding to it to make it something unique and special.
You can add as much or as little as you like, but here are some of the qualities I like for my inexpensive greenery (from Costco). I will recommend this one as a great quality and value every single time.
It's pre-lit. The warmth of the bulbs matches the same warmth of my Christmas tree lights and I have the same garlands strung together along the banister. While mine does have remote control settings, also, and can turn from white to colored lights, that's an unnecessary extra.
The length covers my full mantel, plus some, so I don't have to use more than one piece.
It's full. While you can make even the skimpiest pieces of garland look great, I love that even in the years I want to be more minimalistic, I don't have to do a lot to make it look substantial.
It has different types of branches, and even a few pinecones scattered in. I think this is one of the most important keys to making your basic garland look more expensive. It has a mix of the wiry branches, rubber needled branches, and even some fluffier branches.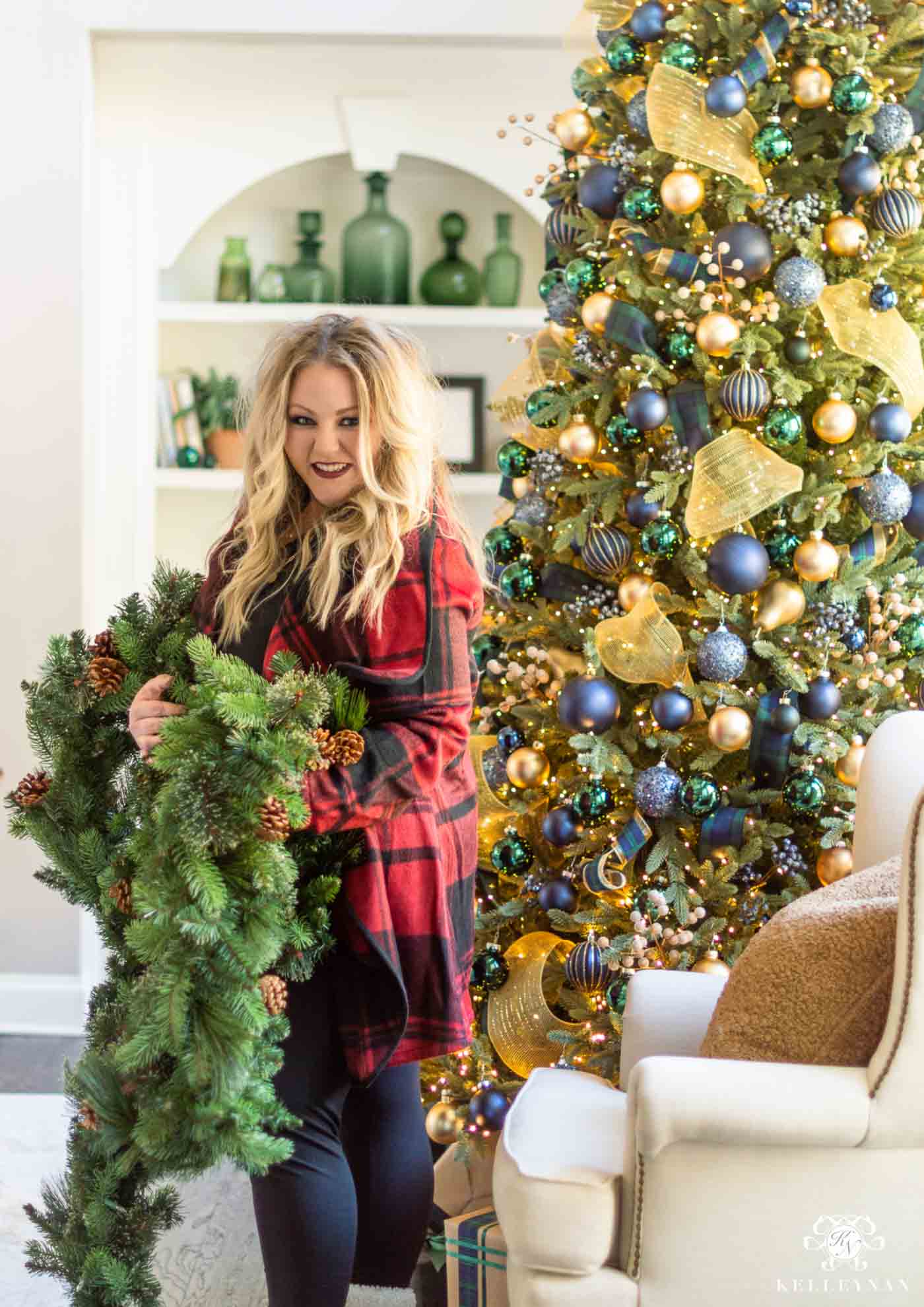 Bottom line — find yourself a garland that is basic, but could stand on its own, also. That being said, with the steps below, I still believe you can make even the thinnest, most sparse strands of greenery look great with a little TLC!
Step 3: Hang Your Christmas Mantel Garland
When our home was built, we had the builder install an outlet behind the tv (as well as a conduit for any cables that would need to be run, out of sight, to the inside of the bottom right cabinet. If you don't have an easy power source, you can use wire twinkle lights that run off batteries ;). The TV is pulled out slightly so you can see the ugly cords (*makes mental note to tidy those up, haha) and surge protector in the back.
You can run the garland straight across the mantel, or do a swoop — last year, we did a "barely there" swoop; this year, I wanted to go just a little deeper to provide easier access to the soundbar and TV receiver path. If you're using plug-in garland, make sure your placement is on the correct side, closest to power.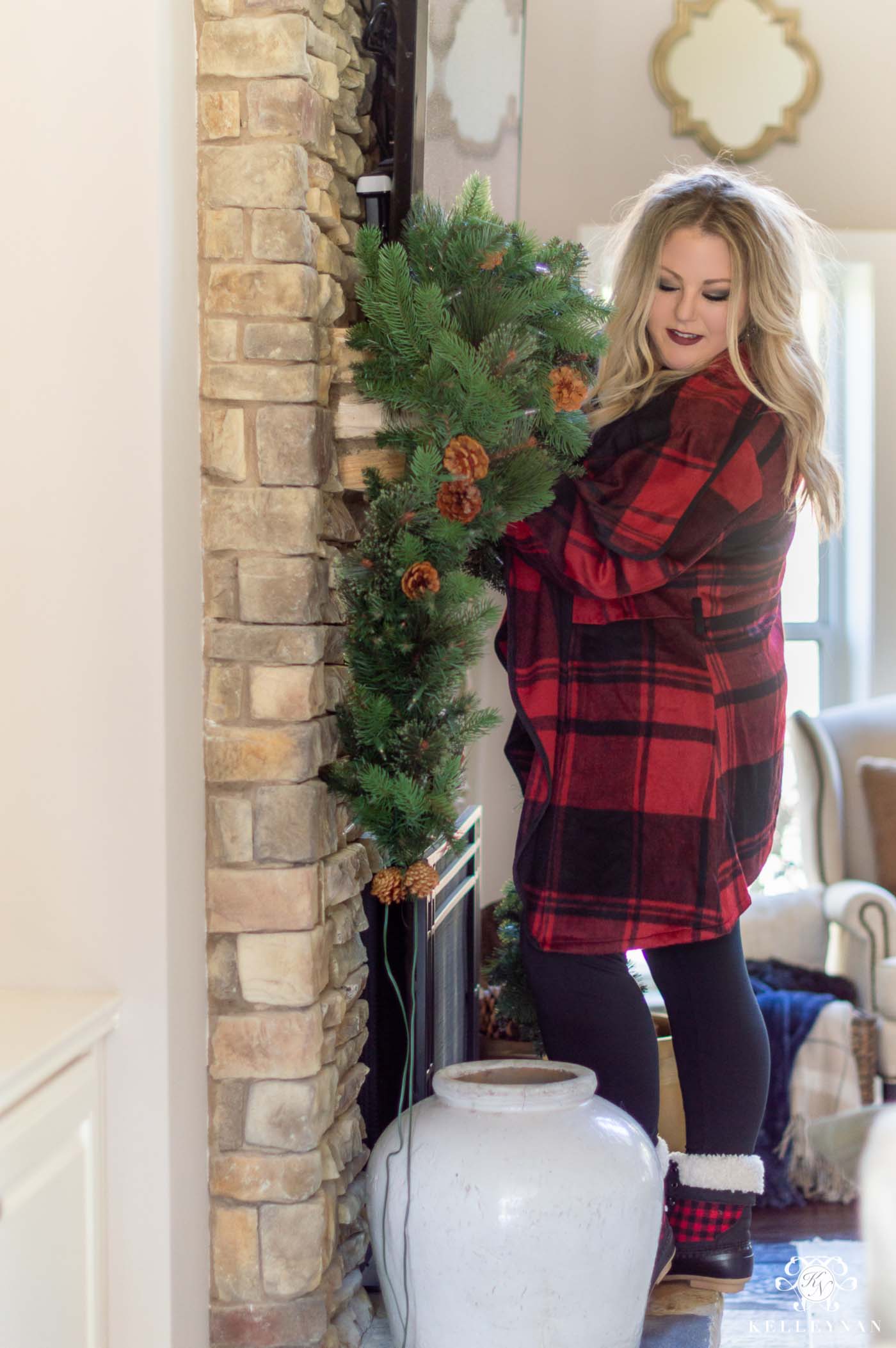 I get asked often about how I "secure" my garland, and you may be disappointed in my method, but… I don't really secure it. The base of the greenery has enough bend and sturdiness that when I center the garland and go to secure the first end, I lay it over the corner of the mantel and just bend it downward. For a little extra "security" — and another super profesh tip (haha), you can tuck some of the branches up under your tv — if you have a tv above the mantel and if it's low enough. Here's what the corner looks like, totally sans hooks. You could try hooks like THIS for more assurance and cover the hook with branches. We have a stone ledge, which doesn't provide a great surface for sticky hooks, so draping and bending works perfectly well for us.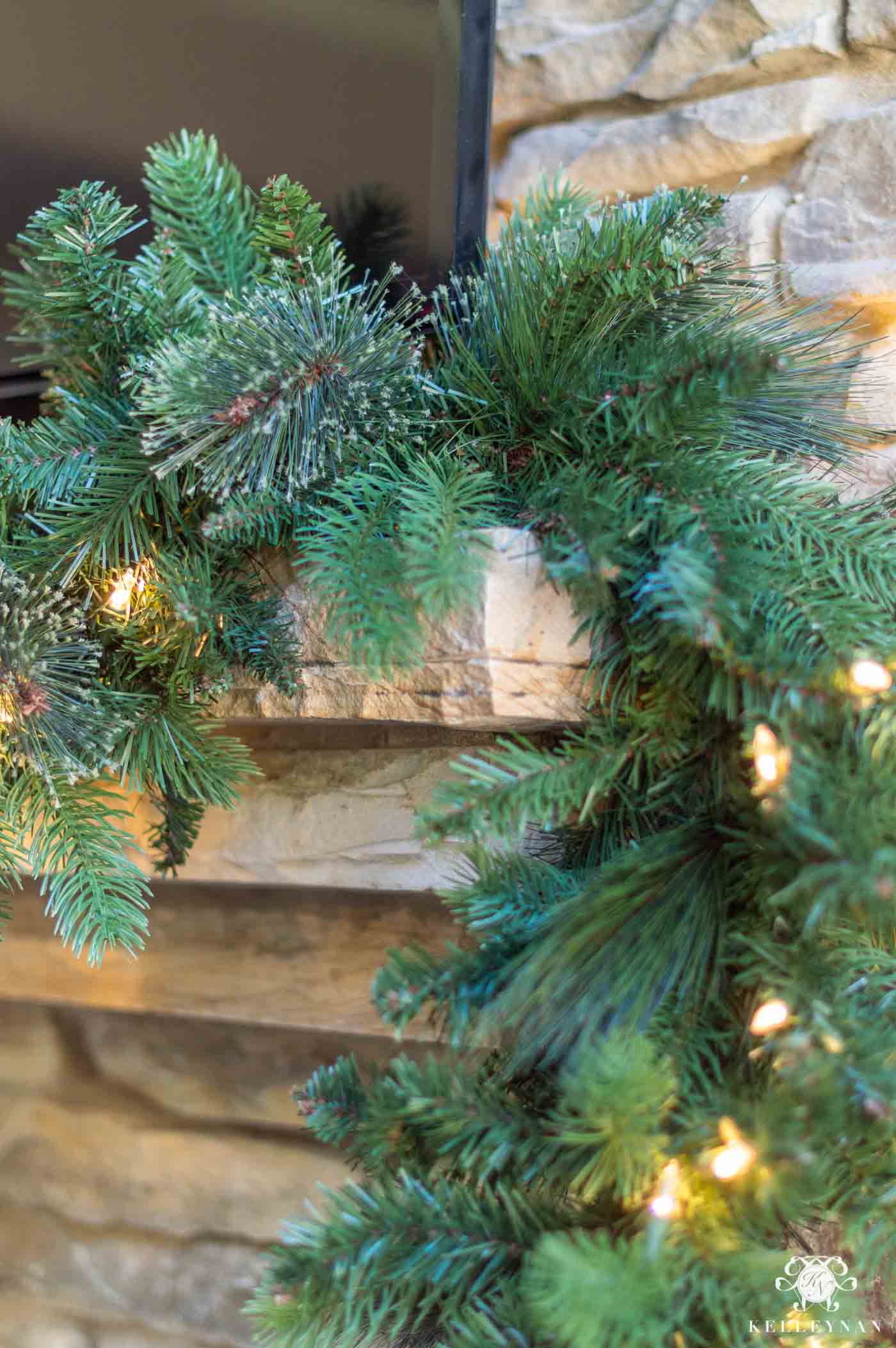 Step 4: Fluff Your Christmas Mantel Garland
Once your mantel garland is in place, go ahead and get it fluffed by pulling all the branches out. It doesn't have to be perfect, but much like a Christmas tree, you just don't want them matted down. Here's a look of our greenery, in its most basic form, hung and ready to go.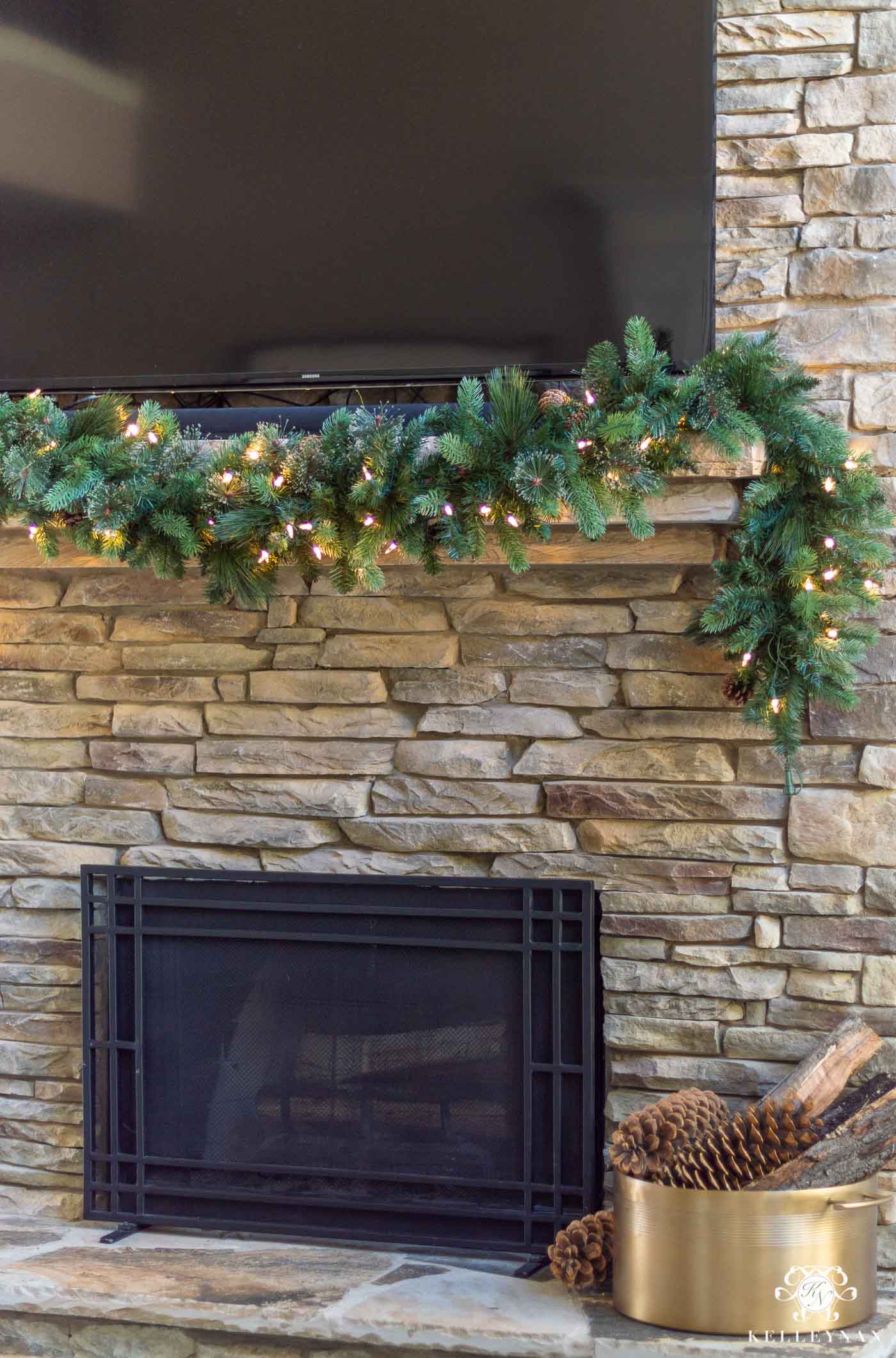 Step 5: Place Your Stocking Hooks
Why do I place my stocking hooks after I hang the garland, when the hooks are technically underneath the garland? I like to have the greenery in place so I can determine placement of the stockings — both in location and in how close I want them to each other. Instead of using traditional stocking hooks, I use THESE gold clamp-style hooks so they don't compete with the strand of garland. They come in a few finish colors. You can also use command hooks — again, on the mantel surface — which work way easier on wooden mantels. Even with our thick stone, I've successfully used this method and the greenery does help to hold them in place — I just wouldn't fill them while they aren't totally secure 😉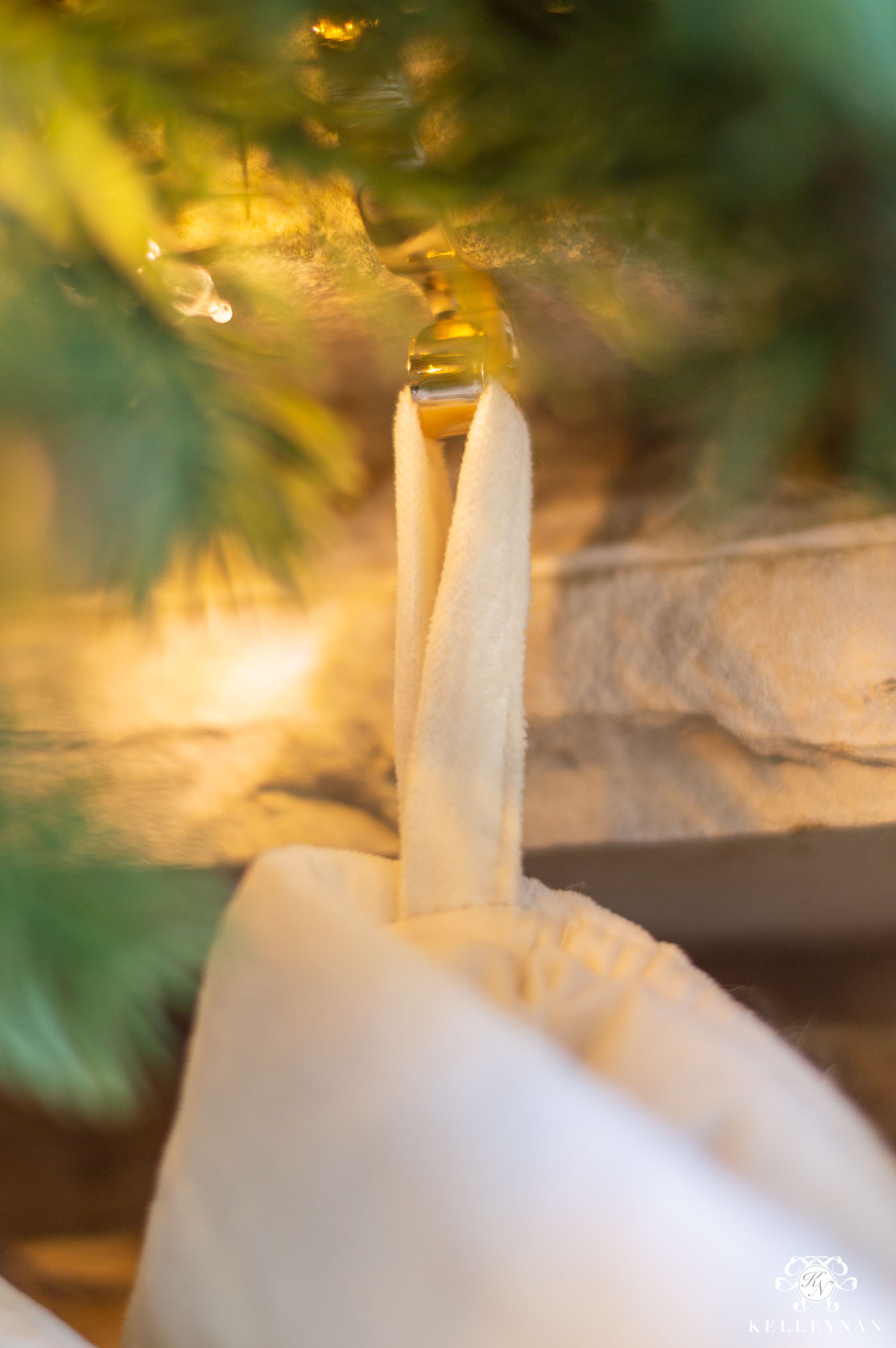 Placement of where you hang your stockings is totally personal preference. Whether you like all in the center, all the way across — evenly spaced, split on either side with the same number of stockings on each, one on one side with the rest on the other, etc., it's totally up to you. I've had several placements in the past but I typically choose to hang all four of ours, close together, on the far right side.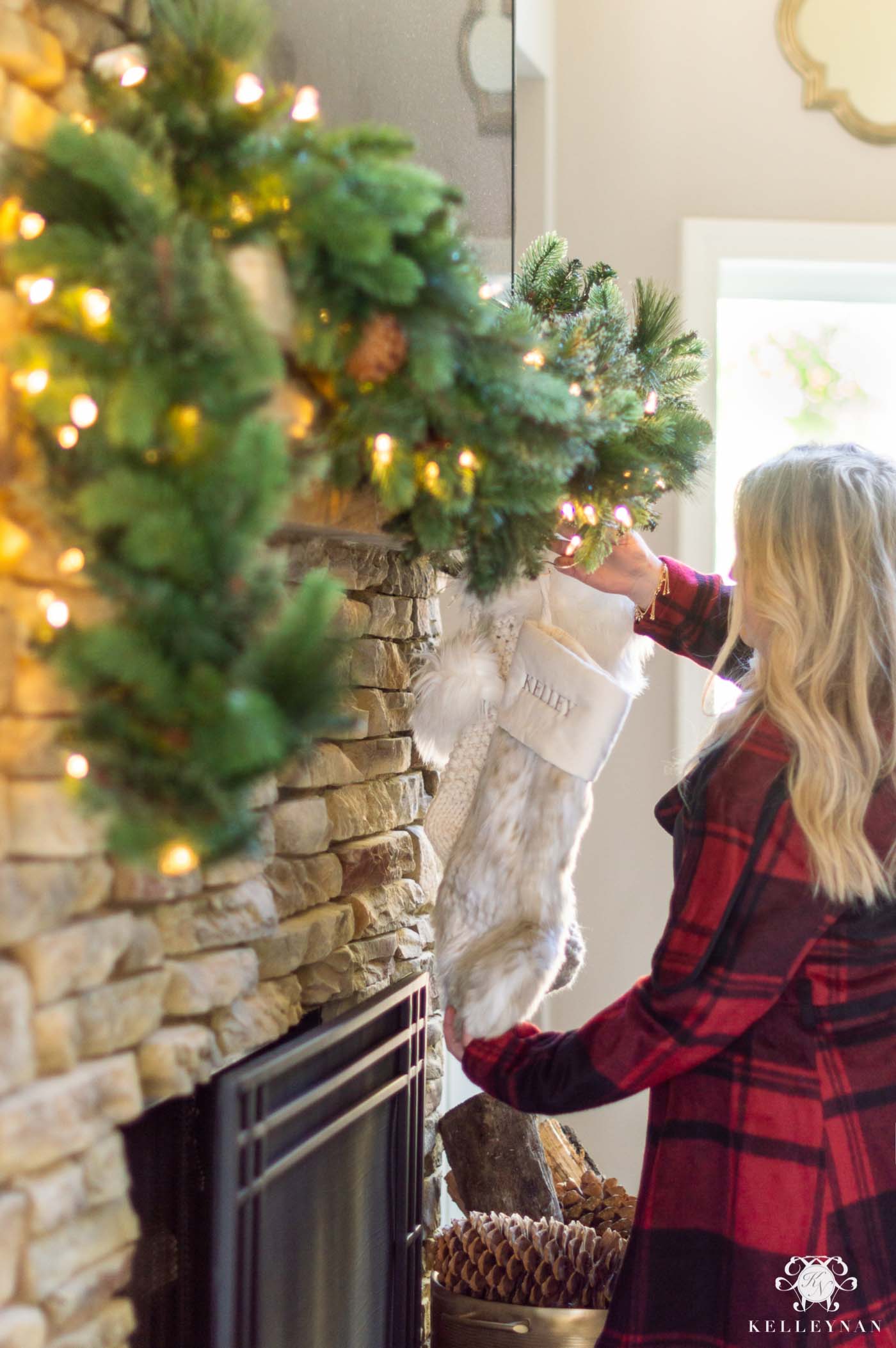 BTW — we use the same stockings each year (a mix and match batch of neutrals I ordered individually) and several are no longer available. BUT, Dave's (which I LOVE!) came back this year HERE and THIS faux alpaca fur stocking is new and super similar in style. THIS snow leopard stocking is almost identical to mine and I also love THIS boucle stocking from West Elm this year.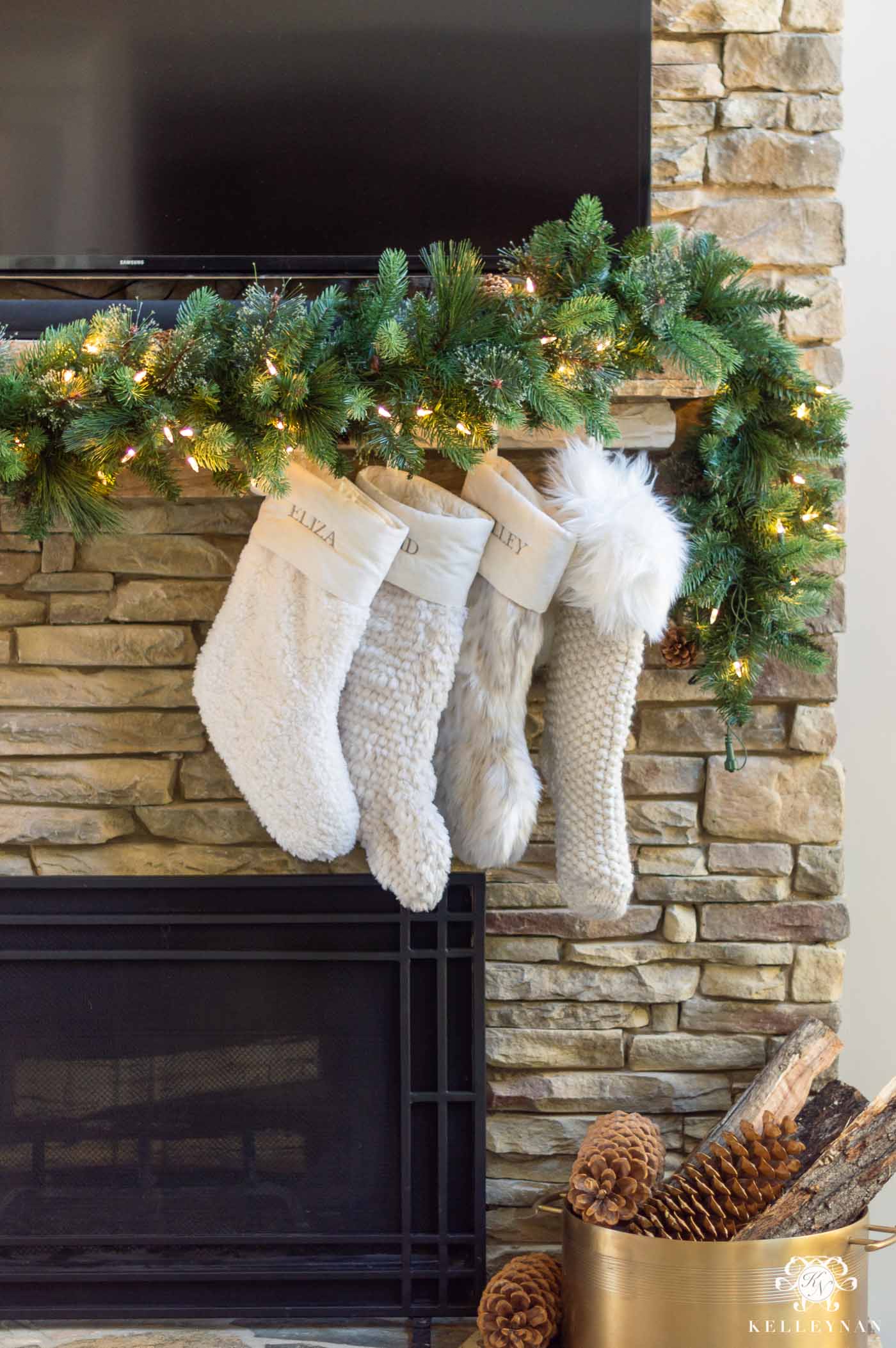 I also often get questions on the gold tub on my hearth and it's actually a party bucket that's earned a permanent position on the fireplace as a log holder.
Step 6: Hang Any Additional Garland Strands
This is actually my first year hanging additional strands of garland but with so many options — from pom poms to bells to beads — I couldn't resist adding some additional drapey strands.
Again — there's no right or wrong way and whether you want to intertwine the smaller strands within the garland, have one big swoop or smaller swoops, the choice is yours when it comes to thin accent garlands and banners.
Here's an example of wood bead garland that I wove into the the main greenery, running along the sideboard in the breakfast nook…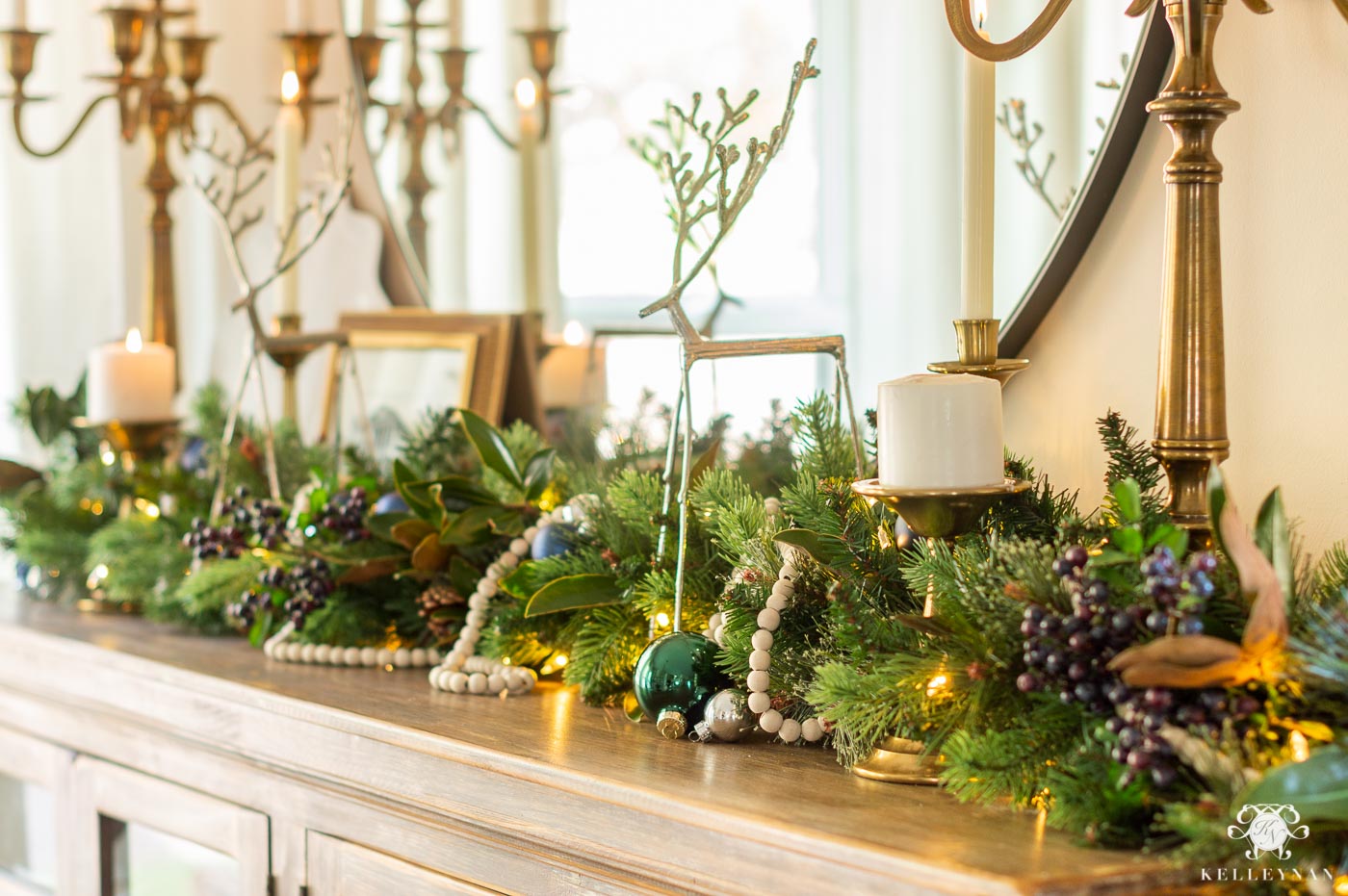 But for the mantel garland, I wanted to go drapey with two drapes for both a strand of bells and a strand of wood beads. I wanted it to be symmetrical, but not too symmetrical.
**I just found a cheap cheap 6′ strand of bell garland at Target, on sale for $7 HERE. I don't know how long it will last, but it's awesome to layer in! I would purchase a few strands to layer.
For the wood bead garland, I found 24′ of natural wood bead strands HERE on Amazon for a good price. I also love THIS 72′ feet of dark gold beaded garland from McGee & Co. for just $18 HERE.
For the wood bead strand, I did a slightly shorter swag on the left with the center "anchor point" cheated slightly to that side. With the bell strand, I layered it on top and anchored it directly in the center, with even swags on both sides. Here's a peek of what it's looking like so far…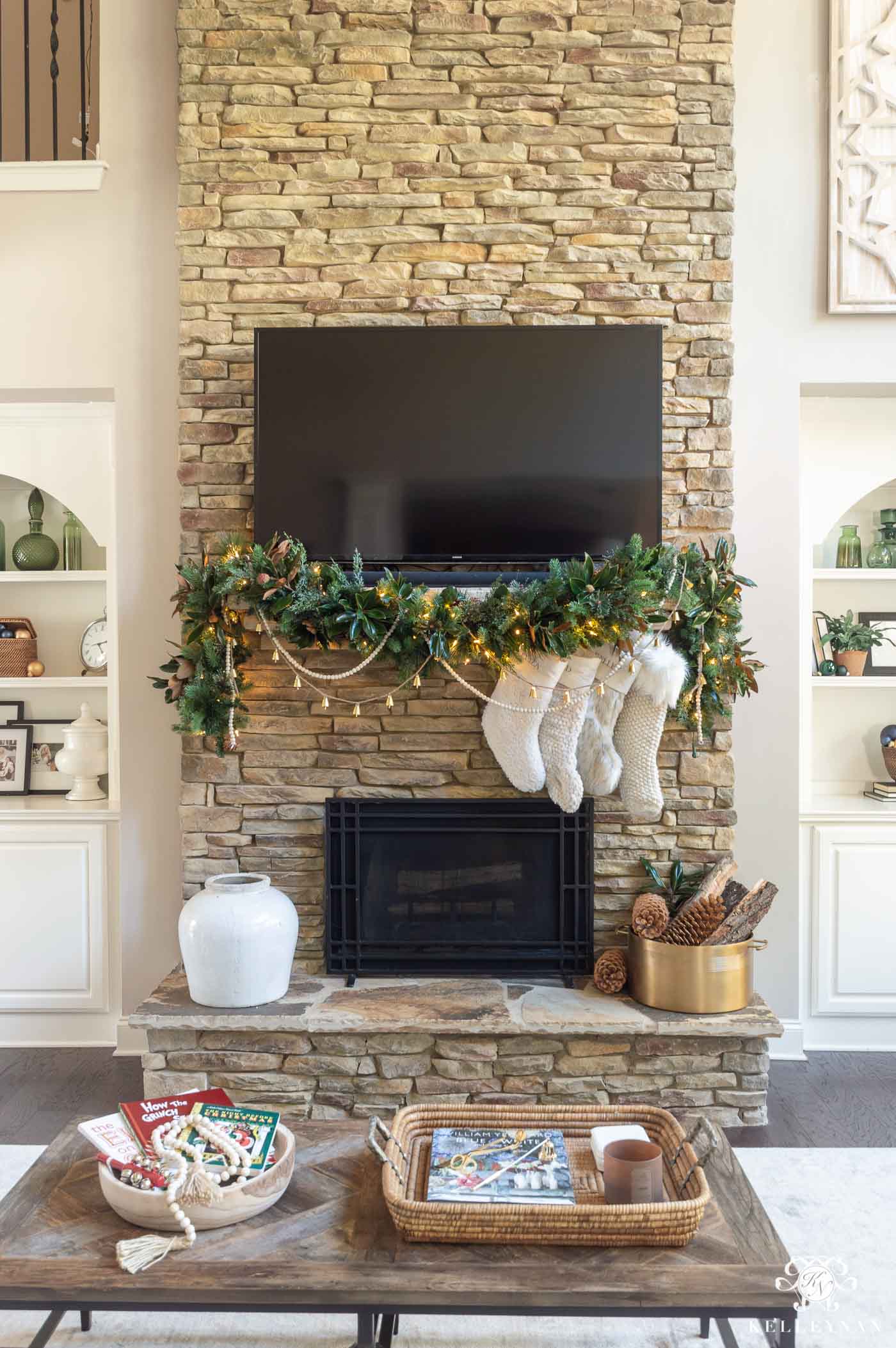 White Jar (15″) | Gold Tub | Coffee Table | Fireplace Screen
But again, just like the main strand of garland, I didn't use any hooks or formal "anchor" — I just placed it and used the branches of the greenery to secure it. If you are worried about your strands staying, you can try twist ties to anchor them to your main garland, or even add some hooks on the mantel.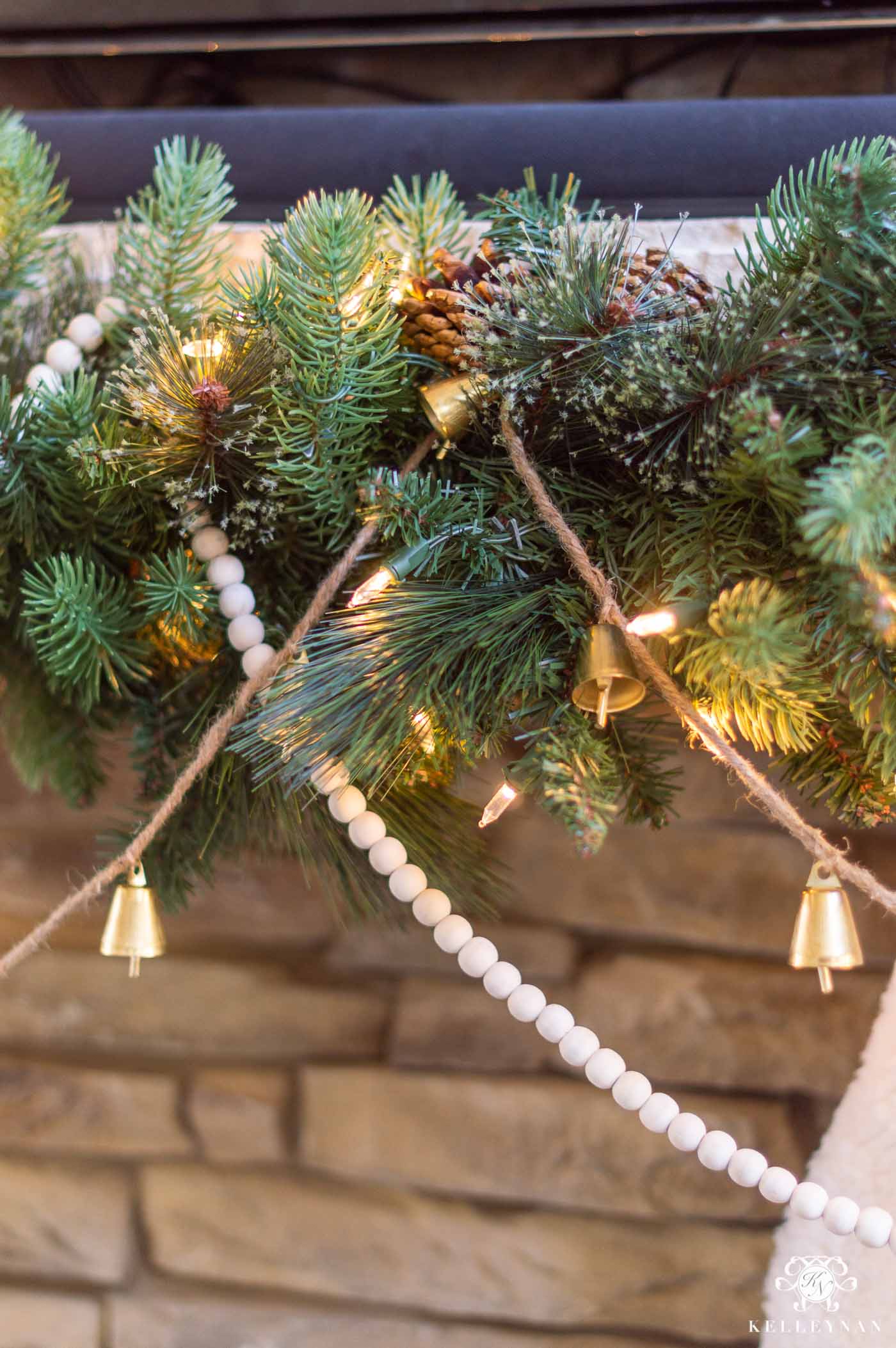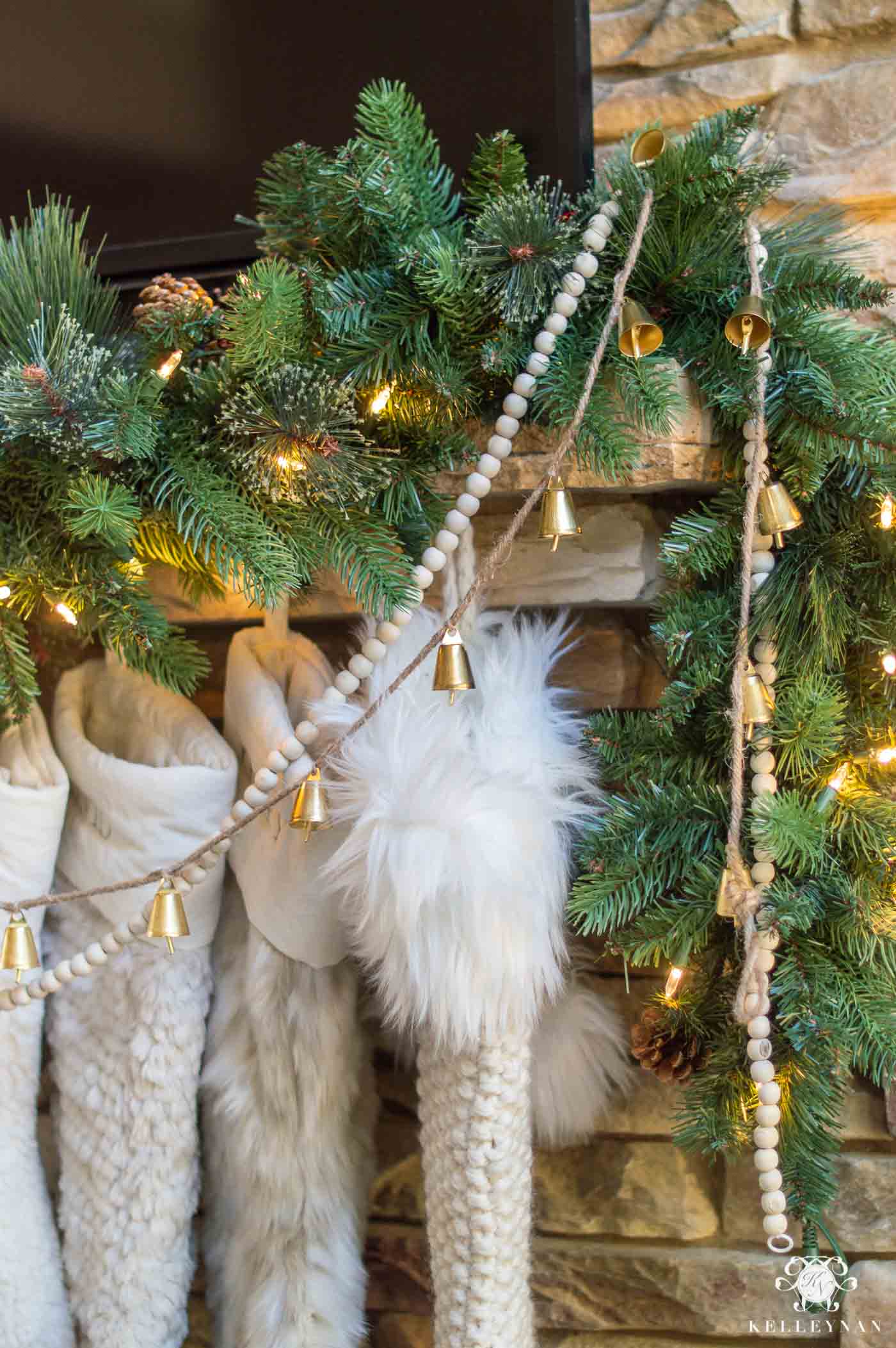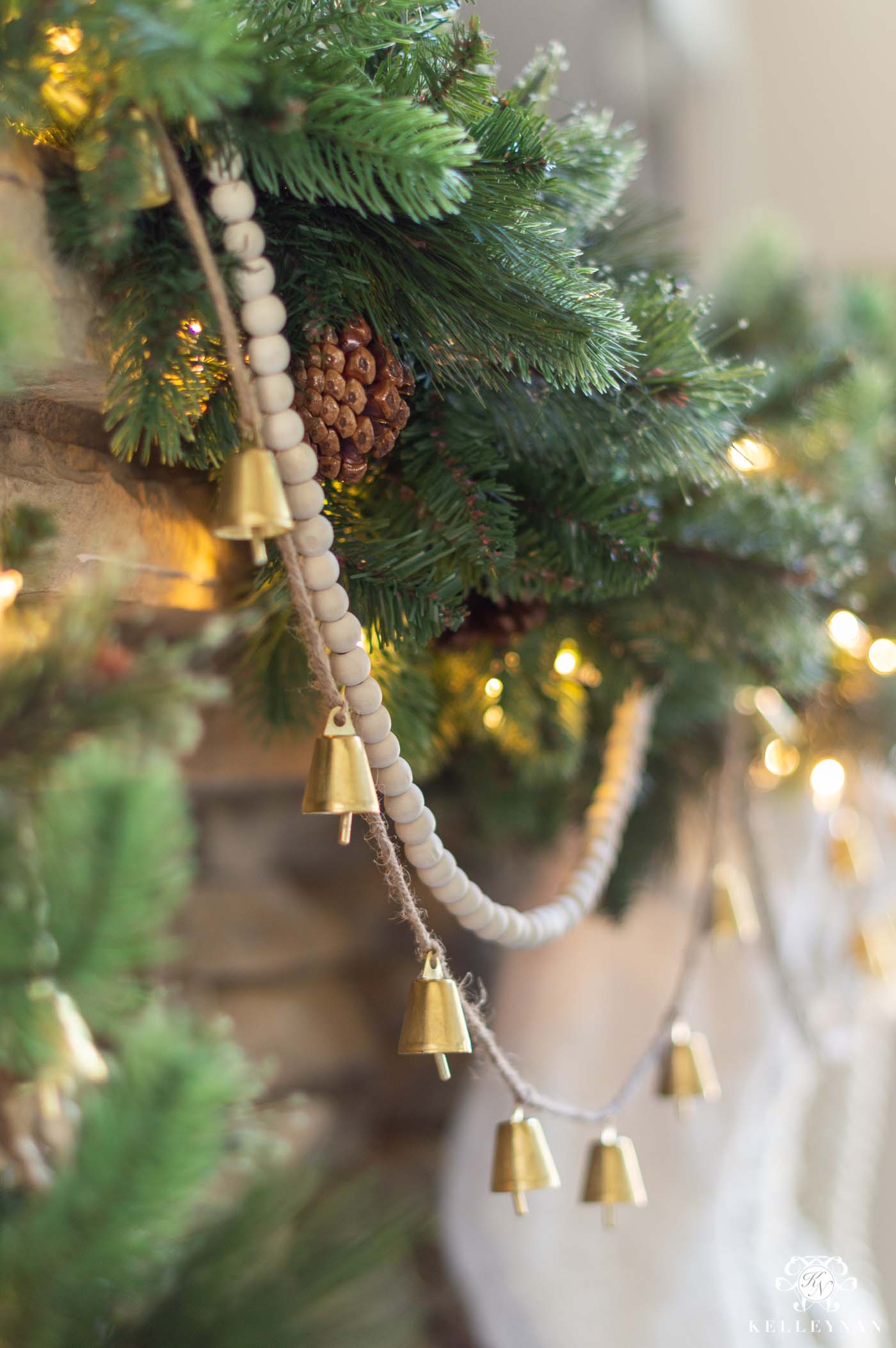 Step 7: Add Additional Greenery
This is the part where I think it really starts getting fun. I pointed out in Step 2 that I love my greenery for the fact it has diverse branches, already attached. But, I like adding more greenery. Depending on the vibe of the rest of your decor, you can add eucalyptus, pine… really anything! And not just that — you can mix in some live greens, too! In the past, I've incorporated live cedar but it tends to get dry and a little messy. It does hold its green pretty well, though. Also — this goes without saying but anything above or around your fireplace is a potential fire hazard. Keep that in mind as you decorate your mantel and only do what feels comfortable. If you have a lot of fires in your fireplace, you may want to skip the crispy greens and nix any deep draping. Here in Georgia, my favorite greens to use are live magnolia branches and leaves. This beefy, leafy tree lasts (especially if you preserve the branches, though I did not) and really makes a statement. I also like live silver dollar eucalyptus. I also added in a few springs of faux cedar that I cut off of some cheap stems from the craft store.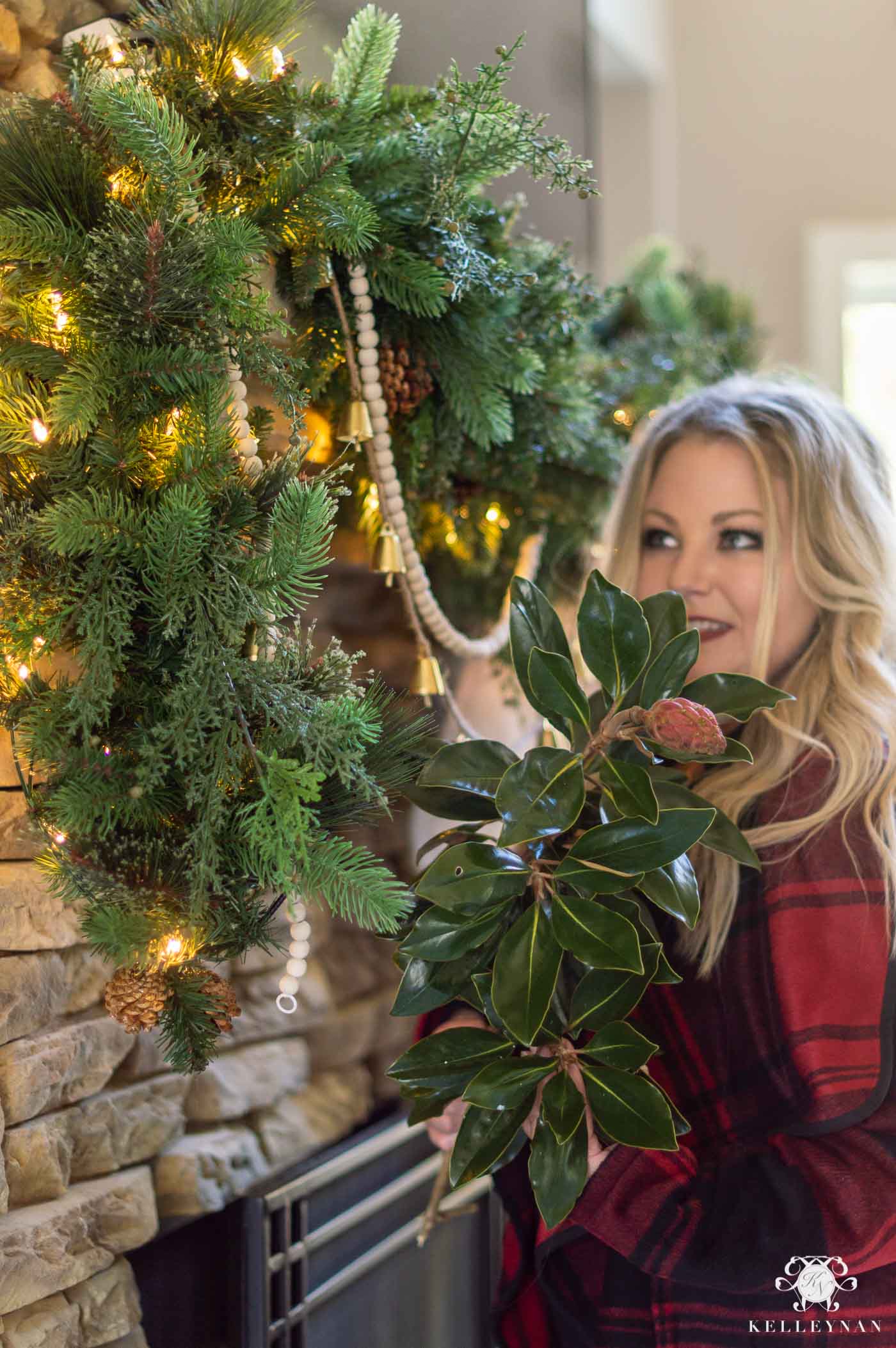 You can do full branches in here, but don't discount the leaves, all on their own. They look great nestled in, by themselves! Again, I just shove the branches in, using the main garland to hold it and grip it in place. Don't forget the sides of your garland either, as you're embellishing 😉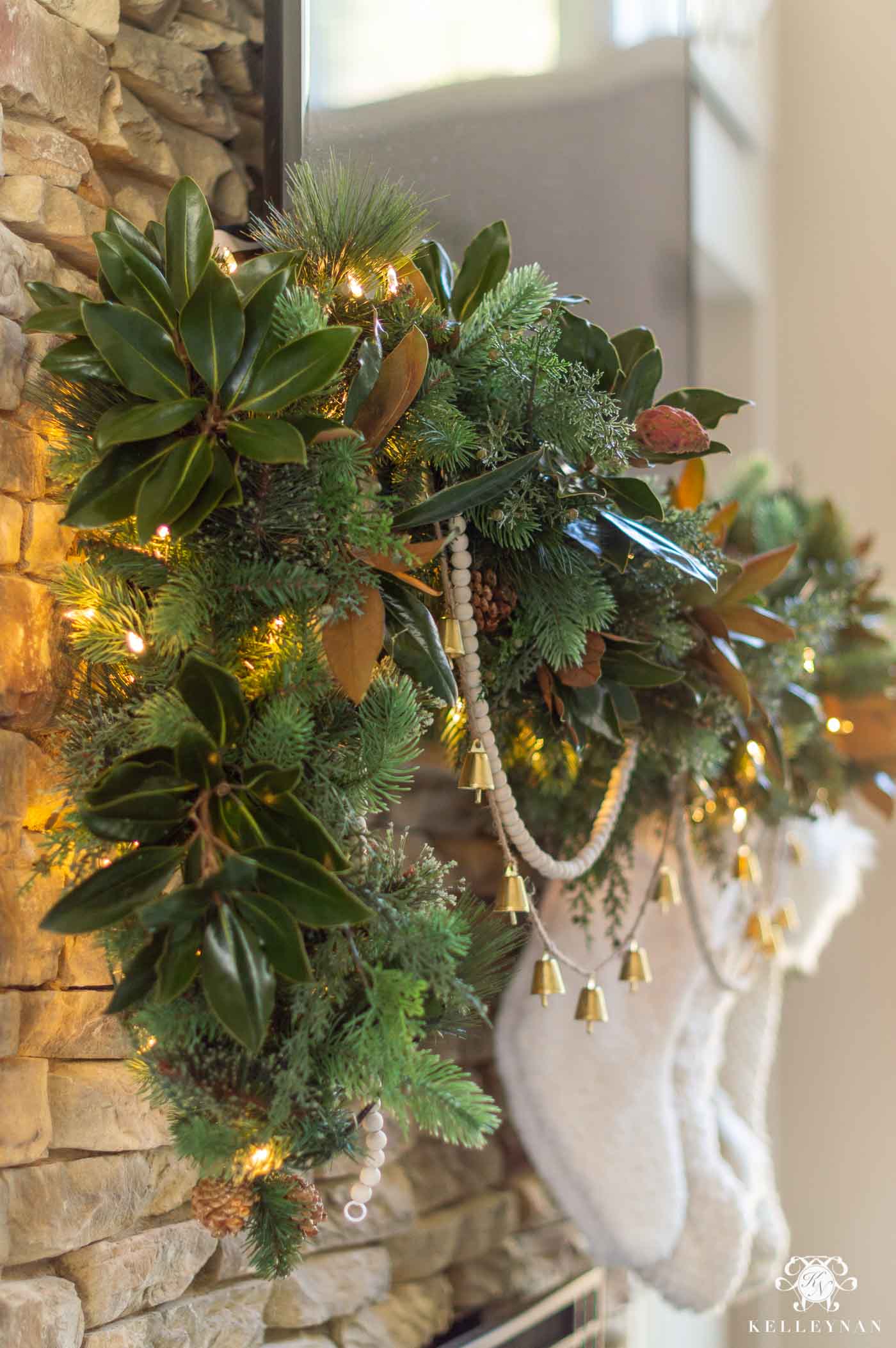 Step 8: Embellish the Christmas Mantel Garland
Once your stockings are in place, your extra strands are hanging, and your greenery is set, it's time to start incorporating some personal touches. There are tons of options from glittery picks and ornaments to fruit and flowers. To accompany my tree theme, I stuck to sprigs of blueberries — which I cut from larger branches and have used for a few years now…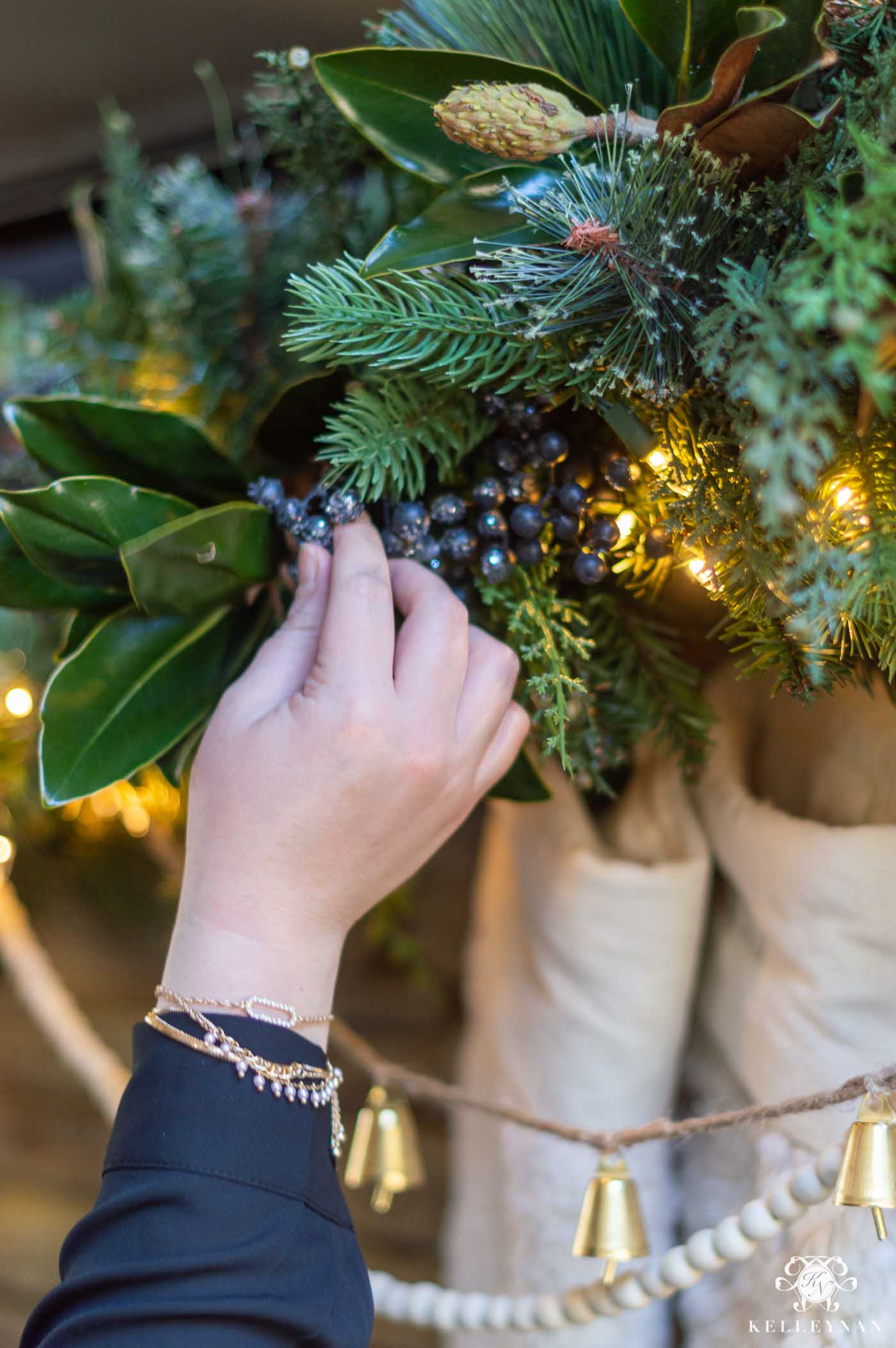 I clustered some together in larger "moments" and then sprinkled a few smaller clusters throughout. Again, don't forget the sides of your garland and the bottom of the swag. I also try to stab any picks or sprigs in in the direction of the branches, in the way they are laying and angled.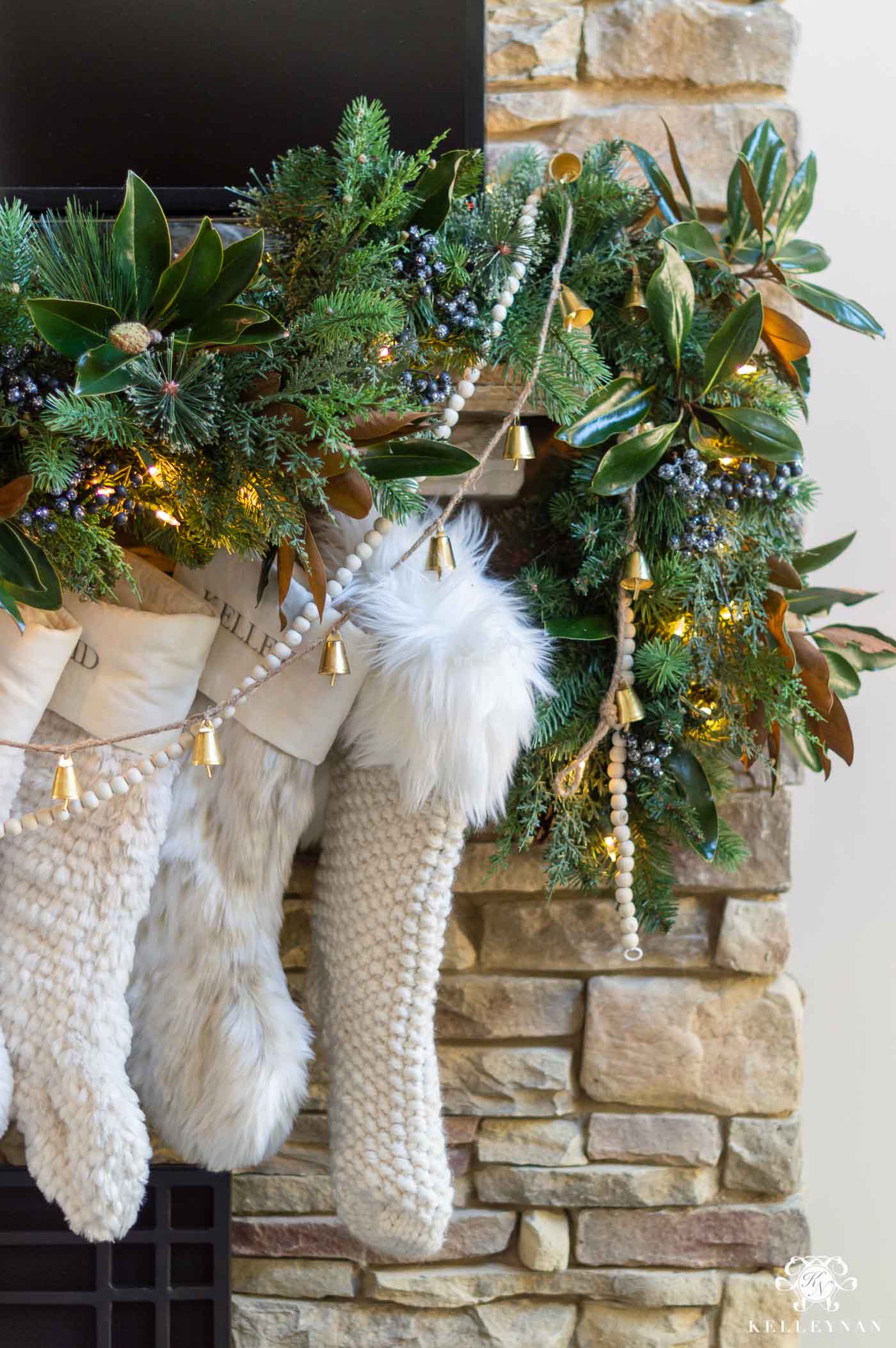 If you want to go the route of ornaments/larger items, you can use a little bit of hot glue to secure them to the garland, but try to keep it to a minimum and be prepared that it may damage some of your garland branches.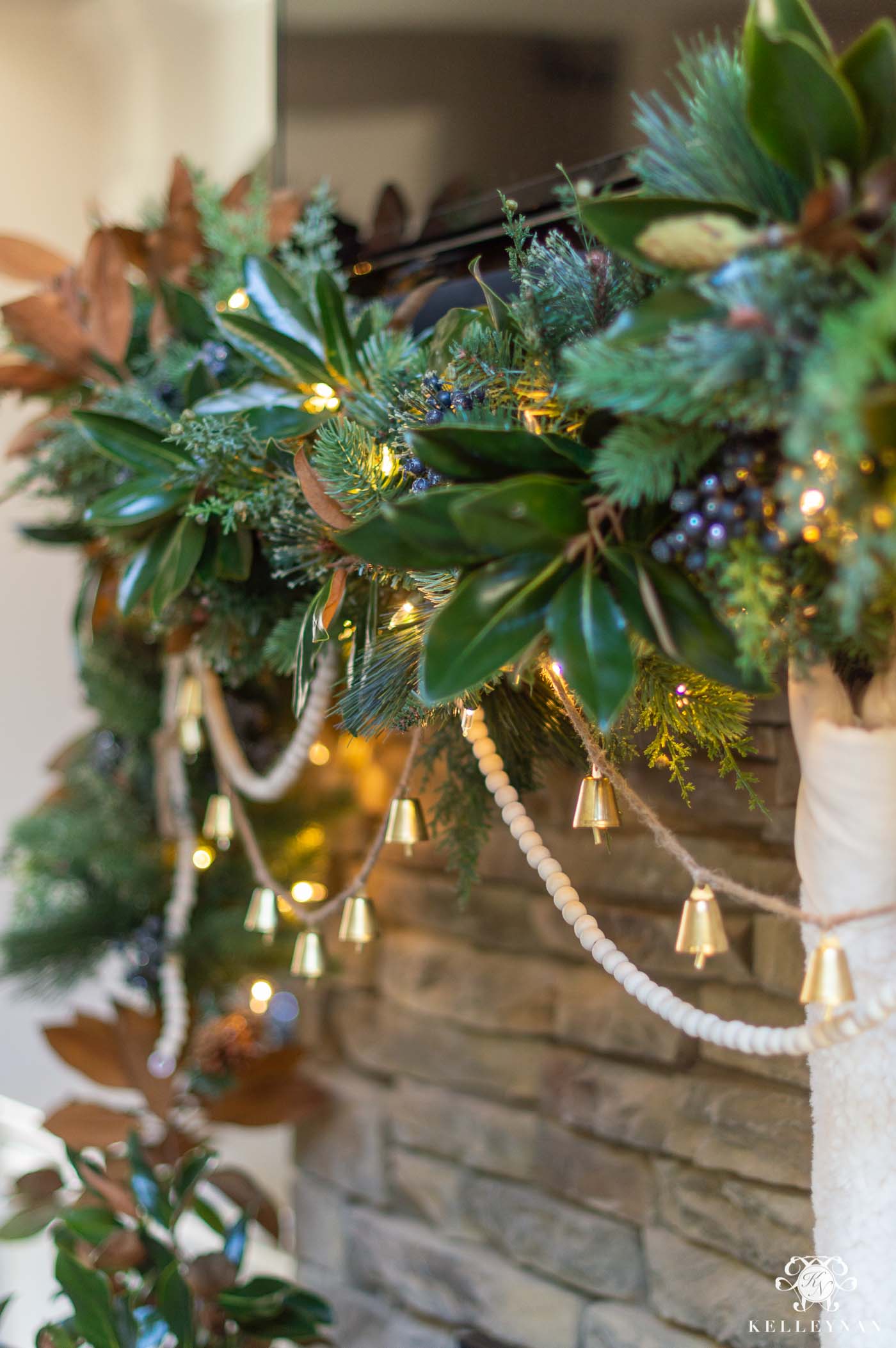 Step 9: Add the "Cherry" on Top!
Add the final touches — the last embellishment — to your almost-finished-Christmas-mantel-garland! For me, that was incorporating a few gold pears that I gilded with some Rub N Buff. (It's so easy — you can see me in live action in THIS Instagram reel! Literally, I took THESE inexpensive pears from Amazon and rubbed THIS on them. Easy, peasy. This year, I'm using the gold pears as the centerpiece in the dining room with gold ornaments!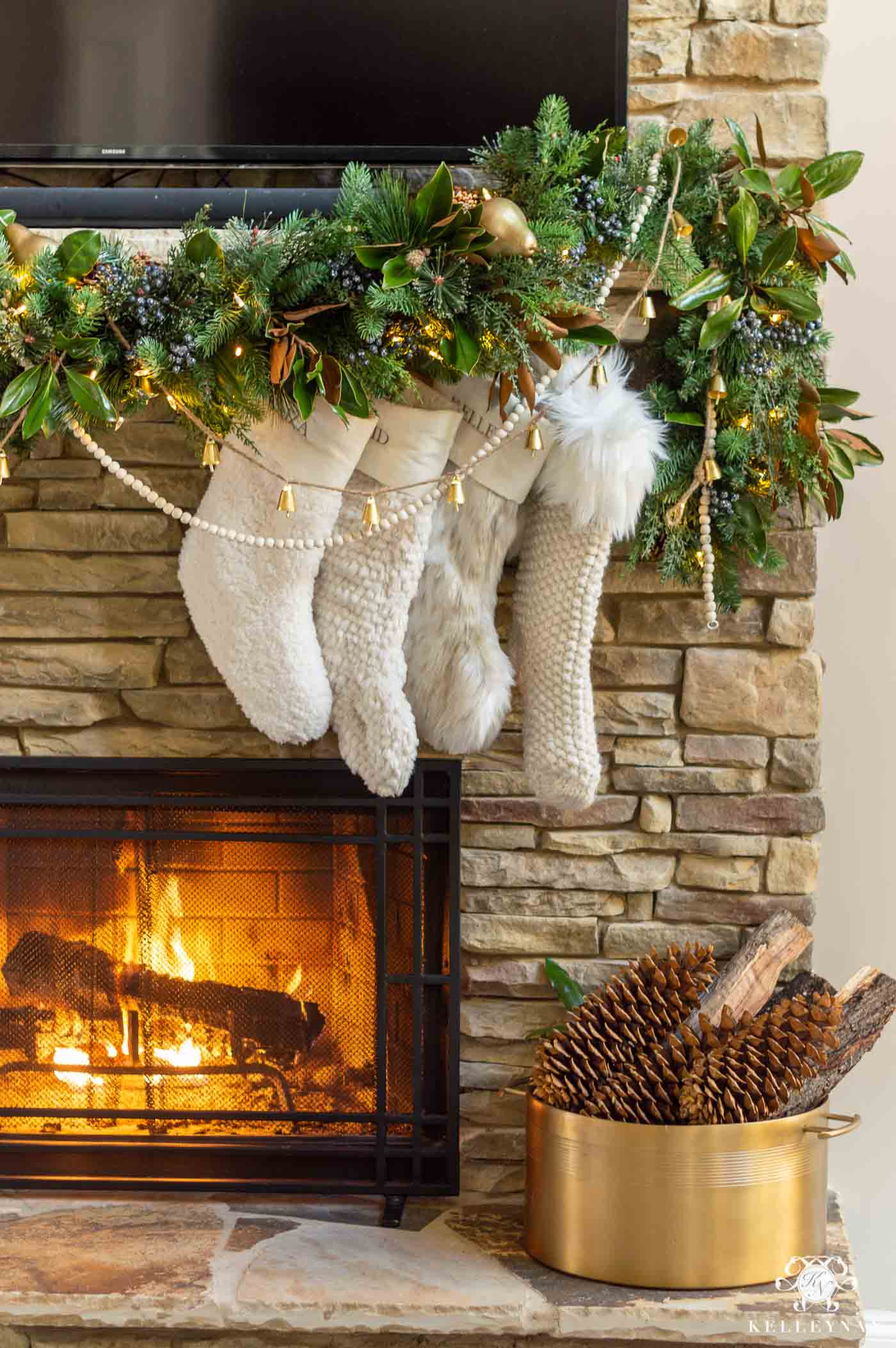 I didn't go crazy — as a matter of fact, there are only three placed throughout the entire garland.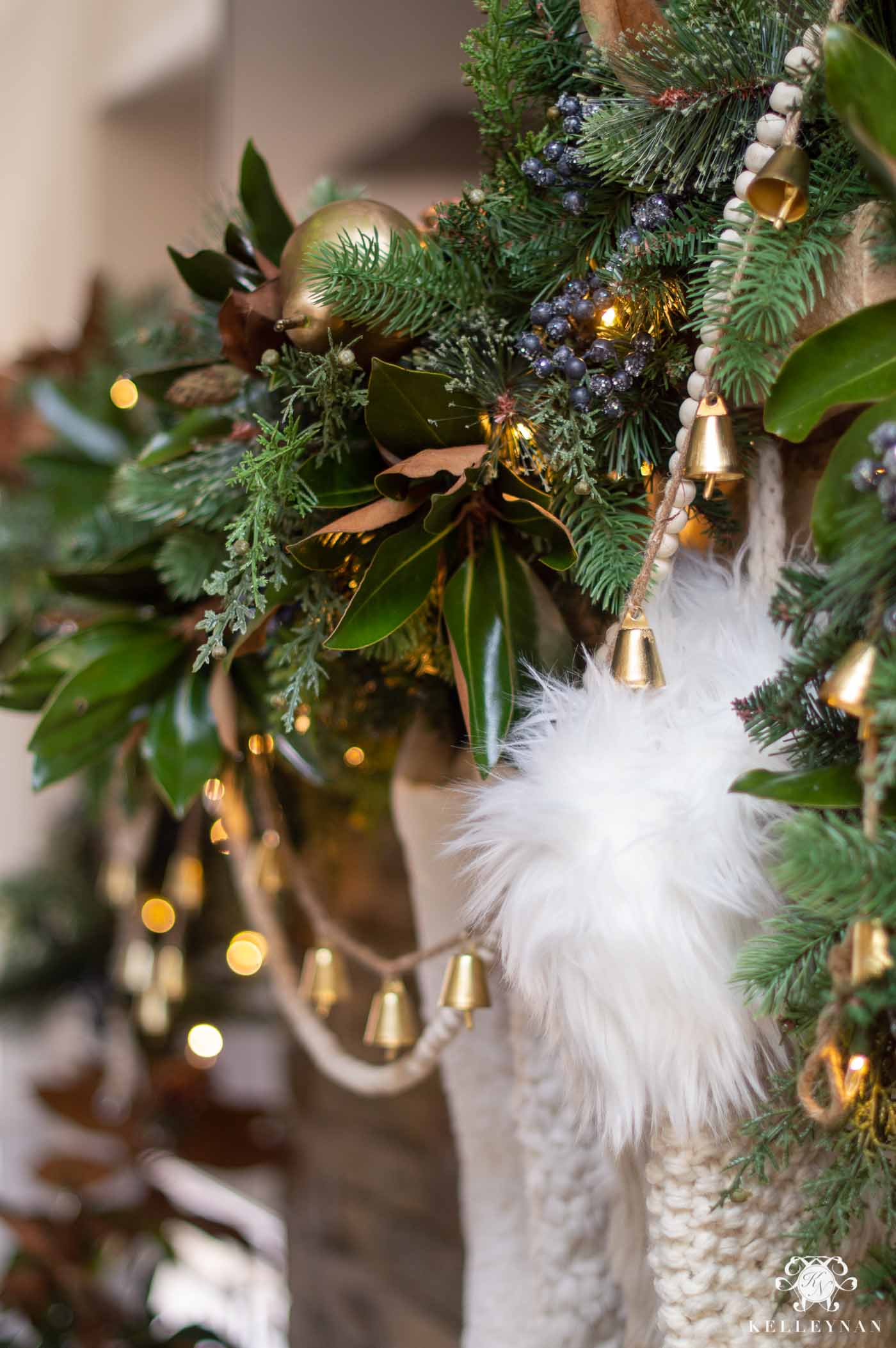 Step back and enjoy your creation! If something doesn't look quite right, you can always make a quick switch or addition; at this point, I determined one side needed a few more berries, made the adjustment, and declared the mantel garland "done!"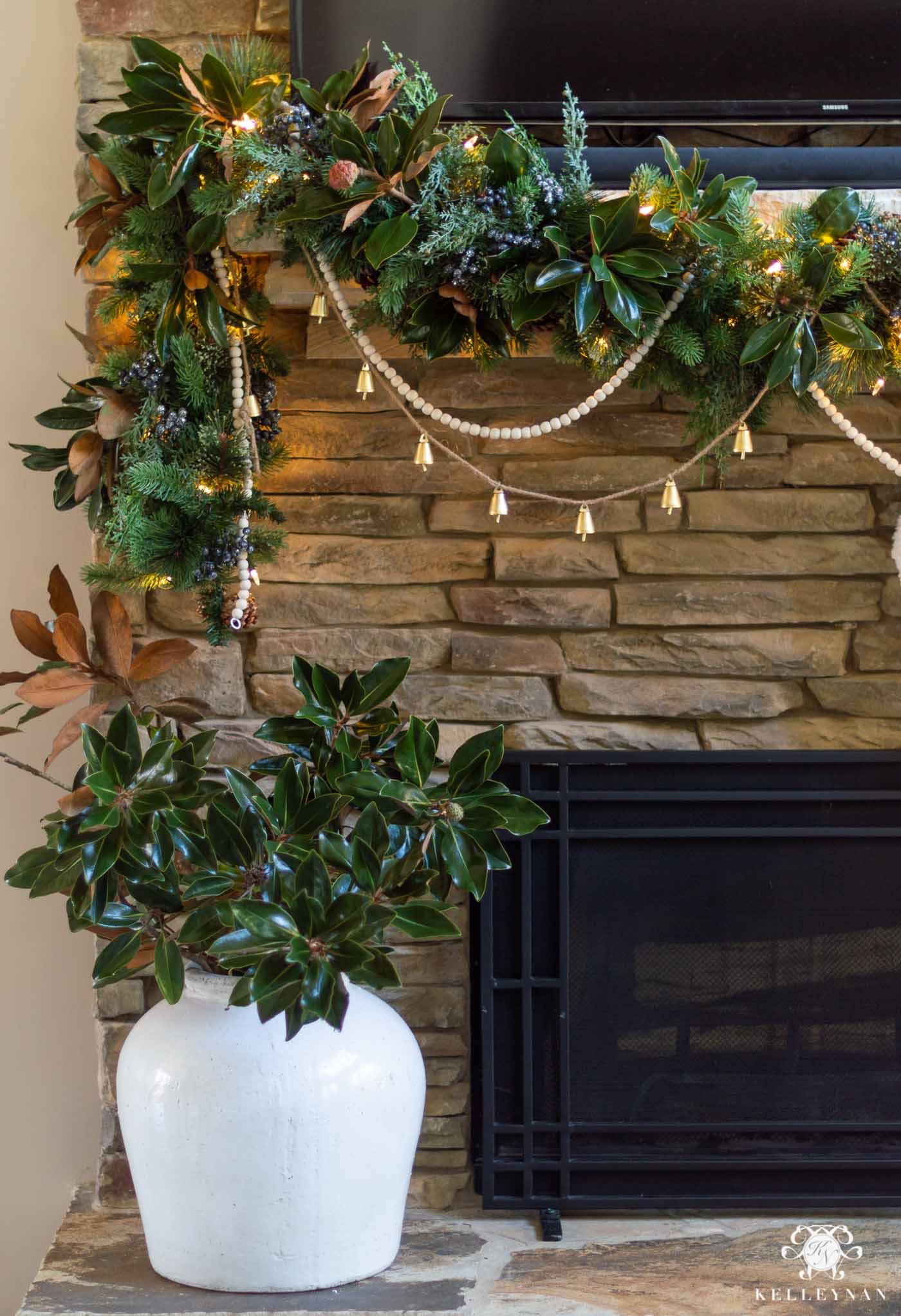 Looking back at my little elf here makes my heart hurt — I can't believe how grown she is compared to this season!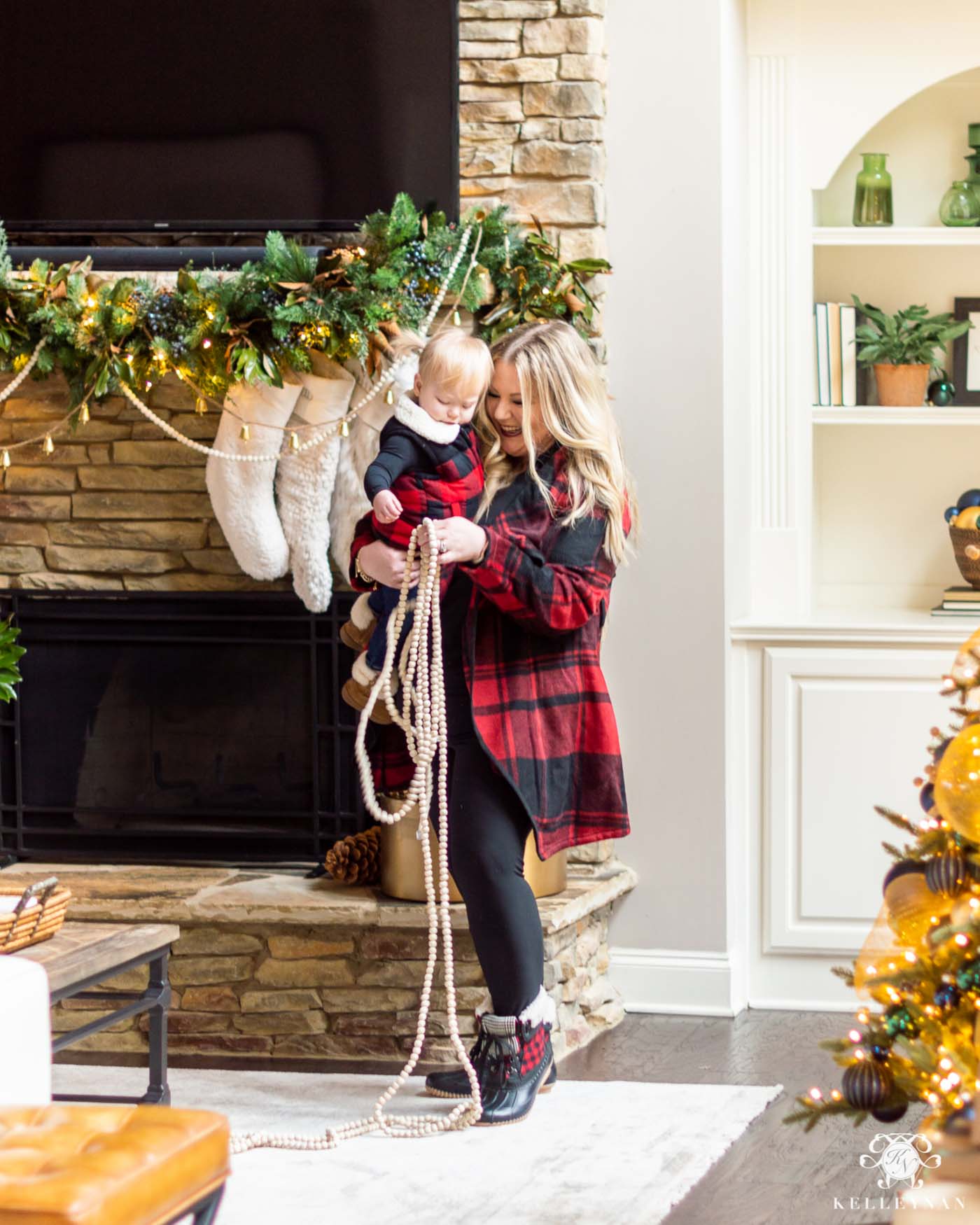 Proof that you don't have to spend hundreds on a statement garland — just a little time and creativity 😉 Plus, you get the benefit of having a unique creation, all your own…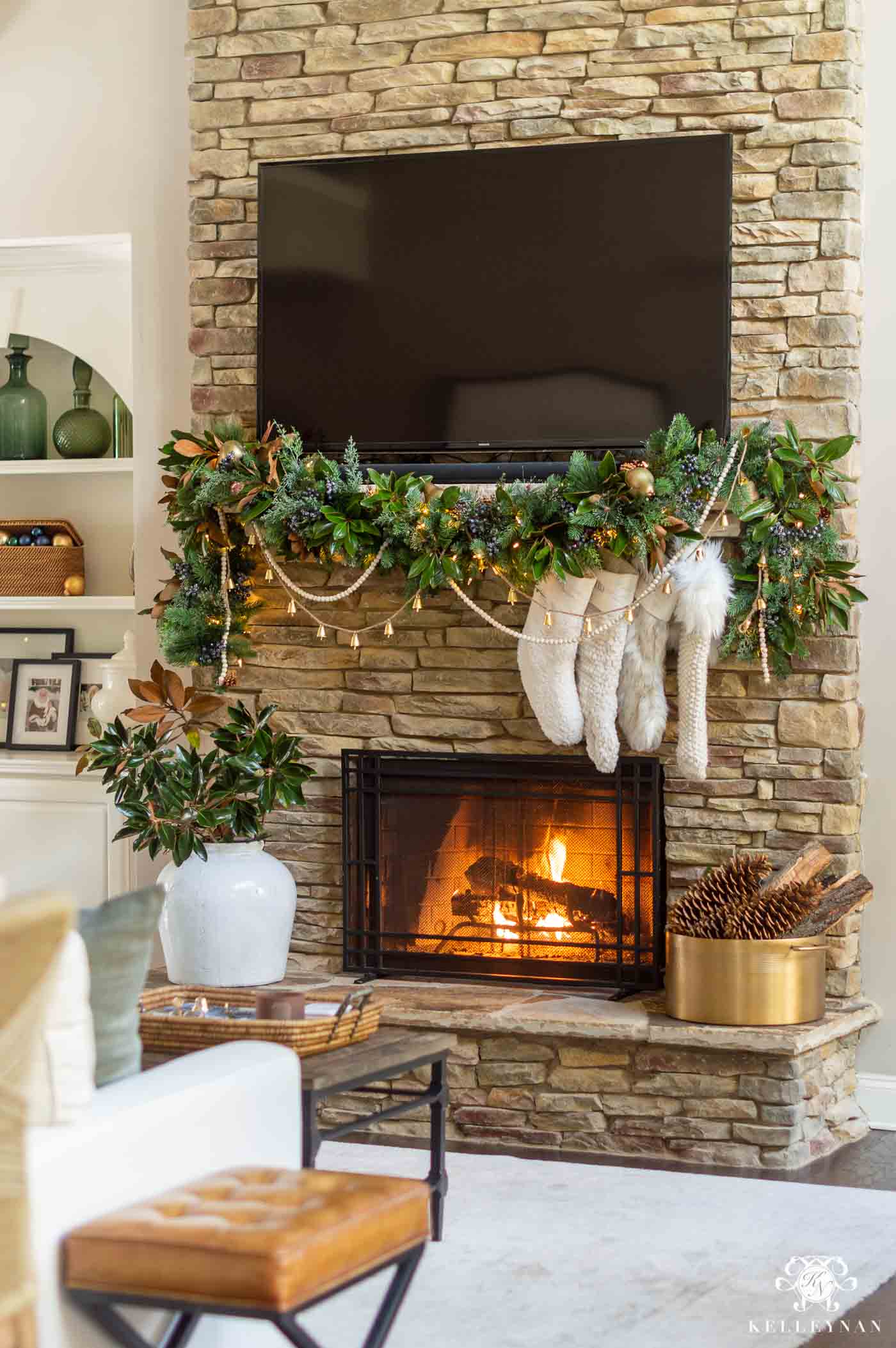 … giving you the flexibility to coordinate your tree with your garland, year after year.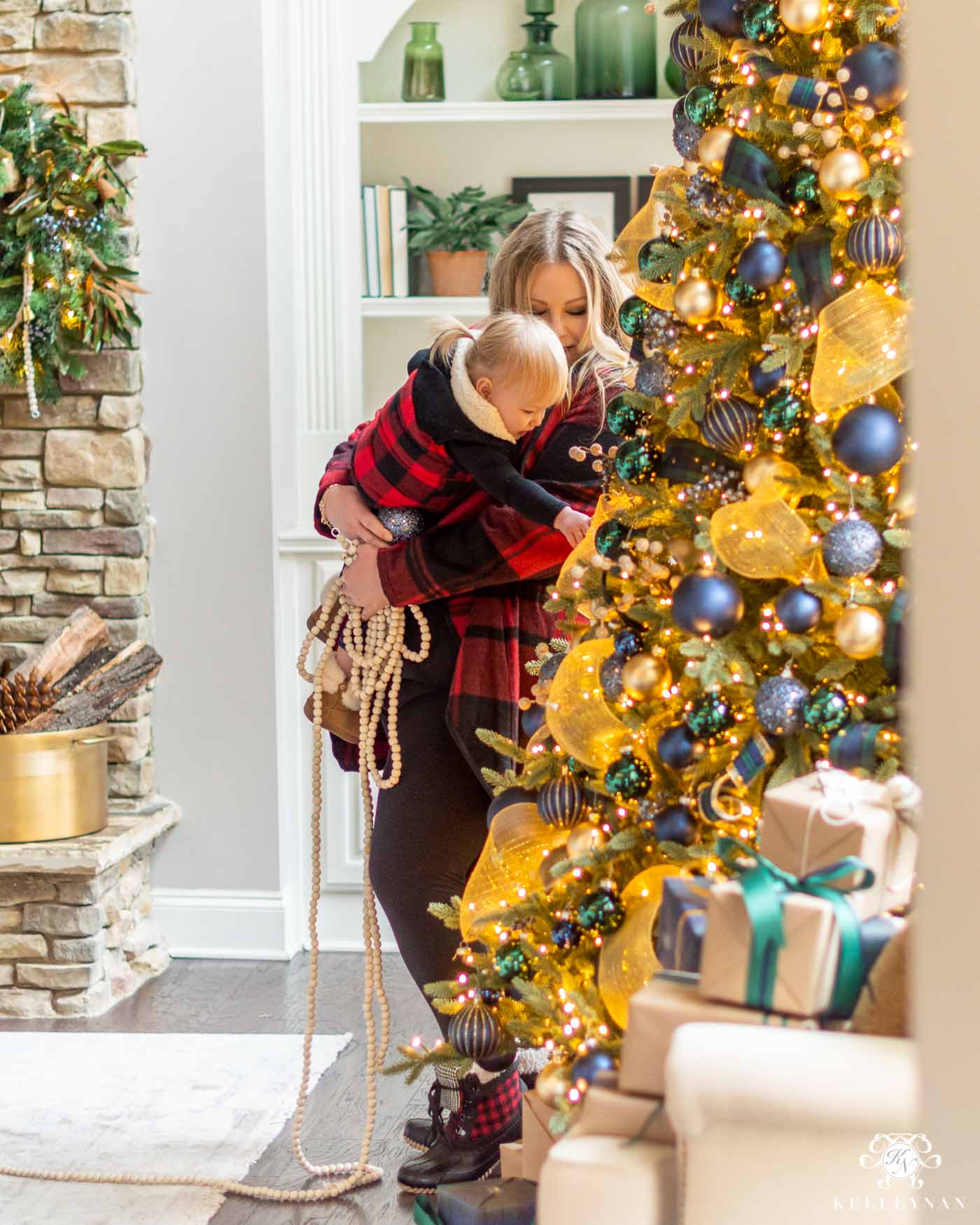 Are you motivated to try something new over your fireplace this year? Best of luck getting your house holiday-ready, and don't forget to take the time to enjoy enjoy the comfort of — what has become even more sacred this year — your home.
To make sure you catch all the latest coming this season, subscribe to emails at the bottom of the post!
Other Christmas Posts You May Be Interested In