One of my favorite KN days of the year, Christmas Home Tour day is here! While I usually start decorating before most, it seems like I've seen an unprecedented number of people getting their homes holiday-ready early. In my neighborhood, wreaths, lights and garland starting making appearances the day after Halloween — I think this time of year, with a little sparkle and feel-good, is what we've all been craving — I know I have! This year's Christmas home tour is a little different than past years — with a young toddler, I simplified a lot of spaces and you won't see any of my usual glass votives or ornaments sprinkled on easy-to-reach coffee tables. While I was mindful of certain decor, I have to say, we set our first trees up a while ago so we were able to "practice" with teaching her that we don't touch the Christmas trees; she has done great! We've taken a similar approach to our home in general, as she's gotten older and more mobile. While we have incorporated some safety measures, I don't Eliza-proof the entire house. We try to teach her, as we go, when she's doing something or touching something that she shouldn't be. Sure, there's an occasional "oops", but I try not to leave anything too precious in her way and as long as she's safe, we'd rather go ahead and start teaching her now. I am so excited to experience this Christmas season with her and each new stage she enters seems more fun than the last; come Christmas, she will be 18 months. So, now that I've prefaced today's holiday walk-through, let's get started and take a look!
*Posts on KelleyNan.com may contain affiliate links. Click HERE for full disclosure.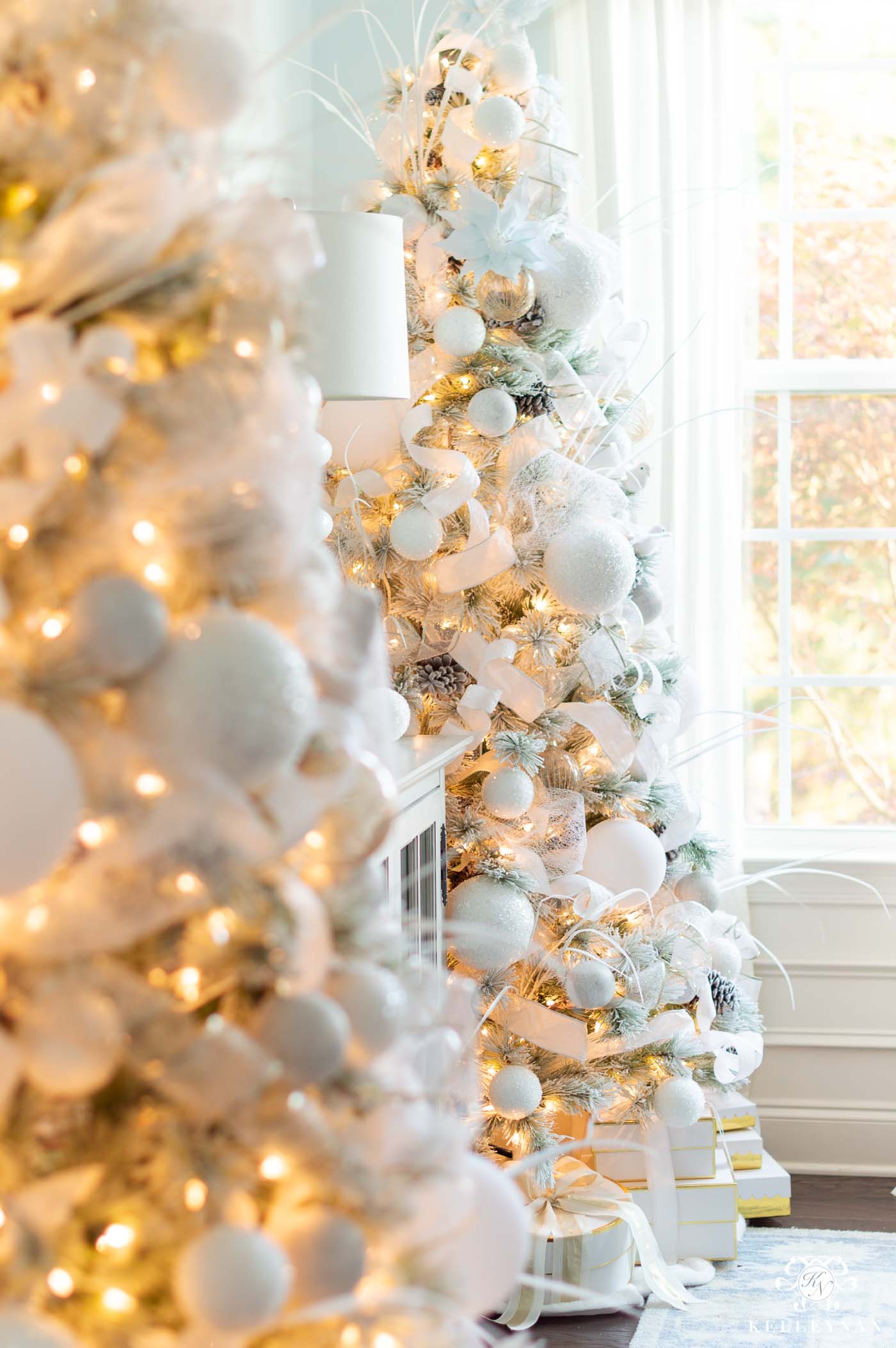 Scattered glass hurricanes with candles of varied heights, with some rock salt as a snowy base was such an easy solution!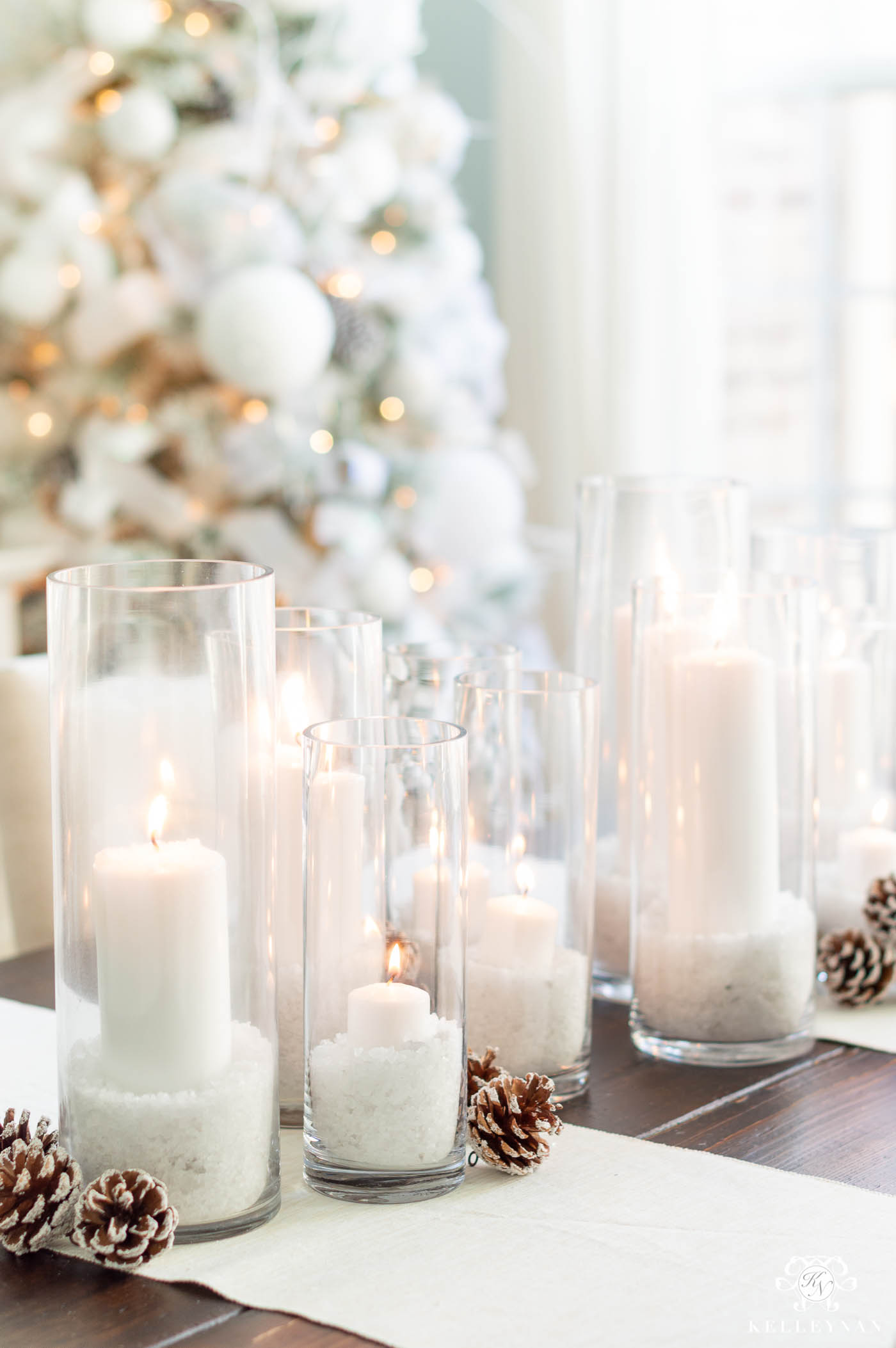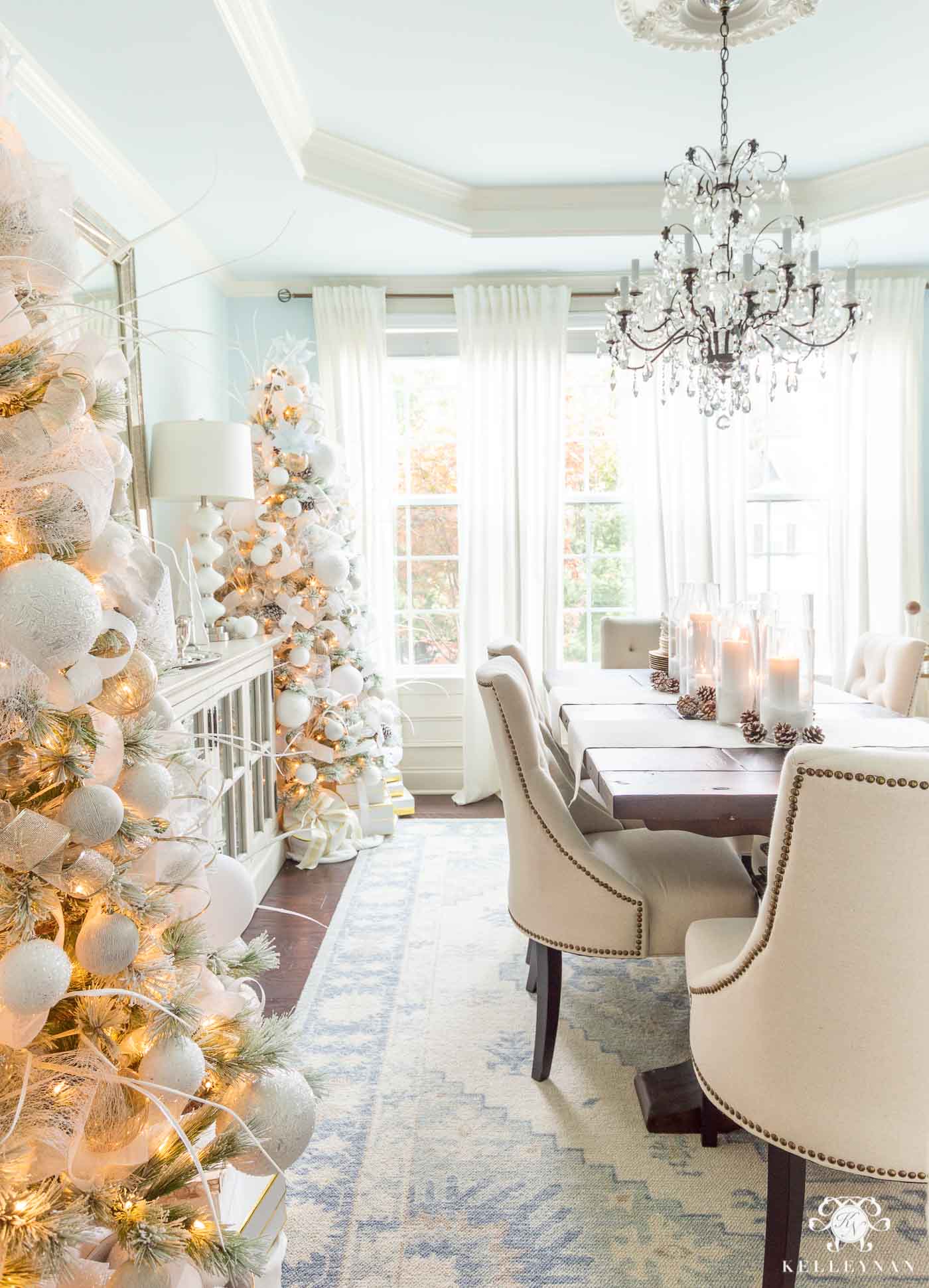 I actually have plans to modify the dining room a little bit, which I realized once we started on the Conversation Room a few months ago, on the other side of the entry. I waited for any paint projects, specifically so I could go for this Christmas look, this holiday season 😉
"Anything goes" on this tree! Each item is laced with memories and is representative. Gran Nan gifted us each THESE monogram felt ornaments from Anthro this year — they're so cute and all different! We haven't had our night of ornament/Christmas pjs/Christmas books yet this year, but I got this hot sauce for Dave, and this little mouse for Eliza. Little woodland animals were always my favorite ornaments when I was growing up and the mouse picture in Eliza's room is her favorite, too.
I have several strands of this long wood bead garland I snagged from At Home a couple years ago but I also found some similar 9′ garland HERE, on Amazon. I have it woven and draped in bowls, through garland, etc. throughout the house.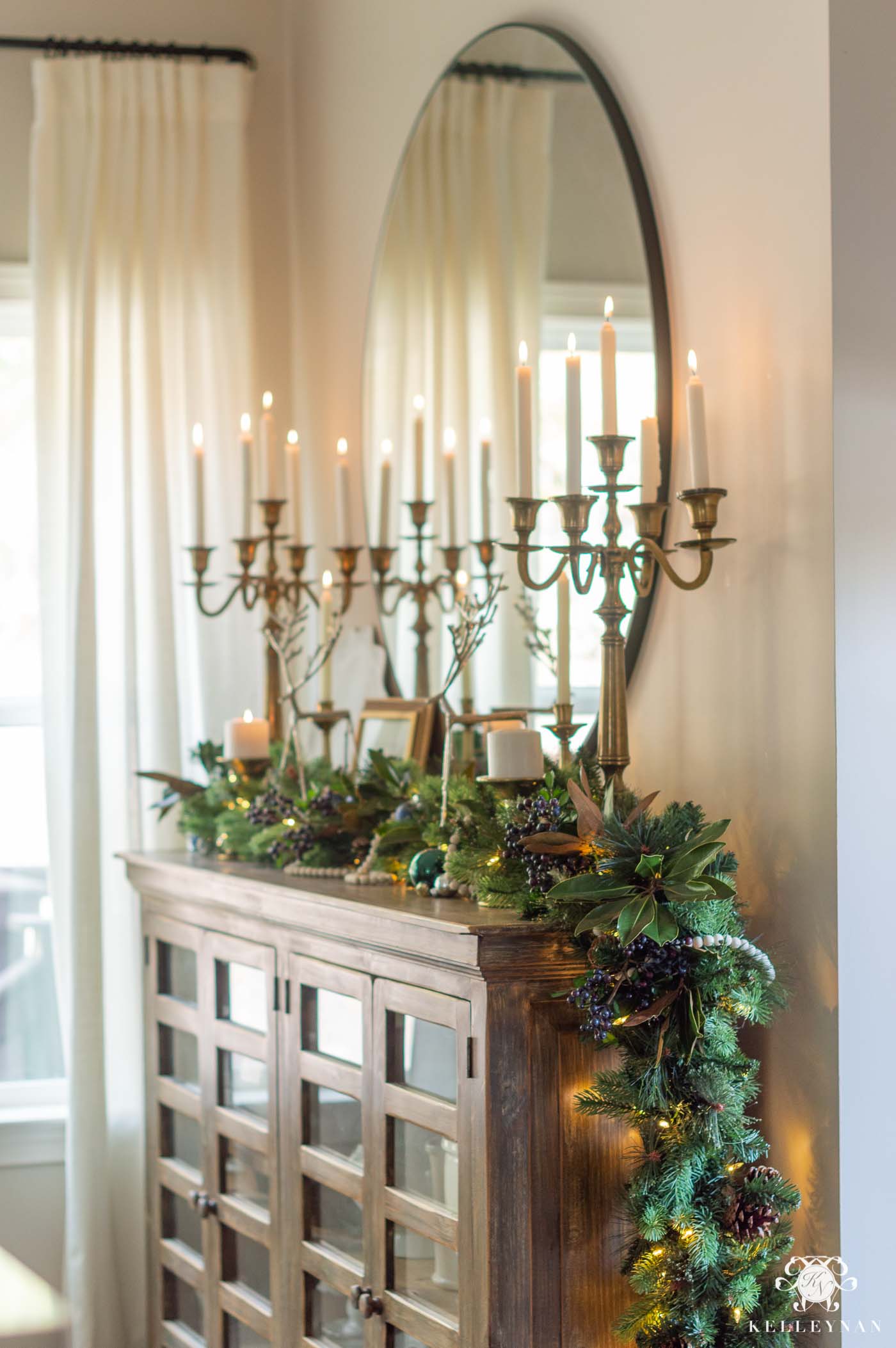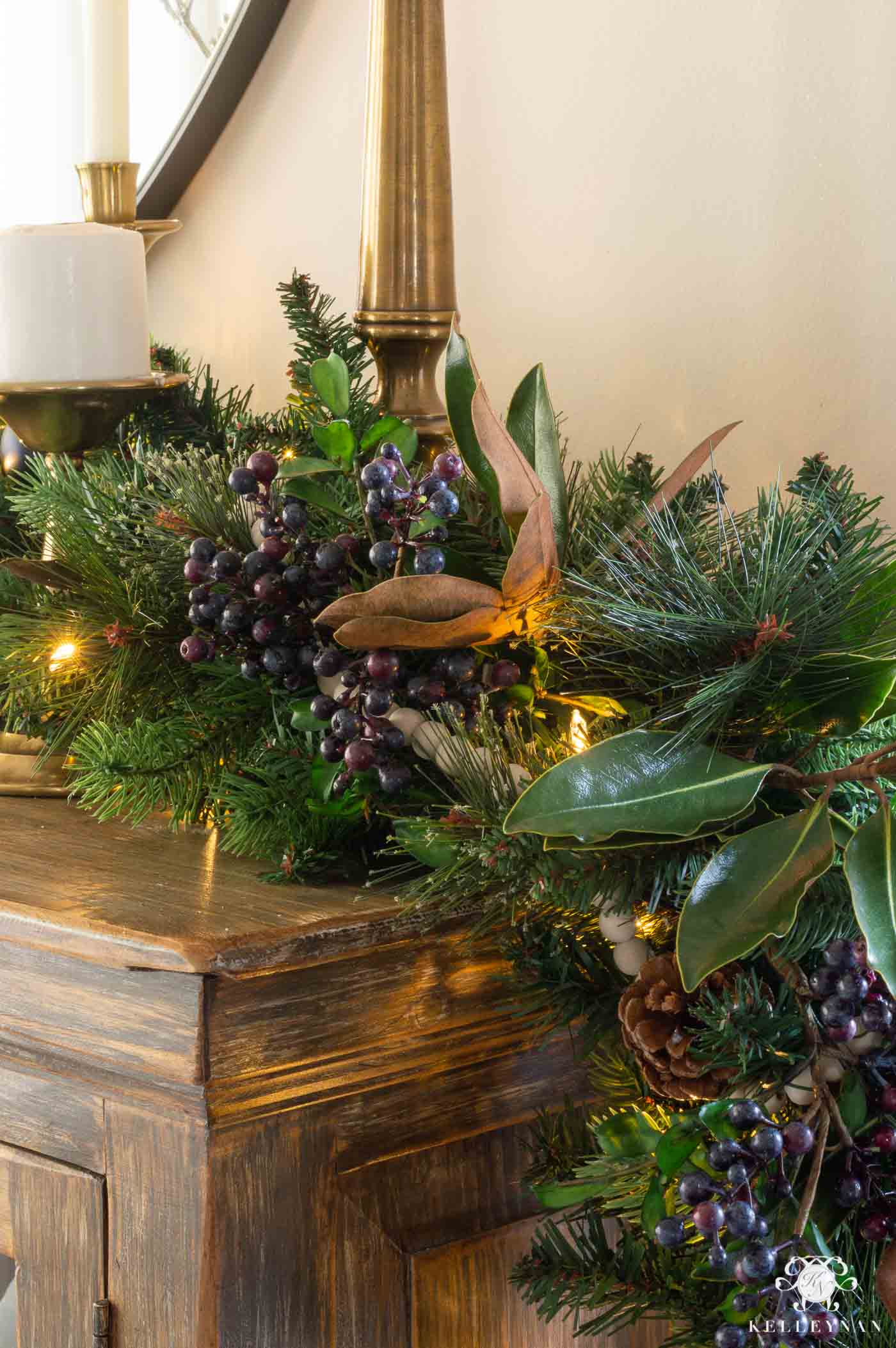 If you've never seen it, you can check out my full Christmas tree ribbon tutorial HERE. And, this year, I actually filmed an IGTV tree decorating video for Instagram, that you can find HERE.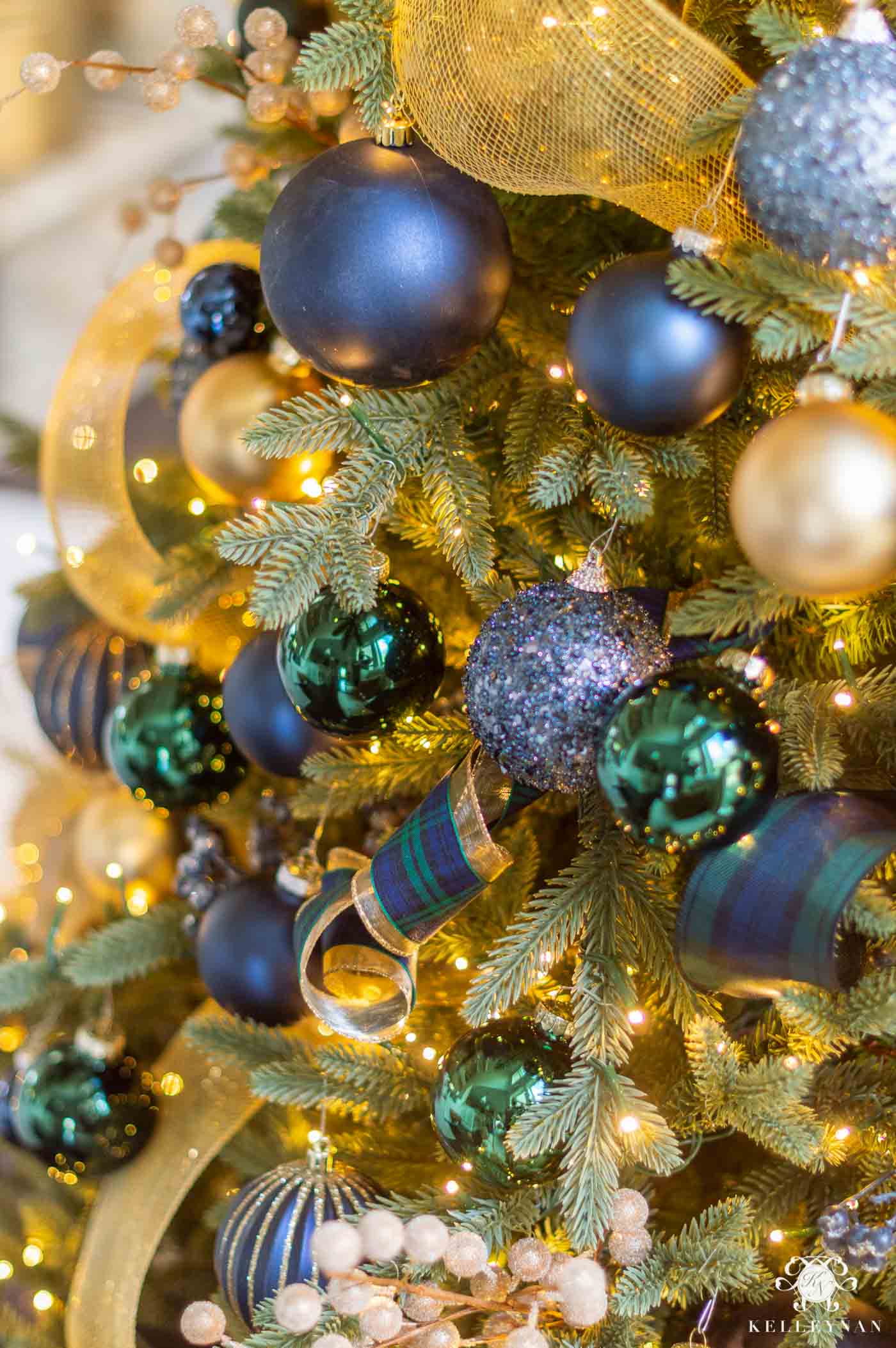 Again, while I've caught her a couple of times getting a little too interested in the ornaments, by the time we set this tree up, Eliza already knew she wasn't supposed to grab. Christmas toddler win!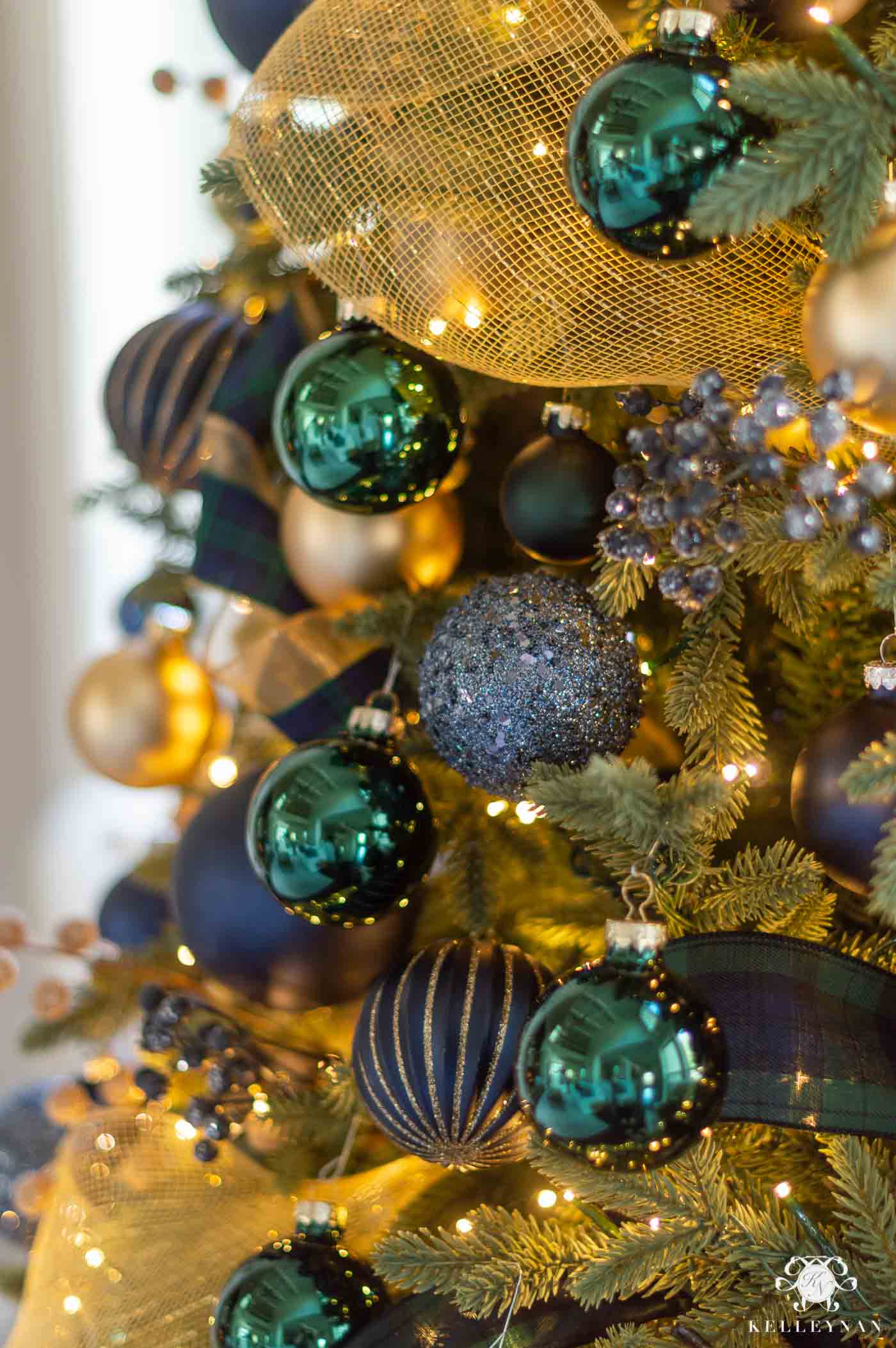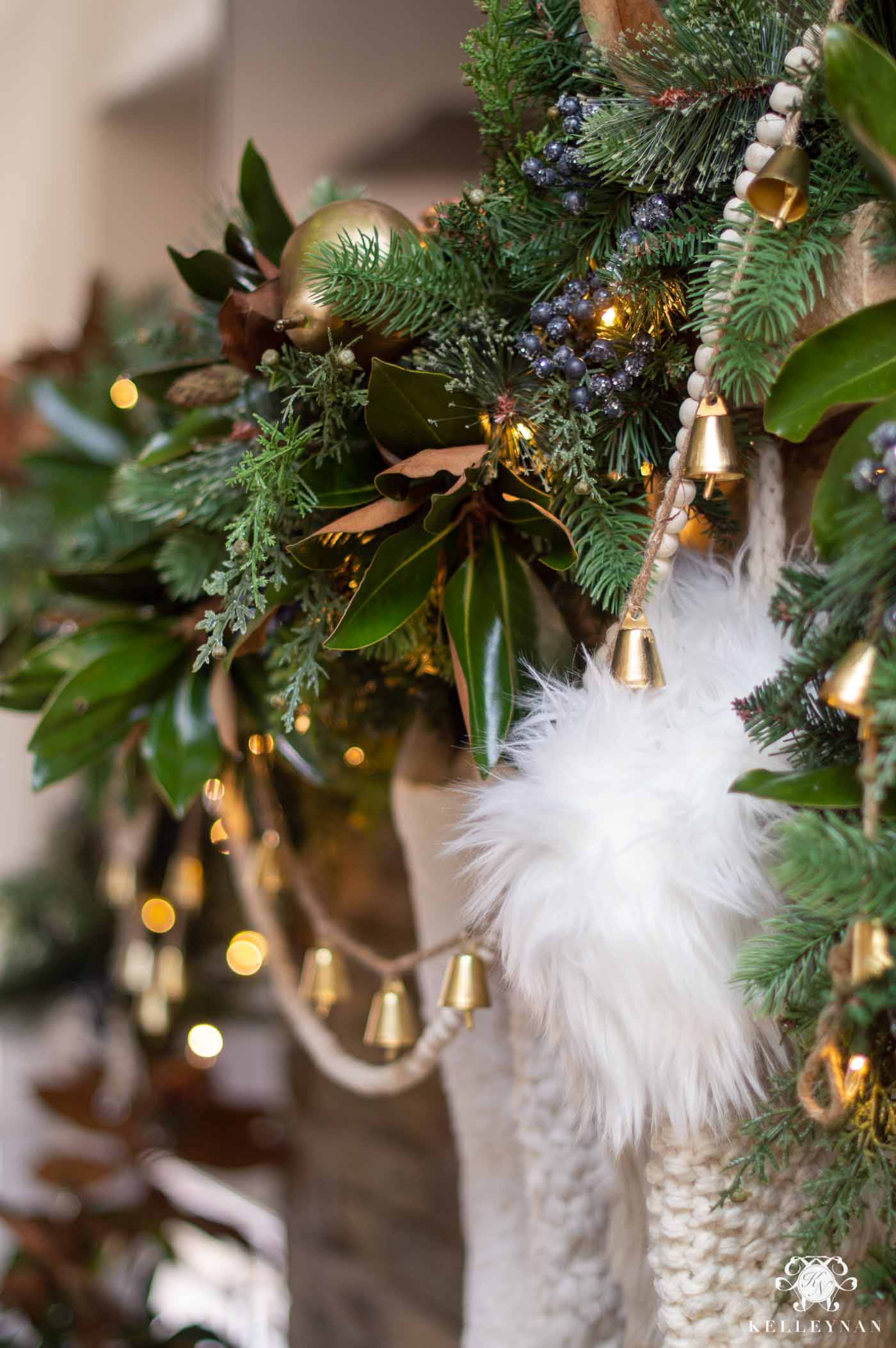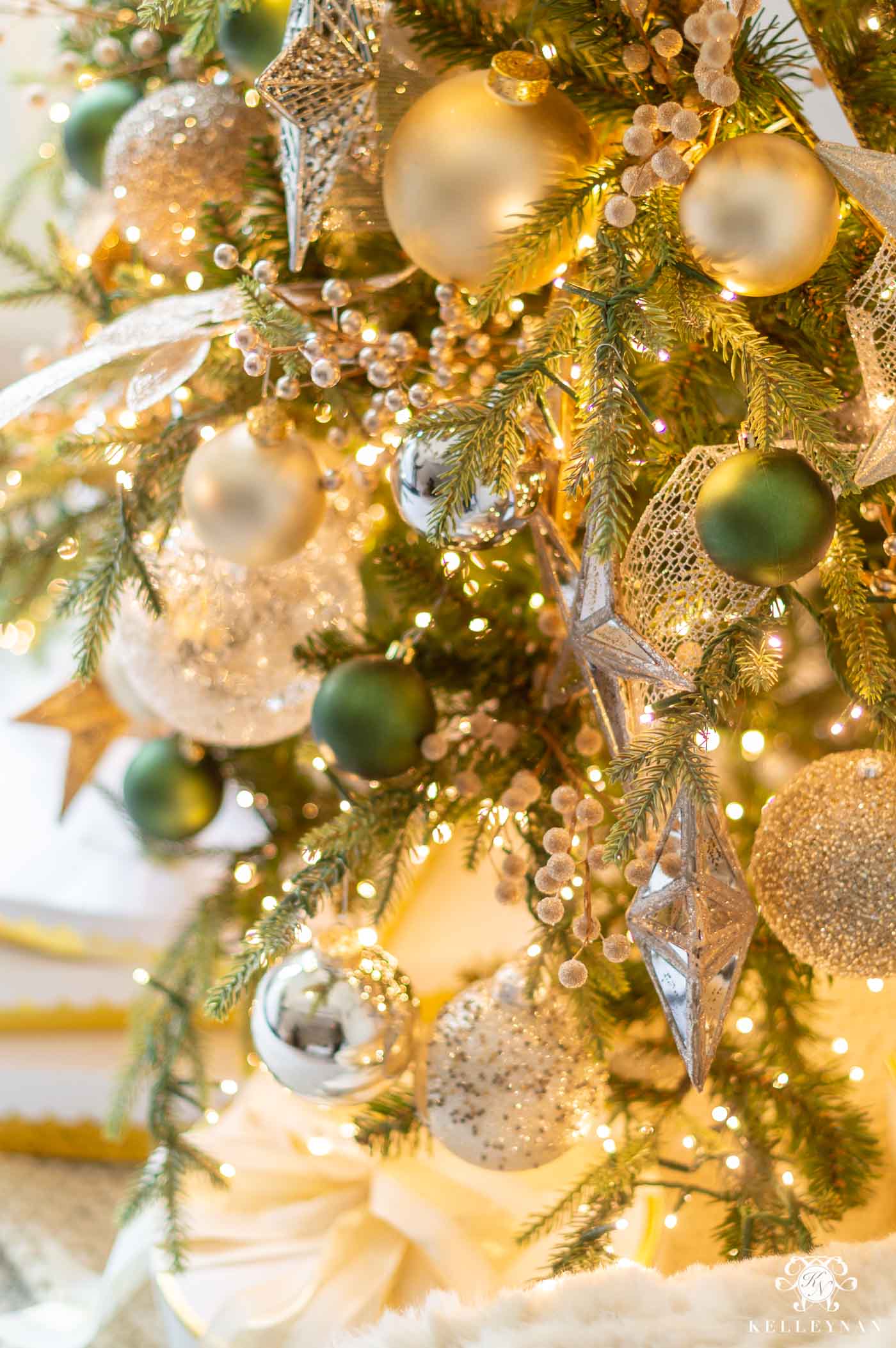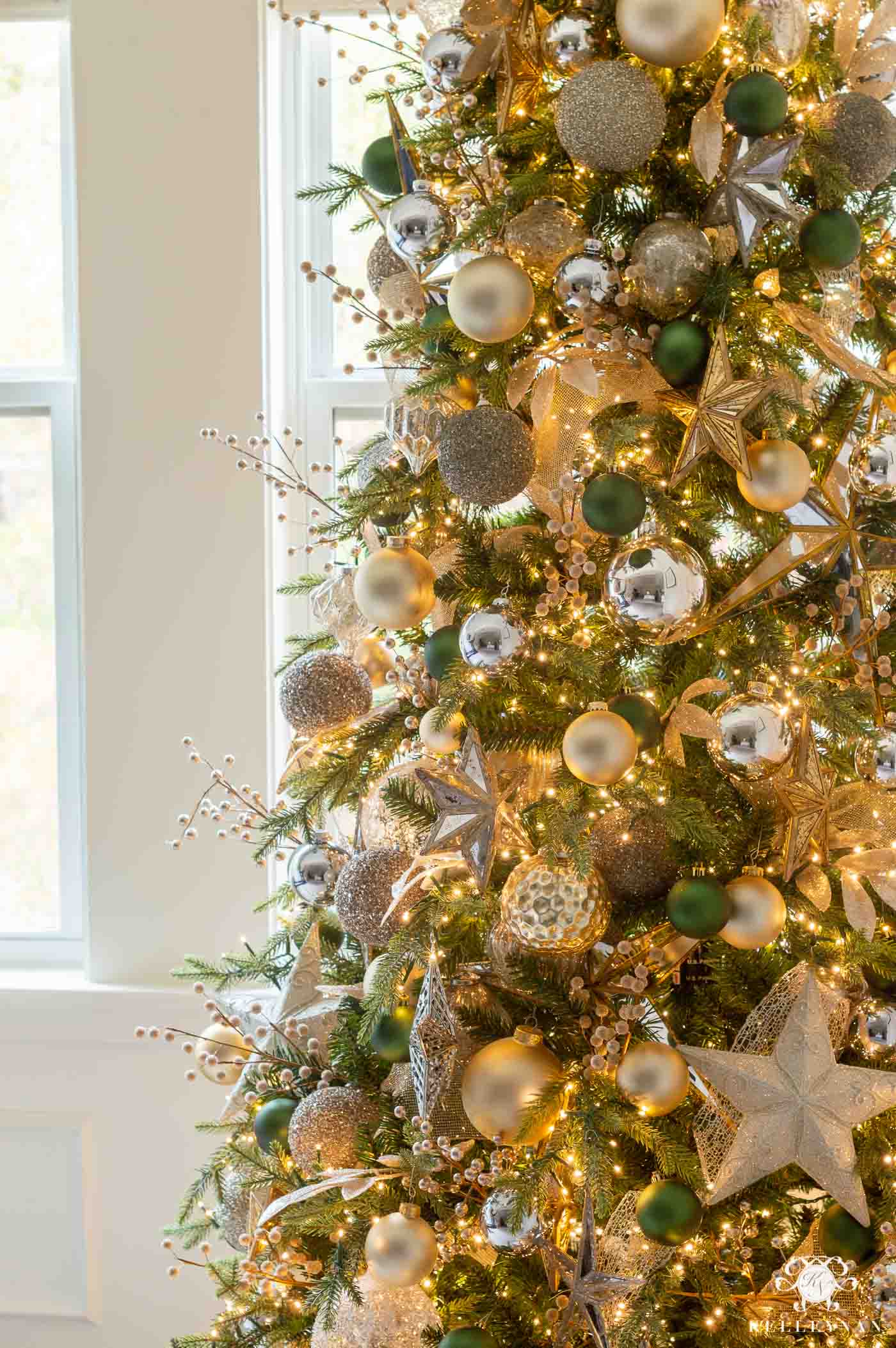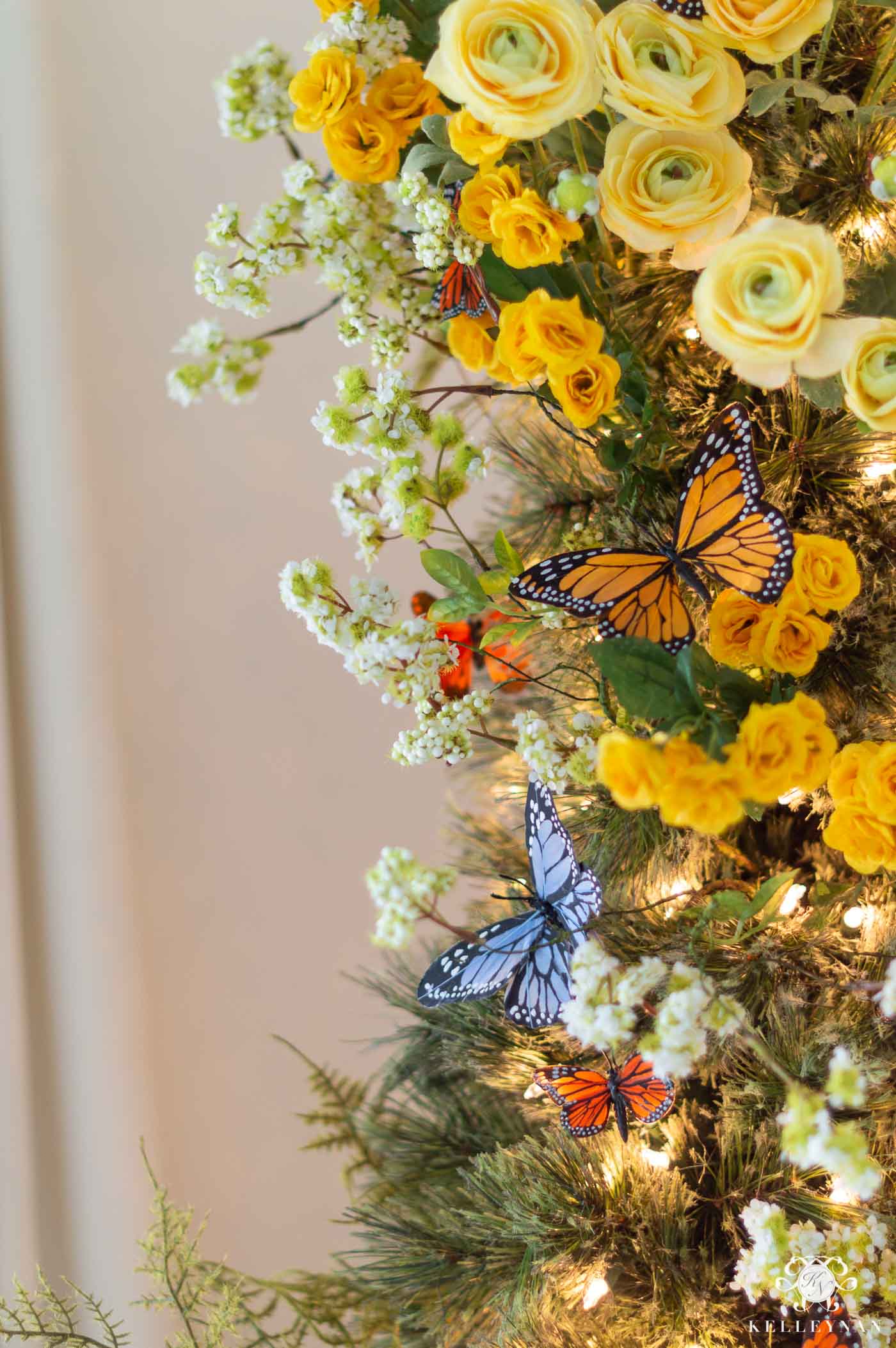 I truly believe that while I love a good, traditional Christmas tree, I also appreciate the opportunity to get creative (if you've been here more than one Christmas, you know this!) and even if a theme isn't shouting "holidays!" in the typical way, that a theme based on happiness is a good thing. I hope as Eliza gets older that she can brainstorm (and enjoy brainstorming) different ideas and that we can make it into a fun project to help her bring her vision to life. That is what I hope becomes a special tradition for the two of us.