This time last year, we didn't even have a nursery and today, we actually have one decked out for Christmas. It's crazy to think about everything that happened in between and how incredibly blessed we are. The combination of our grateful hearts and the newness of it all pushes us to look for ways to celebrate — to celebrate our family, all the firsts, and the road that brought us together. This Christmas is already the most special one we've had and (while admittedly but unapologetically a little over the top), I was dying to commence the holiday magic. Confession — Eliza's nursery has been filled with Christmas decorations for weeks now and regardless of how many nighttime routines we've had in the midst of the twinkling lights, it never gets old. Because she isn't mobile just yet, this will probably be the only year that's safe to "do it up" but this year, for the sake of magic and celebration, we totally went for it haha. Today, I'm sharing my most favorite holiday project of all time — Eliza's magical-secret-garden-Fern-Gully-woodland-fairy-esque Christmas nursery. And just like that, a theme was born.
*This post is written in partnership with At Home Stores; as always, all opinions, concept, and creative are my own. Posts on KelleyNan.com may contain affiliate links. You are responsible for your own safety; use your best judgement when it comes to what is./isn't appropriate for your own children and family. Click HERE for full disclosure.*
All featured Christmas decor is from At Home; permanent room sources, wall colors, etc. can be found at the bottom of this post.
Eliza's Christmas Nursery
I wasn't totally sure what direction I wanted to take until I walked the aisles at At Home; I shop there each year for the holidays and I usually don't make a decision until I'm in store, have made rounds, and feel inspired. I thought maybe I would go a little more feminine since her nursery had to be designed pretty gender neutral (you can see her nursery reveal, sans Christmas decor HERE). One of the things I love is that they separate color schemes and themes into curated collections. They don't have an e-commerce site but you can see if you have a store nearby HERE and browse HERE. I usually do my own thing and grab from all the aisles but I get a ton of inspiration by seeing the combinations they come up with. If you follow me on Instagram, I shared part of my shopping and browsing on stories — I went from thinking I was going to play up her woodland theme to something more fairy-like before finally landing somewhere in the middle. So what exactly is a magical-secret-garden-Fern-Gully-woodland-fairy-esque Christmas nursery? Well, let's take a look…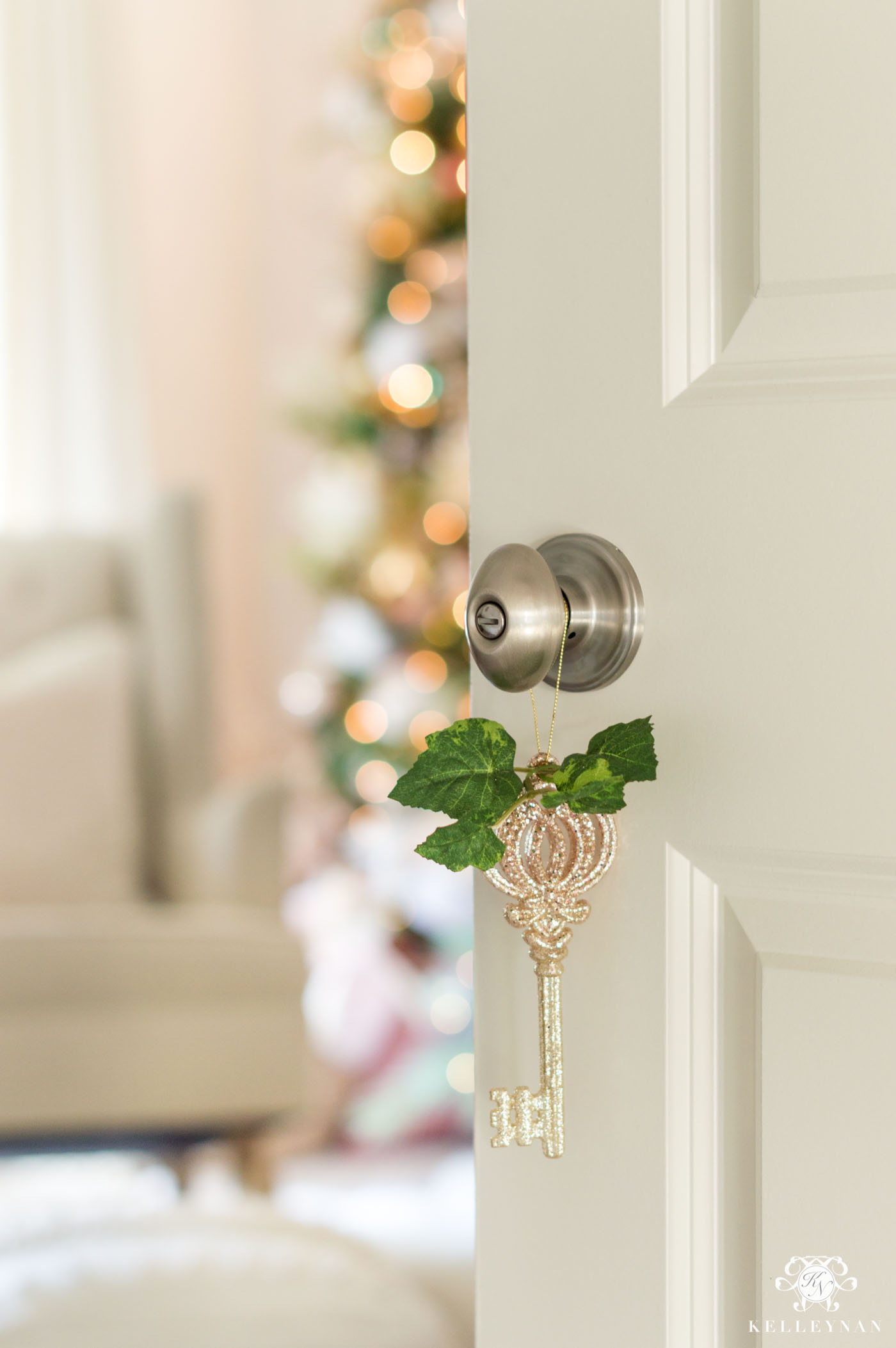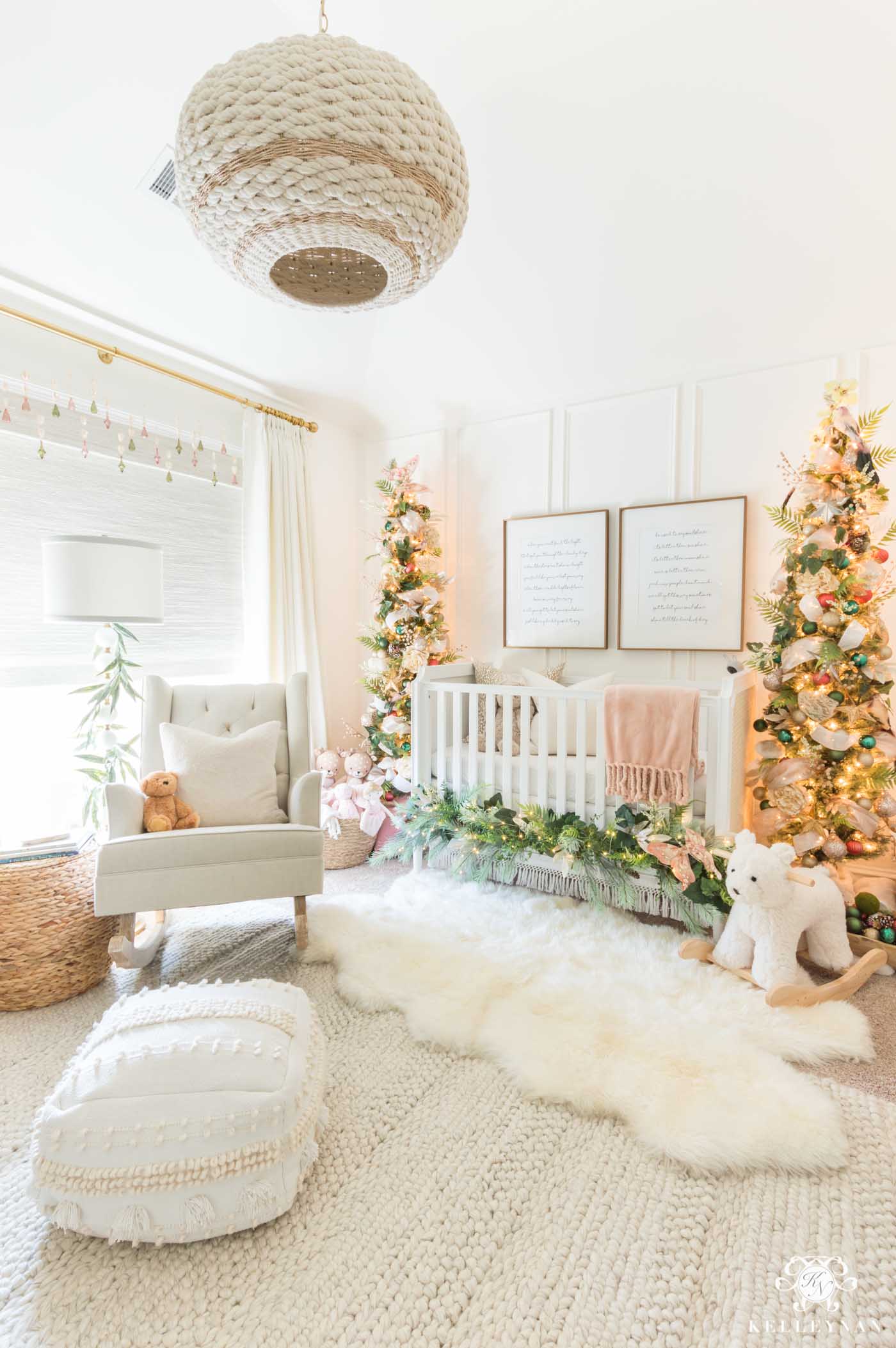 Two trees?! Yes- two trees! haha. My original plan was to do one tree in the corner but while I was in-store, my wheels started turning and I thought "one would be nice but how fun would it be to have trees flanking her crib?" I looked to see if they still carried one of my favorite trees of all time — one that I first brought home last year (a full, slender 7′ Chesapeake Pine (HERE)) and lucked out. They have what can only be described as a full blown Christmas tree farm set up and spanning a good quarter of their store with every size, shape, and color you can think of but I knew if I was going for two trees, I would have to take space into extra consideration. I got them both for a combined $200. The one I picked up last year is positioned in the entry and is serving as our "nostalgia tree" this year. Sign up for emails HERE so you don't miss this year's Christmas home tour!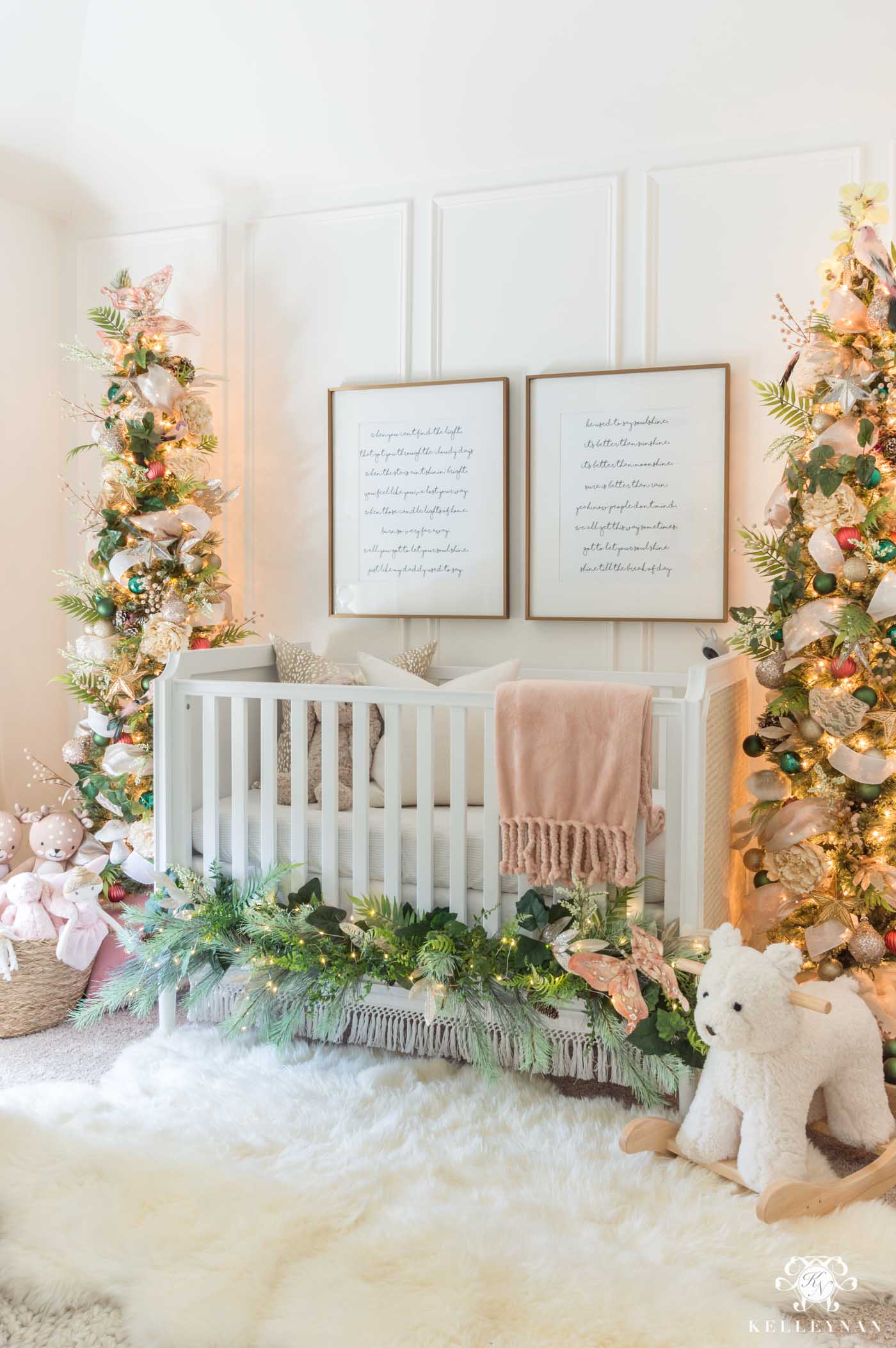 Since I wanted a whimsical, woodland, could-be-a-fairy-home vibe, I headed out of the Christmas section and into their year-round greenery. I gathered fern fronds, ivy, and several bunches of leafy garlands and sprigs that I had no idea what they were, but looked pretty.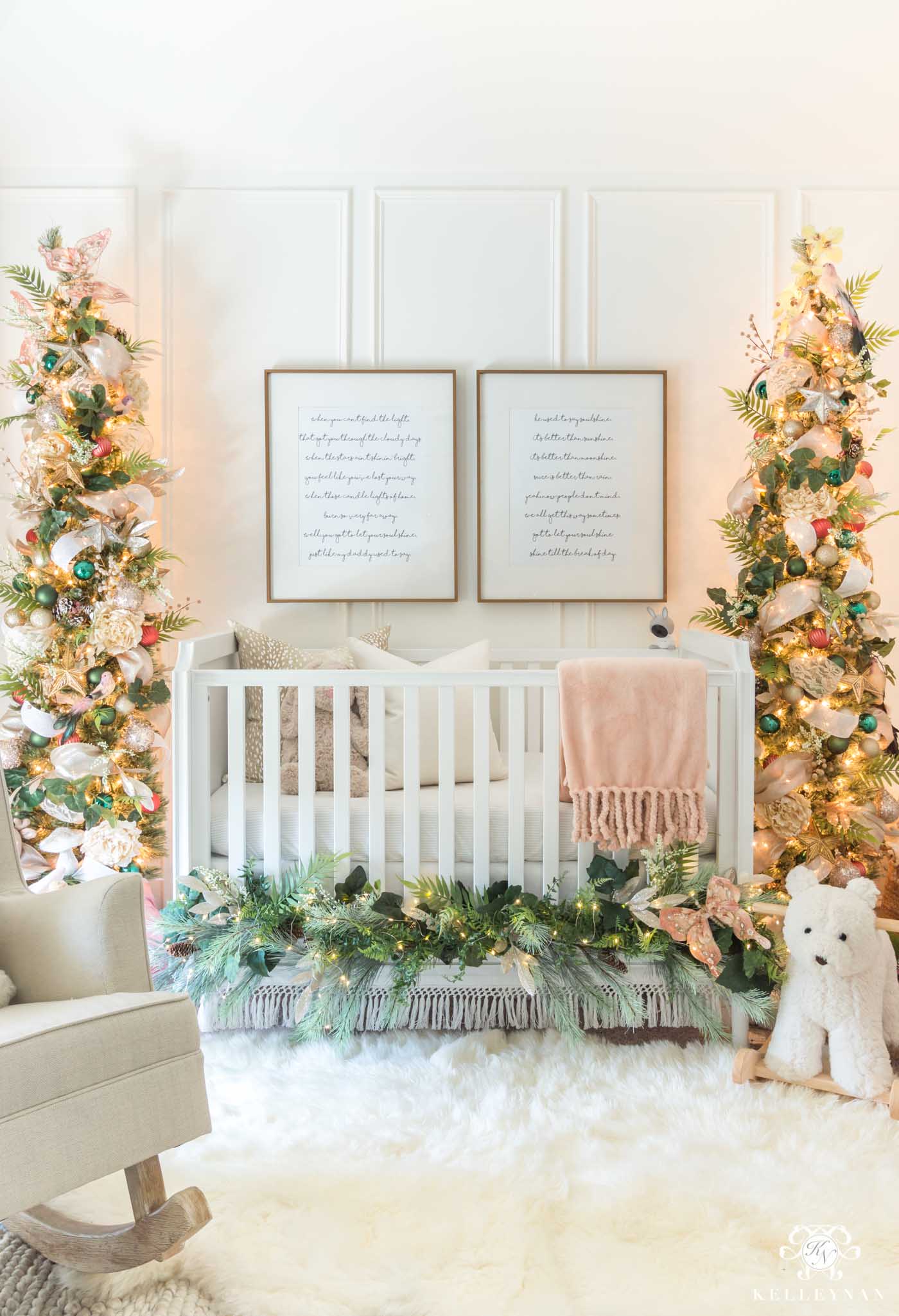 Back in the Christmas aisles, I gathered birds, butterflies, berries, florals, large ornaments, basic ornaments, and ribbons in different widths. You can see how I add ribbon to my trees in THIS TUTORIAL. I wanted the trees to be cohesive and symmetric, but have just a little variance. I topped one with a few butterflies…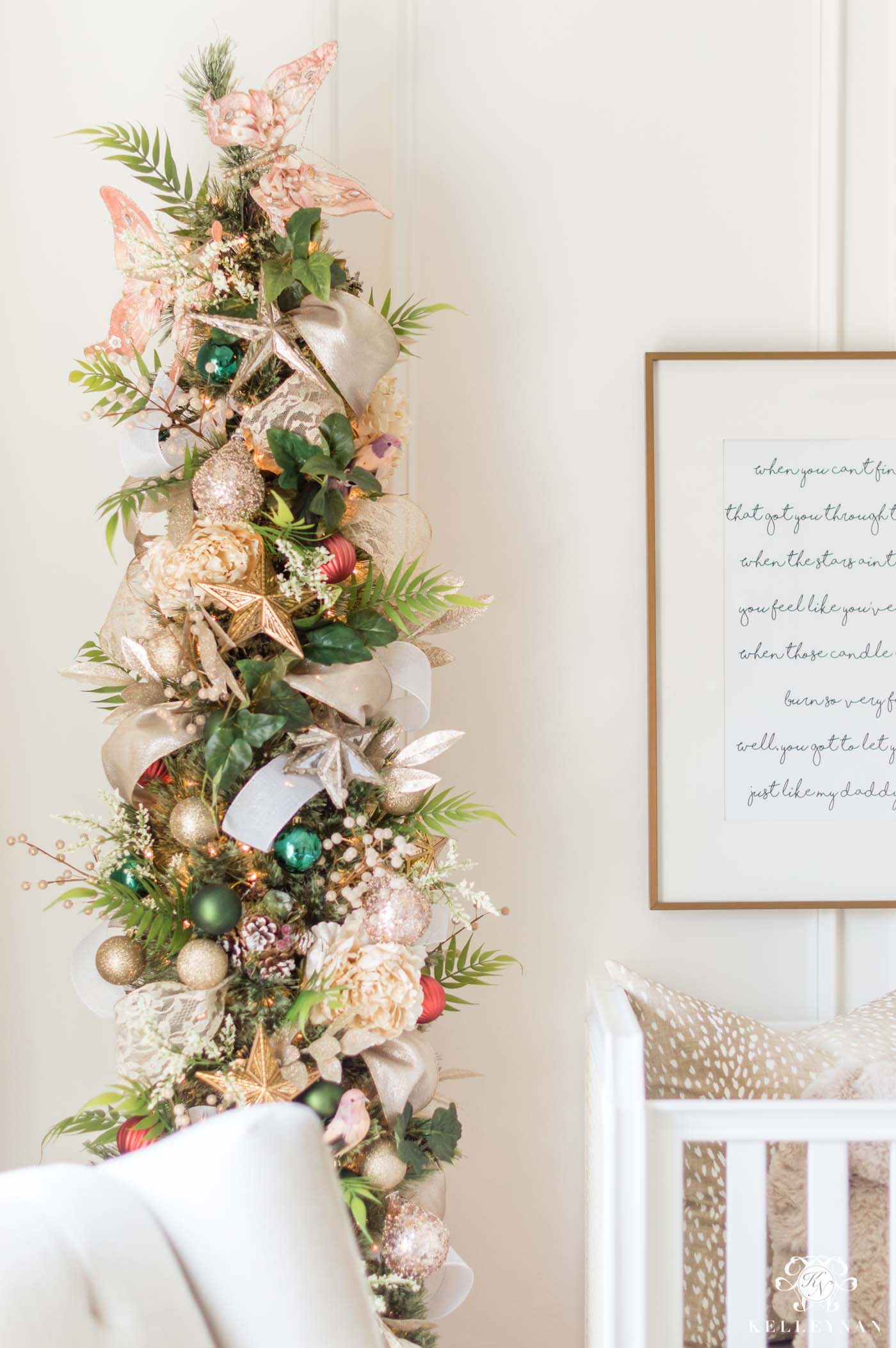 and the other with an orchid.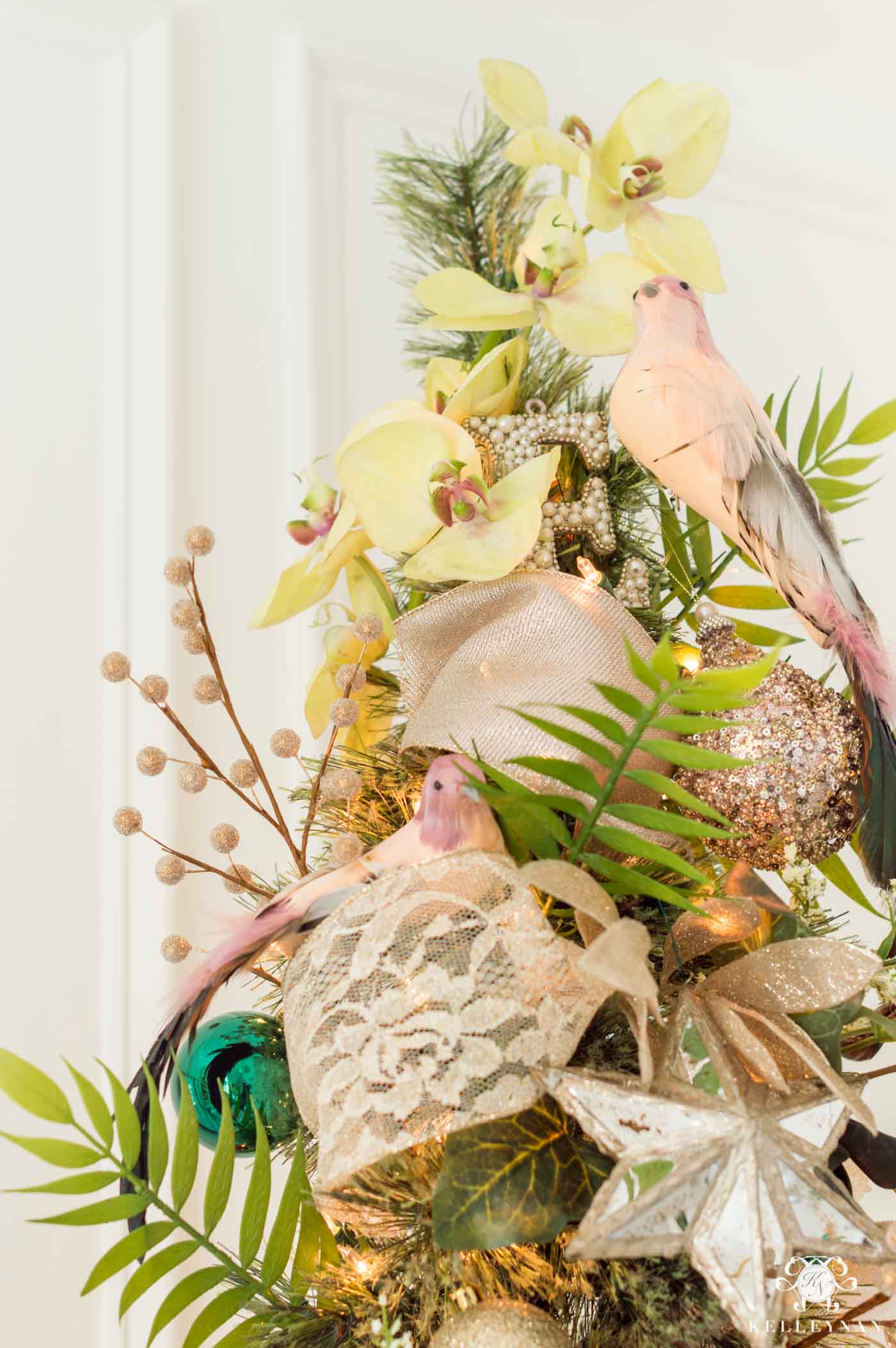 I also couldn't resist all the mirrored, gold, and silver stars — stay tuned for a fun DIY later in the post 😉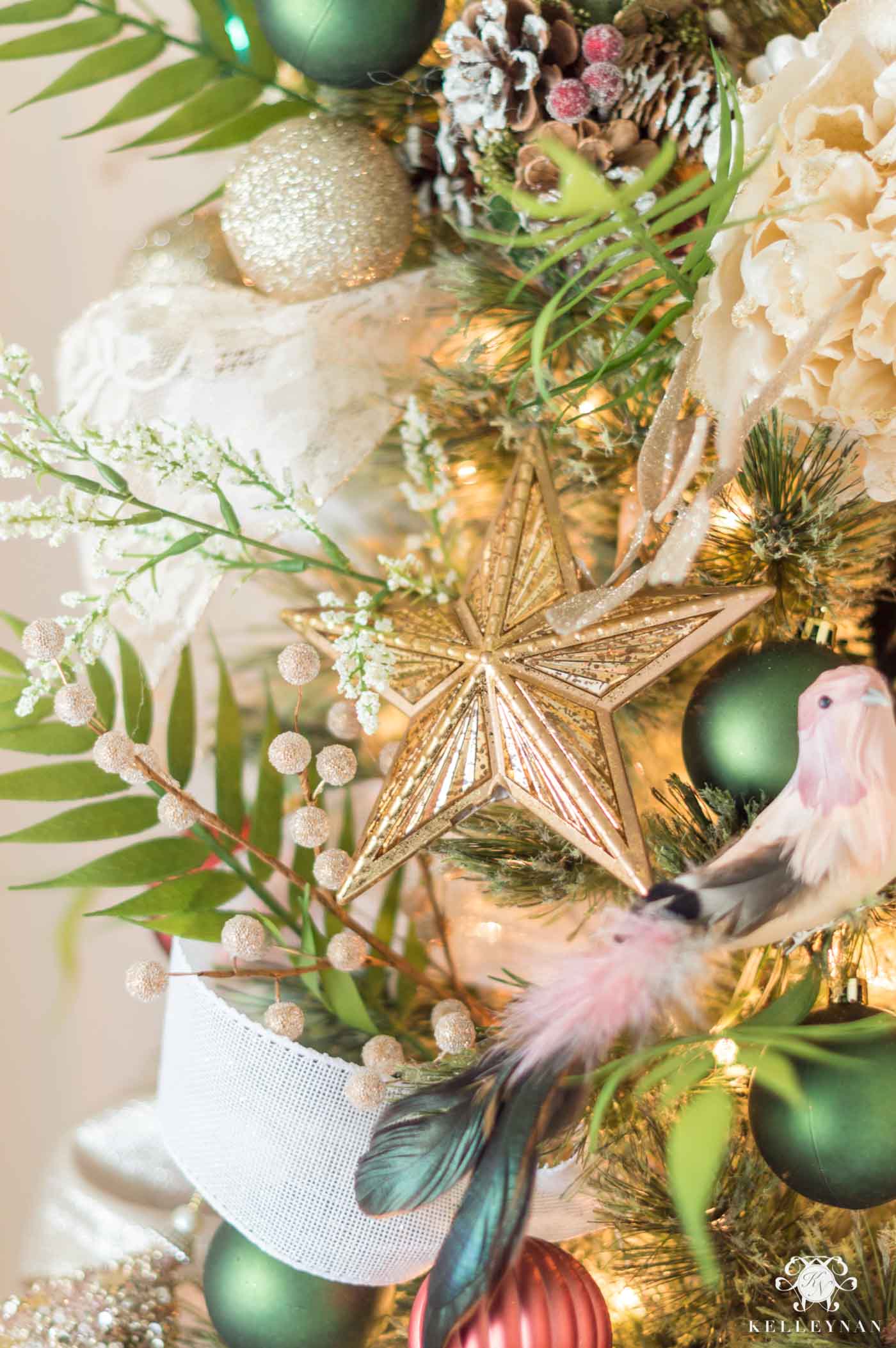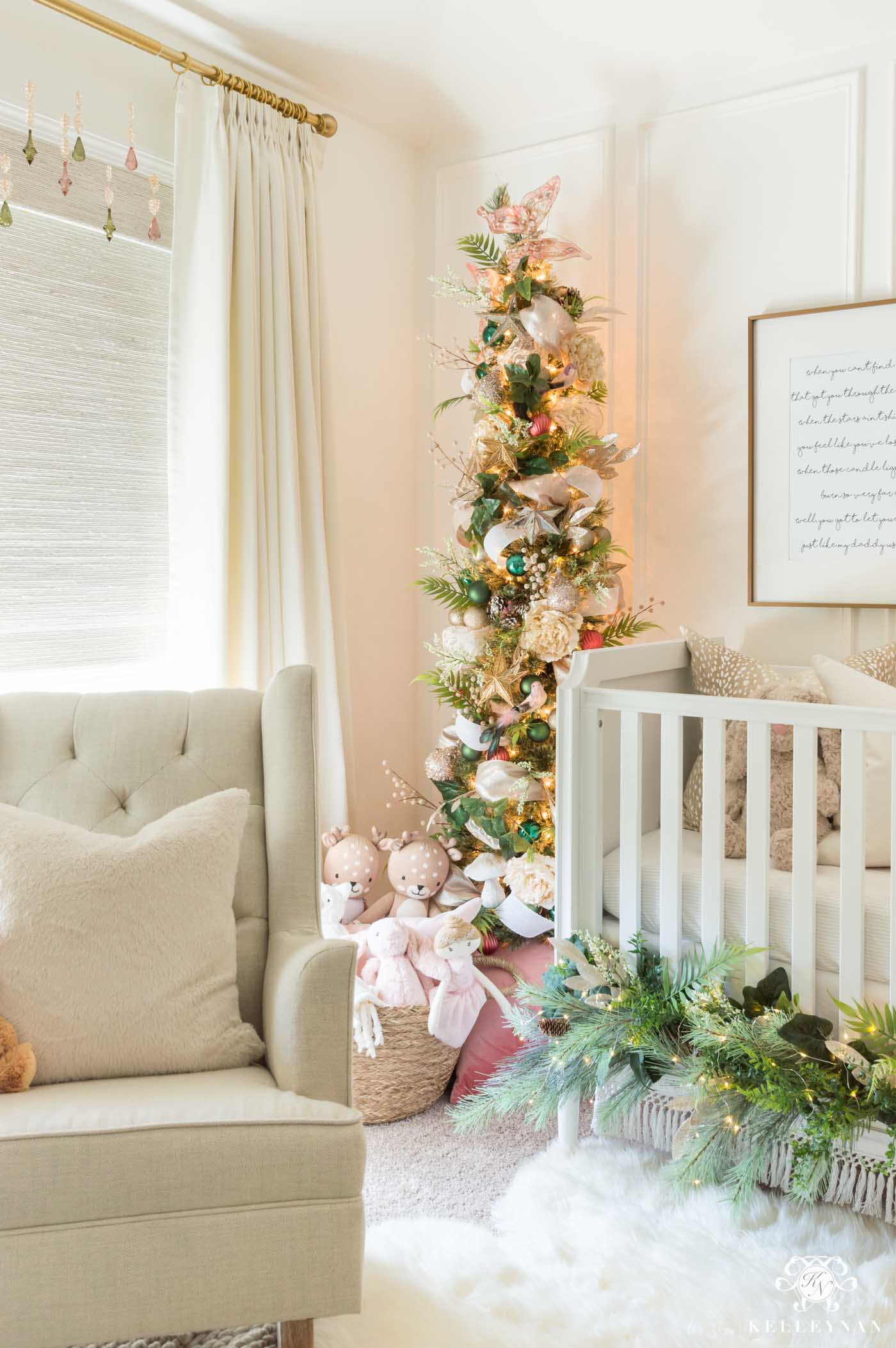 I wove a few strands of garland and individual stems into the bottom of her crib for a custom garland, incorporating the ivy and fern stems used in the trees, before finishing it off with a strand of thin wire lights. I kept it low, to the bottom of the crib and out of sight and reach from inside the crib.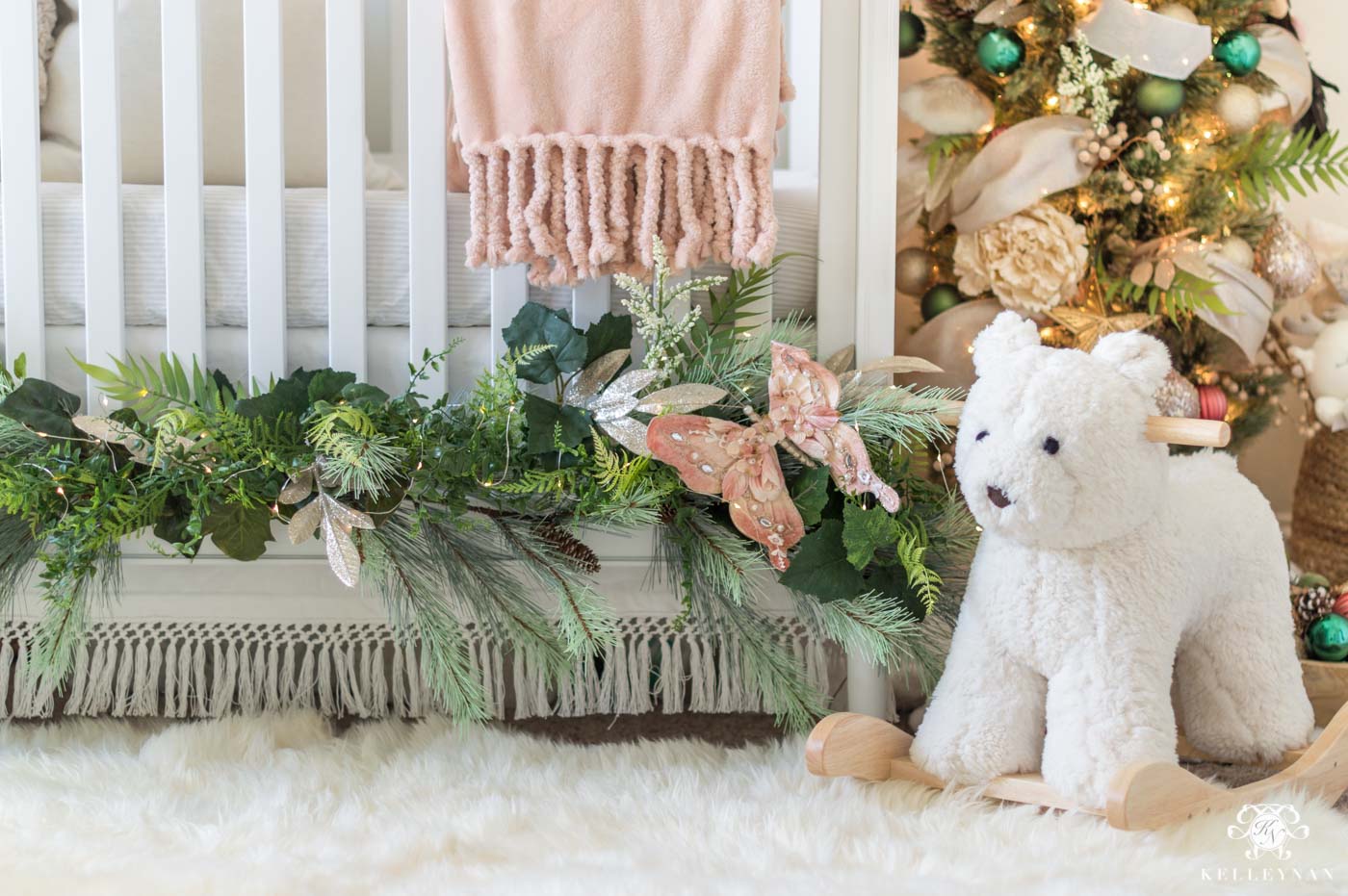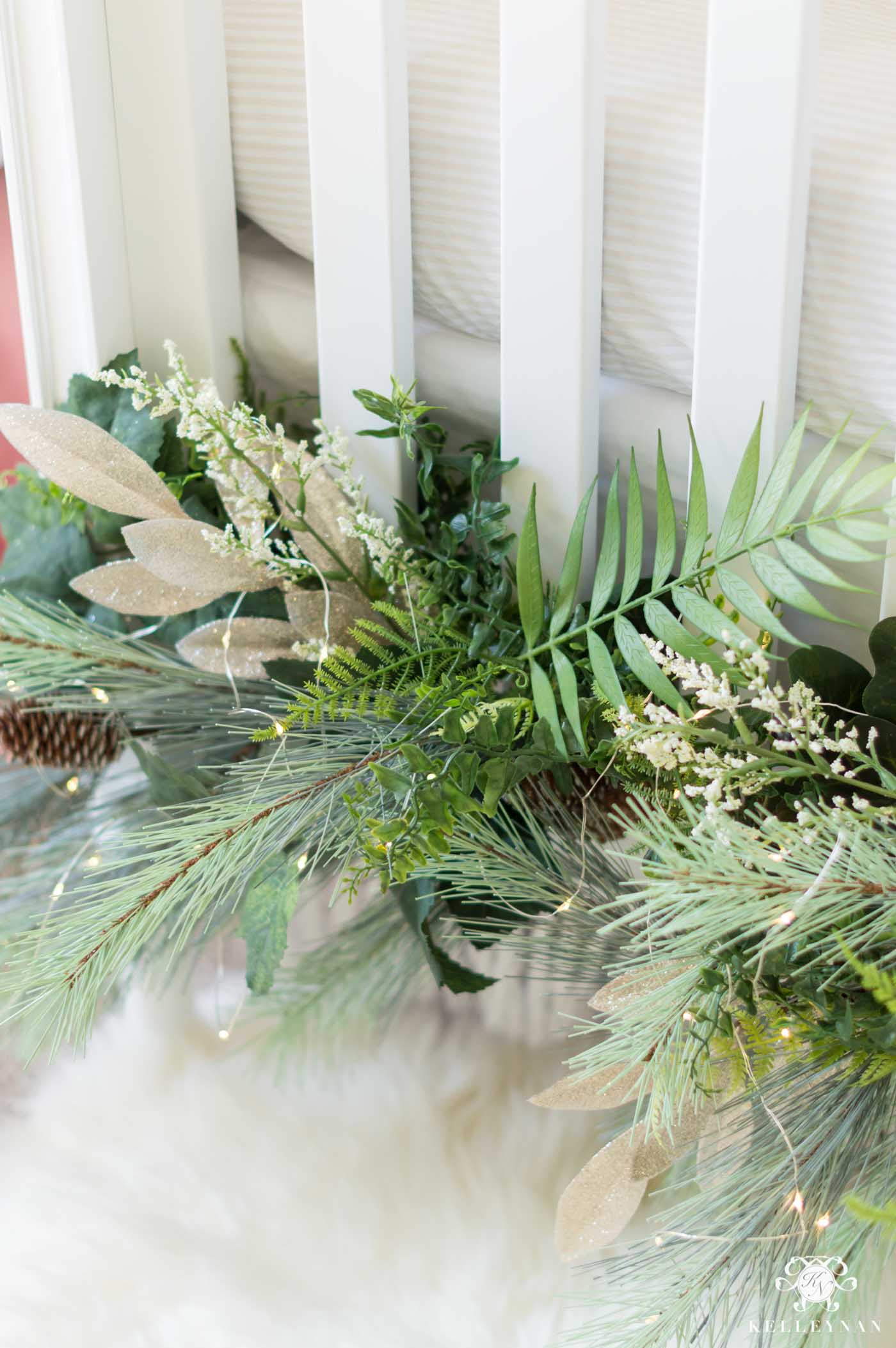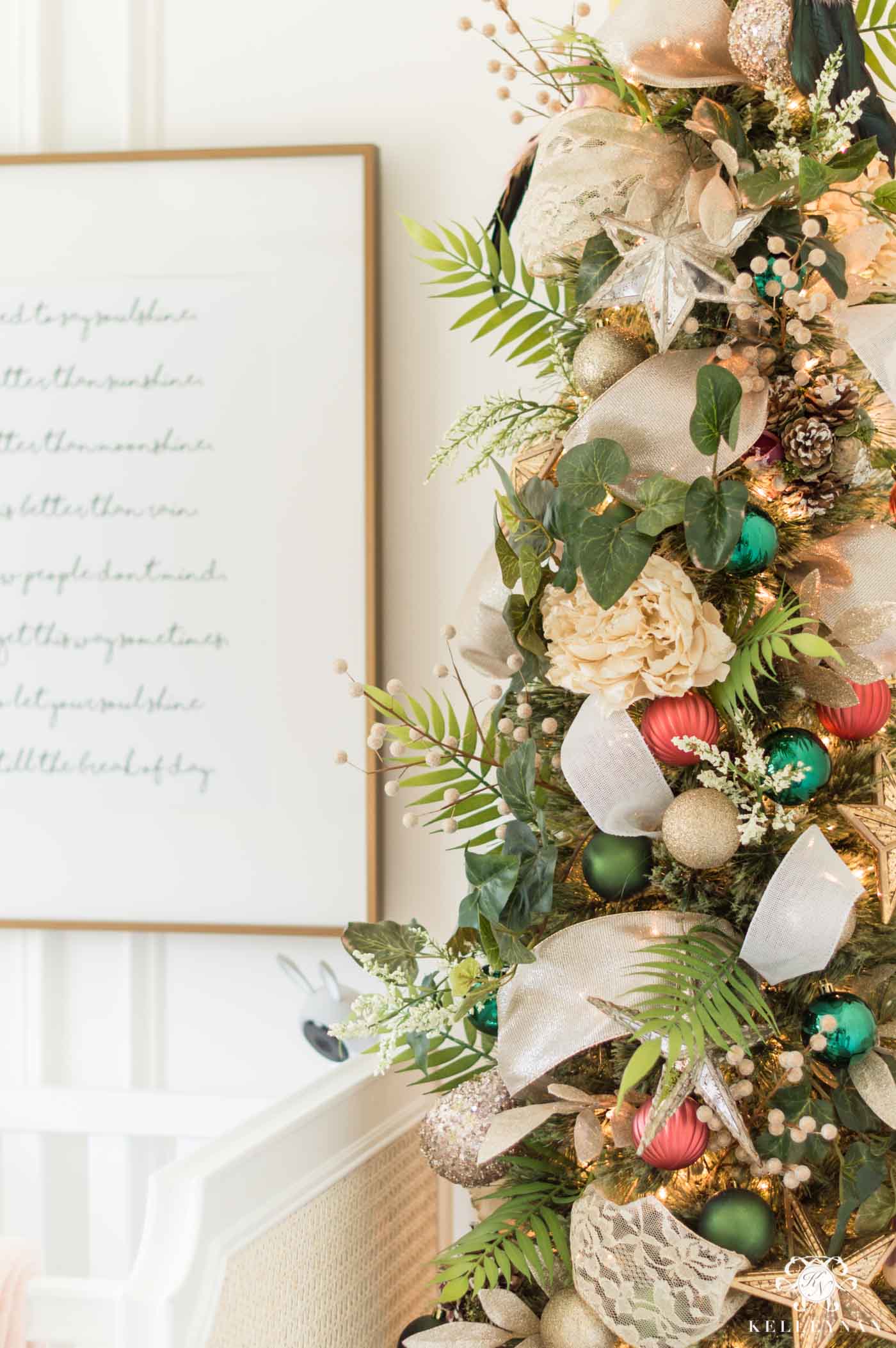 Each morning when I wake her up, I come in, turn off her sound machine, and turn on these two trees.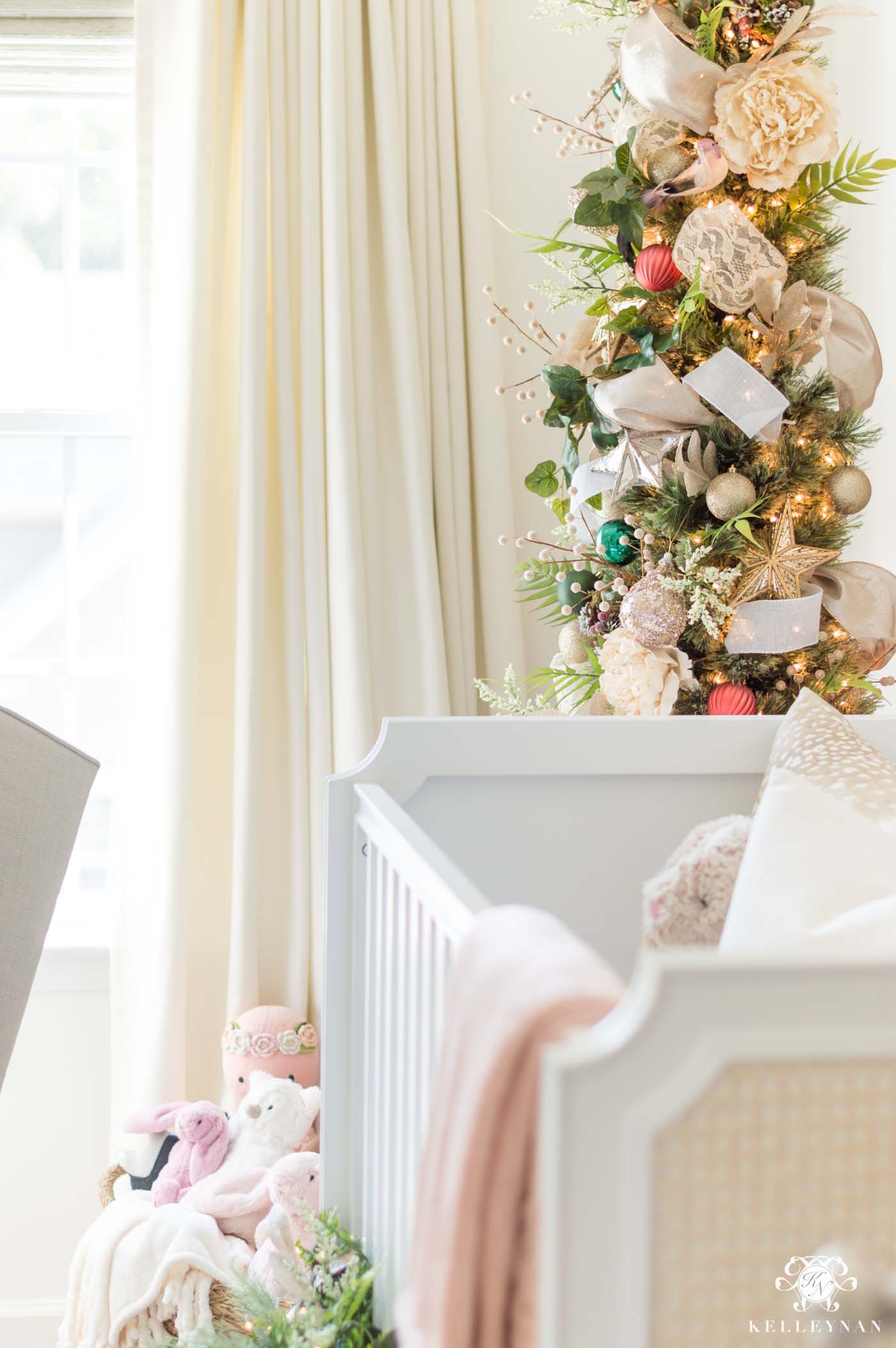 This was her expression the first time she saw them…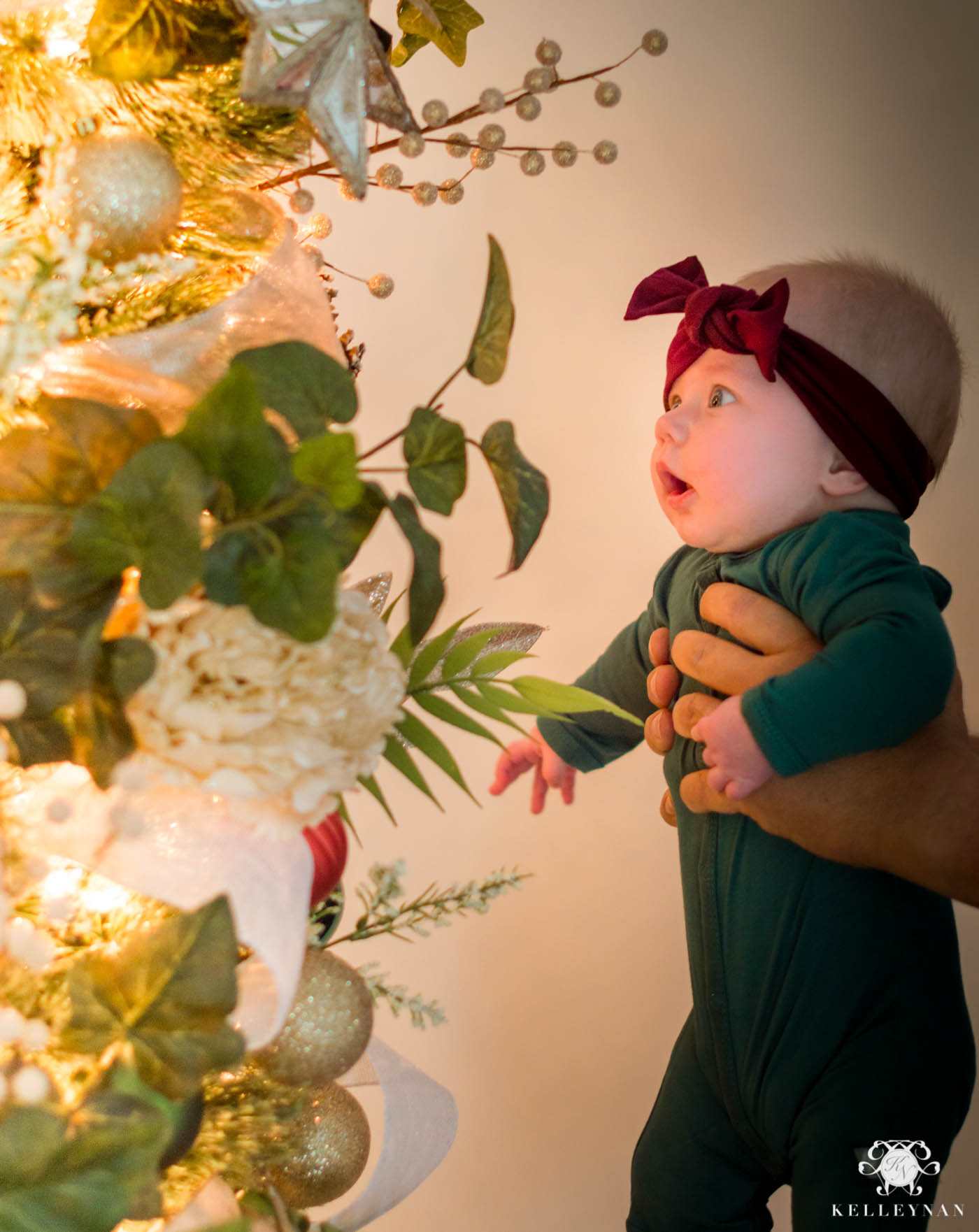 If that doesn't make it worth it, I don't know what would. 😉 On the other side of the nursery, I added a wreath to her door, jingle bells to the knob, and whipped up some Santa hats for her woodland animals 😉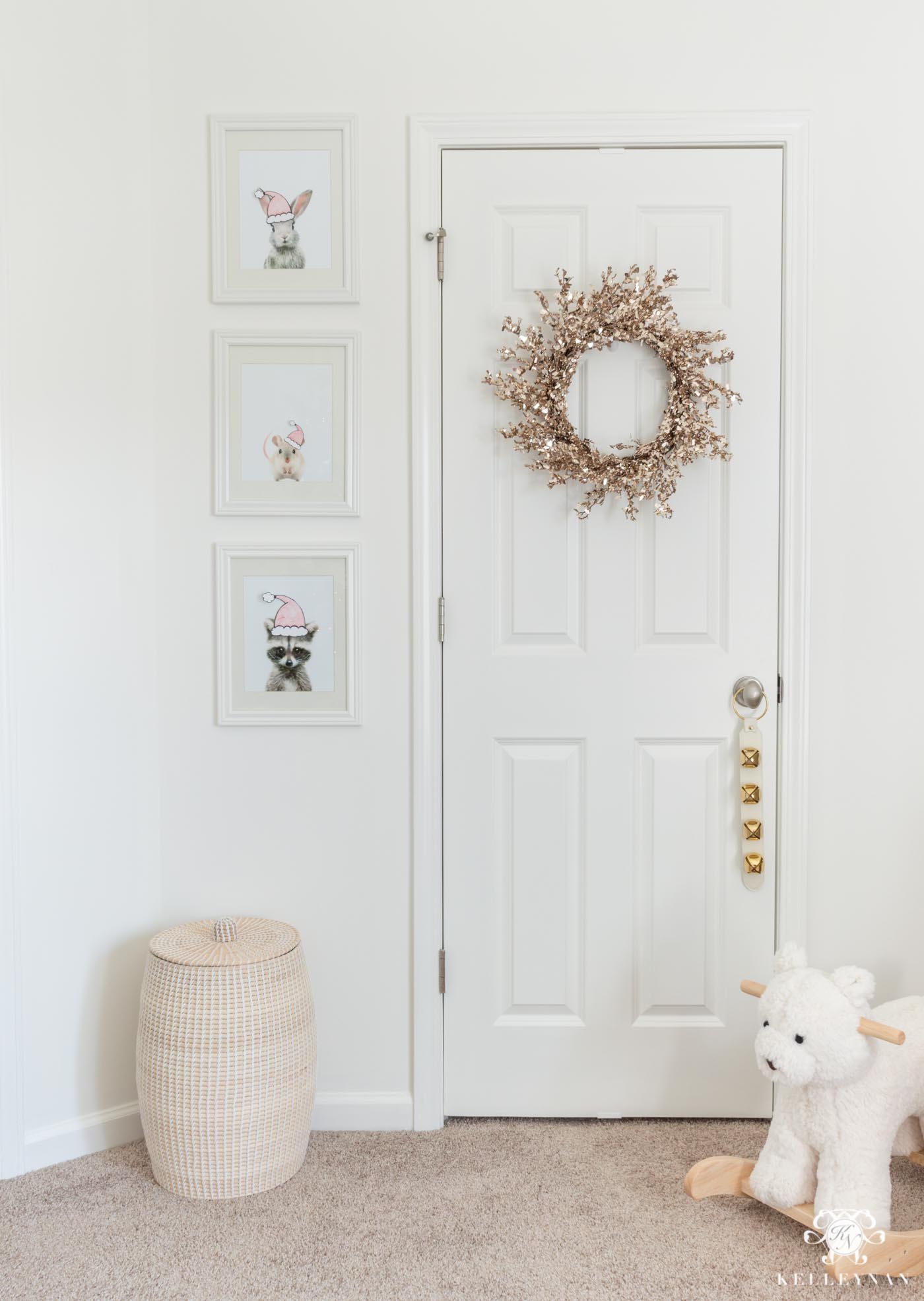 Inspired by Love Actually (remember the (uncomfortable) art gallery??), I searched for free Santa hat clipart online, pasted them into a document and resized as needed, printed and cut them out, brought my Crayola crayons out of hiding, and taped them on.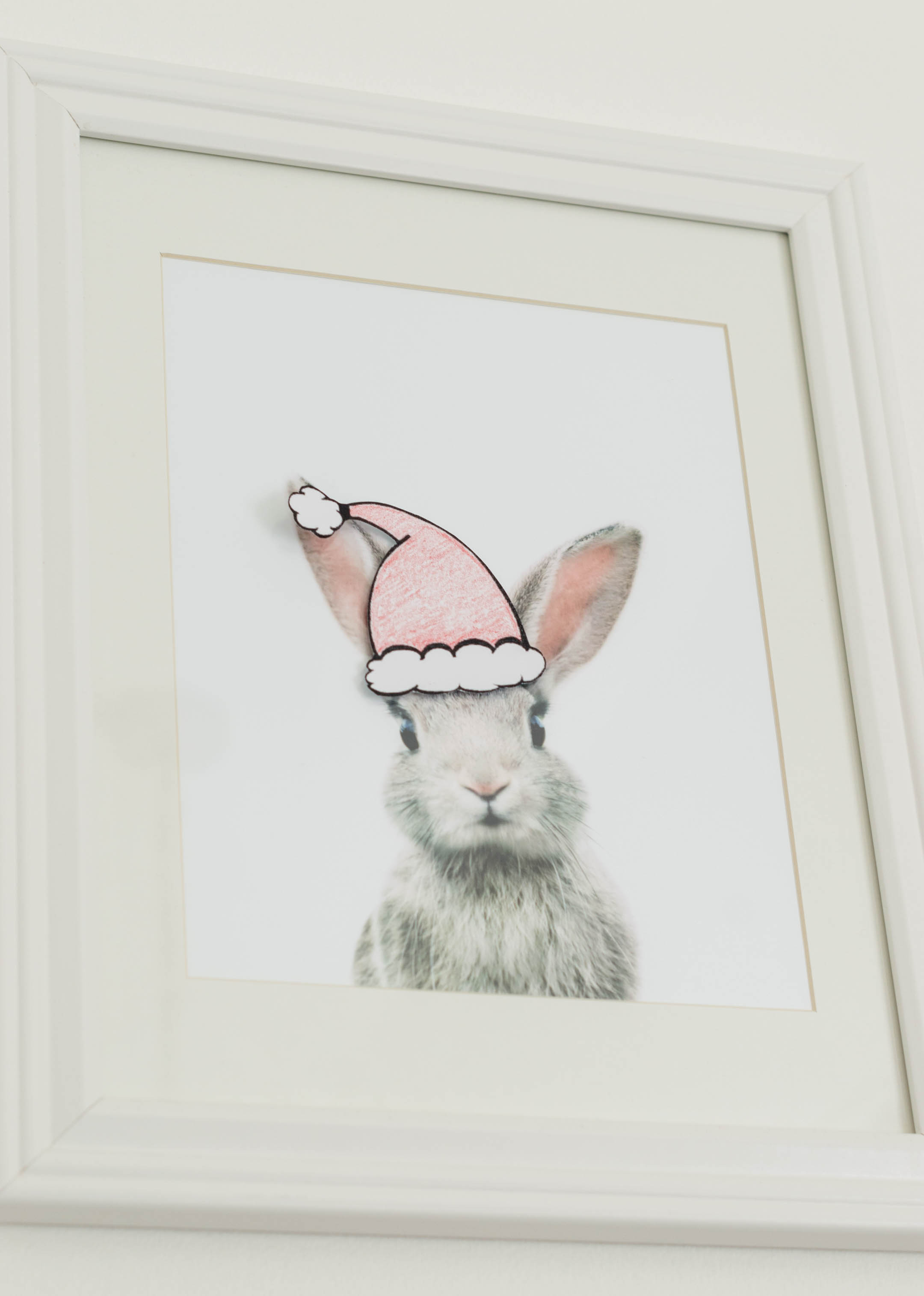 Another DIY I took on was a Christmas star mobile above her changing station. Like I said- I was all about their variety and stock of stars!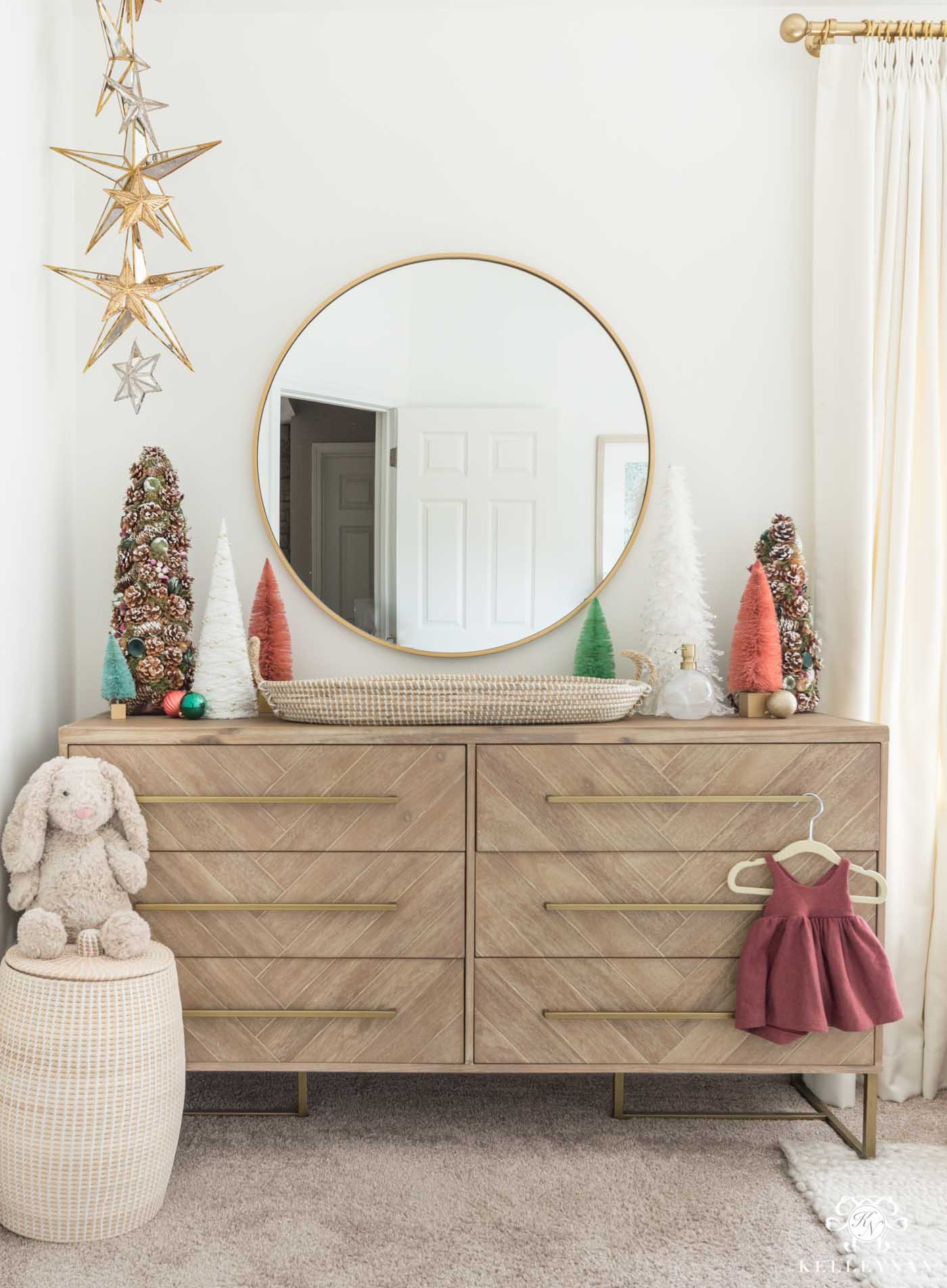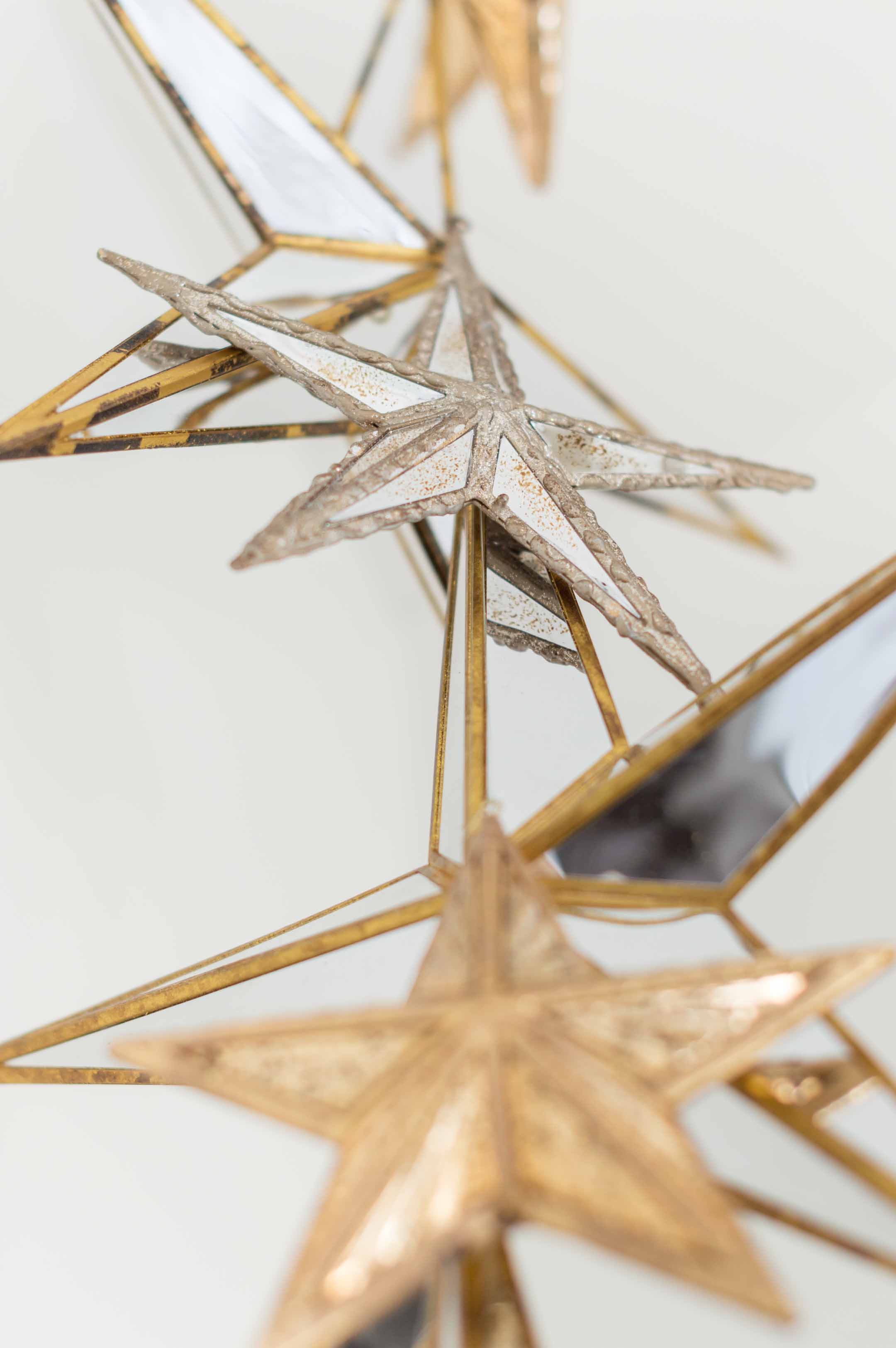 Her little Christmas tree forest is totally eclectic and sourced from several of the different curated sections — they have a ton of tabletop/cone/bottlebrush Christmas trees so it's easy to pull several together depending on what theme and color scheme you're going for.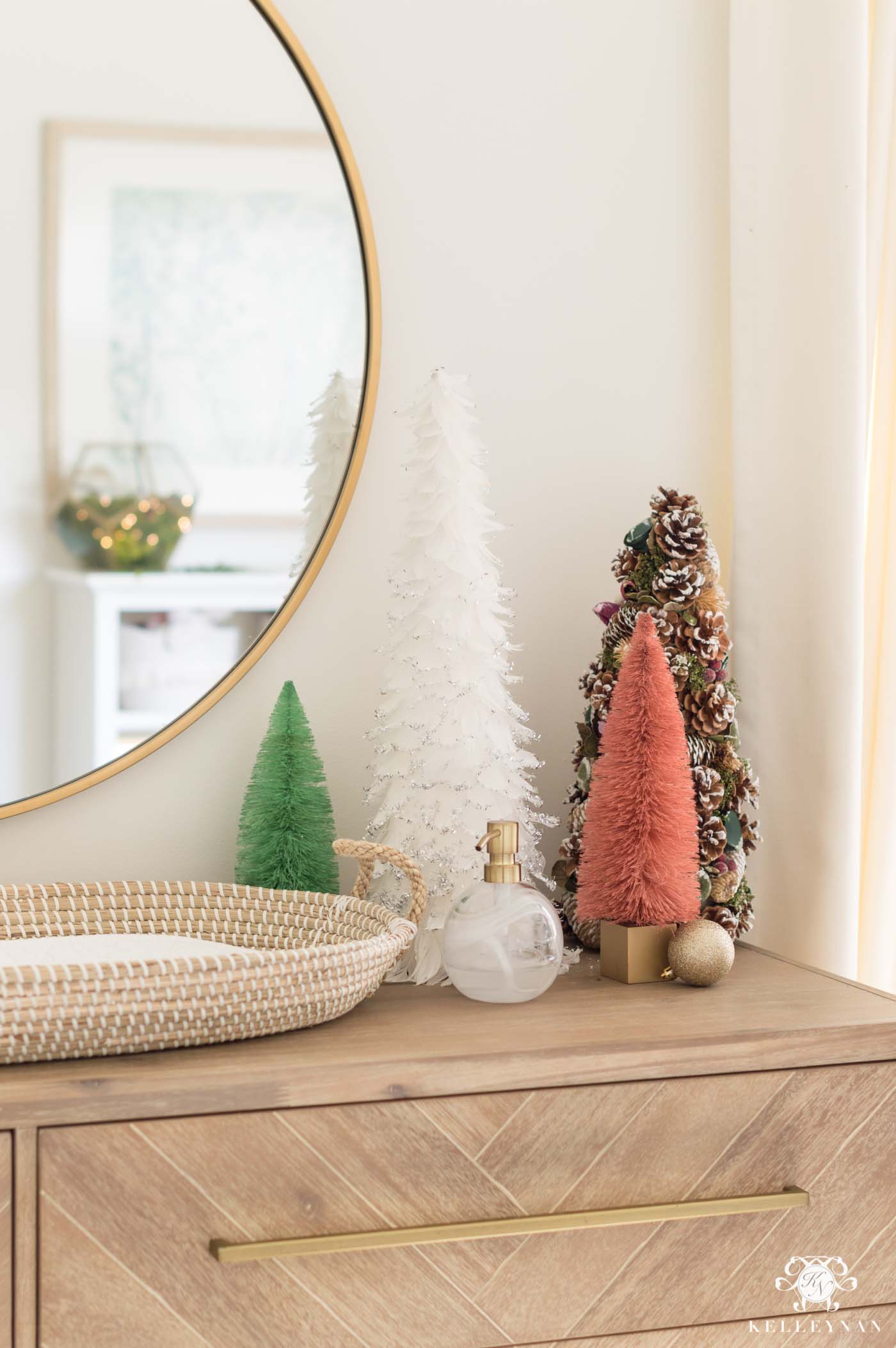 And after the major areas were completed, I spent time sprinkling a little whimsy in other places.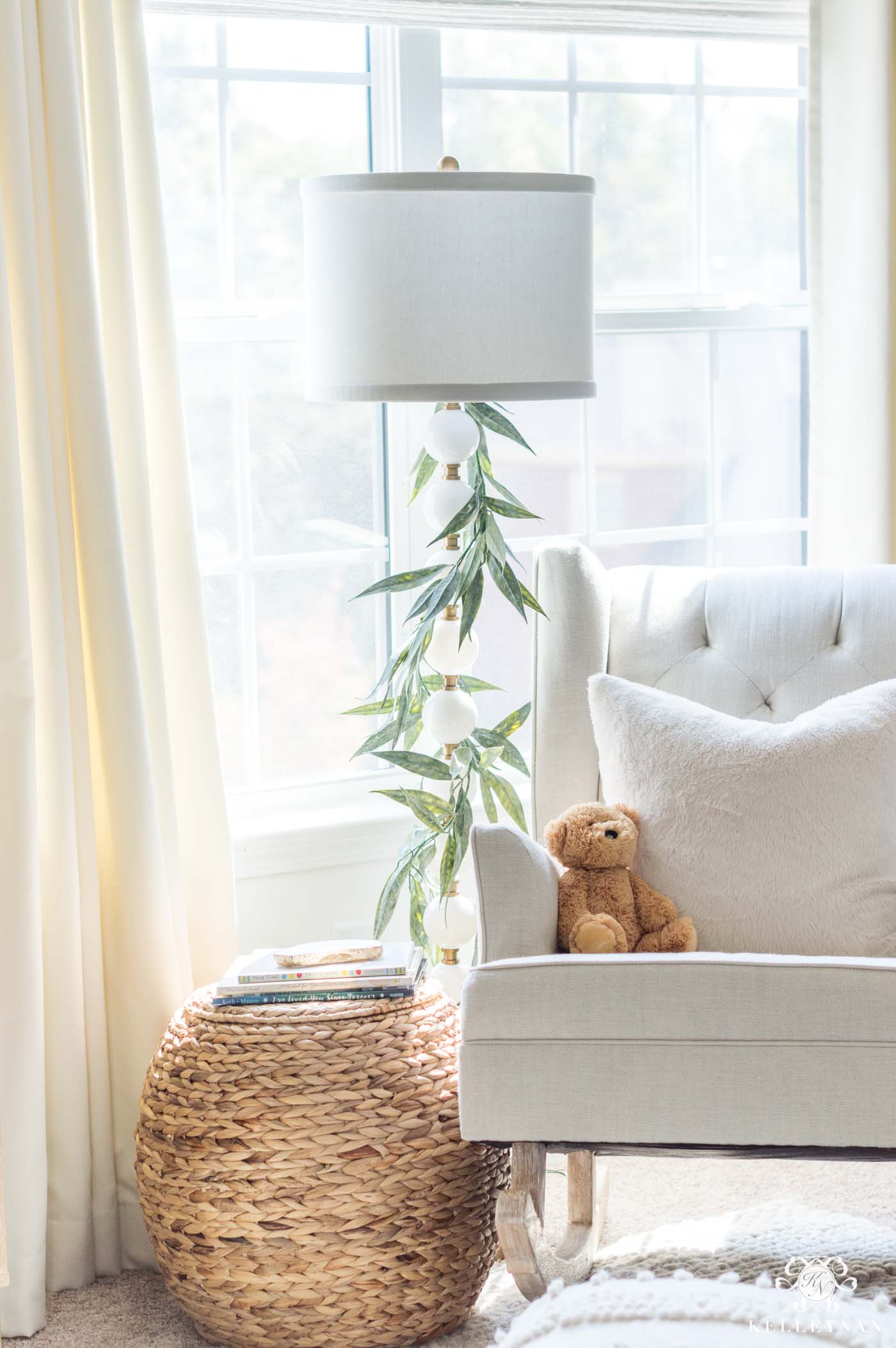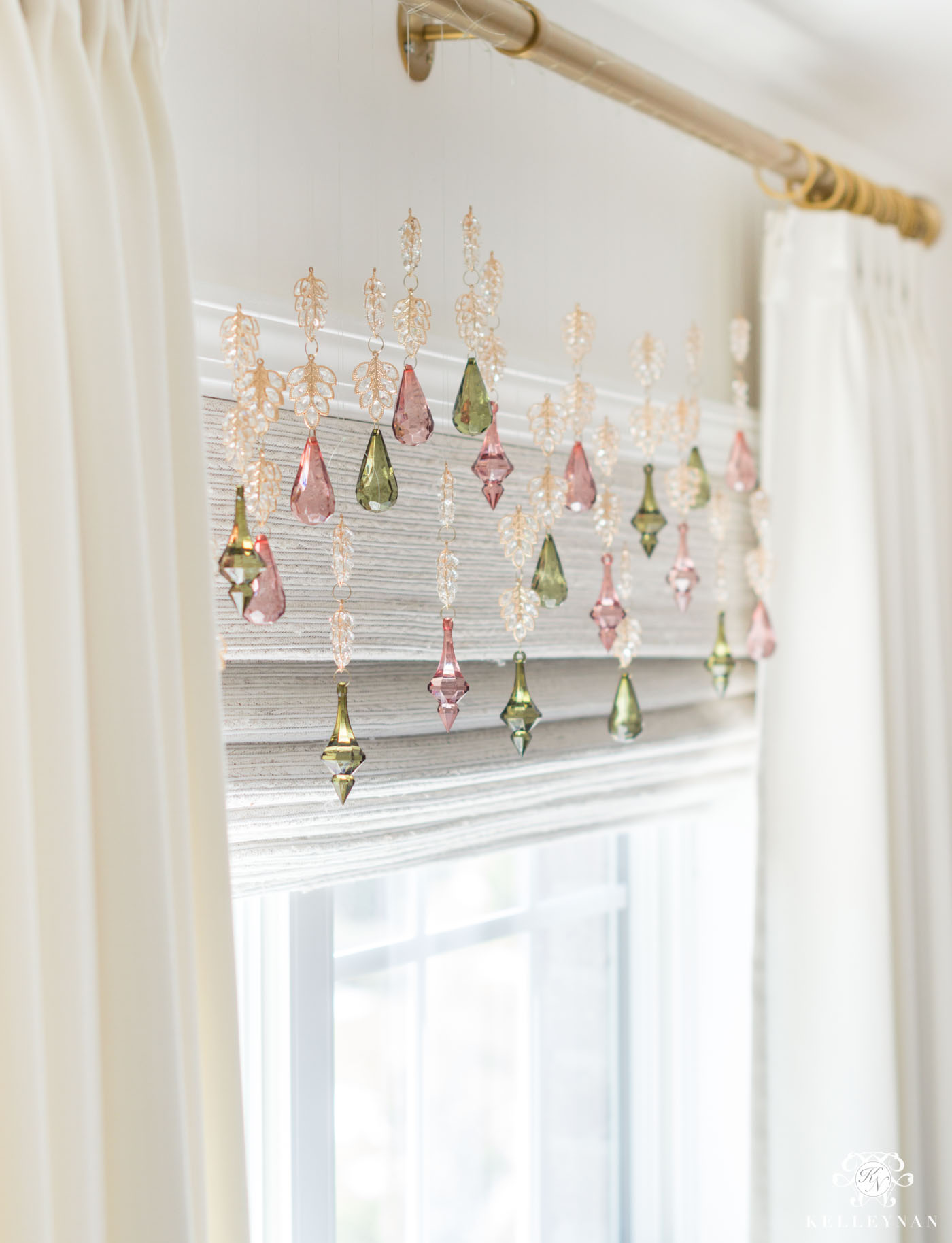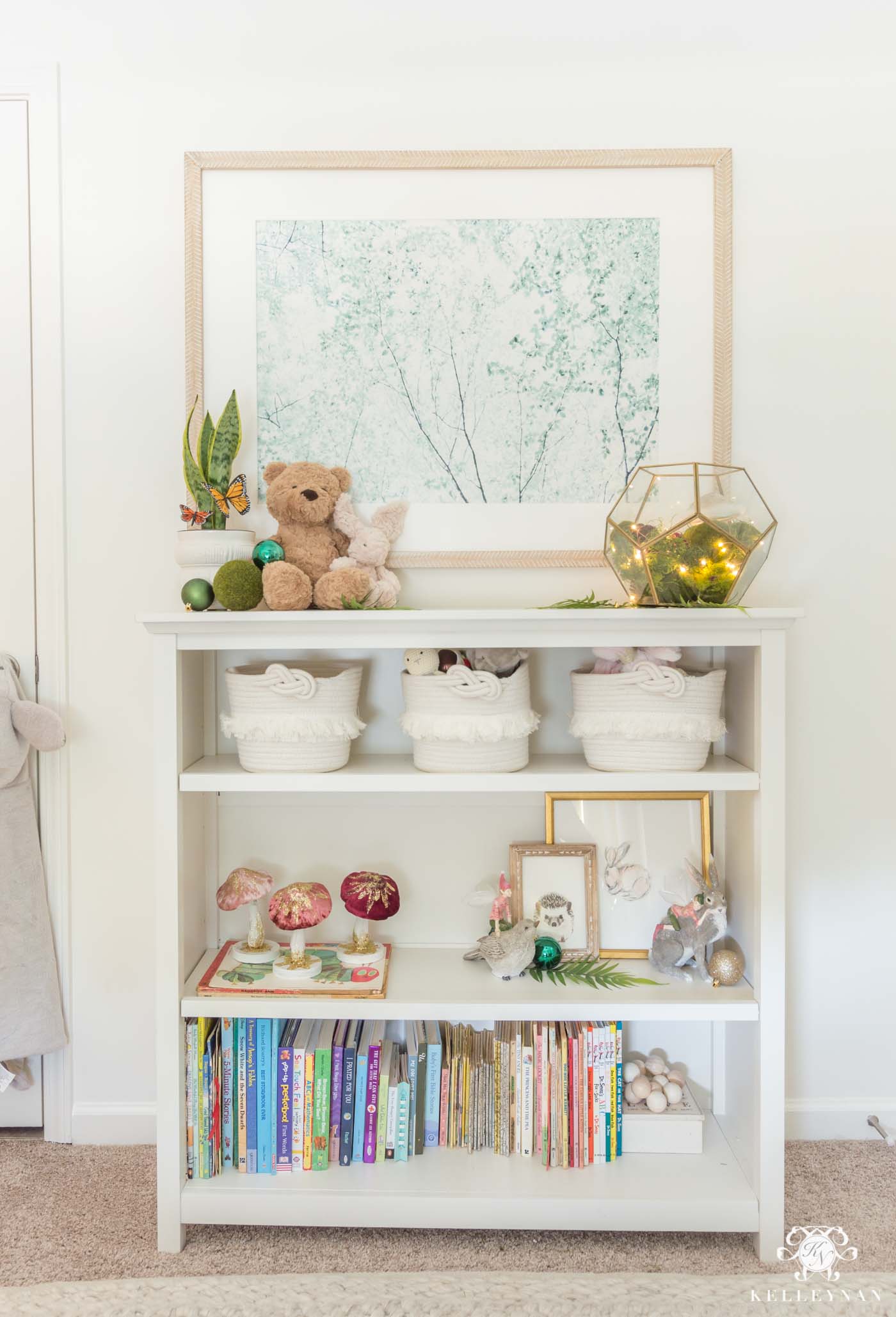 Another DIY I took on (for someone who doesn't DIY that often, I kind of impressed myself haha) was this little fairy house. I filled a terrarium with a bag of moss, moss balls, pinecones, and plucked the hanger from that sweet little mushroom ornament. Last, I added a thin wire battery light (the fairies 😉 ). At Home has a full section with different mosses and terrariums so it would be easy to scoop up the materials and personalize your own. I'm kind of in love with how adorable it turned out and Christmas or not, this is such a sweet piece to have year-round.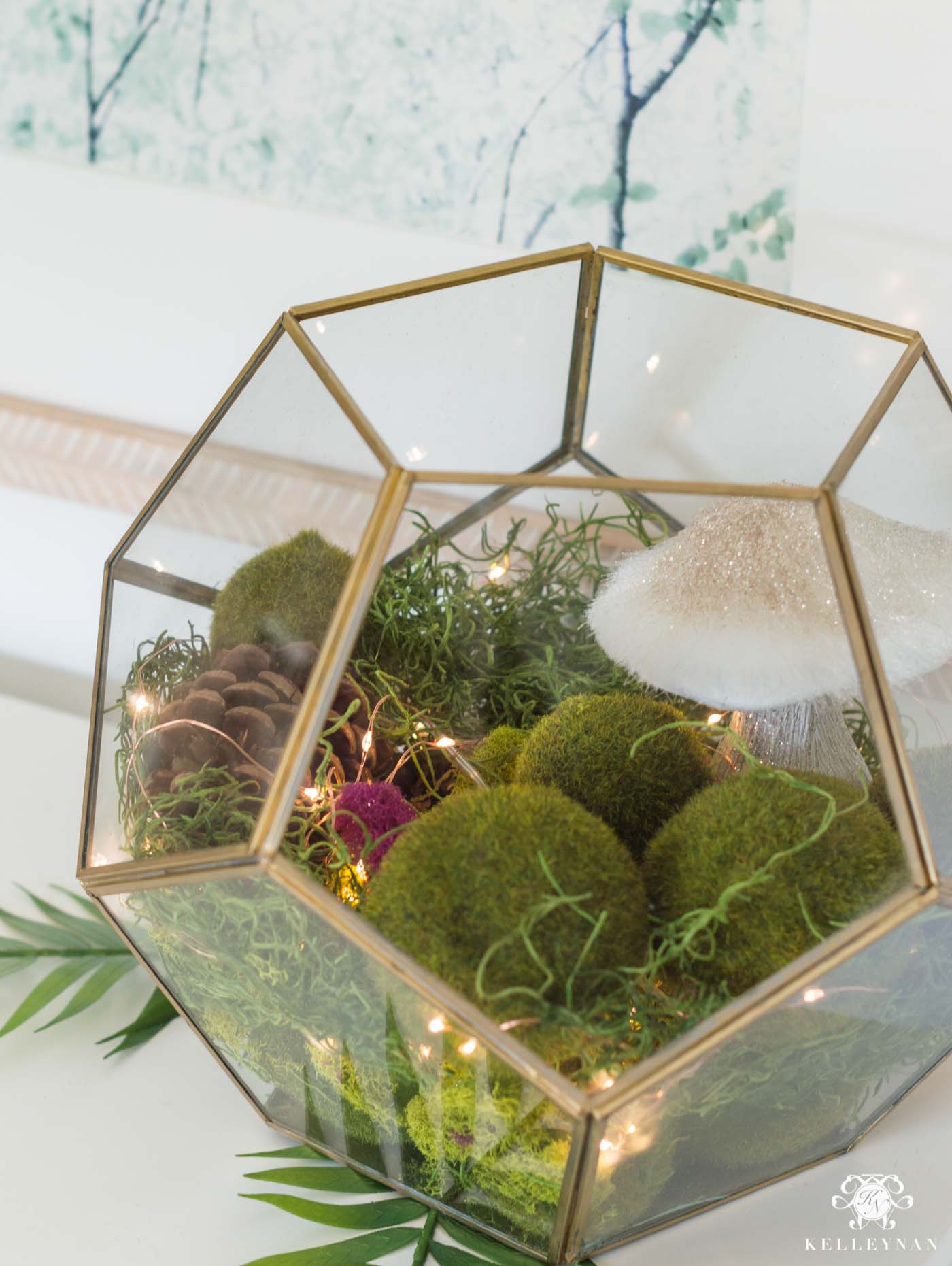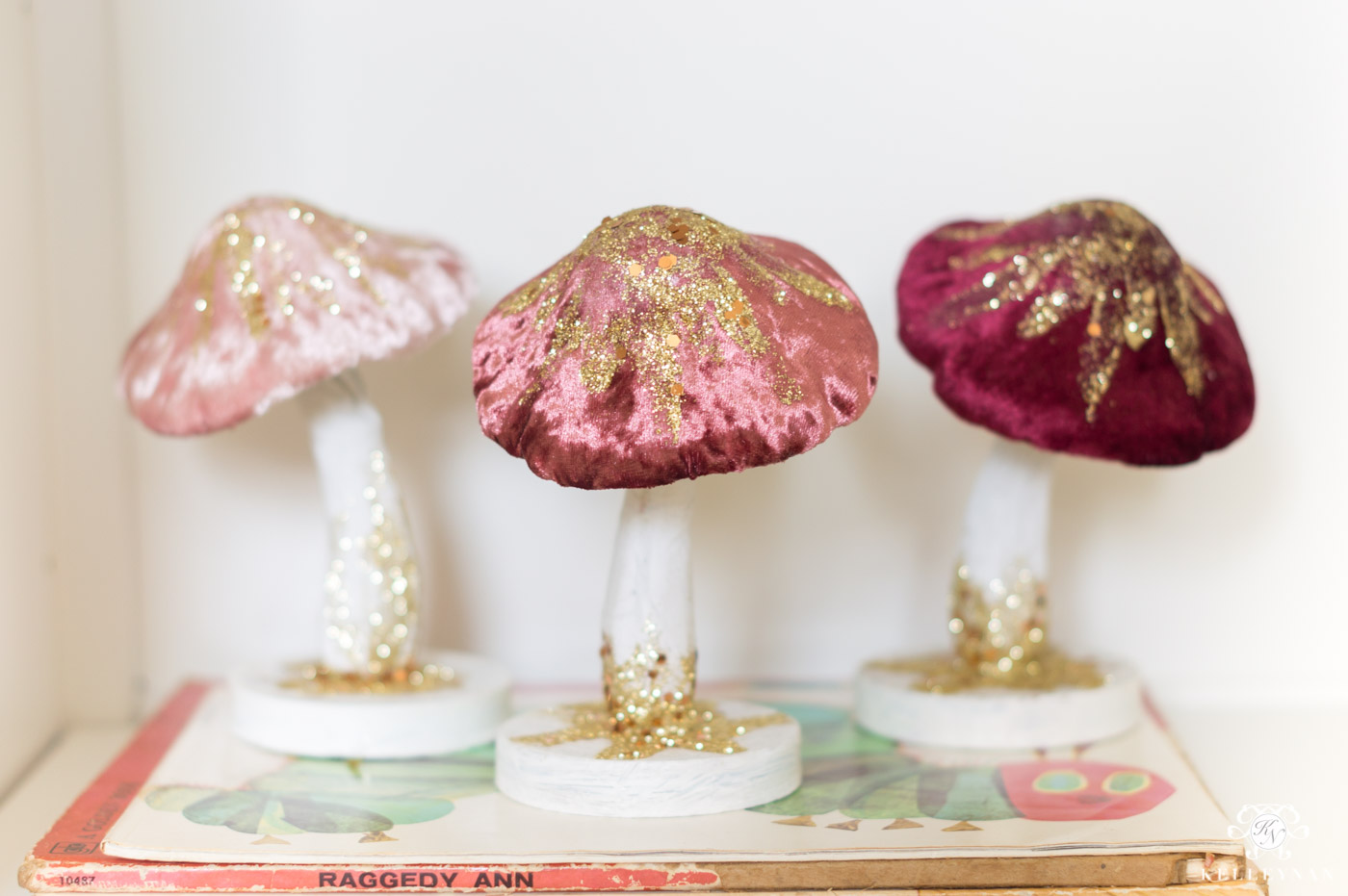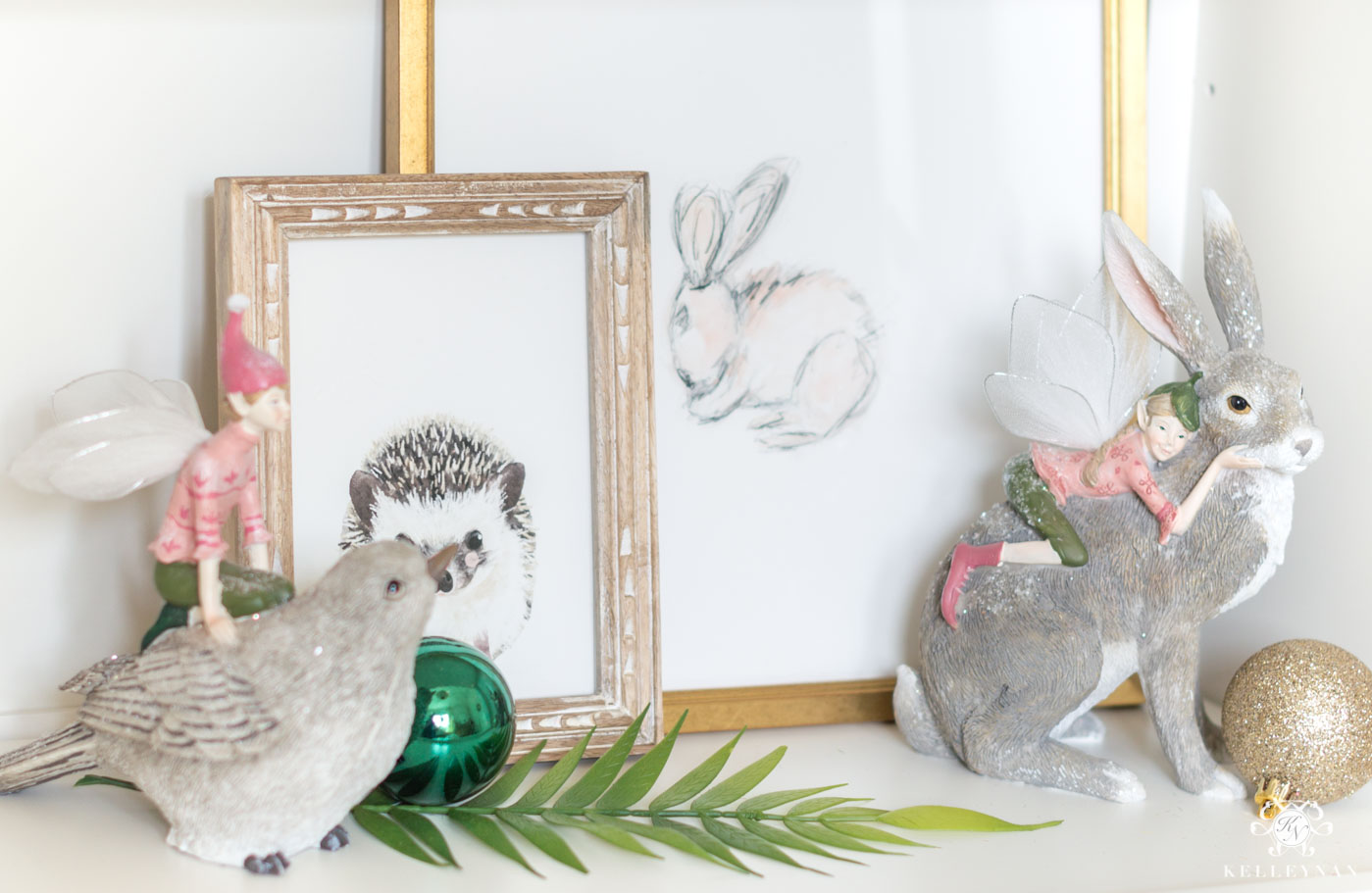 At night, when we read, sing, and close out the day, these are the only lights we need.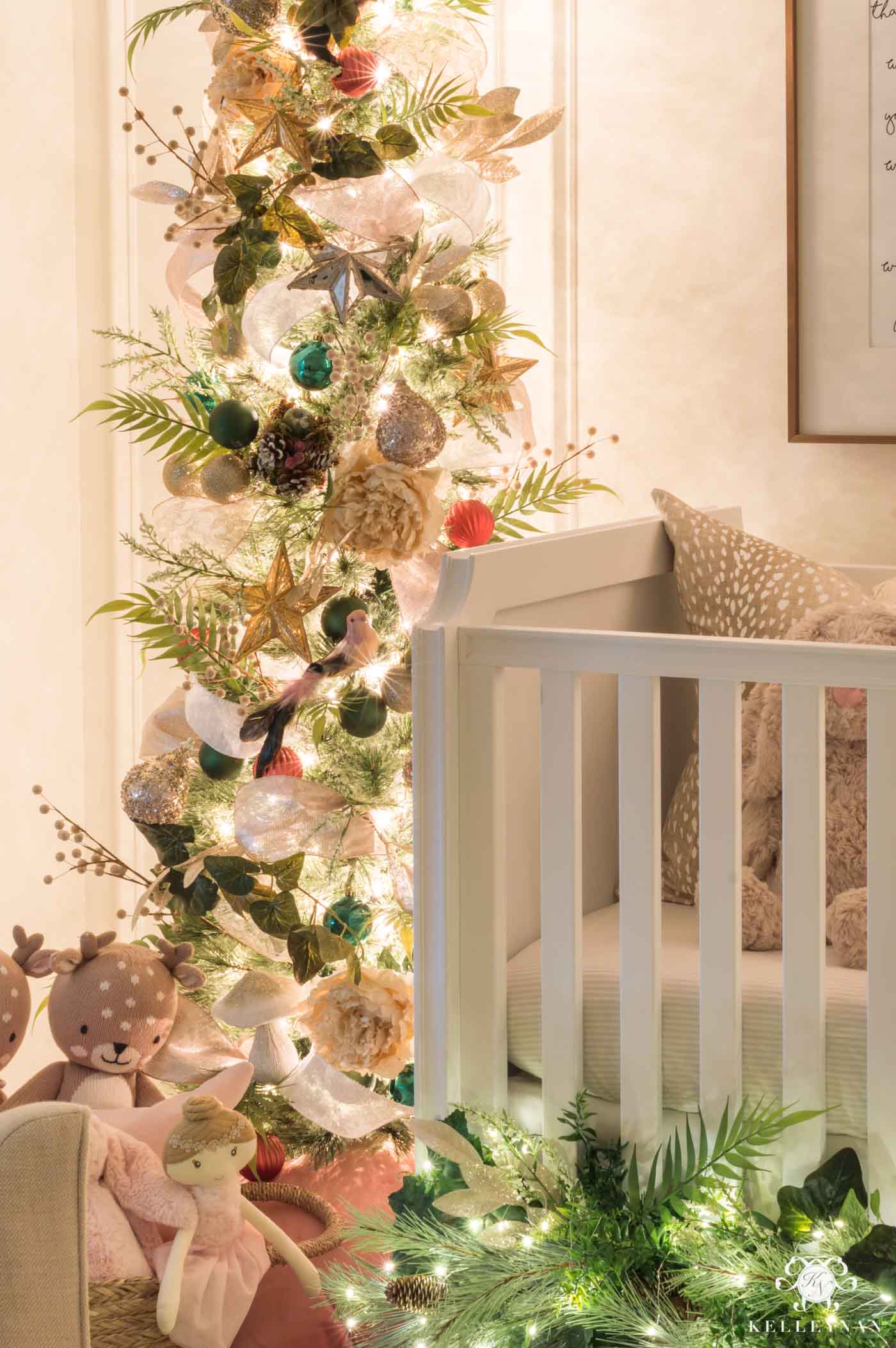 I used a few wooden bowls to hold all the pretties beneath the tree. When you don't have gifts to stick underneath, bowls of ornaments, baskets, and pillows (and in this case, stuffed animals) make a sumptuous display 😉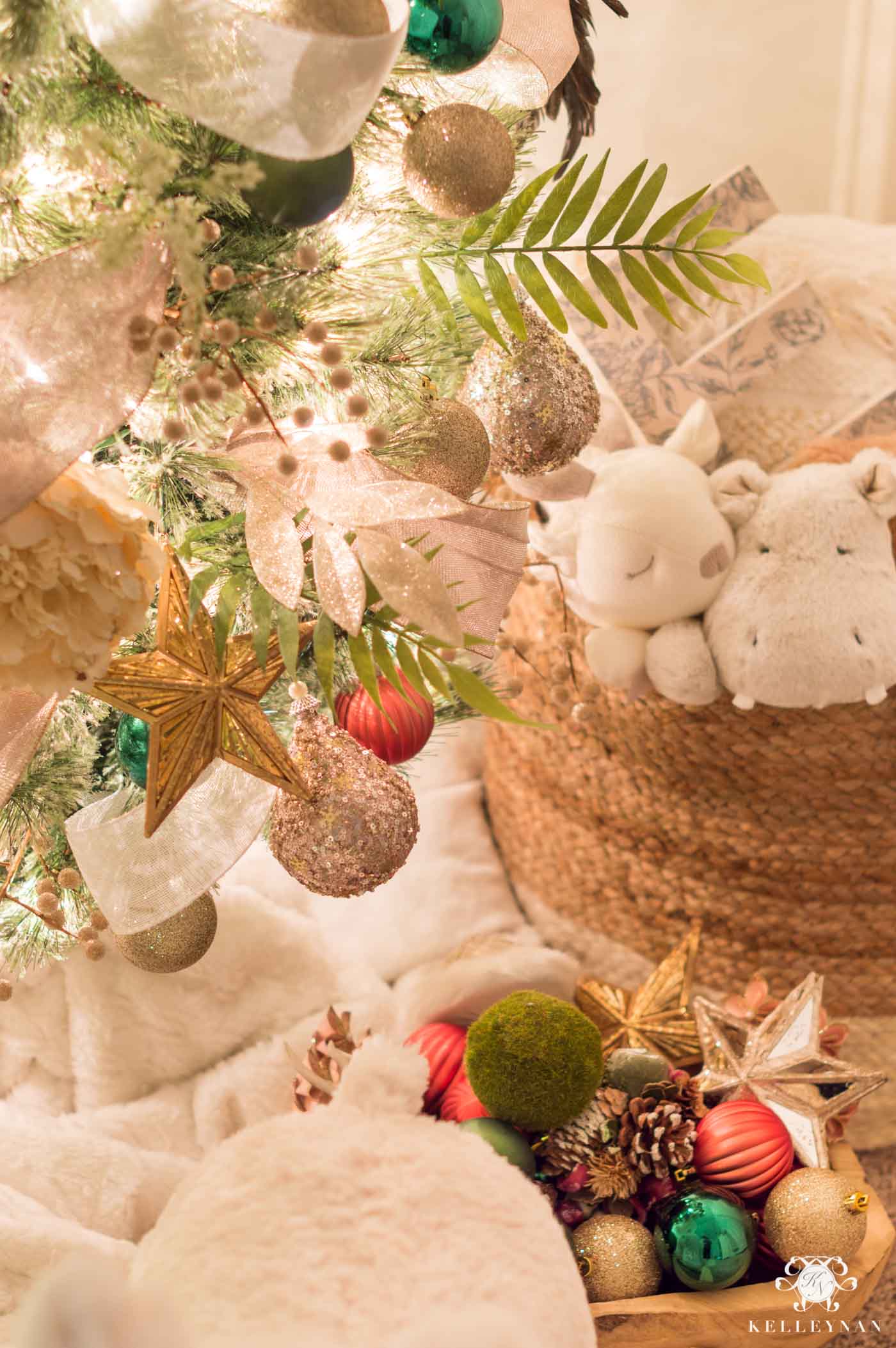 My sweet girl <3 I know she won't really know what's going on this Christmas but I can't describe how excited I am to just be with her, in the middle of wrapping and tissue paper, on Christmas morning.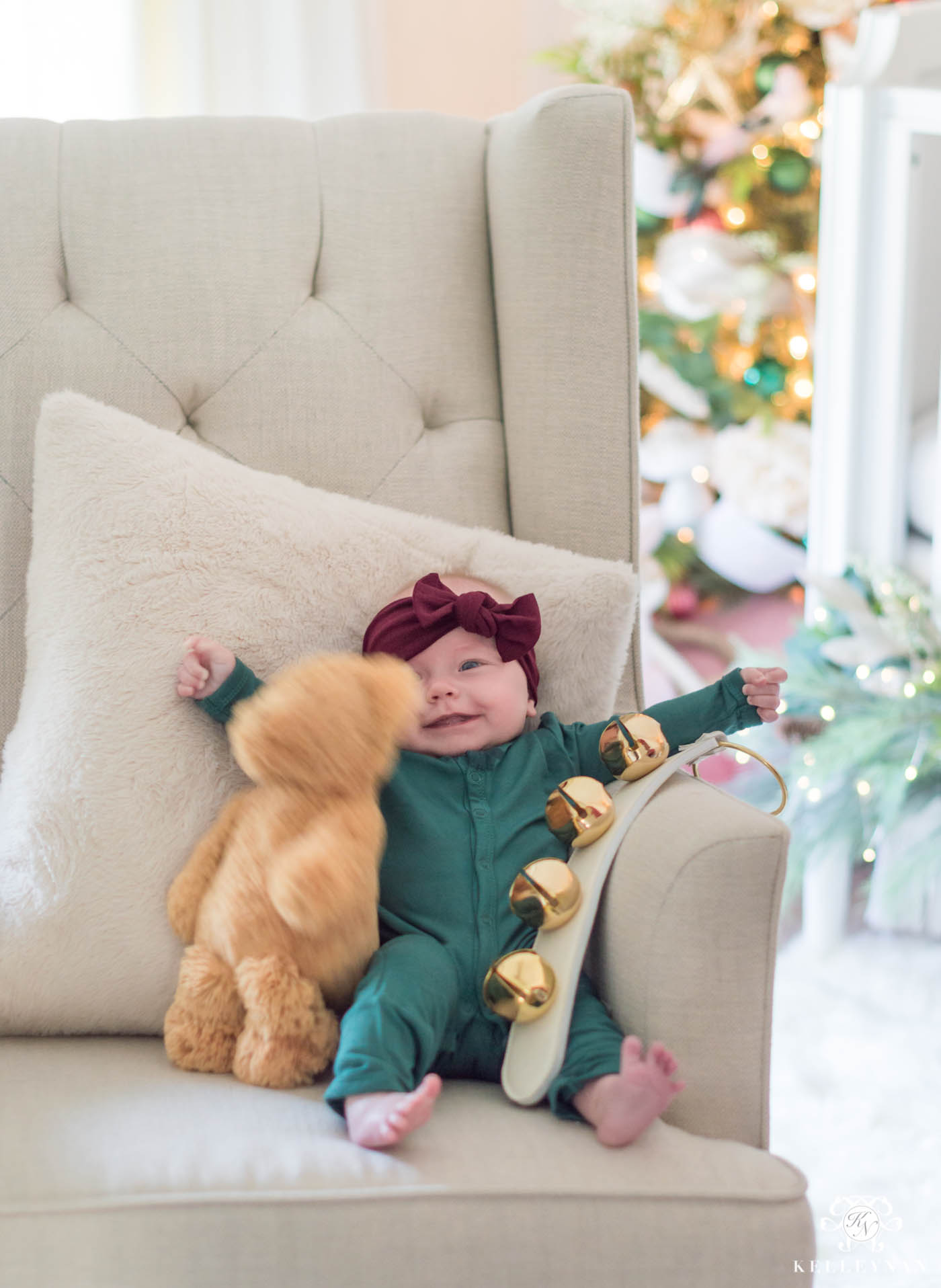 In future years, we may go in a more "decor-lite" direction, Eliza will have preferences of her own, and of course, next year, safety will be king haha. But this year, we have a magical little spot that we love. Kids room or not, several of these ideas can be applied to any room — not just nurseries inhabited by babies 😉 I'll be sharing more new holiday posts soon, but in the meantime, you can visit my full Christmas project gallery HERE or some of these past favorites:
Room Sources & Details
All Christmas Decor Featured: At Home Stores
Wall Paint: Simply White by Benjamin Moore (Regal Select Eggshell Finish; Flat Ceiling Paint on Ceiling)
Furniture: Crib // Dresser (currently out of stock but the gray wash color with silver hardware can be found HERE) // Bookshelf // Rocking Chair (in Sunbrella Performance Slub Tweed, Pebble, Driftwood)
Lighting: Rope Pendant Light // Floor Lamp // USB Table Lamp
Art/Walls:  Round Brass Mirror (36×36) // Personalized Song Lyrics — no longer available (SIMILAR) (16″x20″, style 2, above crib) // Brass Frames w/ Mats (for song lyrics) // Forest Art (above bookshelf — 40×30) // Baby Hedgehog Art (5×7) // Little Bunny Art (11×11) // Rabbit Art (Gallery) // Raccoon Art (Gallery) // Mouse Art (Gallery)
Textiles: Macrame Crib Skirt //  Fawn Print Pillow // Ivory Velvet Crib Pillow // Faux Fur Pillow //  Ivory Tassel Throw // Sheepskin (SIMILAR) // Chunky Knit Rug 
Windows: Curtains (Linen Weave Vanilla Bean – Privacy Lining)// Shades (Bali White, Cordless, Blackout Liner) // Curtain Rod // Curtain Rings
Accents/Decor/Toys: Woven Changing Basket // Ottoman Pouf // Fiddle Leaf Fig Tree // Fiddle Leaf Fig Tree Basket (no longer available) // Water Hyacinth Lidded Storage Ottoman Stool (next to rocking chair) // Laundry Hamper // Rocking Sherpa Bear // White Rope Baskets (on bookshelf) // Woven Basket Toy Dump // Soap Dispenser (SIMILAR) (no longer available) // Snake Plant Planter // Stuffed Owl // Stuffed Raccoon // Stuffed Bear // Stuffed Crib Bunny // Stuffed Small Bunny // Bunny Hooded Wrap SIMILAR (no longer available) // Bunny Rattles // Wood Baby Beads // Terrarium (SIMILAR) // Fawns — Cuddle & Kind