It's my annual Christmas Home Tour day and my favorite blog day of the year! After a year of transition and changes in several of the main living areas, it felt good to resume some normalcy, commemorate the season, and sit back and enjoy the updates we've made throughout 2018. If you aren't a regular visitor, 1. thank you for stopping by today!, and 2. I may do things a little differently than other sites you visit. Instead of rolling out a room at a time over the course of the season, we go through it all in one day. Settle in and be prepared to stick around for a little bit 😉 I'll try to keep it light and let the photos do most of the talkin'.
Before we head in, I'll go ahead and answer a question I know will pop up – I do not bring in all new Christmas decorations each year. I build upon my arsenal of standards I've collected over the years and think of ways to change them up. I may have rooms with totally different color schemes than I've shared in the past but there are usually only a few variables to make that happen. Other spaces/moments, you may recognize as totally the same 😉 I've included widgets throughout the post of sources throughout our home that you can scroll, tap, and link to directly.
*Posts on KelleyNan.com may contain affiliate links. Click HERE for full disclosure*
I typically go for simple, traditional and classic on the front porch and this year is no exception. In lieu of my typical full-sized Christmas tree and urns with live greenery flanking the door, I added some lit trees from At Home, placed them in the urns for height (on top of bricks inside), and filled out the base with faux greenery and berries. With the exception of the wreath, I *think* Dave was able to run all the lights off of one extension cord this year!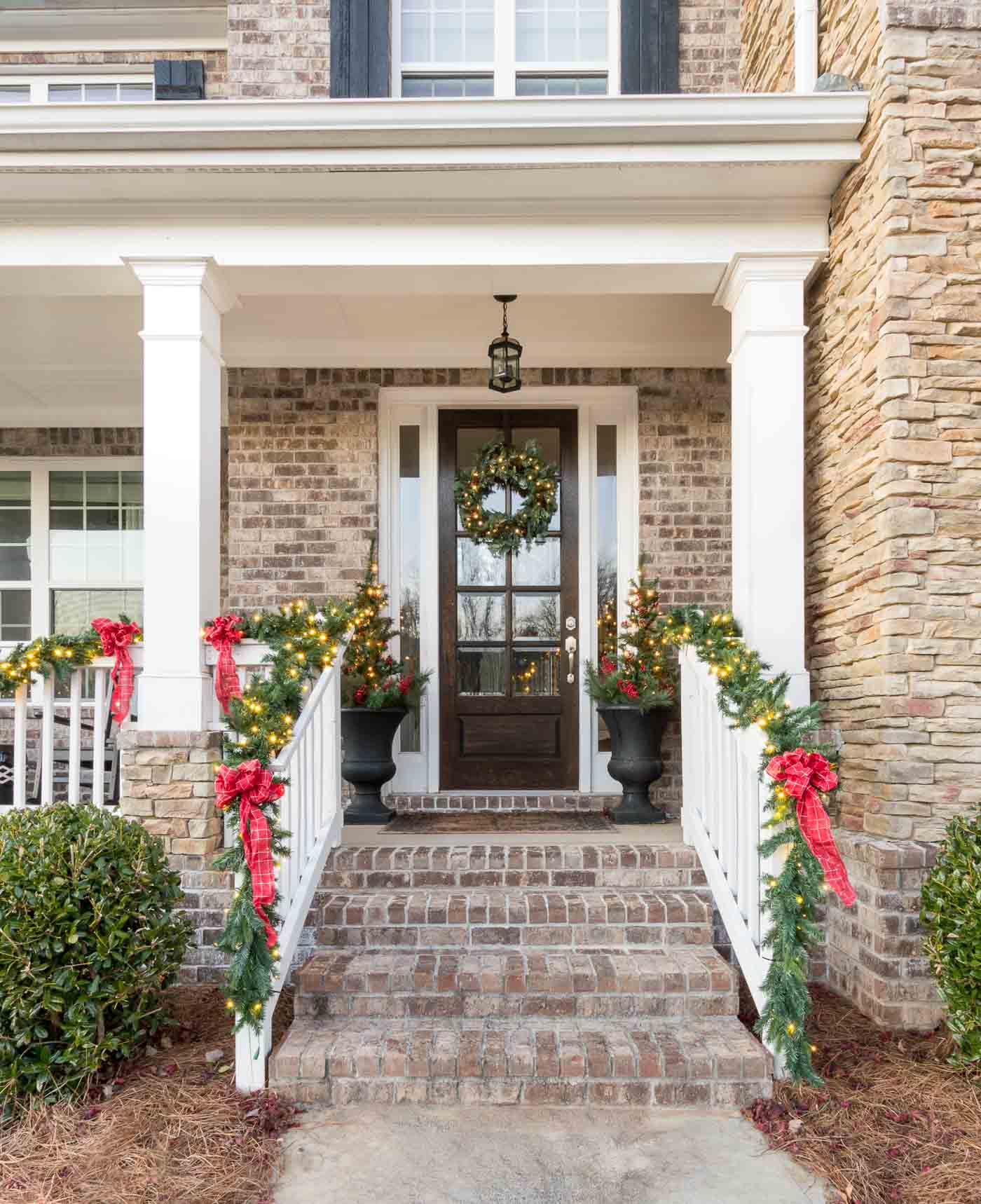 Just inside, you'll see my little migrating tree farm, clustered together on my entry table…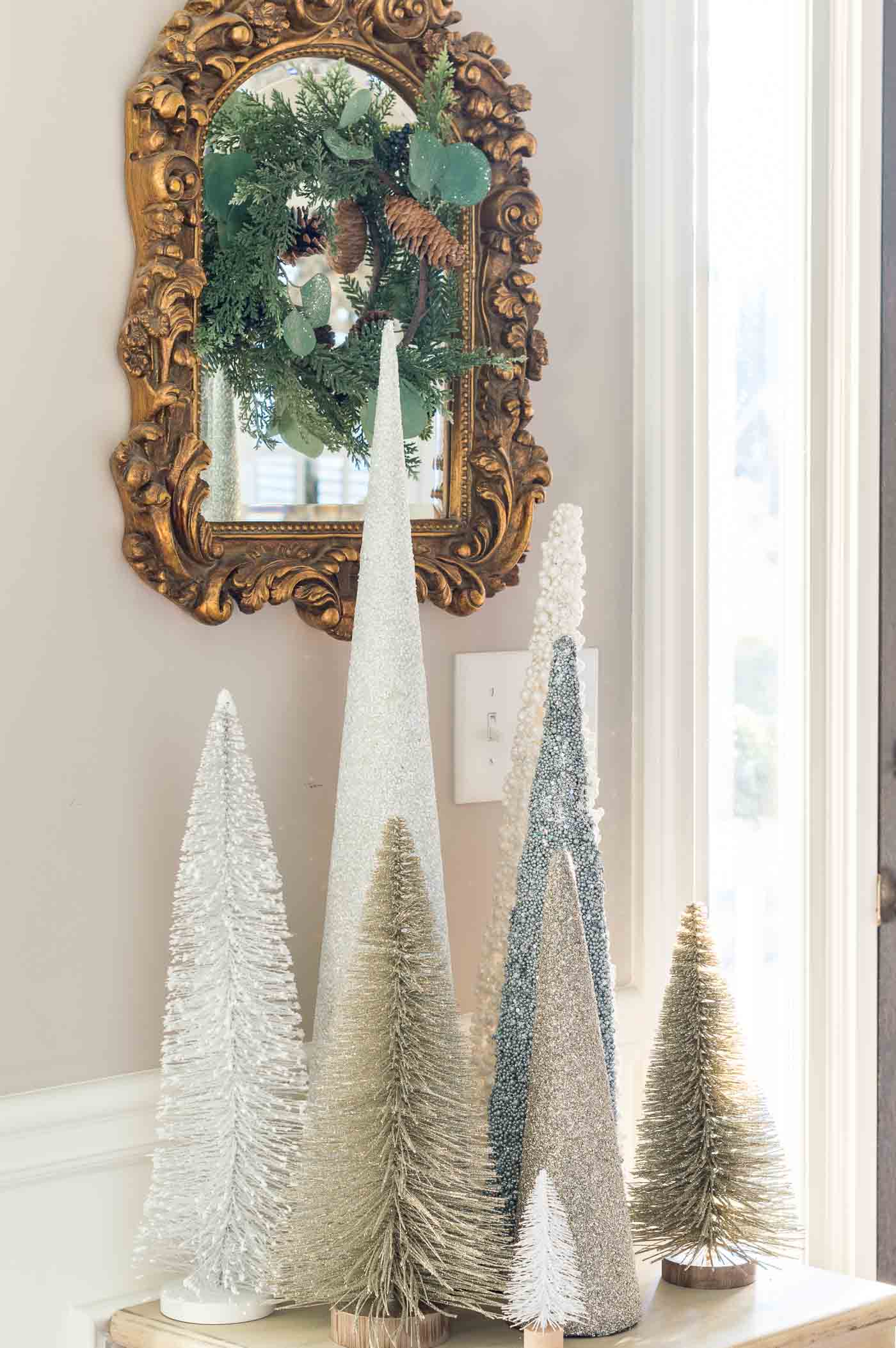 and in the sitting room, our small "special" tree, filled with years of sentimental ornaments. This may be the last year I can get by with using this little guy to display them – next year may call for a full-sized tree. Each year, my mom gifts Dave and I ornaments that usually are paired/themed together – an ongoing tradition since I was a little girl. I also surprise Dave with an ornament each year, usually to commemorate a recent event/memory, so our collection is constantly expanding.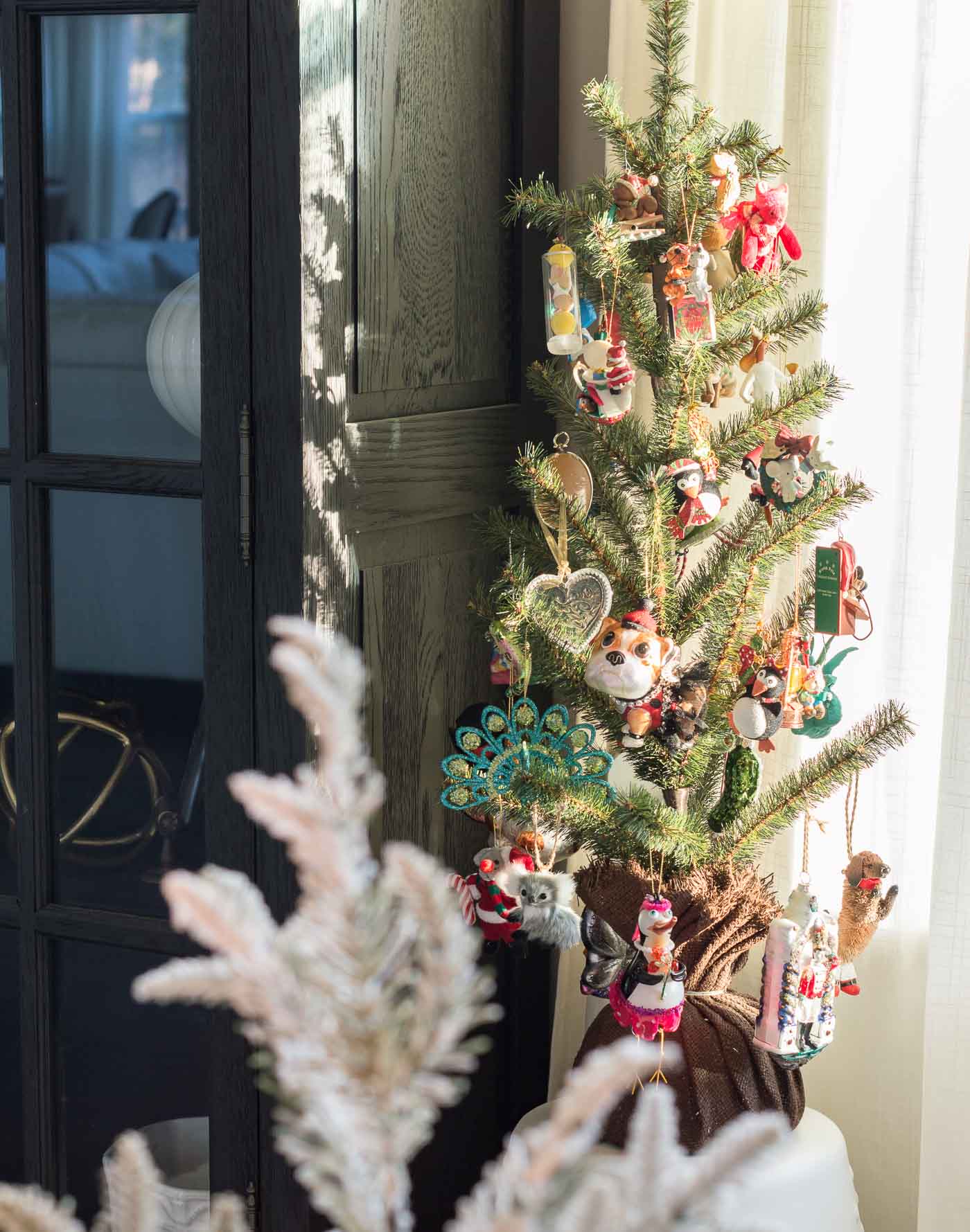 THE DINING ROOM
Just across the entry is our dining room; I don't know when I decided that this would be the room that would have its own theme each year. This year's concept – Southern Grace.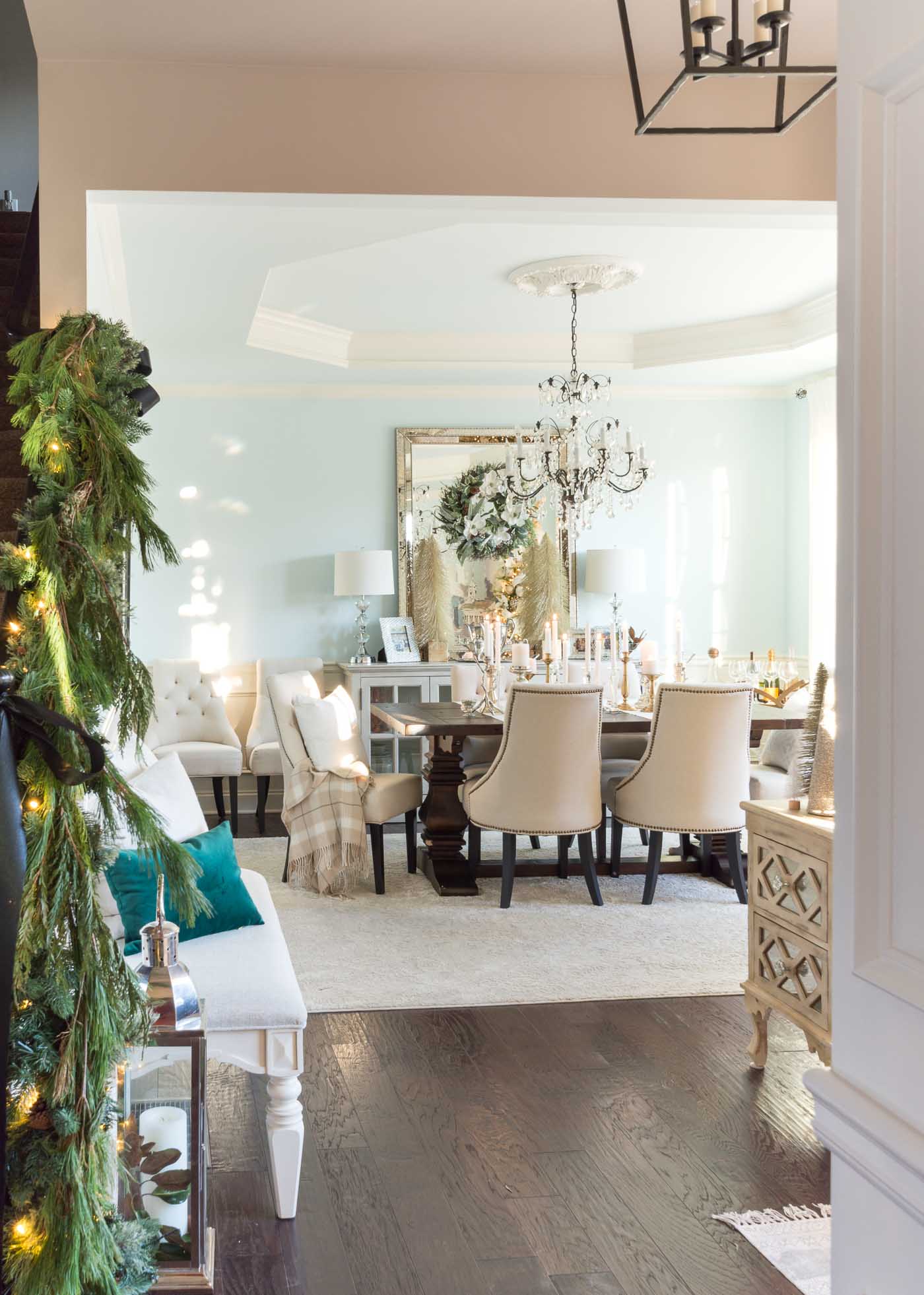 There's a lot happening all over the room from the sideboard to the 3500 twinkle lights flanking the Christmas tree so instead of a full table setup with place settings, I stuck to a candle centerpiece of varying finishes, heights and shapes.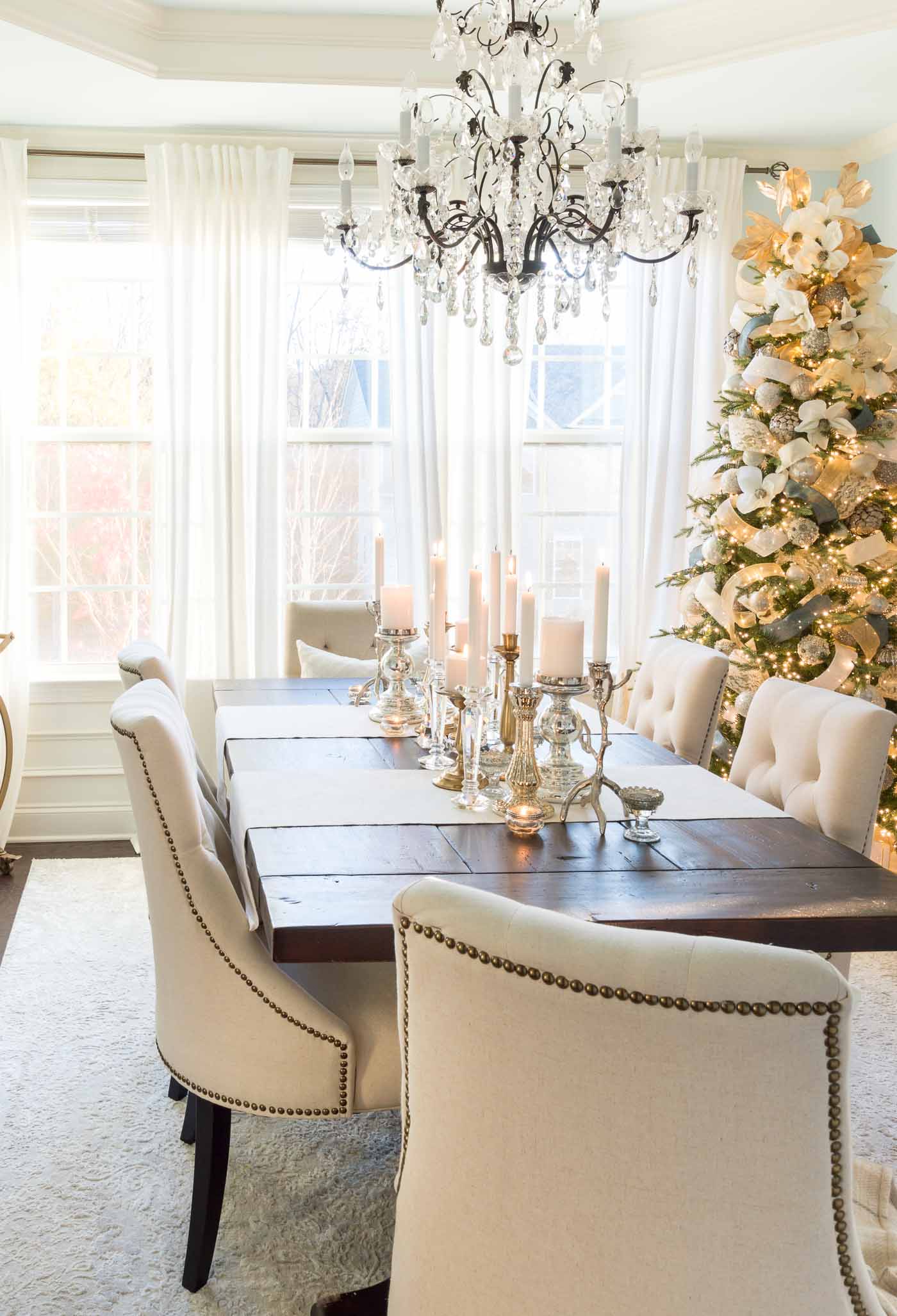 ---
Get the Look | Scroll & Tap to Shop

---
Instead of spreading the magnolia blossoms all over the entire tree, I started at the top and kept them super concentrated, and then gradually spaced them out as I moved downward. See more on this tree in my recent tree post HERE.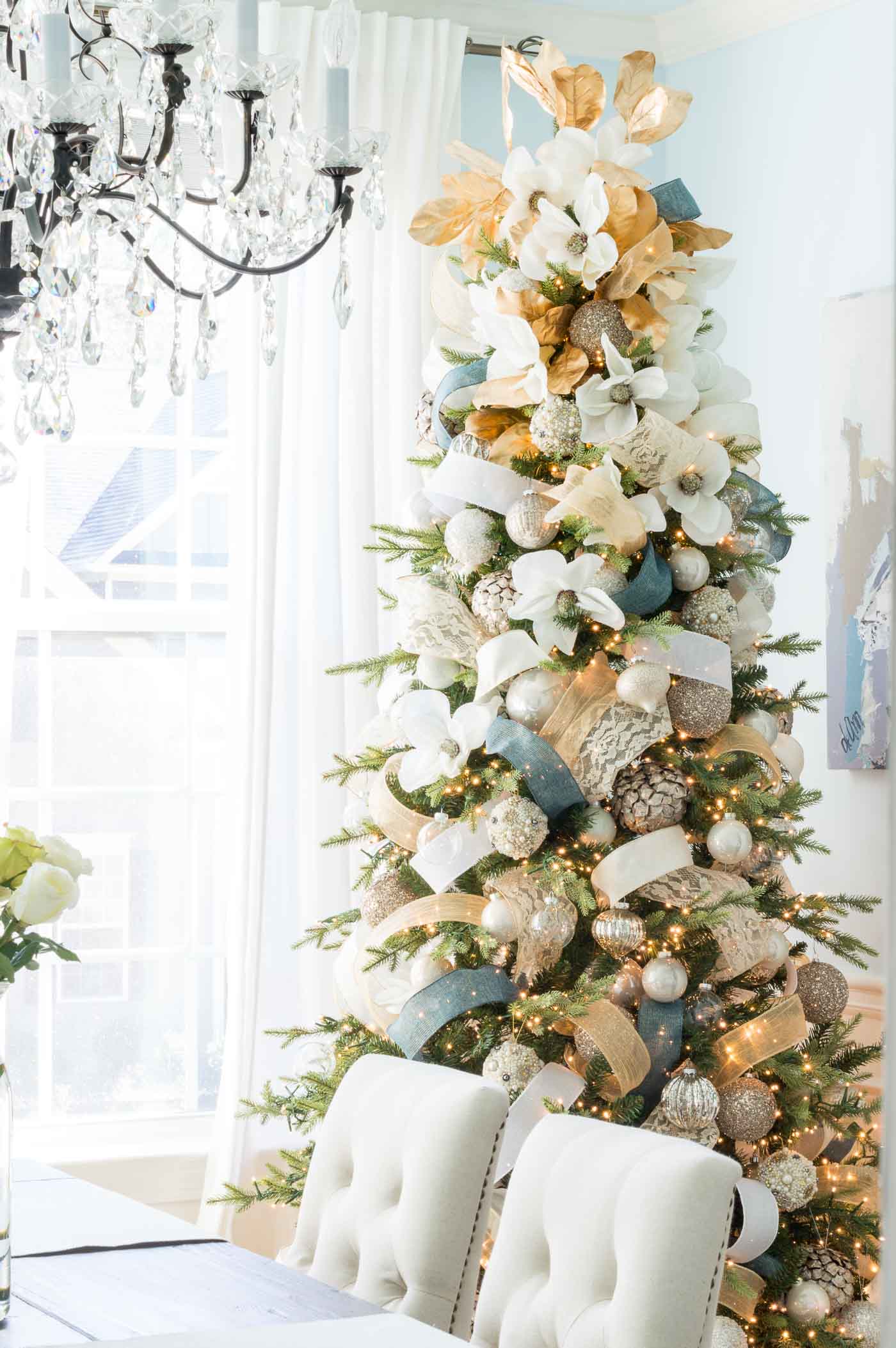 While I'm a proponent of mixing metals throughout the entire year, it's especially easy during the Christmas season with so much silver and gold. A random, scattered candle centerpiece takes minutes to pull together and creates instant ambiance. THESE crystal candlesticks are a favorite newer addition that helps to break up the silver and gold, just a little bit.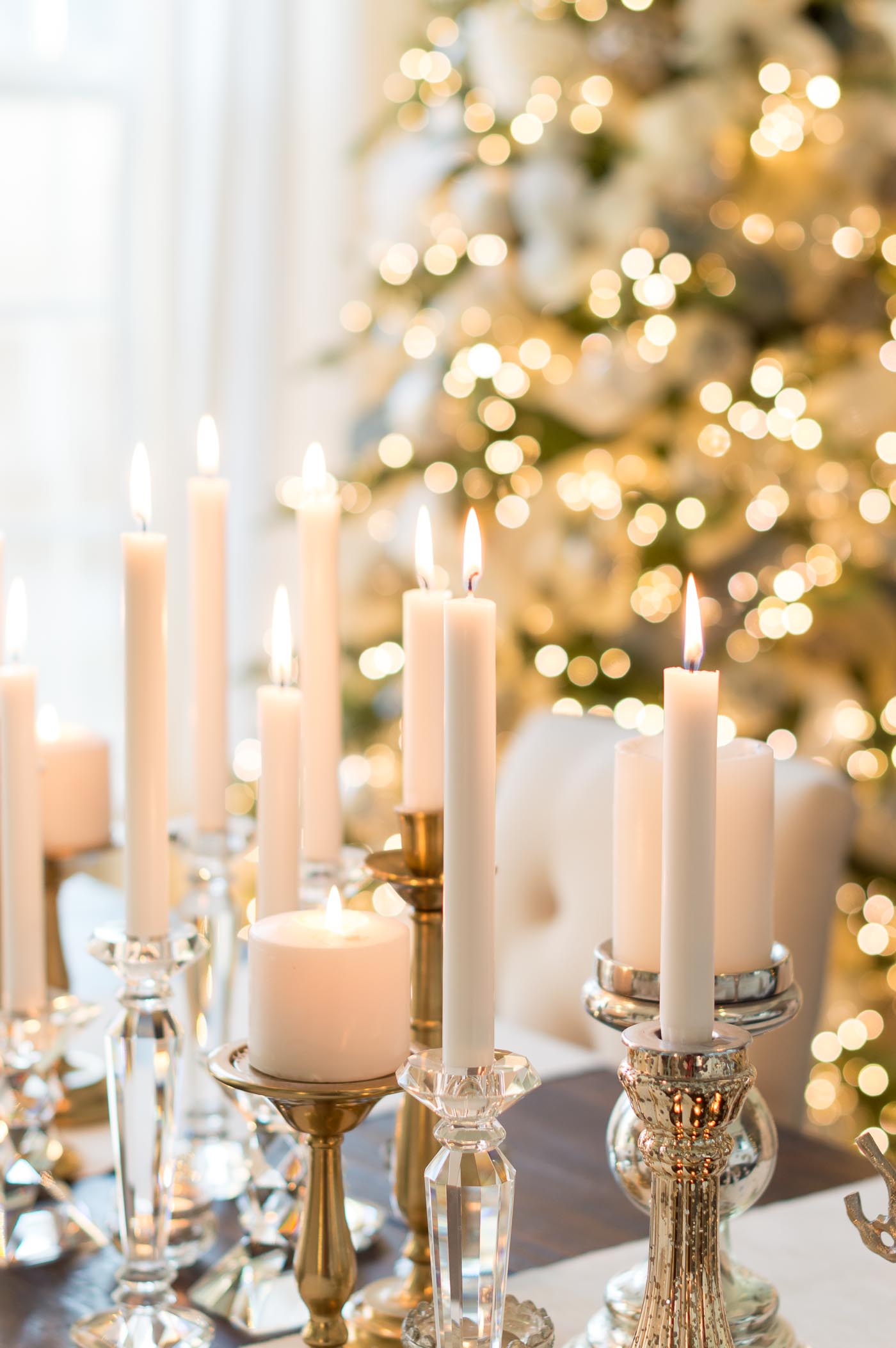 THE KITCHEN
We just wrapped up our kitchen makeover (visit the reveal HERE) a few months ago and you'll see, even in the midst of the holiday season, not much has changed. I do use this time of year to run somewhat of a Christmas laboratory, pulling together scents to simmer on the stove, though 😉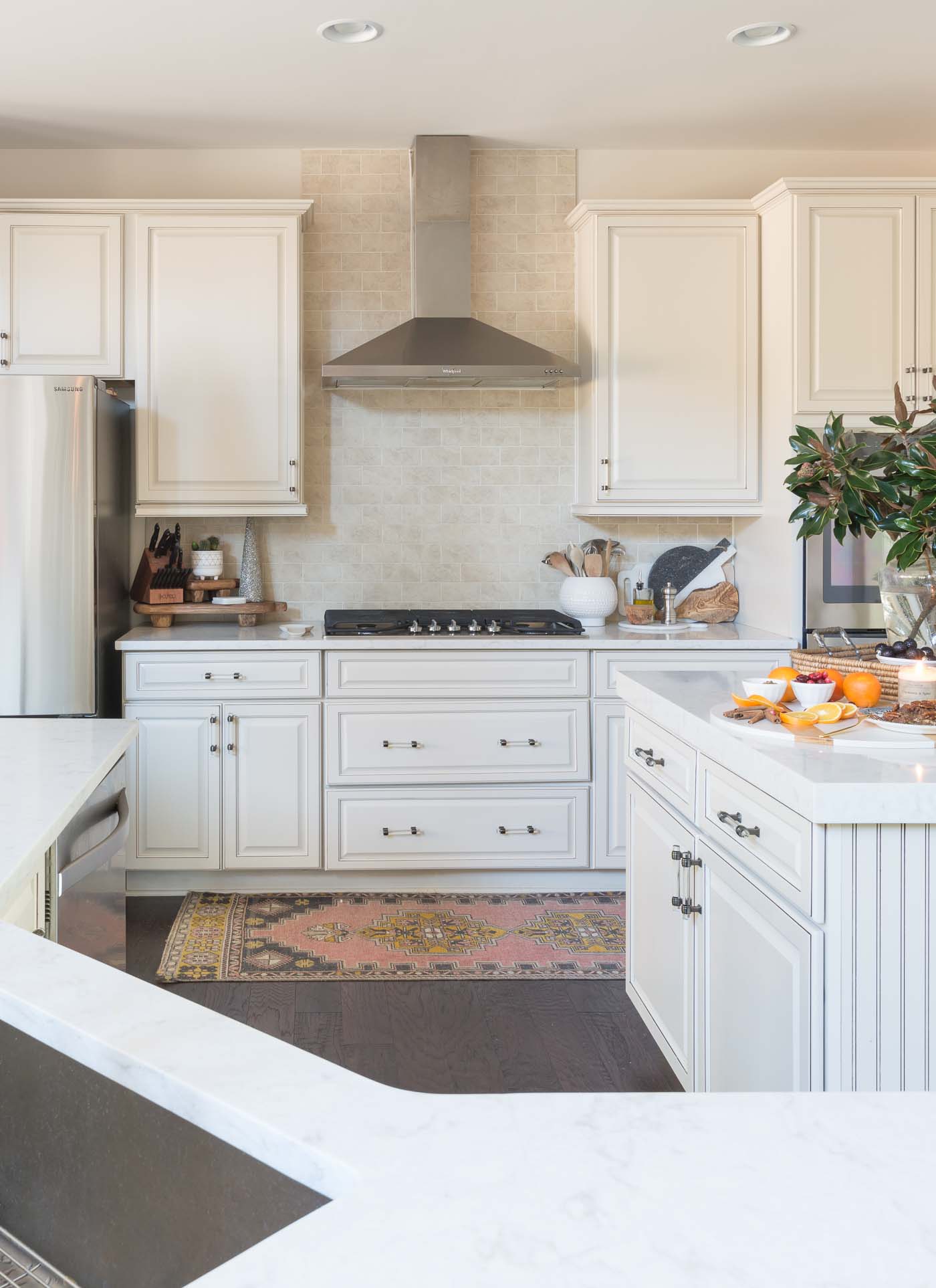 ---
Get the Look | Scroll & Tap to Shop

---
THIS oversized marble and wood board is huge and while I love it for entertaining, I have to keep it stored on top of our fridge since I lack space beneath the cabinets. I may think of a place to hang it though, in the coming months…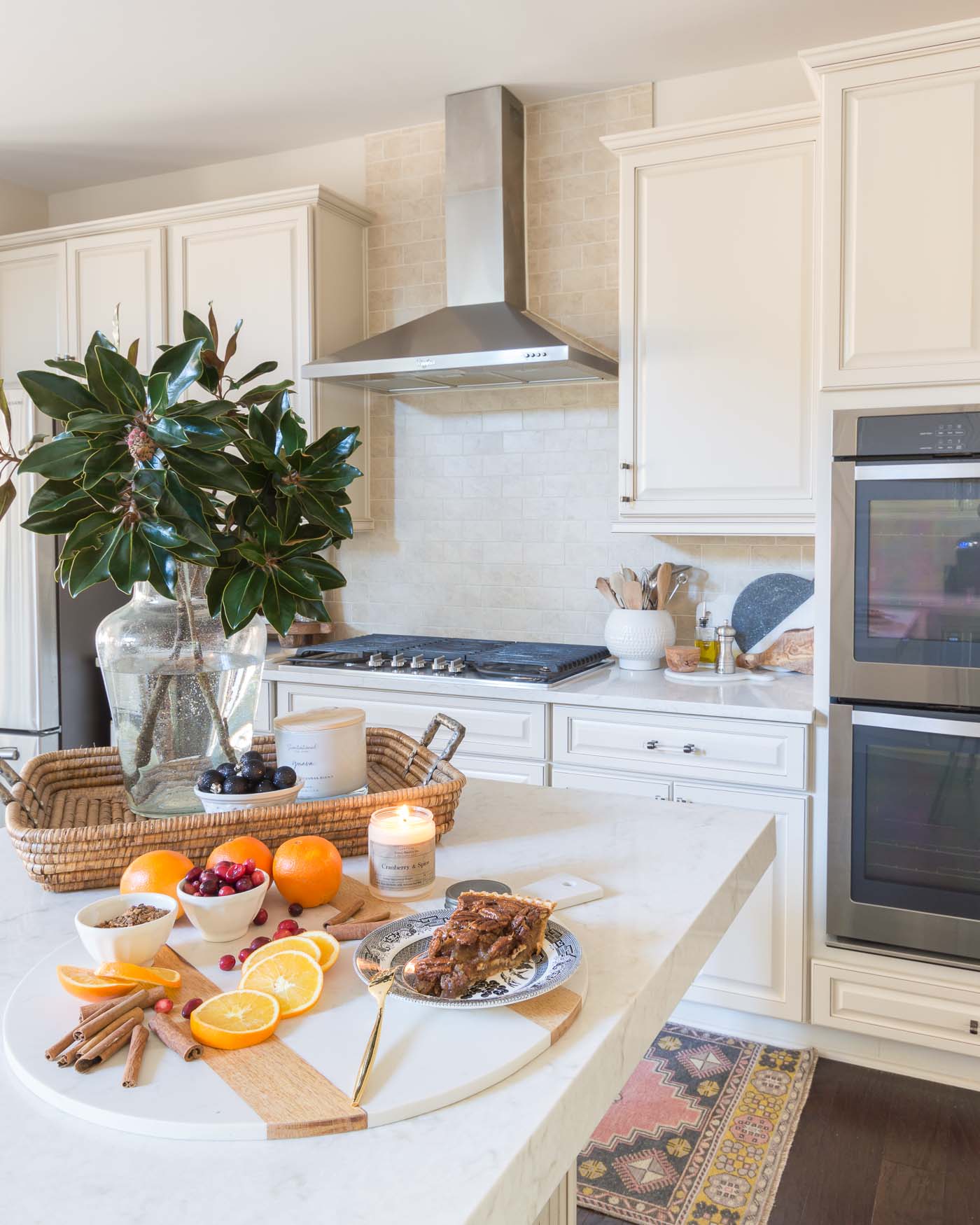 ---
Get the Look | Scroll & Tap to Shop

---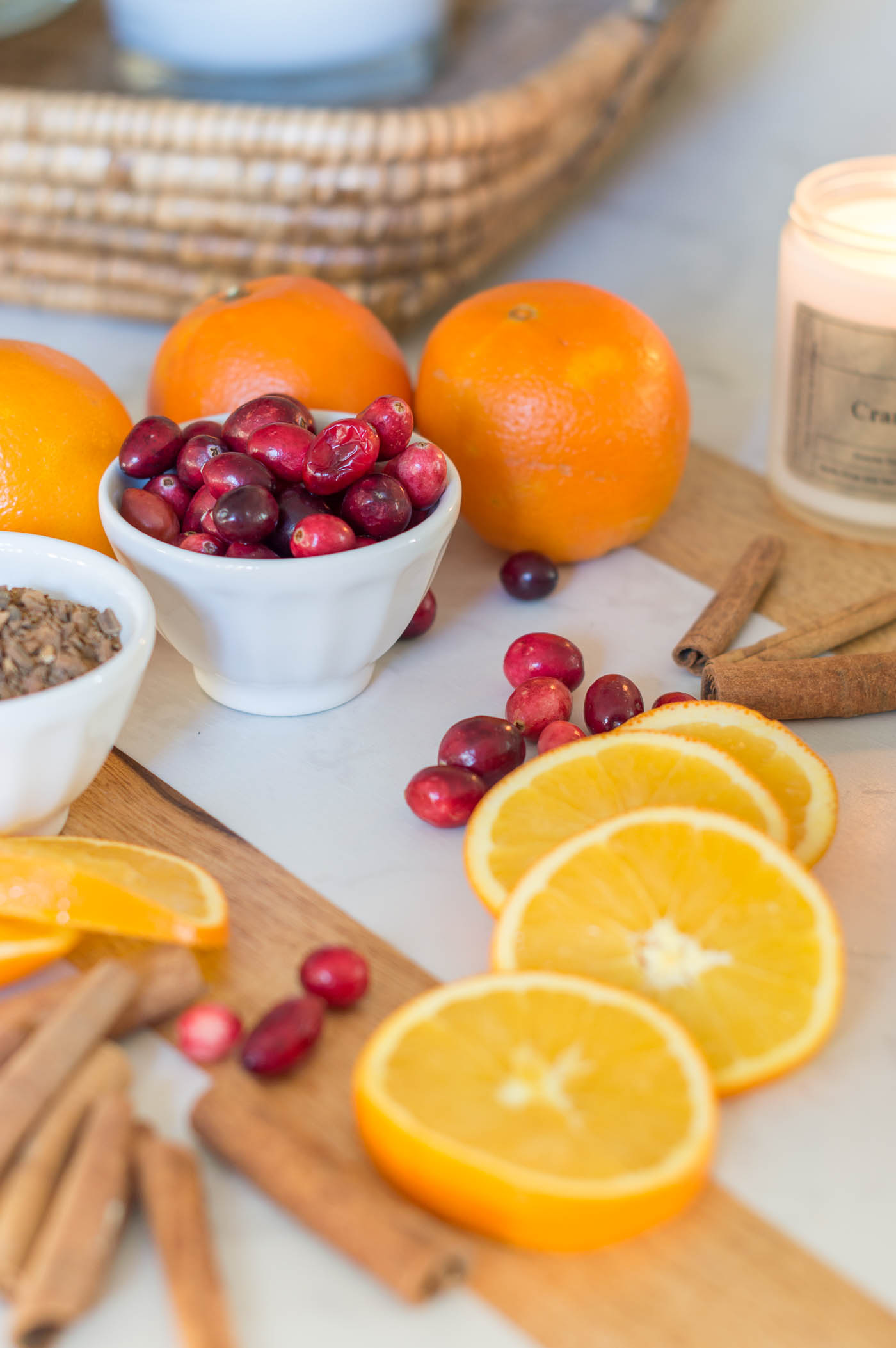 Instead of florals, I stuck to my fav – magnolia foliage – throughout the house. Thes stems and leaves are substantial and should last til the new year; I think they're underrated and often overlooked by the more common pine and cedar. Magnolia leaves can be incorporated with them beautifully though, which I'll share in just a few!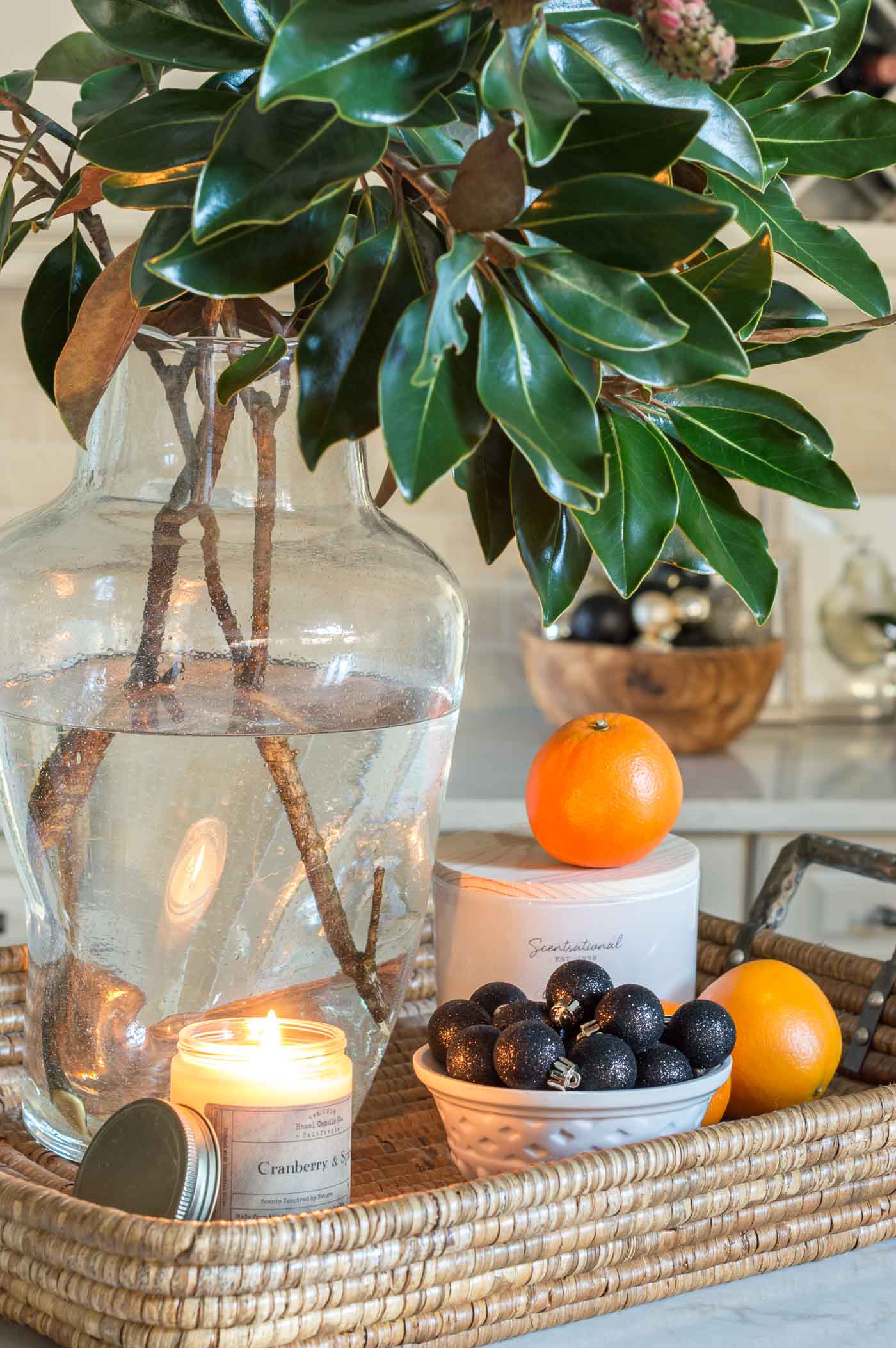 I've had THIS olivewood bowl for three months and it's already seen pumpkins, fruit, and veggies – it's one of my favorite things from 2018.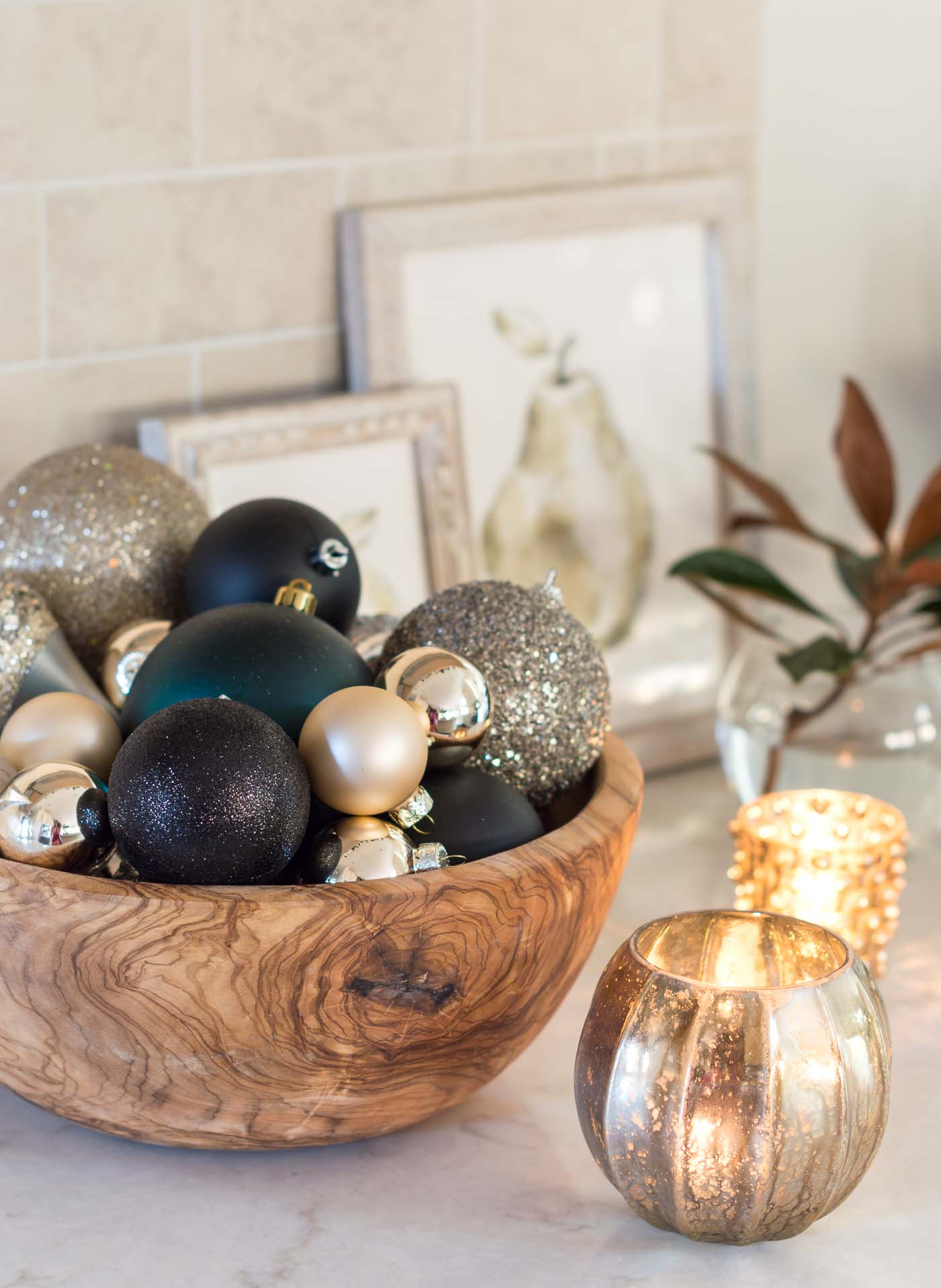 ---
Get the Look | Scroll & Tap to Shop

---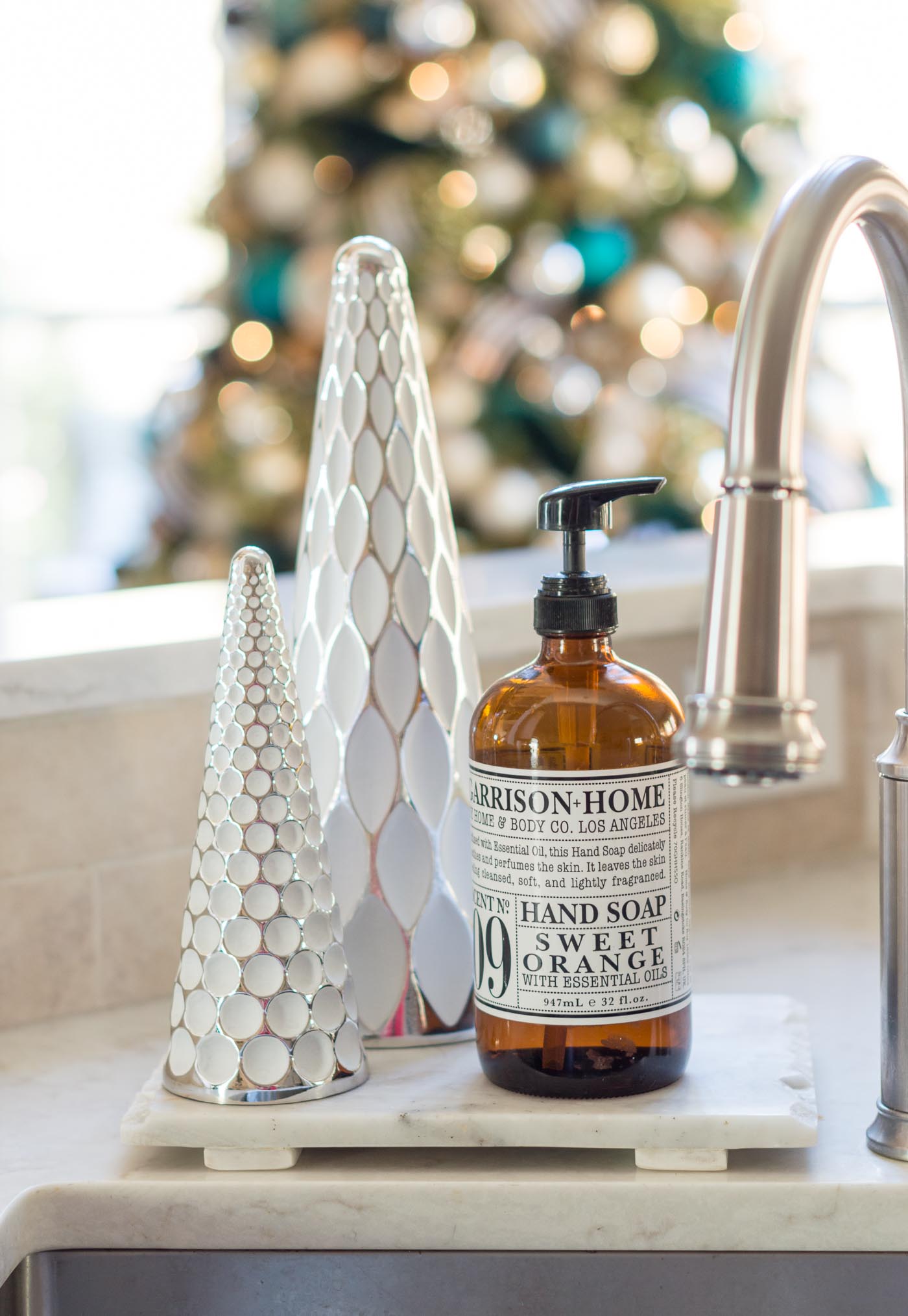 ---
Get the Look | Scroll & Tap to Shop

---
BREAKFAST NOOK
I simplified the breakfast nook this year too – no wreaths, greenery, or baubles hanging from the mirror or lights – just magnolia leaves to coordinate with the kitchen and bowls of ornaments to tie in to the living room. And, I totally dig it.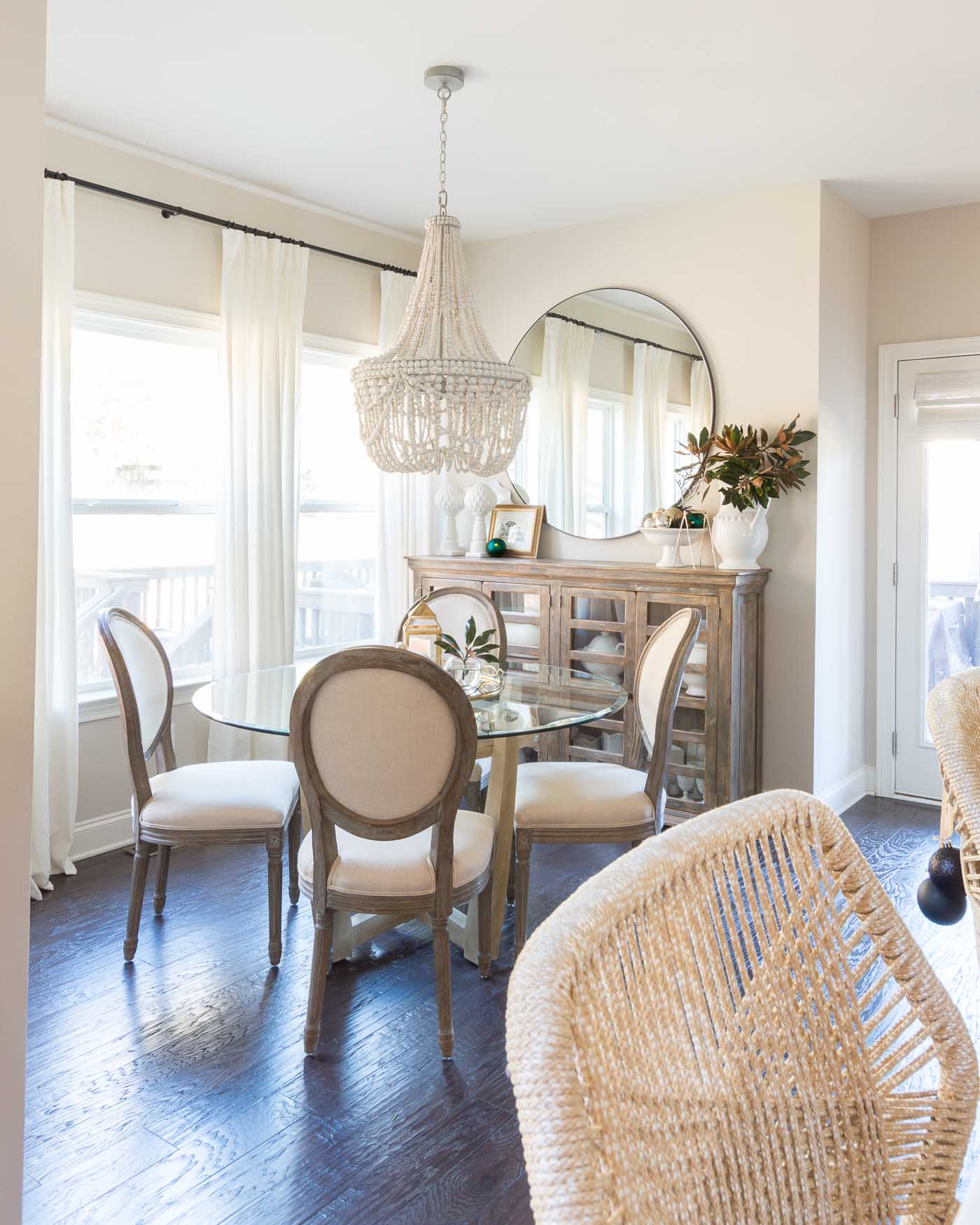 ---
Get the Look | Scroll & Tap to Shop

---
Dave actually thinks these reindeer look like the tall, twiggy walker things from the opening credits of American Horror Story haha. Depending on where they're stationed and what colors I'm using, they typically get a new little festive neck bow.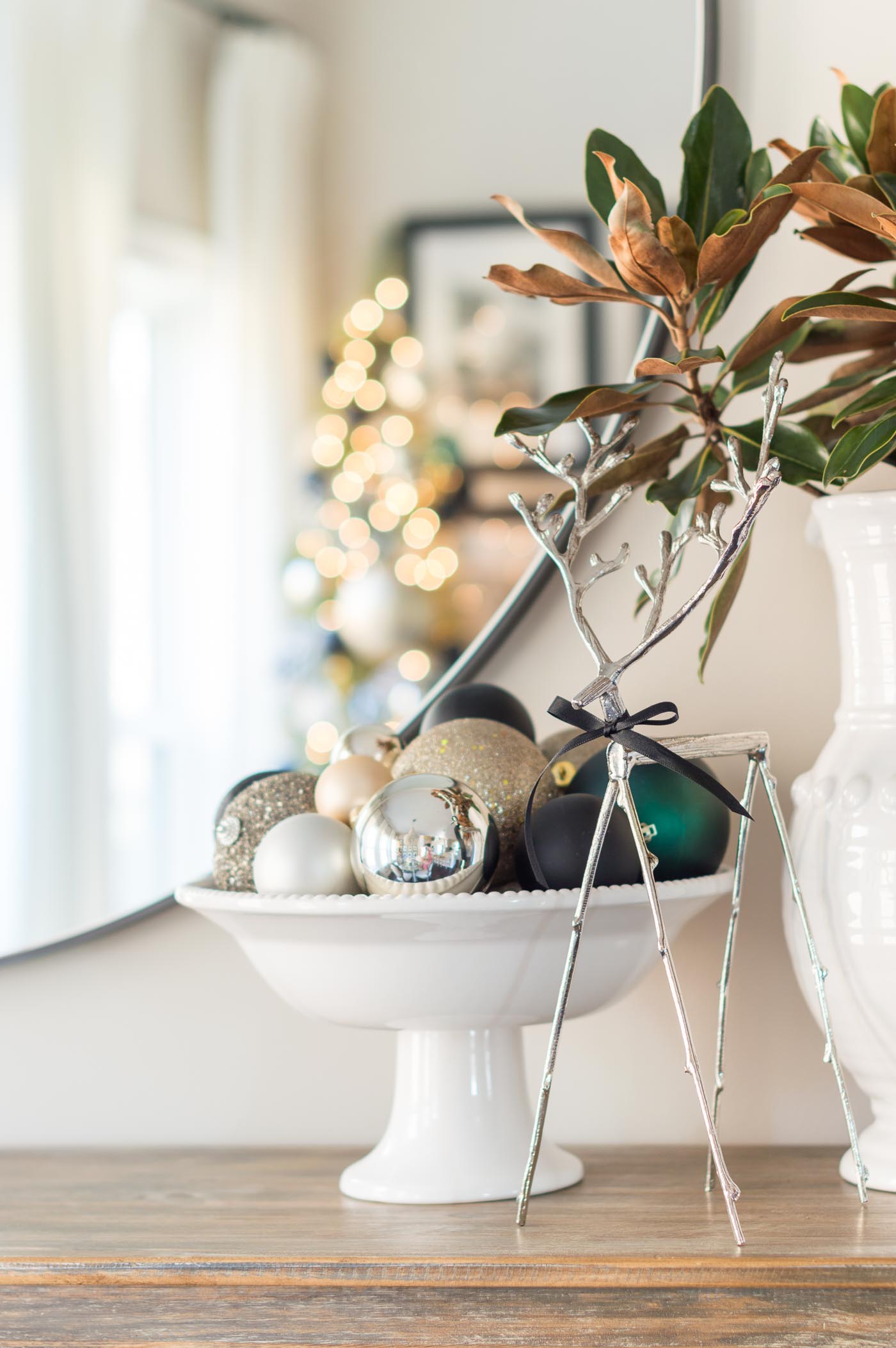 Another easy centerpiece hack – I used THIS tray to collect plates, napkins and flatware, alongside a small lantern and magnolia stem. I used what I already had – practical items that are typically behind cabinet doors – sprinkled in a few small ornaments and called it "Christmas-ready".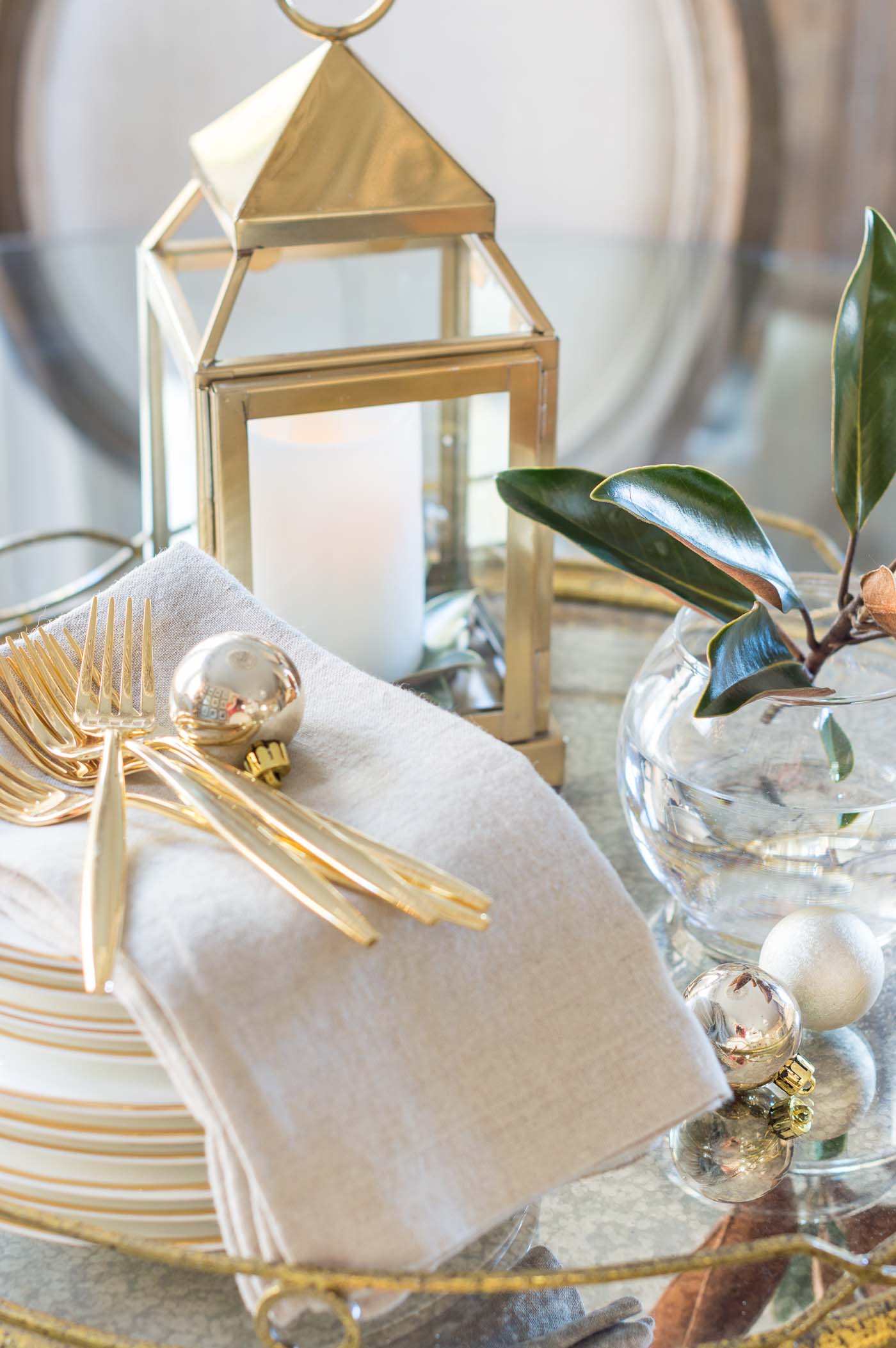 ---
Get the Look | Scroll & Tap to Shop

---
My latest pencil tree addition will be moving all over the house in the coming years, I just know it. It was my first time having a super manageable, slender Christmas tree and now I want 45 just like it. This corner doesn't have much space but that's the great thing about this option – it can fit just about anywhere. You can see more about this tree in the post HERE.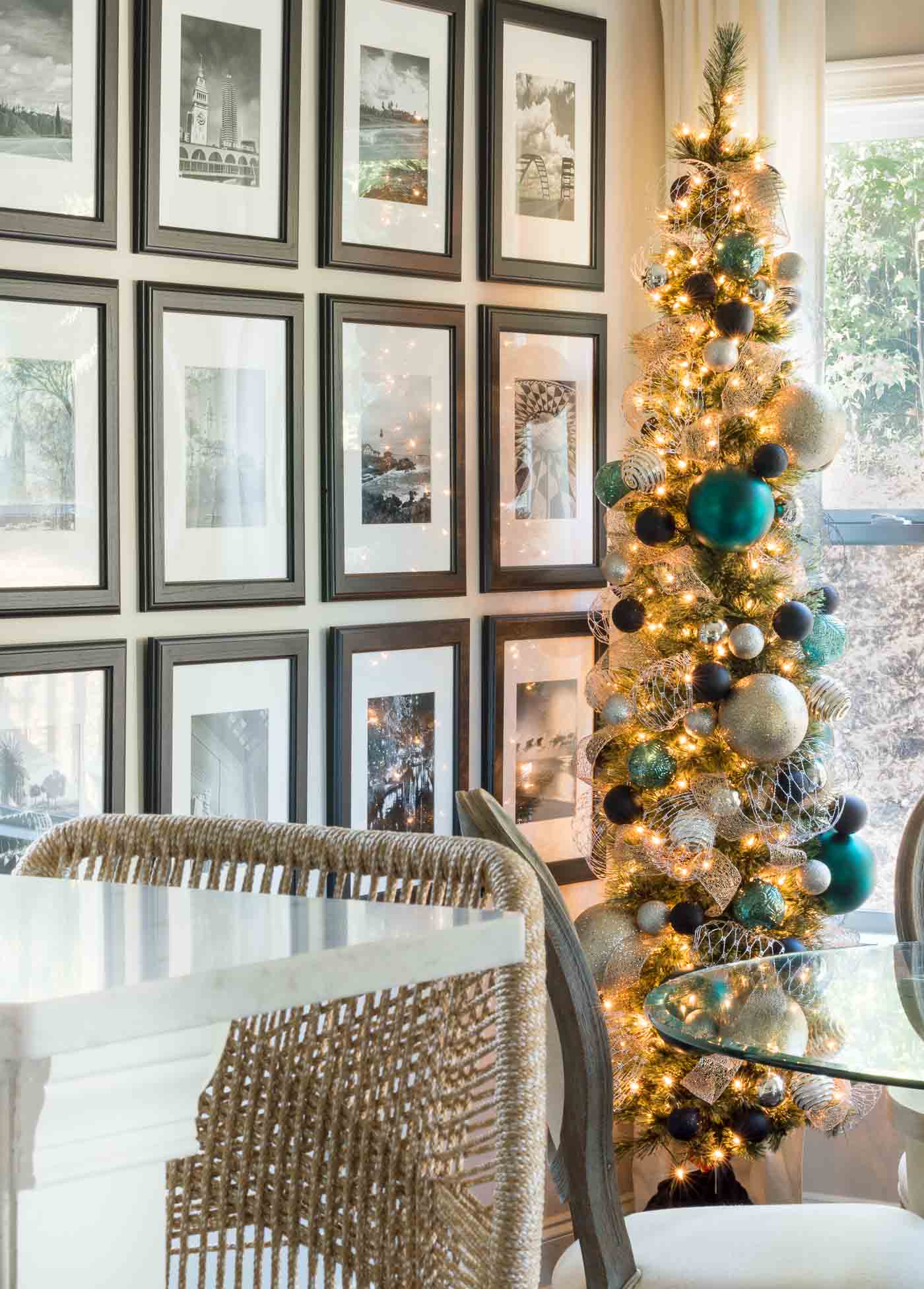 I also decorated it, not to be an exact replica, but to coordinate with our living room…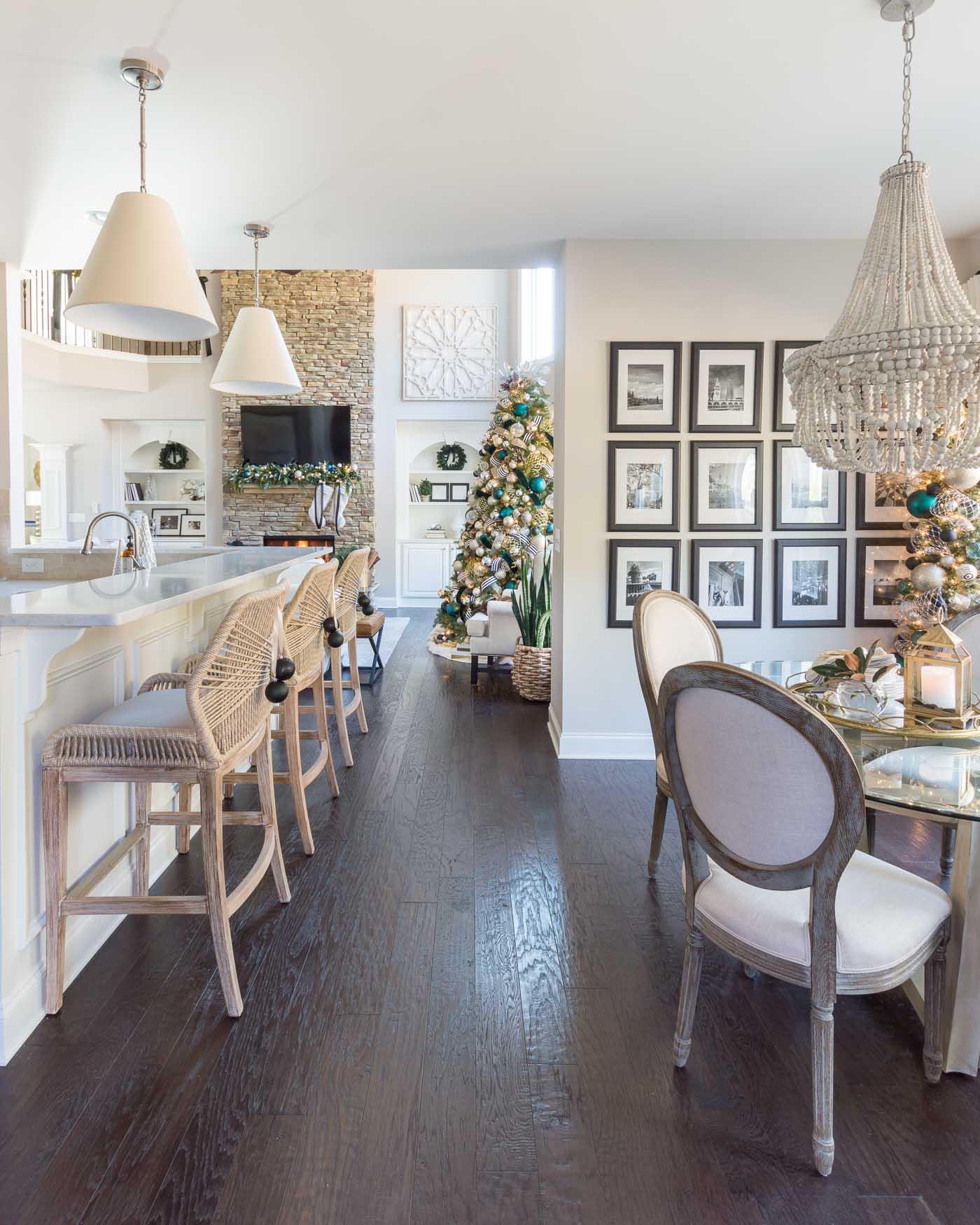 ---
Get the Look | Scroll & Tap to Shop

---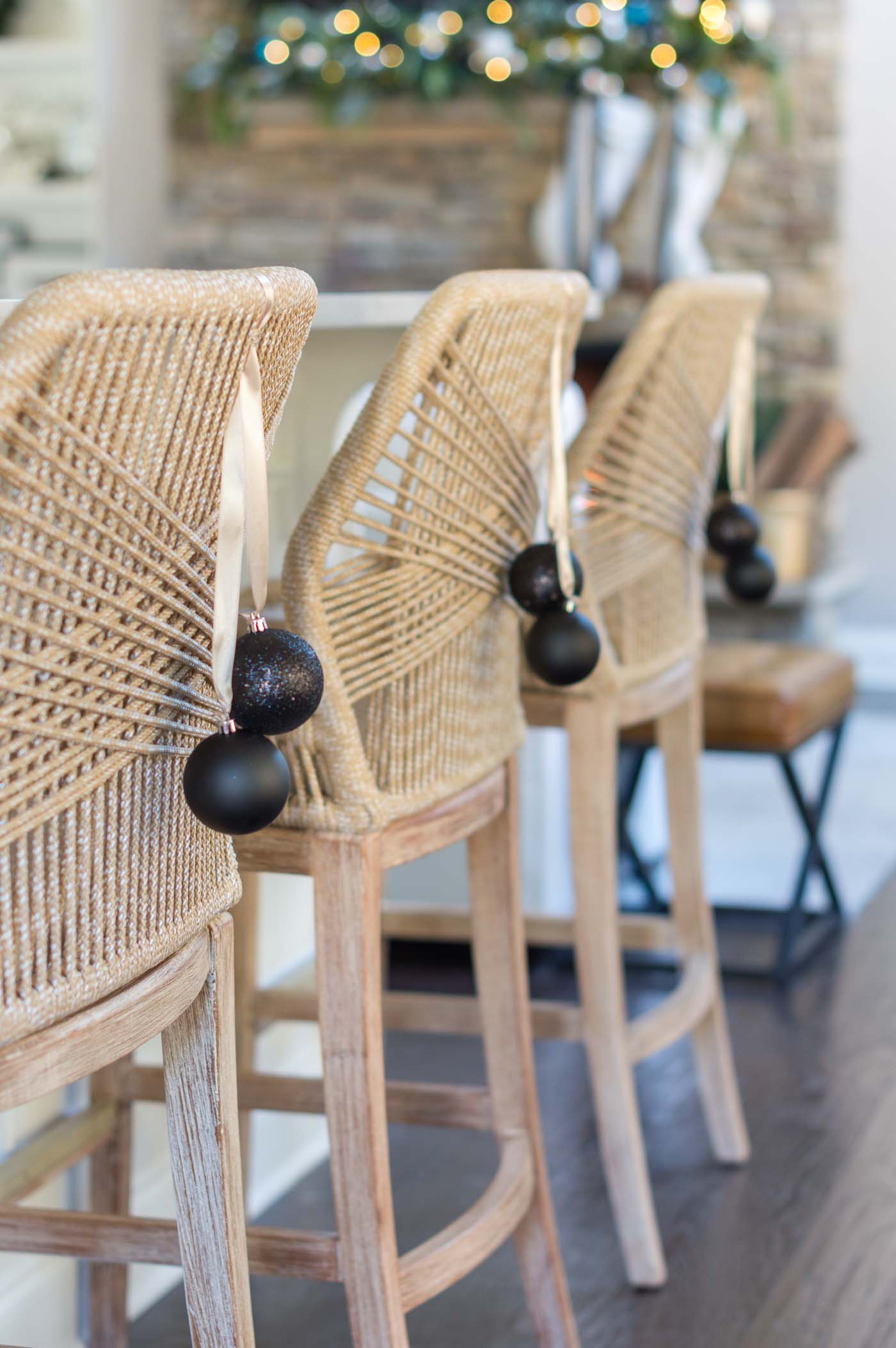 LIVING ROOM
Welcome to the central hub of our Christmas home and what may be my favorite space of all the Christmases since we moved in. PS: I can't believe this is our fourth Christmas in this house! This is another room that has been under construction for a bit of 2018 and with the exception of adding THIS mirror (finally set to arrive this month!) (use code CHEER to take 20% off this weekend) – and eventually switching the fan – it's finally (basically) finished!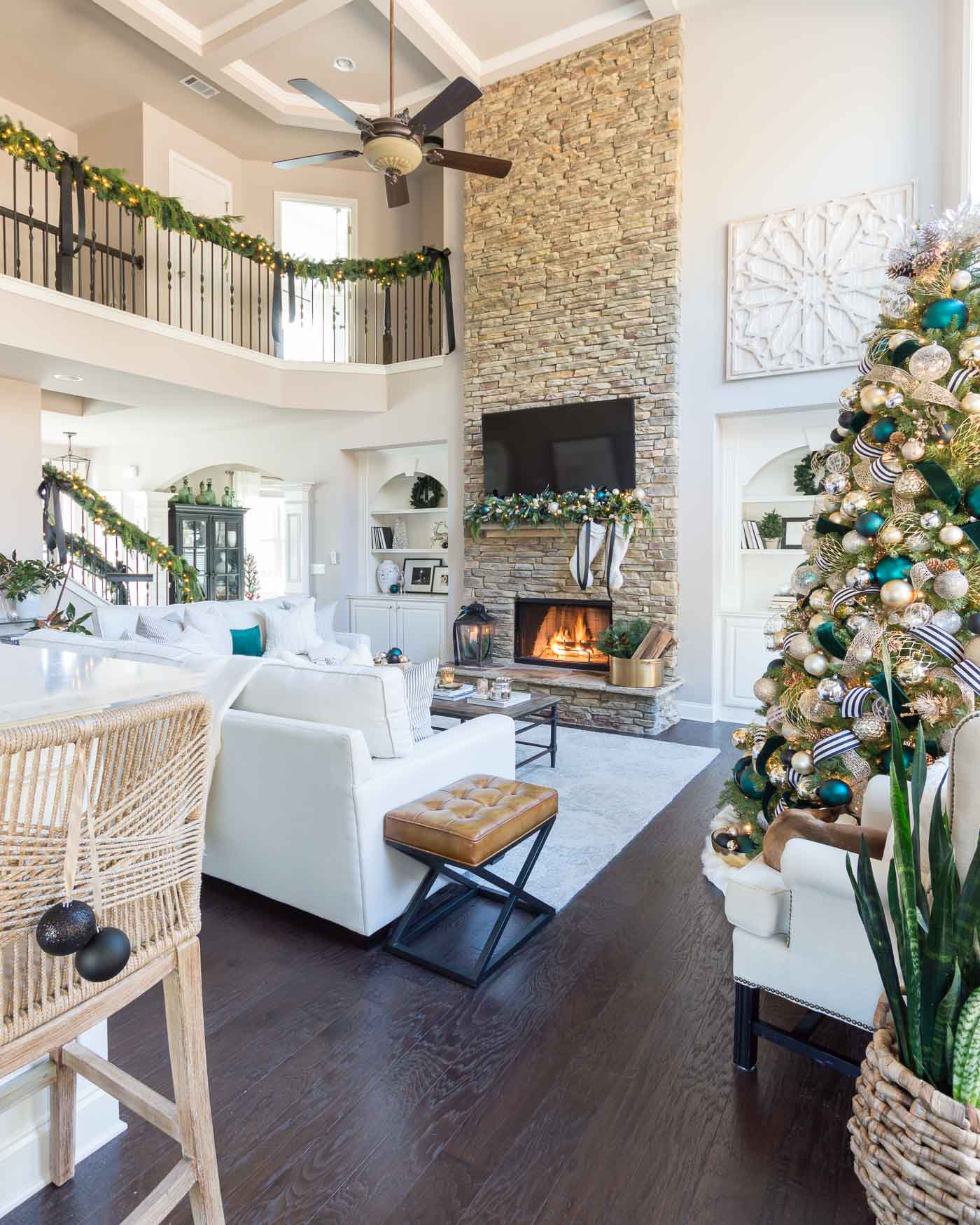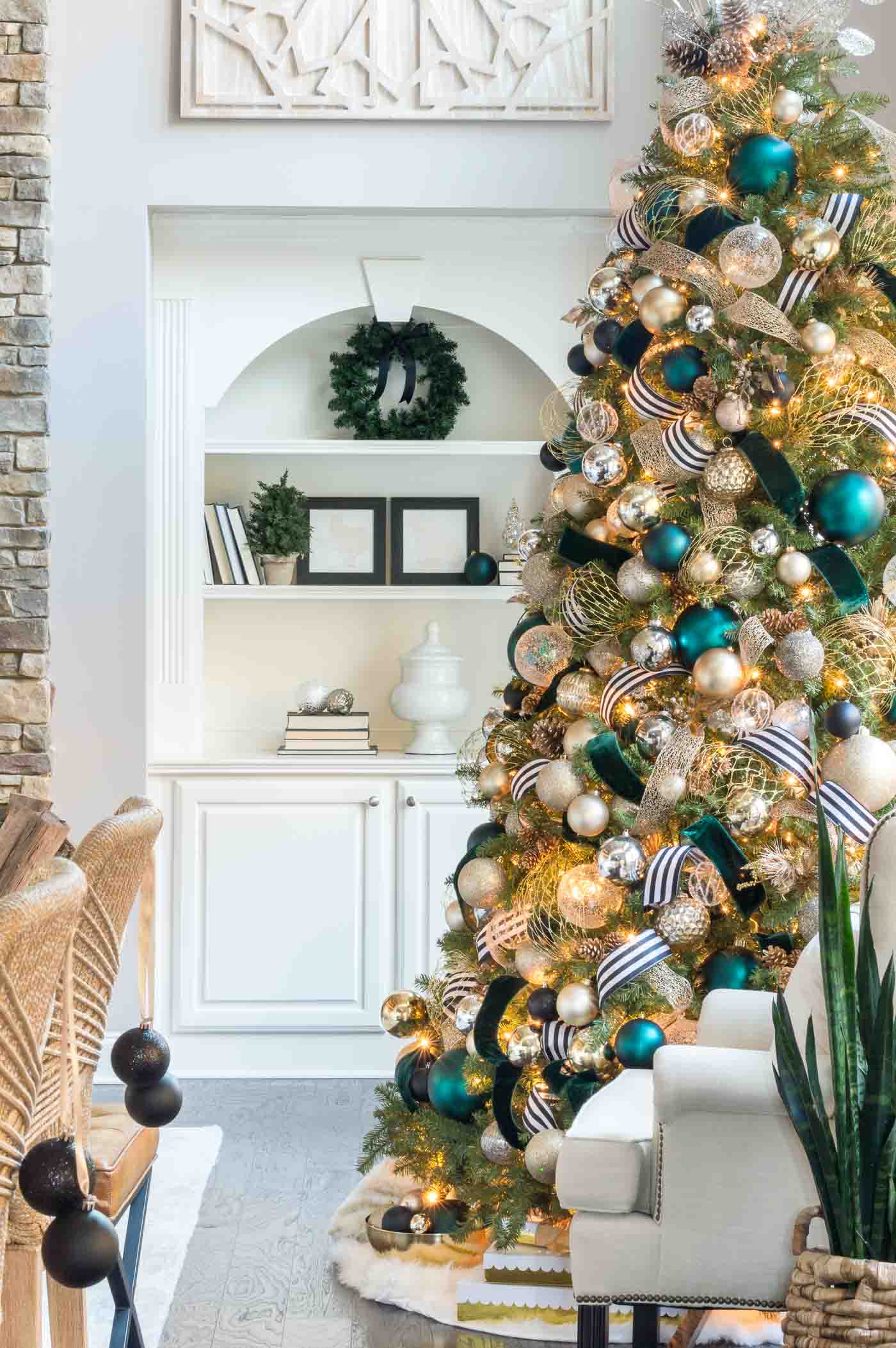 As I did with the other rooms in my house, I focused on embellishing what I already had instead of hauling out all the things.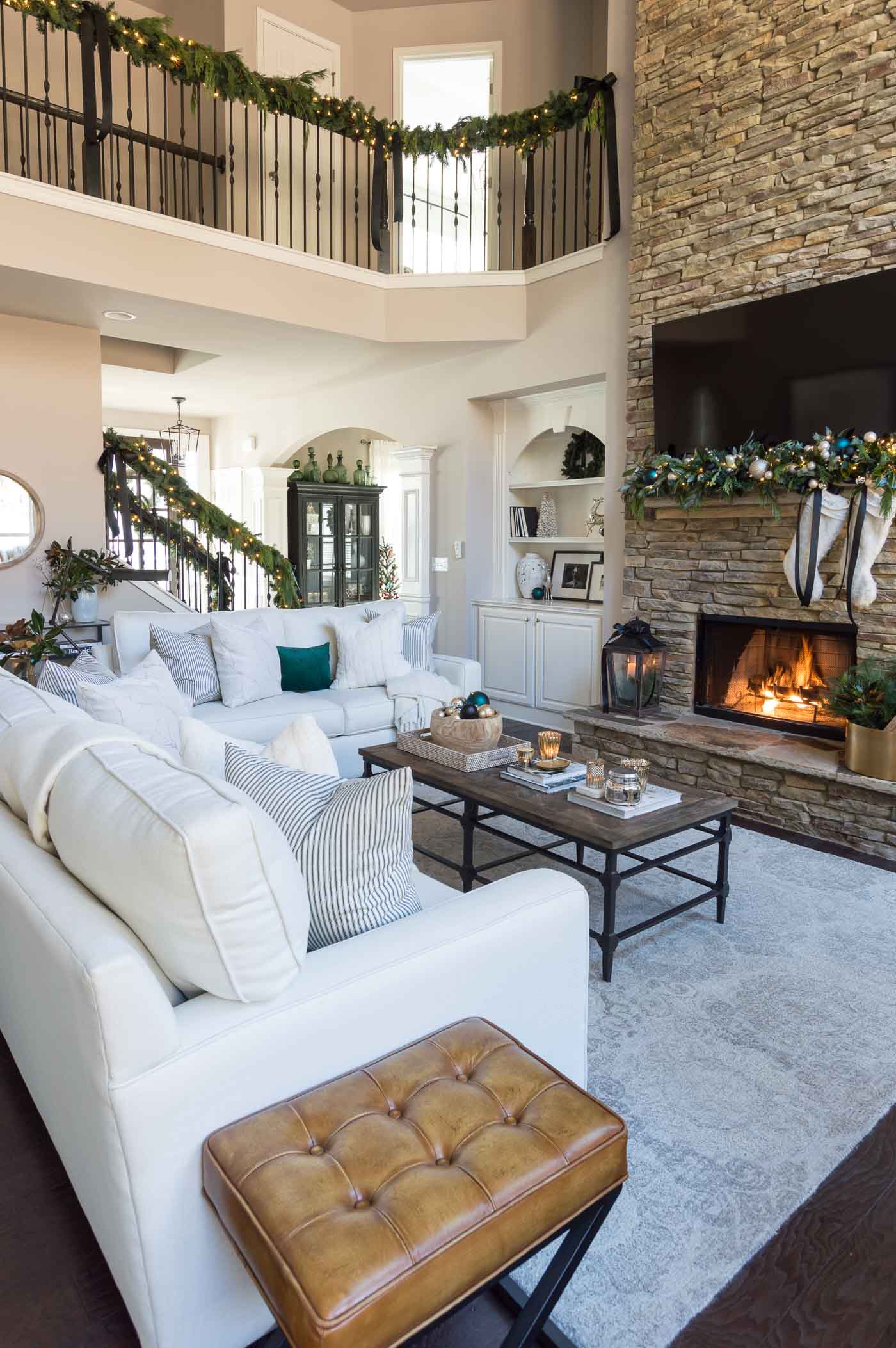 ---
Get the Look | Scroll & Tap to Shop

---
THESE votives are a new addition – while I went for the gold, they also come as a set of 6 in silver and white. I clustered them on the coffee table and sprinkled them throughout other surfaces.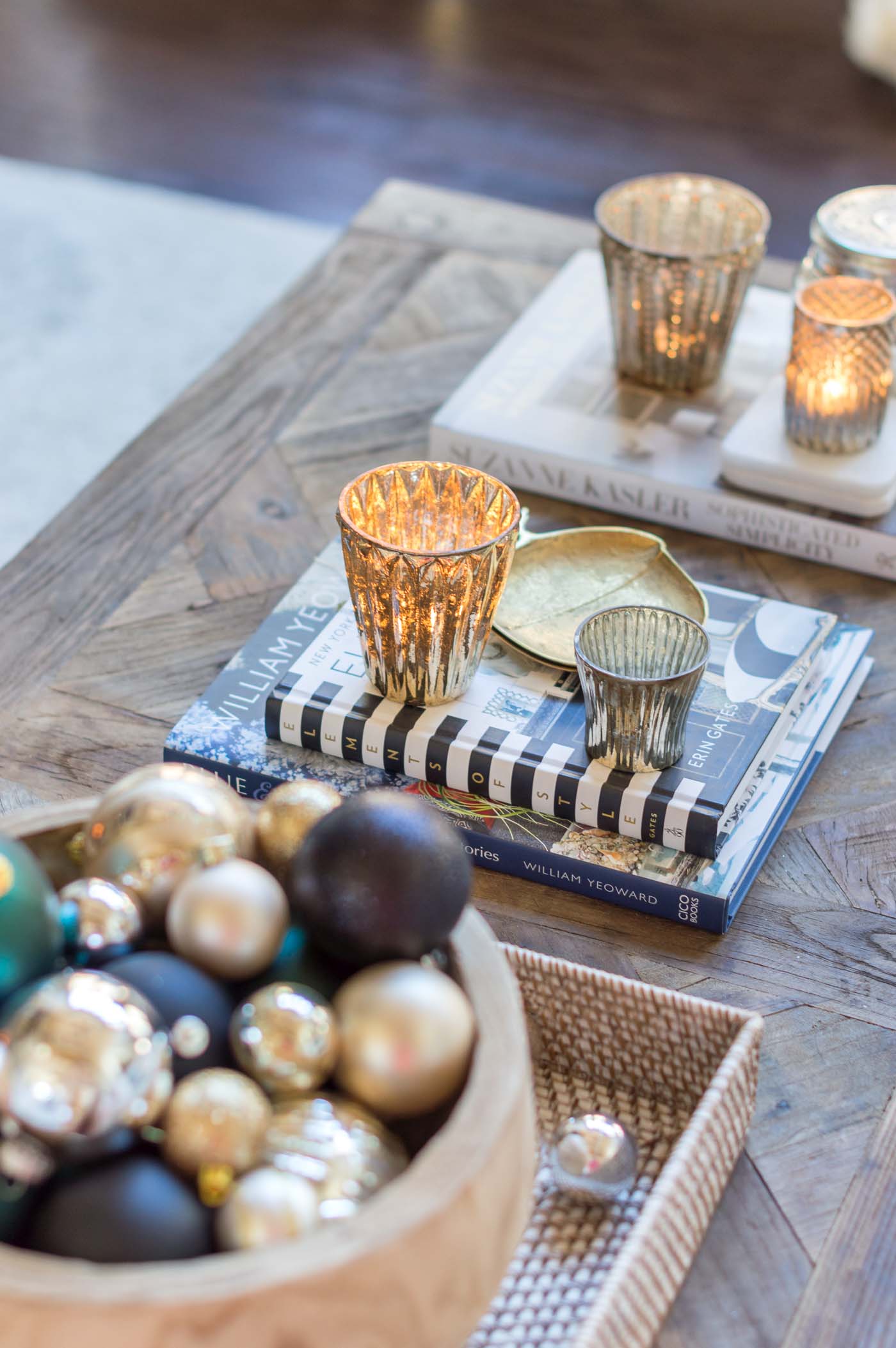 ---
Get the Look | Scroll & Tap to Shop

---
See that wall with the two off-centered mirrors? That's where my new mirror is going 😉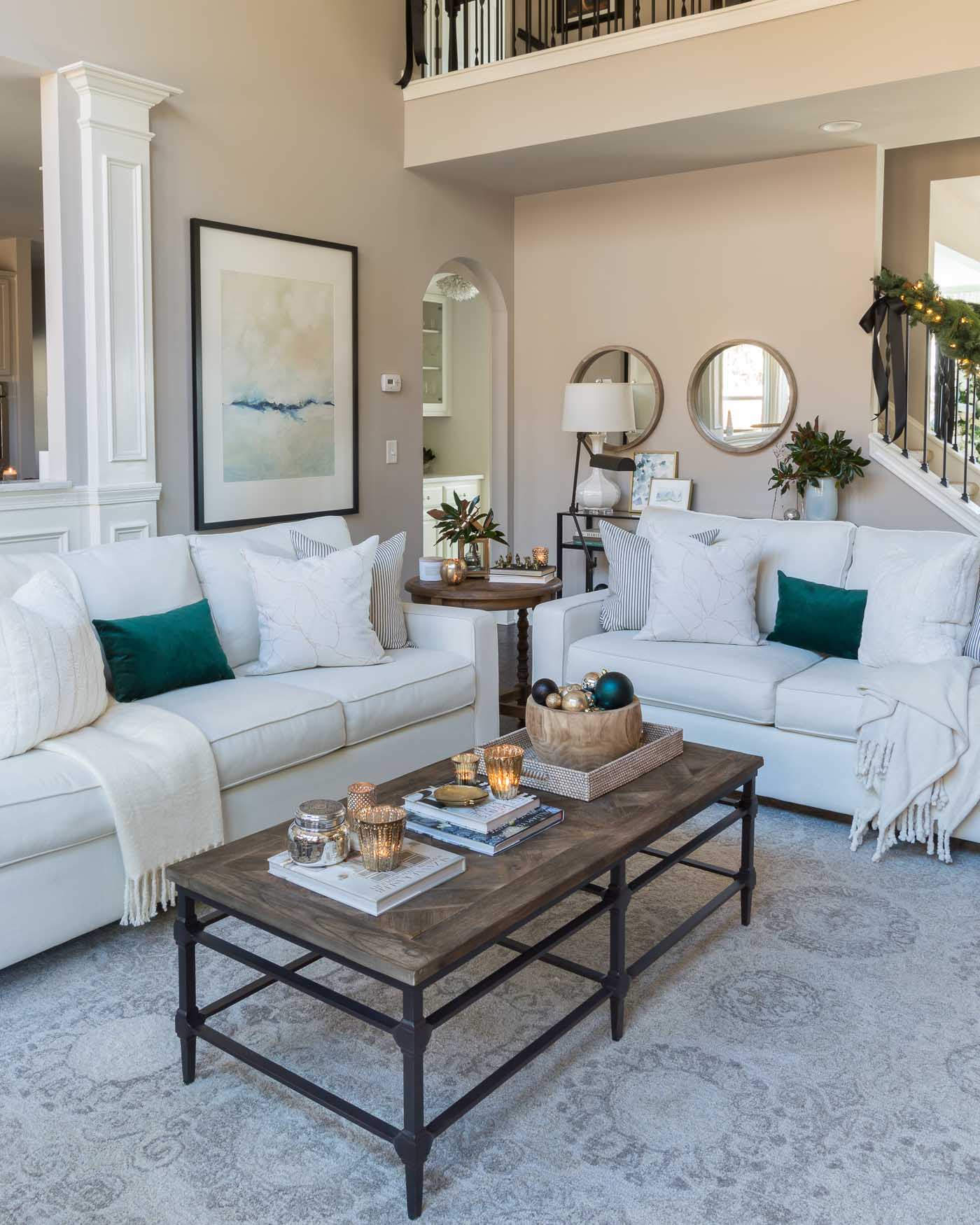 As I typically do, I didn't go for Christmas-exclusive pillows. I went for pillows that I could mix and match throughout other seasons, in other rooms, for years to come. Like most of my pillows from 2018, these came from my friends at Tonic Living ; I talked about my favorite sources for pillows and what I look for HERE.
---
Get the Look | Scroll & Tap to Shop


1. Black & White Ticking Stripe // 2. Green Velvet Lumbar // 3. White & Gold Veining
---
Now that I have more areas to display them, I've been busy adding books to my coffee table collection – I may have to do a post on some of those soon? Also, you can spy another AHS tall twiggy friend there in the background 😉 By the way, my console table (HERE) is on major sale this weekend. It's way longer but more narrow than my last table, which made it a much better fit for this space.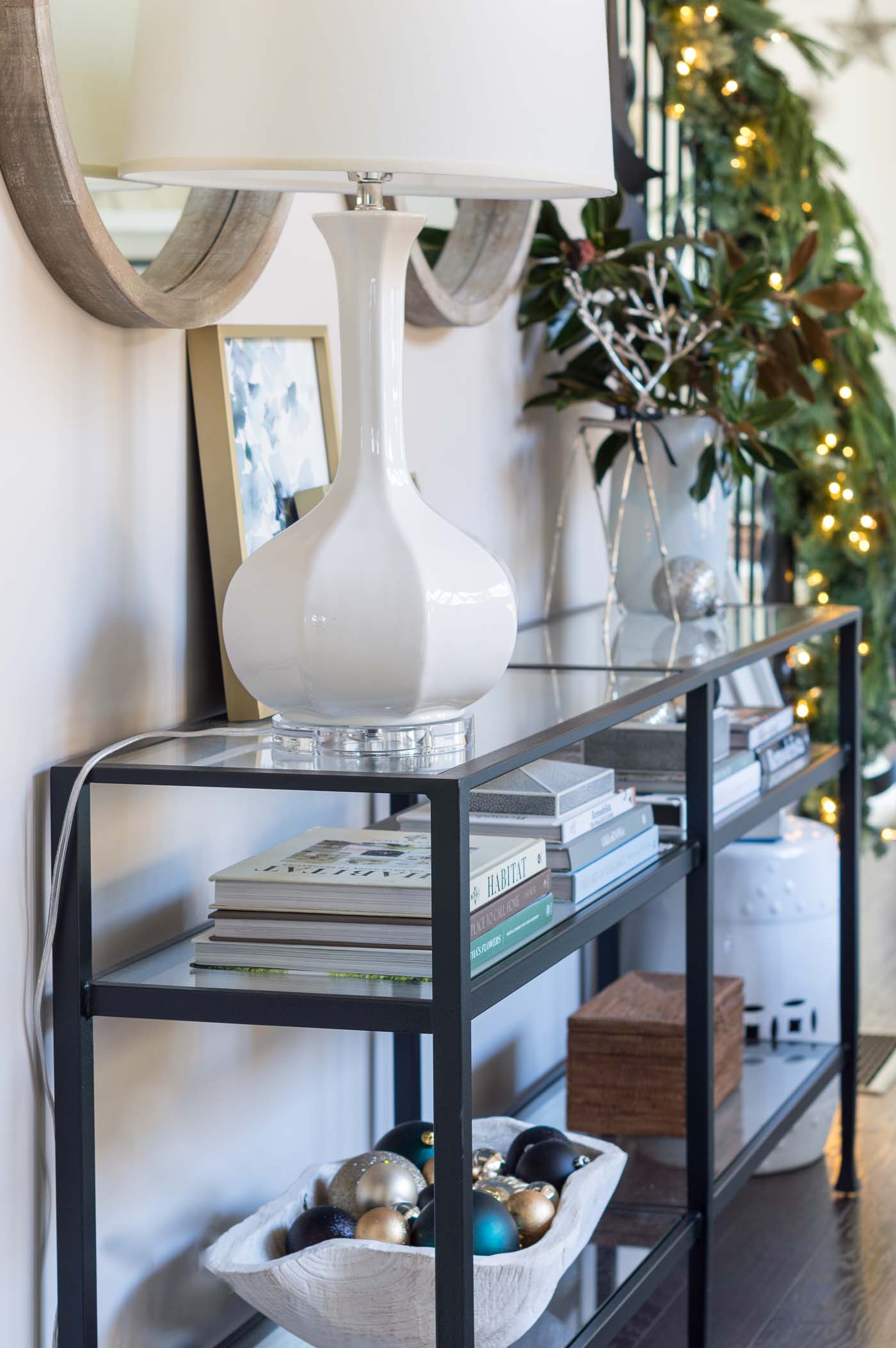 ---
Get the Look | Scroll & Tap to Shop

---
Along with the votives, another new treat I recently ordered was this miniature nativity set – both are also 20% off with code CHEER. The pieces are solid and are actually pretty heavy for their size; it makes an awesome gift too, if you're still working your way through your list.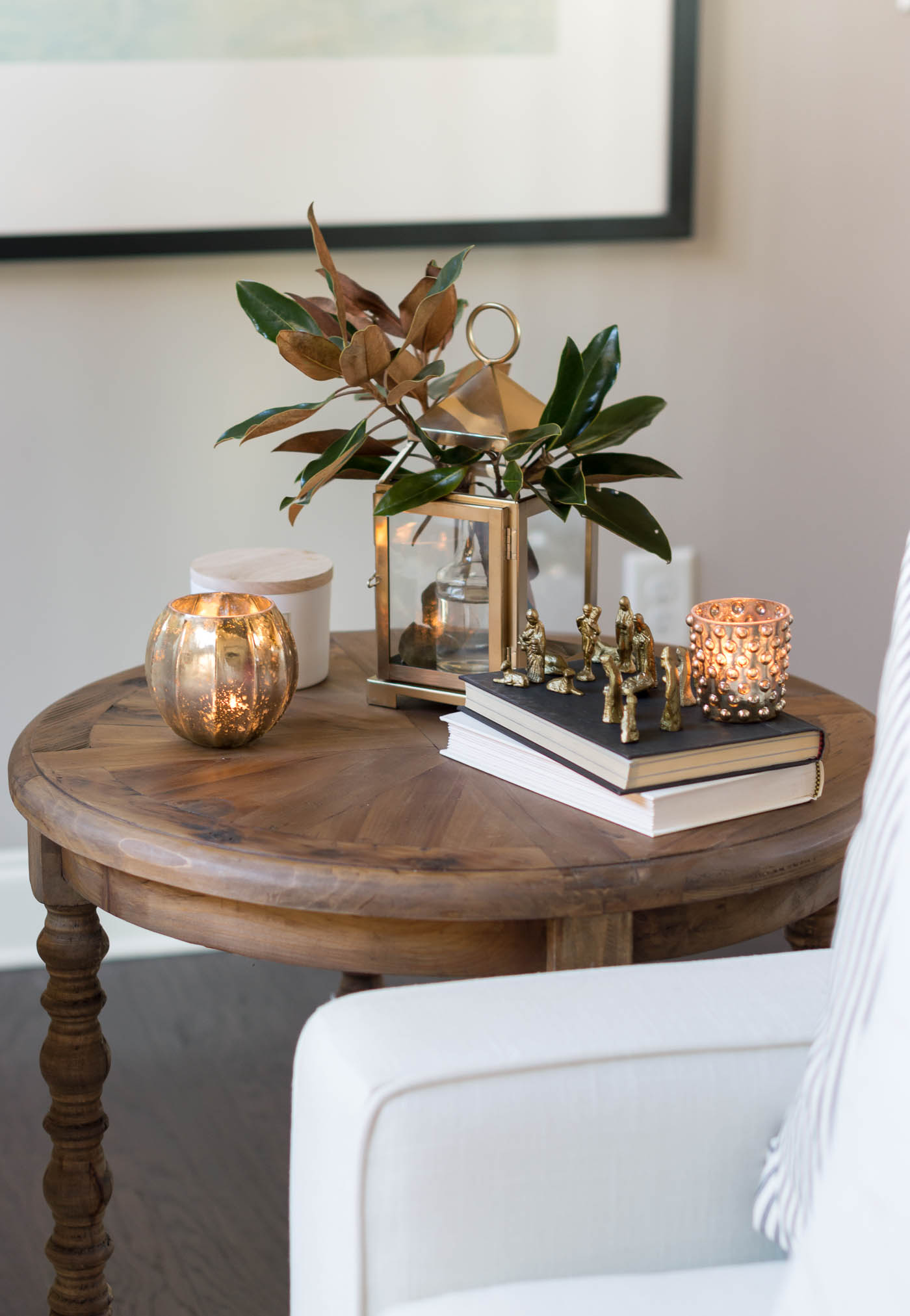 ---
Get the Look | Scroll & Tap to Shop

---
I left most everything intact on my bookshelves and just made room/subbed out a few pieces for some holiday moments.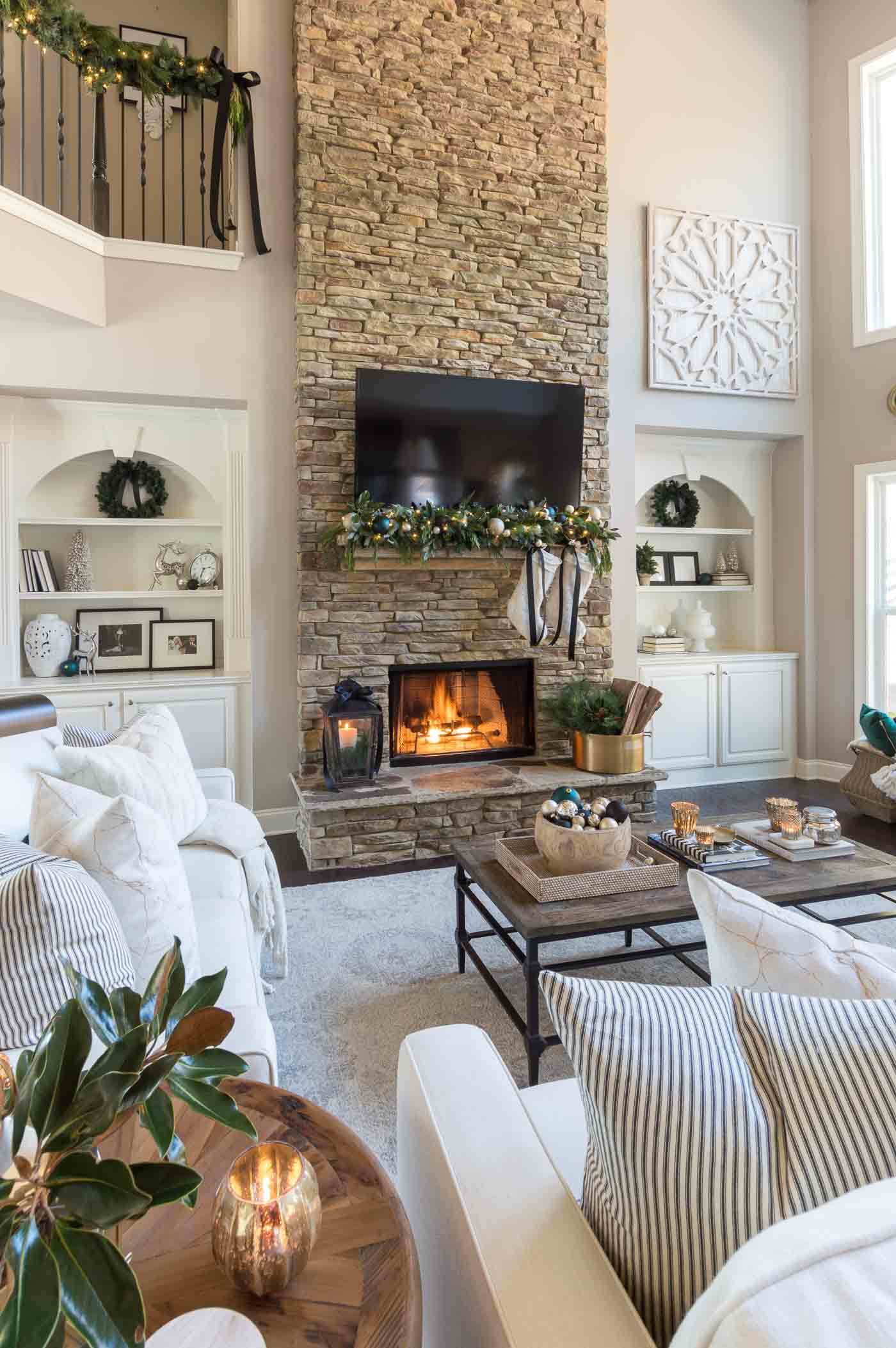 Because our tv is above our mantel without much space to style, I go super heavy on the garland and beef it up as much as possible. I use the same faux strand each year and then add in some basic ball ornaments that coordinate with the the current color scheme (I use hot glue and just pluck them off at the beginning of the following year). I add in pieces of live garland – bits of pine and cedar and even added in some magnolia leaves this year to go with the other magnolia foliage throughout. I finish it off with some battery-powered wire fairy lights.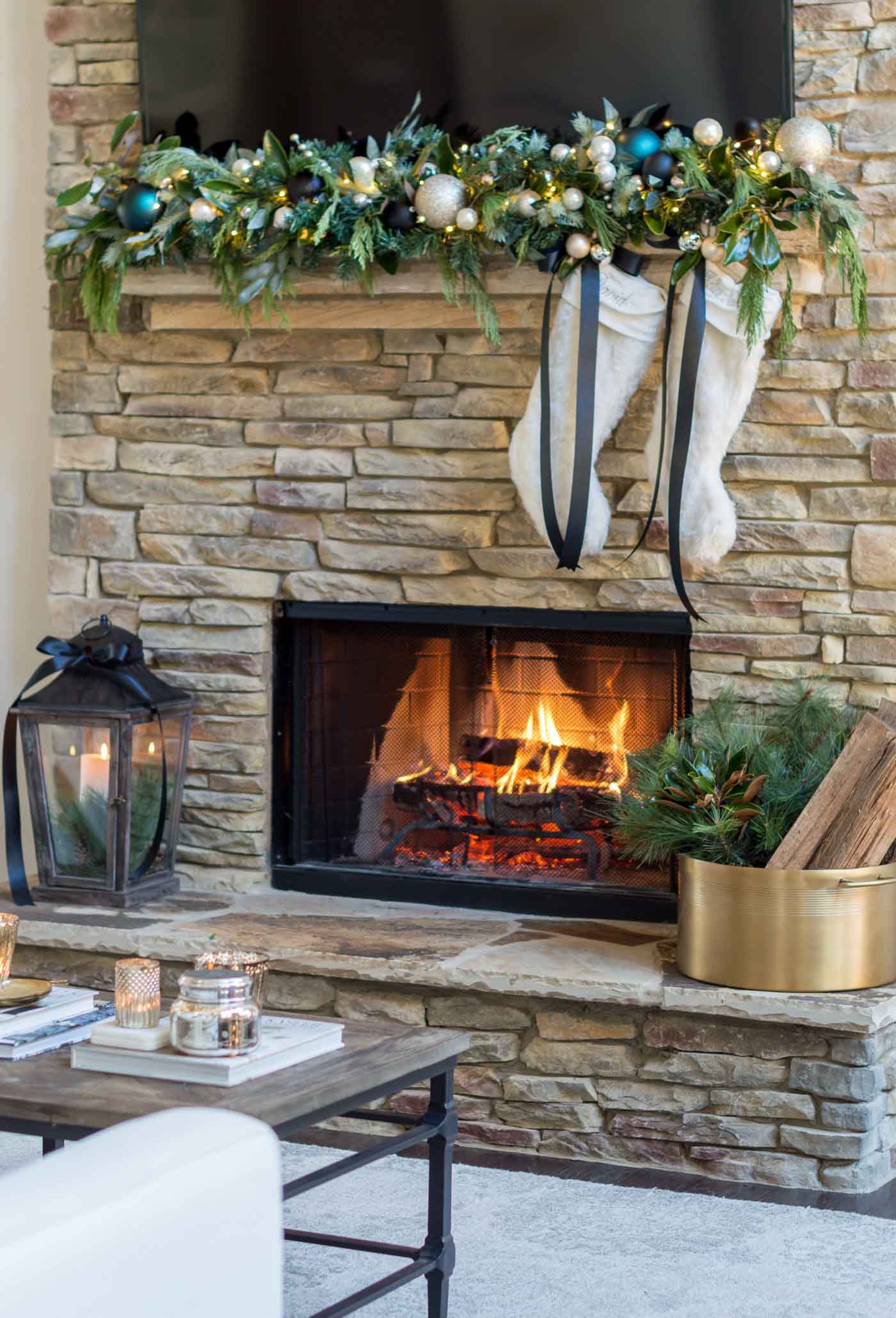 We use the same stockings each year but I try switch up the embellishments. After securing them with some Command hooks, I added long black satin ribbons, wired a couple of baubles, and secured a magnolia leaf in the center.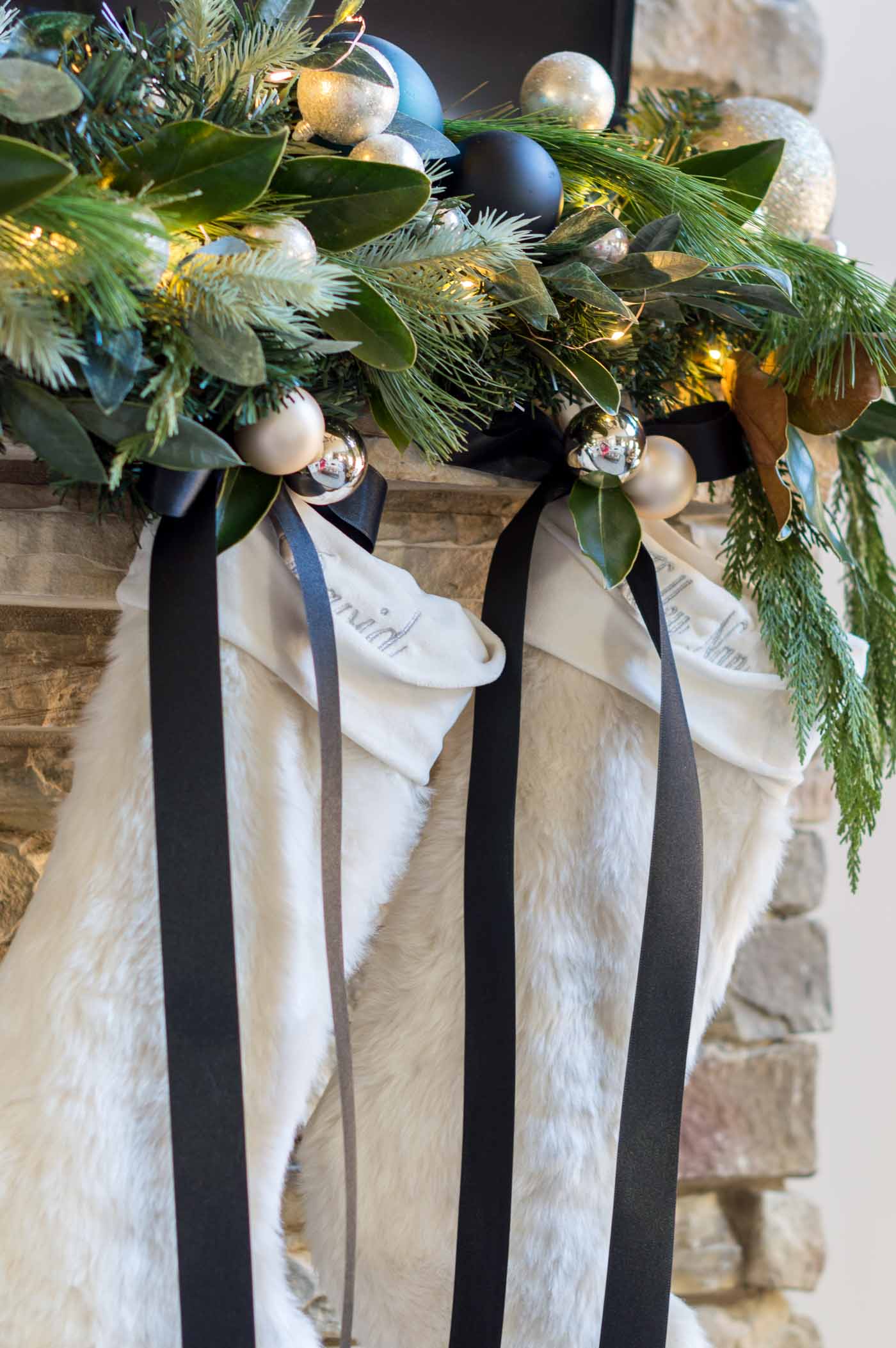 I think THIS party bucket was actually made to be a log holder 😉 I ordered it for its intended use and to corral and display hostess gifts during the Christmas season but as soon as it came in, I knew where I wanted to put it. It's already proving to be one of those versatile investment pieces – it's also 20% off this weekend with code CHEER. I used cheap faux pine branches from Michaels I had on hand and nestled some magnolia in, also. As a caveat- if you style up your wood holder with flammable bits – in this container or otherwise – don't leave fireside when you have a fire raging 😉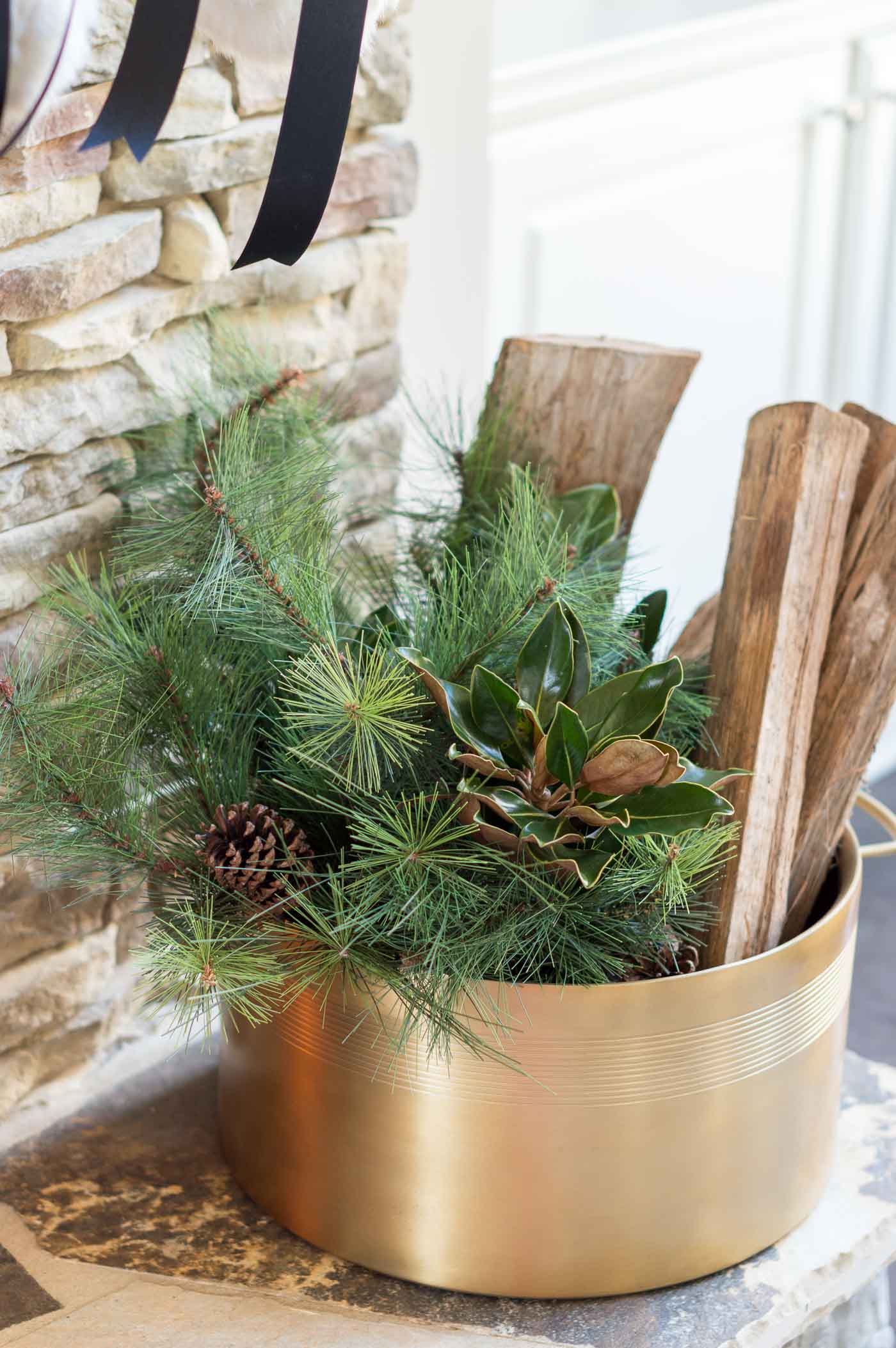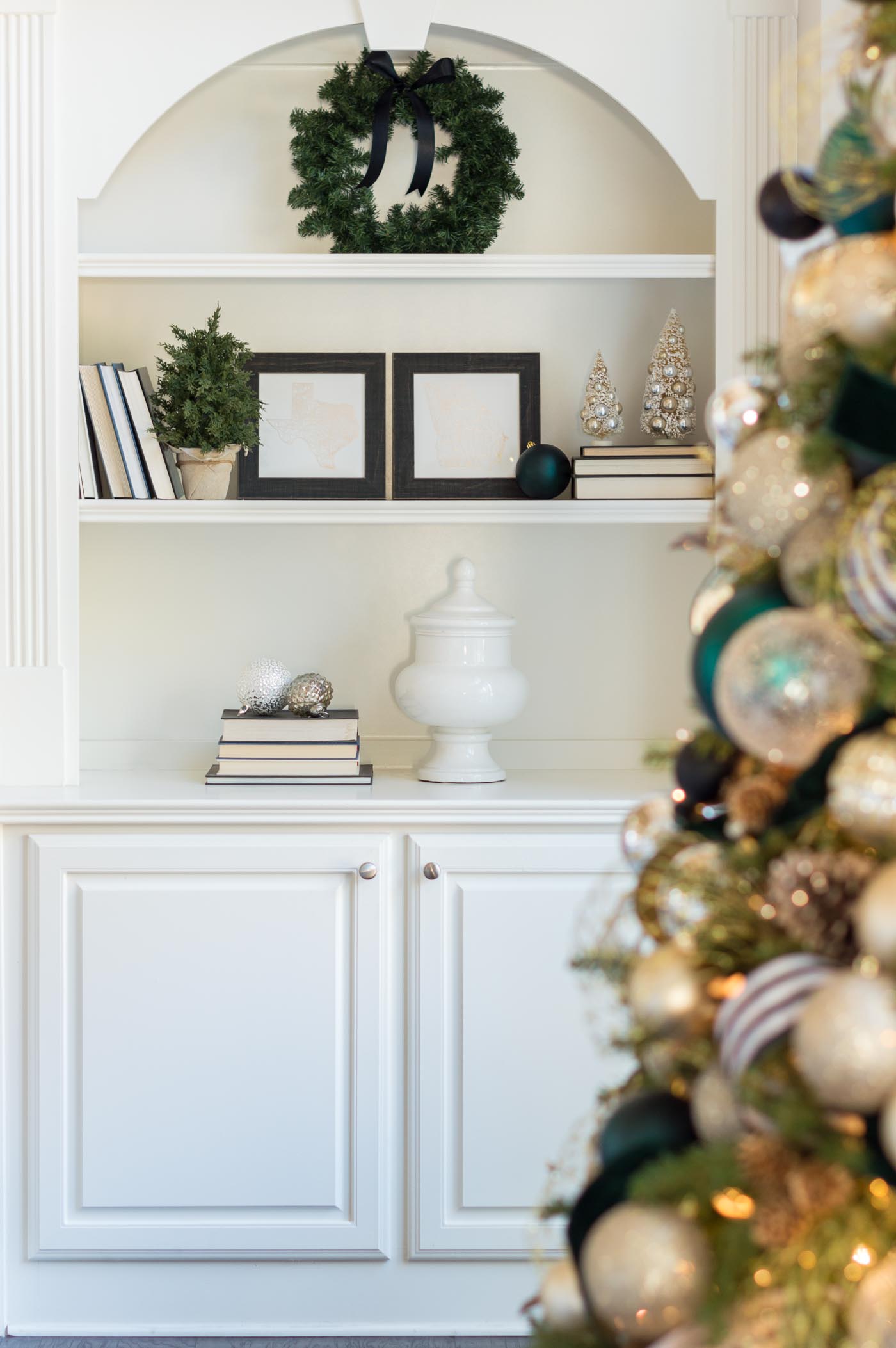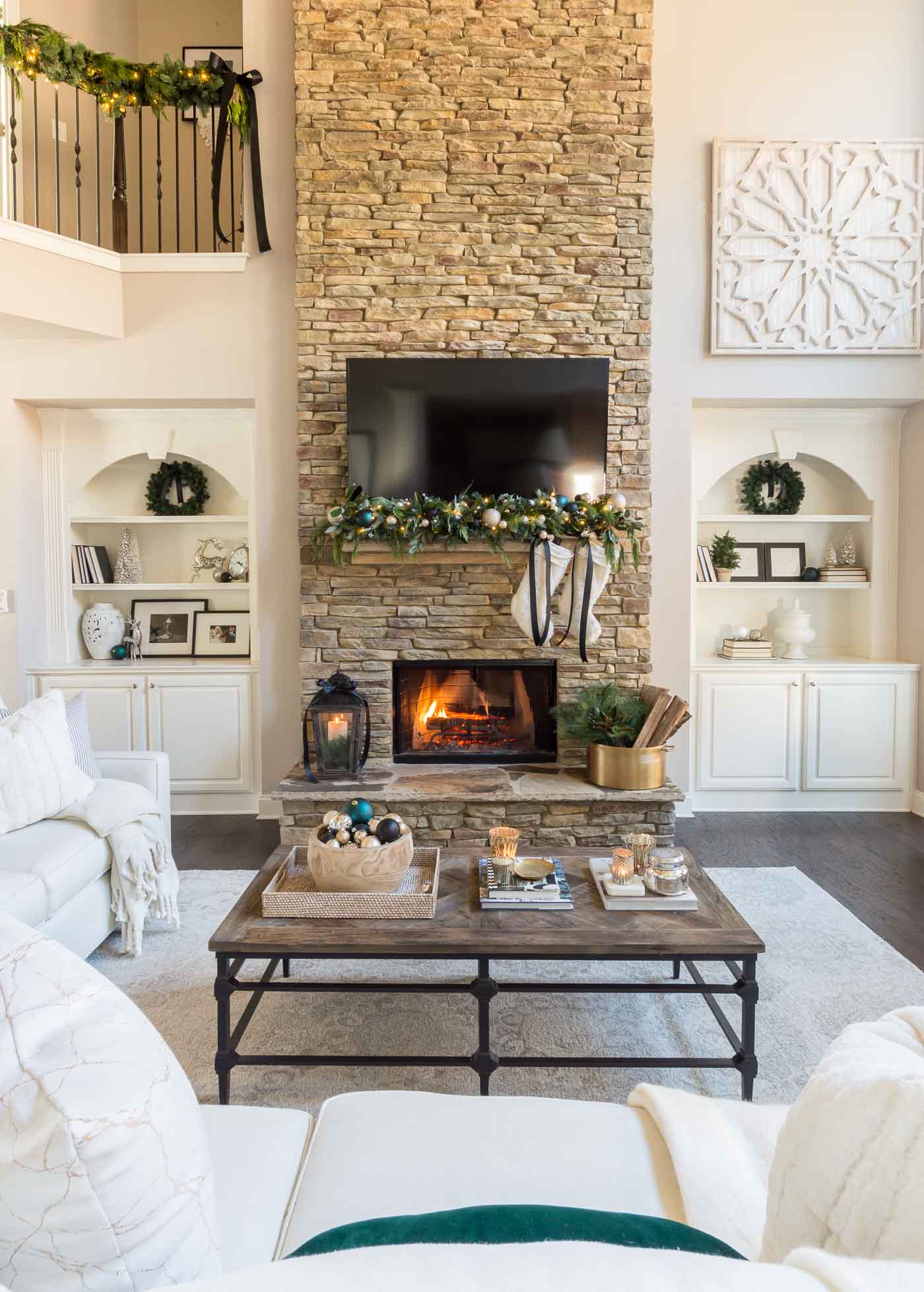 ---
Get the Look | Scroll & Tap to Shop

---
With the exception of a few of the green ball ornaments (from At Home) and three of the ribbons (From PaperMart & At Home), I had all tree trimmings already on hand. When you build a collection of silver, gold, clear, etc., you can easily switch themes and color schemes.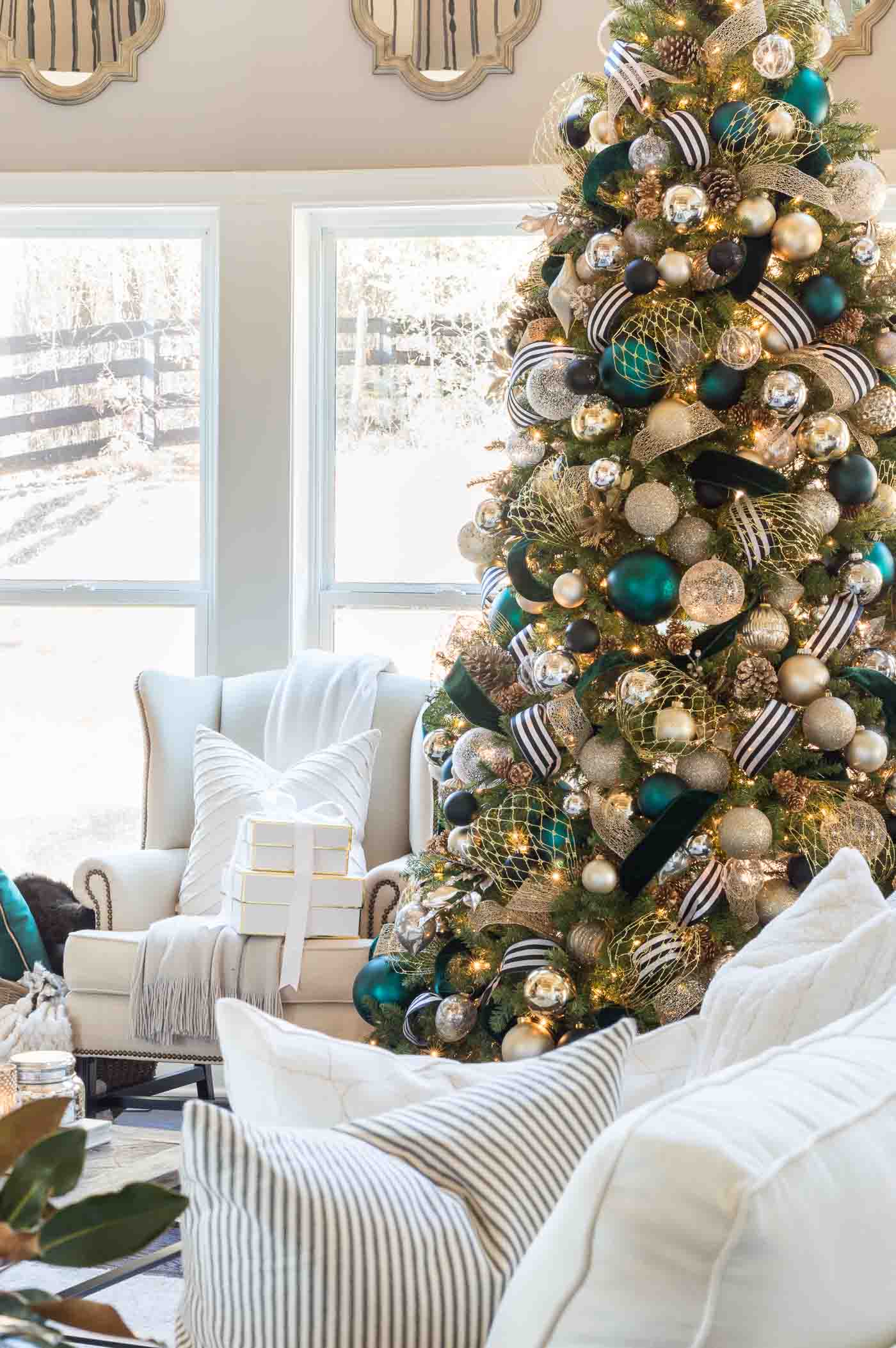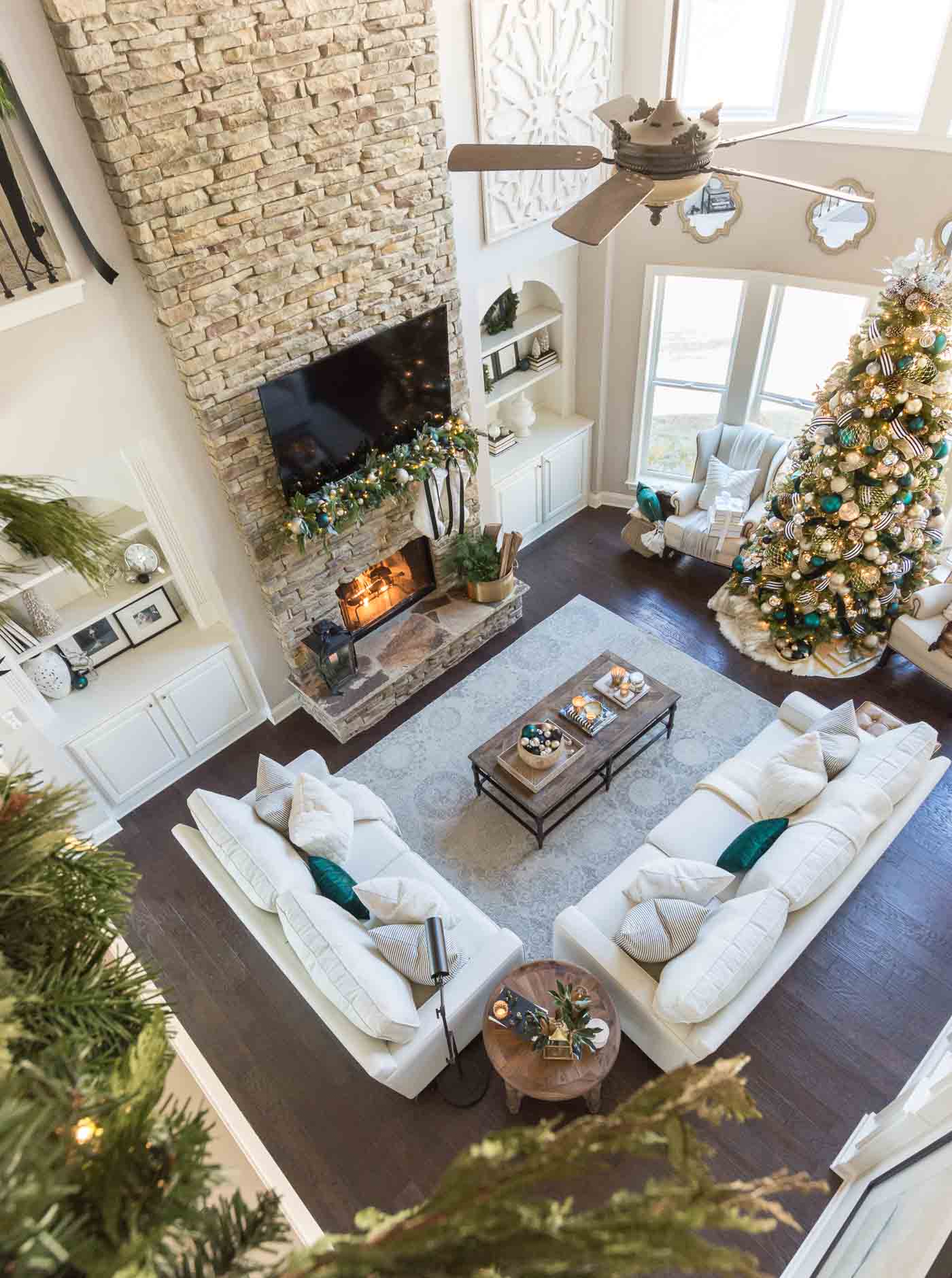 Like our mantel, I've used the same basic faux banister garland for years. But, I layer in some live pine/cedar strands (from Costco!) and finish off with bows on the posts. If you've never used live garland, it's messy and dries out quickly (I don't water mine) but once it's in place, as long as you don't touch it, it should stay put.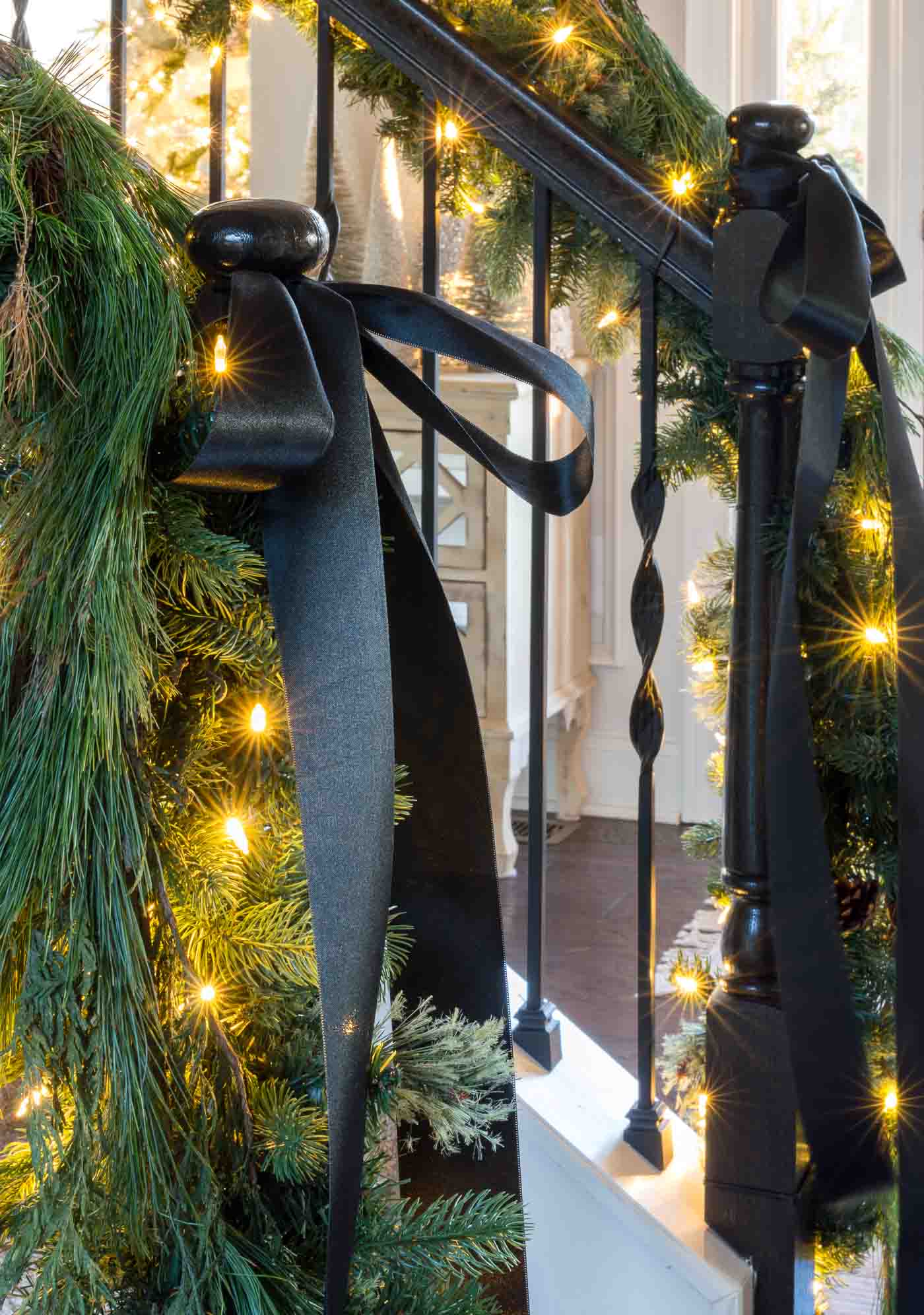 Guest Bedrooms
I added a Christmas tree to one of our guest bedrooms for the first time this year; you can see more on the Tiffany blue inspiration in my tree post HERE.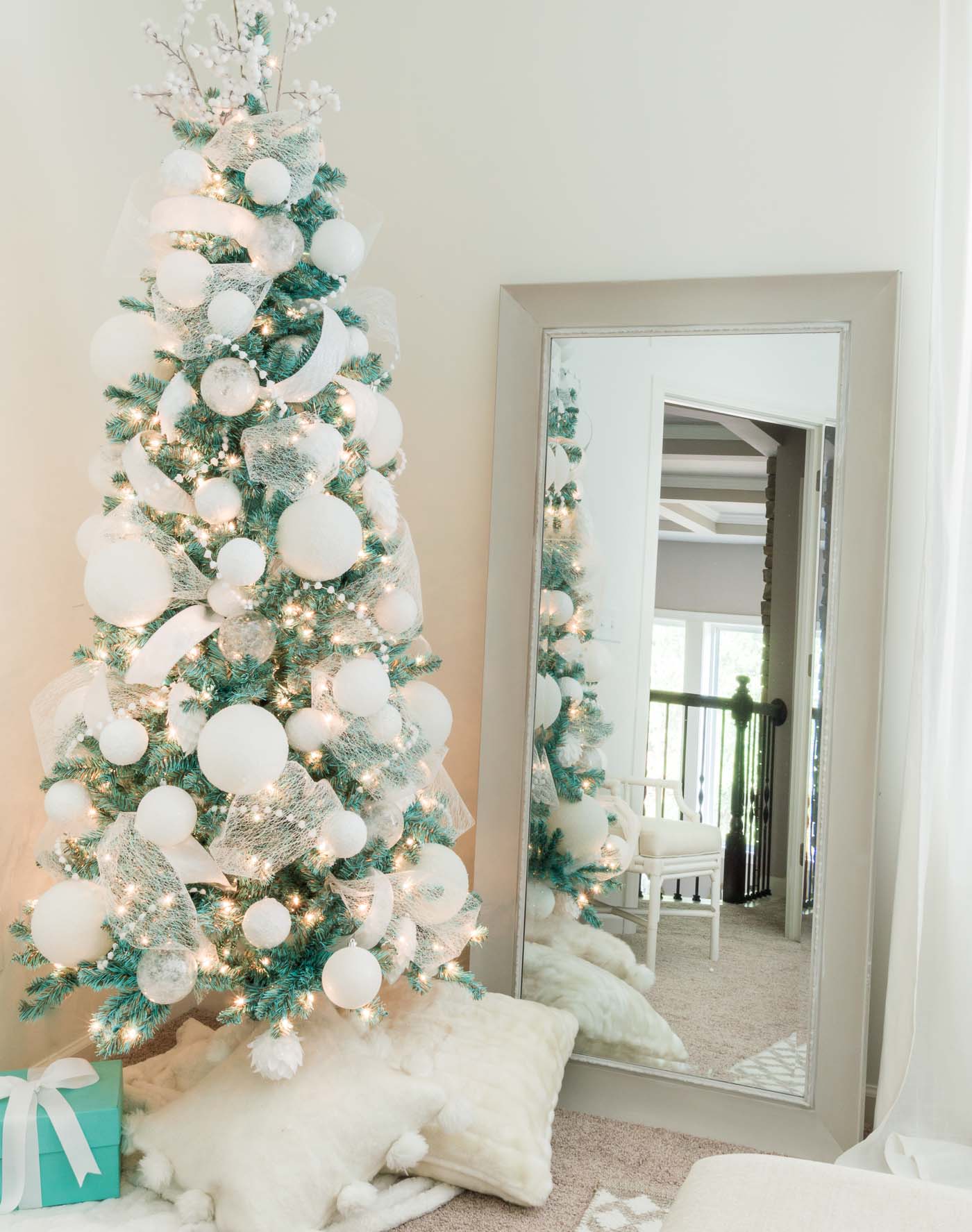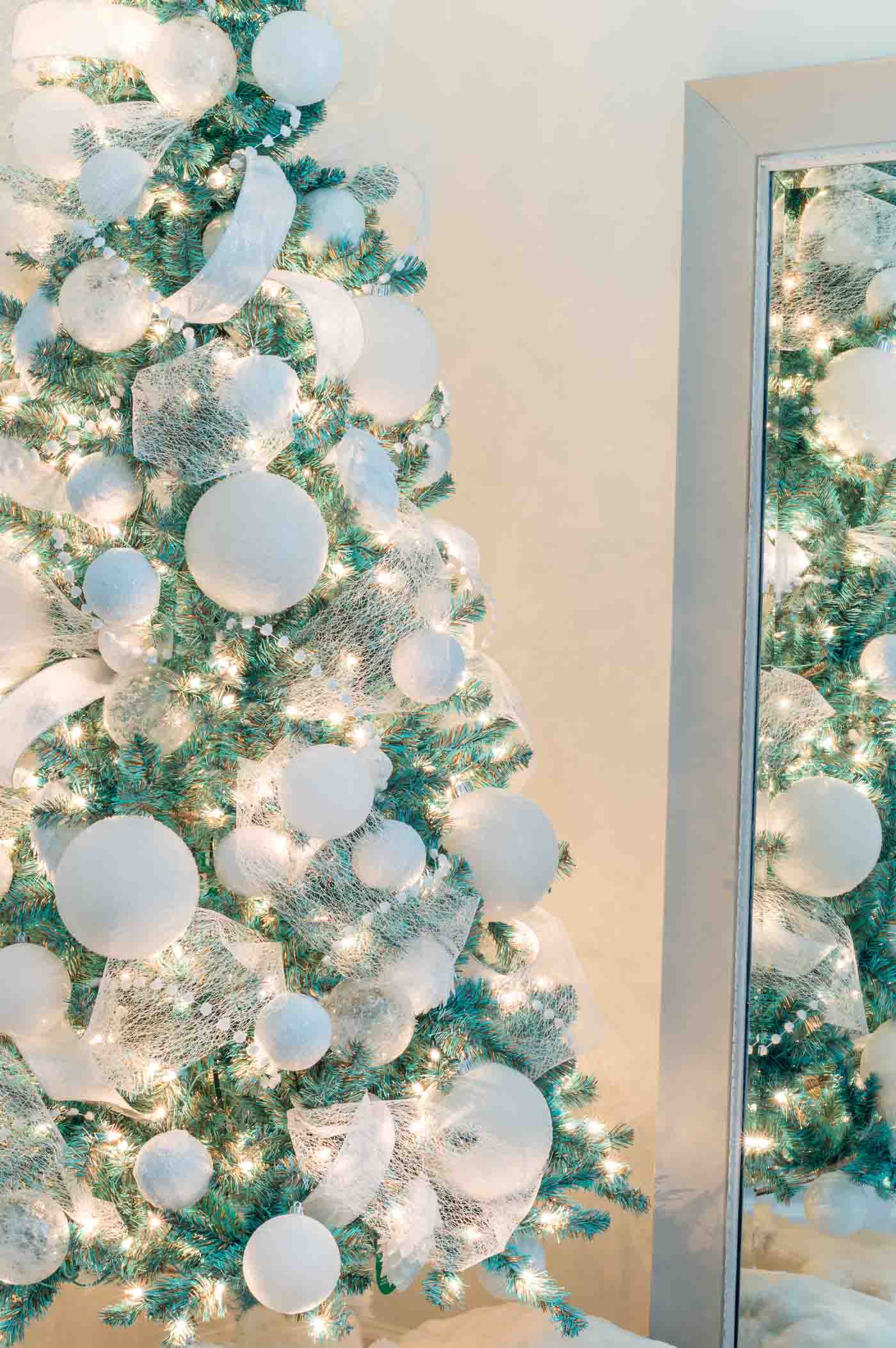 and across the hall added a simple boxwood garland to the headboard. I piled on the layers and added in velvets and plaid; the changes were minimal but just enough for a notable seasonal transition. By the way, my favorite, soft, fringe-y throw (HERE) is on sale for $29 right now! I have five of them now, spread throughout bedrooms and living spaces. Unlike some of our throws, these can go right in with the laundry.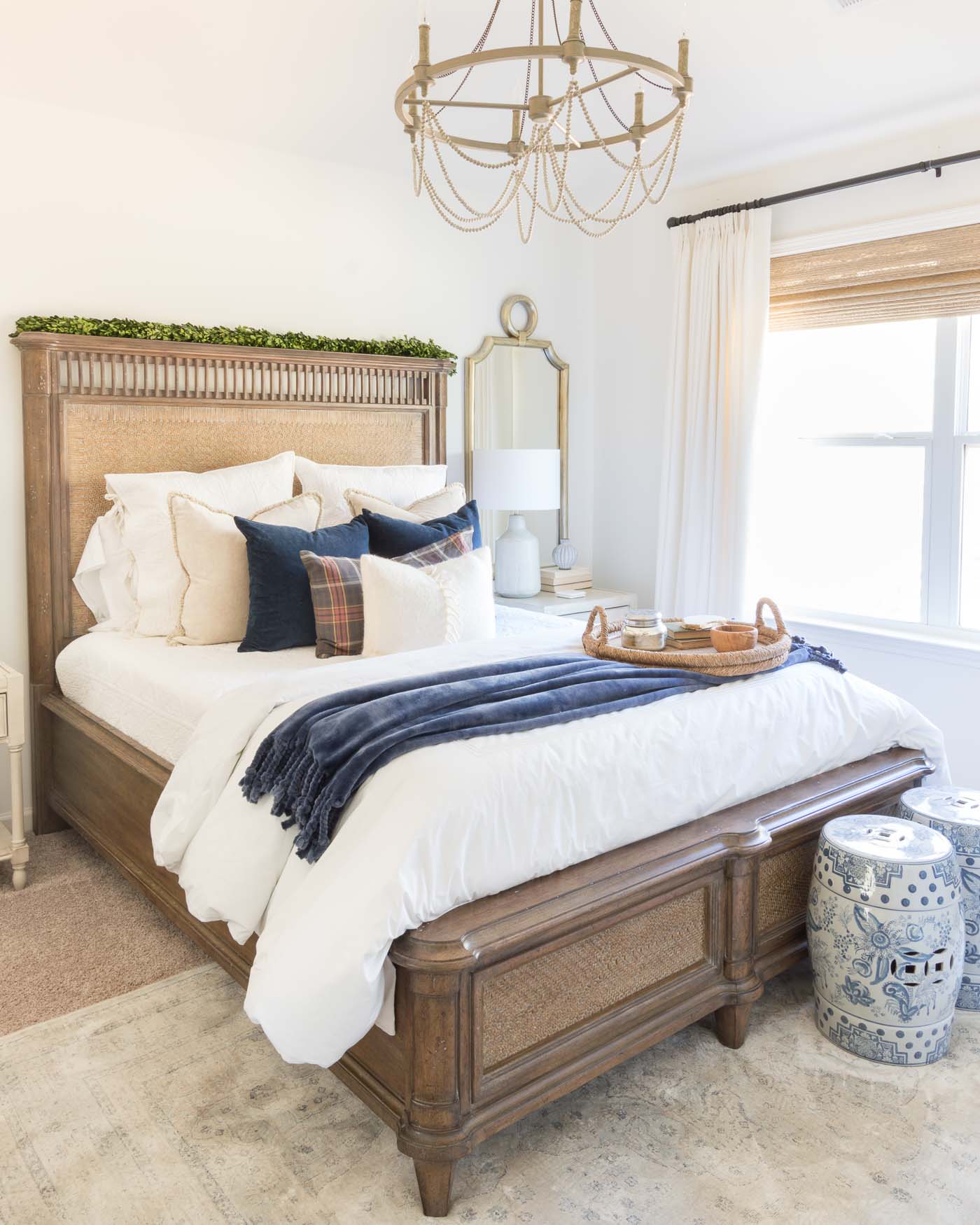 ---
Get the Look | Scroll & Tap to Shop

---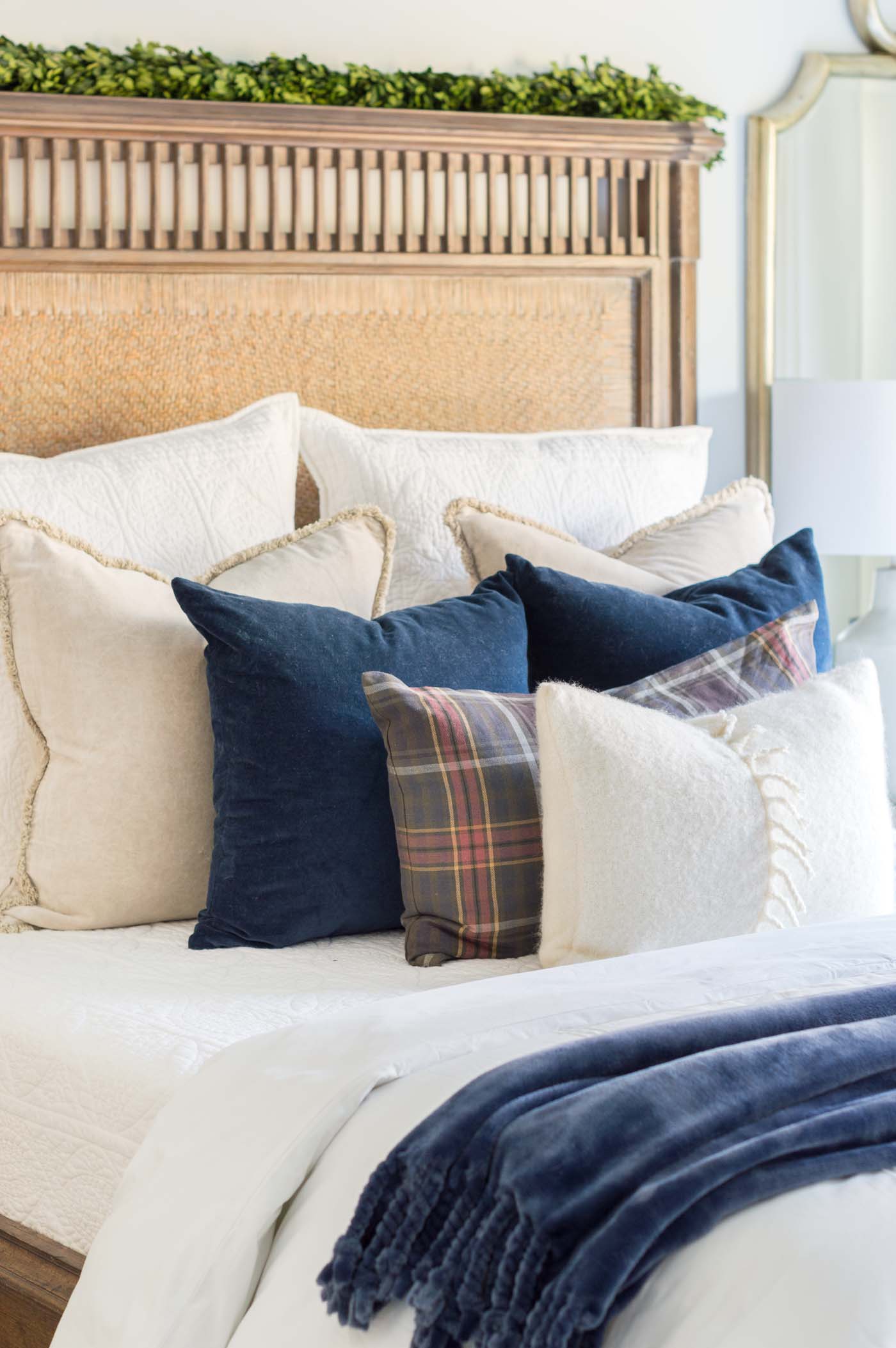 Master Bedroom
Similar to the guest bedrooms, the master bedroom saw little change but just enough to modify the entire look. I sprung for cozy, neutral plaids this year and kept our sitting area tree decked exclusively in white. If I could only have two trees, the second one, without a doubt, would be in our bedroom. Twinkle lights make for the best December movie nights in bed!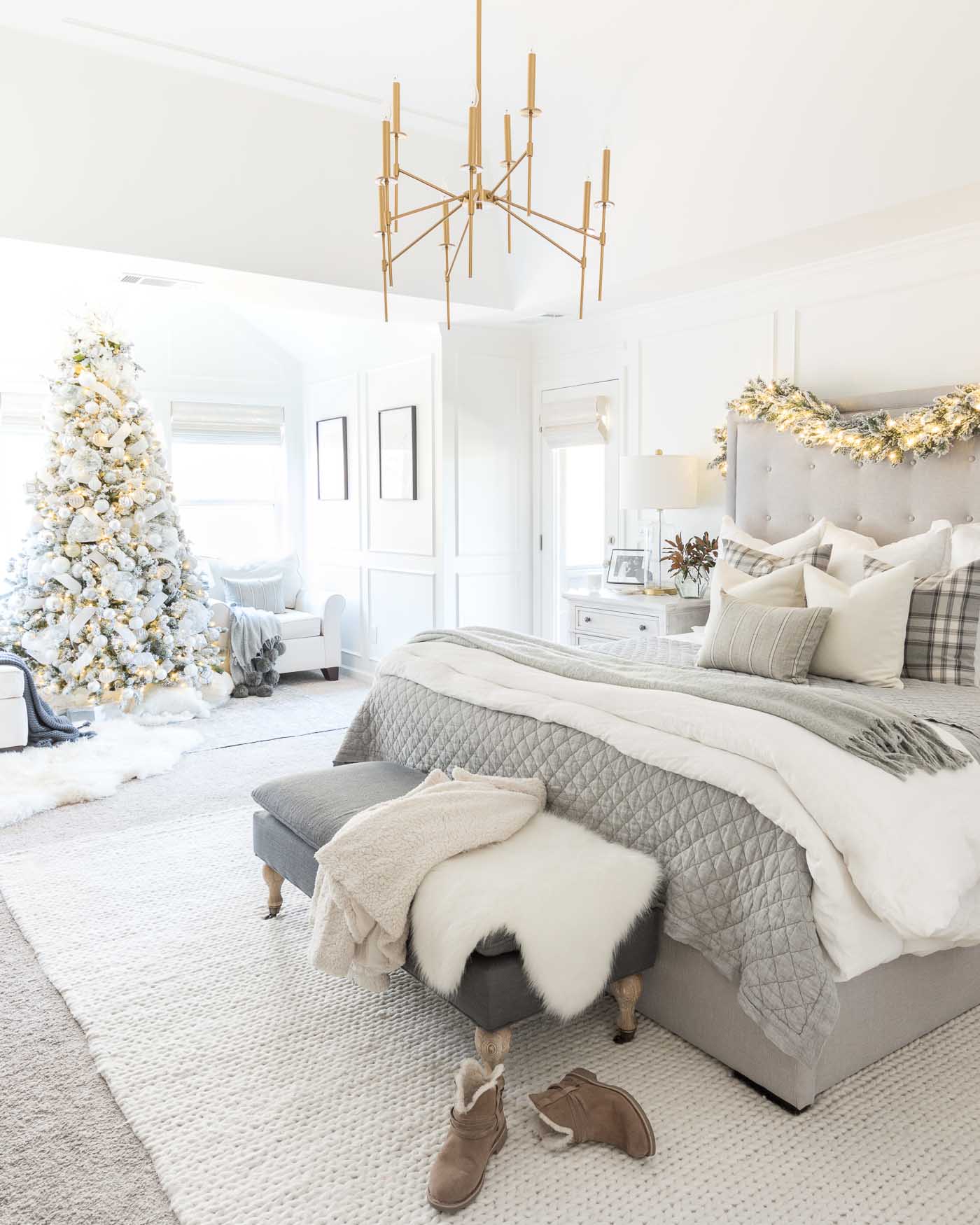 ---
Get the Look | Scroll & Tap to Shop


---
You can catch the post where I talk about my favorite bedding "power couple" HERE and a post where I share how to build an arsenal of capsule bedding HERE. It's all on sale this weekend and will carry you from winter, through the hot months of summer 😉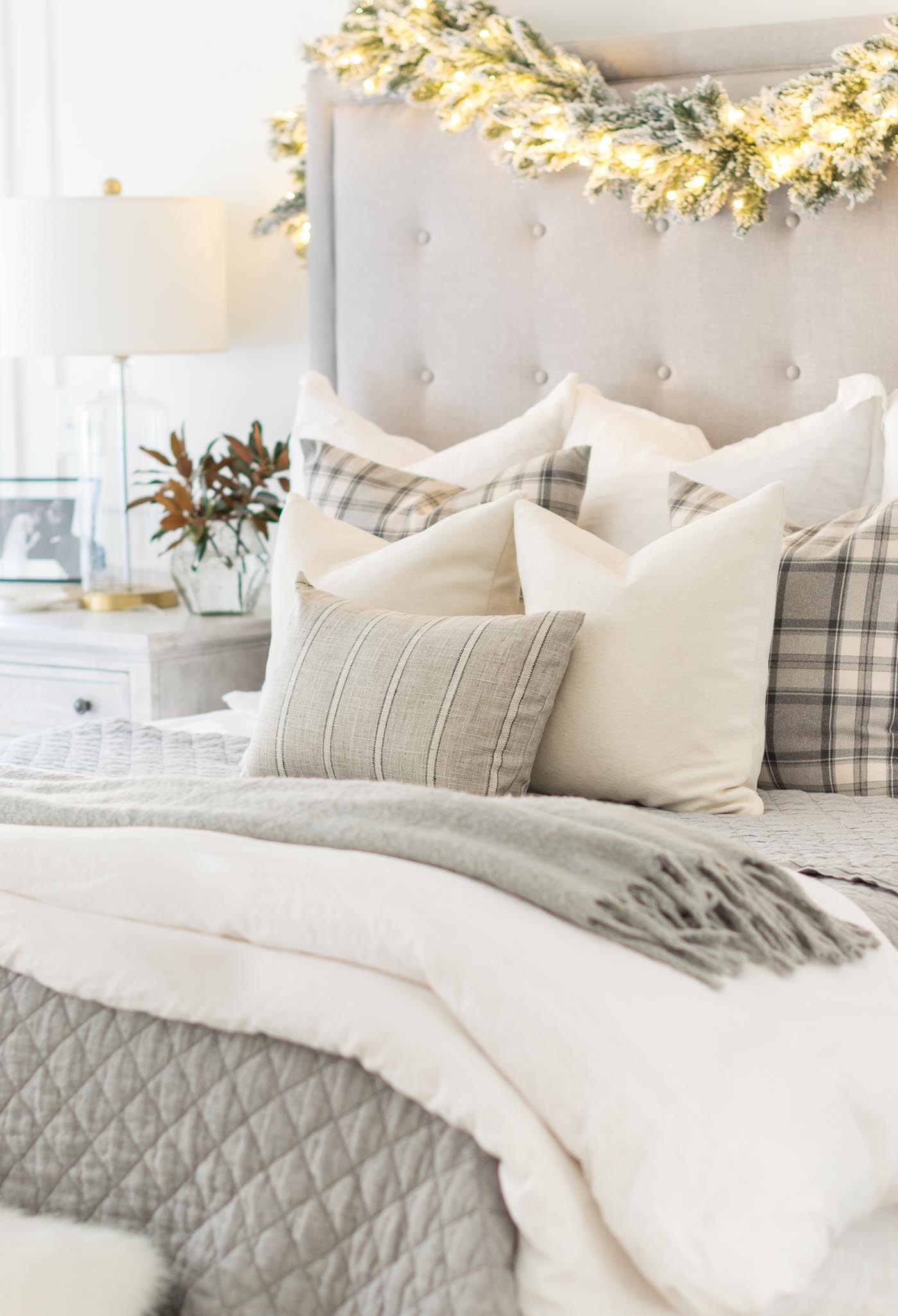 ---

1. Gray Plaid // 2. Striped Lumbar // 3. Cream Velvet
---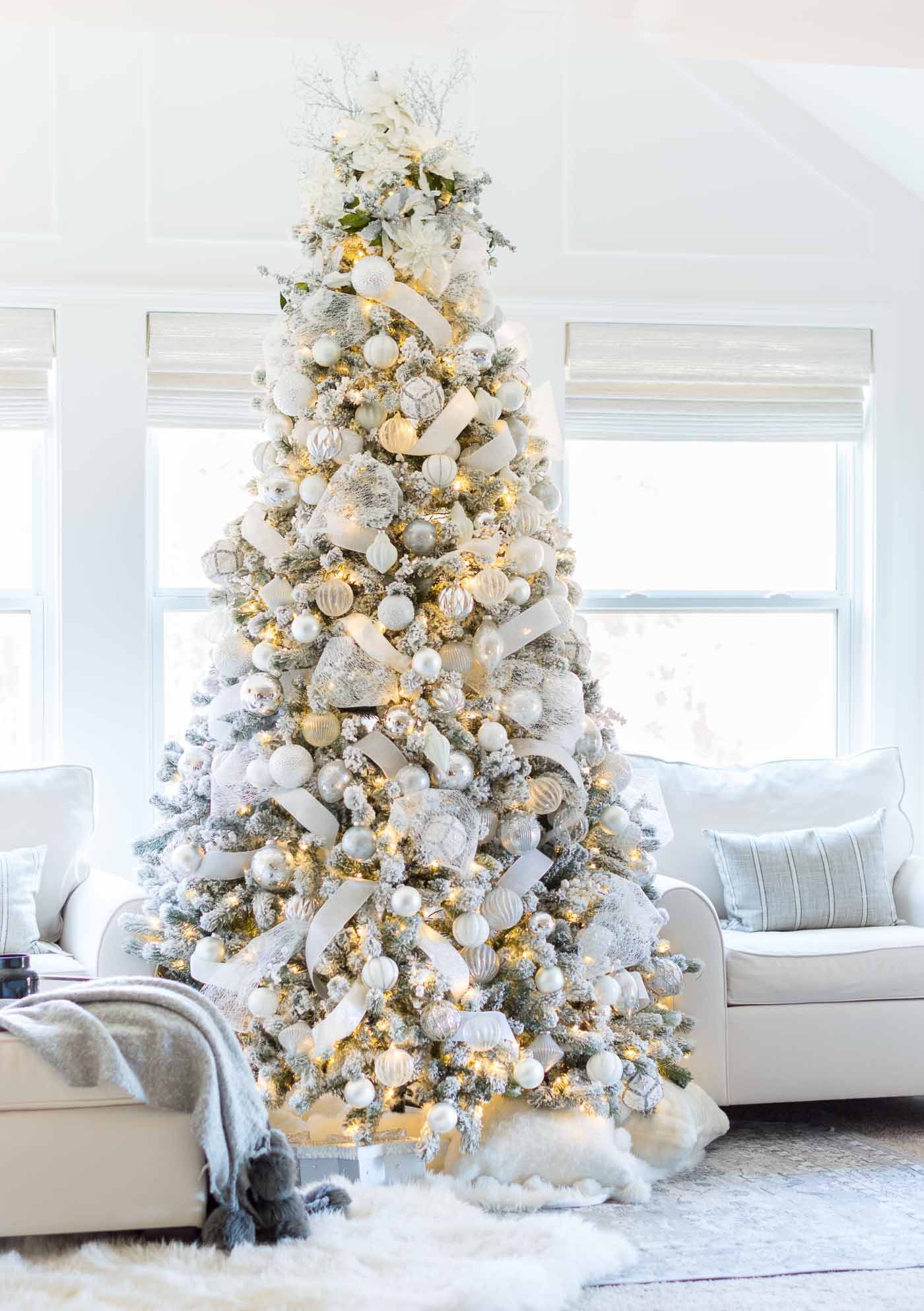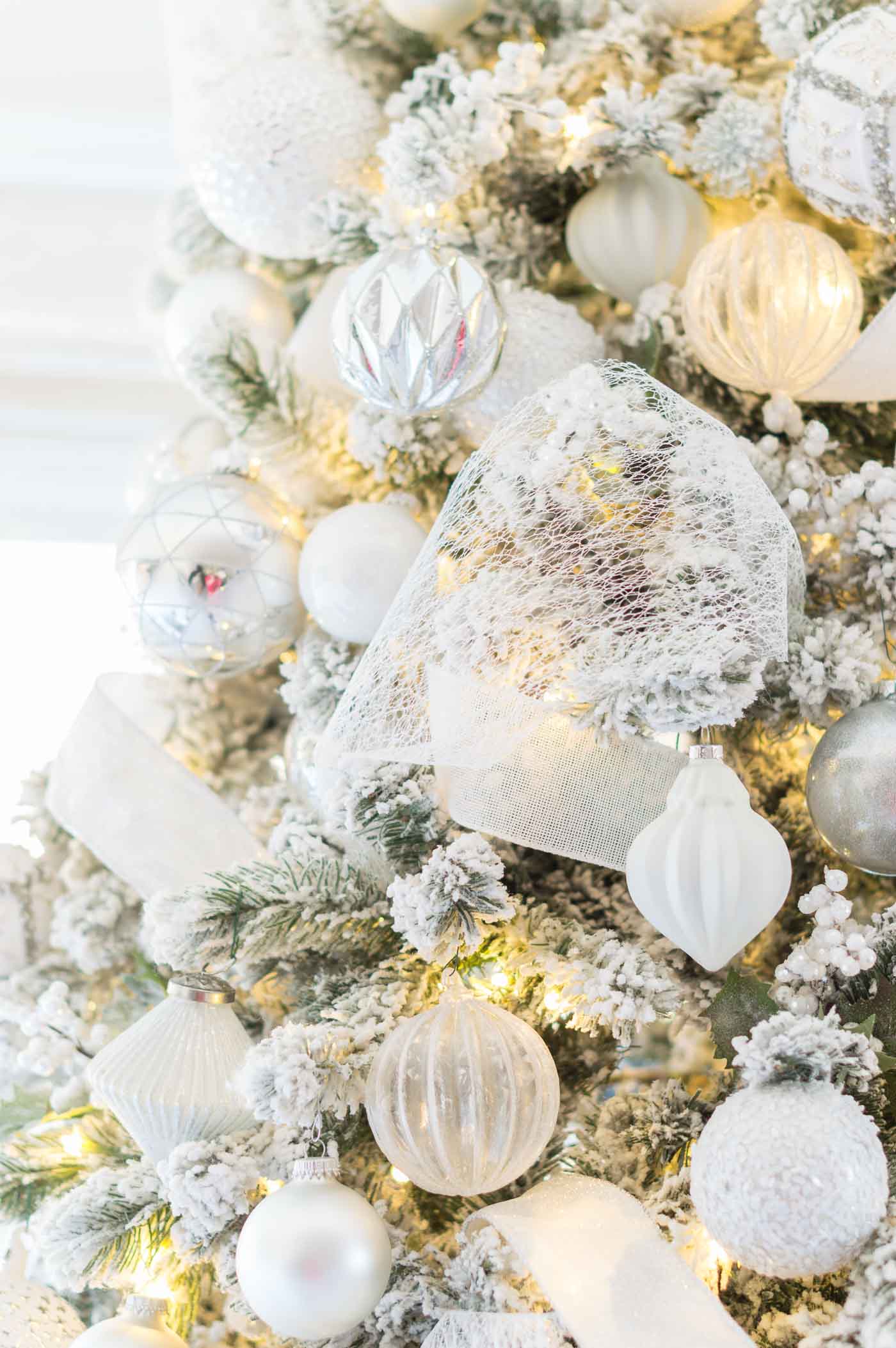 OFFICE
I don't have a full sized tree in the office across the hall but thought I'd share a glimpse into Santa's workshop 😉 Like my pillows, I try not to go too Christmas themed with my wrapping paper and gift bags; it helps in keeping waste to a minimum and eliminates the need for a lot of excess storage.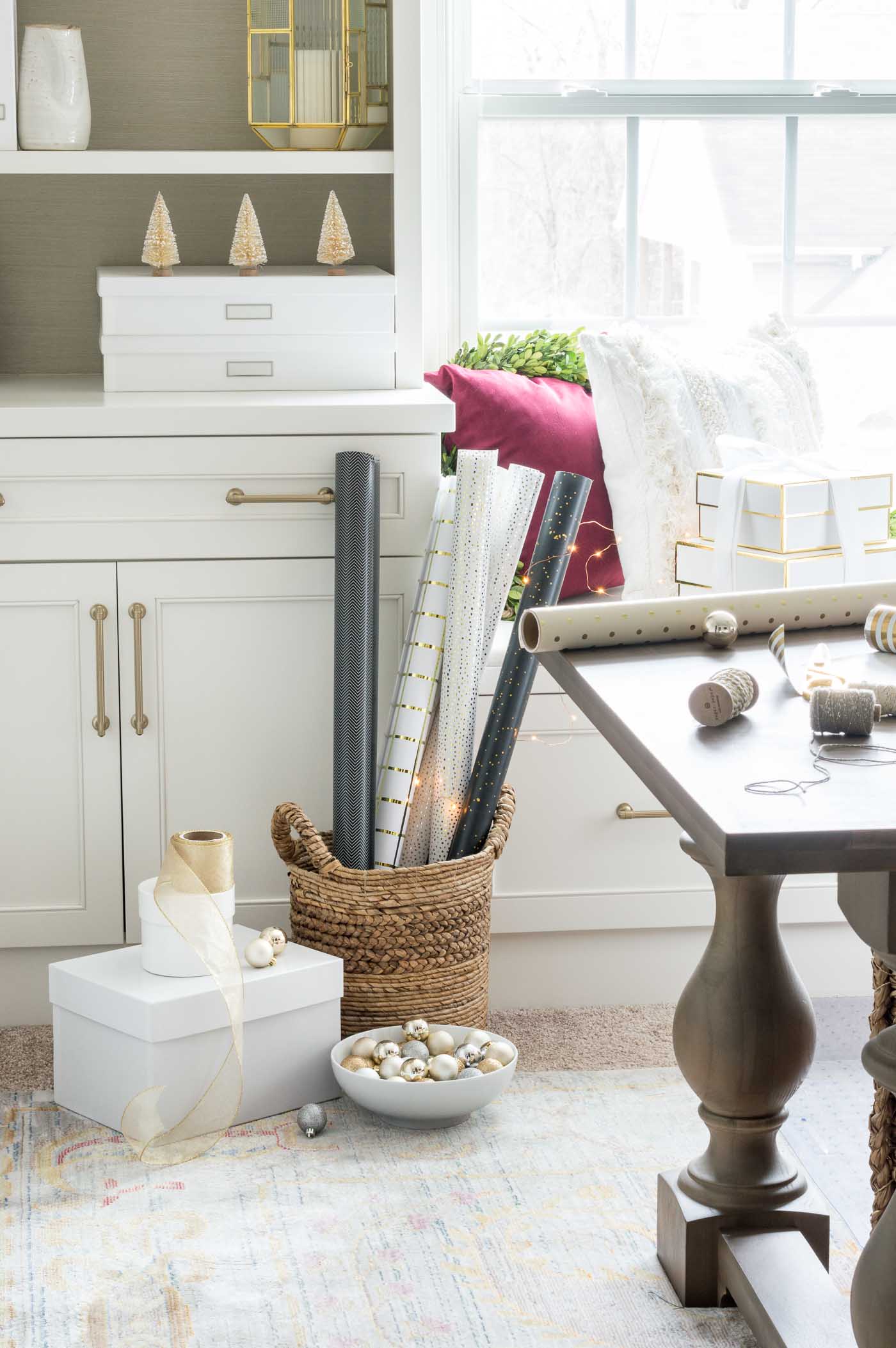 ---
Get the Look | Scroll & Tap to Shop

---
You can see how I keep my wrapping paper boxes, and supplies organized in my office closet post HERE.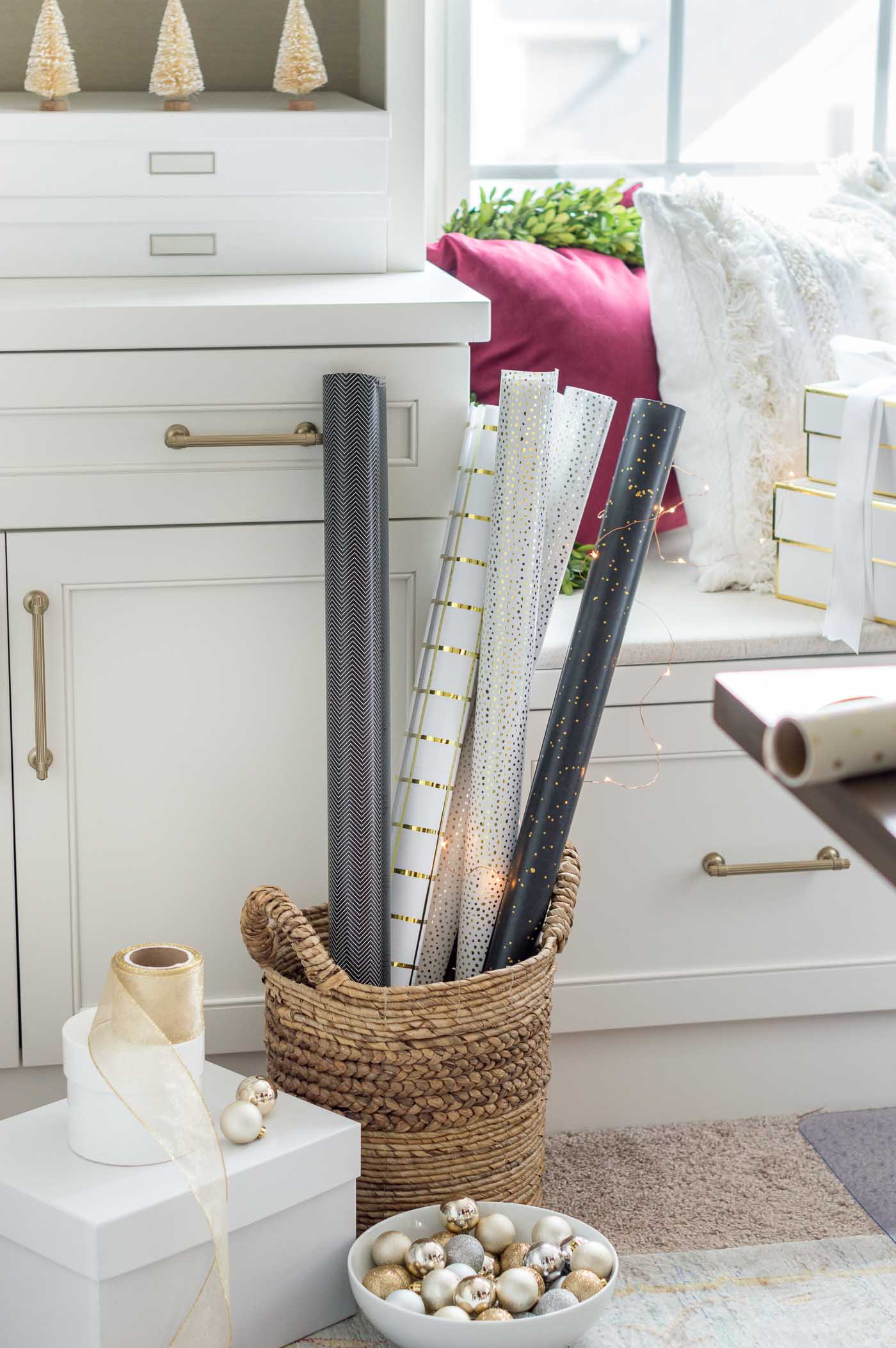 My best little helper elf 😉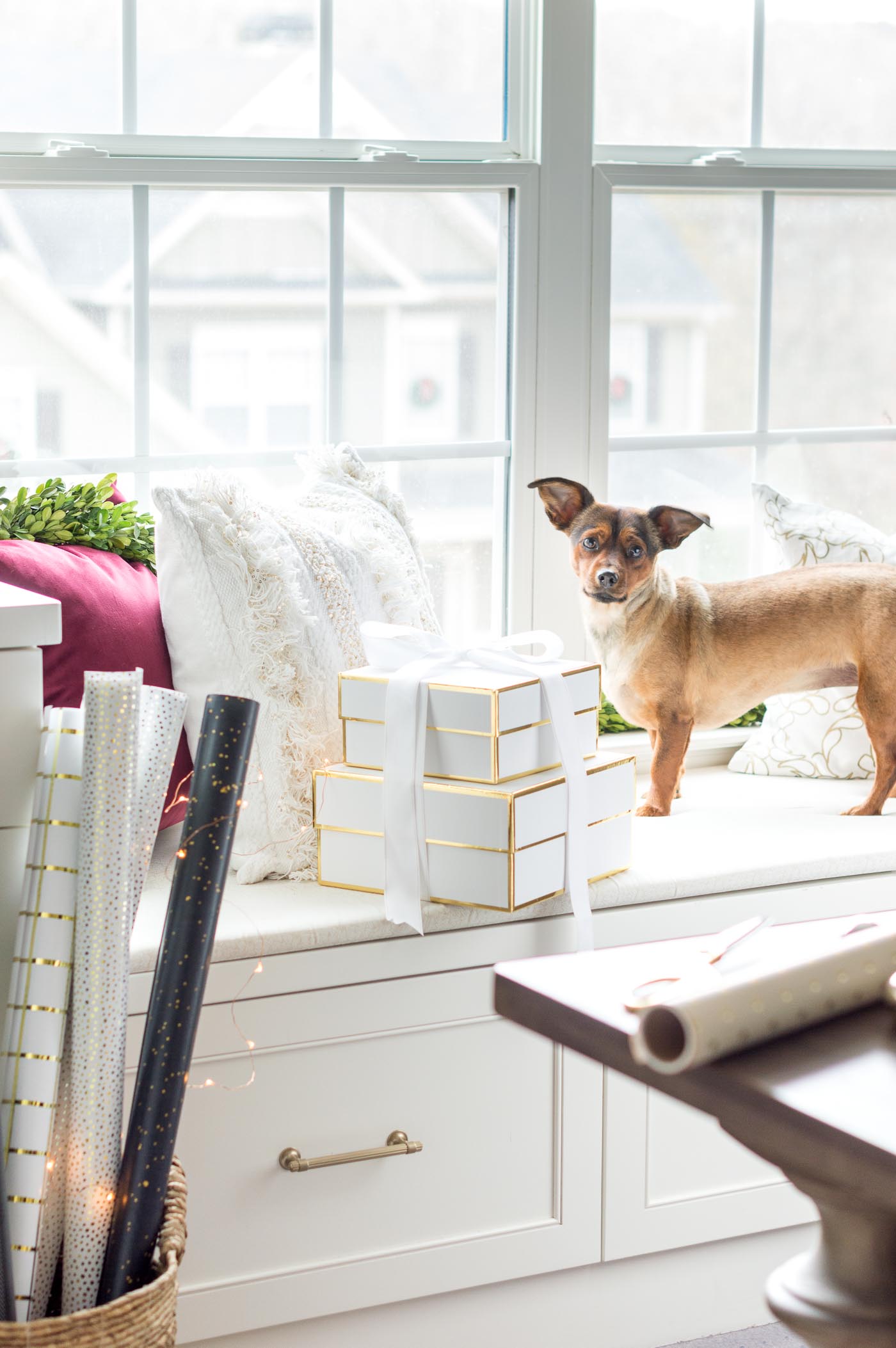 Now that we're pretty well decorated, I'm ready to sit back, relax, and enjoy the season. You can catch other favorite posts for the holiday season at the top right of the screen in the menu bar – featuring both decorating and entertaining inspiration as well as gift ideas. Thank you so much for sticking with me as we dashed all throughout the house today! Before you go, I'll leave you with these three final tips-
You don't have to use every piece of Christmas decor every year. It's ok to keep some in storage and bring out a year later.
Mix and match what you have and use it in different ways.
Use non-seasonal decor and dress it up with ribbons, bows, greens, and other embellishments.
Have a beautiful holiday season, a merry Christmas, and thank you for an incredible year. If you aren't already, I'd love for you to follow me on Instagram HERE and subscribe to my emails at the bottom of the post to make sure you catch all the projects to come. Blessings to you all- xoxo.