Before we moved in, I knew which room I was designating as my office – the guest bedroom with the walk-in closet. For no other reason than it had the largest storage space for all my boxes and office supplies required of my previous job. I wish I had gotten a photo of what the "utility" closet looked like back then – it was never organized, I couldn't walk in it, and it was piled high with conference "stuff". In hindsight, there are times I wish I had considered more factors as to where my office should be and sometimes I wish it were downstairs behind the French doors (Nan's room), but I've worked hard to make it a place I love to be and a place I can "create" in. (You can see the full office reveal HERE). When I left my old job, most of the closet was cleared out and I wasn't 100% sure what would be the best use of space. With my office built-ins holding the majority of office supplies, I wanted to evaluate my other storage needs. I shared the space on my Instagram stories and had a lot of you message me suggesting an entertaining closet. I definitely need to work on a more defined space for that but the second floor is a little too inconvenient with all the supplies being spread between the first floor and basement. Around Christmas, it became clear what I needed to assign at least a portion of the closet to- wrapping paper and supplies. I had bins upon bins and they turned my office into a wreck. Another storage problem I've struggled with – throw pillows. Over the past few weeks, I finally got this office closet into shape and the kings of this little room- gift wrap organization and throw pillow storage solutions.
*Posts on KelleyNan.com may contain affiliate links. Click HERE for full disclosure.*
This is actually a peek of the office just before I started – actually tidied up and not all that horrible. But, aside from old paperwork in boxes, is was holding basically nothing.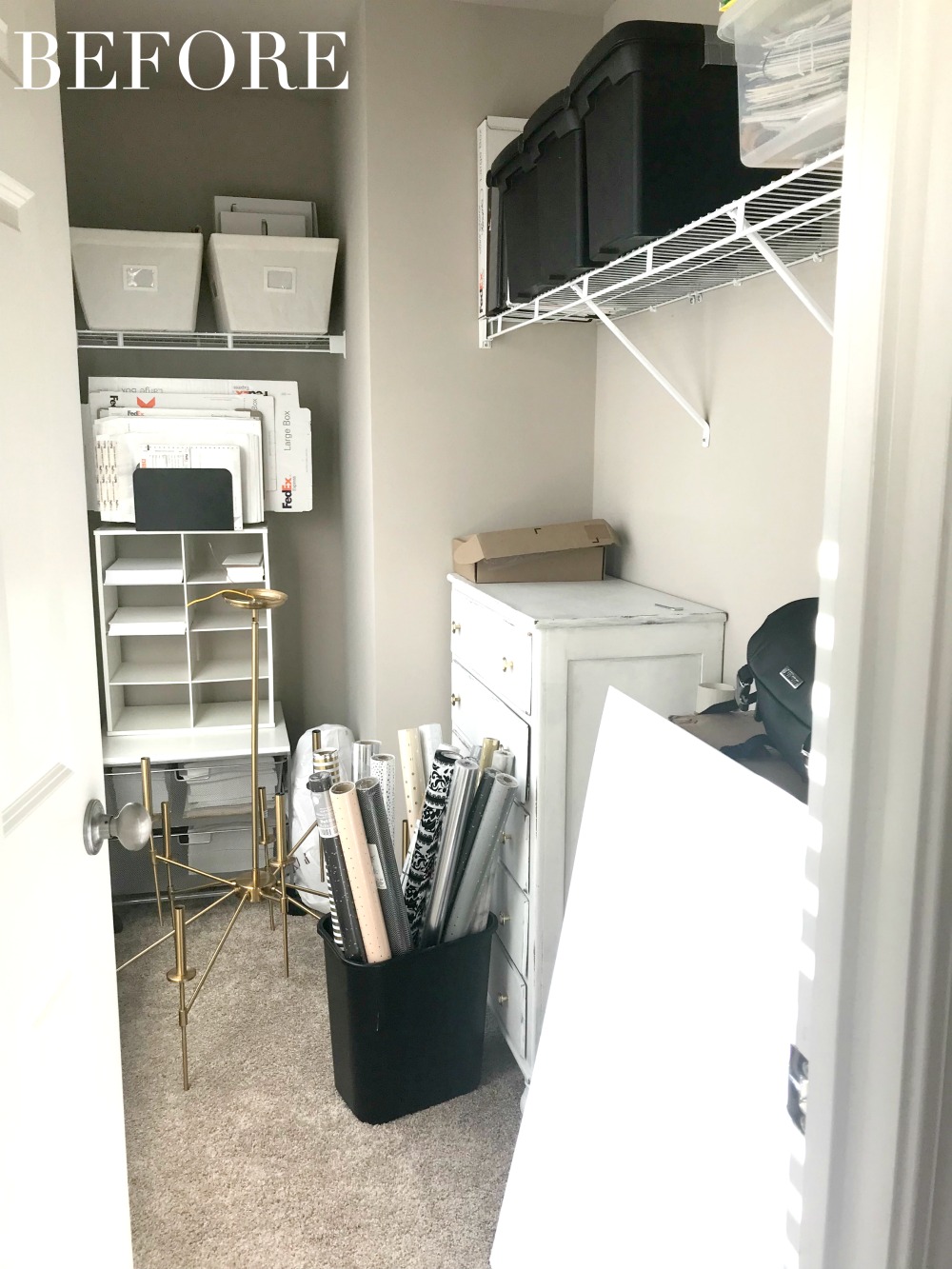 Here is what it looks like today. I'll take you through each area and you may be surprised by just how much I have in here.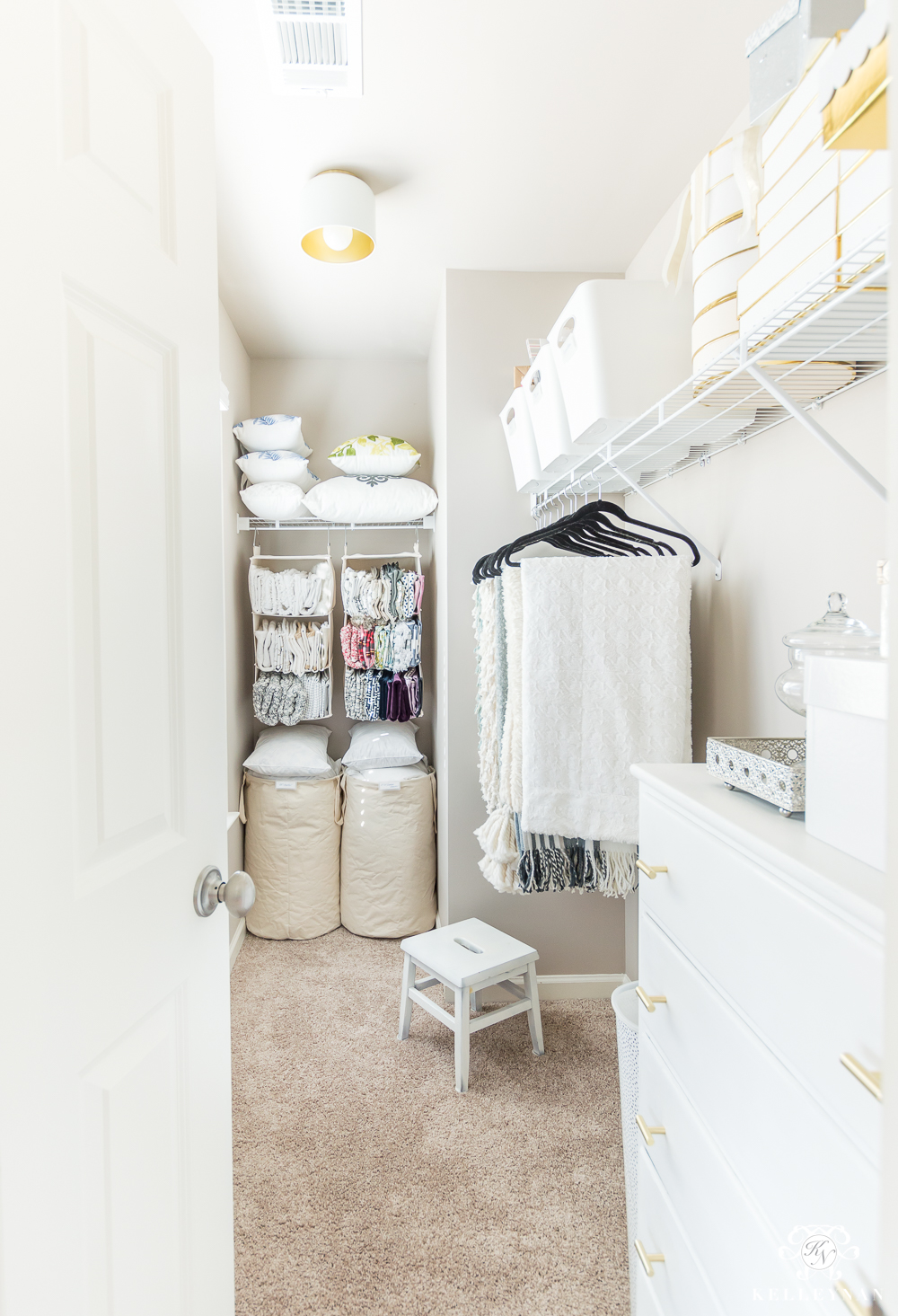 The last change I made in this space was switching out the tiny dome light (I probably would have been better off with a socket and a light bulb haha) to this cute, modern white and brass bell flush mount light (HERE). I was thisclose to going with something else more modern and substantial but with the price tag of this one ($59) compared to the other (a few hundred $$), the decision was easy. I wanted attractive lighting that I liked, but decided to opt for the more budget-friendly of the two. This bell flush mount comes in a few colors/finishes, too ;).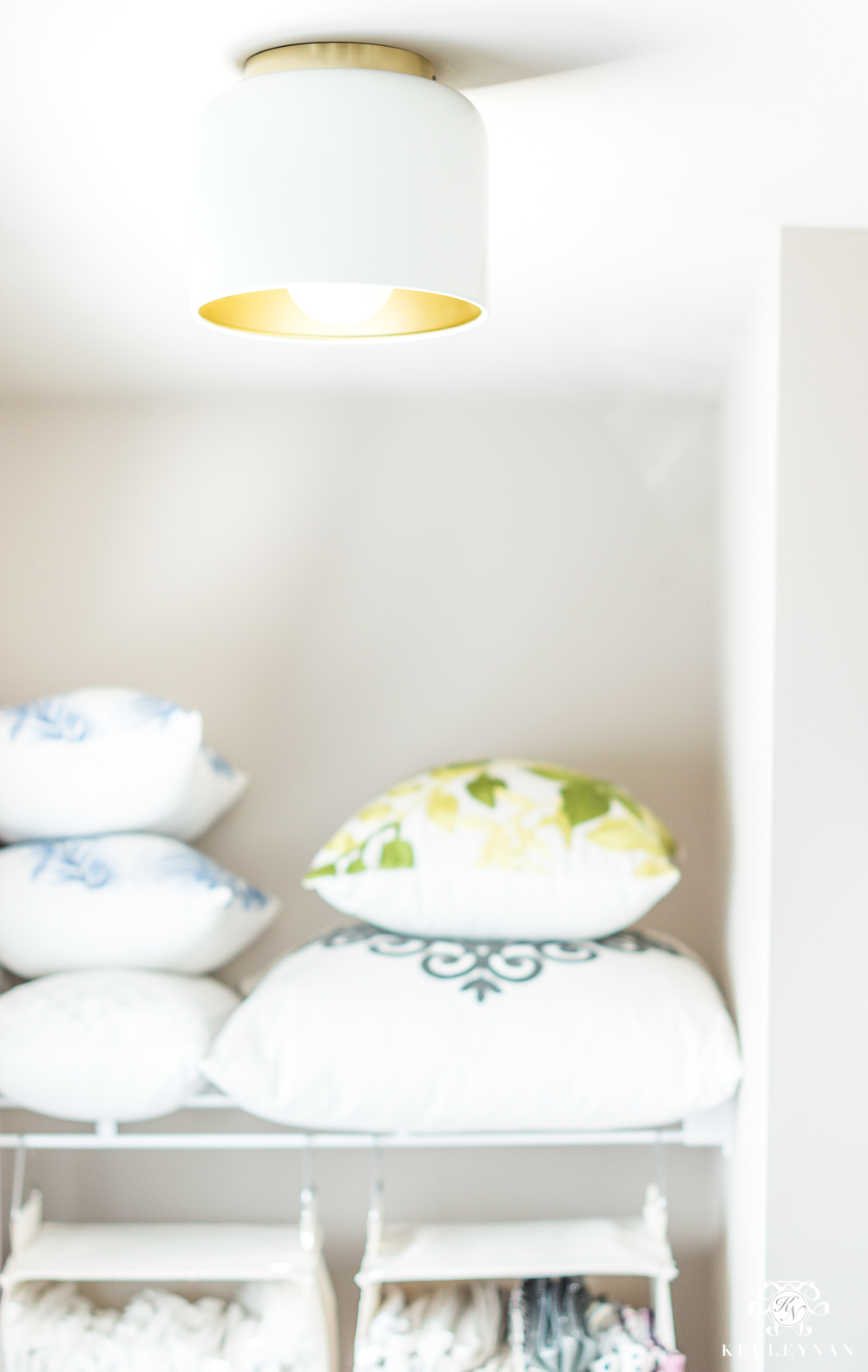 I had a chest of drawers that was used for storage and while it wasn't going anywhere, it was in desperate need of a face lift. This is actually a REALLY old piece, passed down through my family. I will take credit for the embarrassing former condition you see here haha. At one point, I painted it and made it look slightly "chippy" (so not me) and kept the hardware from the 90's in tact.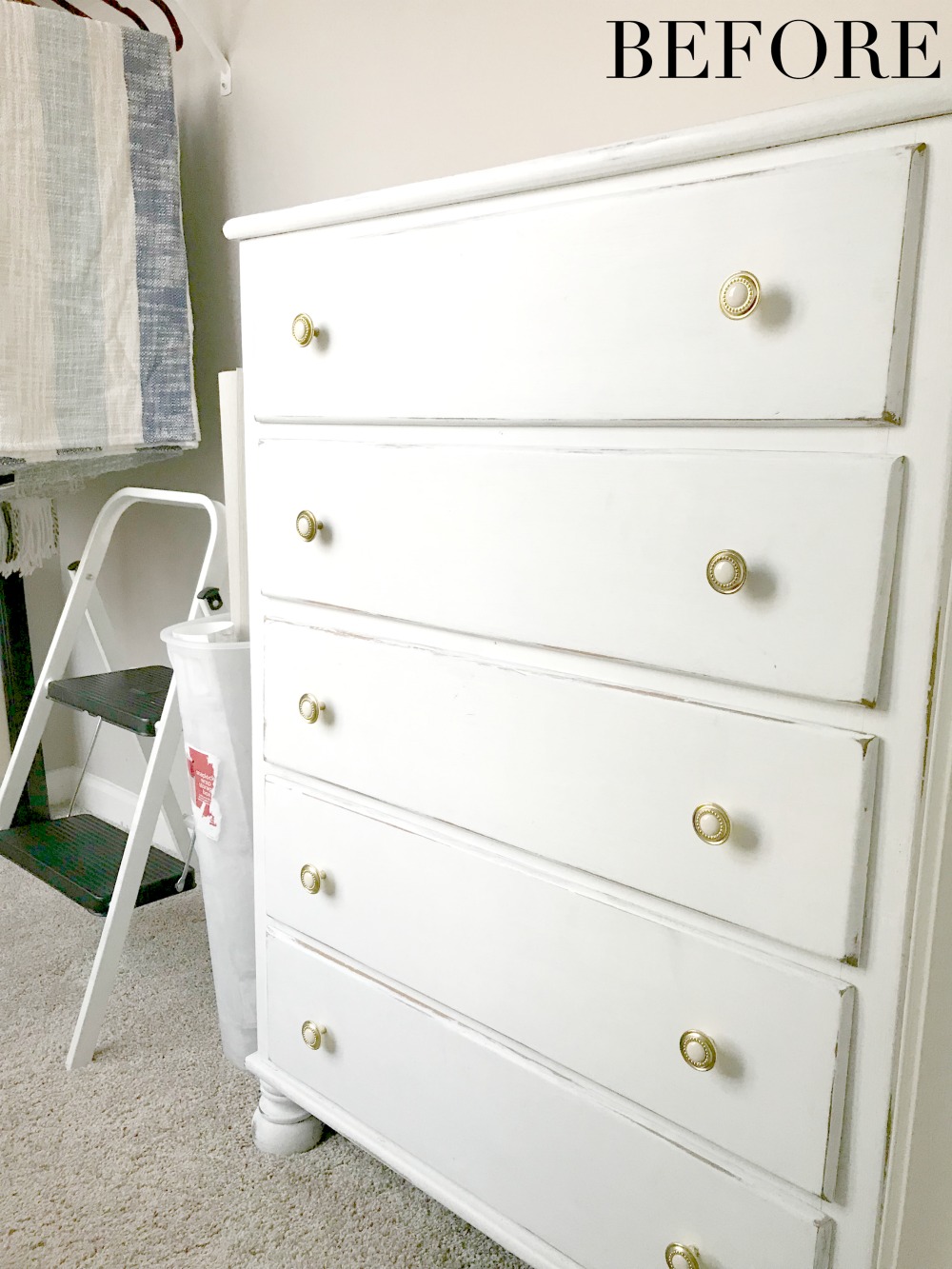 I wanted a quick and easy fix to bring it to this decade so I used chalk paint I already had on hand. The best part is your piece requires zero prep! I have a tutorial of how I did the same to my breakfast room table HERE. Between painting and waxing, I was done in an hour's time. I also ordered some new knobs – again, I resisted the urge to go intricate and expensive and stuck to these budget cuties (10 for $18.99). Look at what a difference –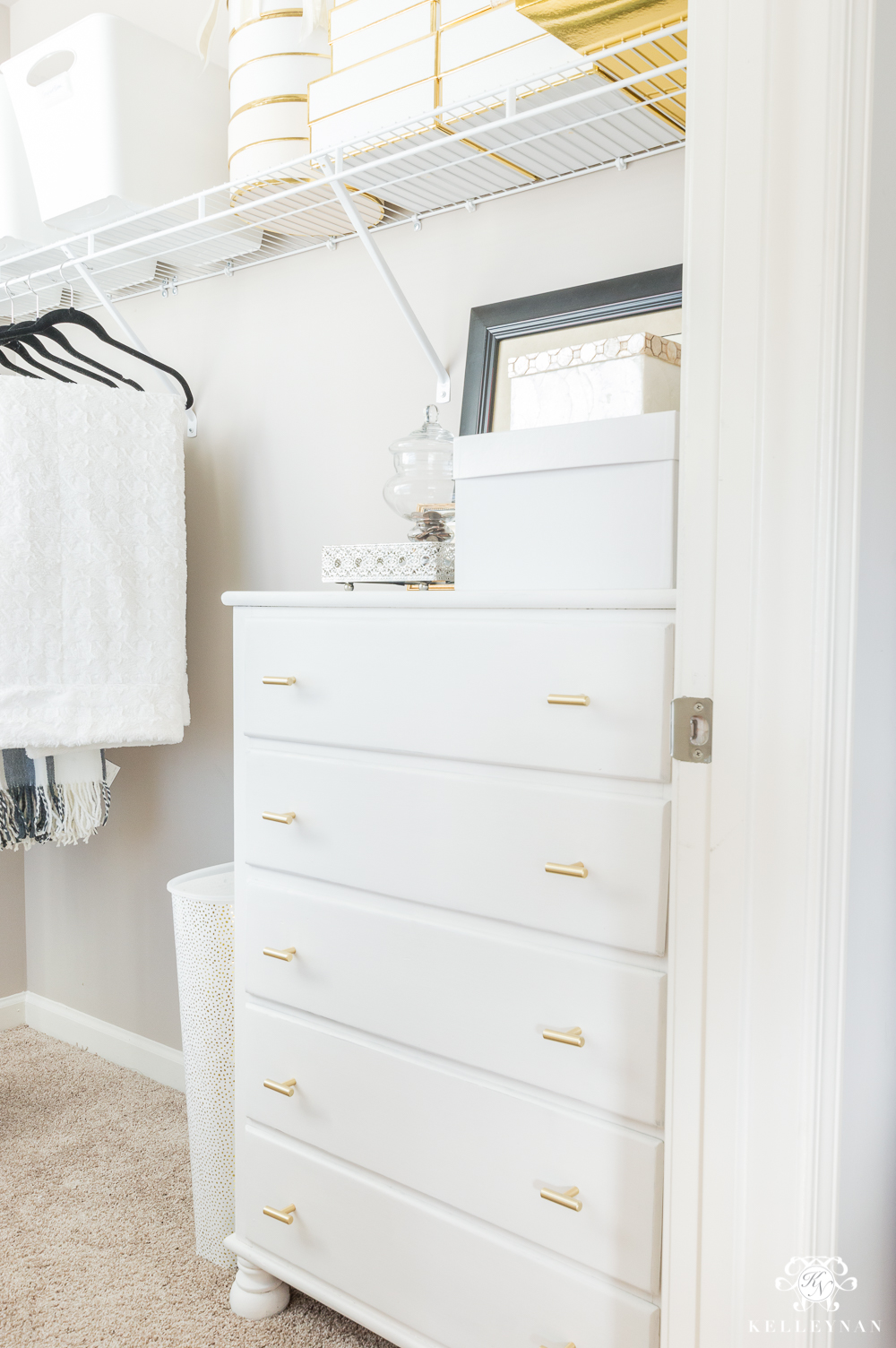 Now, this chest of drawers is designated for: (1) camera lenses and accessories; (2) abundance of note pads; (3) hostess gifts to keep on hand. Perfect.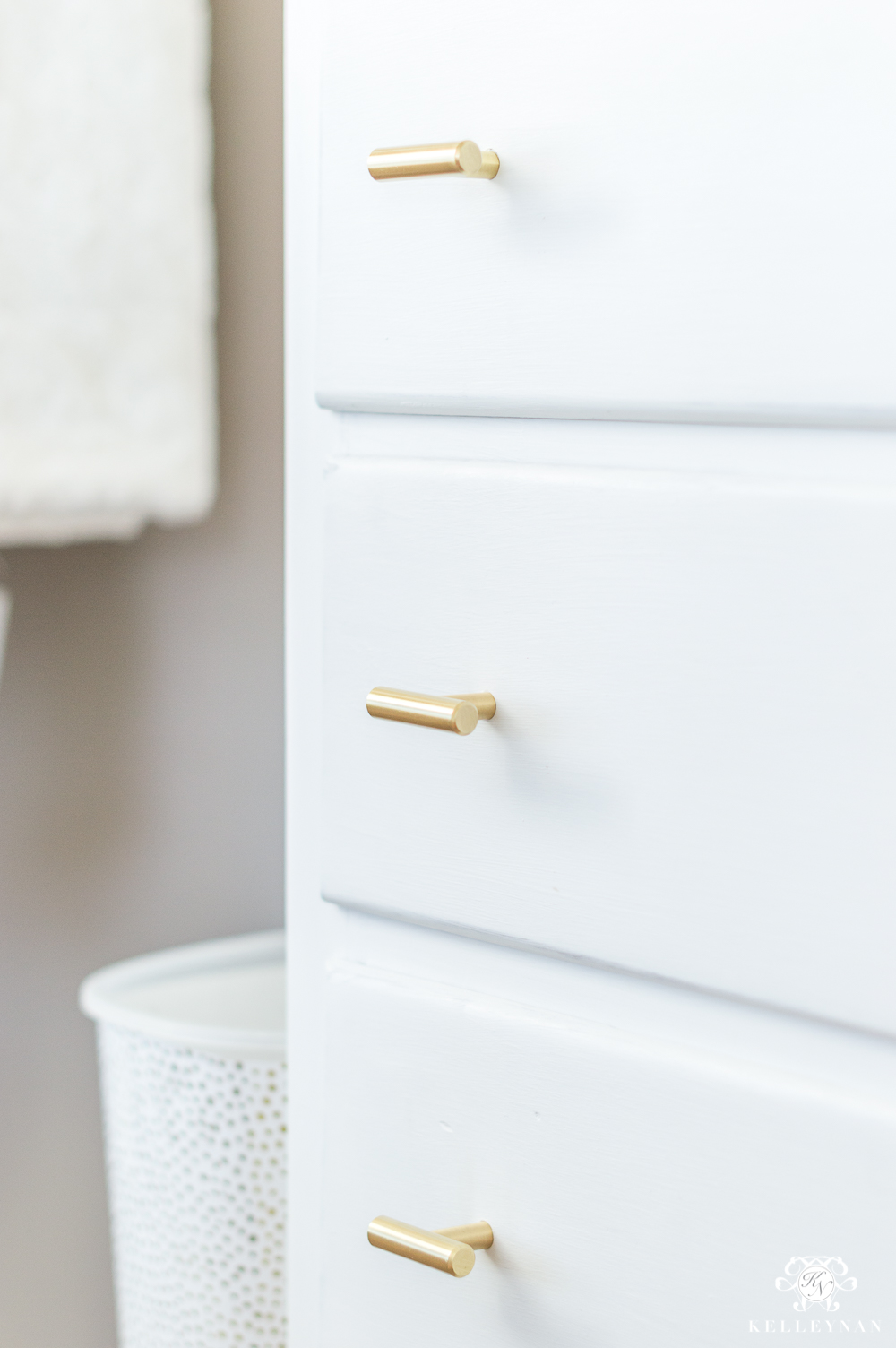 ---
SCROLL & TAP TO SHOP

---
THROW PILLOW STORAGE SOLUTIONS
I can't fully explain the level of insanity I'm going to share next. You all know I have a lot of pillows. I don't know if you really KNOW how many though. When I decided to try to come up with a pillow organization solution, I realized between the closets I had them stashed in and the basement that was dedicated to (literally) a couple hundred (no exaggeration), I knew I had my work cut out for me. And, this isn't including the pillows that are actually in use, all throughout the house. I had long needed to part with several that had been "loved on" by the pups or that I knew would never be used again. I started discarding and separating into donation/trash/keep piles. And, I pulled all the inserts out of their covers. (Over the last 2 years, I try to always stick to just covers). And, if you can't imagine how much space hundreds of pillows take up, here is a small-scale visual of around 20 or so. Yep, just 20 or so…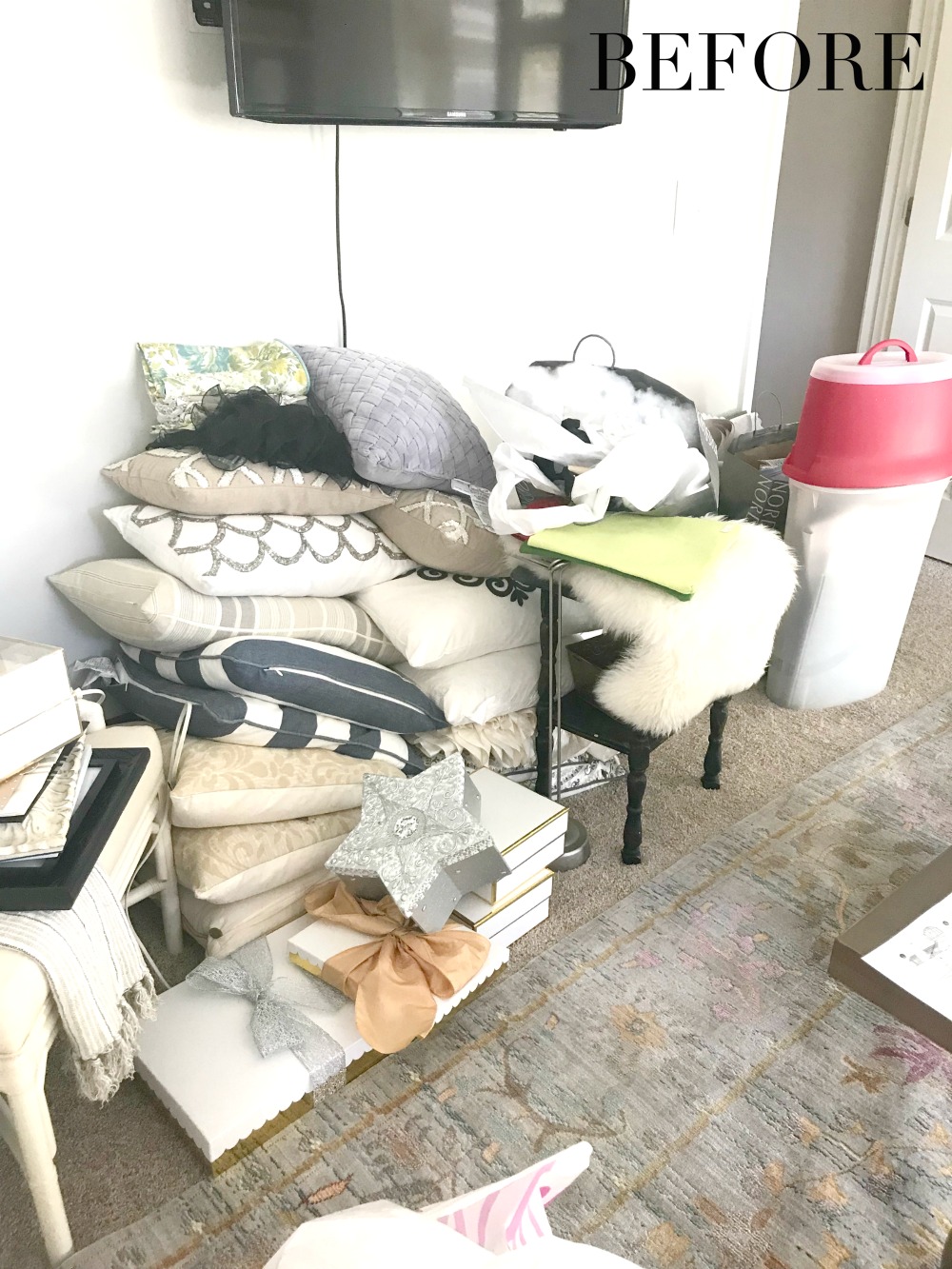 When I separated the pillows I was keeping, I also went through and pulled more than enough extra inserts of varying sizes. I was envisioning some sort of hanging compartment solution for the covers but it wasn't until I was in-store that it all came together. Instead of full-length hanging organizers, I found a half-sized version that would allow for space underneath to store the inserts. They are only $12.99 ea. and can be found HERE. As luck (and a small prayer inside The Container Store that day) would have it, the solution fit perfectly inside the little back nook of the closet.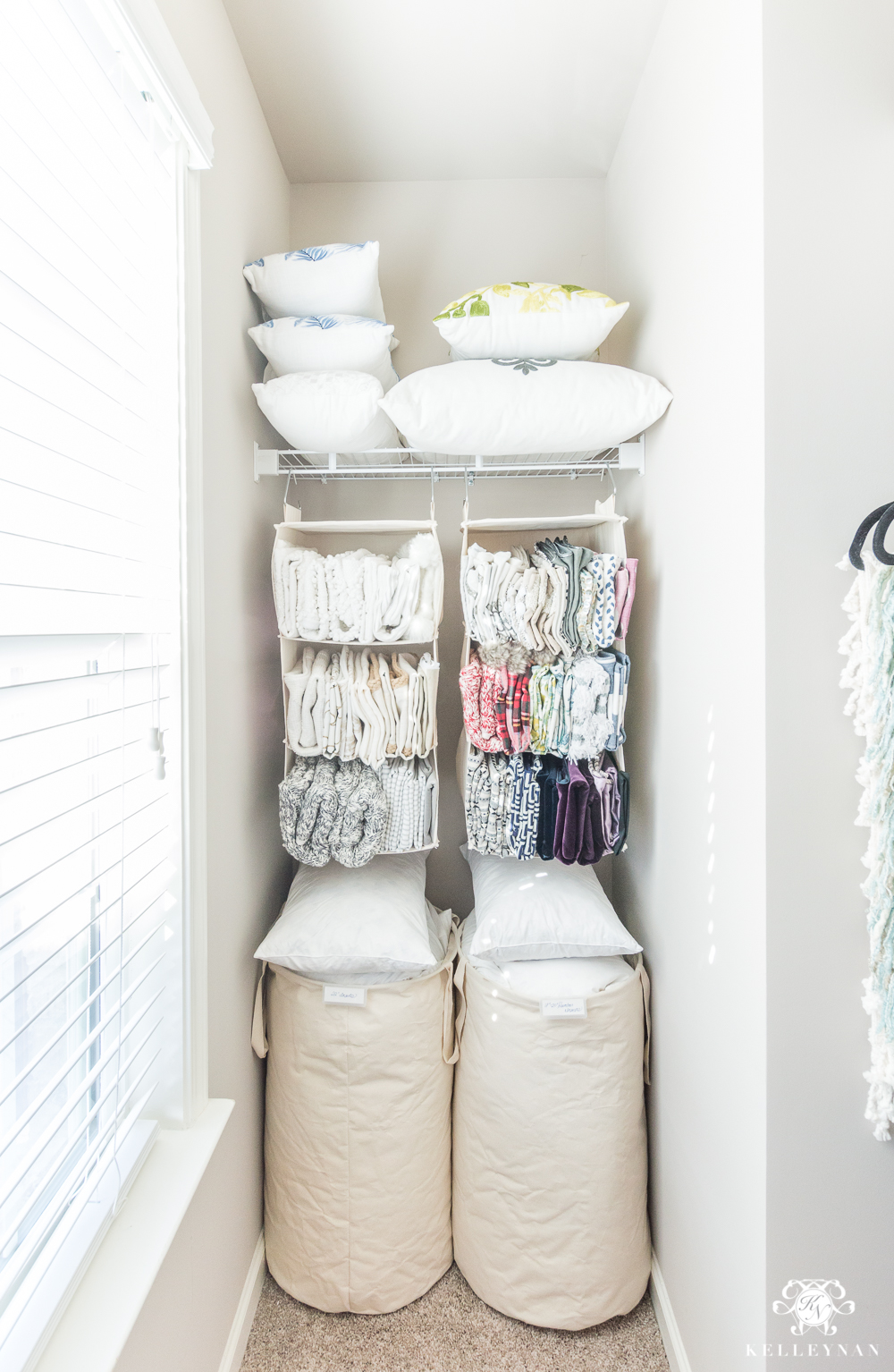 I have my outdoor pillows stored elsewhere and this does not include the throw pillows I actually have in use, but, believe it or not, there are over 70 cases stored right here. AND, there is still room to add when I switch my winter to spring pillows.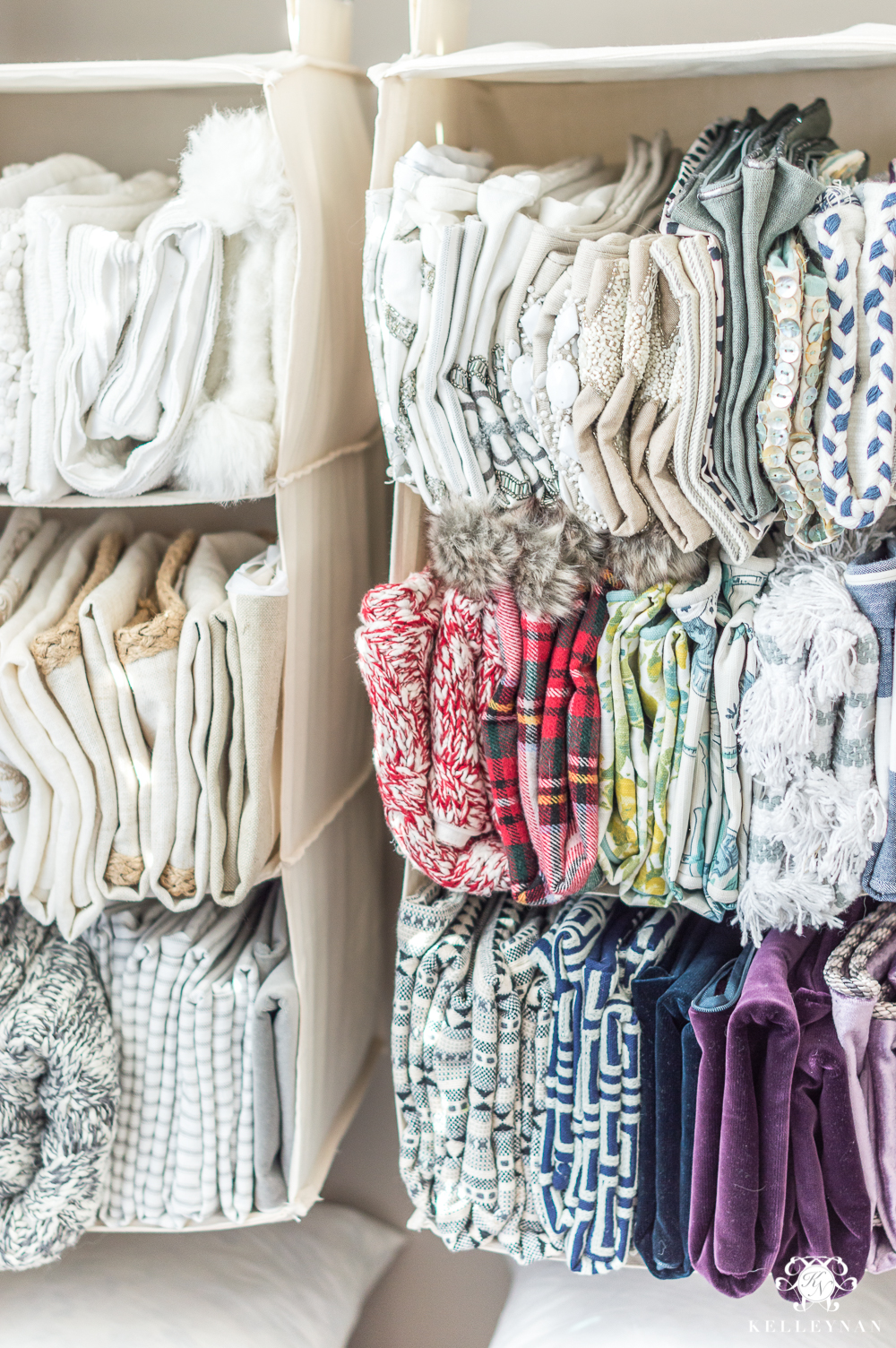 I had pillows upon pillows shoved in contractor bags, littering the basement floor in its darkest corners. For the first time ever, I can see what I have.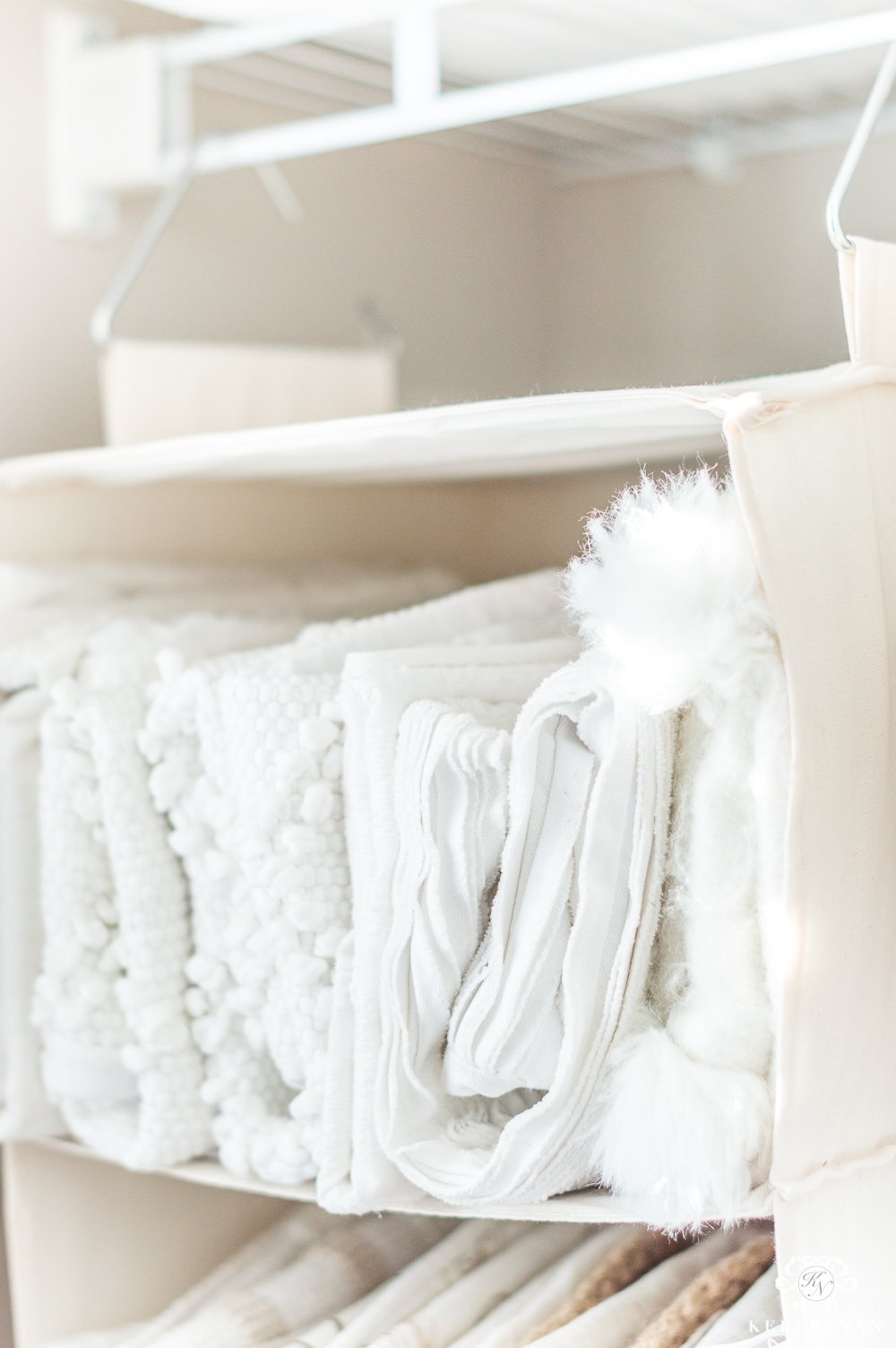 For the inserts, I wanted something that could have some give as far as shape was concerned. I found these inexpensive pop-up totes (HERE) that are collapsible but stiff enough to stand on their own. With pillows inside, they are more than sturdy.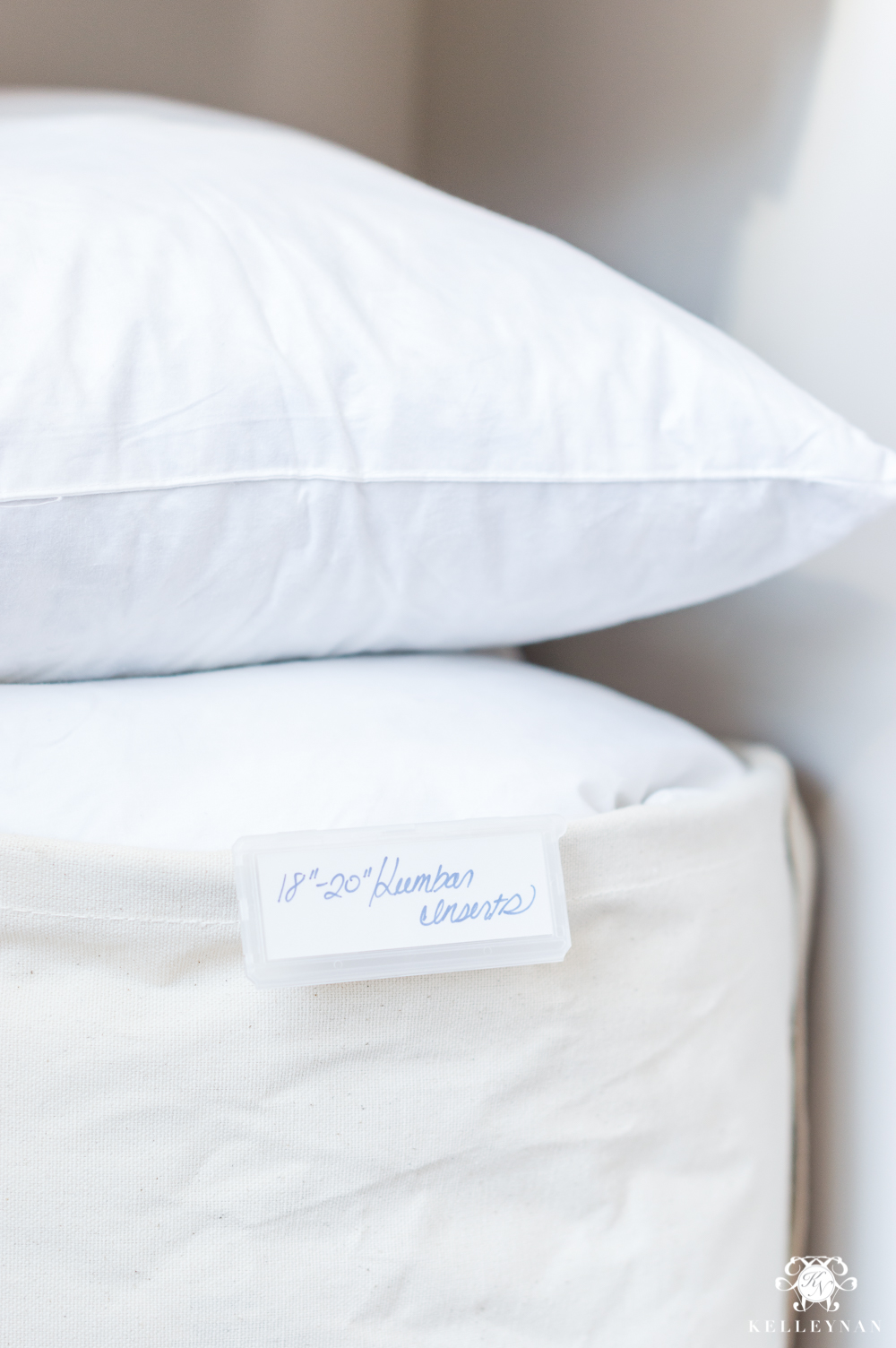 I labeled each bin with these inexpensive Elfa labels (HERE) and called it "done". You guys. I have no idea how closets upon closets and a basement full of trash bags filled with these things were able to be consolidated into a tiny closet nook. I won't ponder the magic of it all too much- just appreciate it.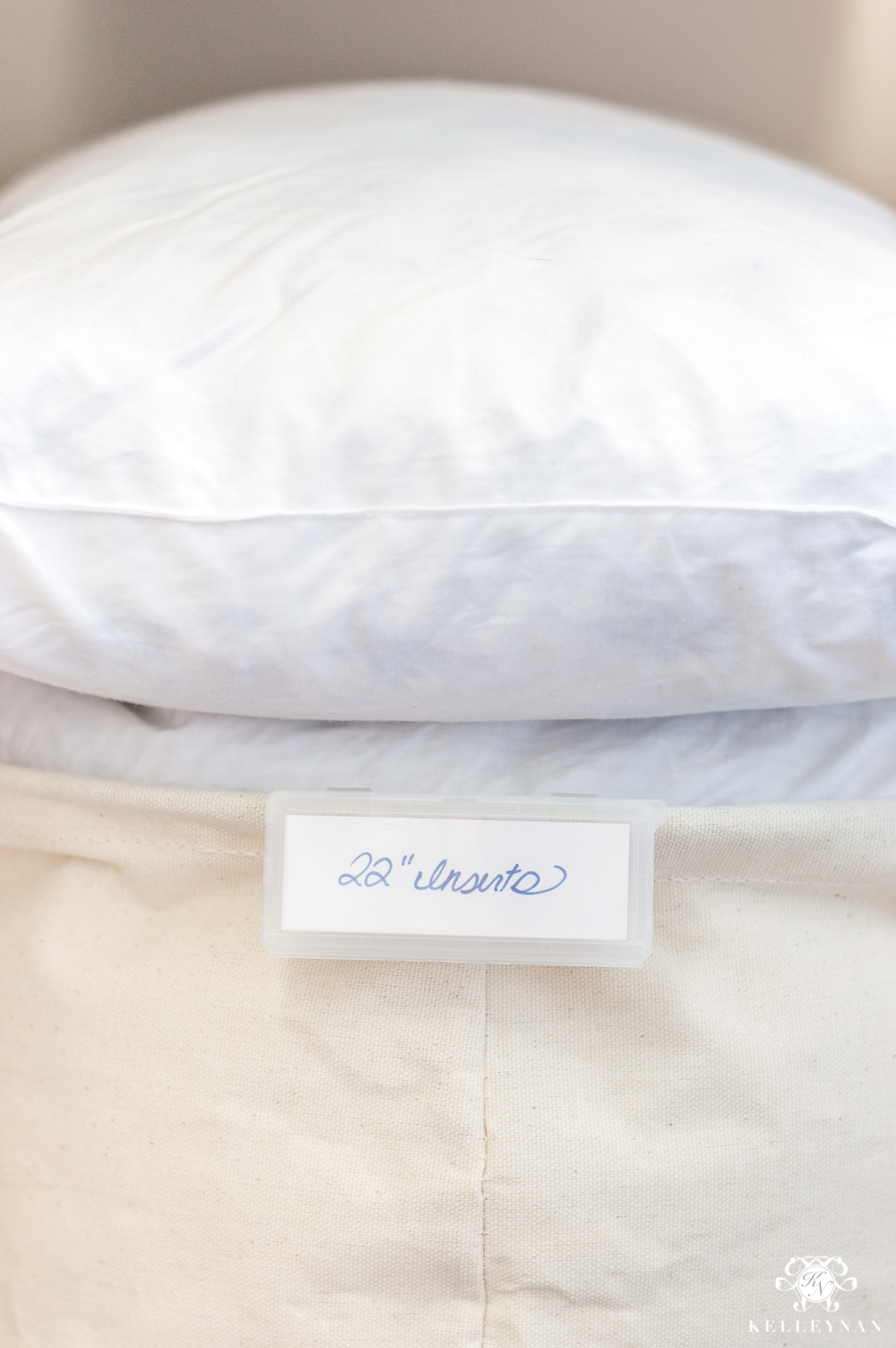 ---
SCROLL & TAP TO SHOP

---
GIFT WRAP ORGANIZATION
Ok, the other substantial need – a place to hold and organize all my wrapping paper and supplies. You can't see everything on the floor behind the desk but following Christmas, this is a glimpse of the state of my office. And, most of it was wrapping supplies and boxes.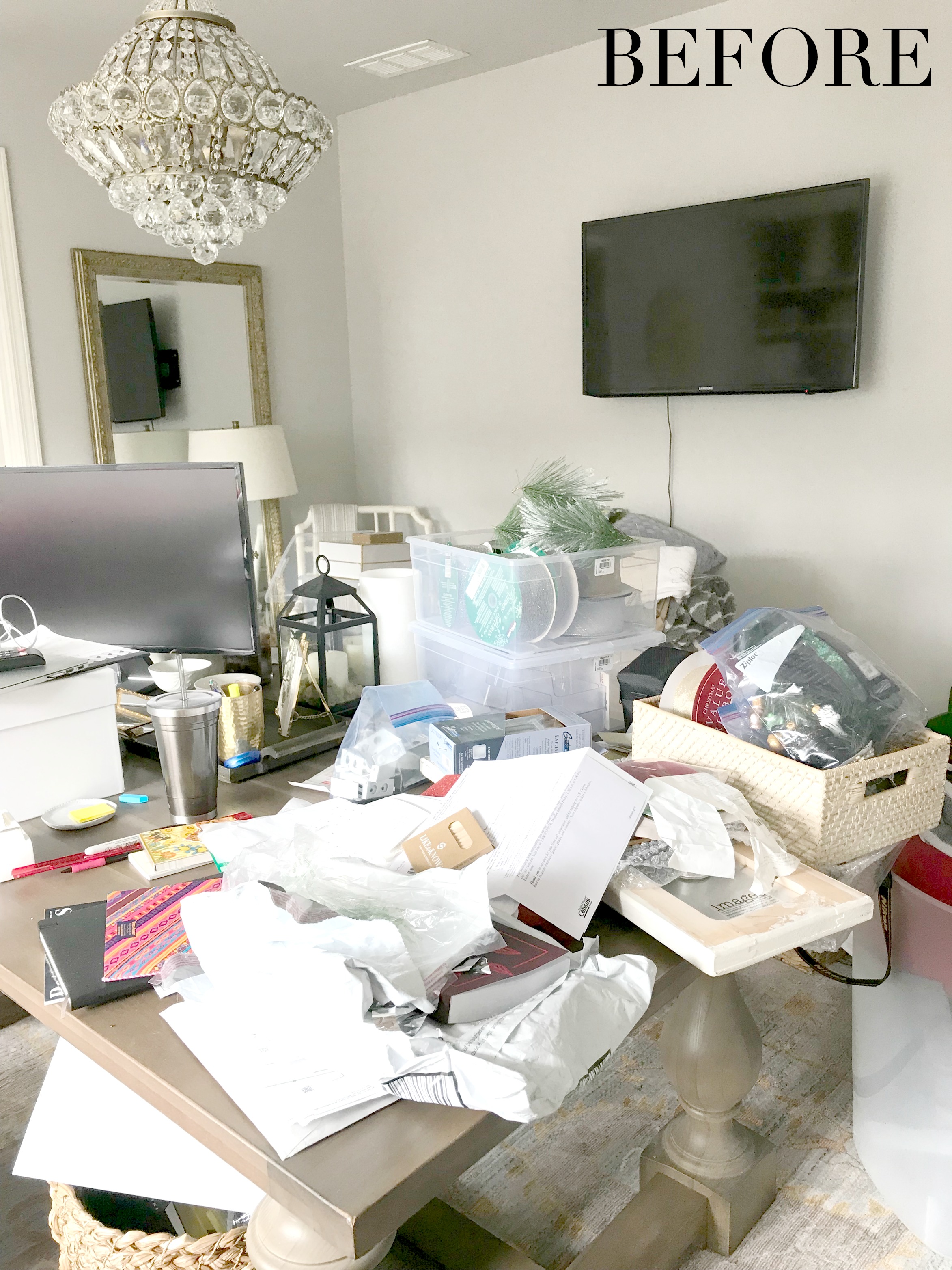 I have been a huge fan of Elfa's behind-the-door storage systems for years and after my mom implemented a wrapping solution a few years ago, I knew it was only a matter of time. Turns out, dropping my dinky wrapping paper holder down the stairs on accident was the best thing to ever happen to my gift wrap supplies. Here is what this space is looking like today.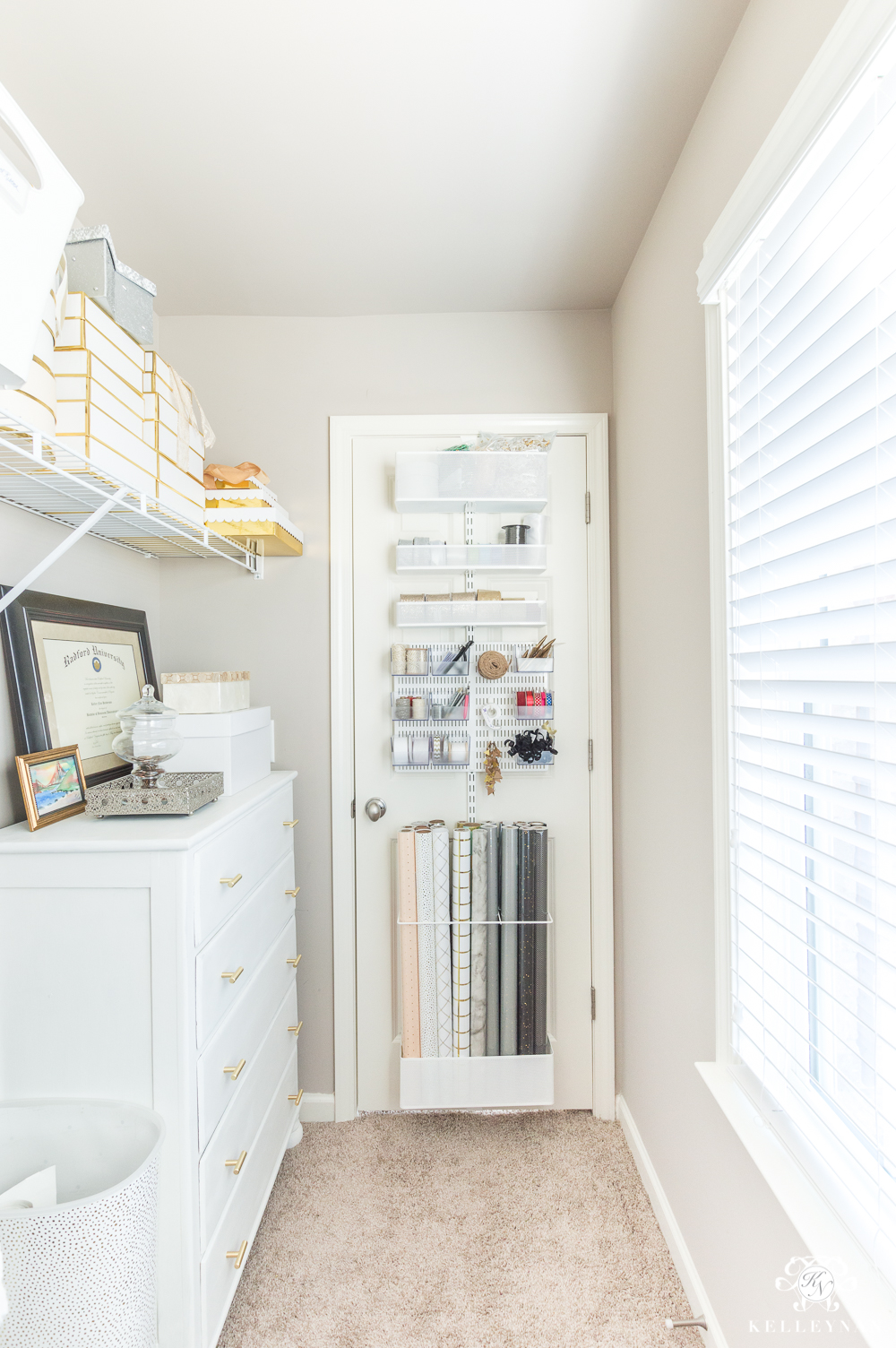 I knew I wanted the paper, small ribbons, gift tags, etc. to be stored neatly behind the door…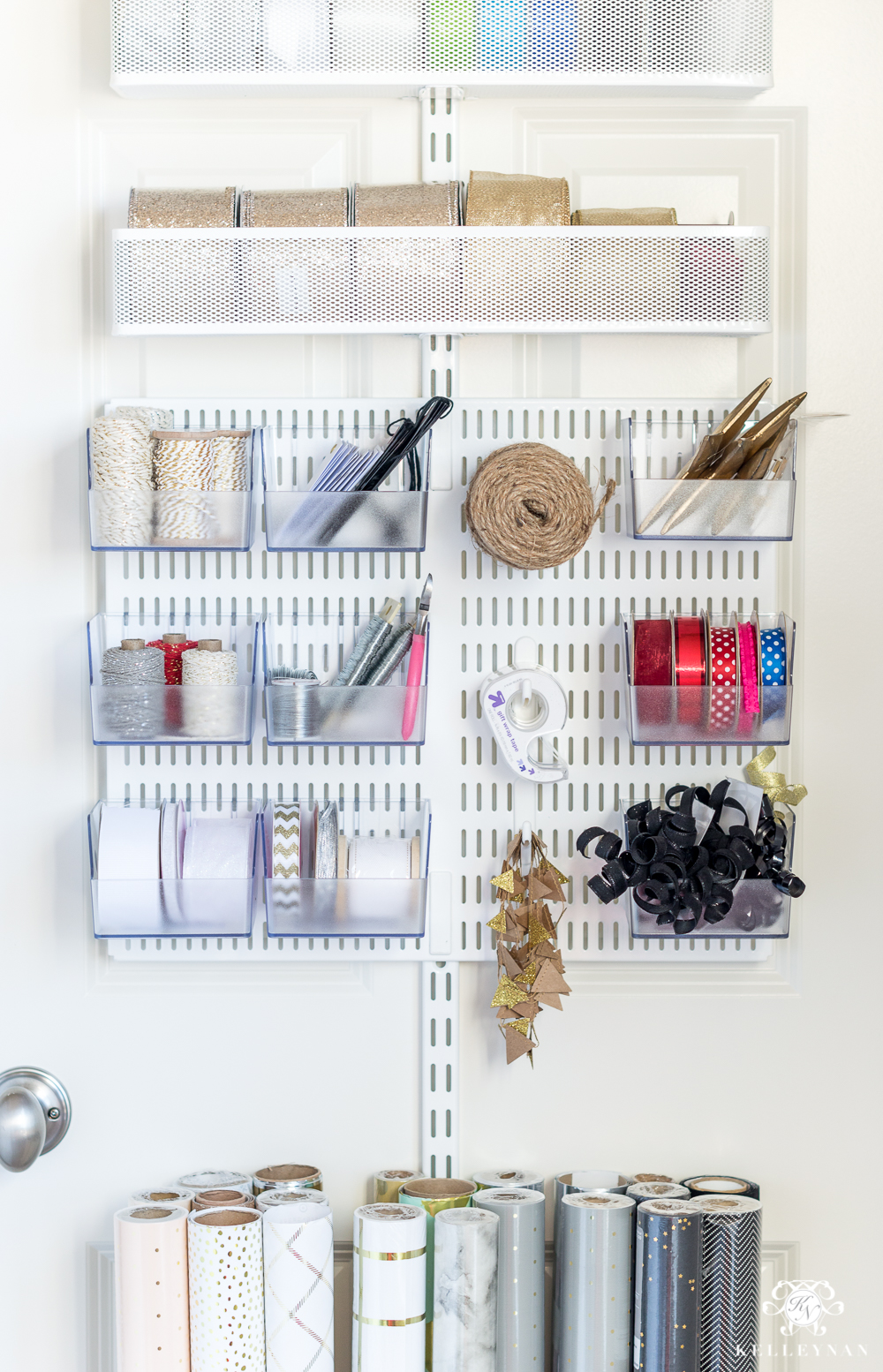 ---
SCROLL & TAP TO SHOP GIFT WRAP ORGANIZATION

---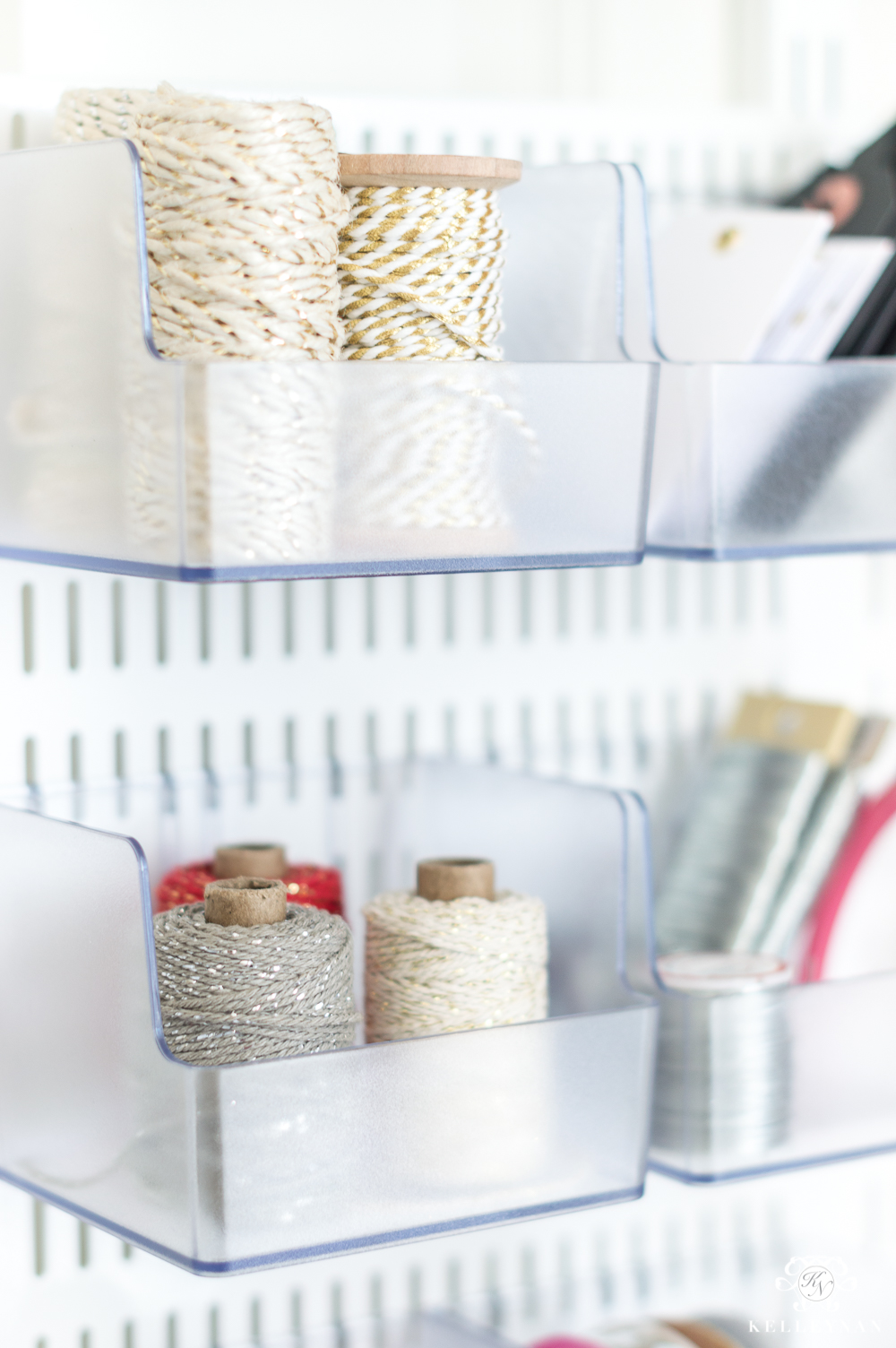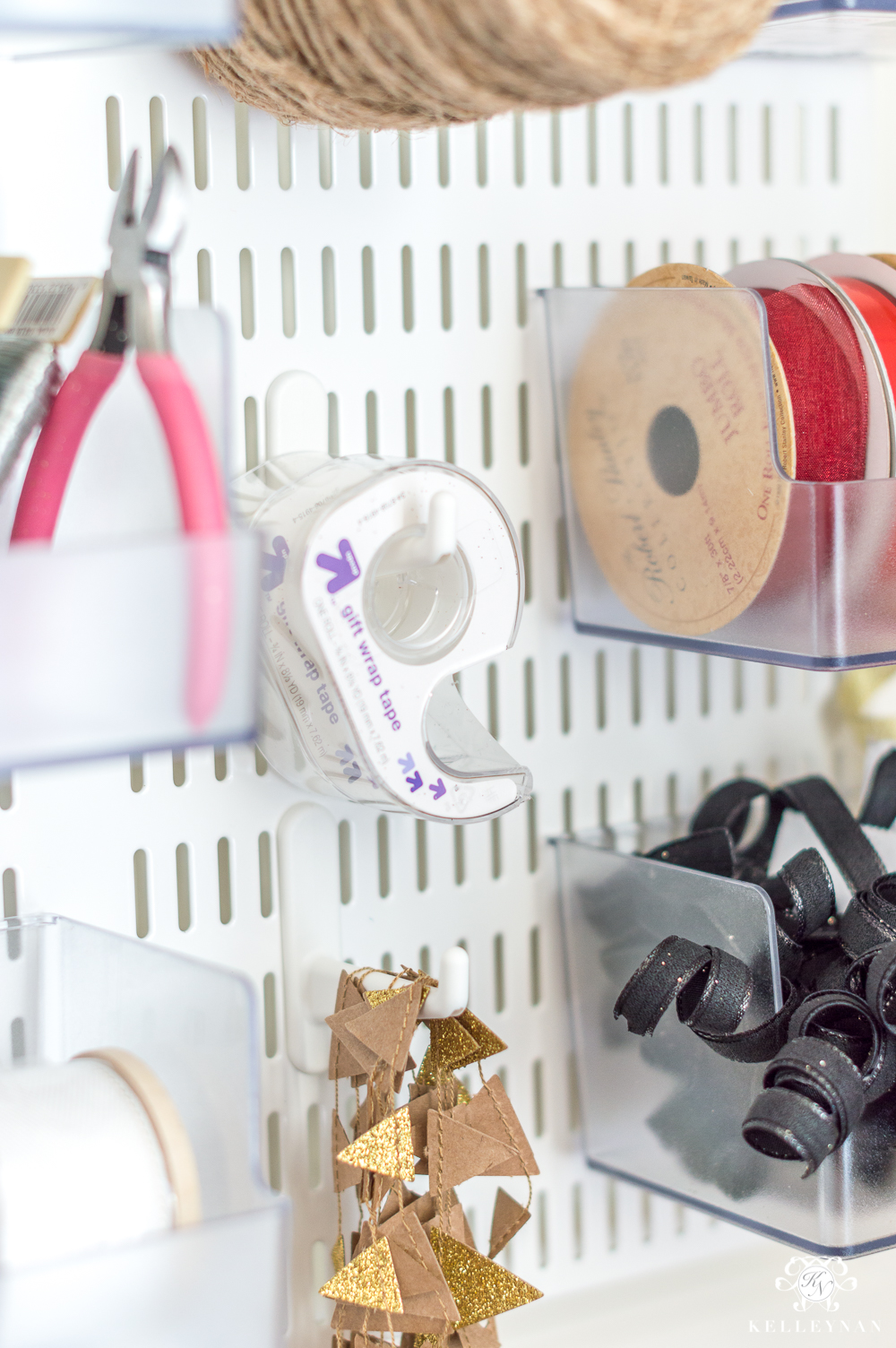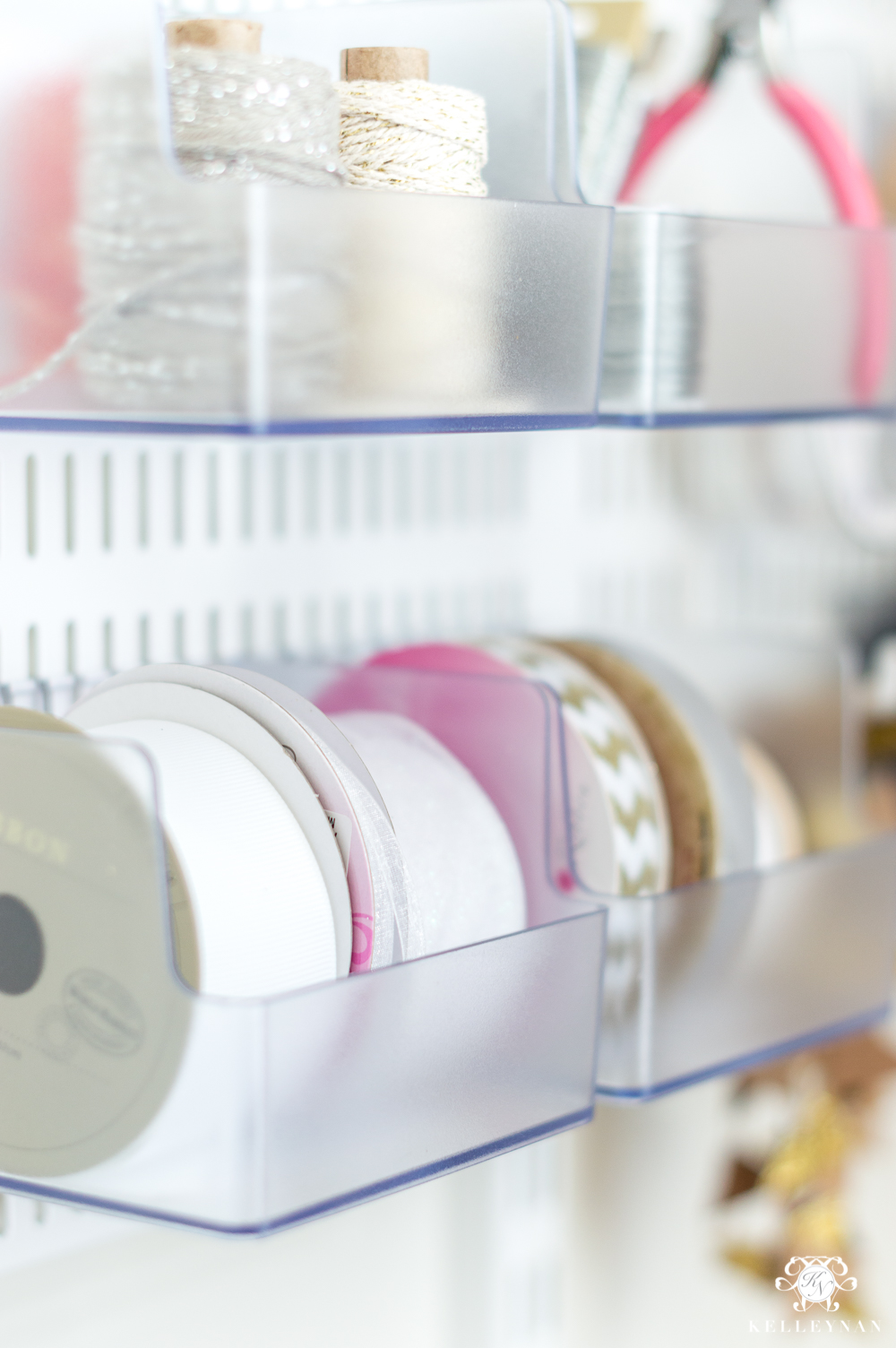 I was actually shocked that everything fit so neatly. All of this had taken up so many regular sized bins, I was convinced I had missed some stashed away somewhere in the basement. Here, it looks like a completely acceptable amount of gift wrap for a single person. Success.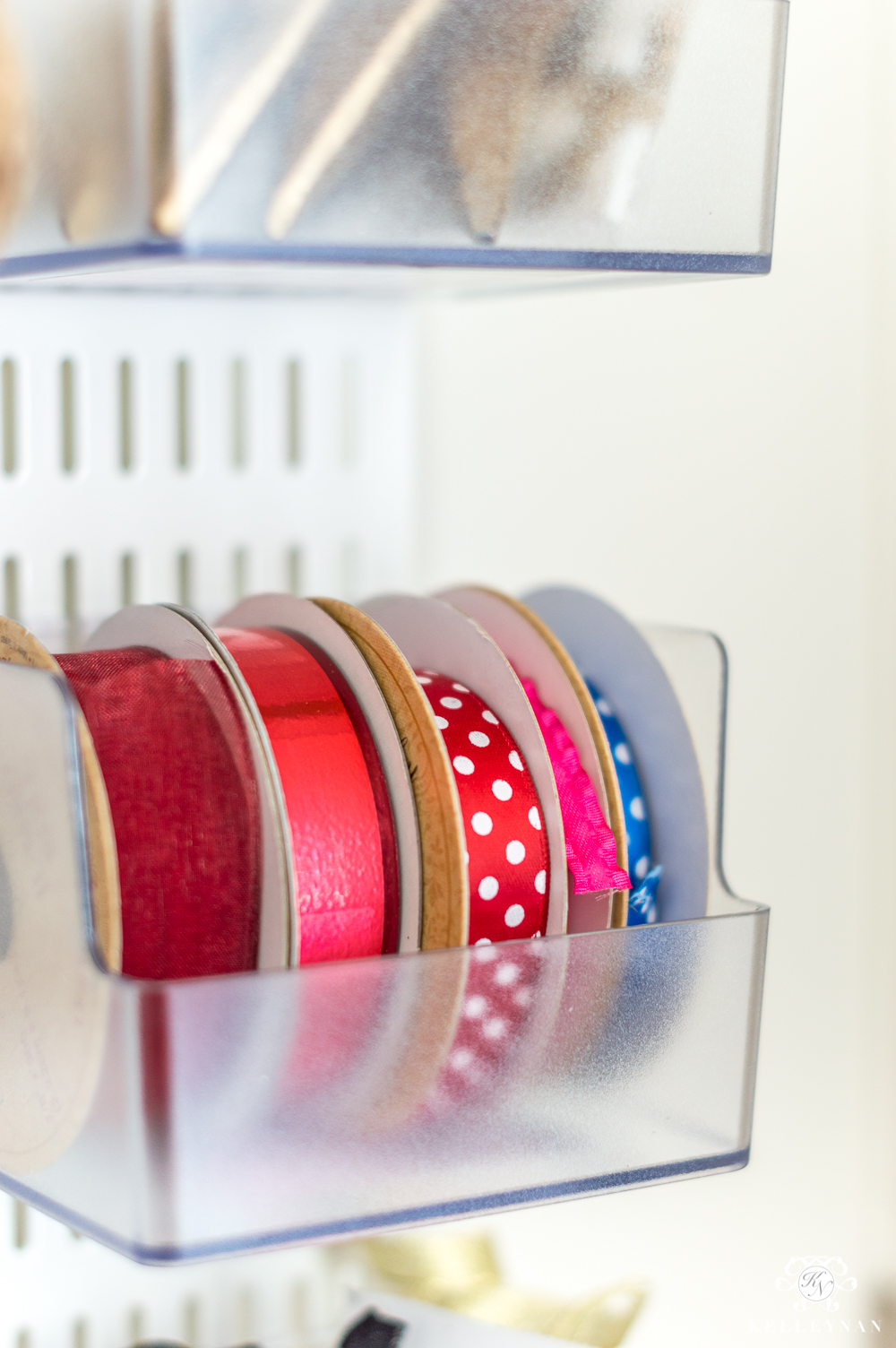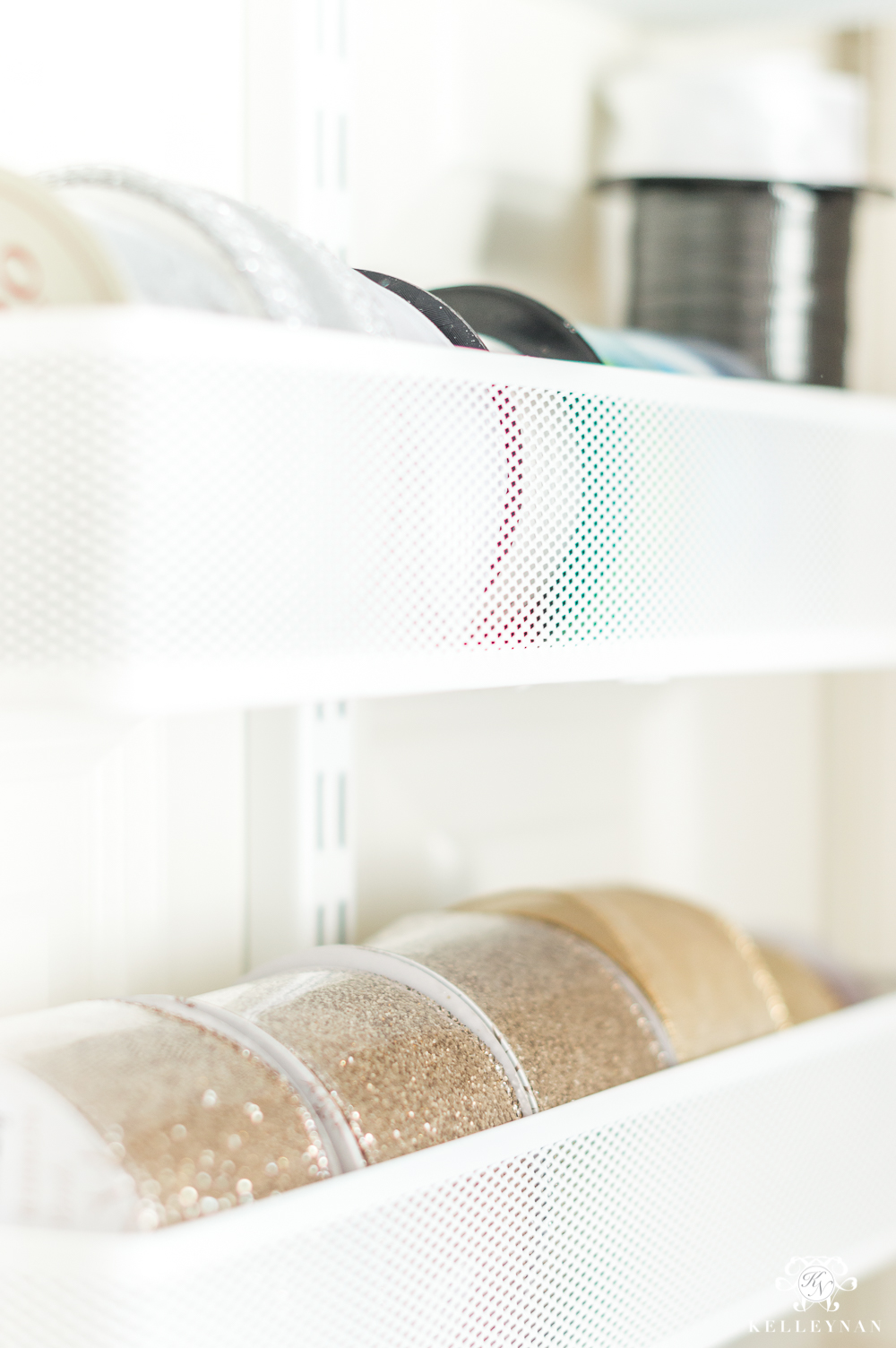 Another thing that saves space- I typically use the same universal gift wrap year round. My Christmas wrapping paper isn't covered with Christmas trees and snow, and my everyday gift wrap isn't crazy colors. It's all universal for the entire year.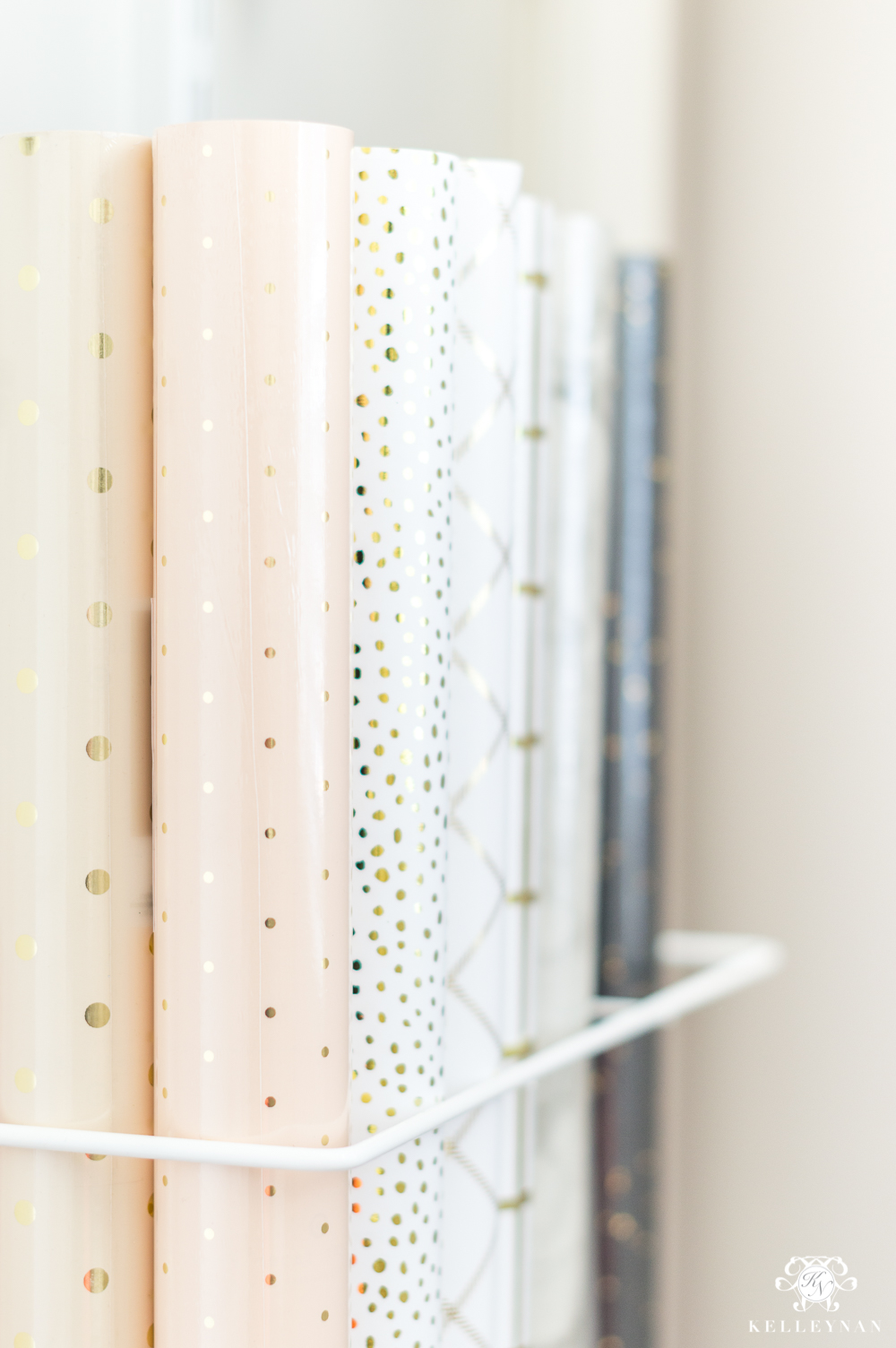 I have acquired a lot of my favorite Sugar Paper boxes over the last few years (there are boxes inside the boxes you see, too 😉 ), but, I use them for both gifts and decor during the holidays.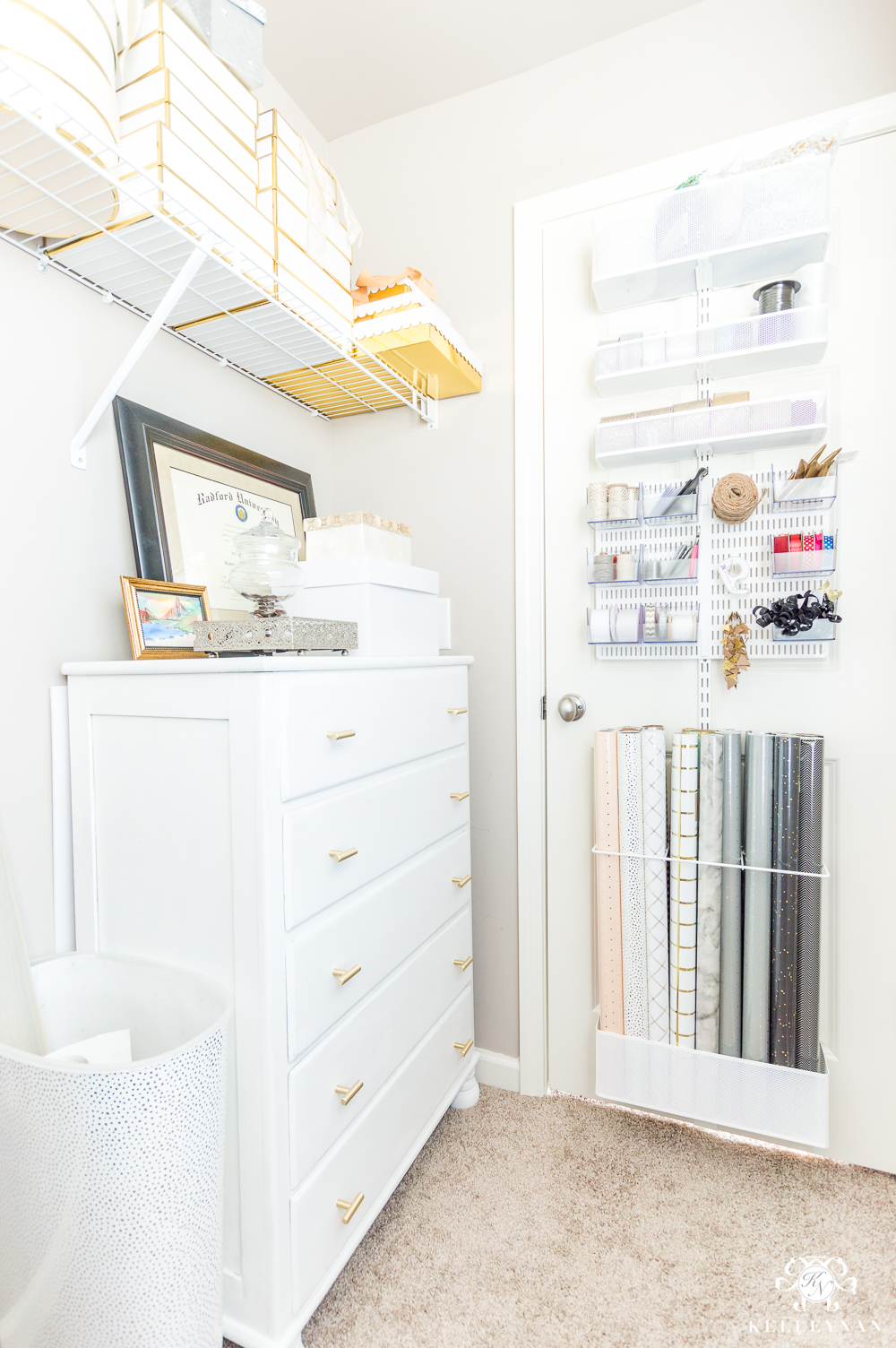 ---
SCROLL & TAP TO SHOP FAVORITE GIFT WRAP

---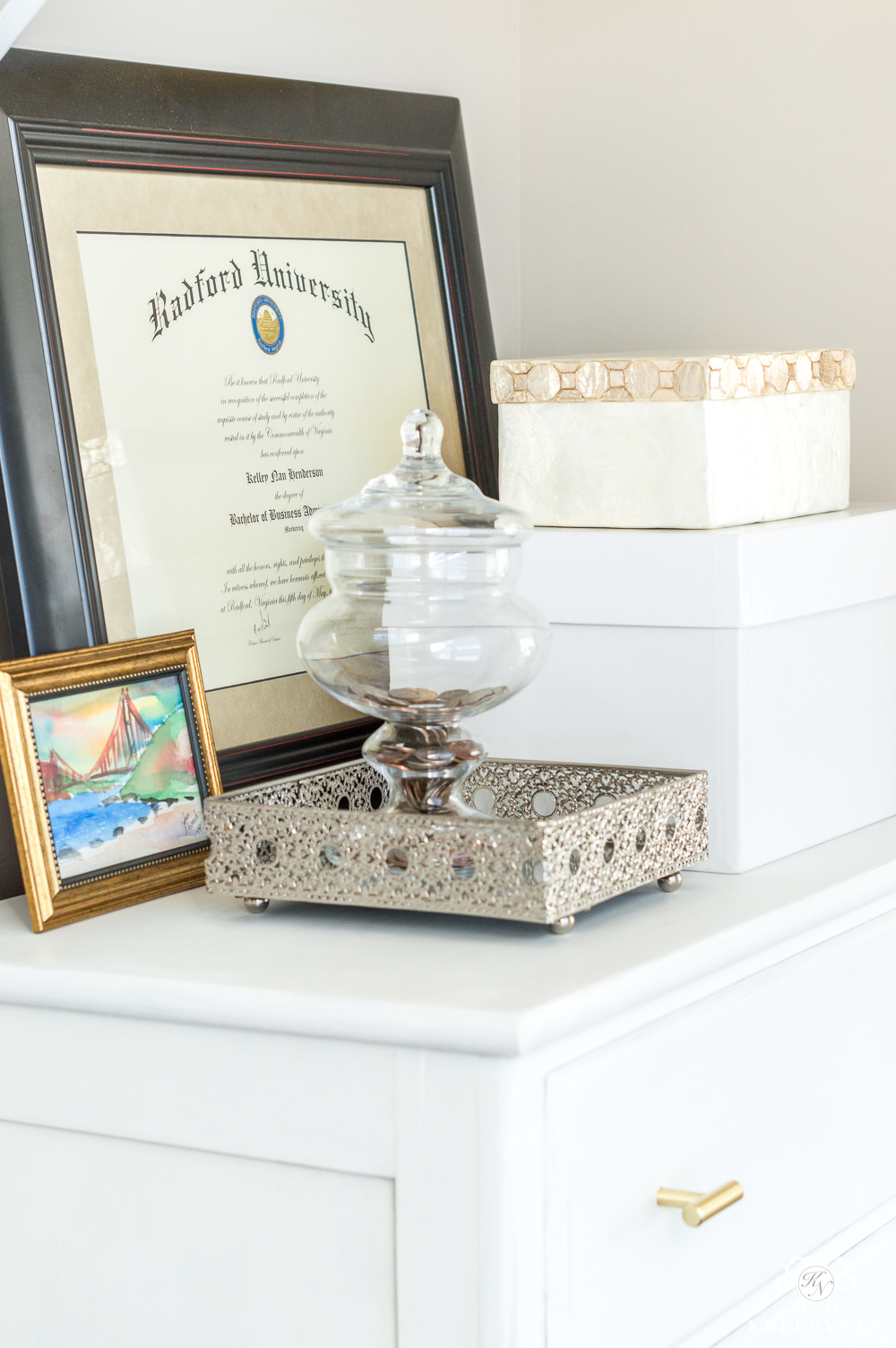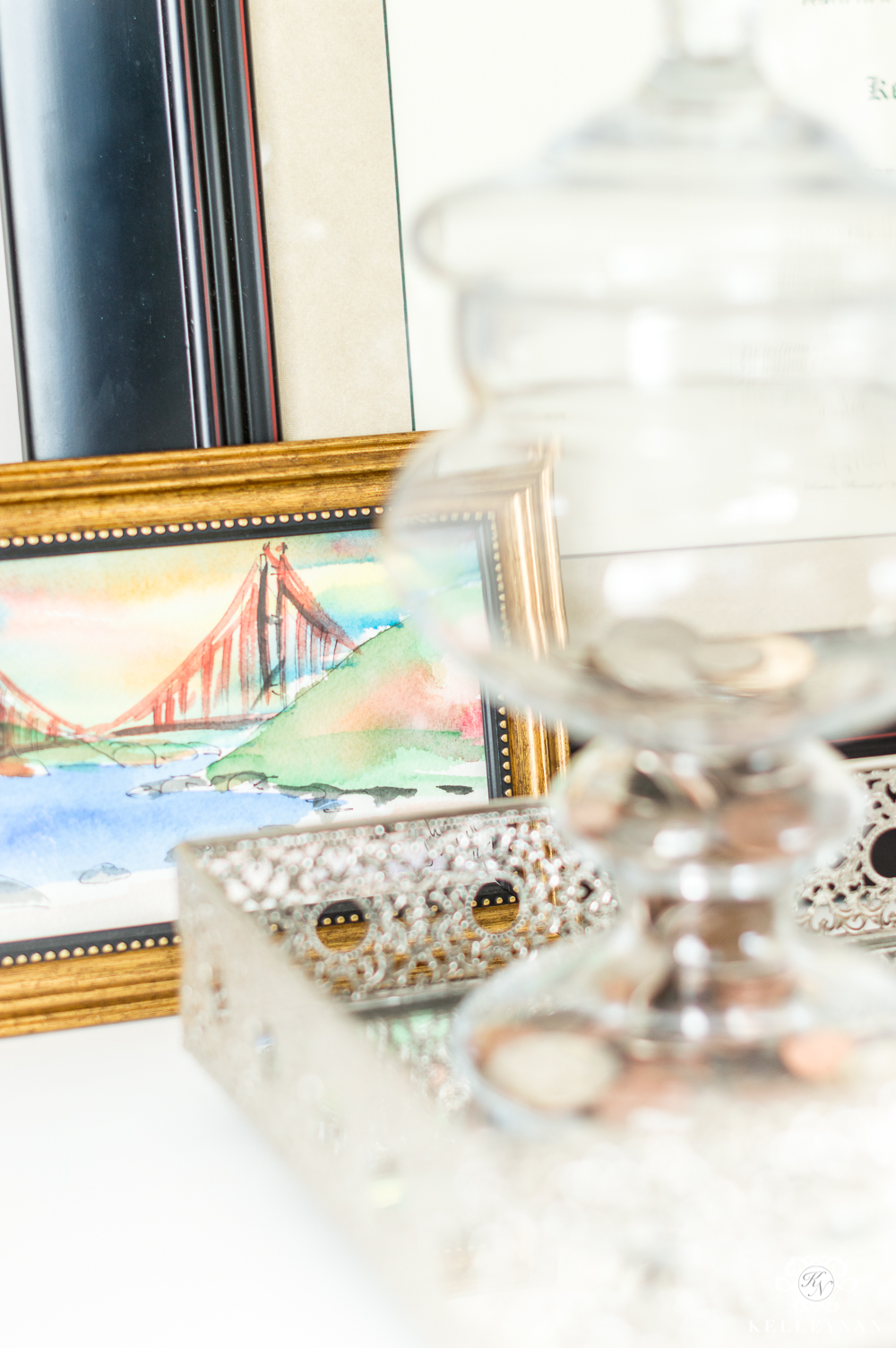 Remember that wrapping paper container that fell down the stairs? While the top wasn't salvageable and the handles broke, It was a really good size to store my wallpaper rolls in. So, I used some of my gift wrap to cover the unattractive container and ta-da! Total disclosure- because the wrapping paper container gets more narrow toward the bottom, it was not as simple as wrapping the container and taping it. It was pretty stupid and tricky with multiple cuts involved (not for the impatient – like myself). But, for something that saved me $ from purchasing a new solution, I think it turned out fantastic.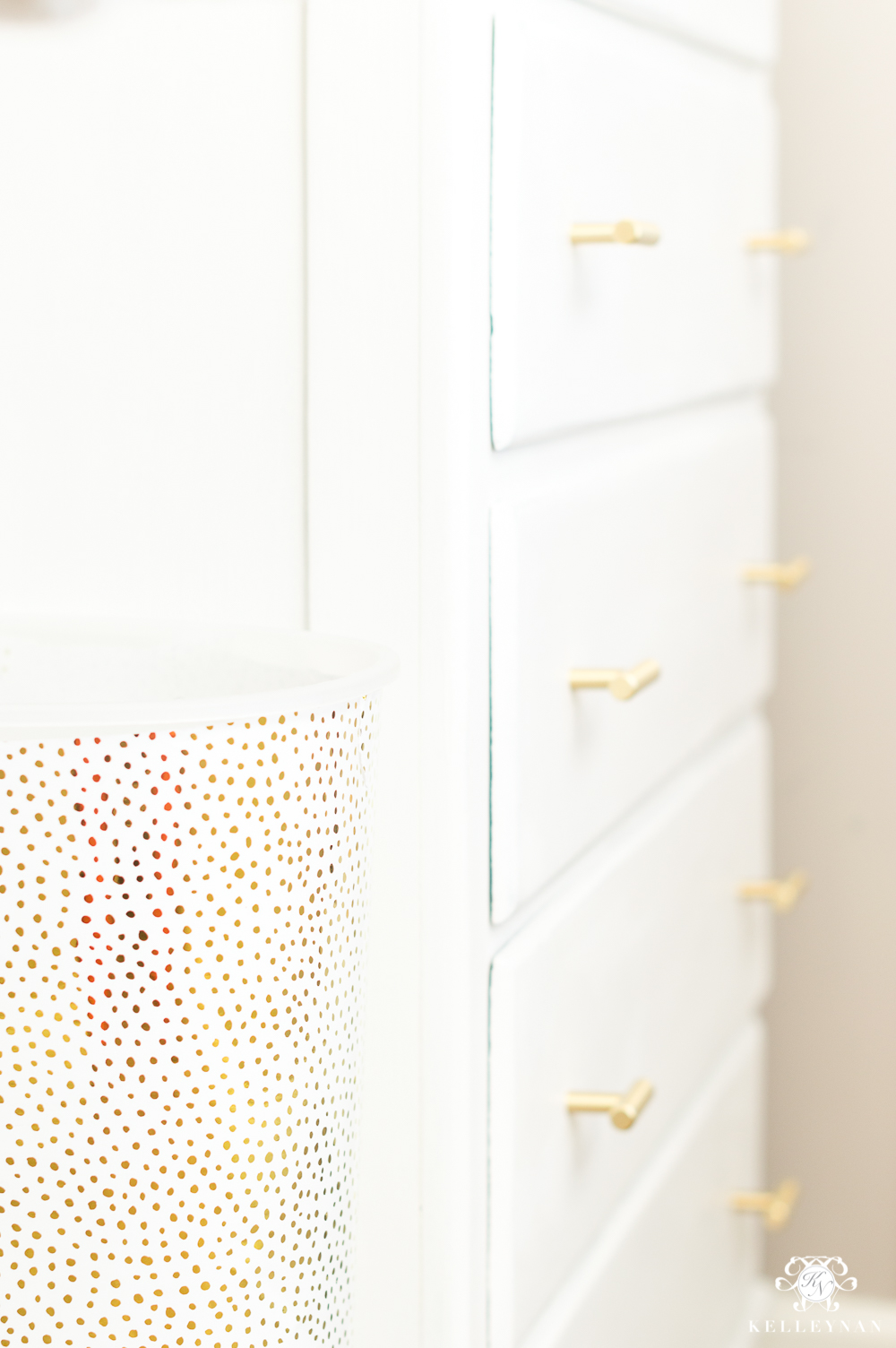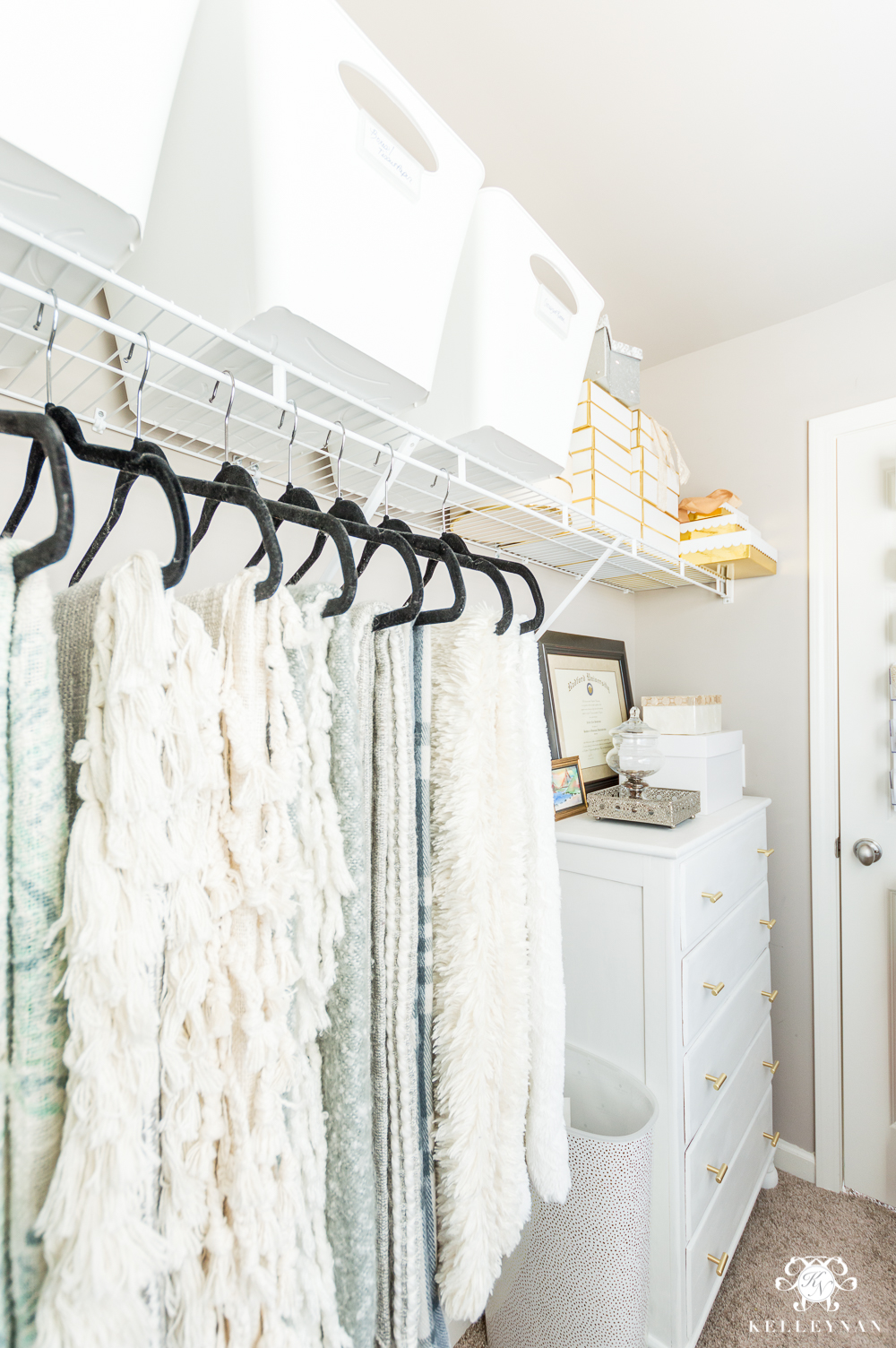 While I don't have nearly as many throw blankets as I do throw pillows, a lot of these were also shoved into closets and contractor bags in the basement.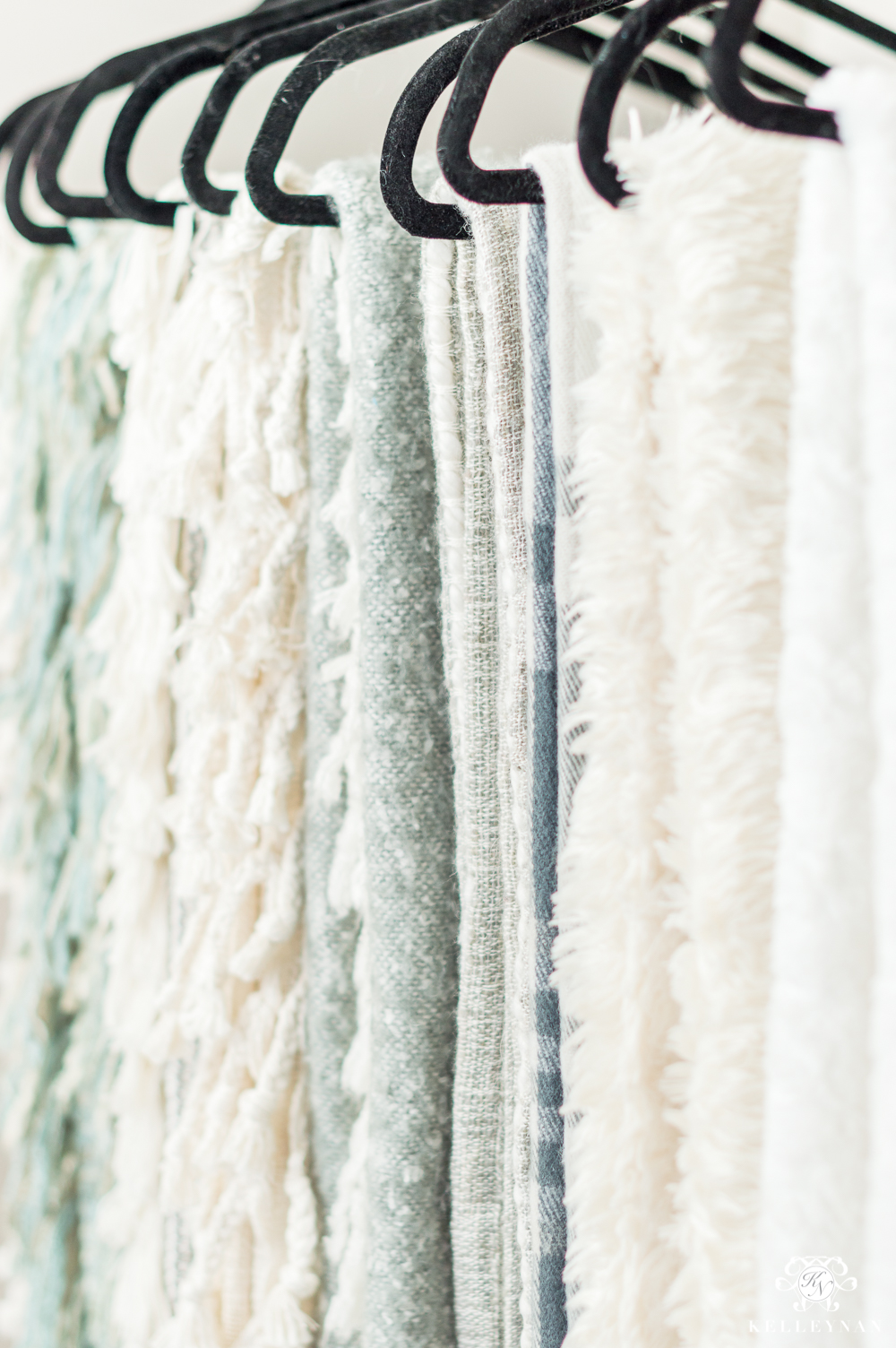 I am so glad to be able to see what I have now- a lot more will be added soon once I bring up the winter blankets from the great room.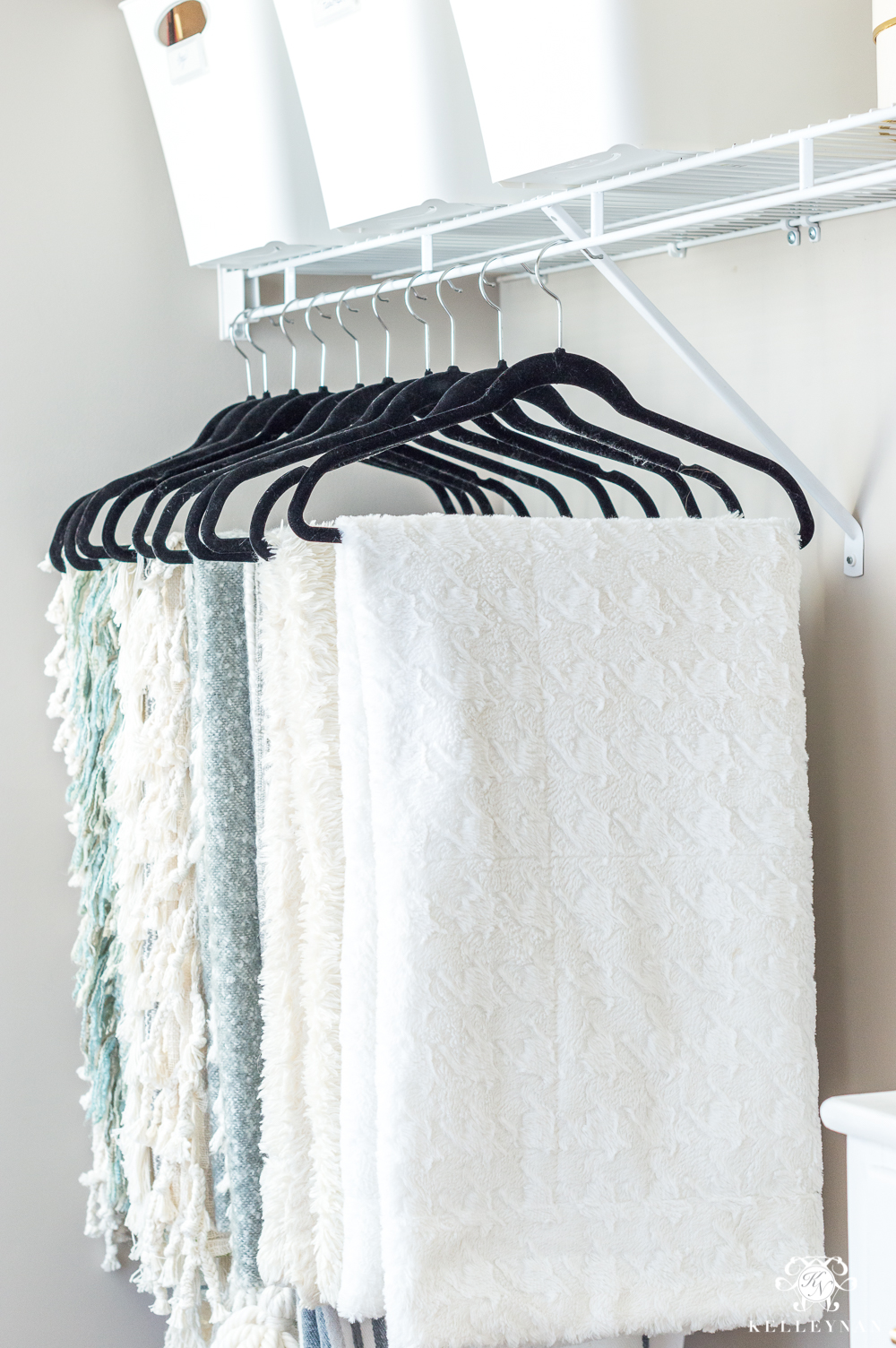 While the back of the door houses a lot, I didn't want to over-crowd it. I reserved three bins for larger items like boxes, tissue paper, oversized ribbon, and gift bags.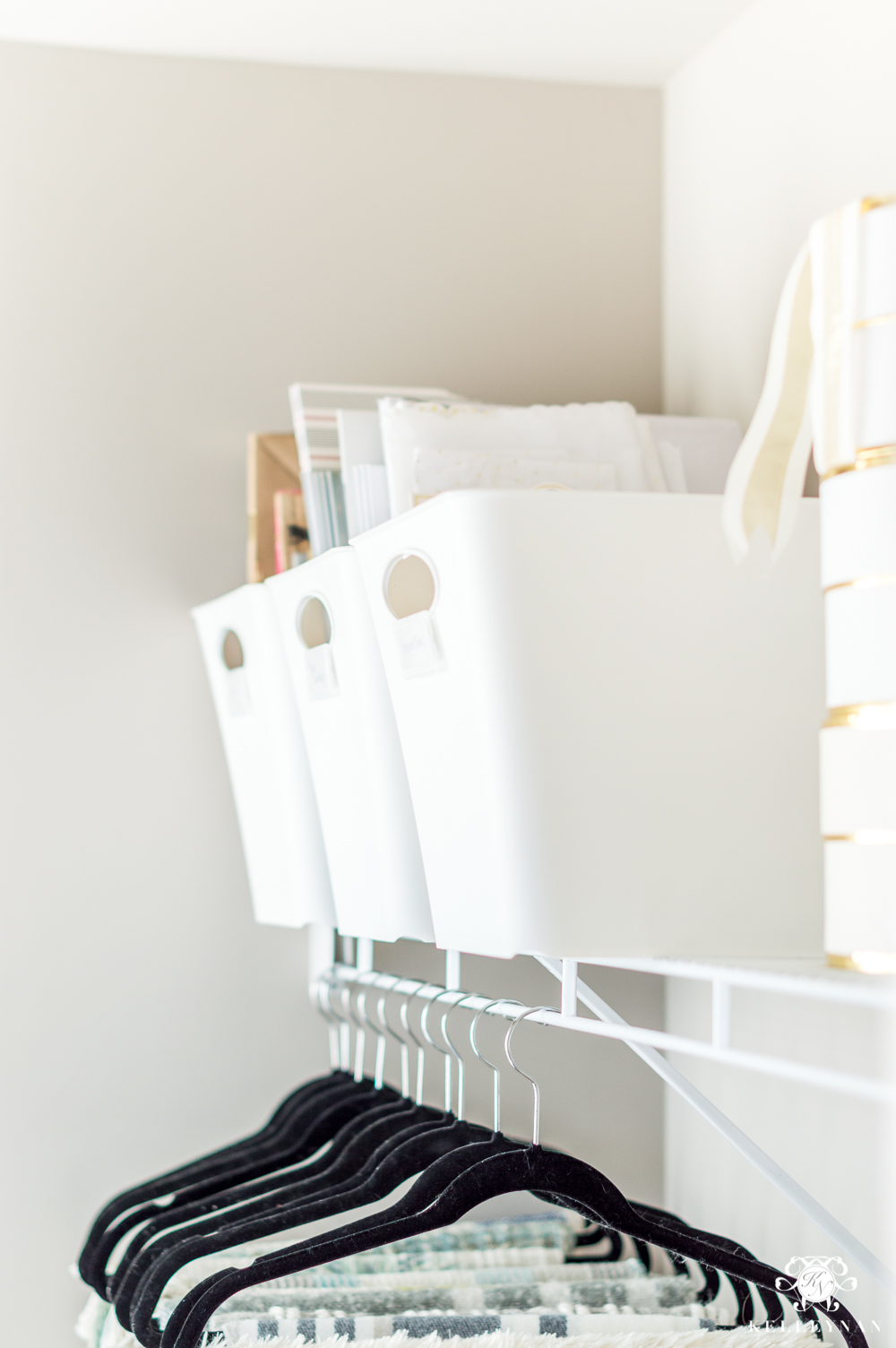 ---
SCROLL & TAP TO SHOP

---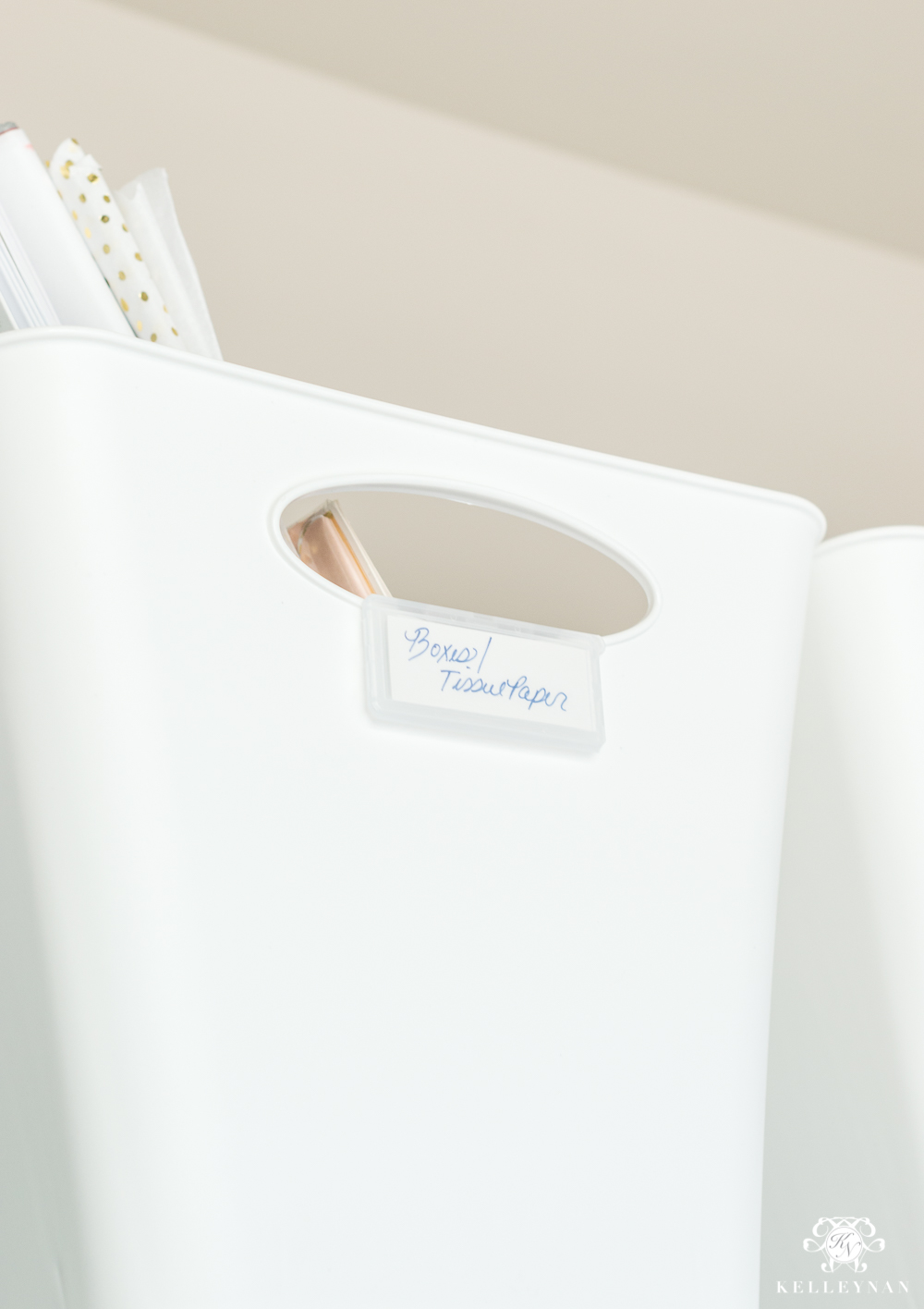 I used the same inexpensive label holders (HERE), intended for Elfa systems but they worked perfectly on these affordable large bins (HERE).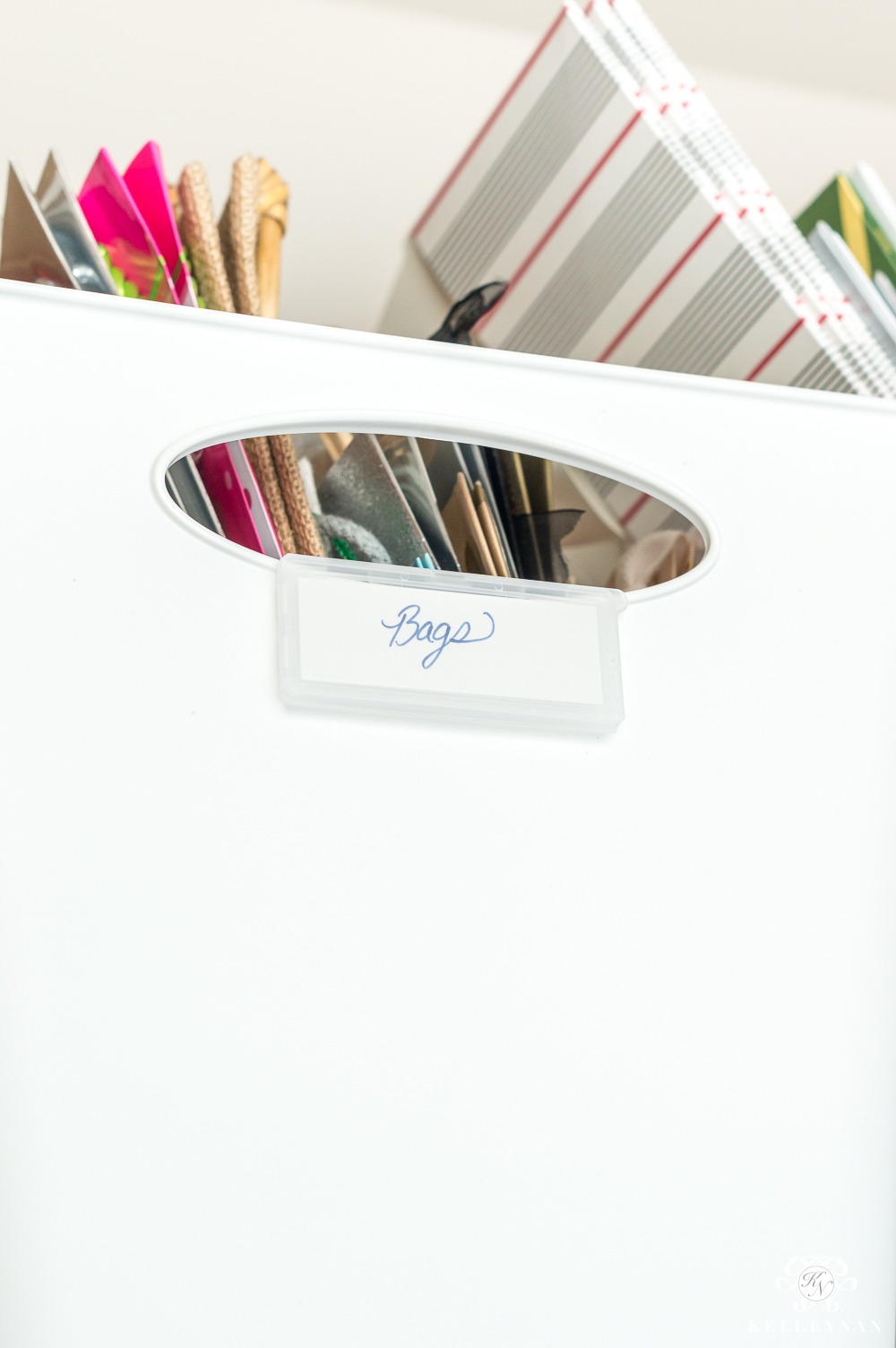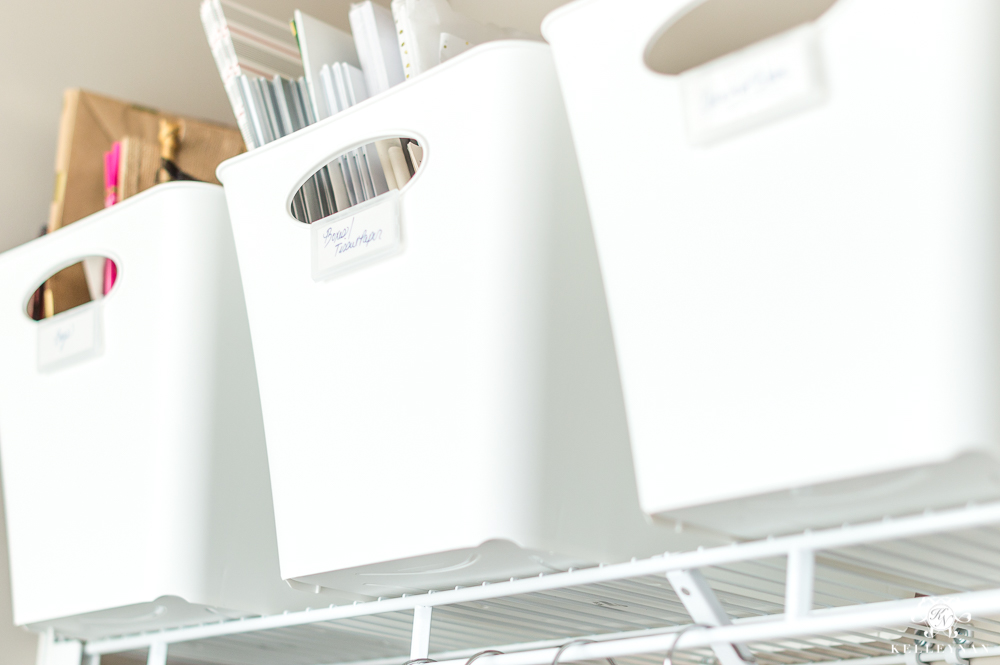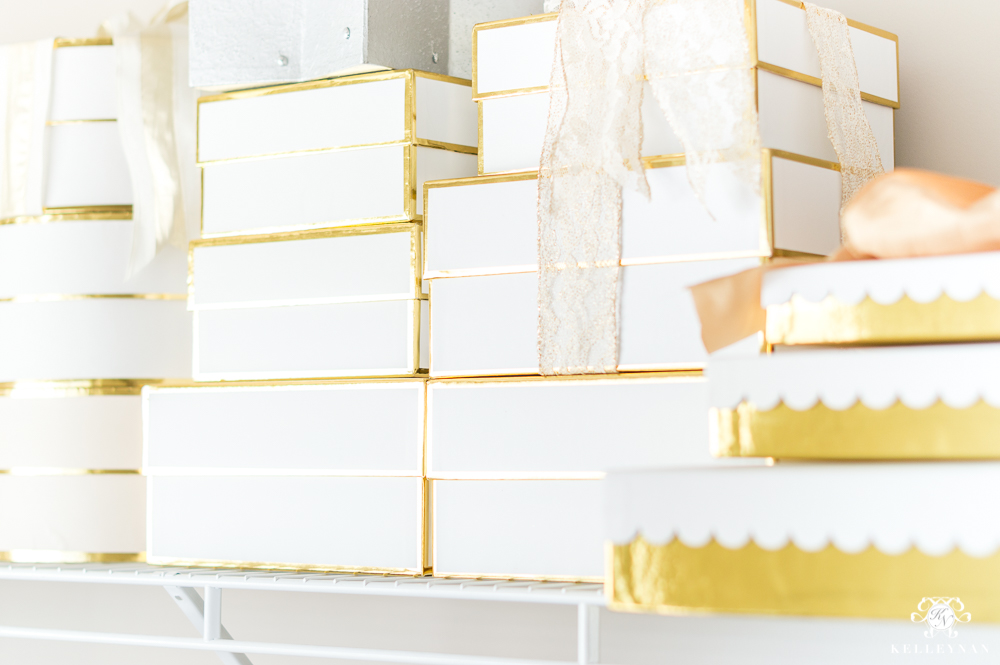 The closet has plenty of room for growth and office storage but I am thrilled with the result of coming up with solutions to work with what I had (no demo necessary 😉 ).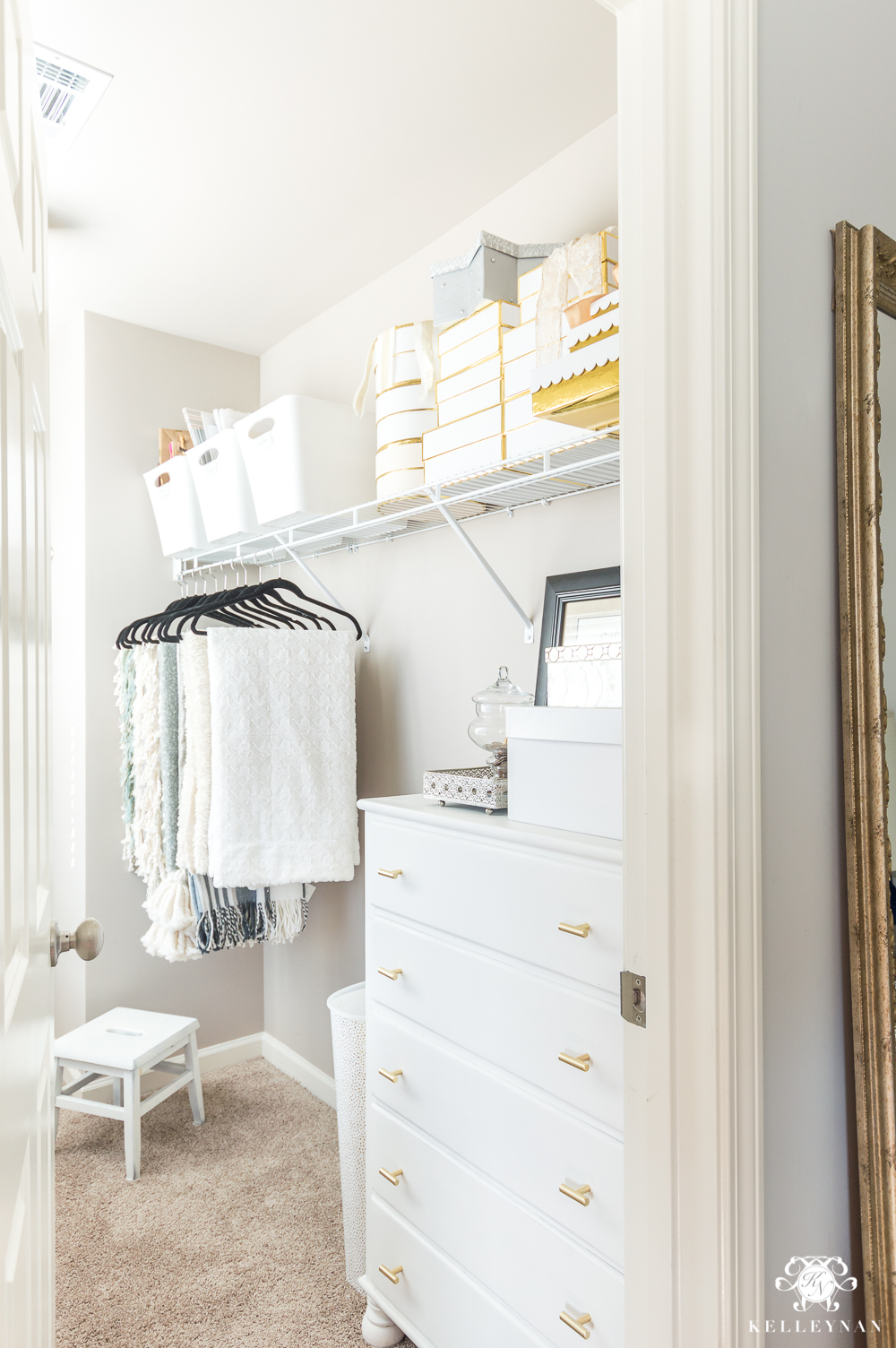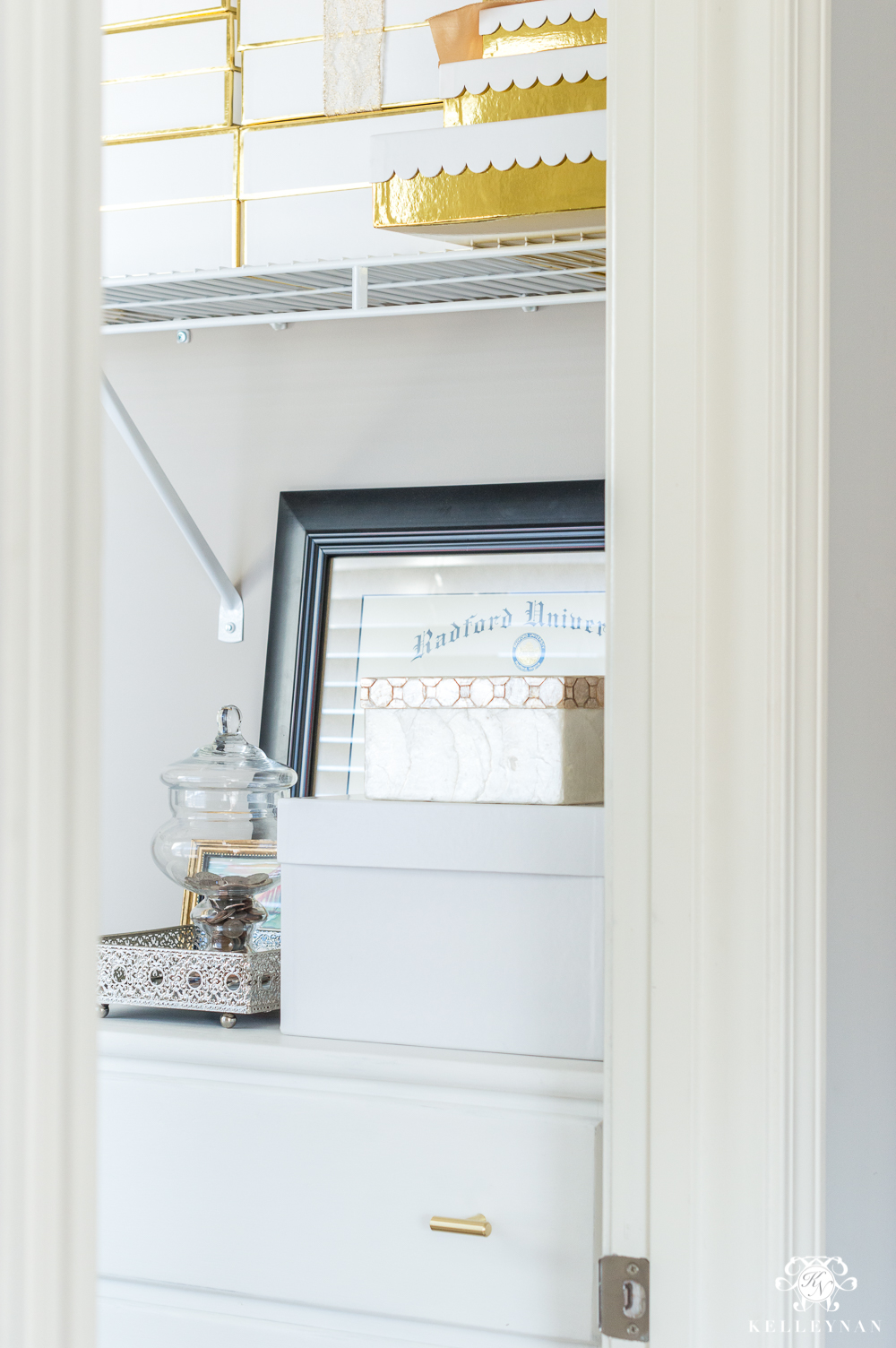 Be sure to subscribe to my emails to catch all my latest projects at the bottom of this post.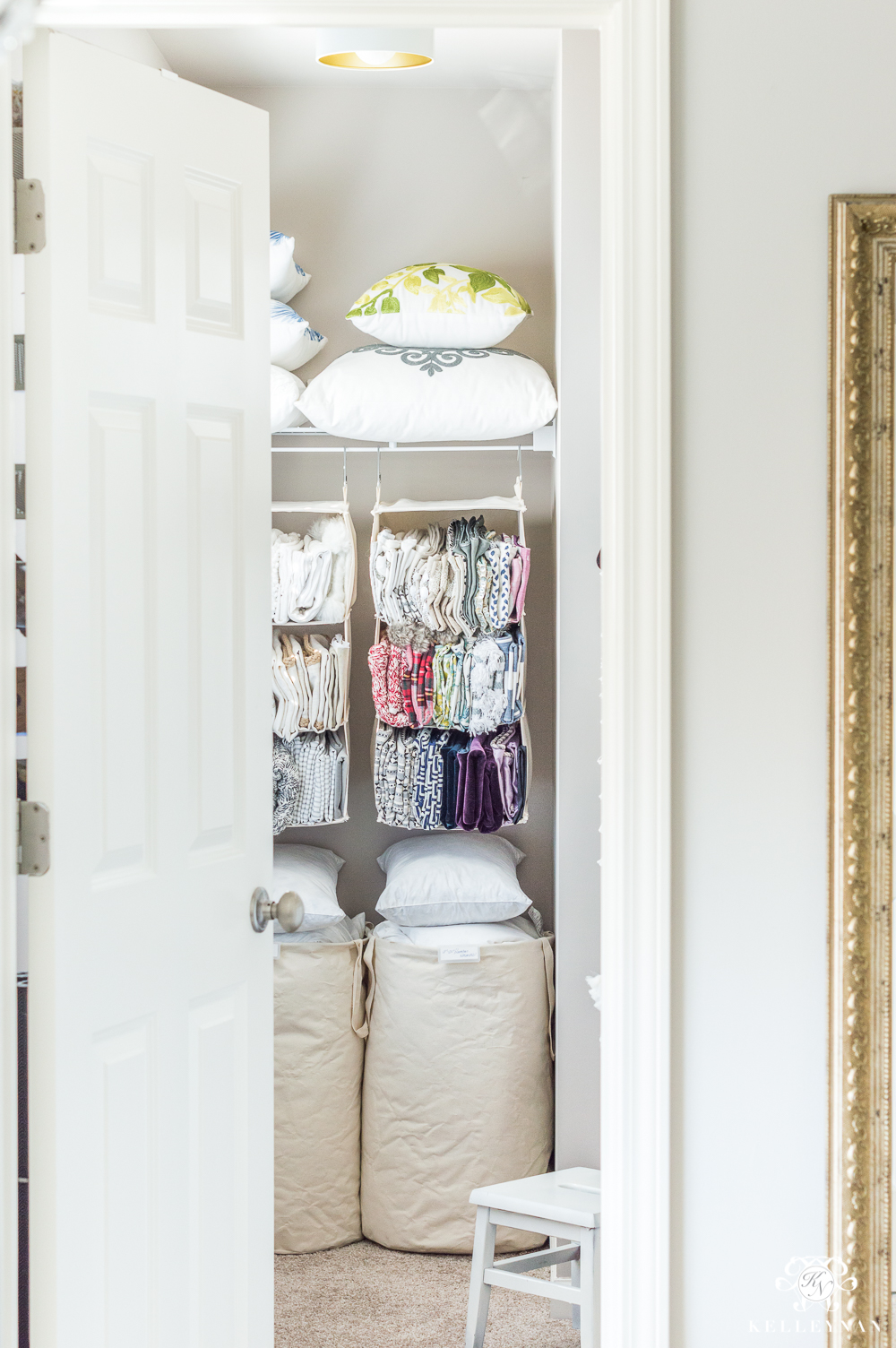 Bell Flush Mount Light Fixture | Brass Drawer Knobs | Canvas Hanging Organizer (for pillow covers) | Collapsible Totes | Large White Plastic Bins | Labels and Label Holders | Black Hangers (favorite) | Elfa Door System (customizable with different components) | Step Stool (I painted white)