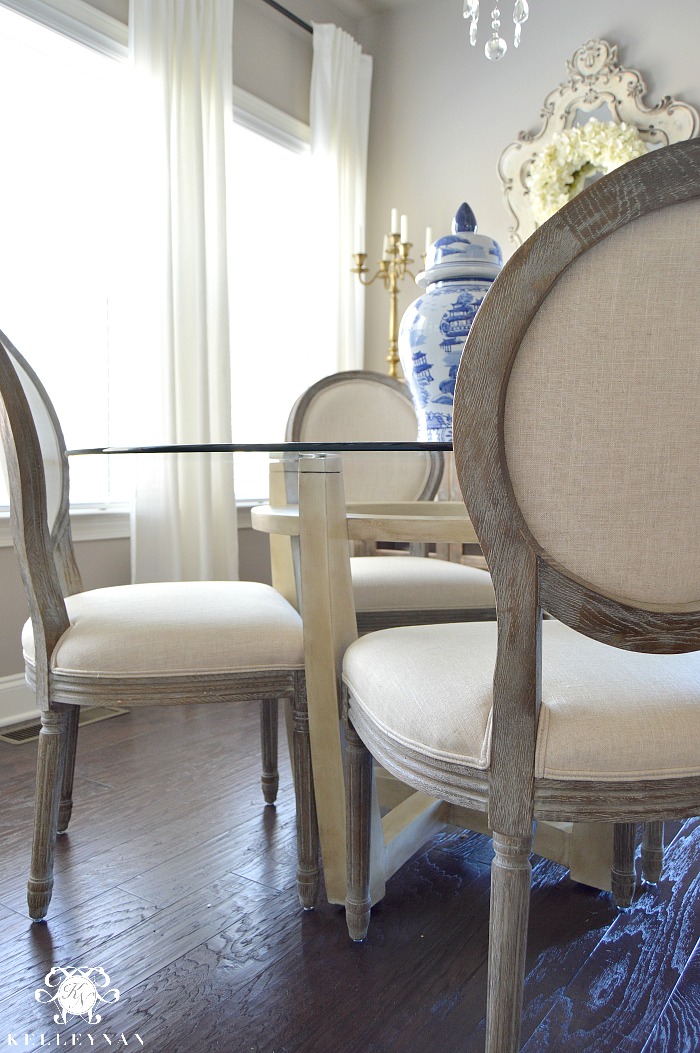 When I proudly brought my new breakfast room chairs home and set them around the table, it took all of two seconds before my excitement was overshadowed by alarm and a slight urge to cry. I was still trying to pretend like the finish on our new round backs were totally going to work with the modern black and copper ringed table, when my husband interrupted my thoughts and declared that we needed a new table. As long as it takes for me to convince him that many of my decor "wants" are in fact, "needs", and HE is the one to say we need a new table without hesitation? It must have been pretty bad. Ok, it was bad- here's the proof.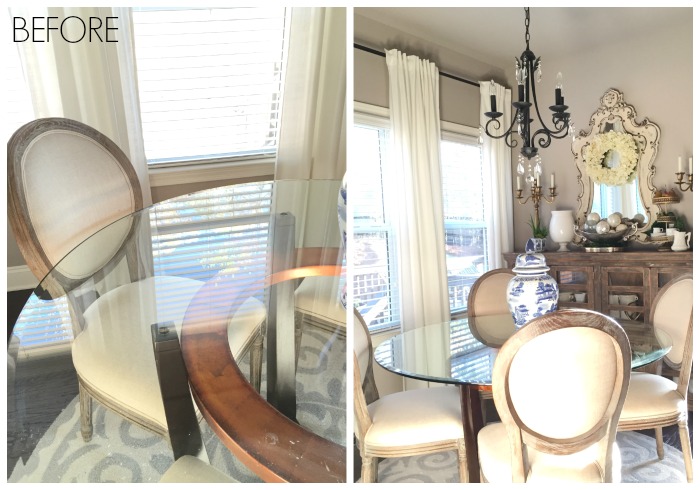 As much as I would have loved to have taken that invitation and run with it, there are so many other priorities that would come before the table. So, I evaluated the options, came up with a game plan, and had paint and supplies before he woke up the next morning. Literally.
I am not what I would call a "seasoned" painter, but I have taken on a few recent projects and am no longer intimidated. The first chalk paint project I tackled was office furniture (which I still won't show), before we moved into our home. Those pieces are actually on a t0-do re-to-do list. But, I researched my mistakes and since you don't have to prep and prime using chalk paint and the finish I was going for was something that I thought I could achieve with dark wax, I decided to give it a shot. I don't think I have ever been more pleased with a project result. I LOVE IT! And, it is so easy; if I, as an impatient crafter always looking to cut corners can knock this thing out, you can too. Oh, and it took about an hour total.
The supplies I use were:
Annie Sloan Chalk Paint in Country Gray
Annie Sloan Clear Wax
Annie Sloan Dark Wax
1 Annie Sloan Round Brush
2 Annie Sloan Flat Brushes
2 White Rags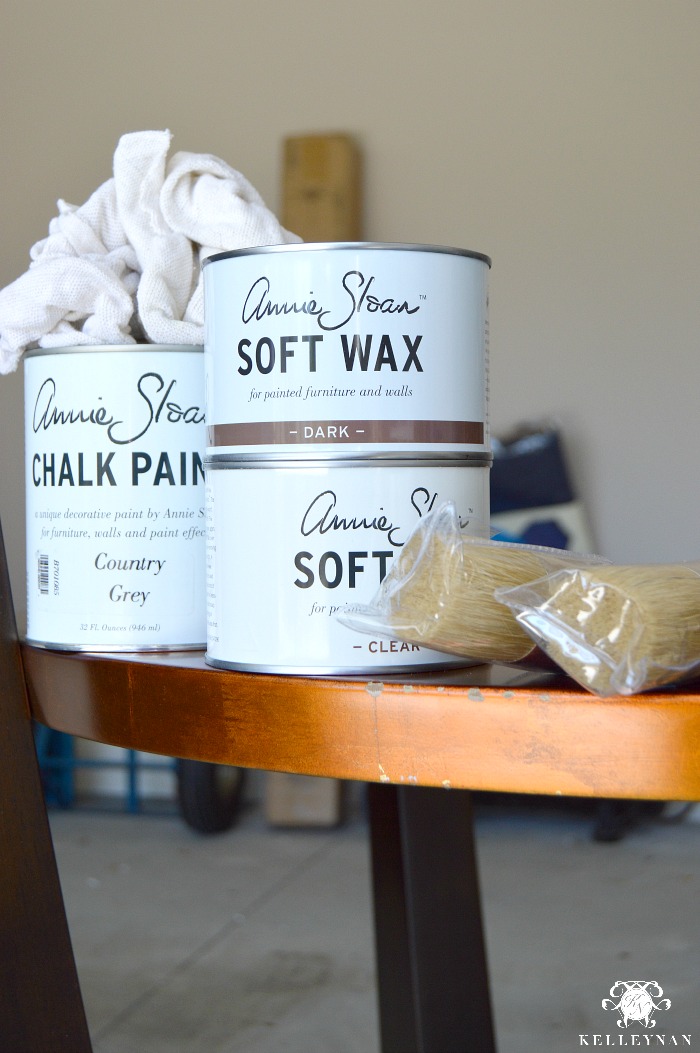 Because I used a regular brush for the paint last time and rags to apply the wax, I decided to invest in the Annie Sloan brushes since I was determined to get it right the first time. I am SO glad I did! While Annie Sloan supplies are not sold online or in big box stores, you can check your local specialty paint stores to see who carries the line.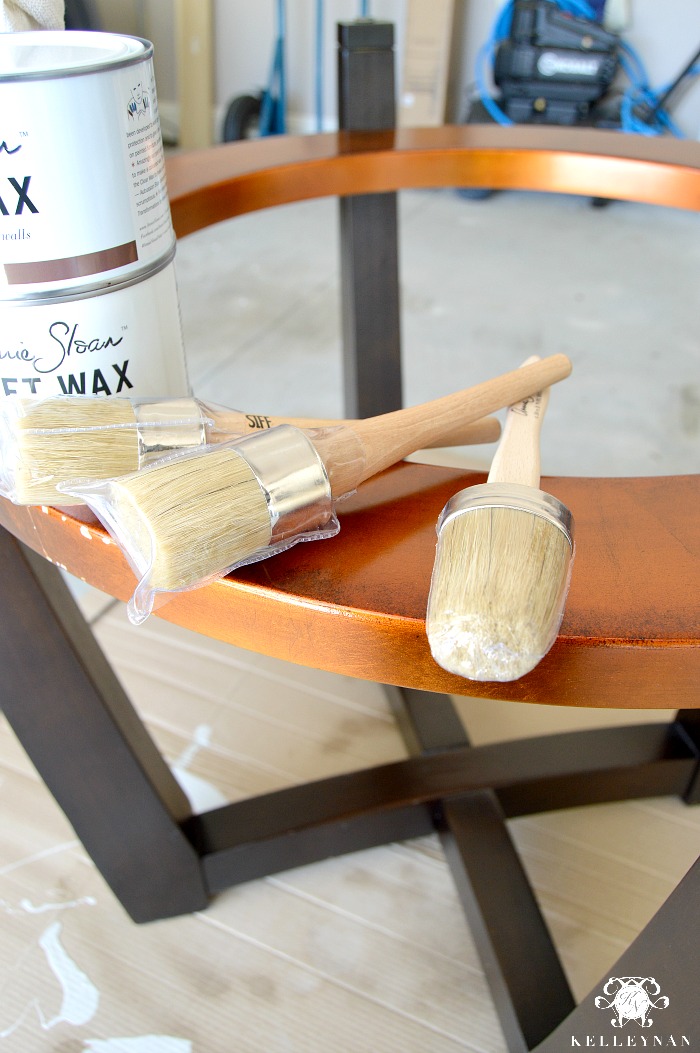 This is what the table looked like before. The only prep was skimming over the surface with a cloth to make sure it was free of dust.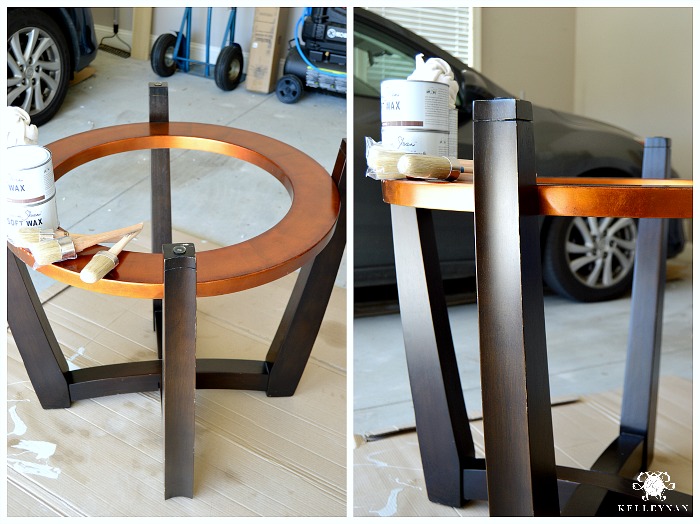 Next, I used the round brush to start covering the surface. A little bit goes a long way and since I knew I was going to be adding a second coat, I didn't worry about getting full coverage. The first time I painted a table, the paint started peeling up as a result of what I think was applying too heavy of a first coat. I waited about 15 minutes before going back and applying a second coat. It dries really quickly! Once you are finished, you will have a true chalky finish.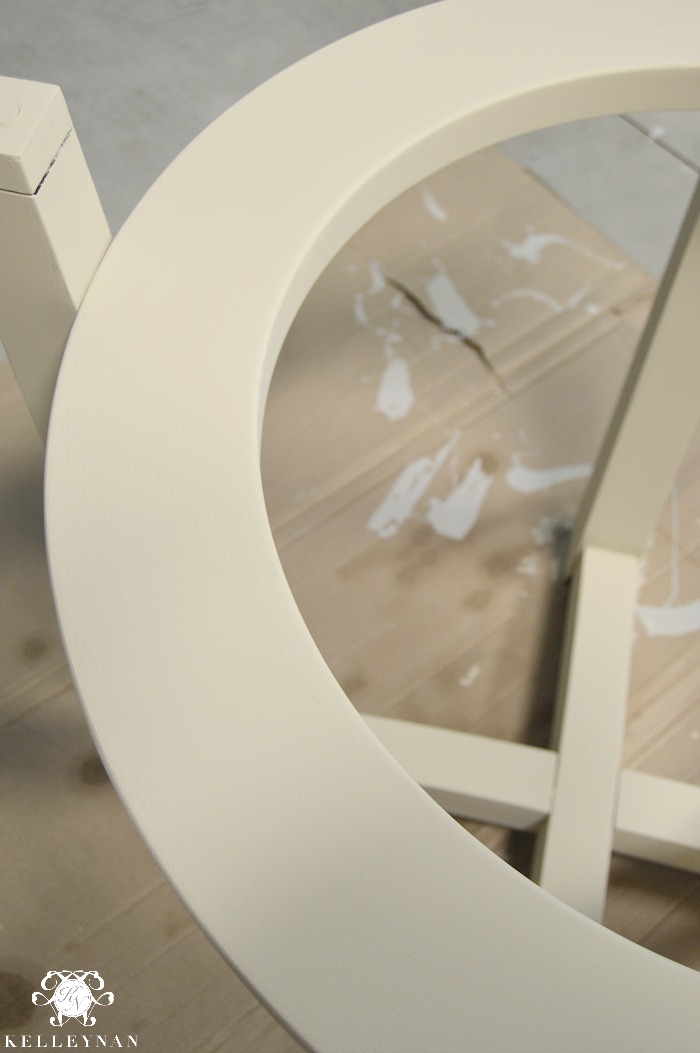 I waited about half an hour before starting in with the wax to seal it. (This also darkens the paint a bit.)Using the flat brush, I painted on the wax – again, it goes a long way so just use a little bit. Once the wax in my brush was spent, I went back in with a white cloth and rubbed it in/buffed it out, almost like you are rubbing lotion in and pulling it off at the same time. I repeated that process over the entire piece.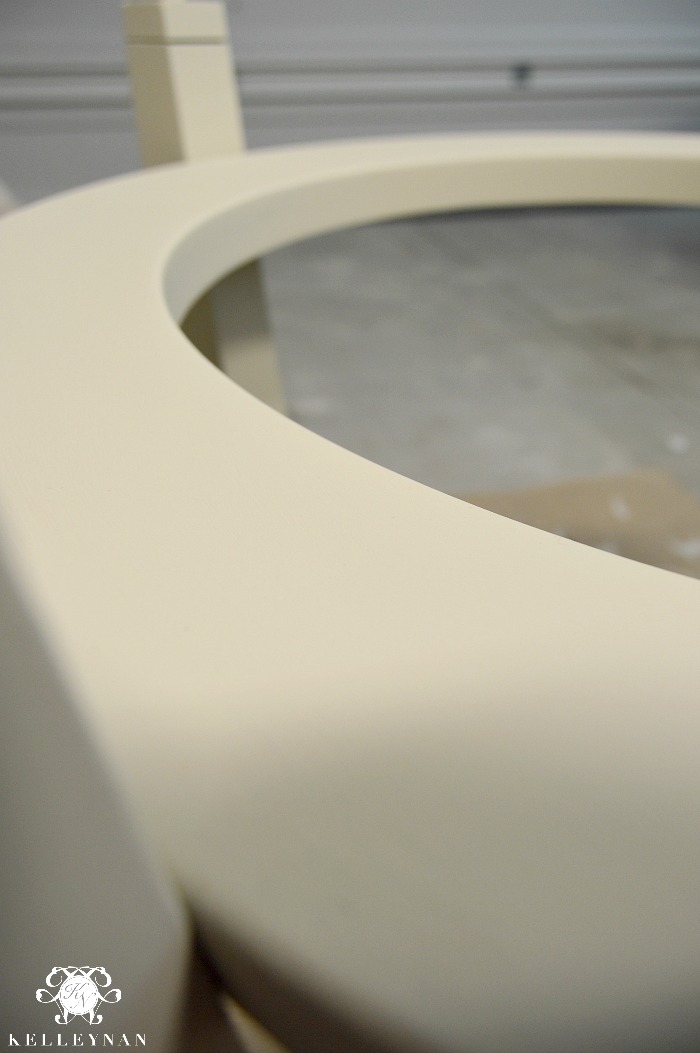 Lastly, I took the other flat brush and repeated the process with the dark wax. This is what gives it a little more of an aged look, kind of like it was soaked in tea. I love how the dark wax sets into the grooves, but unlike a lot of chalk paint projects you may see, I did not sand anything as I didn't want it to look too distressed and vintage, just a little aged.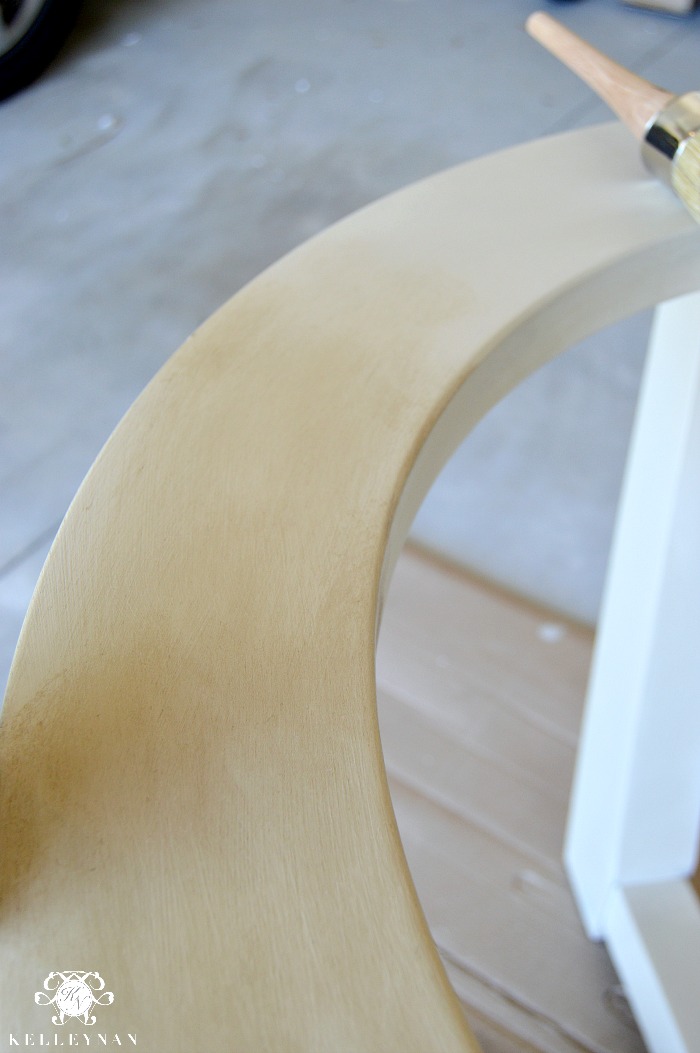 I could not be more pleased with the final result! I have a ton of paint and wax left over (almost all of it), and am already planning the next color I want to pick up for a new project.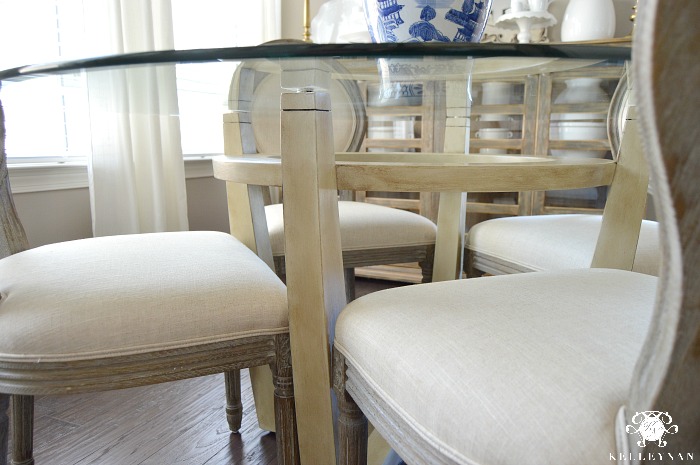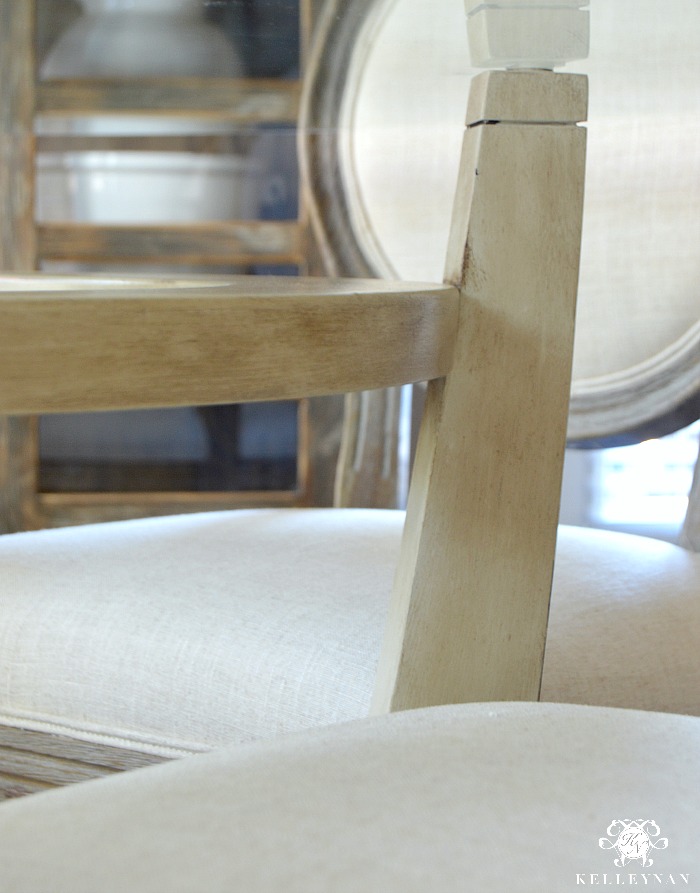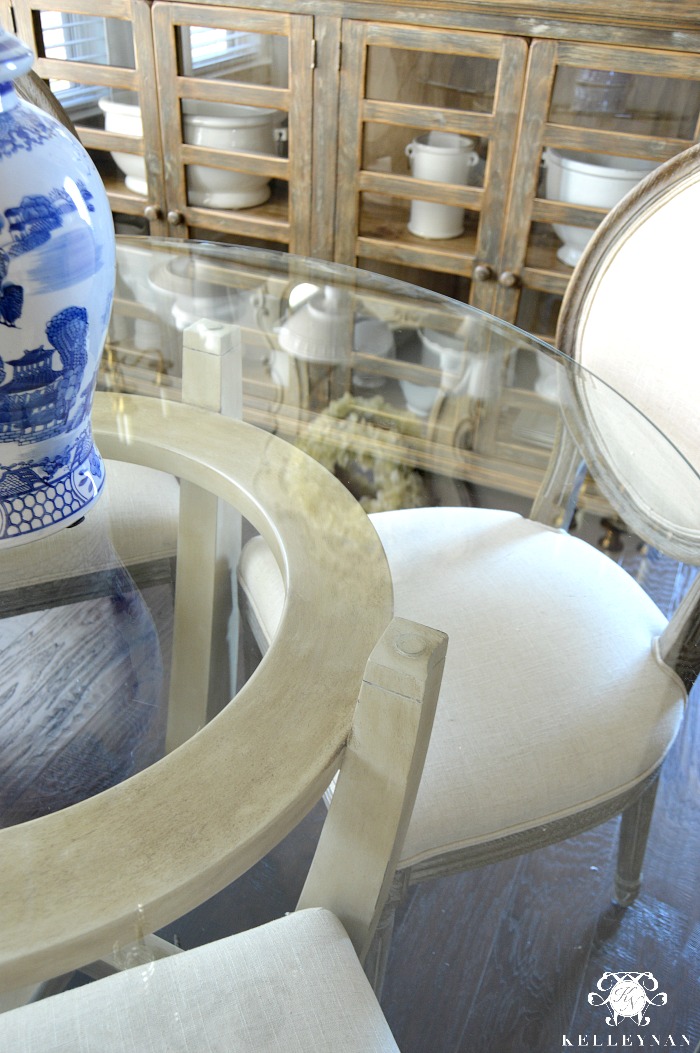 This line of paint is not cheap, but to me, was totally worth the investment and definitely more cost effective than purchasing a new table.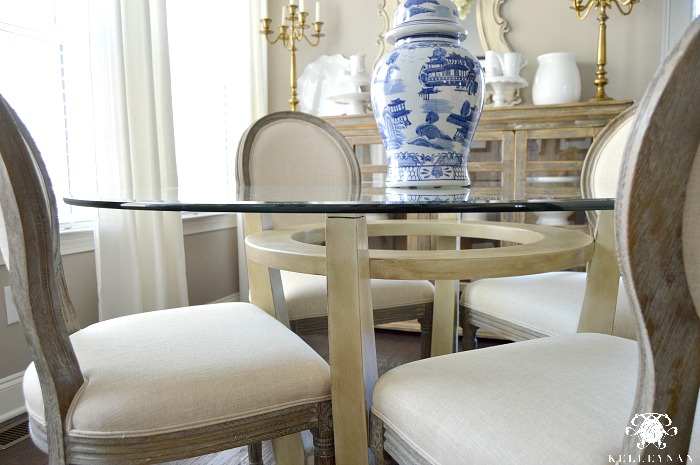 In case you missed it, you can catch the details of my full breakfast room (post-new chairs) HERE.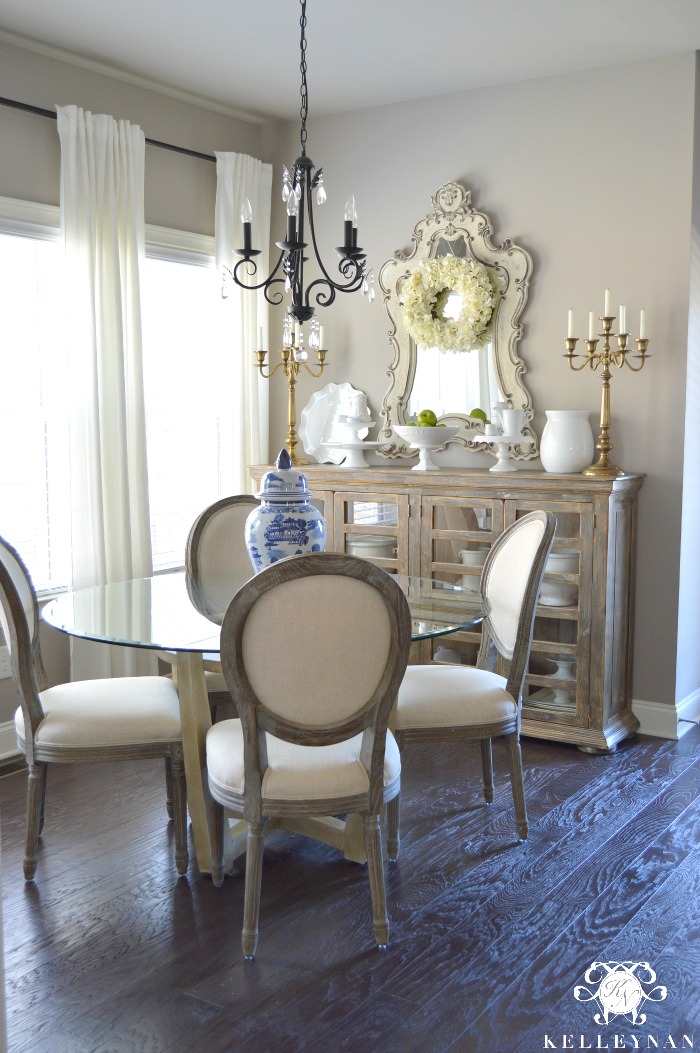 SHOP THE LOOK

*affiliate links used*
Other Sources and Room Details:
Floors: Nottaway Hickory in Weathered Saddle
Paint: Sherwin Williams Perfect Greige
Sideboard: HomeGoods
Candelabras: HomeGoods
Mirror: Hobby Lobby