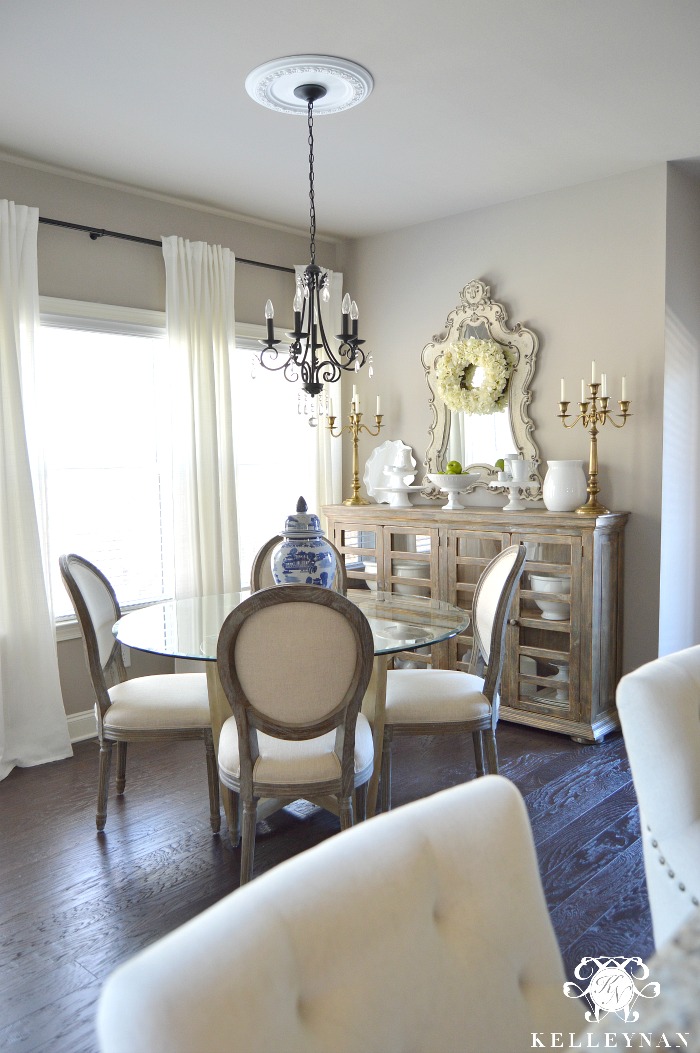 This weekend, and somewhat on a whim, our breakfast nook underwent a little makeover. Some of you will remember back in January when I started making plans for new breakfast room chairs; I posted several contenders HERE and would like to thank each of you who cast your vote! While THIS was the most popular chair by a small margin, I ultimately settled on the runner up, the Linen Paige Round Back.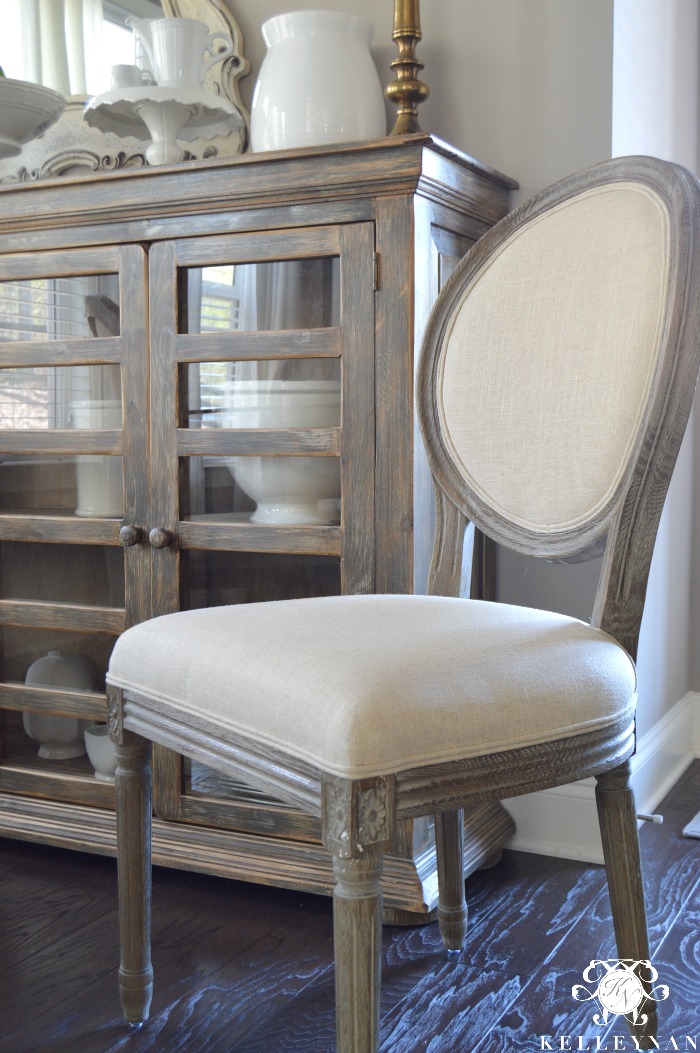 When World Market held their spring dining sale, these chairs weren't in stock. I called a local store, took a "rain check" for the current sale price as well as asked them to make note of the valid coupon I had at the time of the sale. Earlier this week, they called with the news the chairs had come in. When we picked them up, I immediately fell in love… and then we got home. I had a mini panic when we situated the chairs around our table and I realized that they didn't match whatsoever. Like, at all. You can check a before photo HERE. I tried looking at them while manipulating my chandelier dimmer up and down, trying to convince myself that they would be fine, but I knew it was bad when my husband actually said without hesitation "wow, we have to get a new table." If your husband is the one making the suggestion to spend money on decor, you know its bad. I am not shy about saying how little I DIY, but before casting our table aside, I decided I could attempt a paint project. As soon as the sun came up on Saturday morning, I headed to the paint store for supplies and by noon, I had a new table base that I LOVED.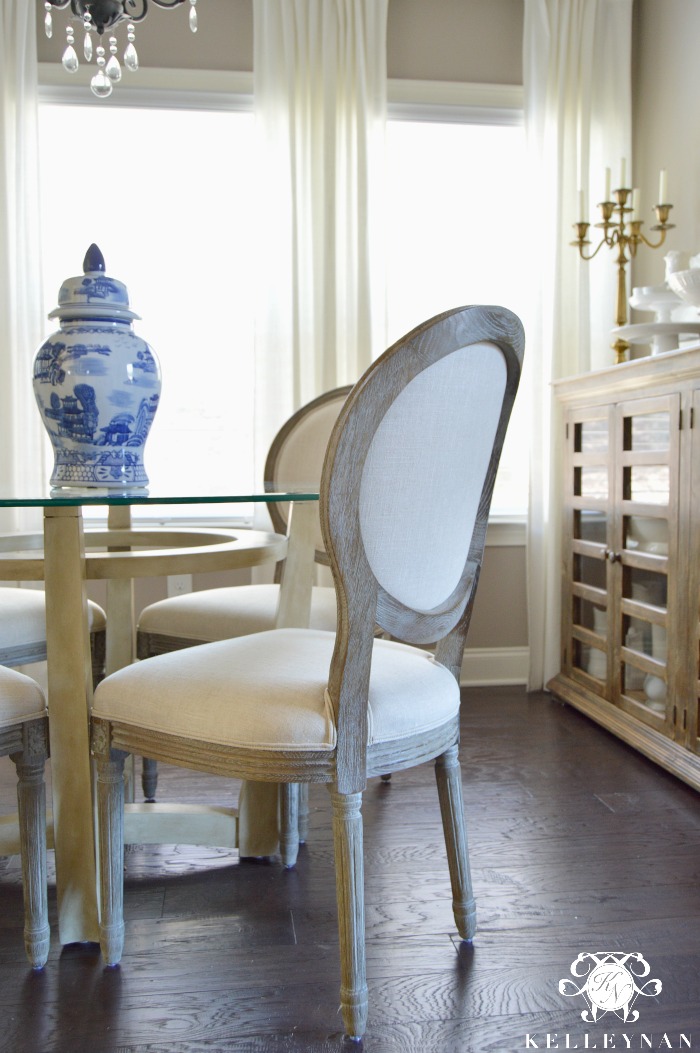 Next week, I will be sharing the steps I took to quickly transform this glass top table. What was once a black and orange-y copper is now an aged gray.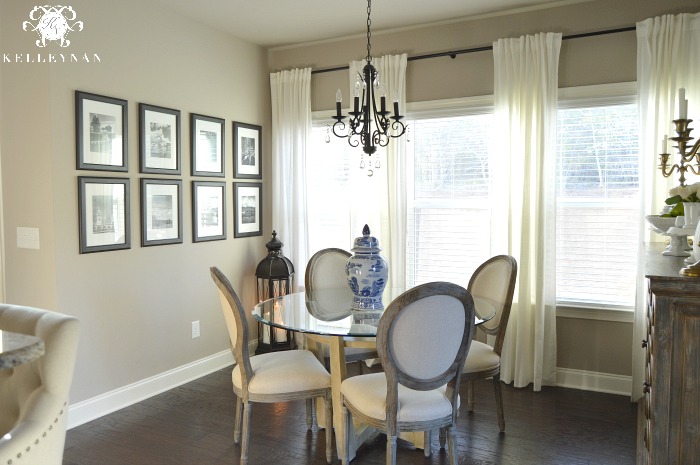 I also decided the rug was completely wrong; I am seriously considering THIS ROUND JUTE RUG, but for now, I am appreciating the clean look, sans rug.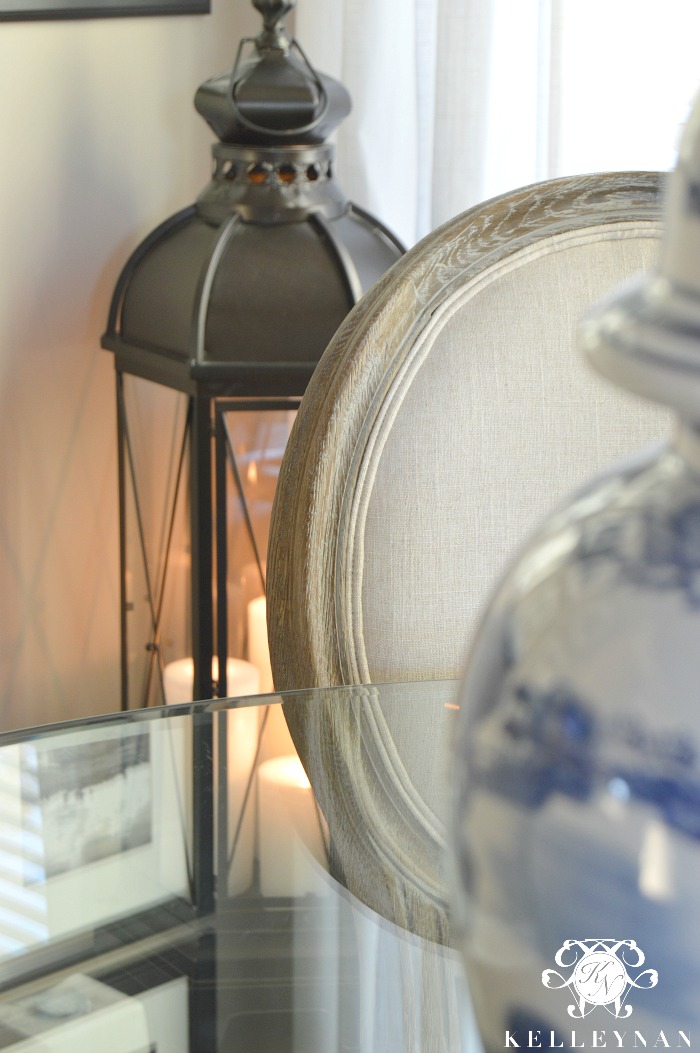 Nestled over in the corner of our breakfast nook is one of my four foot lanterns. I had originally found them for our wedding reception centerpieces (I can't tell you how many people thought I was nuts when I told them I was going to do four foot centerpieces, but I thought the result was fabulous), so now both my mom and I are able to enjoy this ridiculously huge statement pieces. ZGallerie has since discontinued them, but Hobby Lobby is a great place to check for large lanterns.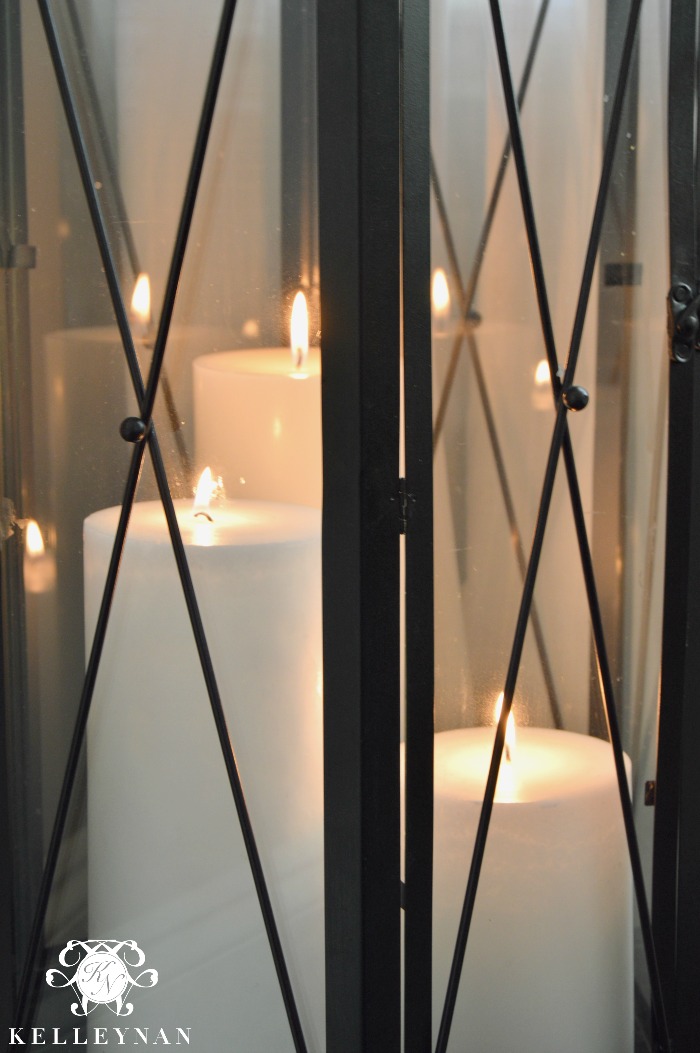 One of the first projects I took on to start personalizing our home was our black and white travel gallery wall with the IKEA Virserum frames. I chose to showcase eight trips with identifiable landscape/landmark snapshots and laid the memories out in a collage. At one time, I would have had 293874 photos plastered to the walls in our home, but now I appreciate a few select photos to represent the each trip.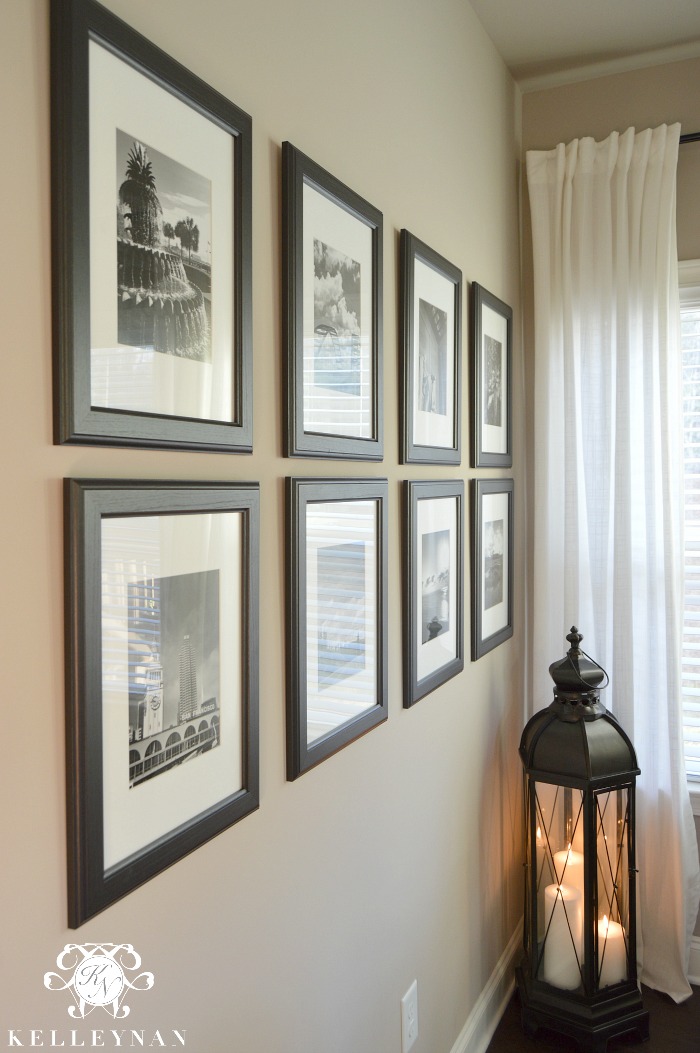 After I celebrated my successful table DIY (ok, to be honest, I still haven't stopped celebrating), I re-styled my breakfast buffet. I keep all white serving pieces and vases inside but it had filled so much, I decided to bring some pieces out to display. I had also gotten a little carried away with my decor on top, so something more visually "clean" is a great change.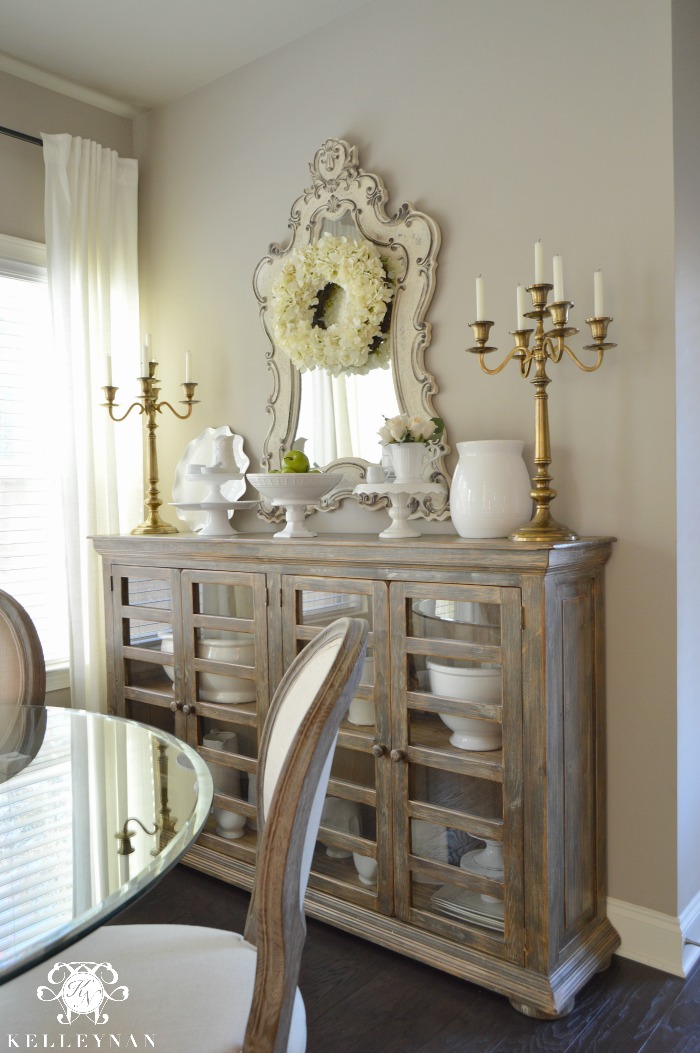 GET THE LOOK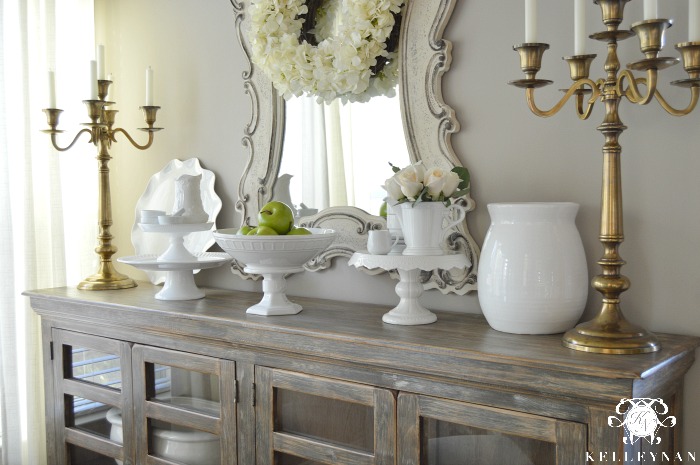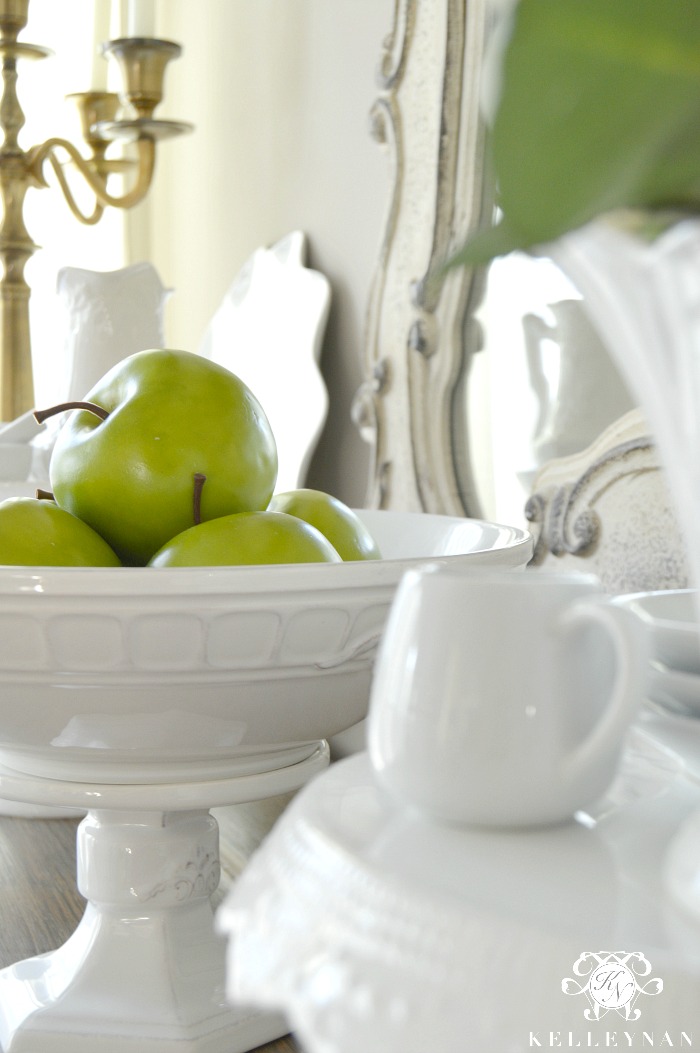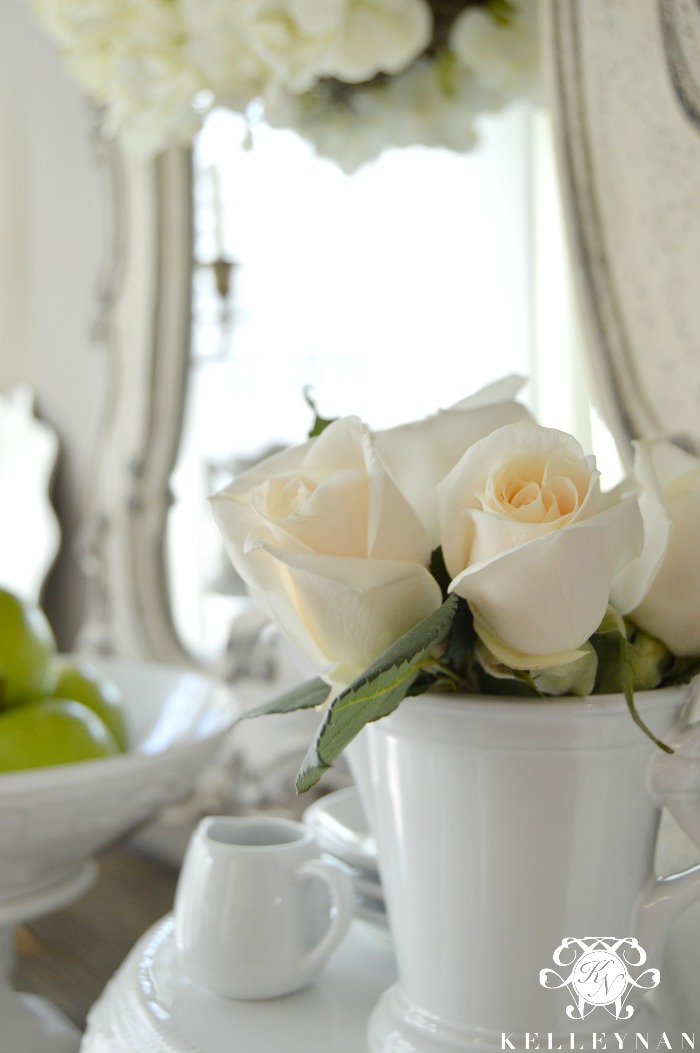 You can find this easy hydrangea wreath DIY HERE.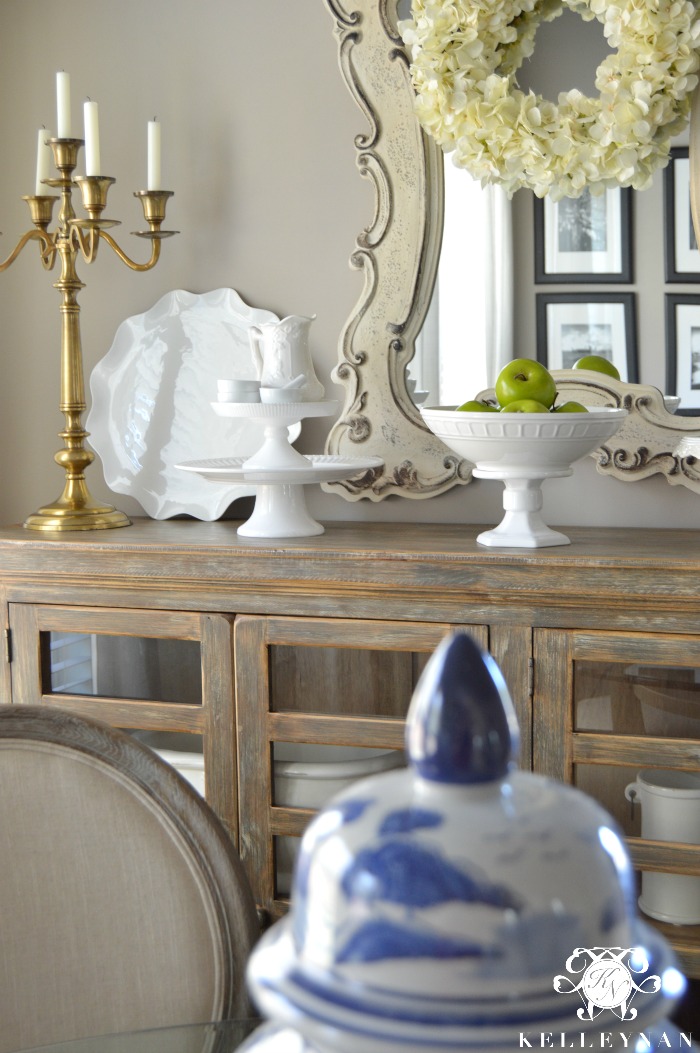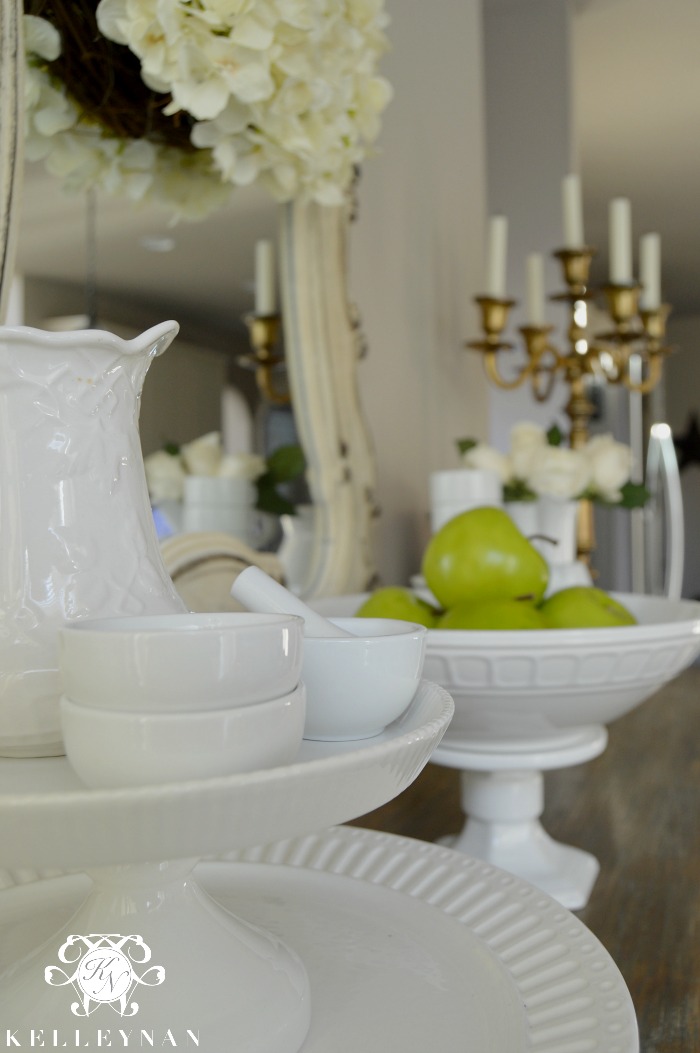 Since I inherited a couple sets of family blue and white china recently (you can see where it made its debut in my blue and white Easter table HERE), I have enjoyed using blue and white as a simple accent against my neutral decor.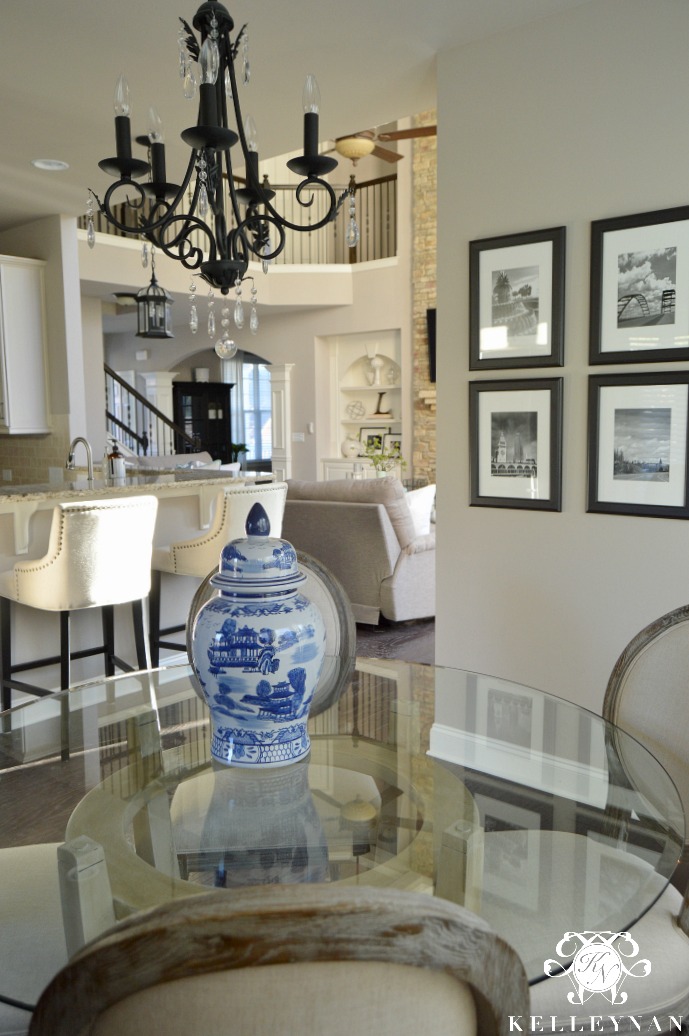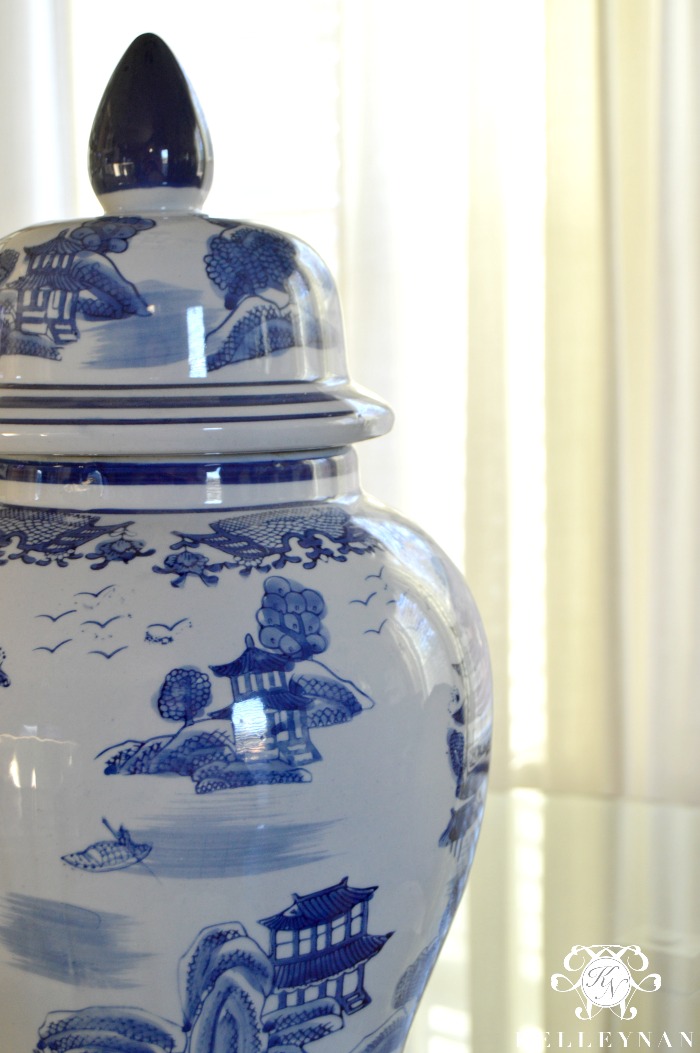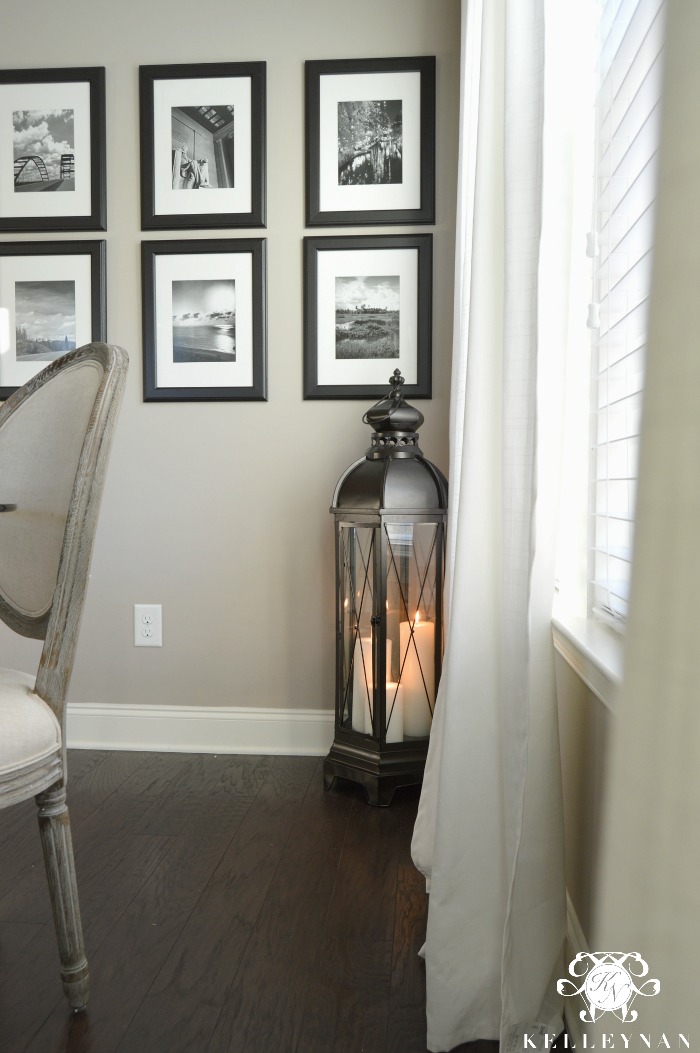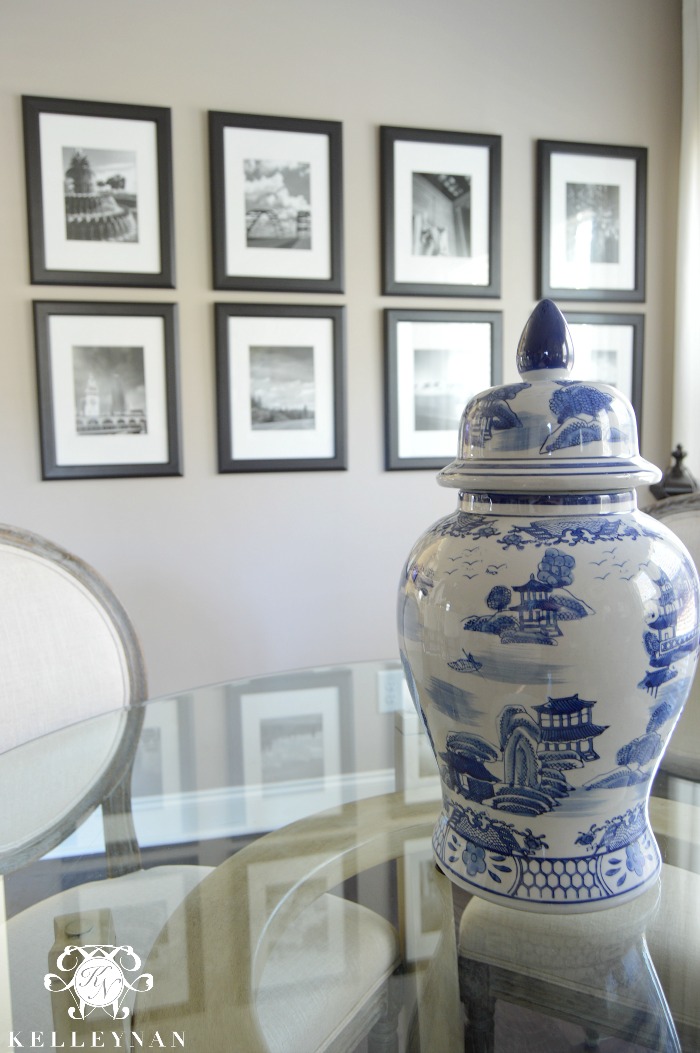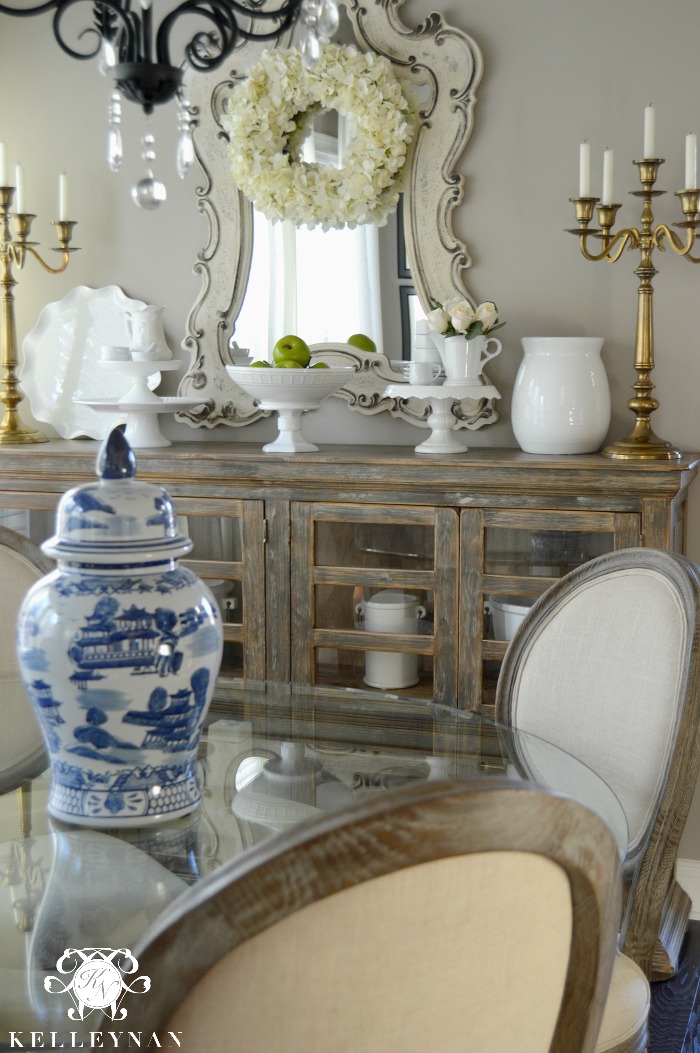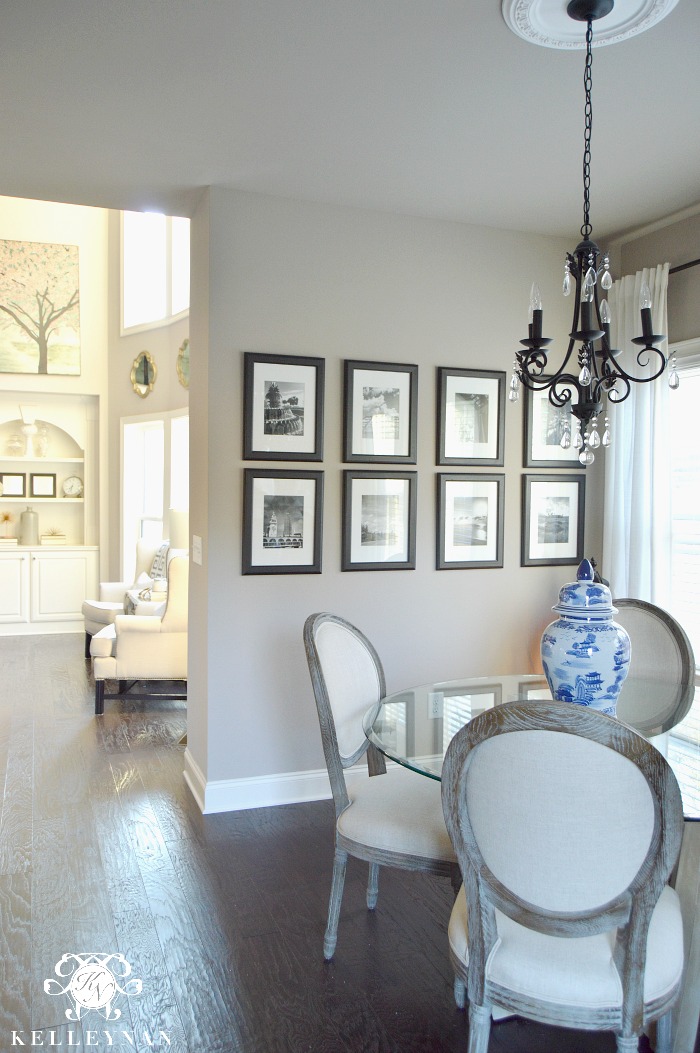 The updates I made in this room weren't too complicated and the only purchase was the set of chairs; still, the fresh transformation makes a big difference. Again, you can check the before HERE. I would love to hear your thoughts on the new chairs and table. Do you like the transition or do you prefer the former? Stay tuned for the upcoming table DIY, coming next week!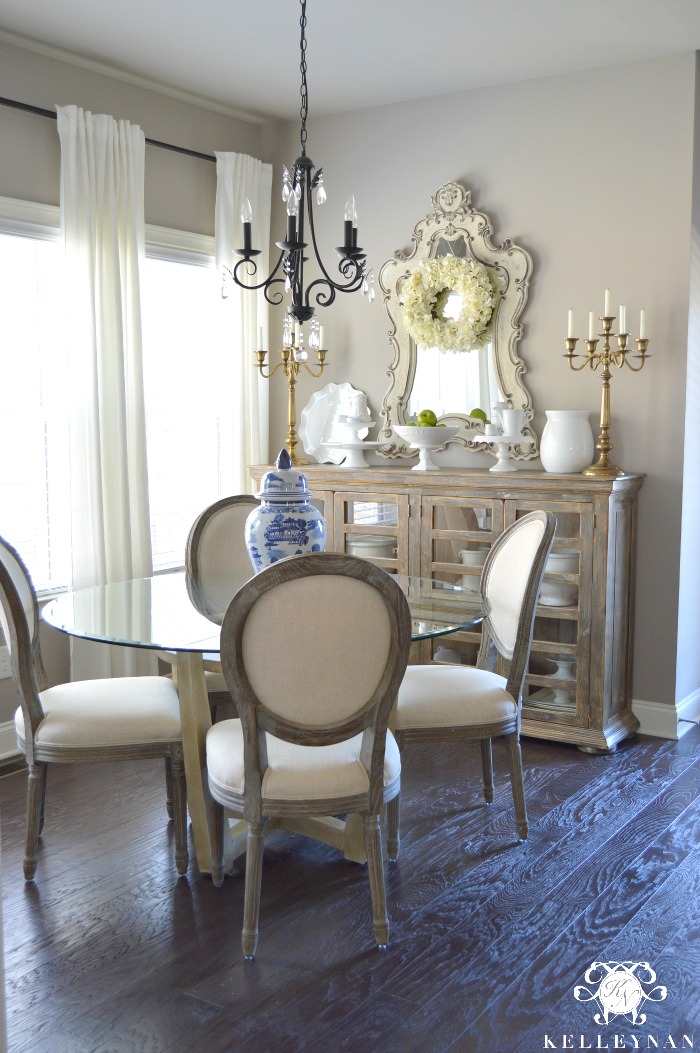 SHOP THE LOOK

*affiliate links used*
Other Sources and Room Details:
Floors: Nottaway Hickory in Weathered Saddle
Paint: Sherwin Williams Perfect Greige
Sideboard: HomeGoods
Candelabras: HomeGoods
Mirror: Hobby Lobby