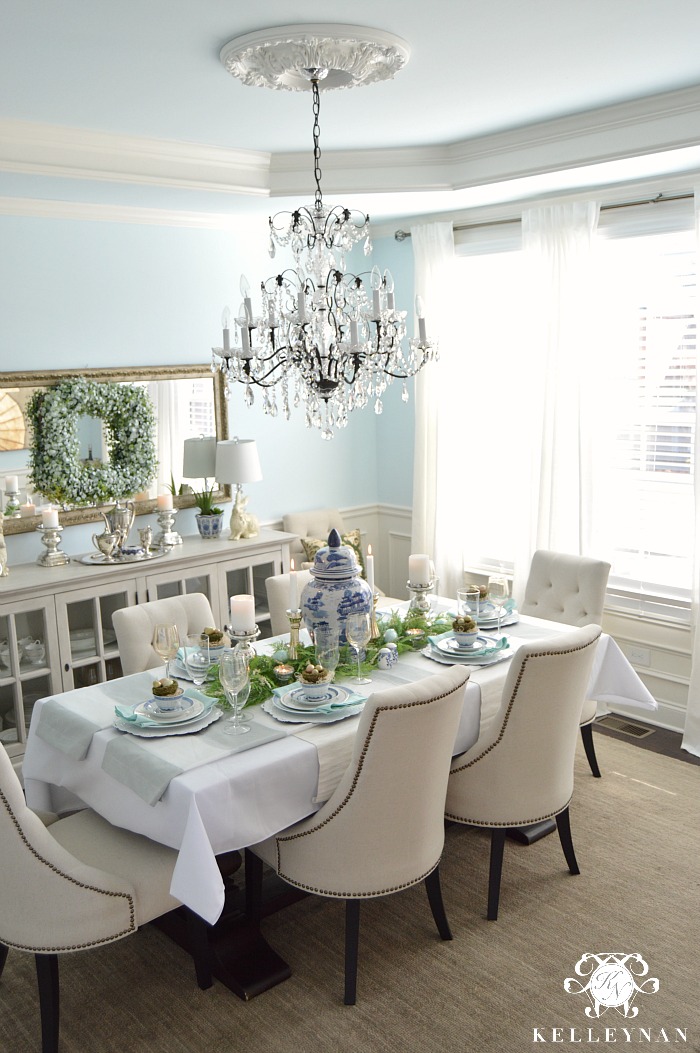 Last fall, I inherited some precious blue and white china and have been champing at the bit to bring the dinnerware out of the sideboard and put it on display in my dining room. I have been planning for it to make its spring/Easter debut since before I even knew what I was doing for my Christmas tablsescape. With many of my standard, faithful pieces I use in many of my table designs, and the addition of a few new pieces, I assembled what I think may resemble a tea party picnic hosted by Peter Cottontail. 
When you first enter our home, the meadow dining room is immediately to the right. Because our entry is small, I love being able to use the dining room for "impact" and impression upon entering through the front door.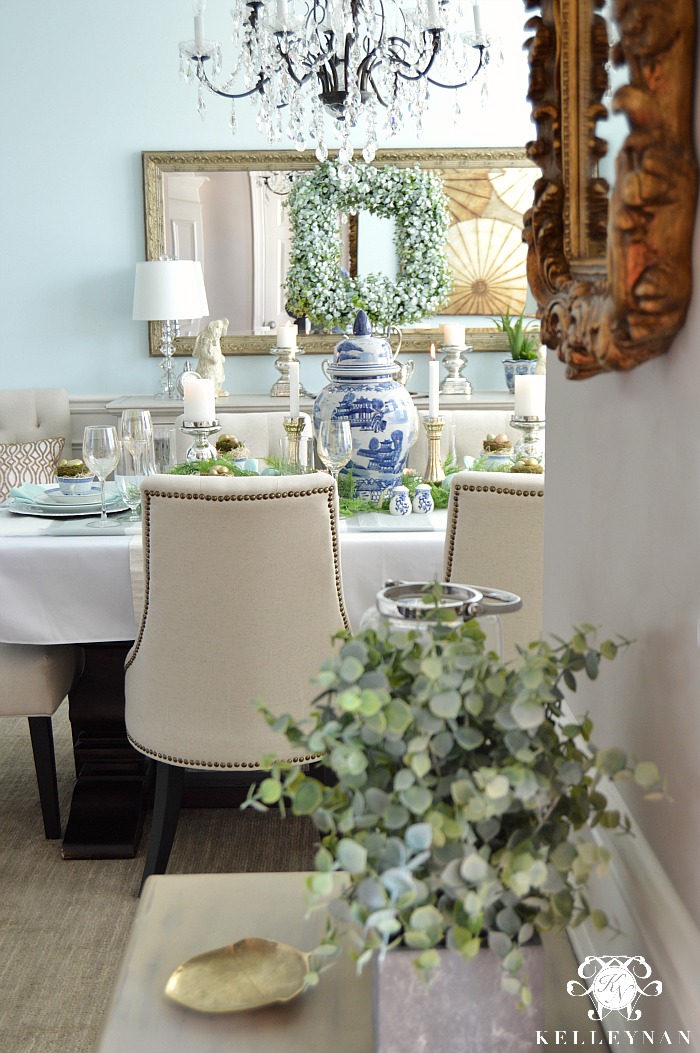 Like many of my tables, I keep the center as the focal point with the greatest height. I found this jar which coordinates with my dinnerware at my local HomeGoods. I have sourced two similar jars and the bottom of the post.
*Trying to hide in front of the eucalyptus wreath, you can still catch a glimpse of my ponytail- hi!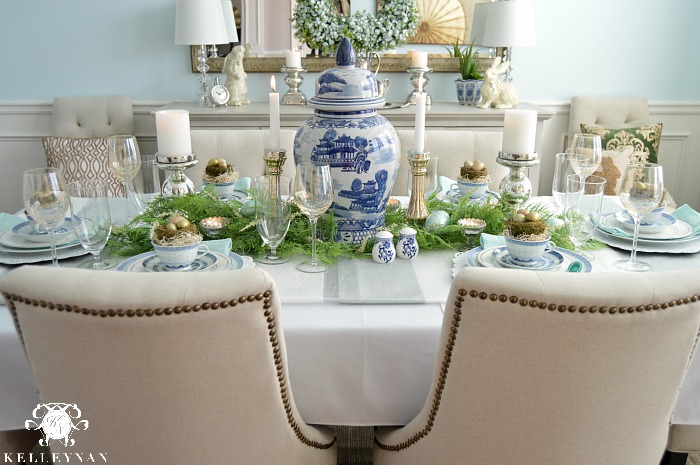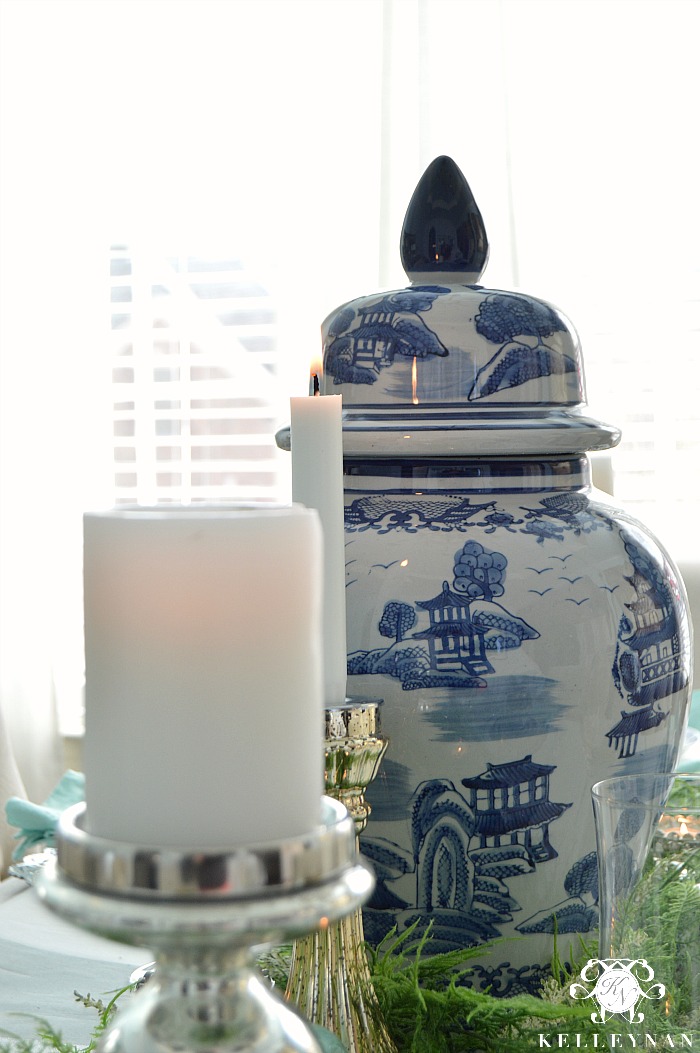 To break up the blue and white a little, I added a salad plate from my Waterford Padova Collection china. Just as in my regular china, I love mixing patterns. I picked up these plastic, white doily chargers for a whopping $2 at Michaels. These linen, sky blue napkins are from Crate and Barrel. I usually swap out some of the neutrals I keep on hand, but I couldn't resist this fresh, spring-y color!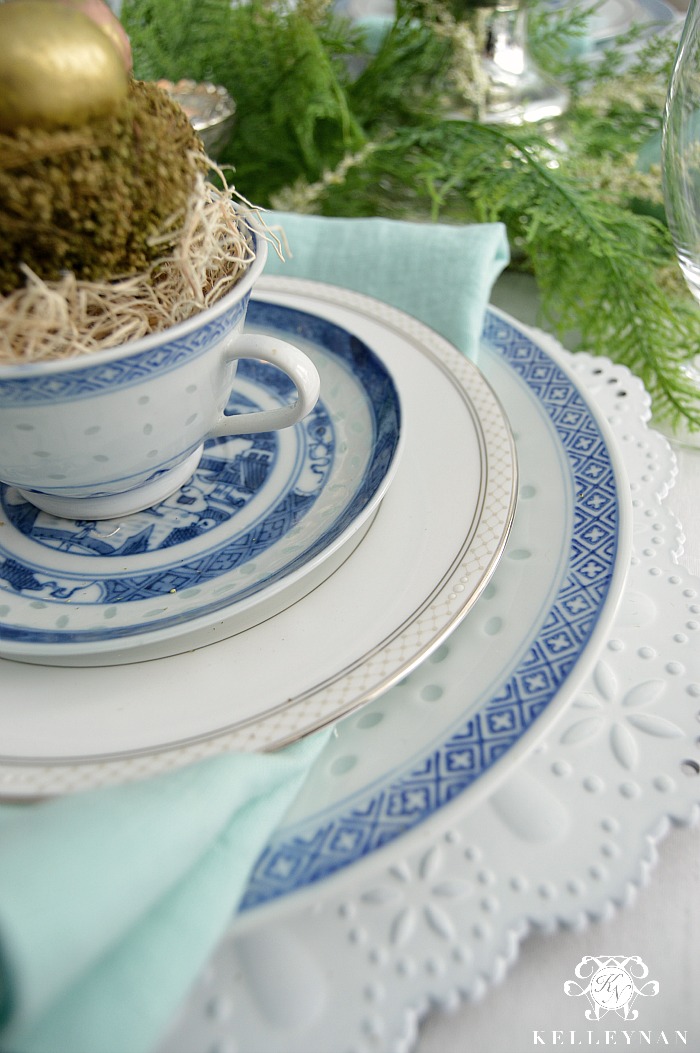 For my teacup nests, I started with some natural grass from Michaels – for each cup, I pulled out a portion, rolled it into a ball, and hollowed it out with my thumbs until it resembled a nest. I then took a small, mossy nest (also from Michaels), and topped it with a few baby robin eggs from Pier 1.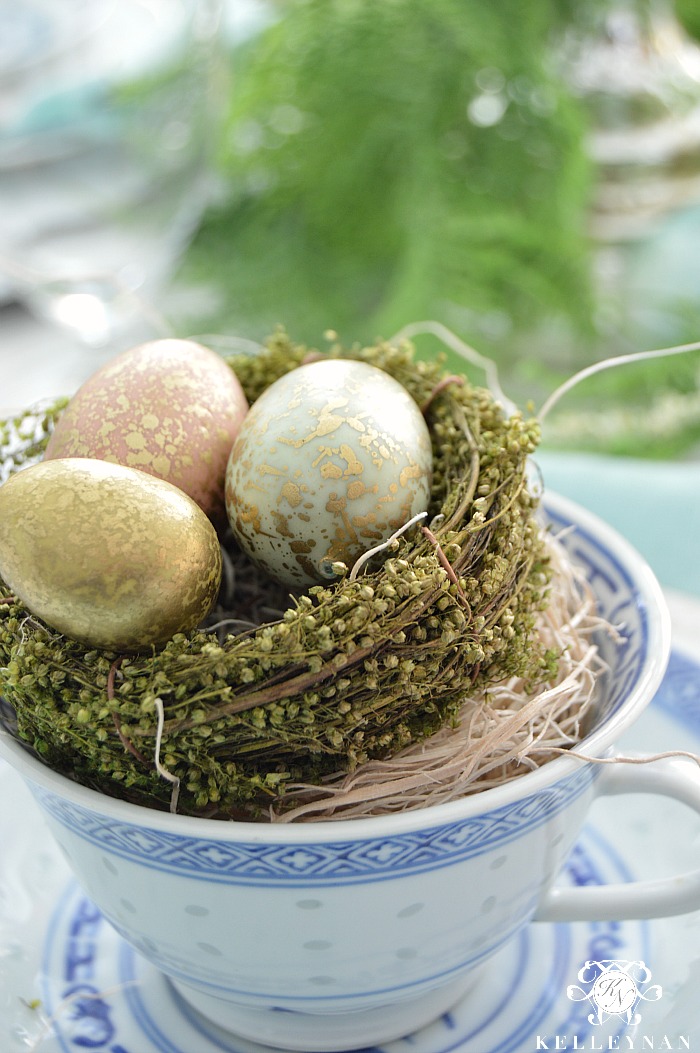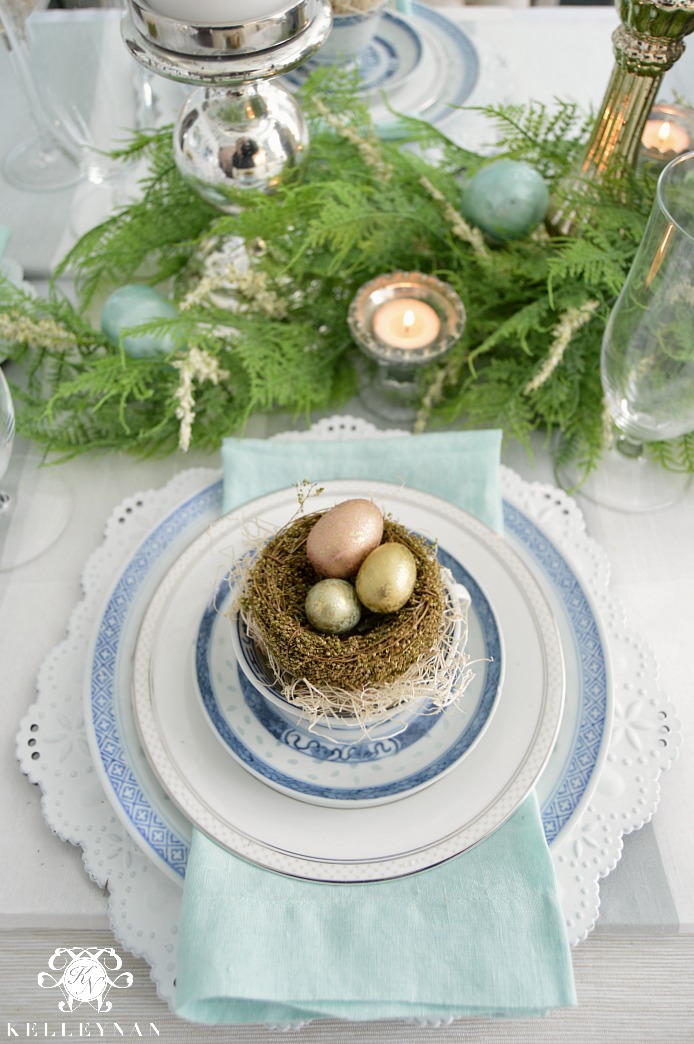 I love stretching a garland of sorts (usually created and dubbed 'garland' by myself) down the table and nestling accents within the garland. For this green garland, I used some stems from Michaels, cut off the stem part, and laid it lengthwise starting from the middle. I also bought some stems that resembled cattails and plucked off the white buds; I incorporated those into the greenery for a little extra natural element and contrast.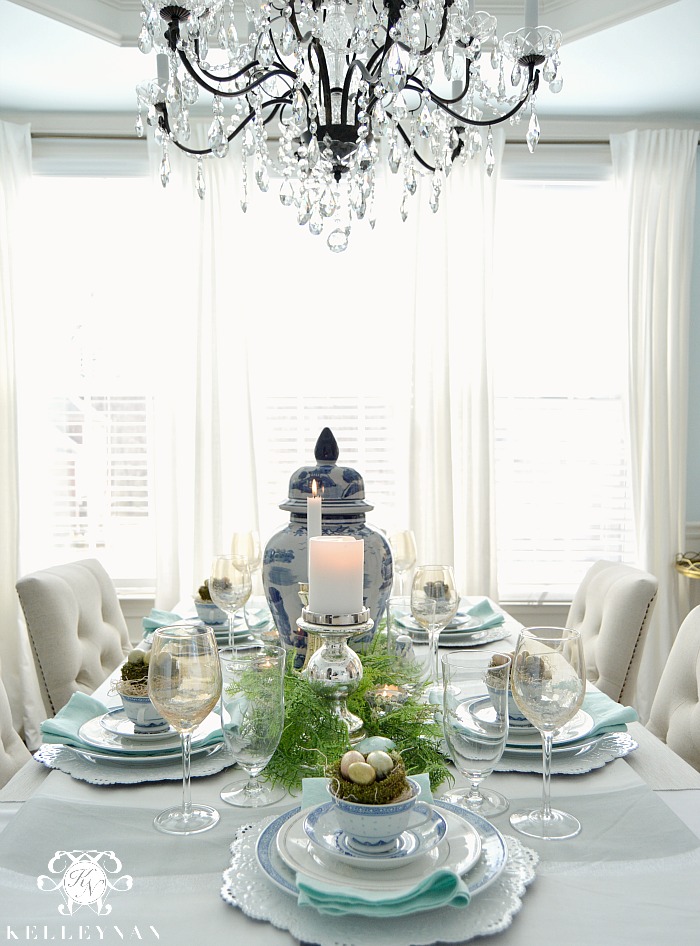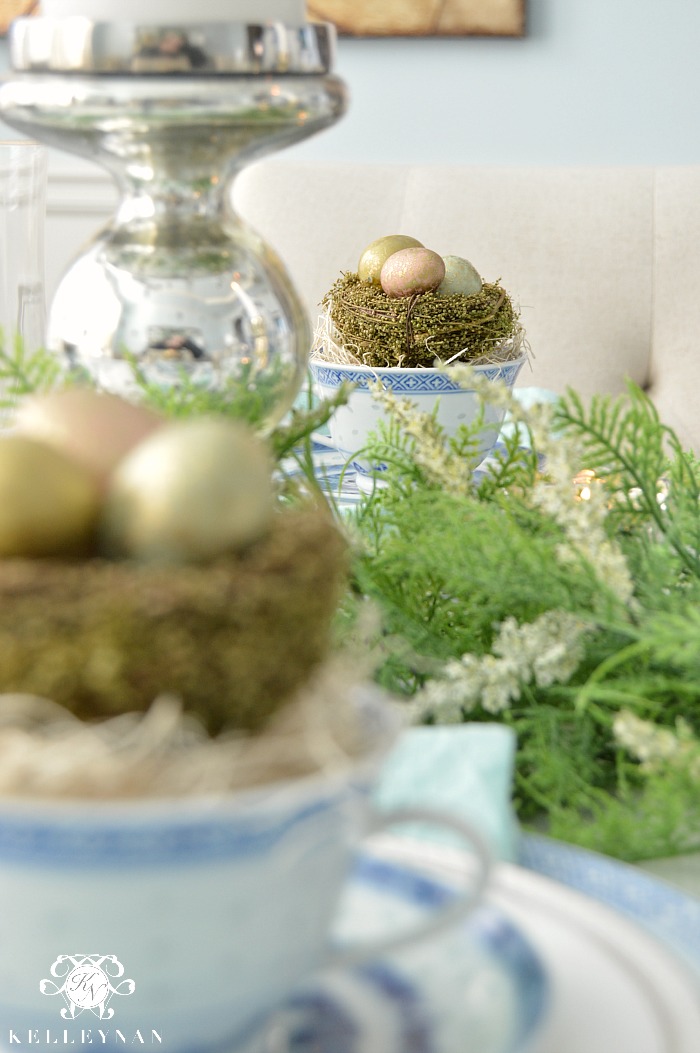 I took a cue from my friend Tamara (citrineliving.com); when I couldn't find a runner I liked or that was within budget, I decided to use a couple of curtain panels. She uses whatever material she has on hand to layer on her table and her results are always gorgeous! I haven't even taken them to a seamstress to have the grommets cut off and hemmed, so I have them tucked underneath for now. I used the same IKEA table runners
as I have in previous tables, also.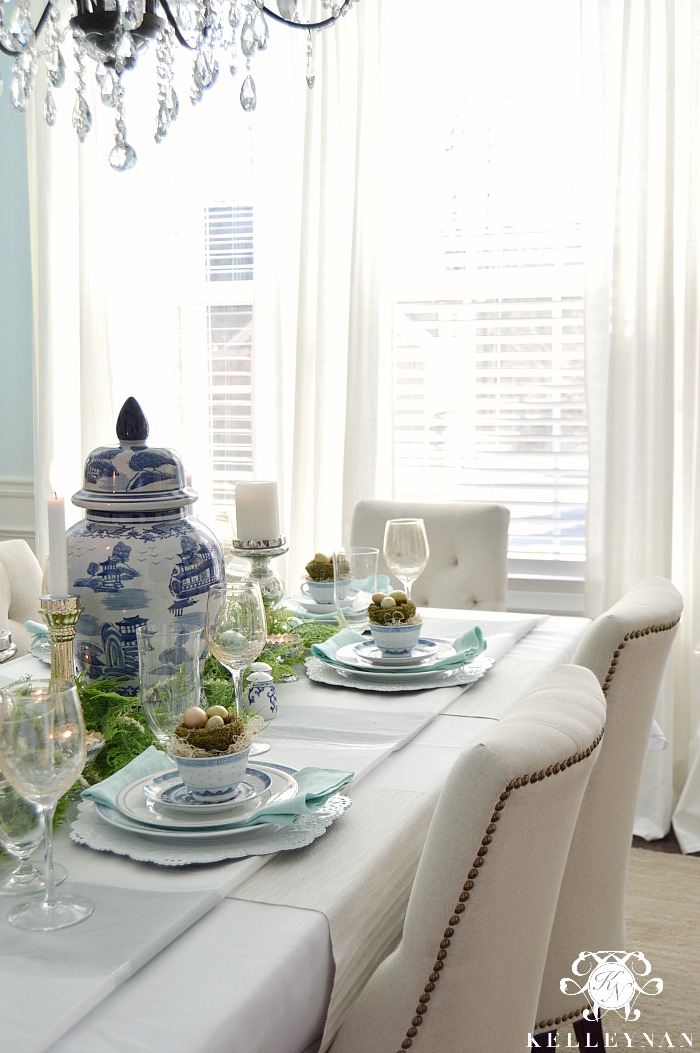 HomeGoods has really upped their blue and white game; I found this little pair of Ralph Lauren salt and pepper shakers and know I will have them for years to come.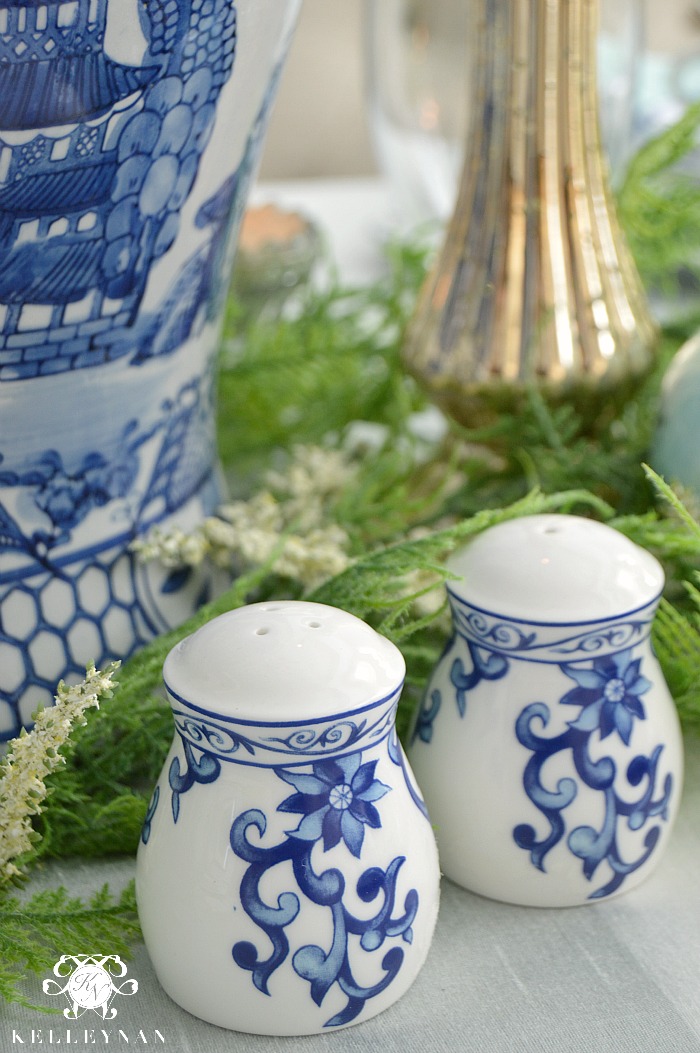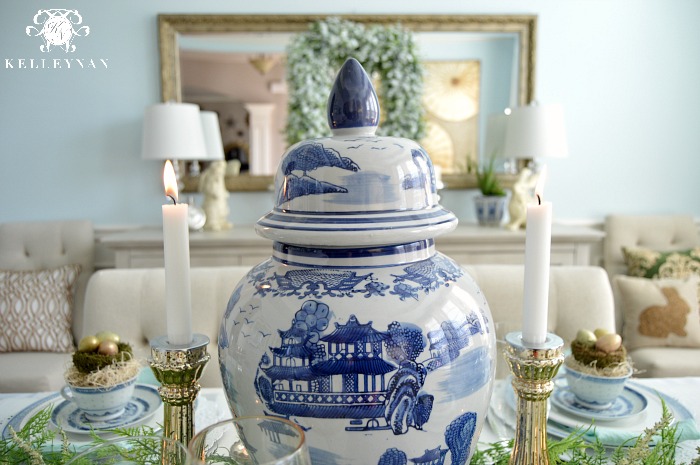 I am always switching out my pillows in my extra side chairs according to the season. While the green and gold came from Pier 1 last year, the gold beaded bunny pillow is new to their 2016 spring collection.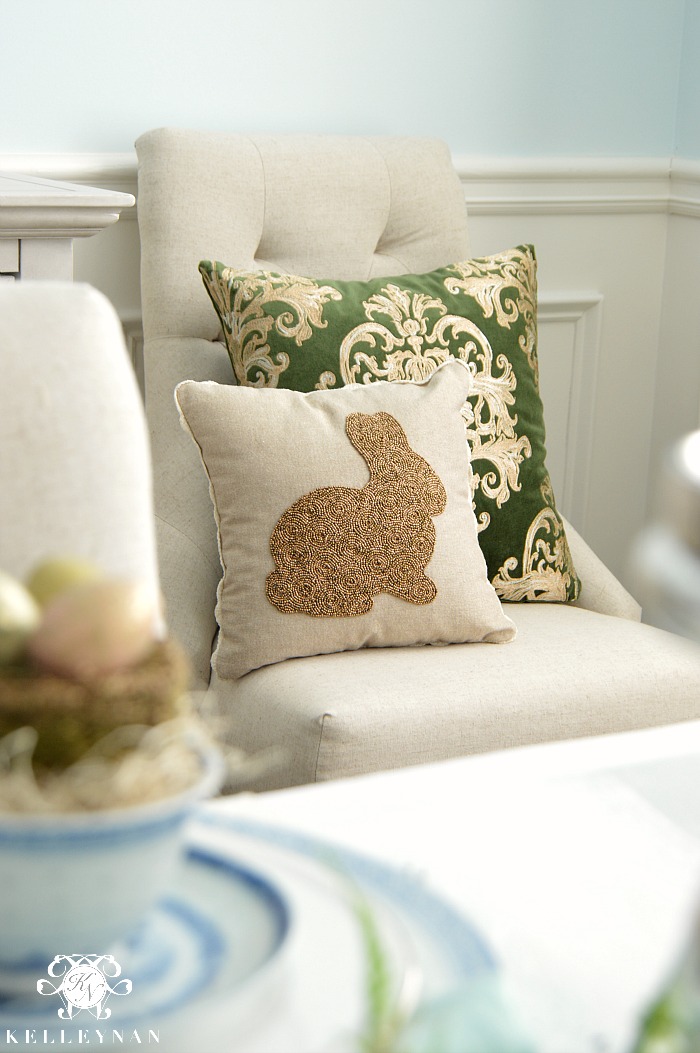 Also new to their spring collection are these cute little bunnies I positioned on the buffet. Because they aren't painted, they can pull of a more elegant look – well, as "elegant" as cute little bunnies can look haha.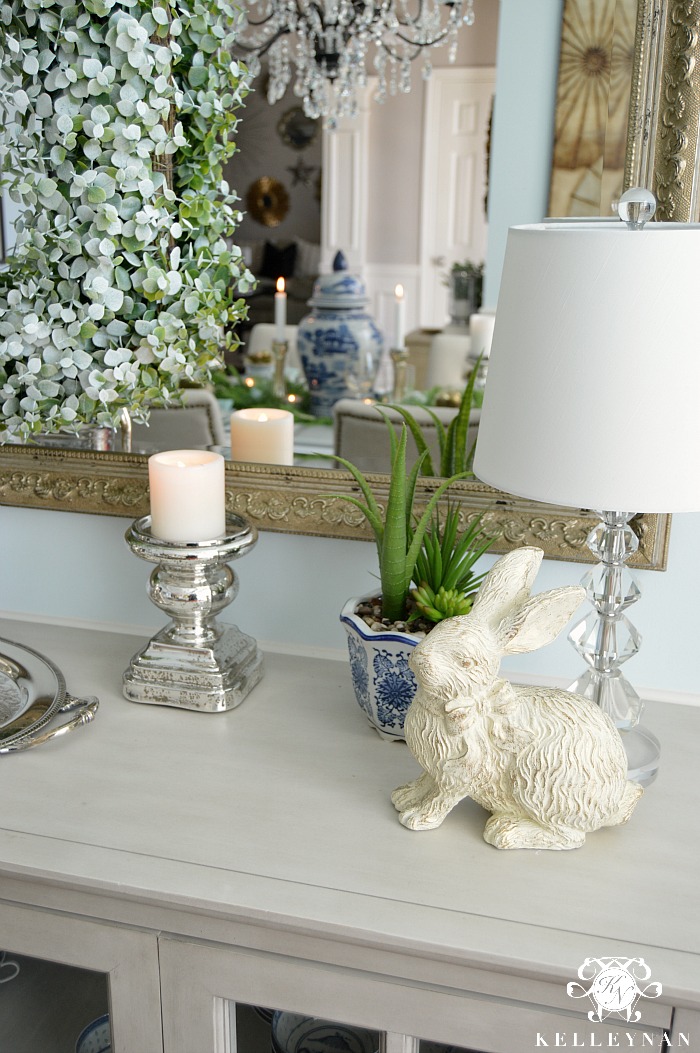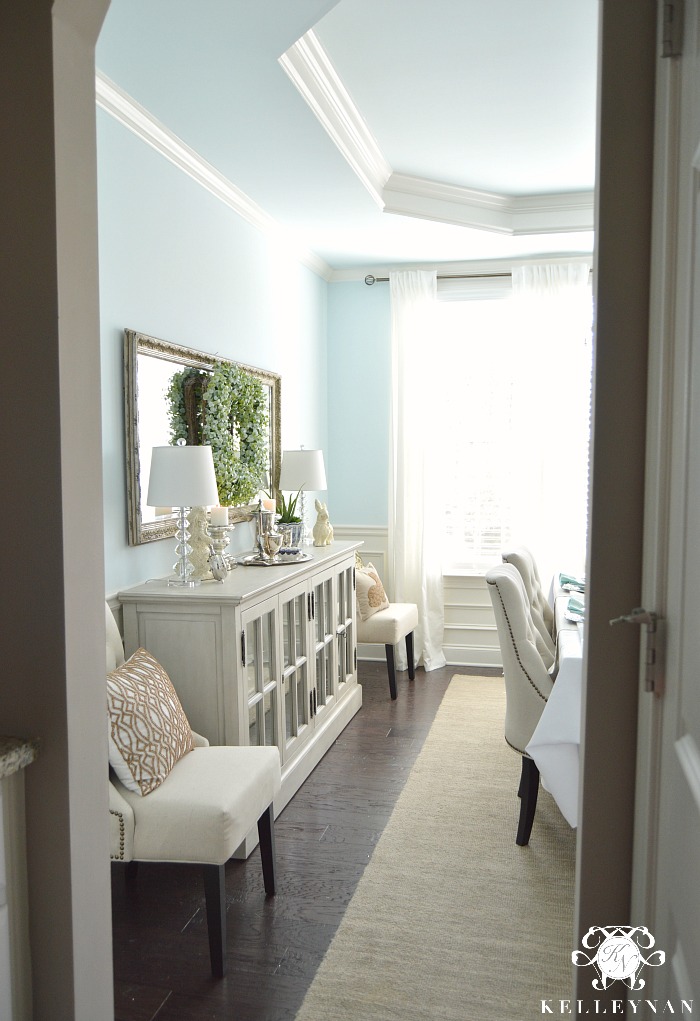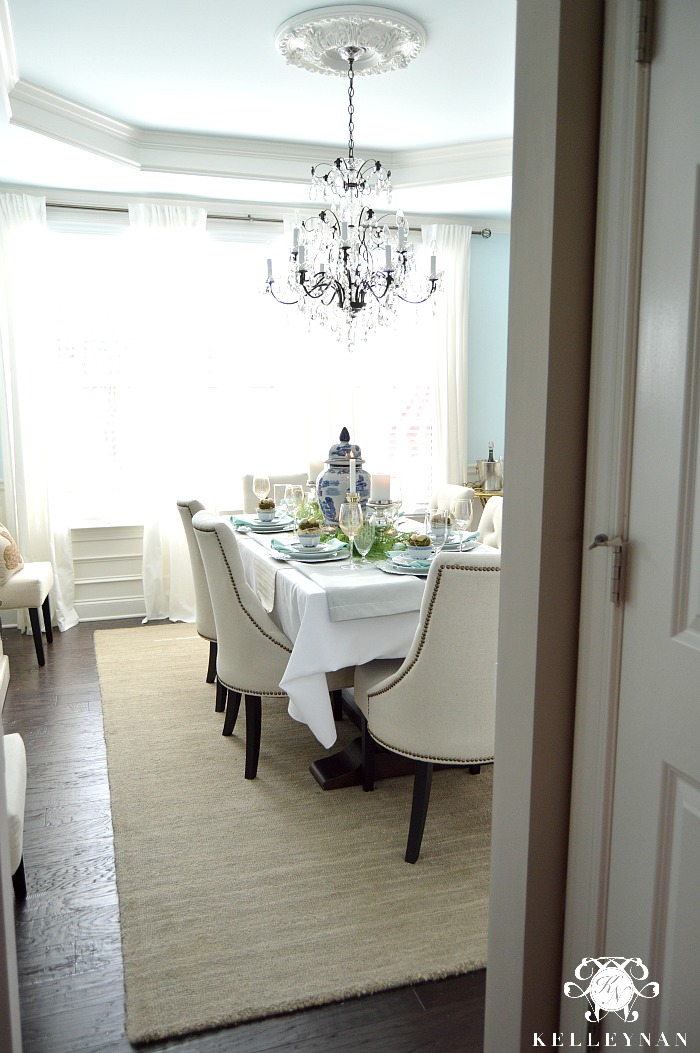 I purchased this white tablecloth to fit the measurements of my table when my leaf extensions are in. As I mentioned above, I am not above folding and making do with what I have, so in addition to the curtain panels, I have also folded the edges of the long banquet tablecloth. I will also note, with the exception of Thanksgiving, I do not iron or steam my linens since I typically have so many "things" covering the creases. As much as I love creating new table looks, I despise that part of the process so I usually look for shortcuts.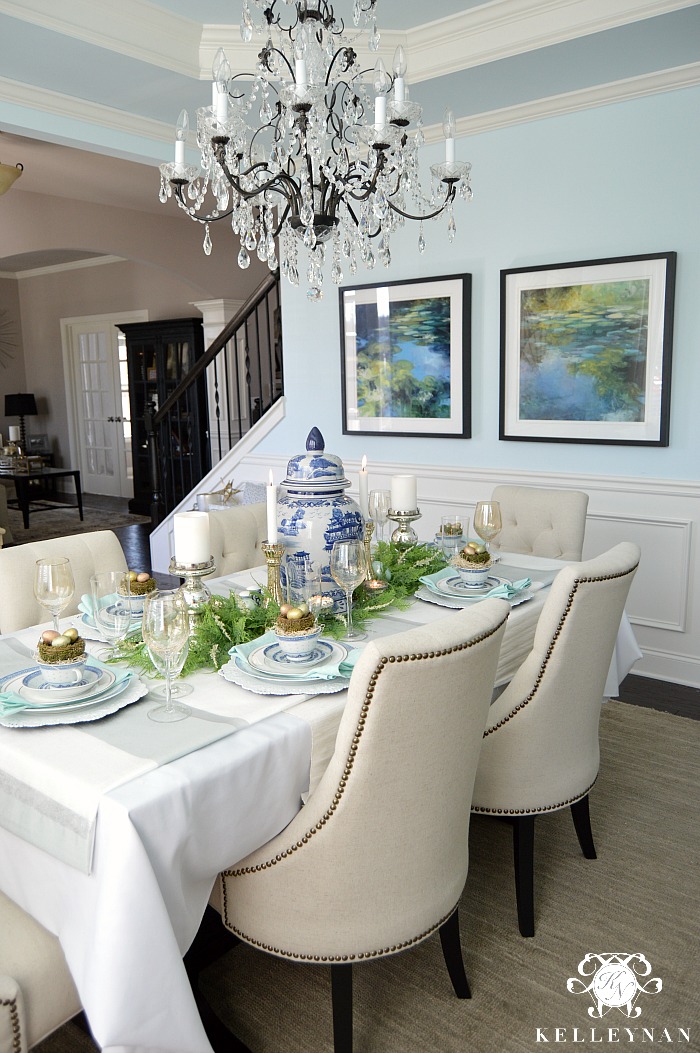 I have created quite the candle holder collection and use them on all of my tables. One tip is that if I see some while I am out shopping, even if I don't plan to use them on a table and want to get two at staggered heights, I will still get a pair of each to have the option to use them in a table later for symmetry.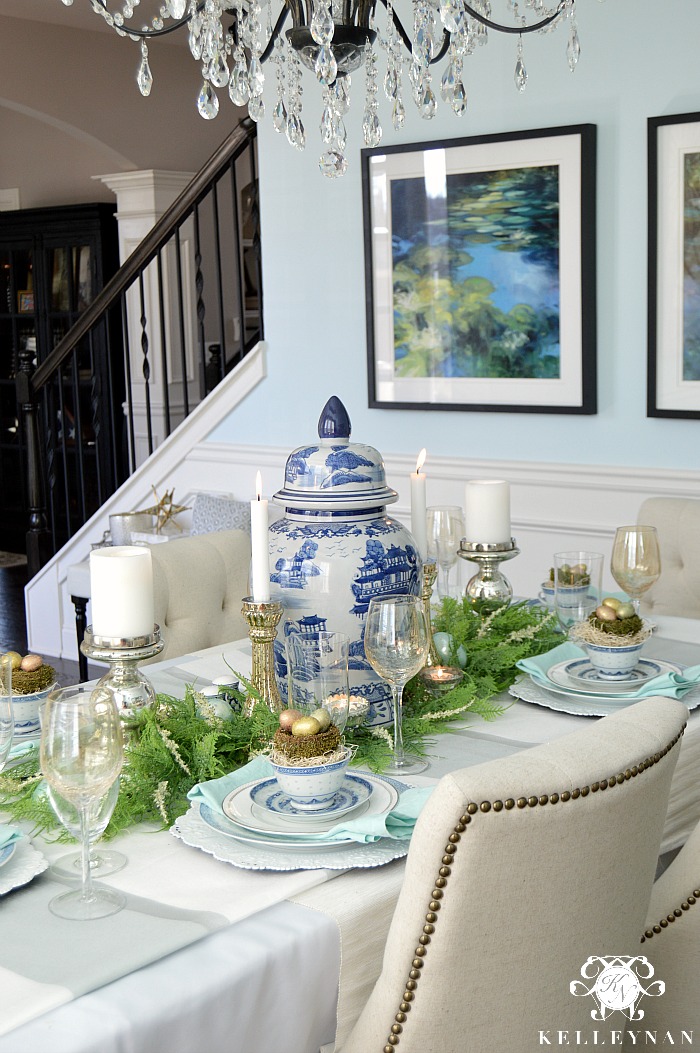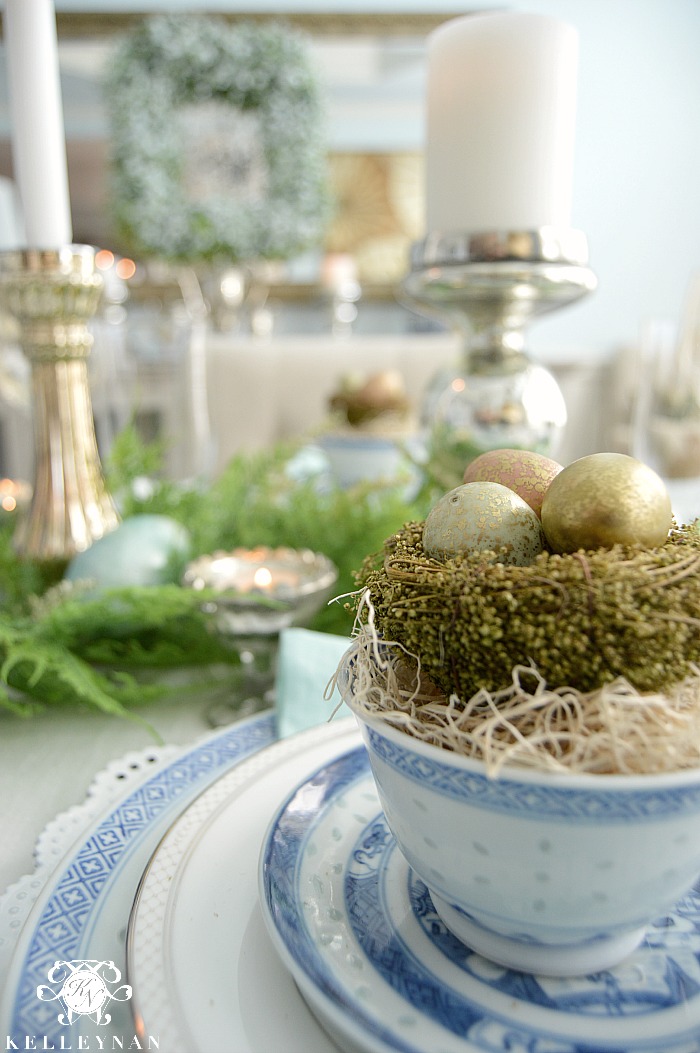 My grandmother had the most gorgeous collection of blue and white pieces in general. I love the classic sophistication and intricacy of the pattern and look forward to incorporating more of it into my decor. While you can't see just how delicate this dinnerware is, it is so incredibly precious and I am grateful to have received it. I don't know if Great Aunt Dort or my grandmother ever envisioned bird nests in their sweet little tea cups, but it proves how timeless design can be incorporated in so many different visions.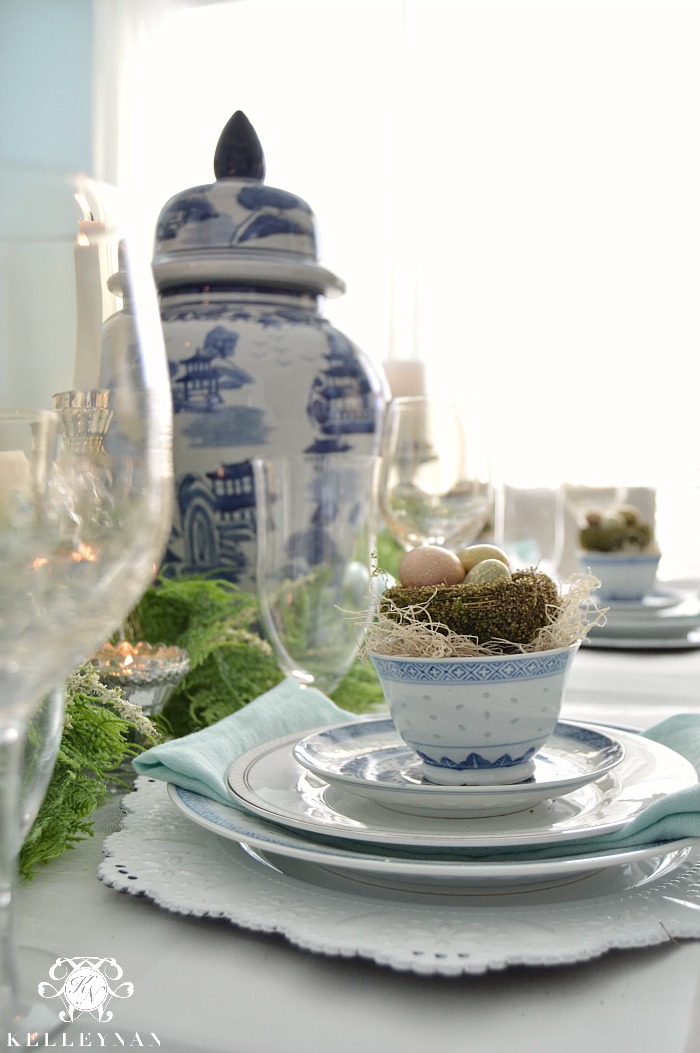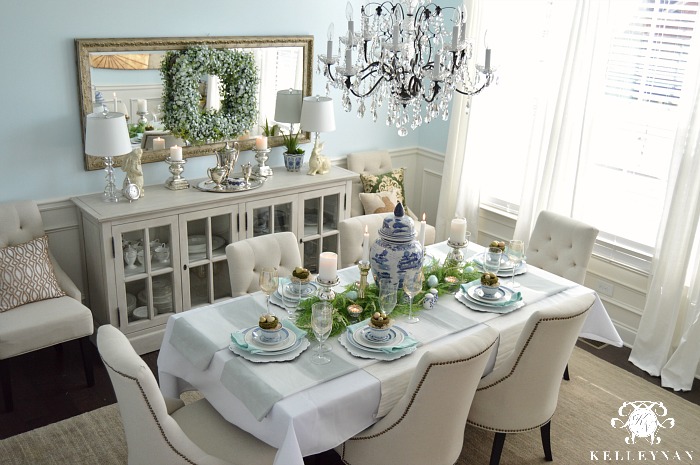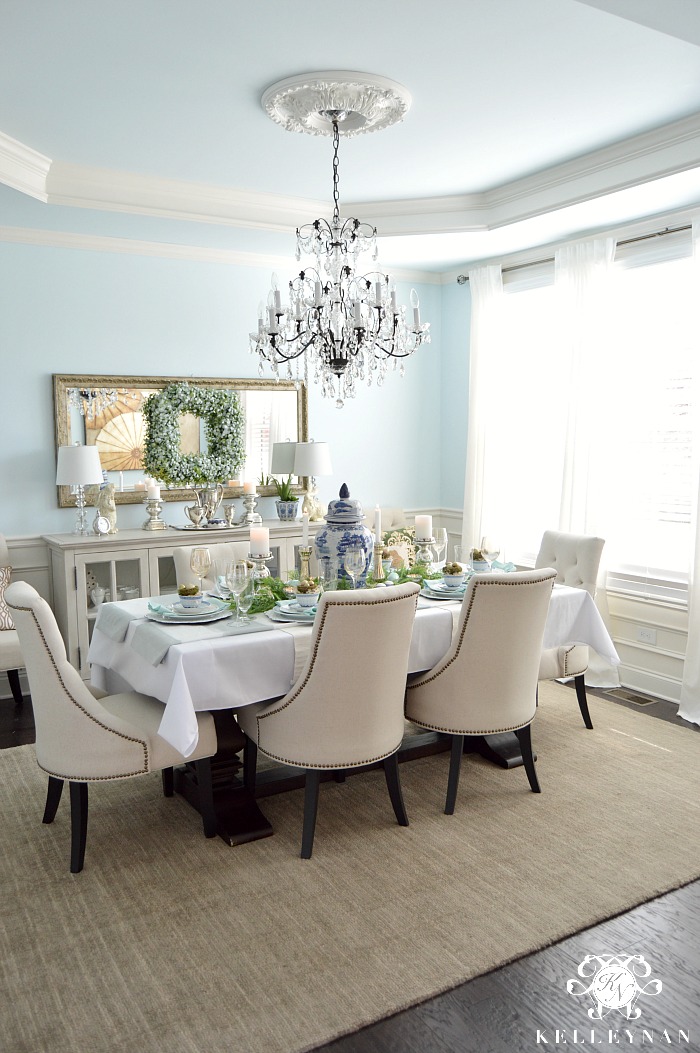 If you have missed any of my previous table looks, you can check them out under the "TABLESCAPES" tab at the top of the page. I have't decided just yet what my next tablescape will be, but I can guarantee, I will likely post a new look as soon as the sun has set on Easter Sunday.
Shop this post:

*Additional Sources:
12-Light Chandelier
Dining Table:  (84″ in Salvaged Brown)
Buffet: (72″ in Distressed White)
Curtain Panels: (98″ in White)
Rug: HomeGoods- Calvin Klein wool
Mirror: HomeGoods
Lamps: HomeGoods
Silver Tea Service: Family Heirloom
Blue and White China: Family Heirloom
Paint: Sherwin Williams- "Lauren's Surprise"
*Affiliate links used*
[inlinkz_linkup id=618778mode=1]