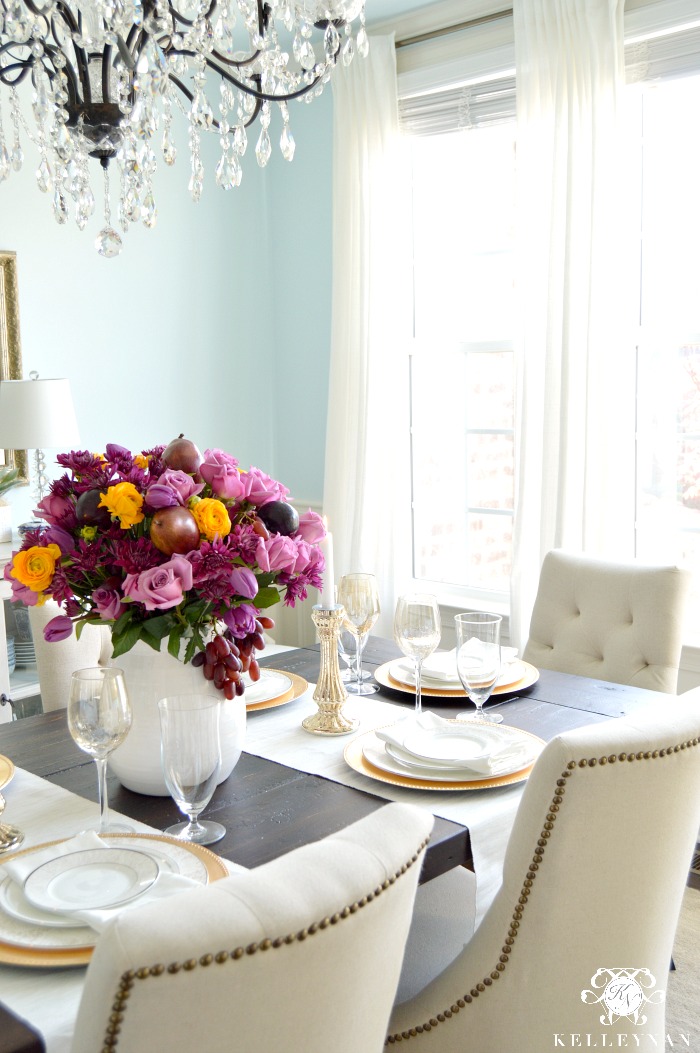 Sometimes, my tables are flooded with garland and elaborate plate toppers. But, when I broke down my Easter table, I decided to go with simpler settings and let the centerpiece make the statement. With so much gorgeous produce available, I knew I could enhance the primarily lavender floral arrangement with deep shades of purple. The goal was to create a tone on tone spring "bounty"; the jewel toned centerpiece against my simple, neutral place settings created one of my most favorite table settings yet.
Because I was going for BIG, I did use a lot of flowers – two dozen roses, a bunch of tulips, ranunculus, and spider mums. And to pile in with my floral selection – purple cabbage, plums, pears with a purple hue, and grapes.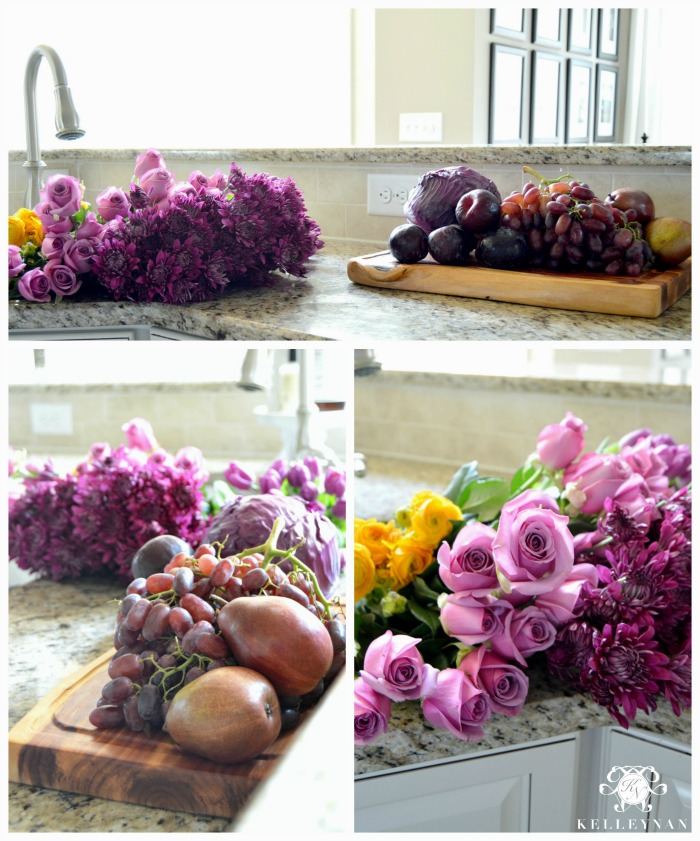 I used wooden skewers to position the fruit in place and wet foam at the bottom of my vase to hold the weight and position of the heavy skewers and stems. Unfortunately, my original arrangement with cabbage went limp within one day (just as you would expect from lettuce), and I had to rearrange my centerpiece. If you do want to go with leafy produce, only arrange just prior to your dinner/event.
I loved how my large white vase looked against the reclaimed wood, and unlike many of my recent tablescapes, I opted to not use a tablecloth.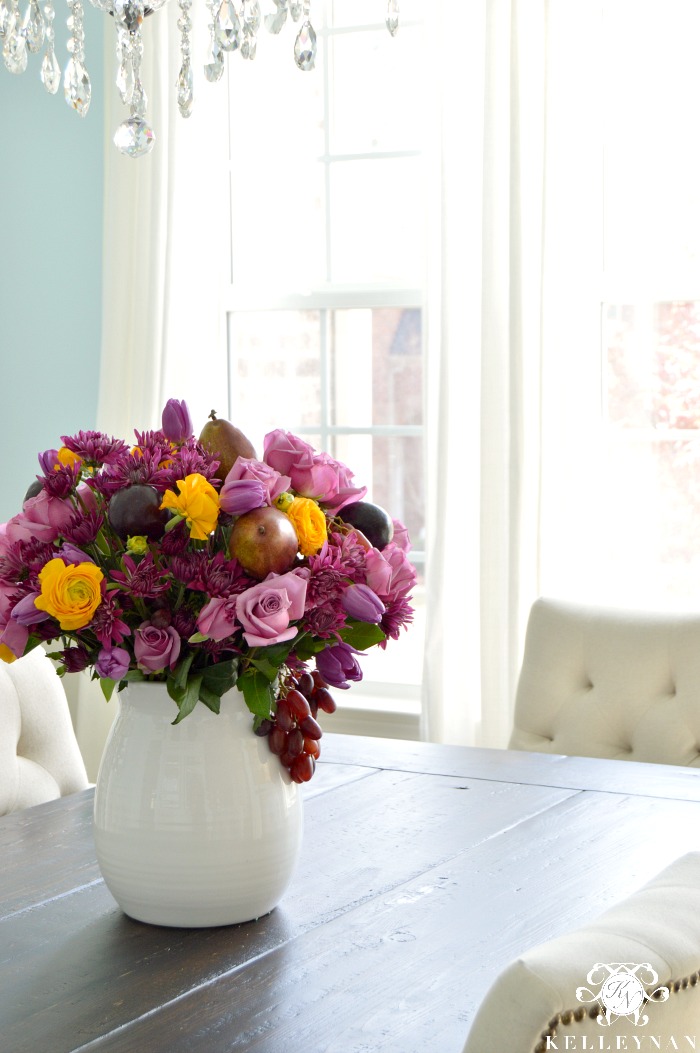 Two basic runners were the only fabric I used, I kept each place setting neutral, and the only other decor I added to the table center was two tapered candle holders.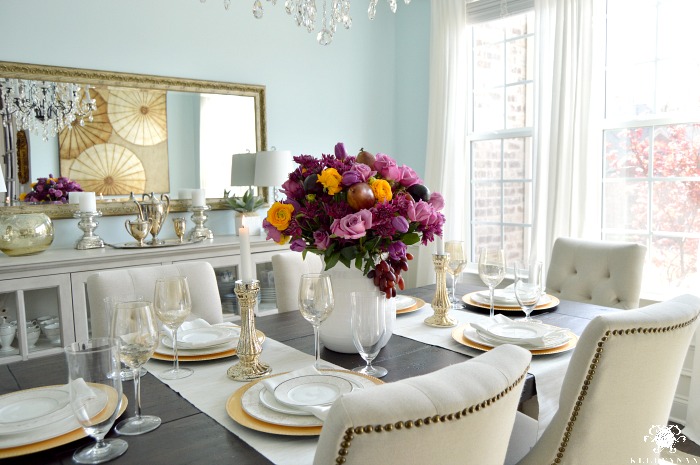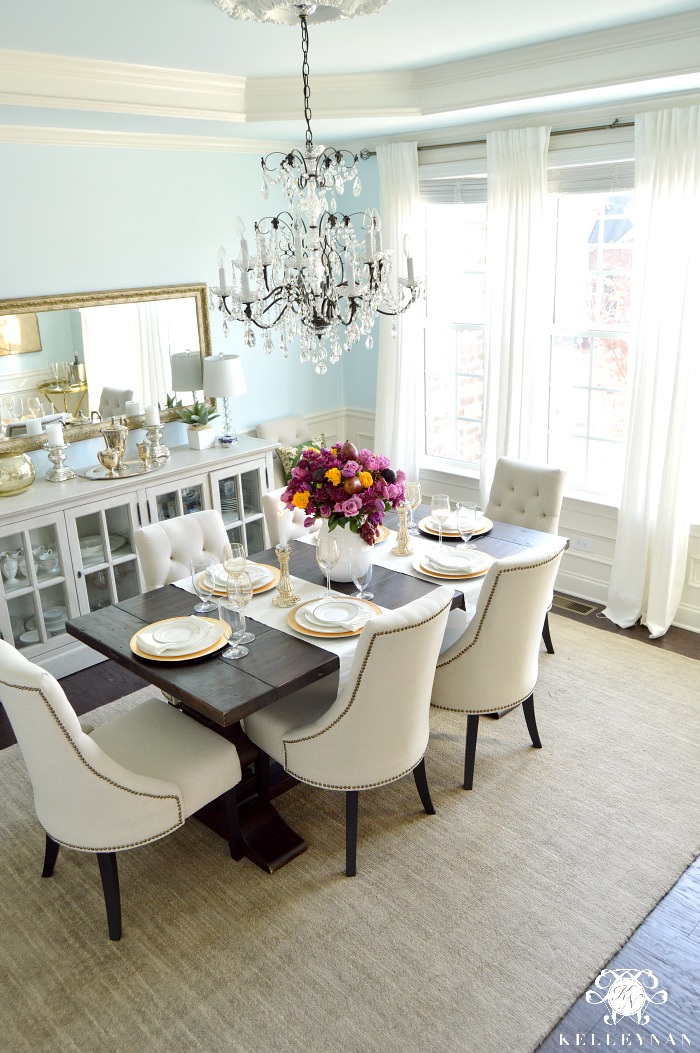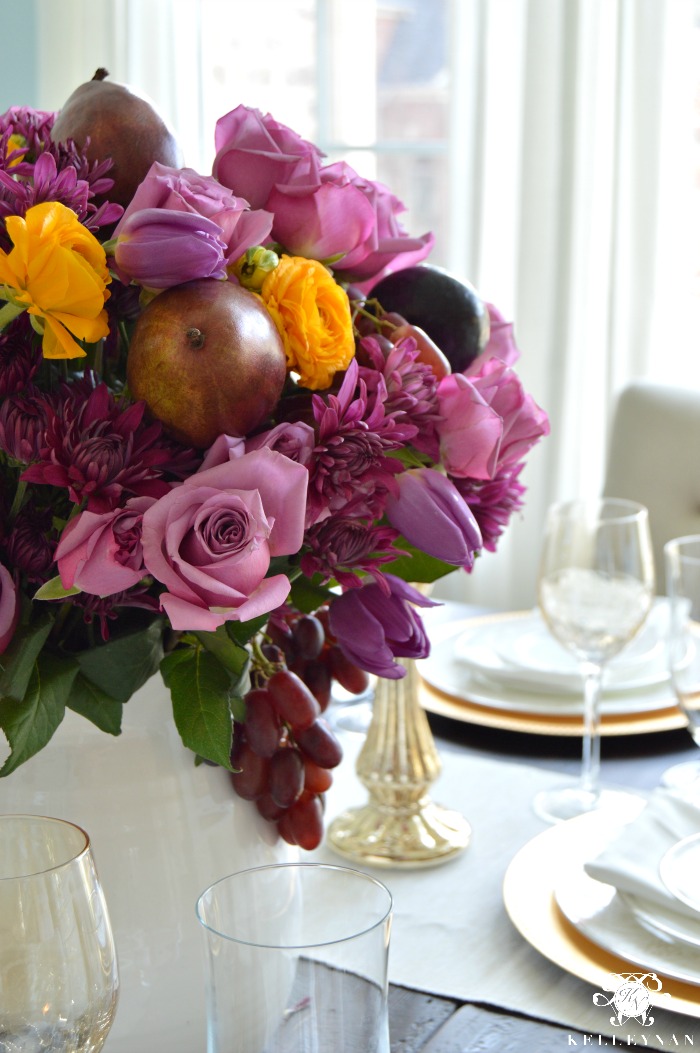 If I could offer only one piece of advice when it comes to dinnerware and setting tables, it would be this. If you only have one set of dishes, go with something white or neutral. You can add and store accessories like napkins a lot more easily than full sets of dishes. Another piece of advice- no matter how many people tell you that fine china isn't practical in today's world when you are creating your wedding gift registry, register for the wedding china 😉 More often than not, I have mine displayed on my table; it is the most timeless, most memorable, and most used wedding gifts we received.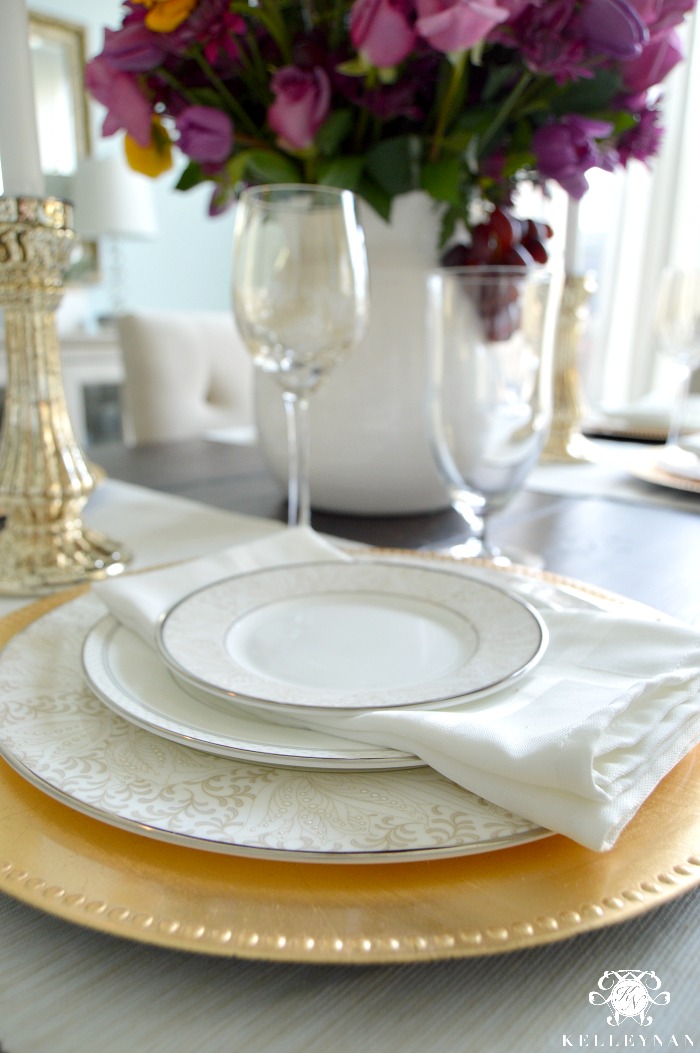 GET THE LOOK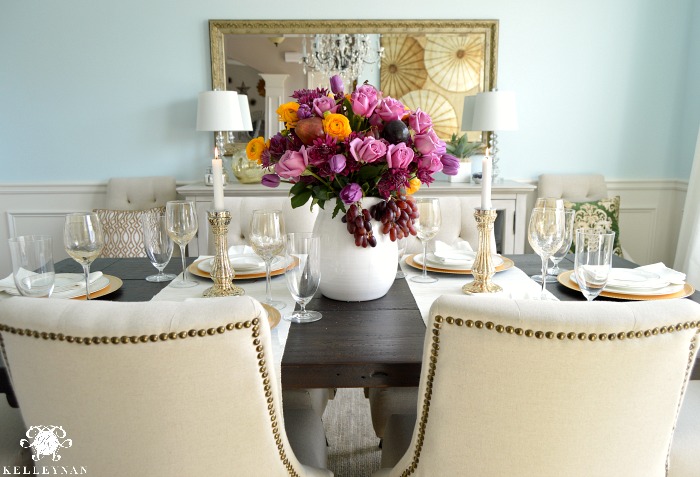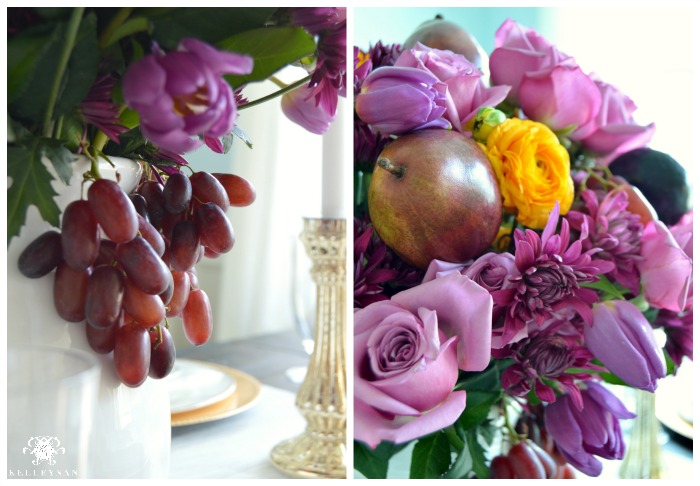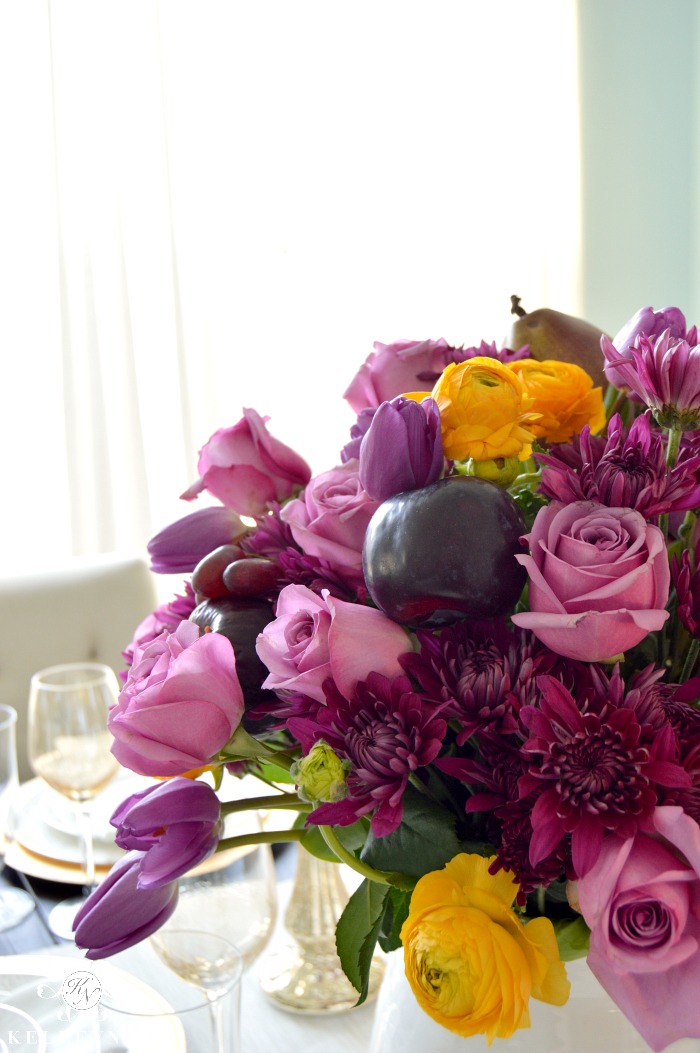 When using that many flowers, they will likely start to wilt in stages. You can check out how I broke down the arrangement and sprinkled mini arrangements throughout my home in my spring home tour HERE.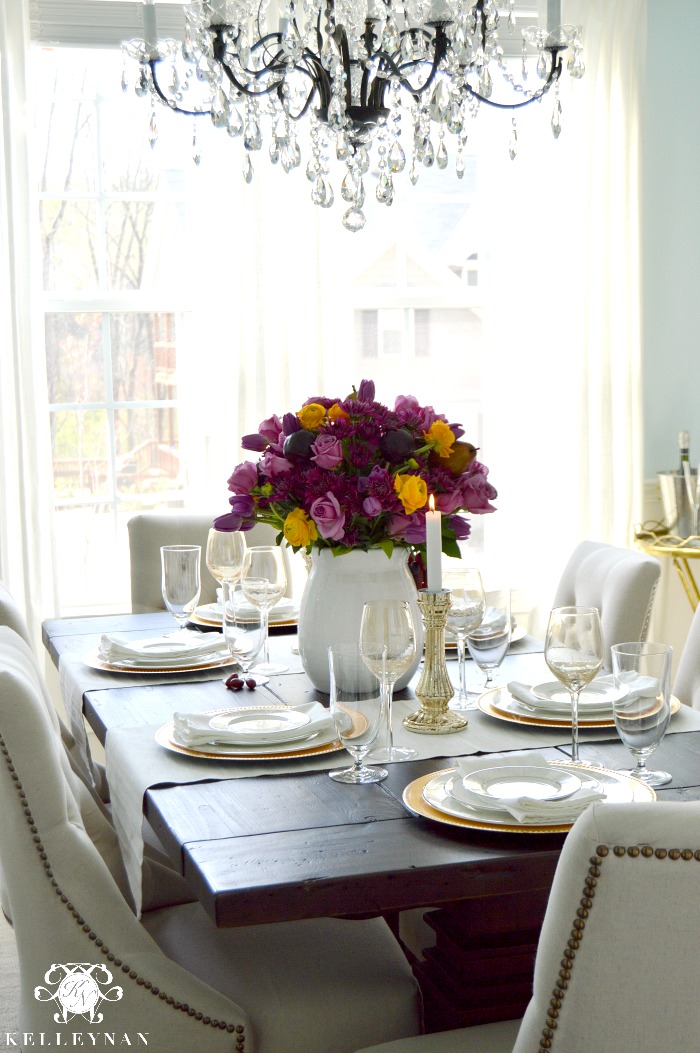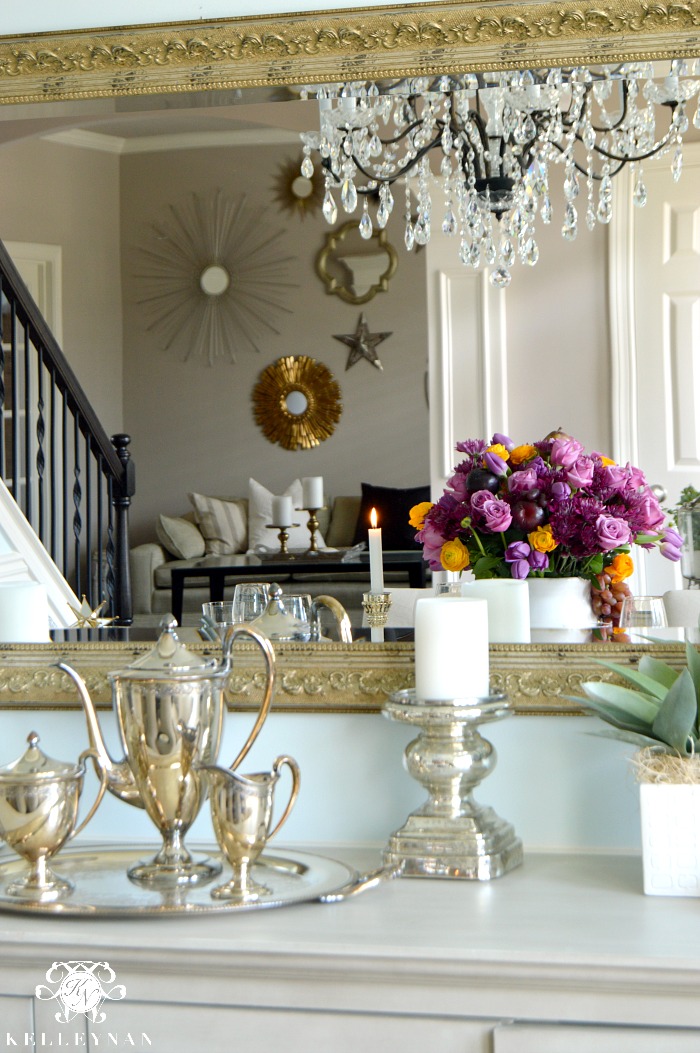 I am always brainstorming of new tables to create so if you have any ideas or themes you would like to see, leave me a note in the comment box below!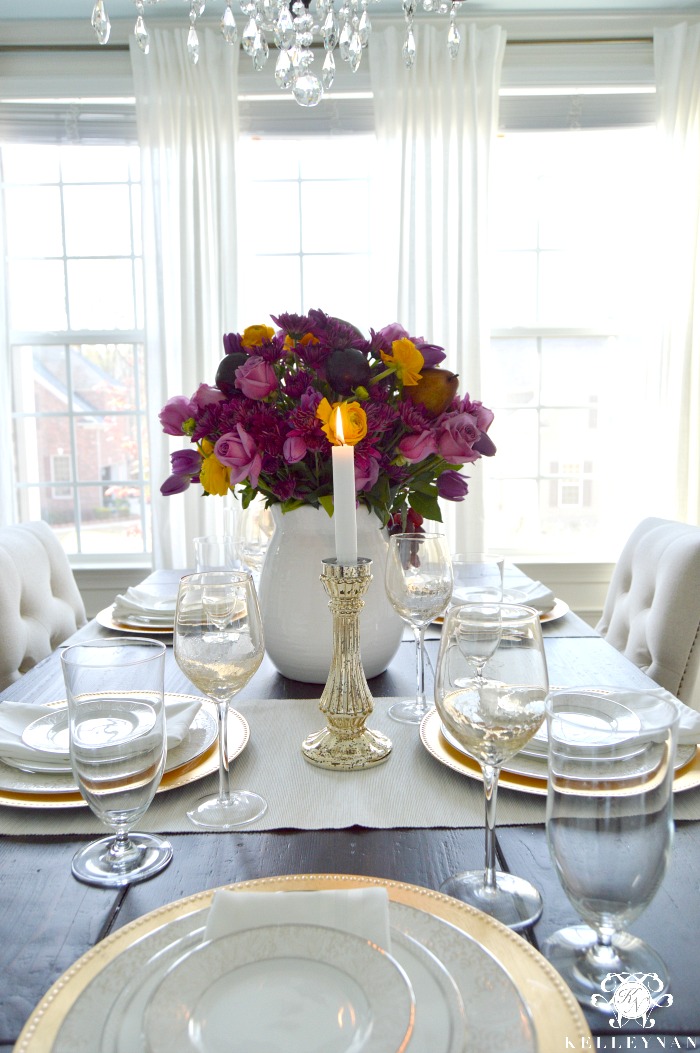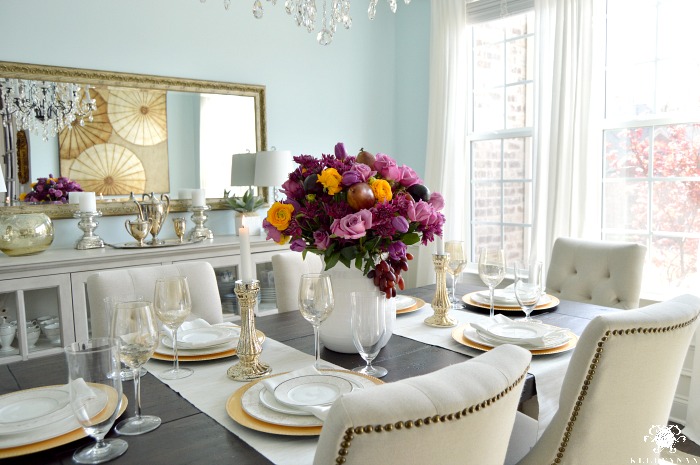 SHOP THIS LOOK

ADDITIONAL SOURCES
12-Light Chandelier
 | Dining Table:  (84″ in Salvaged Brown) | Buffet: (72″ in Distressed White) | Curtain Panels
: (98″ in White) | Rug: HomeGoods- Calvin Klein wool | Mirror: HomeGoods | Lamps: HomeGoods | Silver Tea Service: Family Heirloom | Mercury Glass Candle Holders | Paint: Sherwin Williams- "Lauren's Surprise"
*post contains affiliate links*
---
WHITE VASE CHALLENGE
In tandem with creating my latest spring table, I participated in a white vase challenge on Instagram, a loop event in which I joined 15 other talents to style a white vessel for the onset of spring. Each participant's interpretation was incredible and showcased his/her style perfectly. If you didn't catch the tour on Instagram, you are in luck. Below I am sharing the amazing work from each of my creative friends! Take note of some of the unexpected elements each designer has used 😉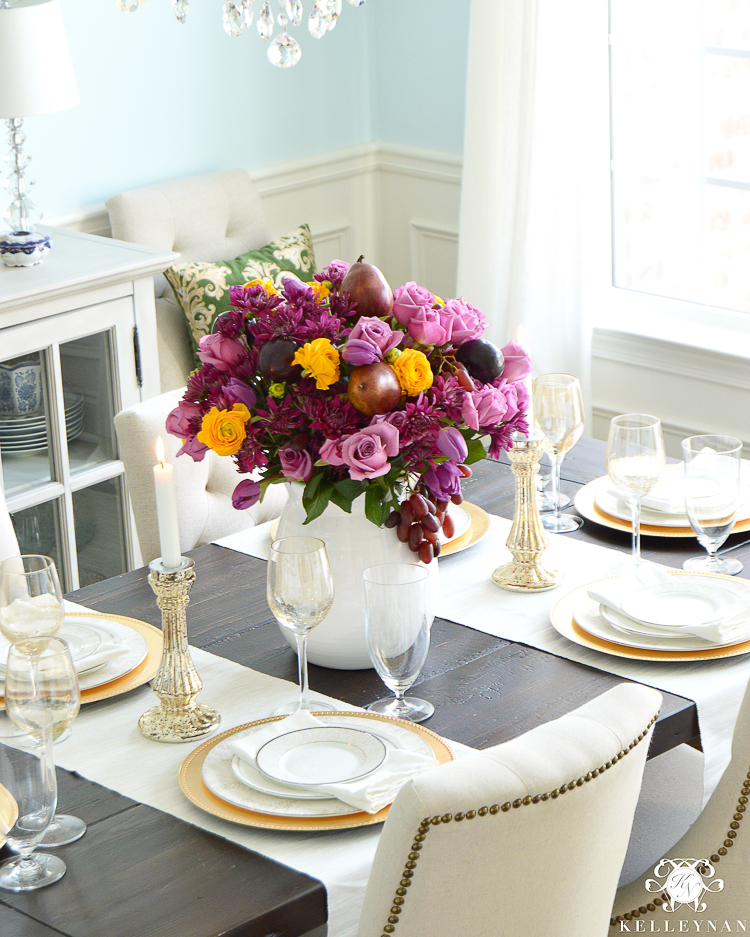 Kelley Nan (me) – KELLEYNAN.COM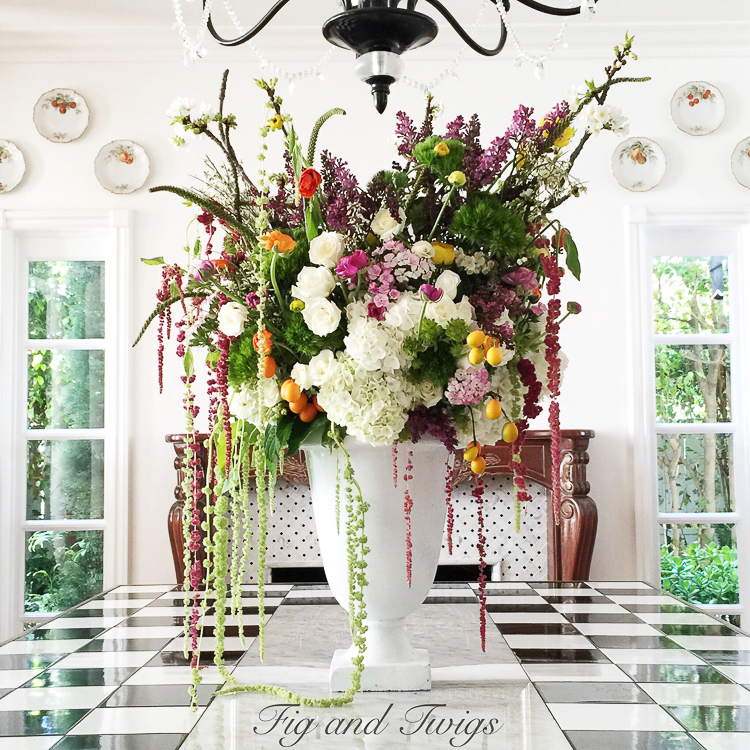 JANICE – @FIGANDTWIGS ON INSTAGRAM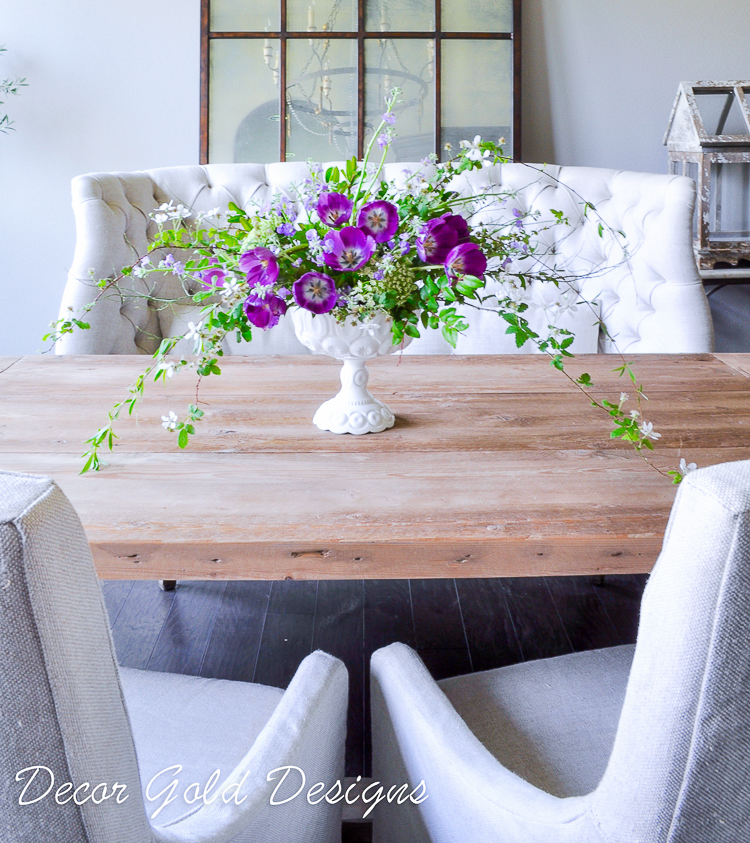 JENNIFER – DECORGOLDDESIGNS.COM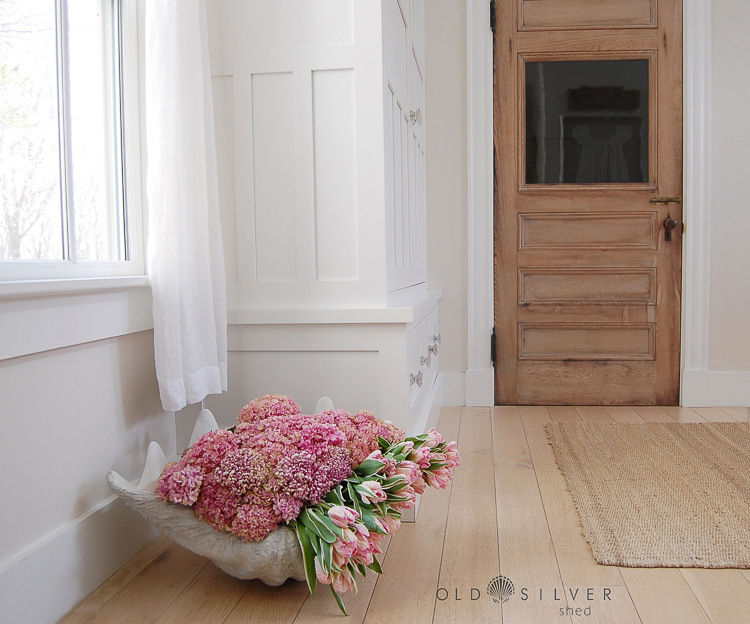 SANDRA – @OLDSILVERSHED ON INSTAGRAM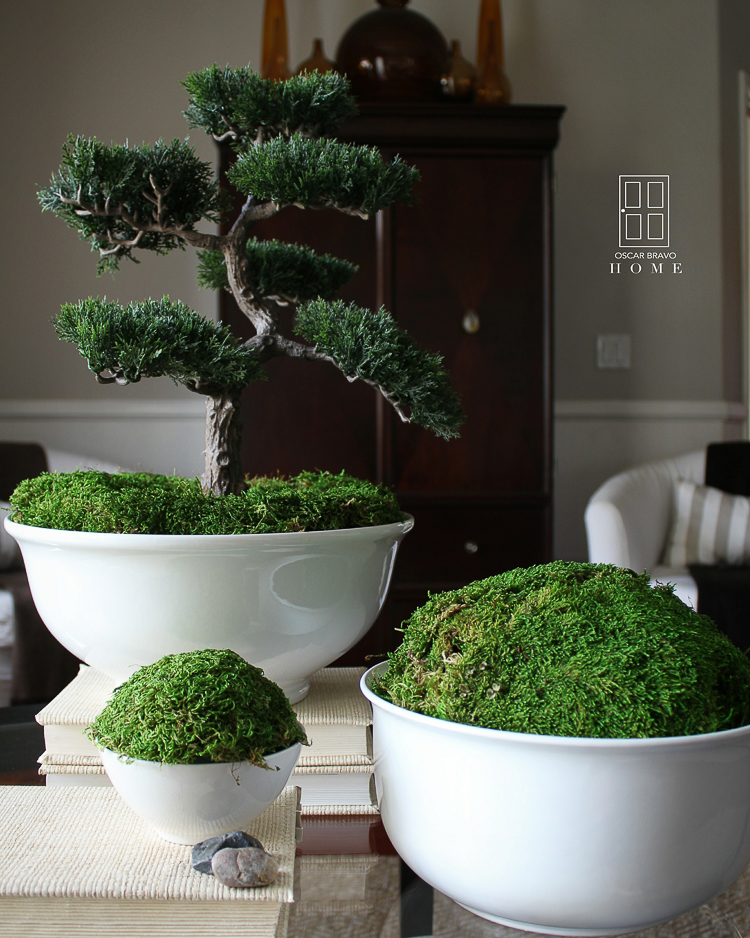 OSCAR – OSCARBRAVOHOME.COM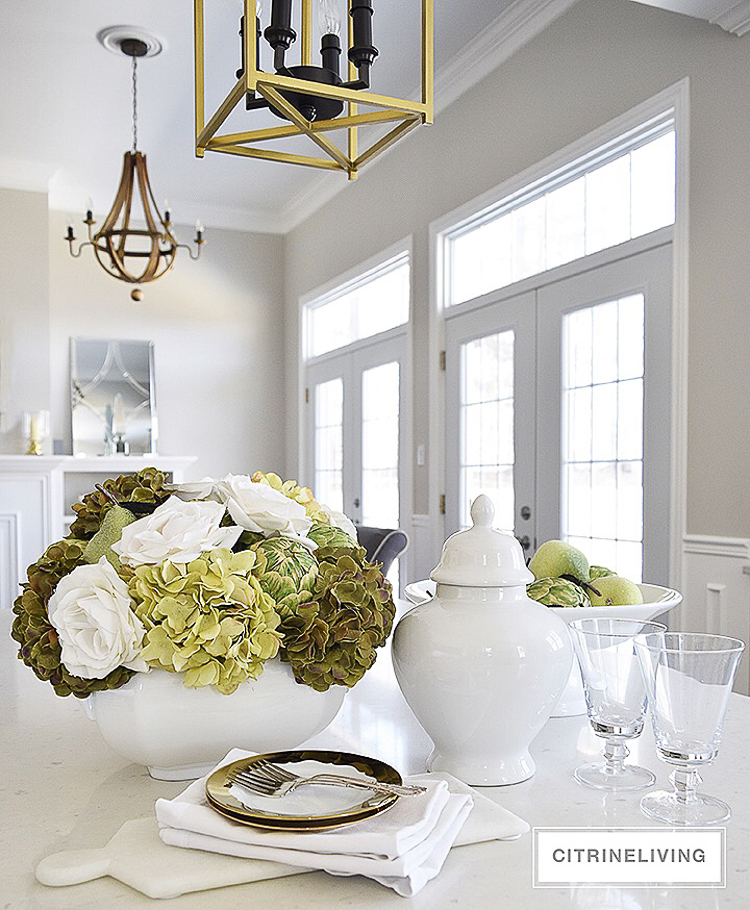 TAMARA – CITRINELIVING.COM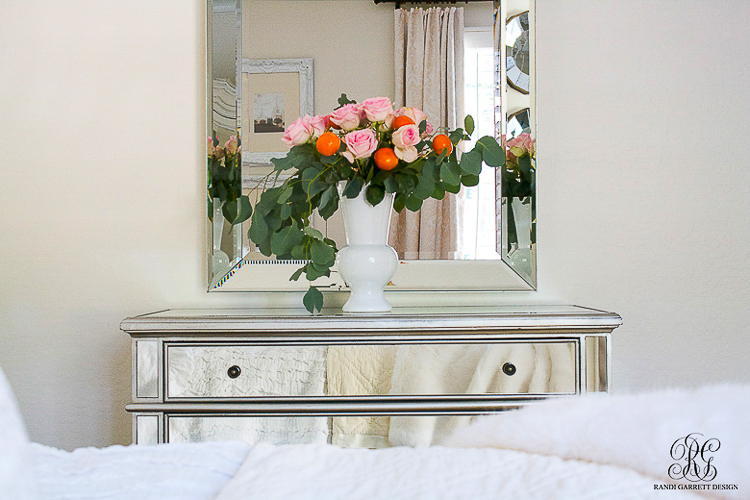 RANDI- RANDIGARRETTDESIGN.COM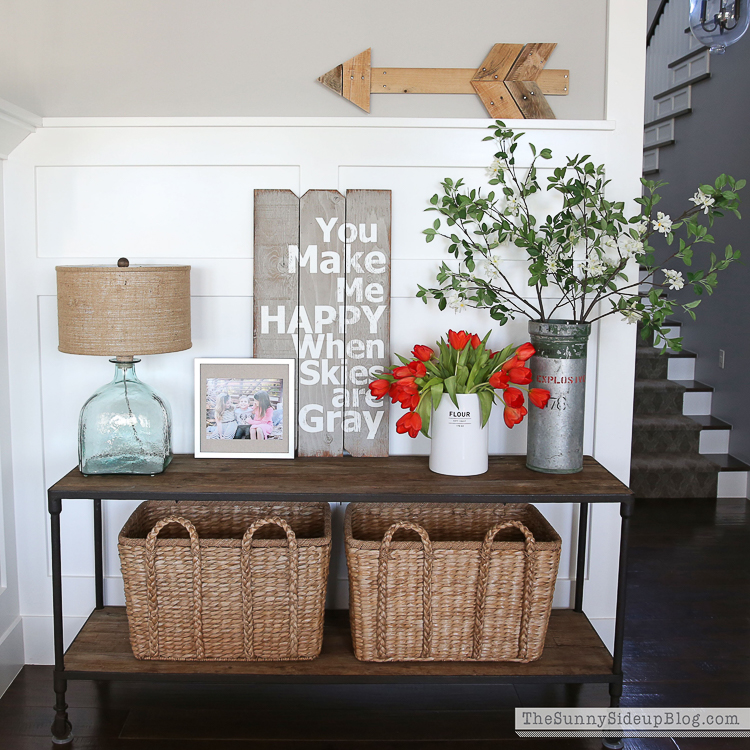 ERIN- THESUNNYSIDEUPBLOG.COM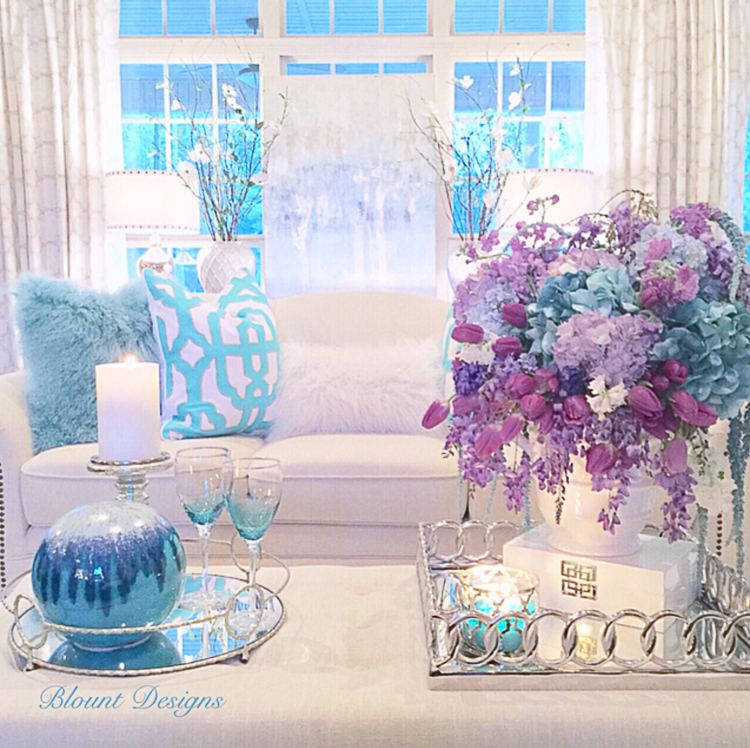 DEBORAH – @BLOUNTDESIGNS ON INSTAGRAM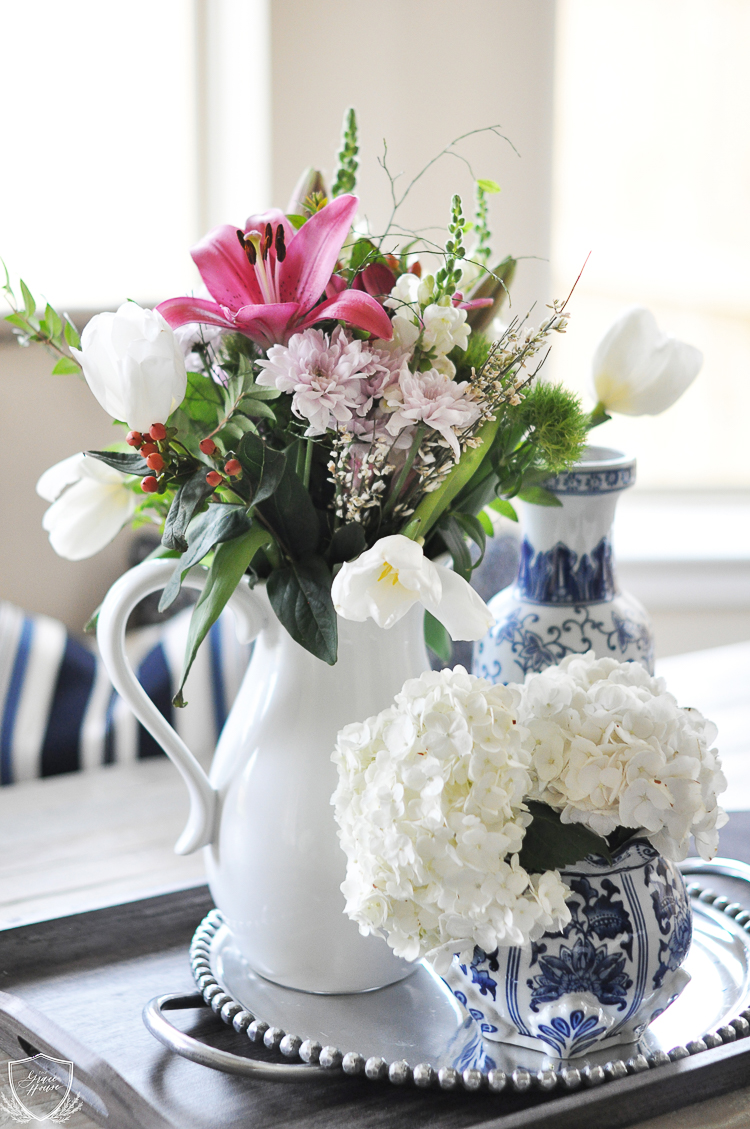 JENNIFER – THEGRACEHOUSE.COM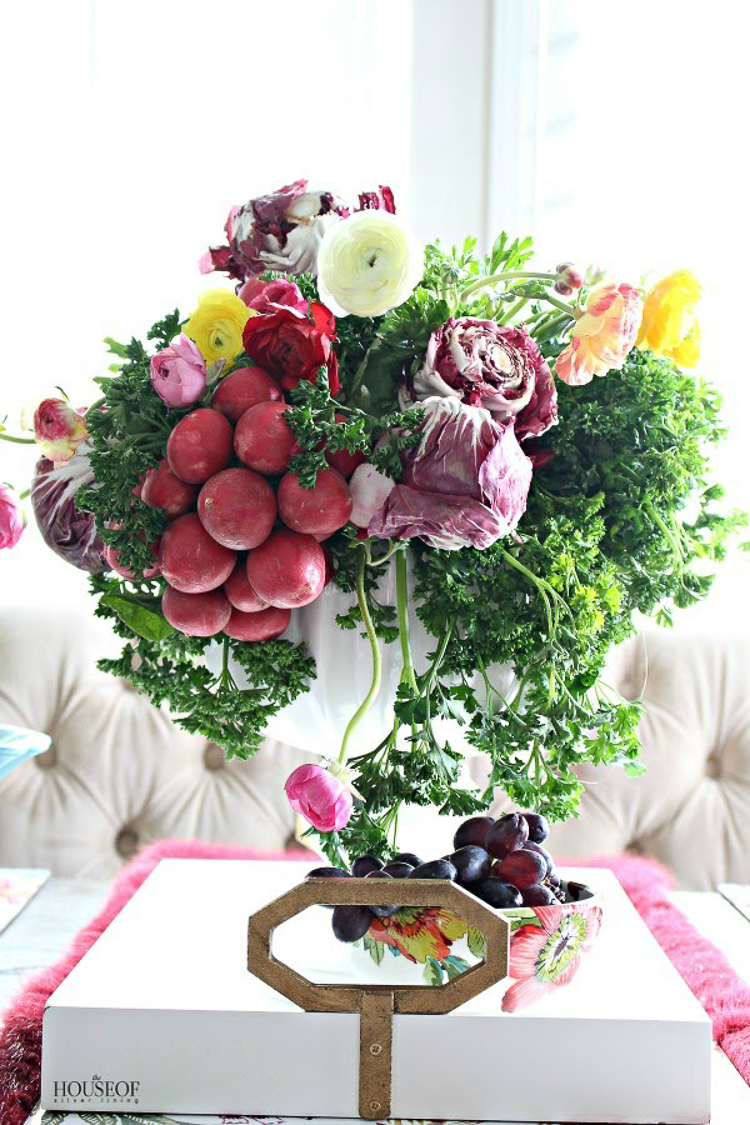 SHAUNA – THEHOUSEOFSILVERLINING.COM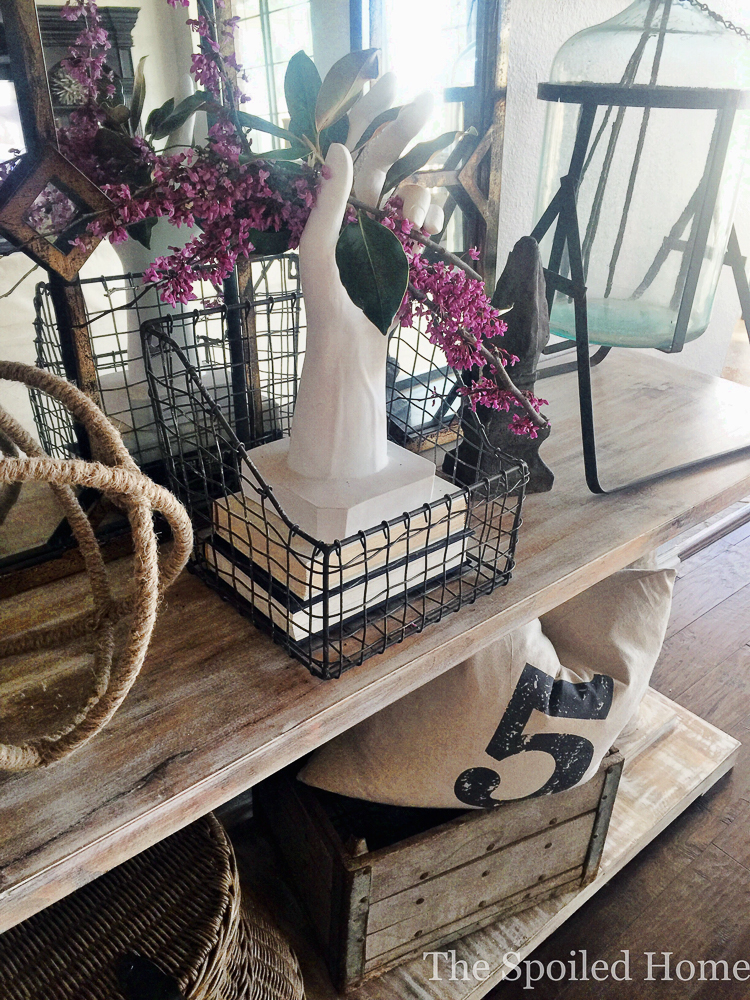 SANDI & SHALIA – @THESPOILEDHOME ON INSTAGRAM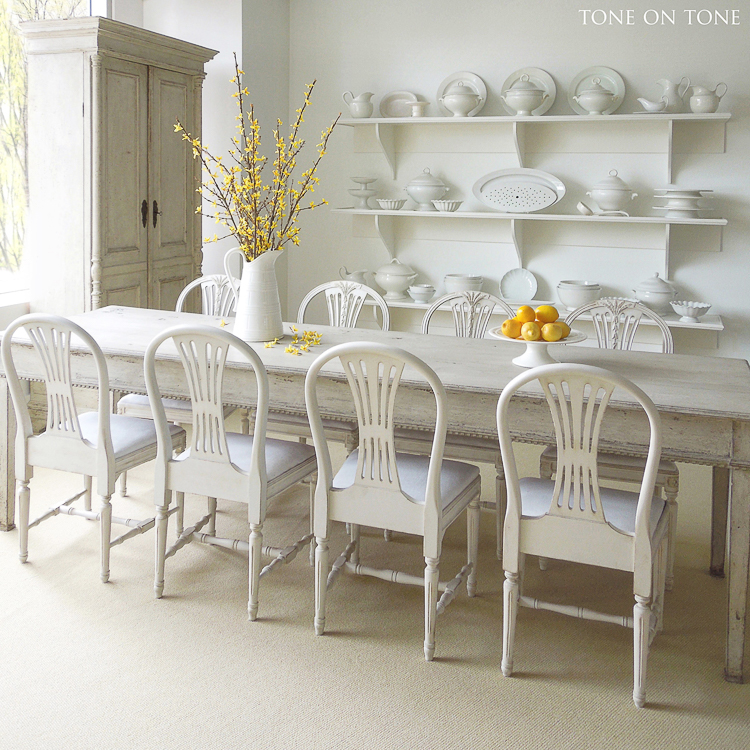 LOI – TONE ON TONE ANTIQUES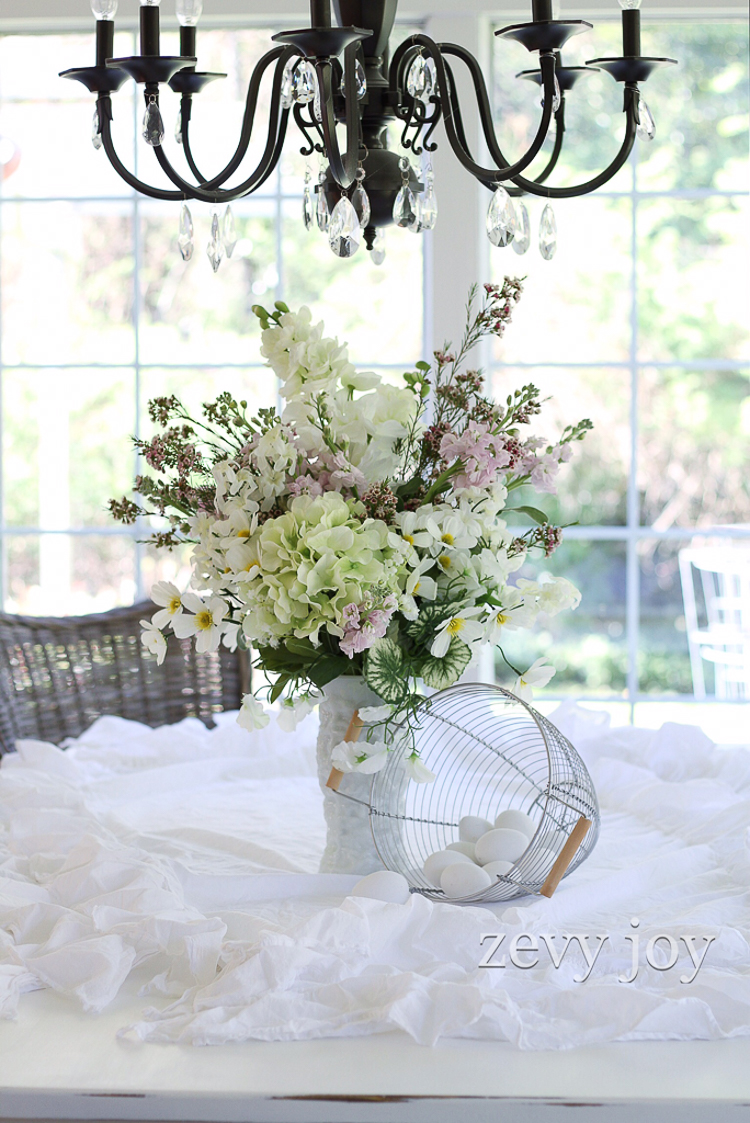 ANNIE – ZEVYJOY.COM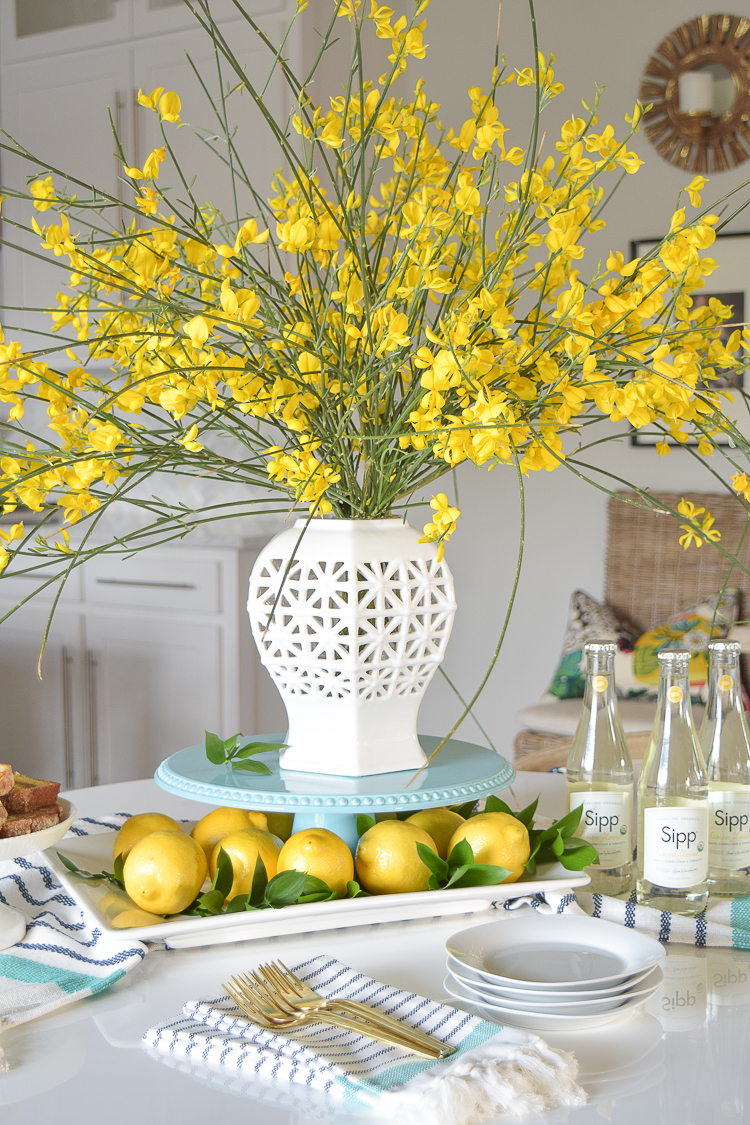 BREE – ZDESIGNATHOME.COM