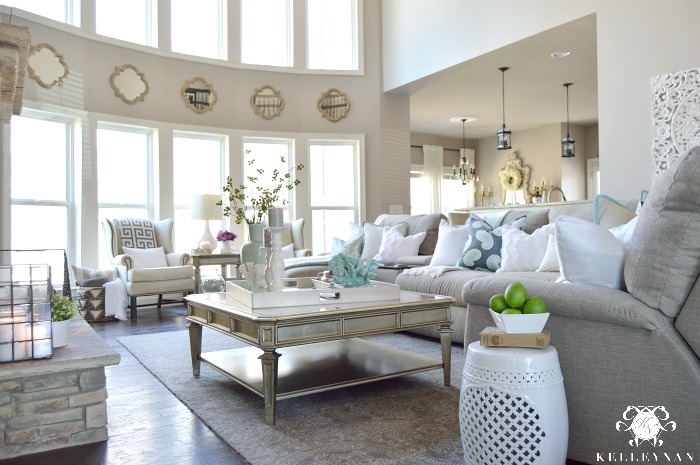 Despite the weather still playing tricks on us as evidenced by the variance in day to day temperatures, a few telltale signs have indicated that spring is officially here. 1. My deck is yellow; 2. My plants are just starting to sprout little green buds; 3. That evening daylight is letting us squeeze in a little extra each day; and 4. My living room has been taken over with cool colors and fresh decor! The transition from winter whites to subtle hints of cool, vibrant colors is simple in a room that has intentionally been designed with a neutral base. Follow along as I share the methods I used to create my fresh, spring-ready space.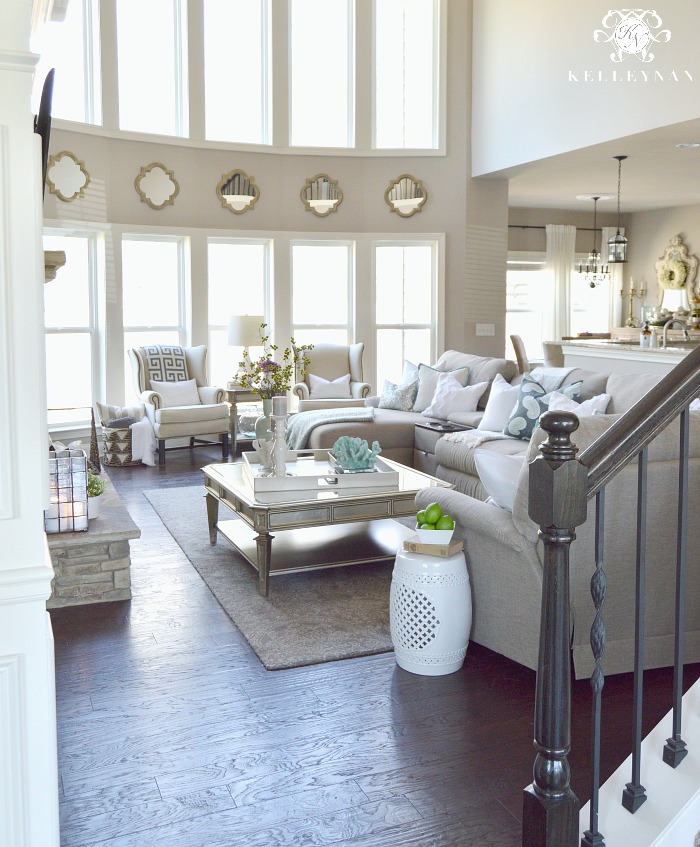 In the fall, I primarily used grays and navy (check out my FALL HOME TOUR) and in the winter, I used a lot of white and silver with gold accents (check out my CHRISTMAS HOME TOUR). To start the season, I wanted something softer than the turquoise I used last spring/summer, and more colorful than the icy blue I moved to before fall. I settled on an aqua accent which evolved into an accompanying darker, soft blue with green sprinkled in.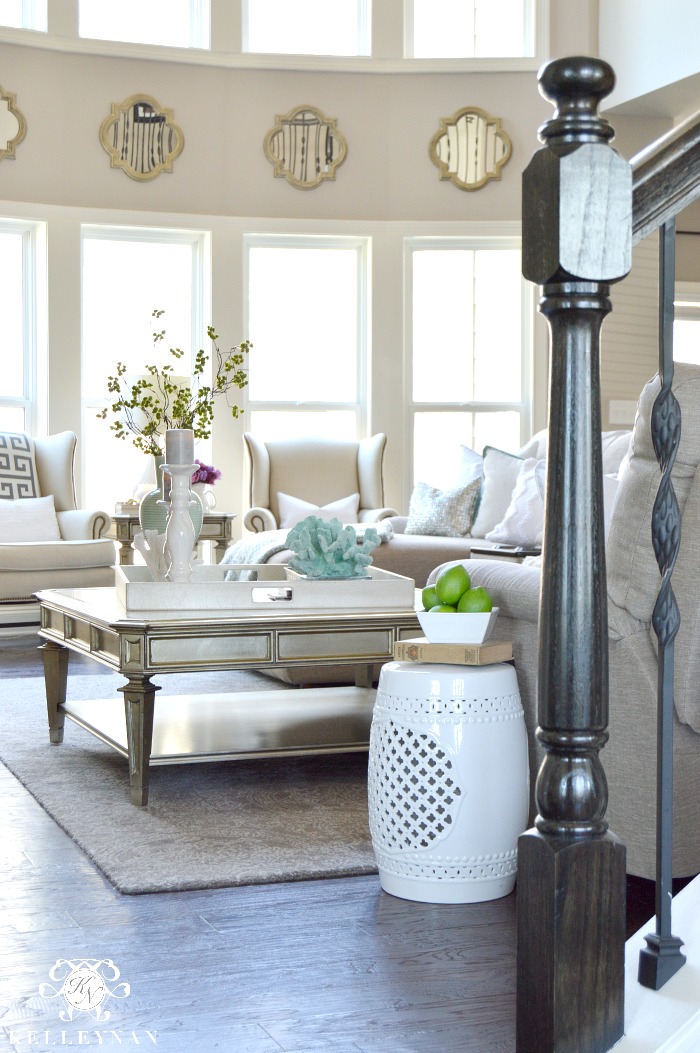 While I have only had this color palette present for a short, time, I have already been able to try out a few additional accent colors through floral arrangements. While the cool hues go well with the obvious (white and other cool tones), pink and yellow have also complimented this color scheme well. Most recently, and what you will see throughout this tour, is my favorite additional floral color infusion: purple.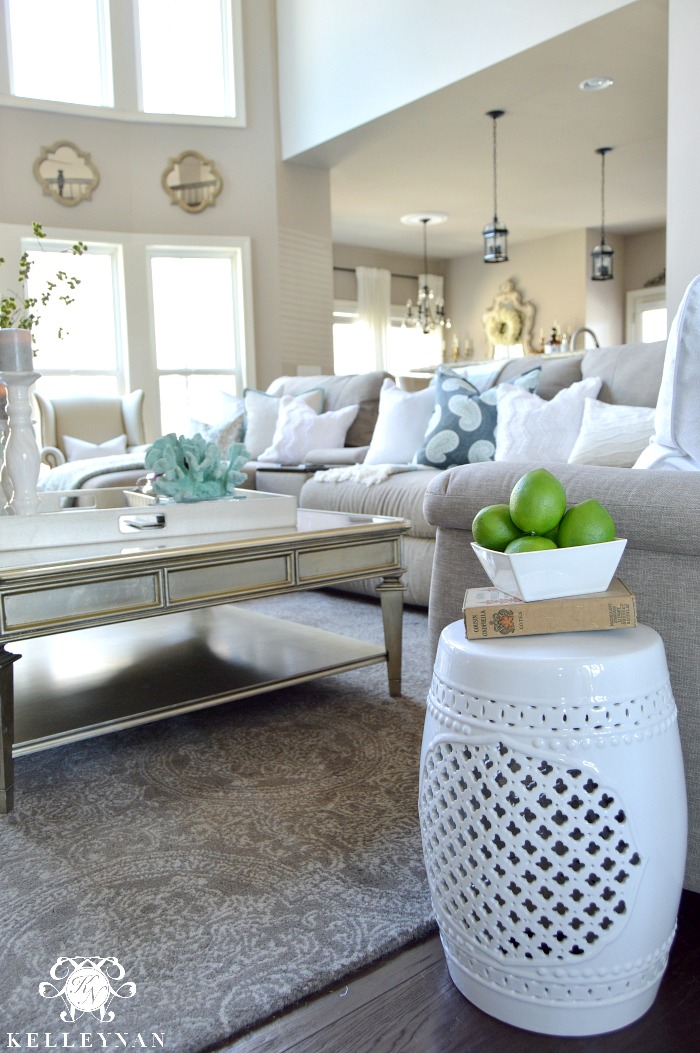 Three of my newest obsessions since 2016 started can all be spotted in this one line of sight: fruit, coral, and garden stools! While I talked about it a little in a previous post, faux fruit and veggies have become a decor staple for me and I am now taking them outside the kitchen. And, I love it.
While I don't thrift often (I totally do want to be that person, though), I did pick up a few antique hardbacks during a recent visit with my mom in Fairhope, Alabama. I quickly found spots for each of my spoils and will be picking up more vintage books ASAP.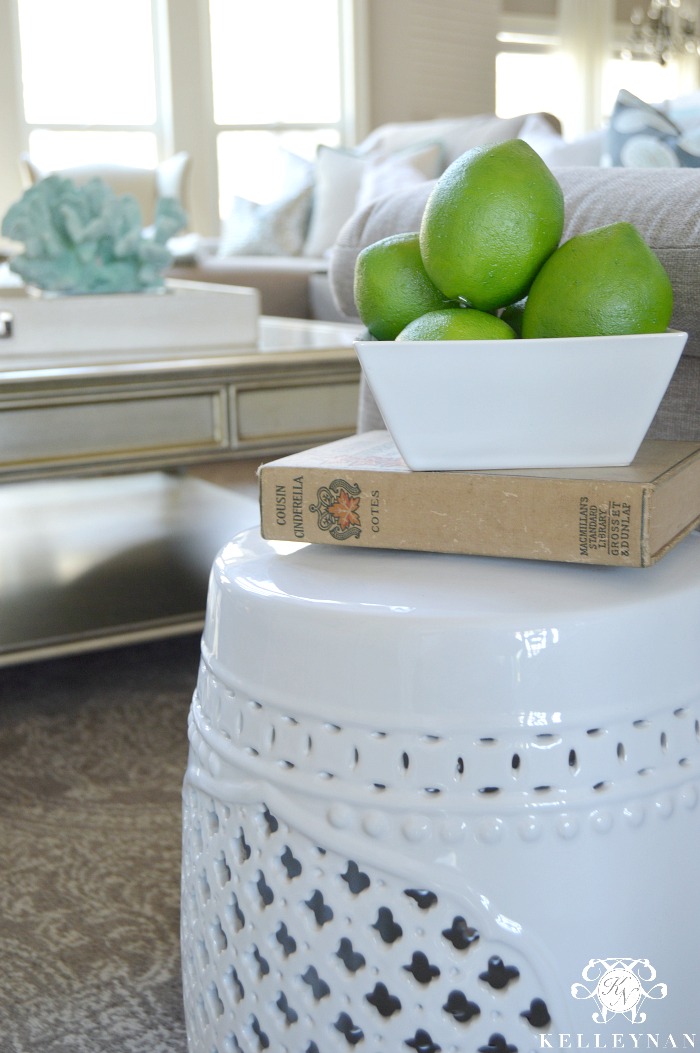 GET THE LOOK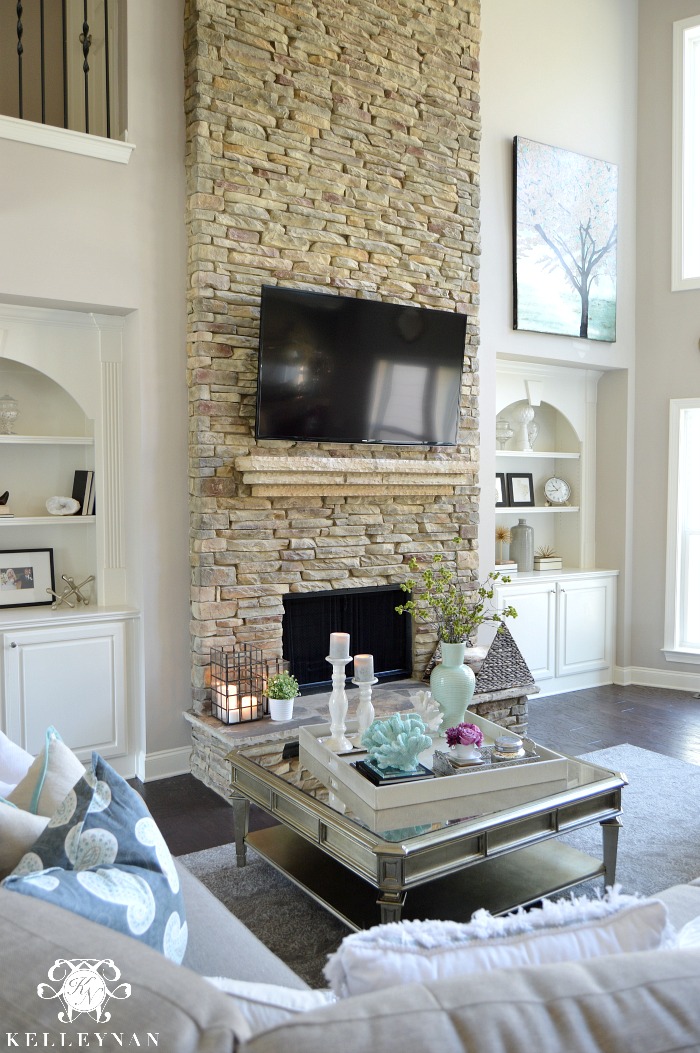 When I put the fireplace tools away for the season, it provided a new little surface to welcome spring. I brought out a couple of square lantern hurricanes, formerly forgotten and buried deep in the basement, and added a few white pillars at staggered heights. Teamed up with my little green thyme plant, I feel like the hearth is ready for a spring garden party.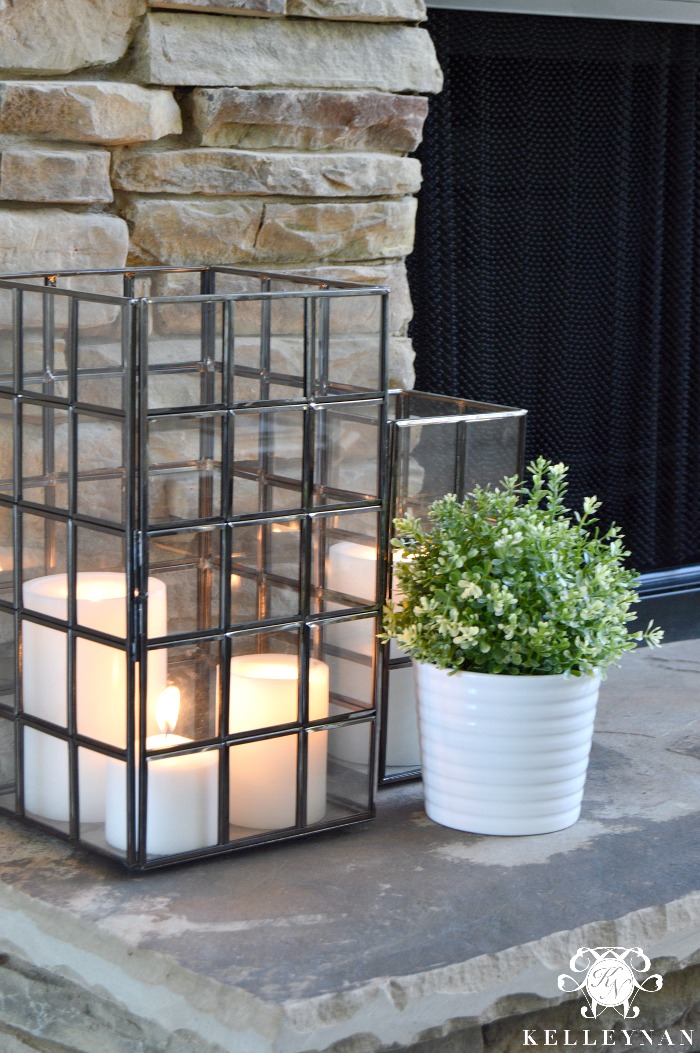 GET THE LOOK

Using lots of green and natural elements is absolutely my top way to say "Hey, world! Spring is here!" These mossy stems are super easy to manipulate; I picked up three for this arrangement.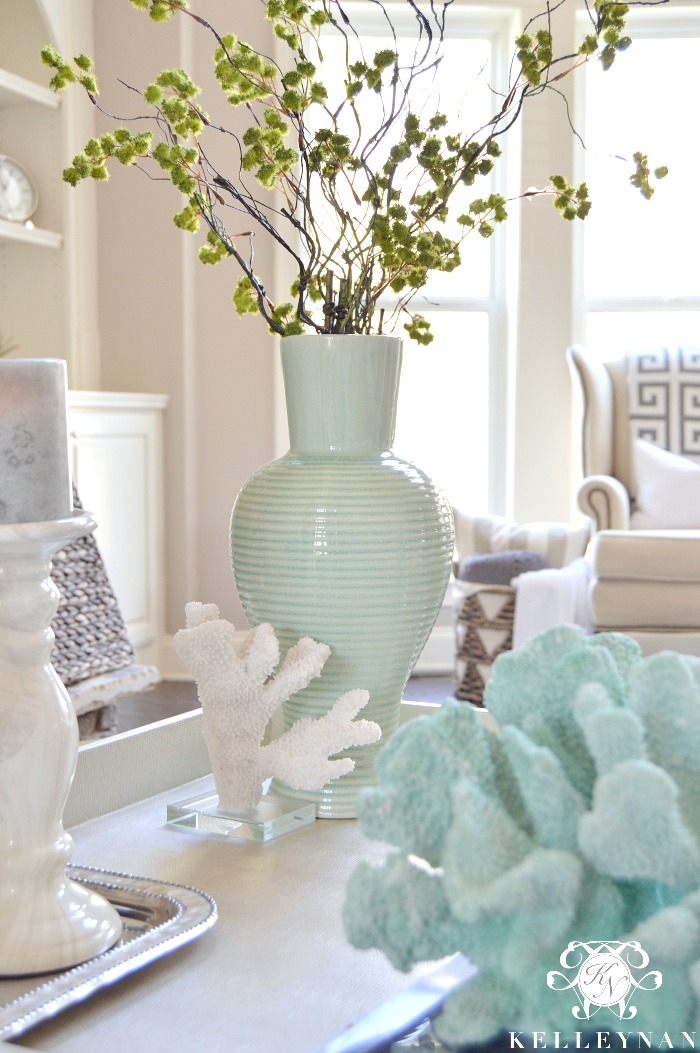 I do have several cute teacups with blooms spread around the house, but for this dainty floral pop, I actually used an espresso cup from THIS SET. Also, no my tray isn't doubling as an underwater reef, I just can't get enough of that coral!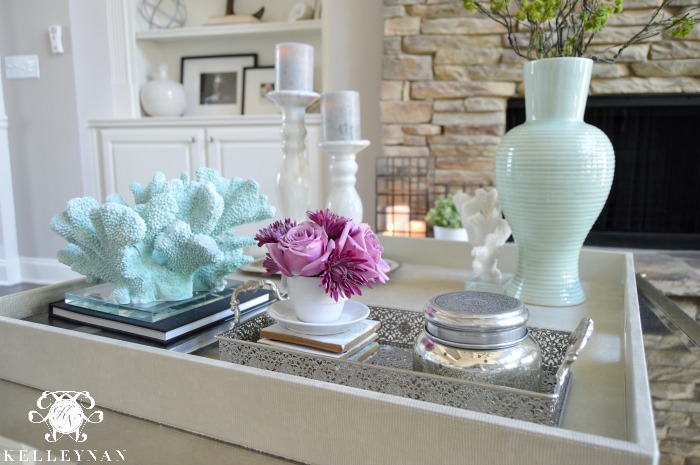 GET THE LOOK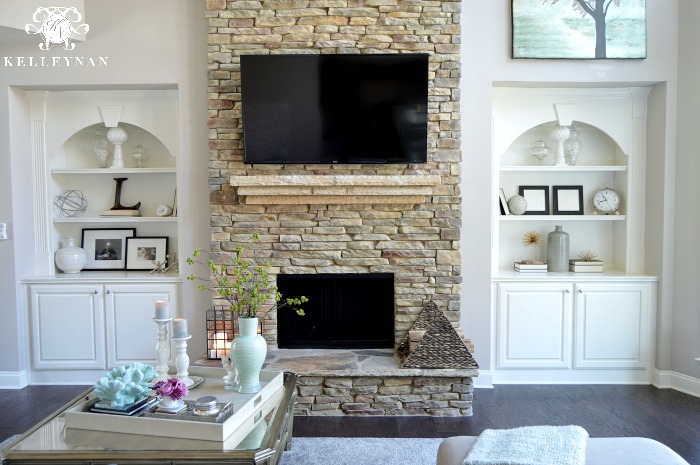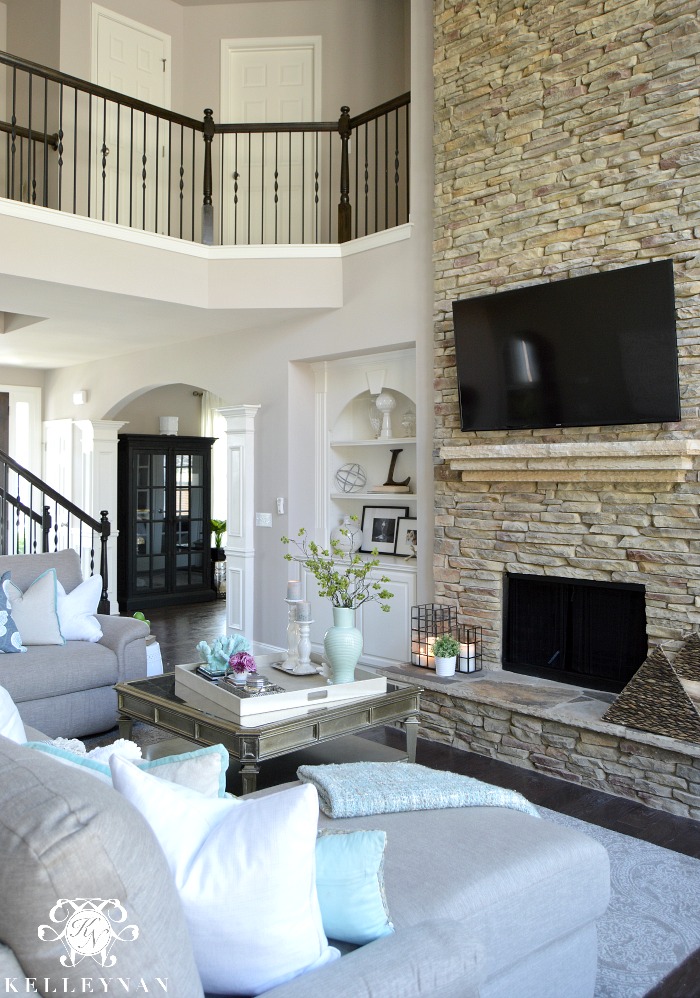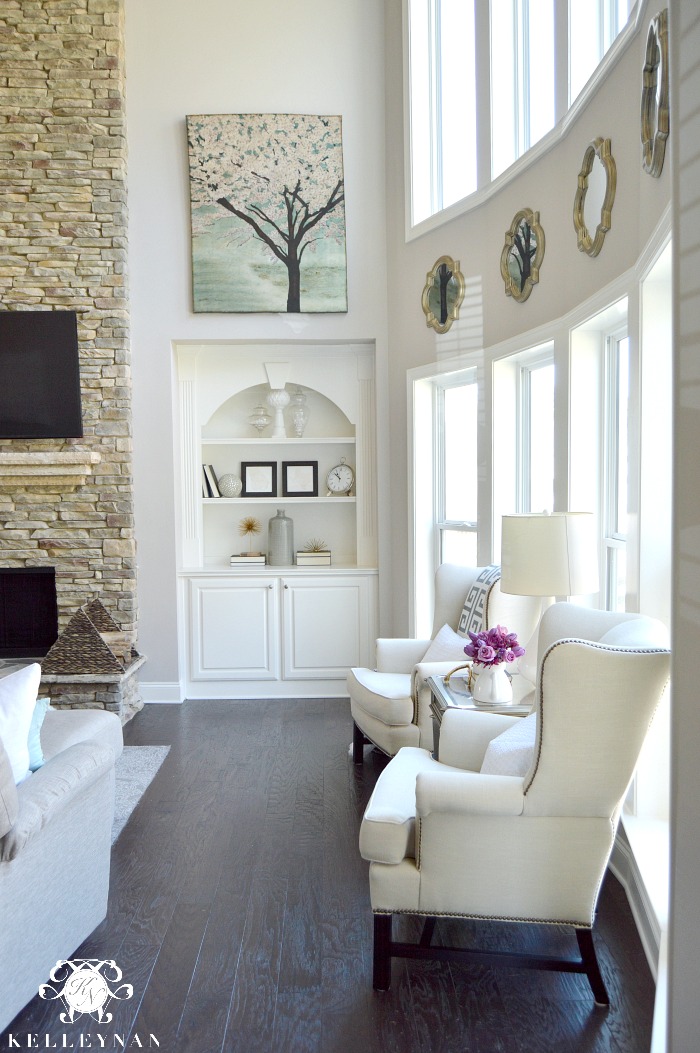 Staying true to my neutral roots, the simple, temporary purple arrangement changes everything.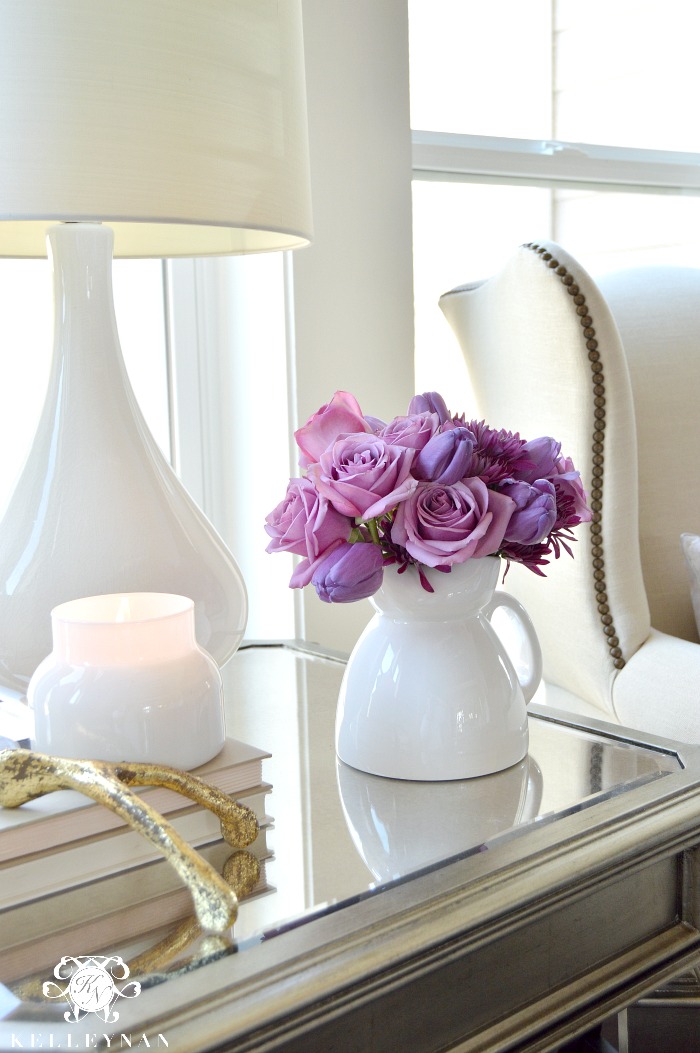 I don't put away all my thick winter throws (usually just the furs), but I do add a few lightweight blankets to the mix like this little white number.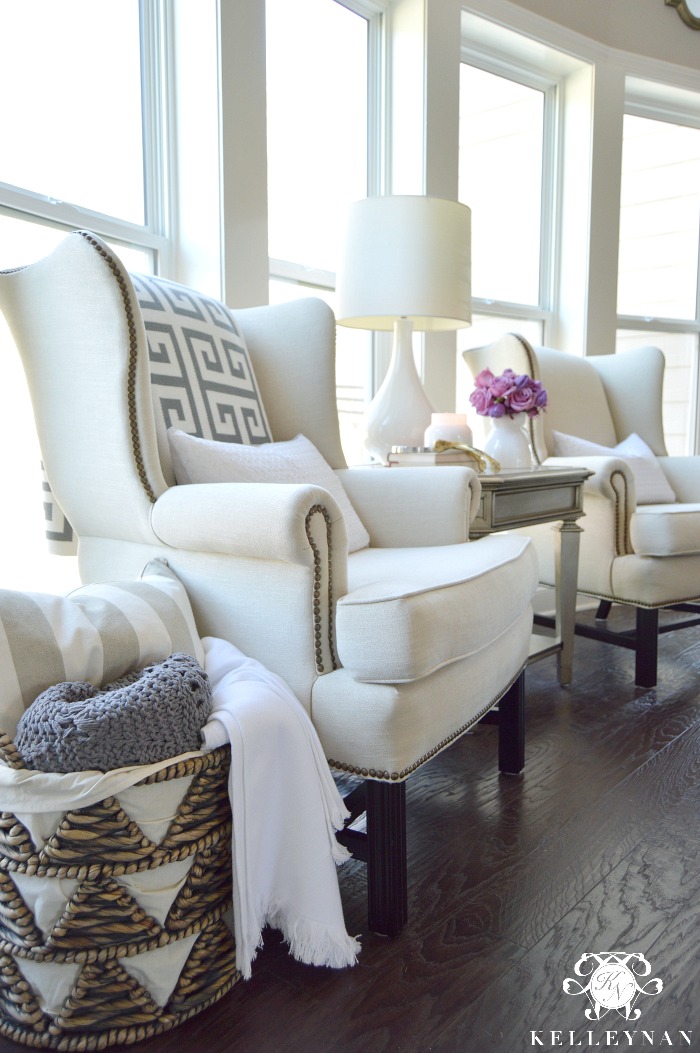 GET THE LOOK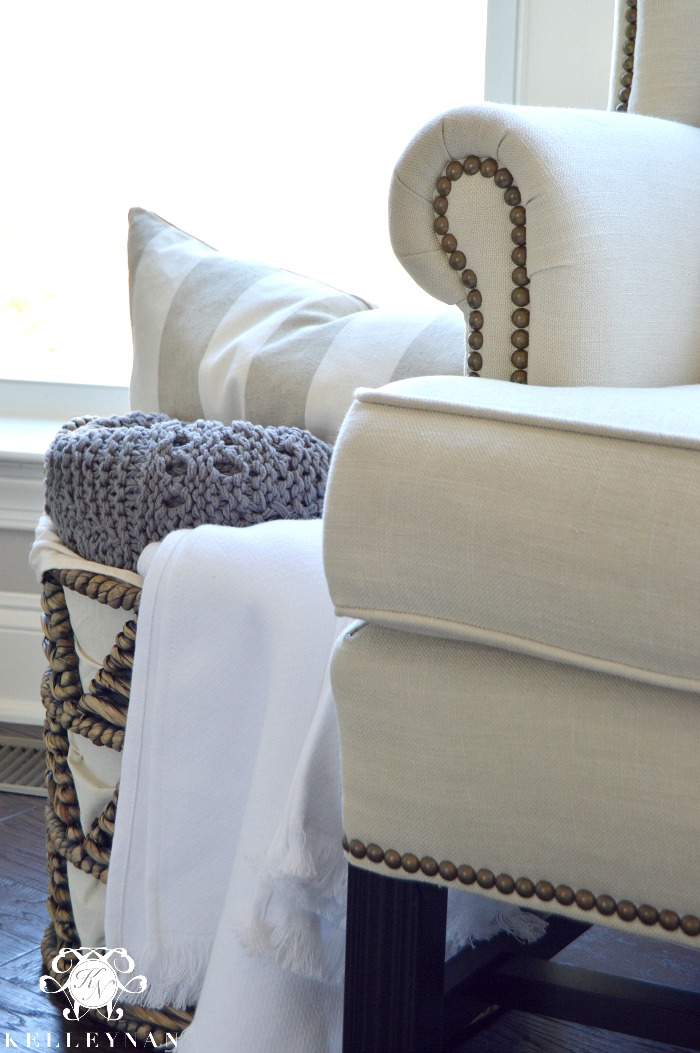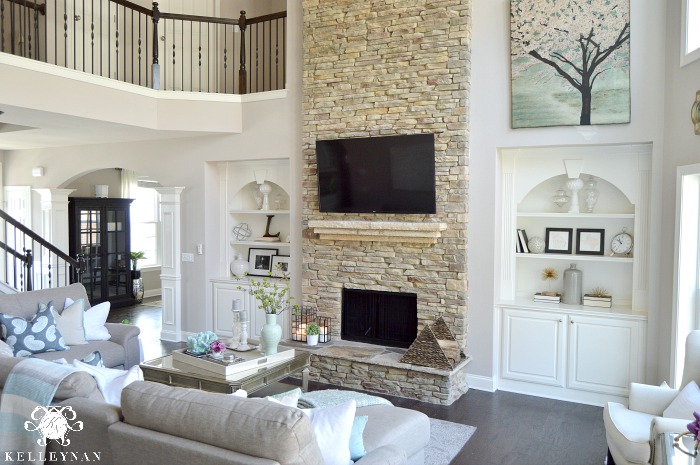 GET THE LOOK

To create that springtime feel, color is a good place to start, but look at the materials you are using, also. As much as I can't resist a good sequin or bead, I try to keep my warm weather pillows in lighter fabrics (think linen and cotton) with less embellishment. When you have a stock of neutral pillows, you can use them throughout the year and just sub in a few seasonal favs.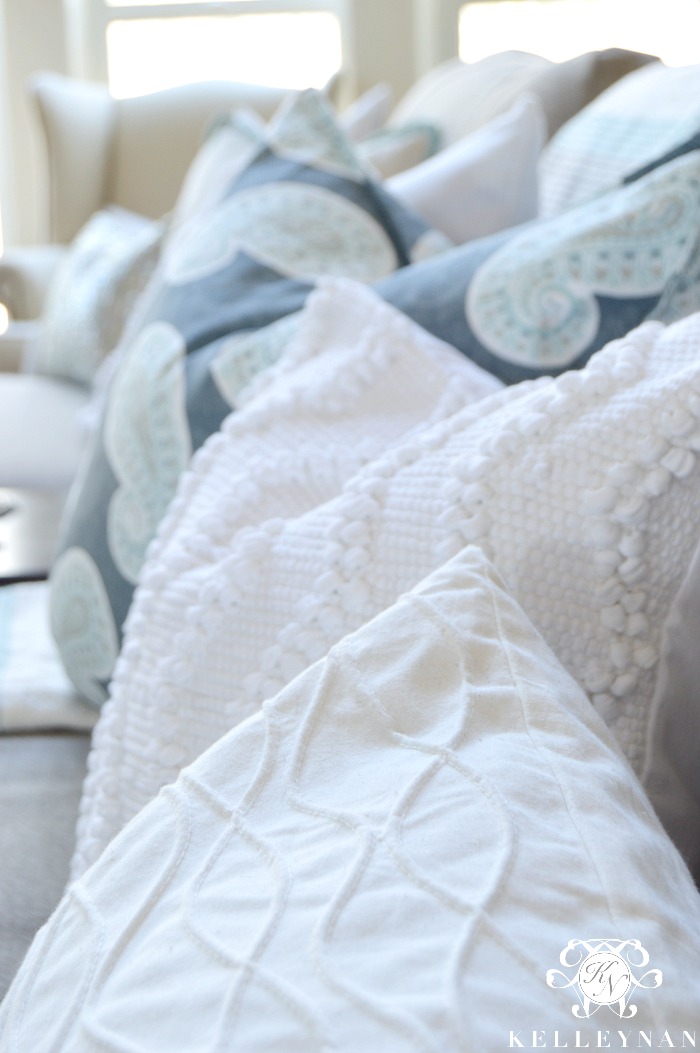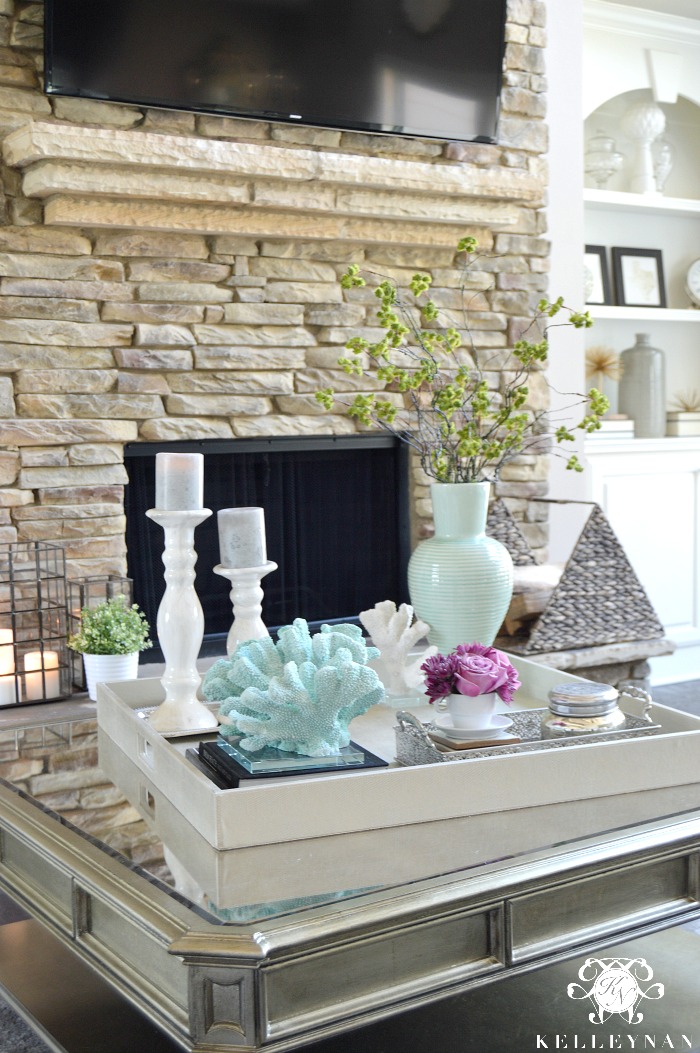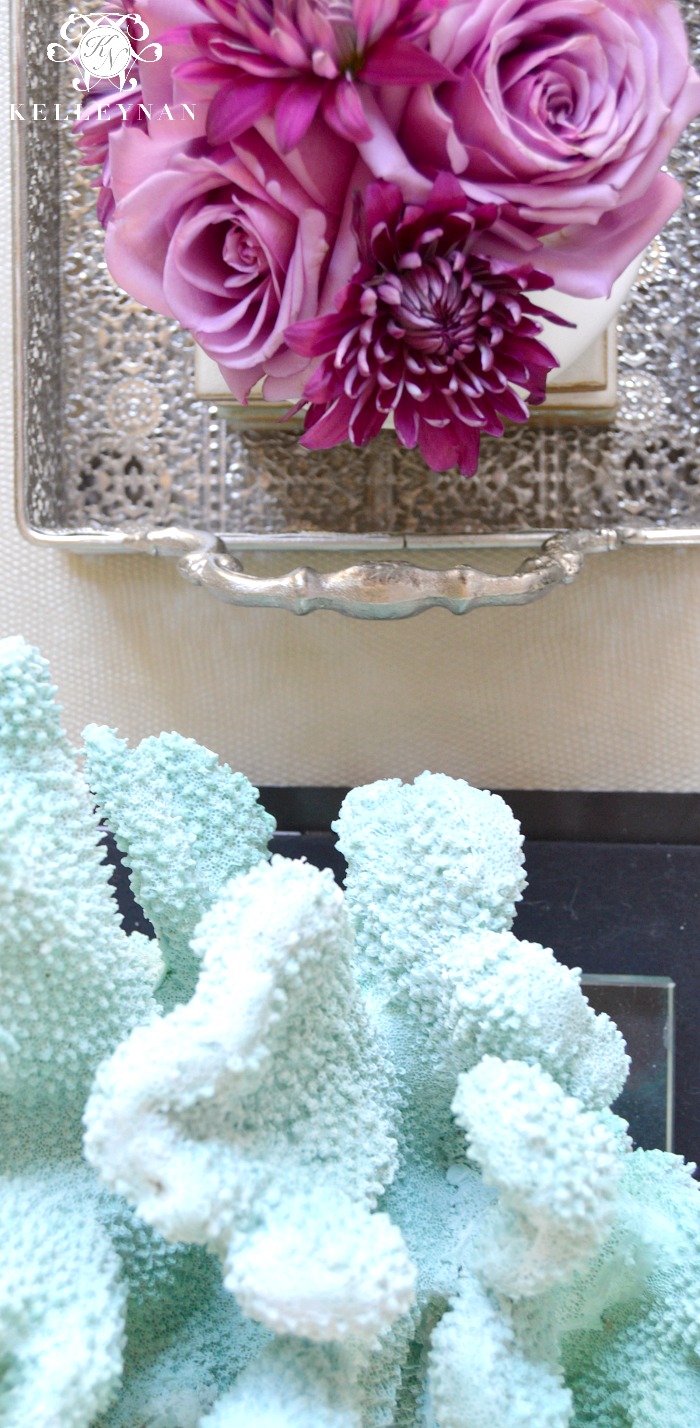 See? I told you I had teacups sprinkled throughout 😉 Whenever I have a large arrangement that only has a few survivors, instead of consolidating into one vase, I like to take a few smaller vessels and spread the flowers around.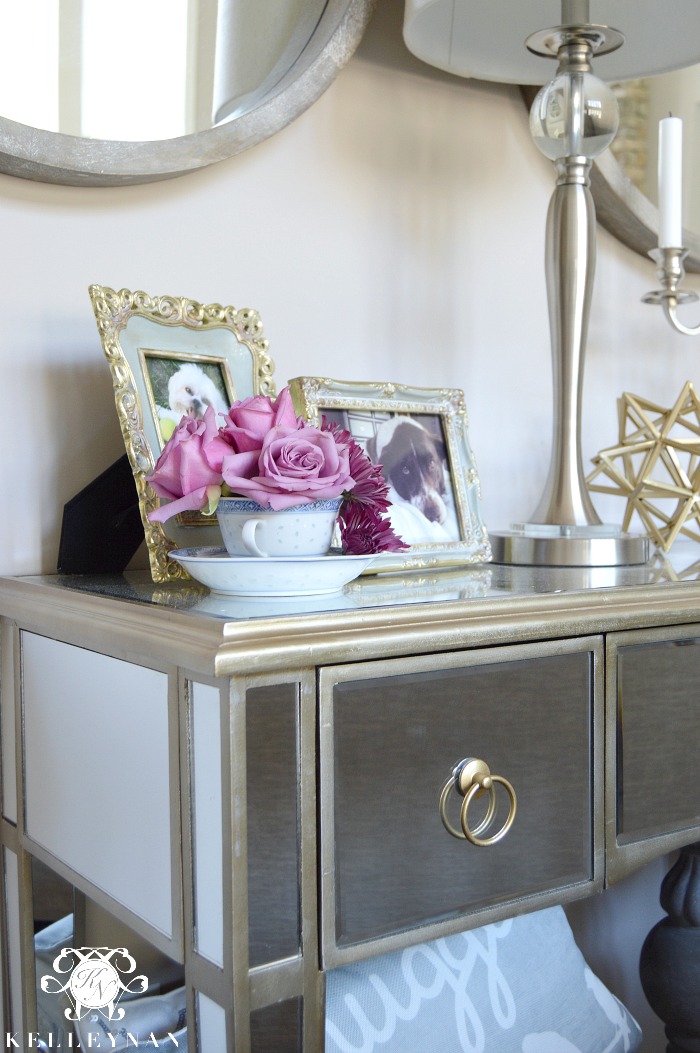 GET THE LOOK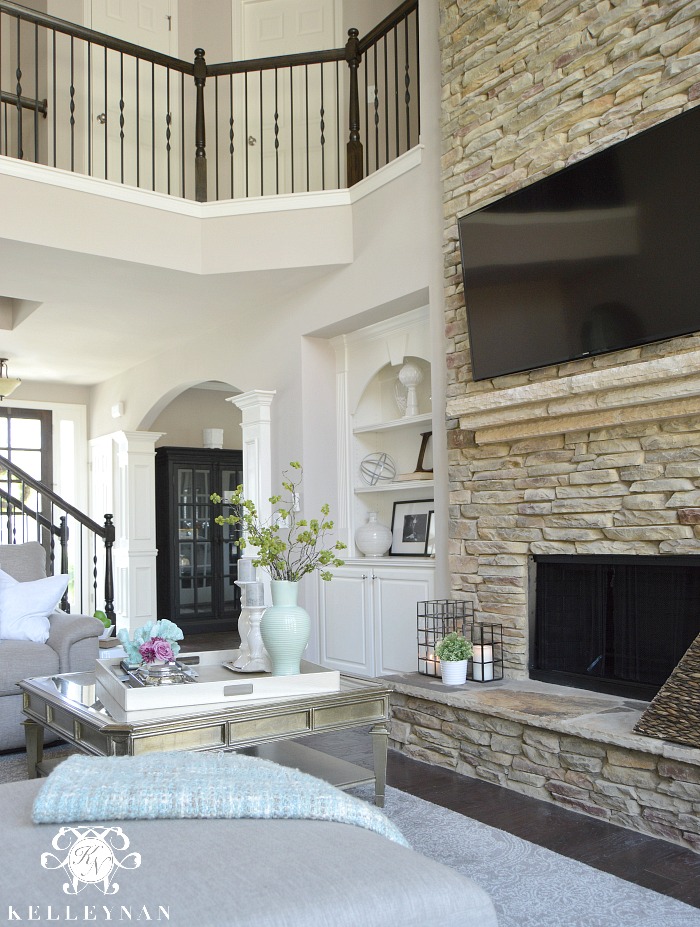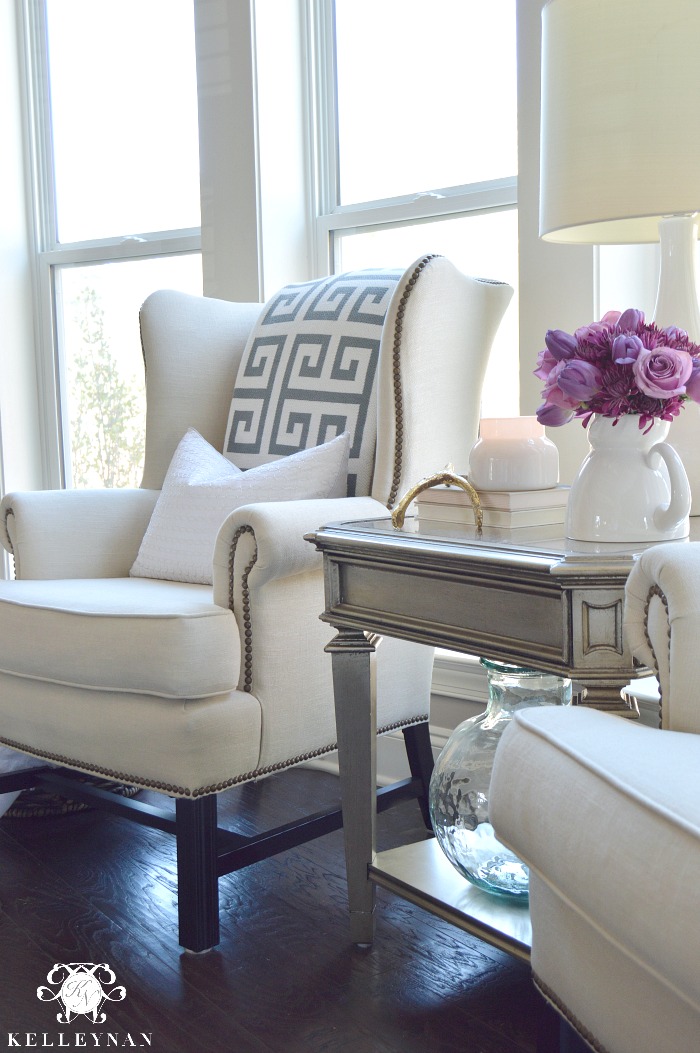 In case you missed it, you can read about my quatrefoil mirrors I used as a third row of windows HERE.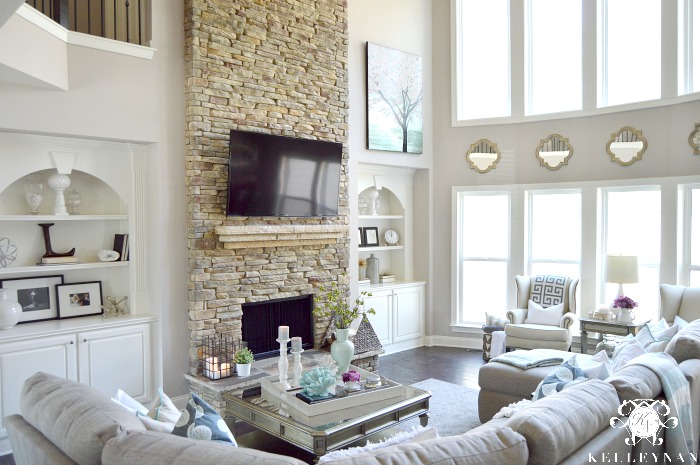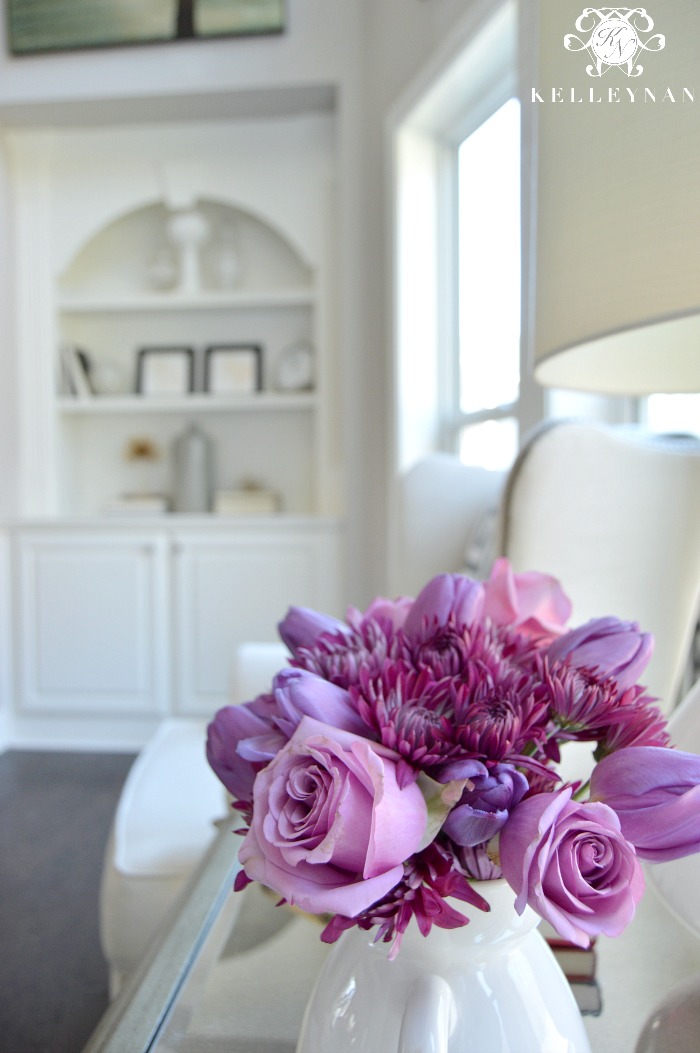 My living room is one big mixture of formal/casual. We spend a lot of time here so it has to be comfortable and functional, but it is the central and most visible part of our home so I don't want it to look like a basement den. Some of the architectural elements in the room are a huge help, but without some of the more "dressed up" accent choices, the large tv and reclining sofa with cupholders could have quickly spun this space in something more fit for a man cave. One of the most common misconceptions is that you have to stick to one universal style across the room to make it cohesive. While I would be careful about how many styles you are using (yet another reason I love a neutral base), mixing casual with more structured pieces can make your space functional and aesthetically pleasing. We have a mirrored coffee table with champagne finish that we paired with a reclining La-Z-Boy sofa… and it works. We brought in some wing backs to contrast the plushness… and, they work too. Don't be scared to think outside the box to achieve your goals within your home.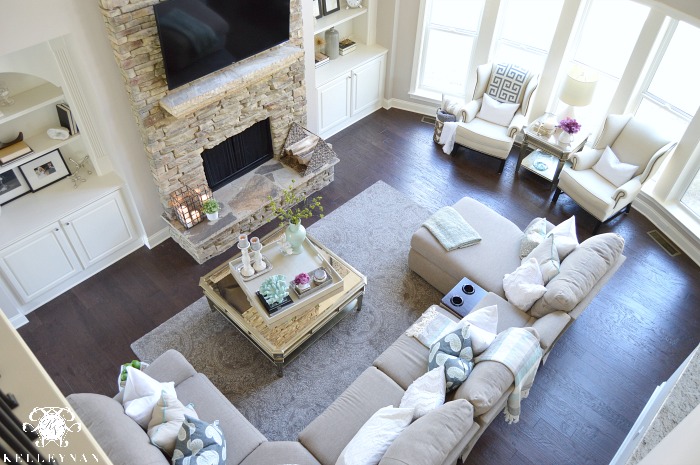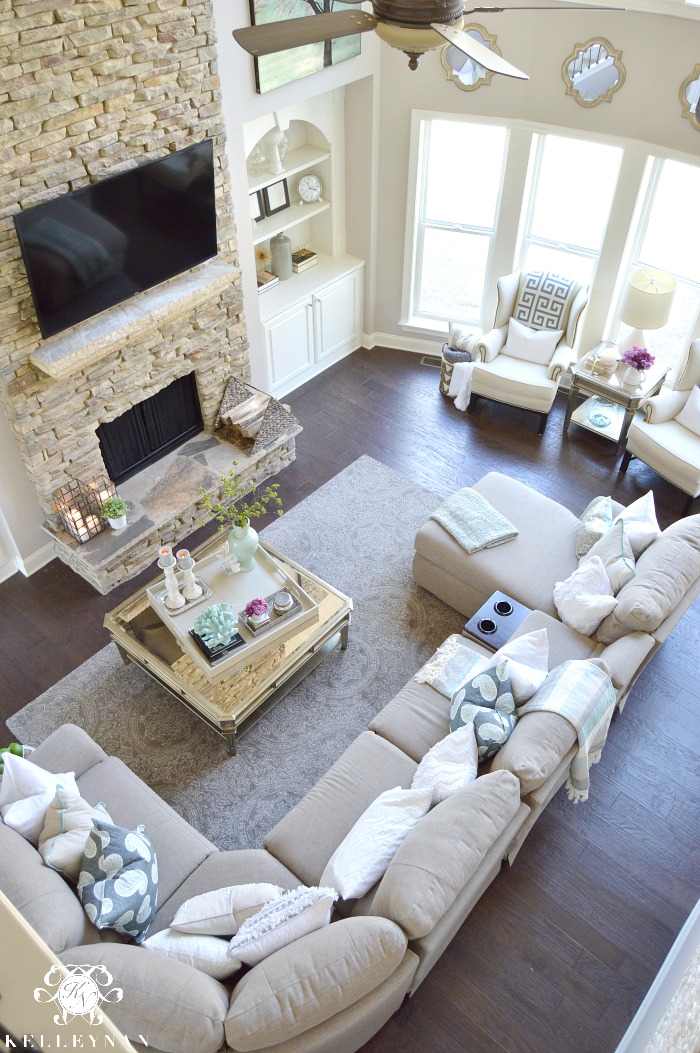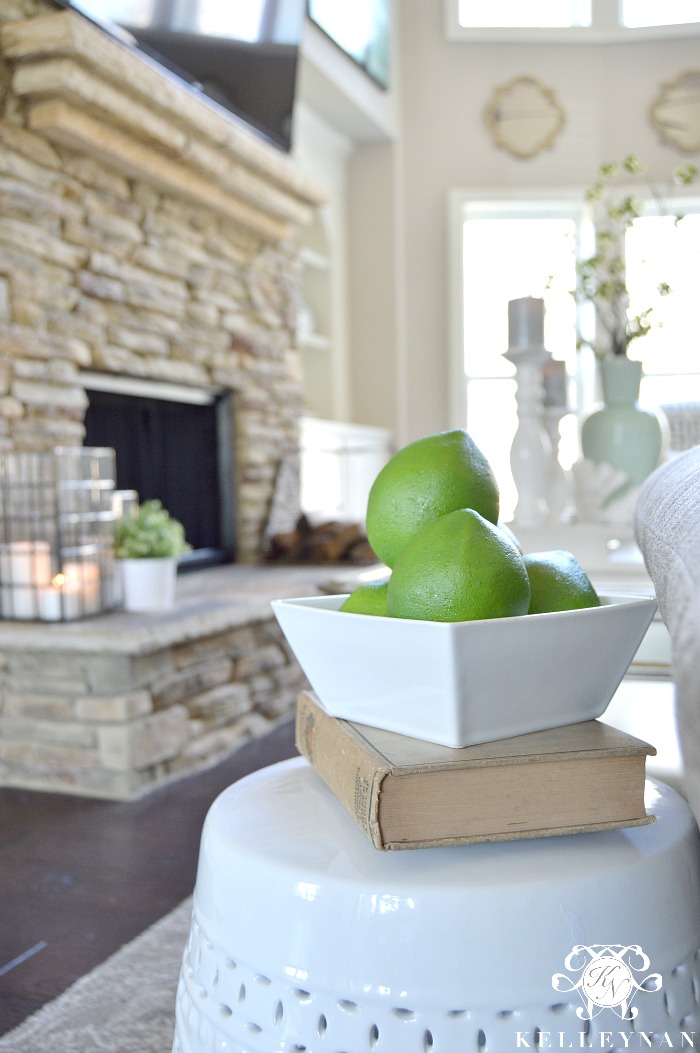 Other Sources:
Oversized Tray | Mirrored End Table (Formerly Palais Collection) | Mirrored Coffee Table (Formerly Palais Collection) | Rug: HomeGoods | Sofa: La-Z-Boy Aspen Collection | Paint: Versatile Gray by Sherwin Williams | Flooring: Nottaway Hickory in Weathered Saddle
*Note: Post contains affiliate links and sources throughout the post. Where product is no longer available, a similar substitute has been listed.
If you are itching (hopefully not from pollen) for some more spring decor and inspiration, be sure to check out the posts shared by the group I have joined below. You won't want to miss any of these ideas!
[inlinkz_linkup id=622503 mode=1]