It is far too easy to let seasons and holidays come and go without truly celebrating, with gradual temperature and landscape change as the only indication that the year has progressed. Time passes quickly and without marking moments in time, it can accelerate even more quickly. In years past, I have given little acknowledgment to what makes certain times of the year special, with the excuse that "life gets in the way". This year, I was determined to make an effort to make it feel like fall in our home, despite the hot September temperatures, instead of bidding it farewell after realizing it had already passed. This is our first fall in our new home so while I didn't want to get too extreme in my decor, I was ready to bring on some subtle transitions to welcome the cooler weather and this magical time of year. As you tour, please feel free to leave any questions you may have in the comment box. Without further adieu, I would like to welcome you to our fall home!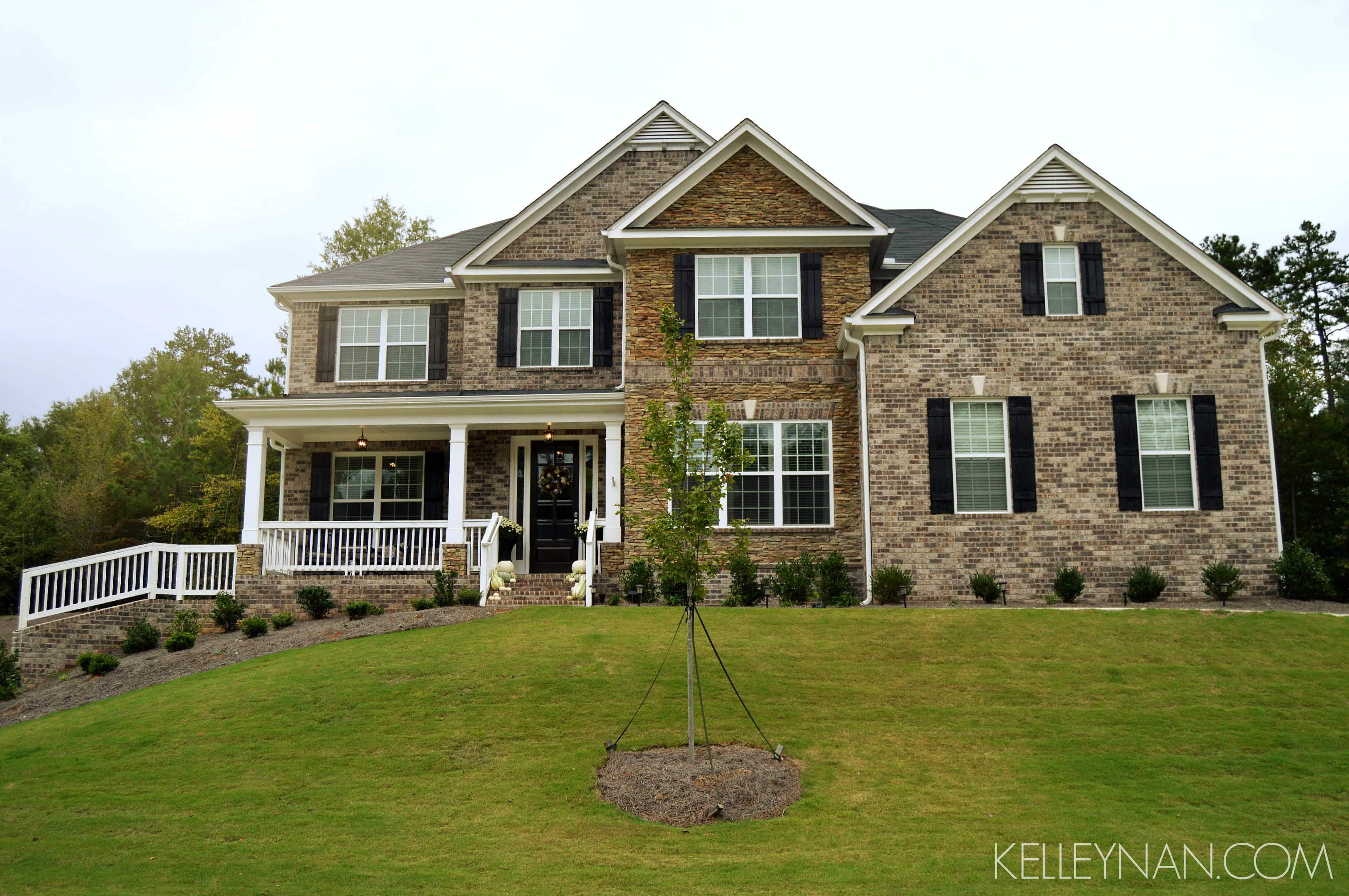 Our landscaping is still in the "baby", post-construction stages. We plan to start planting some trees later in the fall.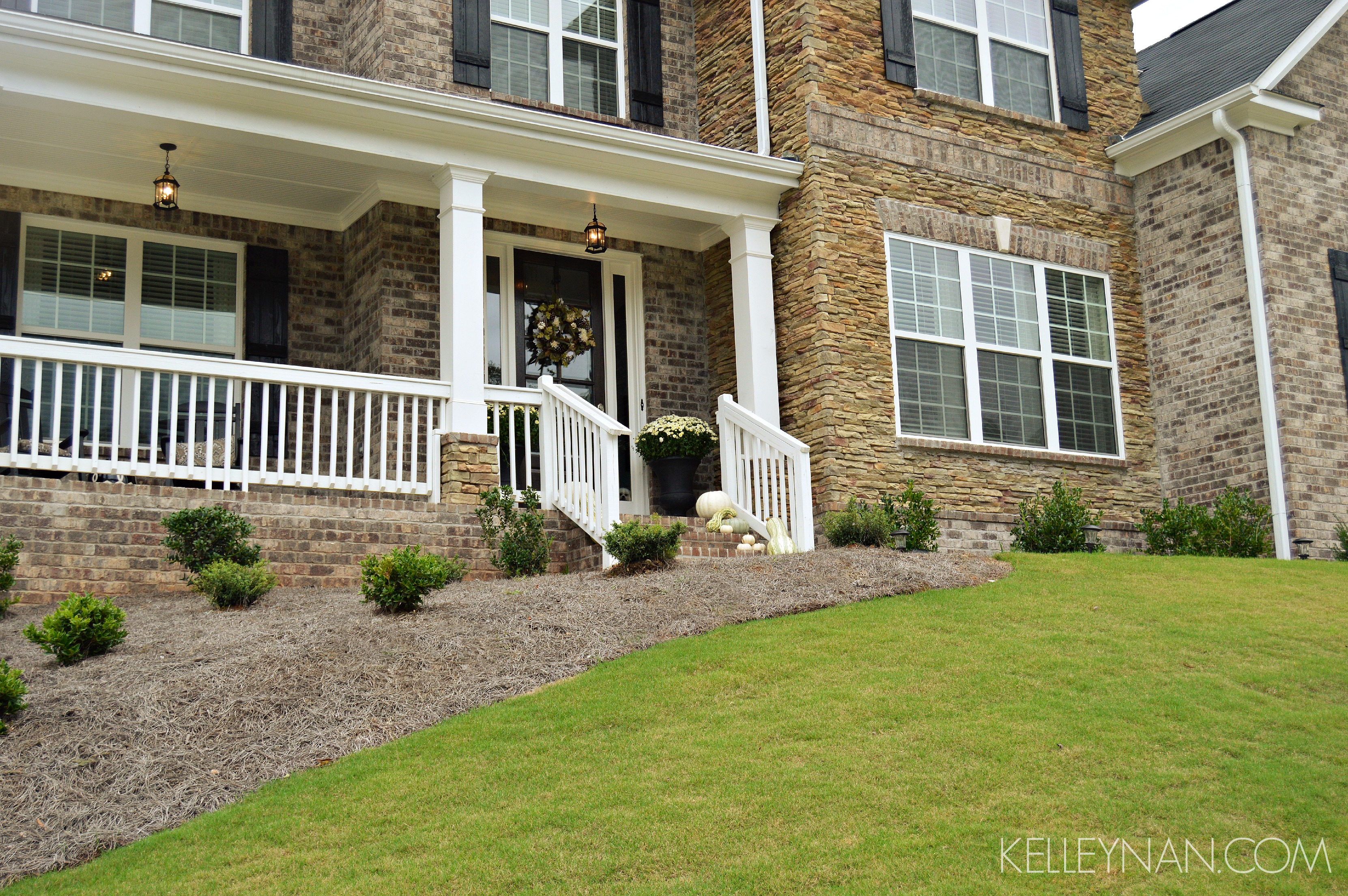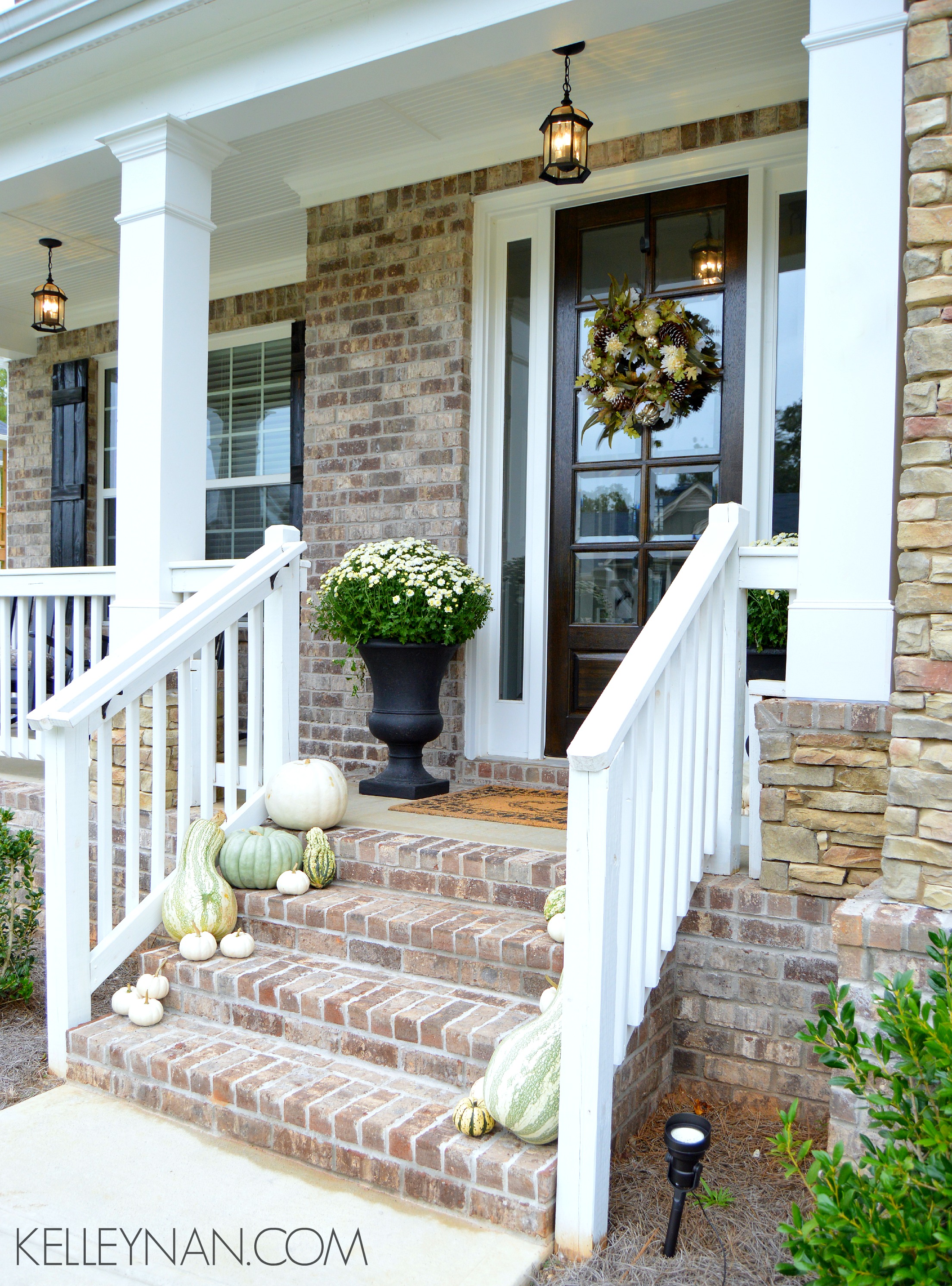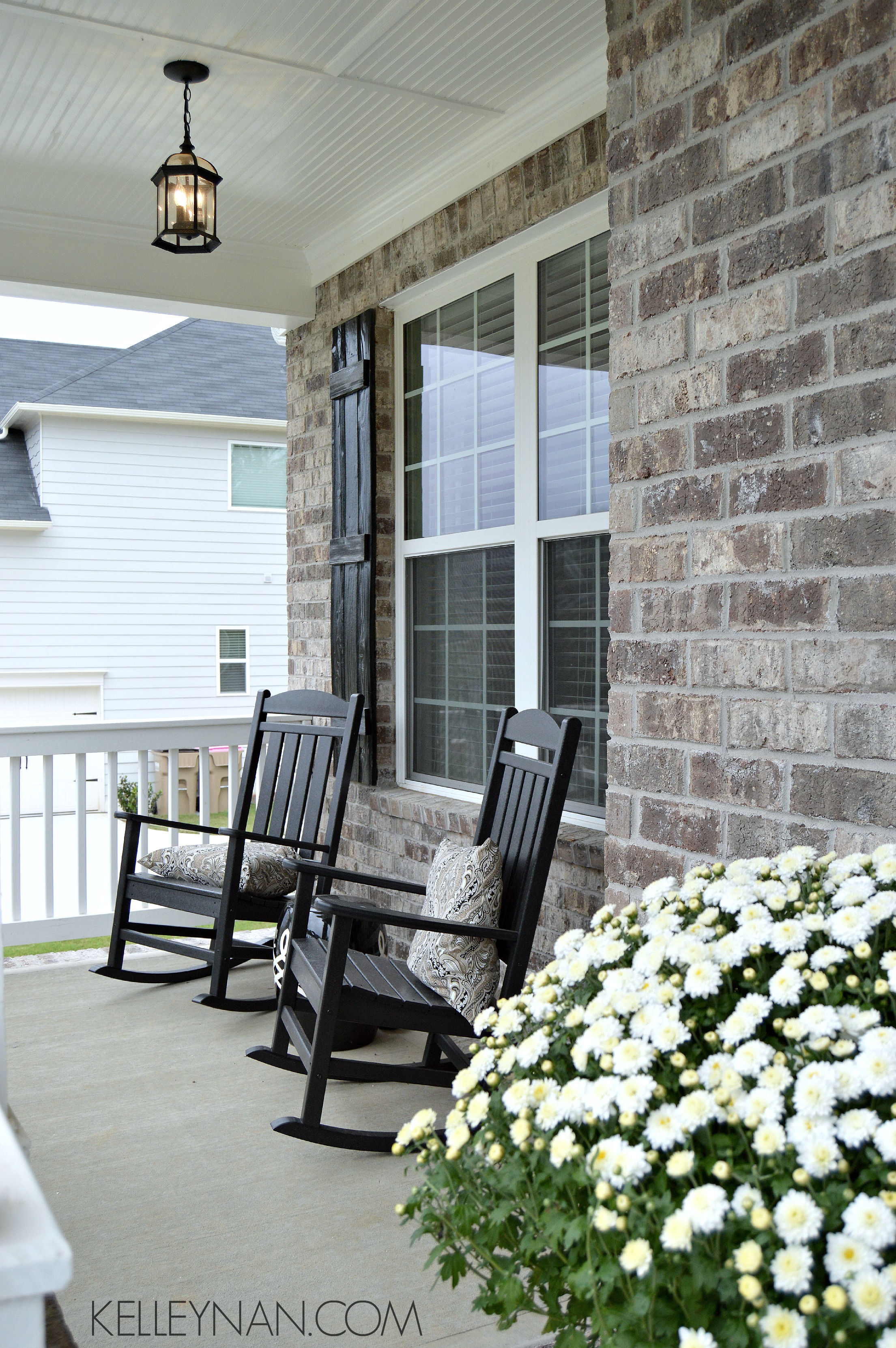 I went to a local farm and loaded up on white pumpkins and green/gray gourds. I had every intention of using orange pumpkins until I spotted this wreath…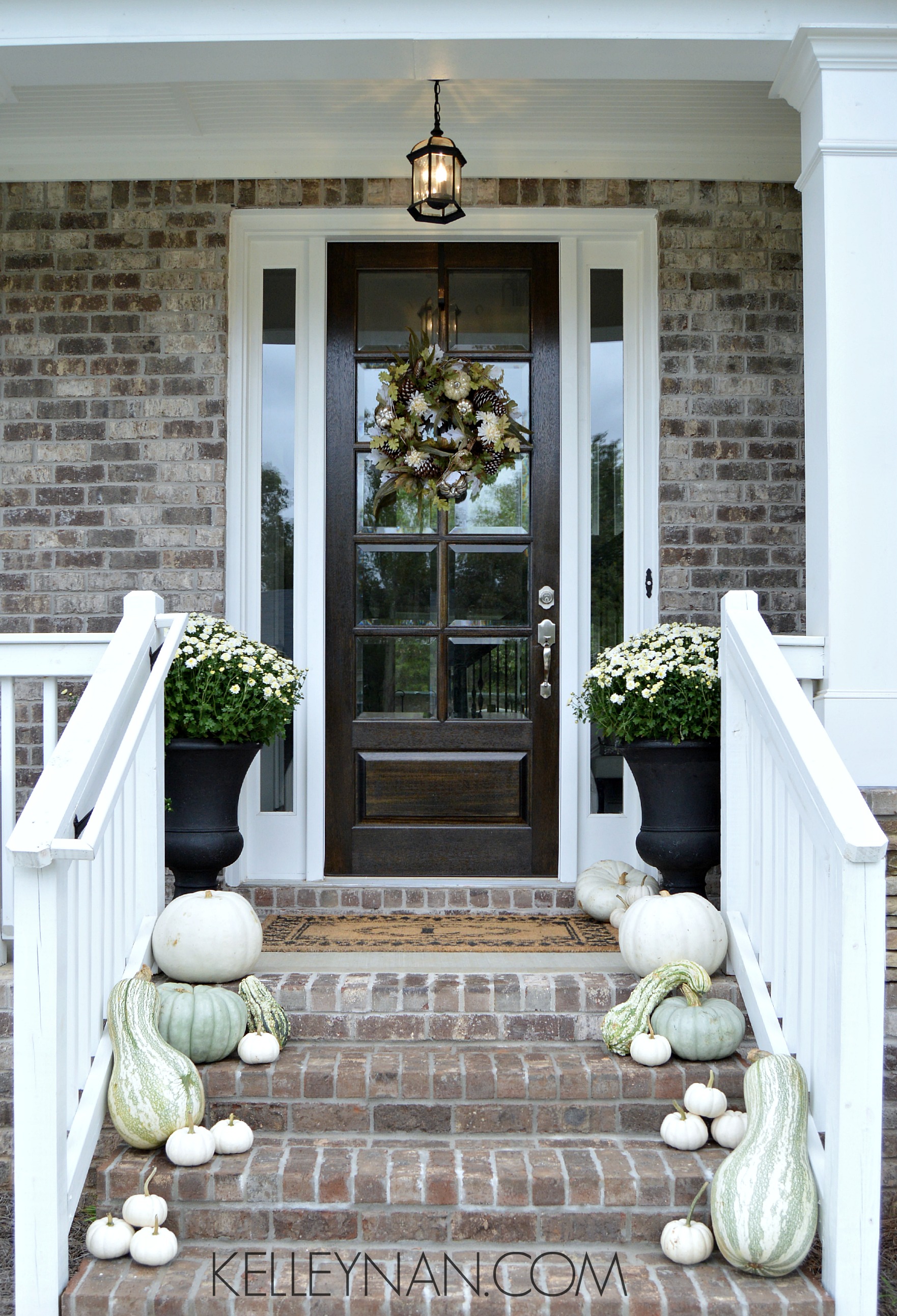 We have a small entry that leads into a fairly open floor plan.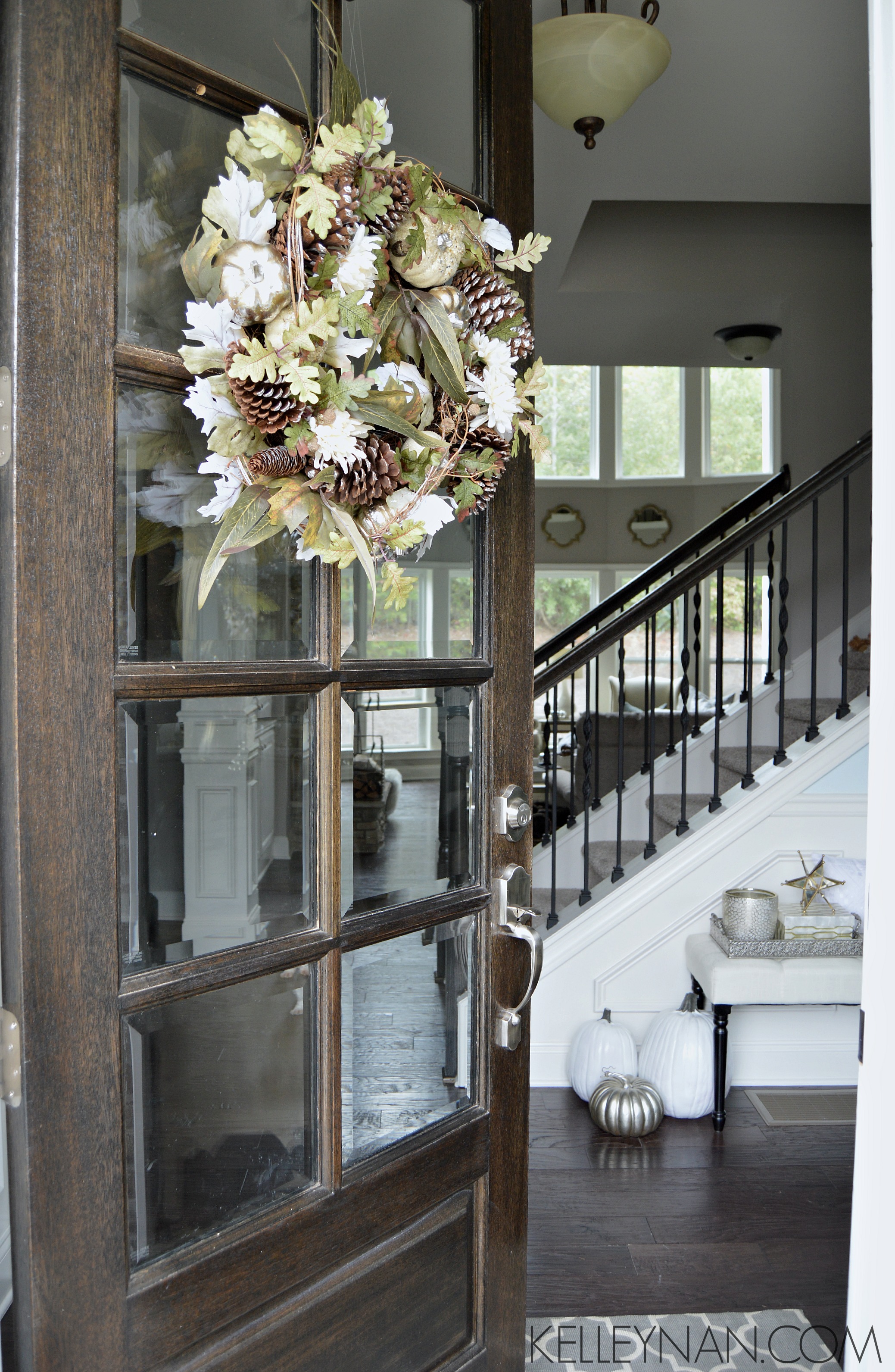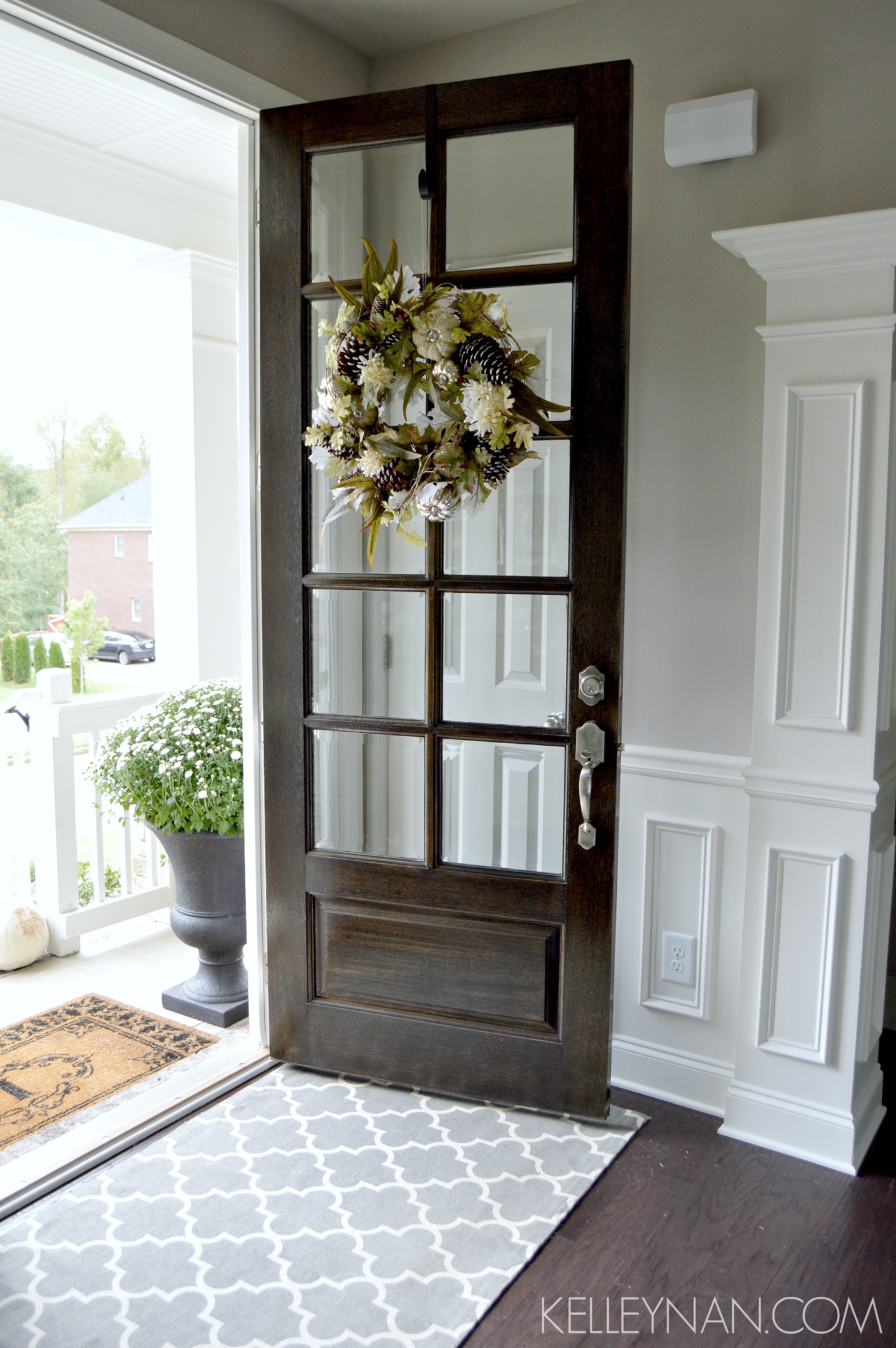 To the left is our formal living room. Its an eclectic mix of metallics and some handsome darker tones. This room is a combination of classic with a little modern flair. I added a few white/gold pumpkins in here but kept the fall decor minimal.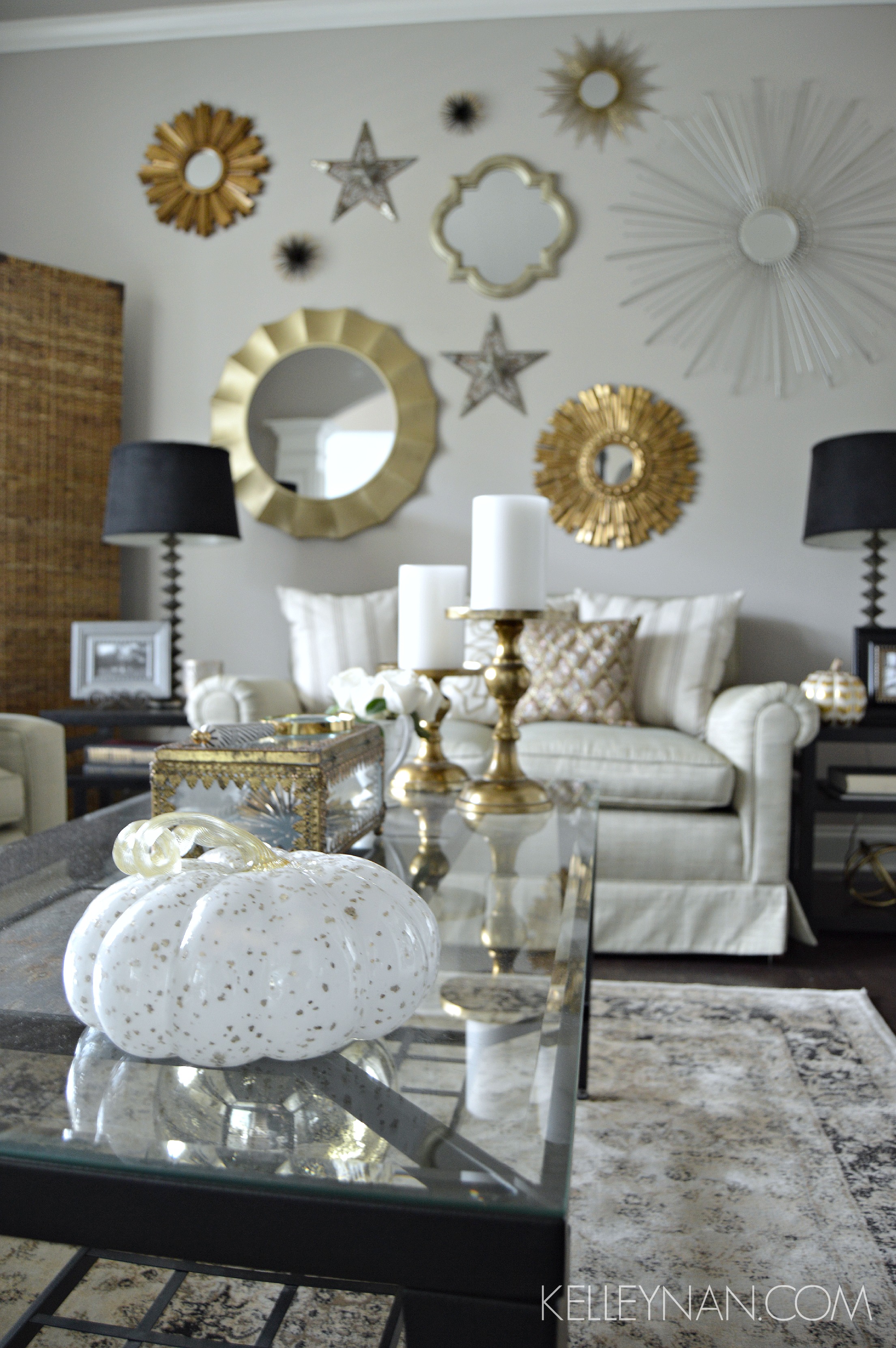 Peering across the entry, to the right is our dining room.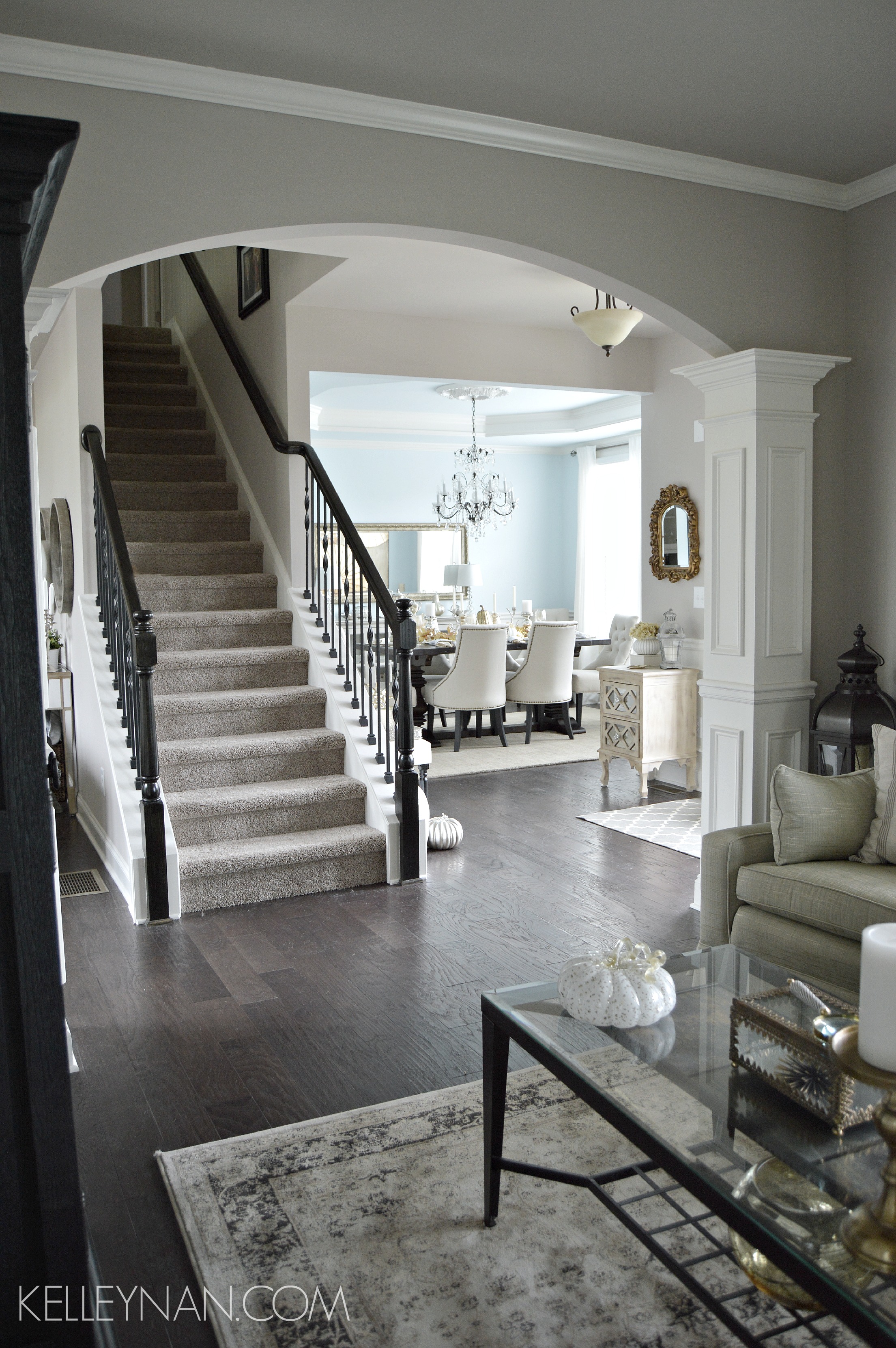 I don't tend to do too many DIY activities, but since I didn't have immediate access to orange pumpkins, I picked up some in the orange variety and spray painted them white with glossy paint I had on hand.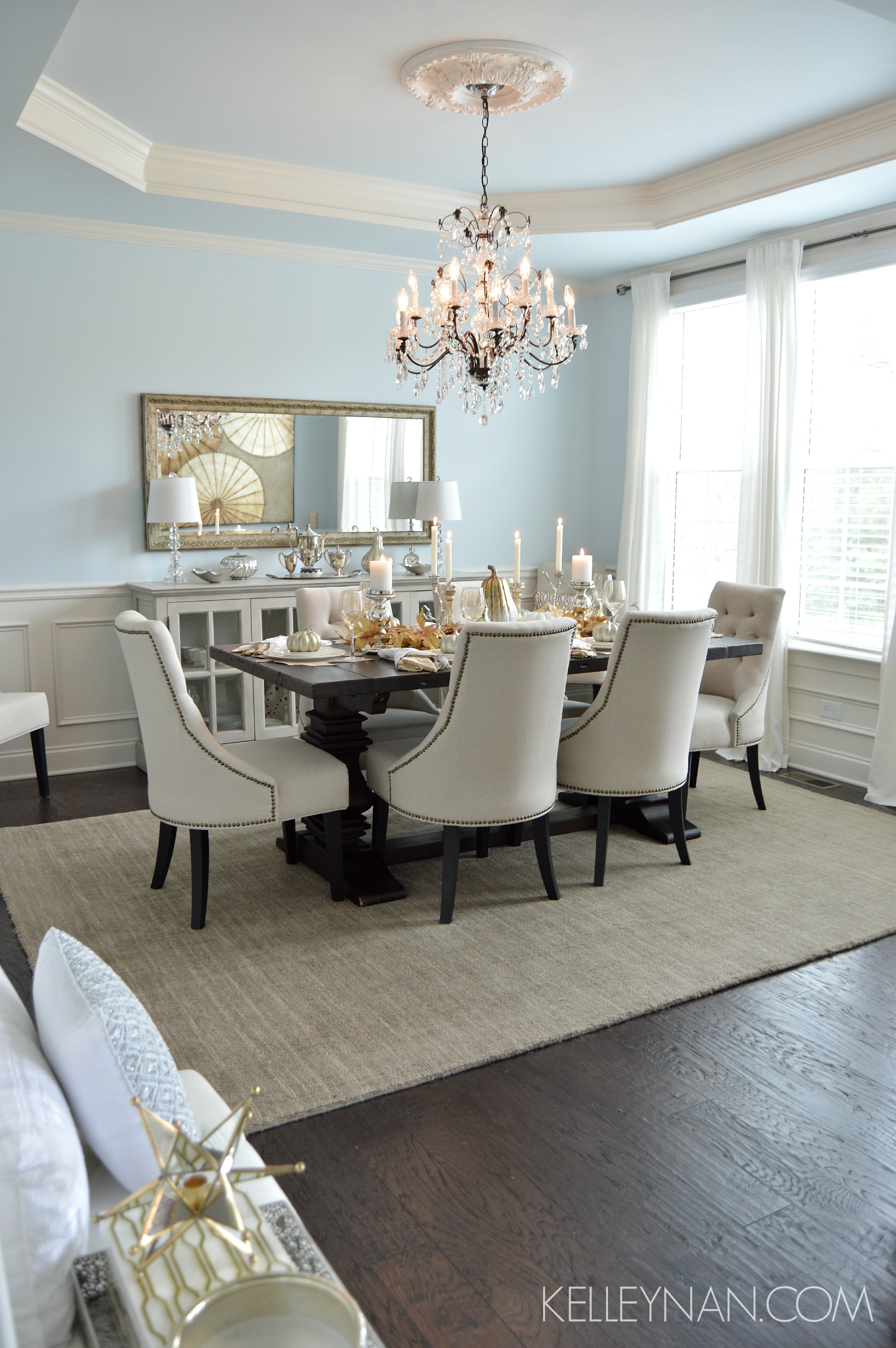 This was my absolute favorite room to decorate. I cleared my peacock place settings and built a metallic tablescape. I won't spend much time on the specifics as a full blog detailing how I created the table can be found here.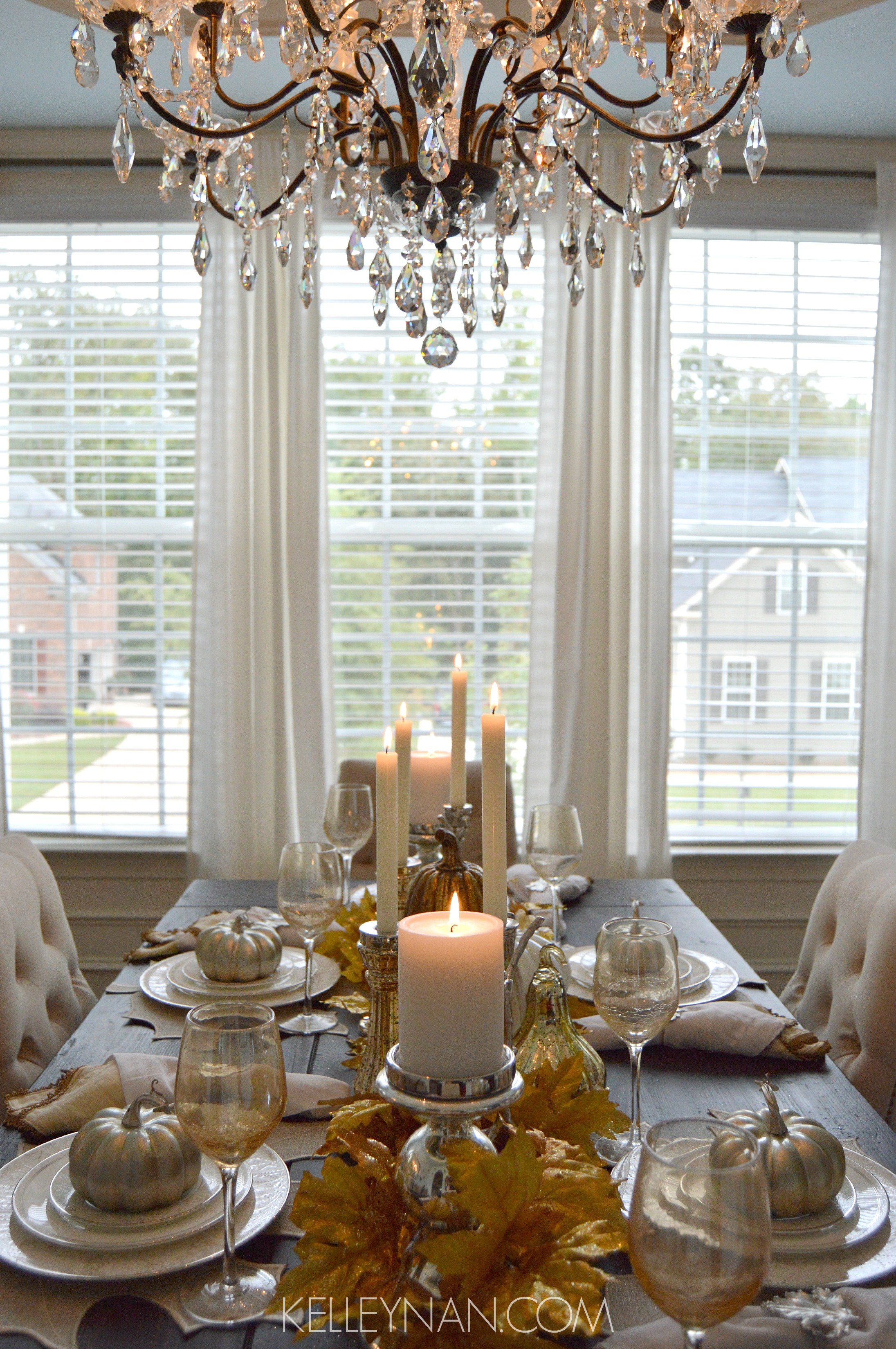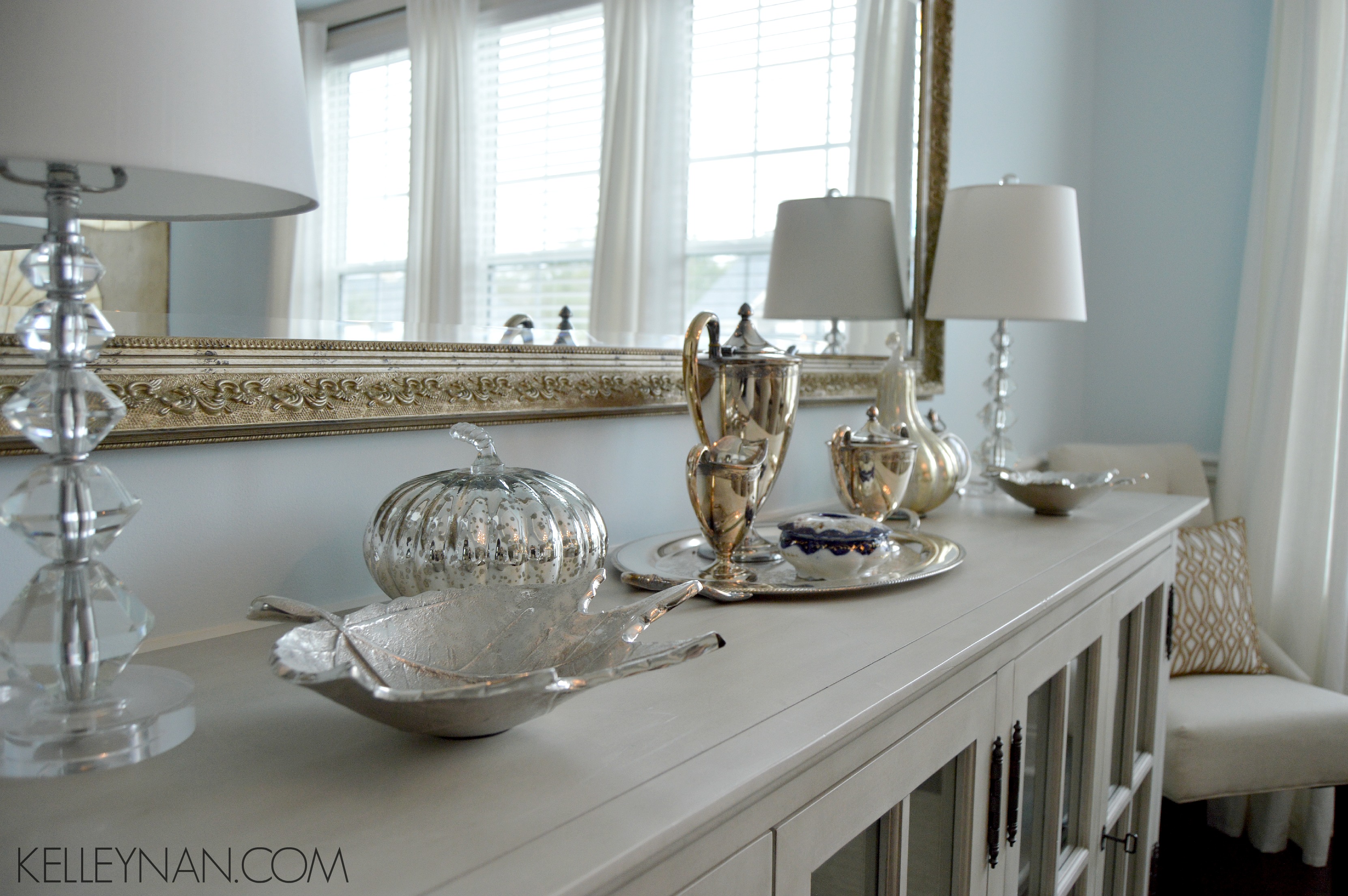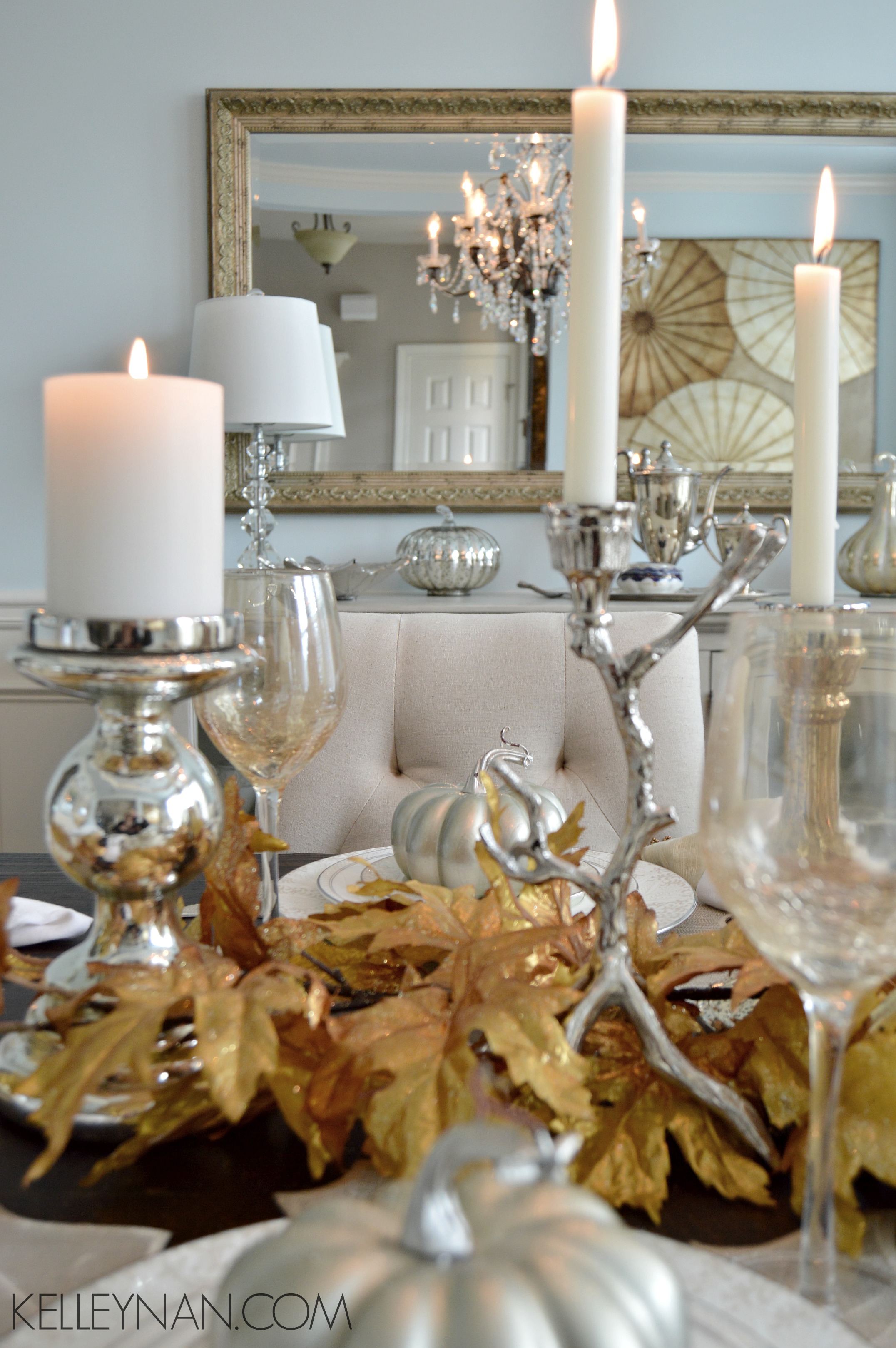 Next up is the great room aka our TV-binge-watching-Heaven. If we aren't on our back deck, this is where you will find my husband and I relaxing. This summer, the room was filled with ice blues and some coastal inspiration. I transitioned to fall by adding a few neutral pumpkins and natural fall elements, and switching my pillows and blankets to navy and gray with rich textures (think lots of fur and fuzz). You don't have to use warm colors to evoke a cozy fall atmosphere.
Layering with blankets and pillows enhances the cozy feel of this room while still keeping it clean and "dressed".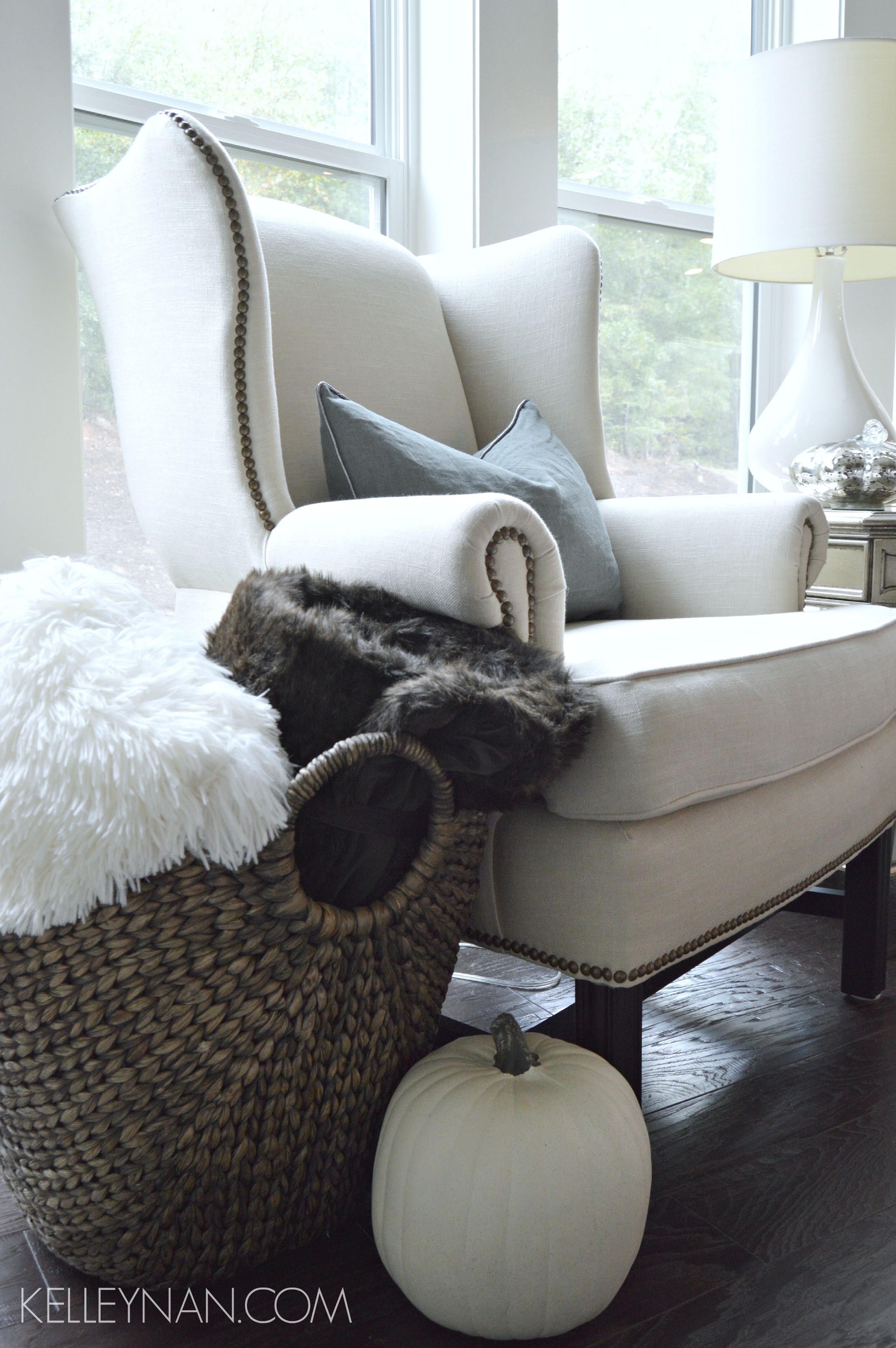 The oversized tray on our coffee table serves as a focal point of the room. Even mixing silver, gold, blue, gray, white, brown, bronze, etc., the overall appearance compliments neutral. I am a huge fan of mixing metals; hopefully this demonstrates that there is no need to fear a little diversity in your color mixing.
Note: For tips on how to style a tray/coffee table, visit my previous blog post.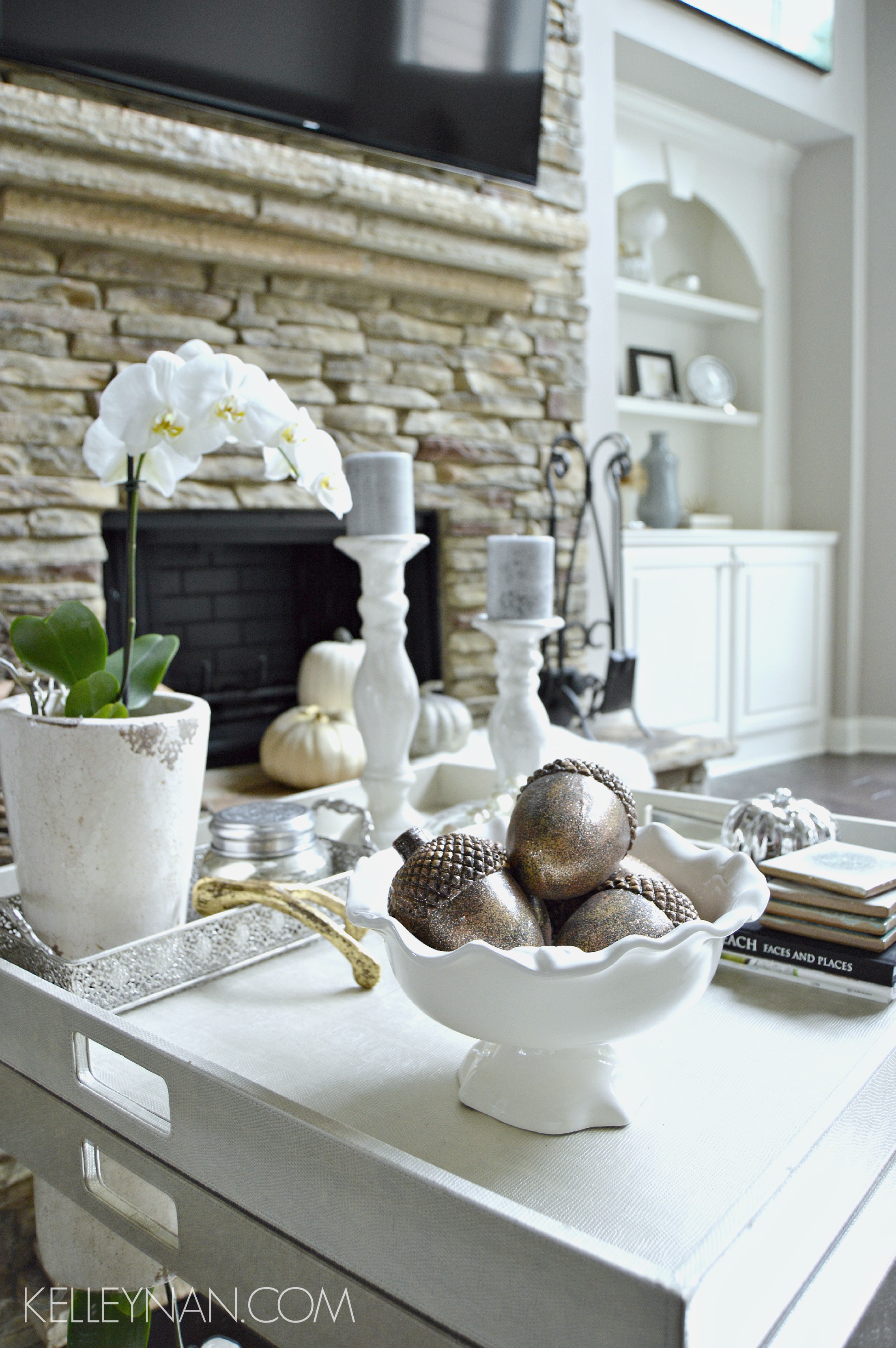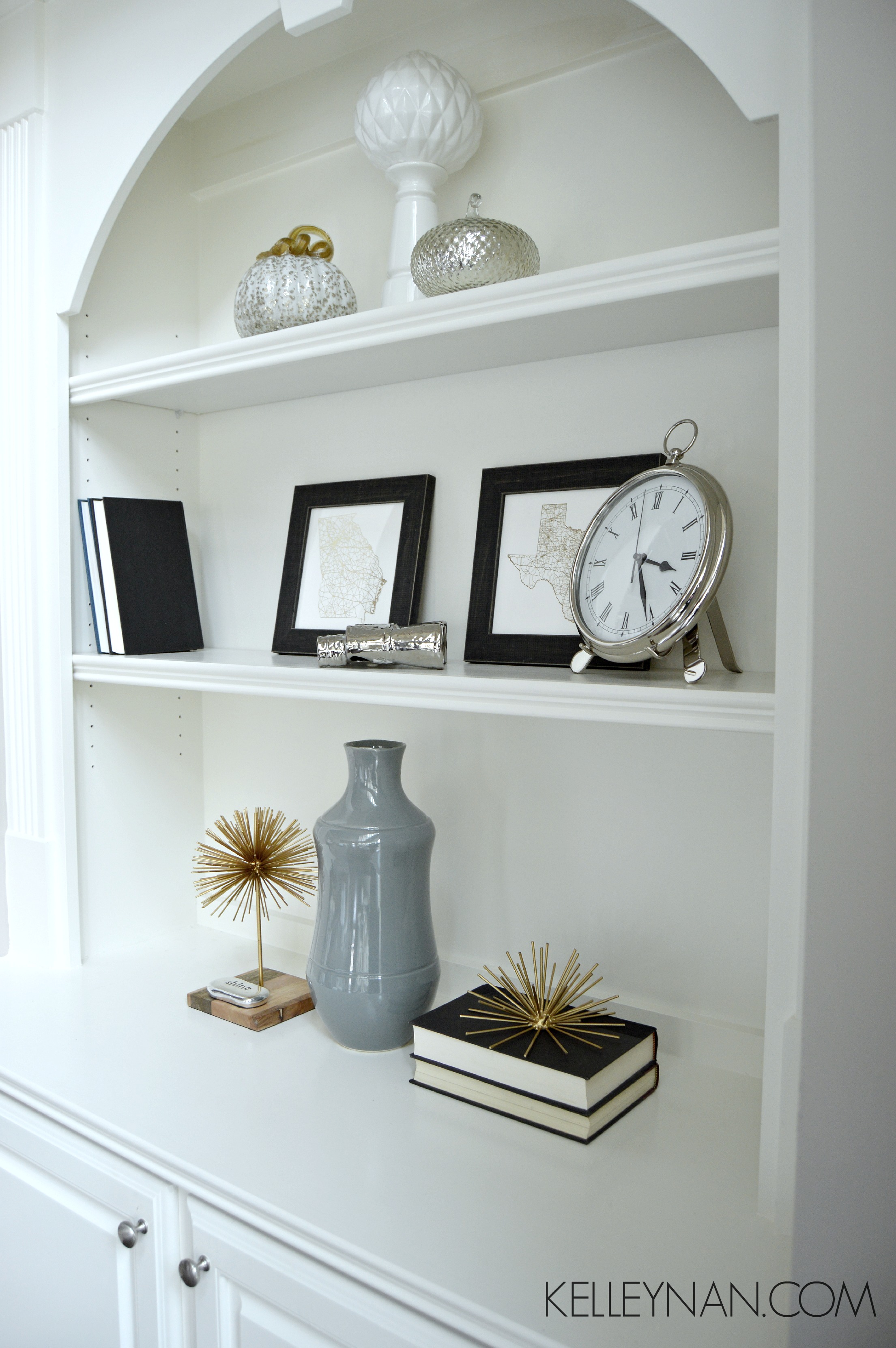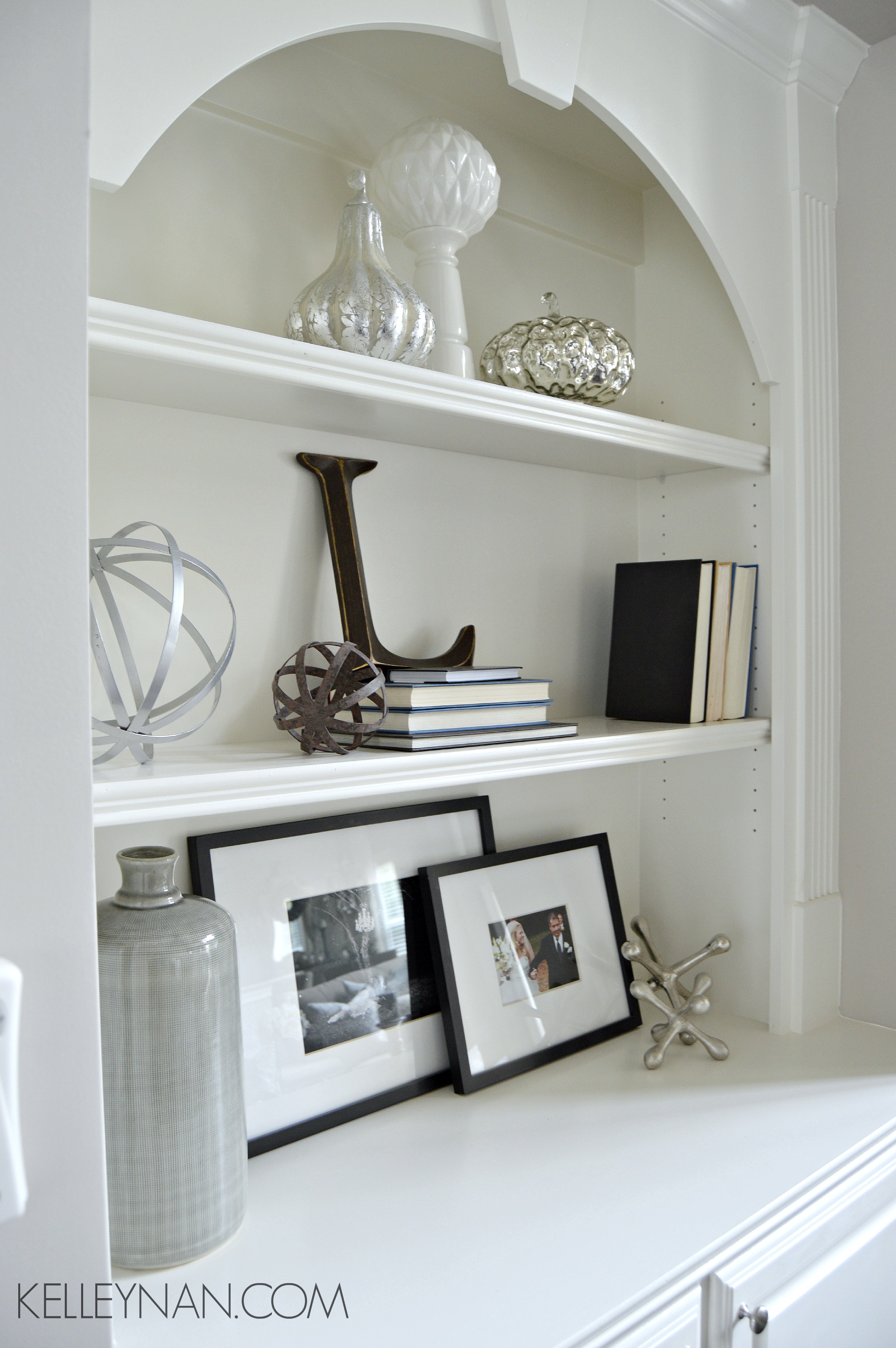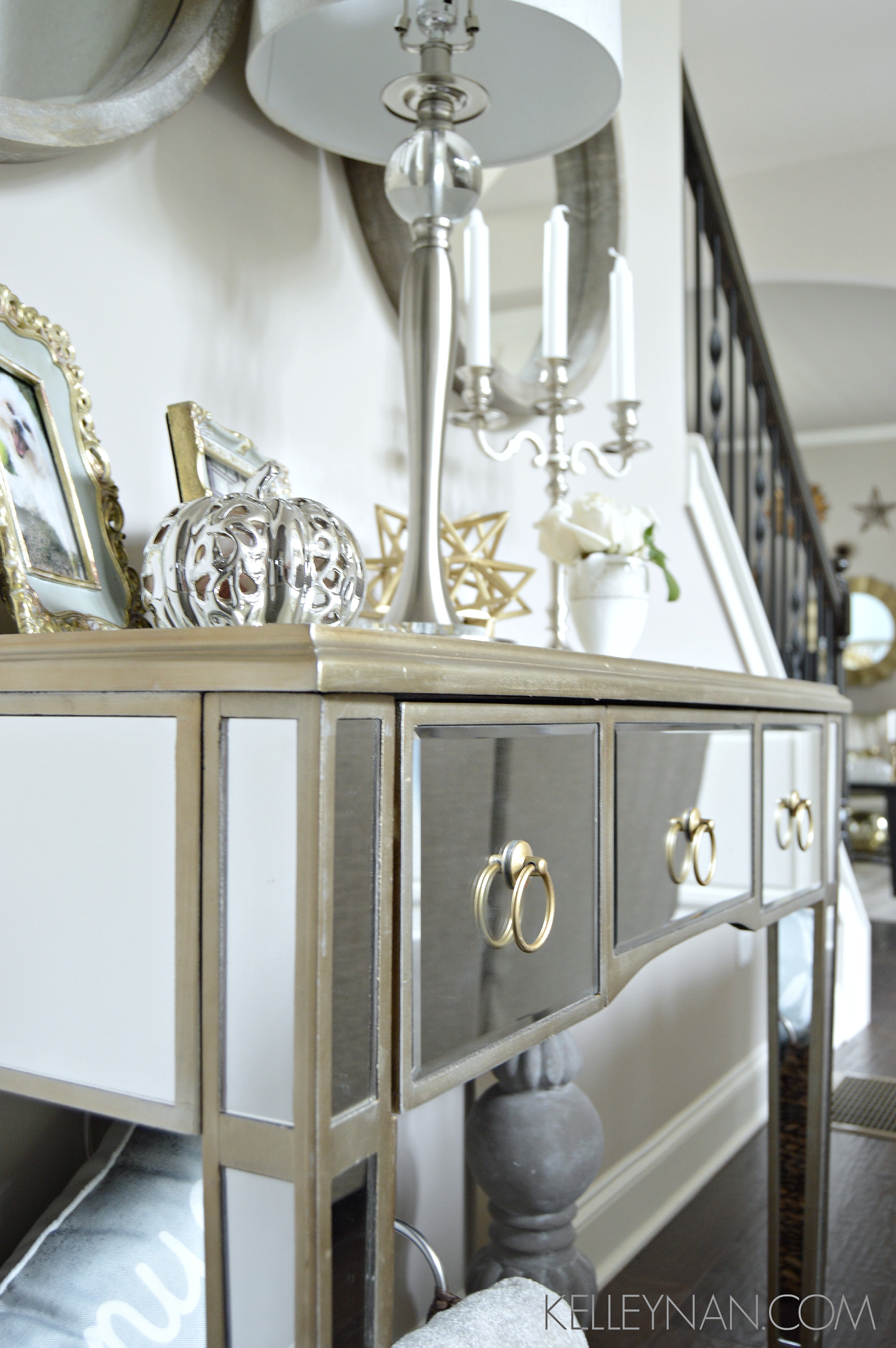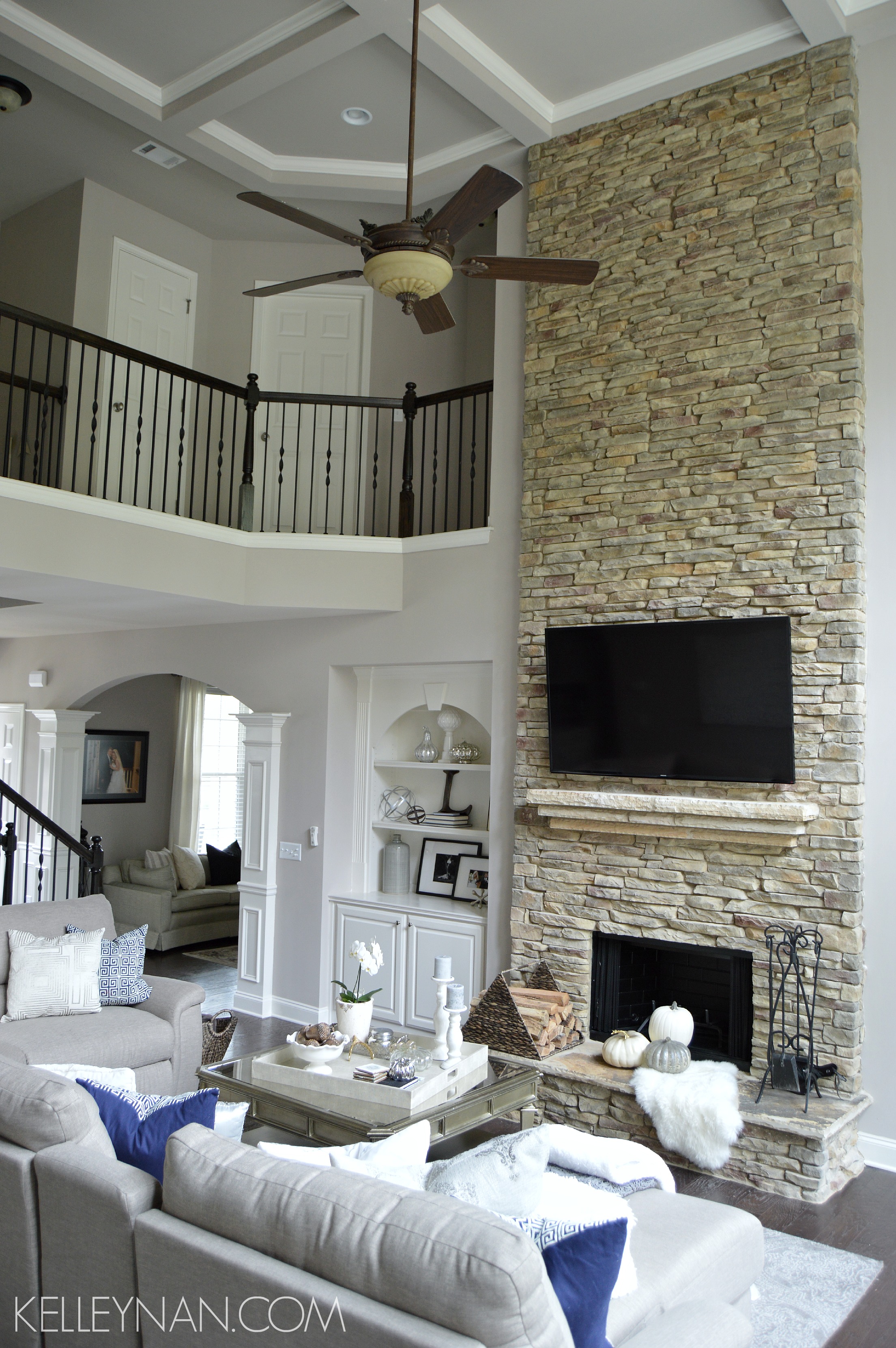 The kitchen and breakfast nook are open to the great room. I carried the gray/metallic decor theme over to the breakfast nook, but changed it up a little bit in the kitchen and use black instead of navy as my dark color "punch".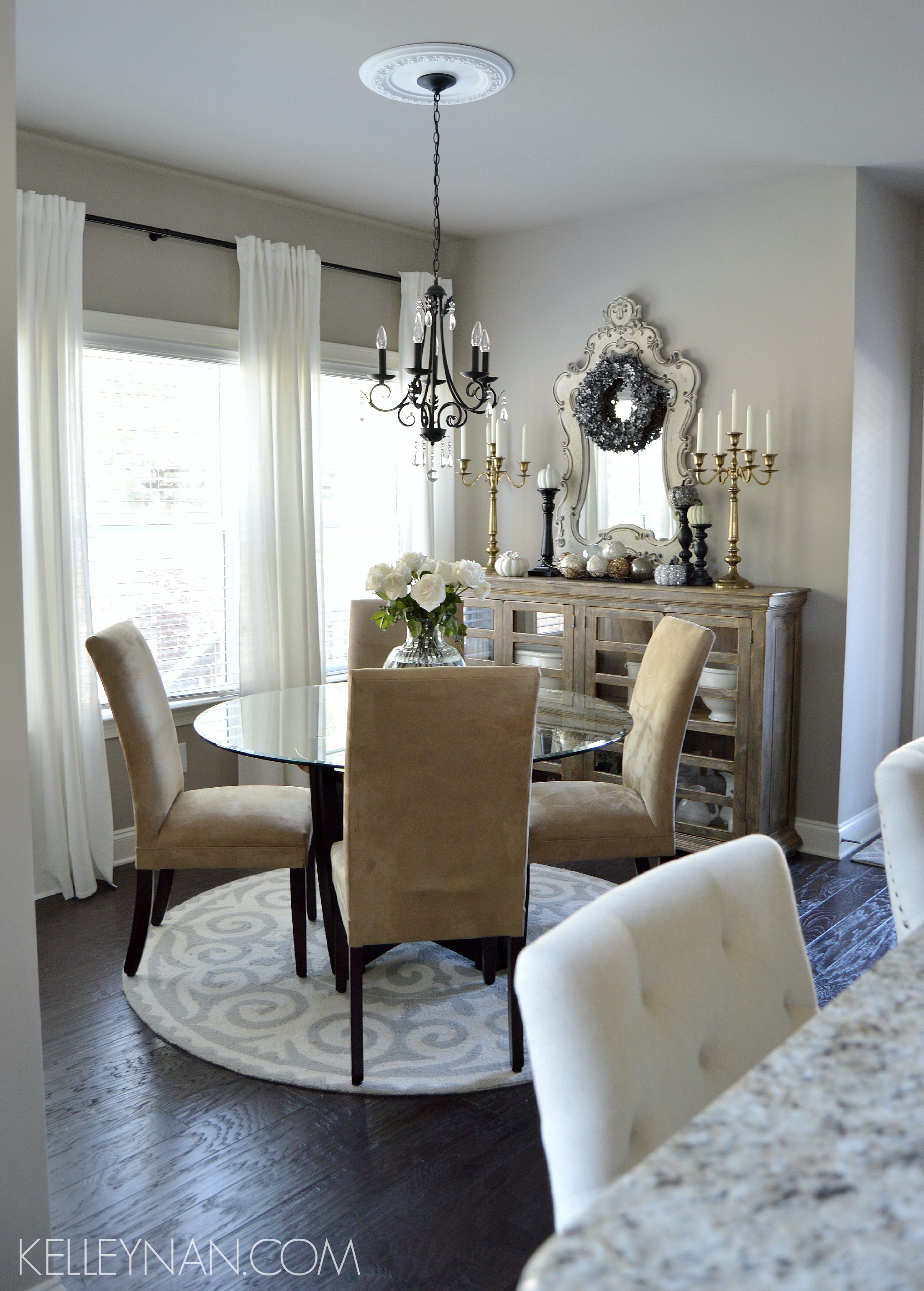 This charcoal hydrangea wreath was also a DIY. The blooms were attached to black stems intended for Halloween. I picked up several for 90% off regular price.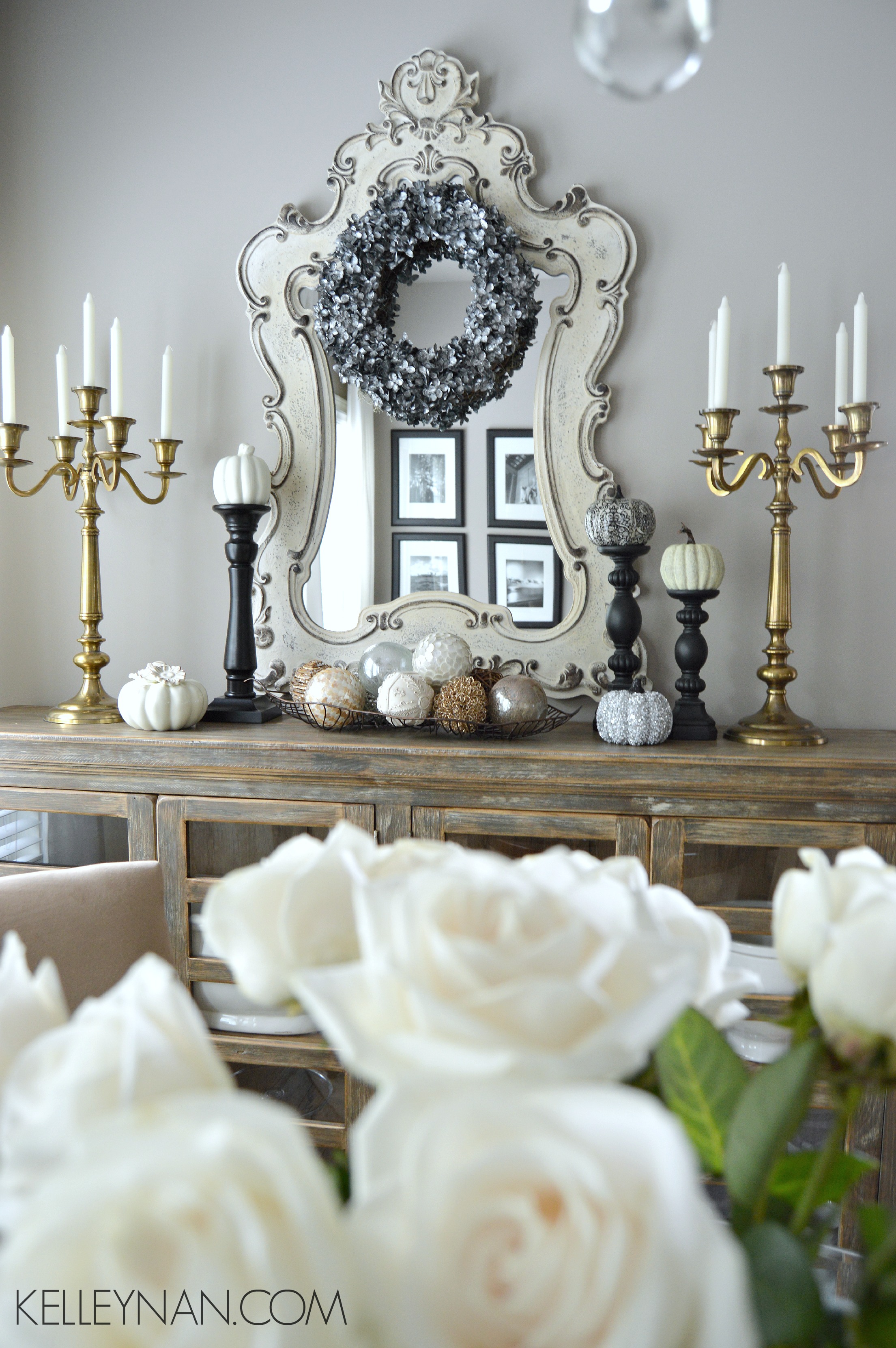 Pillar candle holders make great elevators to create height, not just for pumpkins but for year-round decor. Here is another example that you can mix patterns, colors, textures, and finishes.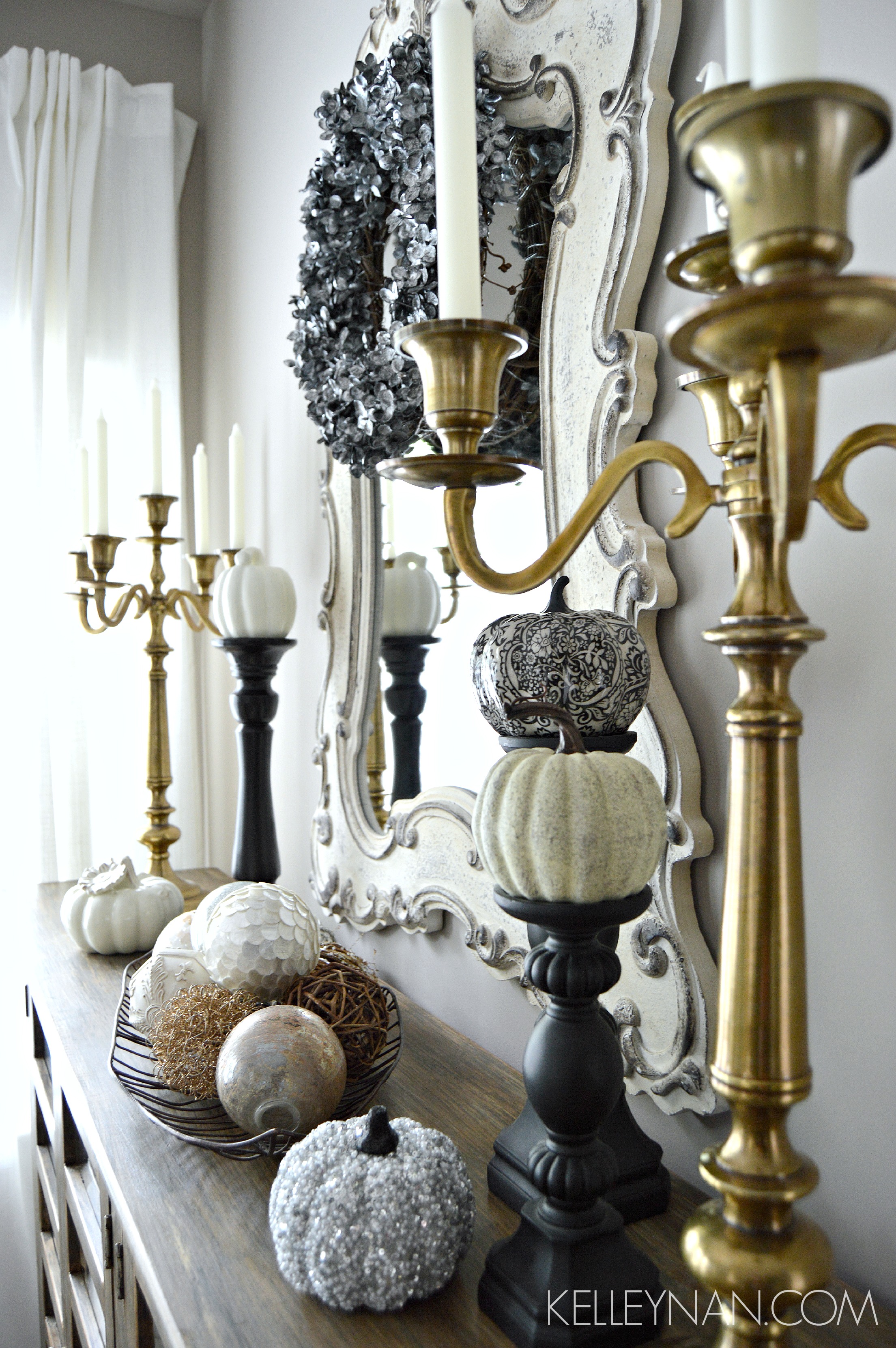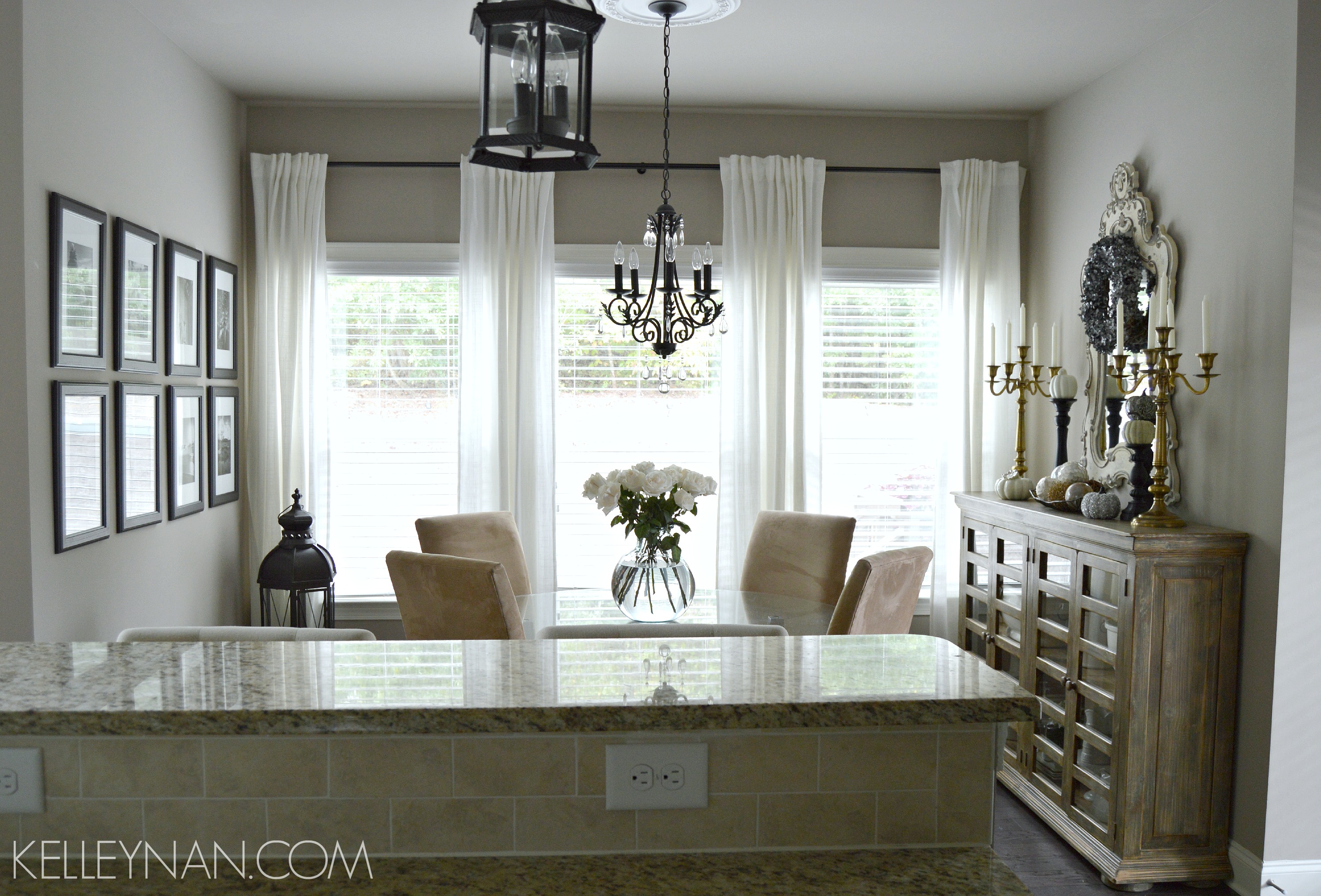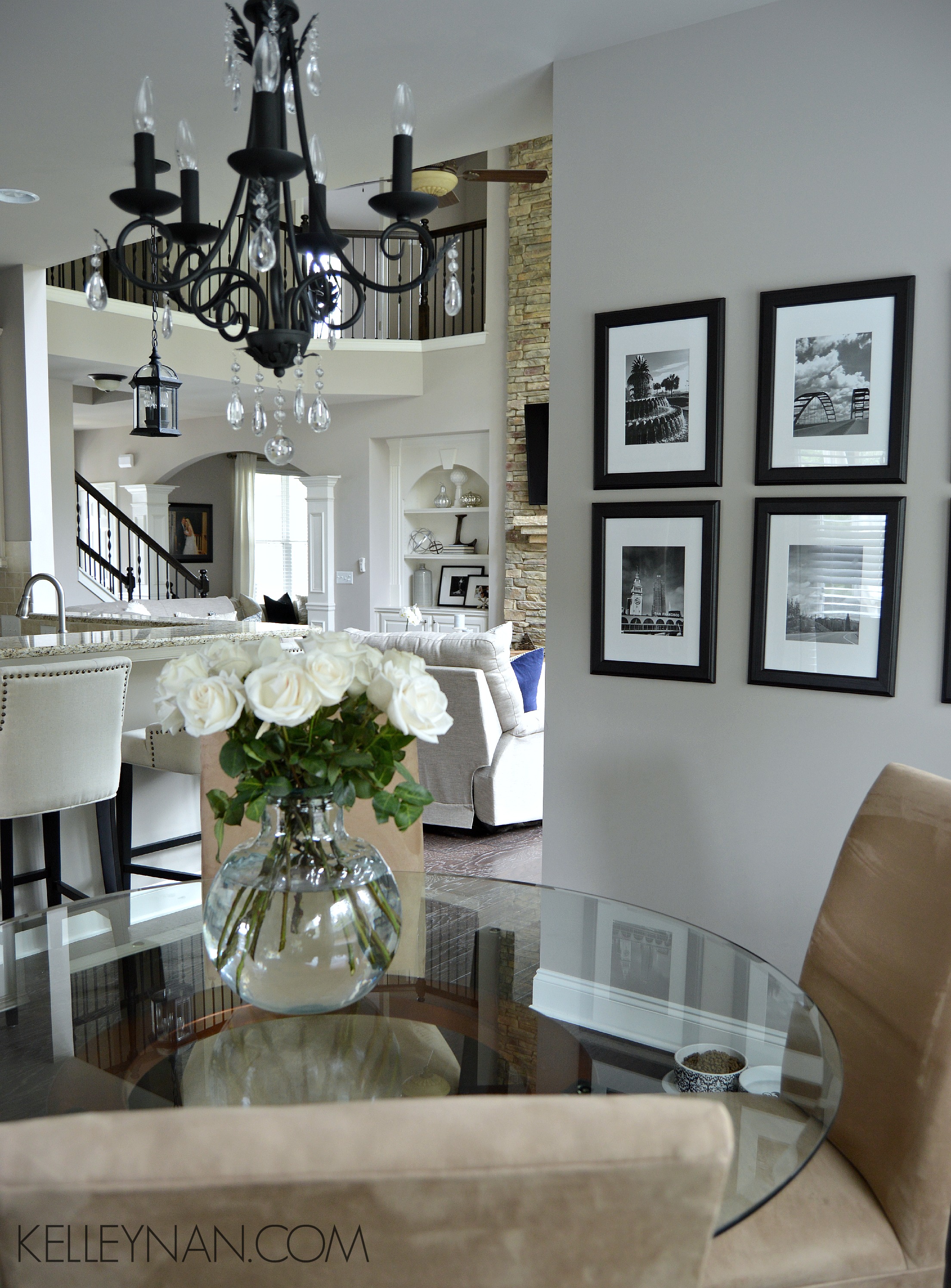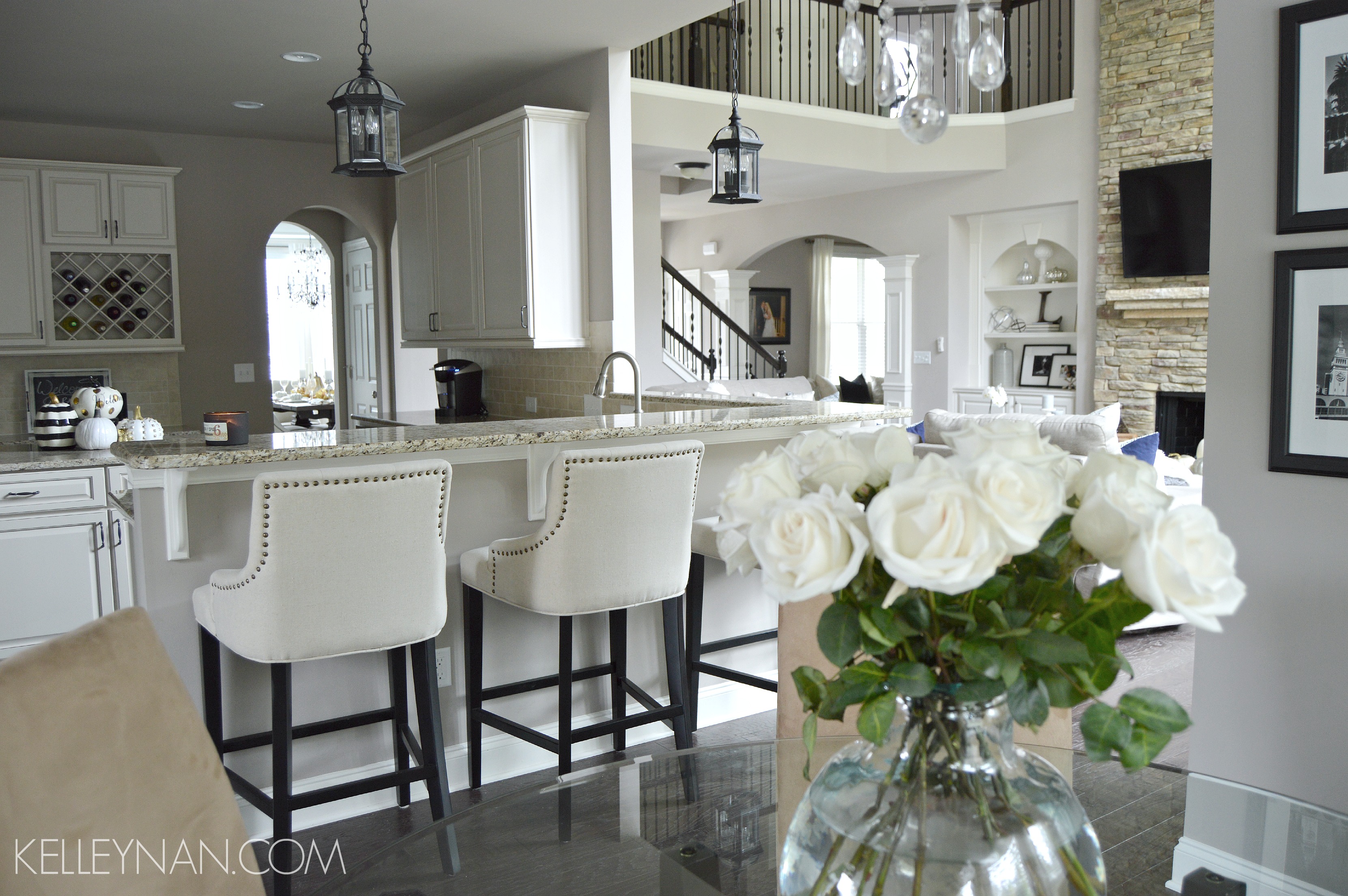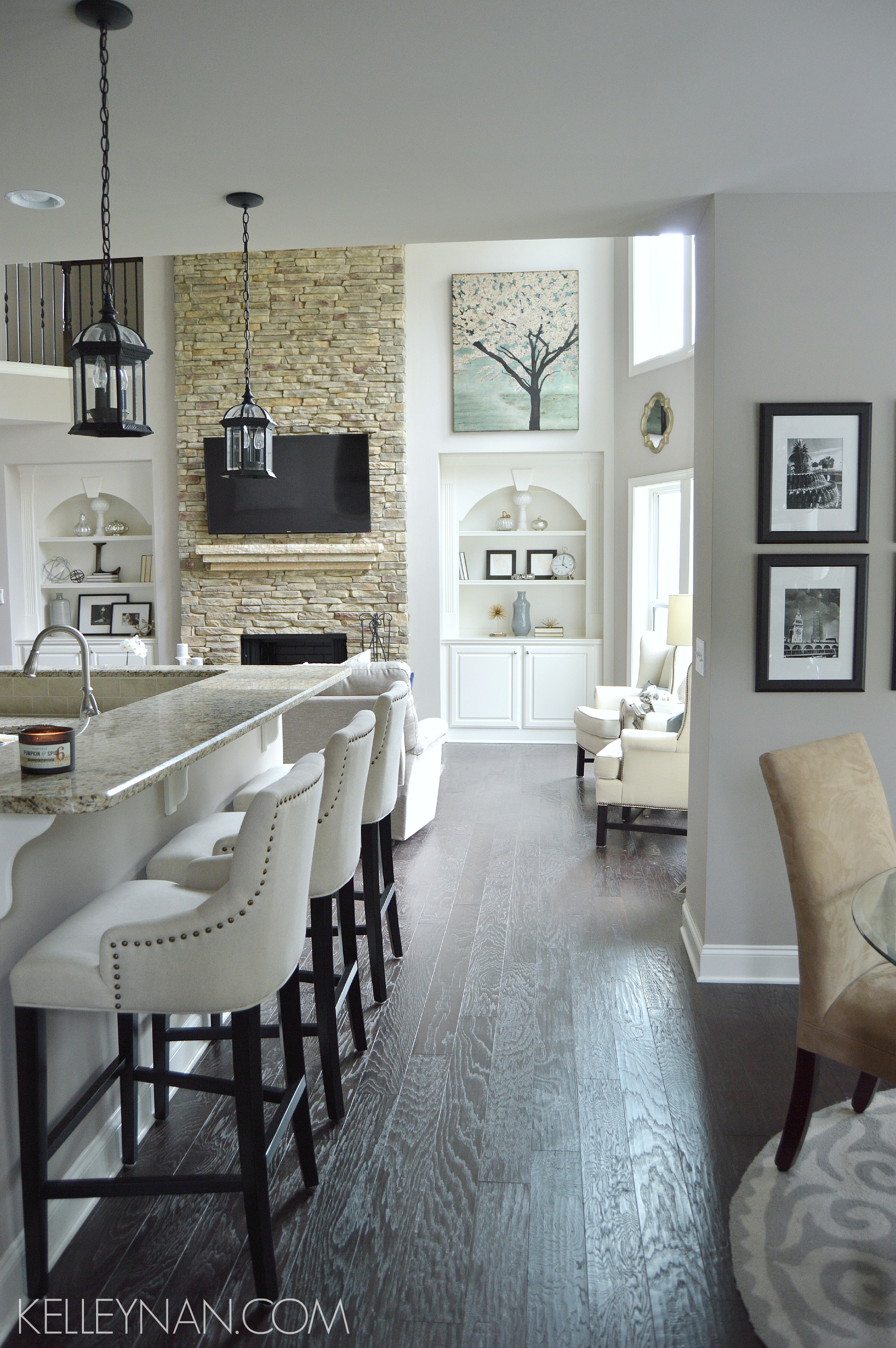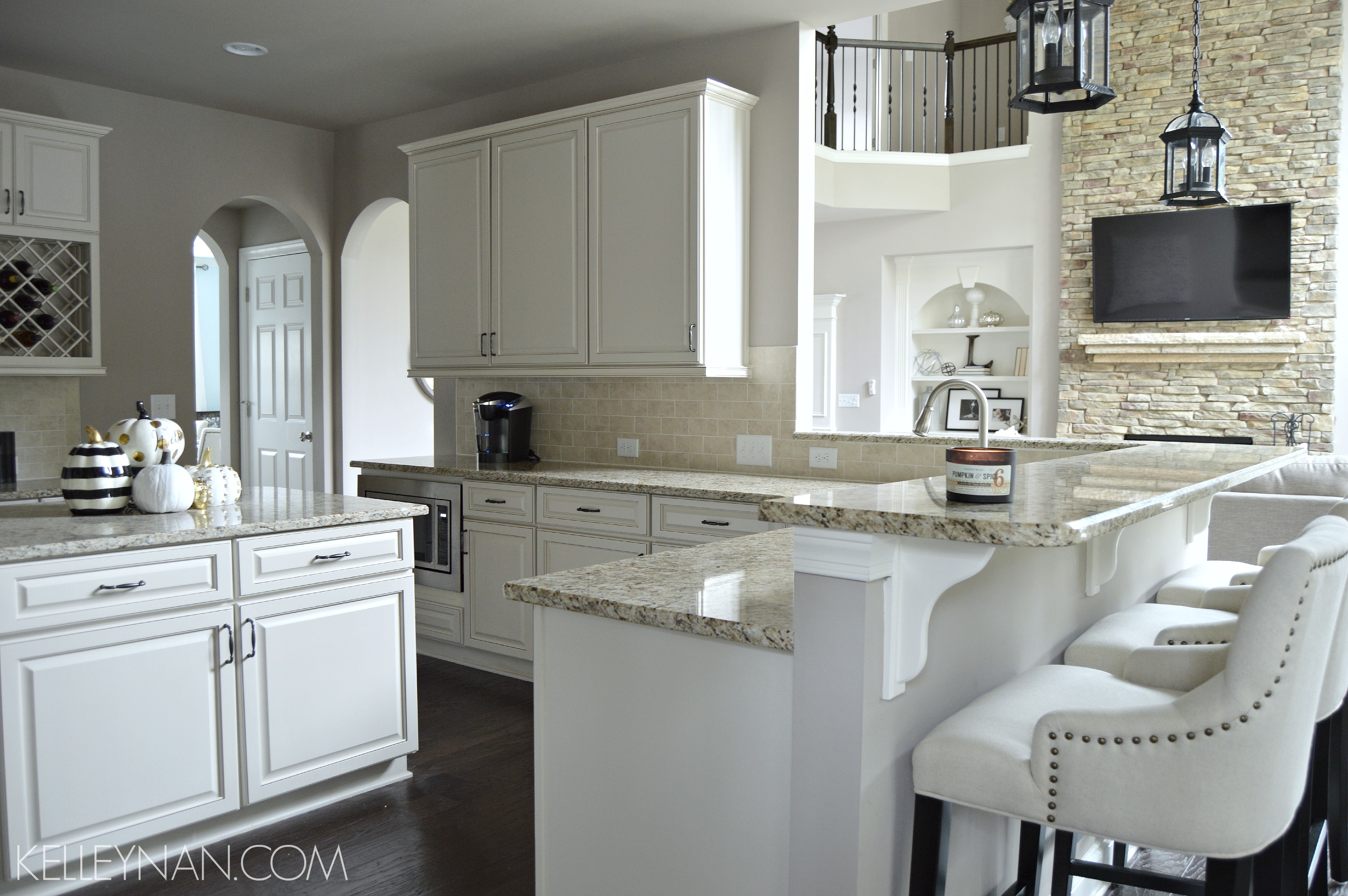 Since the great room is separated by a partial wall, I feel I can get away with the bold black in lieu of the navy. The breakfast nook acts as a balance of the two.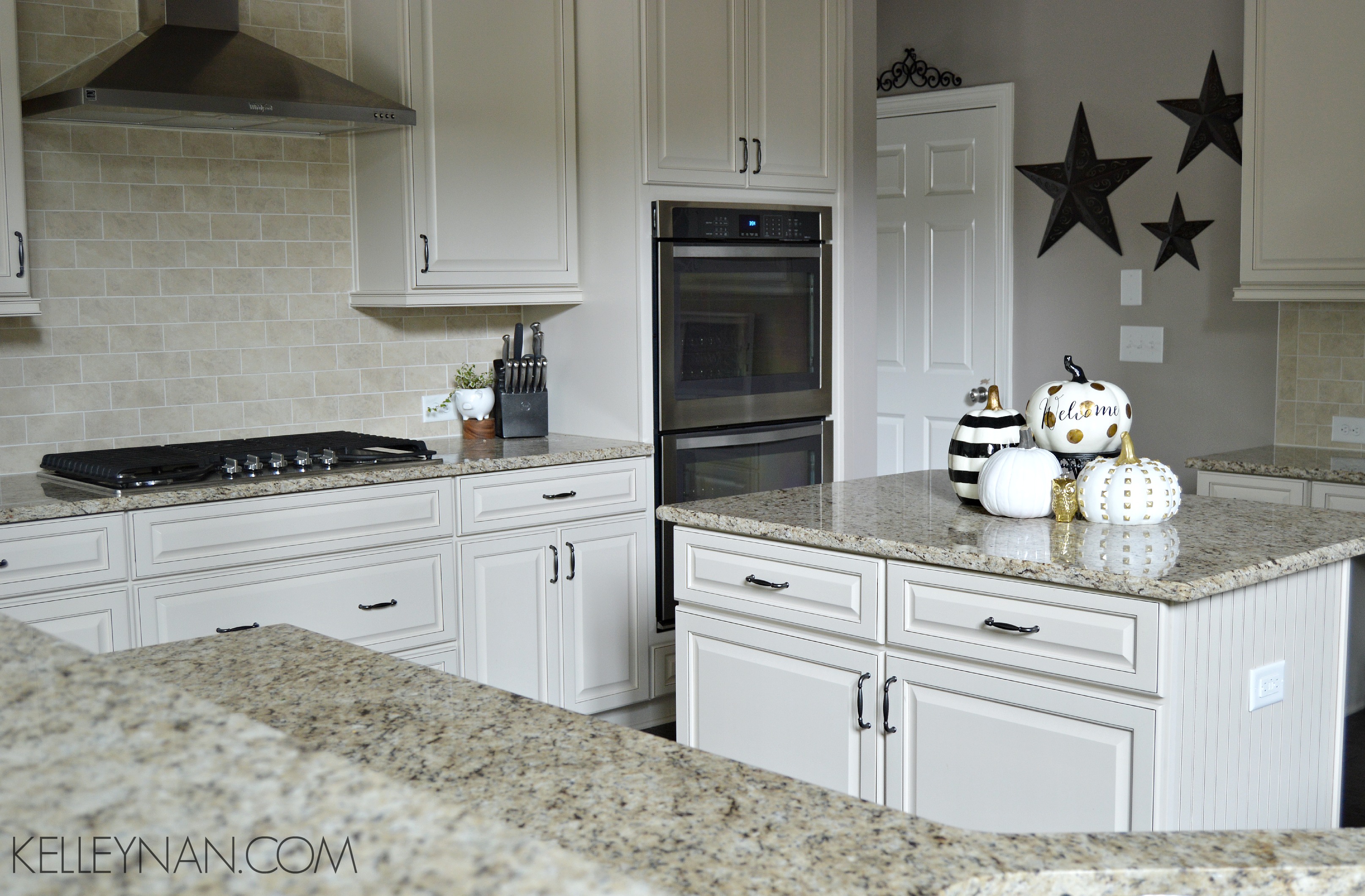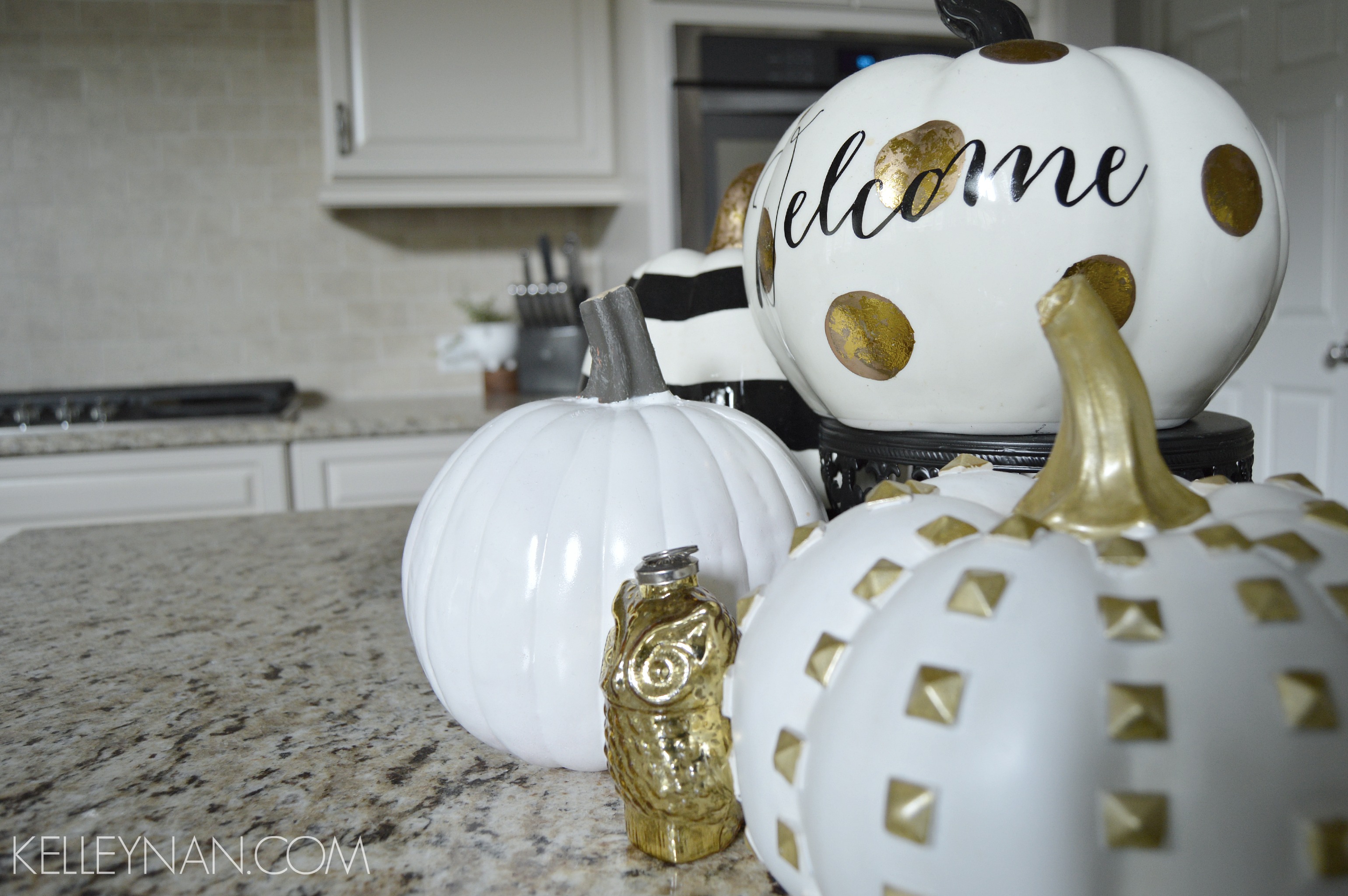 Thank you for stopping by our home! When the last leaves have fallen, I hope you will stop by again for a Christmas tour. Chances are, you will see much of the same decor, just used in a different way. You can find me on Instagram @kelleynan to follow me through my home's transitions over the next few seasons.