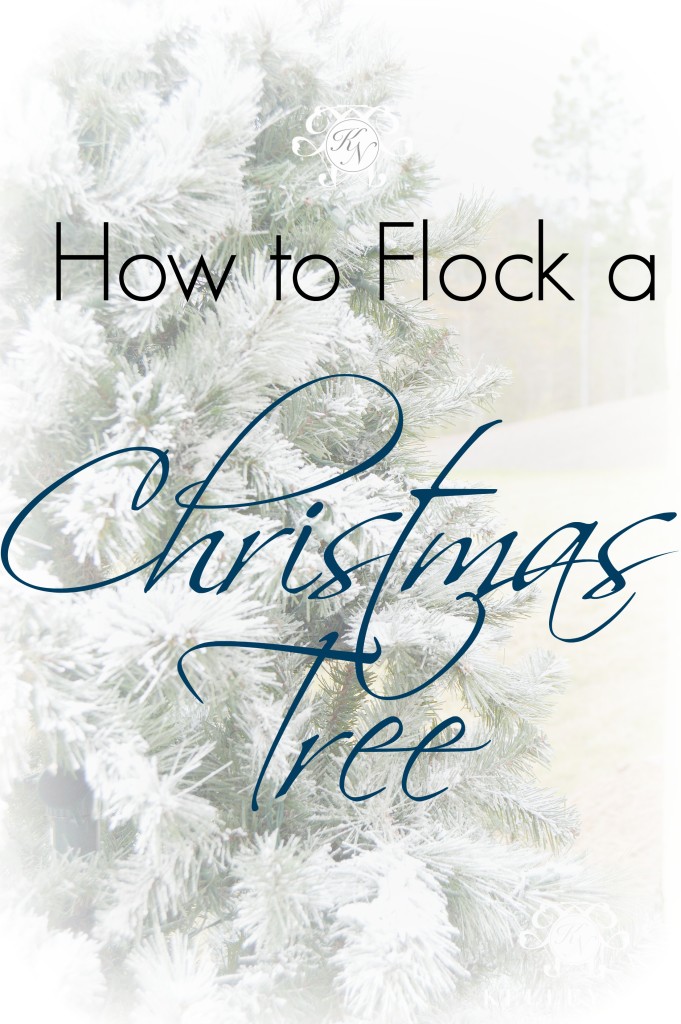 Since we are hosting Thanksgiving dinner at our home, we will not be transitioning to Christmas decor until next weekend. However, I am trying to start preparing what I can now. Between working full time, managing virtual design clients on the evenings and weekends, and keeping up with the day to day of our home life, Christmas decorating will be limited to one weekend. Anything I can't pull off in the two-day timeframe probably isn't going to happen.
As ecstatic as I am to decorate our new home, I am a little intimidated. It is a much larger area and the oranges, browns, and reds I decorated with in the past just aren't going to make the cut. The space for our Christmas tree in our old home was also narrow and we had a much lower ceiling. My husband was the first to mention a new, taller Christmas tree and it didn't take much convincing before I was even more determined that we had to get a new one and we had to get a new one THIS YEAR. We are repurposing our previous tree which will be shared on my upcoming Christmas Home Tour (to go live on Monday, December 7), but I wanted to do something different without having to fully decorate it. I decided I wanted it to look snowy and more natural (again, stay tuned for the home tour for a full look). 
About a month ago, I watched a Periscope video by Happy Happy Nester, Janine and Marci, as they flocked a tree they had scored on Craigslist. Perfect timing and of course, I was excited to tune in to see what I was in for. After seeing how easy they made it look, I moved forward with my plan, ordered my flocking powder, and finally, set to work earlier today. I am most definitely not a DIY-er so this is as pretty advanced as I get. Below are the steps I took.
I pulled my old Christmas tree out of the box, assembled its three pieces, unwrapped the gold ribbon left over from two Christmases ago, and took about 15 minutes fluffing the branches. Note: This is a narrow 7.5ft. tree.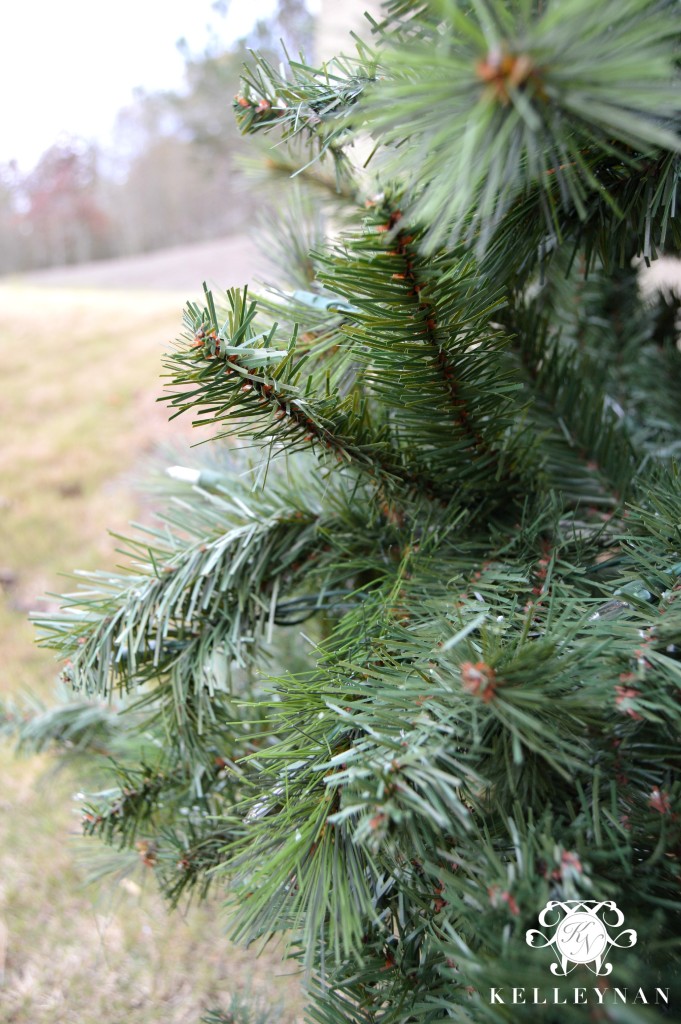 I ordered five pounds of flock off of Amazon for $39.95. The exact brand can be found here.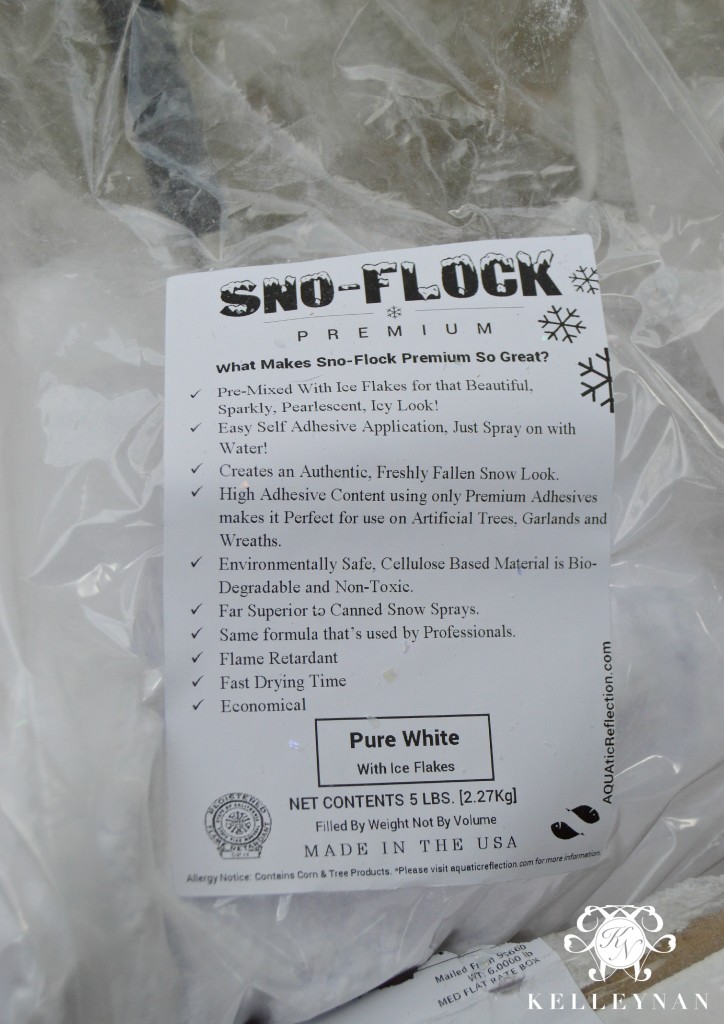 The only other needed items are something to use to sift the powder (this handheld deep-fry skimmer is from IKEA) and a water bottle to mist the branches. Believe it or not, I actually did not have a spray bottle; I instead scavenged underneath my sink for the closest-to-empty bottle (which happened to be Febreeze) and went around the house spraying pillows and upholstery until it was empty. Kind of ridiculous but I still believe in "waste not, want not" haha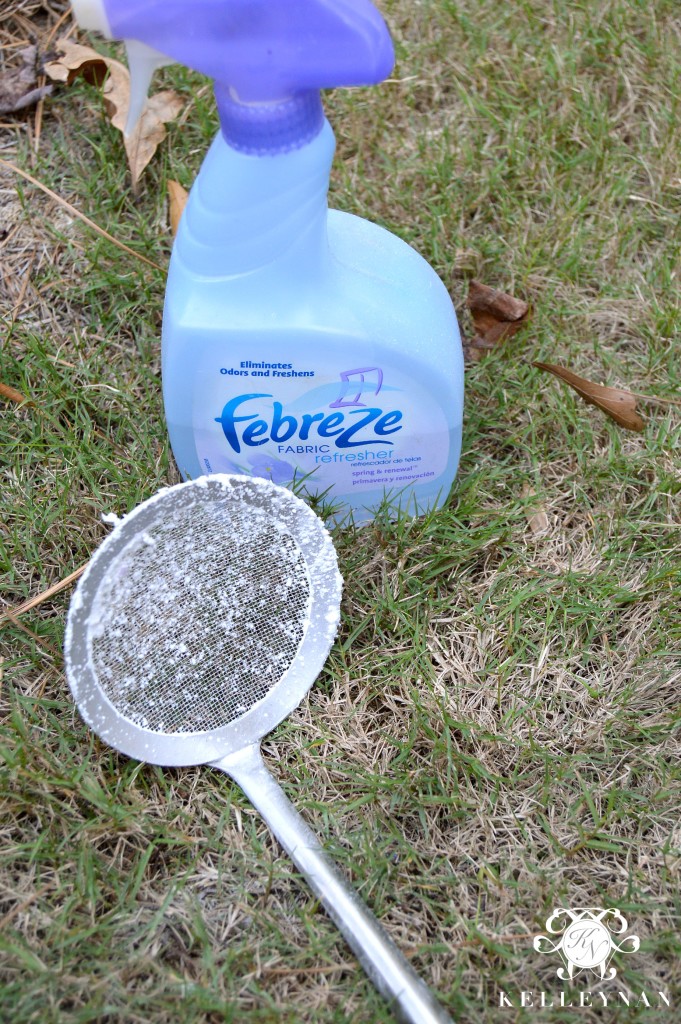 I would absolutely recommend flocking outside. The powder doesn't just fall down, it flies out.
Start off by spraying the branches. I worked in a few sections at a time starting at the top. As the flock falls a little, it will land on branches below taking care of itself a bit. One thing to note is that I by no means claim to be a professional. Actually, I am pretty lazy when it comes to projects, always looking for ways to cut corners. I am not patient and I like to see immediate results. So, as I describe the process, please keep in mind that this is simply how I successfully flocked my tree.
I like the handheld sifting tool because you can dip it directly in the bag.
Once the branches have been sprayed, start sifting in a back and forth motion. This is where I get a little lazy; instead of carefully sifting through the bottom, I ended up slinging it off the sides also. Since I was going for a little bit of a "snow build up" look, this worked for me.
Repeat the spraying of sections and sifting from the top of the tree to the bottom. When I sprayed, I didn't mind spraying over the powder. Since the powder adheres to the tree when it comes in contact with the water, I thought maybe a light spray on top would make it stick even more. The verdict's still out on that one haha.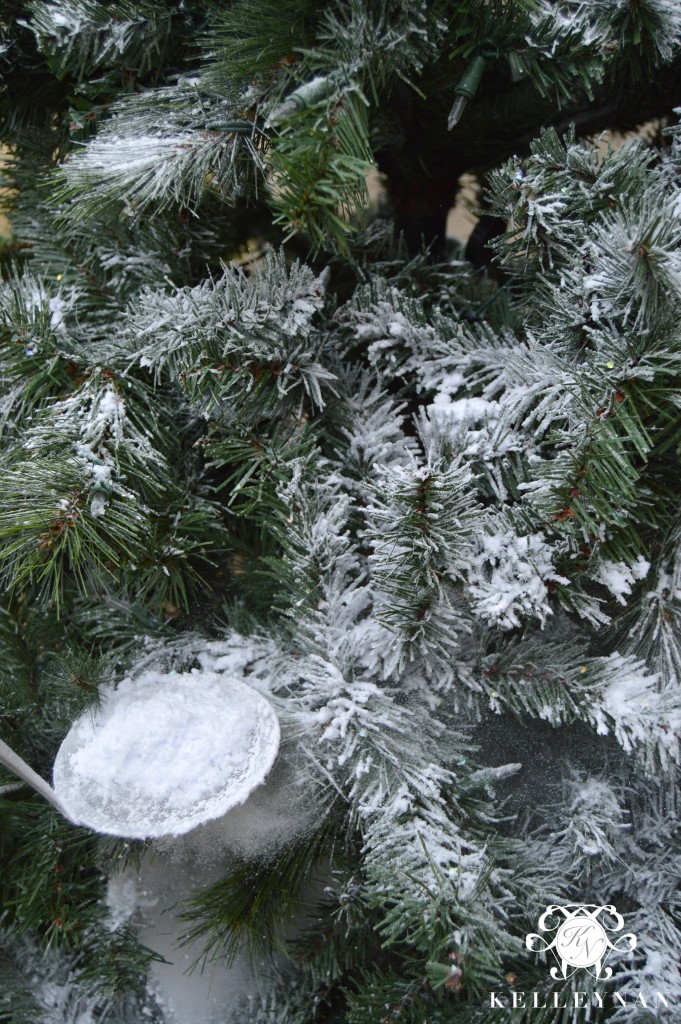 Once you finish, you can re-spray any areas that you want more heavily flocked and apply additional powder using the same method.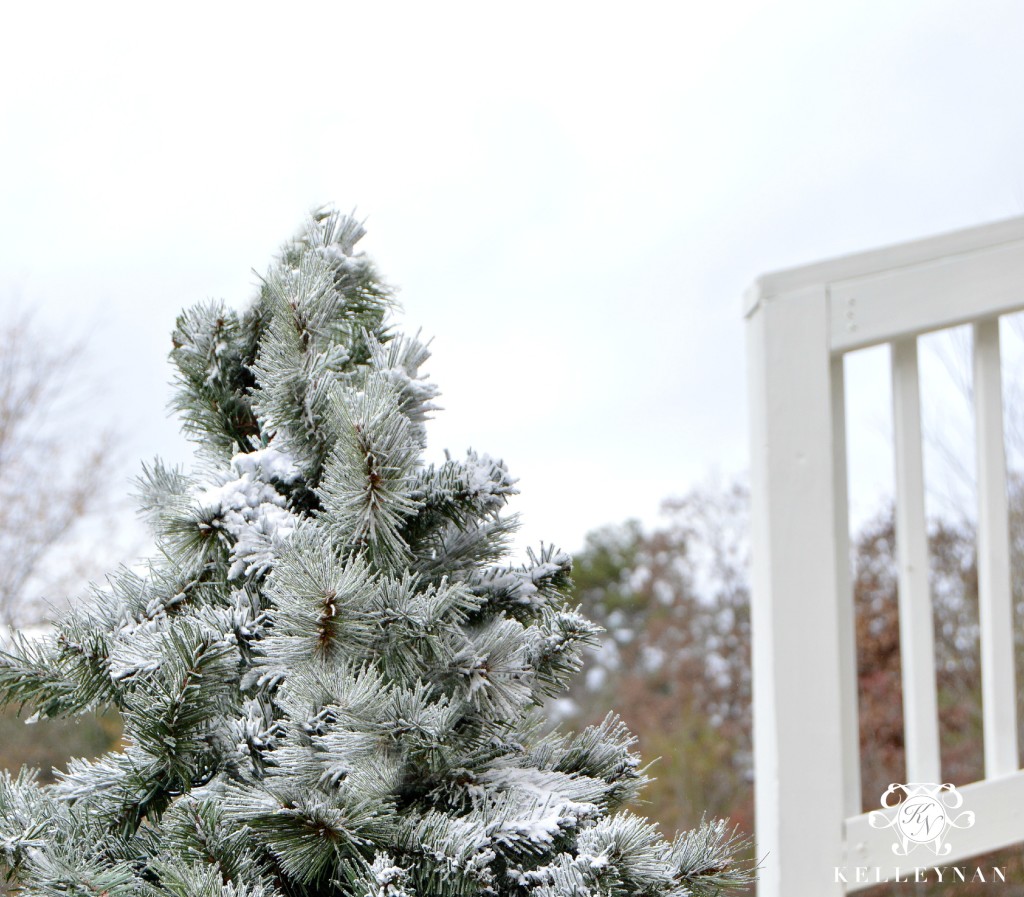 I didn't want an all-white tree, but you can apply as light or heavily as you like. Some needles only glisten while some have full mounds of "snow".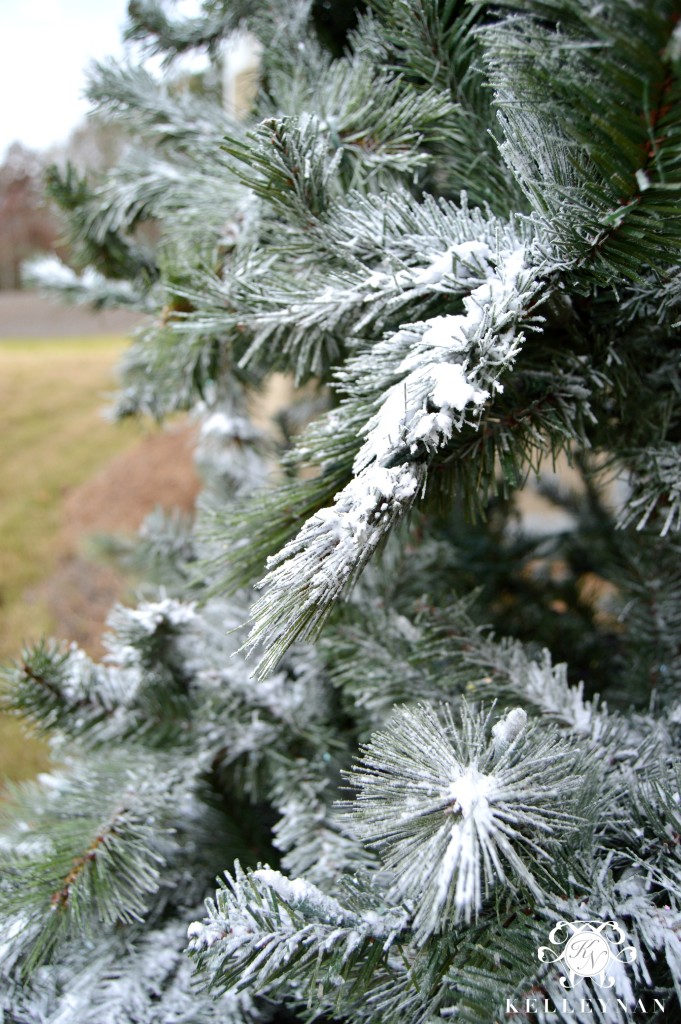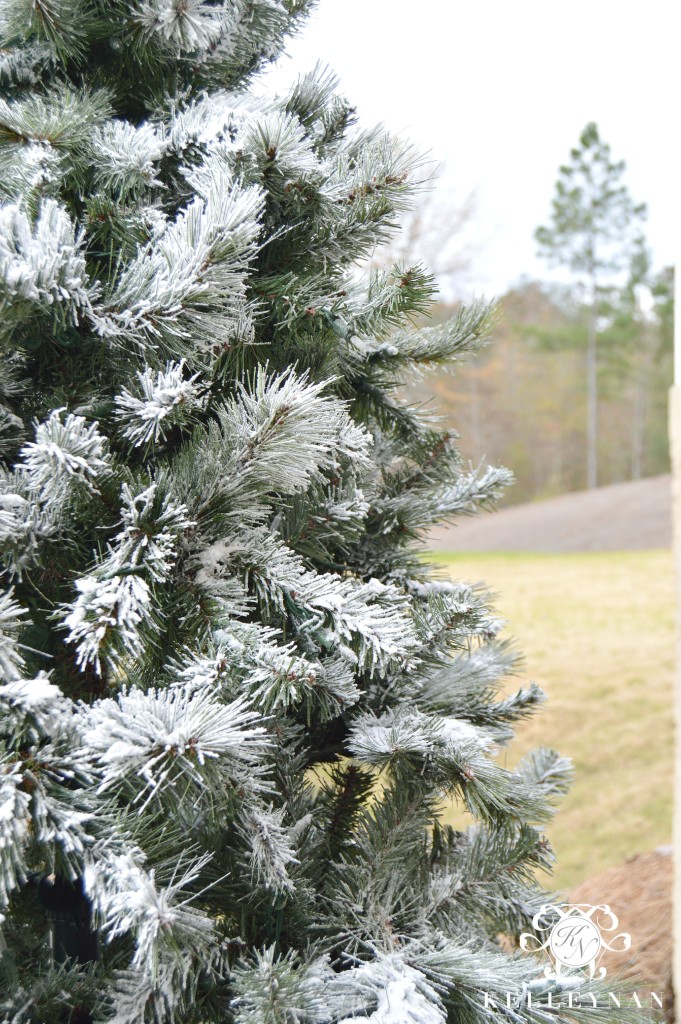 This flock in particular dries pretty quickly, but we carefully moved it into the basement to finish setting. Before we bring it upstairs next week, we will shake off a little bit of the loose powder. I will provide an update when my Christmas Tour goes live.
I also flocked a HUGE wreath, which takes substantially less time than the tree. The wreath took about 5 minutes since it is laid flat; the tree took about an hour. After flocking the tree, wreath, and much of the ground, I still have about 2 lbs left so I see more flocking in the immediate future.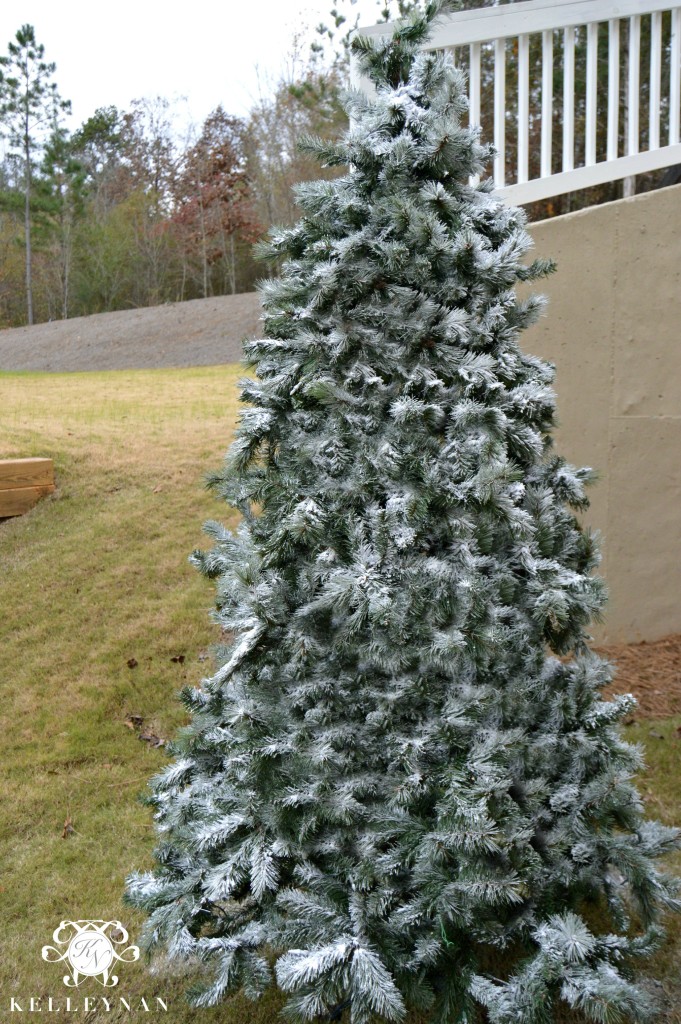 Once we brought the tree inside the (unfinished) basement, I decided I needed just a tad more snow; I am so pleased with the final result. Be sure to check back in a few weeks for the final look!