I love our living room. I suppose the correct term is "family room" or "great room" but we refer to it as our "living room" because it truly is where we live. We do a lot of living here… some Sundays, I "live" in here, sprawled out in one spot, for 12 hours. It is the central point of our house and we can see most any part of our home from this room. I struggled when I was planning this room. I knew it would be the lounge space for our Netflix marathons, but I didn't want it to look like a basement den. It is the most visible place in the house… how could I make it "dressed up" enough without sacrificing comfort?
I will admit, having tall ceilings and some cool architectural features help dress up a space without much effort. I lucked out by having some cool "bones" to work with. But, even if the structure of your room is basic, you can still apply the methods I used in this space. I'm sure many of you have seen photos of this room like this…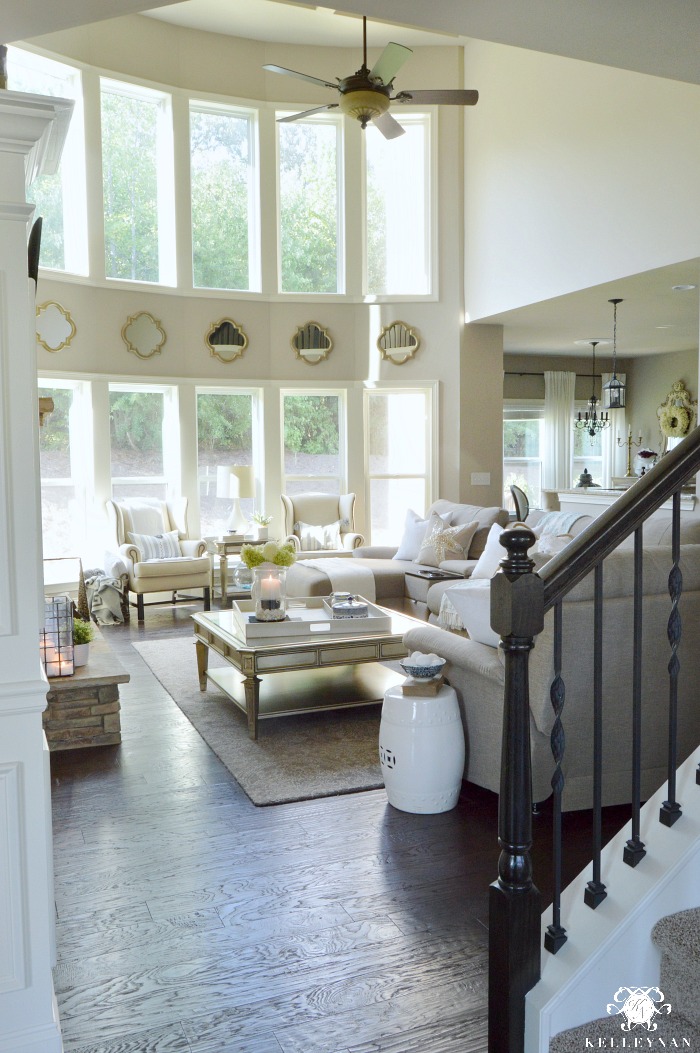 …and like this. I am pleased with the overall aesthetic but what you may not be able to see at first glance is that while I love this room, it is a room that I stressed about, thoughtfully planned, and sometimes, even made sacrifices when it came down to form vs. function, erring on the more casual side.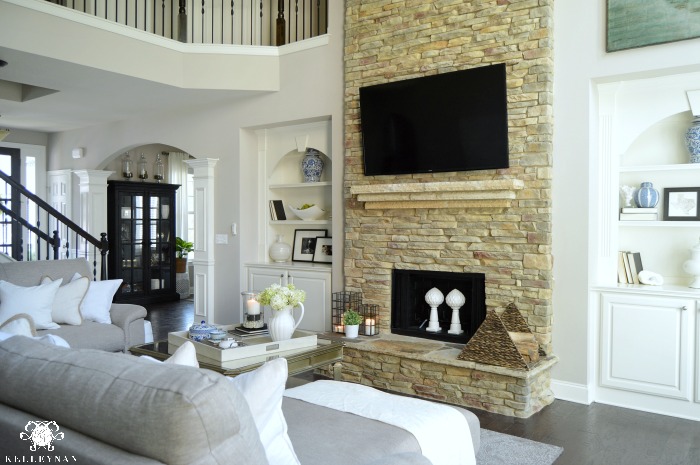 I knew I wanted a sectional for this room. Dave (my husband) was good with that, but what I soon learned was that his idea of a sectional and my idea of a sectional were two different things. I wanted streamlined and chic (surely I could find a comfortable option to fit the bill); he wanted something that reclined. Yes, reclined. My first stipulation when we walked into La-Z-Boy was "nothing that reclines or looks like it would be better suited for your man cave" (he totally has a reclining sectional down there too, by the way haha). I won't bore you with the details of the hours and conversations that ultimately led us to the reclining sectionals, but within an hour of walking through the door, we were testing out a few models and kicking our feet up. (1 point for Dave.) We settled on a configuration from the Aspen collection; they whipped up a 3d drawing of our space and started plugging in pieces which was pretty nifty. It would have been more nifty had my measurements been better than just "guesstimates" haha. I went for a gray woven fabric (a little more dressy than the microfiber number going on in the man cave), in which I foolishly didn't save the name (sorry!).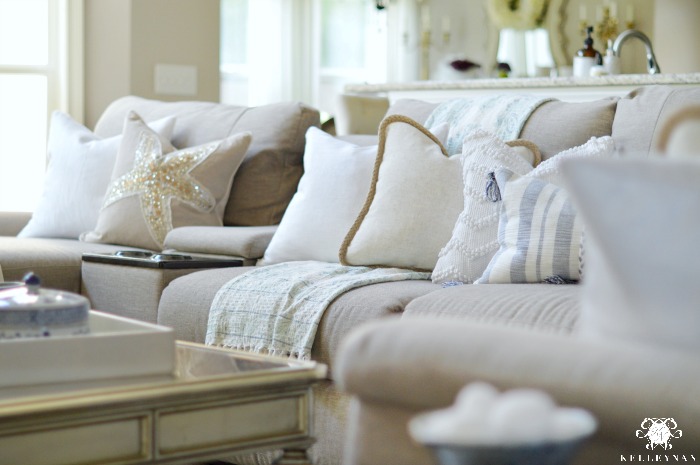 There is only one outer lever which I can discreetly camouflage behind this garden stool. A full table would obstruct too much of the walking area but a stool like this is the perfect side piece.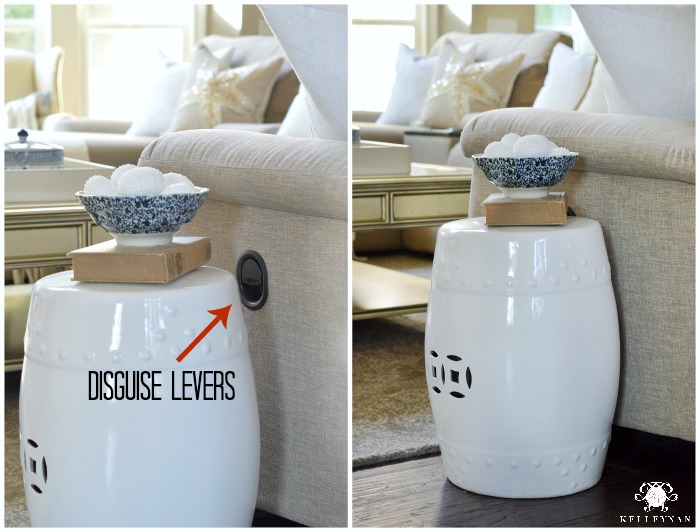 "Ok, so we are going with a plush sectional that reclines… that's a pretty generous compromise, right?" It wasn't. And, if five minutes before you would have told me that I would have agreed to the next feature, I wouldn't have believed you. I don't know if I took a water break or what the heck I was doing, but the next thing I knew, Dave was sold on a power console complete with light up cup holders and a full charging station. Here's the proof. (PS: I think that's like 42 points for Dave? 😉 )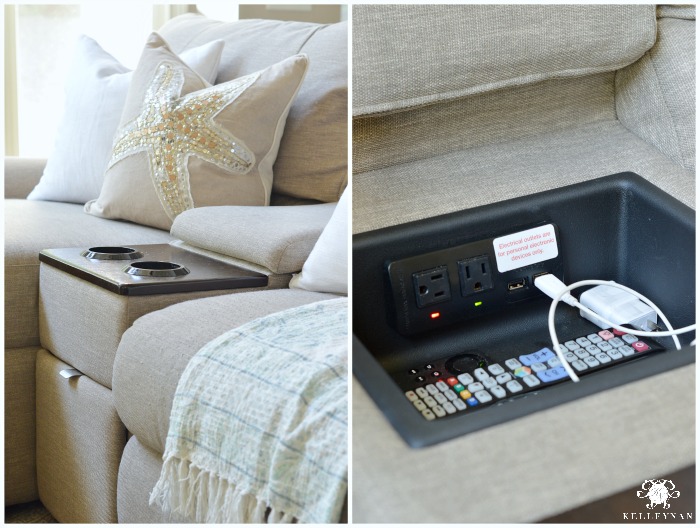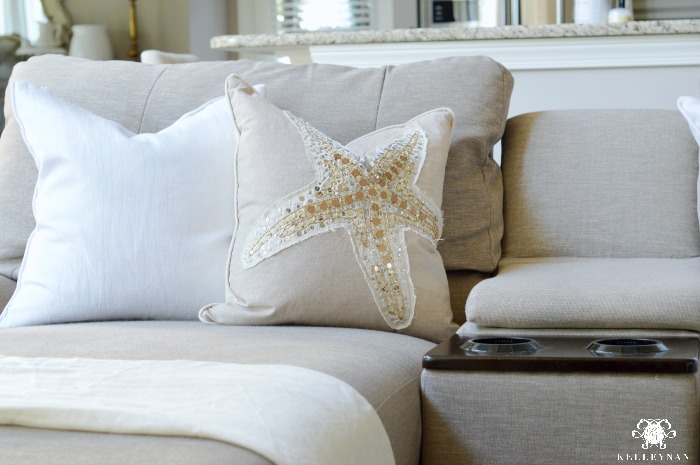 I pouted until I was excited. Dave's job was to introduce the comfort, my task would be to dress it up- perfect for a den but worthy of a great room. *Insert the pillows and the throws* I'm not afraid to pile them on and am thrilled every chance I get to switch them up.  It took 12 weeks to manufacture but we timed it well with our home construction; I'm not gonna lie, our couch is amazing.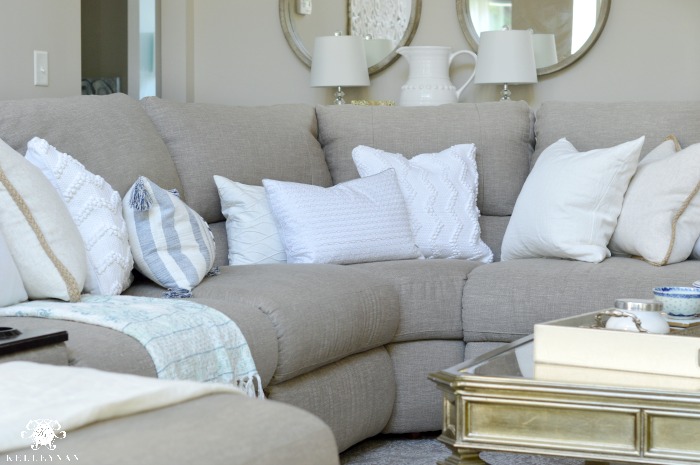 Is it what I would have chosen for a show home? No. Along with our sofa, there are a lot of decisions we made in our home that made the most sense for the people living in our house… us.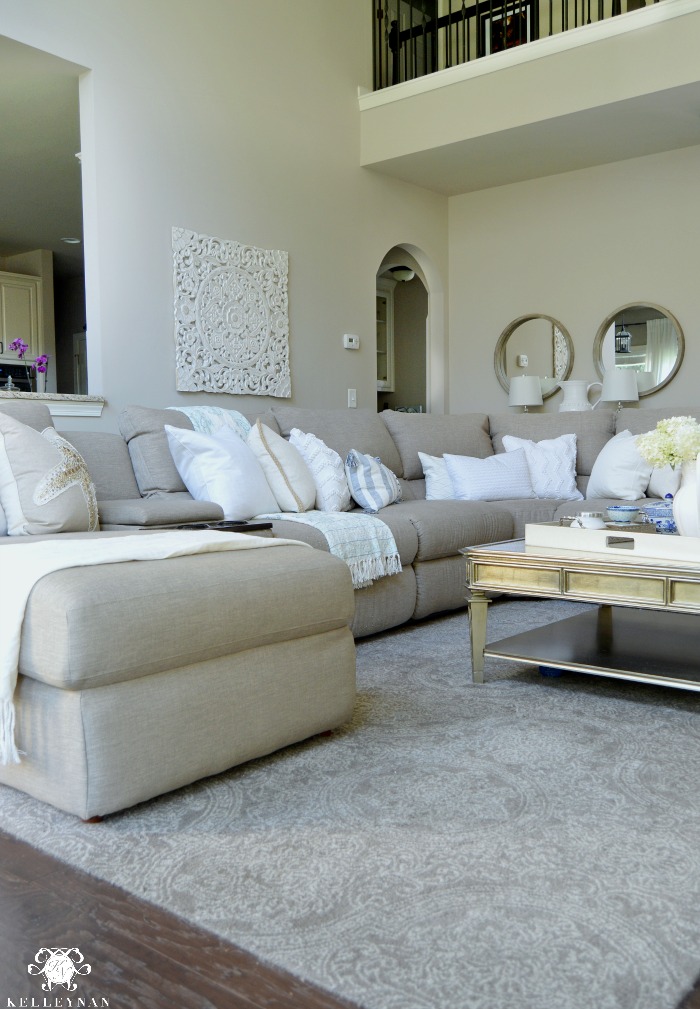 So, now that you know the story behind my sectional, I'll share how we made it work 😉 Yes, it has pillows and other layers but the primary room components that dress up the sofa actually have nothing to do with the sofa itself. While some people may have a tendency to "match" the look of the sofa with the other furniture in the room, I went in a different direction. Actually, I think I sprinted the total opposite way. A mirror-topped, oversized coffee table in a champagne finish with a matching side table? YES!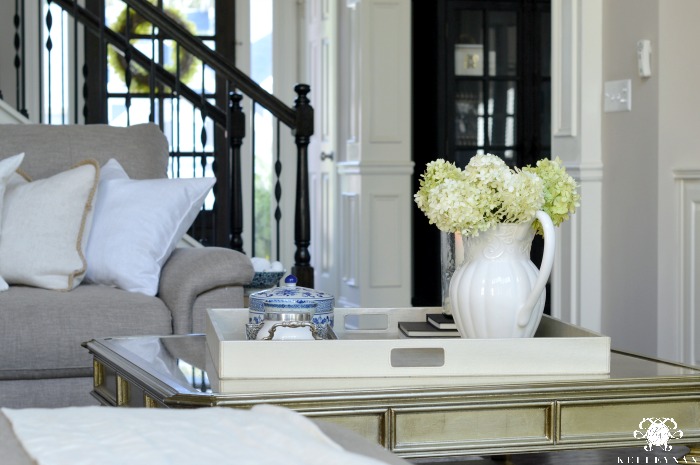 Structured wingback chairs (HERE) with nailhead trim? Double YES! Just because one element in your room is casual doesn't mean the rest has to be. Think of your room as an outfit. Pairing pumps and a blazer with jeans- totally put together, totally cute, and totally works. (Do NOT think of the tux with tennis shoes thing- that never worked and should totally be outlawed 😉 )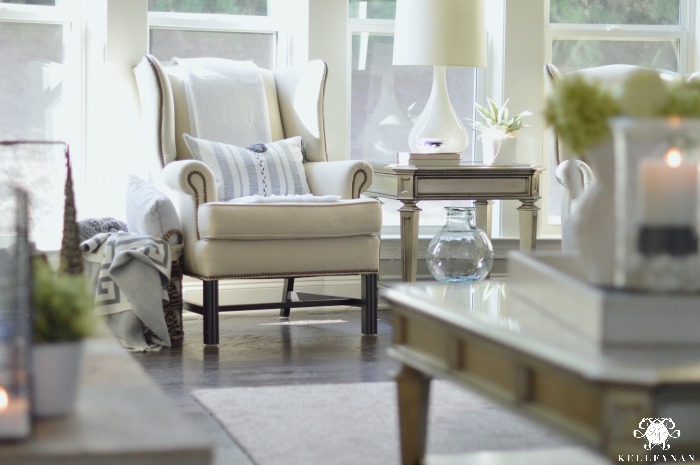 I think some people are allergic to having a visible t.v…. or at least above the fireplace if the fireplace is a focal point of the room. I, on the other hand, don't just not mind the look; I actually like the way a sleek, well hung t.v. looks above the fireplace. We planned for this from the start so we had the builder make the appropriate arrangements during the construction process.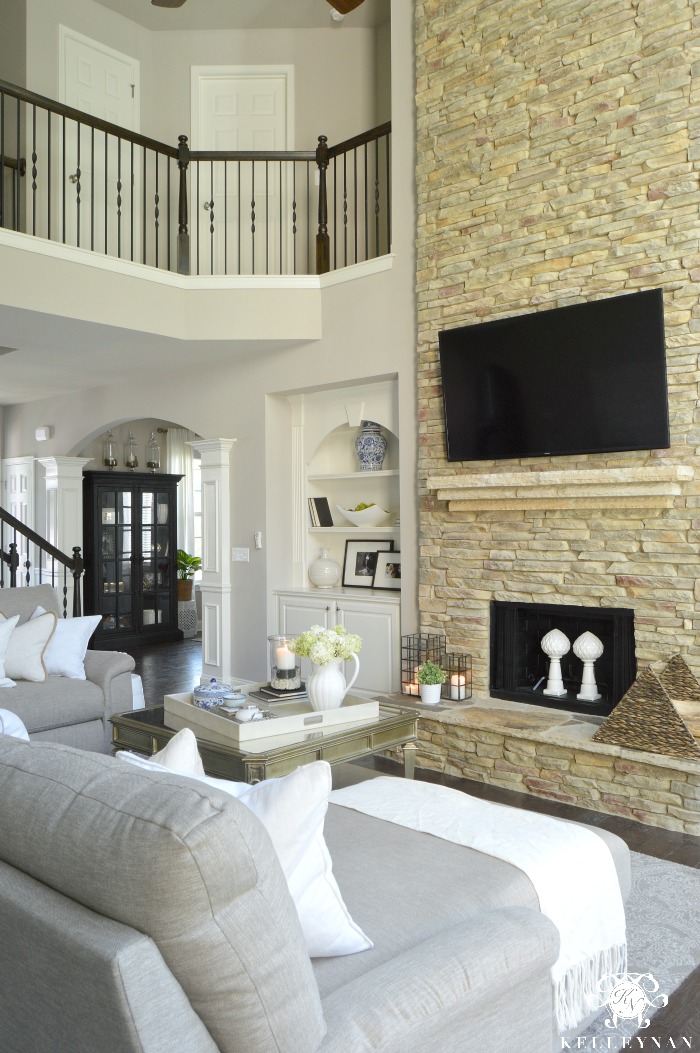 The cords are fed behind the television and down into the cabinet on the right. (I totally can't believe I am showing this "shame" haha). With remote controls no longer having to have a direct signal, we don't even have to open this cabinet. And you know what? We store those remotes, tucked away right in that power console 😉
I get a lot of questions about the height of the t.v. and whether or not it is comfortable. This was a first for us and we love it. However, when we recline, it is in our natural line of sight. If you have a sofa that doesn't naturally tilt your head upwards, I would do some testing before committing.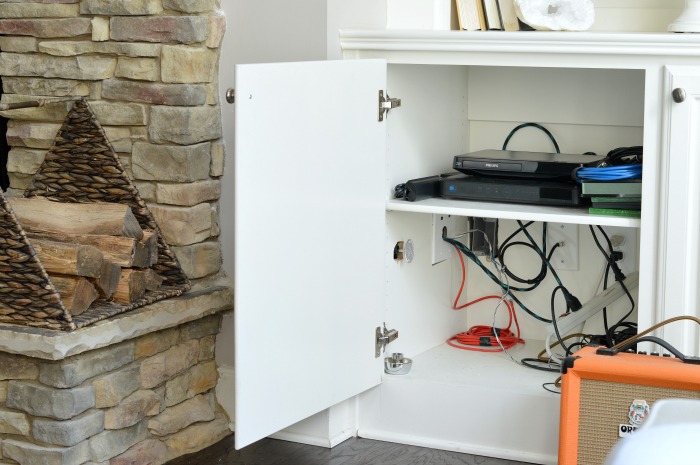 This last room feature was actually a joint, Dave and Kel Nan, comfort-based decision – the fan. Ohhhhh, the fan! Fans have gotten a bad rap for a little while now; we are definitely a "fan family" and I will still admit that I dream of a different plan for what hangs from the ceiling. In the bedroom, we are probably stuck with the overhead but I think I may have some pull to negotiate something a little different in this room 😉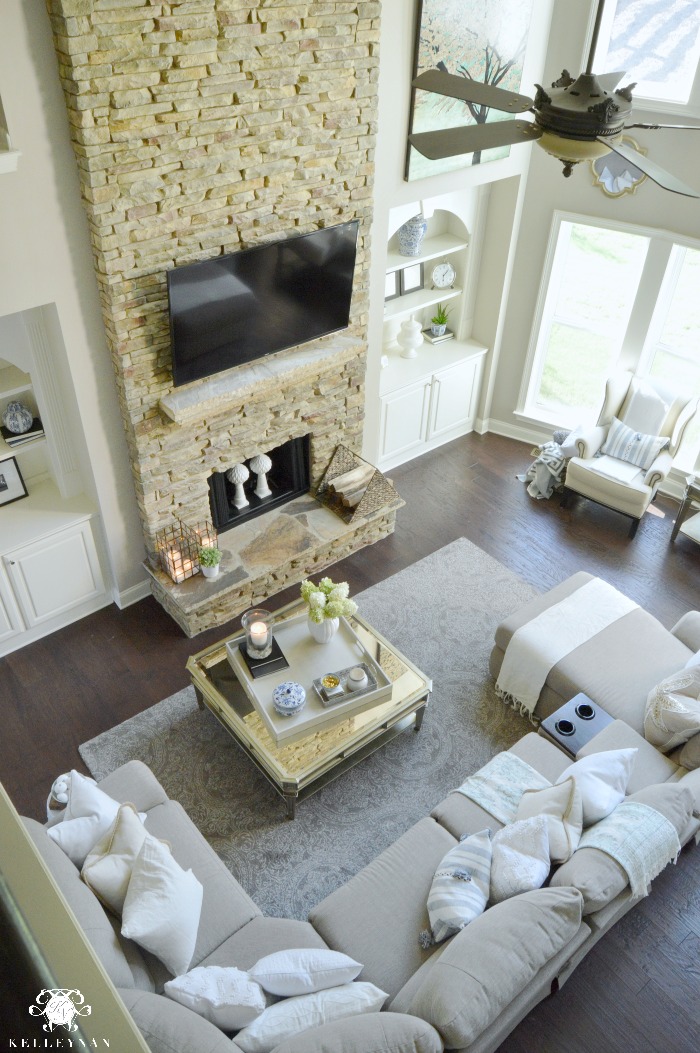 That being said, if you are going to "do a fan", DO A FAN! You may not be able to tell from this shot but she is large enough to take on the space of the room. She won't be with us forever but while she is, she blends in well without taking away from the overall aesthetic of the room.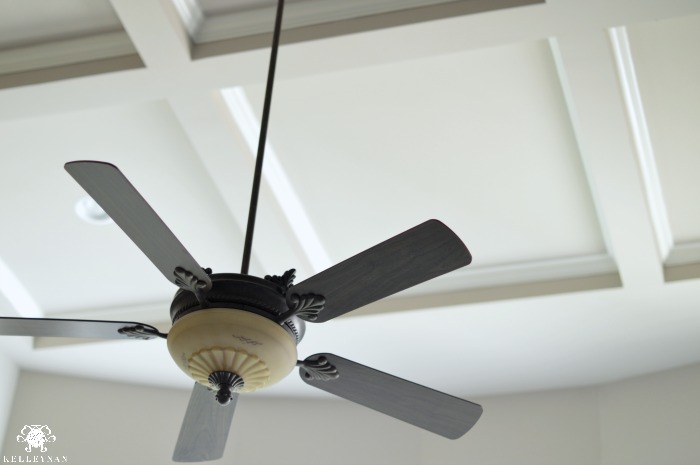 So, yes, you can have a reclining sofa and a t.v. above the fireplace if you work to dress up the other accents in your room. Don't be afraid to mix styles; casual doesn't have to be accompanied by more casual. Ultimately, you have to plan your home to fit your lifestyle. Some of the comments I get on photos of this space? "She must not have kids/pets", or "I prefer my home to look like an actual lived-in home". To them, I would say 1.) thank you; if that is the appearance my comfort-packed great room exudes, I have done my job; and 2.) you must not know about my cup holders 😉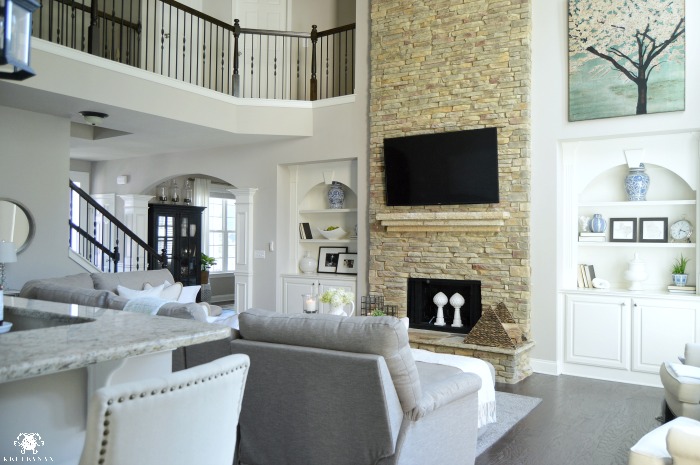 OTHER SOURCES & ROOM DETAILS
Oversized Tray | Mirrored End Table (Formerly Palais Collection) | Mirrored Coffee Table (Formerly Palais Collection) | Rug: HomeGoods | Sofa: La-Z-Boy Aspen Collection | Fan: Progressive Lighting | Paint: Versatile Gray by Sherwin Williams | Flooring: Nottaway Hickory in Weathered Saddle
*Note: Post contains affiliate links and sources throughout the post. Where product is no longer available, a similar substitute has been listed.
SHOP THE ROOM