Although I haven't started bringing out the fall decor just yet, summer is officially over in our house. I am so ready for a change… yes, for the obvious cooler temps (I'm tired of sweating) and for pretty foliage, but also, and possibly most importantly, I realized that Mister may have officially chewed the last tassel off of my summer pillows. My home has seen better days and is begging for some love. Even though most of my decorating effort is emphasized at the beginning of each season, I never tire of creating new ways to commemorate the occasion in the dining room. So, when my husband came home with a bundle of peach roses, I took the opportunity to say farewell to summer with this golden garden table.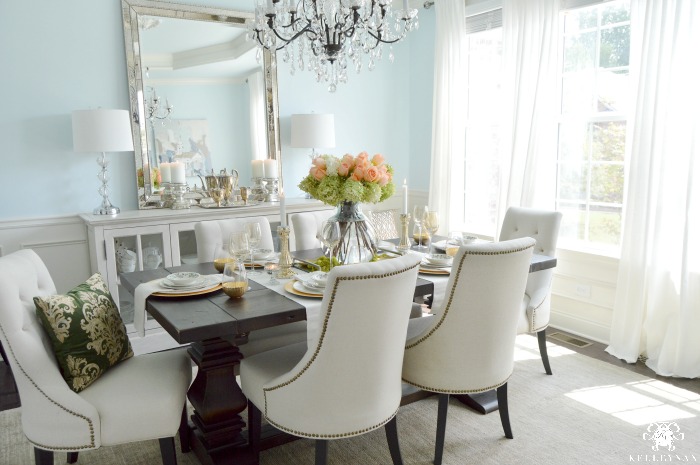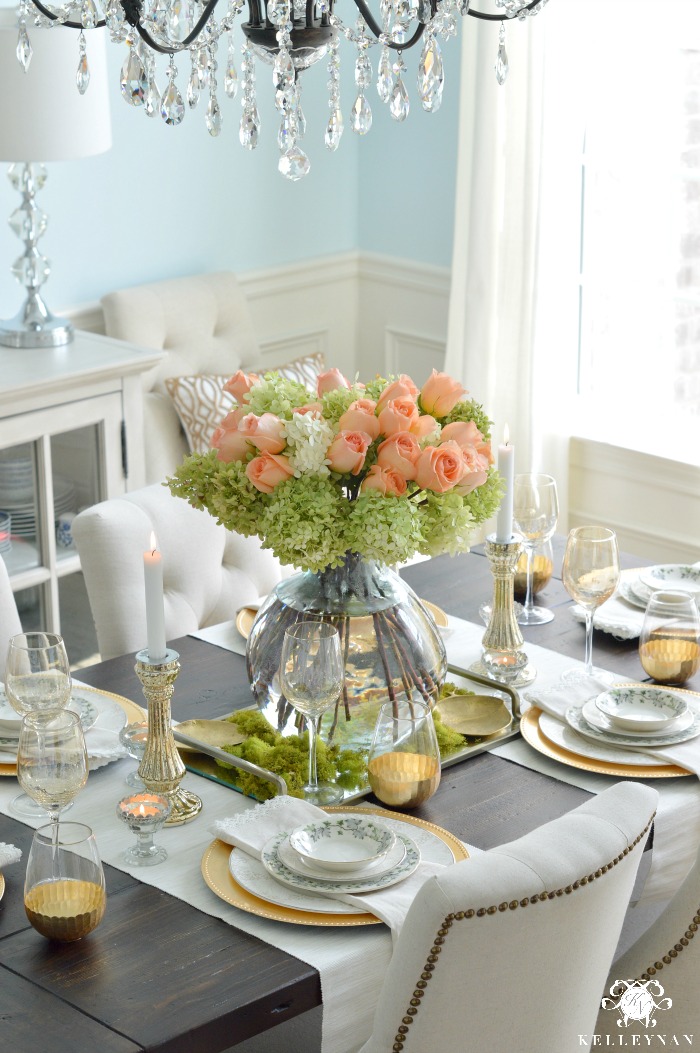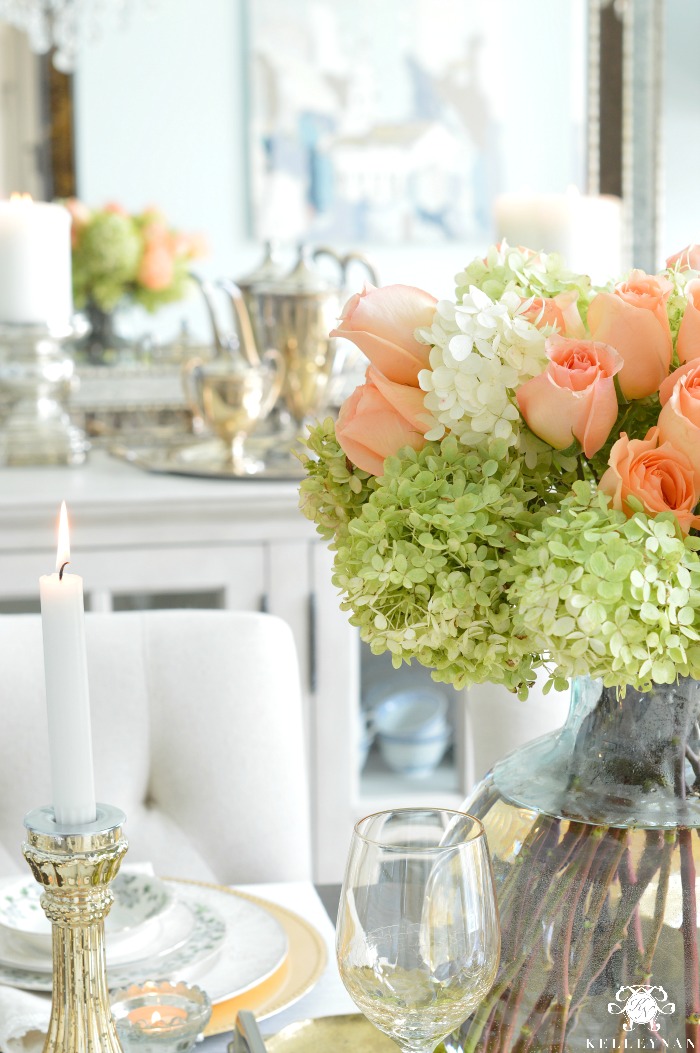 I mixed old pieces and new. My mom had gifted me some vintage ivy china, which I mixed in with my favorite Waterford china and layered on top of these gold chargers. Since my moss will soon be replaced with pinecones, I loaded up my mirrored brass tray from our guest bedroom underneath a floral centerpiece of both the peach roses and limelight hydrangeas from the yard. When I was a little girl, before fairy gardens were "a thing", my mom taught me that roots of large trees made for perfect fairy houses. My creations were constructed solely out of natural elements – bark, moss, acorns, wildflowers, etc., and the crazier the tree root, the more creative I could get with my "house". With gold accents dressing up a nod to my childhood, I shopped both in and outside my home to pull this look together, just as I would "shop" the woods to construct my fairy homes.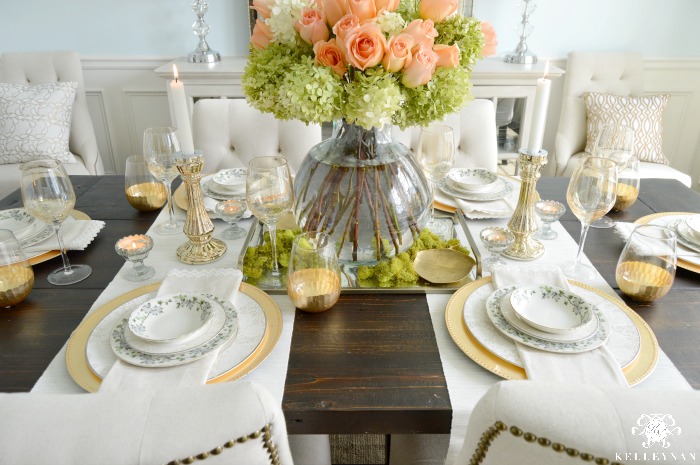 I just used these stemless, gold bottomed glasses for my flamingo luncheon (HERE) but I am LOVING them. I plan to use them a lot more as the holiday season sets in 😉 My gold crackle wine glasses are, of course, a staple.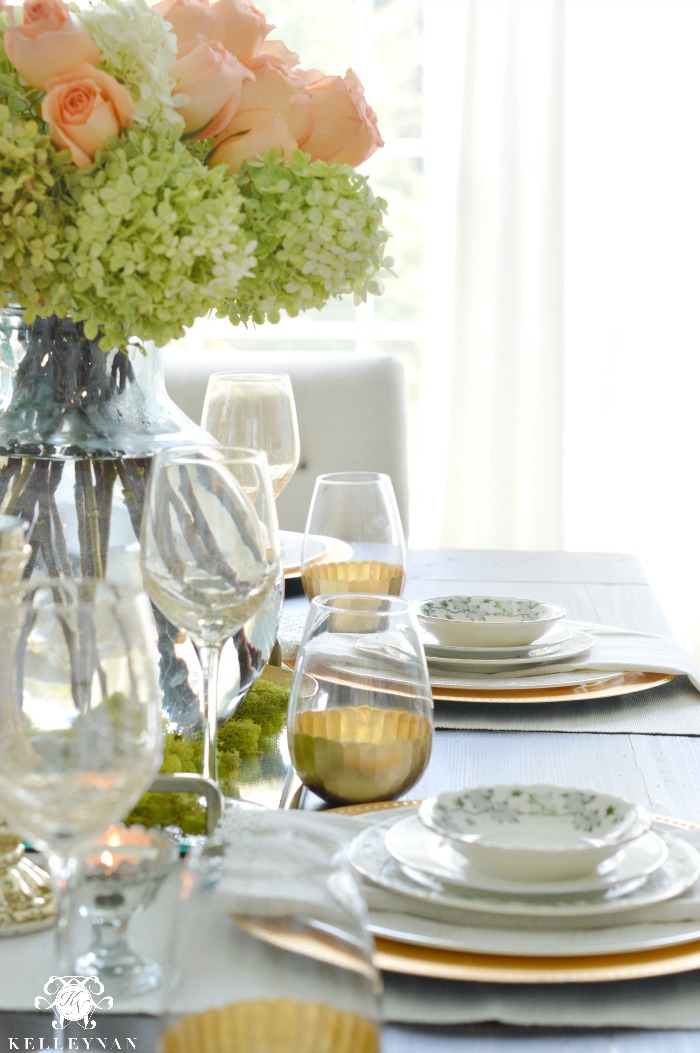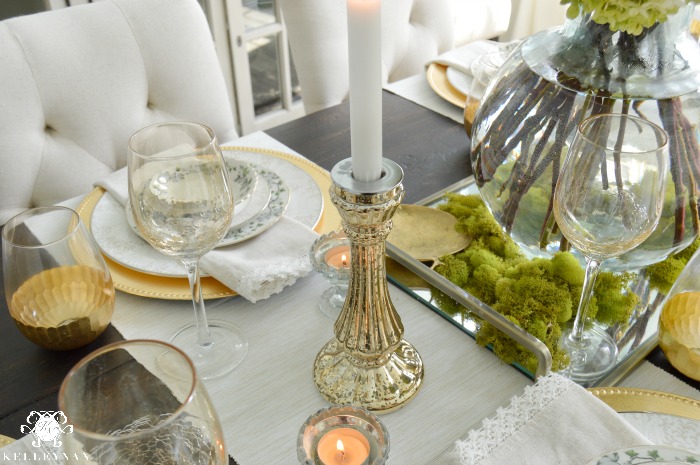 I love how both of these vine-y china patterns came together, one vintage and gold rimmed, the other new and silver rimmed, tied together with a lace edged napkin that can support both looks. If you missed how much impact one napkin can make, you can check out my post from last week HERE.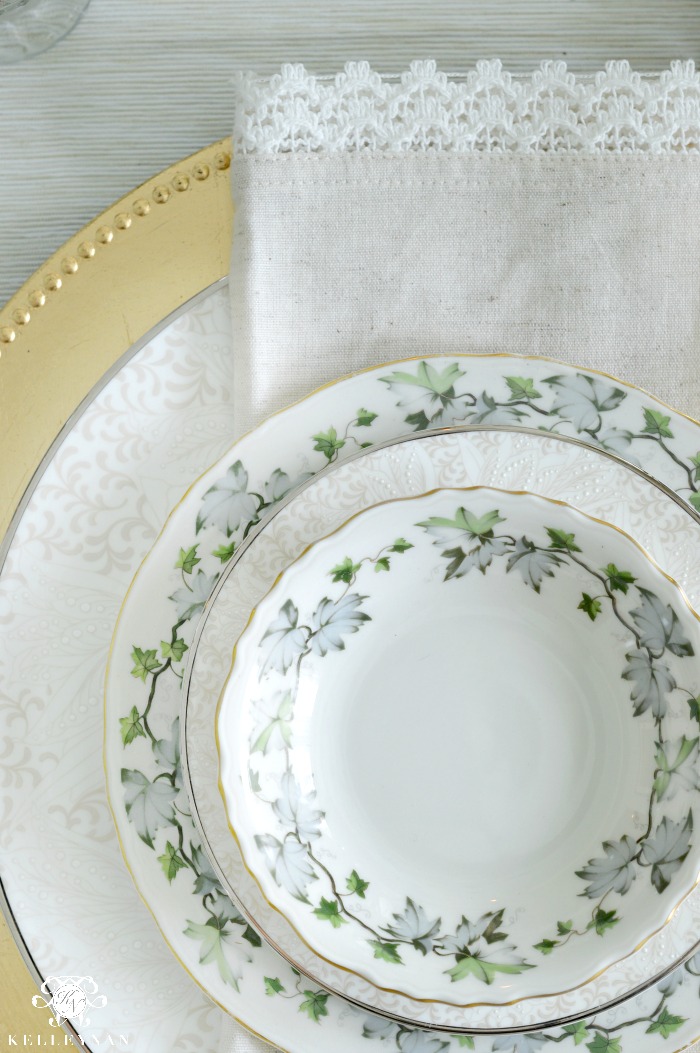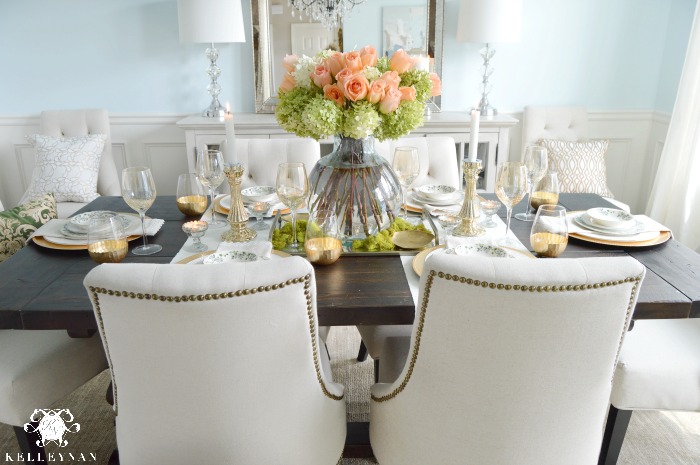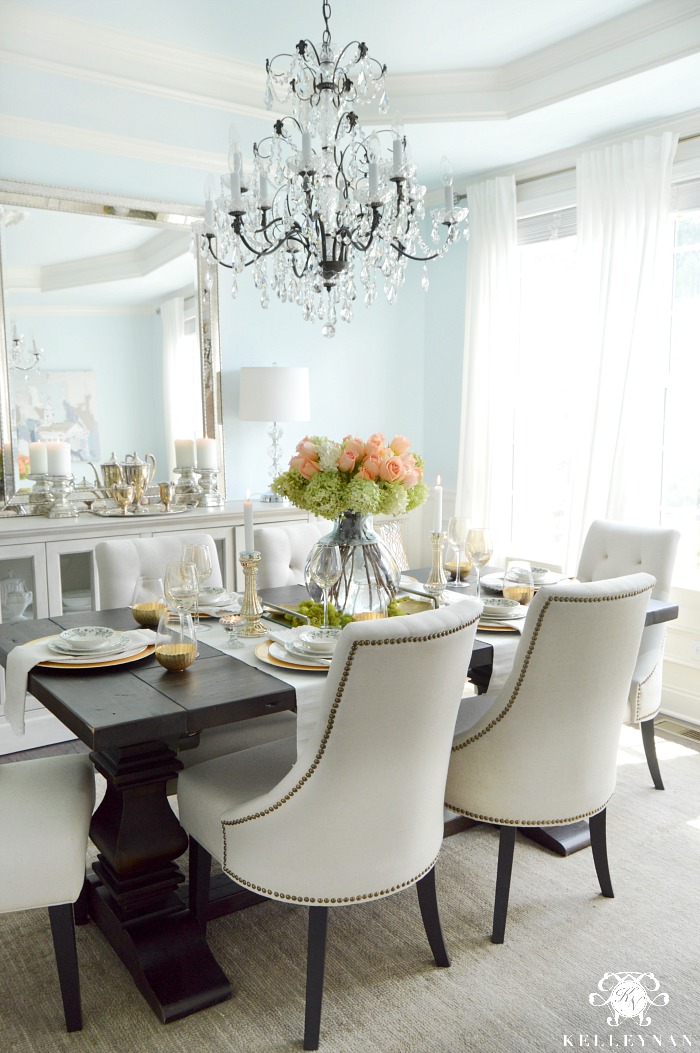 The big bad monster who chewed off my pillow tassels? Yea, he has no shame.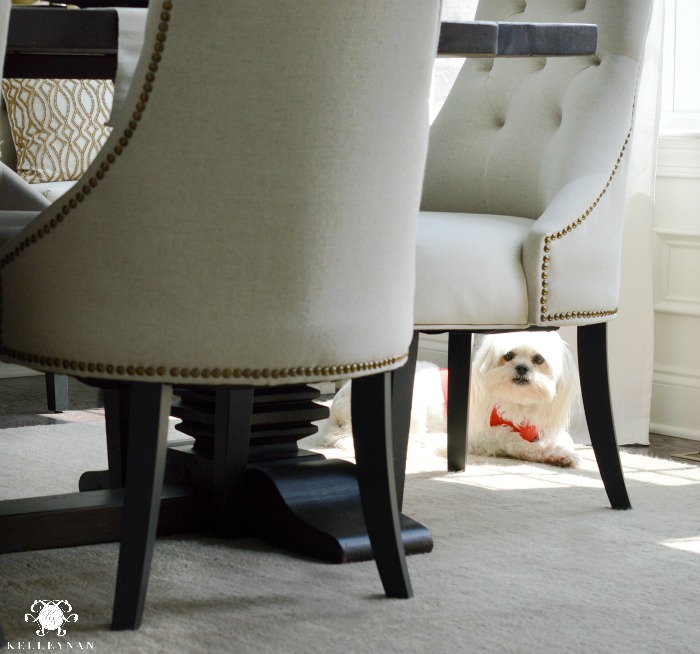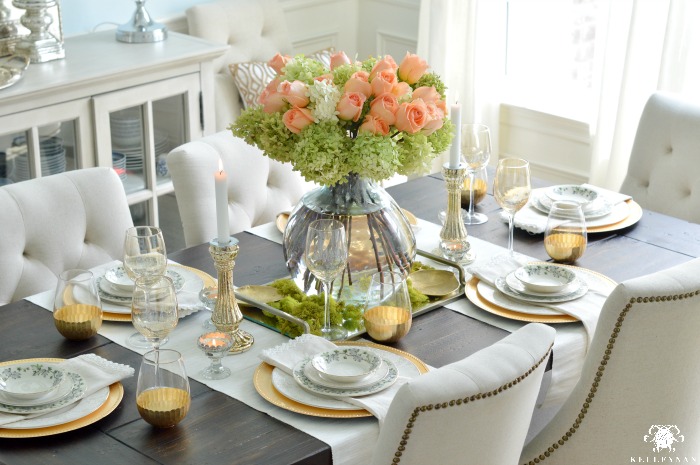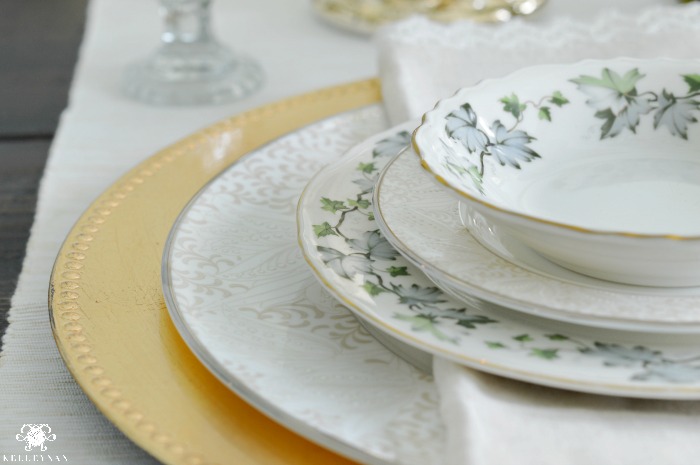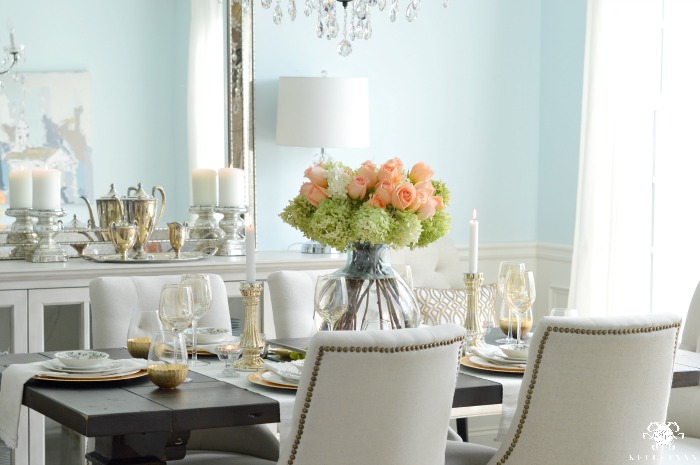 If you have any end of summer traditions, let me know in the comment section below. I'll be sharing my ladies' chili night soon as a kick-off to fall.
GET THE ROOM LOOK


GET THE TABLE LOOK


ADDITIONAL SOURCES
12-Light Chandelier
 | Dining Table:  (84″ in Salvaged Brown) | Buffet: (72″ in Distressed White) | Curtain Panels
: (98″ in White) | Rug: HomeGoods- Calvin Klein wool | Mirror: HomeGoods | Lamps: HomeGoods | Silver Tea Service: Family Heirloom | Recycled Glass Vase: HomeGoods | Pillows: Pier 1 (no longer available) | Paint: Sherwin Williams- "Lauren's Surprise" | Floors: Nottaway Hickory in Weathered Saddle
*post contains affiliate links | where original product is not available online, an alternative option has been sourced*