What's more fun than decorating your fall home? Decorating your fall wedding. Ok, that's only a half truth. Decorating for someone else's fall wedding. While many of us are planning just how to transition our homes for the season, others are knee deep in last minute wedding prep. for those of you in the latter group, this post is for you 😉 Nine months before my husband and I were married, I had all the grand ideas. I had the vision. I think most brides do. But when it was "go-time", the venue details and the actual execution of all the elaborate ideas were the least of my worries. Thank God I had some awesome vendors and Mama Nan to lead the troops; I certainly wasn't out there on the front line hanging chandeliers – my main concern was my watering left eye that was making my makeup run 😉 .
The first piece of general advice I would give to a bride is to make sure you have a team in place to take care of everything. As emotional as I already was (seriously- those who were there can attest to the fact that I brought the king of ugly cries down the aisle), if I would have had to be involved in the setup, I don't know that Dave would have married me haha. I like to be in control but relinquishing some of my inner micro-manager for the wedding was necessity. Whether you recruit a planner, day-of coordinator, or a responsible friend and a team full of awesome vendors, you will be so much more sane by not trying to manage those details.
I loved my wedding. Loved it. Looking back, would I change some things? Yes. But, the areas I prioritized from the beginning, I would absolutely keep the same. As fall (and my fourth anniversary) approaches I started thinking back to that special day and thought I would share some favorite details from my own wedding, with a few key decorating tips for a night-time fall wedding.
1. Choose a Unique Setting that will Shine, Even After the Sun Goes Down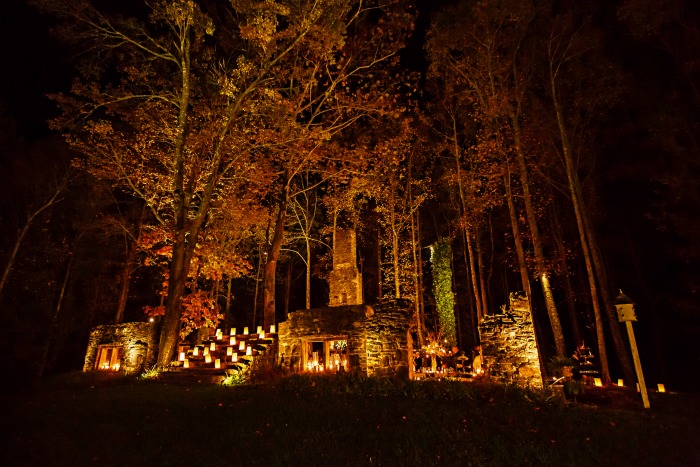 I established three things before I was even engaged- I wanted to get married (1) at night, (2) in the fall, and (3) at The Ruins at Kellum Valley Farm in the north Georgia mountains. It's a work of art all on its own without even trying. You can read about the history of the ruins HERE. I didn't know anyone personally who had been married here but it had so many unique, beautiful features, I knew it would be hard to mess up 😉 Picturing this place at night made me think of Ross and Emily's London wedding (any Friends fans?), and that was all I needed.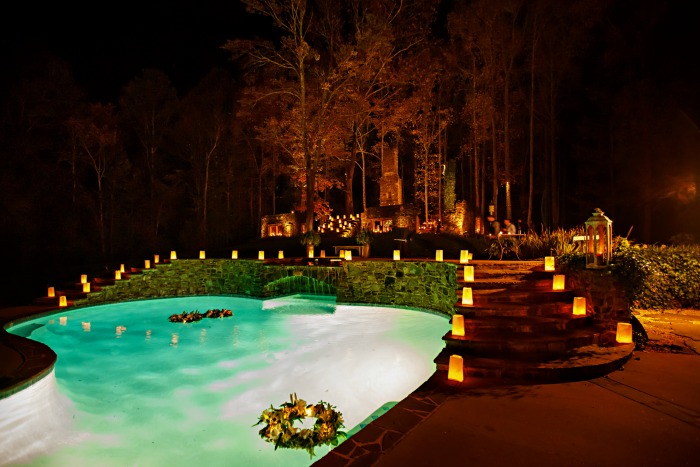 While my reception was in the ruins, the wedding ceremony was actually across the property at dusk, at the far end of a field. Down this drive…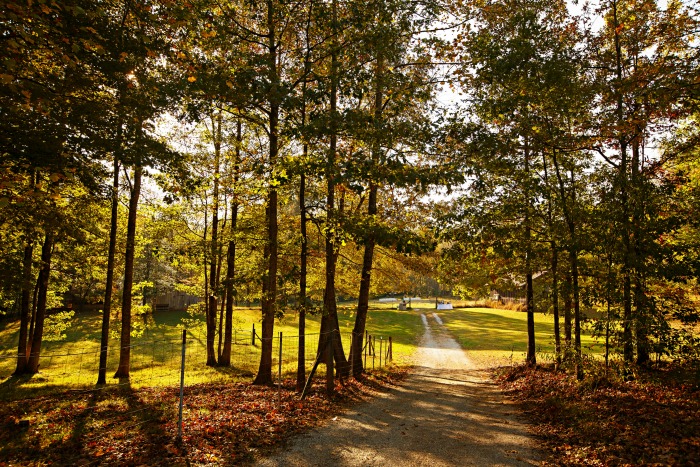 To that spot where the white chairs are lined.
*Story time: I actually had a stretch hummer take me and my bridesmaids from the bridal suite, across the field to the top of the aisle. Each groomsman opened the door to escort his respective bridesmaid he was to walk with. It was totally a Bachelor move and I'm not sure if I feel super embarrassed or super proud… hmm… I'll go with the latter 😉
2. Choose a Photographer Who ROCKS in the Dark
Even more than photos with my new husband, this single image that our photographer, Ed Hetherington, captured of our reception site in the ruins was the most popular photo from our wedding day. He travels and does a lot of wildlife photography but still takes on a few weddings; seriously, he is amazing. I found Ed after searching for someone whose outdoor night shots would blow me away… and, they did.

Oh, and he's pretty fantastic in daylight, too 😉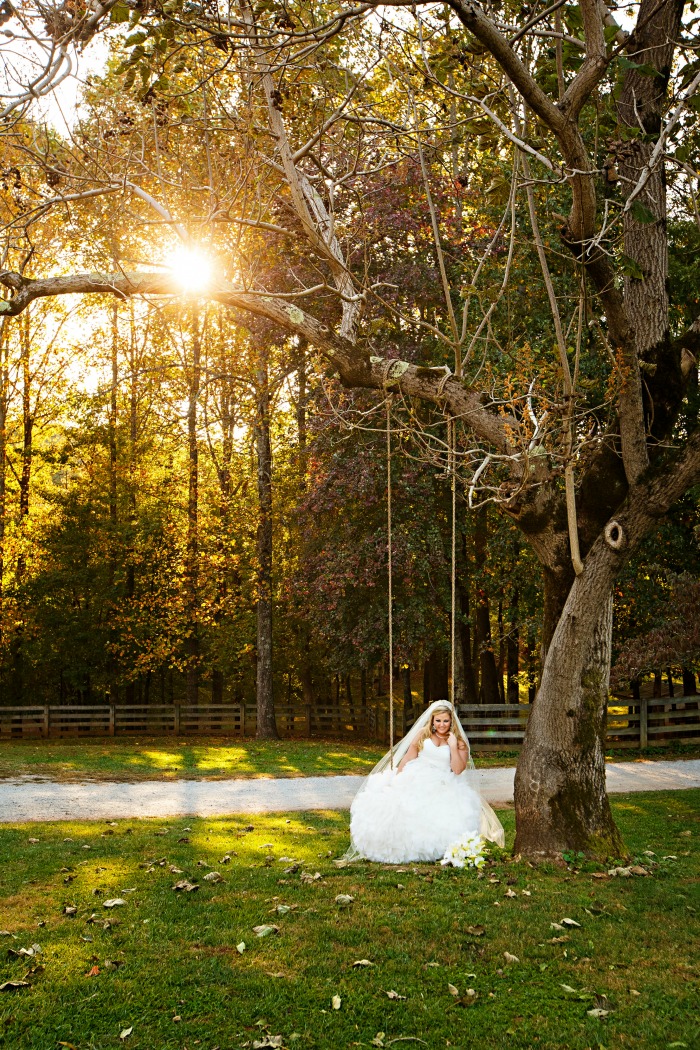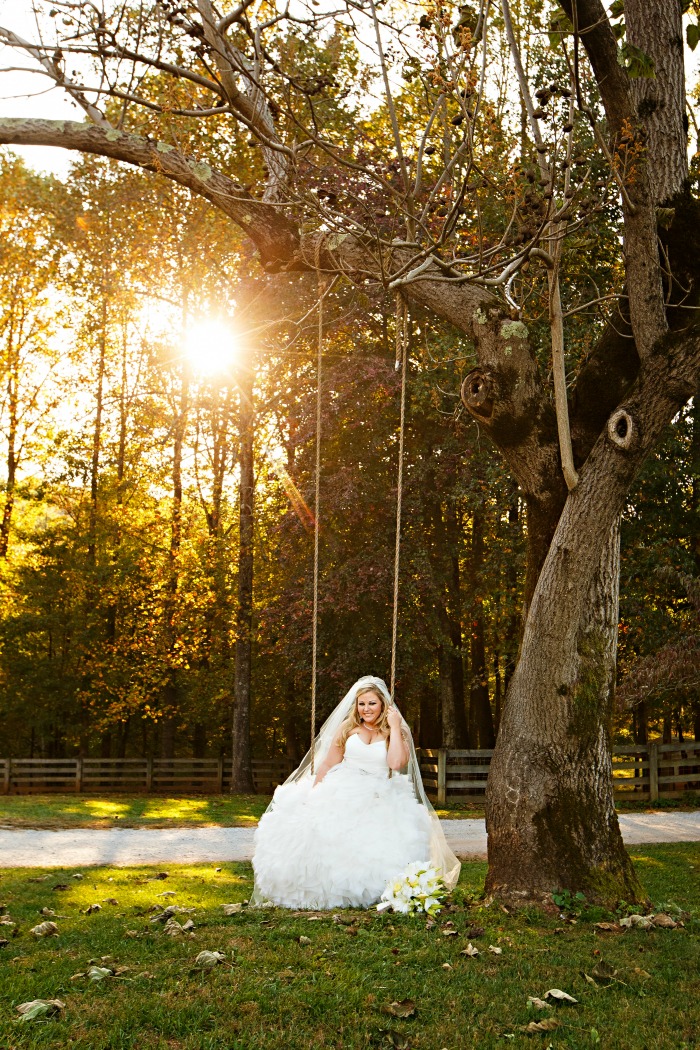 And for good measure, I thought I'd throw in one of our engagement photos Ed captured at sunset, again, in the north Georgia mountains.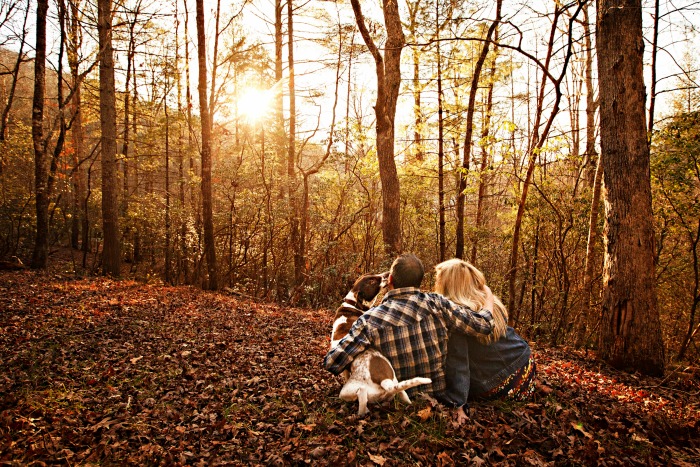 3. Create the Fantasy with Flowers
One decision I am still most pleased with is that I didn't force myself into defining a color scheme. Big surprise but this neutral-loving gal prefers her wedding like she prefers her home 😉 Neutrals, metallics… I've seen a lot of gorgeous, colorful weddings but just as I believe is the case in home decor, a neutral wedding doesn't have to be boring. Another surprising detail? I wanted to splurge on the flowers. (Who, me? Never!) Lots of big, white blooms everywhere. Peonies and magnolias were out of season but I went with my old faithfuls- hydrangeas, lilies, and roses and was thrilled with the outcome.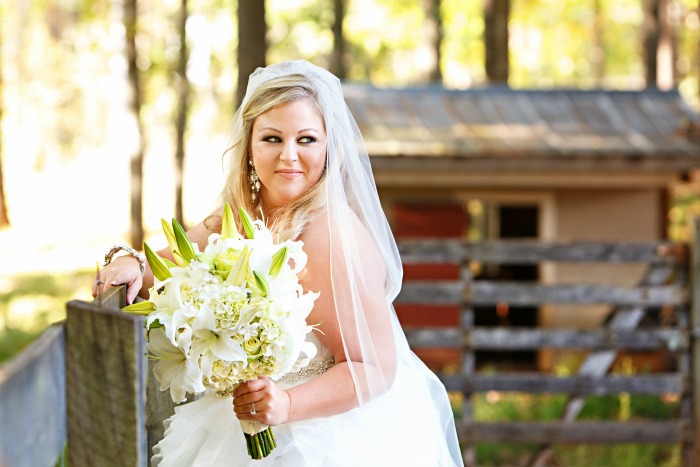 My bridesmaids bouquets were a little smaller than mine but were still ginormous… and I loved them! There is no rule that says you have to hand your girls just a few stems.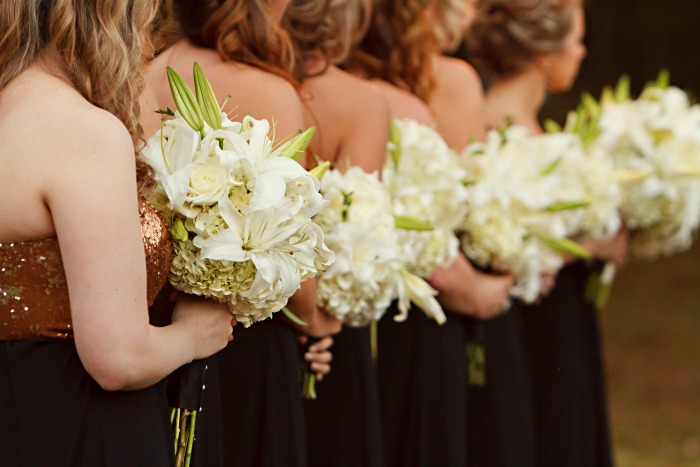 Our baker created this cascading dream onto a moss covered table. As gorgeous as it is, it tasted even better. I still order cakes and goodies from Cynthia's Cakes and Cookies on special occasions; for y'all in metro-Atlanta, she never disappoints! Get the vanilla or chocolate pound cake and tell her I sent you 😉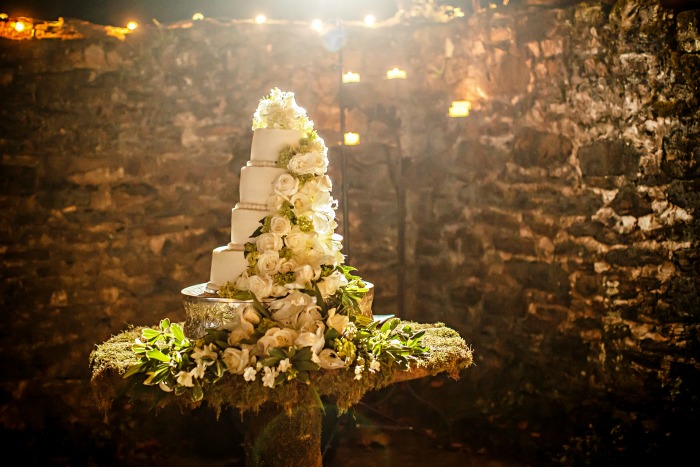 Flowers were…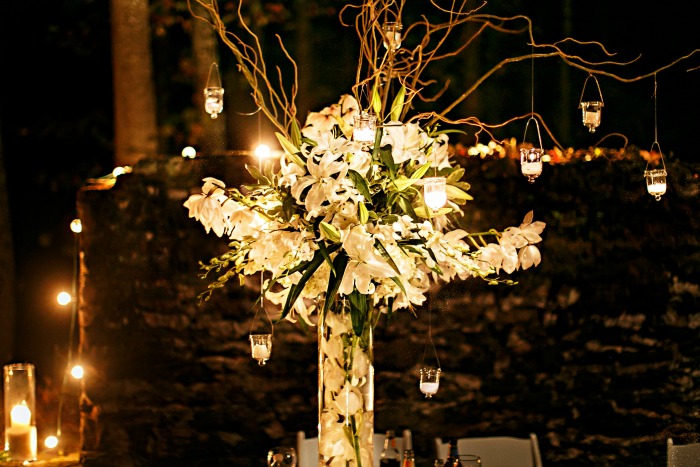 everywhere.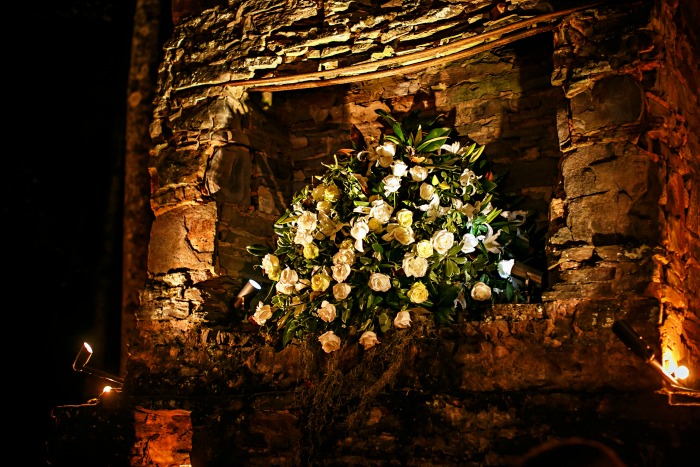 4. Create the Fairy Tale with Candles
Here's how to determine how many candles you need. Think of how many you think you need… then multiply that number by 100. Seriously. The more candles, the more romantic the setting; this is not the place you want to skimp for a night-time wedding. If you had to choose between a few flowers and a few candles, or, a LOT of candles with no flowers, scrap the flowers and go for the flames. Get online and search pillars, tealights, and tapers in bulk.
Shortly after we said our vows, I was glad to have had the alter and aisle lit.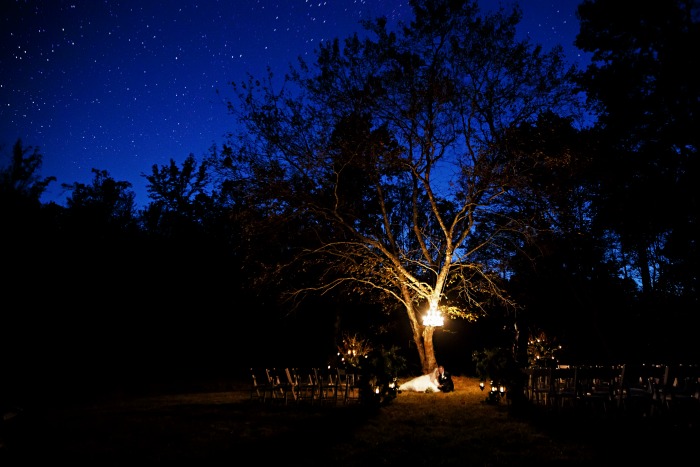 I loved the ceremony spot, but…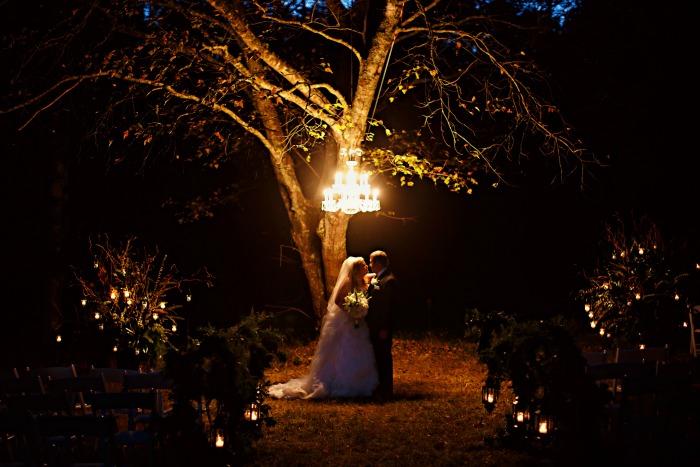 the candle lit reception vision was the driving force behind my entire dream.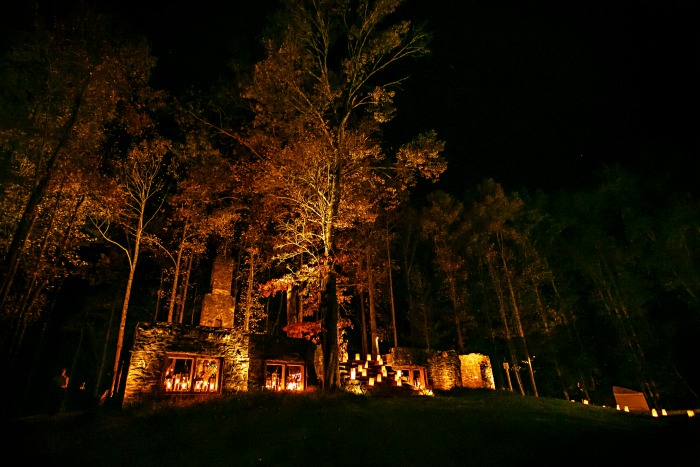 I actually didn't plan the luminaries; I am so thankful that the wonderful folks at Kellum Valley had the foresight because it added the perfect ambiance. We did have our florist create weighted wreaths with candles for the pool in front of the ruins.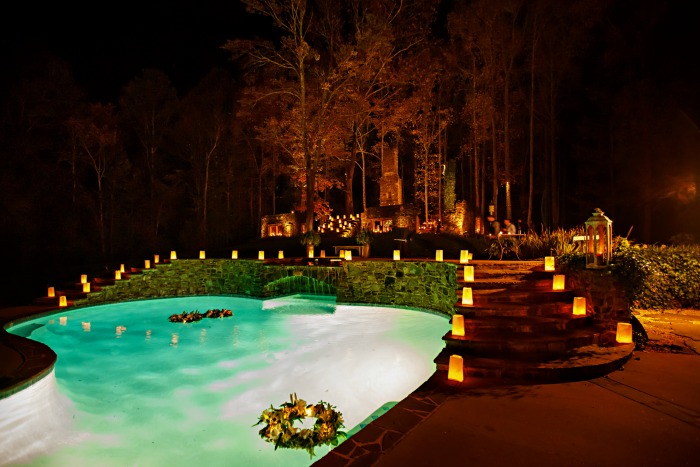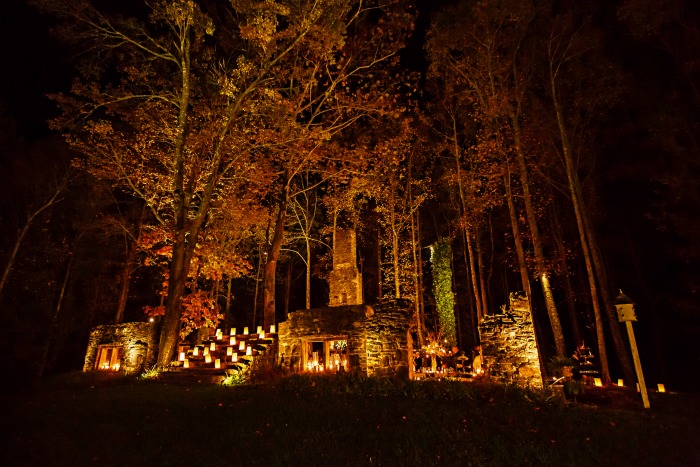 The changing leaves showed up more clearly in the candle light than in the daylight.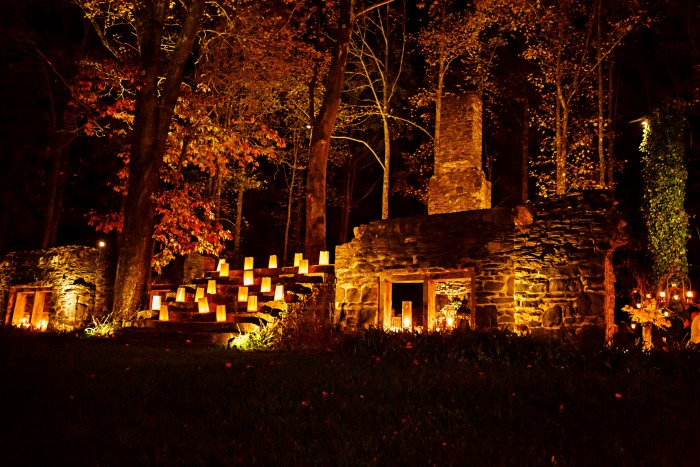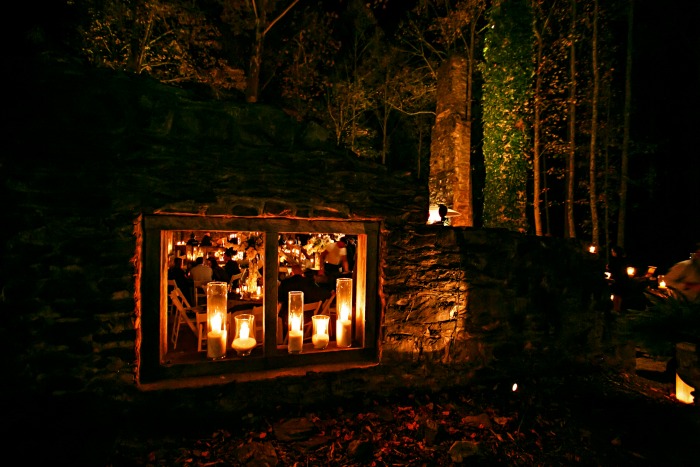 Glass hurricanes serve double duty by both keeping Smokey the Bear happy and creating pretty, illuminating reflections.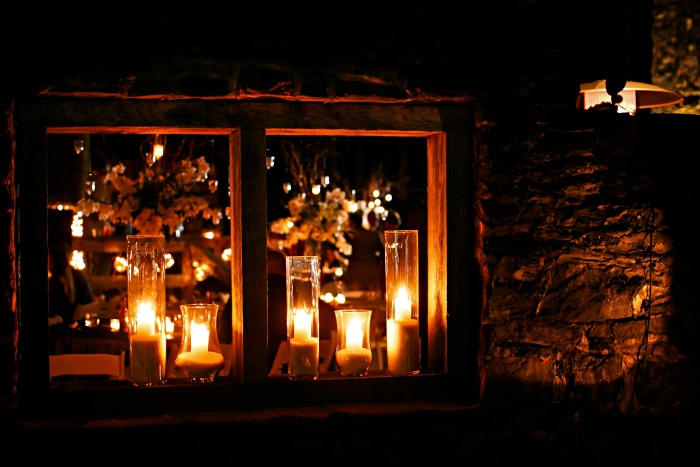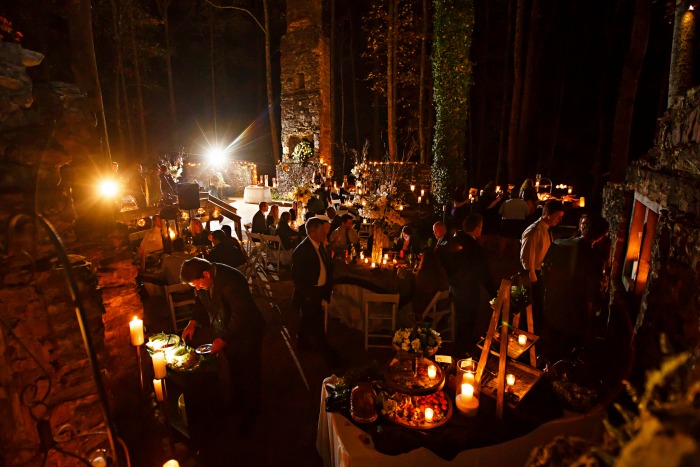 5. Create Large-Scale Centerpieces
When I first described the centerpiece size I had in mind, my mom thought I was nuts. After having zero luck finding lanterns big enough to make the statement I envisioned, I found some almost four foot tall lanterns at Z Gallerie (which I still use in my home).  Half of my centerpieces were these large floral/branch arrangements with hanging tealights in cylinder vases with submerged blooms, while the other half were my long sought after lanterns, filled with candles, greenery, and those signature white blooms.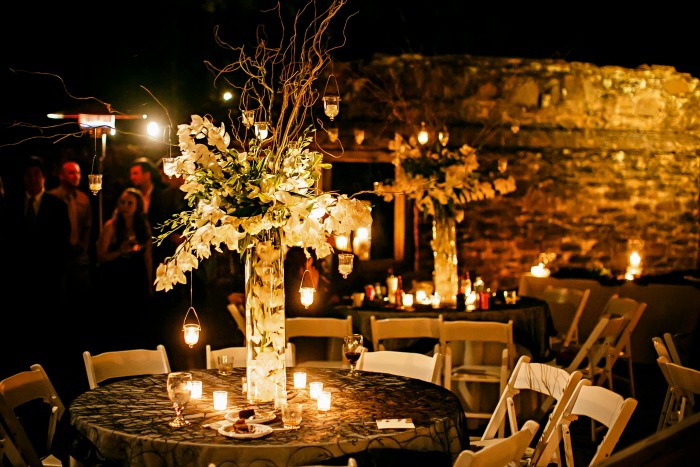 I regret not having more photos of the lanterns but you can catch a glimpse of one in the below picture, just to the right of the Kurt Thomas Band. *If you have iTunes, I'm Country and Presence of Love are still my all time favs*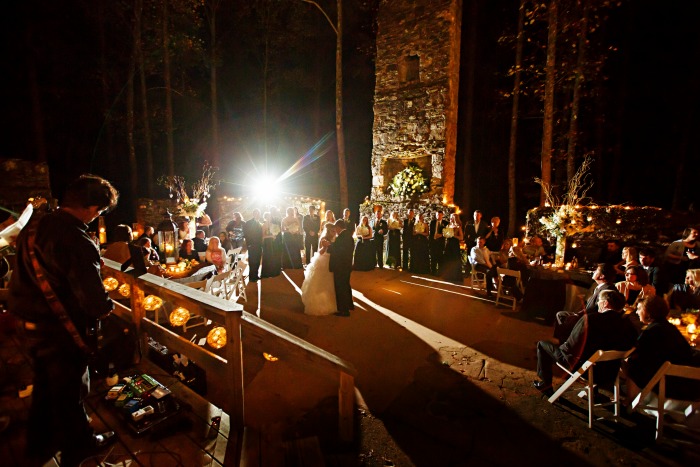 I would be amiss not to share my friend's latest video; check it out here: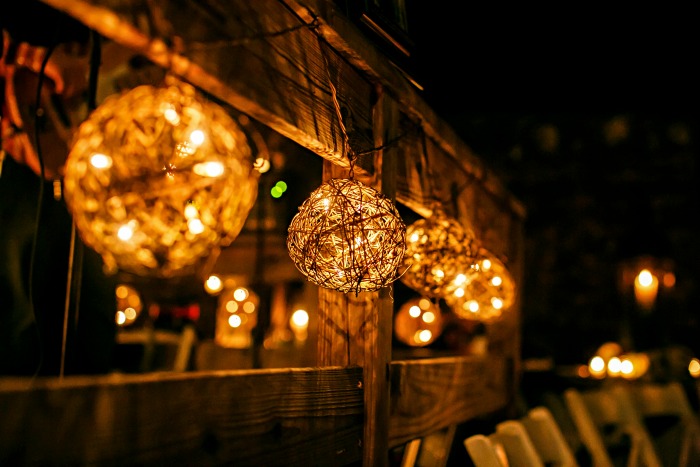 Wishing all you fall brides, mamas of the bride, bridesmaids, and one-day brides the best of luck this season. Have fun with your planning and take it all in; it will go by too quickly. If all else fails and you forget everything, make sure the groom is "right" and your day will be a success. Of all the planning and preparing, mine was by far my best decision 😉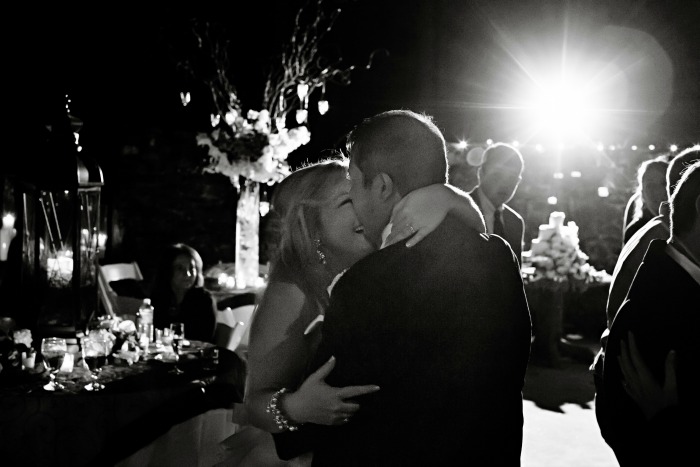 *All photography by Ed Hetherington Photography