This past weekend, I headed south… 375 miles south to be exact, to visit the most gracious southern hostess I know – my mama. So much of what I do in my home is basically a feeble attempt to copy what I have learned from her over the years. 😉 Just as I am always trying to develop new ideas, she is always raising the bar. This trip was no different so I thought I would share a little about my visit and some of my favorite guest tips from the original southern lady: Mama Nan.
She lives on the eastern shore of the Mobile Bay in the most adorable Southern Living home; here is a quick snapshot of her back patio; you can even catch a glimpse of the back of her outdoor fireplace on the left. She definitely did not pass down her green thumb so I love taking in all of her plants and flowers when I visit.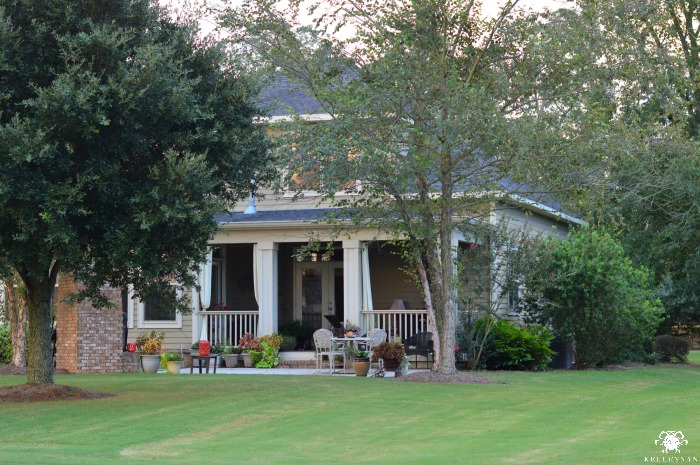 Although she hosts effortlessly, over the years I have observed and she has shared some of key tips for welcoming out of town guests.
1. Pre-plan the game plan.
As soon as we establish that we are "getting together", she always asks, "what do you want to do?" While we enjoy the same things (hello, shopping marathons and wine!), it is important to her to make sure guests are doing what they enjoy during their visit. Planning a realistic schedule ahead of time will cut down on the stress of trying to do too much. Not to get too type-A on you, but we typically work backwards; it hasn't failed us! If we need to be somewhere at 10 a.m., we figure it takes at least 20 minutes to get there which means we need to leave by 9:40. If we are leaving at 9:40, that means we need to be up by 7 to get ready for the day. These times are calculated into our schedule in advance so we don't have to stress once we are actually together. We also try to plan ahead for a little down time and discuss the level of "dressiness" we will need to be for each day 😉
2. Insert some local fusion.
Specifically if your guests are from out of town, suggesting activities/dinners that your area is known for is a treat to give your guests the full local experience. Because she lives close to the coast, I love making a trip to Felix's Fish Camp for some seafood and stopping by Allegri Farm Market for fresh produce to take home. During my trip this past weekend, we even took an evening trip to the Orange Beach Marina for dinner and to watch my brother cruise in from his Marlin tournament. You can even prepare a dish/dessert that encompasses where you live. You can check out where I did this with the best peach cobbler recipe HERE.
3. Bring out the welcome wagon.
Each time we visit with each other, our trip is like a best friend reunion. Traveling in on Labor Day weekend, the five and a half hour trip was closer to eight hours. Despite arriving much later than planned, she had a glass of wine waiting as she welcomed me. She never fails to offer a beverage as soon as I walk in the door.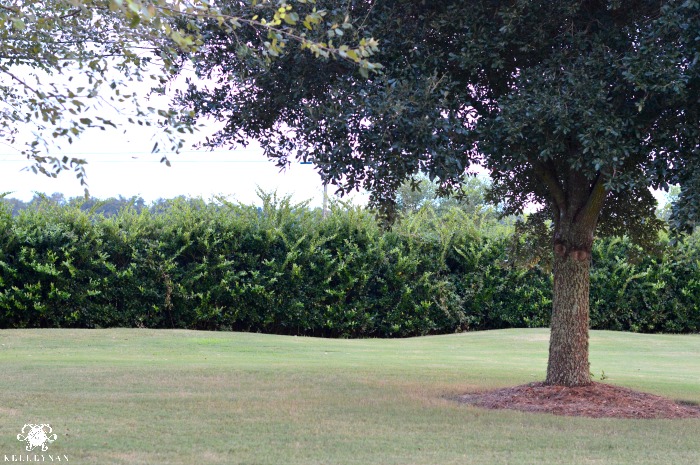 4. Prepare the room and throw in some extras.
Washing the bedding and airing out the room if it is typically closed off is more obvious preparation, but some of the details I am accustomed to when visiting with Mama Nan make me feel like I am staying at a high end hotel. I stay upstairs and since that part of her home is rarely used, the thermostat typically reflects that. She adjusts the a/c prior to my arrival (and keeps the house at my preferred temperature level throughout the duration of my trip) and turns on the lamps in my room. She keeps an oversized basket with extra sleeping pillows and sets out a luggage rack for my stay. *A luggage rack for my guest rooms is currently a priority; I can't tell you how much I love using one when I stay with my mom! Here are a few cute options.
LUGGAGE RACKS


She had a hamper with a plastic bag at the bottom so I could keep my clothes separated as I wore them (game changer!), a bowl of chocolates on the bedside table, and even had some fresh, homemade cookie bars waiting, accompanied by a sweet welcome note. She always has a fresh arrangement of flowers in my room (I give her bonus points when she has a gardenia blossom on my night stand 😉 That smell!)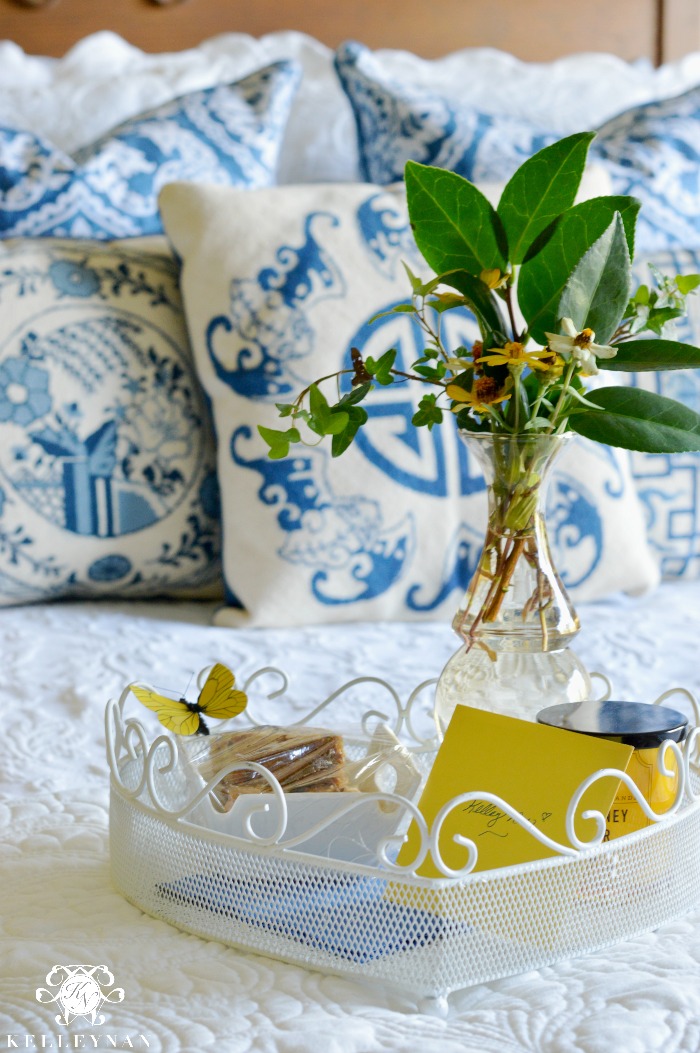 Pretty cute, right? Even this little butterfly detail (similar clips HERE)… She is so good.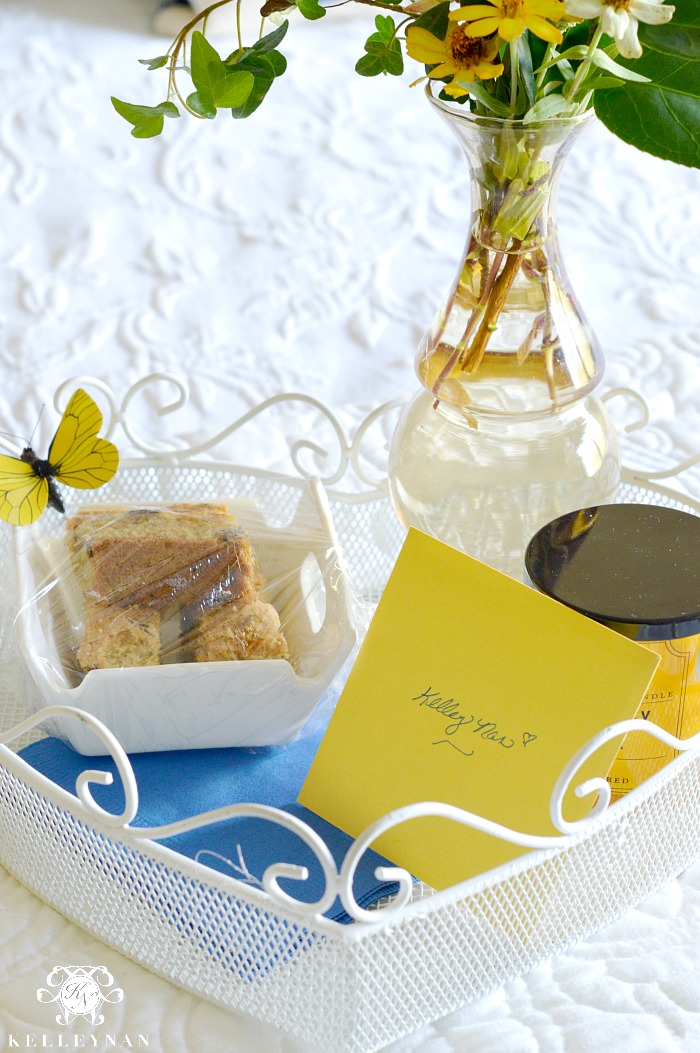 Can you tell where I get my love for blue and white. 😉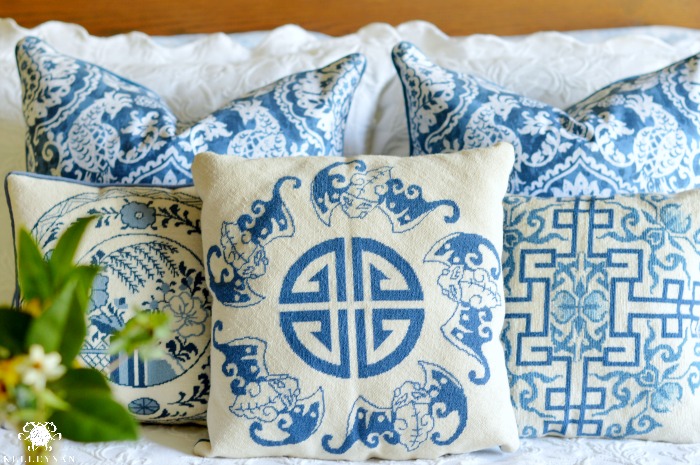 *SIDE NOTE*
Everyone close to my mom and I will tell you how similar we are – it's almost creepy haha. We even picked up matching 17-month planners during our trip. She got the small version for her purse…
(Click directly on planner image for source)


…and I got the large version for my desk.


This is my second year using the Lilly Pulitzer planner (I am obsessed). If you are in need of a planner, these run from August 2016-December 2017. I could have used my current planner through the end of the year but with dates already stacking up in 2017, I was relieved to find a new agenda for the remainder of this year, through next year.
5. Stock the fridge and the pantry.
If you plan on dining out for most meals, keep snacks, some pastries/muffins for a quick breakfast grab, coffee accompaniments, and plenty of water on hand. I never have to say "I'll be right back; I have to run to the store for a diet coke," when I am visiting Mama Nan's.
As gracious of a host as my mother is, I try to be a gracious guest. I would never expect the efforts my mom takes from anyone who is welcoming me into their home, but if you are looking to create an extra special experience for your visitors or are looking for some tips to help make for a seamless stay, try out a few of these practices Mama Nan has perfected. Have other traditions for your own guests? Let me know by leaving a comment below!
*post contains affiliate links*