I'm long overdue for some randomness but was prompted by the time sensitivity of a few recent loves being on mega-sale to share some of my favorites from the past few months. As always, in typical "Snack Around the Plate" style, this post of favs is all over the place — from a TJ find, organization, my latest subscription addiction, the hoodie I ultimately swiped in ALL the colors, and more. Let's get into it!
*Posts on KelleyNan.com may contain affiliate links. Click HERE for full disclosure.*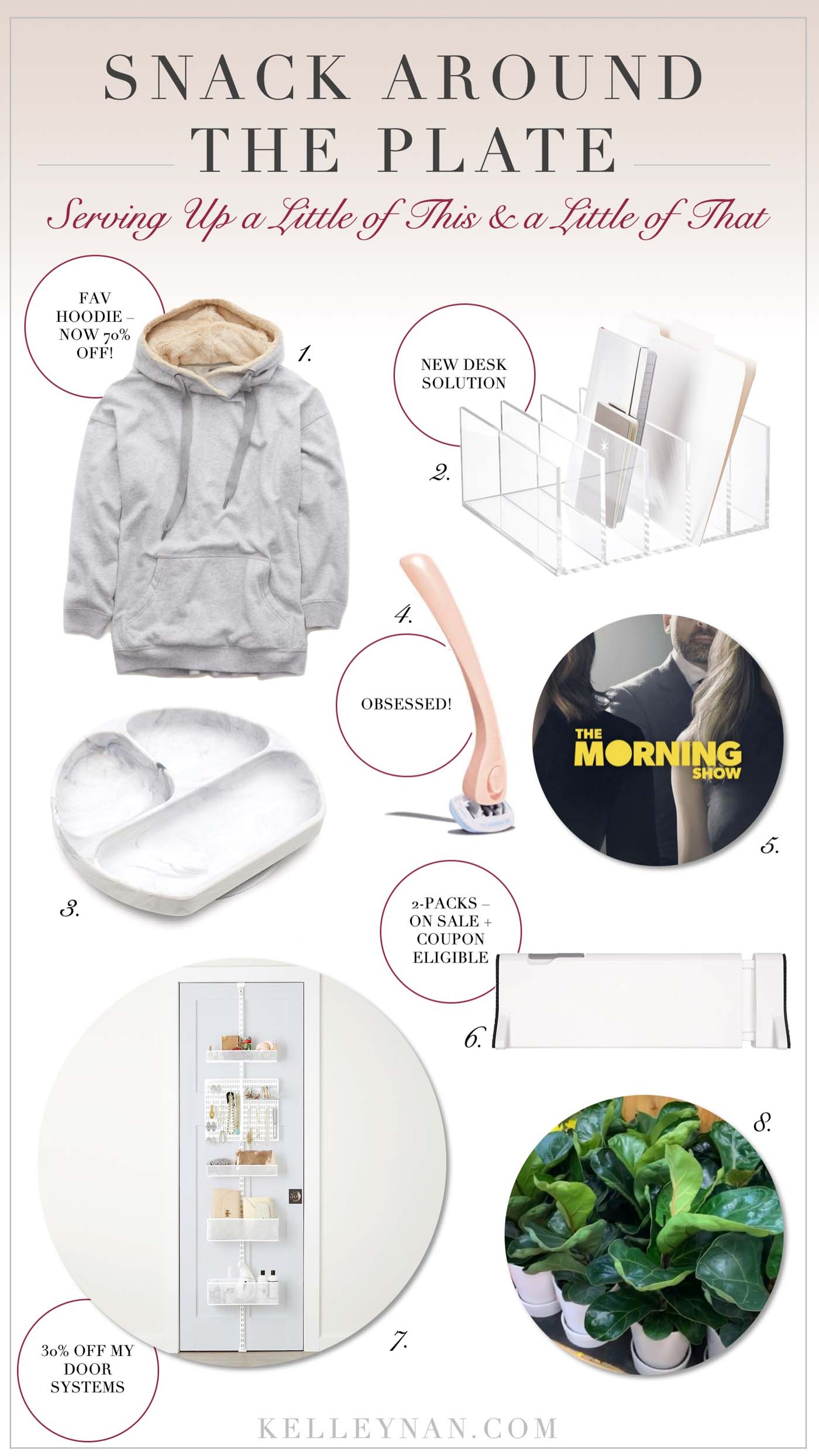 1. Oversized Hoodie // I first ordered one one of these hoodies back in November. I was surprised that despite the front pocket and hood being lined with soft fur, that the sweatshirt itself wasn't thick. It quickly became my favorite, and I ordered another. Well, as of this week, they are marked down to 70% off ($16/ea.) (HERE) so I rounded out my collection with all four colors haha. I've been wearing them on repeat (I love that it's long enough for leggings; true to size will still give an oversized fit) and because they are light enough and perfect for layering, I will be able to wear them as we transition into the next season. Two of my girlfriends also ordered them after I raved about them on Instagram and both of them are also totally in love. One of my favorite finds ever!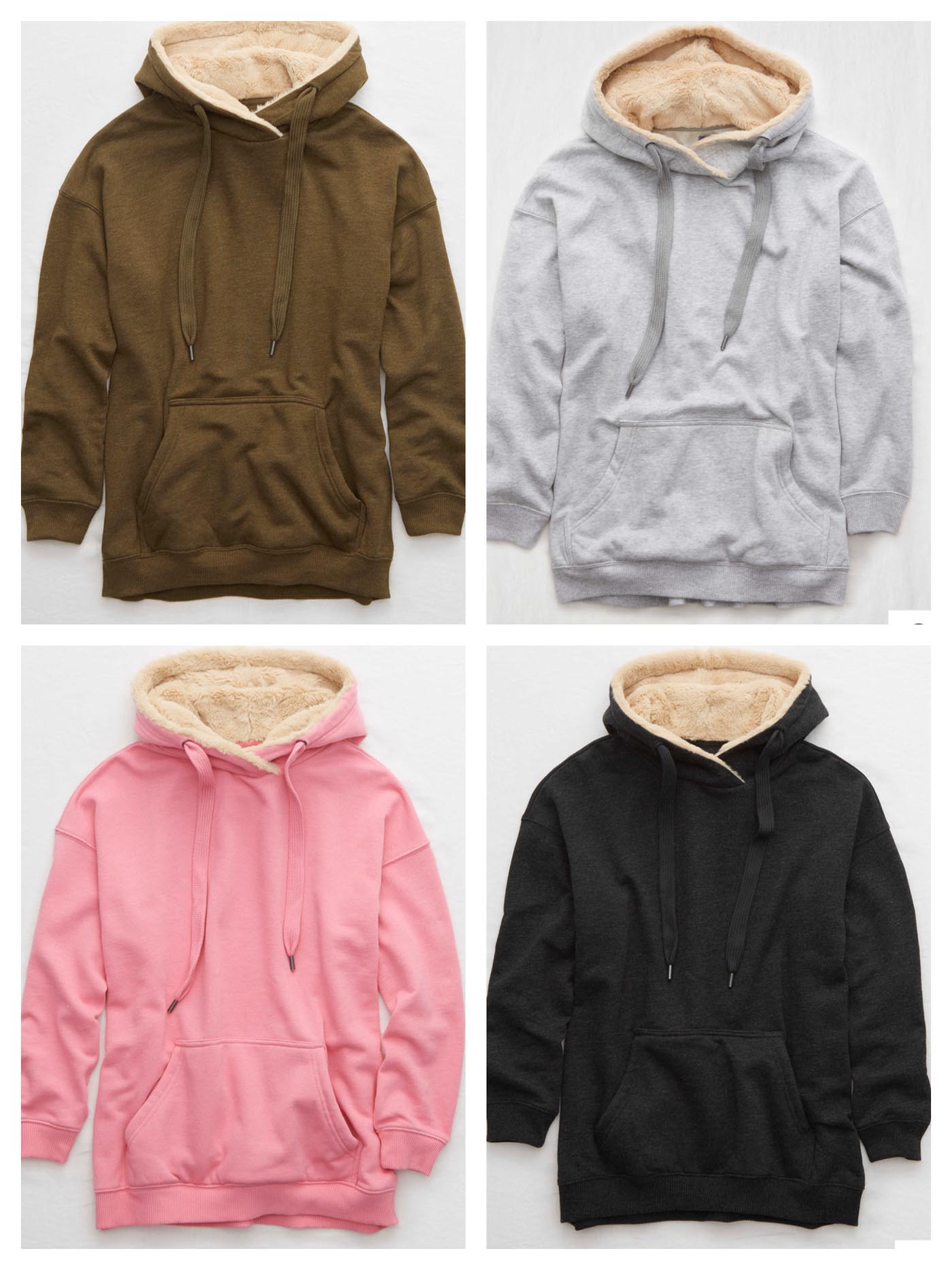 2. Acrylic Organizer // I've gone through a few desk organizers — both a two-tiered flat document tray and an acrylic magazine holder, but without having dividers, inevitably I would end up with stacks of things all over my desk… that never moved.When I finally tackled my office a couple weeks ago, I wanted to find a solution, once and for all, to eliminate my desk piles, but that would also provide a sturdy space without sides to store my laptop that I leave plugged in (and closed and connected to a desktop monitor). I found this heavy-duty, 5-compartment organizer and it holds everything perfectly — I've also eliminated and maintained a mountain-free desk! I have a compartment reserved for my laptop, ipad, folders, planner and notepads, and bills/immediate papers. Acrylic isn't the cheapest material but it's definitely worth it for the substantial heft and not having to worry about it moving/tipping over.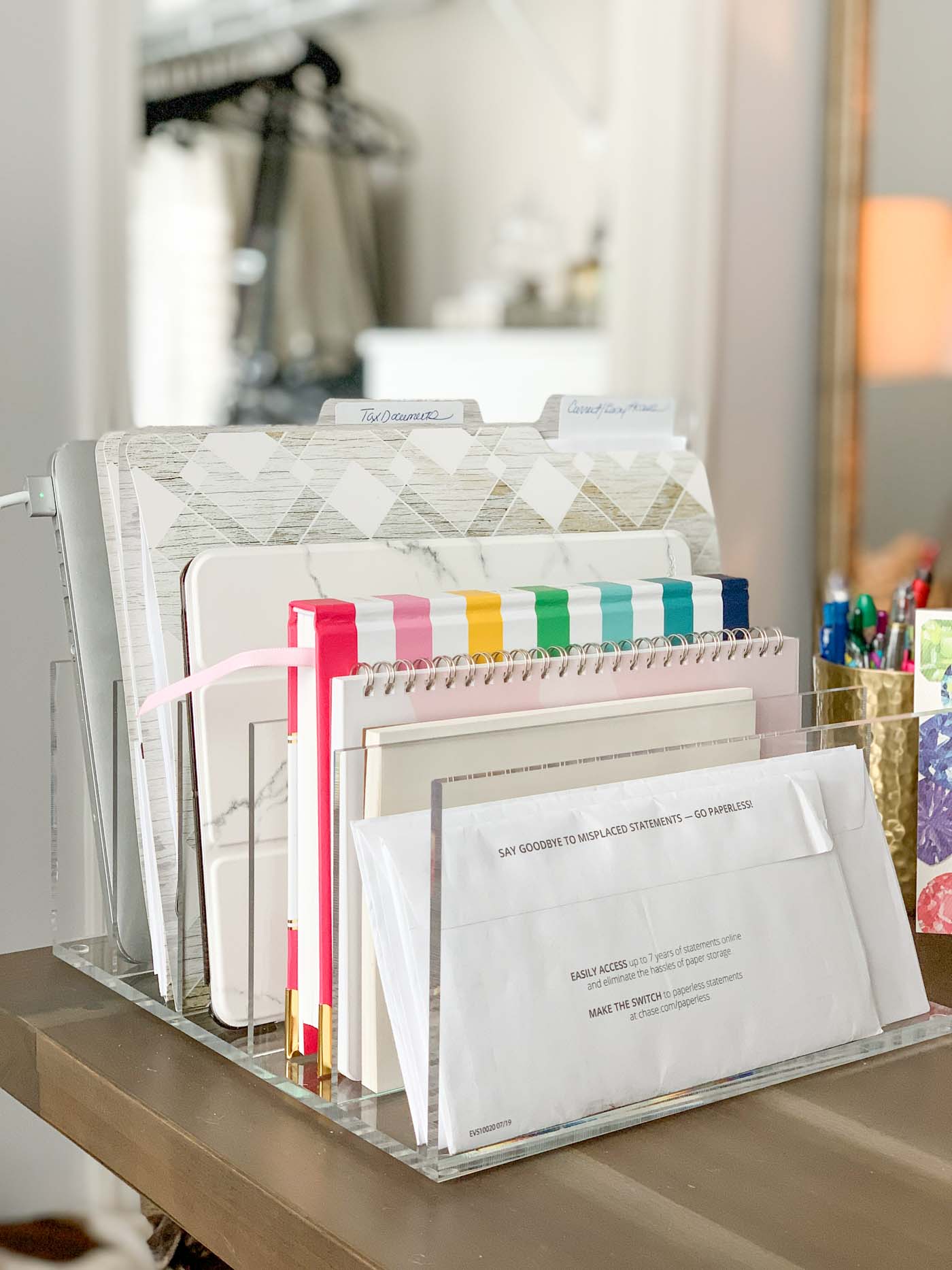 3. Baby Suction Plate // We have recently started incorporating solid meals into the day and I had heard so many great things about this silicon compartment suction plate that I ordered one to test out. After several uses, I went ahead and ordered two more so we could have one for each meal time; it comes in several colors (I have the marble) and as messy as meal time is, I love that this is one less thing she can throw off her tray. Along with the suction bottom, it also has some weight to it to help it stay put.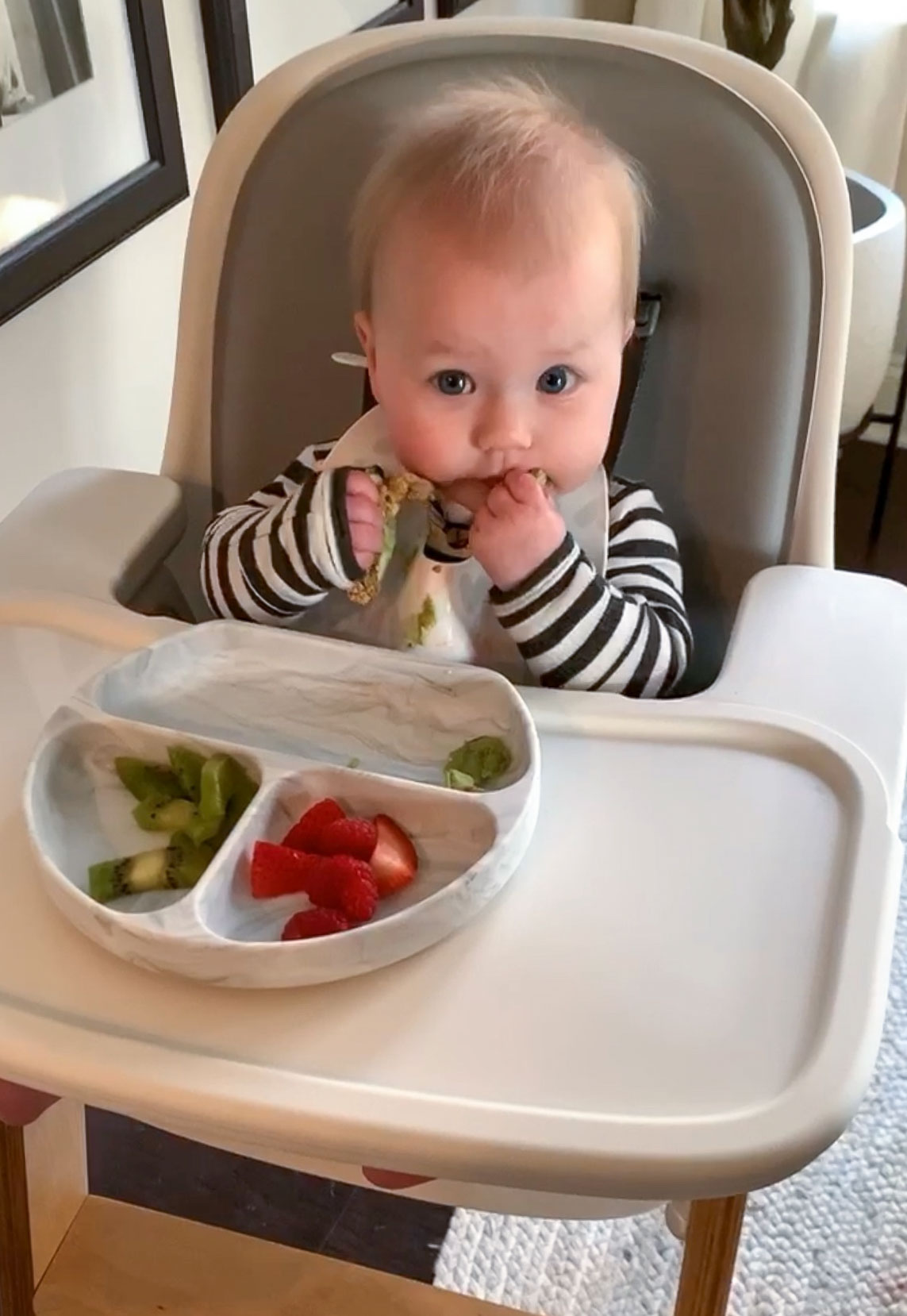 4. Billie Razer // Full admission — it wasn't that long ago that I bought cheap razors in bulk, and didn't change the cartridge nearly as often as I should have. I had seen others rave about the Billie razor — an inexpensive subscription but didn't really consider myself a candidate since (embarrassingly), shaving just isn't super high on my list of priorities haha. I am so glad I tried it because it changed everything.
You choose your handle, which comes with this handy, magnetic holder for inside your shower (I love that thing!)
Each shipment contains four replacement cartridges for $9 (free shipping) BUT, you choose the frequency, depending on how often you shave. If you shave every day, you will get one delivery of cartridges once/month. If you only shave once per week, you'll get one delivery of cartridge every three months. Again, each shipment of replacement cartridges is only $9. There are three different options regarding frequency.
I guess I shouldn't have been surprised, having used only cheap (most of the time, dull) razors but the shave is the best I've ever had. The charcoal moisturizer surround and five blades have also made it where I don't feel instant stubble (a first for me). Seriously, it is so so good.
Again, as much as I had heard about these guys, I had no idea I would be the rabid fan I've become. You can cancel at any time and try it for $9 and get the starter kit HERE. You can also select add-ons (I have the travel case and love the shaving cream) — if you get it and love it, you have to let me know!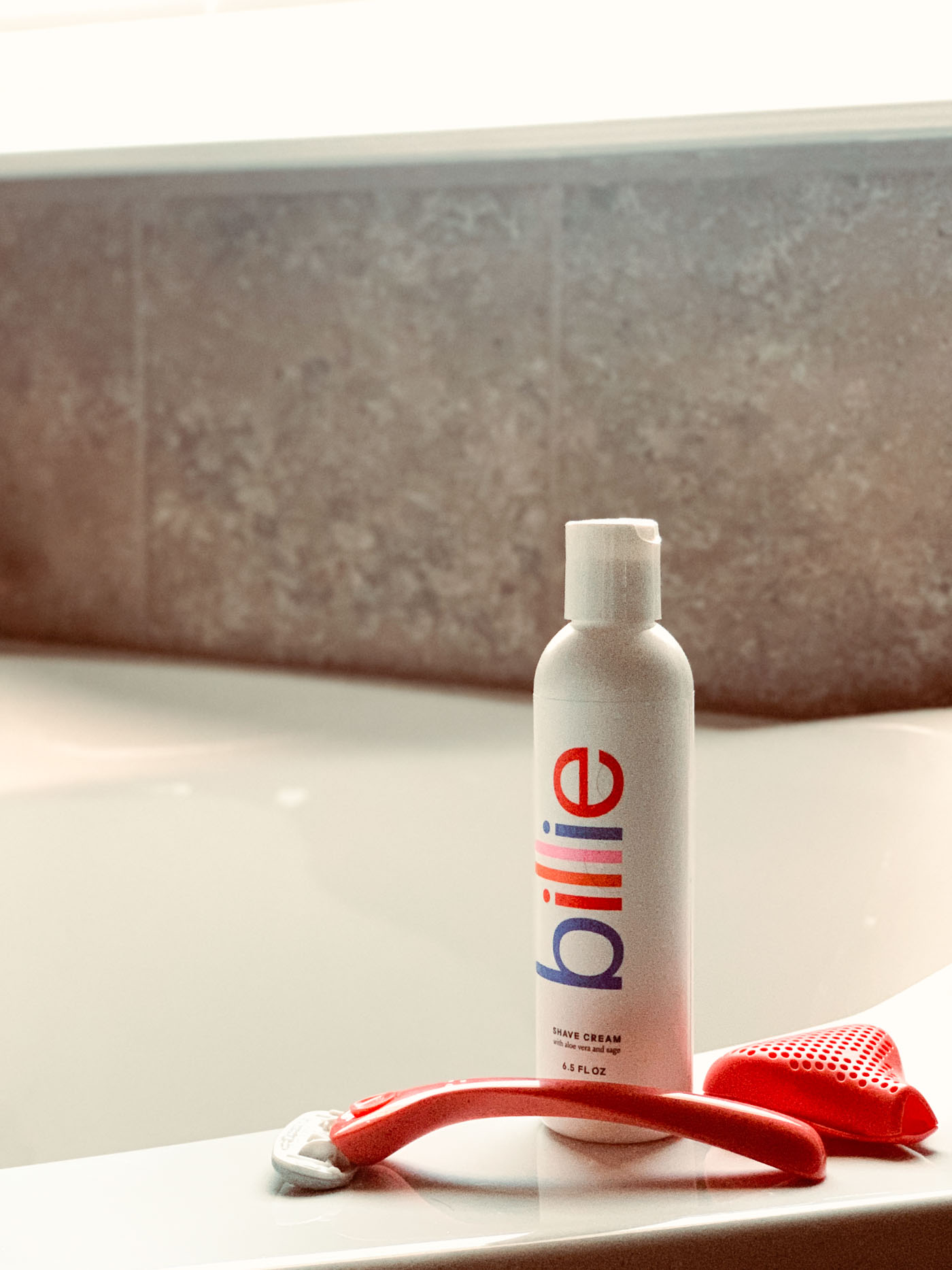 5. The Morning Show // I waited for this show ever since they announced Reese/Jen/Steve would be coming together to do a new tv show for Apple TV. I watched each week as each episode was released and loved it — I can't wait for Season 2! All episodes are now available and if you don't have Apple TV, I believe you can get it for $4.99/month — I cancelled once I was finished with the show, until I find something else I just have to watch on their platform ;).
6.
Expandable Drawer Insert Organizers
// One of the most versatile and loved organization items I have, if you've been in de-clutter mode since the new year, you need
these expandable drawer inserts
. Unlike structured compartments, these will expand to fit any drawer so you can arrange them on the fly — no pre-measuring necessary 😉 They come in a two-pack and while I've always paid full price, I actually found them for 20% off right now at BBB. I bet you probably also have an additional coupon to use on top of that 😉 They are especially good in dresser and nightstand drawers but would be great for just about any room in your house. You can grab them
HERE
.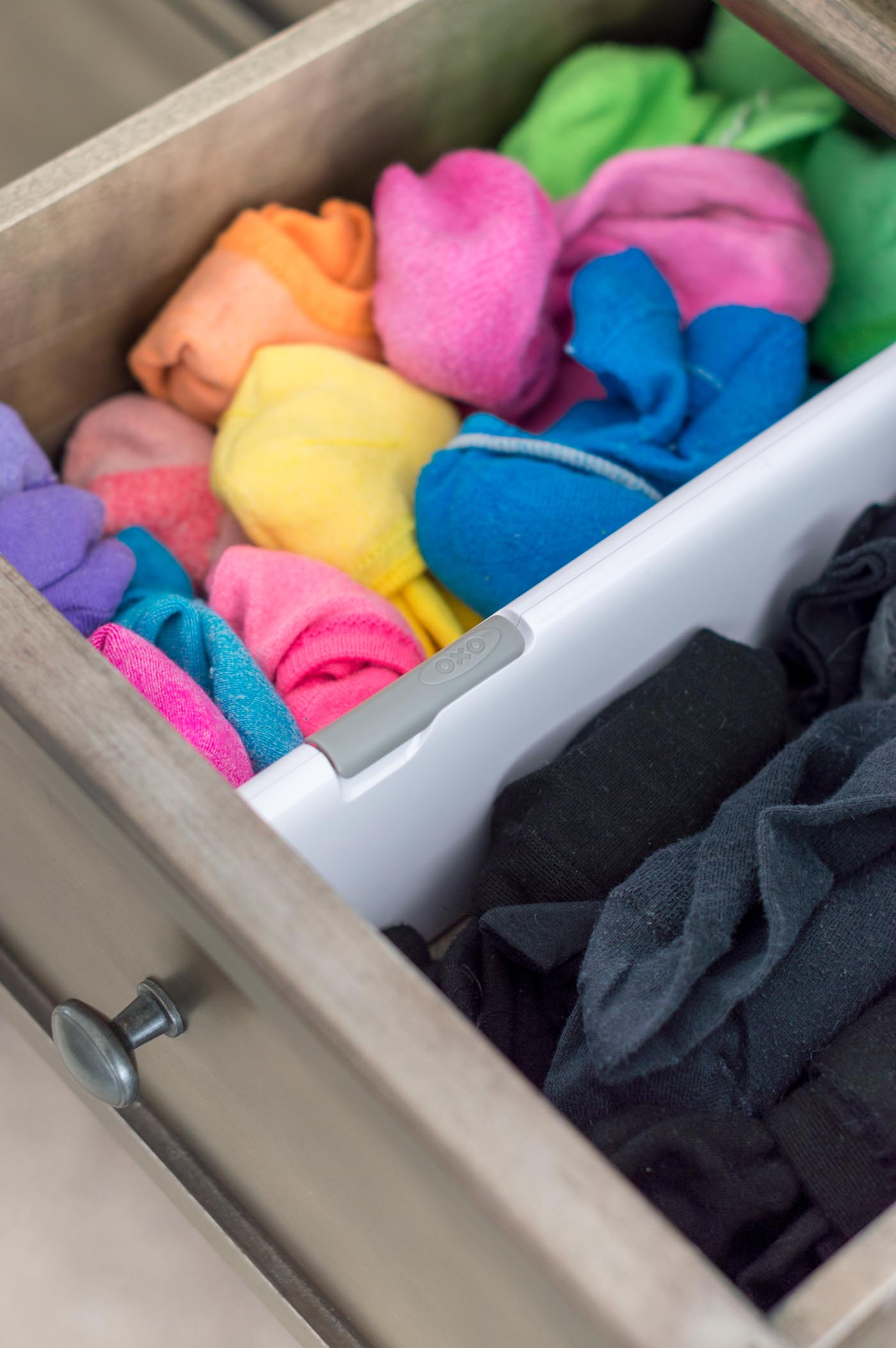 7. Elfa Door Racks // Whenever I post these, I always get questions. I've been buying them for years and good news — they are now 30% off. They require zero screws (they clamp the bottom and top of your door) and can be totally customized with baskets, racks, boards, etc. Here are a few spaces in my house where I have them…
The office closet — I created a wrapping paper station. (You can purchase them pre-designed (HERE), or build them out by individual components.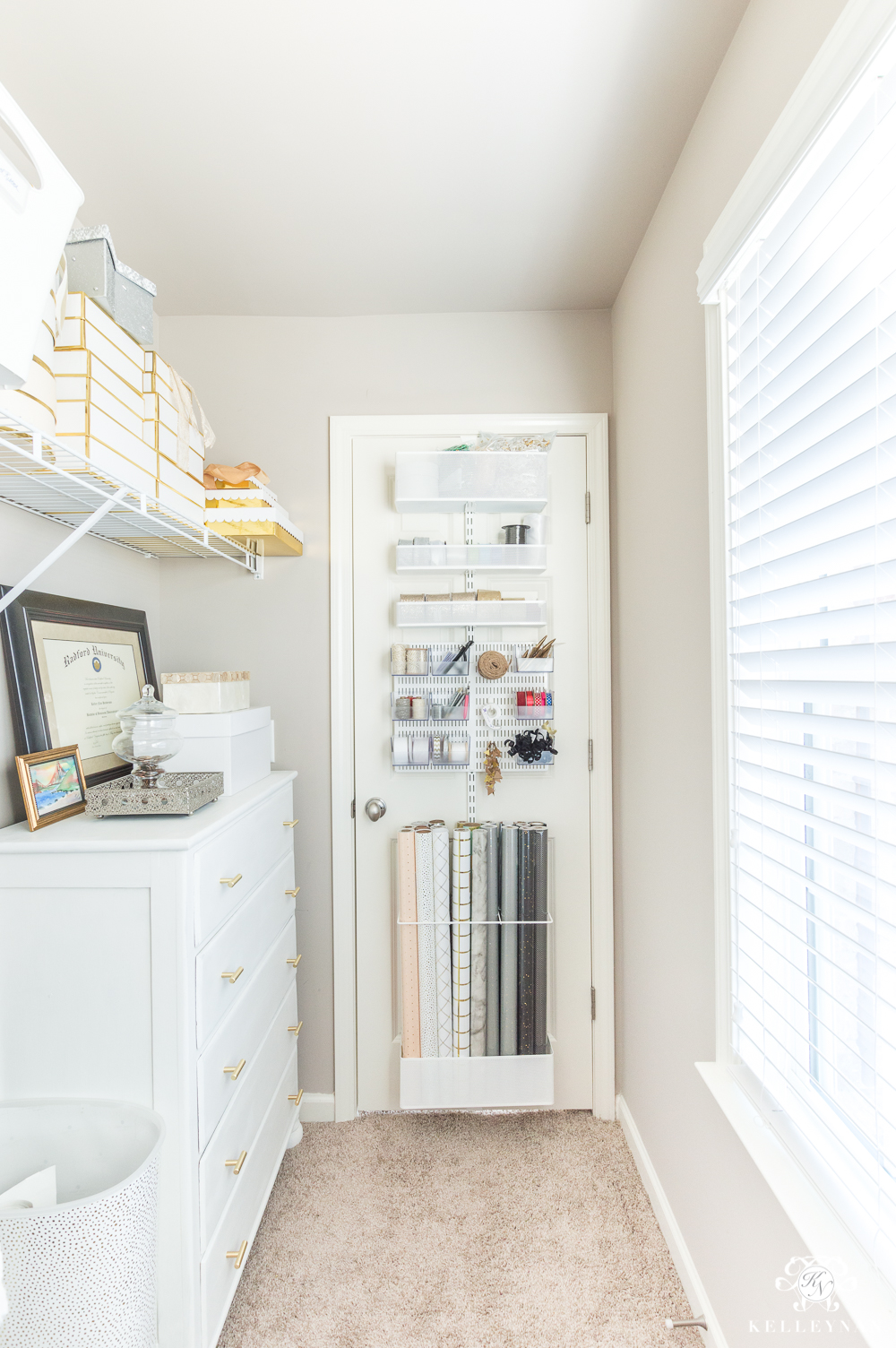 The pantry…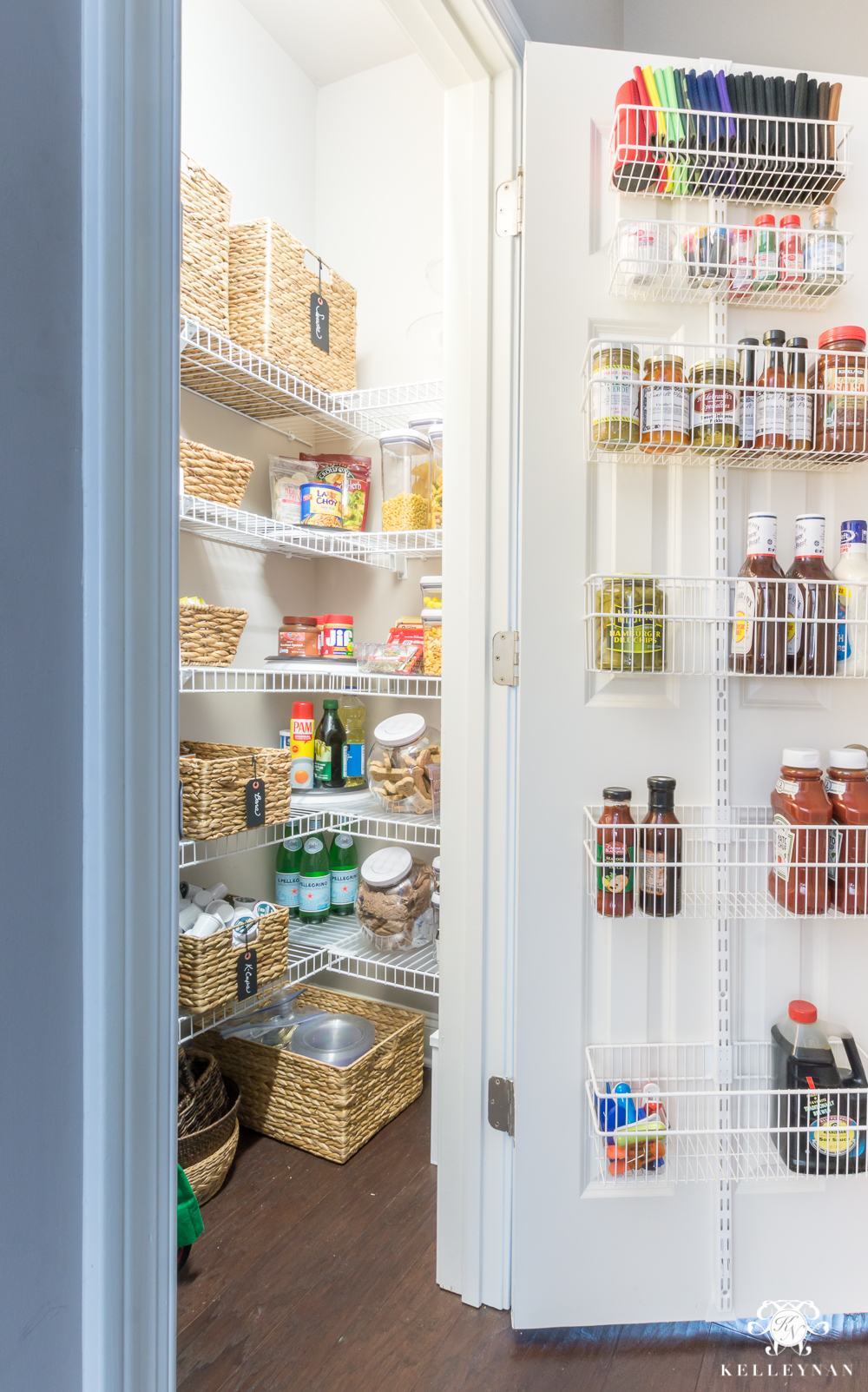 Eliza's nursery closet…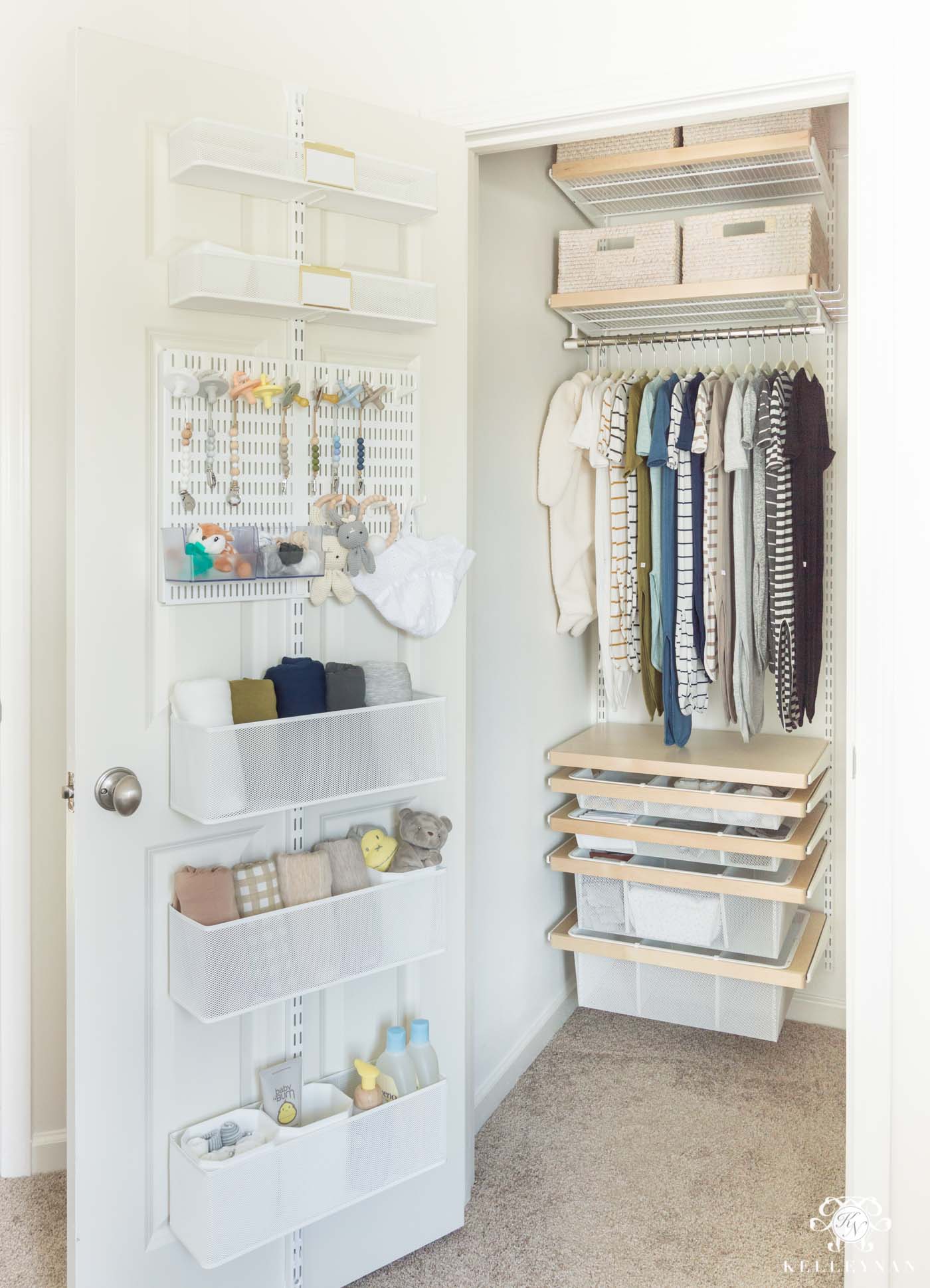 Our bathroom linen closet…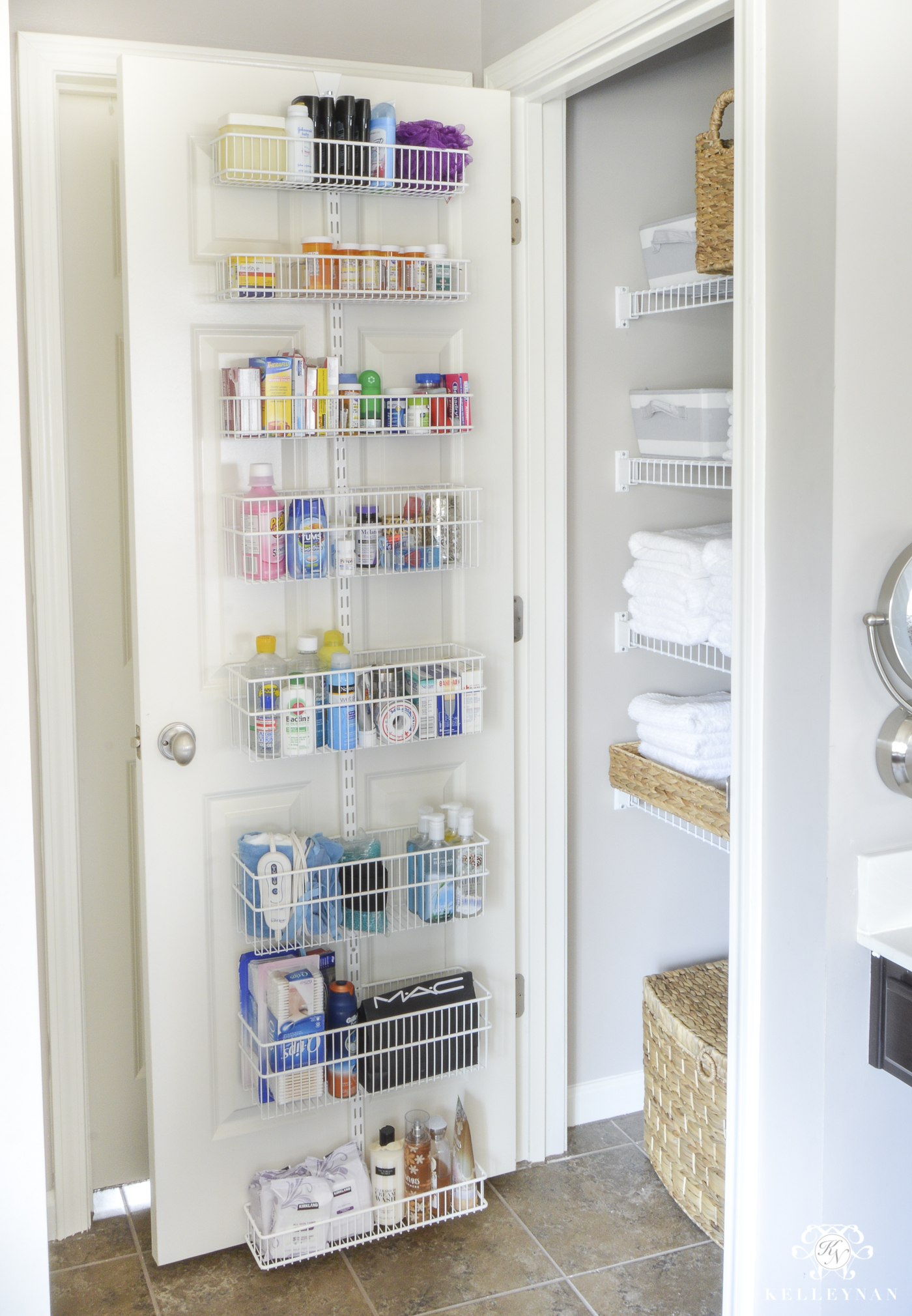 You can browse all the inspiration and pre-selected component systems HERE.
8. Trader Joe's Miniature Fiddle Leaf Figs // I've never purchased a fiddle leaf fig because I don't want to spend a lot of money, just to fail. I've heard they can be finicky and they can also get pretty expensive. Well, good news for those who have also wanted to test the waters. I was in Trader Joe's last week and they have minis for $10.99! I had followers on Instagram message me, saying they headed to their local stores and also found them so chances are good that your local store will have some in stock 😉
As always, you can subscribe to my emails to get exclusive content, happenings, and sneak peeks (HERE), and follow me daily on Instagram HERE.
Shop the Post