With Super Bowl Sunday two weeks away, I thought it was the perfect opportunity to share a super easy, crowd-pleasing party food idea I've had up my sleeve for a while. Better yet, this board marks the first of a brand new "board" series for 2020! I have a blast concepting and creating easy graze-and-grab themes and bringing them to life and this year, I'm going to be doing it a whole lot more. They've become my favorite way to entertain and can be as involved or as simple as you want/have time for. The best part of today's board — a spicy spread of wings n' things — is that you can totally opt for carry-out; I'll even share a hot wing refresher hack a little further down if you prefer to pick up early in the day. Not into the Super Bowl? Pin this hot wing board for other home tailgating get-togethers, end-of-season little league parties, or a summer cookout you're hosting!
*Posts on KelleyNan.com may contain affiliate links. Click HERE for full disclosure.*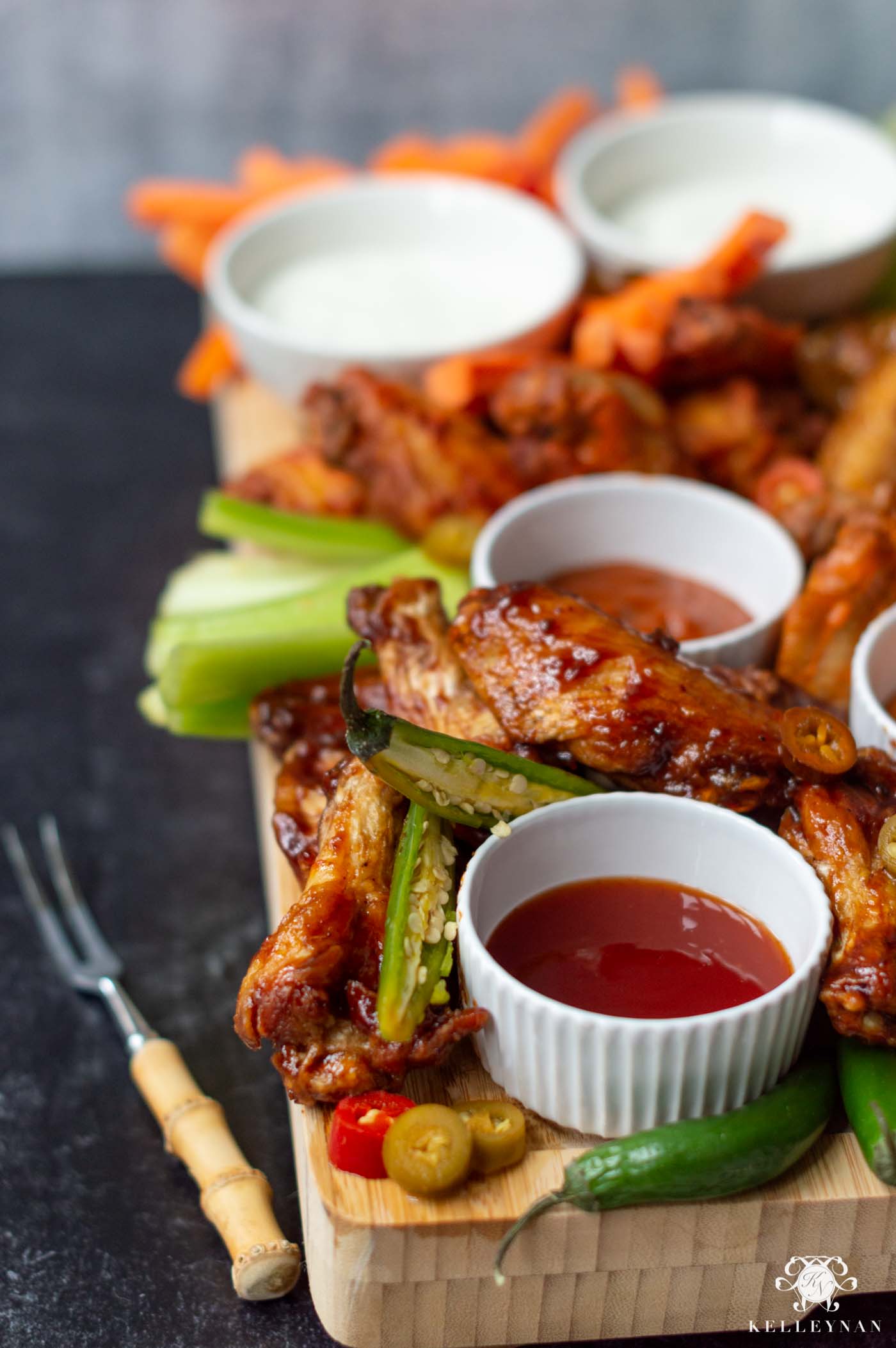 Wings n' Things — A Hot Wing Board Party Food Idea
I don't know if I've shared this before but in college, I worked at Buffalo Wild Wings in Blacksburg, VA — next to the Virginia Tech campus. Some of my closest friends came from that restaurant/bar life (I'm sure some of you can relate, working crazy late hours 😉 ) — I think I smelled like wing sauce pretty much… well… always haha. If you're a frequent BDubs-goer, ask for boneless wings spun in both medium and teriyaki sauce with a side of ranch (you'll thank me later 😉 ). Maybe it's nostalgia or maybe it's that I'm all-too-familiar but assembling a mess of hot wings — with all kinds of sauces and varieties — takes me back and just feels like hanging with friends and celebrating your favorite team. The key to elevating your spread?
VARIETY — make sure to have mild/no spice options (you can even opt for some naked wings), all the way up to really spicy. If you don't want any wings spun in anything that singe your nose hairs, make sure to get a side of an extra hot sauce.
Lots of ranch and blue cheese dressing. Definitely have beverages on hand but when your mouth is on fire, water doesn't help that much. Milk-based products (like creamy dressings) with soothe far better. Don't be stingy with the dressing 😉
Add peppers for garnish.
Bonus if you order take-out wings and request a lot of wet-wipes you can place in a bowl next to the board.
Offer extra wing sauces.
Don't forget a bowl/container to discard the bones
And a pro tip if you opt for carry-out? Sure, popping wings into the oven to reheat is simple enough but it also can dry out your wings and bake the sauces onto the wings. Order extra sides of whatever wing sauces your wings are spun in and when they're warm from the oven, put each flavor into a seperate bowl, drizzle the appropriate sauce into each respective wing bowl, and shake it around/stir the wings and fresh sauce together until each wing is freshly coated.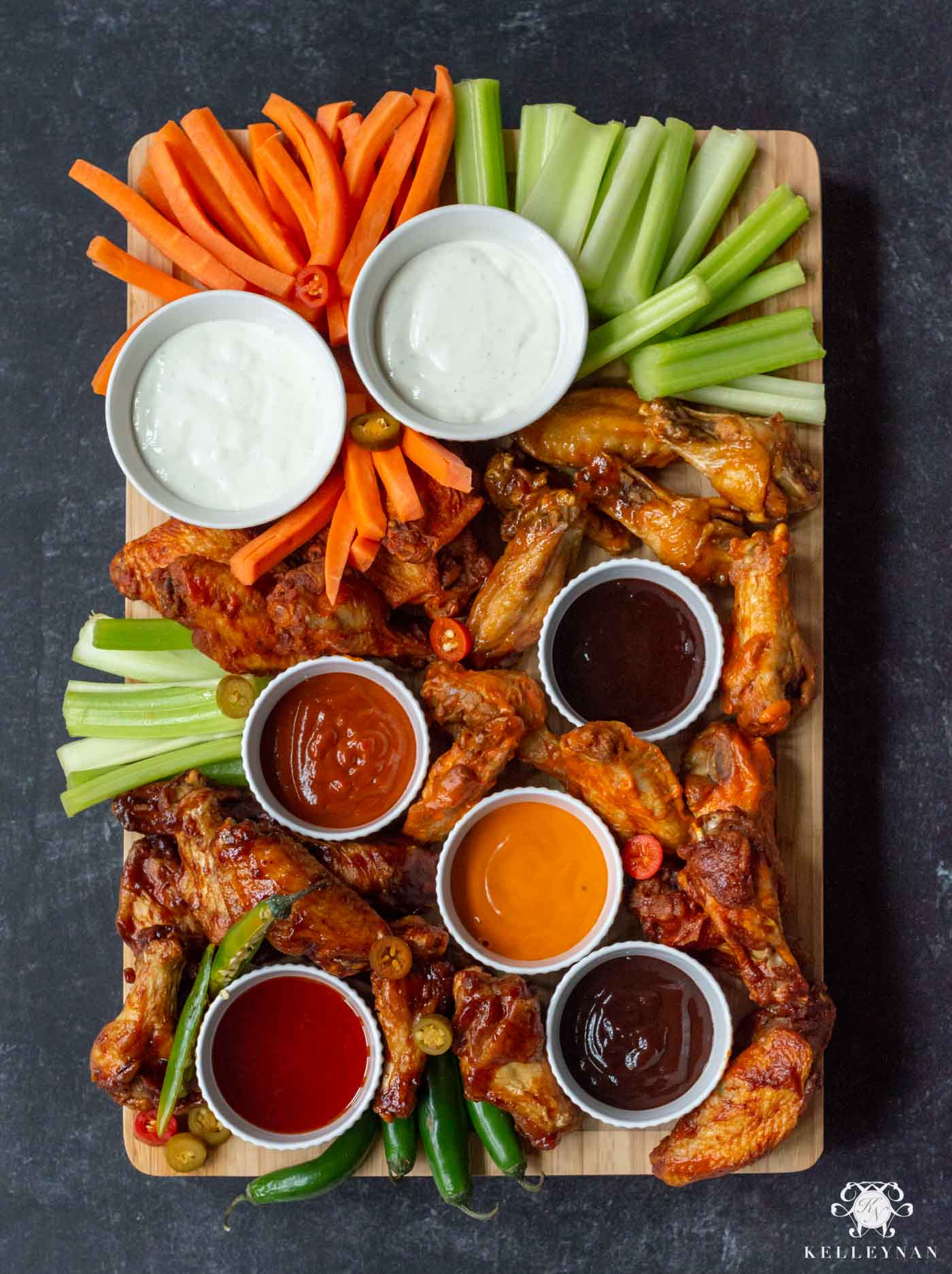 When you're dealing with saucy boards, the order in which they're assembled becomes more important to keep the mess to a minimum.
Choose a large board that will accommodate your offerings
Place your sauce, dressing, and condiment bowls on first. If you try to make room later, they'll will be covered in sauce (as will the entire board from shifting everything around.
Put each flavor together in like sections, working around the bowls. You can use cheese markers/tooth picks/place card holder as heat/name labels, if you prefer.
Make sure to leave space to work in your veggies.
Garnish with peppers — you can go for a variety, pickled slices, or fresh slices ( I did a combination of jalapeno and serrano). You can even use more mild banana peppers or pepperoncinis for some color diversity.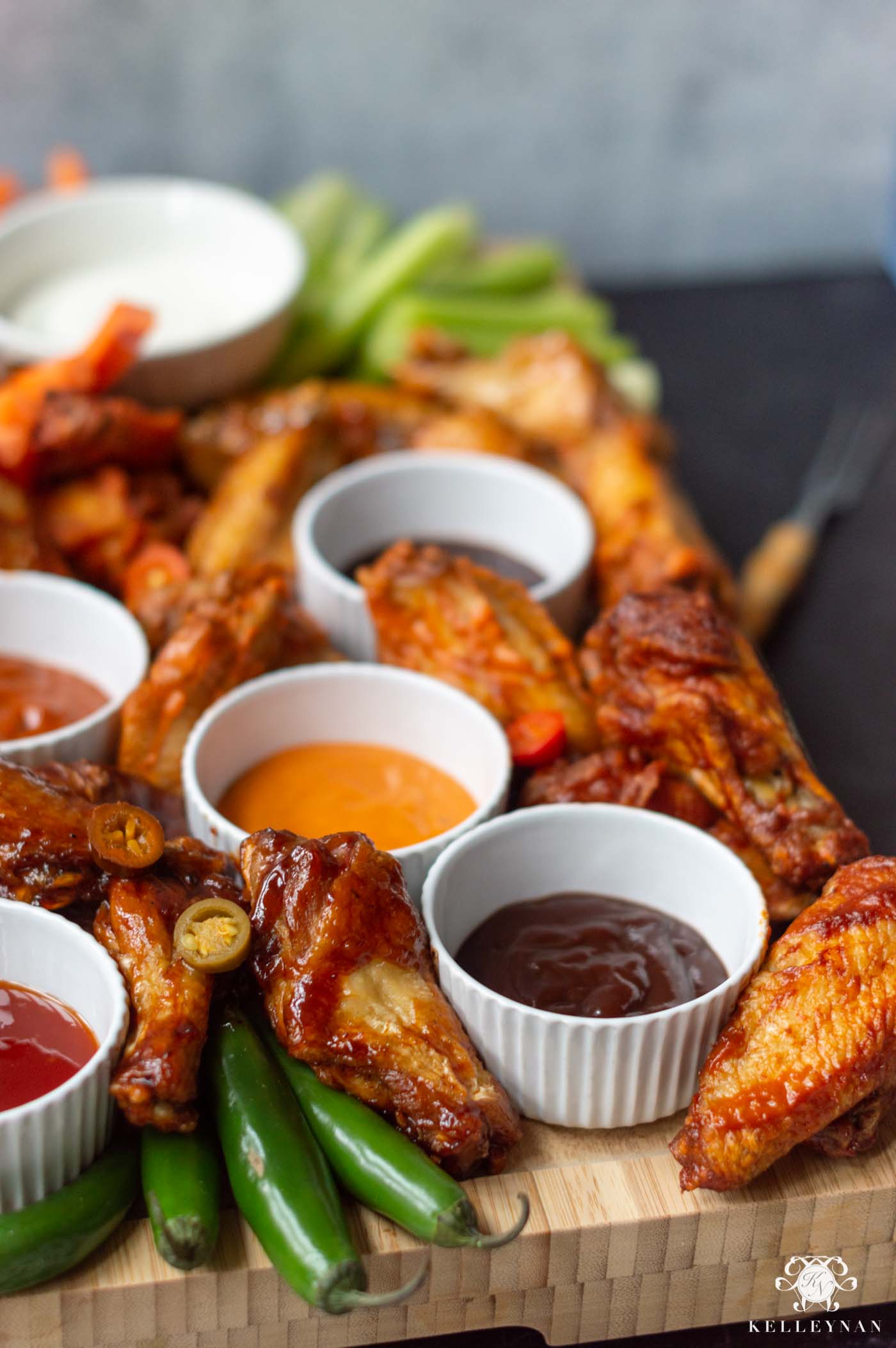 I have almost an entire cabinet dedicated to small bowls (I blame my mom haha) but these basic white, universal ramekins are perfect if you want something simple to start your collection.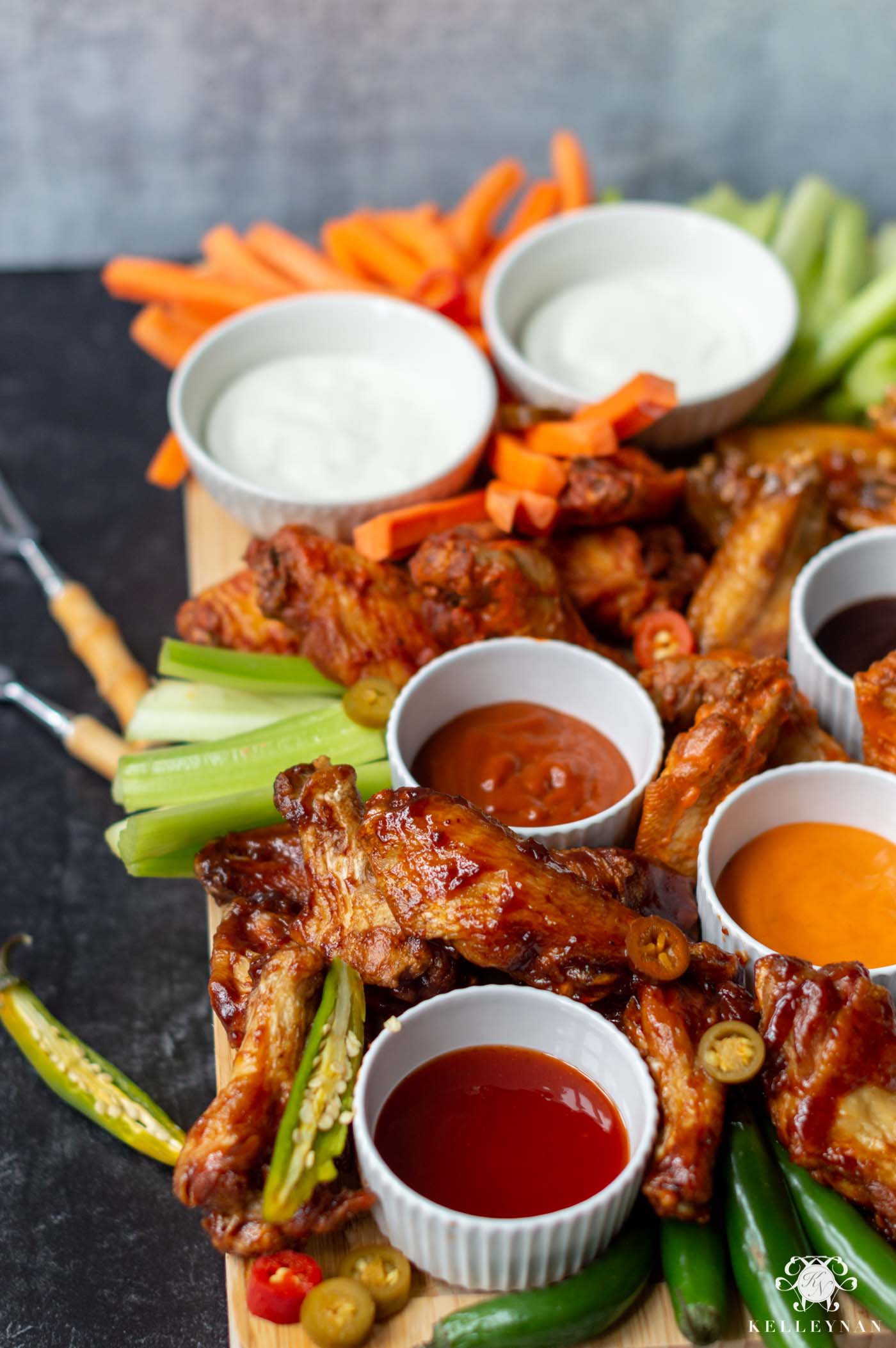 As one last tip, get more wings than you think you may need. Even if you get a batch of naked wings that you can coat in your own sauce should certain flavors be more popular, wings go quickly — there are actually 30 on this board alone.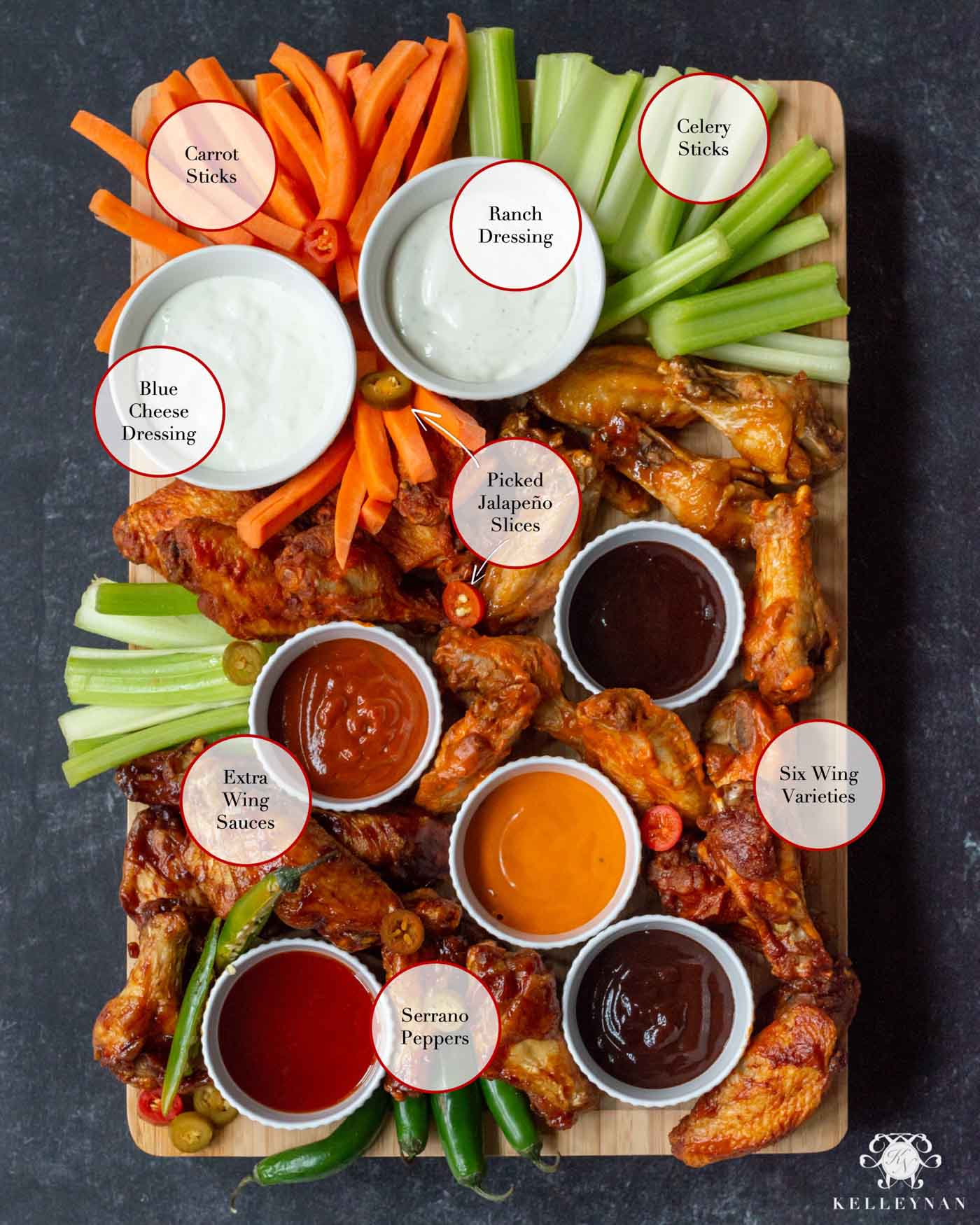 I'll be back soon with February's board idea (I already have all the "heart eyes" for it 😉 ) so make sure you're subscribed to emails to catch this year's monthly board ideas, and all the projects ahead
HERE
.
Scroll & Tap for Unique Boards & Bowls/Accompaniments