It's makeover reveal day (and oh my goodness, I LOVE makeover reveal days!)!I've been slowly working on transforming our downstairs guest bedroom for about a year. (It's actually "Nan's room" — as it was created to be her permanent bedroom when she visits, but for sake of confusion and readers who see that and think she lives with us, it's also sometimes referred to as the "downstairs guest room ;).) While this room has been in process for a long time — like the powder room makeover that I shared last month HERE — most all changes made were easy, budget friendly upgrades. Why did I want to change it? When we moved in, this was the room that got all of our former master bedroom furniture. Well, not only is the room small — MUCH smaller than our former master bedroom — but two walls are entirely dedicated to French doors and a large window, and a third wall is dedicated to the bathroom and closet doors. The heavy-framed canopy bed felt like it took up the entire room and while I know a bed of the same queen size isn't going to take up more floor space, I thought that opening up the space above the bed would make the room feel a little more "breathable" and less cramped. After slowly working our way through the room, we're finally finished and have our comfortable guest bedroom!
*Posts on KelleyNan.com may contain affiliate links. Click HERE for full disclosure.
**All room sources & details are located at the bottom of the post**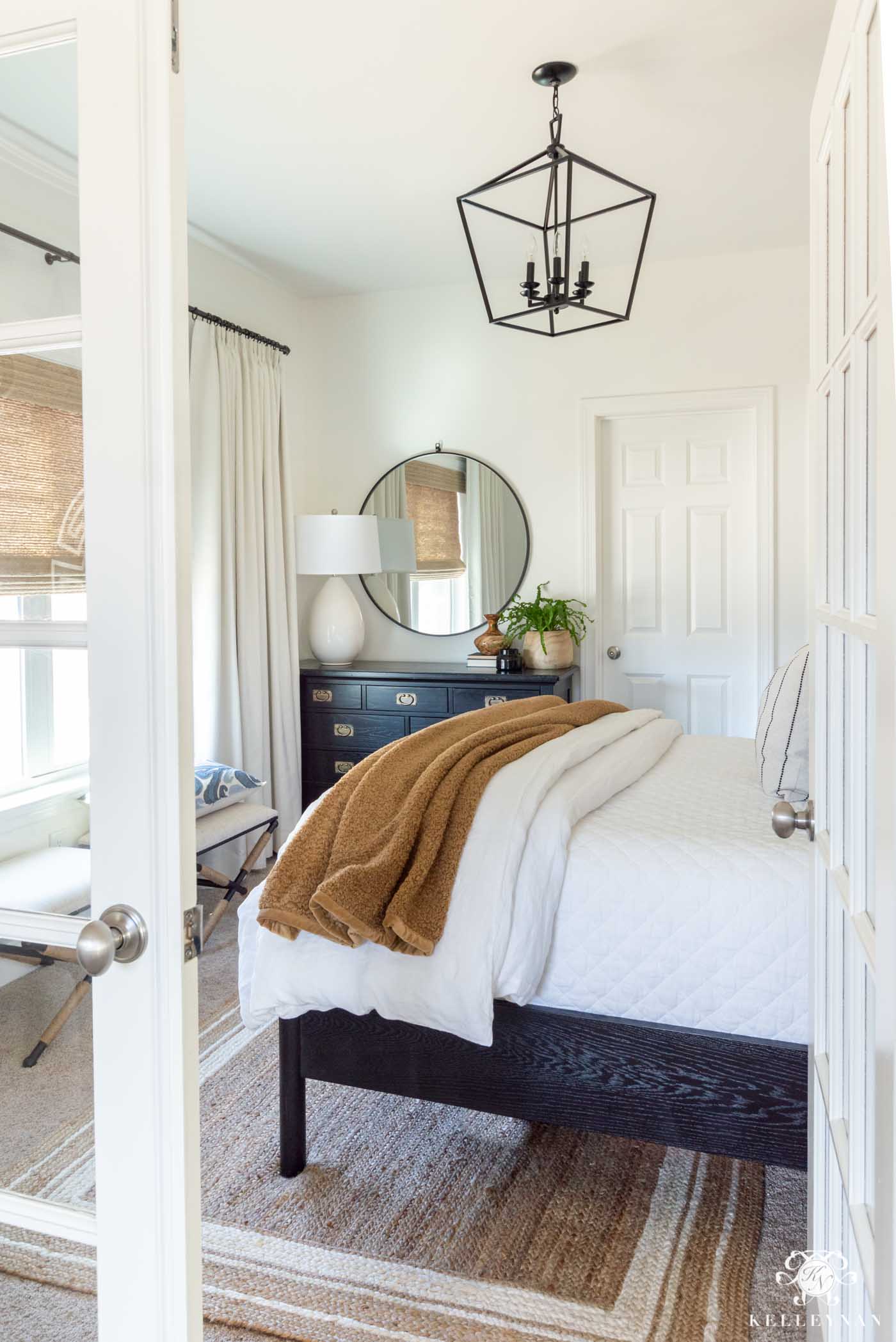 Casual, Natural Comfortable Guest Bedroom: The Before & After
While a lot of my rooms have gotten total makeovers and complete furniture and fixture switches, I wanted to keep some of my furnishings in place and find ways to make and DIY small, affordable updates. I'll share all of those as we go along. Before, the bedroom was a little dark, definitely cramped, and my style had definitely "relaxed" a bit since I first set it up. Here's where we started…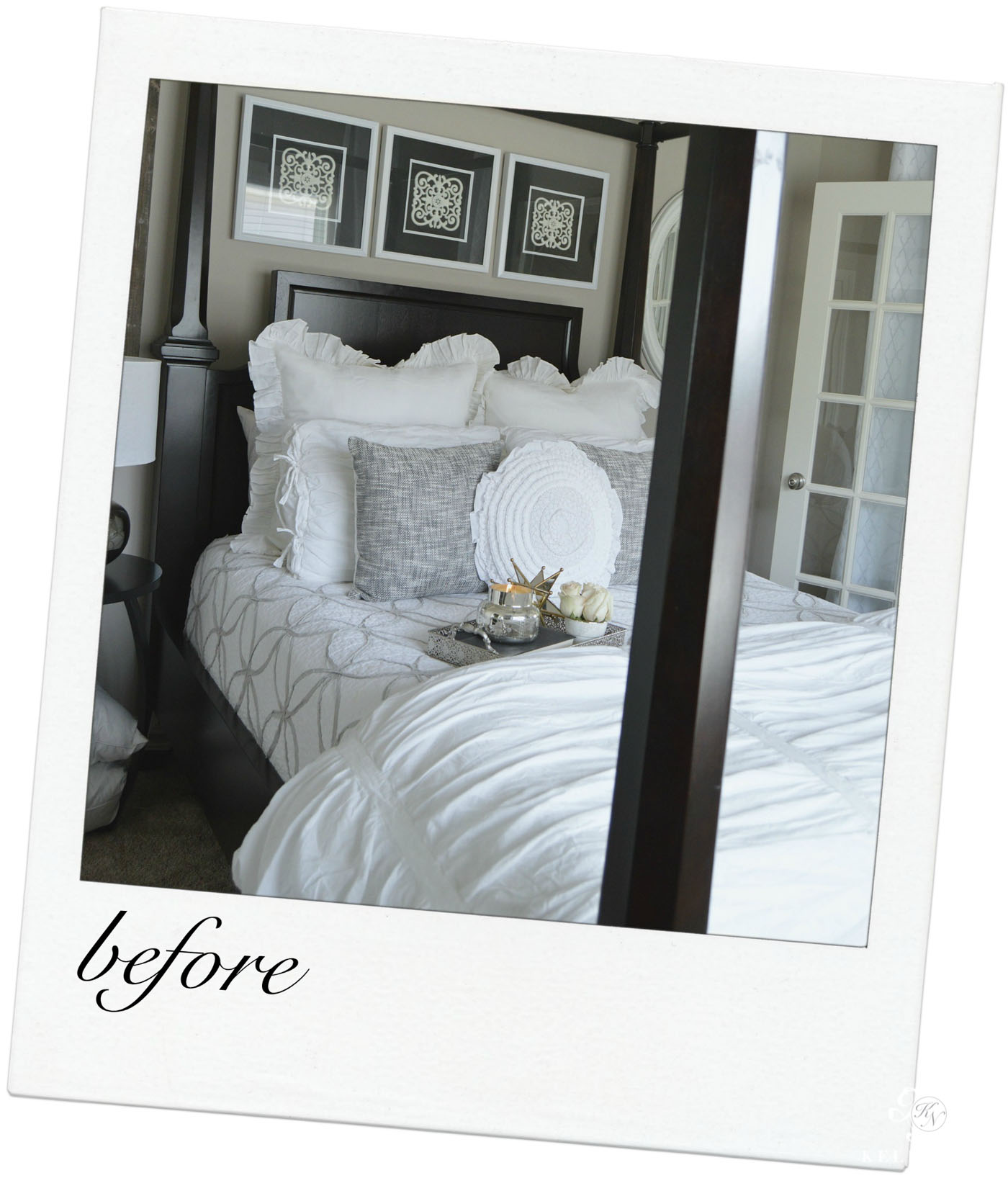 And here's how Nan's room looks today.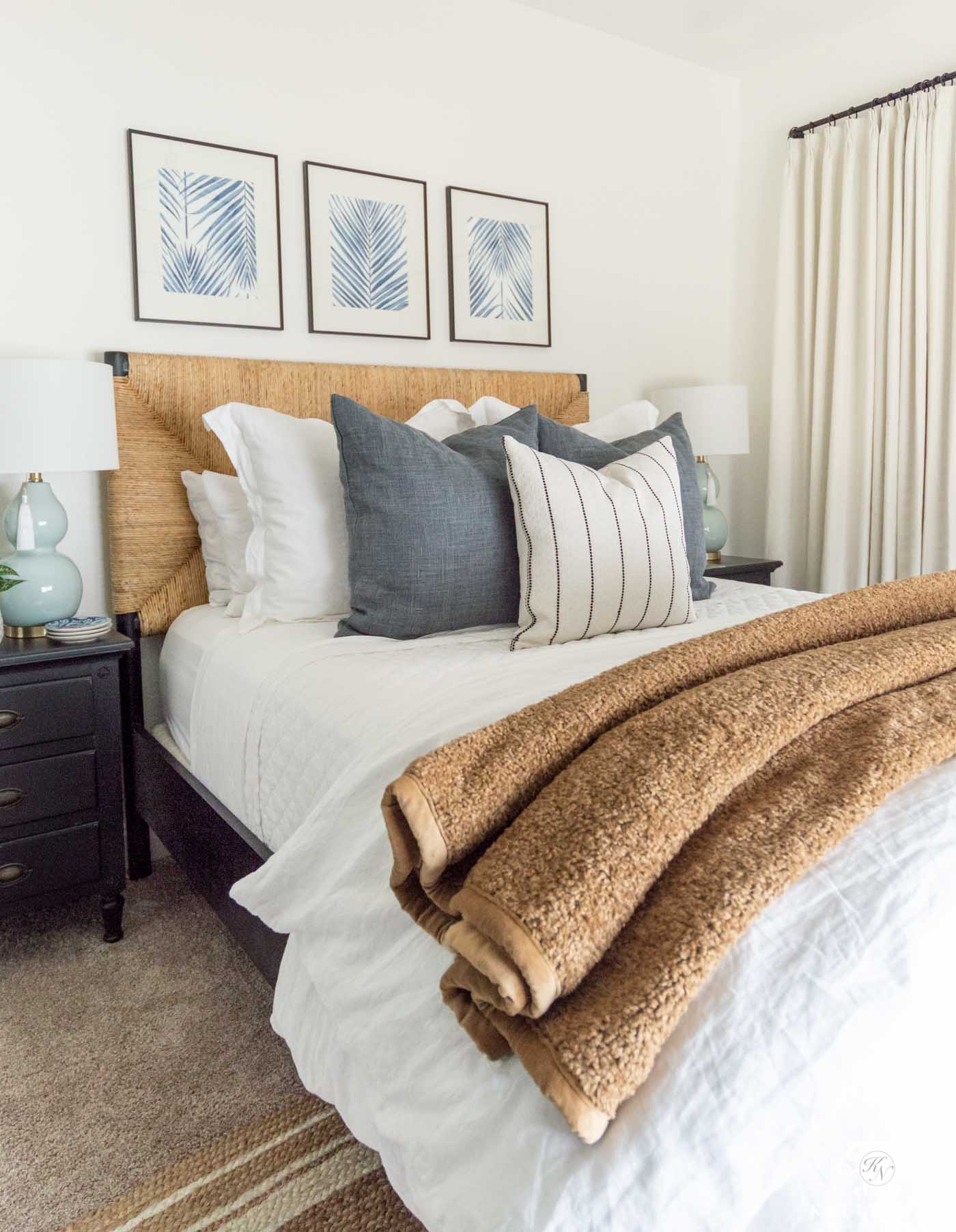 Scroll & Tap to Shop

After layering several natural textures, linens, and mixing neutrals with some blue and contrasting blacks, we have an end result that's so much more open, light and fresh! Let's break it down.
Casual, Natural Comfortable Guest Bedroom: The Details
As soon as we switched beds, the first update we made — over a year ago, now — was in giving the walls a fresh coat of Simply White (by Benjamin Moore) paint. I love our rooms with wall treatments and mouldings and while this wall could definitely benefit from it, I kept it more simple and opted for less expense.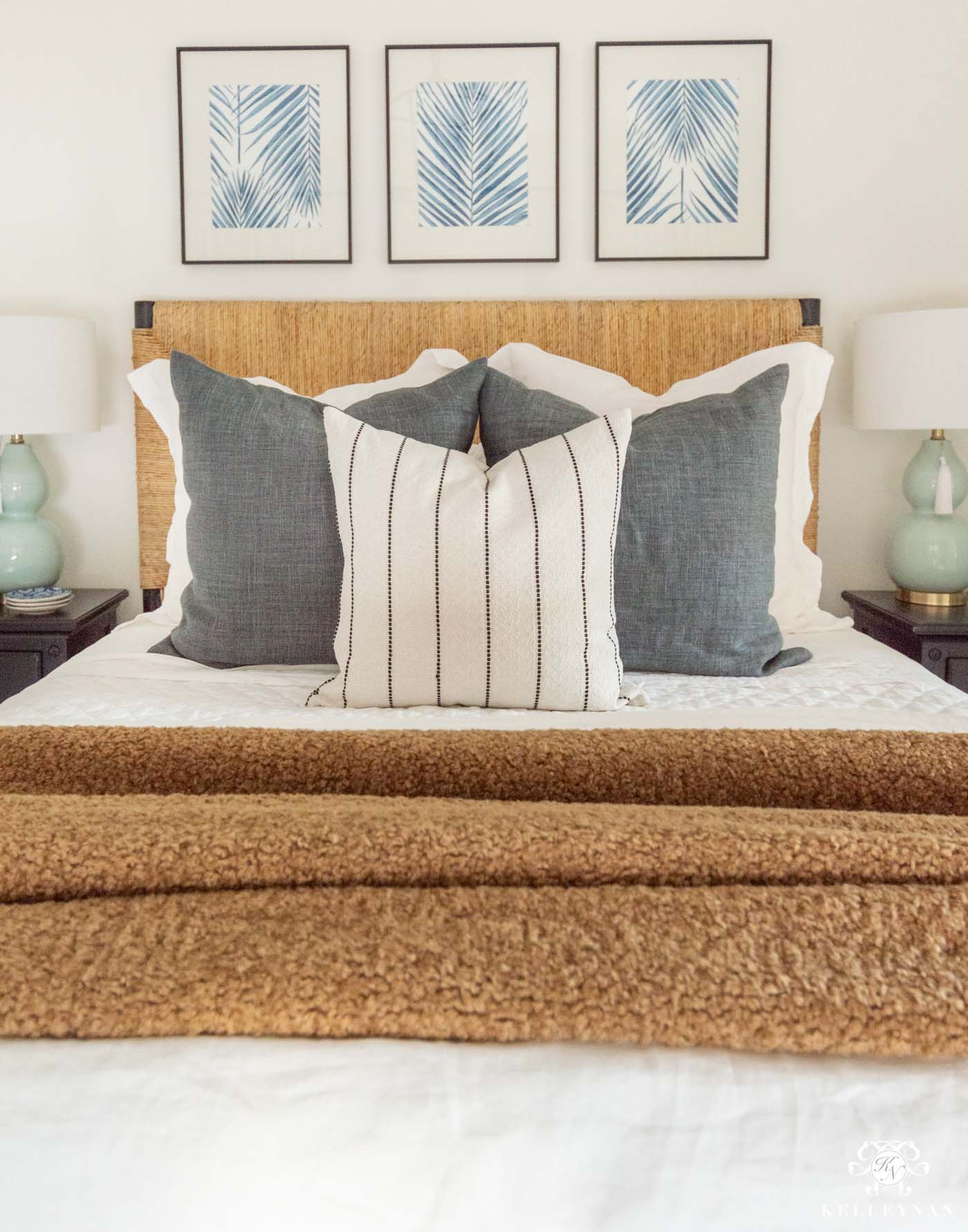 Belgian Flax Linen Quilt (white) // Belgian Flax Linen Duvet Cover & Euro Shams (white) // 700 TC Sateen Sheet Set (white) // Tobacco Teddy Bear Throw Blanket // 24" Blue Belgian Linen Throw Pillows (Gunmetal) // 20″ Black & Cream Stripe Pillow
I still went with a queen sized bed and while it still takes up a large portion of the room, it feels like you can move around more easily. The bed I went with (HERE) is no longer available but they have been known to bring back discontinued items so it may be worth watching. Here are a few similar natural, woven and cane beds:

To give you an idea, this room is around 12'x12′ and a queen size bed frame is almost 7′ in length — that leaves very little room in front of the bed to maneuver around. I do keep a folding luggage rack on tucked away and on hand (which is a great inexpensive, helpful addition for your guests) but I really wanted an additional flat surface/place to set items. I found THESE upholstered accent stools with rope detail — and only $123/piece — that were just narrow and enough.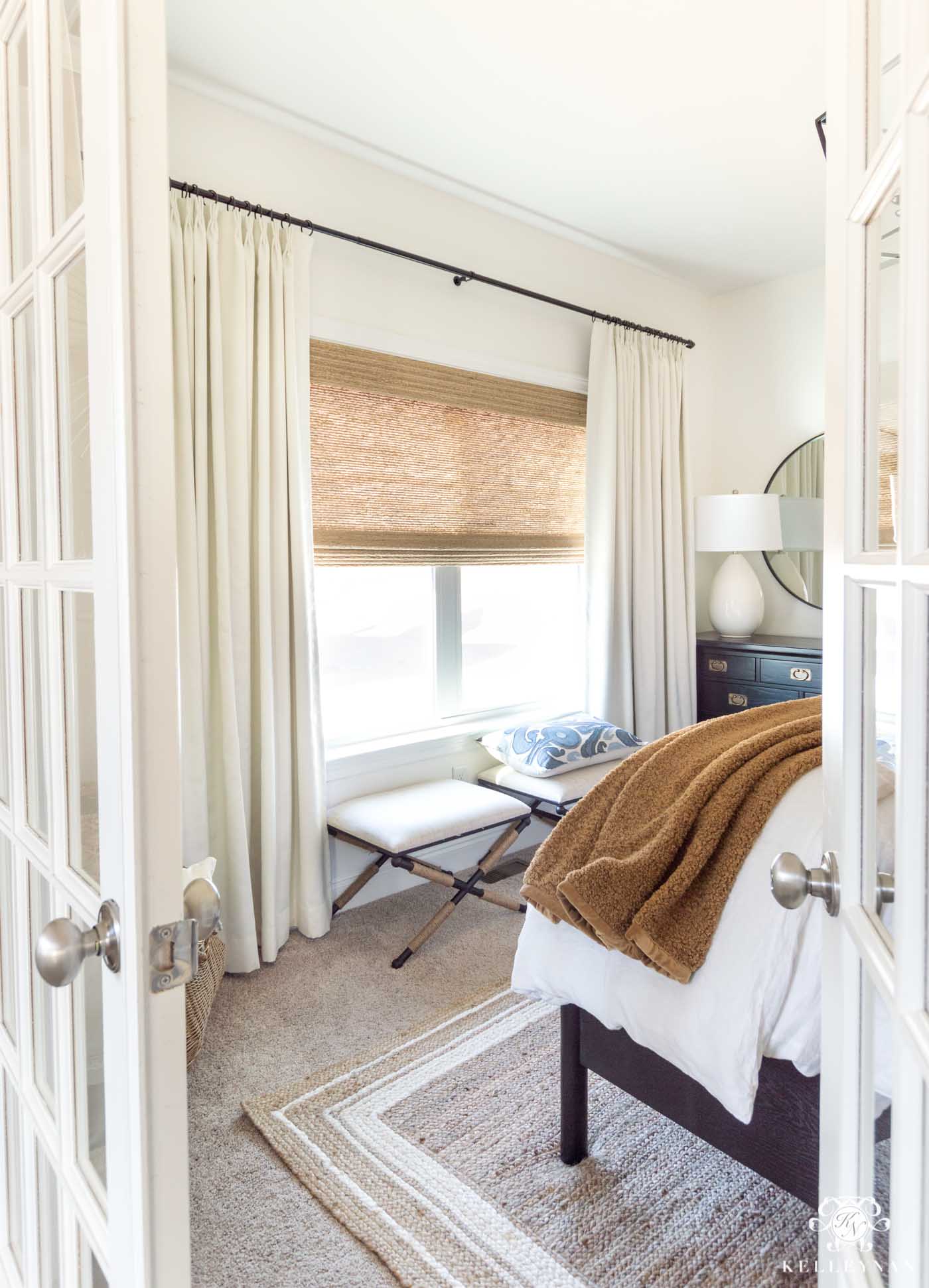 As I mentioned, there are a few budget-friendly DIYs in this space — one being the simple wall art gallery above the bed. My original plan was to order this set of blue birds (I've loved this set for a long time and still may pull the trigger one day) but I decided to get resourceful to save the $450. If those prints look familiar, it's actually wallpaper remnants from our recently completed powder room! (I shared this project back in my progress post HERE). These three inexpensive thin black frames with mats (mine are the 16×20″ size; they come in four finishes — black, silver, gold, and rose gold), and palm frond wallpaper scraps totaled about $45 for the entire gallery. For a diverse look, I took each mat and moved it around on the paper until I had framed out three difference pattern portions.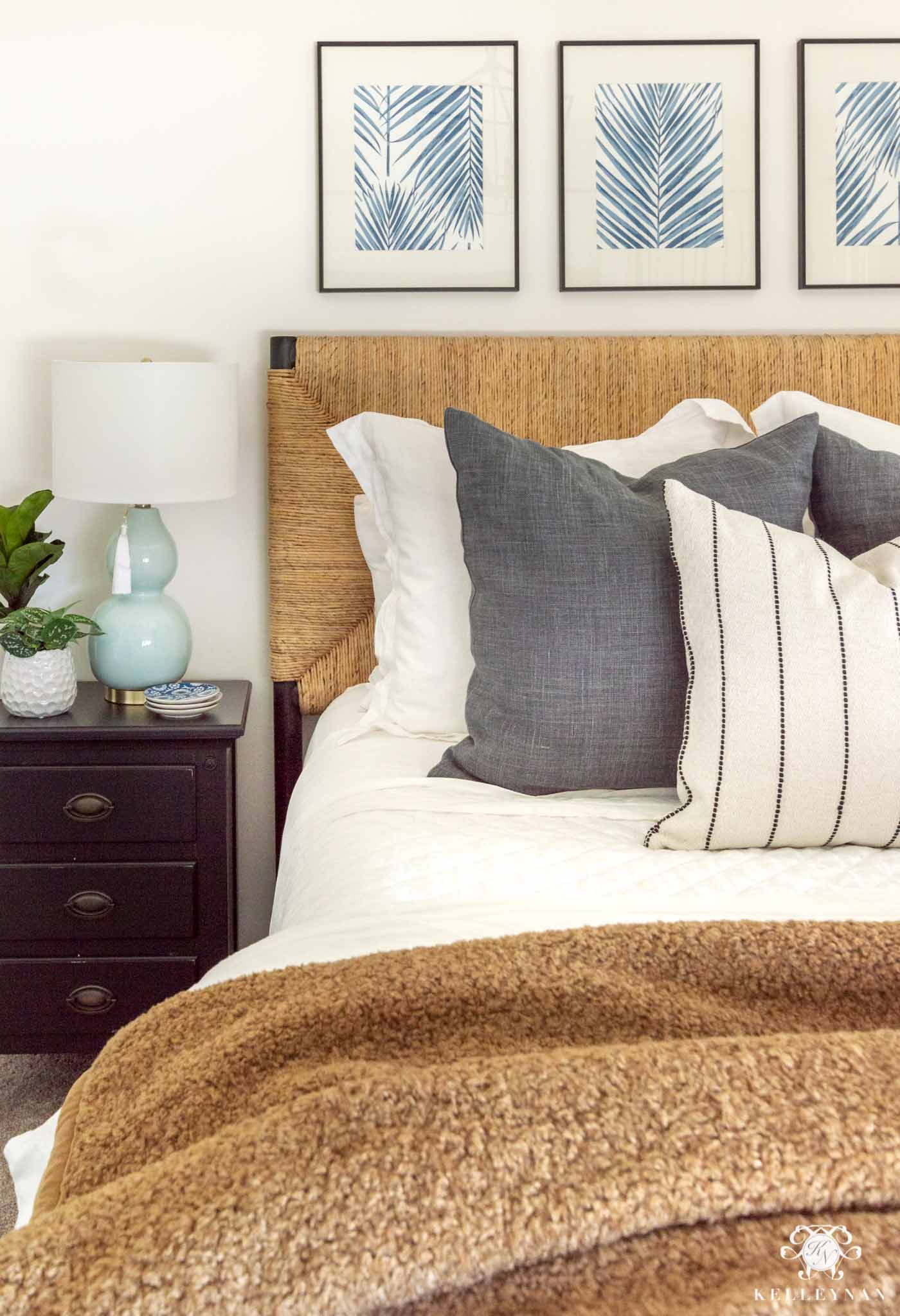 Once we transitioned one of our guest bedrooms into Eliza's nursery, I moved the linen bedding to this room — FYI, today is the last day that it's all 25% off! I know I rave about my linen quilt and linen duvet cover (and THESE sheets) a lot, but I have them all in several colors and love the collection I've built for my rooms. I also used throw pillows I already had in my collection; the one new addition was THIS huge, plush teddy bear throw. It's different than any other blanket I have, is heavy, and I LOVE it for a bedroom. Plus, I am loving that cognac/tobacco color right now — it's on sale right now, too ;).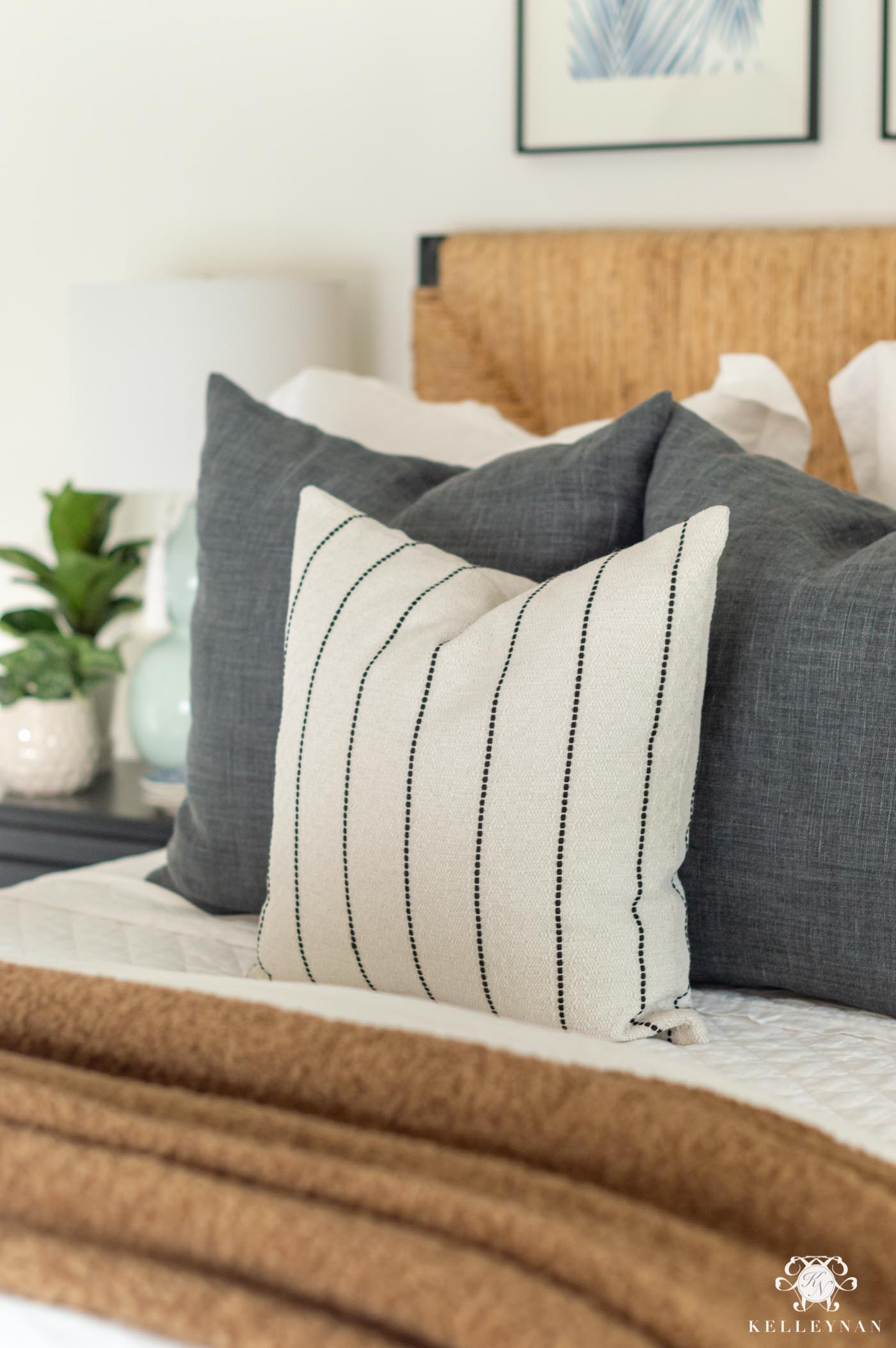 One of the most important aspects of the room are the walls of curtains; I actually attempted this (very poorly) when we first moved in but finally got around to doing it "right" this year. The room is tight, so it's hard to get an accurate shot but boths sides of windows and doors are actually even 😉 I'm going to do an entire post on these soon so I'll reserve a lot of detail for then, but did want to let you know that Select Blinds is currently offering an additional 5% off lowest sale price of shades and drapes with code KELNAN5. The shades (c/o Select Blinds) are an inside mount, cordless Bali Natural with privacy lining and the drapes are Vanilla Bean Linen Weave, also with privacy lining. I've used this color drapery in multiple rooms now and love the polished finish (I still need to do a little pleat training) and they are repeatedly some of the most asked about things in our home. You can order fabric and woven shade samples for free HERE.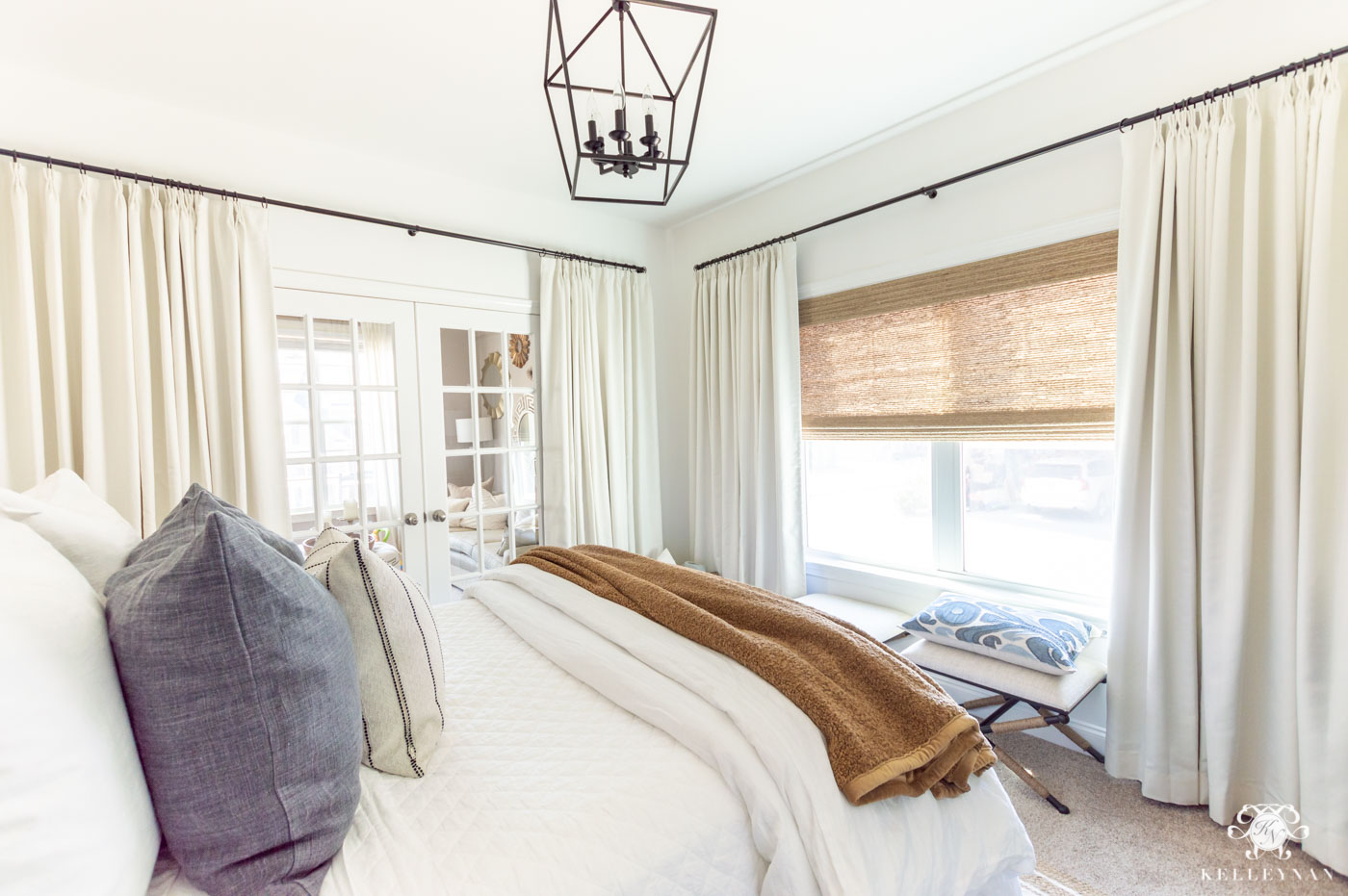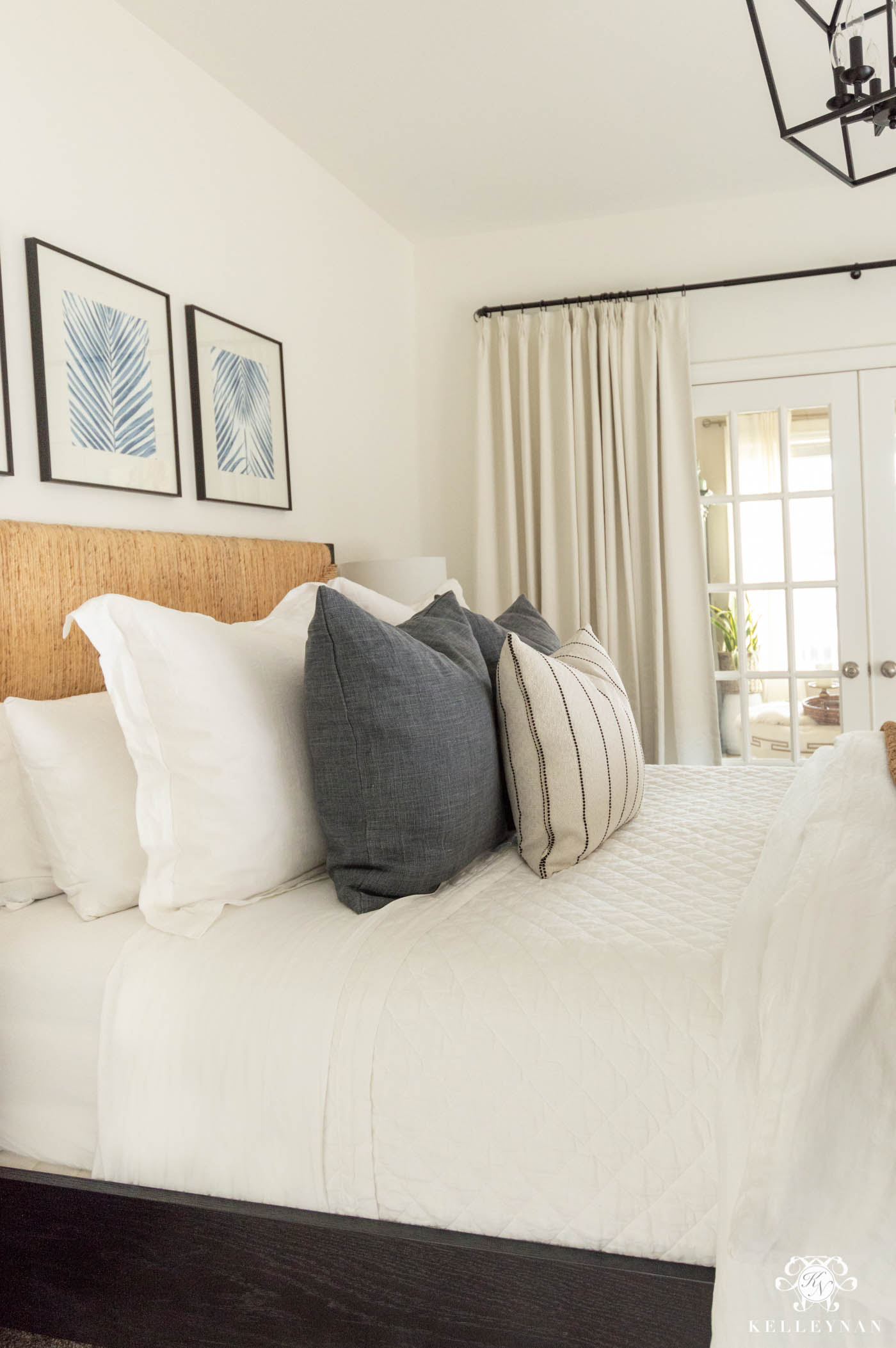 I reused THESE wraparound curtain rods (they come in multiple colors and sizes, up to 144″), and THESE inexpensive rings. The drapes come with curtain hooks already attached, which makes hanging them so much easier.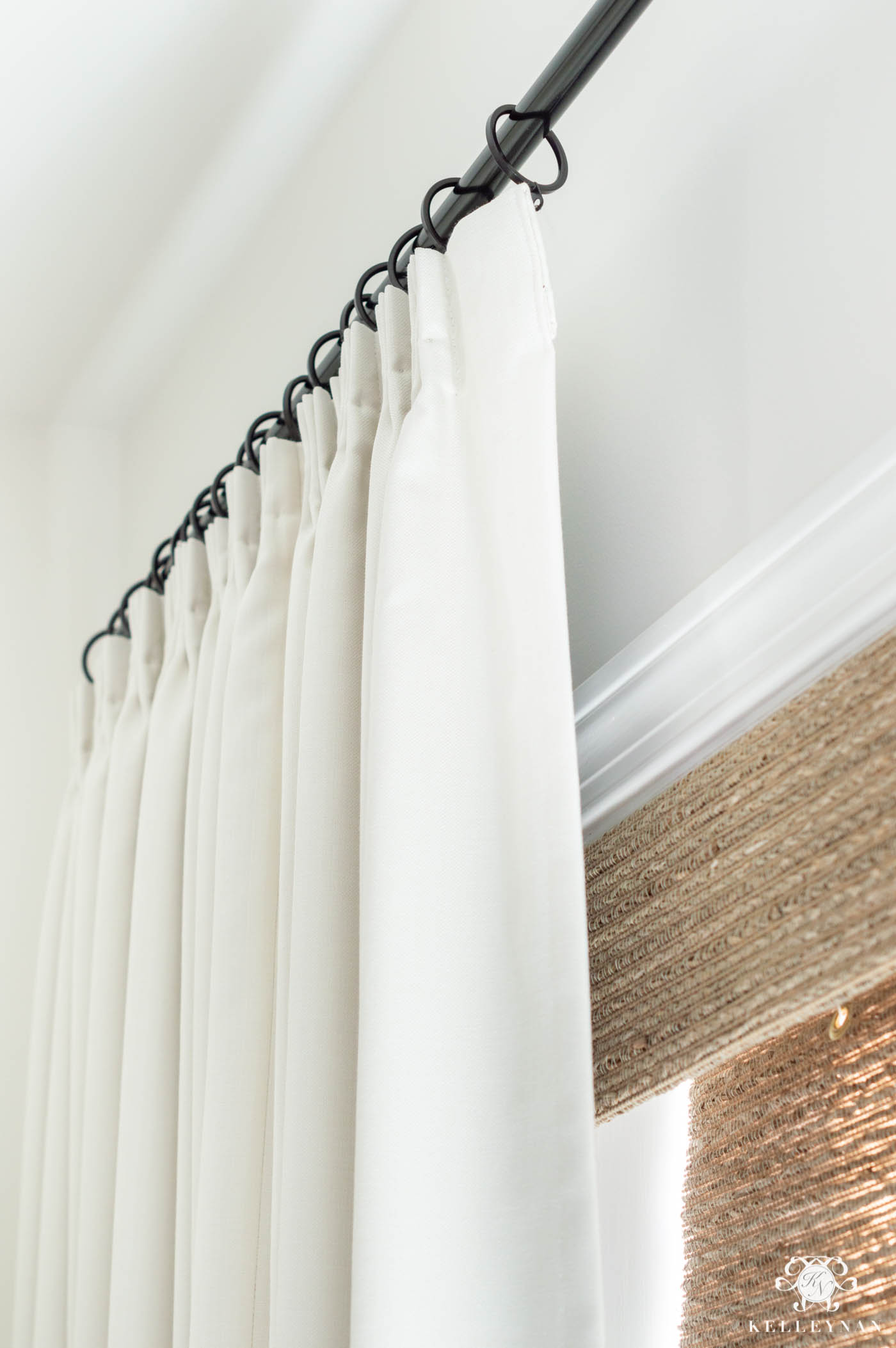 Because the bed does take up so much room and there are multiple doors that open inward, toward the bed (both the closet door and French doors), I had to opt for narrow nightstands. THESE black, 3-drawer stands with aged brass pulls are perfect for a tight space, were a great price, and are way heavier and more substantial than they look!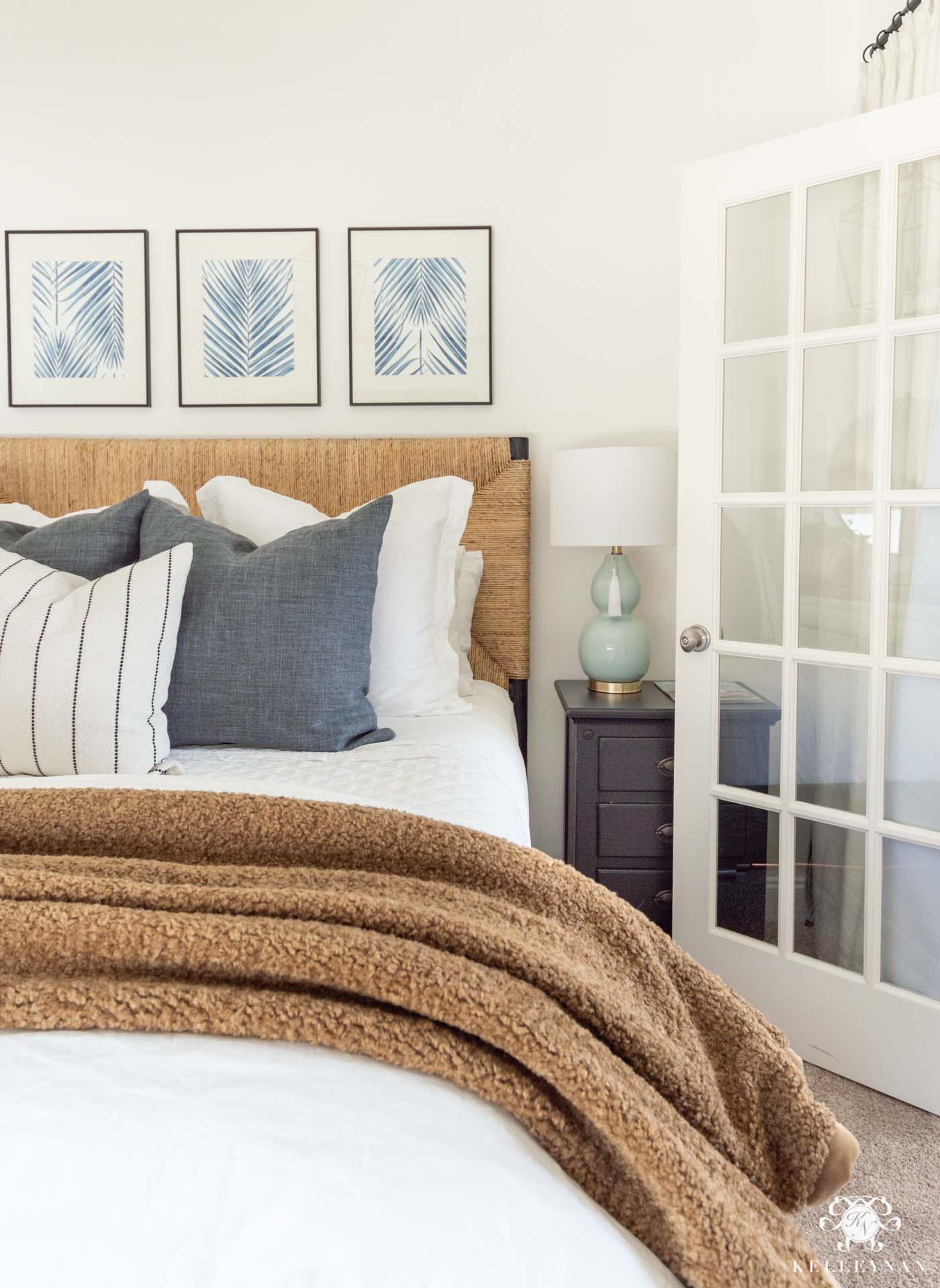 If you saw my latest Snack Around the Plate, I shared my PSA that Trader Joe's had mini Fiddle Leaf Figs for $10 — here's where mine went 😉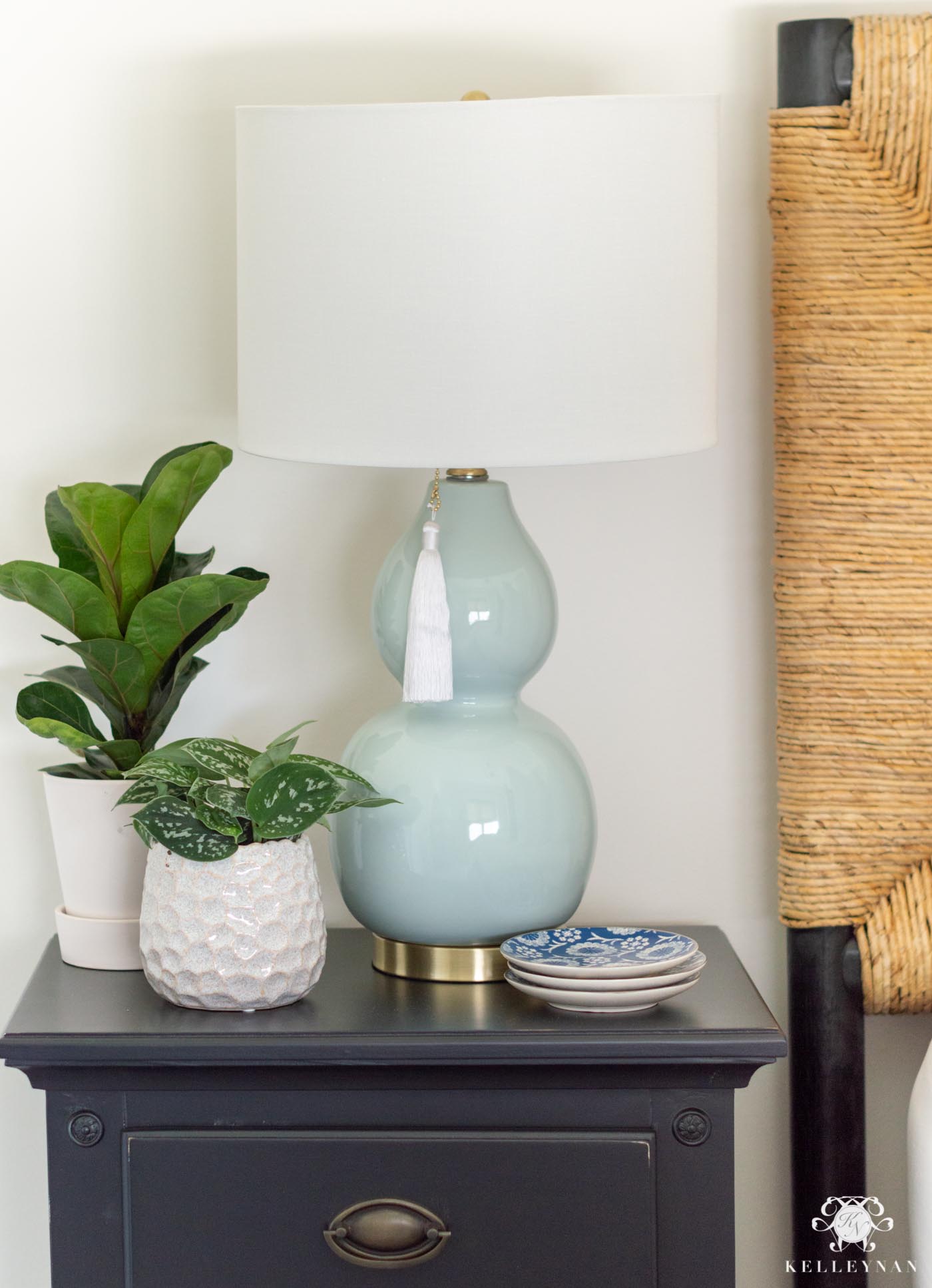 I scored a great deal on these pretty blue lamps but just saw they're no longer available. :/ That's one hard thing about sharing spaces that I build out more slowly; sources have a greater chance to disappear/become discontinued. Like the bed, it's worth the watch to see if they're re-stocked!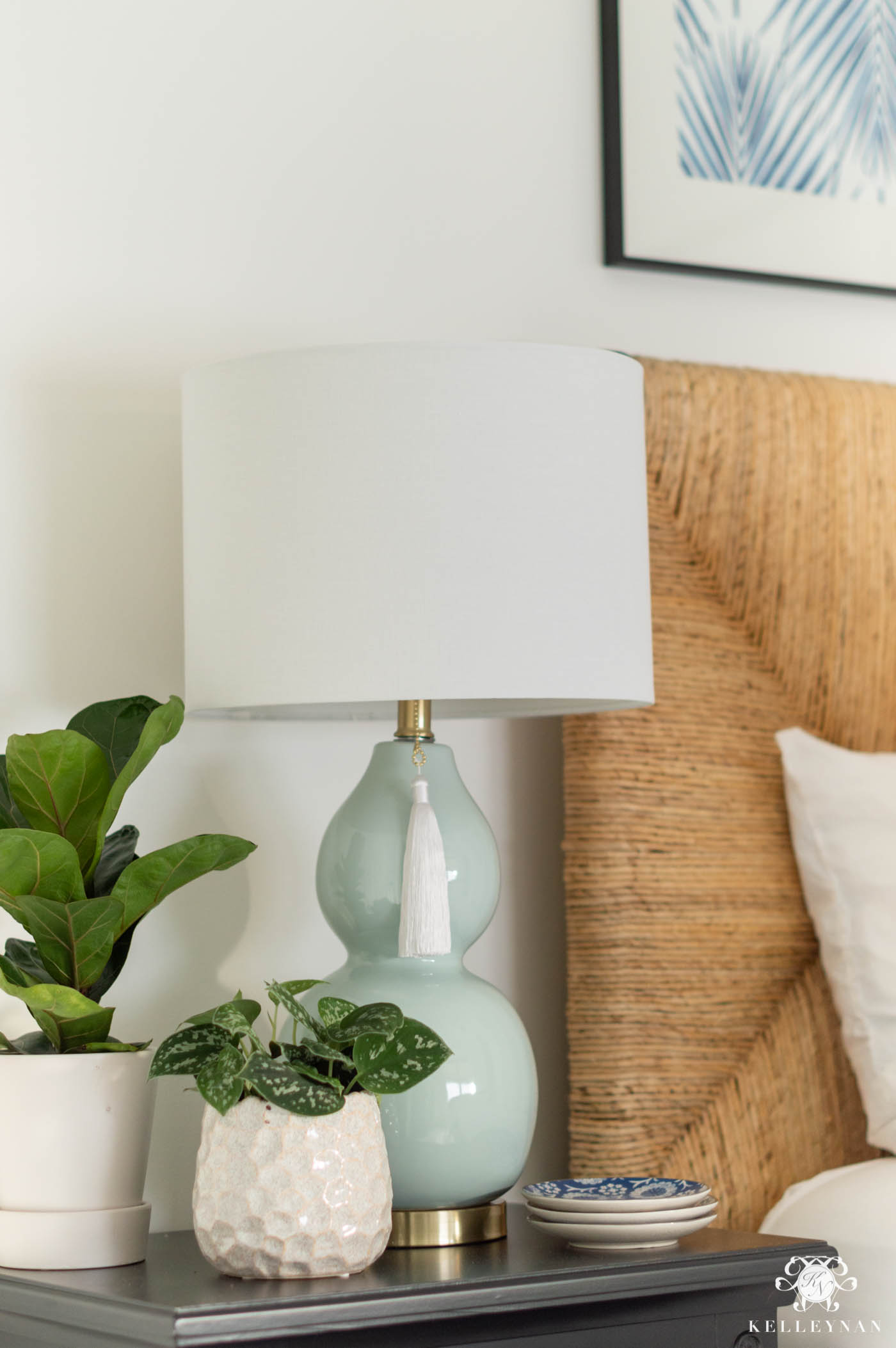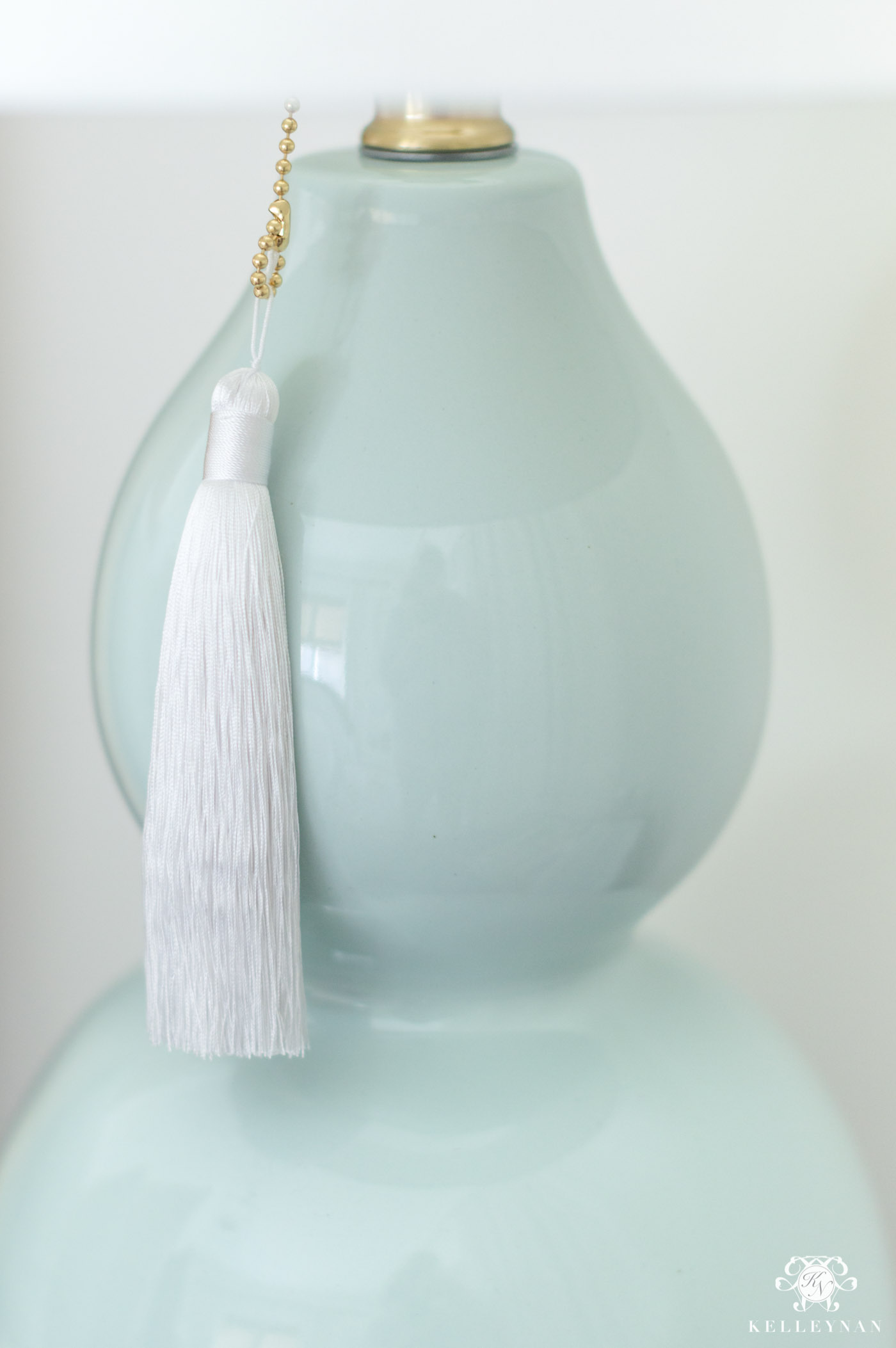 Another piece I saved from one of our former guest bedrooms was THIS lantern pendant — it's a dupe for our Darlana lantern in the entry but a fraction of the price. I had the champagne color so as another DIY, for just the cost of a can of satin black spray paint, I plugged each light socket with paper towels, covered the end of the wires with masking tape, gave her three coats, and with zero attention to detail (haha) she came out perfect. It actually comes in black too, HERE.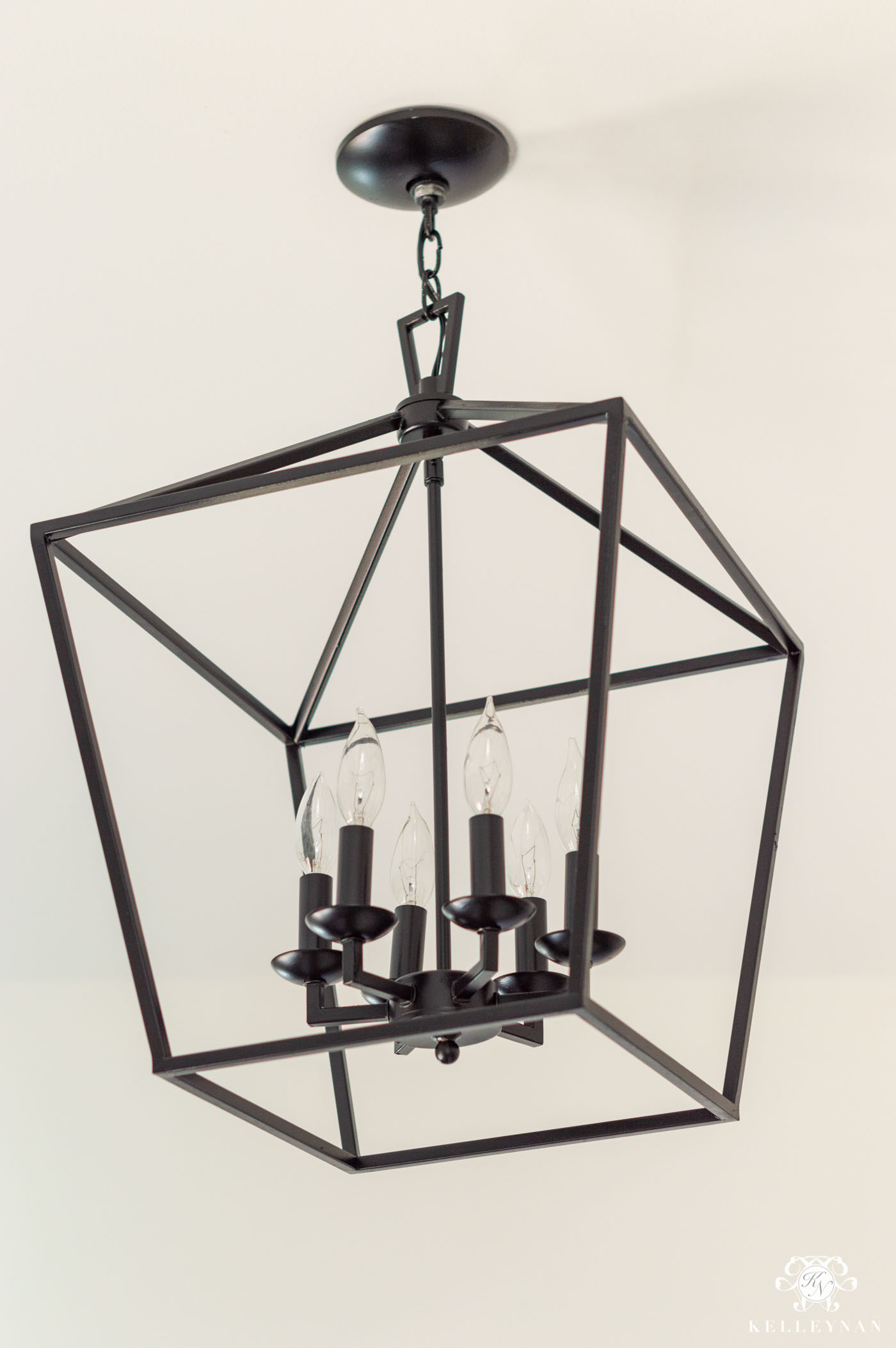 I originally thought I would change the dresser — and I still may one day — but I didn't see anything different enough that I just had to have. I love THIS dresser but it was almost a twin to my current dresser, aside from the hardware. I considered changing the hardware but the current hardware only had a 2″ spread with those plates. So, I decided to try my hand at using Rub n Buff (my Kris of drivenbydecor.com has pulled off some crazy amazing looks using it in the past) — I wanted more of a weathered, antique look so I ordered a 5-pack of golden brass colors to test. They each come in tubes and after a quick text tutorial from Kris (put some on a cloth and rub it on — literally, that's it and it dries pretty much on the spot), I chose Antique Gold, removed the hardware, and finished them all within the hour. Here's my caveat. I loved this method and can't wait to try it again! BUT, I wanted a "barely there" finish and this stuff goes on so easily (and a little goes a LONG way), there wasn't much of a "barely there". I went as light as I could but once it's on, it's on. This style hardware was way more difficult that doing something straight without flopping handles and tiny nooks. So, next time I go for it, I will apply to its full strength 😉 I can't decided if I'm going to apply something to tone it down but I'm kind of digging the "just polished, but weathered" vibe they have. There's a lot of colors but you can get the 5-pack I got HERE.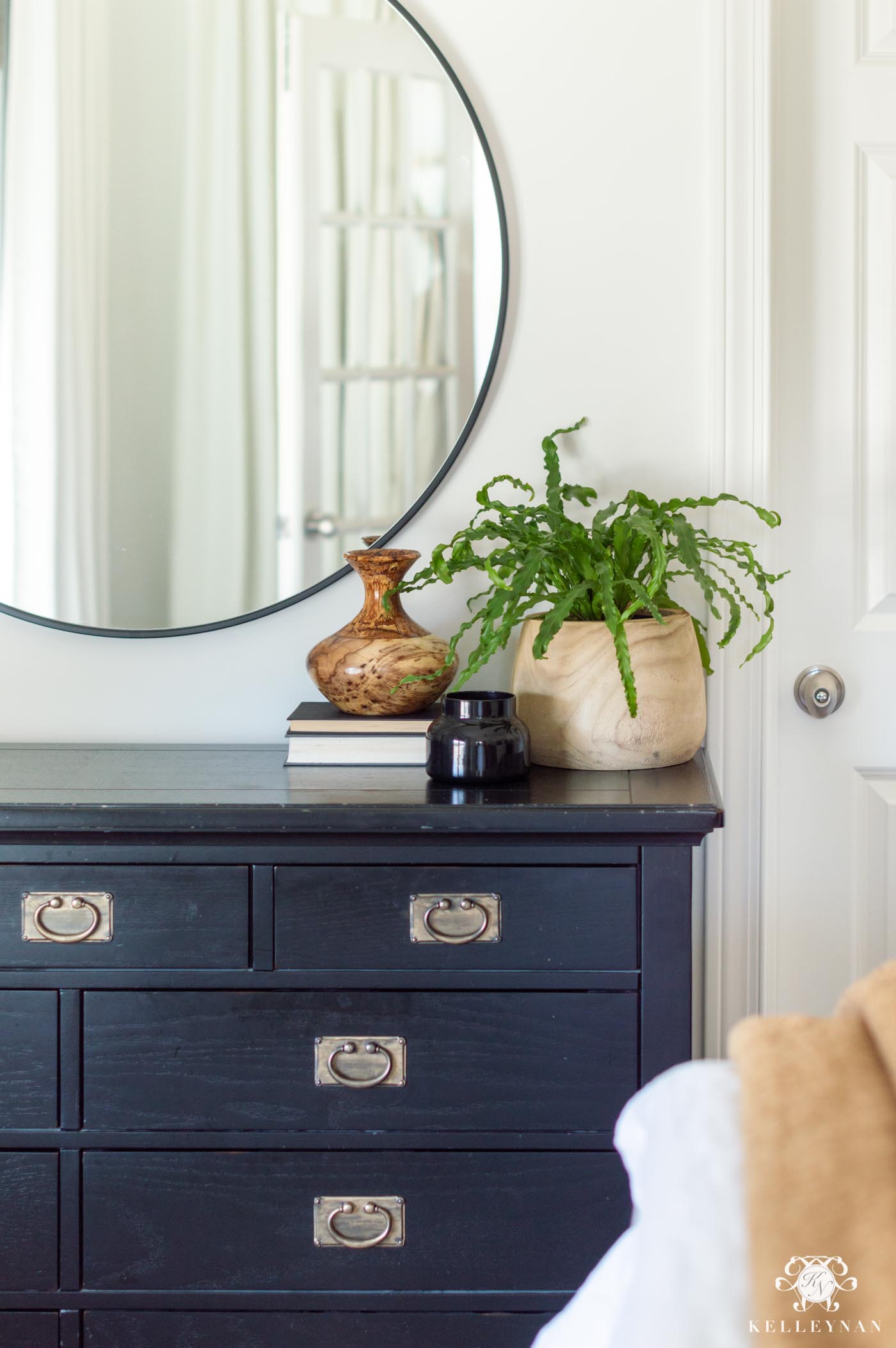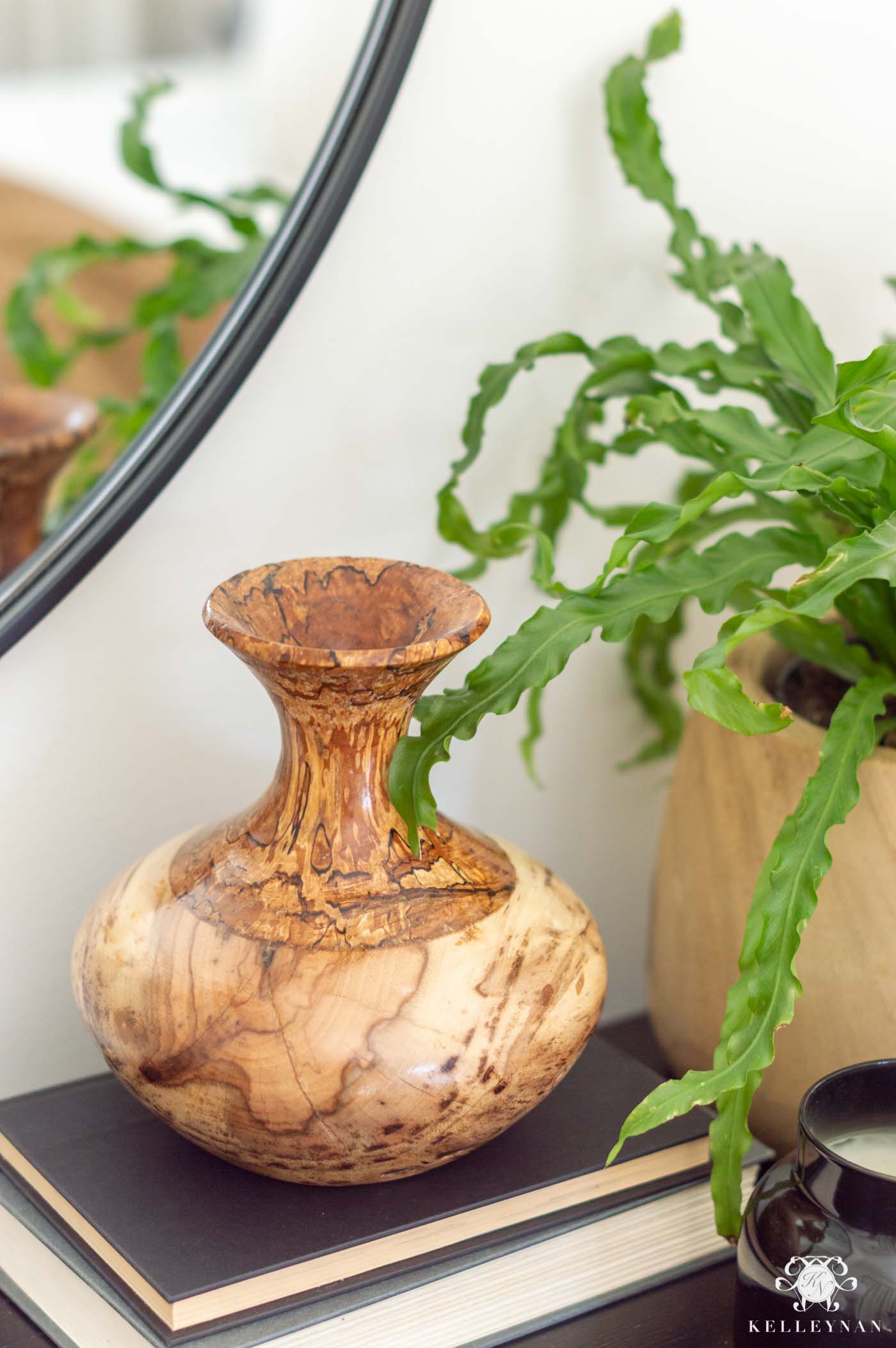 This large ceramic egg lamp is probably my favorite lamp in the house — eventually, I want to get another pair (they have several colors) to go on the sideboard in the dining room.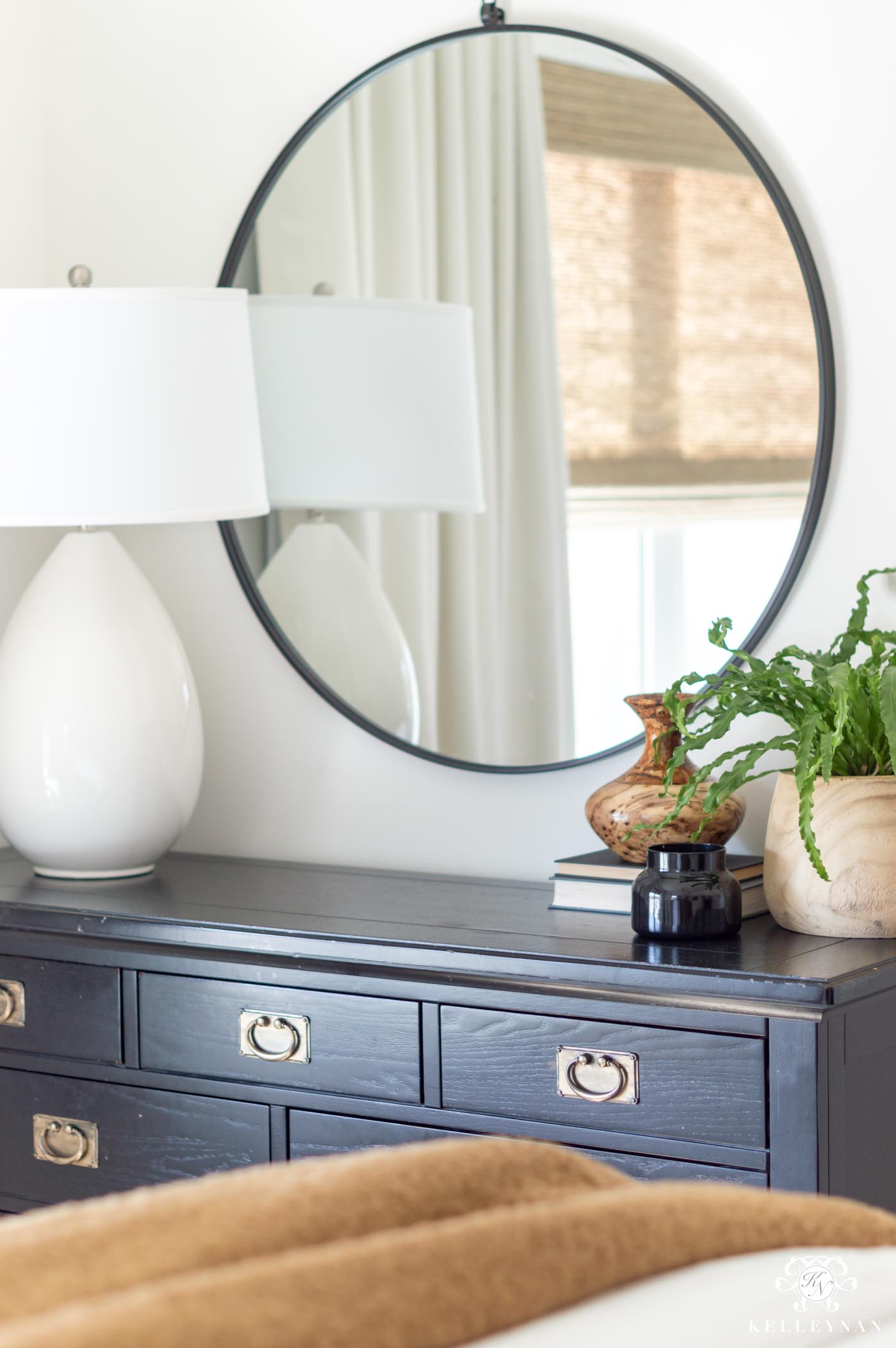 It's small and confined but Nan's room is finally relaxed, airy and breathable! That closet on the other hand… well, that's for another day 😉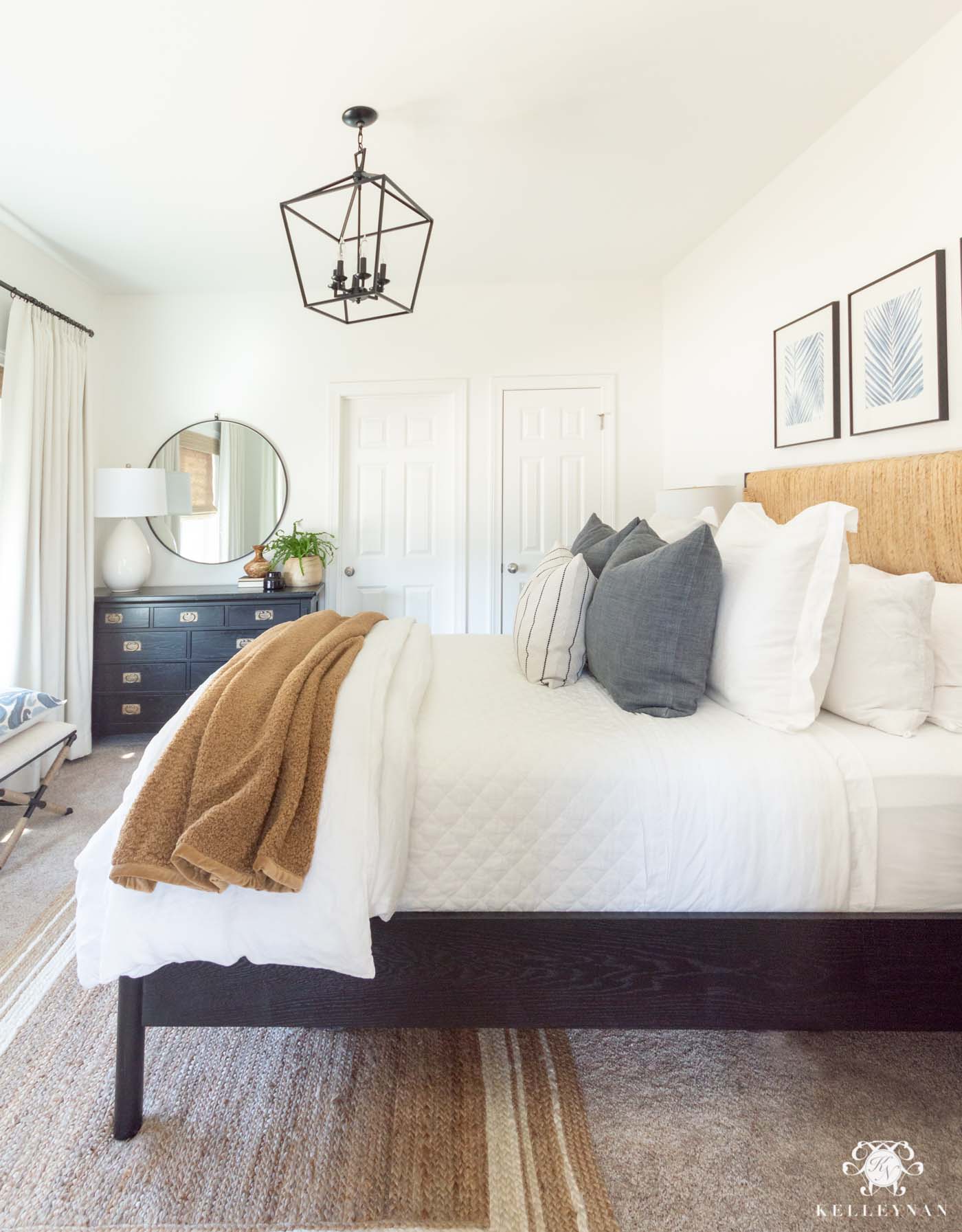 If you don't follow me on Instagram 1. you should, 2. you missed my news this past week. After more than a decade of living apart, my mom — Gran Nan — is moving to Georgia! Not only will she be moving here, but she's becoming a pretty major part of KN (more on that later!) This room will always be "hers" but it does put less pressure on having multiple guest bedrooms (which is why I mentioned we are looking forward to turning the upstairs guest bedroom into a playroom later this year 😉 ). This will become our only guest space soon so I'm stoked to have it finished and ready. My mom's home construction begins soon (coincidentally and fortunately, minutes away from me) and I'll be sharing that process, details, and all the fun stuff that goes along with it as she transitions to her new home. Subscribe to my emails HERE and you won't miss a thing to come — in my house or hers.
Room Sources & Details
Walls & Windows: Drapes — Linen Weave Vanilla Bean (Privacy Liner) // Woven Shades — Bali Natural (Cordless, Privacy Liner) // Curtain Rods // Curtain Rings // Gallery Art Frames (black, 16″x20″) // Blue Palm Frond Wallpaper (art clips) // Round Mirror (36")
Furniture: Accent Benches // Nightstands // Bed (no longer available) (SIMILAR) // Dresser (not available) (SIMILAR)
Lighting & Accessories: Lantern Pendant // Blue Lamps (no longer available) // 29″ Ceramic Cream Egg Lamp // Jute Rug (5×8) // Wooden Vase (festival) // Wooden Planter — At Home (SIMILAR) // Blue & White Dishes (no longer available) // Floor Basket // Black Volcano Candle
Bedding: Belgian Flax Linen Quilt (white) // Belgian Flax Linen Duvet Cover & Euro Shams (white) // 700 TC Sateen Sheet Set (white) // Tobacco Teddy Bear Throw Blanket // 24" Blue Belgian Linen Throw Pillows (Gunmetal) // 20″ Black & Cream Stripe Pillow // Blue Pattern Lumbar Pillow (on bench)