A mix of store bought and home prepped (emphasis on "store bought"), this month's sugary board (and second board of my 2020 monthly board series!) was pulled together during a nap time a few weeks ago. Just in time for Valentine's Day — but especially worthy of a hosted movie night or party any time of year — this overflowing platter of treats resembles what I imagine a sweet shop would look like if a tornado hit. Glorious! It's an awesome alternative to a candy bar for events and requires none of the large jars and scoops — just a big board, a quick store run, and a willing spirit that can appreciate a good sugar high 😉
*Posts on KelleyNan.com may contain affiliate links. Click HERE for full disclosure
Valentine's Candy Board
If you're pulling together a candy board any time of year, you can have fun with all the color — the more variety of shapes and shades of the rainbow, the better! For Valentine's Day, I decided to stick with shades of red and pink on a massive, 16″ x 28.5″ reclaimed wood board (HERE) (use code FRIENDS for 20% off and free shipping today). You can stick to seasonal colors, party theme colors, or even go full rainbow in ROYGBIV fashion (like I did in this rainbow fruit board last St. Patrick's Day HERE). Once you theme it, the shopping is easy. Mix large and small, chocolate and fruity, sweet and tart. Add bowls and dishes and don't be afraid to pile it on! Having THESE clear plastic treat bags set to the side, your guests can fill their own take-home bags and girlfriends can load up pre-movie. (Plus, if you want the sugar out of the house by the next morning, it's a good way to divvy it up and make sure you send it all out the door when the evening ends 😉 ).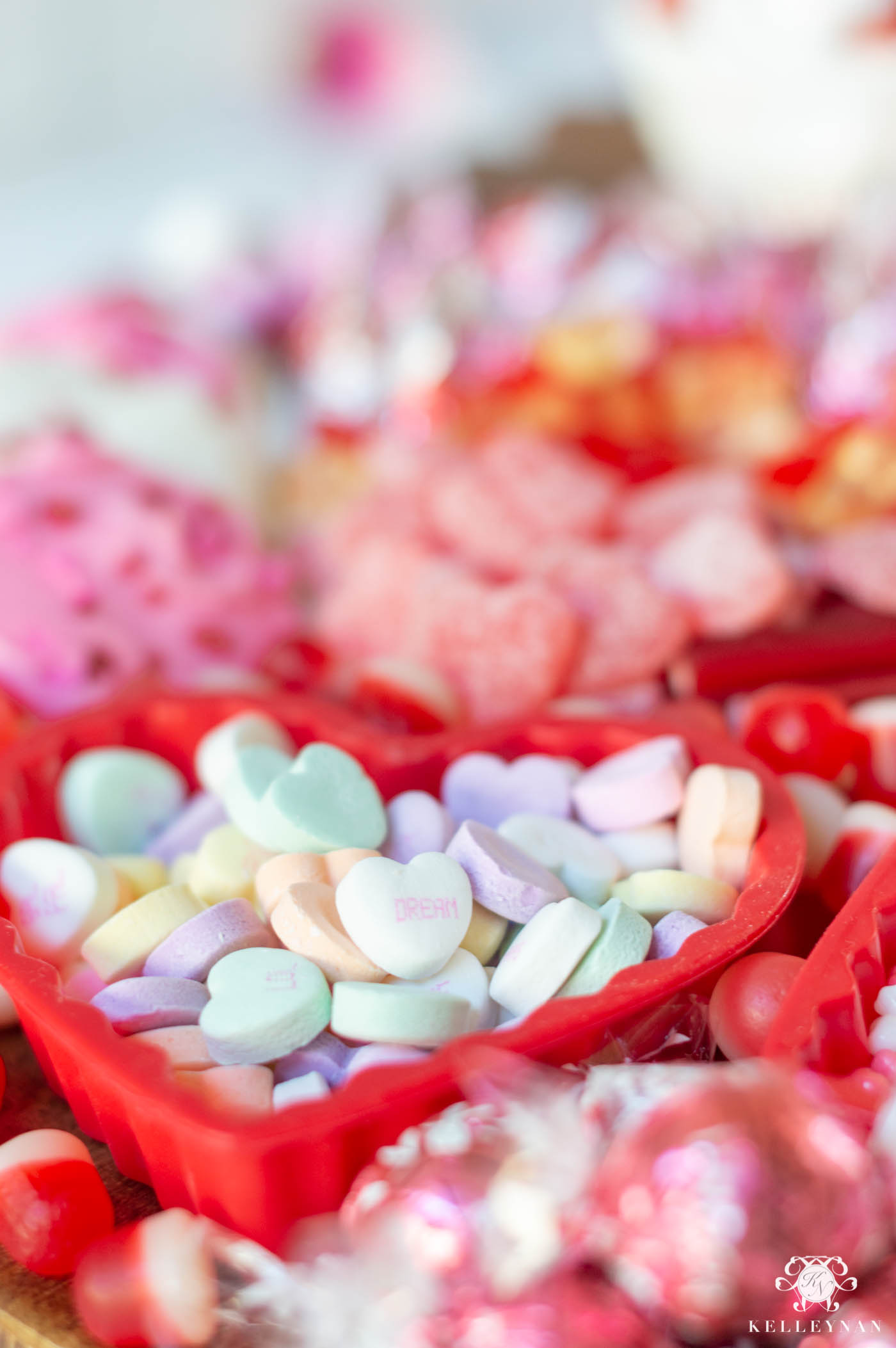 You can use cookie cutters and ramekins, coasters and even layer on smaller boards. Along with the candy, I added a few fruit options, store-bought frosted cookies, and some white chocolate dipped pretzel rods (which I pulled together during a different nap time — that's pretty much how I operate these days haha) — if you've never made them, you can see how to do those in the next section.
I placed THIS marble heart board right on top as a subtle inset, added any bowls or dishes next, and then laid out the larger items. By the way, the marble heart board is listed as a "Deal of the Day" today, marked down from $59 to $22.99! You can find it HERE.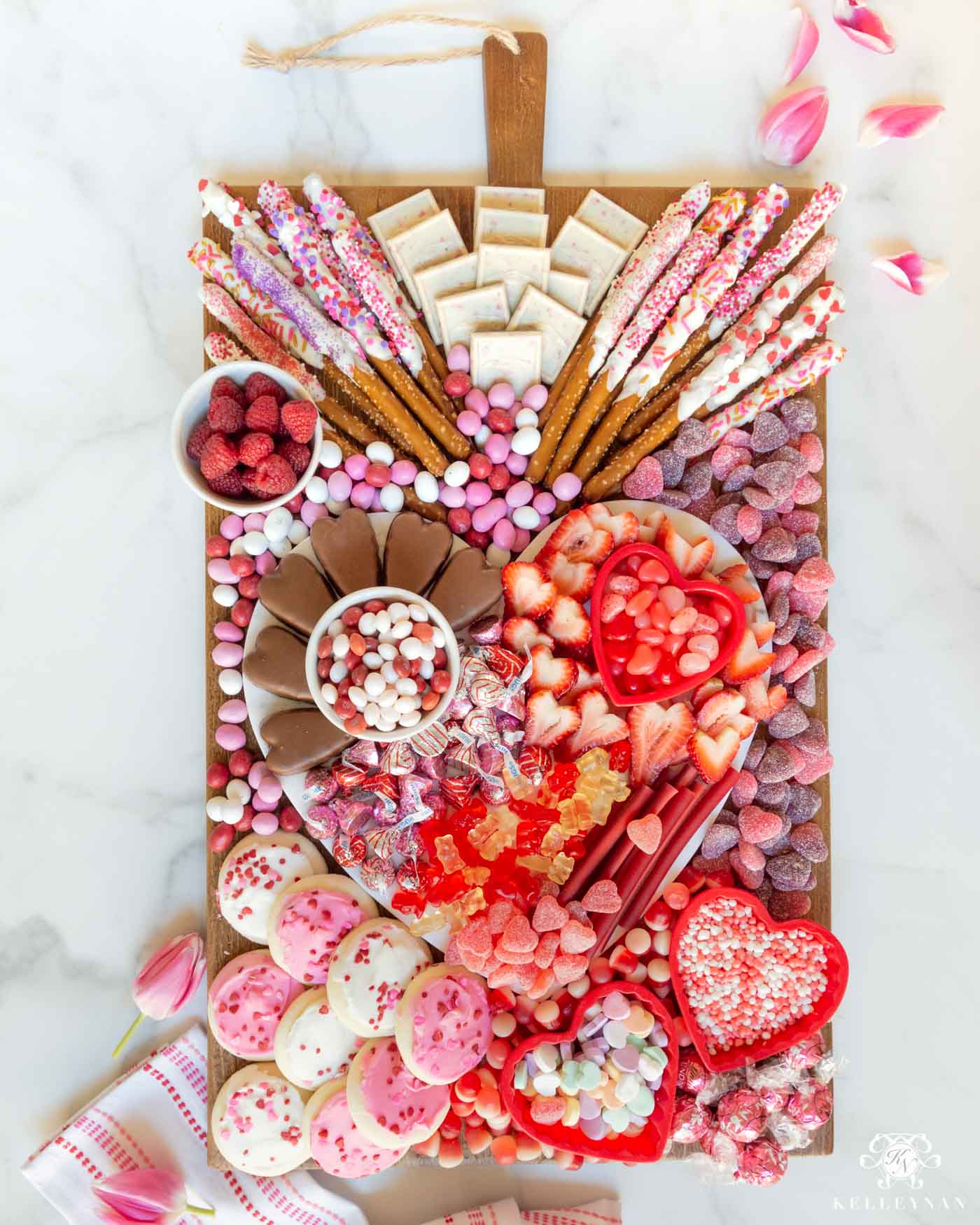 As a matter of fact, if you remember my Sweetheart Mimosa Bar (HERE), everything is on sale today — from the blush carafes (from $62 to $18.87 with code HOME) and champagne glasses (from $30 to $11.99)…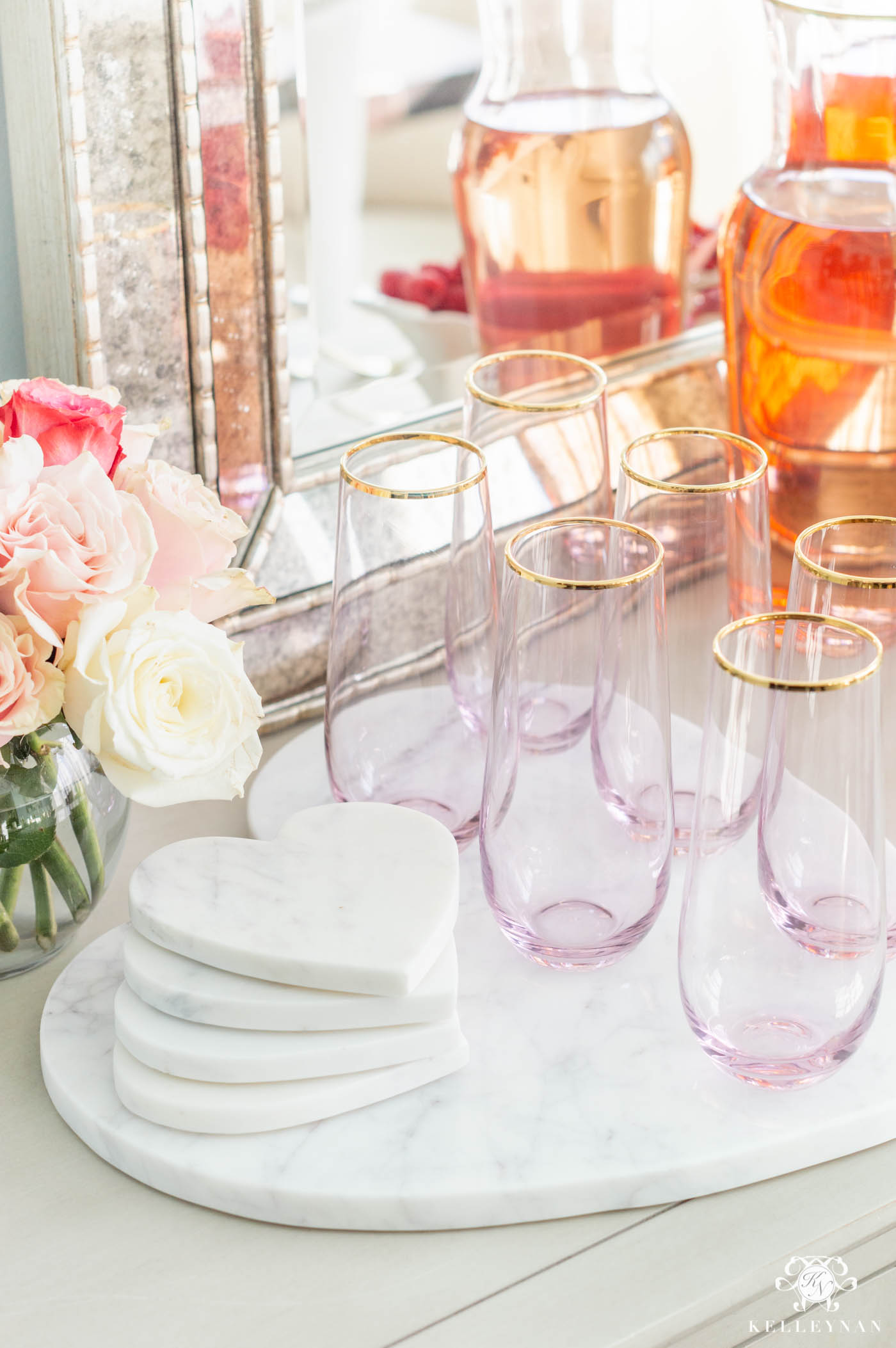 to the heart-shaped ice cube tray (marked from $24 to $7.99).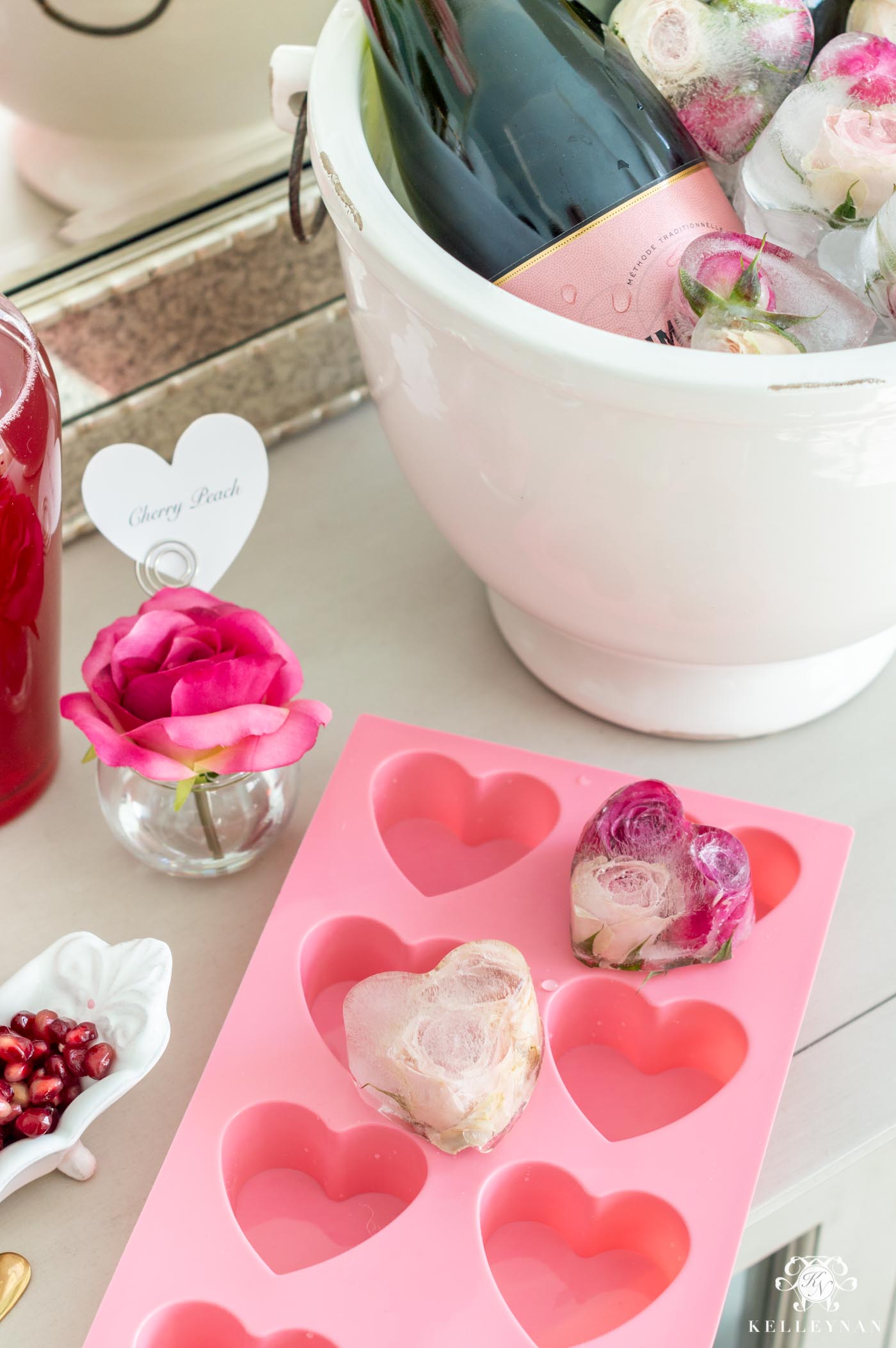 Even the enameled cast iron to make my cherry cobbler (recipe HERE) — which is so yummy I just made it again for my girls trip to Wilmington — is a one-day deal, marked down to $34.99 HERE.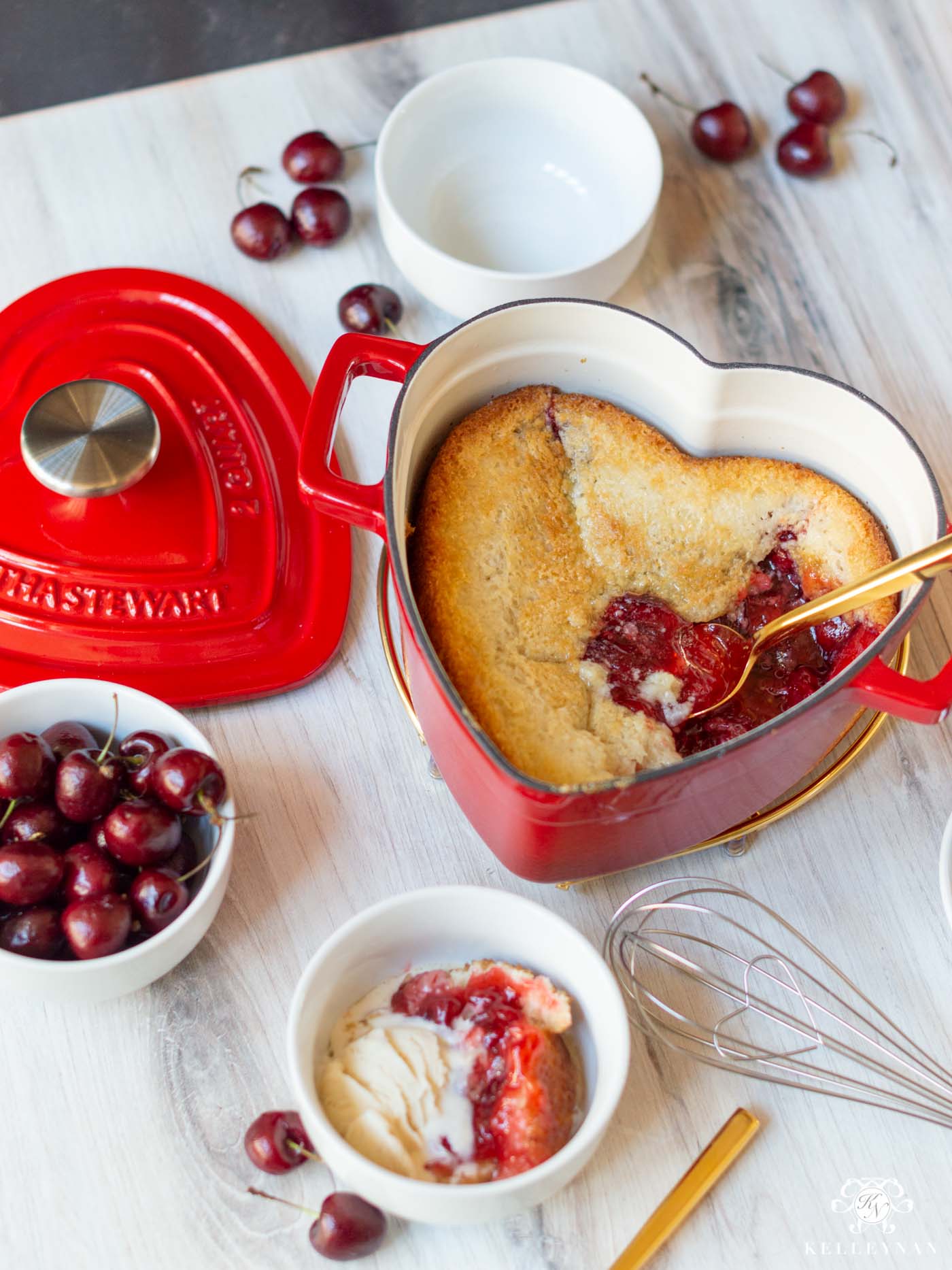 Anyways, back to the board! 😉
How to Make Heart-Shaped Strawberries
For the heart-shaped strawberries, after they're washed and dried but still in one piece, I remove the stem in a "V" cut — two angled cuts meeting each other just below the start of the stem. They won't be perfect (strawberries aren't perfectly shaped) but they do turn out better if you first place the strawberry on a flat surface, see how it rolls, and then make cuts to the flat side that face you (which will make the top of the heart more pronounced). Once you have your stem cut off, slice the strawberry vertically into a few thin flat slices with a sharp knife. Obviously, you don't have to have a sweet board to make these cute heart-shaped strawberry slices 😉
How to Make Chocolate Covered Pretzel Rods
It's so simple to make chocolate covered pretzel rods (or chocolate covered anything, really) but, I do have a method that gives better results (and is easier to dip) than popping it in the microwave. It's hard to get that smooth, evenly heated, perfect consistency in the microwave but if you set up a double boiler (I set up my own), it will keep the chocolate at the perfect consistency and make it easier to dip. Here's how I do it.
Grab a small saucepan and a glass bowl (I use THESE Pyrex bowls) — put about an inch of water in the sauce pan and bring to a boil. Then, turn it down to simmer.
Set the bowl (make sure it's heat resistent like Pyrex) directly on top of the sauce pan — the simmering water shouldn't touch the bottom of the bowl.
Pour in a bag of chocolate chips (I used white chocolate chips here) and add about a tablespoon of vegetable shortening.
Stir the chocolate while it melts and once it's smooth throughout, you're ready to dip.
Place one end of the pretzel rod into the chocolate and then use a spoon to coat it on all sides. When it's covered, let the excess drip into the bowl and place on wax paper to cool. I like a cookie sheet with wax paper so I can pick it up and place it directly in the fridge to set.
When you're adding sprinkles/toppings, wait a few seconds but add before the chocolate sets. Too soon and the toppings will run off but too late and they won't stick. I typically dip about three sticks and then add toppings, three at a time.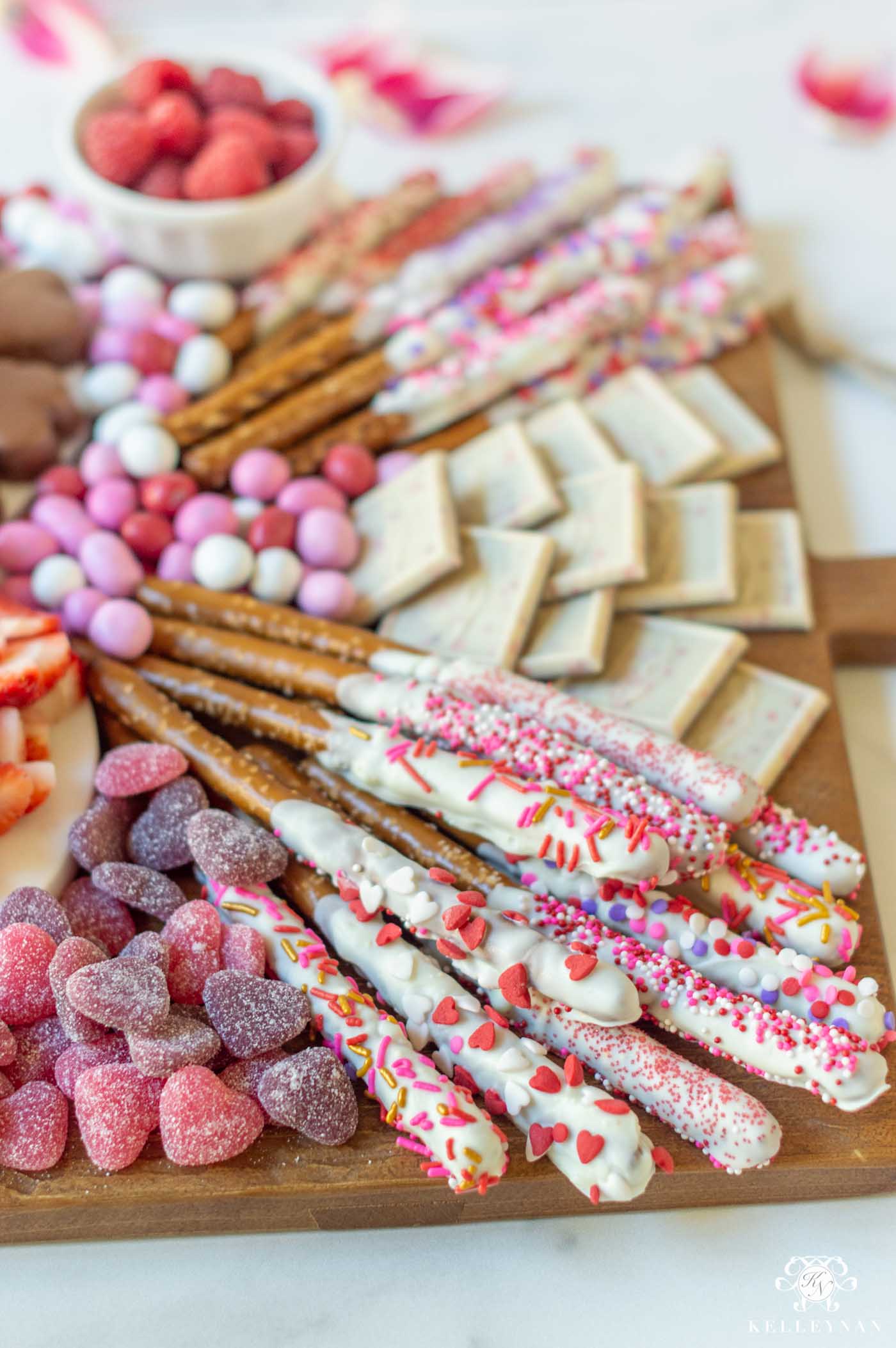 The rods are an easy alternative to cookie decorating but still allow for creativity. All the sprinkles I used came from this single 6-compartment mix. If you're in a pinch on time, you can order online and pick up in store!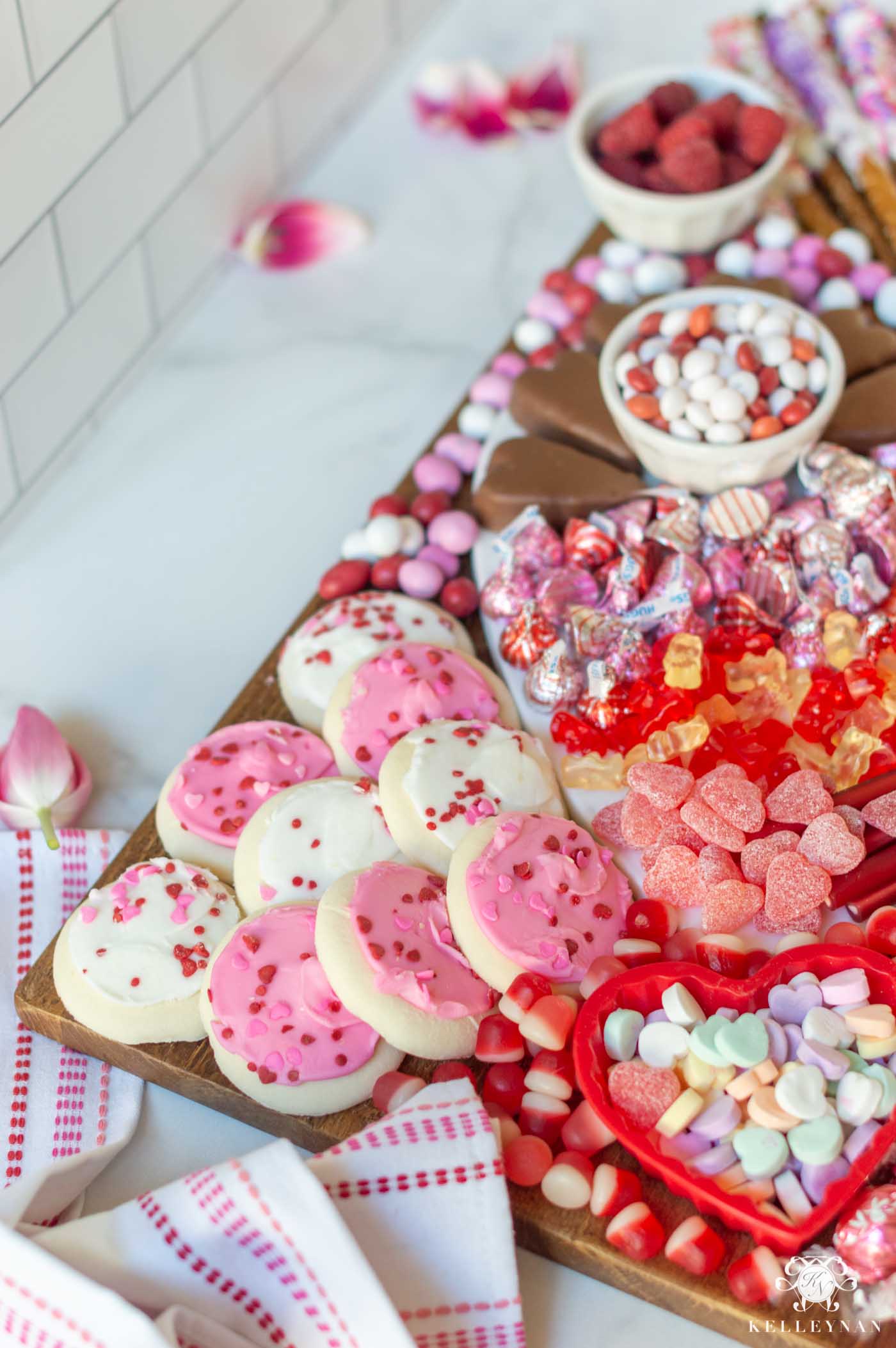 There's no right or wrong and no rules (which I say of all my boards) but for maximum, sumptuous effect, load that baby up!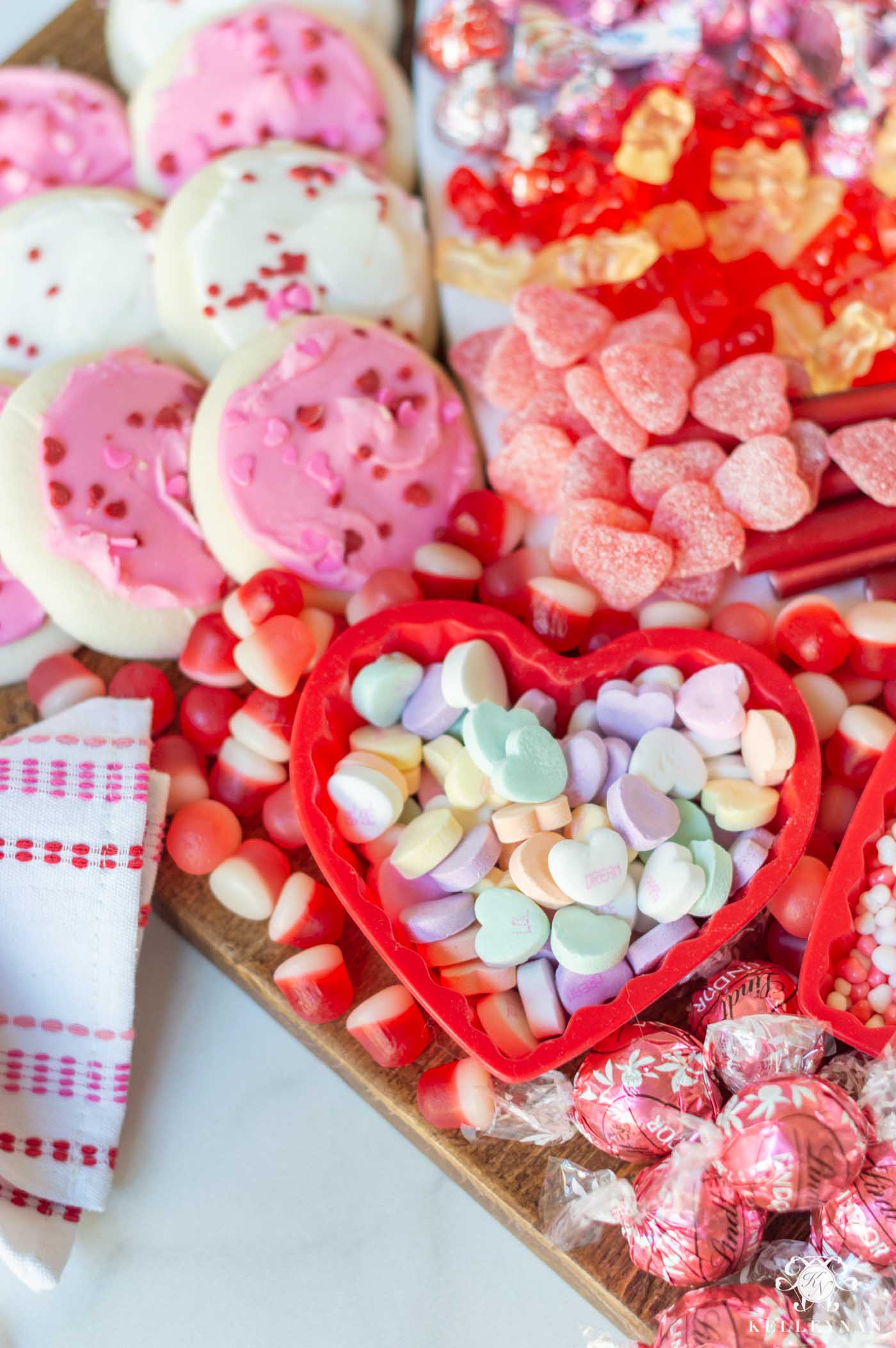 Next month's board will be a bit different and will require a little more prep; to make sure you don't miss it, you can subscribe to my emails HERE.
Scroll & Tap to Shop Sources & Valentine's Board Materials