If you've been a regular visitor for a while, you know I'm a fan of a pretty food display and more specifically, appetizers/tapas/snacks displayed on boards. I've shared all kinds of themed boards(I'll link to some favorites at the bottom of the post) and when I started brainstorming for St. Patrick's Day, I came up with three different takes on St. Patrick's Day food themes. Charcuterie boards and fruit and cheese boards are a safe bet always, but there's ways to get a little more creative with your sumptuous spreads 😉
*Posts on KelleyNan.com may contain affiliate links. Click HERE for full disclosure*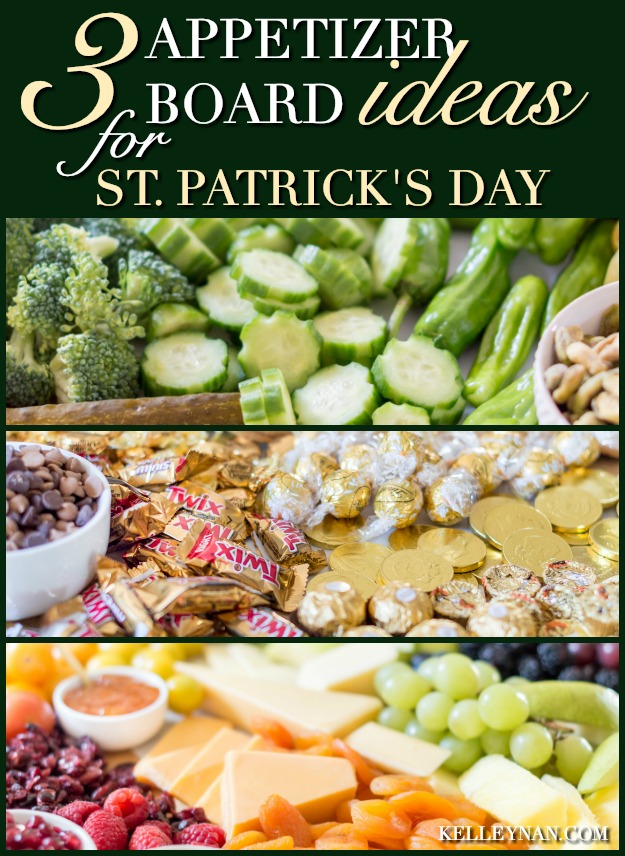 ---
SCROLL & TAP TO SHOP



---
ST. PATRICK'S DAY APPETIZER BOARD 1:
ALL GREEN VEGETABLE CRUDITE' 
The first board is so obviously Irish, decked in everything green. Mainly consisting of fresh, raw veggies, a little fruit, antipasti, roasted vegetable spears round it out. Opting for a statement display like this over picking up the standard, pre-cut four-compartment plastic tray doesn't take that much more effort. If you can incorporate some of the leftover veggies into other dishes, even better!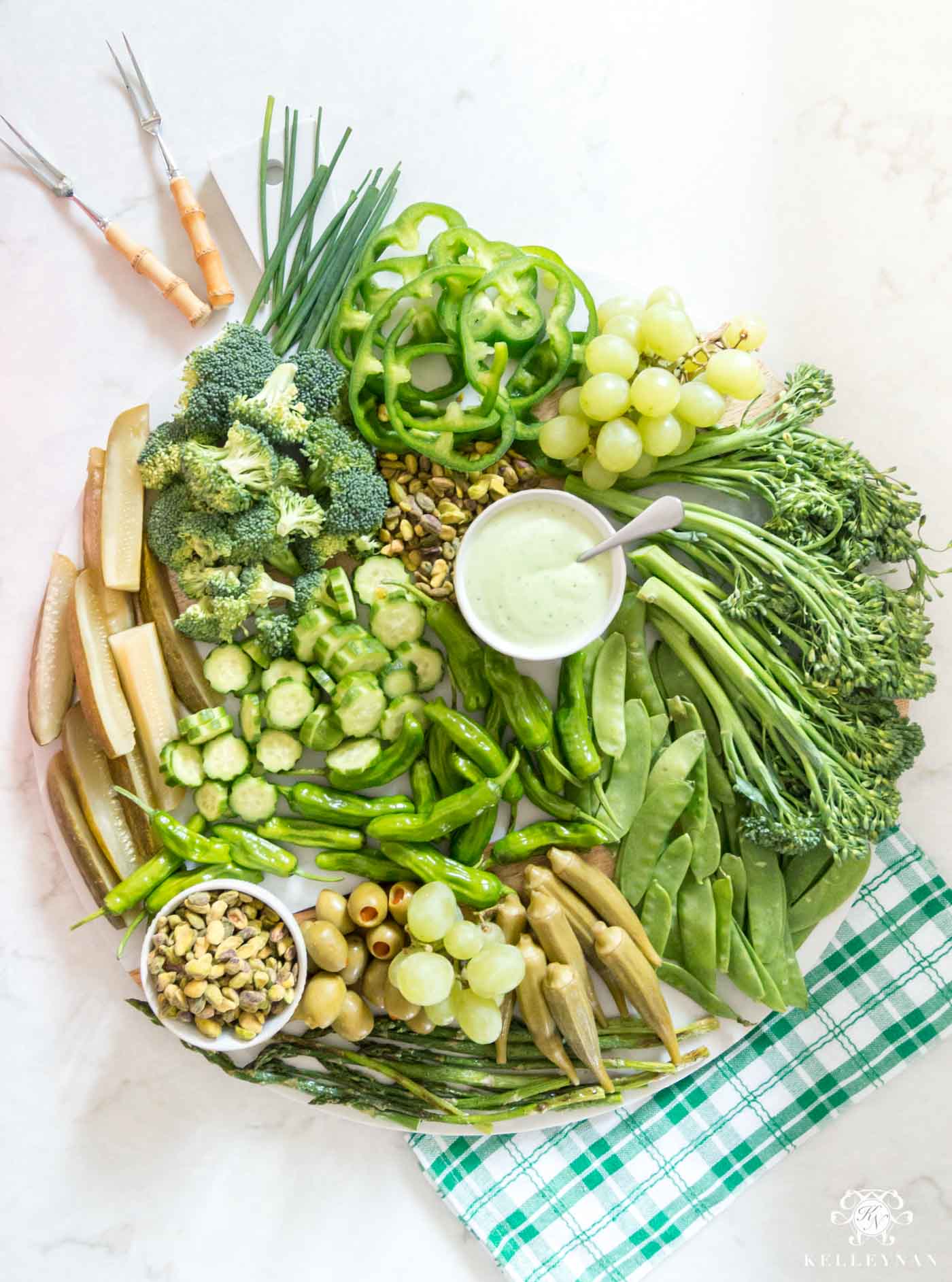 The Board Components:
dill pickle spears
shishito peppers
green olives
green grapes
sugar snap peas
baby cucumber
broccoli
broccolini
bell pepper
roasted asparagus
pistachios
green goddess dressing for dipping
chives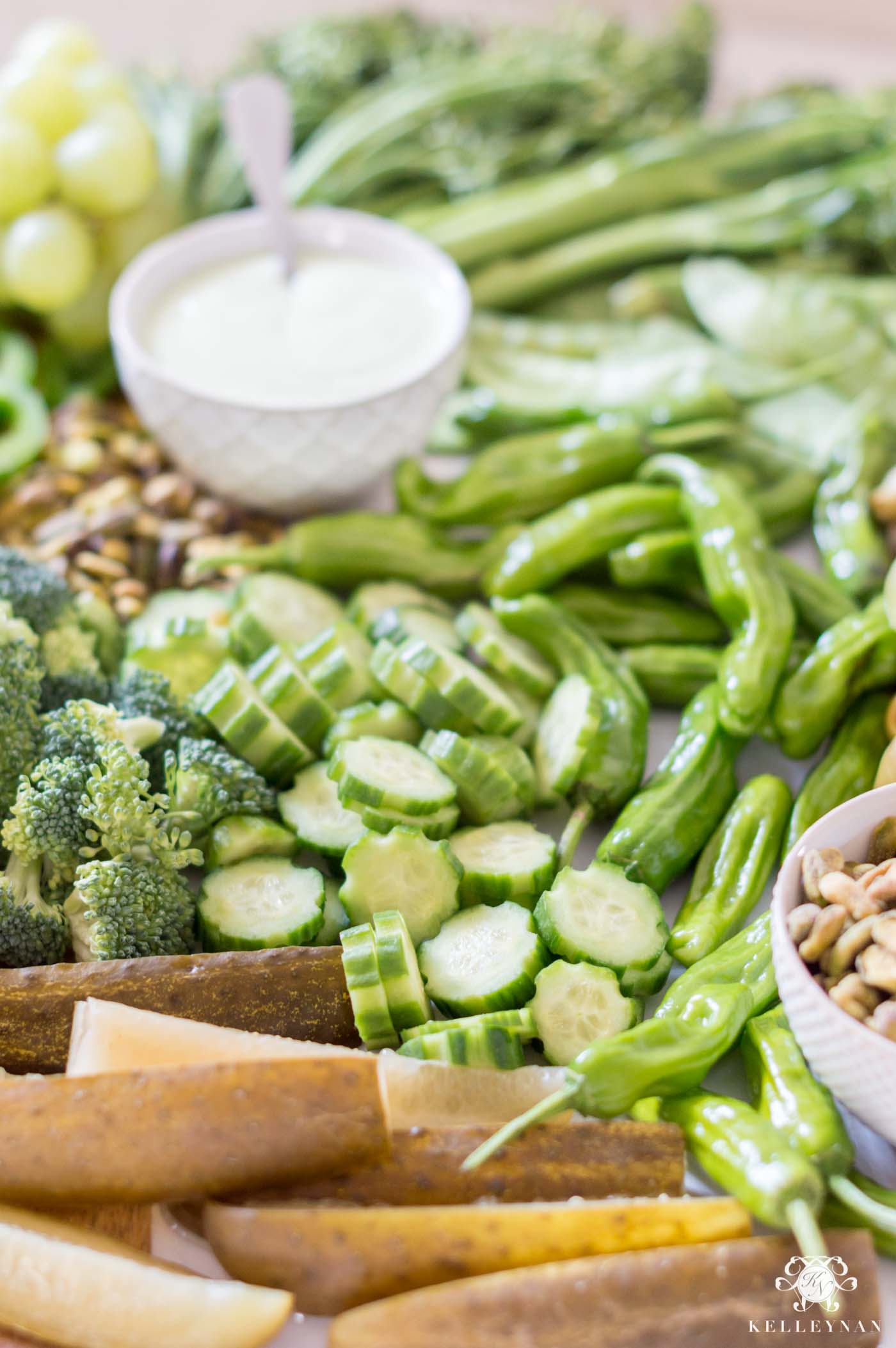 NOTE: If you're looking for a non-St. Patty's veggie board with more color and diversity, here's a crudite' spread I prepared for THIS baby shower.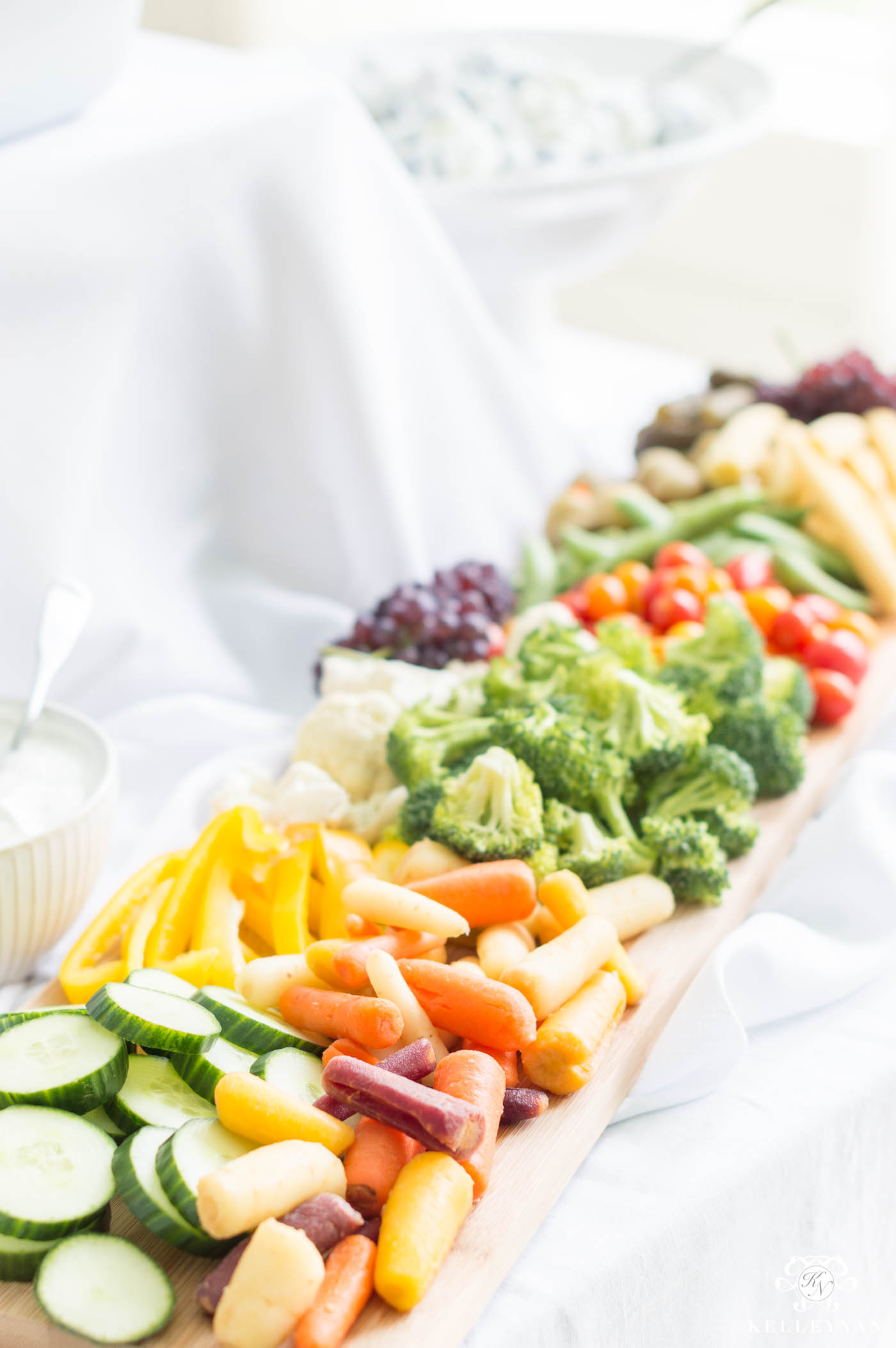 ST. PATRICK'S DAY APPETIZER BOARD 2:
RAINBOW FRUIT AND CHEESE TRAY
We may most often think of all green but rainbows are another St. Patrick's Day staple. And, this ROYGBIV rainbow fruit and cheese board is simple to assemble and makes an impressive visual impact. When you're arranging something in rainbow order, it isn't just about categorizing by color. Think back to your school days when you learned about the spectrum- the name acronym Roy G. Biv (for Red, Orange, Yellow, Green, Blue, Indigo, and Violet). Keep this in mind when you hit the produce and dairy section and you can literally work your way through the colors, seeing what's in season and available.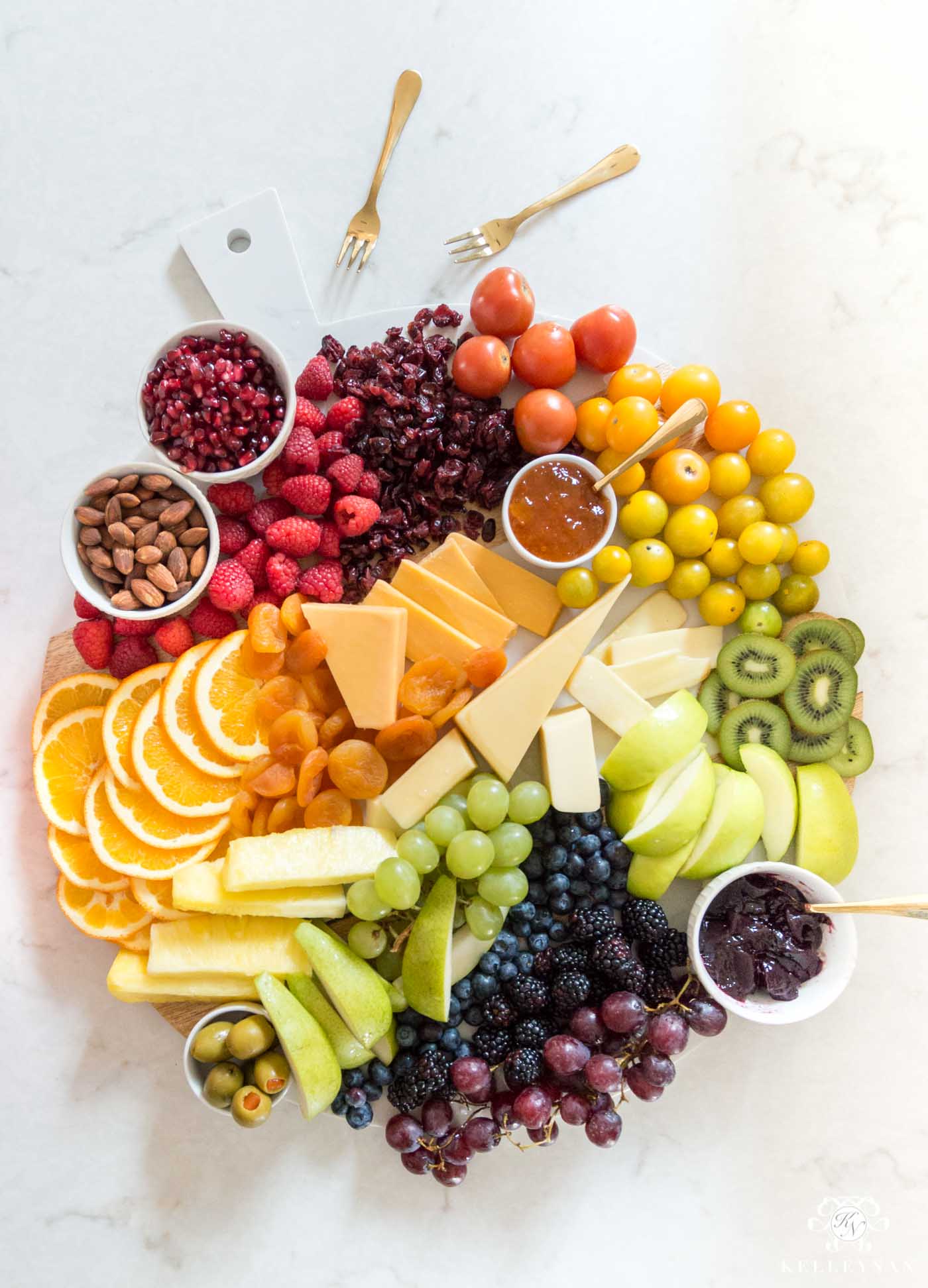 The Board Components:
almonds
pomegranate seeds
raspberries
dried cranberries
mini heirloom tomatoes
apricot preserves
sharp cheddar cheese
dried apricots
orange slices
pineapple spears
monterey jack cheese
parmesan cheese
kiwi
granny smith apples
pear
olives
green grapes
blueberries
blackberries
blackberry jam
purple grapes
Obviously, you could use the same application for an all veggie rainbow food display, too 😉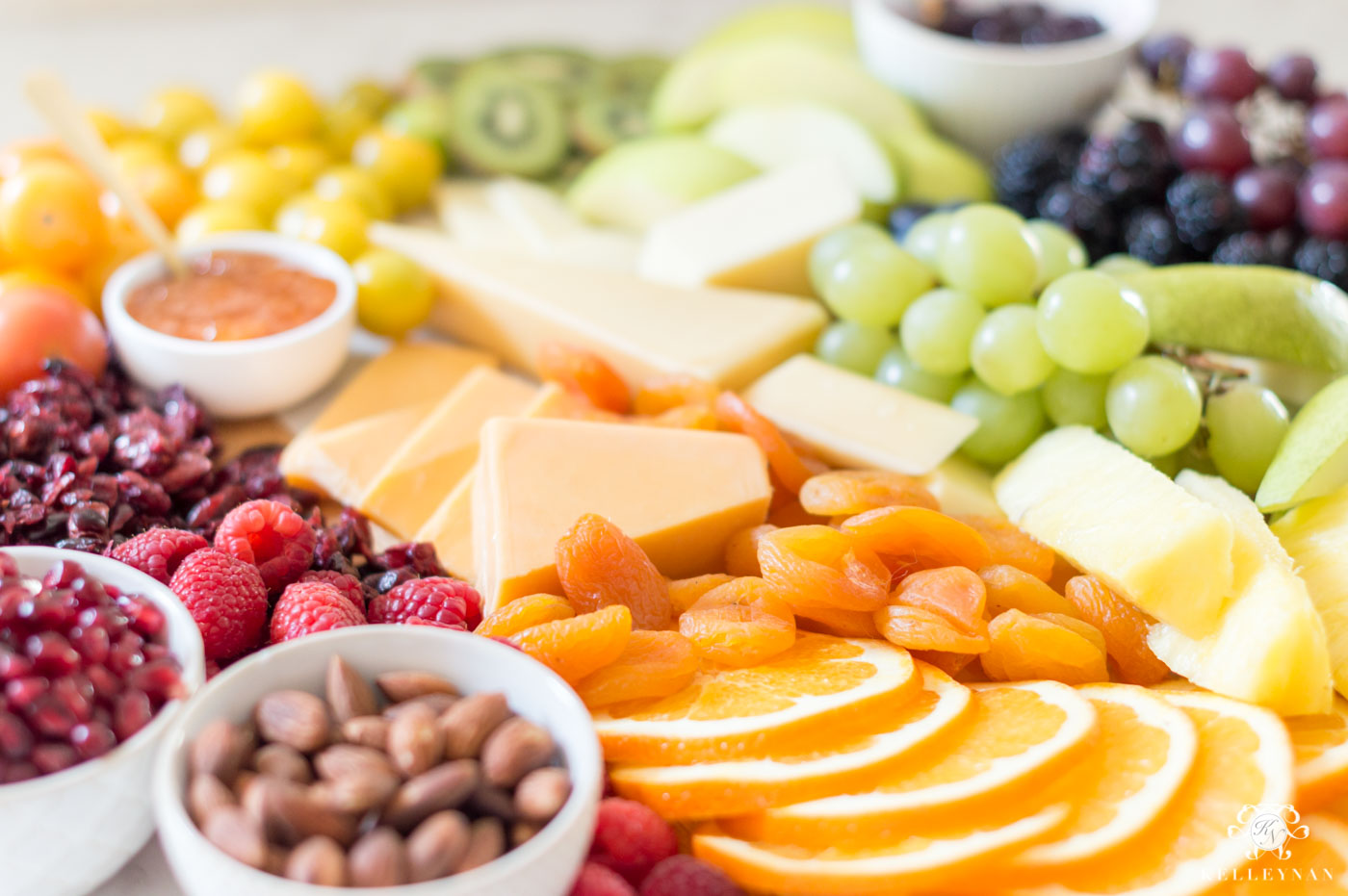 ST. PATRICK'S DAY APPETIZER BOARD 3:
POT O' GOLD CHOCOLATE & SWEETS
Last and simplest of the three boards- the pot of gold. Whether you want to make this a part of a dessert display, bring it to the table after dinner, or just keep it on the kitchen counter for the evening, this can be thrown together in minutes. Literally, cruise down the candy aisle and select gold-wrapped chocolates; you can even throw in chocolate truffles, blondies, etc. Bonus if you set out cellophane baggies (HERE) for guests to take a bag home with them.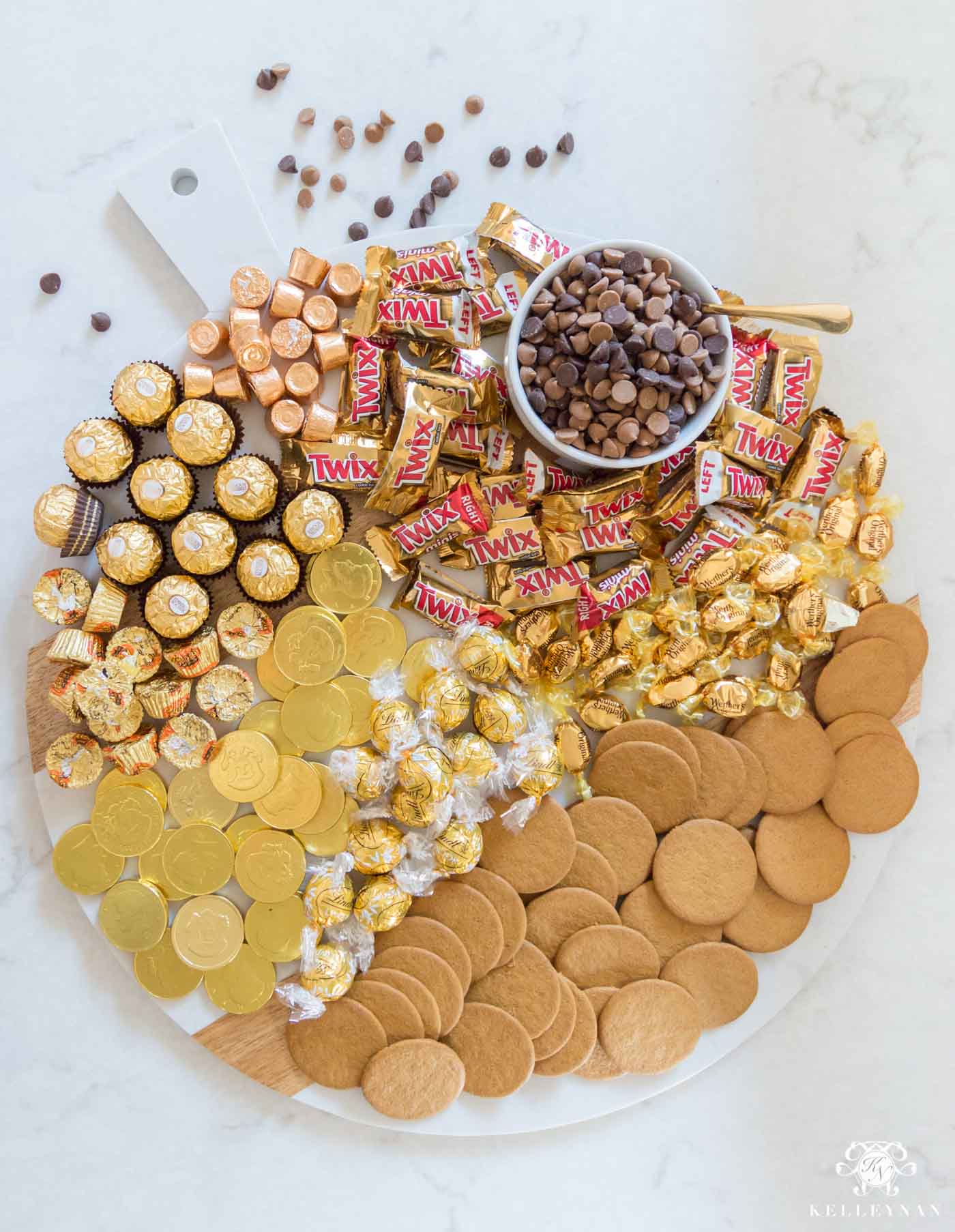 The Board Components:
Rolos
Twix
peanut butter chocolate chips
gold coins
Lindt white chocolate truffles
ginger snaps
Werthers
Reeses cups
Ferrero Rocher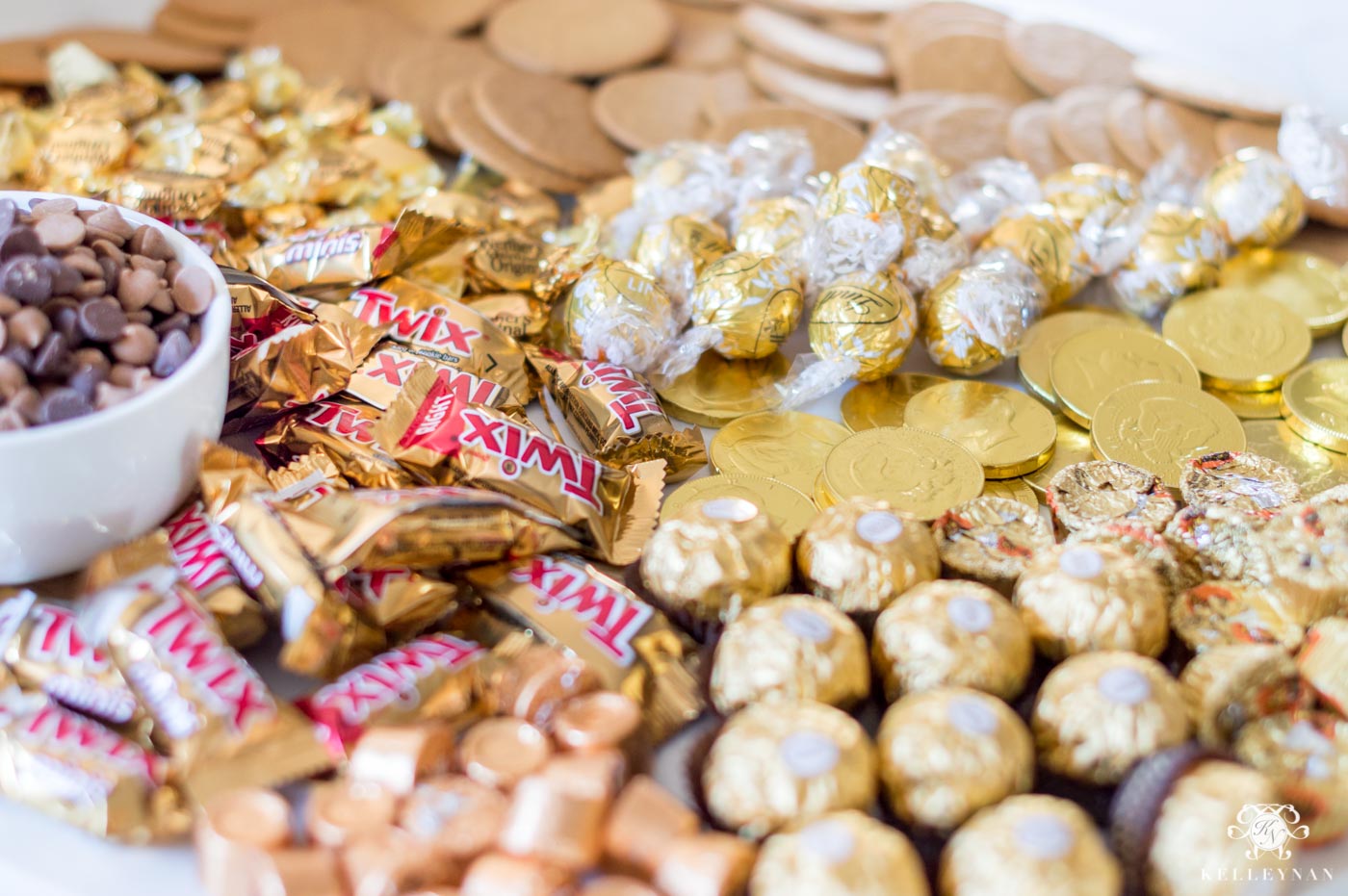 Who doesn't love a food display that doesn't require cooking? With the visual impact of a well assembled appetizer tray, guests won't even consider this an easier option!  For more entertaining ideas, make sure to subscribe to my emails at the bottom of the post. You can also follow along with me on Instagram for daily inspo HERE.
Other Posts to Visit for Similar Ideas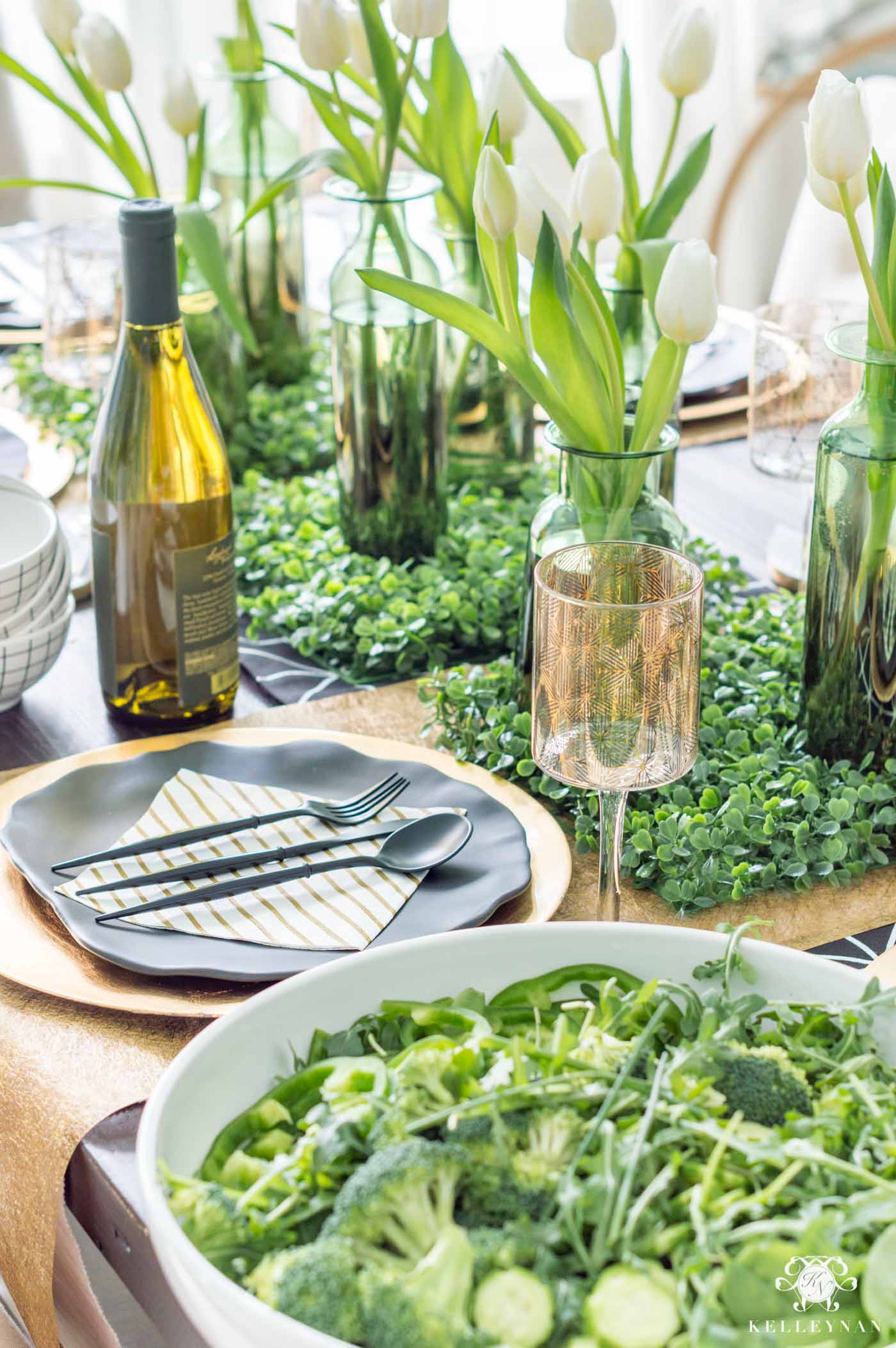 St. Patrick's Day Party Decor and Table Setup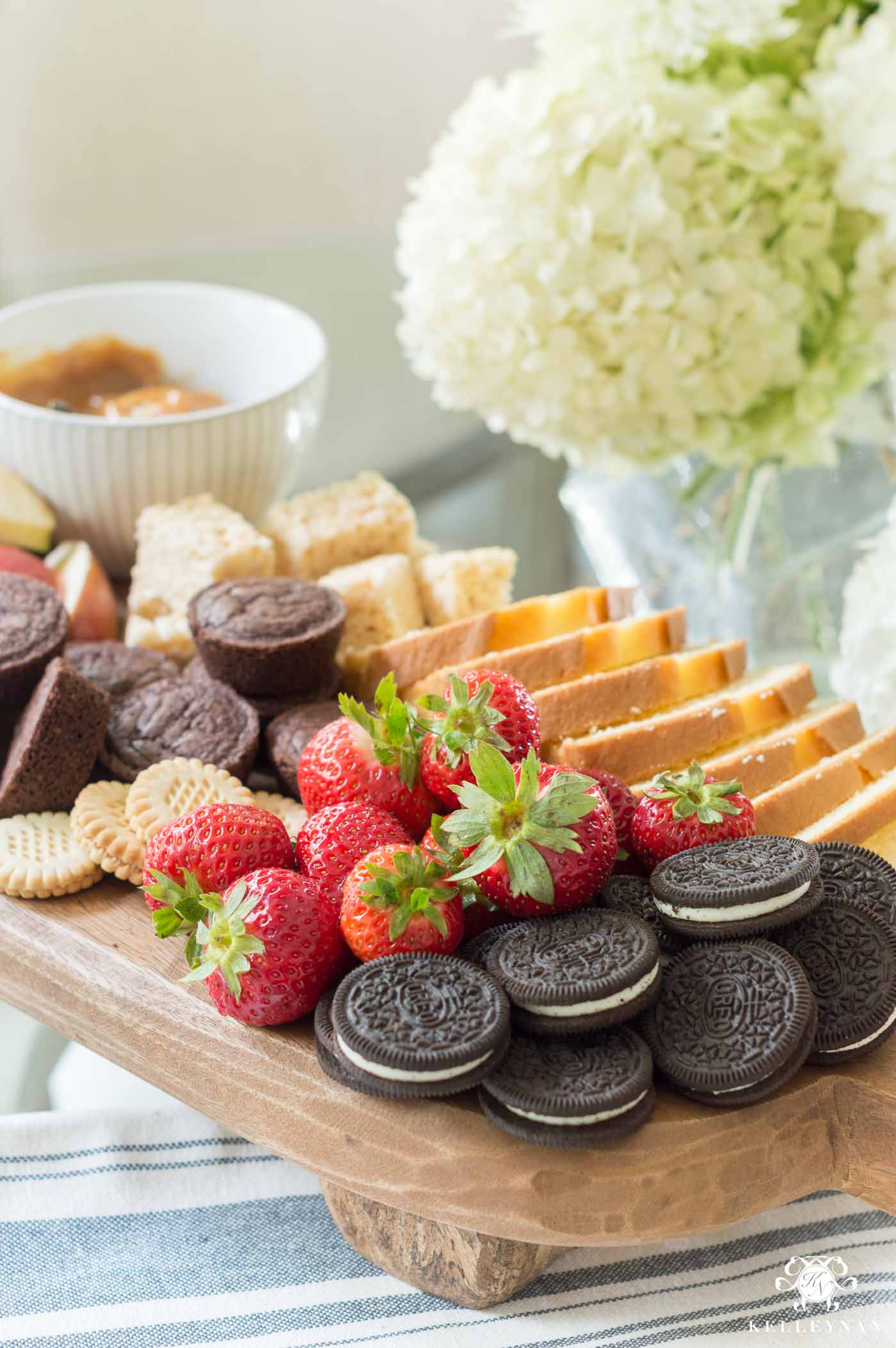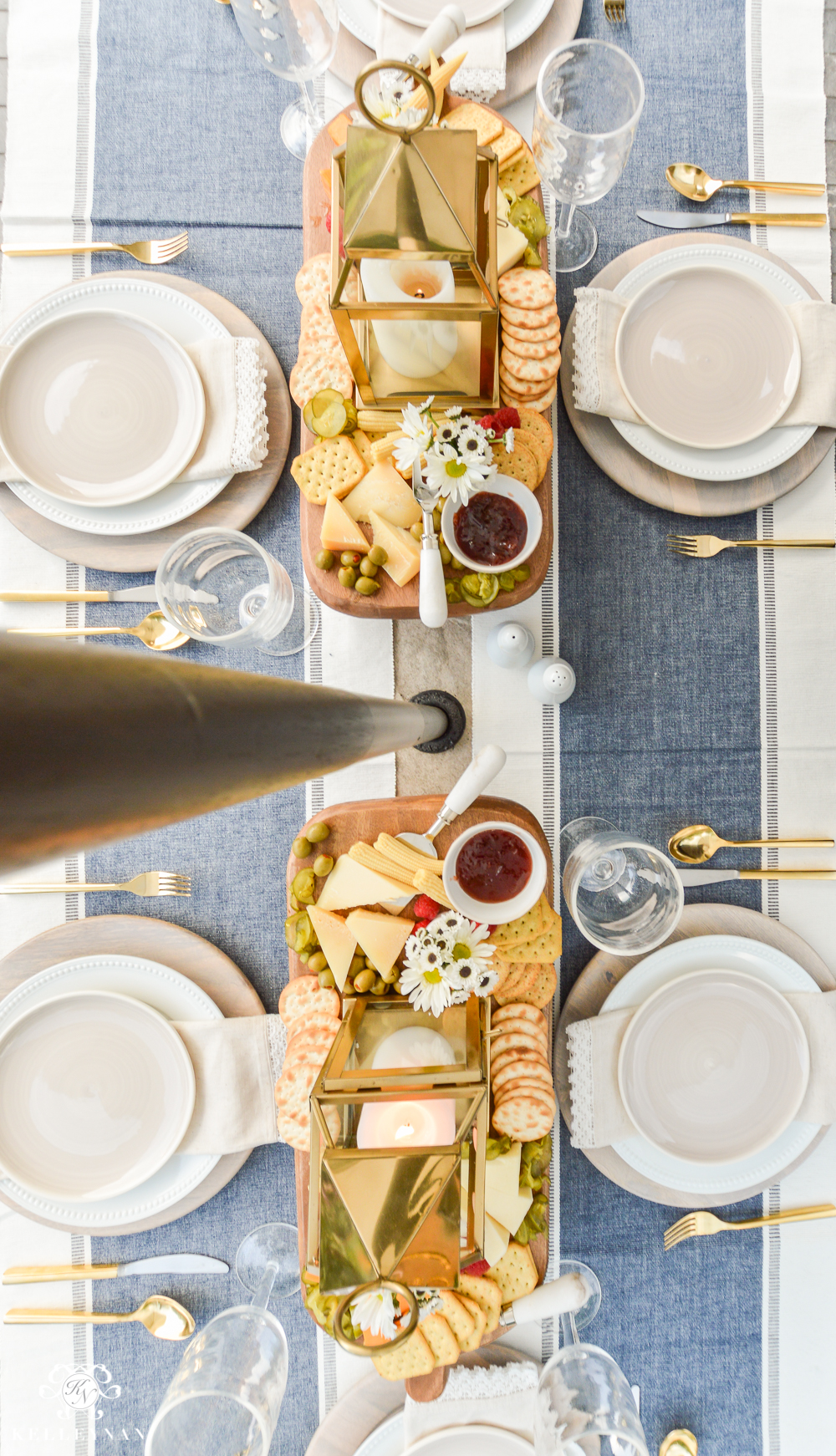 SHOP CHEESE BOARD FAVORITES
The huge, round marble and wood board I used in this post is out of stock (you can check on status HERE) but here are some other favorites whether you're in the market for your first board, or are looking to add to your collection.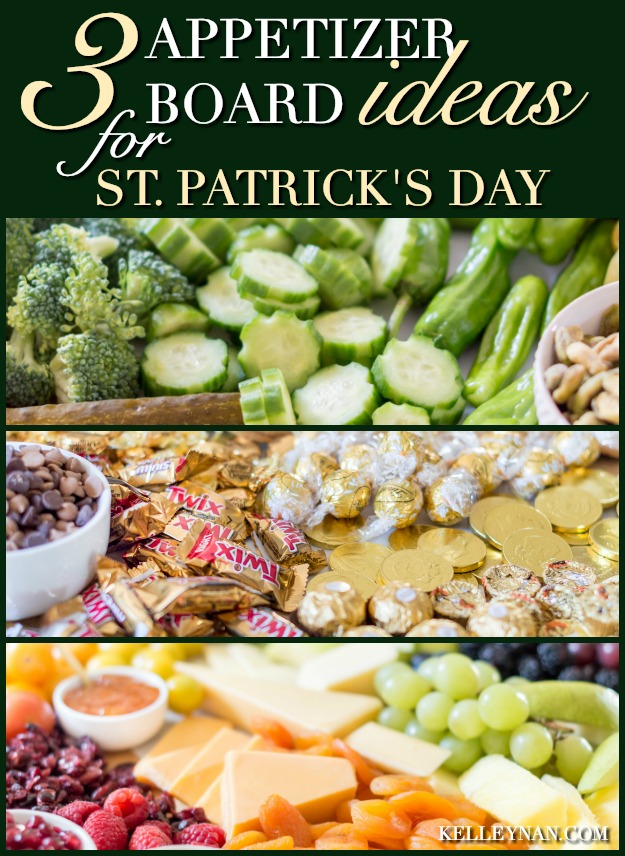 OR