Y'all, I'm just back from helping my mom host a bridal shower in Alabama and I've been sitting on this post for a few weeks now. I'll be sharing all the details on that (later this week? maybe next?) soon but wanted to get back to what's happening back on the home front. Last year, I made a promise to myself that 2017 would be the year I stepped up my outdoor living game. While a bit of our landscaping is still on hold, I'm proud to say that we stuck to our summer priorities and successfully whipped our porches and deck into shape. Remember THIS covered porch makeover from earlier in the season? Prior to the sitting area we now have, we had an outdoor table (see the before HERE) – a table we loved but just made for a too-cramped space. After sliding her down to the open deck and adding an umbrella for shade, our entire space situation changed. And, there's still space between the two areas for a folding table to be brought out for "adult party games" (I am a proud, self-proclaimed flip-cup master 😉 ). For our first entertaining effort, I wanted little fuss, a scaled down version of my normal tablescapes (see them all HERE), and something that catered to how we really "do things" during the summer. Finger foods, appetizer bitEs, and things you can grab-and-go. I kept the place settings simple but the middle of the table was my favorite, and, something you'll be seeing a lot more of. Appetizers and cheese boards- a different centerpiece for outdoor dining.
*post contains affiliate links*
But before I show you the space now, let's take a quick peek down memory lane to see what this space used to look like. The loungers were never used and the side table and chairs sat unoccupied.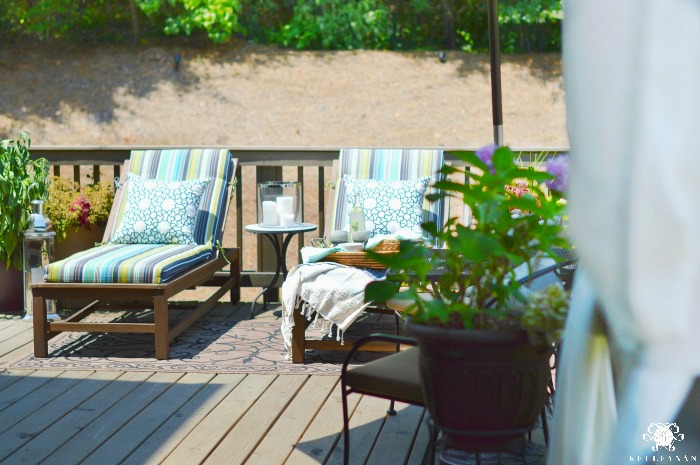 And here's where we are today.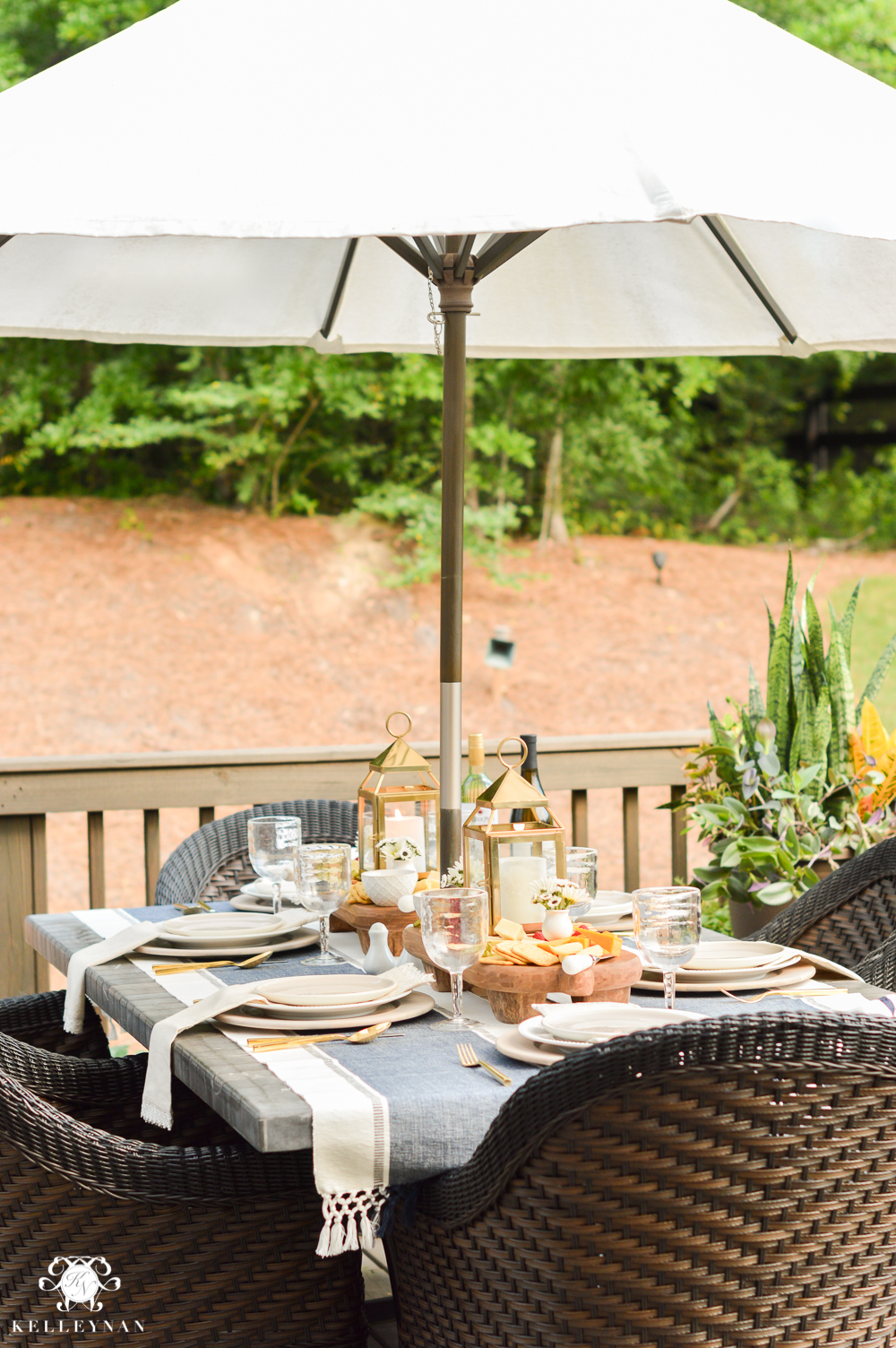 I may sound like a broken record, touting these wooden paddle boards all over the place, but you guys! THEY ARE AMAZING! I am less about buying pieces for one-time use and appreciate versatile pieces that can be used over and over regularly, in a variety of ways. I started with one board last summer (shown in medium) and picked up another this year. I also have a mini (shown in my Easter table HERE) which is adorable and perfect for little tapas and small apps. Even before I had two boards, I was planning the ways I would fill them with appetizers and butt them up against each other as an easy, snackable centerpiece.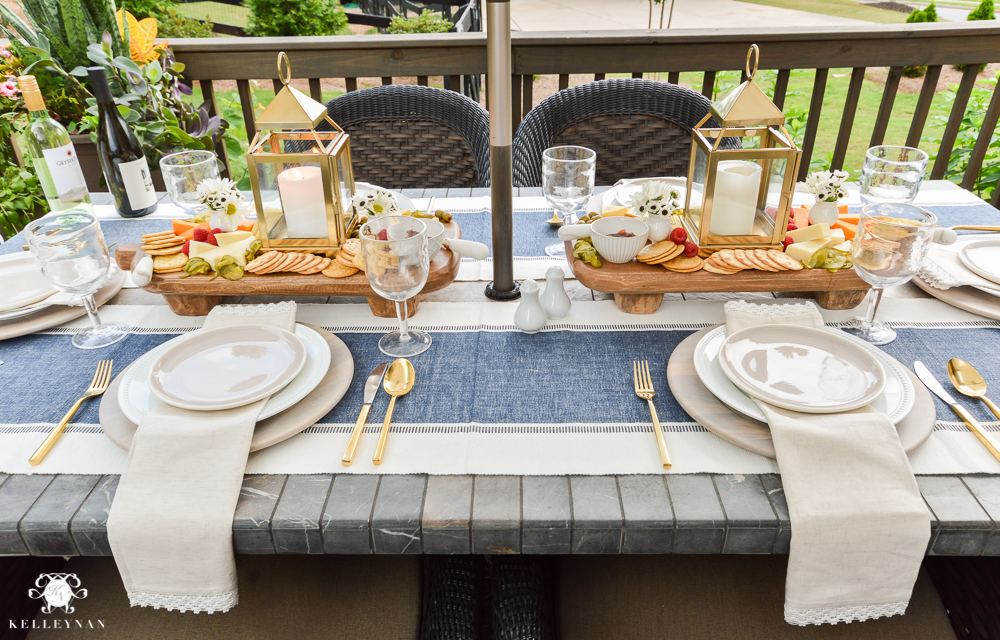 So, a few weeks ago, I put my vision to the test and it worked out perfectly. So easy, so fun, and the best part- you can basically raid your pantry and fridge and just add a little of this and a little of that. (Growing up, my mom called that a "snack around the plate"; you'll be hearing more about that soon 😉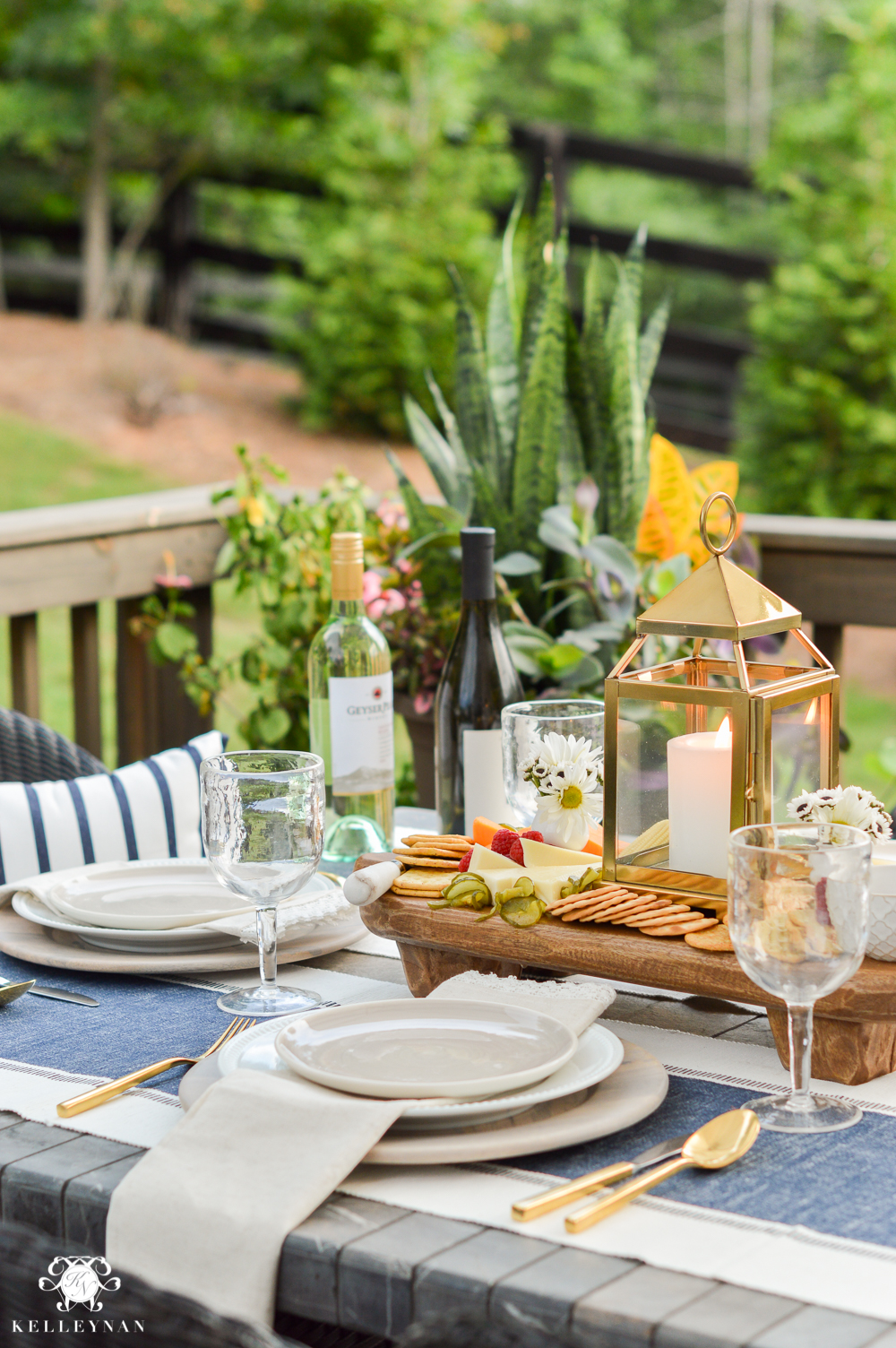 You can add any apps you like but a charcuterie (or cheese board if you're like me- I don't eat smoked meats) are easy and elegant.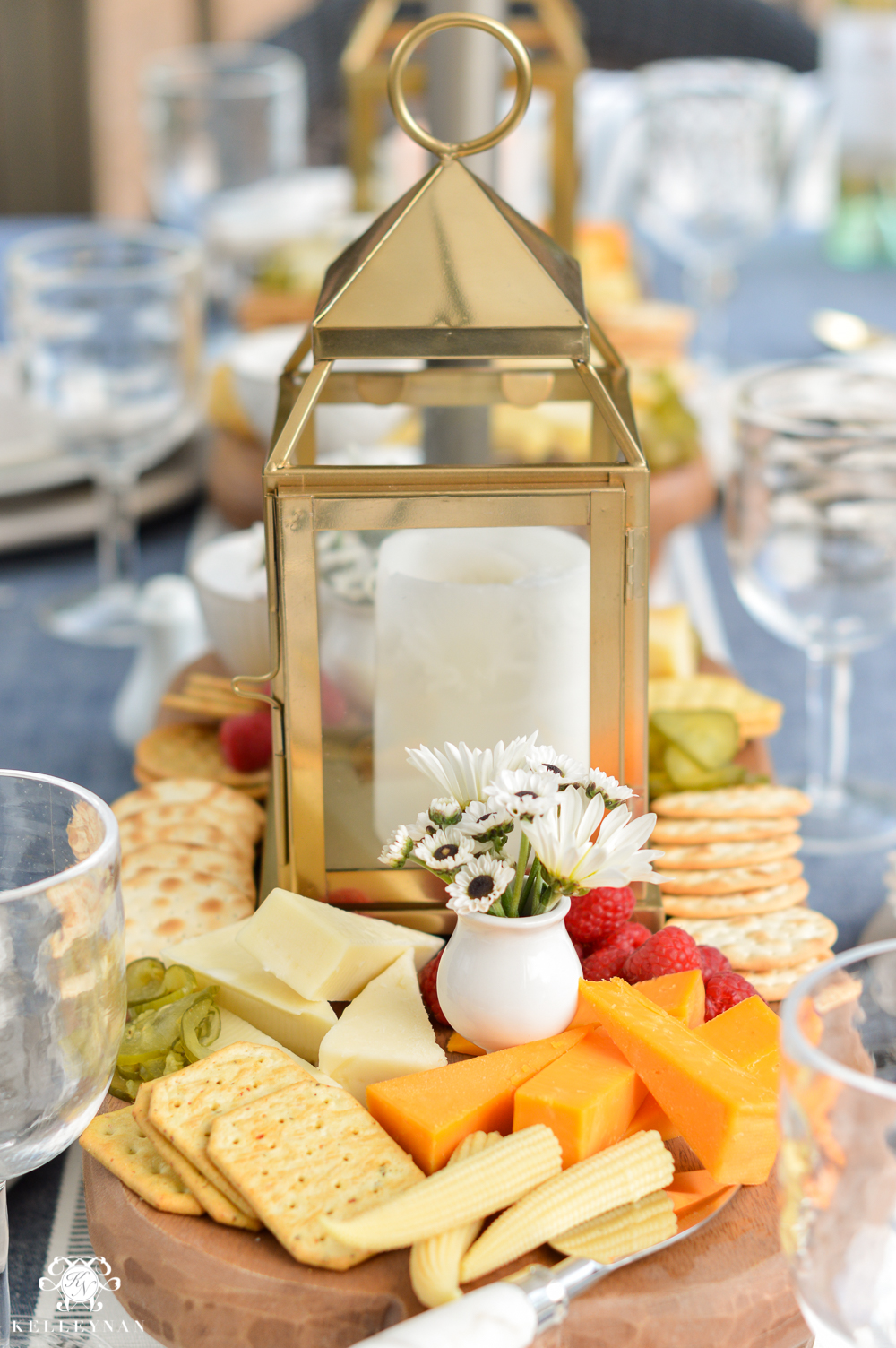 Vegetables, pickled anything, fruits, cheeses, crackers, spreads… see what you already have on hand. Instead of a big floral arrangement, I stuck to these small gold lanterns for outdoor ambiance, and tiny bud vases for a few flowers, weaved into the apps. You can even see what you have around the yard – dandelions (weeds) would totally look amazing in small bud vases.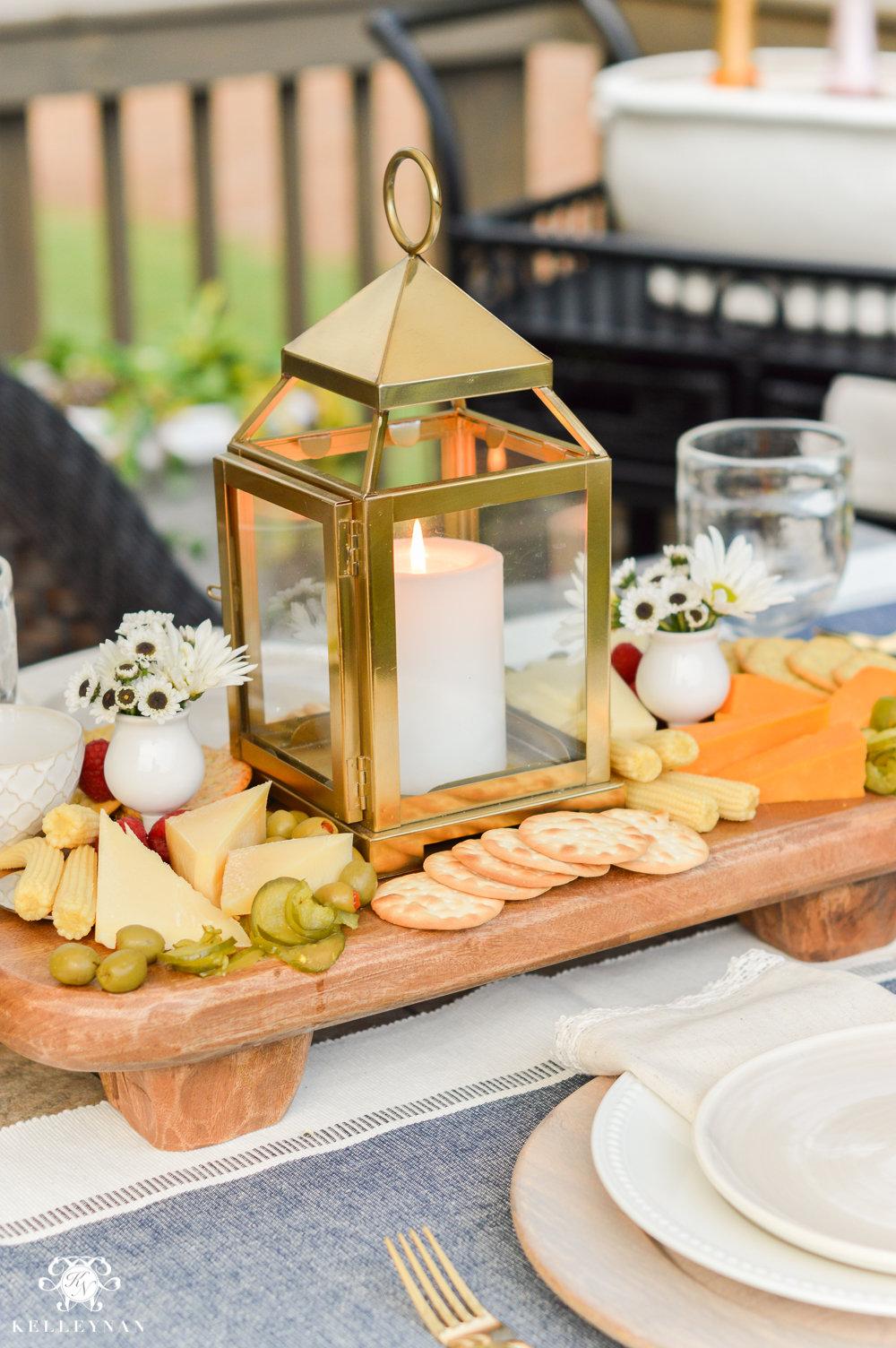 If you want to dress up your table but have an umbrella in the middle and can't use a full tablecloth, use two runners down each side. Simple and makes it feel like you're bringing the indoors out. I used these blue and white fringed numbers and love that they can be dressed up or down to look more nautical.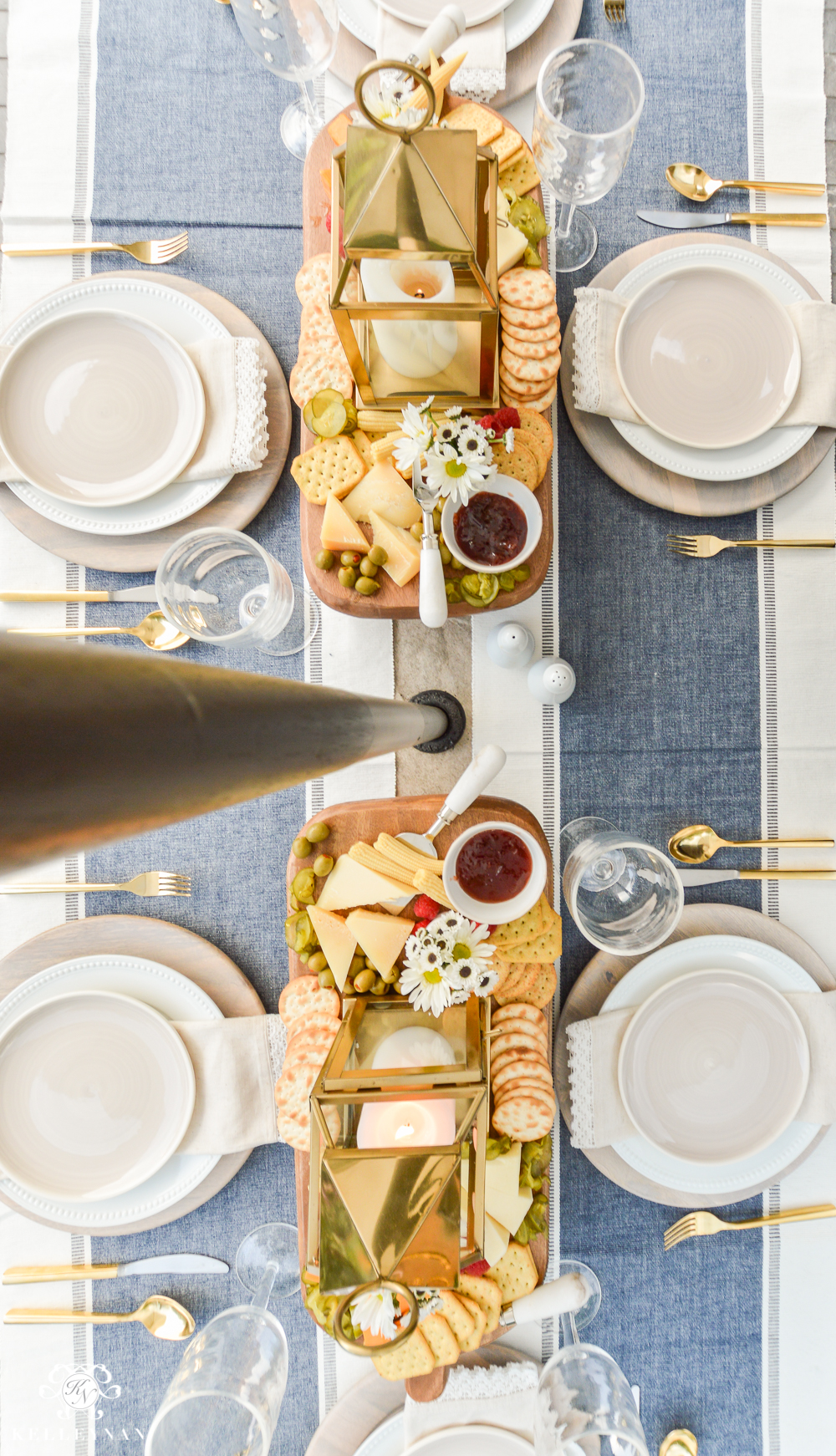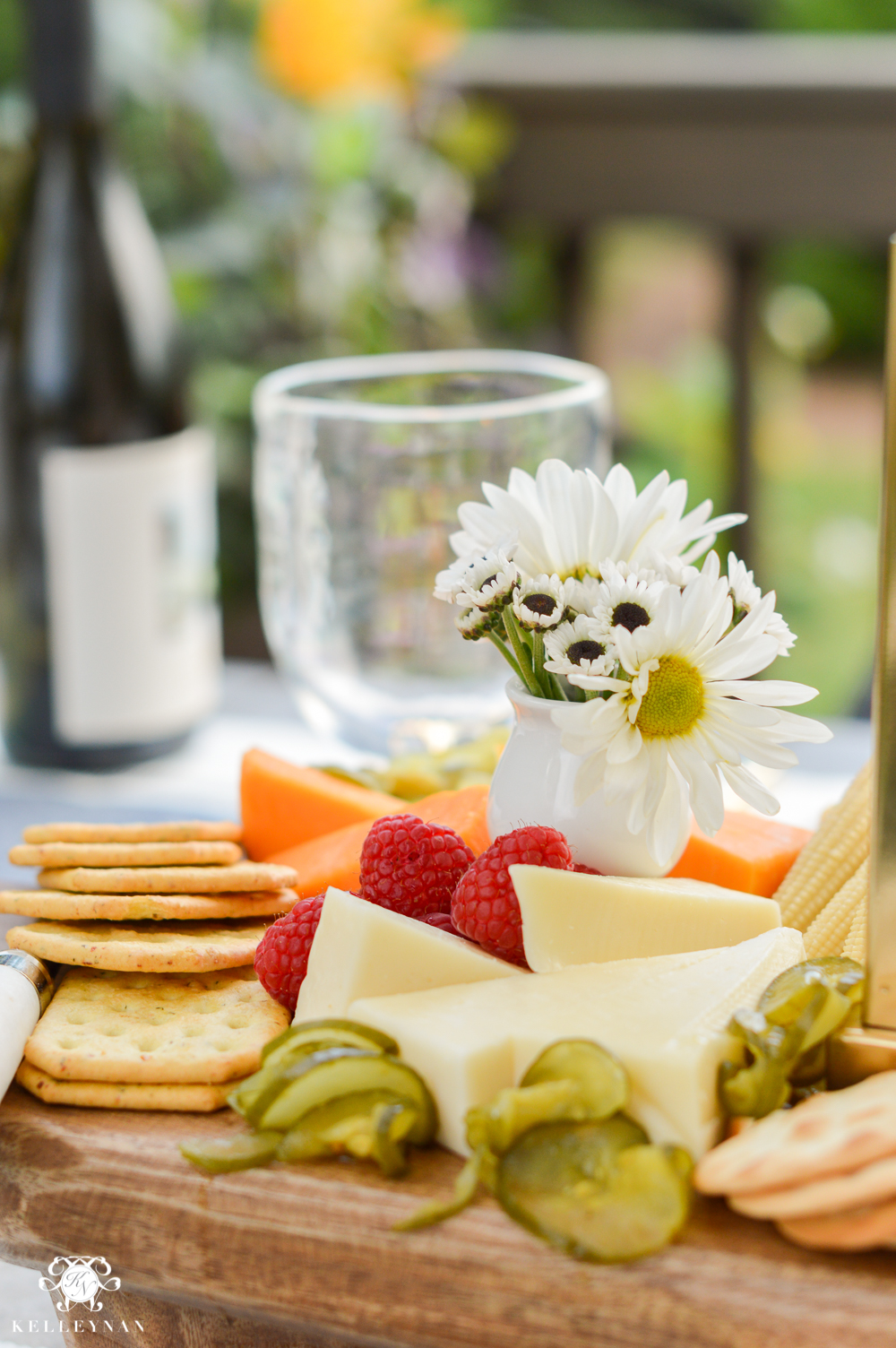 Another new addition I am absolutely obsessed with (get ready for lots of bar cart stylings ahead!) is this black rattan cart. Right now, you can get it for under $140 HERE. Like my table, I kept it much simpler than I normally do- it looks fantastic even with the bare essentials. It's also a good bit bigger than my gold Asher cart (HERE), so if you are looking for something with more storage, this black beauty is an awesome, affordable option.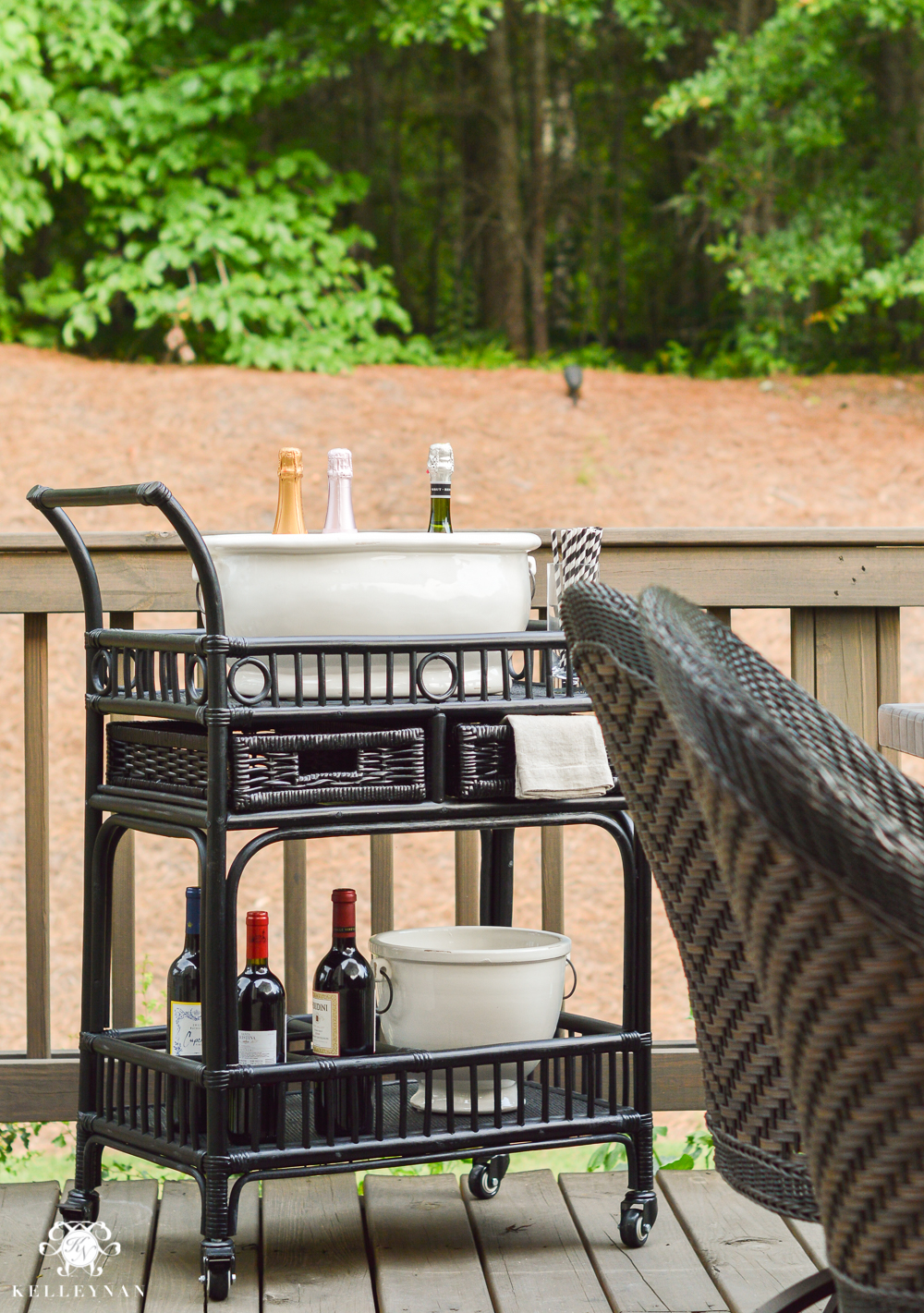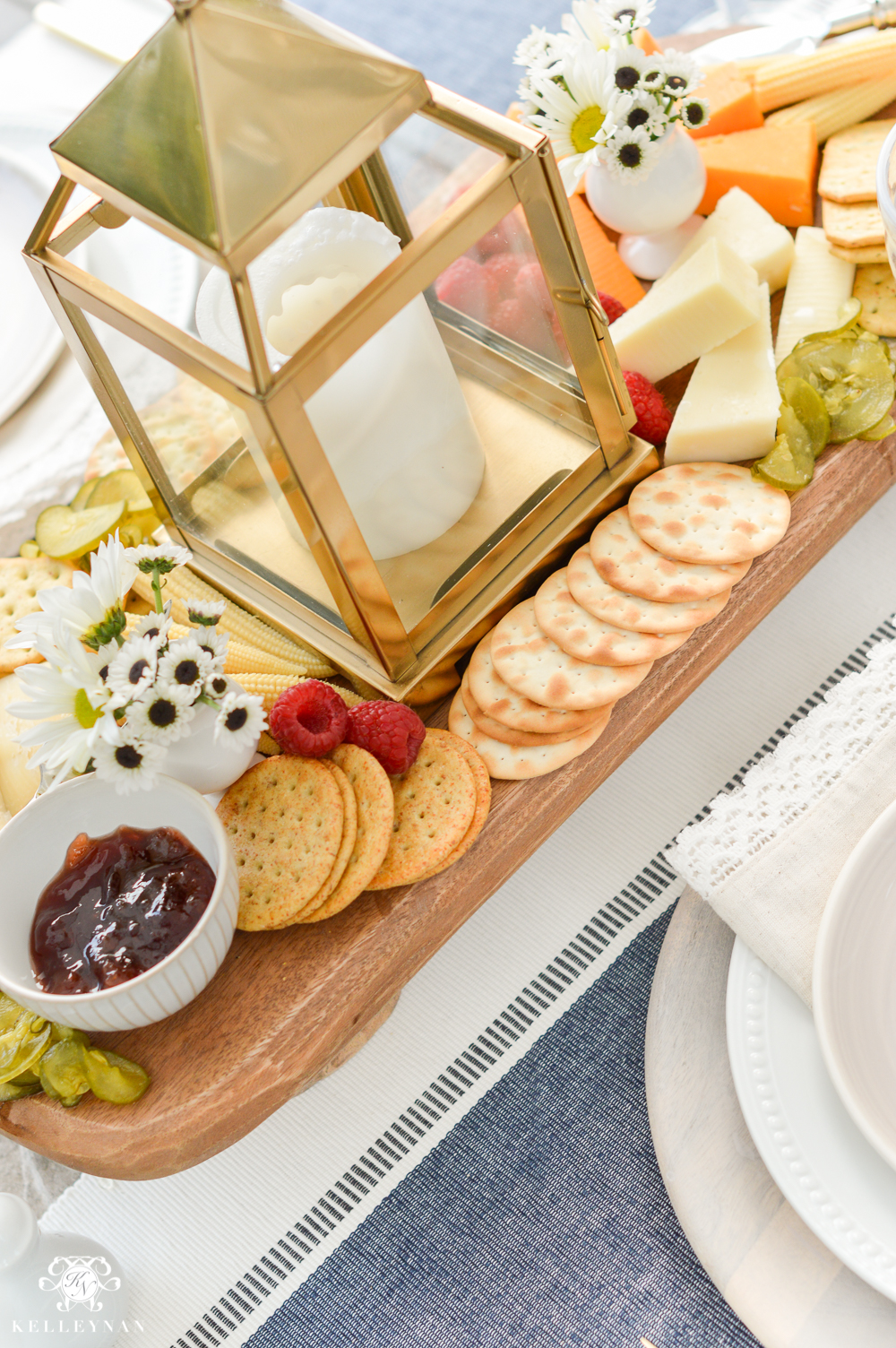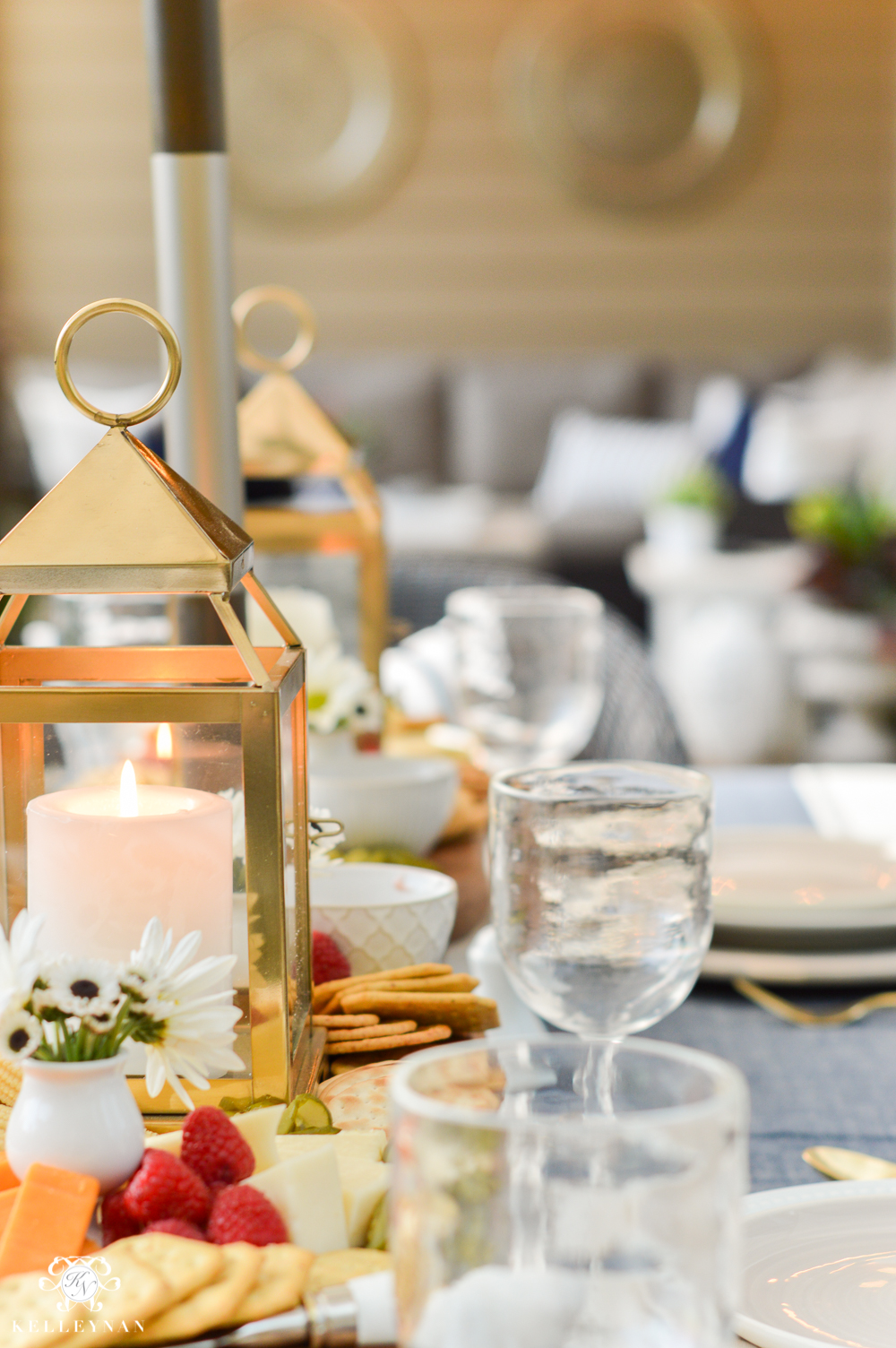 I also totally mix and match place settings. Some acrylic (these favorite Pottery Barn outdoor wine glasses), with these driftwood chargers, simple white everyday plates, PB gold flatware, gray spinwash salad/app plates, and my favorite lace edged napkins. If you have classic pieces, to me, there are no rules when you're mixing casual with more formal.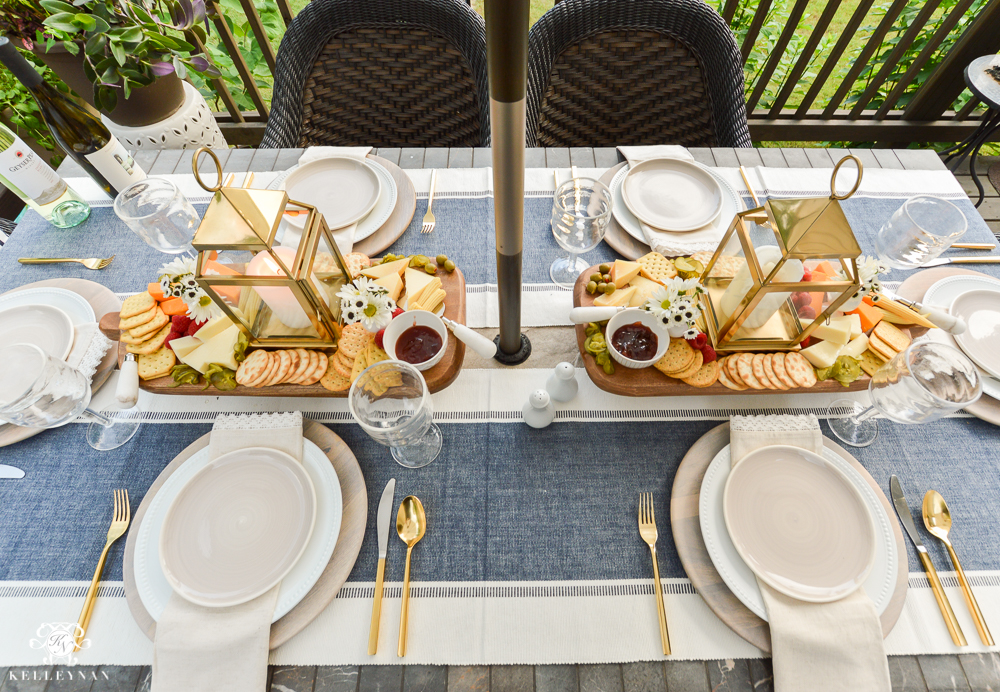 Here's a peek back to our covered porch, where this table used to sit. You can see the full reveal of this space HERE.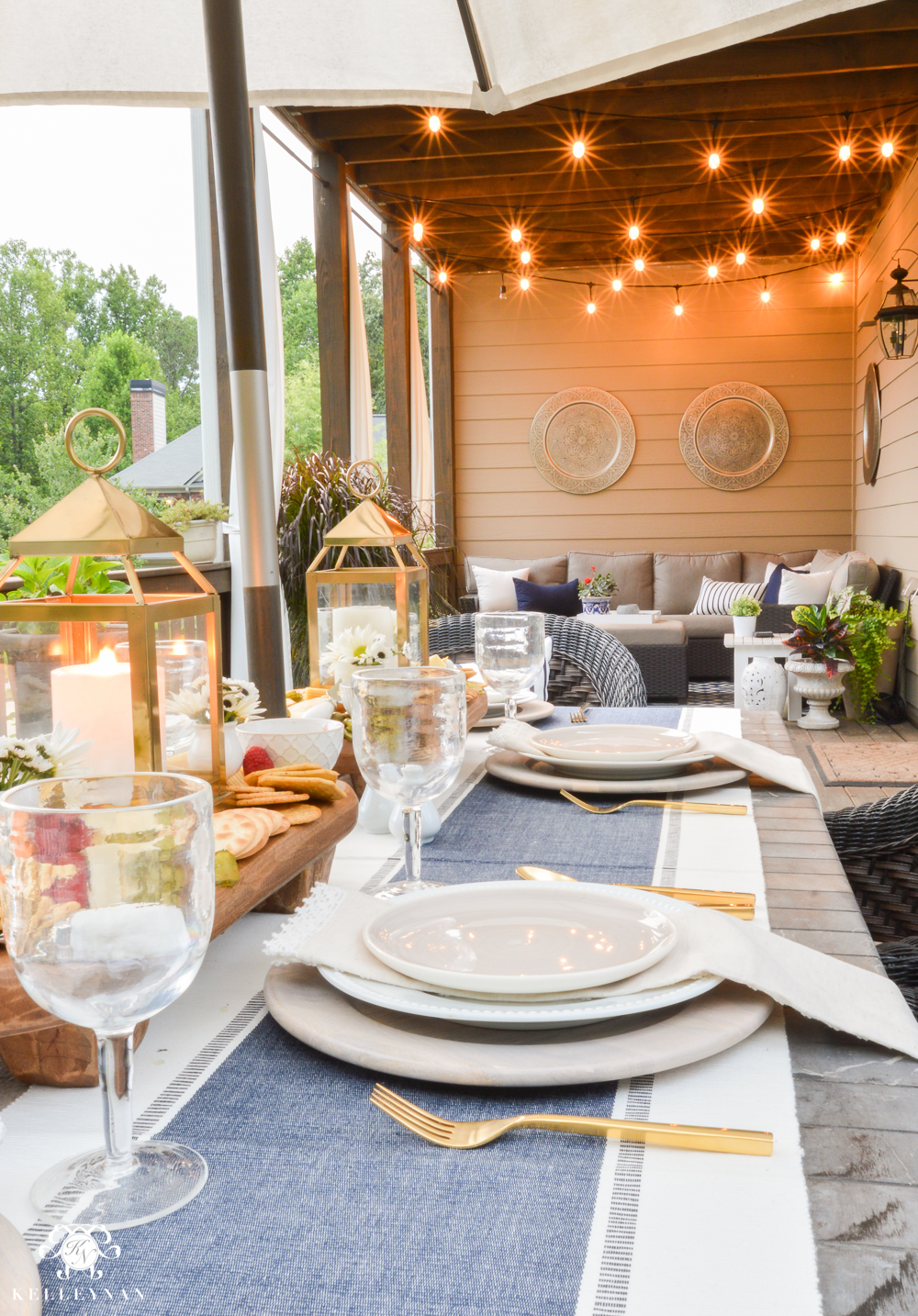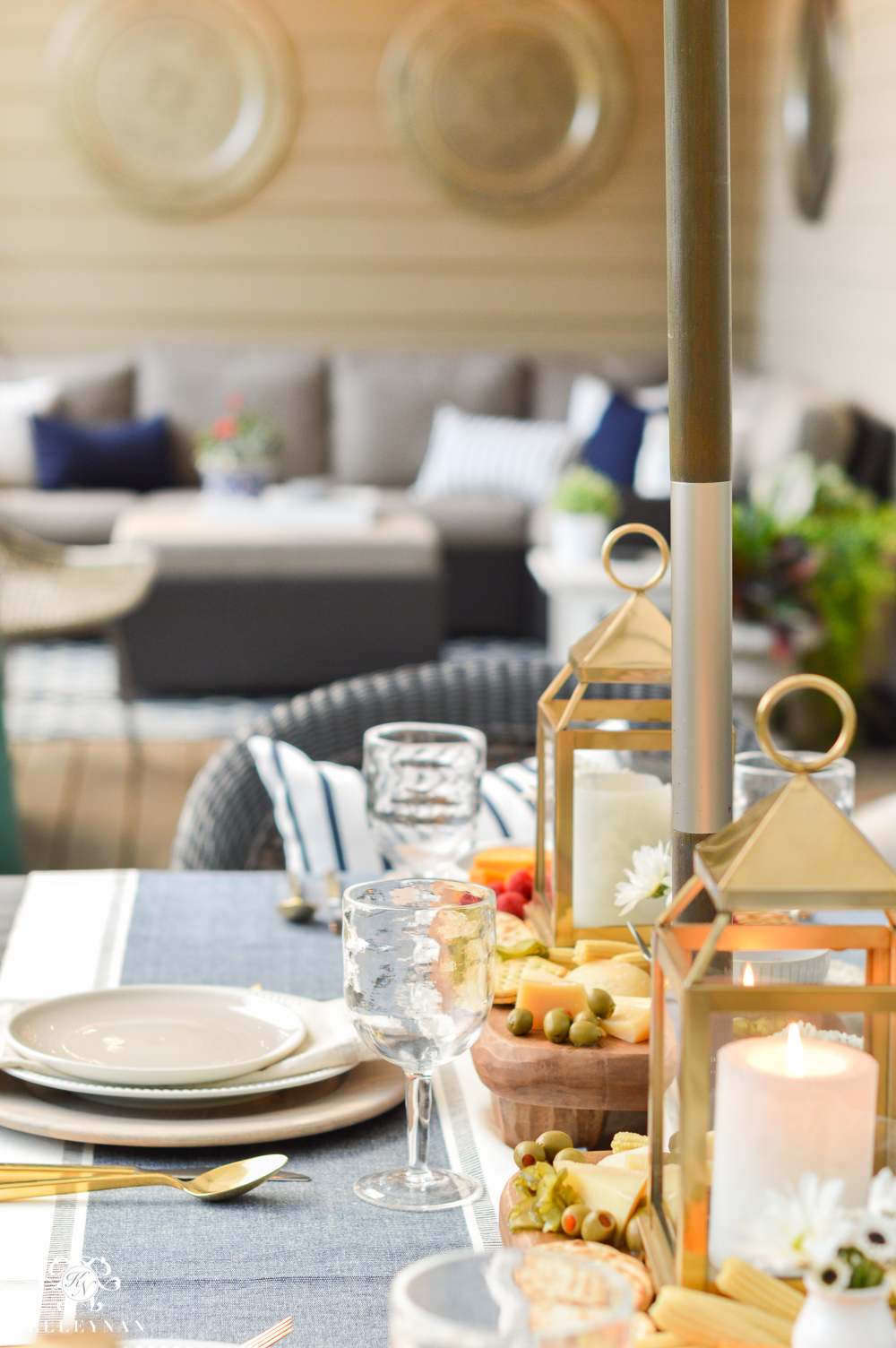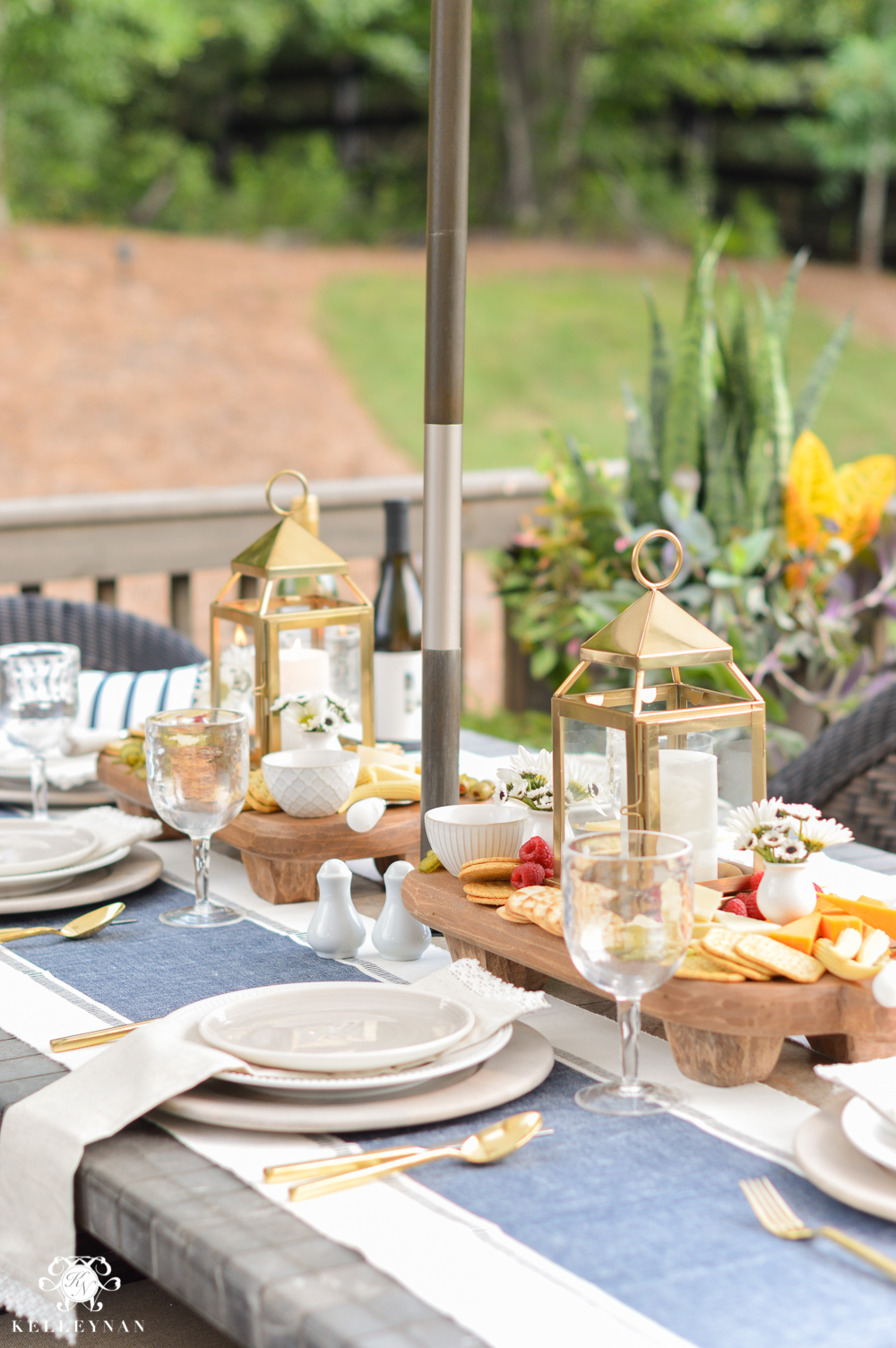 Having an appetizer centerpiece, you can sit around the table and snack before/AS your dinner, or, even have the table serve as your home base to refuel while you're playing yard games.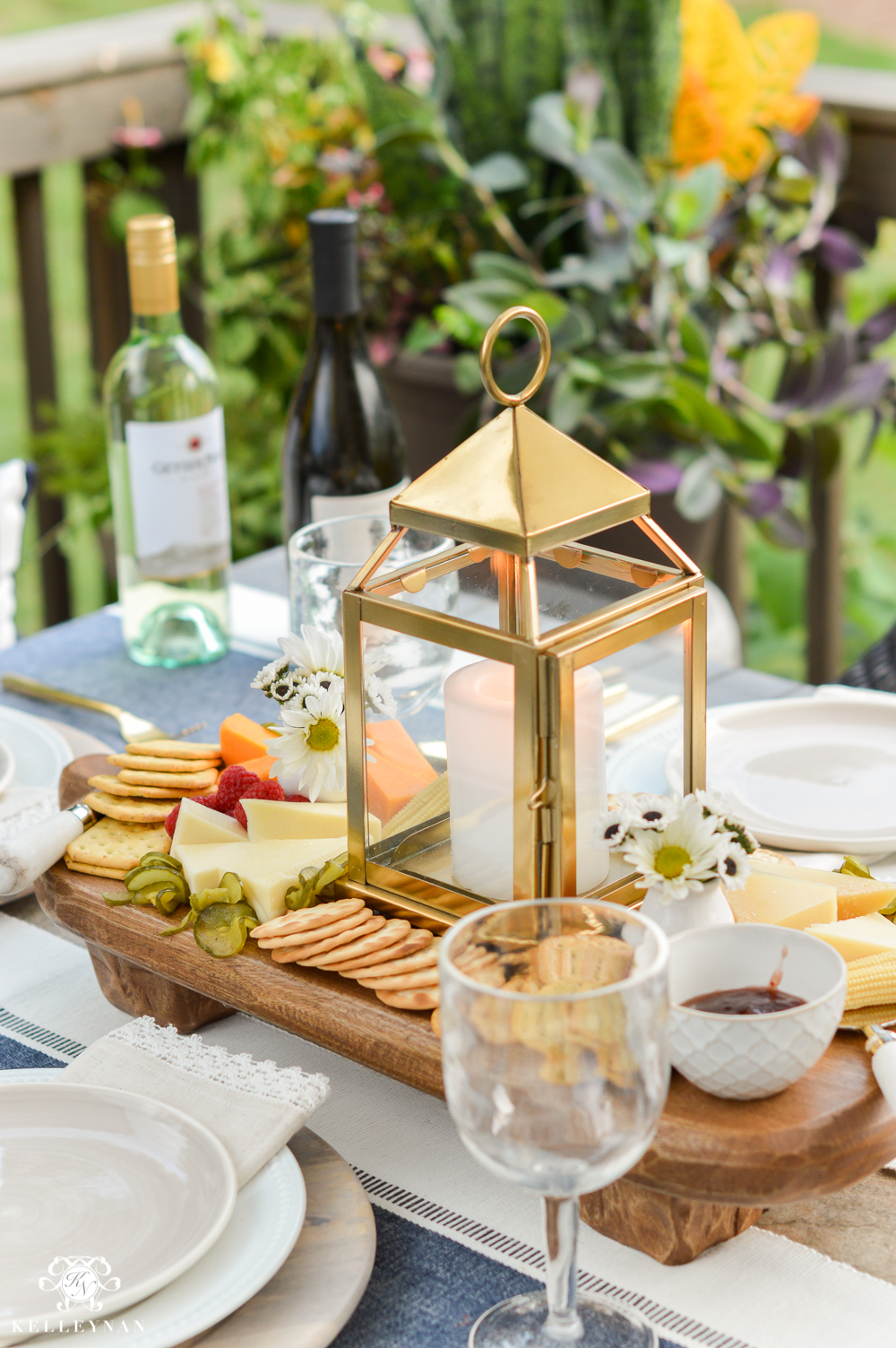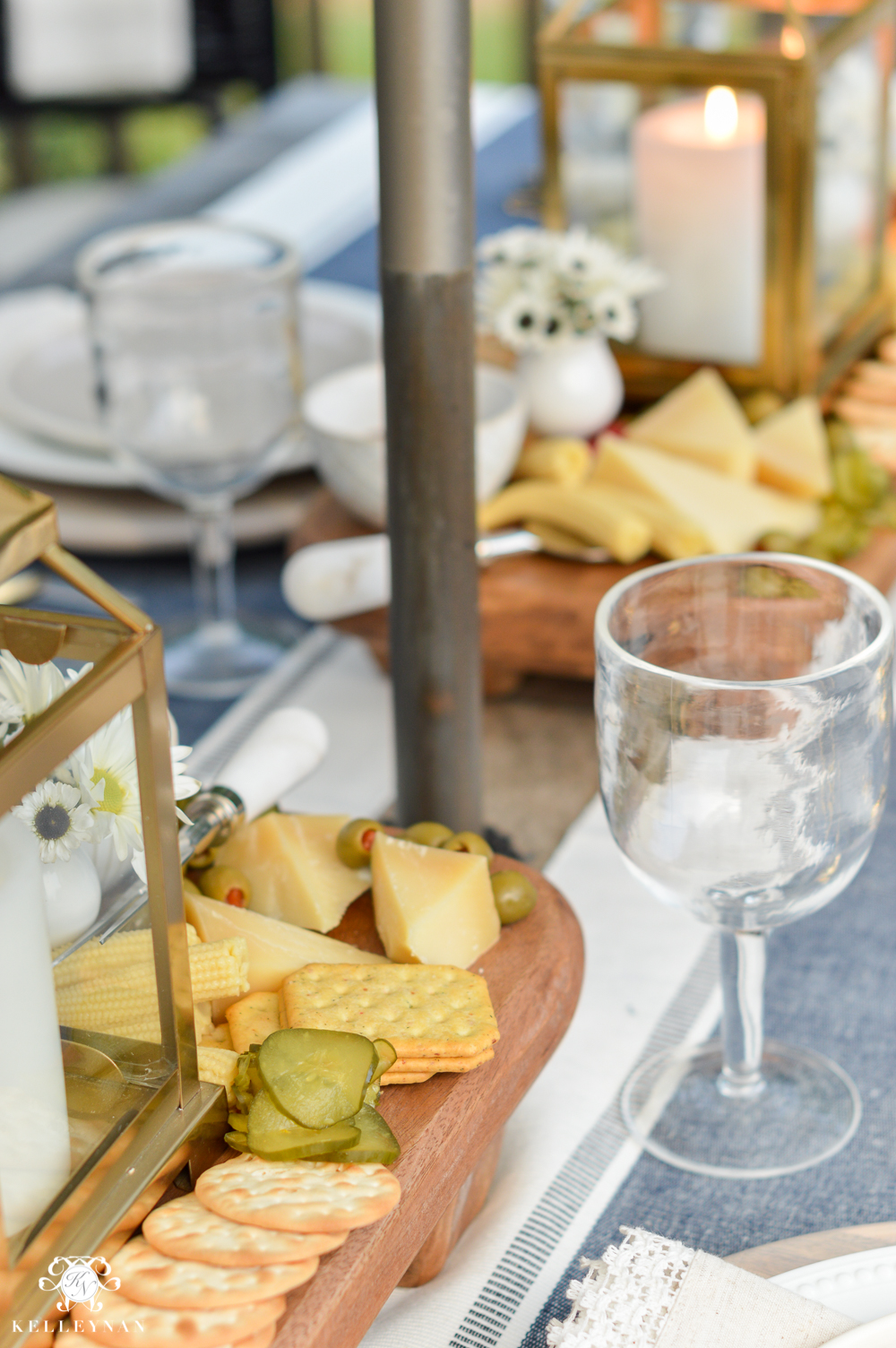 I love versatile outdoor pieces like that garden stool (on sale for $47) , currently situated as a plant stand. Just a few weeks ago, we were using it as a side table.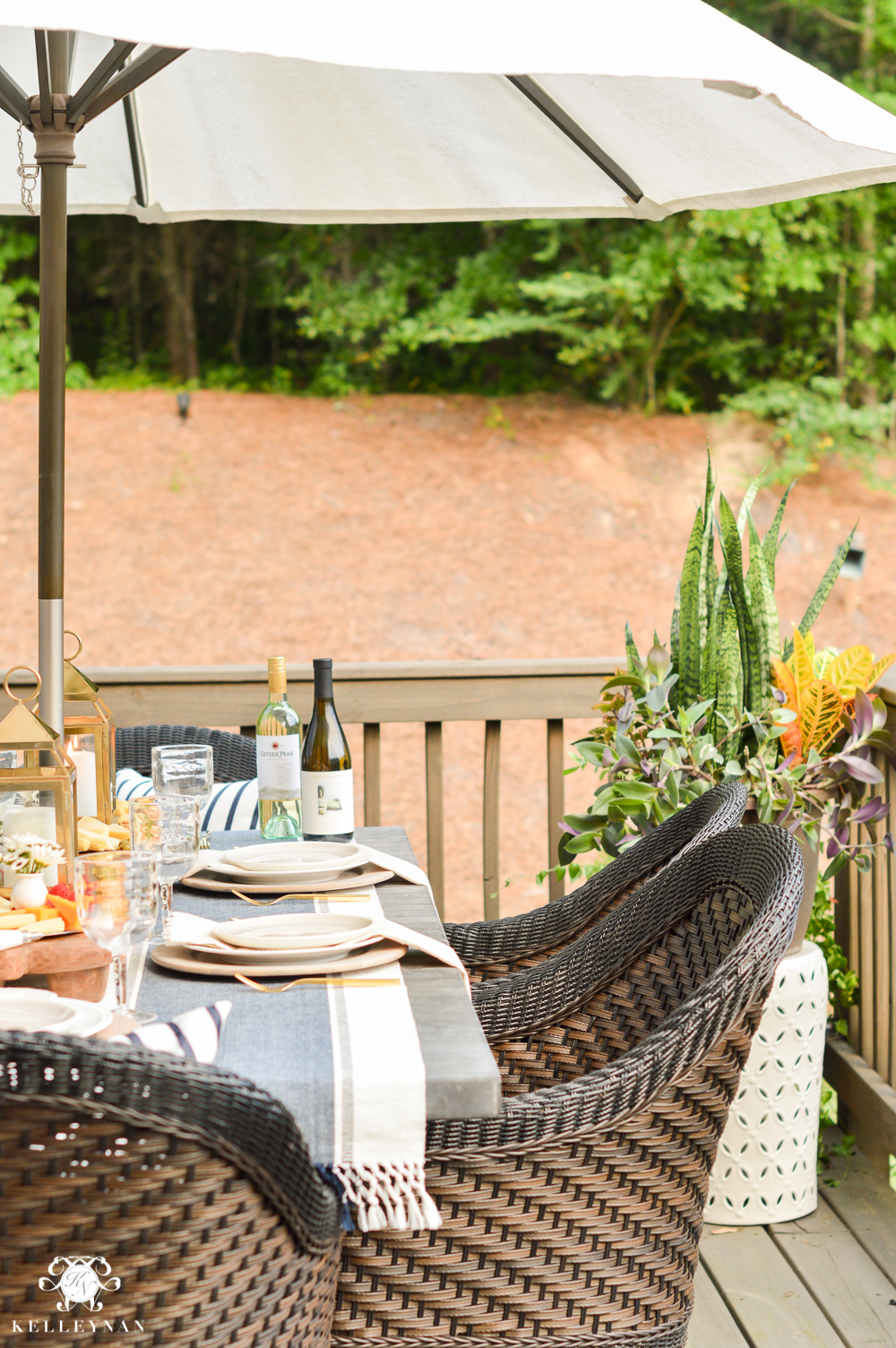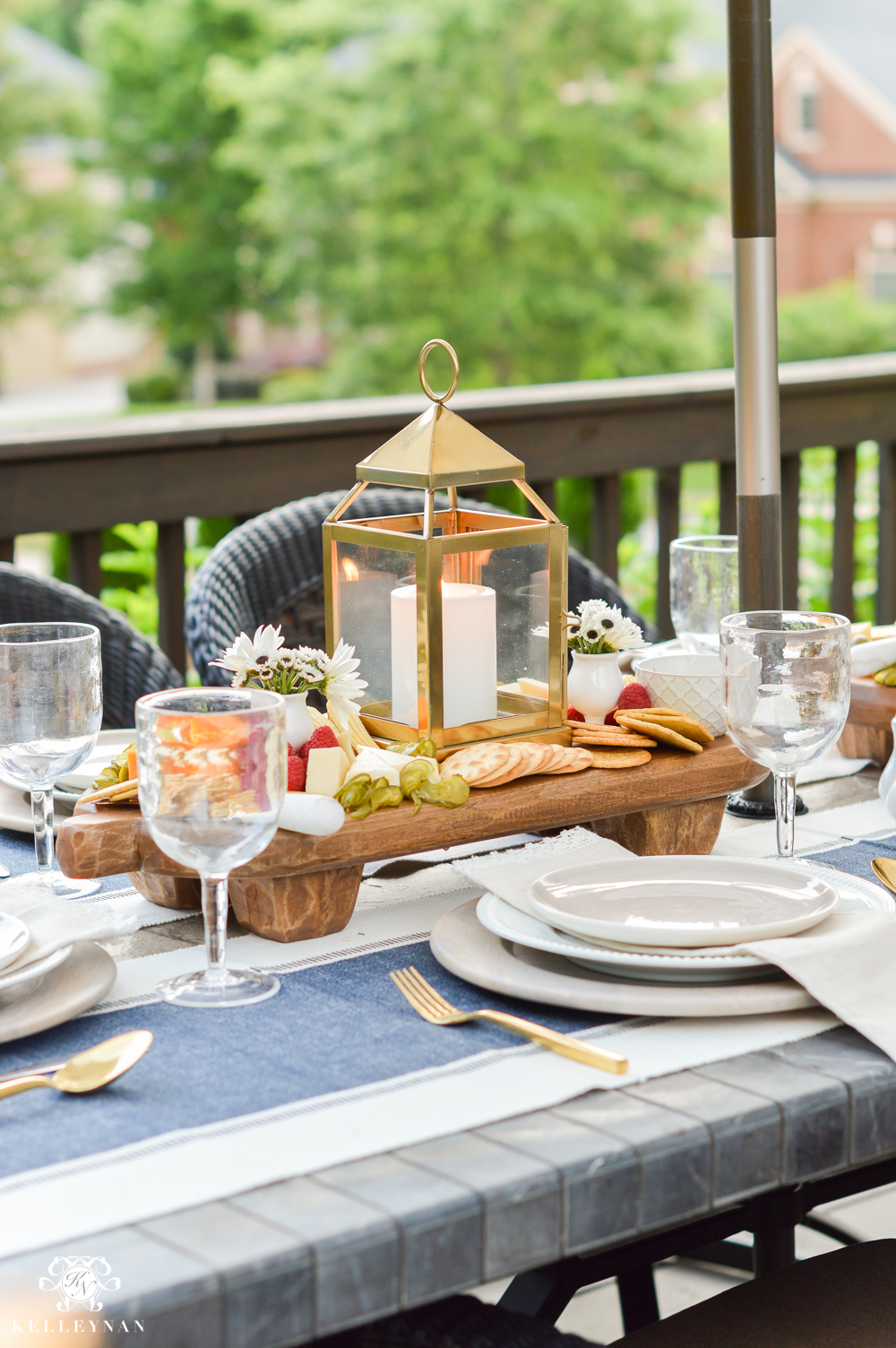 I had so many questions on our sectional and would you believe, this table ALSO came from Costco (around 2 years ago). They don't have a ton to select from but at the beginning of the season, they have some amazing in-store deals. This was a floor model that we snatched up for a huge discount.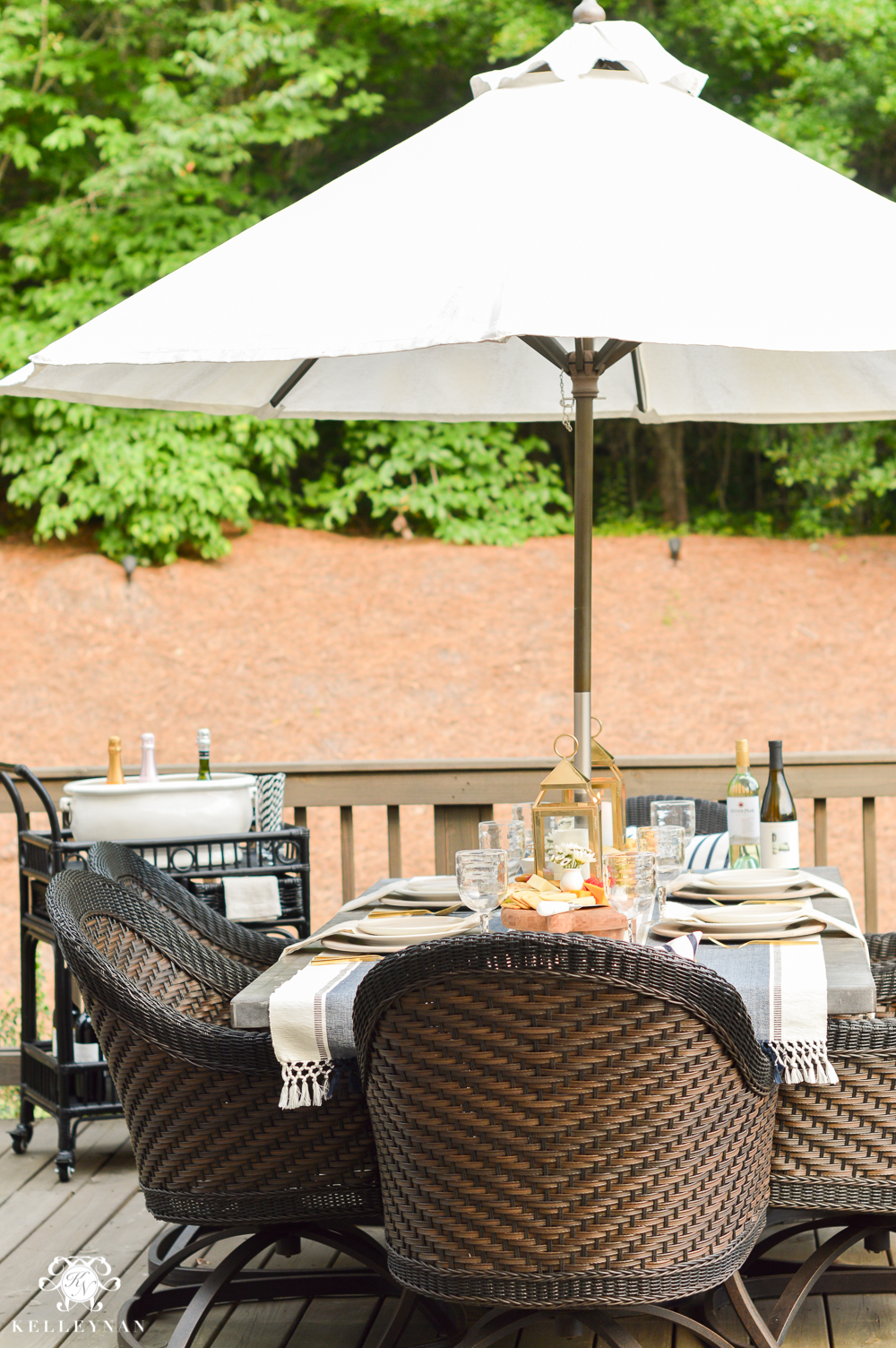 Have you entertained yet this summer? Have big plans for the Fourth? If you are planning to host, or, if you are looking to create a beautiful, bountiful summer date night setting, try an appetizer board centerpiece for the perfect, statement-making, no-fuss table display. What are your must-have summer apps? Share with me below! And, don't forget to subscribe at the bottom of this post to catch some fun posts and news, coming soon 😉
SAVE THE DATE
If you don't have it on your calendar just yet, the Nordstrom Anniversary Sale is coming soon! Early access for cardholders (I got one earlier this year, just for early Anniversary Sale access) starts July 13 and the general public can start shopping July 21. There are SO many good deals to be had and it is the best Nordstrom sale of the year – great designers at amazing prices. BUT, a lot of things tend to sell out early. If you DO want a card for sale early access too, Nordstrom is offering a $20 note (Nordstrom cash) HERE.


Wooden Paddle Boards | Bar Cart | Lanterns | Table Runners | Umbrella Canopy | Umbrella Pole |  Wine Glasses |  Driftwood Chargers | White Plates | Gold Flatware | Marble Cheese Knives | Gray Salad Plates | Napkins | Rug | Gray Andalusia Woven Chair | Striped Sunbrella Pillows | Striped Sunbrella Lumbar Pillow | White Sunbrella Pillows | Navy Sunbrella Pillow | Navy Sunbrella Lumbar Pillow | White Metal Drum Stool Wall Medallions | Small Bowl | White Tray | Thai Teracotta Floor Vase | Table: Costco | Sectional: Costco | Planter (size: trough) |  Outdoor Curtains (108″ in white) | Curtain Tension Rods