It's been a month since I unveiled our new guest bedroom – a product of the One Room Challenge (aka six-week hustle). Finishing the design of the room (HERE) on time was lucky enough (remember all those last minute product arrivals?!), but all the special, welcoming guest touches were far from priority. With a month now behind me since the completion of the overall room, I was finally able to concentrate on making this a comfortable retreat for our guests. Even though I hadn't discussed them, there were guest essentials I was thoughtful about incorporating from the beginning. You may have even noticed some in the reveal 😉 Regardless of the age of your guest bedroom, and even if you don't have the budget for a full room makeover, it can still be made into a comfortable domain for visitors. If it's an ongoing project, prioritize what is most important to implement from these 8 guest bedroom essentials and luxuries your company will thank you for.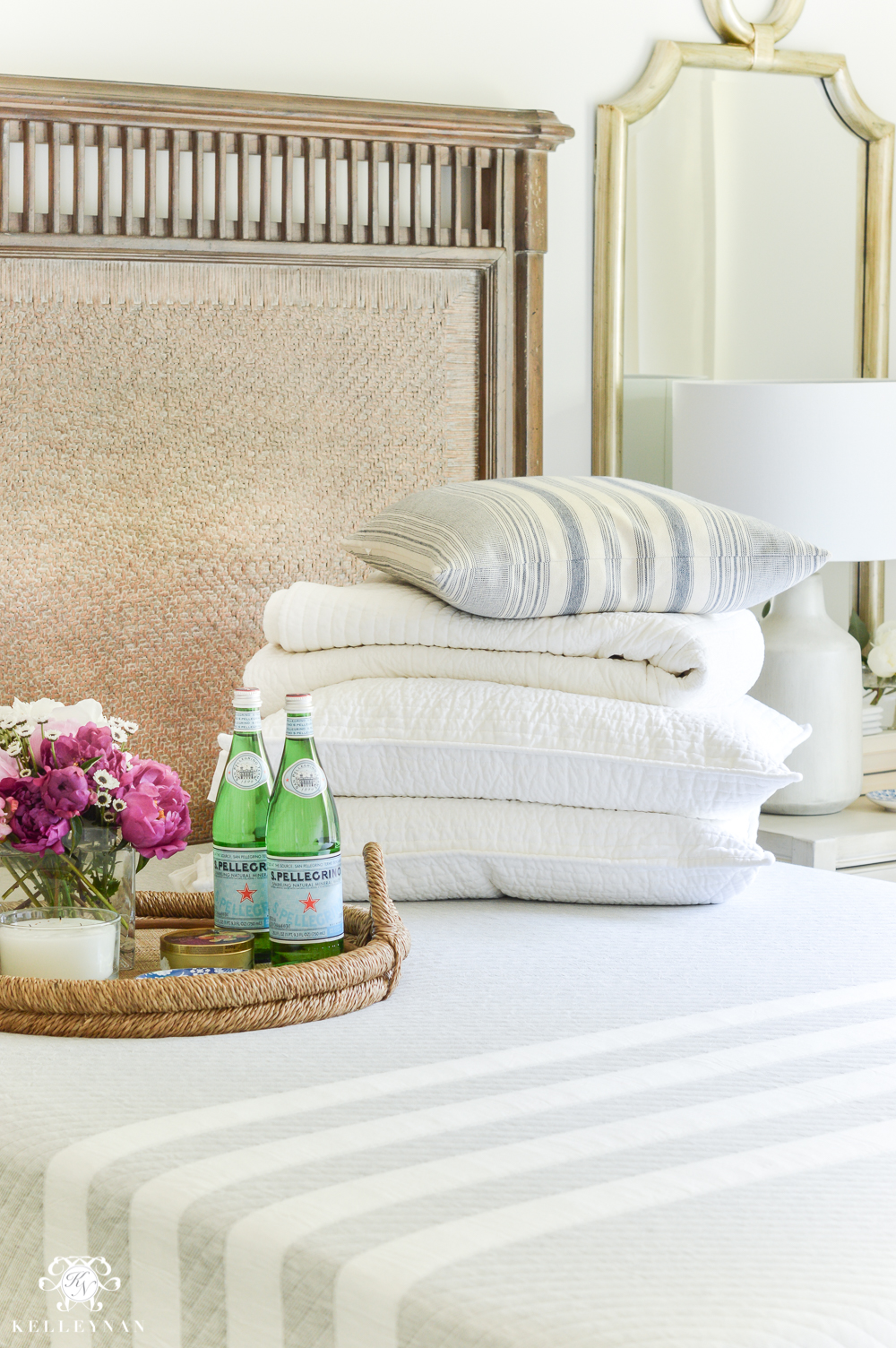 A GROWN UP, COMFORTABLE MATTRESS
Ok, no judgment here but I know chances are greater than 50% that your guest bedroom mattress is a super dated hand-me-down, belongs on a futon, or dates back to your college days. If you have shopped for a guest bed mattress in recent years, I sincerely applaud you. It's easy to send cast-offs to the guest bedroom, especially when it's likely they won't even be seen. If you are more like the majority of people with guest bedrooms, why haven't you outfitted your guest bed with a comfortable mattress? Is it a budget thing? A convenience thing? Or maybe you get attached to things in your home. Think about it this way. When you sleep at someone's house, are you paying the most attention to the fabric of their curtains or the quality of your sleep? Same with hotels. I can tell you little about the decor in my rooms over the years but absolutely remember the most comfortable mattresses. Have you/would you ever consider purchasing online? In our house, we have four mattresses, three which are foam, two which have been ordered online, and one (brand new, in here) is the top-rated Leesa mattress. (Leesa is offering $100 off their high-quality mattresses to Kelley Nan readers with promo code KELLEYNAN. You can check out the details, view options, and order HERE.)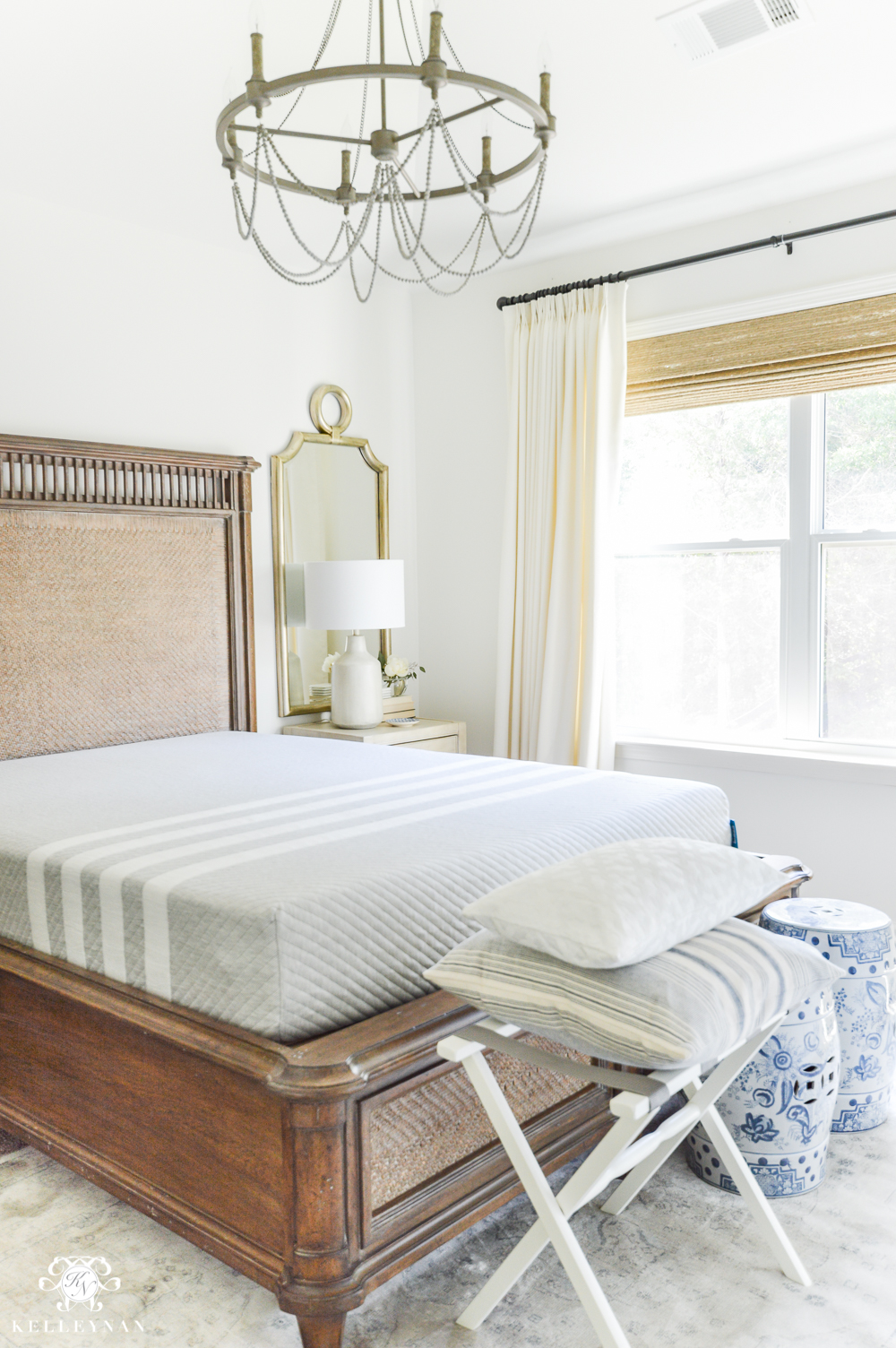 I actually took a picture of our old, hand-me-down mattress, but decided at the last minute it was too embarrassing to share (just imagine the kind of stains you would see on a Dateline investigation report haha). It had staples sticking out everywhere so I cut my hands whenever I made the bed. We also had all kinds of mattress toppers piled on top to "fake" the luxury.
In the past, we have spent an embarrassingly long time at mattress stores, laying, testing, and negotiating. And even when you do decide to take the plunge, there is usually a re-stocking fee. Over the last few years, more people are taking the plunge to purchase online to avoid the full day shopping excursion, and while I wasn't quite sure about the whole thing, last year, we ordered our first mattress online. The process was a convenience game changer, but the mattress was just "fine". But, I was sold on the online purchase process. Note: If you DO purchase a mattress online, pay attention to the foam depth AND the types of foam being used. Specializing in affordable luxury (under $1,000) with amazing reviews to back them up, I was looking forward to trying my second online mattress experience with Leesa. And, it did not disappoint.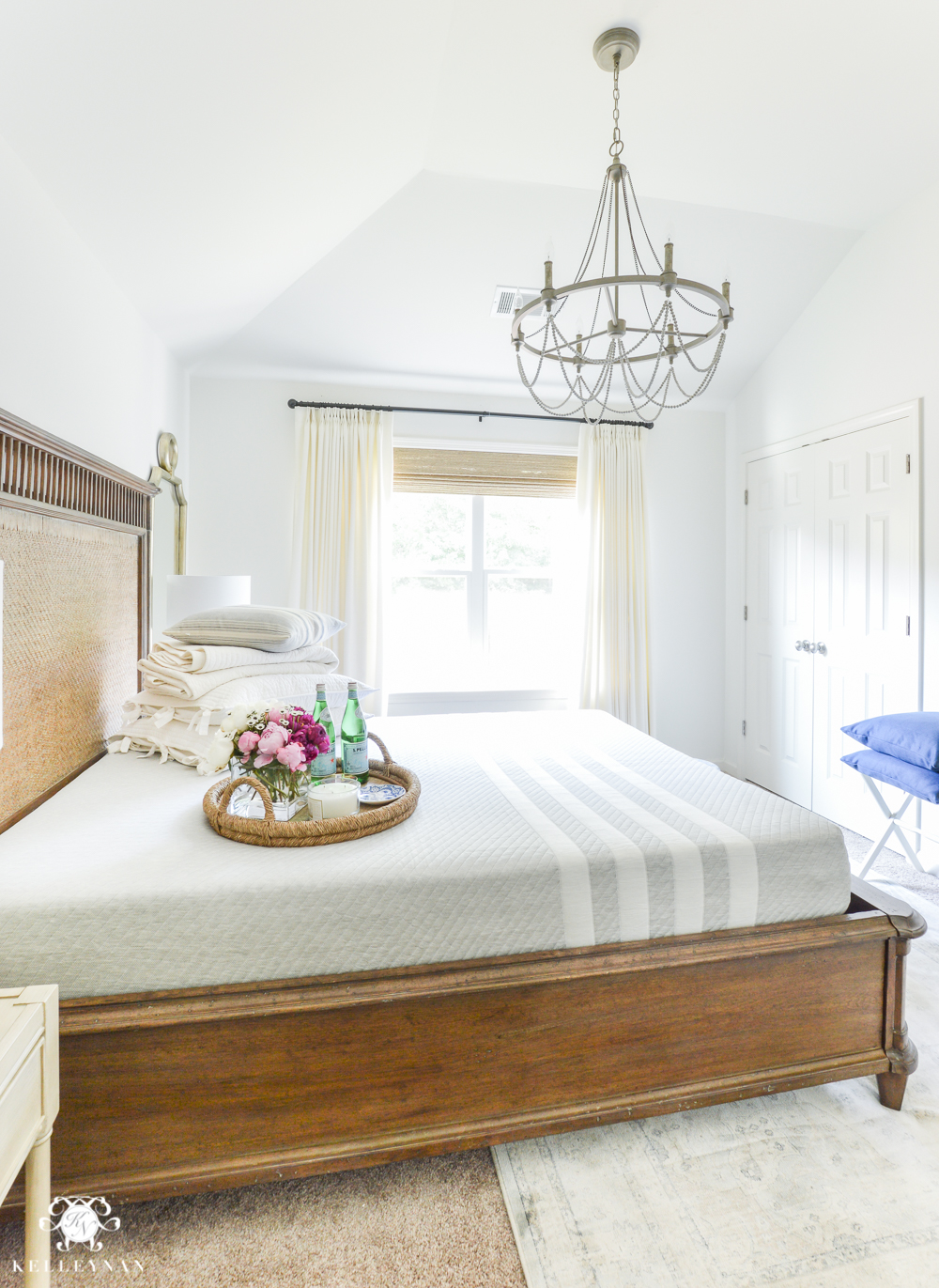 The Leesa website describes their 3-layer foam mattress as providing cooling, comfort and support. For our family, finding that perfect balance has been a struggle. After spending a night on the new mattress, my husband and I agree. We used to think that your mattress had to be hard/super firm to give support, which isn't true. If you have never ordered a mattress online, you may be surprised when the box shows up at your door. The mattress is rolled and compressed in plastic; you lay it on the bed as you cut the plastic and unwrap. It unboxes in minutes and as it gets air, it immediately expands and is sleep-ready within the hour. If you're still worried about purchasing without testing (I often am with shoes), 1. Leesa offers free shipping; 2. you can try it for 100 nights – if you decide it isn't for you, you can return it for a 100% refund.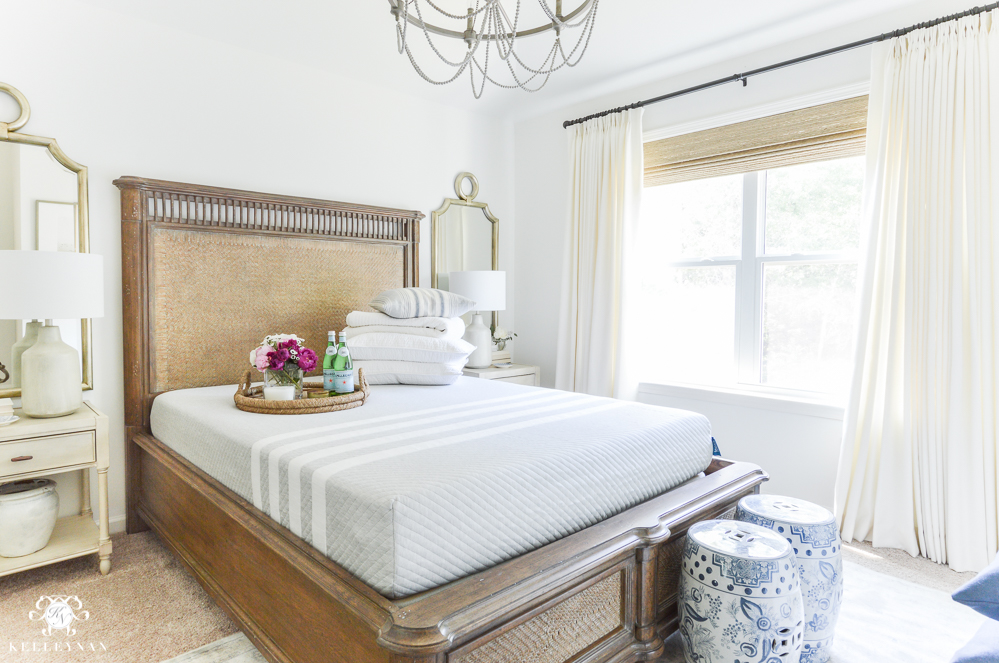 One little nugget of the "feel-good stuff"- for every 10 mattresses Leesa sells, they donate one to a homeless shelter in need. And, for every single mattress sold, they plant a tree. Love that! Let me know in the comment section at the bottom if you've ever ordered a mattress online. DO NOT ever purchase one online without a full, money back guarantee. (Leesa provides this in their 100-night risk-free trial and also has a 10 year warranty.) Do n't forget, you can get $100 off your Leesa mattress by clicking HERE or by using promo code KELLEYNAN.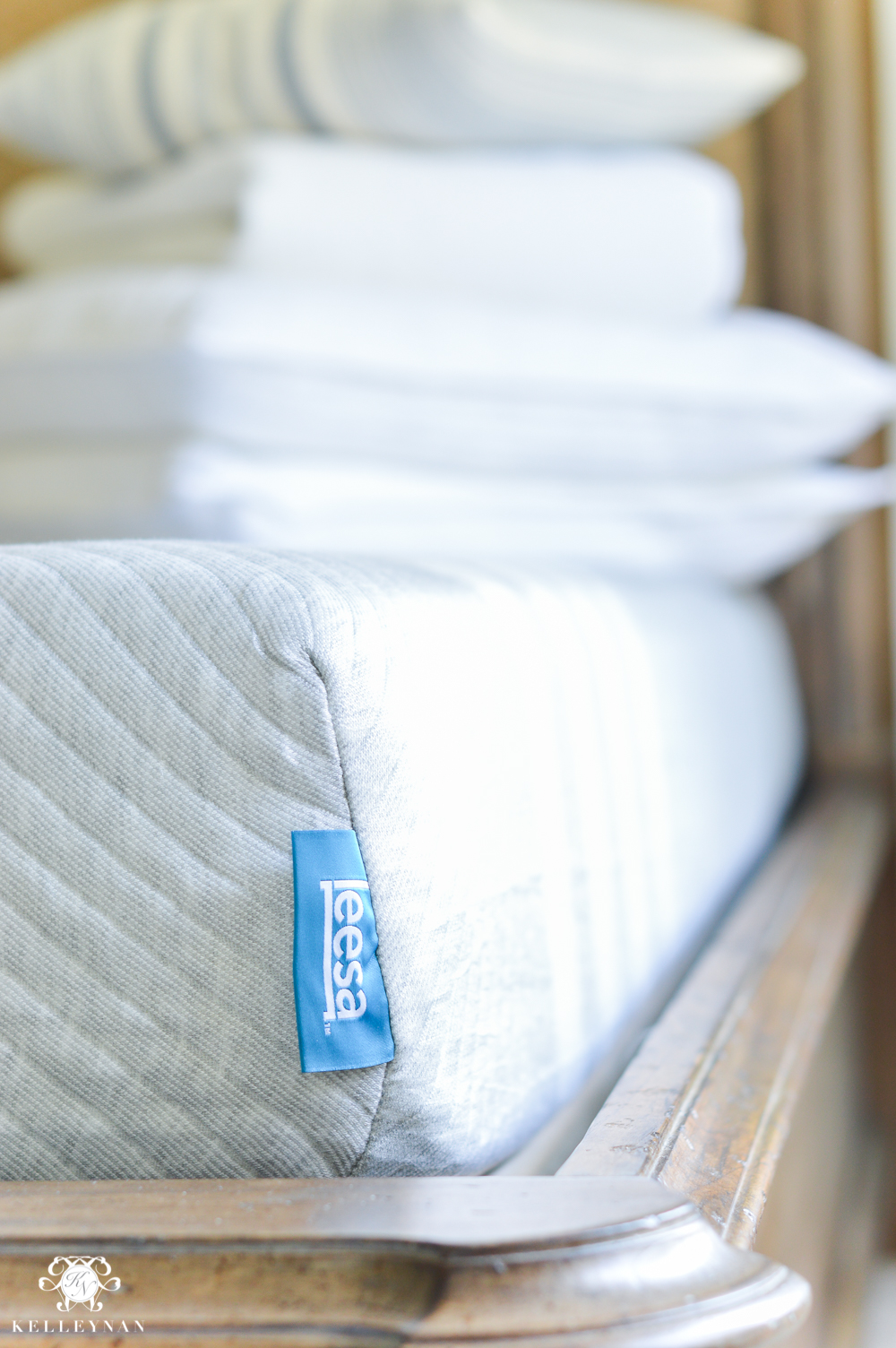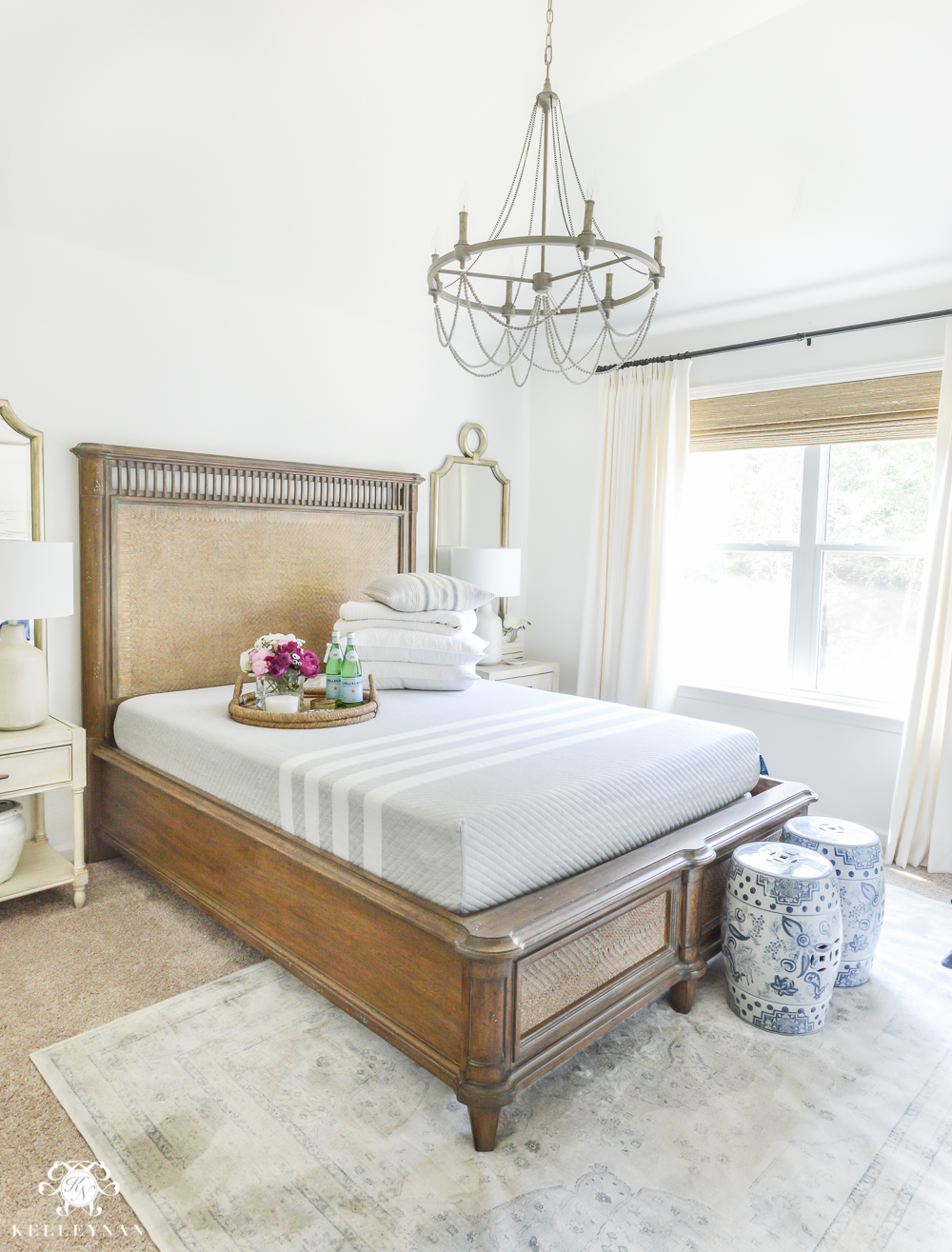 Apparently, Maggie has also given it her seal of approval 😉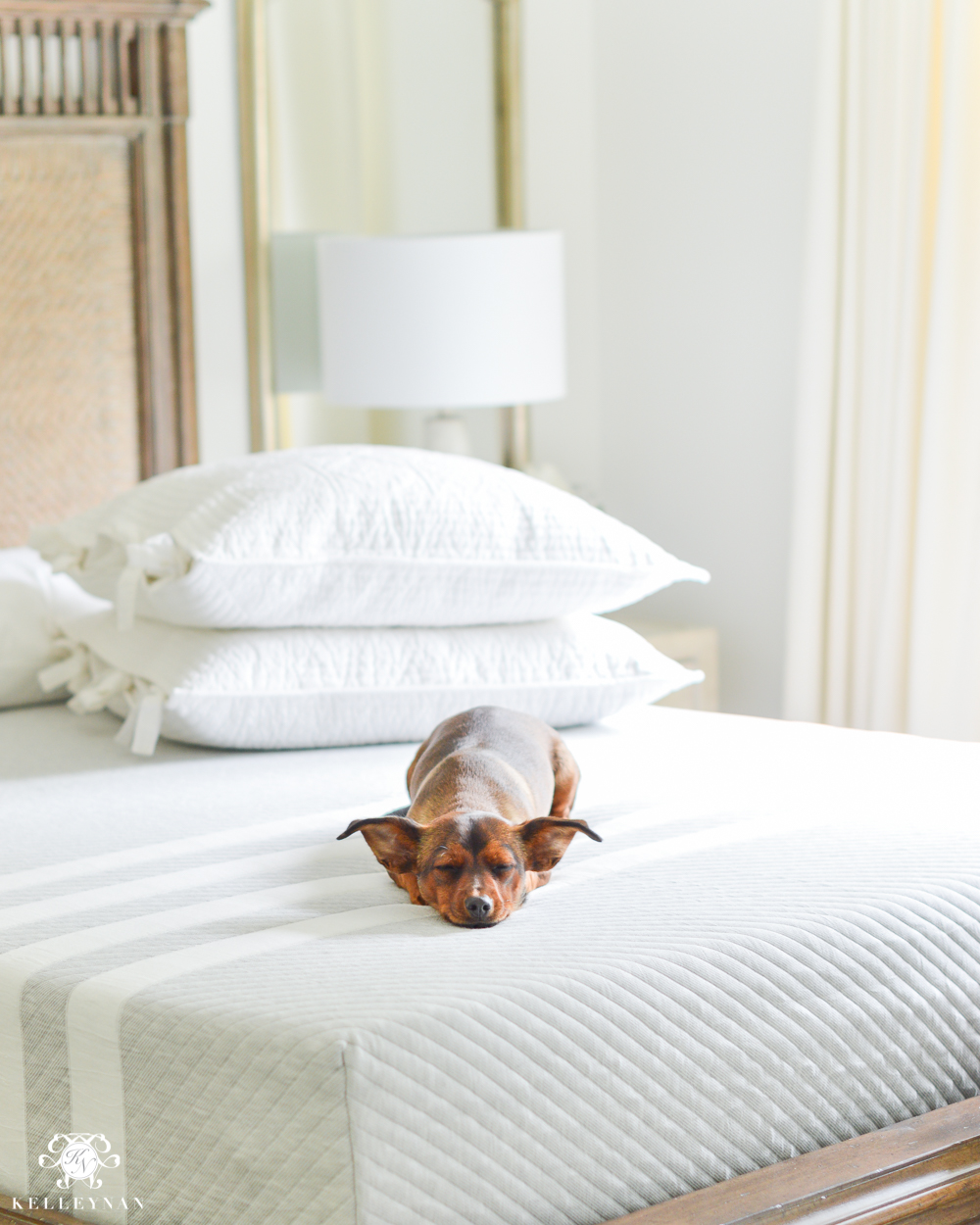 STOCK A GUEST TRAY FULL OF GOODIES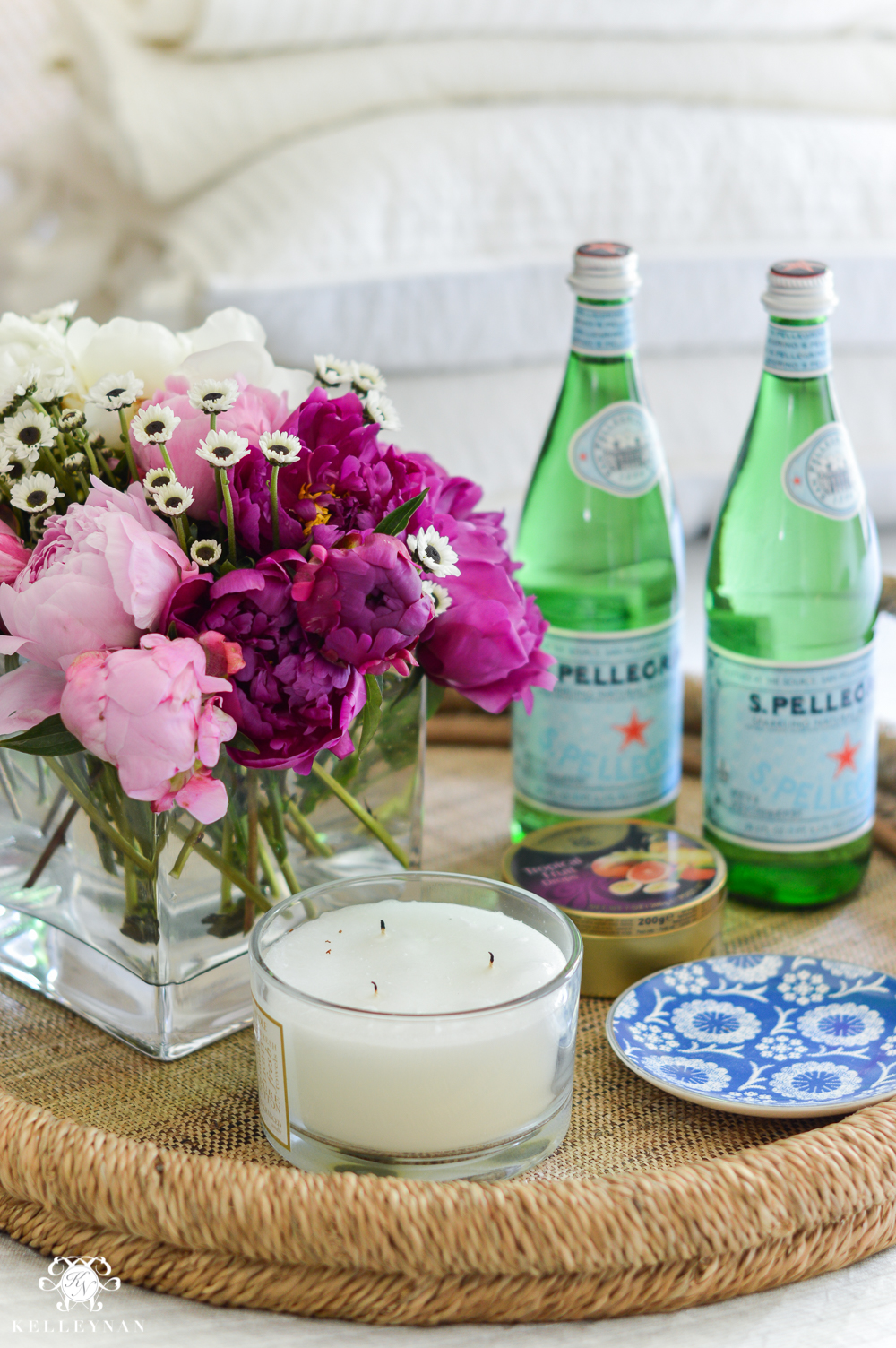 This is like your guest swag bag. Think about what you would like in a hotel – water? Candies/treats? A card? I bet you have all you need, already in your home, to create a beautiful welcome tray.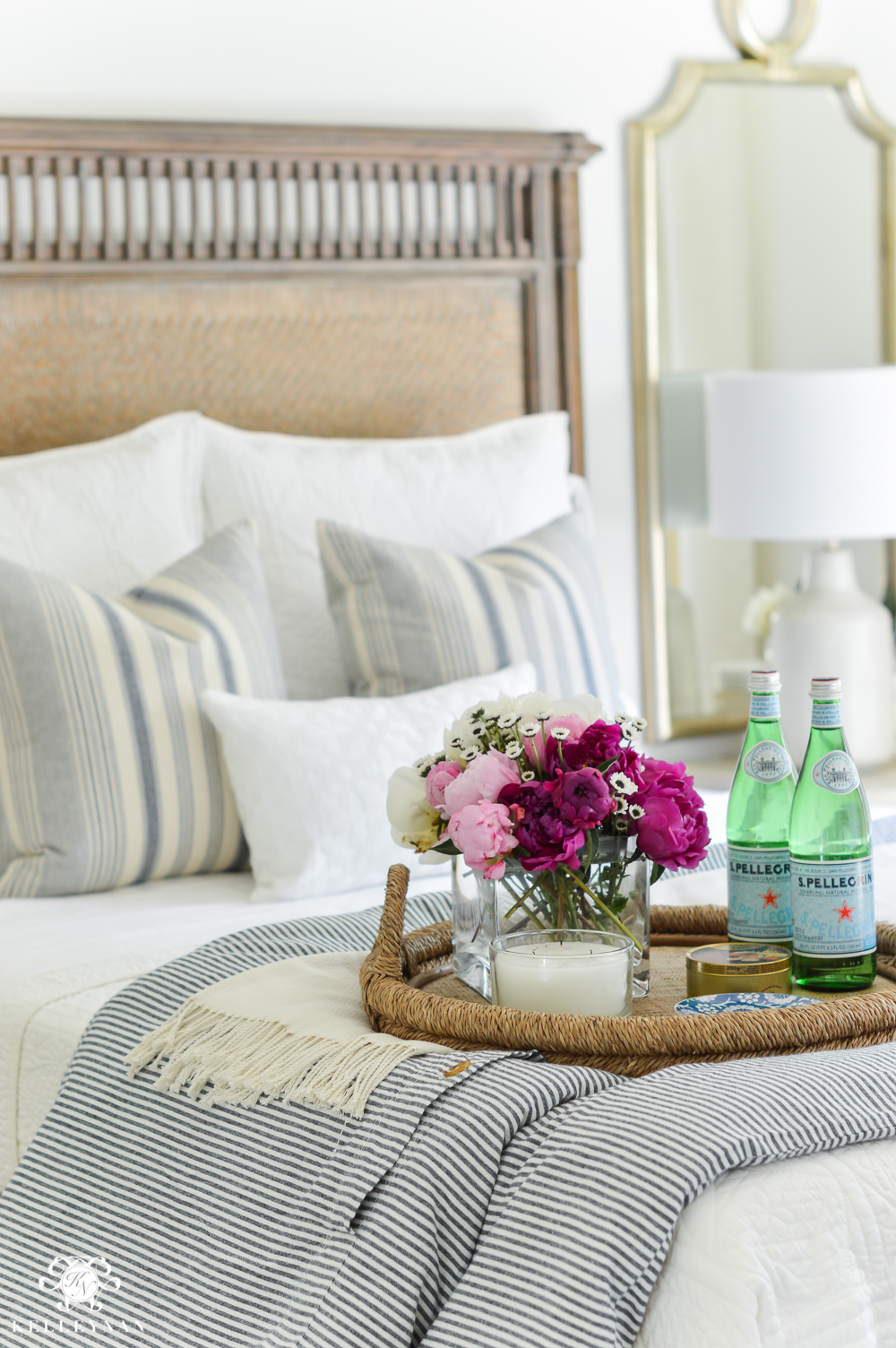 JEWELRY/POCKET DISHES
Having a small plate/dish/bowl on the nightstand(s) for guests to clear their pockets and safely place their jewelry is a small detail that won't go unnoticed. Having a dedicated space for their smallest items will create a "home base" for their treasures instead of each day turning into a scavenger hunt across all flat surfaces and luggage.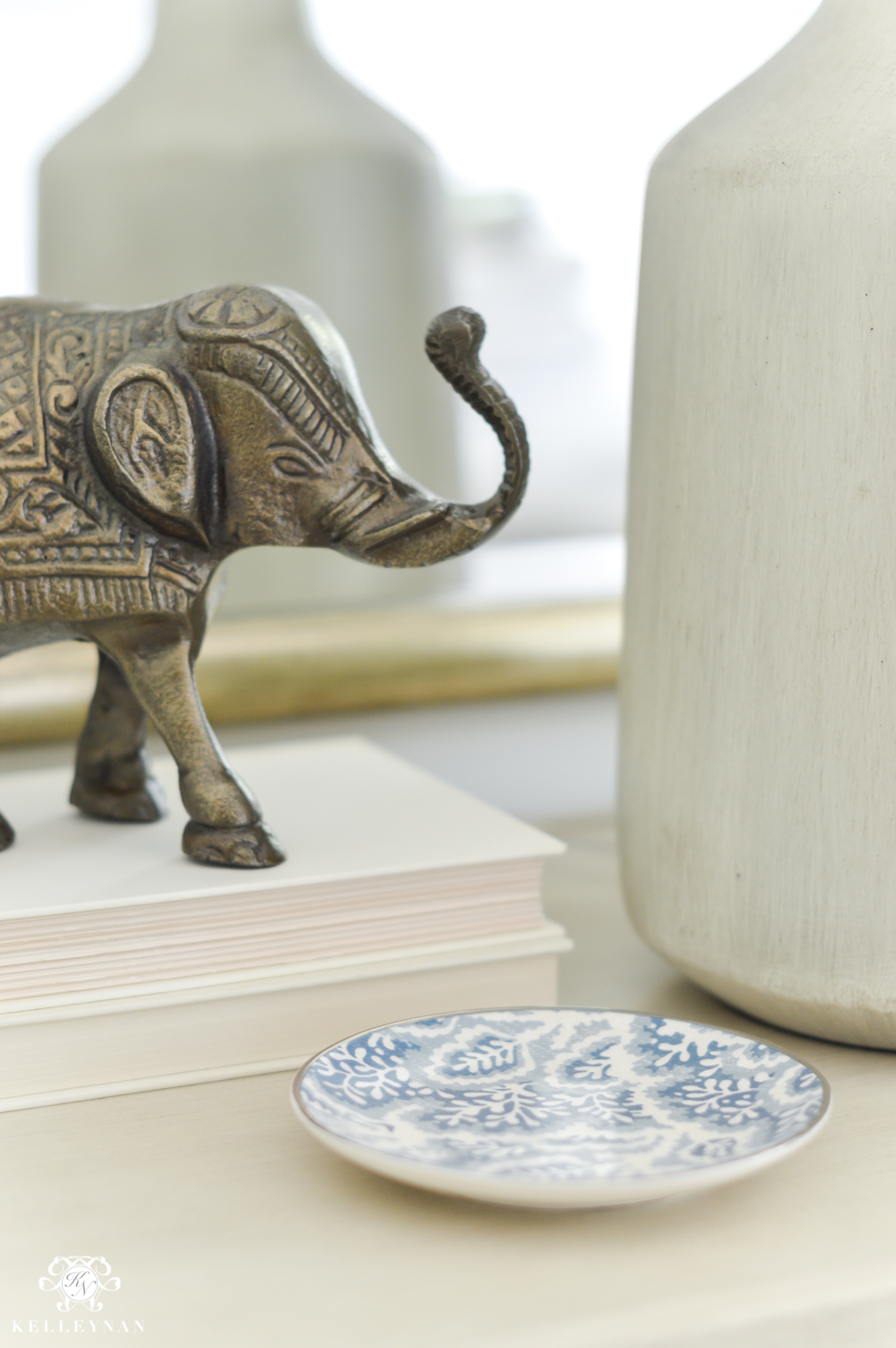 FRAGRANT FLORALS
Flowers are nice but flowers that are pretty and smell good are best. Whenever I stay with my mom, she places a little bud vase of gardenias next to my bed. It lets me know that the blooms are fresh and she took the time to prepare the room, just for me. If you have guests coming, a full arrangement isn't necessary. Even snipping a blossom from the yard will be a nice gesture.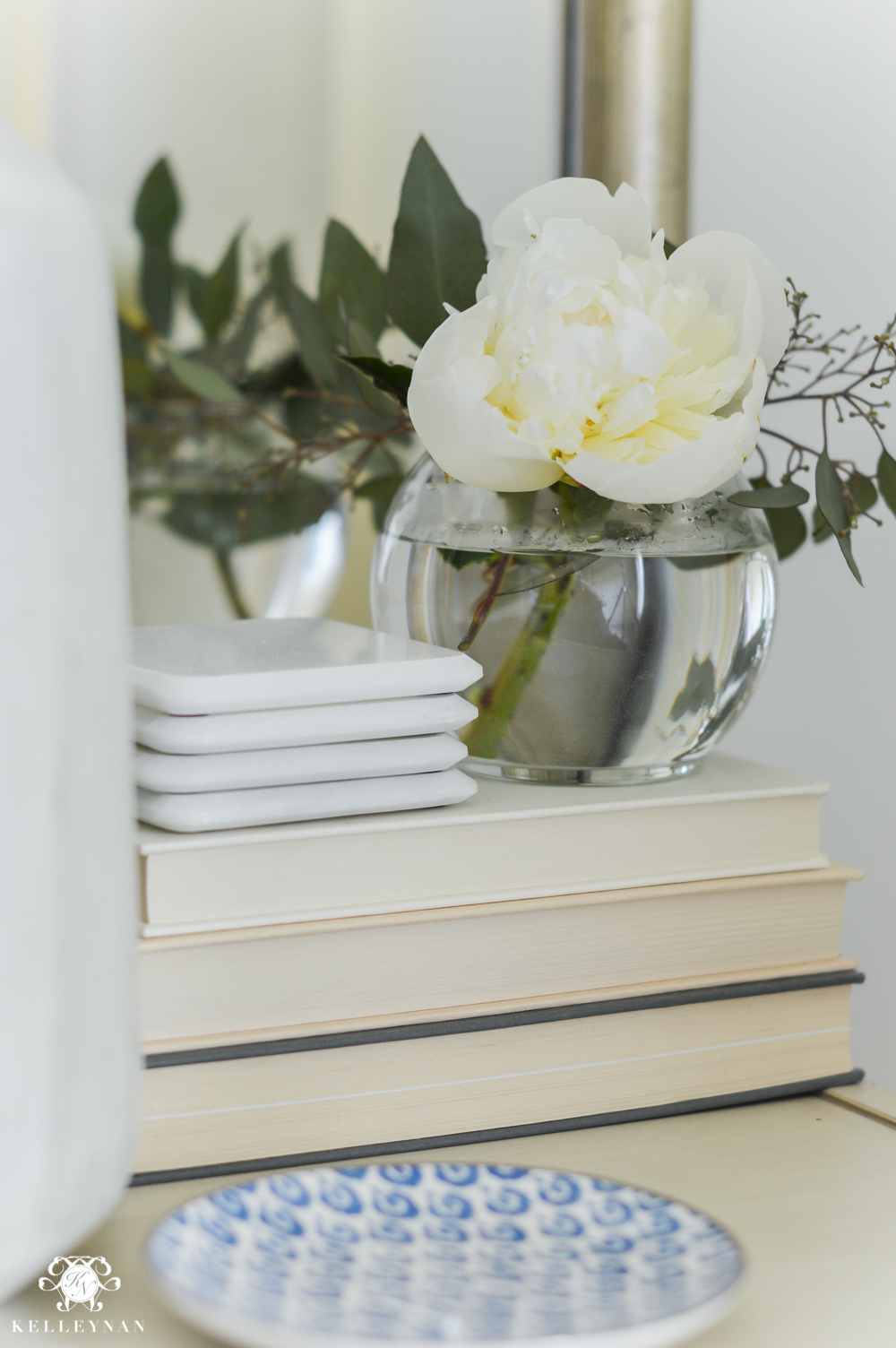 A FULL LENGTH MIRROR
We've all be there- staying with a friend who doesn't own a mirror larger than a medicine cabinet. Packing, planning outfits, and getting ready is already more of a chore when you aren't at home so having a full length mirror in your guest bedroom will help the process a ton. Even if there is a mirror in the owner's suite, having a full length mirror available to your guest is a luxury they will appreciate.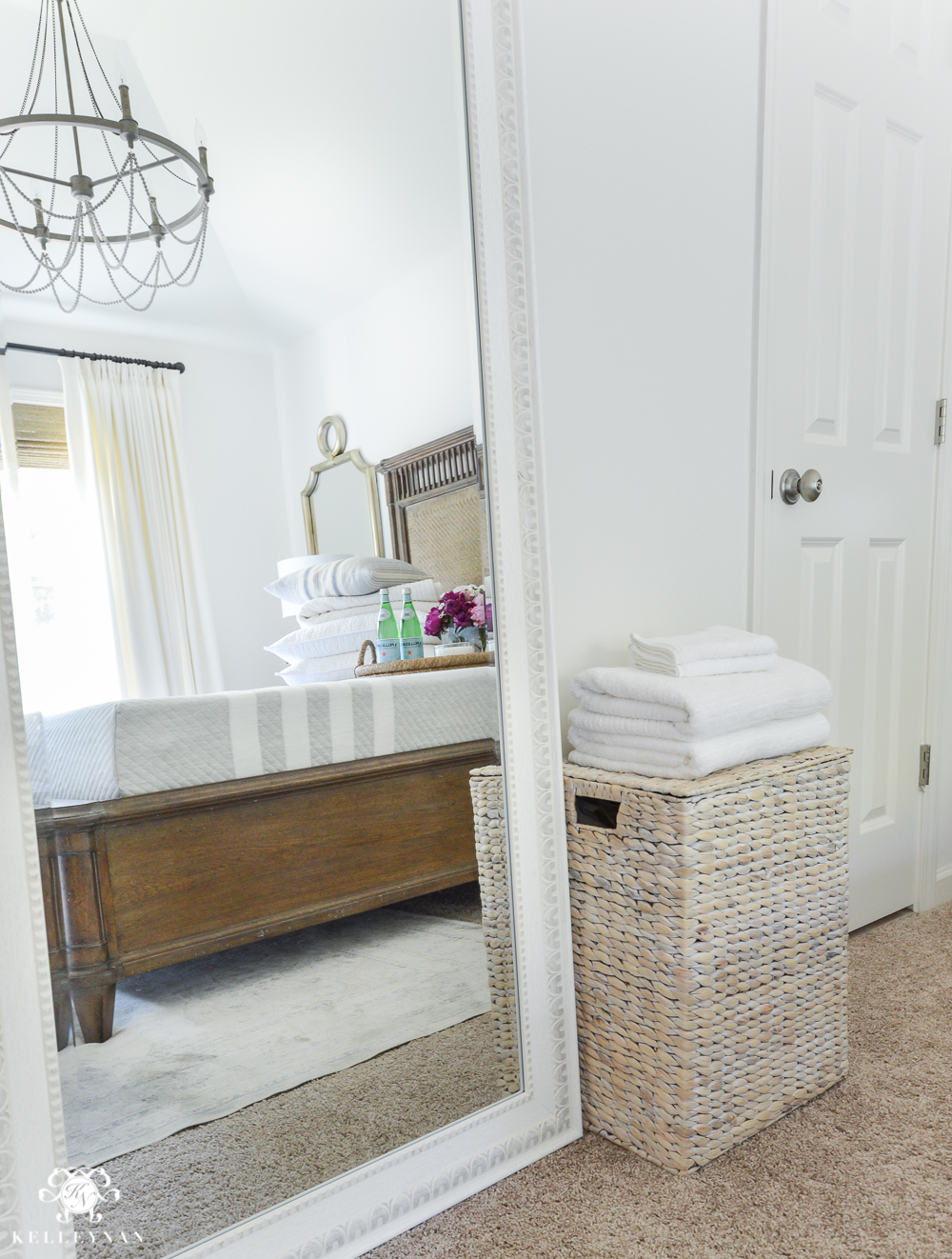 A LAUNDRY HAMPER
When I travel, the number one reason I become disorganized is when I try to keep my clean clothes separated from those I've already worn. If you are living out of your suitcase, this is especially tricky (I'm no stranger to the hidden corner heap of clothes). If you have a hamper available to your guests, you can inset a plastic liner/put plastic bags in the bottom. When their stay is over, they can cinch the bag, pull it out, and take it with them.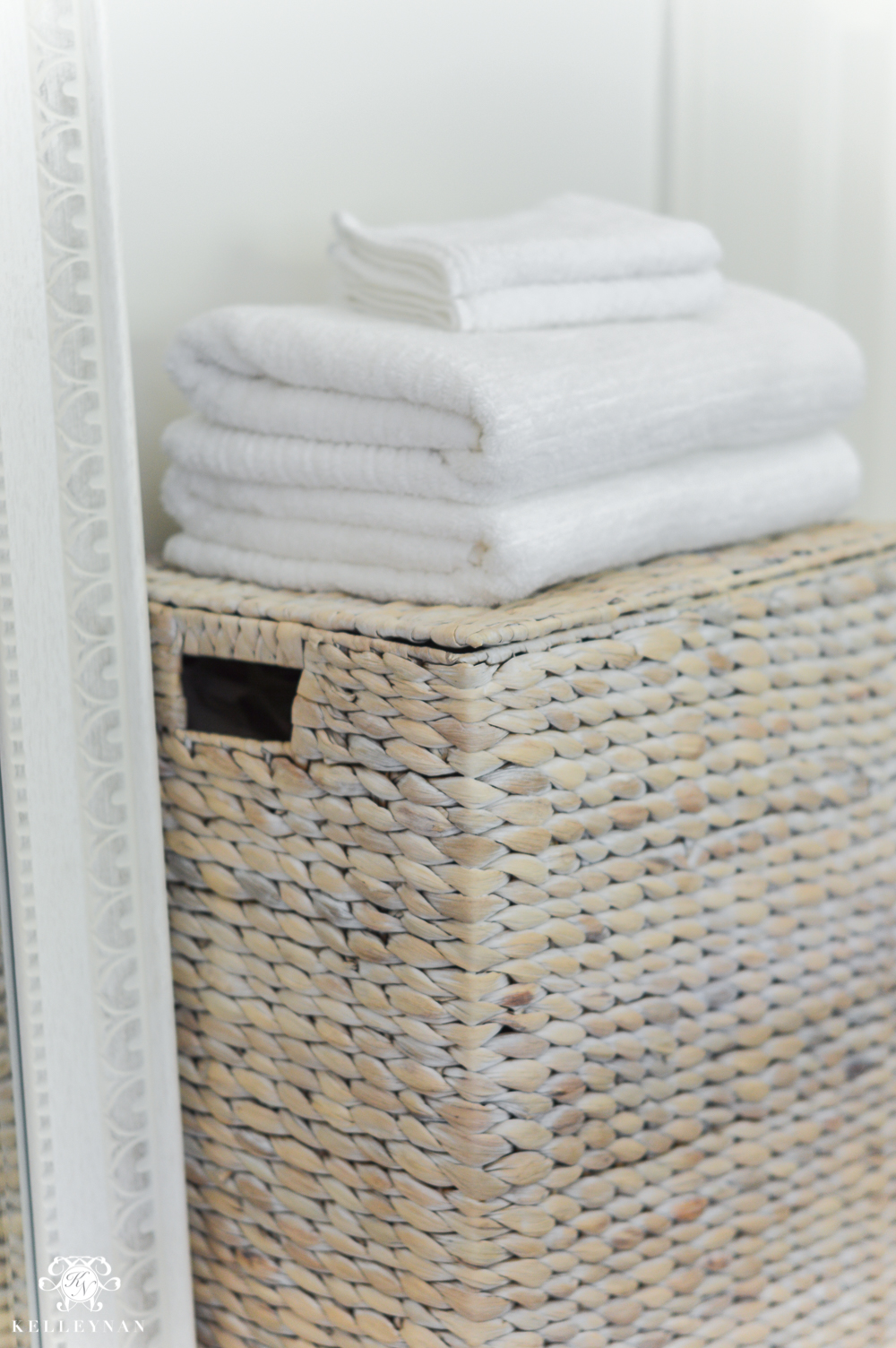 TOILETRIES ON DEMAND
This isn't a concept I invented but I have lived by it for many years. I collect hotel toiletries and keep them in baskets and jars in guest bathrooms and closets. Have their towels out on display- don't make them guess if they should use the ones that are hanging (are those bath towels or decorative?). Let your guests know they can pack lighter and you will have what they need on hand.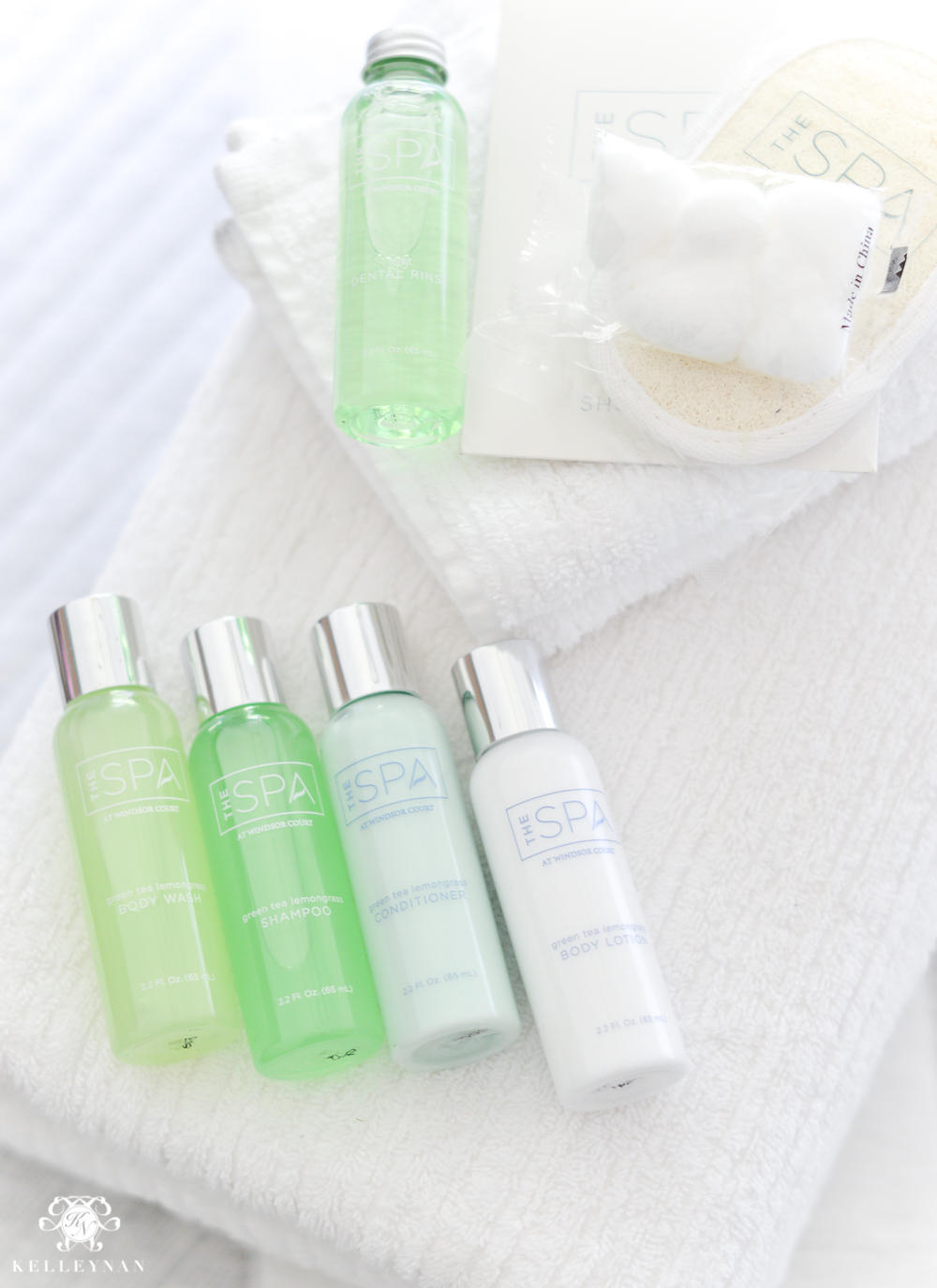 A LUGGAGE RACK
This is especially handy if you don't have a cleared out dresser/chest to offer your guests. If space is tight, get rid of unnecessary furniture pieces that crowd the room and bring in a small, foldable luggage rack.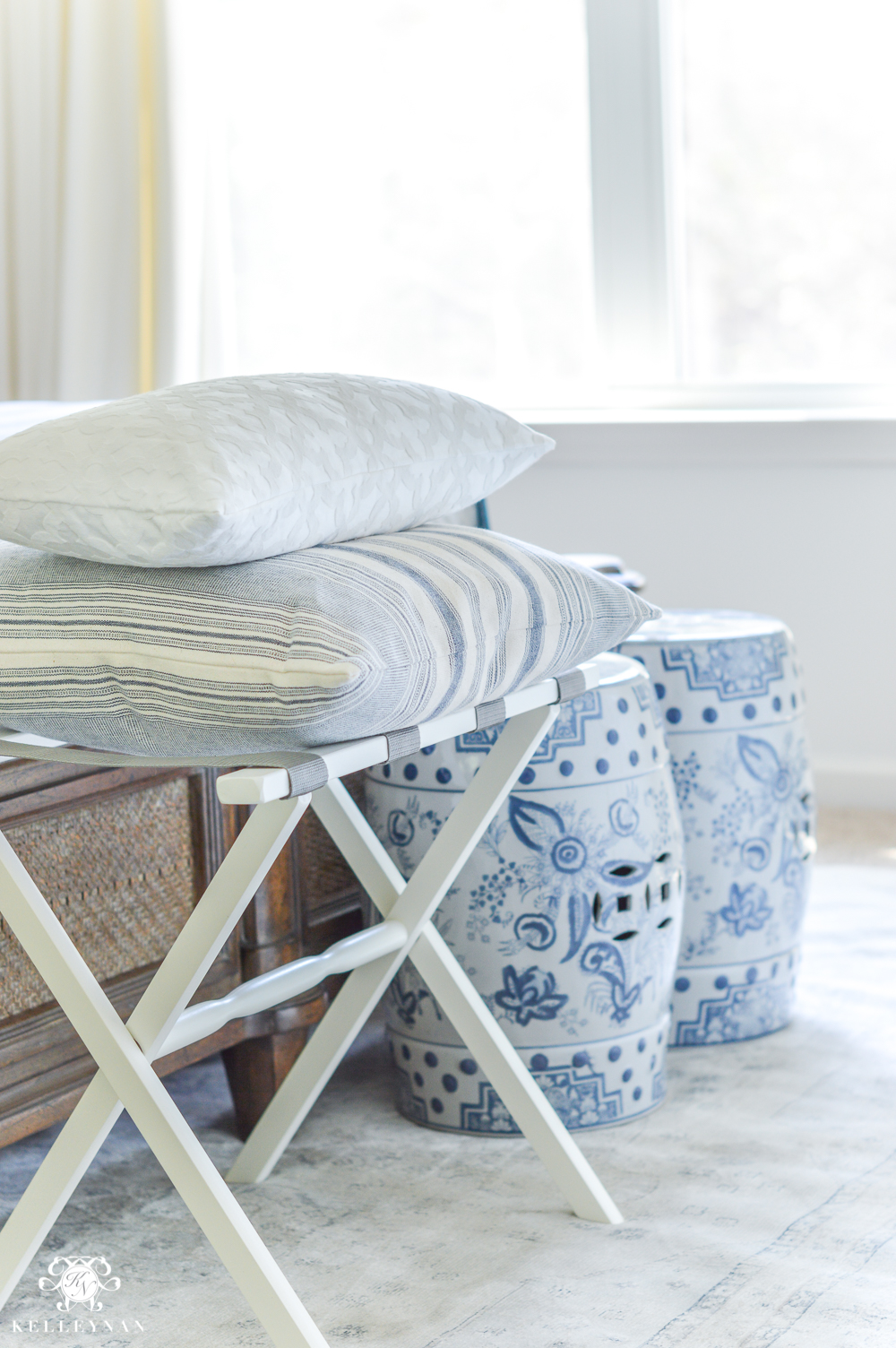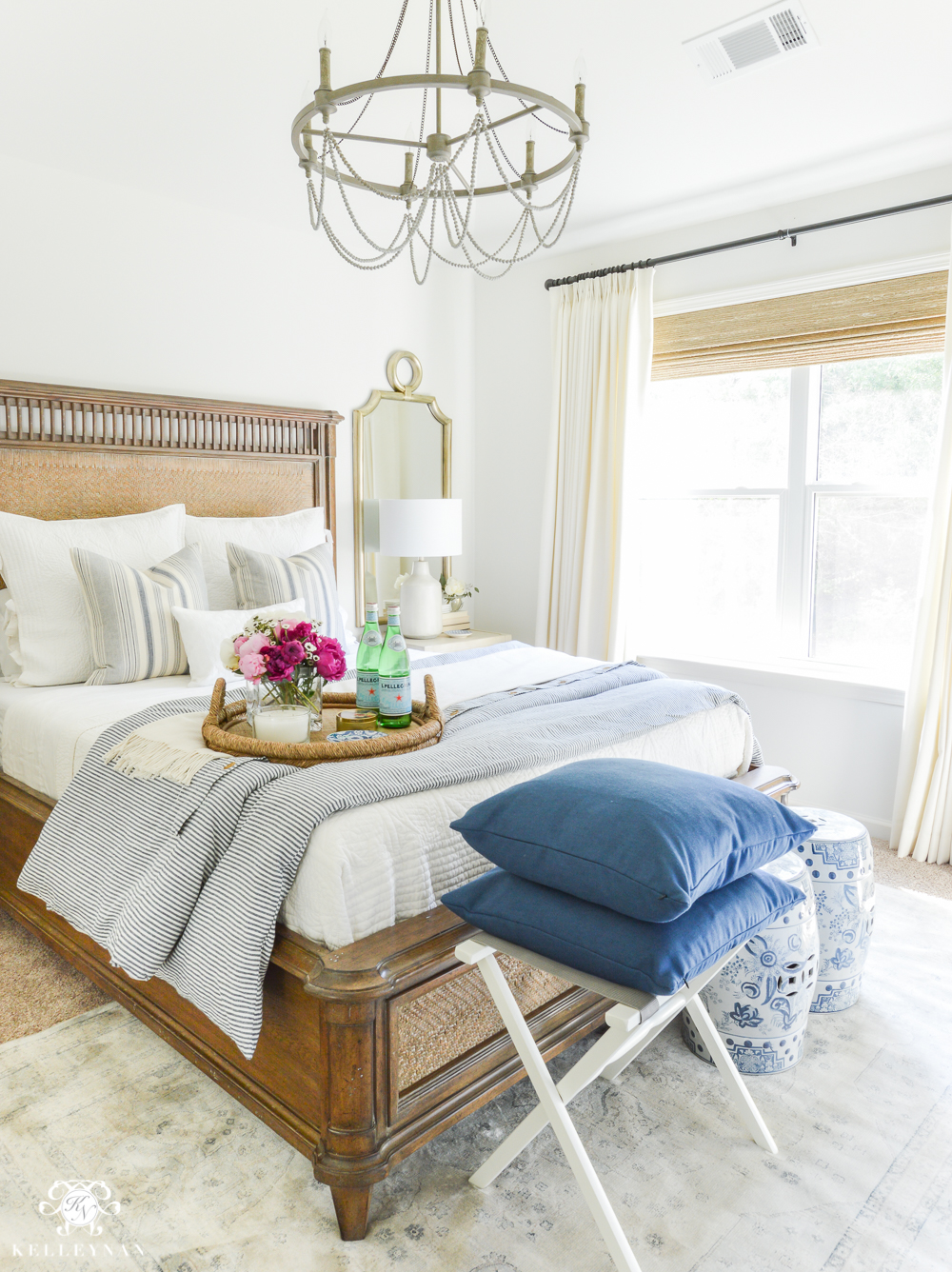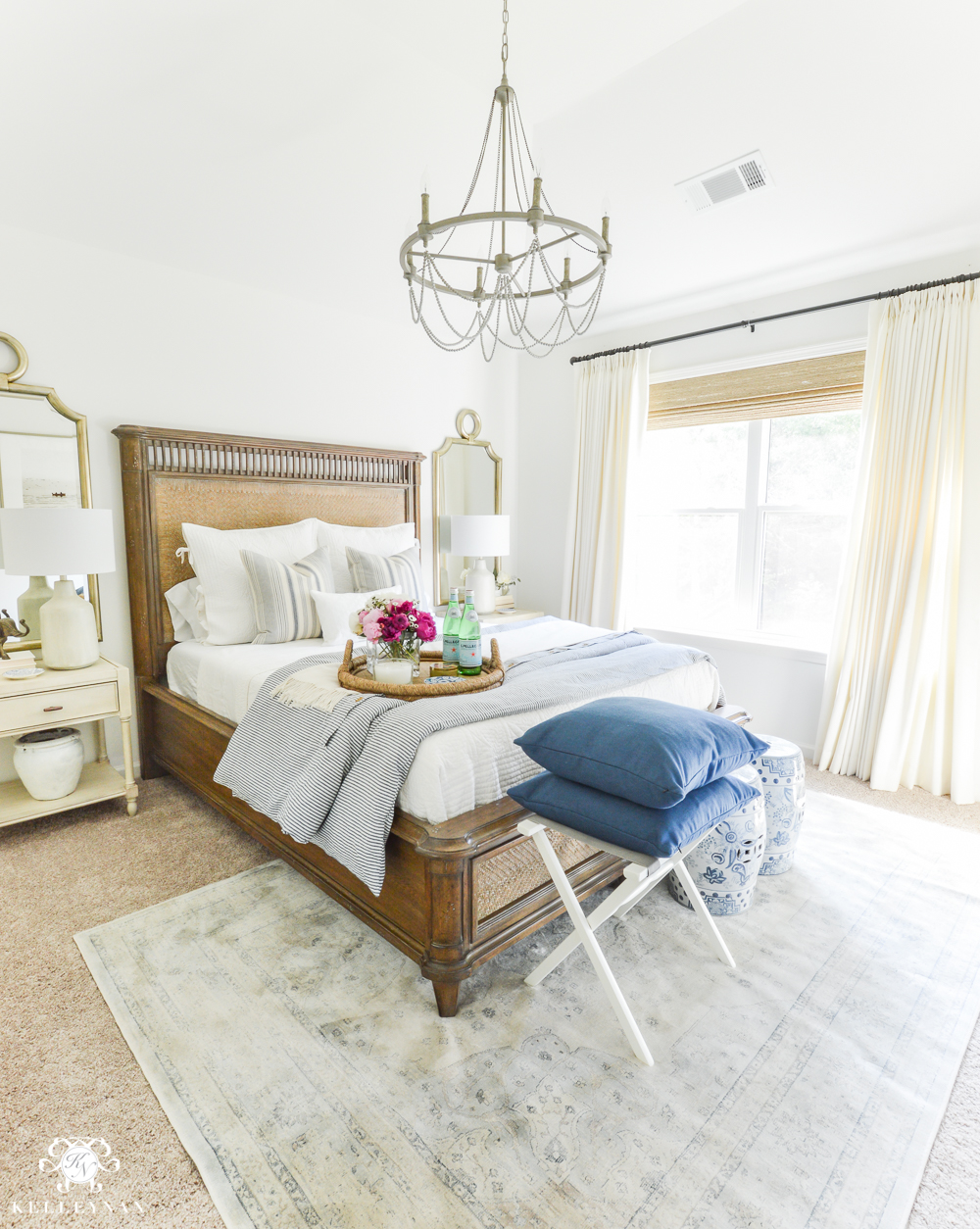 Is your guest bedroom a priority or an afterthought? Let me know your favorite tips and tricks to make your guests feel welcome in the comment section below!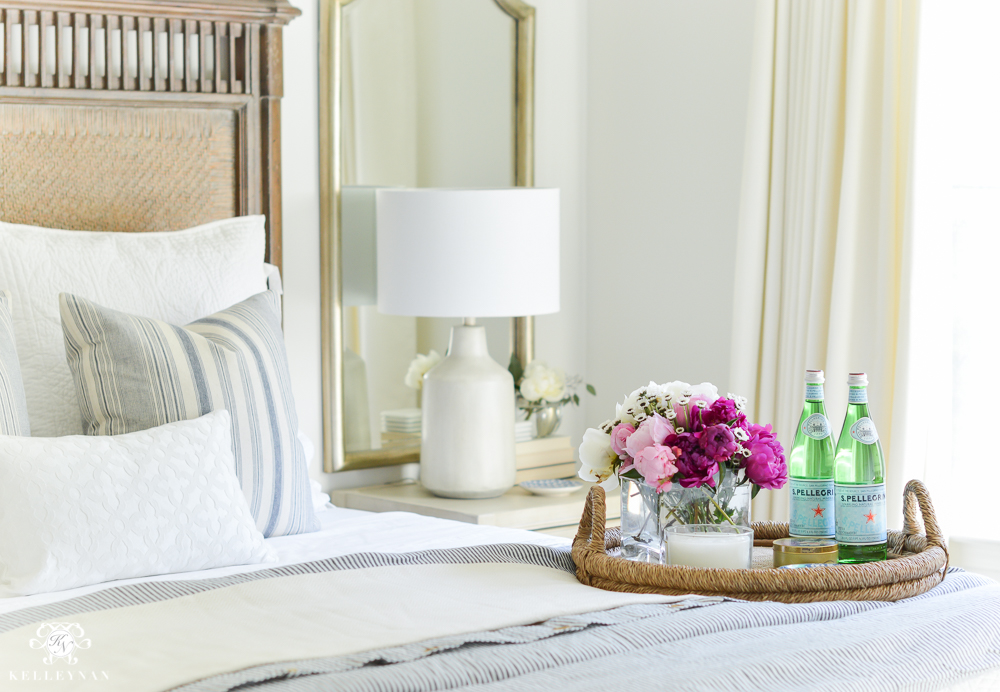 Furniture: Archipelago Platform Bed | Safavieh Pagoda Garden Stools | Nightstands | Nightstand Hardware |
Bedding & Linens: White Quilt & Euro Shams | Blue and White Striped Duvet Cover |  Sheets | Center White Lumbar Pillow (12×20) | Blue Linen Pillows | Striped Pillows- HomeGoods |  Cream Throw- HomeGoods
Lighting: Murray Feiss Six-Light Chandelier | Lamps 
Windows, Walls & Floors: Safavieh Vintage Oriental Light Blue/Cream Rug | Fisherman Art | Bedside Mirrors | Curtains (Linen Weave Vanilla Bean with Bronze Drapery Rod & Ring Clips) | Cordless Woven Shades (Bali Natural) | Full Length Mirror- HomeGoods |
Accessories: Luggage Rack | Blue & White Trinket Dishes (Trio) | Woven Tray- HomeGoods (SIMILAR) | Coasters | Hamper- HomeGoods | Elephant- HomeGoods | Small Nightstand Vase- West Elm (no longer available) | Driftwood Bowl- HomeGoods | Pot- HomeGoods 
Paint: Alabaster by Sherwin Williams
---