Inevitably, I start to feel a little overwhelmed at this point in the year. I'm trying to enjoy fall — my fave season! — with all the things, but I know as soon as we blink, the holidays will be here. The end of the year is our busiest time of year (as I'm sure it is with many of you, also) and in addition to all the end of the year brings, it's also when I start stressing about all the home projects that were supposed to be finished before the New Year, that still aren't. So, in preparation and anticipation of the holidays and all the busy-ness, I've started taking steps to finish off small projects to help free my mind, and ready myself for the more fun seasonal decor. Anything I can cross off the list that isn't hanging over my head frees up so much head space… some timelines and hold-ups are out of my hands (we've all been practicing patience the past few years!) but there are some projects that have been neglected for whatever reason, that can be completed with just a few steps. So, if I've just been putting off purchasing that last accent piece to tie a room together, I'm doing it. And, I have done it.
*Posts on KelleyNan.com may contain affiliate links. While this post is created in partnership Wayfair, all opinions, concept, and creative are my own. Click HERE for full disclosure.*
Last week, I shared my bedroom update that's been in transition for the better part of the past two years. Aside from a small bedding update, the last piece I was waiting on to tie it all together literally came down to a lighter bench at the foot of the bed — preferably with storage and one that was larger than the previous bench. While a lot of retailers have had long lead times, expensive shipping, back-ordered status long after the placement of an order, my Wayfair orders continue to ship and arrive quickly and for free. So, when I started taking inventory of a few current projects that were near to completion, I limited my remaining accent options exclusively to Wayfair. With the addition of an end-of-bed bench that was better suited than the former, if you missed it, this was the result of my master bedroom revamp…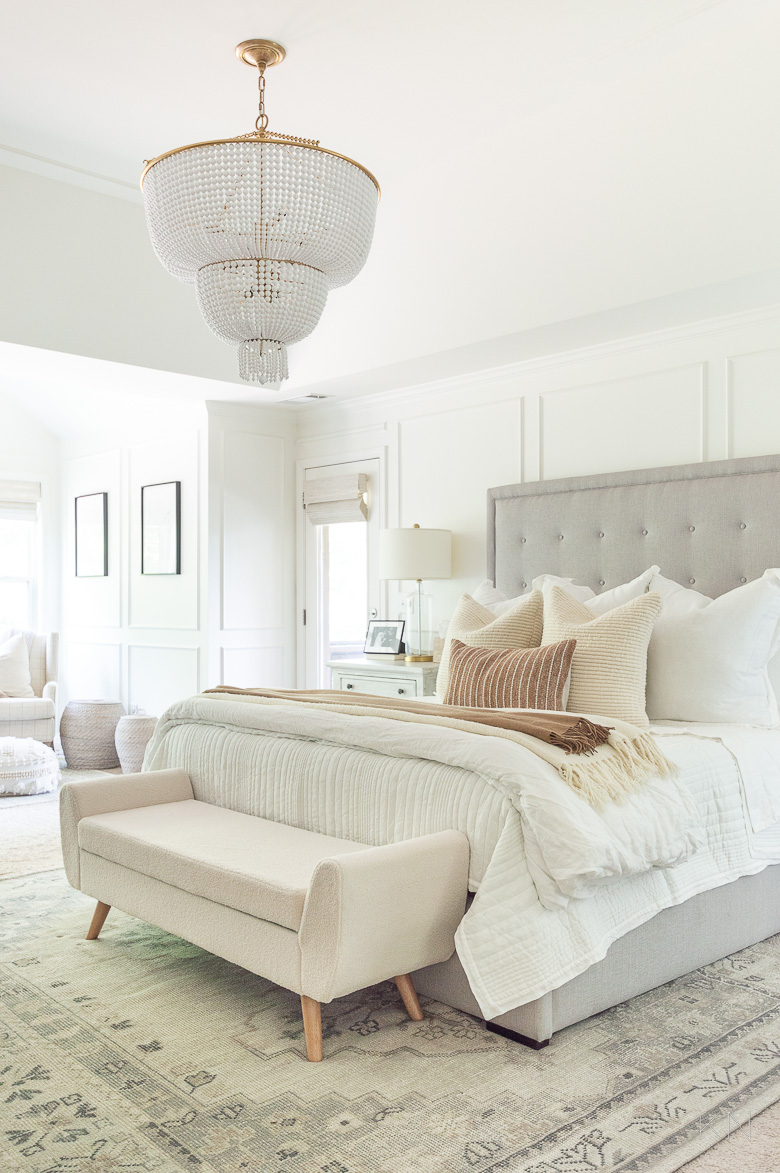 See the details of the bedroom revamp HERE.
After my long overdue order, I went ahead and purchased the bench so I could wrap the room up prior to the holidays (and have the space set in the coming months!) but, FYI — Wayfair is launching a huge five-day sale (5 Days of Deals) where thousands of items are up to 80% off. It's set to begin on October 7 and in addition to the markdowns across their site, 10% of sale profits** will benefit Community Solutions, supporting an end to homelessness.
With the end-of-year pressure and upcoming holidays, bringing some of those home projects to a close also maximizes seasonal decor opportunities and storage solutions, since there will be additional company, gifts and holiday decor happening sooner, rather than later. My bedroom was down to a single bench to call the space "complete!", and during my search, there were so many great benches — many on sale or that will be on sale starting October 7!
Expected (and LESS Expected) Bench Spaces to Consider
And, it isn't my first Wayfair-bench-rodeo. I've purchased several benches around my house from them. As one of the most versatile pieces in the house — suitable for just about any space and the cherry on top to tie an area together — my new bedroom bench sent me into a bench shake-up throughout our home.
I changed out my entryway single bench…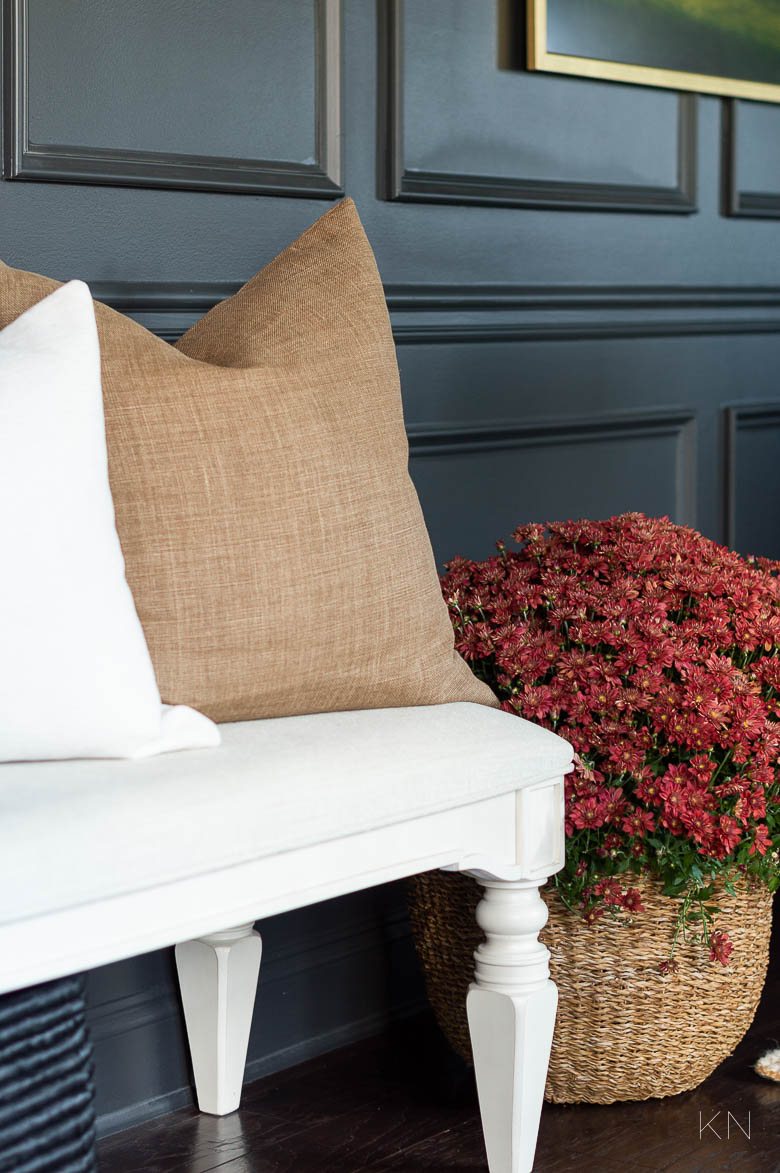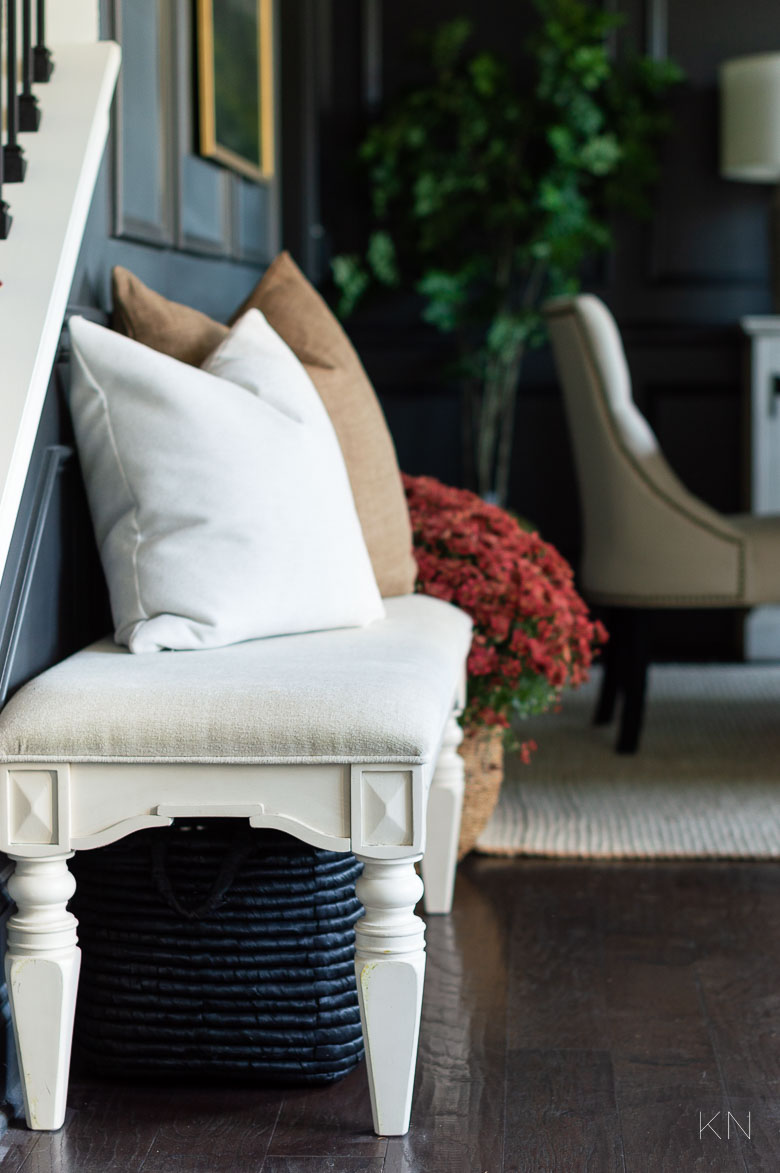 to THESE two x benches that are some of my favorite ever Wayfair finds.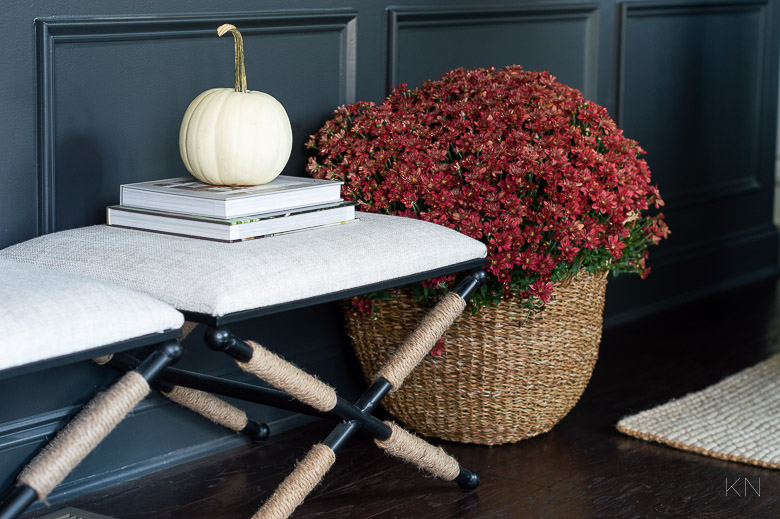 That pair of short benches is a favorite detail (I think I've talked about them so much, most of you already know that 😉 ). They started off in the guest bedroom…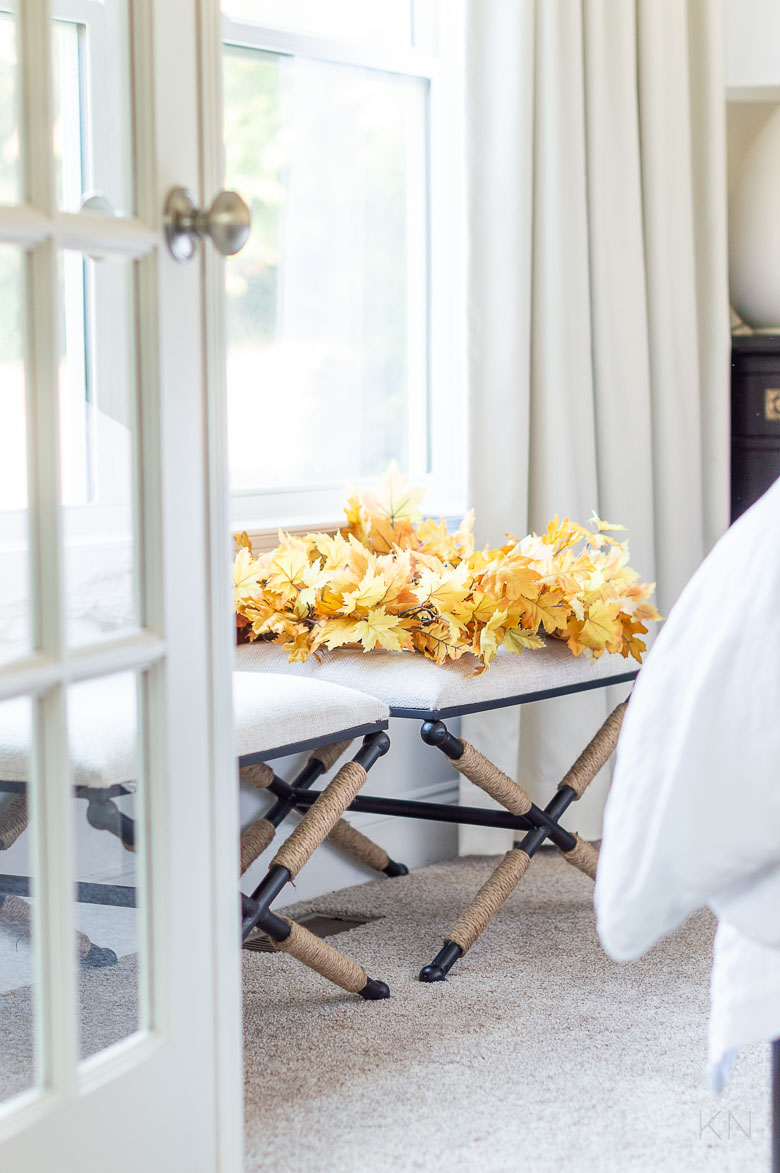 But look great anywhere. Here they are, on their own, below a piece of statement art. They're great for living spaces where you can easily pull up some extra seating — especially during the holidays if you're hosting friends/family.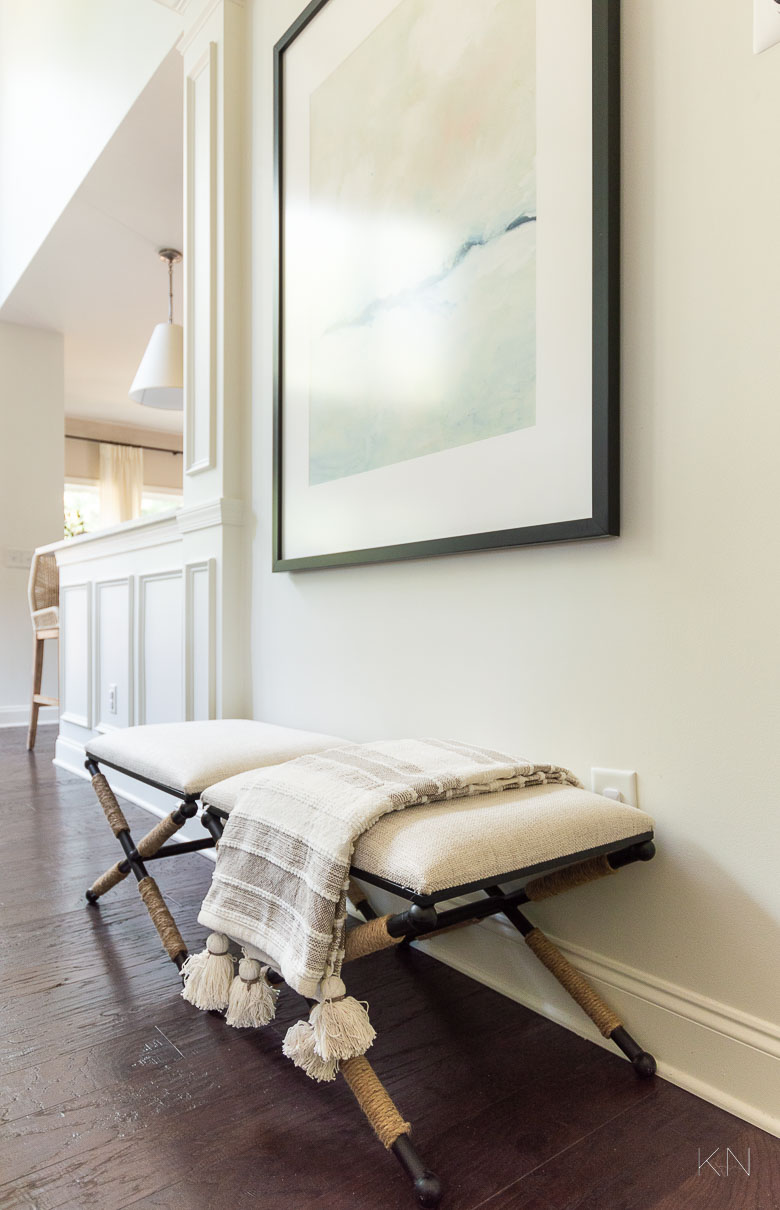 I also relocated the entryway upholstered bench (similar) to the guest bedroom for seating and to hold luggage for our guests.
Benches — wooden, upholstered or designed for storage — not only add the obvious additional seating, but they also serve as an additional surface, decor moment, storage solution and more. They're typically lighter in weight than other furniture pieces and may be moved around to different areas according to need, space and look.
Where to Put an Accent Bench
Here are some of the obvious, and perhaps less obvious, areas in your home that may benefit from a bench. You may even have a space that feels incomplete, lacking something, and just can't put your finger on it 😉
Entryway or foyer
Stair landing
Foot of the bed
Under a window
Mudroom
End of a hallway
Dining table seating
Laundry room
Playroom
Back of a sofa
Below a large piece of wall art
Next to a staircase
Screened in porch
Opposite side of a desk
Walk in closet
As a coffee table in narrow living spaces
Here are some of my faves — again, many on sale or going on sale during Wayfair's 5 days of Deals — and all ship free.
Wooden Benches
Some have backs, some don't; some are cane, some are woven and some have cushions. I've also included a Windsor-style bench that's been a long-time favorite of mine.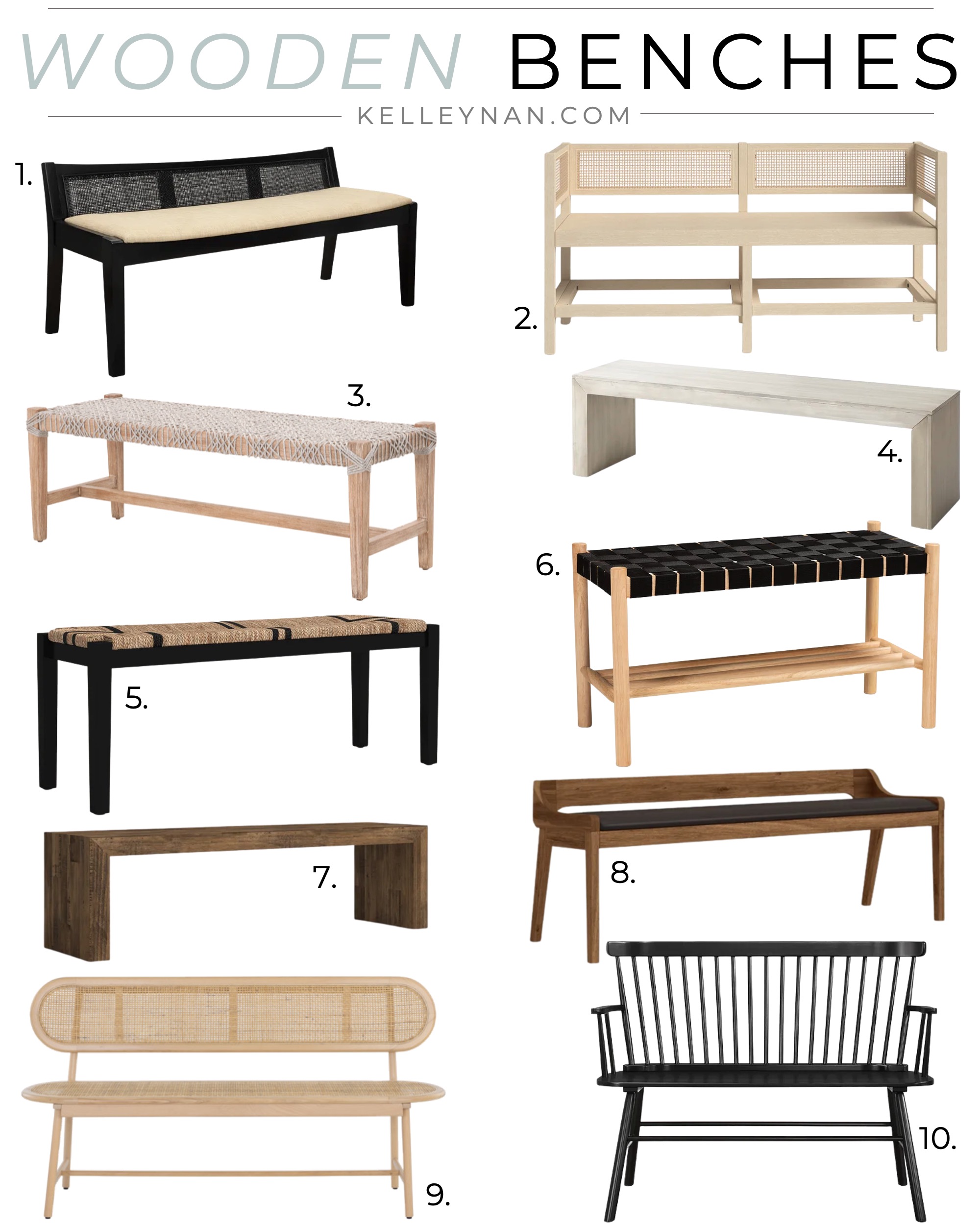 Sources: 1. | 2. | 3. | 4. | 5. | 6. | 7. | 8. | 9. | 10.
While I don't yet have the bench, I do have THIS side chair in the same Windsor style that I use at my kitchen desk. They will likely be part of Wayfair's Feel Good Sale and are great simple dining chair options.
Storage Benches
Storage benches have become a must for me in some spaces. Here are some with flip tops that can hide blankets, decor, and more in plain sight…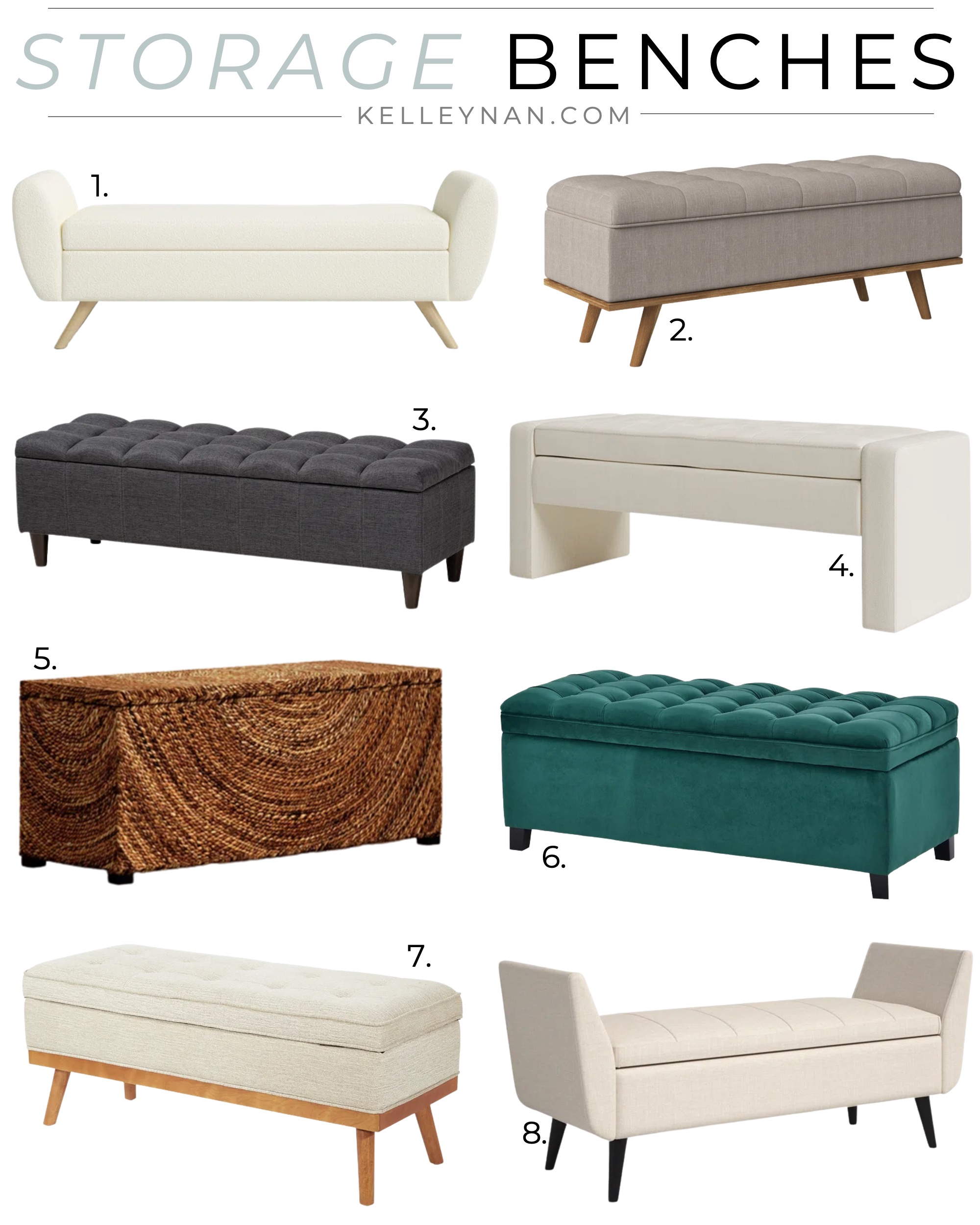 Sources: 1. | 2. | 3. | 4. | 5. | 6. | 7. | 8.
You may remember THIS upholstered storage bench we added to Eliza's playroom — it holds a ton of toys and games, provides great seating for us all and fits perfectly under the playroom window.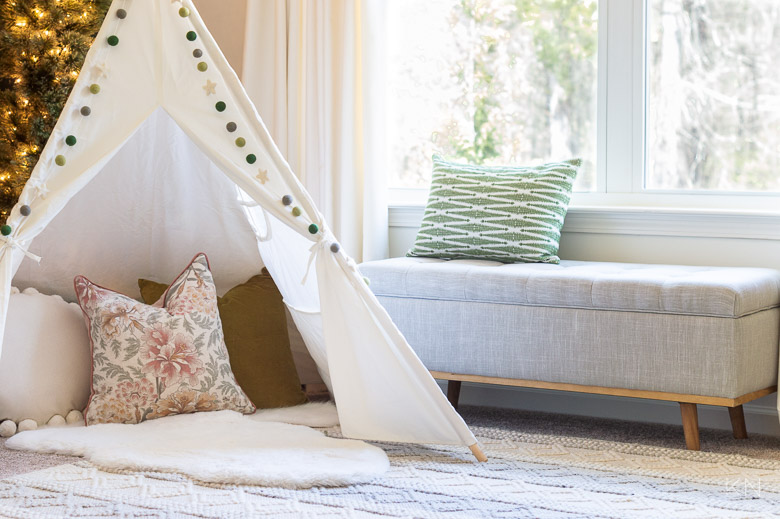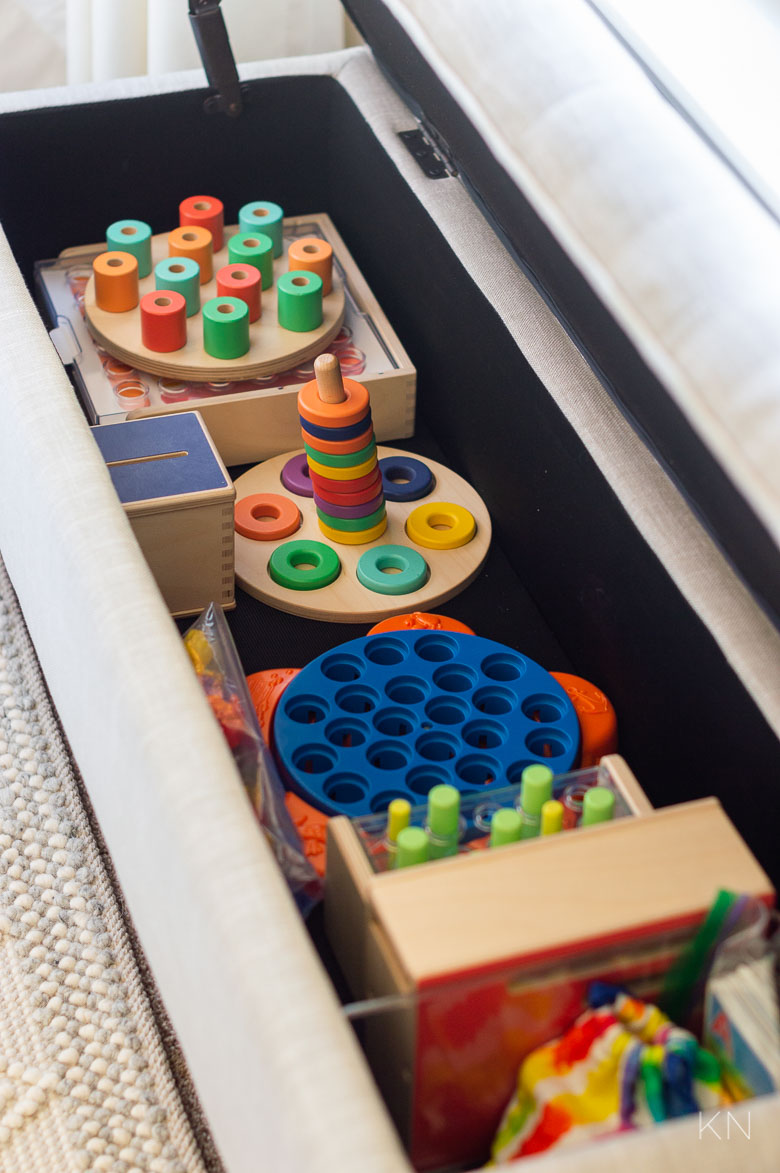 As I mentioned, I needed to FINALLY complete a mini makeover in our primary bedroom prior to the holiday rush. I changed to lighter bedding and a darker rug and needed a lighter colored bench to fit at the foot of the bed. I wanted it to be upholstered with storage and was thrilled to find THIS sherpa bench that fits the bill perfectly!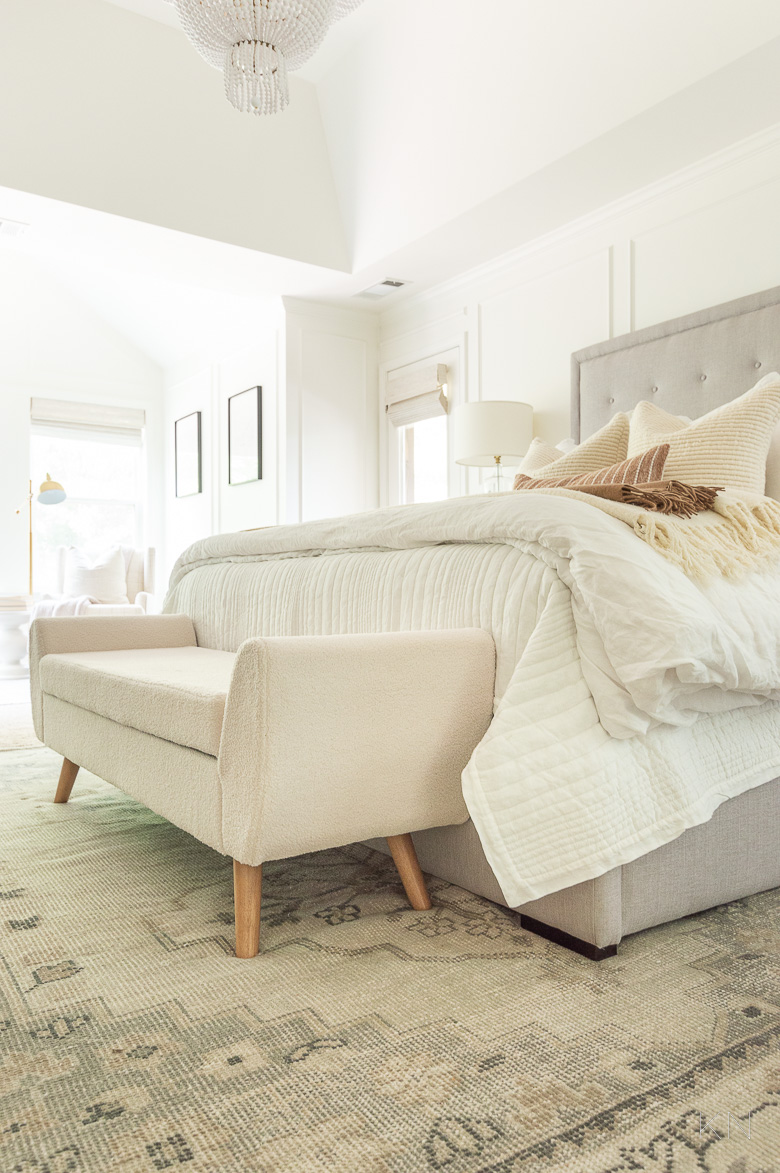 I love the look of hard benches against soft bedding, but with our small dogs needing a "step" up, I needed something upholstered and soft that they wouldn't scratch or mess up. And, I finally have an easy place to store and access our spare sheets!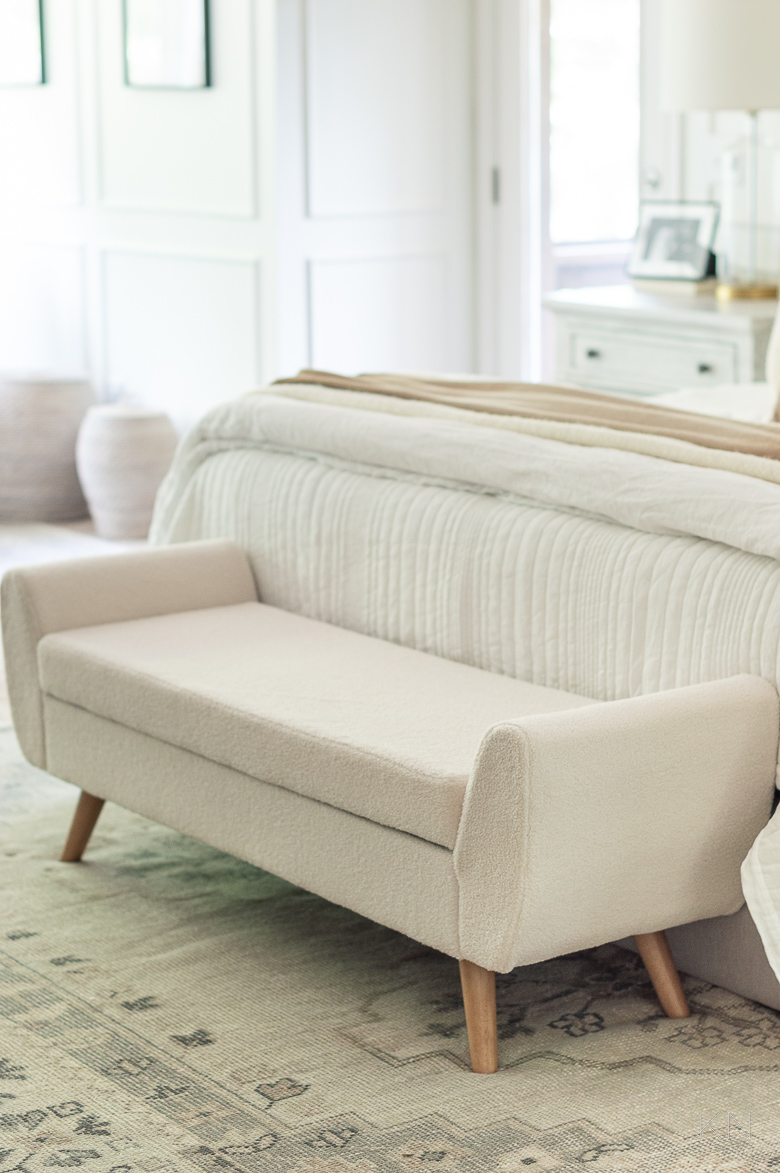 Here's a close-up of the cozy sherpa material.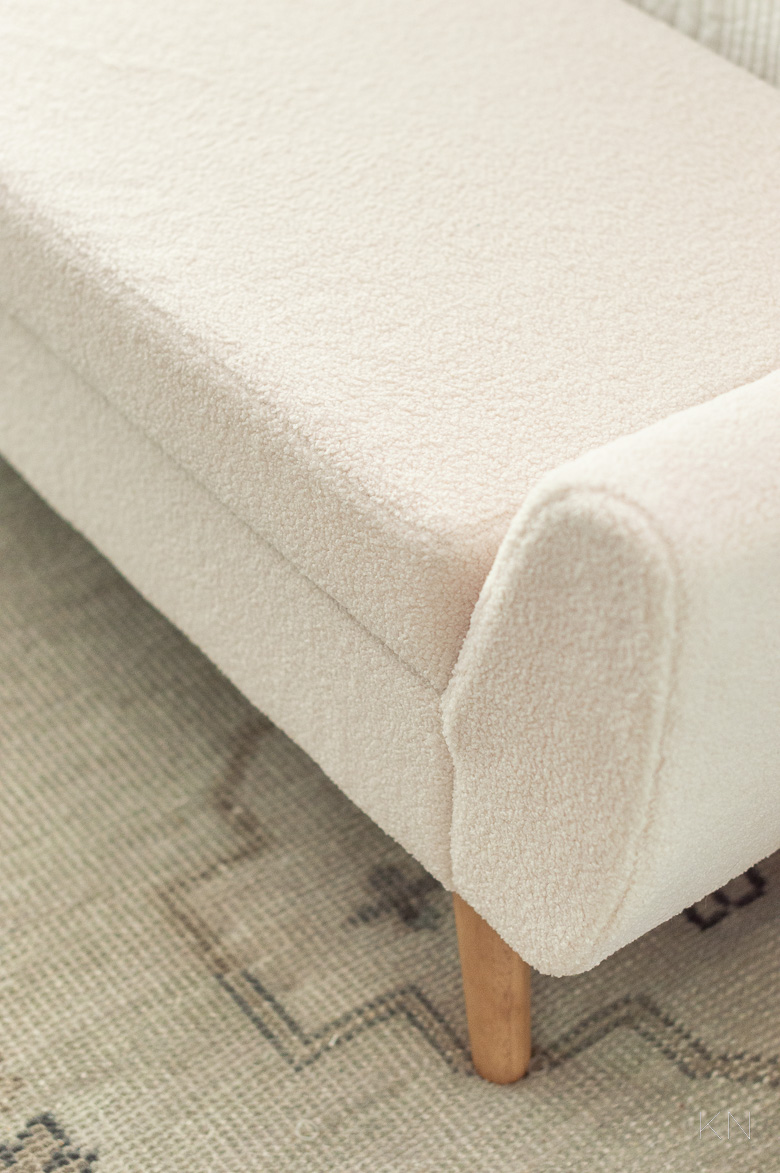 Upholstered Benches
A great way to soften any space , here are a few upholstered favorites…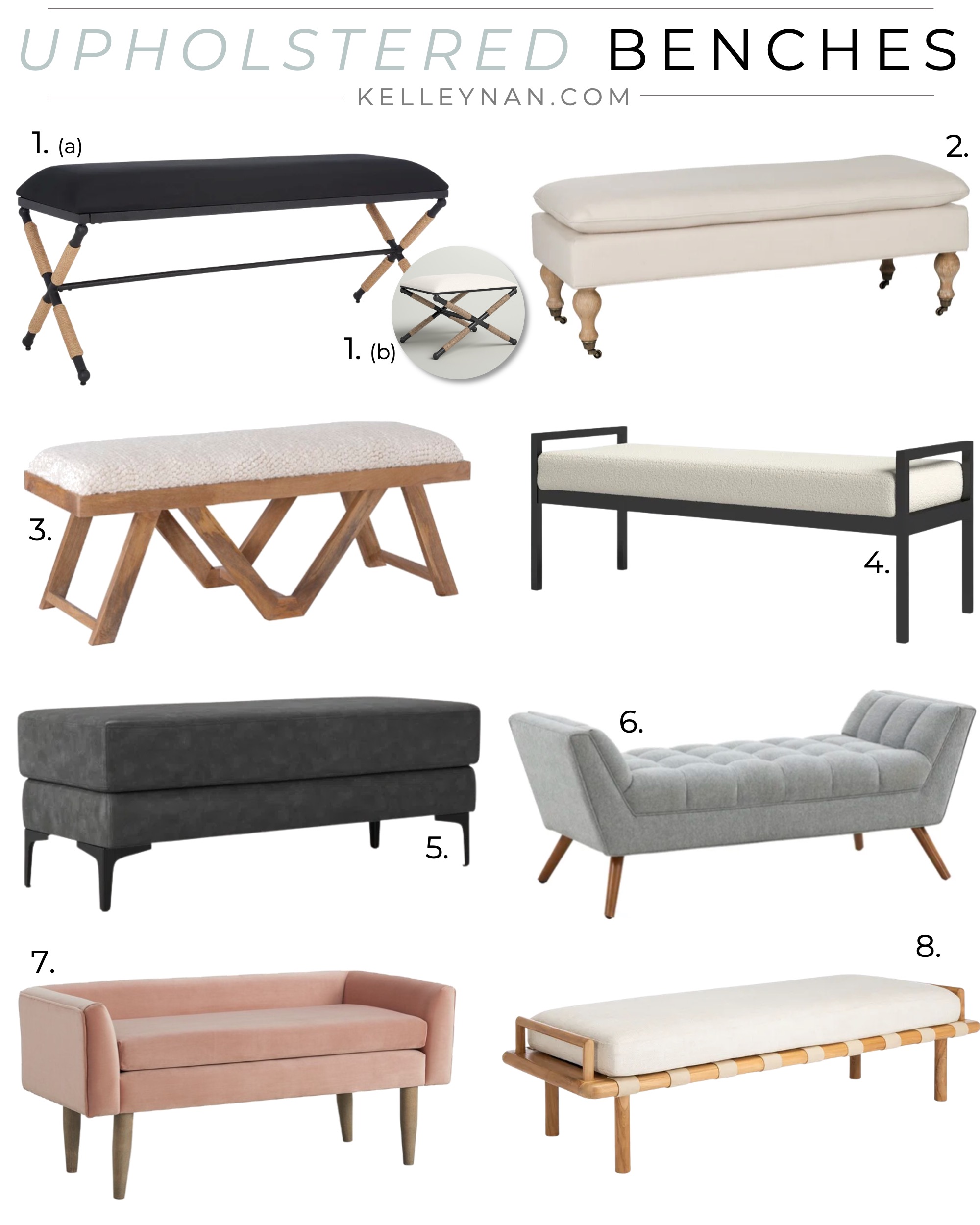 Sources: 1. a. | 1. b. | 2. | 3. | 4. | 5. | 6. | 7. | 8.
Prior to my new bench, I have and still love THIS bench — I had a darker fabric but love the lighter color! It will be re-homed soon to a different spot. If you've followed along here for awhile, you know I have a love for x-stools, like THESE. I just moved my two x-stools to the foyer, but one can easily stand on its own in a smaller space. I also love the look of the x-bench like THIS ONE when you are seeking a single, longer bench.
Wayfair Sale
There are lots of other categories and types of decor that will be on sale, up to 80% off, during the Wayfair Feel Good Sale. It's a great time to shop because in addition to getting your house set before the holidays, your dollar will go further during the sale and, your purchase will be contributing to a great cause.  Here's a few categories that will be on sale for 5 Days of Deals…
Throw Pillows and Blankets
I am a firm believer that one can never have enough throw pillows and blankets. Changing them out in your living room and bedrooms is one of the easiest and most affordable ways to change your decor look from season to season. I'm a big lover of texture and THIS tufted and braided pillow is a fun look for an accent color.
We use lots of throws in our home…in the living room…in the bedrooms…even in my office! During the Wayfair Feel Good Sale, there are lots of affordable options that are light weight enough for now, but are cozy enough to use throughout the holidays. Plus, they make great gifts! THIS knit chenille throw is a great look to carry through fall and into winter.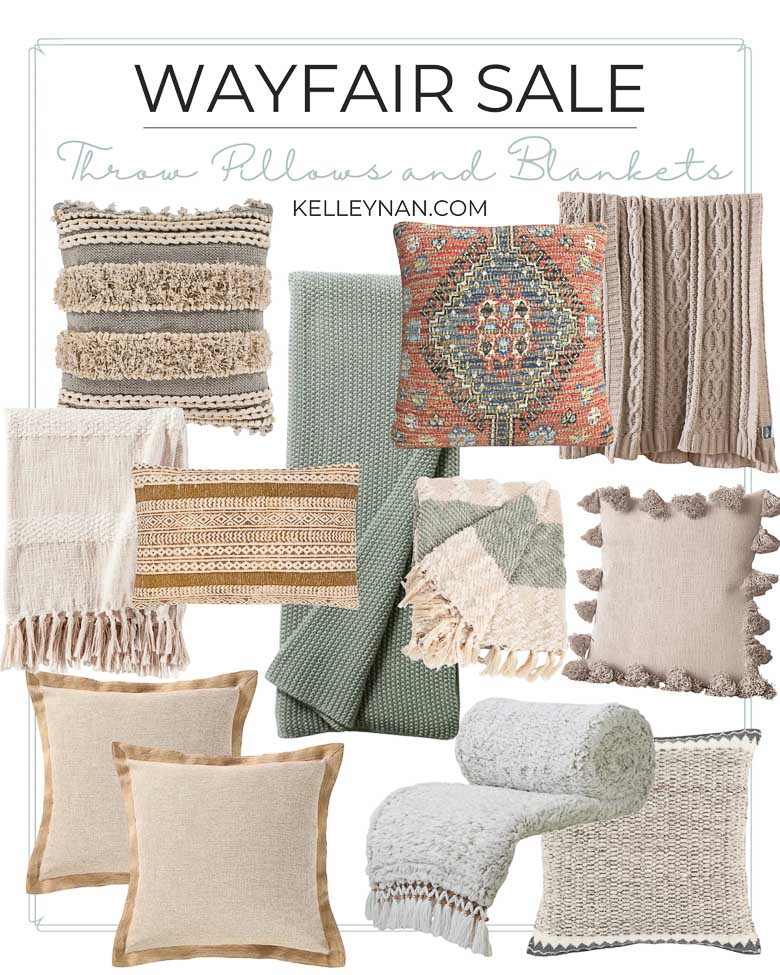 Sources: Tufted and Braided Pillow | Cotton Knit Throw | Bohemian Pillow Cover | Knit Chenille Throw | Cotton Throw w/Fringe | Rectangular Rust Pillow | Woven Tassel Throw | Tasseled Throw Pillow | Linen Trimmed Throw Pillow (set of 2) | Fringed Sherpa Plush Throw | Knit Throw Pillow Cover
Accent Chairs
Like benches, accent chairs are also versatile enough to be moved around and used in virtually any room of your home. THIS cane back accent chair in our conversation room is one of my favorite pieces. It's been easily moved to the guest bedroom during the holiday season and fits beautifully in that space. The accent chairs below vary from modern to traditional, from fabric to leather.
THIS cane arm accent chair is a blend of traditional and modern and would go well in any space. THIS traditional wingback chair is available in several different fabric options and is a great choice for a bedroom sitting area or for the living room. THIS mid-century modern look chair is also one of my favorites and it's a style that is trending and will continue to be on the rise.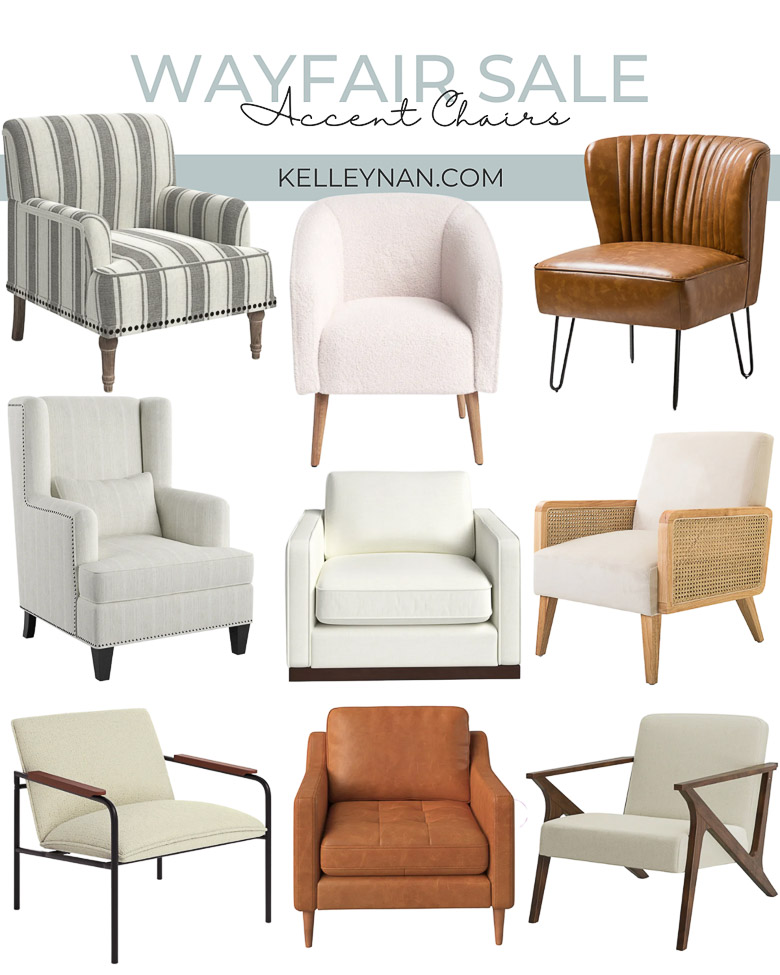 Sources: Striped Upholstered Armchair | Upholstered Barrel Chair | Tufted Side Chair | Wingback Chair | Wide Down Cushion Armchair | Accent Chair w/Wicker Arms | Modern Lounge Chair | Tufted Leather Armchair | Wood Frame Upholstered Armchair
Lighting
One of the easiest ways to make a major change to a room is to transition to a new light fixture. Now would be the perfect time to make a light fixture change to your dining room, living room or foyer to showcase your home for the holidays. During the Wayfair Feel Good Sale, there are so many light fixtures on sale for any room of your house.
We changed a ceiling fan out to THIS lantern pendant in our downstairs guest bedroom years ago with no regrets. THIS 4-light lantern pendant is another great option and comes in three different finishes. THIS 5-light shaded chandelier is a smart choice for a breakfast nook or study. THIS 5-light drum shade chandelier provides a fun new look in a bedroom, office or dining nook.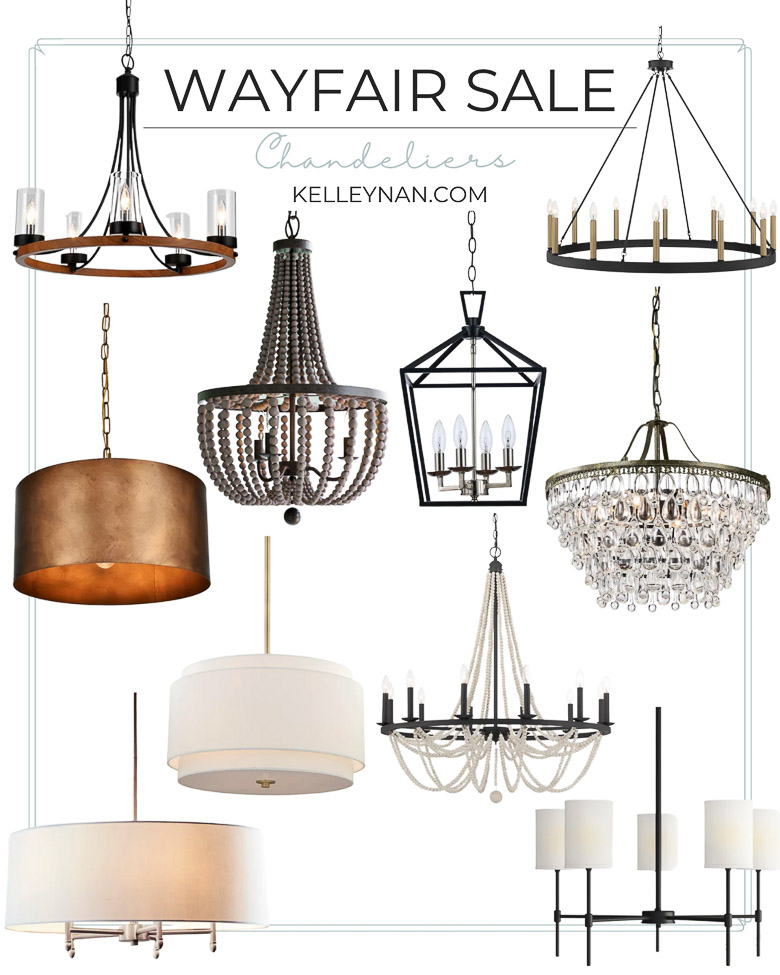 Sources: Candle Style Wagon Wheel Chandelier | Wooden Bead Chandelier | Lantern Pendant | 12-Light Wagon Wheel Chandelier | Iron Drum Shade Chandelier | Tiered Chandelier w/Crystal Accents | 4-Light Drum Chandelier | Wagon Wheel Chandelier w/Bead Accents | 5-Light Drum Shade Chandelier | 5-Light Shaded Chandelier
Area Rugs
Adding a new rug to a space is another great refresh to make to your home before the holidays. And, no electrical skills are needed to make the change! When it comes to area rugs, I tend to lean toward neutrals or neutrals with just a dash of color, like THIS rug we have in our conversation room. If you like a dash of color to complement your other decor, THIS pretty neutral rug with touches of brick and navy is a great updated choice. THIS braided jute/sisal cream rug is ideal for a bedroom and touches my neutral-loving heart. And how fun is THIS muted Rifle Paper Co. area rug that has a hidden vine and a bird or two?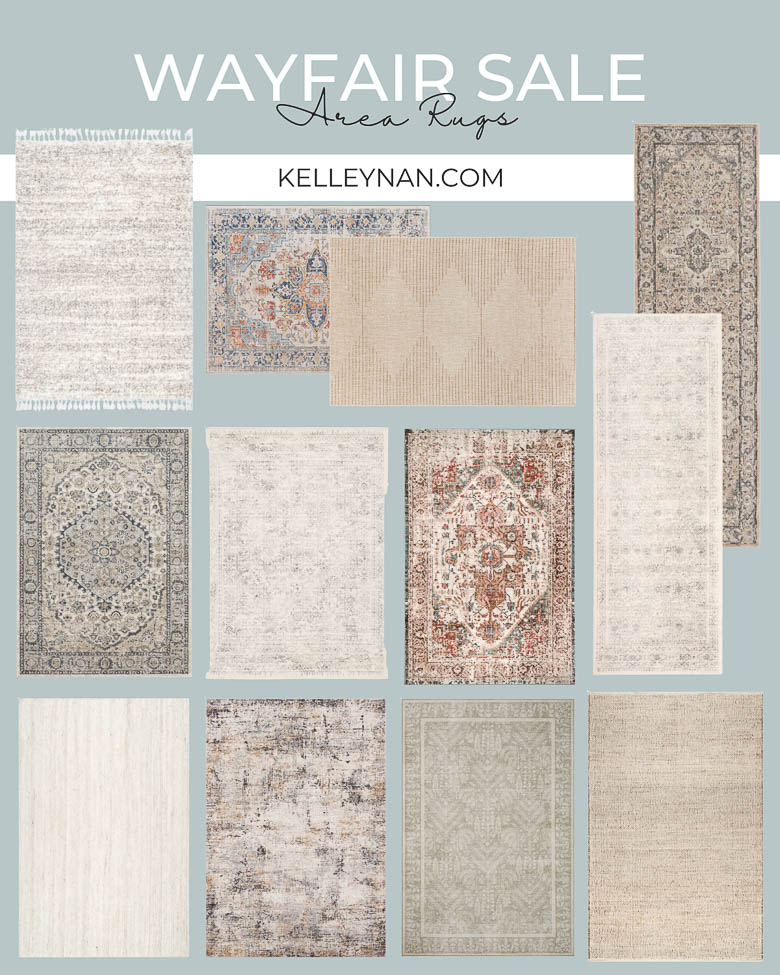 Sources: Ivory Rug w/Fringe | Indoor Outdoor Navy Brick Tan & Gray Rug | Indoor Outdoor Area  Tan Rug | Beige & Gray Medallion Rug | Natural Gray Oriental Rug | Gray Oriental Rug | Classic Beige Persian Look Rug | Gray Oriental Rug | Braided Jute Sisal Cream Rug | Beige/Gray Abstract Rug | Low Pile Rifle Paper Co. Natural Rug | Brown Beige Area Rug w/Fringe
Kitchen & Dining
There's lots of great kitchen and dining pieces that are set to be part of the sale…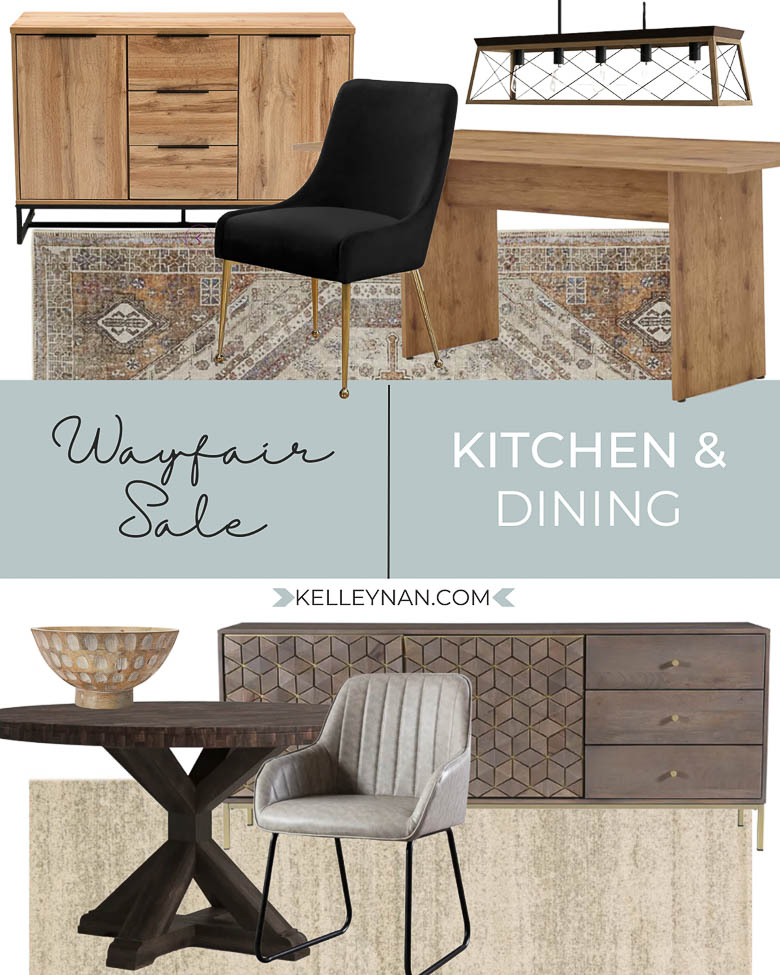 Sources: 3-Drawer Sideboard | Velvet Upholstered Chairs (set of 2) | 5-Light Kitchen Island Chandelier | Rectangular Dining Table | Brown, Ivory & Gray Oriental Rug | Wooden Bowl | 3-Drawer Sideboard | Round Pedestal Dining Table | Upholstered Arm Chair (set of 2) | Brown Beige Area Rug
Entryway Items
And the entry is a great area to update prior to the holidays since it makes the first impression when guests enter your home!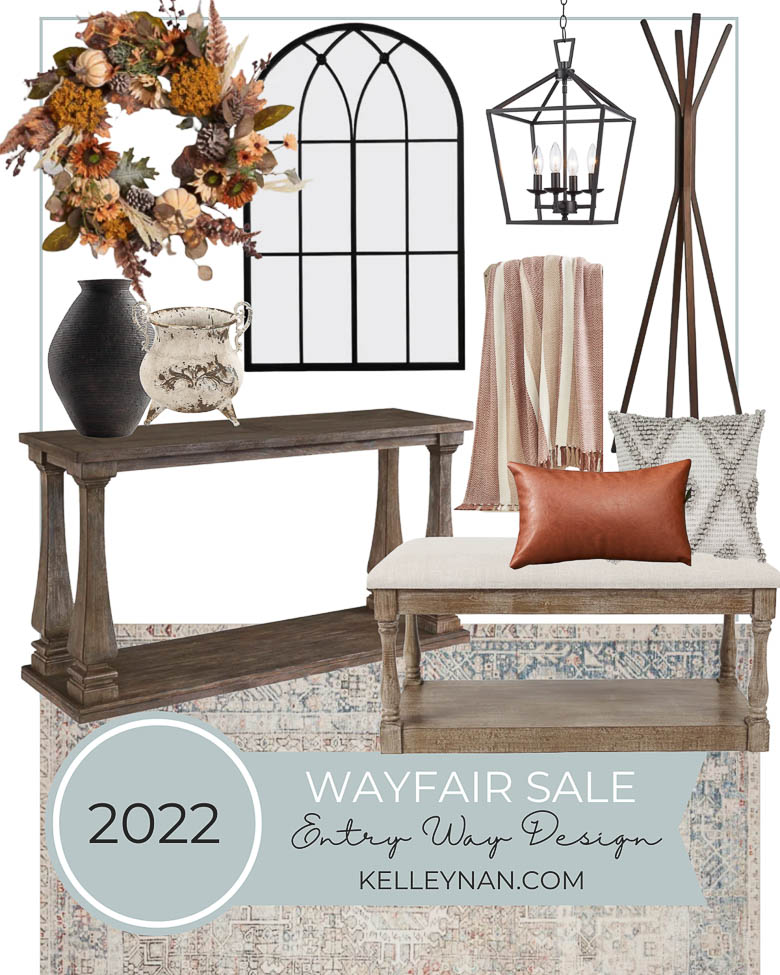 Sources: Oak Leaf/Pumpkin Wreath | Black Metal Wall Mirror | 4-Light Lantern Pendant | Free Standing Coat Rack | Black Resin Table Vase | Brown/White Metal Table Vase | Console Table | Striped Cotton Throw | Gray Textured Pillow Cover | Rectangular Faux Leather Pillow Cover | Upholstered Storage Bench | Natural/Ocean Oriental Rug
Are there any projects you're looking to complete prior to the holidays/end of the year? I'll be sharing some more completed spaces *fingers crossed* SOON! And, stay tuned for holiday updates, too 😉