By the time my annual Christmas home tour launches each year (see last year's full tour HERE), most new additions are out of stock for the season. Because of that, coupled with the buzz that we should expect even longer delays, ship times, and logistics lags this year, today, I'm sharing holiday accents, accessories, and trimmings that are available and ready now. My mom and I had a shopping day this past week and we expected to see fun new holiday displays in stores… we actually saw none, which I feel may be further indicative of shortages. I only slowly add a couple pieces here and there to my arsenal of Christmas decor and I don't typically put many things in the same place repeatedly. It's one of those things that's too expensive to purchases tons of "new" year after year but with a little creativity, you can personalize your pieces to look fresh season after season. In today's post, I'm sharing round-ups of my some of my favorite decorative pieces that's launched:
Decorative Accents
Tree Toppers
Tree Skirts & Collars
Stockings
Garlands & Picks
Advent Calendars
Browse on to see them all or head directly to your favorite!
*Posts on KelleyNan.com may contain affiliate links. Click HERE for full disclosure.
Christmas Decor: Decorative Accents
For decorative accents, I tend to gravitate towards neutrals that can be amped up year after year just by placing them in new scenes, adding greenery, or nestling different colored picks around them. If it's a super specific color scheme, it has to be special and something I can separate and re-purpose and still use in other ways in subsequent years. From mini trees and village houses to to nativities and bells, here are a few faves.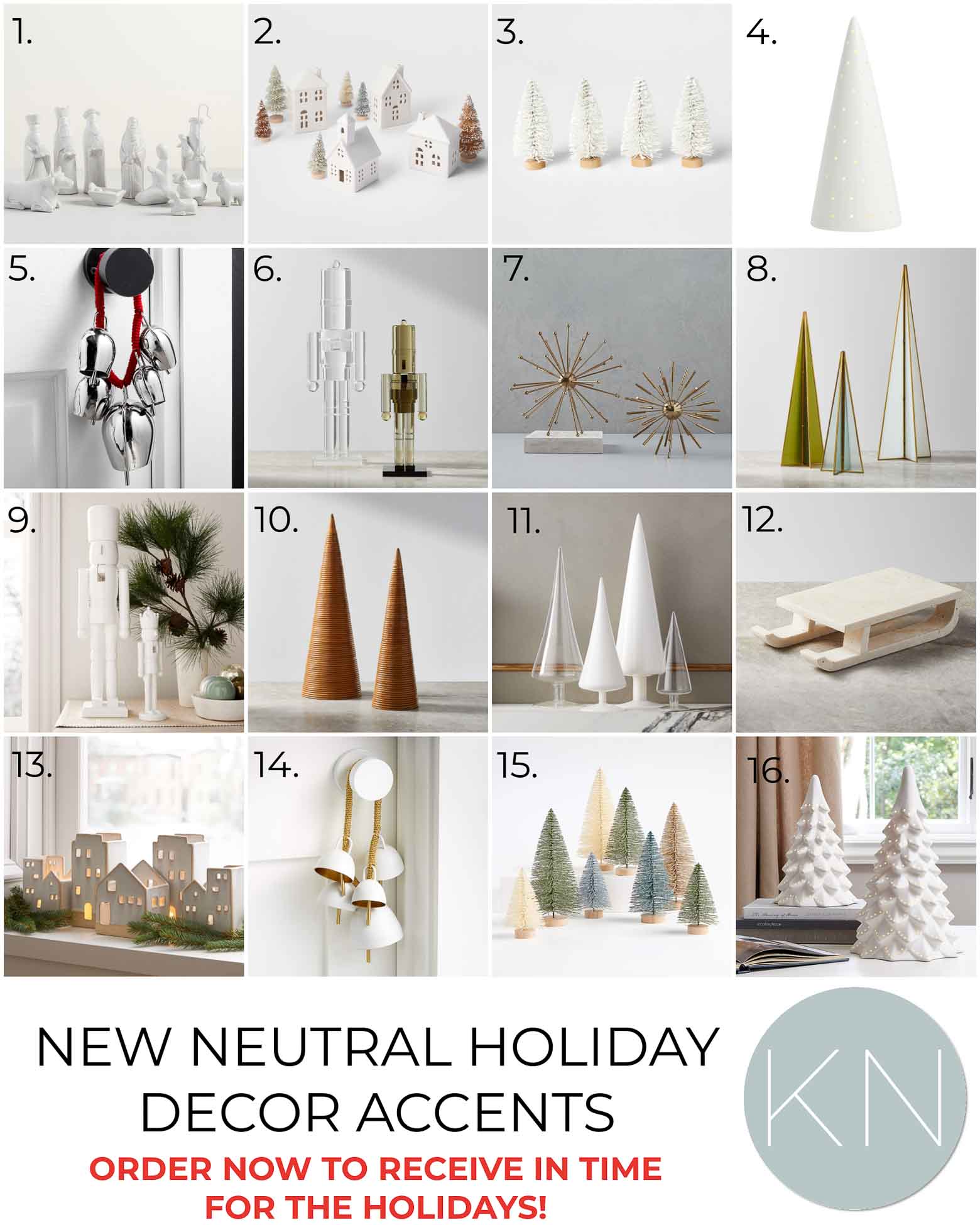 Sources: 1 | 2 | 3 | 4 | 5 | 6 | 7 | 8 | 9 | 10 | 11 | 12 | 13 | 14 | 15 | 16
THIS SET of white ceramic houses (#2) is a favorite in recent years, but you can also buy individual pieces for $5 (like the tall ceramic house HERE. They also have an option of white houses with adorable black roofs this year, HERE. But I really love the black metal version of the houses they carry this year HERE. From a console table to a built-in to the mantel, these little houses are so fun and easy to switch up.
Here's a few decorative accent moments during Christmas — all built on collections and mixed in with everyday decor.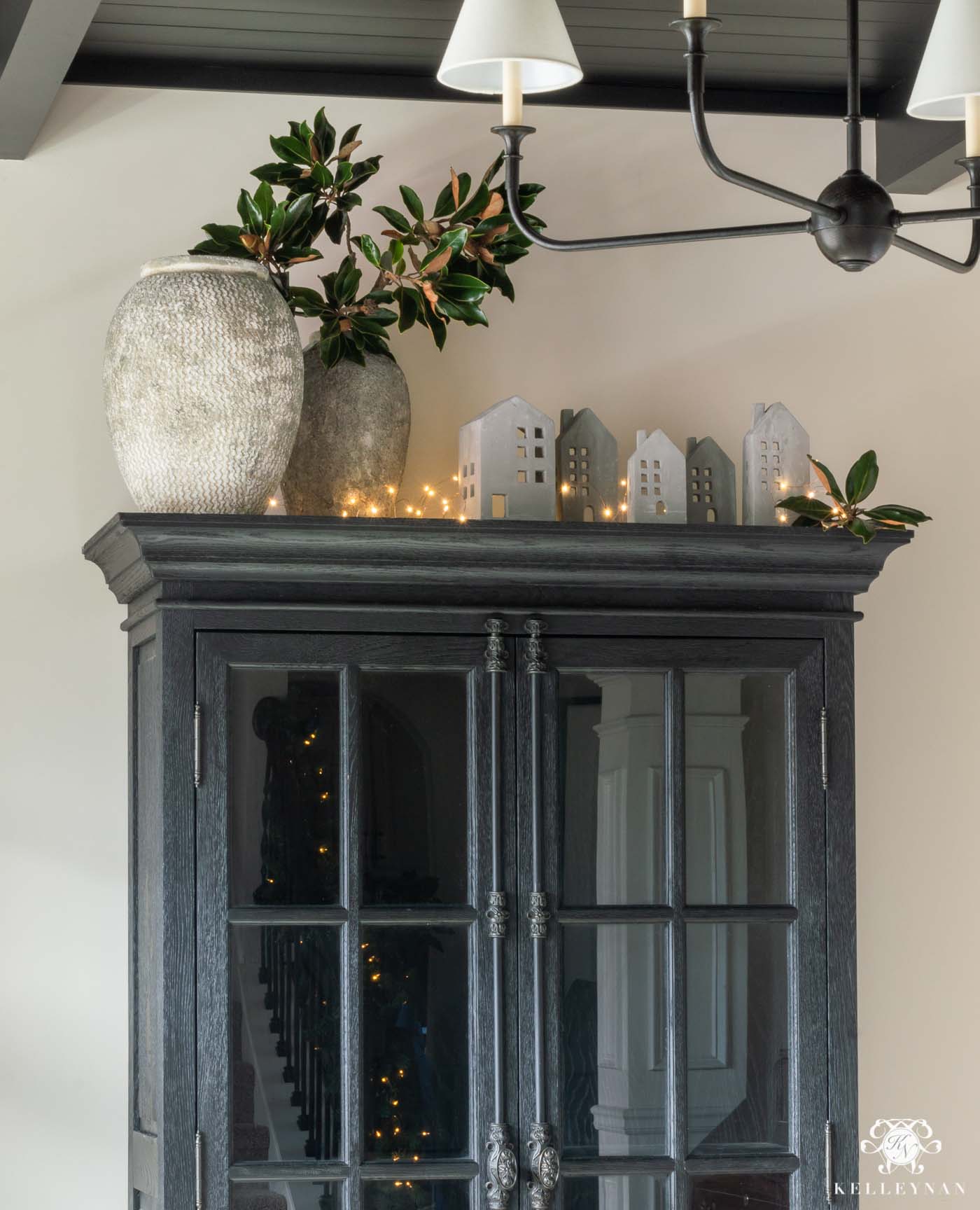 Sources: Iron Chandelier | Large Cement Vase | Small Cement Vase | Black Cabinet (similar)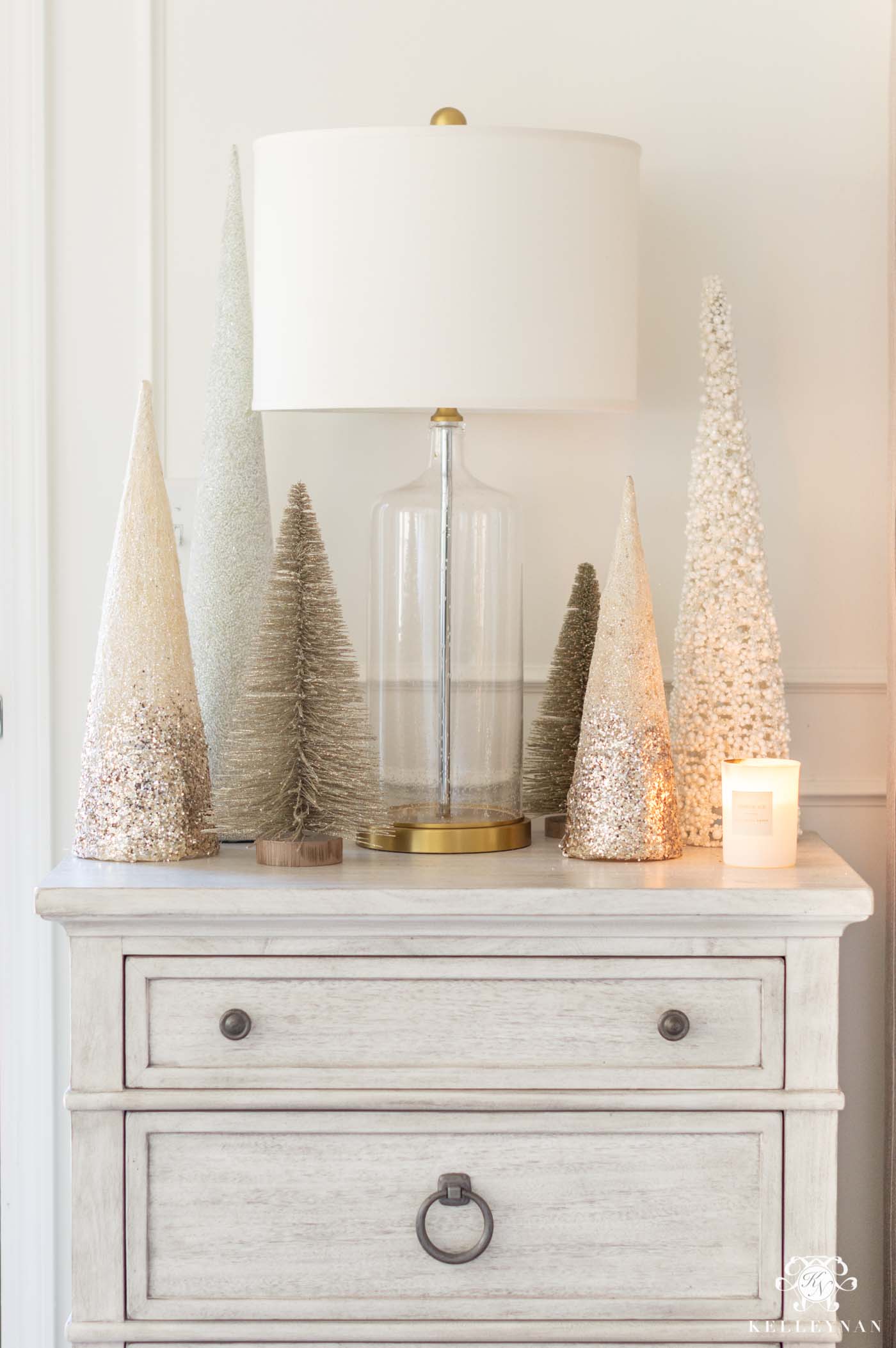 Sources: Chest Nightstand | Lamp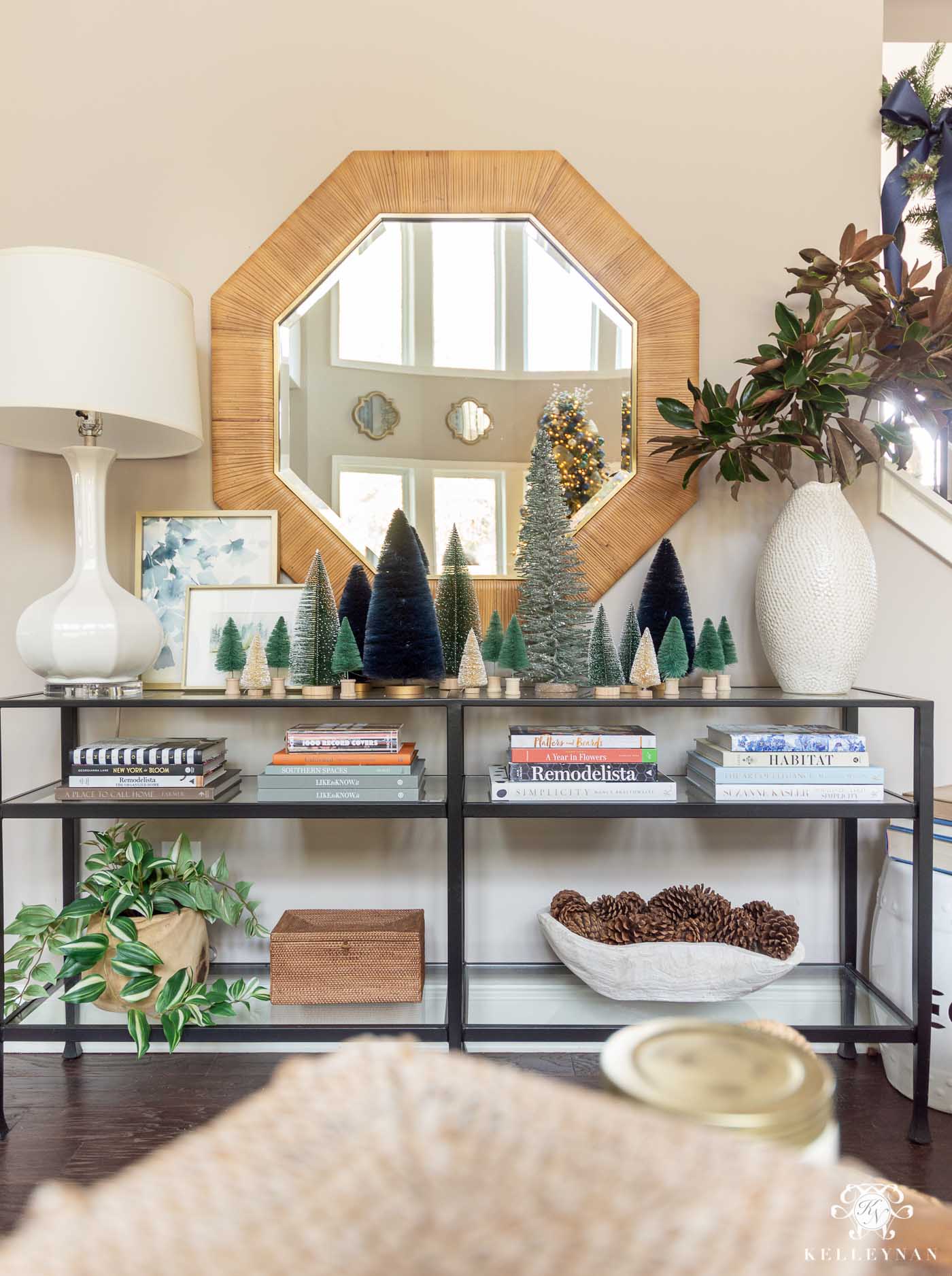 Sources: Console Table |  | Rattan Mirror | Tall Vase | Front Art Print | Back Art Print | Lidded Basket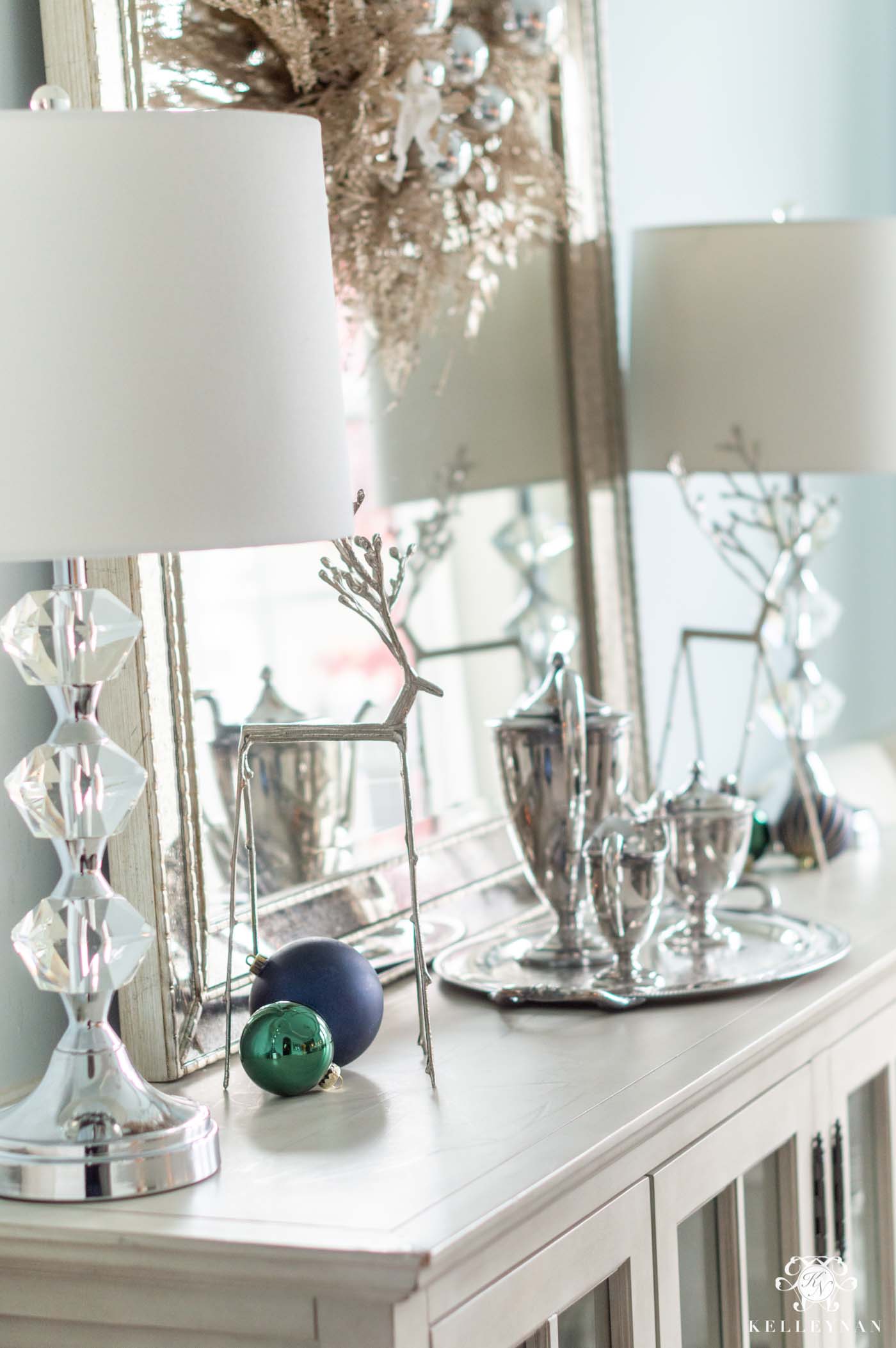 Christmas Decor: Tree Toppers
I am actually big on no tree topper and will still opt for a concentrated area of up-top branches for at least one of my trees, but I got hooked on some of the more three-dimensional tree toppers after my mom got THIS one this past year. It's gold and each star burst is on a metal spring — it's held its shape perfectly since last year.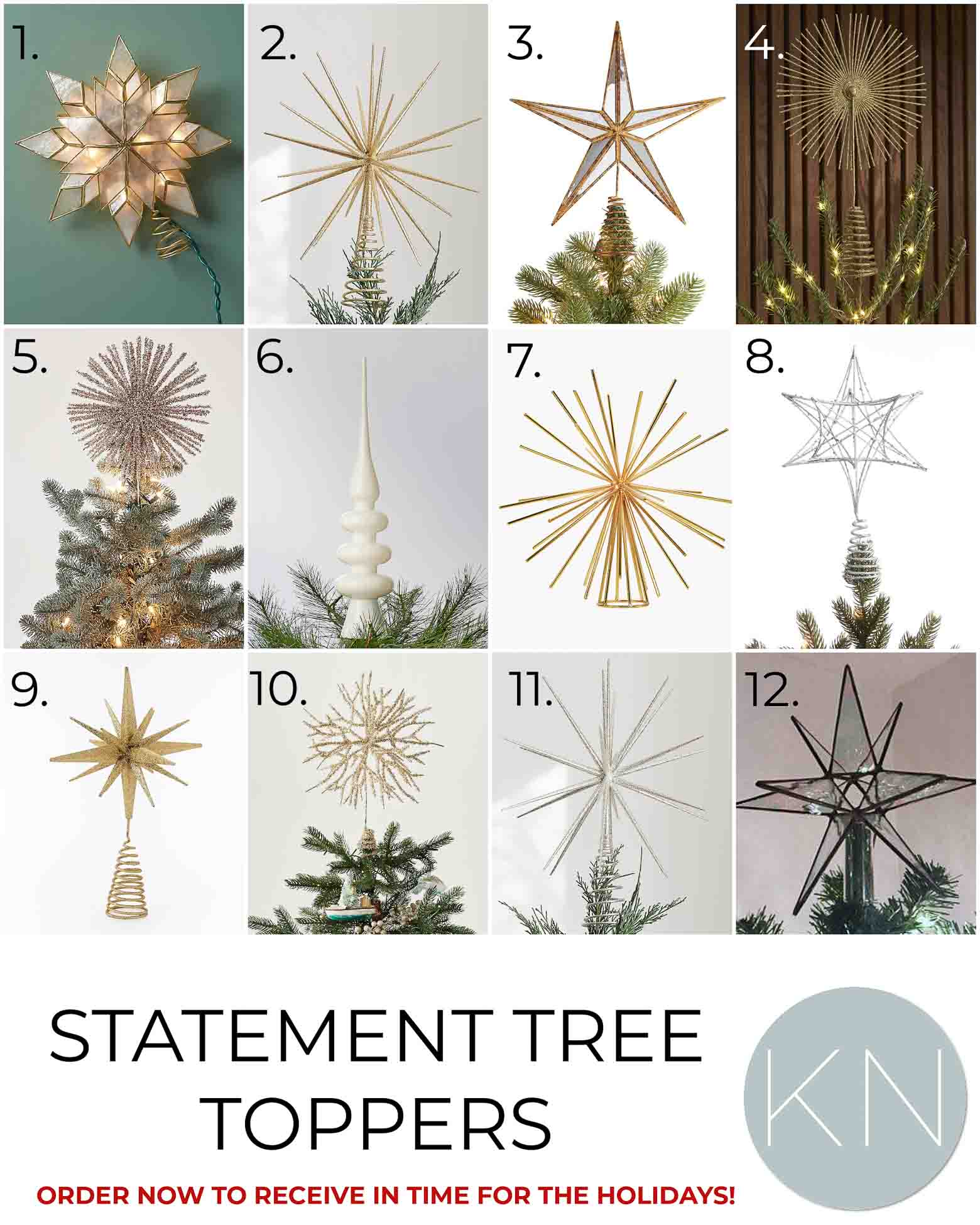 Sources: 1 | 2 | 3 | 4 | 5 | 6 | 7 | 8 | 9 | 10 | 11 | 12
So this year, I started early and got a few of my own. I couldn't decide between the gold star burst (#2) and the silver starburst (#11), so I got both. And for Eliza's tree, I got THIS cute, fanned out star (#4), which is on sale for $16 right now and ships free!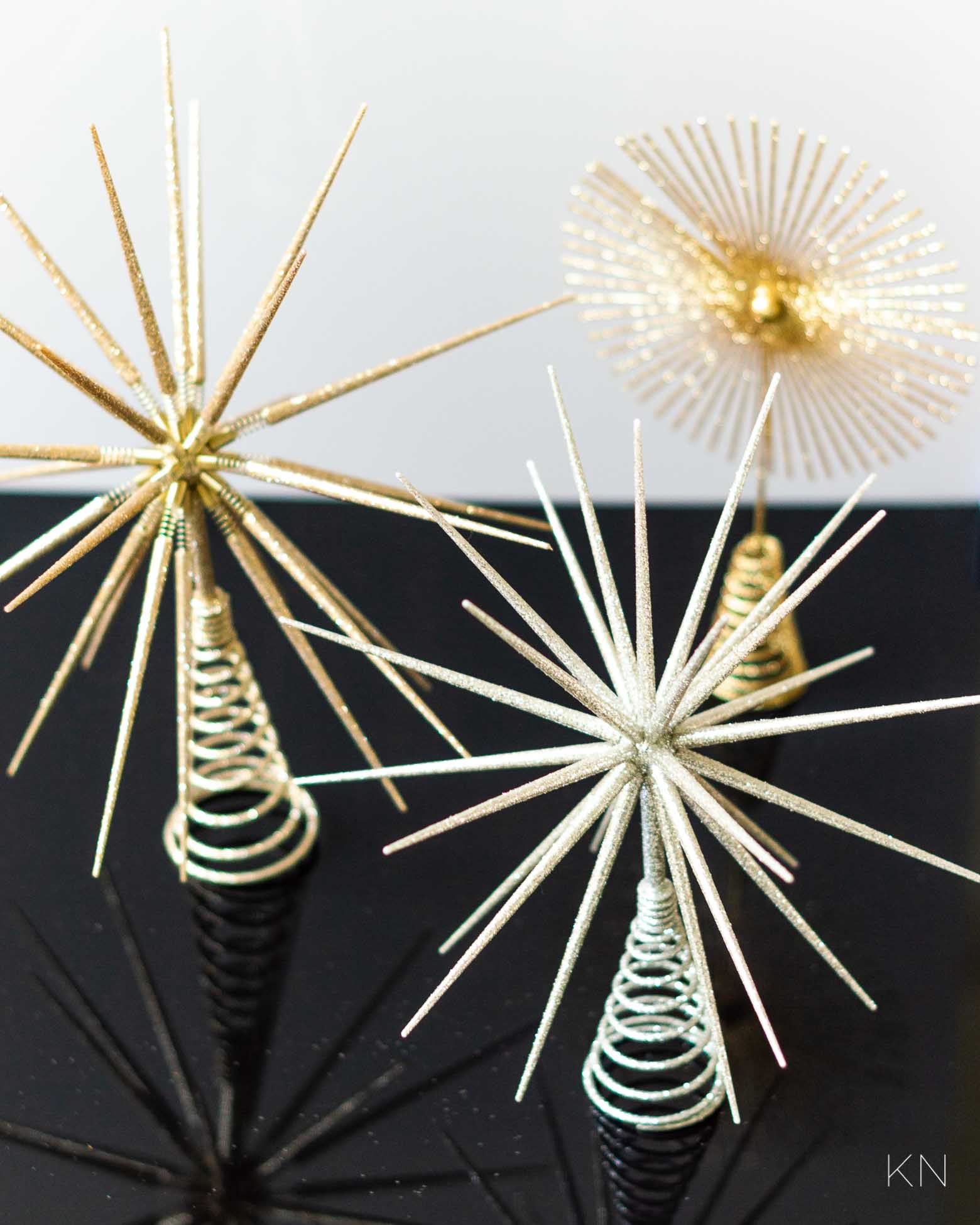 Sources:  Gold Glitter Starburst (my mom's) (left) | Silver Glitter Starburst (the silver is identical to my gold which has also since been delivered) (front) | Gold Glitter Flat Starburst (Eliza's)(back)
Christmas Decor: Tree Skirts & Collars
Most of my tree bottoms are covered in fur skirts but I also love draping extra blankets around the base, if they're plush and wide enough. Number 1 comes in three size options, ships free via Prime, and is incredibly affordable, starting at just over $18 HERE. Where I really love a tree collar look is to frame out the base of secondary trees that may not have any gift boxes below. It keeps the tree trunk looking nice and tidy without the necessity of all the extras. THIS woven one (#2) is a favorite and I'm also loving THIS cane one (#15)! If you go with a skirt, just make sure it isn't too tight to the tree trunk and extends to the width of the widest part of the base of the tree.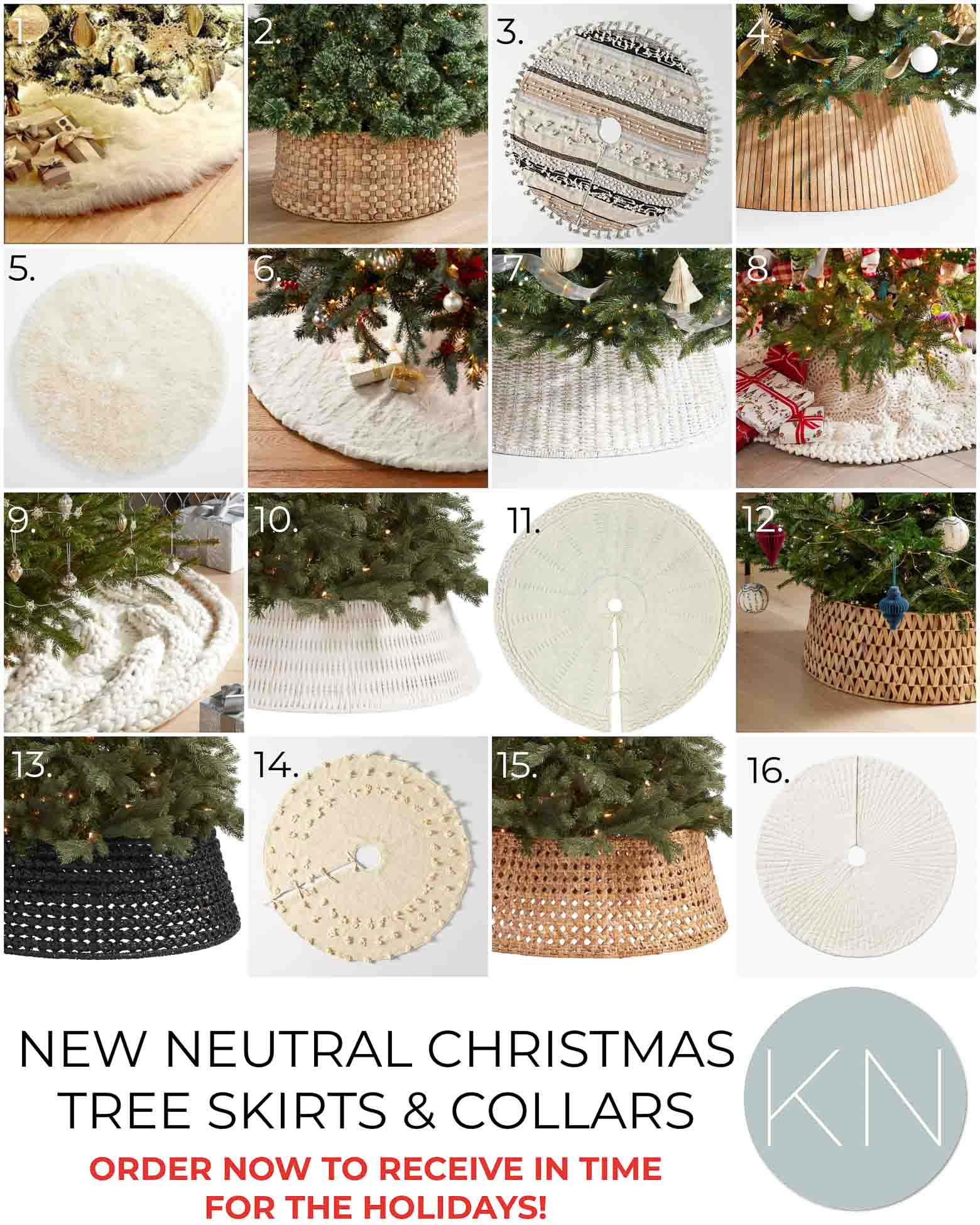 Sources: 1 | 2 | 3 | 4 | 5 | 6 | 7 | 8 | 9 | 10 | 11 | 12 | 13 | 14 | 15 | 16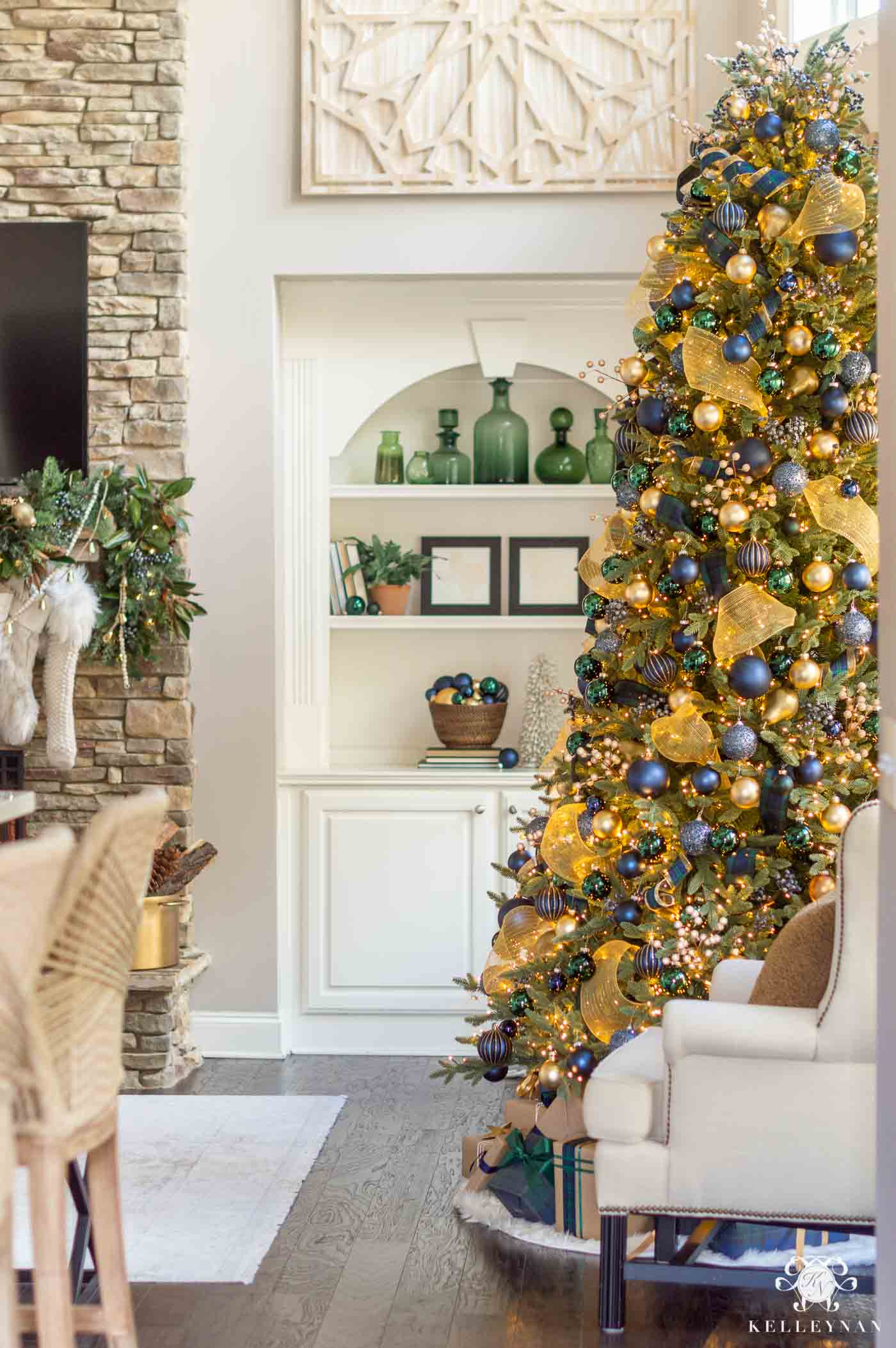 Christmas Decor: Stockings
I purchased our stockings before Eliza's first Christmas. And, instead of going with all one exact stocking, I went with a few different textures of neutral. Not only does it give a cozy, curated and collected look, but should you ever want to add a stocking to the collection, it eliminates the possibility of one specific stocking no longer being available. They don't all have to be the exact same length, but I try to purchase within the same(ish) size family. I love mixing furs with quilted with knits, but if you're looking for a full set, Number 13 comes as a set of four in two size options, ships free via Prime and comes in at under $25 for the full set HERE.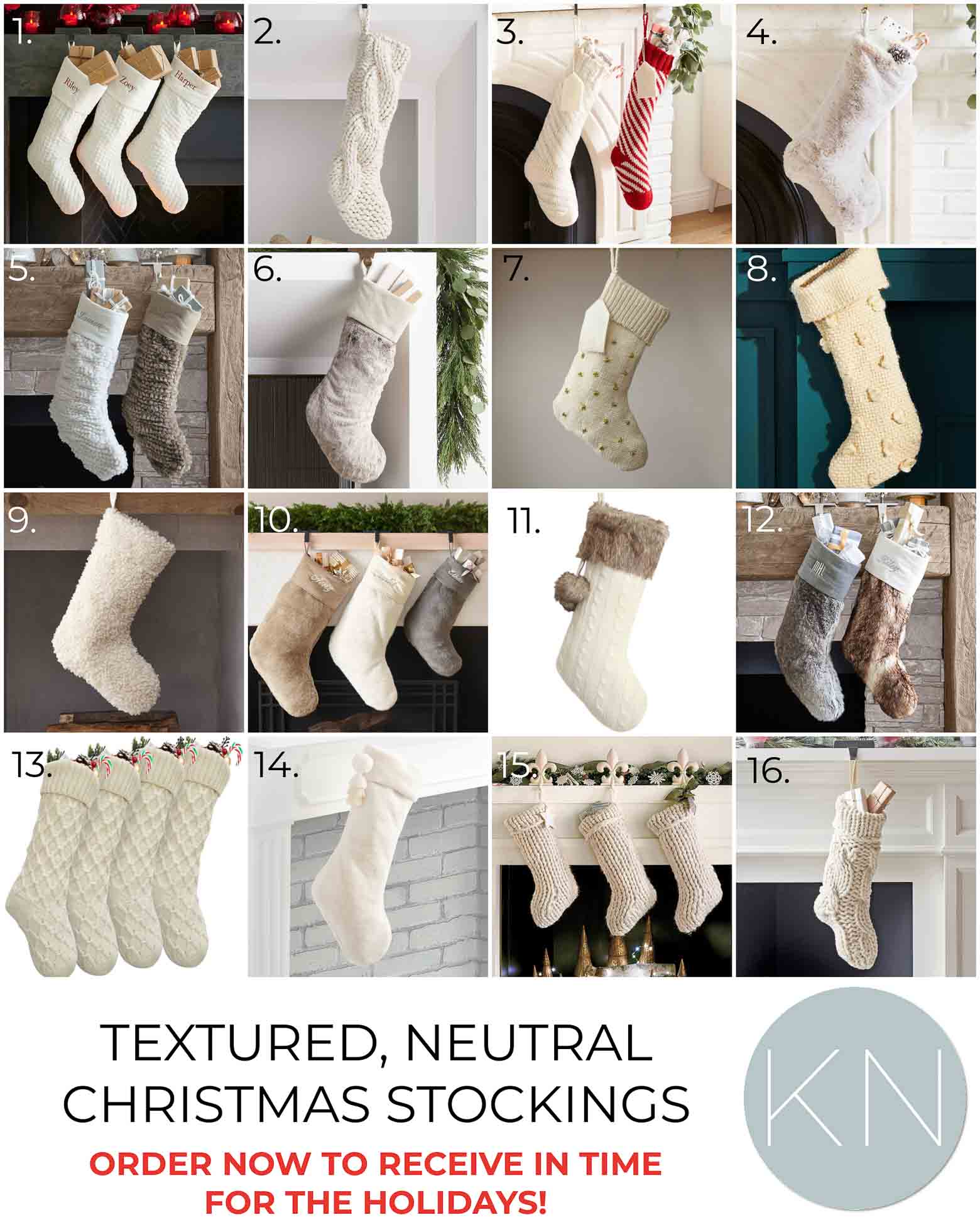 Sources: 1 | 2 | 3 | 4 | 5 | 6 | 7 | 8 | 9 | 10 | 11 | 12 | 13 | 14 | 15 | 16
Out of our stockings, I *think* the only exact version that's still available is Dave's ivory honeycomb stocking (#5) HERE,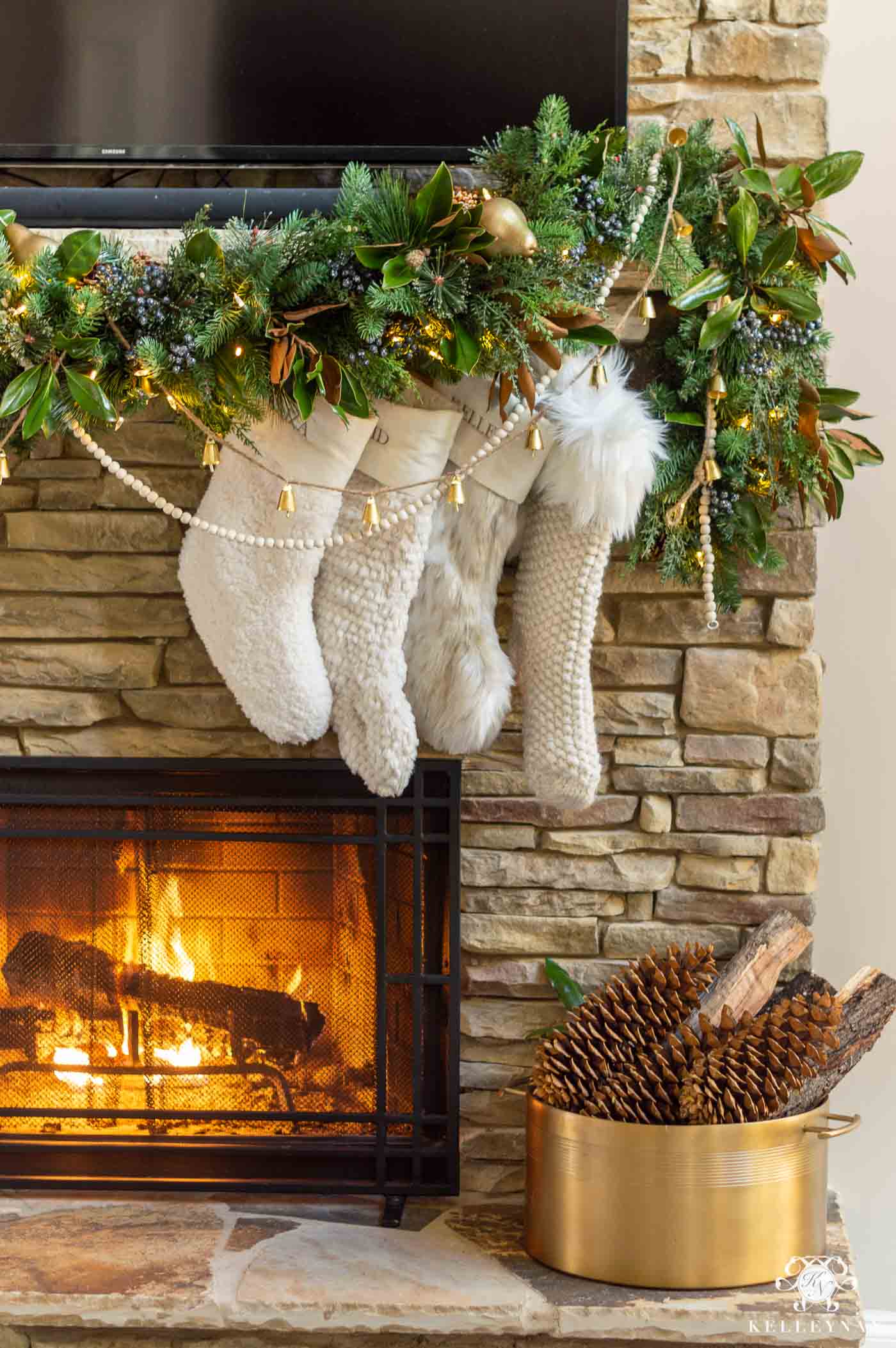 Sources: Fireplace Screen | Brass Bucket
Christmas Decor: Garlands & Picks
Year after year, I keep the same main green garland. But, I love to embellish it with picks, thinner garlands, and little moments nestled in.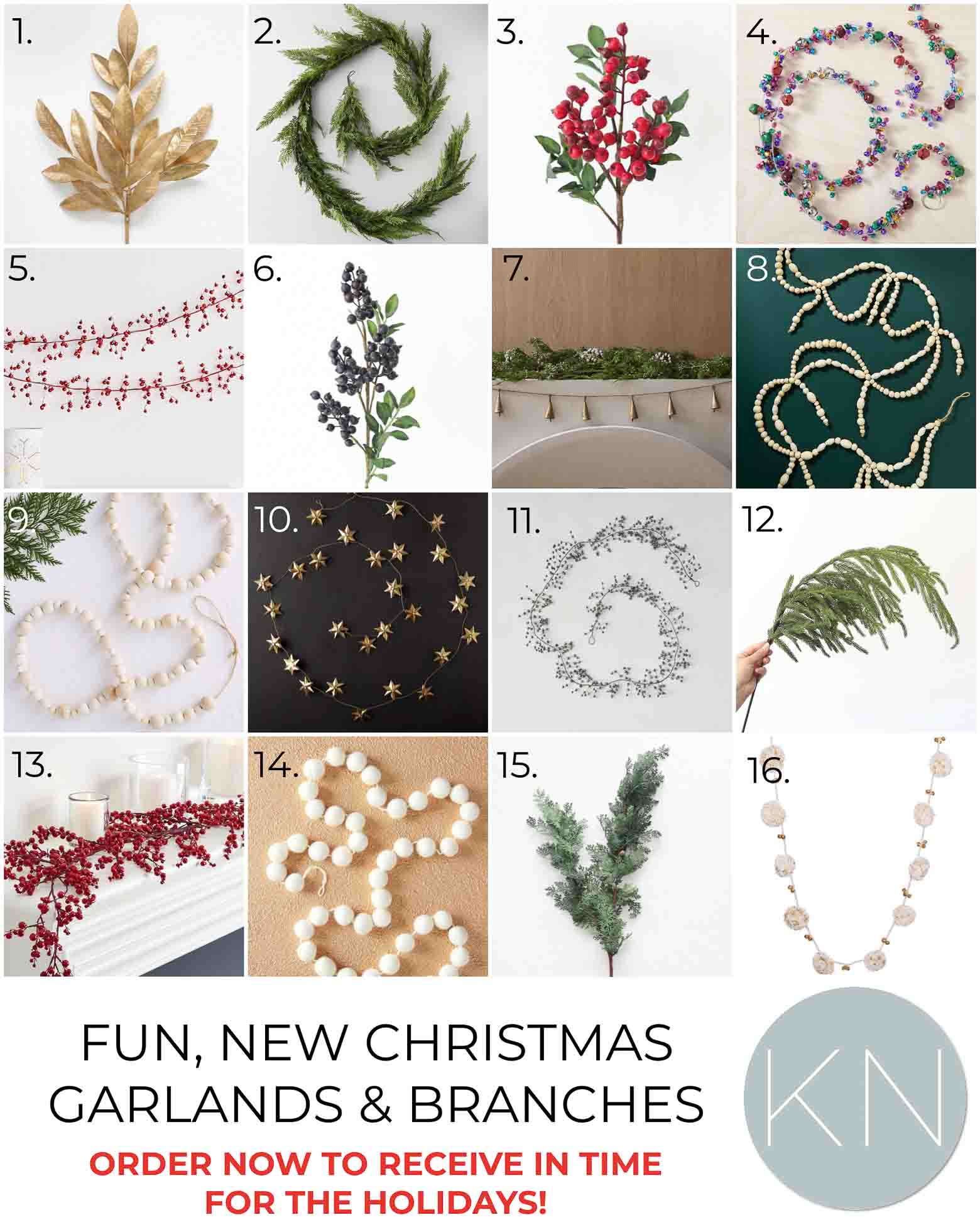 Sources: 1 | 2 | 3 | 4 | 5 | 6 | 7 | 8 | 9 | 10 | 11 | 12 | 13 | 14 | 15 | 16
Don't overlook #5 — a darling, unique jingle bell garland, the star garland (#10), and the pretty drapey bells (#7). I found another pretty silver jingle bell garland HERE, and since publishing, another pretty tarnished bell garland that's half the price of #10 HERE.
Here's a look at some of my mantel garland, with some smaller garlands mixed in, along with pics and accompaniments. You can find my full mantel garland tutorial HERE.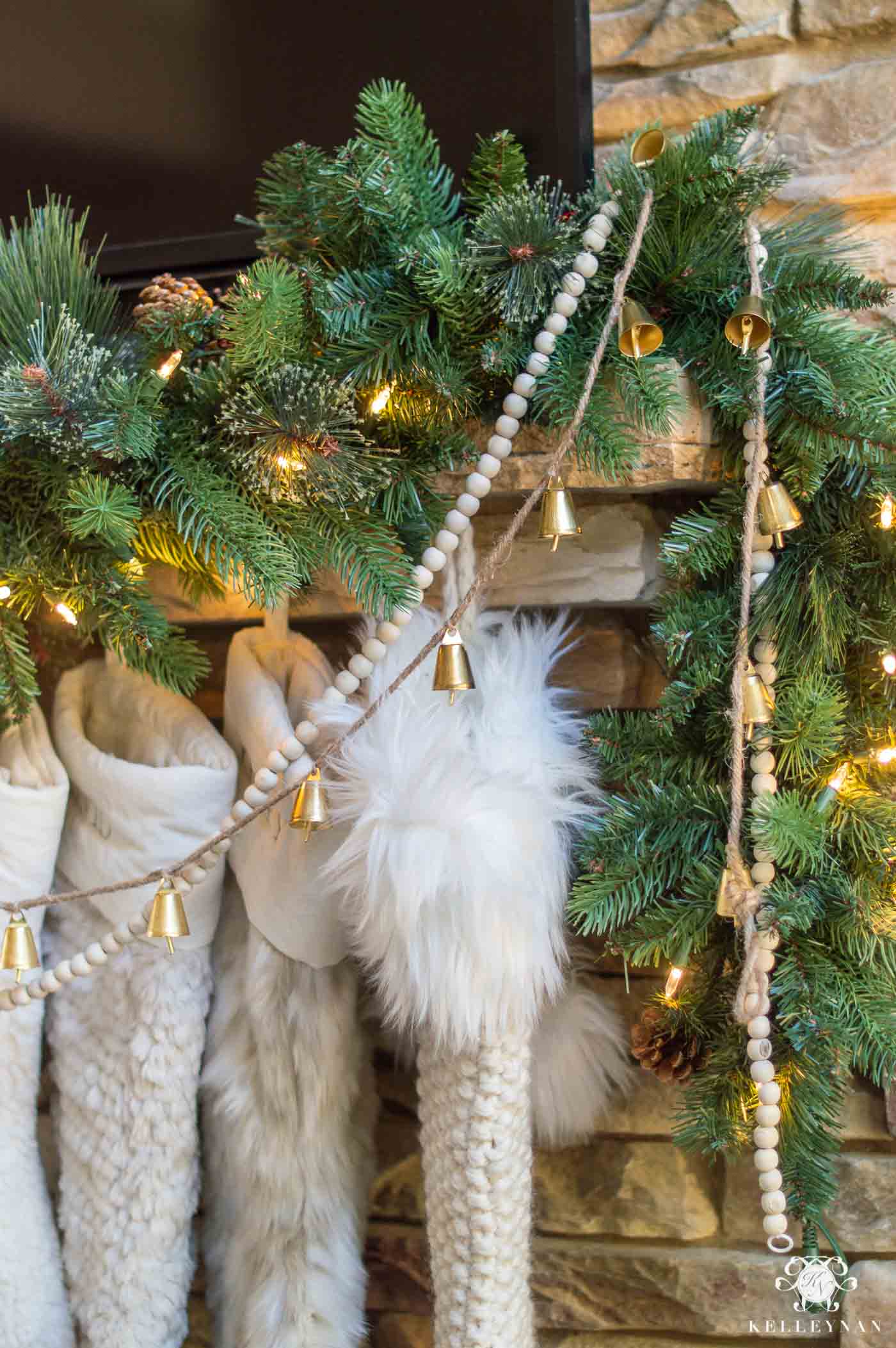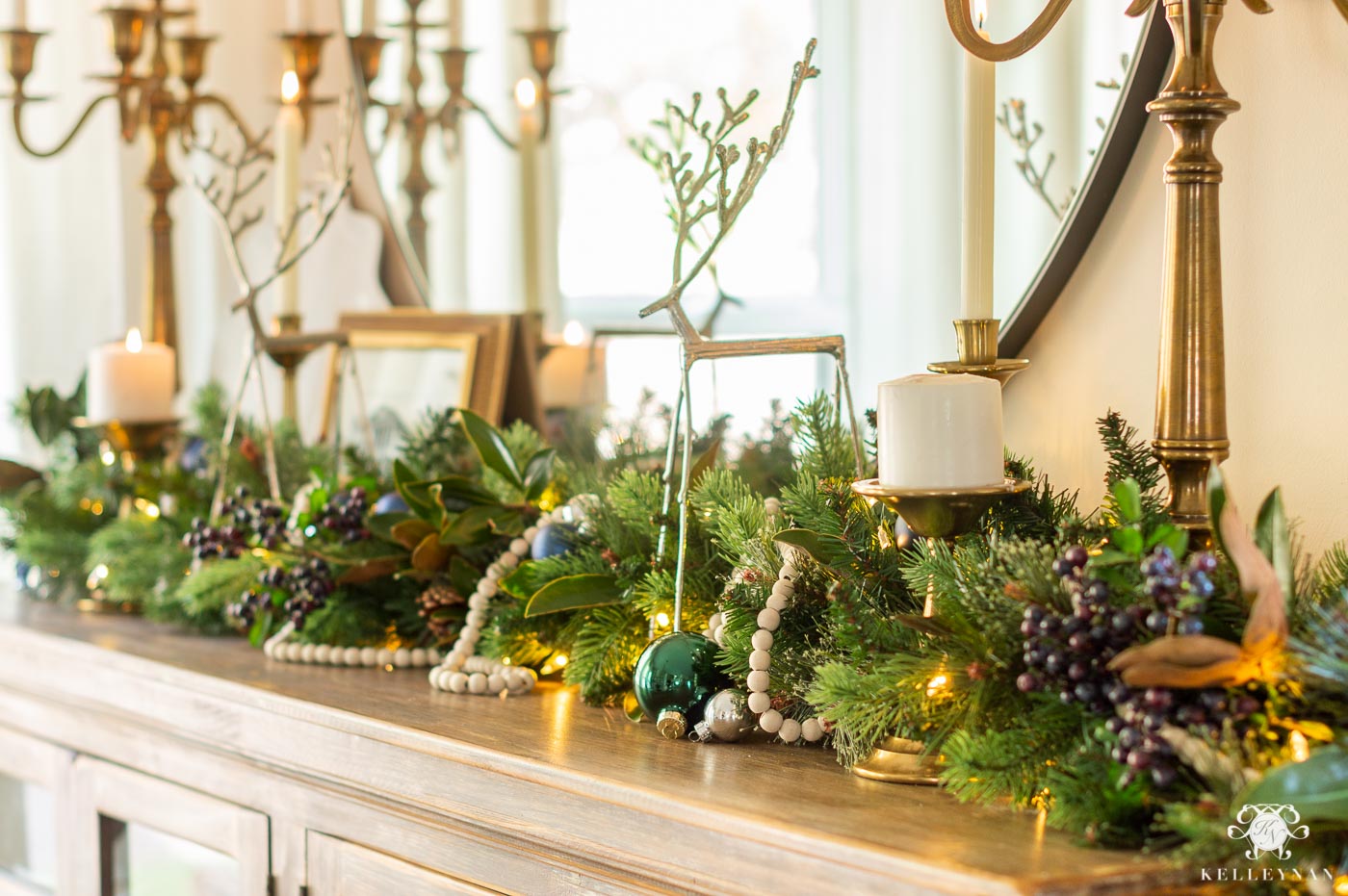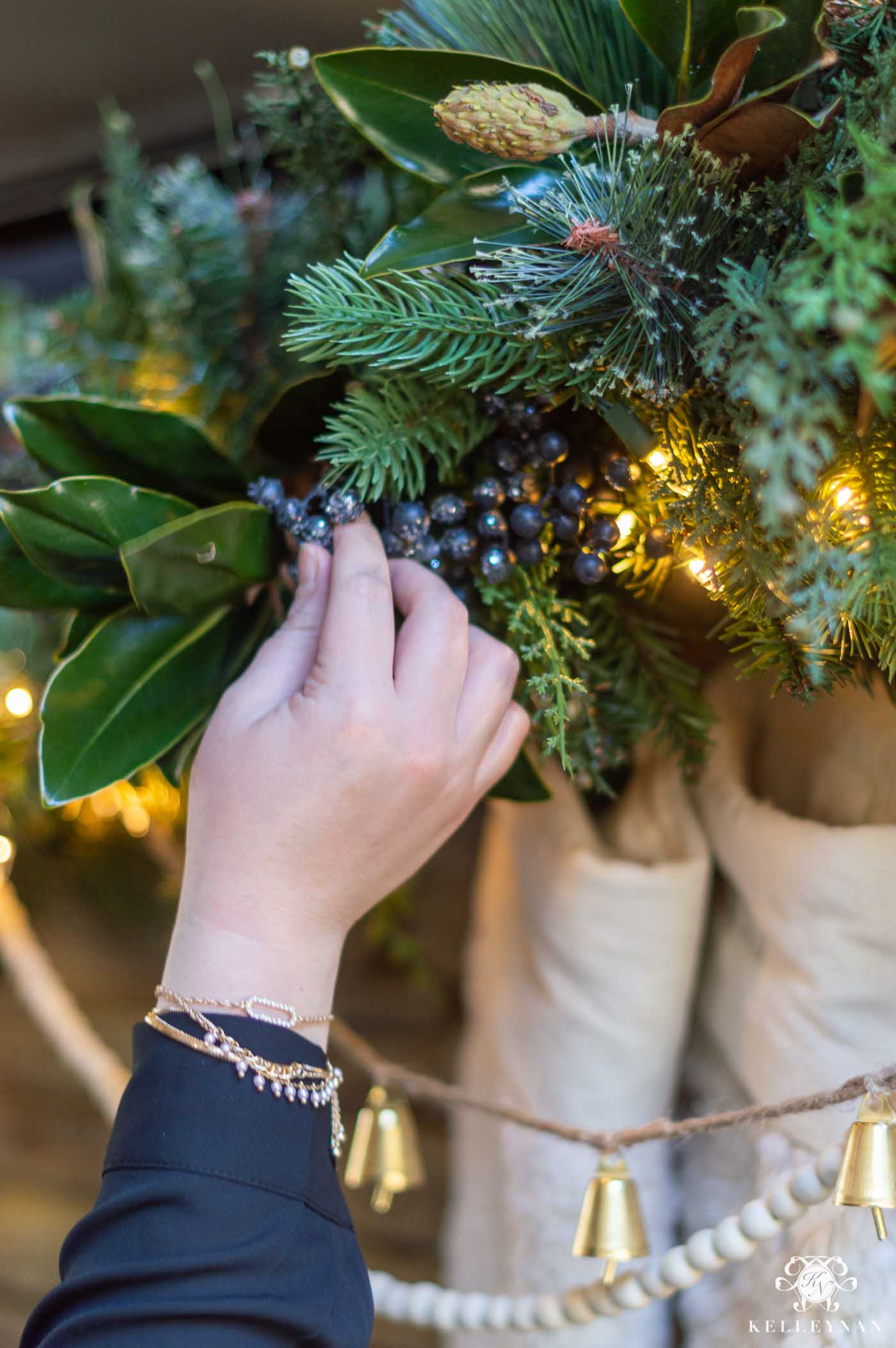 Christmas Decor: Advent Calendars
I love a simple, pock-style perpetual calendar that can be used year after year. THIS pretty one is under $20 and is a simple canvas color. And THIS wooden one wasn't available when I created the collage but it's back and on sale now!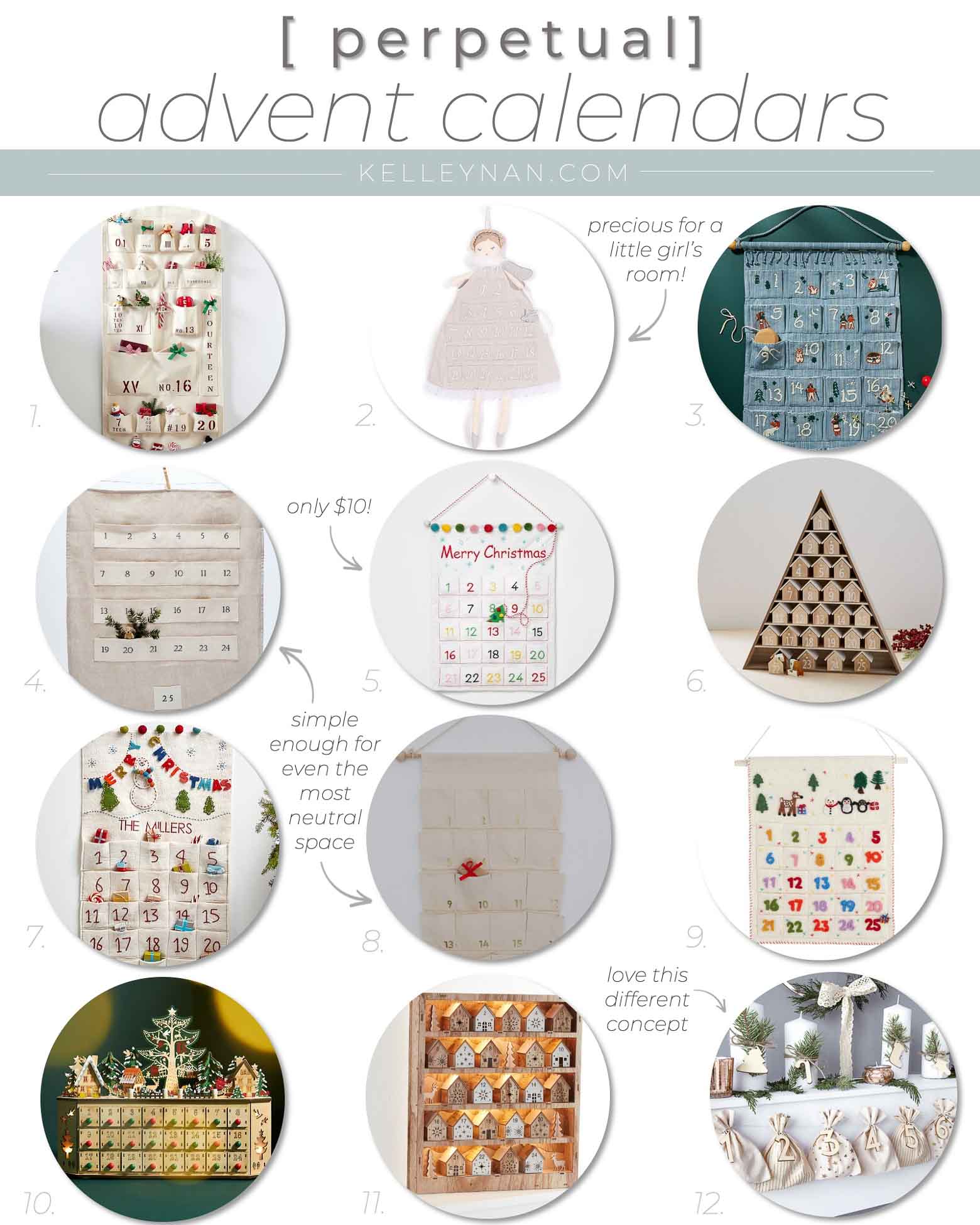 Sources: 1 | 2 | 3 | 4 | 5 | 6 | 7 | 8 | 9 | 10 | 11 | 12
As an FYI, if you're a fan of the Trader Joe's annual advent calendars, we were in store this past week and they had signage indicating they would be available starting on 10/25!
I know last year was a first for many — a lot of you started decorating for Christmas way earlier than in years past. So I'm curious — if you did, are you doing it again? Between holiday prep and living in fall, I'm not gonna lie — my house is currently a mish-mosh of all seasons. Pumpkin/tree mixes are definitely a thing in my house right now, haha.
For all the holiday posts to come, along with my 2021 Christmas home tour — set to launch in the next month — be sure to subscribe to emails at the bottom of the post. Wishing you all the best during this time of year — there's so much magic and joy to be had; here's to soaking it all in!
WANT MORE POSTS LIKE THIS? HERE ARE A FEW OTHER FAVORITE CHRISTMAS IDEAS