It's not too early and you can still enjoy all the fall to come while planning for the upcoming holiday season. Retailers have been adding to their sites for a while already, and as in the past couple of years, high-demand items continue to be expected to sell out early. As with gifts, I prefer shopping early to to avoid (or at least try to avoid) long lead times, stock shortages and shipping times. Below, you'll find a few faves so far this year when it comes to holiday accents and 2022 Christmas decor.
Simple lines and silhouettes continue to trend this year and I am really loving a lot of the pieces that especially tend to balance out my more maximalist trees ;). From bells and nutcrackers, to table top and full sized Christmas trees, you can find the sources linked below each graphic.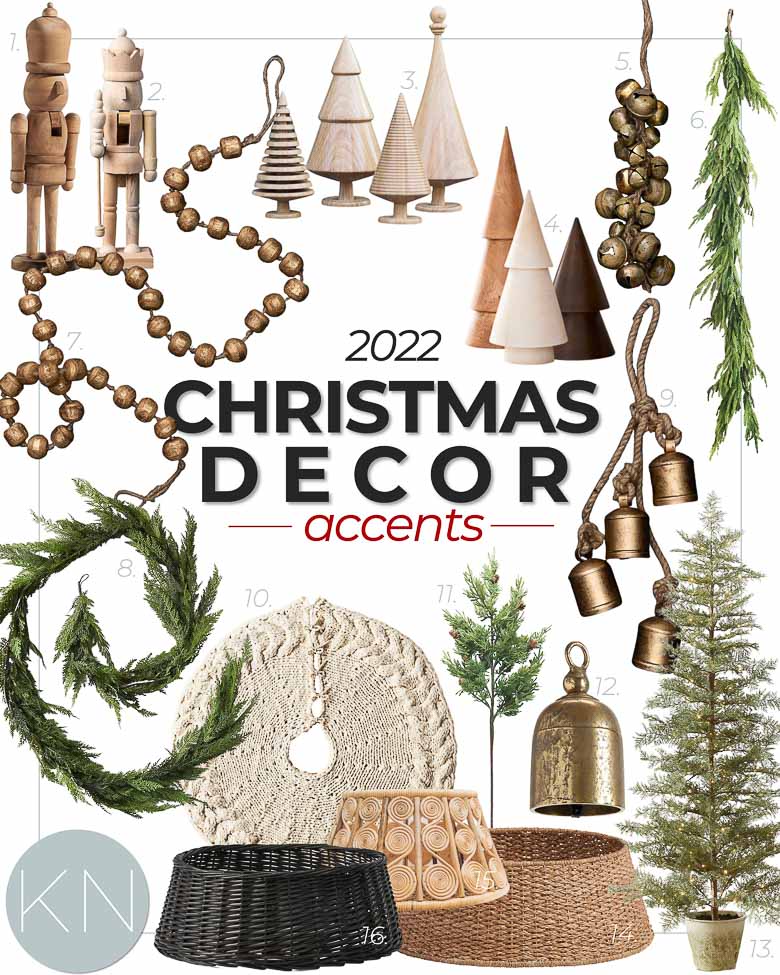 Sources: 1. Brown Wood Nutcracker | 2. Natural Wood Nutcracker | 3. Wooden Christmas Trees | 4. Stacked Wooden Christmas Trees | 5. Clustered Sleigh Bells | 6. Norfolk Pine Garland | 7. Gold Wood Beaded Garland | 8. Faux Cedar Garland | 9. Hanging Iron Bells | 10. Knit Wool Tree Skirt | 11. Faux Juniper Branch | 12. Vintage Hanging Bell | 13. Faux Potted Cedar Tree | 14. Natural Seagrass Tree Collar | 15. Swirly Rattan Tree Collar | 16. Black Split Willow Tree Collar
My mom can't resist a good nutcracker — in all shapes, sizes and colors — and she has amassed quite the collection. I am loving the simpler wooden nutcrackers we're starting to see –like THIS Brown Wood Nutcracker (1) and THIS Natural Wood Nutcracker (2). They are both available in two different sizes, but I think they look great paired together. I measured my bookshelves and ended up ordering one of THESE in each size.
And, because they are currently offering free shipping on Christmas decor, it was an easy decision to add THESE cluster bells (5) and two of THESE large hanging iron bell strands (9) to my order. I purchased the iron bells for the bottom of my stairs, but could also be persuaded to use them on my mantel…
Speaking of bells and mantels, the year before last, I used jingle bell garland as an accent on my Christmas mantel HERE and have a (you can also find a complete tutorial on how I hang and embellish my garland in THIS post). The jingle bell garland I used is no longer available, but THIS ONE is and would look fab on a mantel woven into the greenery. THIS Gold Wood Beaded Garland (7) is really versatile and would also work well on a mantel, but would also be perfect on its own, in a wooden bowl like THIS unfinished one, or my favorite black shallow bowl.
I went back and forth between a trio of THESE multi-wood tone trees (4) and THESE handmade trees (3), but ultimately went for the handmade trees HERE. They come individually or in sets, four wood tones, and multiple sizes; I ordered the set of 4 (mixed) in the "natural ash" color. They are made in the UK so they need to be ordered soon, but even though they're shipping internationally, they ship free! The carved details are gorgeous and I can't wait to see them in person.
I don't know if you're a tree-skirt-forever type or a collar fan, but THIS Natural Seagrass Tree Collar (14) will go with just about any decor color. And, the price of THIS Black Split Willow Tree Collar (16) can't be beat. It also comes in red. THIS Swirly Rattan Tree Collar (15) is super unique and comes in multiple sizes. For tree skirt fans, THIS Knit Wool Tree Skirt (10) is a splurge, but so pretty and classic and can be used year after year.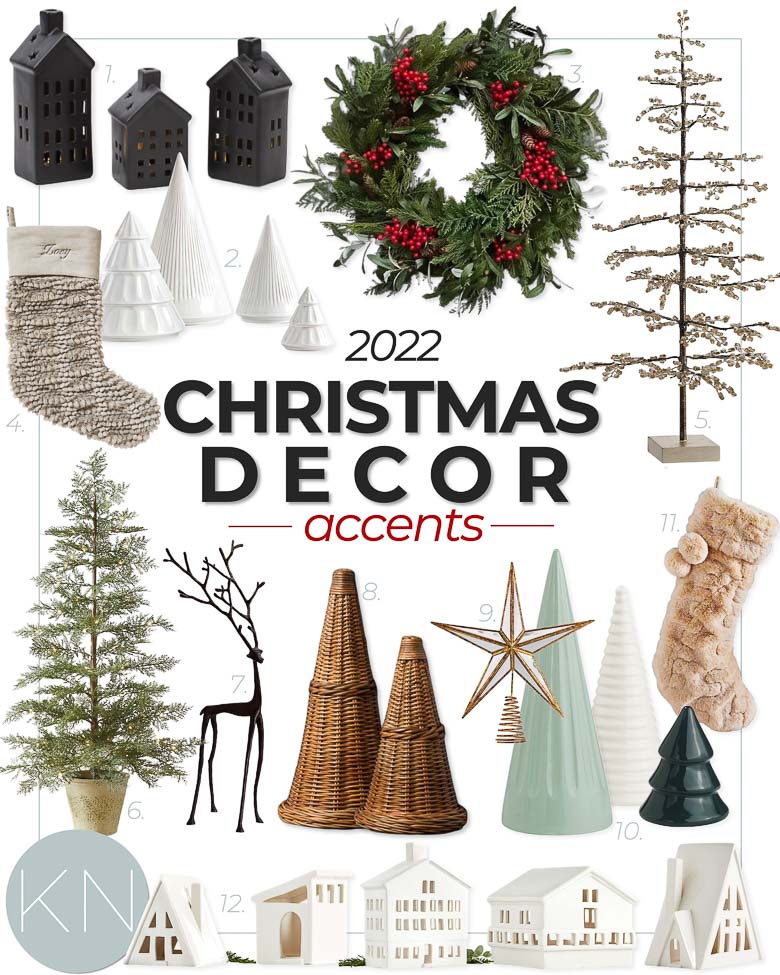 Sources: 1. Black Porcelain House Set (3 pcs.) | 2. White Ceramic Christmas Trees | 3. Pine Christmas Wreath | 4. Honeycomb Faux Fur Stocking | 5. Faceted Mirror Tree | 6. Faux Potted Cedar Tree | 7. Bronze Sculpted Reindeer | 8. Wicker Christmas Tree | 9. Antique Gold Mirror Christmas Tree Topper | 10. Winter Ceramic Trees | 11. Stocking w/Pom Poms | 12. White Ceramic Holiday Houses
In days past (and for some of you, today,) Christmas villages could be quite elaborate and take a huge space or even a room to stage. Growing up, we added a new classic house, church or shop to our village each year, and it took almost as long to set up the village as it did the rest of the Christmas decorations. I bet some of you can relate, haha. While I do love a good village ;), I definitely don't have the space to add one of the collectible versions to my Christmas decor every year. I am loving some of the simpler and minimized versions that have become more available in recent years, that can be easily placed at the top of a cabinet, on a console or foyer table, or even added to a cheese board in the kitchen.
Several years back, I added a small concrete village I added to the top of my black cabinet in the conversation room (see it in last year's tour HERE). Similar in style, there are some other simple, minimal village versions, like THIS Black Porcelain House Set (1). It's amazingly affordable at under $20, comes in a three-piece set, but will likely sell out SOON HERE. THESE White Ceramic Holiday Houses (12) are Alpine-inspired and have gorgeous clean lines — you can purchase individual pieces or the full set. THESE nostalgic paper houses (that operate from batteries) from Target are also easy on the wallet and adorable!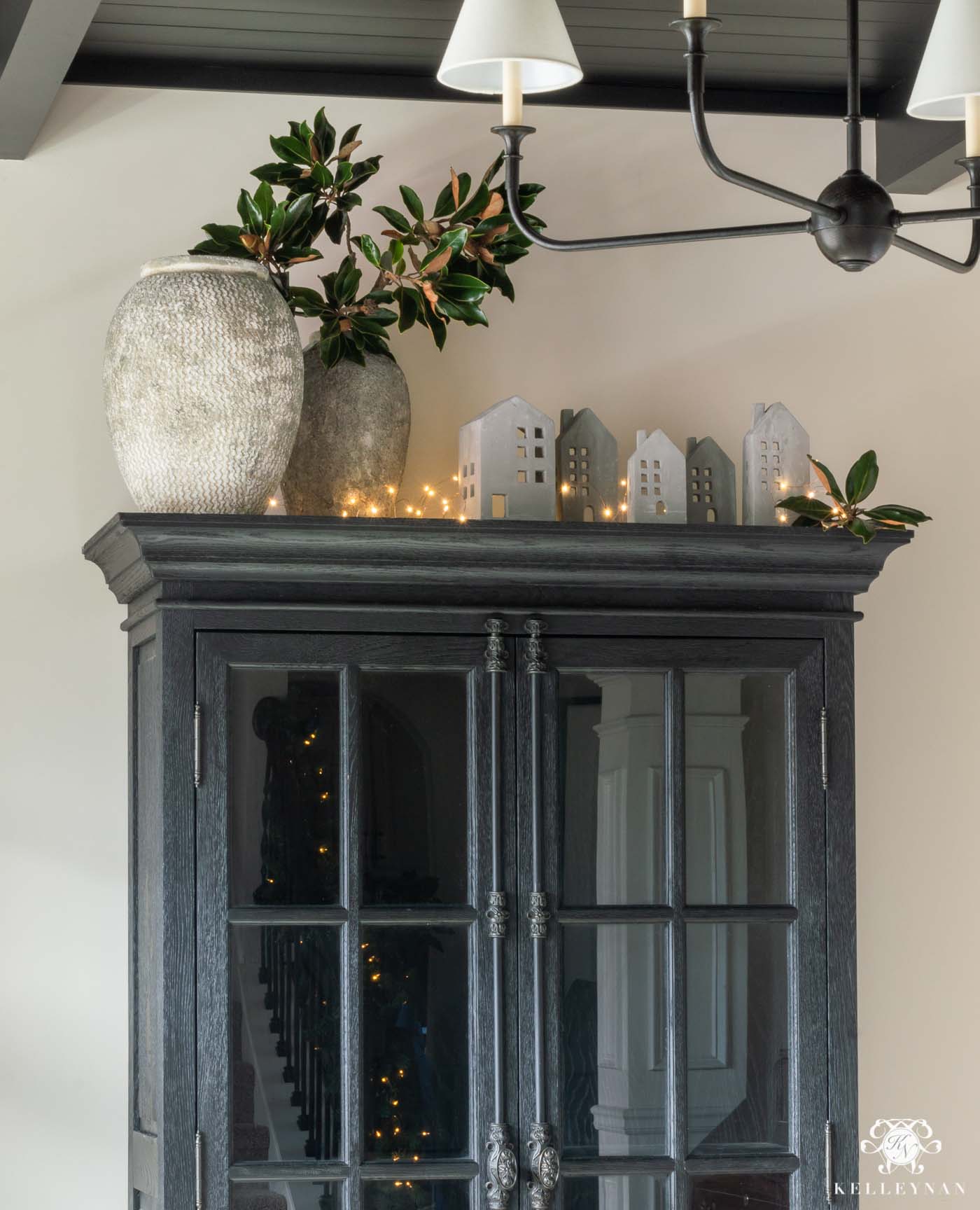 It was only last year I started using formal Christmas tree toppers on some of my trees. I added THIS silver glitter star to my flocked tree in the dining room, THIS gold glitter star to the nostalgia tree in the conversation room and THIS gold glitter starburst to the multi-colored tree in Eliza's room HERE. I also love THIS pretty Antique Gold Mirror Christmas Tree Topper (under $17!) that is just timeless.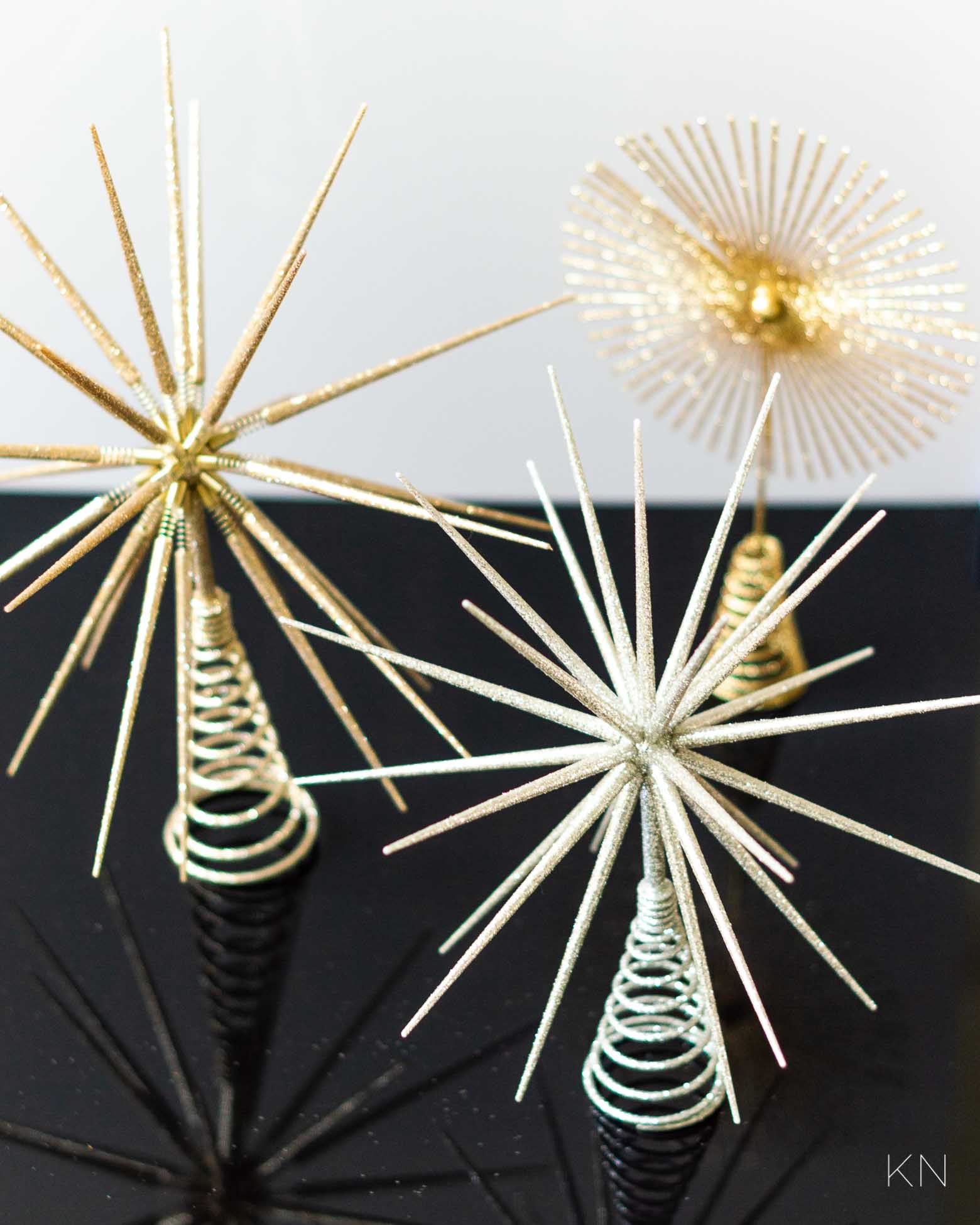 If you've read any of my seasonal wreath posts, you may remember some of personal favorites and personal favorite wreath shop. It's the shop that was responsible for THIS purple and pink tulip wreath — one of my all time favorites for spring — and THIS apple foliage wreath — similar to one from her shop I've used in the past in the fall. I absolutely LOVE THIS new Pine Christmas Wreath (3) that the shop is now offering for the Christmas season. Several sizes are available (I go with the 26″ option) and the wreaths never disappoint!
We use our same stockings year after year. To make things easier, should we ever need to extend our collection, I didn't order identical stockings, but rather coordinated stockings. We have THIS honeycomb faux fur stocking, THIS alpaca fur stocking, among others. THIS Stocking w/Pom Poms in faux fur would be a cute addition. And I've never regretted sticking to neutral colors when it comes to stockings — whether I'm feeling more red or white or gold or blue, the stockings always go, year after year.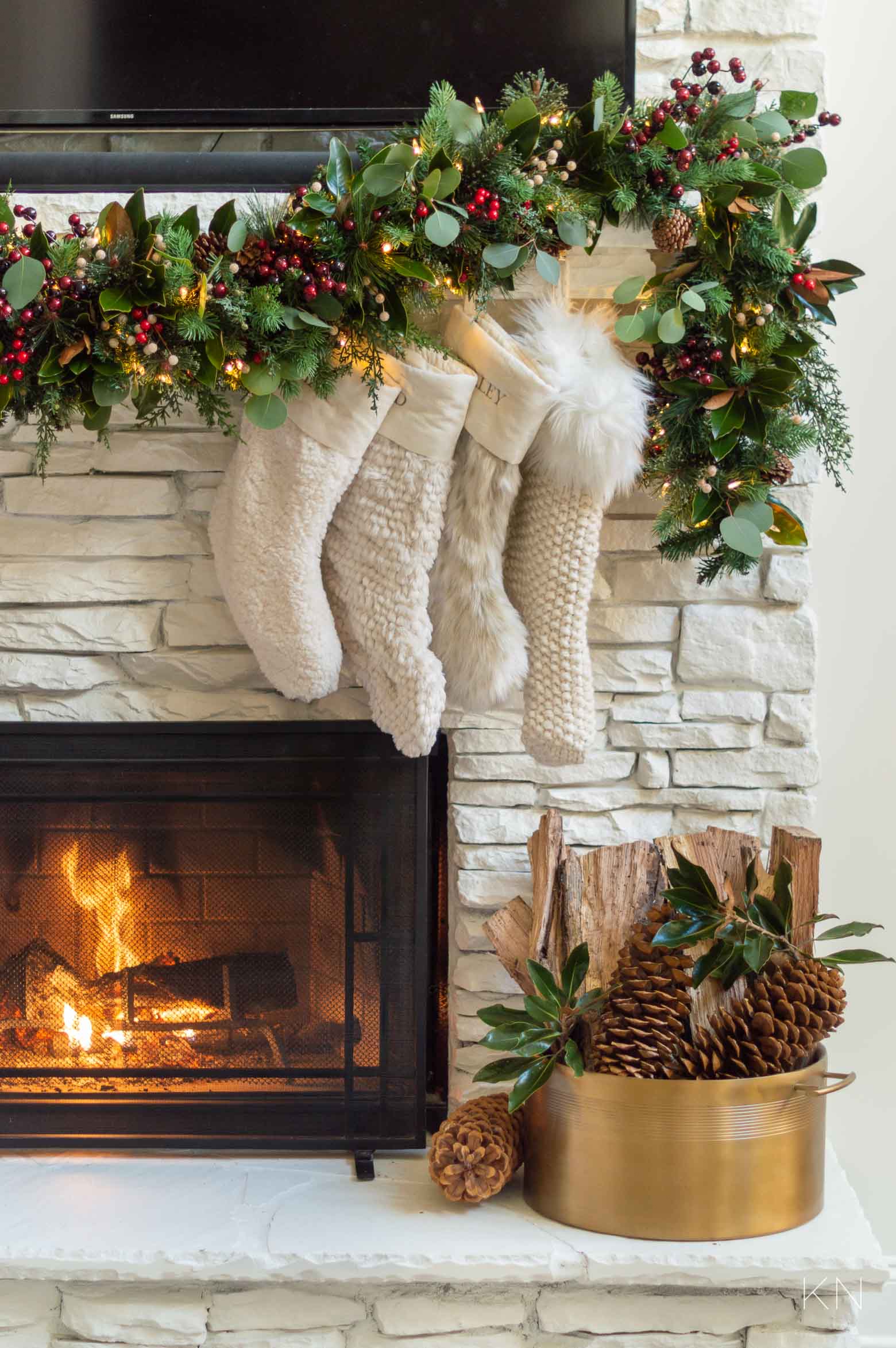 As I mentioned earlier, there are lots of cute Christmas trees that look great on their own, grouped together in a forest, or used in a village. THIS Wicker Christmas Tree (8) comes in two different sizes and I really like how they look together as a pair. I'm also a fan of THESE green-toned Winter Ceramic Trees (10). Each tree is a different color, size and shape.
We actually have two different sized of THESE Faceted Mirror Trees (5) that I purchased with the intention of using them for multiple seasons — they come in three sizes; we have the medium and large HERE. Here's a look back to when Eliza and I were decorating her tree for Valentine's Day last year. We took a simple approach, with red and white ornaments and thin red velvet ribbon. The exact ornaments we used for our Valentine's tree last year are not currently available, but I did find THESE gold and white ornaments, THESE pink and white star ornaments and THESE red and white heart and ball ornaments from the same collection! They all come in a set of nine ornaments and would also work for a color-themed Christmas tree in a smaller space.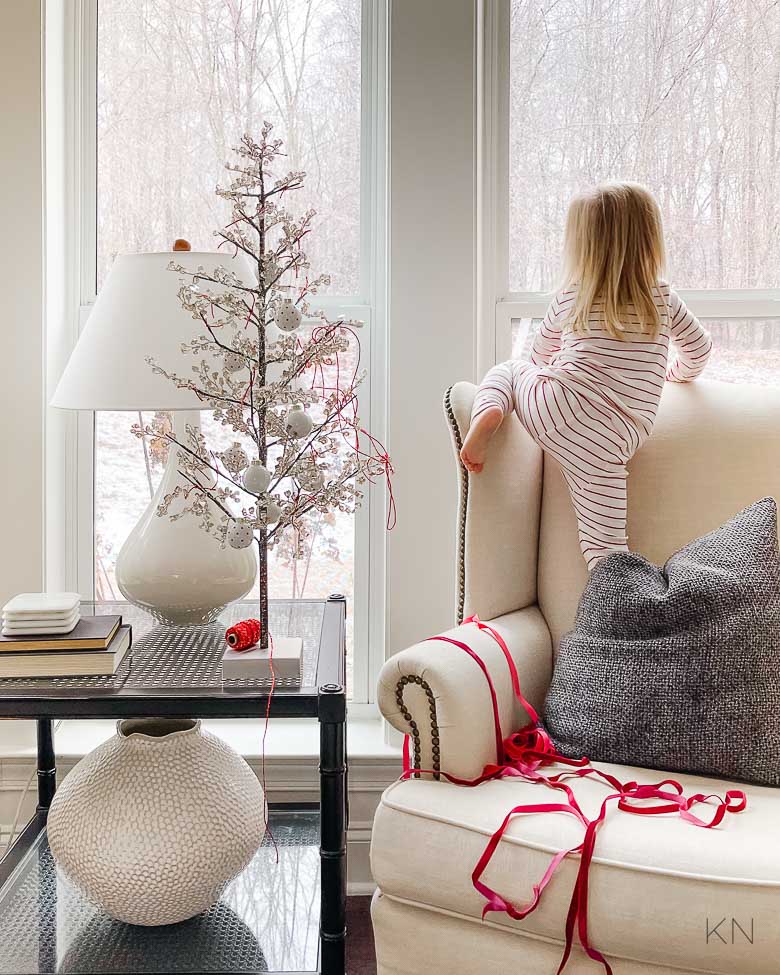 Sources: Faceted Mirror Tree | Red Velvet Ribbon | Wingback Chair | Textured Linen Pillow Cover in Charcoal | Large White Vase
As a side note, the white nativity I shared last year isn't available right now, but THIS white terracotta set is under $80 and is a simple, stunning nativity to use each year.
Have you started your plan for this year's Christmas decorating yet? If so, are you planning to add any new items to your decor or to change up your themes and colors? I am already seeing "only xxx many weeks until Christmas," which let's be honest — it's just crazy! As always, I'll be repurposing faves from what I've collected over the years, and only incorporating a few new pieces this year, and I can't wait to get started!
Other Posts to Check Out
2022 Christmas Decor Loves