Before we headed out west for our 10 year wedding anniversary, I didn't know how much or if I would share any details from our trip. One day in and I knew I would be coming back and posting — at minimum — a few snapshots of the highlights. We had always planned to go to Europe for this anniversary — Italy (Dave's pick) or Ireland (my pick). But, over the past couple years, there's been such an uncertainty — for many reasons — with international travel so we decided to stay within the states. Dave and I are both in agreement that our trip to Jackson Hole and exploring the Tetons and Yellowstone (and everything about a brief stay in Montana and drive through Idaho) was our best trip ever.
*Posts on KelleyNan.com may contain affiliate links. Click HERE for full disclosure.
I couldn't decide how to structure today's post — day by day, favorite things ranked, by location… So, It will be kind of a mish-mosh. A vacation photo album (for those of you who are interested) by general locale (regardless of the order of the visit), an overview of what our trip and days looked like as a whole, and individual places we went with recommendations.
You can catch a video of our trip below. I cut down hours of footage to only a minute and a half but it definitely is a good representation of the variety and scenery.
Getting There…
I booked our trip back in February and started checking flights from Atlanta to Jackson, WY weekly. I don't know if it was just the time of year (mid-October), that the Jackson airport had recent renovations, that we fly Delta or what, but there were zero direct flights and flights with layovers were either too too brief (30 minutes in Salt Lake City), or would take all day. And while pricing for everything has increased, these tickets (again, for non-direct flights) were astronomical. Like $1,200 per person for the main cabin. Yikes.
When July arrived and no direct flights or better options had been added — at least with Delta — I started to explore other options. Again, not being familiar with this part of the country at all, when I was looking for a map and airports, I found the Bozeman airport in south Montana that appeared to be just on the other side of Yellowstone. The north entrance to Yellowstone has been closed but when I mapped the airport to our hotel, it looked like we could make the trip in under 4.5 hours. I loved the idea of flying into Montana and having more opportunity to take in scenery we may not otherwise experience. Bozeman had direct flights to Atlanta and they were less than half the cost of the Jackson flights with layovers. The decision was an easy one and I just hoped the area didn't get an early snow close to our trip 😉
The judgement call to fly into Bozeman was the best one we could have made. The Atlanta airport continues to be a nightmare (even getting there, it's an hour and a half without traffic and driving through Atlanta to get south of the city). We checked in ahead of time and got to the airport at 2.5 hours before our flight. Security was so awful, we were able to grab food and make a quick bathroom stop, but we only got to our gate 10 minutes before boarding. Those plane views, though…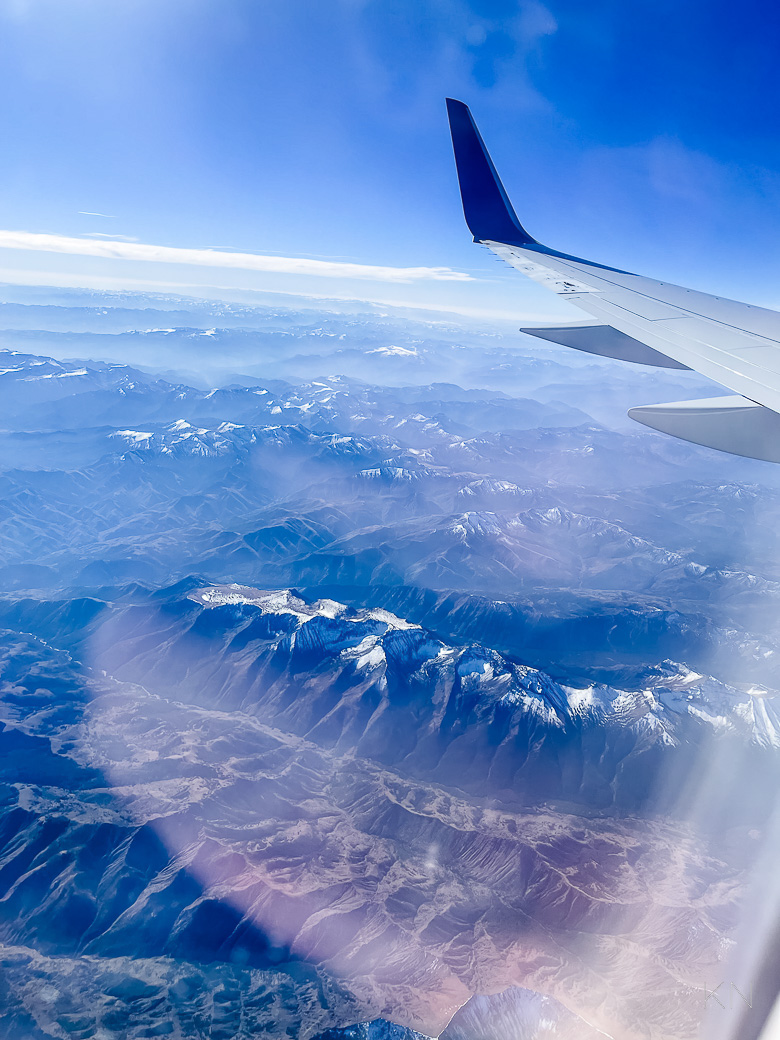 That said, when we landed at the Bozeman airport, it was like another world. The airport is well maintained and clean and the details — from uniform branding to the gorgeous wood planked ceilings and antler fixtures — make you feel like you're in a lodge. It's small, easy to navigate, not crowded, has nice restrooms, and even with an only brief walk to the baggage claim, our bags were already waiting for us. Rental car counters are positioned conveniently, too, and the staff was all so friendly (another stark contrast to what we're used to in the crazy-busy Atlanta airport.) I wish you could see how impressive this was in person. And, check out those mountain views!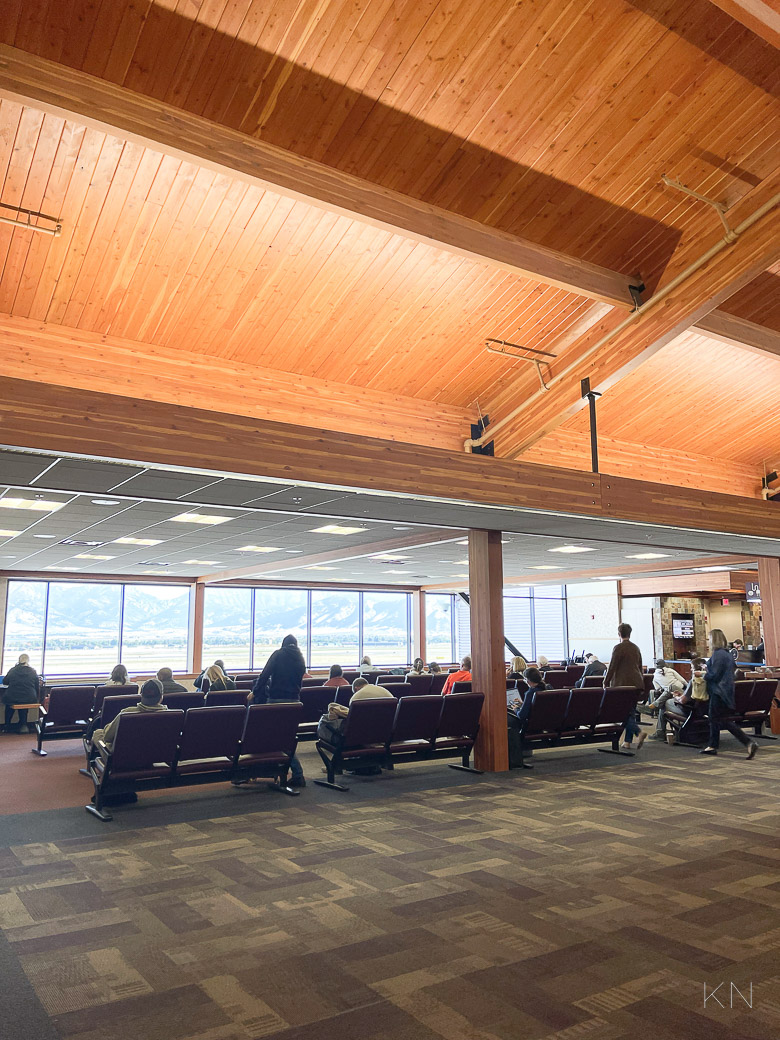 Because the scenic drives are literally one of the main activities and purposes of the trip, the drive south to Wyoming didn't feel like a travel day. It felt like it was just our activity for the day. And if you're as unacquainted to the majestic wonder that is this part of the county, I bet you'll be just as amazed as I was. So now that I've shared the challenge but ultimately, easy and (for us) best decision to get there, let's talk about the actual trip!
*TOP TRIP RECOMMENDATION*
I can't *star* this enough. Download the Gypsy app. Trust me. One of Dave's coworkers recommended it so we downloaded it, not knowing what to expect. Well, I can confidently say it was responsible for so much more enjoyment and understanding than had we not used it. There are a ton of parks and trips that you can purchase (we chose the Yellowstone/Grand Teton combo for around $13 I believe), and using GPS, you play the app and the narrator guides you on your tour. Wherever you are, he gives tips for side roads, places to typically spot animals, views you wouldn't get otherwise, things you can skip, science lessons, history lessons, geography lessons… It's excellent. He gives suggested stops based on time and days, but picks up wherever you are. You can let the app steer your journey more, or just use it as a supplement for information. Depending on the day, we did both. And the next time we take a trip like this, using a Gypsy self-guided tour guide will be what we do again.
No one warned me that a good 50% of our trip would be experienced with no cell service. If you are a planning a trip, know that you will be isolated without contact, even on main roads, while you're there. Our biggest hurdle was trying to find enough signal to pull off to call Eliza each evening. That said, the Gypsy app operates off GPS, so once it's installed, it works even when you don't have cell signal. The Gypsy app would be working, even when we couldn't get Google maps to connect to a new location. Crazy. You can check out the website with info, trips, etc. HERE.
Best Things We Packed/Most Used
Jackson Hole Trip
While there were activities and some places that had closed for the season by the time we arrived in Jackson, I don't regret the time of year we chose to travel at all. It wasn't crowded, we could do what we wanted, the weather was glorious, and one of the best parts — the gorgeous yellow aspens that were painting the landscape were at a peak.
We took the first flight out of Atlanta but with the flight time and time difference, it was still approaching noon (MST) by the time we arrived. We were hungry. We left the airport and headed south  mapping ourselves slightly west, and going through East Idaho showed to be the quickest route so that's the path we traveled. We pulled off about 45 minutes down the road, in Big Sky, at Cafe 191 — right on the highway. With sandwiches, salads, and burgers, it was just what we were looking for. Dave had a club with onion rings he enjoyed but the grilled cheese on sourdough with beer battered fries I ordered were FIRE. Just awesome. At this point, we had stars in our eyes and were overflowing with excitement so they probably could have served us a peanut butter sandwich and we would have been thrilled, haha. They also had a map where you can mark where you're from so we left our Cumming, GA mark on the wall.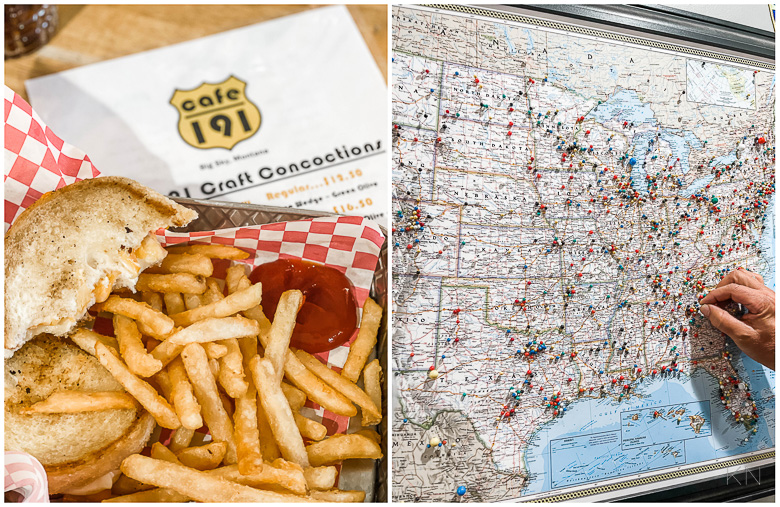 Going through Montana, the highway follows the Gallatin River and it's absolutely stunning. A River Runs Through It (remember that awesome movie?!) was filmed in the area we traveled, on the river south of Bozeman, to give you idea.  I would love to make a trip back and include exploring that, the trails, and more of the area in a future trip.
Idaho was a whole different kind of beautiful. I soaked up the no-traffic and enjoyed roads that weren't covered with huge tractor trailers throughout our whole trip down, but Idaho was pretty, with even fewer people, lots of land and lots of farms — most specifically, potato farms. It was a different world and Dave and I both agreed that if we didn't have ties to where we currently live, we would already be in the process of relocating, haha.
WHERE WE STAYED
We stayed at The Four Seasons in Jackson Hole and couldn't have asked for better accommodations. We started receiving communication from the hotel months in advance with offers to assist in reservations, activities, and just about anything you could ask for. The road past the hotel was closed for the season so we had to travel from the Teton Village area, through downtown Jackson to circle back to Grand Teton National Park, but like I said, the trip was largely in part about the drives. Here's the view from our room…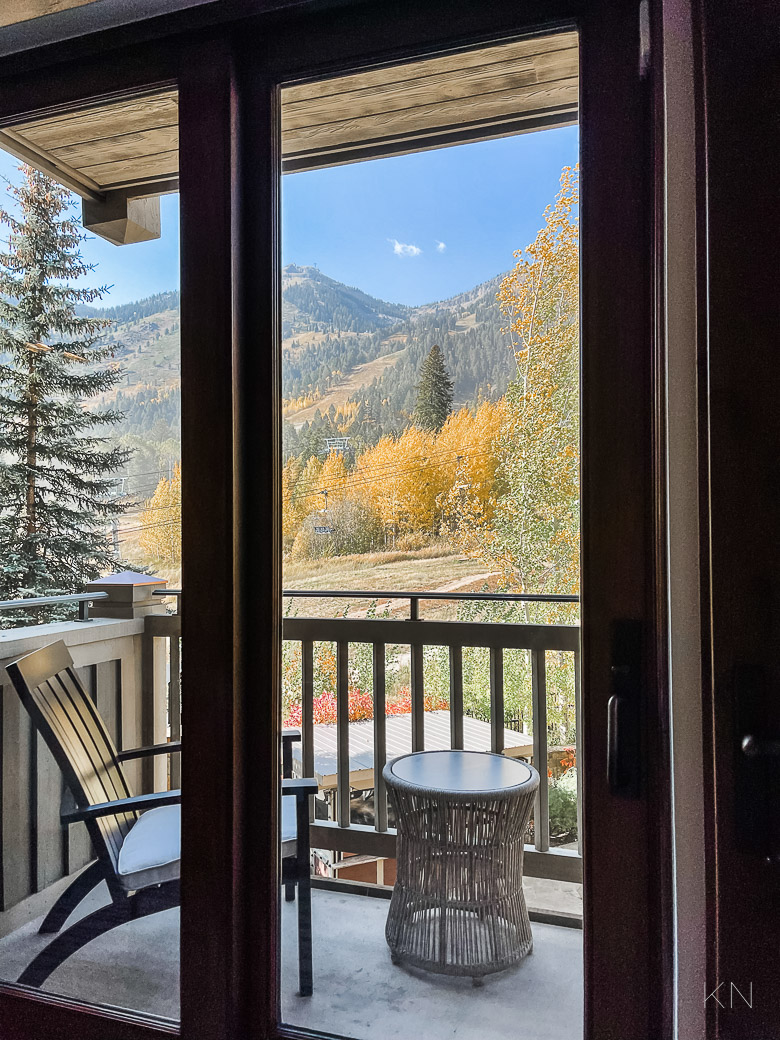 We stayed in a standard room but upgraded to the mountain view. It was spacious, the bed was comfortable, but my favorite part was the switch-operated fireplace. We would sleep with the fireplace and AC on, haha. The staff was friendly and accommodating and the room comes with an ipad-type of communication hub next to the bed for requests and information. They are in the process of upgrading their tv entertainment and when we asked about access to our streaming services, they brought us a complimentary Fire Stick. They have large walk-in closets, which are especially nice when you're traveling with so many heavy things and layers. The temps while we were there ranged from low 20s to high 60s — it took three completely packed large checked suitcases (with basically no waste) to get us there. Having a spacious closet we could unpack in was huge. BTW, we took our new luggage (HERE — Christmas gift idea alert!) on their maiden voyage for this trip, and they were fabulous. It was fortunate though, that I still had an old HUGE suitcase that we were able to use, too.
After we unpacked the evening we arrived, the headed down to The Handle Bar, just off the lobby, and posted up outside around a fire pit for a cocktail. The front desk said you can also request a s'mores kit from the server/bartender. We cheers-ed to the start of our week before heading upstairs to order room service.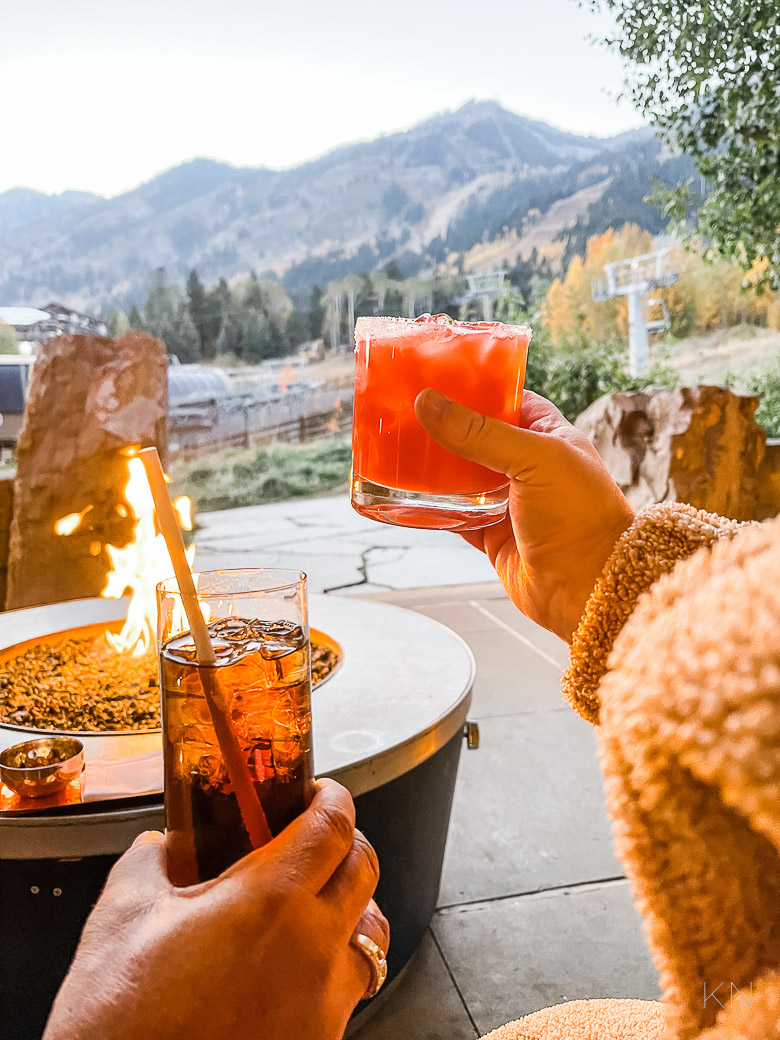 Dave and I split a burger from room service and agreed it was one of the best burgers we'd ever had. It was also one of the best singular food items from our entire trip.
On one of the mornings we were preparing for an extra early start, we ordered pancakes (me) and a Belgian waffle (Dave) with bacon. They set us up in front of our fireplace while it was still dark outside; this was another one of my favorite meals of the entire trip.
And then on our actual anniversary, we arrived back to the hotel to find champagne and treats set up in our room.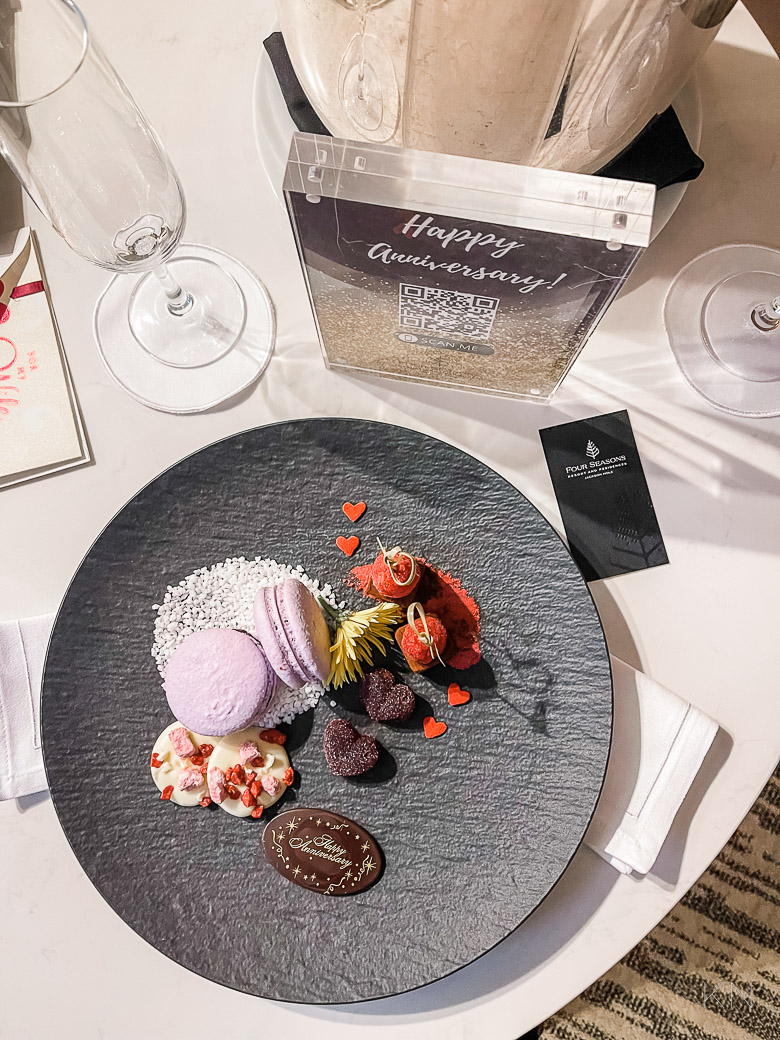 During the whole stay, it felt like we were the only people staying at the hotel. I don't know that we ever saw anyone else on the elevator, our car was always pulled around to the front before we even made it downstairs, and the attentiveness of the staff was unmatched. If you have the opportunity, I would highly recommend staying here.
GRAND TETON NATIONAL PARK
For our first morning, I had scheduled a wildlife tour with EcoTours — a local company that takes you out in a hatch-roof enabled vehicle to some of the most noteworthy spots around the Tetons. We met in downtown Jackson at 7:00 a.m. (we swung in to a Starbucks we found at an Albertsons just down the road), and loaded up. Along with Dave and myself, there were two other couples. Every couple had their own row and their own window.
This was an incredible way to start the trip because it gave us places we wanted to go back to, a better idea of how to get around, some of the general dos and don'ts of the area, and taught us how to spot wildlife. Also, the value is almost unbelievable. If you are planning this trip, I would start it the exact same way. They offer sunrise and sunset tours for multiple lengths of time, Grand Teton, Yellowstone, etc. — I loved the four-hour sunset tour around the Tetons that we chose. Our guide, Harlan, was amazing. With multiple areas of studies and a masters in (something ecological I can't remember), he was a wealth of knowledge and we were able to drill him with all our questions. Heading out, it was the first time we got to see the Tetons in the true light.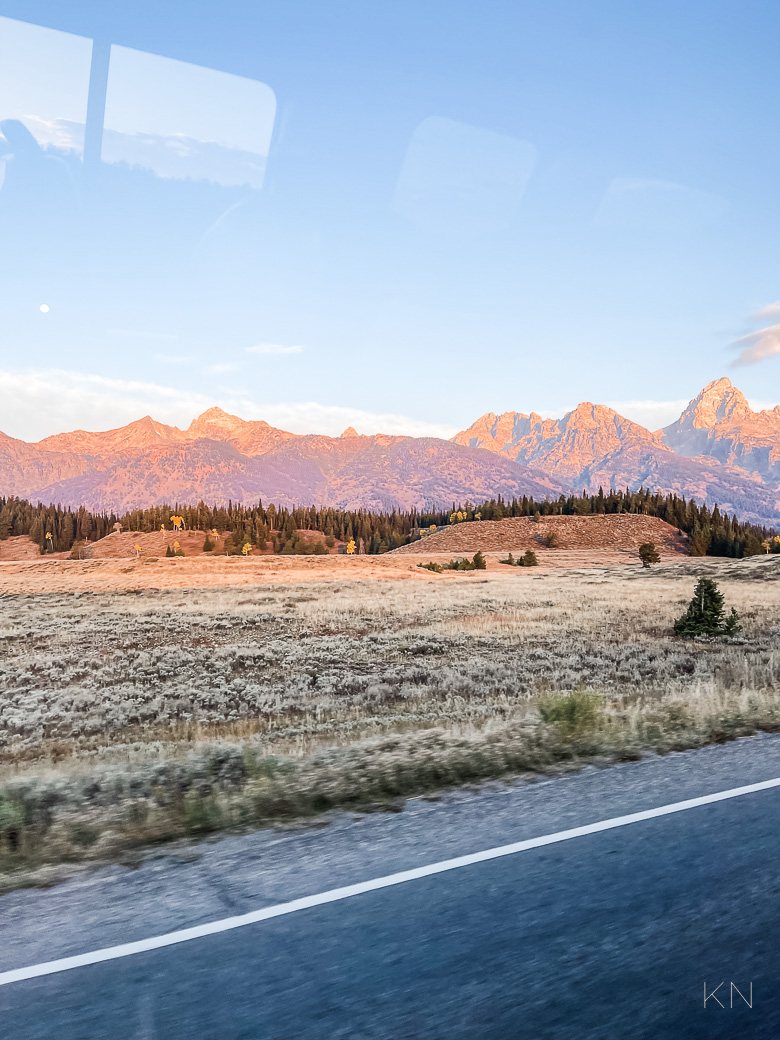 We made frequent stops and would unload, out of the car. Harlan was an expert at locating animals and directing us to them. He gave us each a set of binoculars, and would sight in his own scope and take photos and videos that he later shared with us.
Even the small companion sized Swarovski binoculars were shockingly amazing and like nothing I had experienced. We wouldn't have been able to see a fraction of what we did without them. They ended up being Dave's anniversary gift when we spotted them in an outdoor shop, later in the week. They're priced comparably to cameras (which was surprising but I guess makes sense), but he'll be able to use them on our land, hunting, etc. They made the budget binoculars we had brought for the trip look like a toy so I'm thrilled he'll be able to experience everything this way, moving forward. If you want the deets of the binoculars, you can find them on Amazon HERE.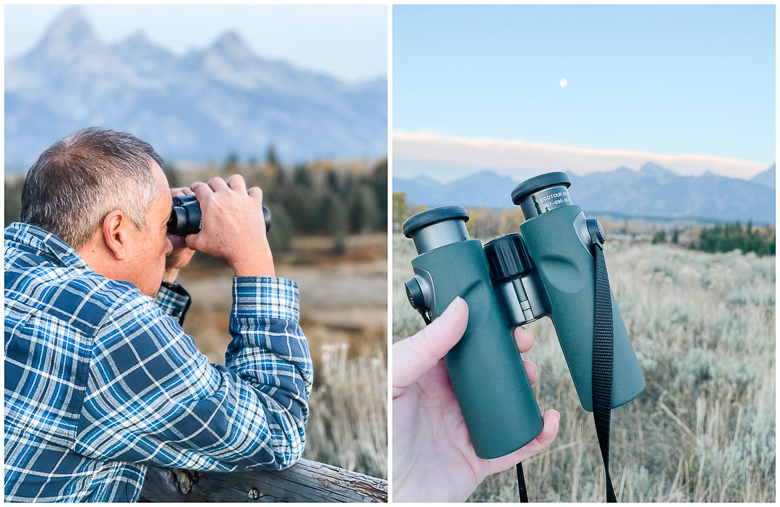 I couldn't get enough of the scenery, as the sun rose. I videoed everything.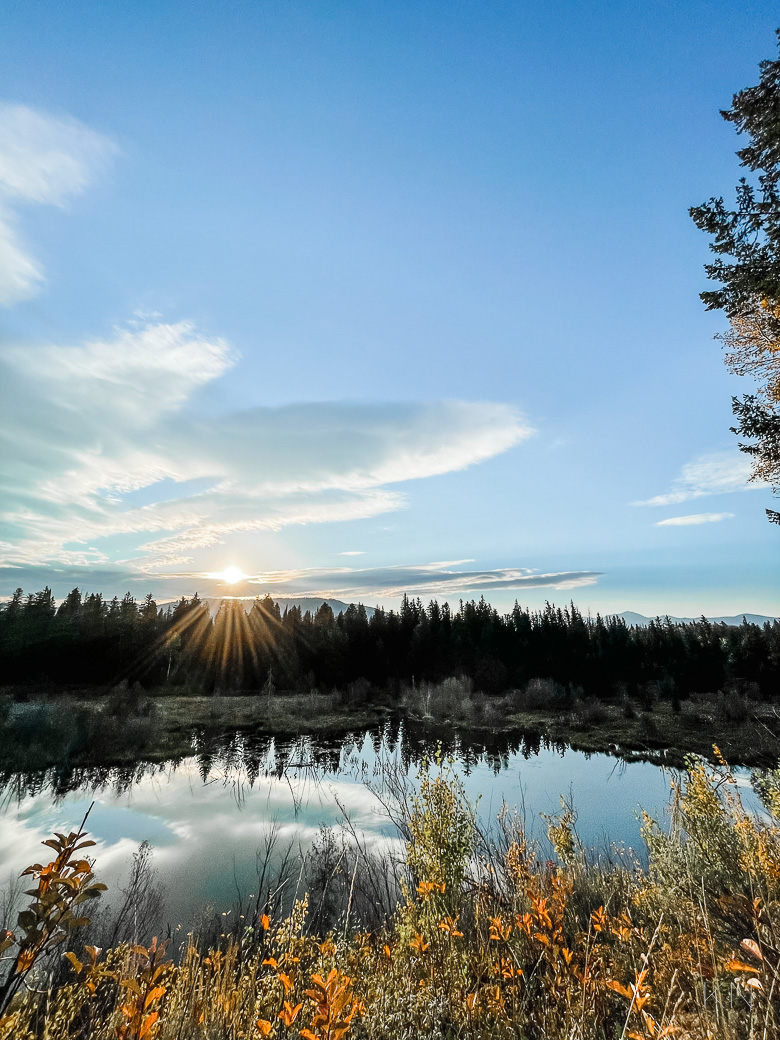 On our morning tour, we encountered…
A large herd of elk (with two males, they call 'bulls'. We also had other elk sightings.
A large male moose
Deer
Pronghorn (below; I'd never heard of those)
A large herd of buffalo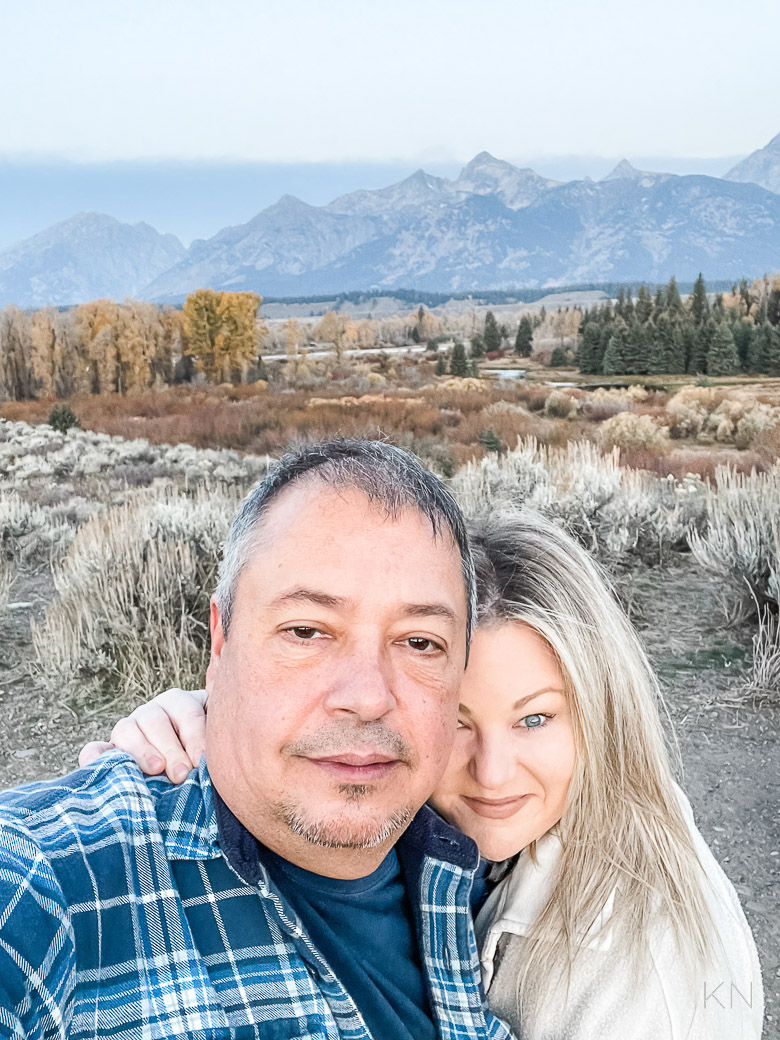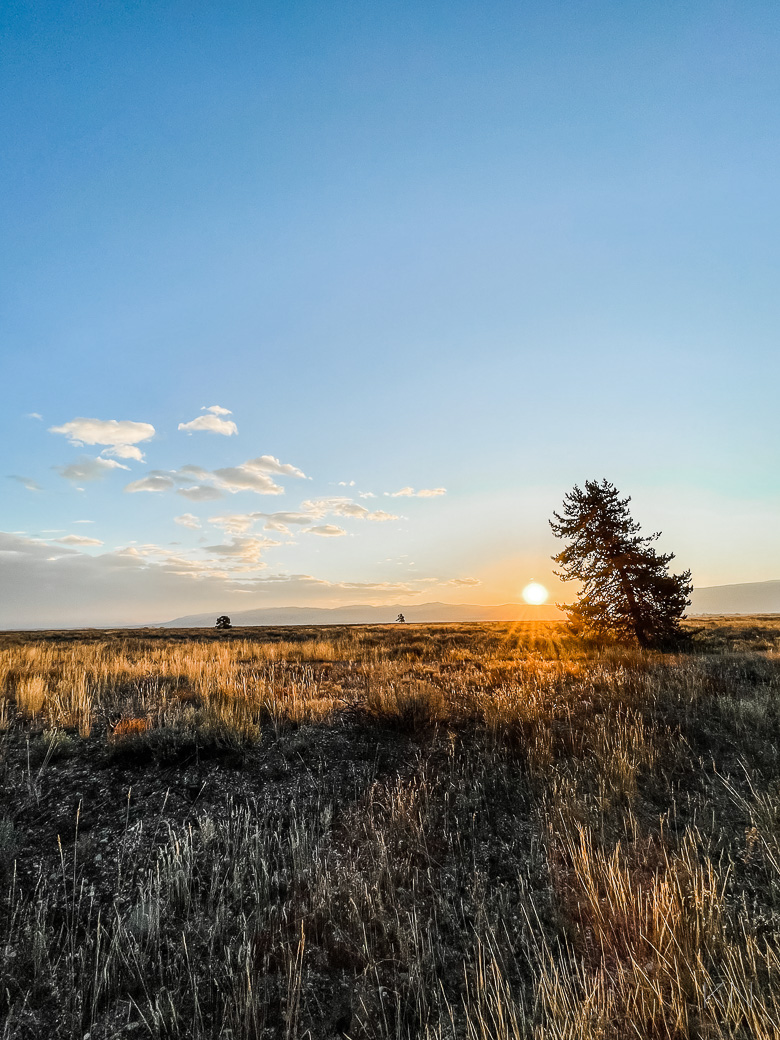 Something that made the Tetons such a different experience is when you're in the mountains typically (like when we went to Colorado and even here in Georgia), it's all mountainous. Well, the way the Tetons were formed, it's all flat flat valley right up to the base of the mountains.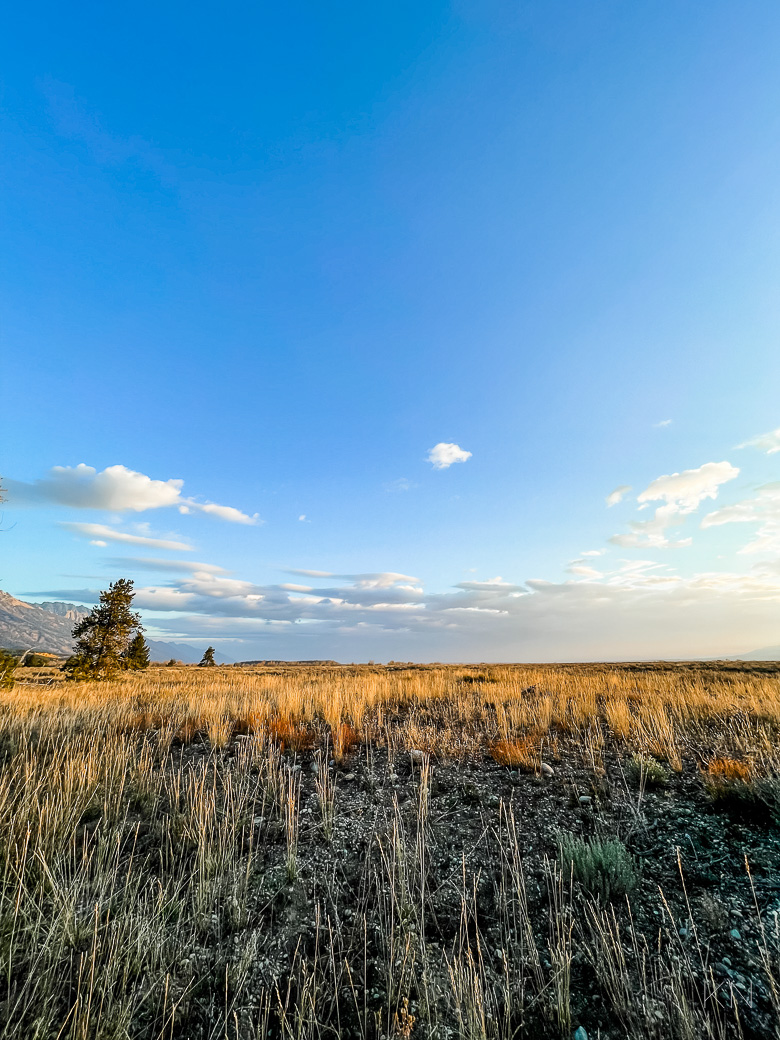 This is part of the elk herd we saw and ended up catching up close. They all crossed the road in front of us and the main male was right in the center of the pack (he did let all the ladies cross before crossing last). There was a second, smaller male in the back of the pack that the primary male ended up scaring off. It was all so cool to see.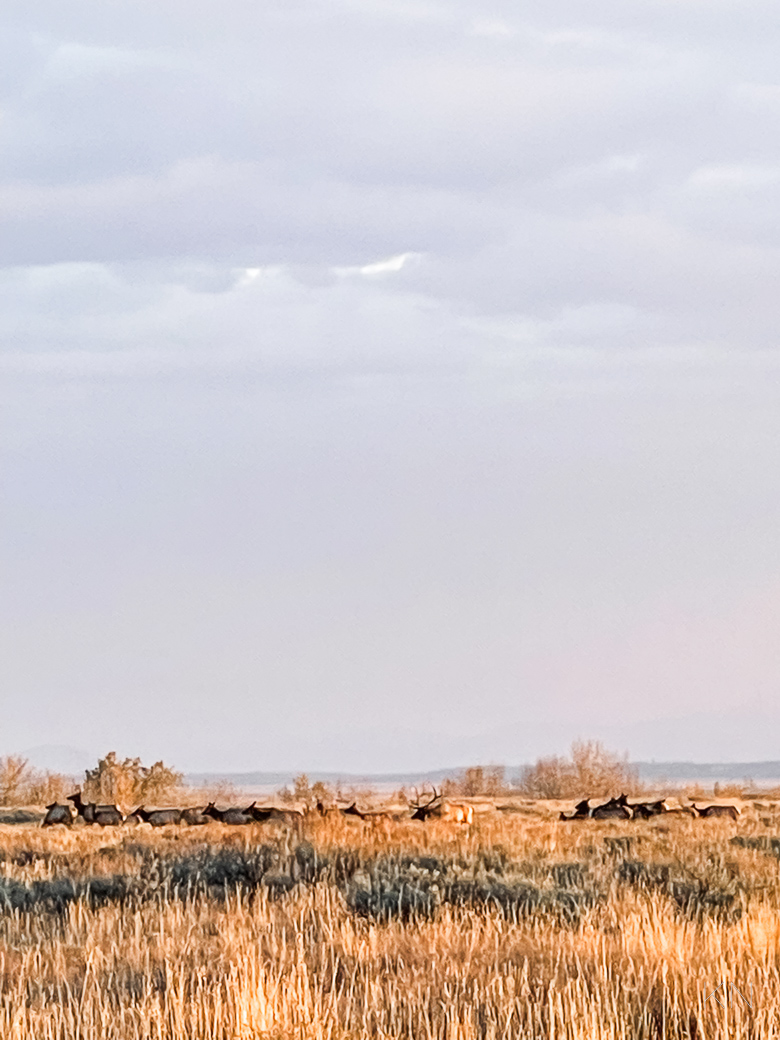 Here's just a small part of the large buffalo herd we encountered on that first day. This is me, trying to hold my binoculars still, while lining up my phone for a closer shot. There were at least 75 wild buffalo total.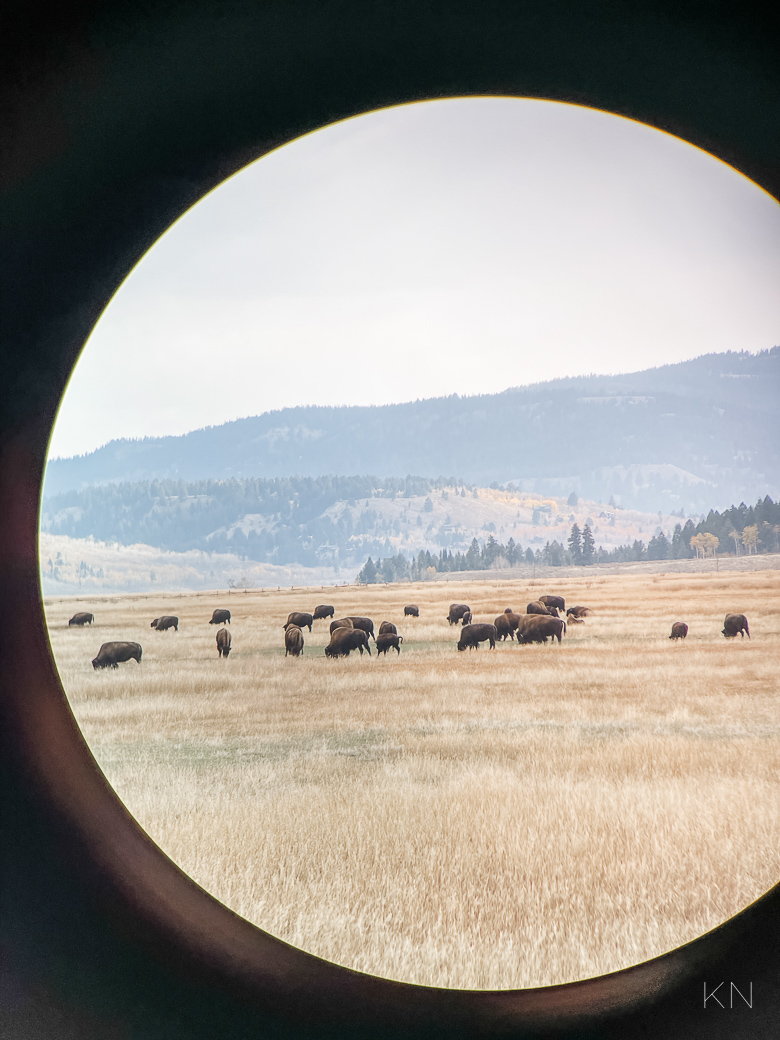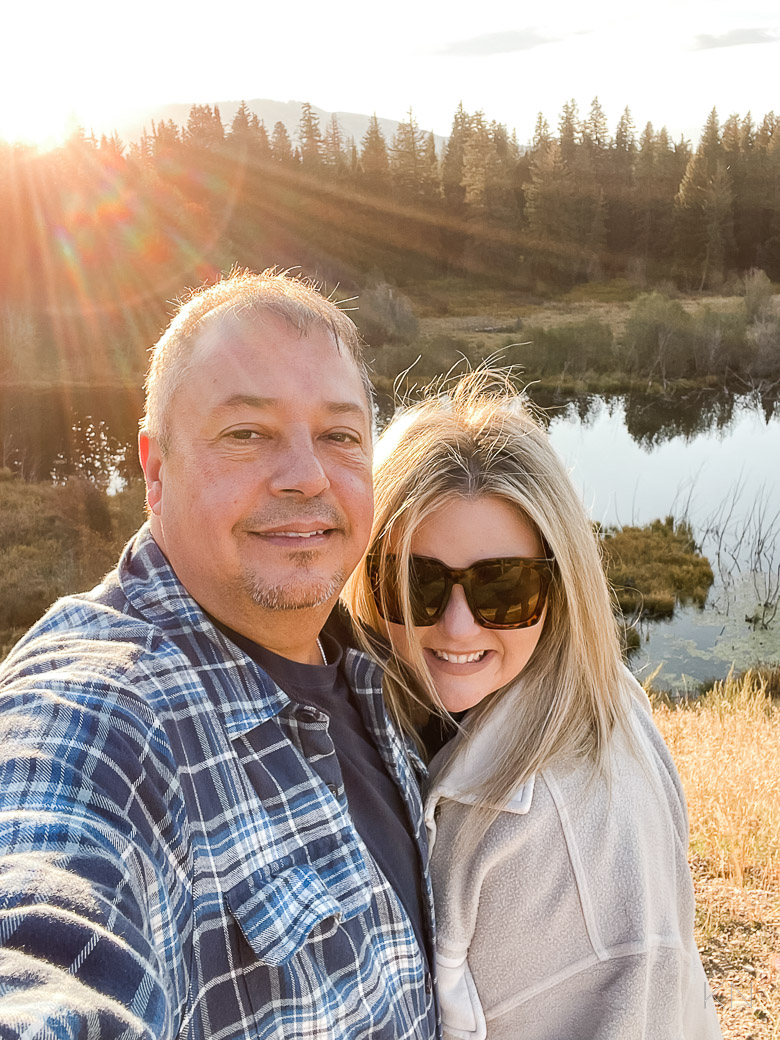 Oxbow Bend, without a doubt, was my favorite place to take photos. Whenever we would be driving by, I would have to jump out to get a few shots.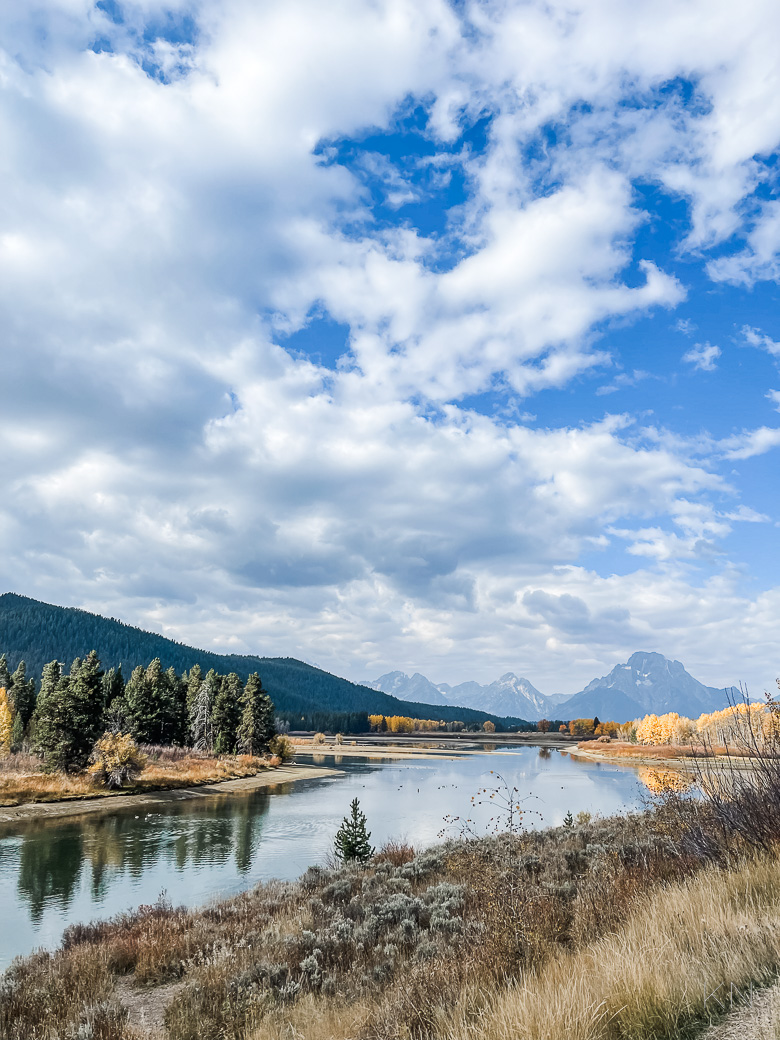 I was way more "adventurous" and carefree, walking through brush here. In Georgia, we have lots of snakes and lots of venomous snakes. It's humid and bugs are everywhere. On our trip, we learned there are almost no snakes and there are zero venomous snakes. I didn't walk through spiderwebs in the forests. The lack of humidity is a dream so even when it's cold or hot, it feels nothing like it does back home. Temps in the 20s are fine for hiking if you have a layer and the forties are actually verging on pleasant. I said it.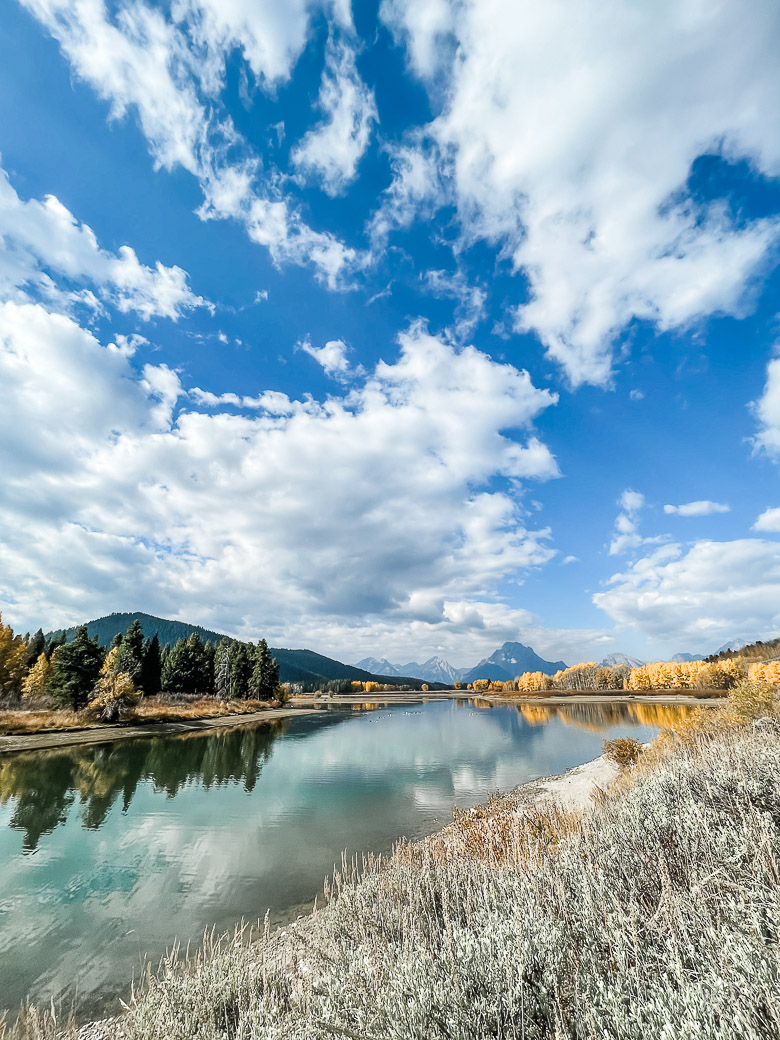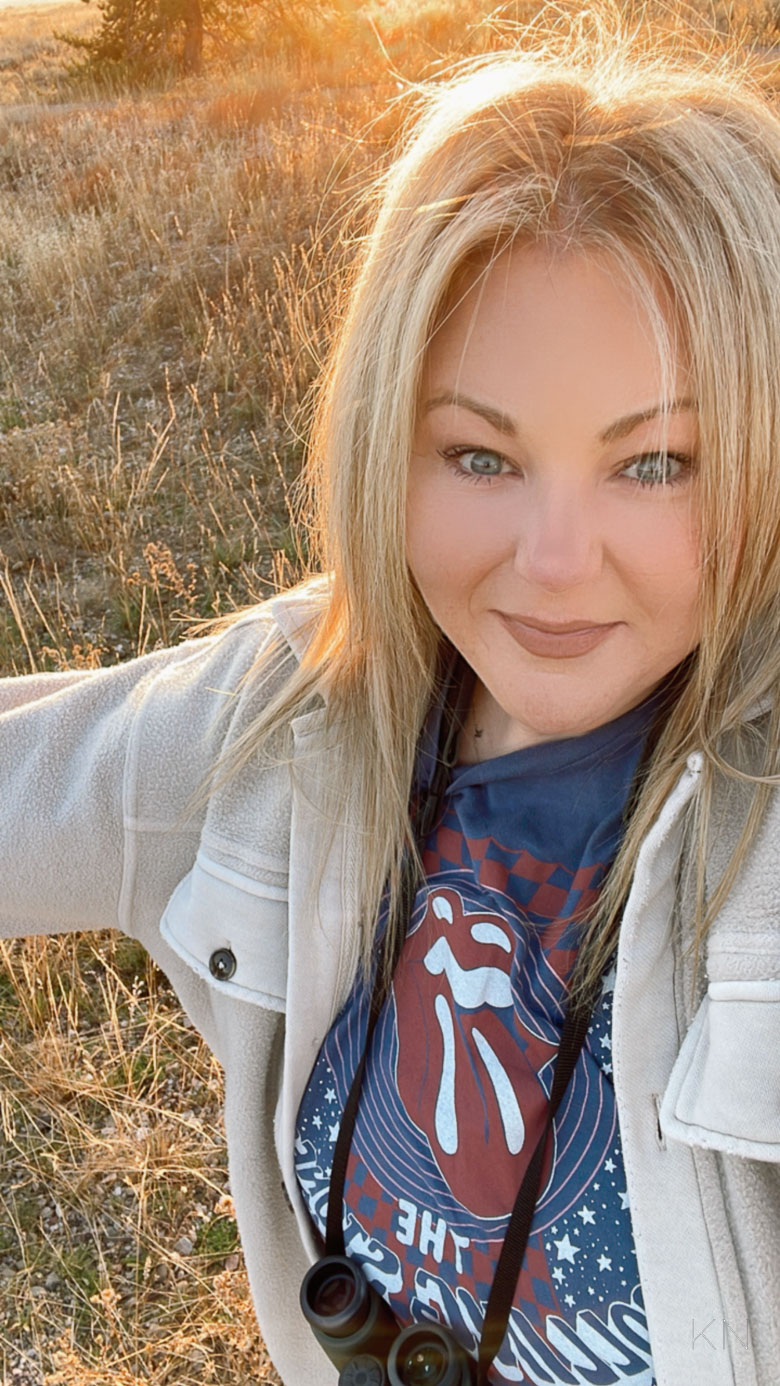 Our guide pulled out thermoses of coffee, hot chocolate, and local bakery items (along with buffalo jerky) at the midway point of our tour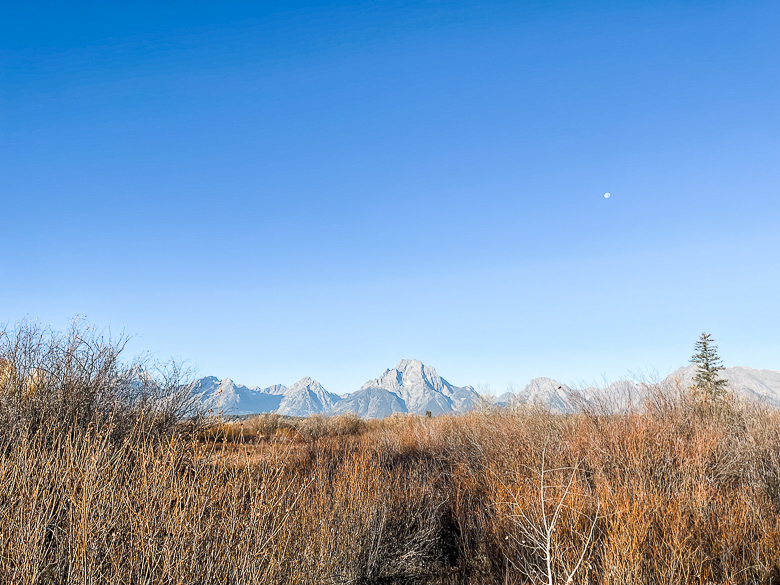 In addition to our tour, we explored the Tetons on our own a lot, over the course of a couple days. Again, we kept the Gypsy app going whenever we were driving. It was also crazy (and cool) that when you're even driving on the highway, if you spot animals, you can pull off the road and whip out your binoculars. And, if you see cars ahead pulled off the road, you know they're watching something and it was exciting to catch up to whatever it was.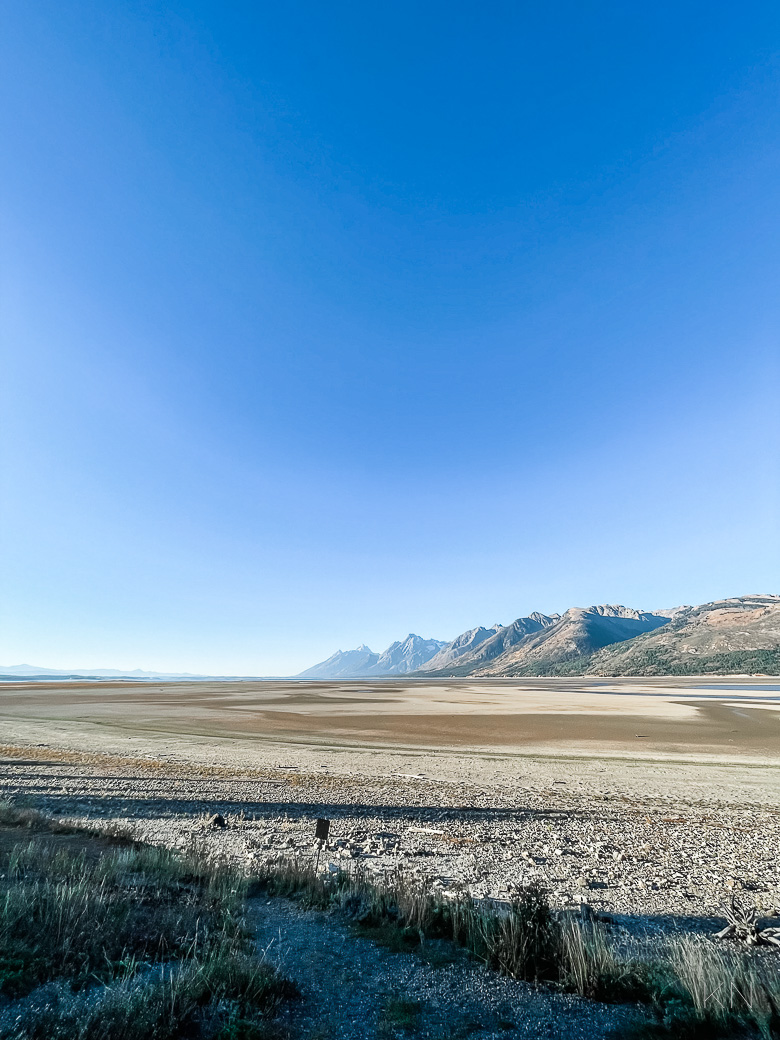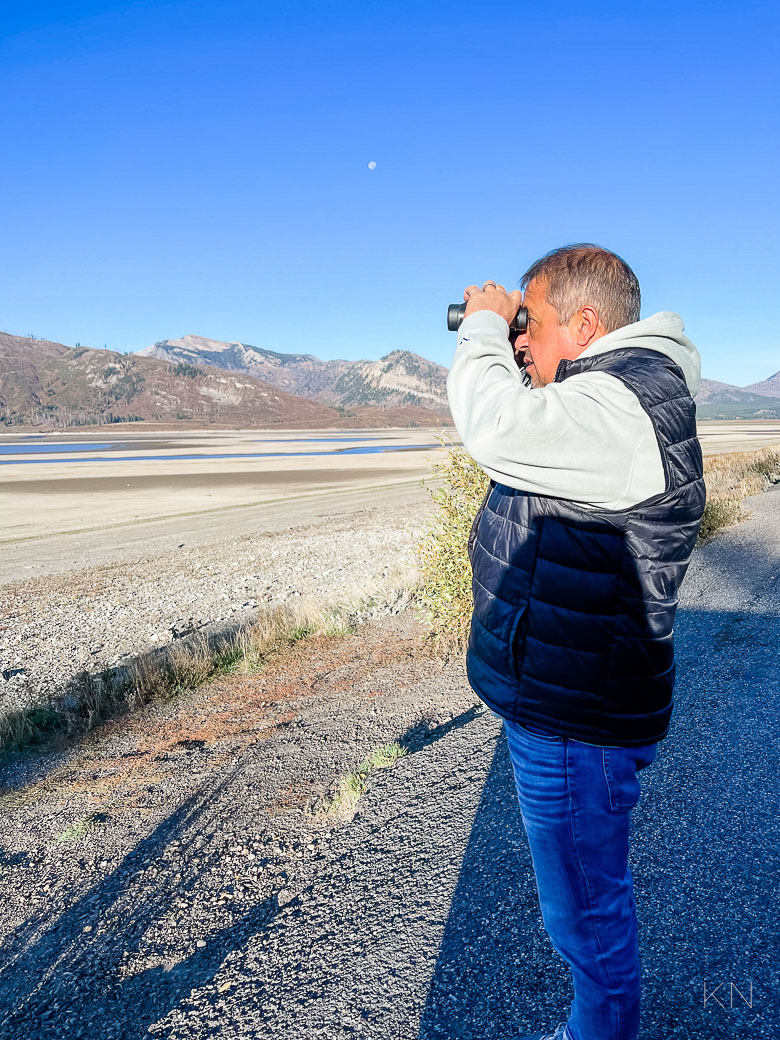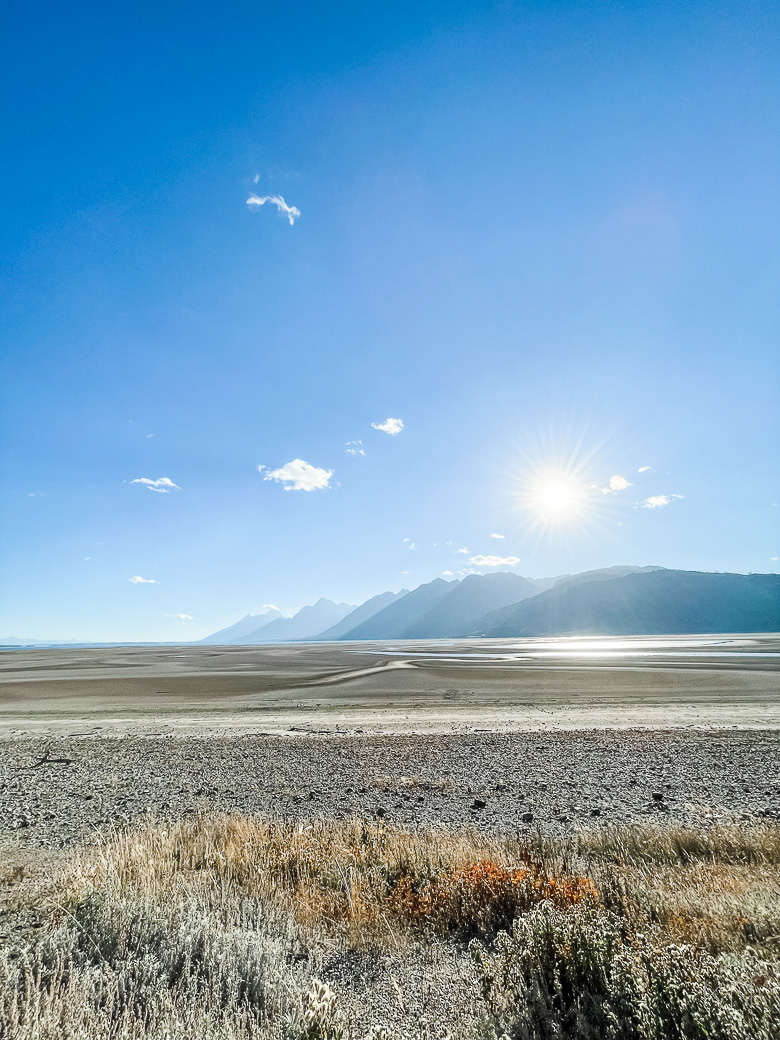 We didn't do any fishing but since Dave is a big fisherman without much opportunity to fly fish or fish for trout, that will be on a 'must-do" list when we return.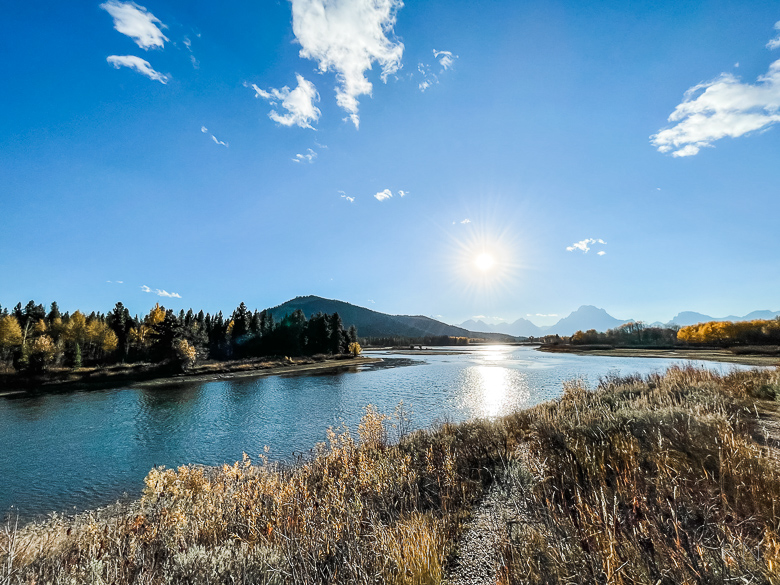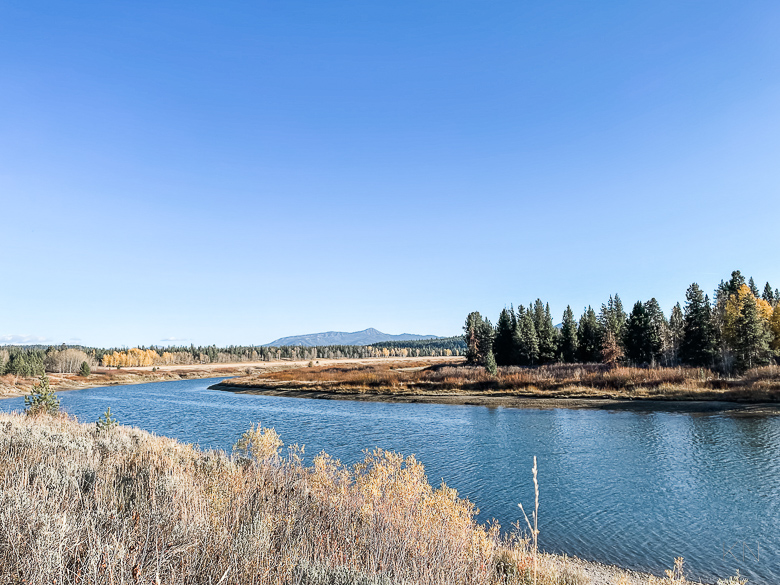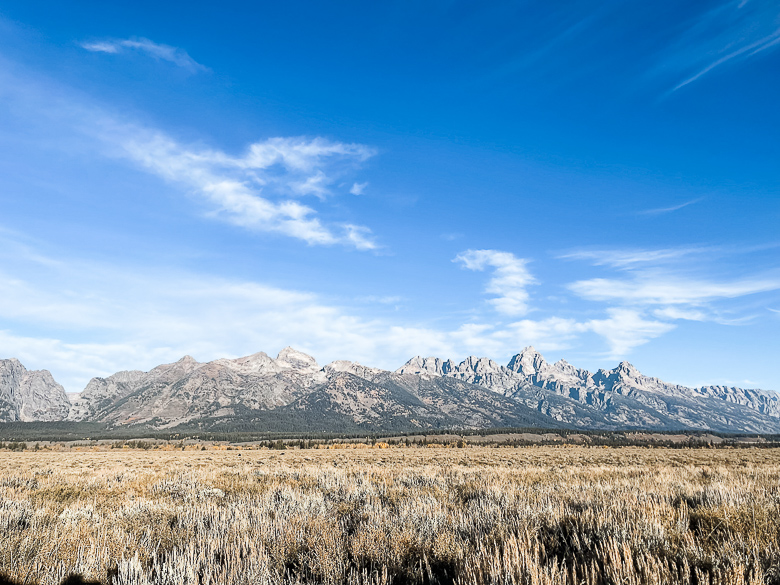 One morning, we headed out with the plan to hike around Jenny Lake (one of the most popular, easier hikes). We knew there was a ferry at the entrance to take you across the lake and from there, it was supposedly only a short walk up to Hidden Falls. Well, the ferry was closed for the season and I don't know how I got this in my head, but I thought it was only a two-mile walk around the entire lake. Keep in mind, I hadn't planned for any strenuous hikes. I looked forward to short, scenic walks but having been nervous about the elevation change and especially being in covid-recovery, we planned to take it easy. So anyway, I was thinking "well, if it's two miles around the lake, it would only be a mile to get halfway around the lake and then a short walk to the falls, and then the mile walk back. Totally do-able.
We started up the path and when I started understanding that this beautiful hike did have inclines (because hello, we are on the side of a mountain). Fast forward to over an hour in. People came up behind us and when I stopped to take a look at where we were, I realized we had gone a couple miles and it was then that I learned it's actually 7.9 miles around the lake (not including the additional brief off-trail trip to the falls.) We had gone too far to turn around without making it to the falls so we persisted. But, that moment of realizing our 45 minute morning walk was going to turn into an entire morning ordeal was priceless. But, WE DID IT.
I am so so glad I had the foresight to order THESE Hydroflask water bottles just before our trip (we did the flexible straw option and they're also the lowest price in 30 days right now on Amazon). We took them with us everywhere and we wouldn't have survived our leisure-walk-turned-intense-for-us-hike without them.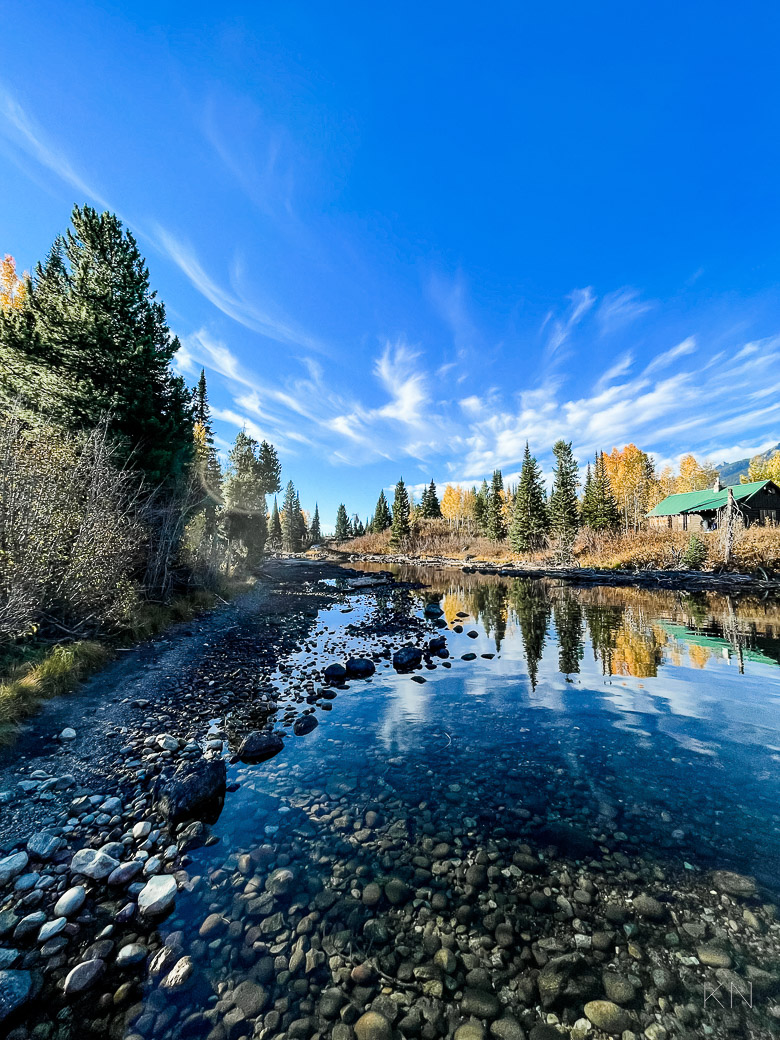 The scenery and views were gorgeous and 100% worth it. Check out all that yellow aspen beauty!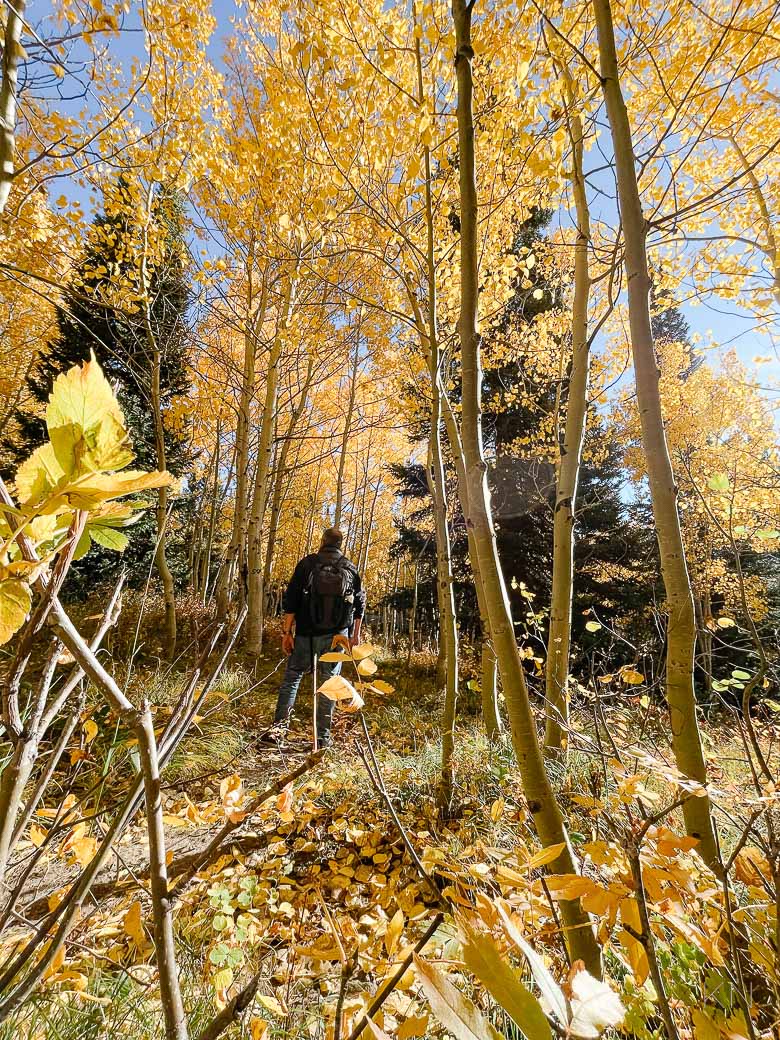 The trail follows Jenny lake, all the way around.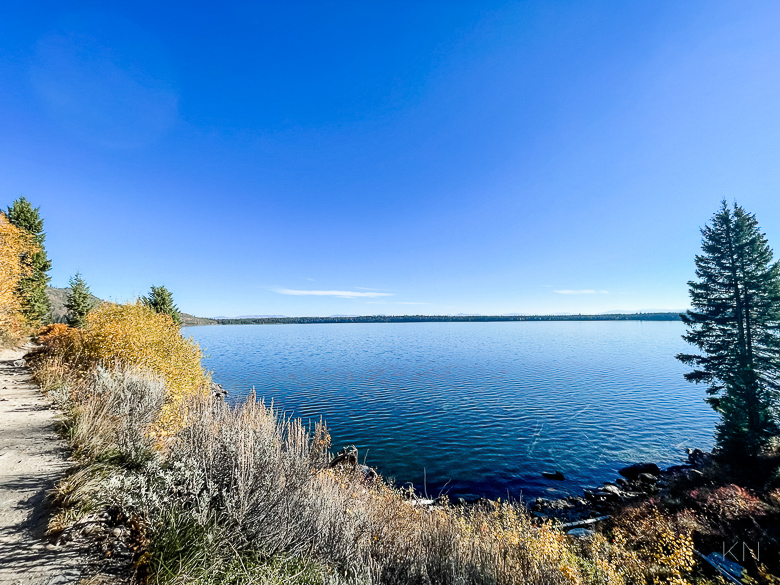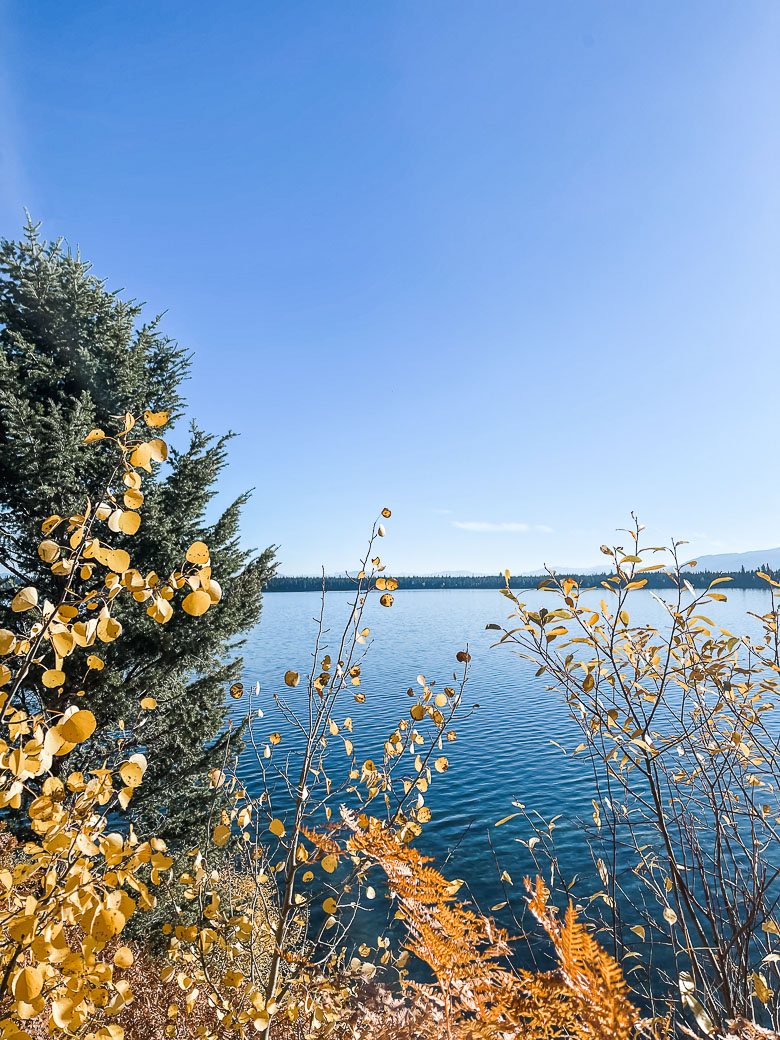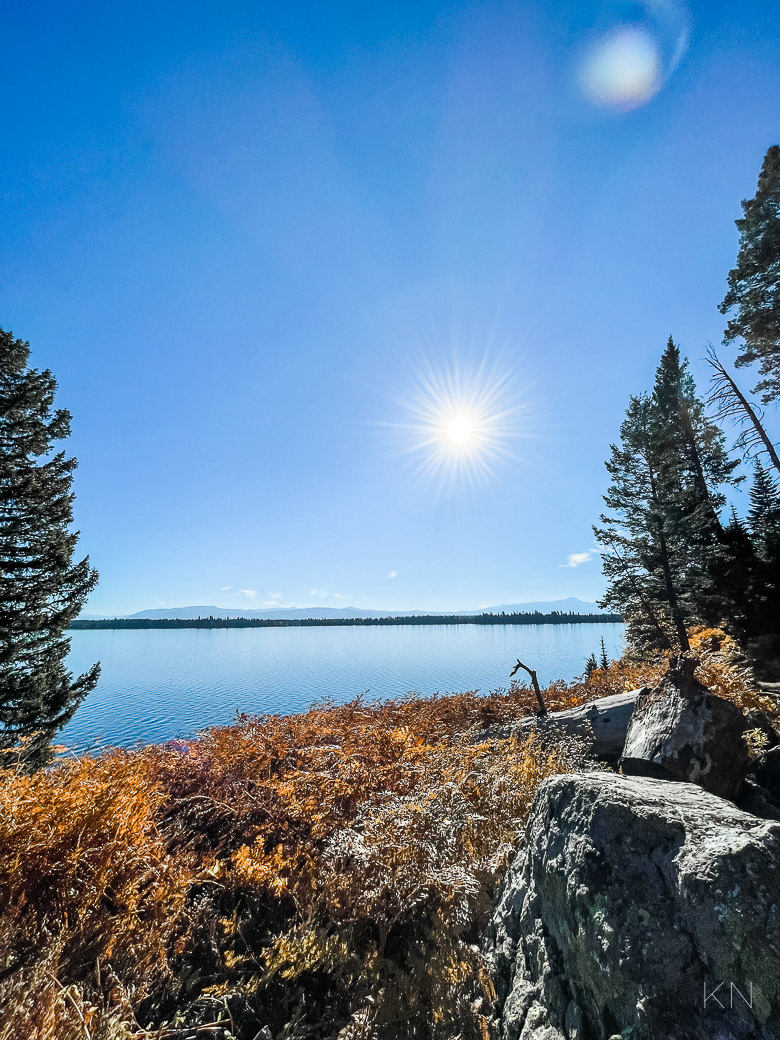 Some areas of the trail are really rocky and I could see how it could be easy to twist an ankle if you aren't careful. Here's my fave shot of Dave from the trip. By this point, we had both shed multiple layers and were thankful for his backpack.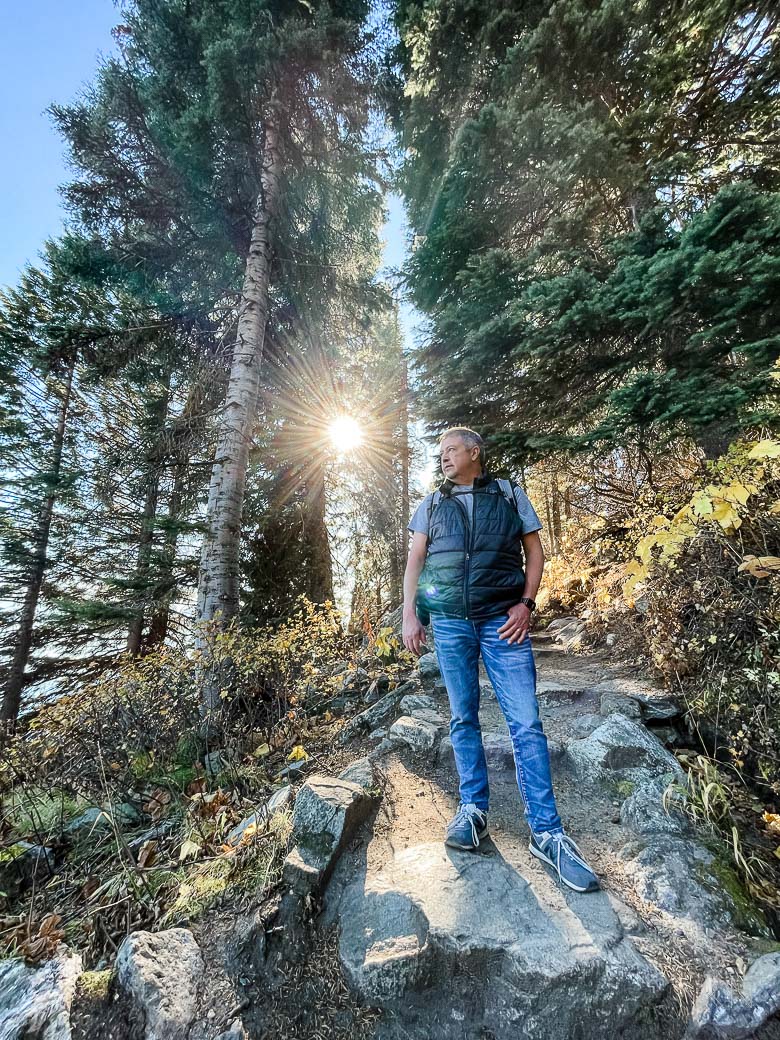 TIP: We stopped and purchased bear spray the day before (which is insurance I'm happy to have had), but we were surprised by the $50 price tag. You also can't fly home with it. BEFORE YOU PURCHASE YOUR OWN SPRAY, ASK YOUR HOTEL IF THEY HAVE ANY CANS! Upon our return, we shared our experience with the hotel front desk and they said they wish they'd known because they have at least 50+ cans that others have turned in. When we ultimately turned ours in at our small hotel in Montana the morning we flew home, they pulled out all they had collected, too. So — ASK YOUR HOTEL BEFORE PURCHASING! It will likely save you $50.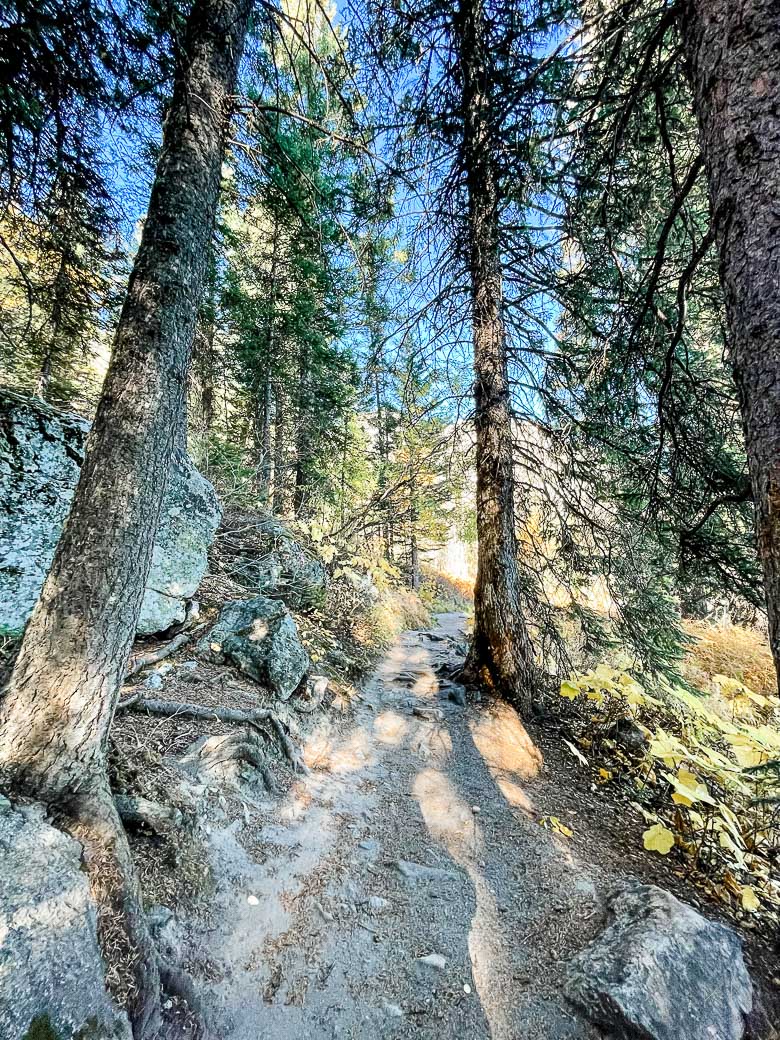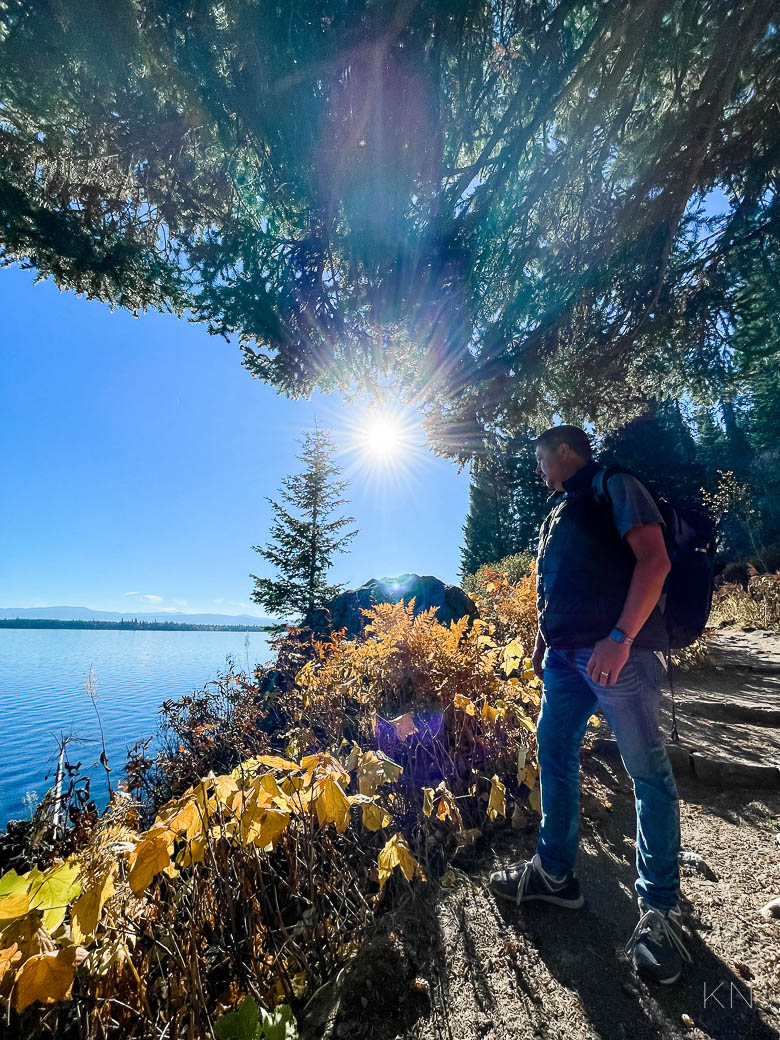 Some of the leaves were bigger than my head. Check out my hand for reference…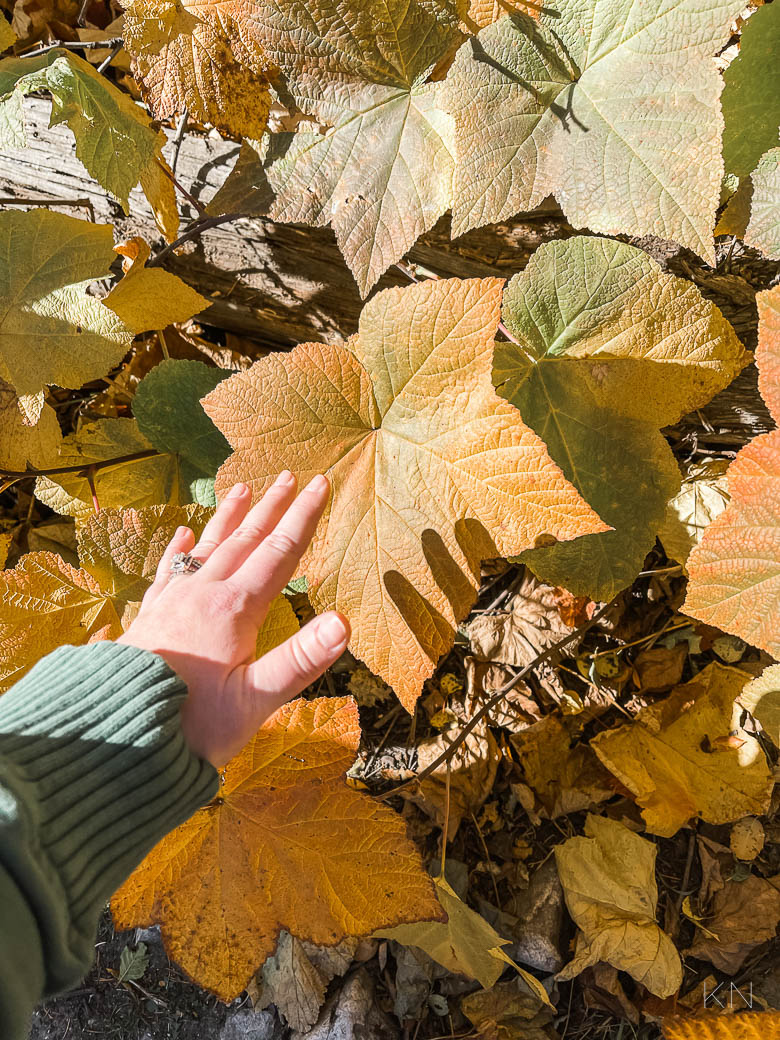 After we made it to the other side of the lake, and to Hidden Falls…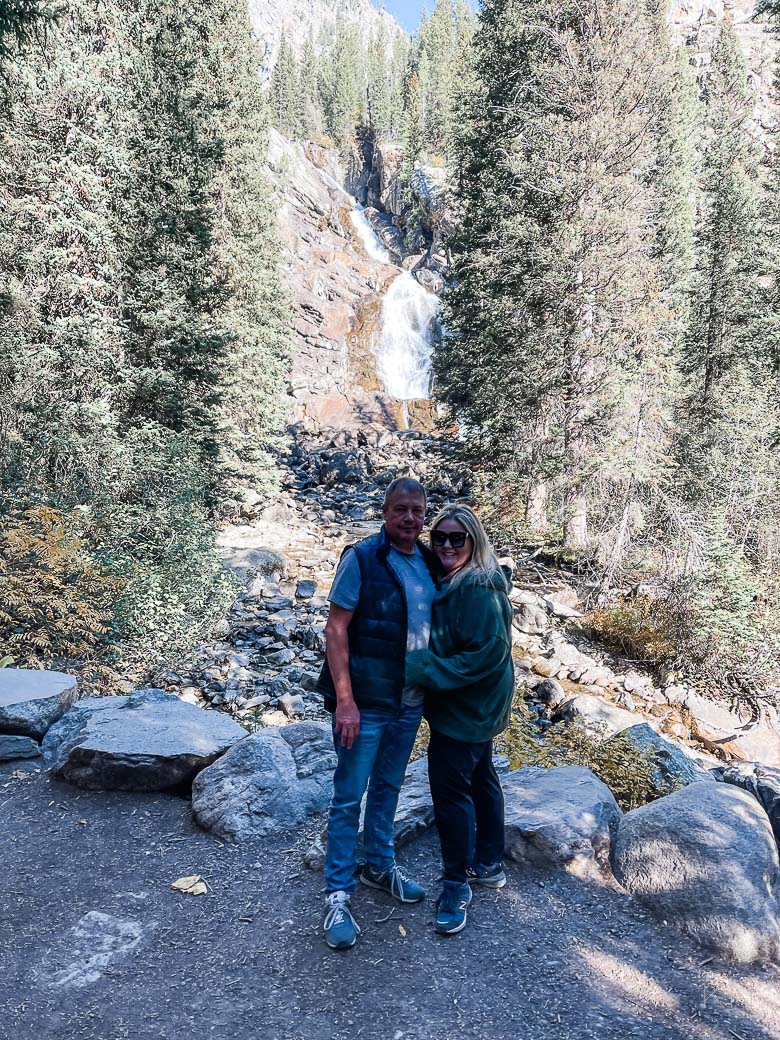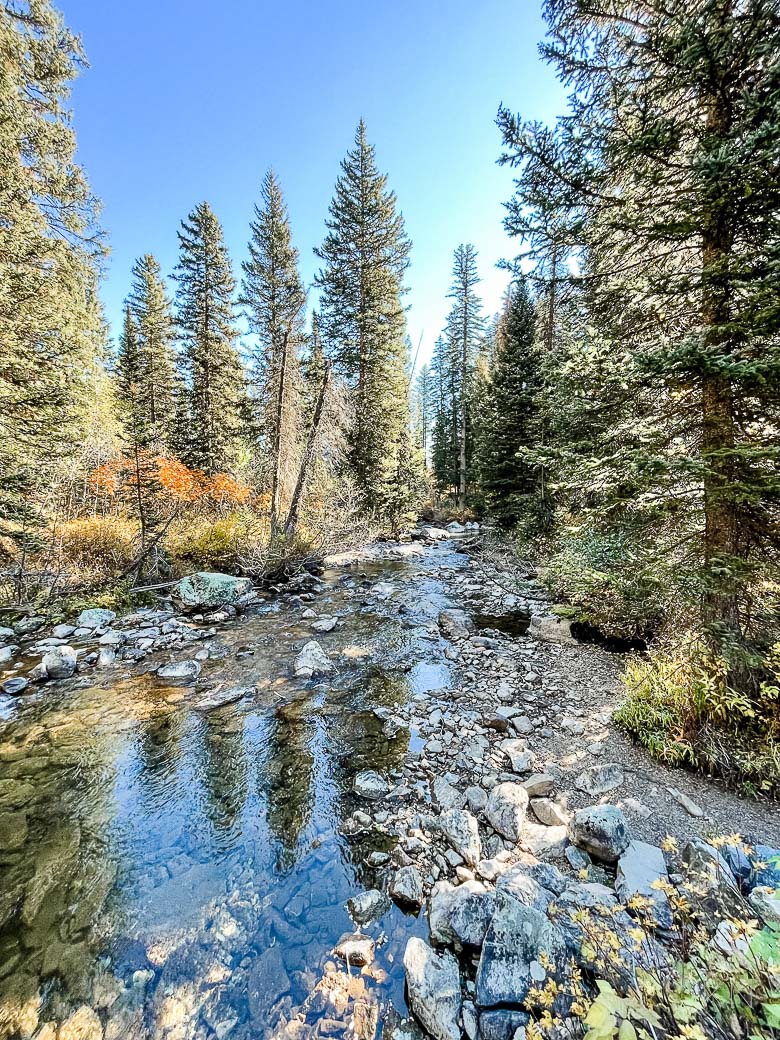 The water in Jenny Lake is so clear and unlike the lakes we're used to in Georgia.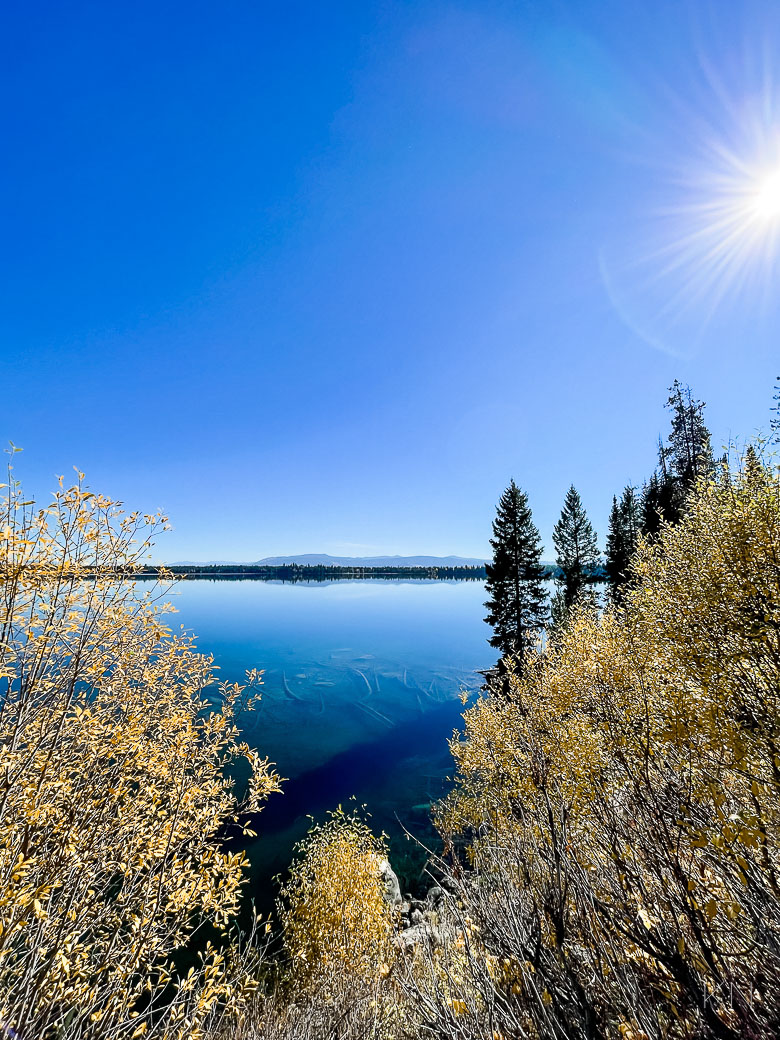 And the Tetons' reflection is stunning in real life. I read after our hike that lots of people recommend hiking the loop counter-clockwise for more scenic views; we hiked clockwise.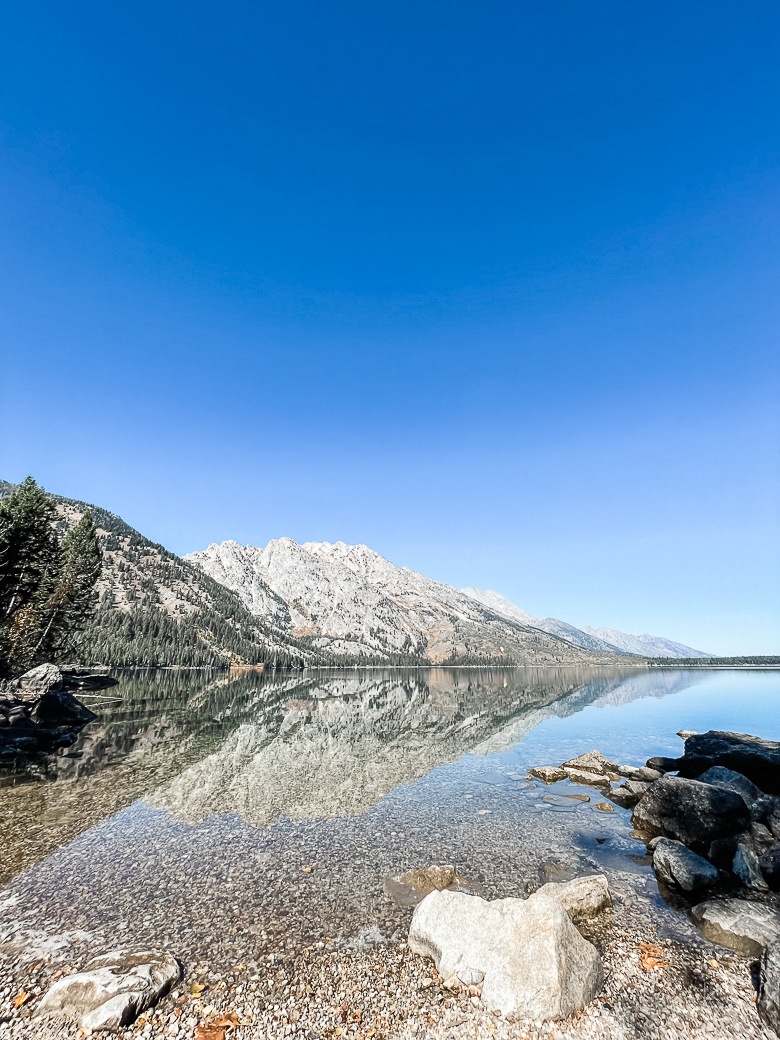 There are other trails around Jenny Lake but we stuck to the main loop. Before knowing we were dedicating hours to a single hike, we had planned to explore more trails.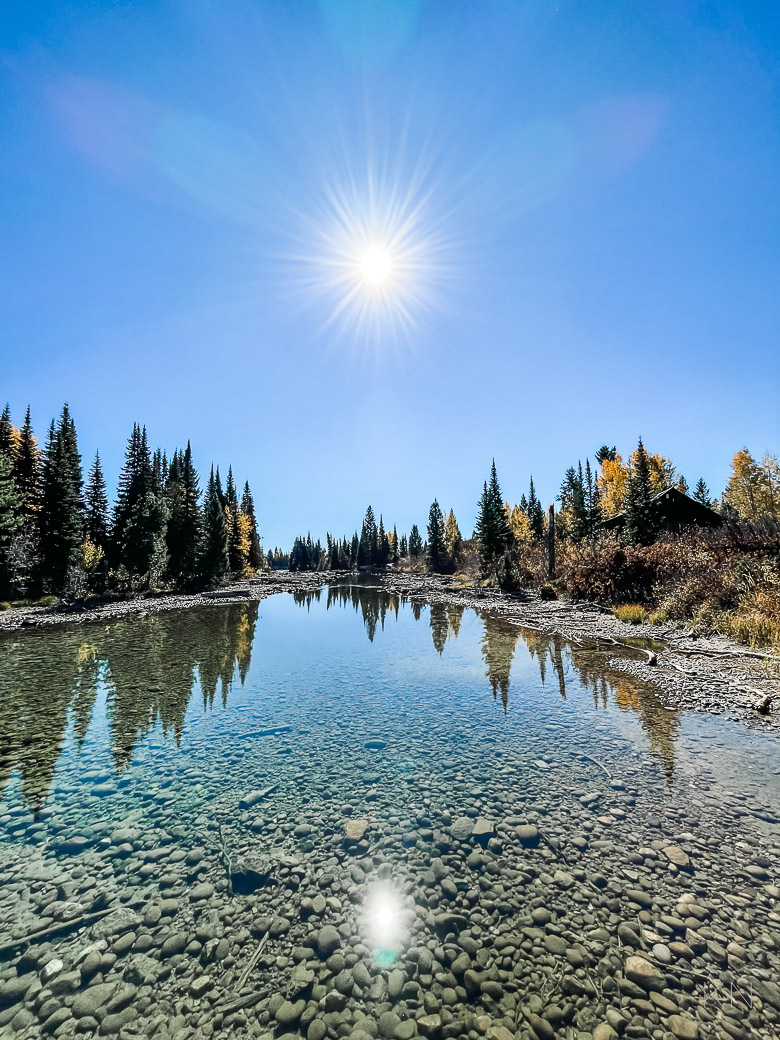 We also went down Mormon Row and grabbed a shot of the "most photographed barn in America — the T. A. Moulton barn.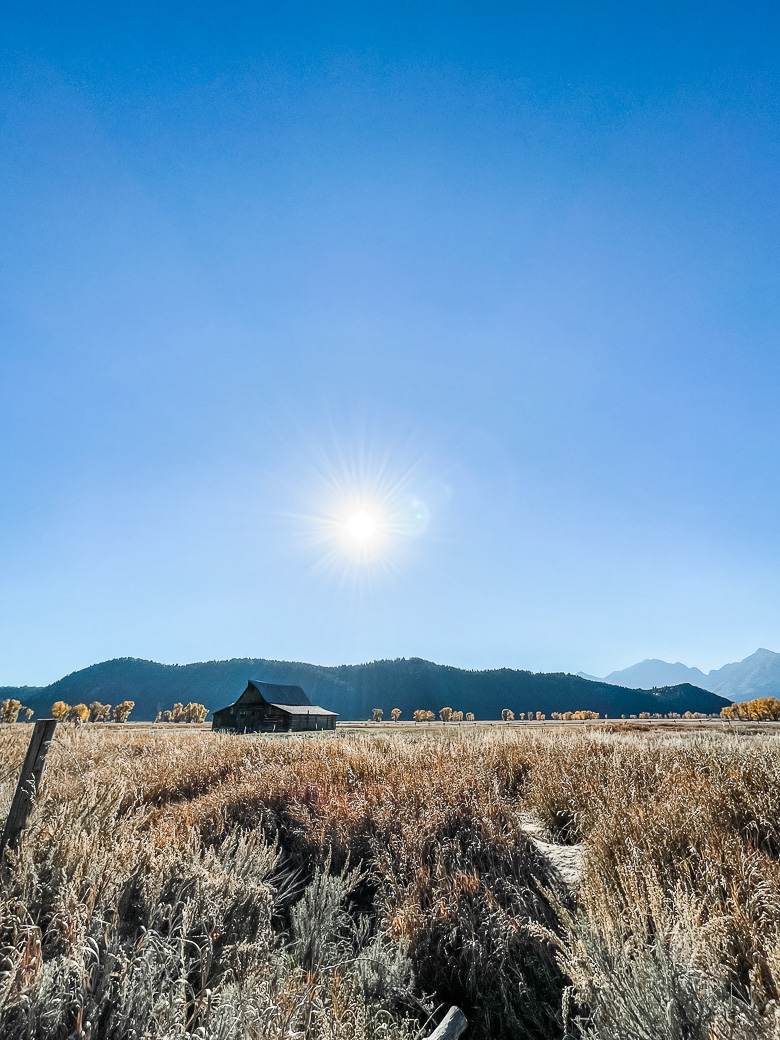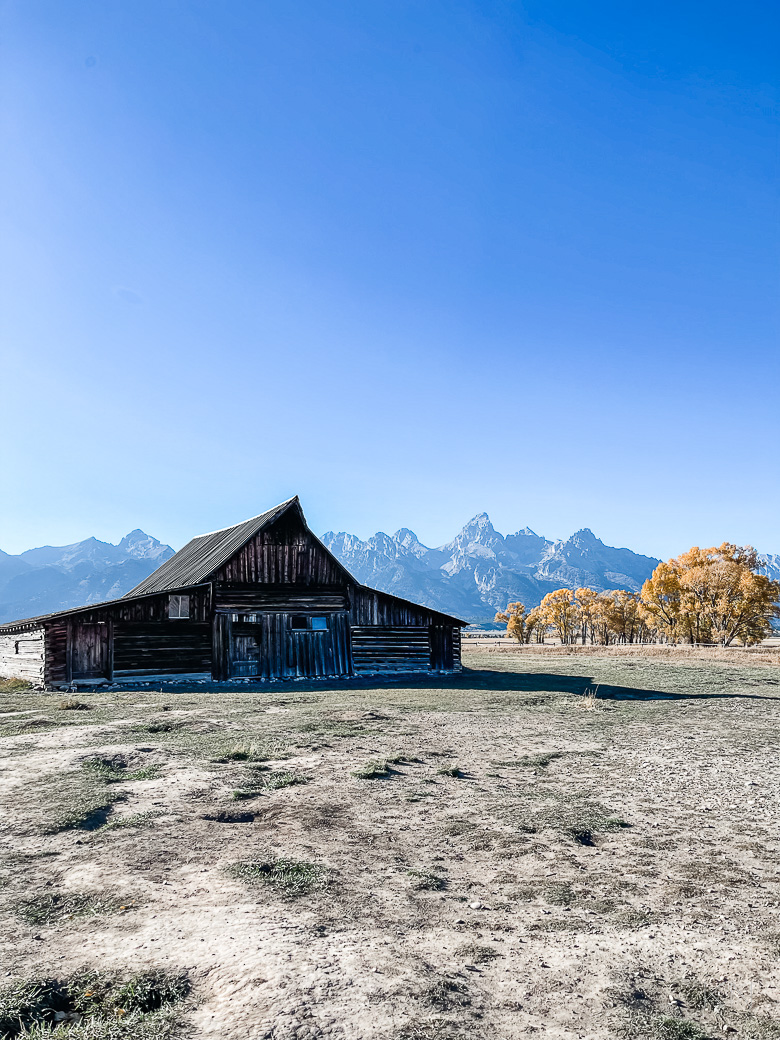 We ventured up to the top of Signal Mountain and along with the unique views from the top, we encountered SO many animals along the road. Deer, moose… the only thing we didn't see that we were keeping our fingers crossed for was a Grizzly.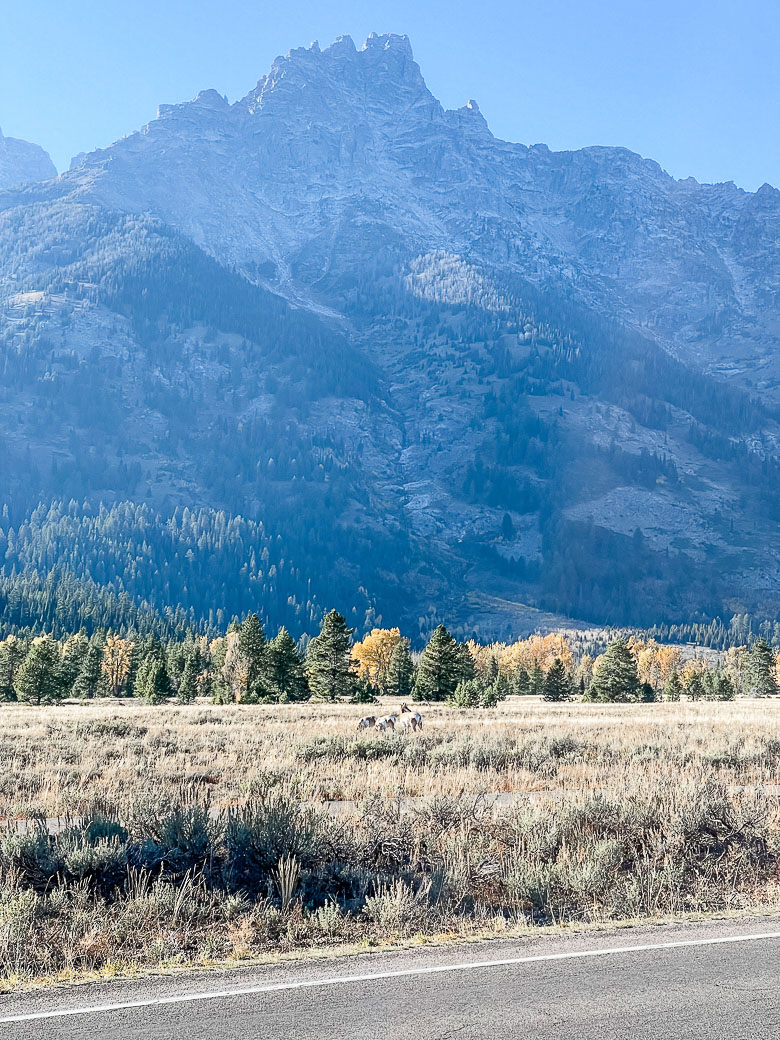 Best cell service on the trip was right here…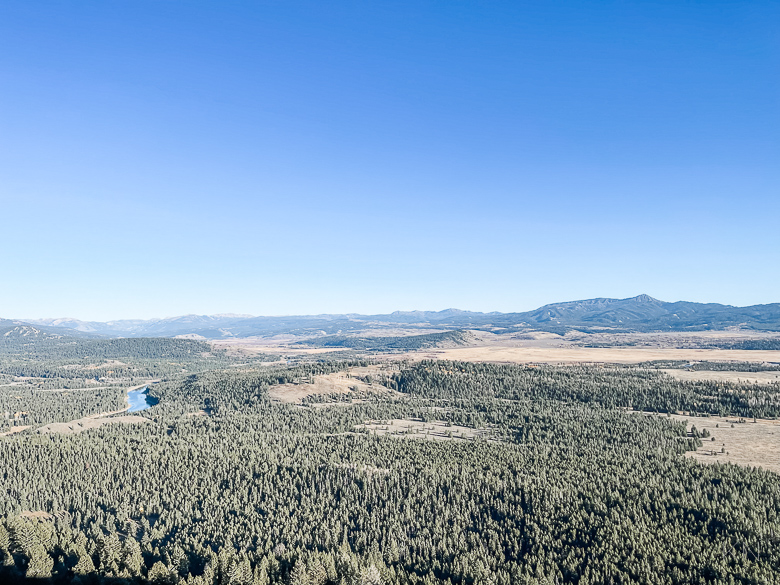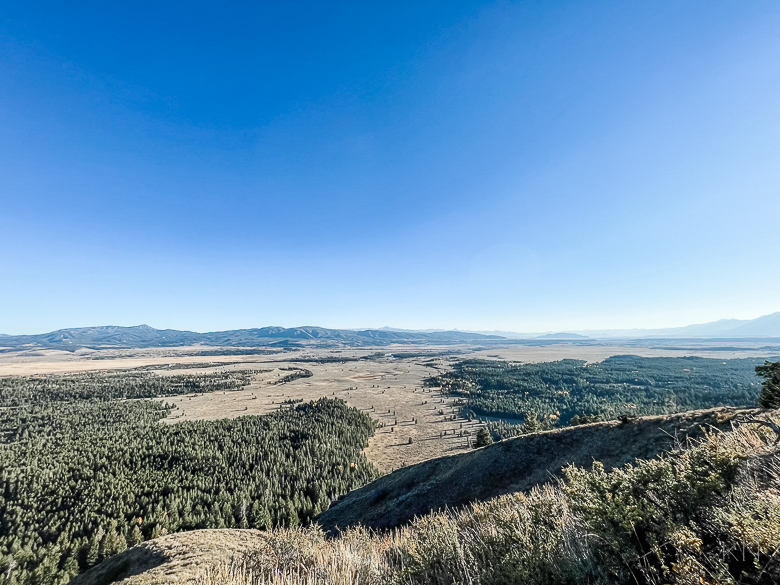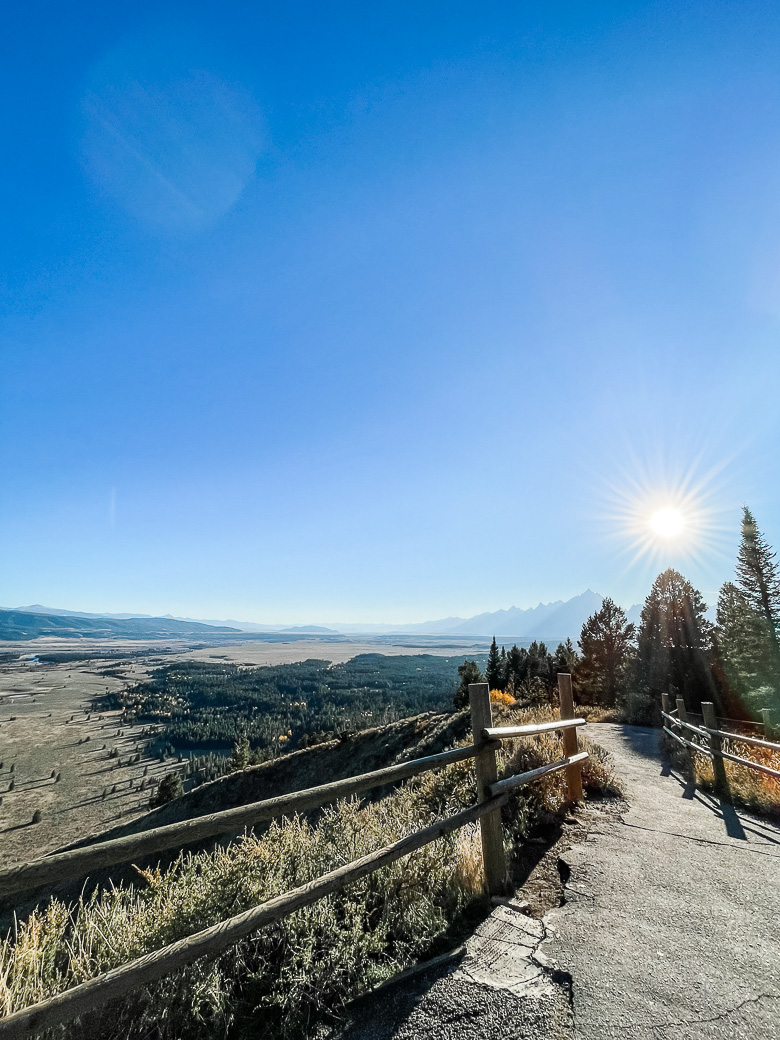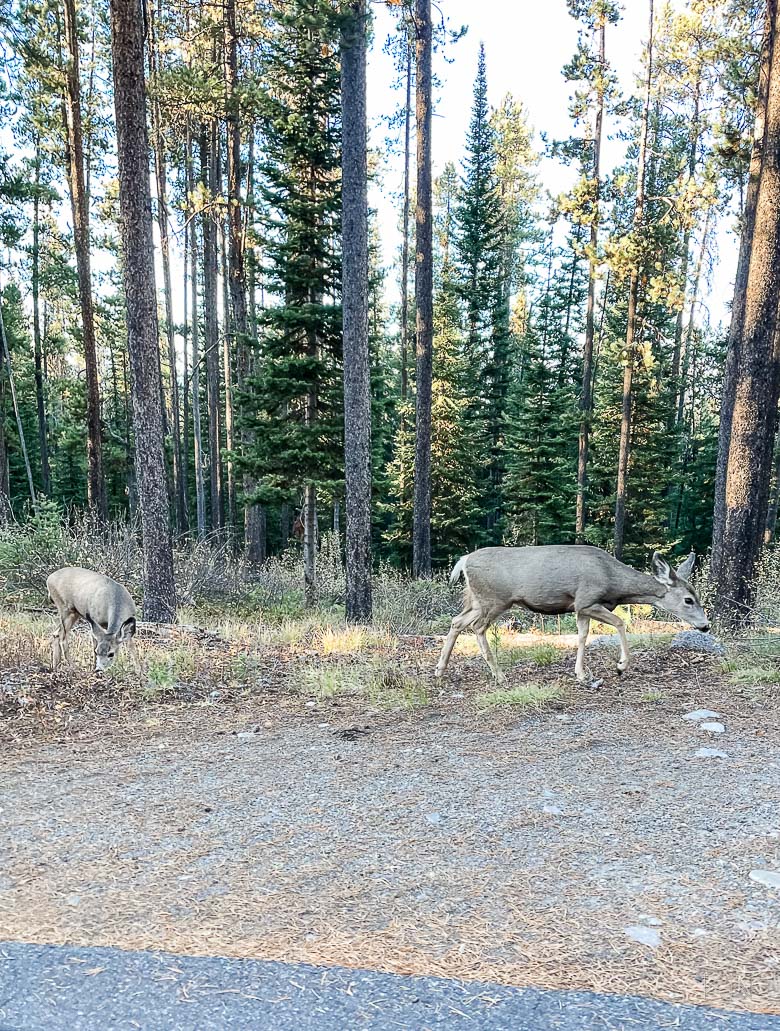 This huge buck was right next to our car as we crept through…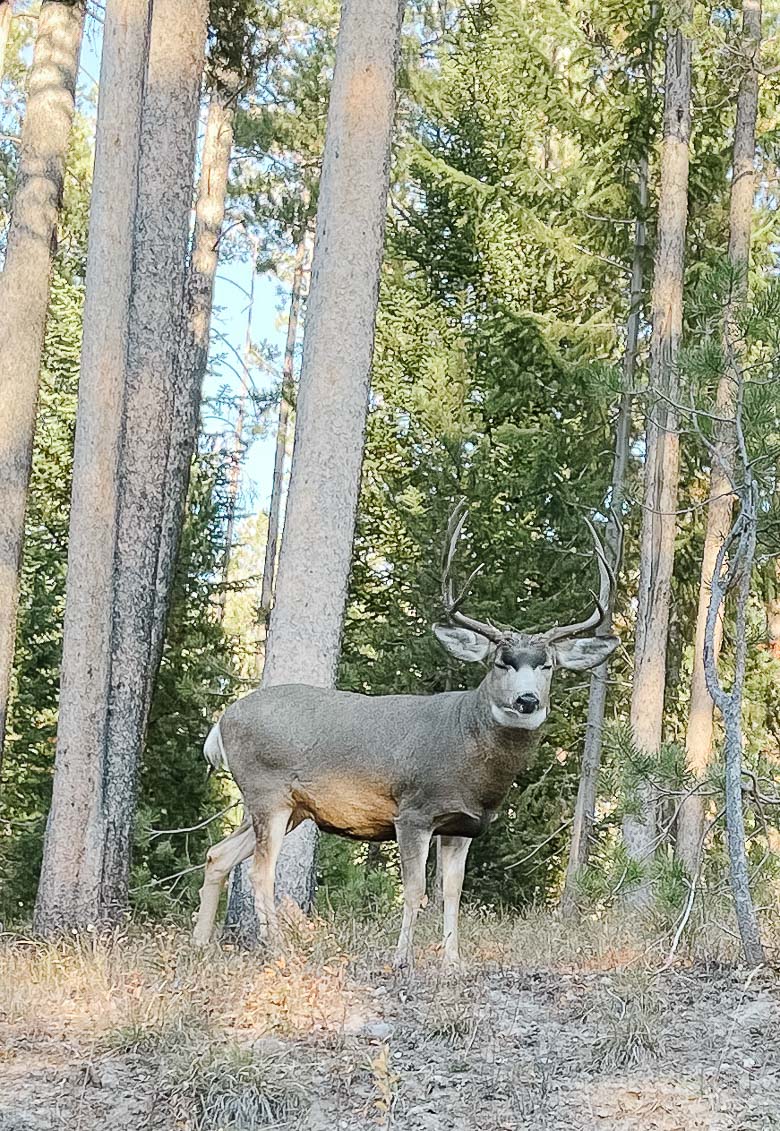 We caught just a little bit of Jackson Lake.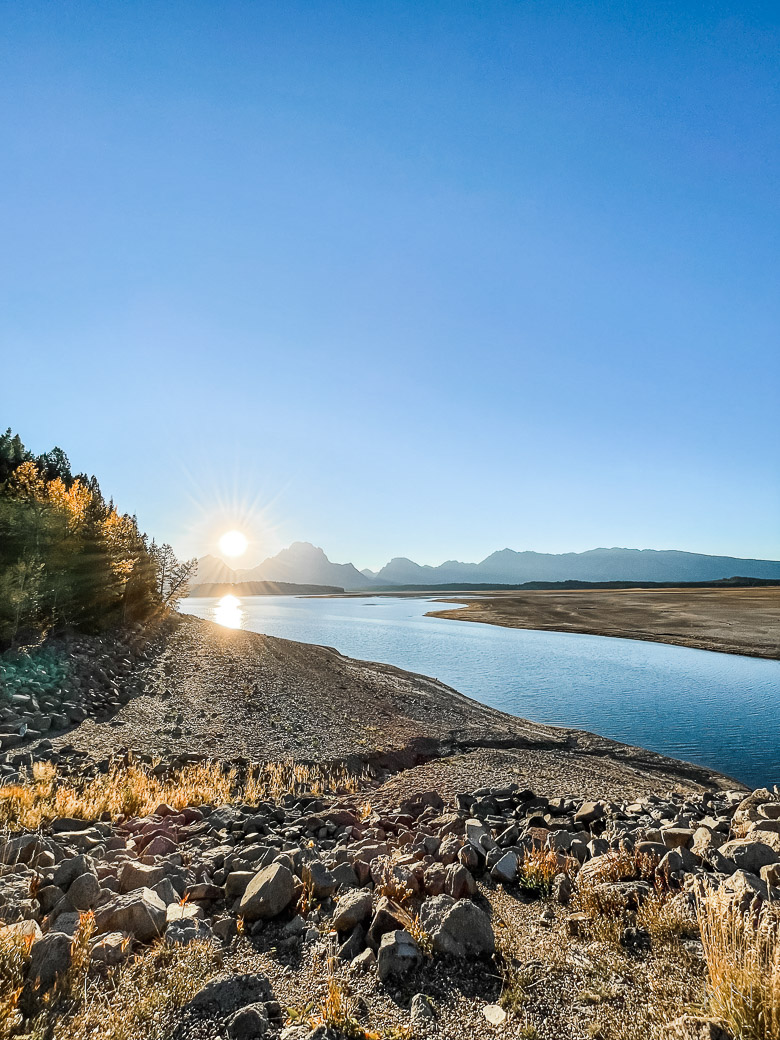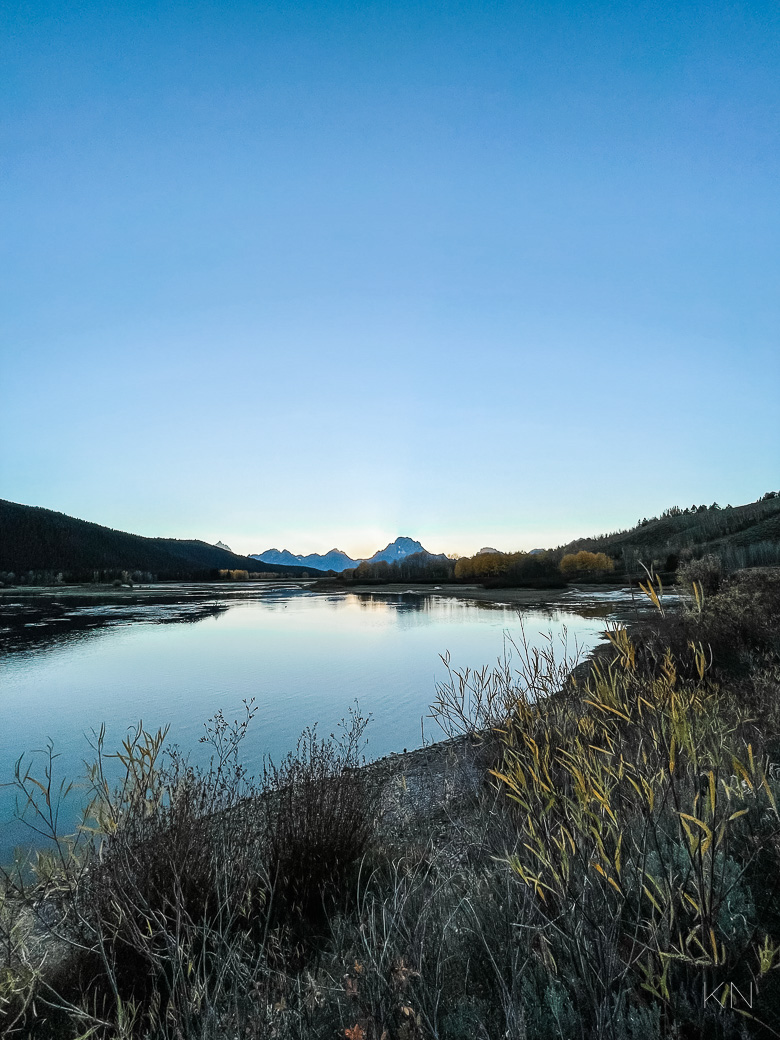 And I am so glad we were able to see the mountains during light throughout the entire day — sunrise, mid-day, sunset, and dusk.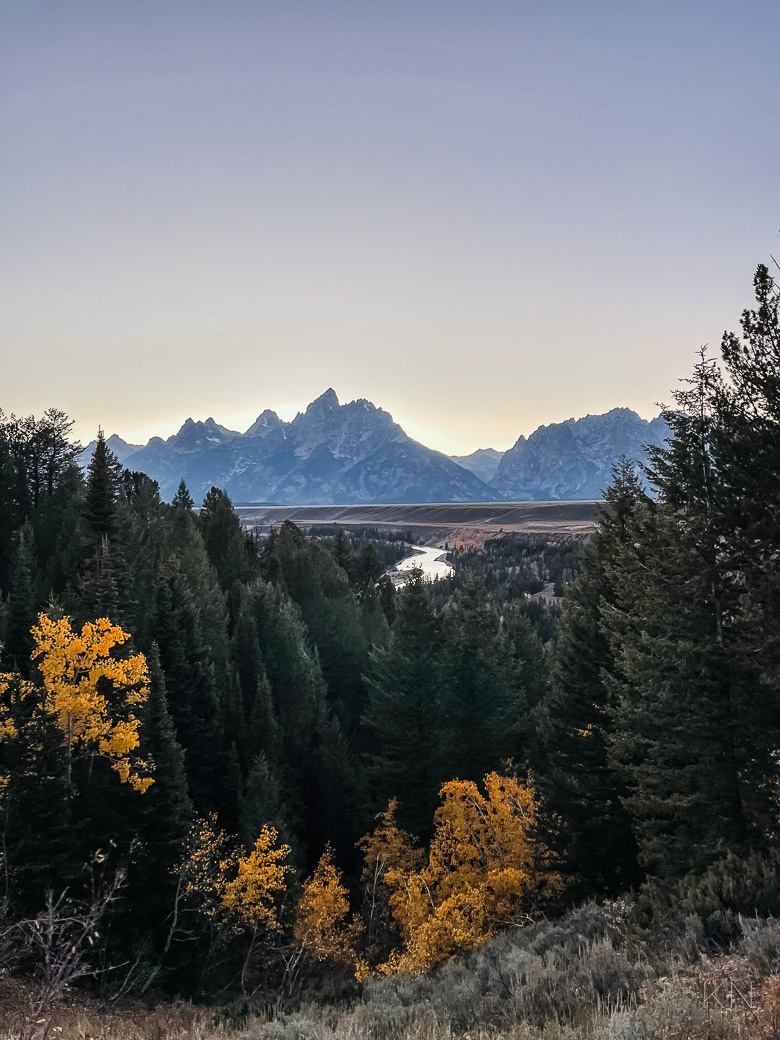 If you're into hiking, Grand Teton National Park is where it's at (she said as a person who has now gone on one beginner hike but understands the opportunity and promise throughout the park, haha).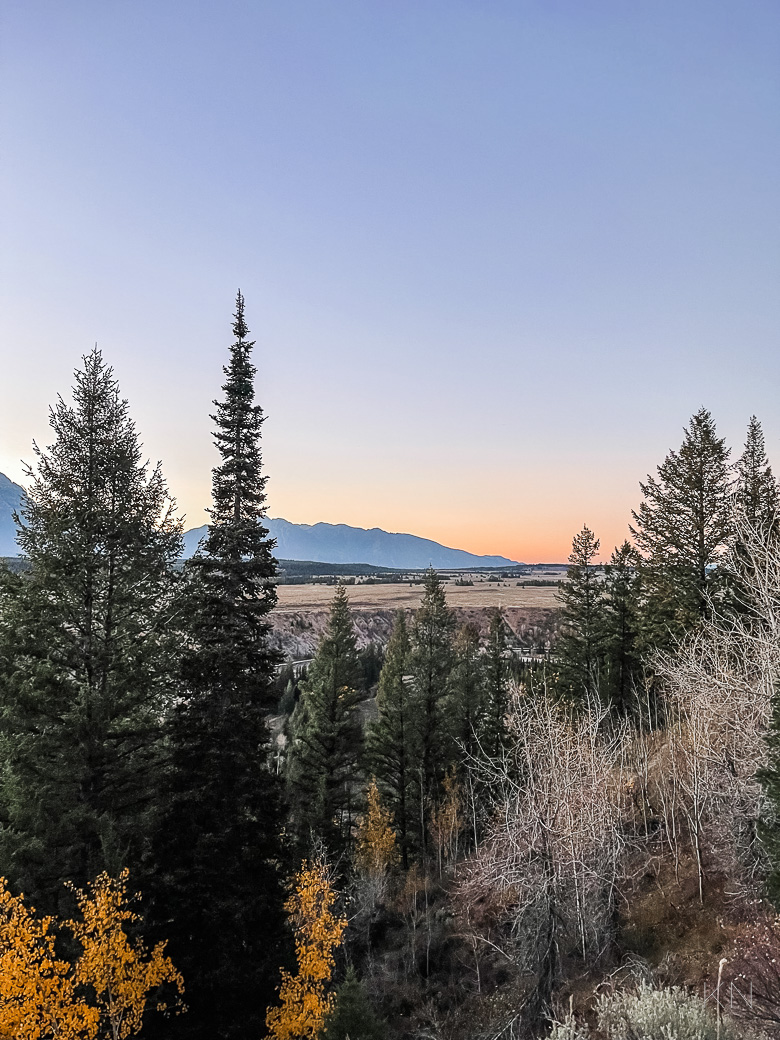 Yellowstone National Park
I didn't know what to expect from Yellowstone but it's huge and borders three states — Wyoming, Montana, and Idaho. On one day, we spent the bulk of the day exploring much of the lower loop and then, we decided to make traveling through Yellowstone to explore a different part of the park part of our journey back to Montana the day before our flight.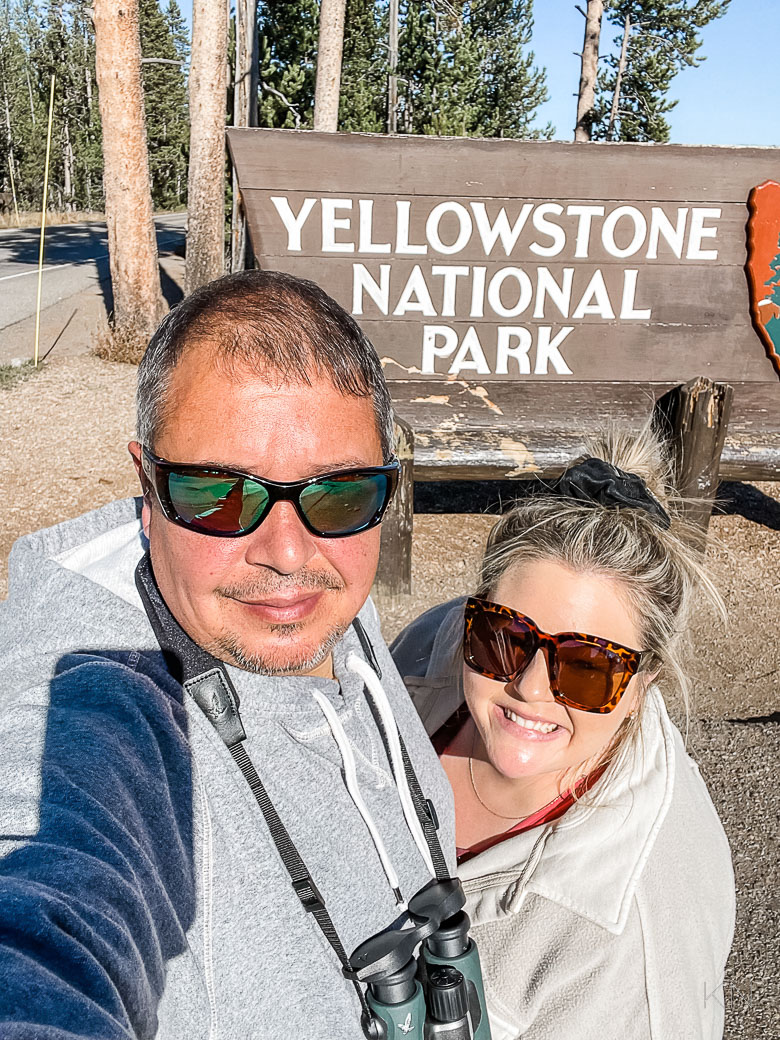 I had never seen or experienced a geothermal feature before (Gypsy gives all kinds of awesome info, science, and details on this!) but Yellowstone is filled with them. It has more than 10,000 hydrothermal features (geysers, hot springs, mud pots, fumaroles…) and you can research the best ones before your trip. Going in blind and not knowing what to expect, we loved loved loved exploring and seeing these wonders for the first time.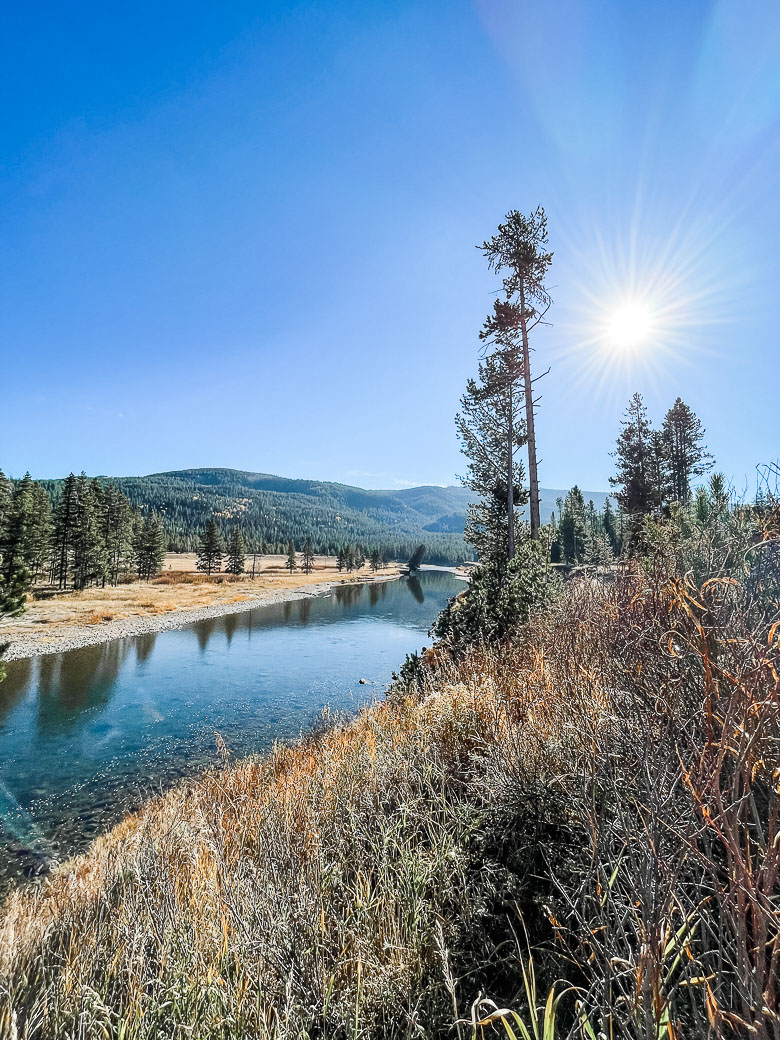 I won't go into details on all our stops but we did a LOT and hit all the high points (and even made stops some lesser talked about places). A lot of the areas have wooden boardwalks you have to stay on because of the thin crust and potential danger around the features. There have been a lot of accidents, injuries and deaths over the years from people not following the rules.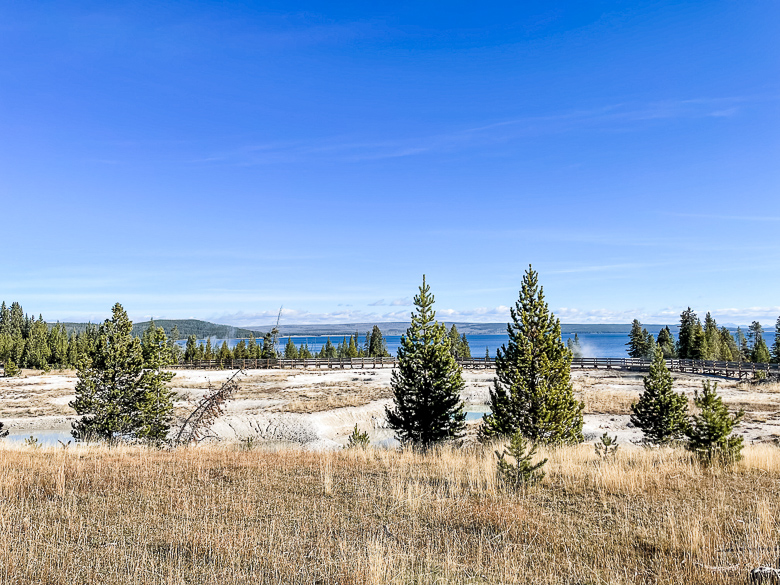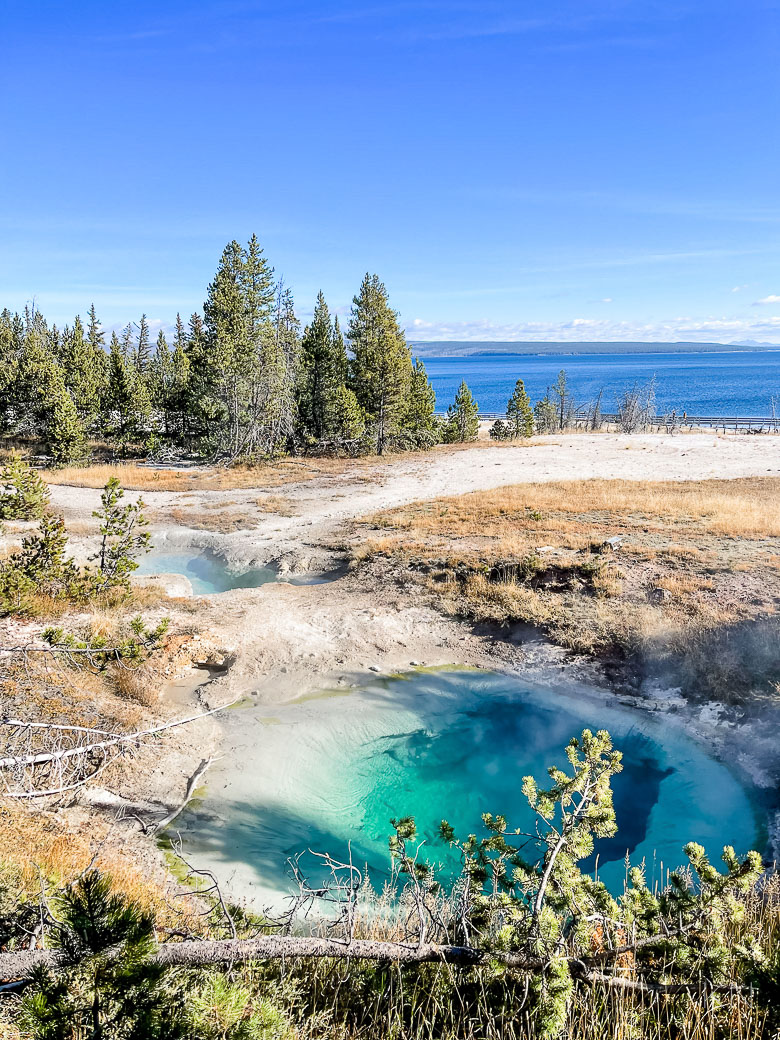 They are gorgeous to look at and depending on the type of feature, a lot of them are crystal or deep blue in the very center. Some of them have colorful rings around the boiling water that are caused by bacteria. It's just awesome to see and explore it all.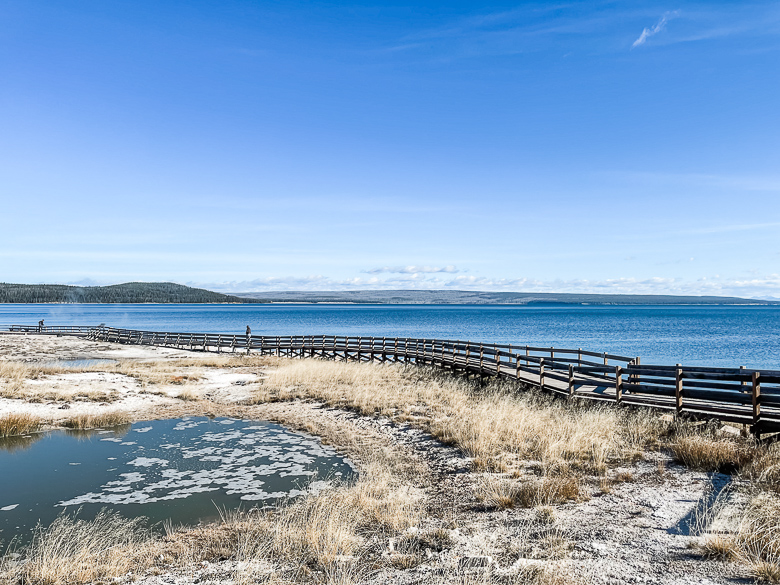 Some of them are positioned right on the side of Yellowstone Lake…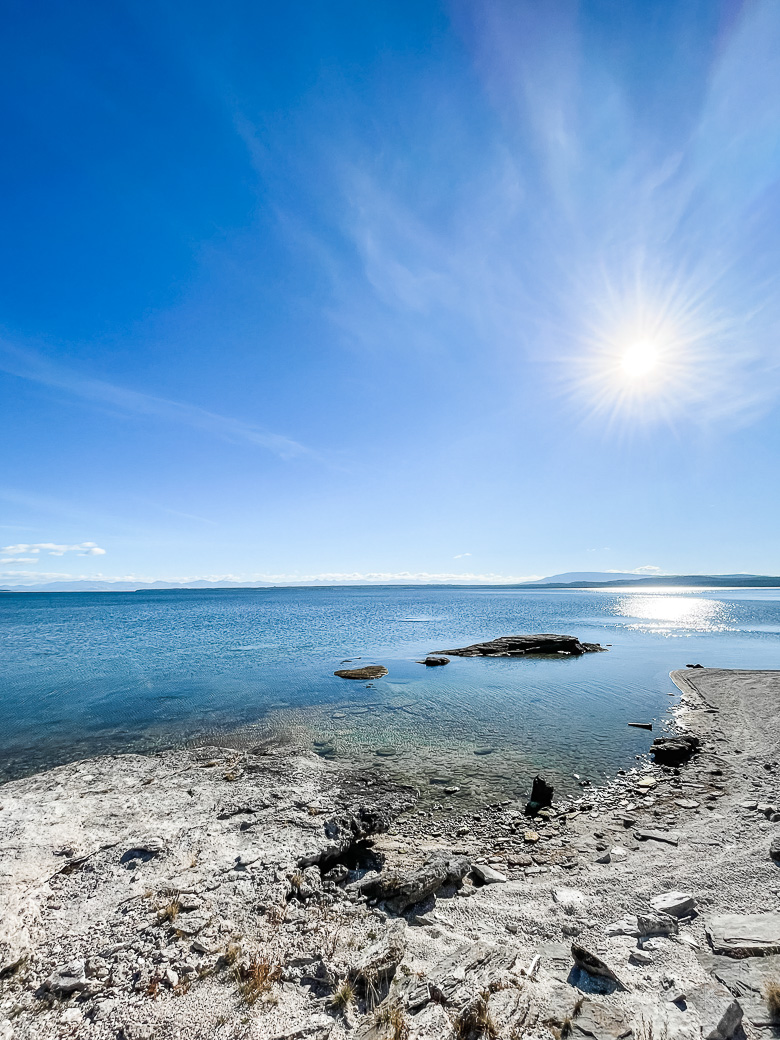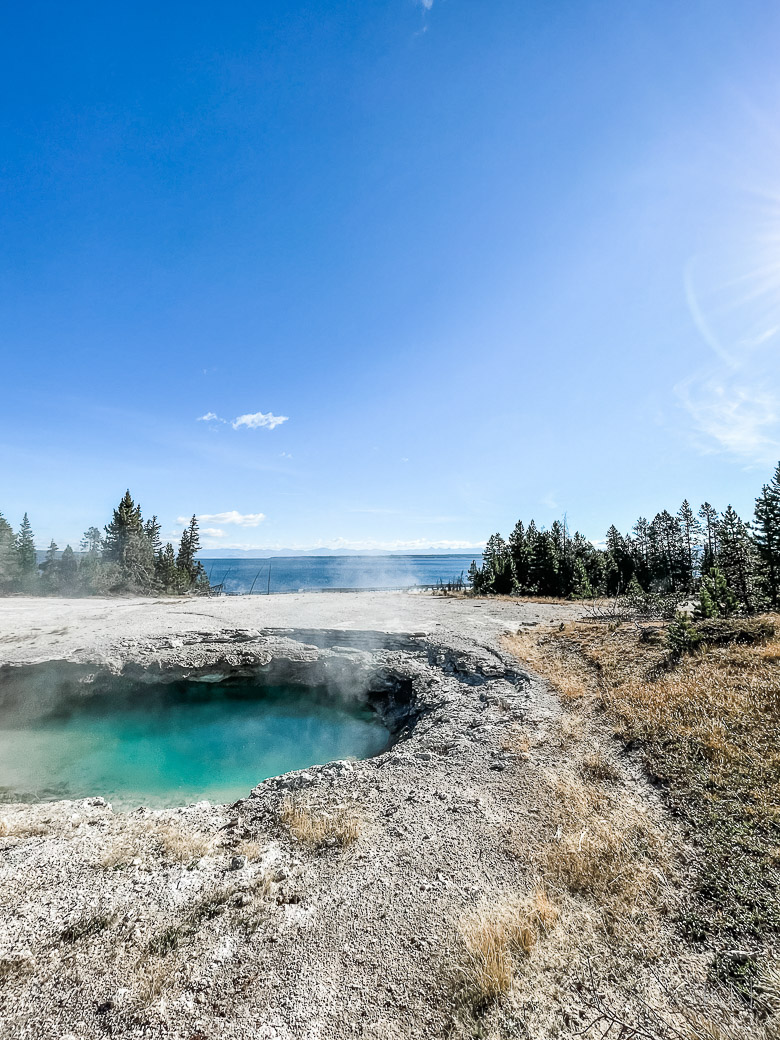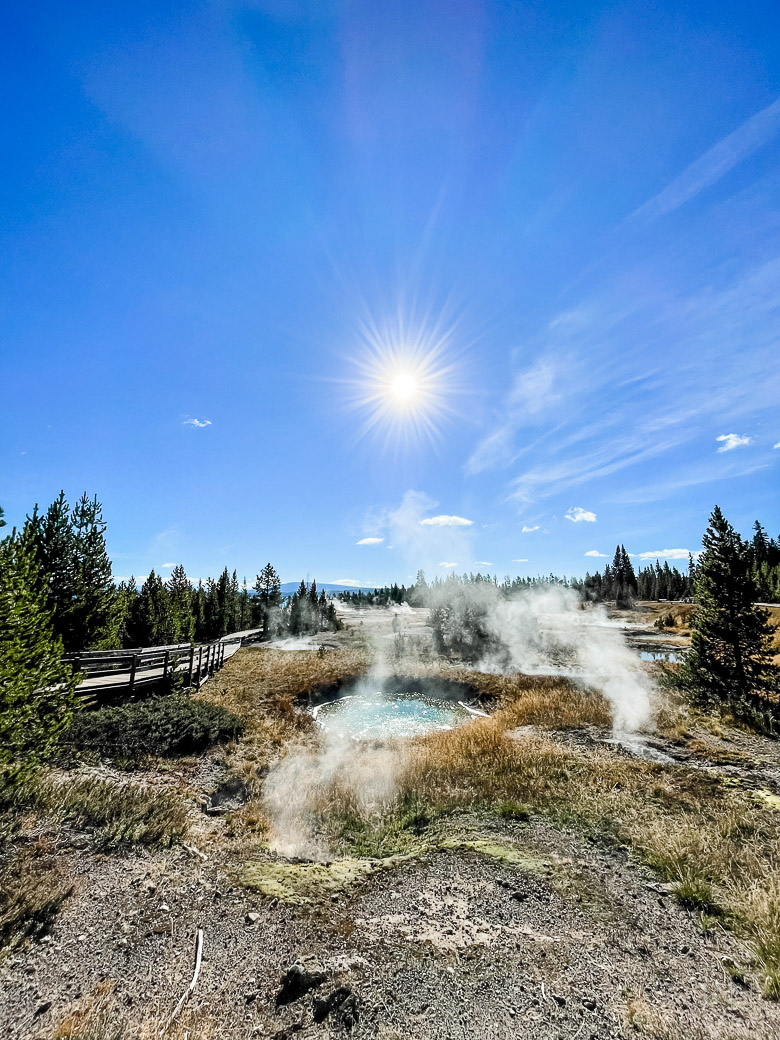 And I learned that even though it's significantly closer to the west coast, theoretically, if there was a rainfall, anything on the left side of the Continental Divide would eventually make itself to the Pacific Ocean, while any drops on the right side would eventually make their way to the Atlantic.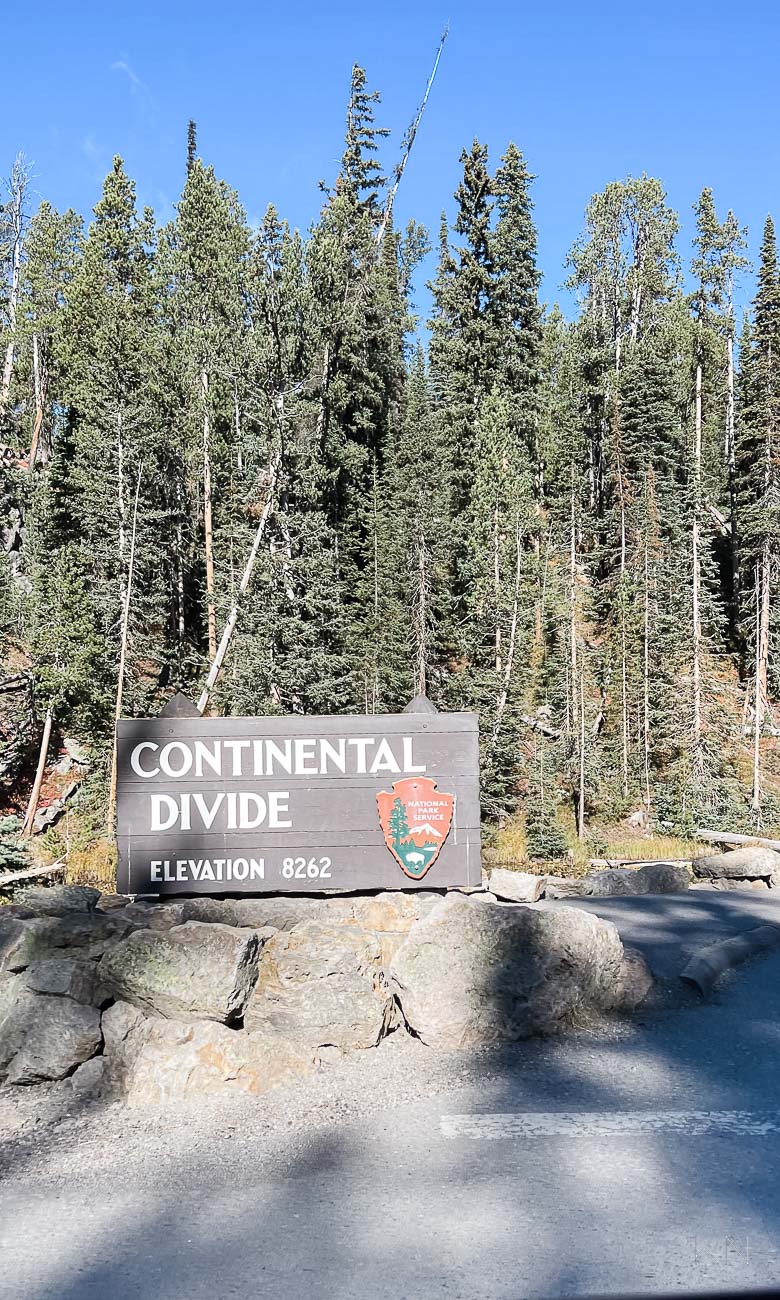 There's lots of pretty falls and walks throughout the park… picnic spots and bathrooms are easy to find.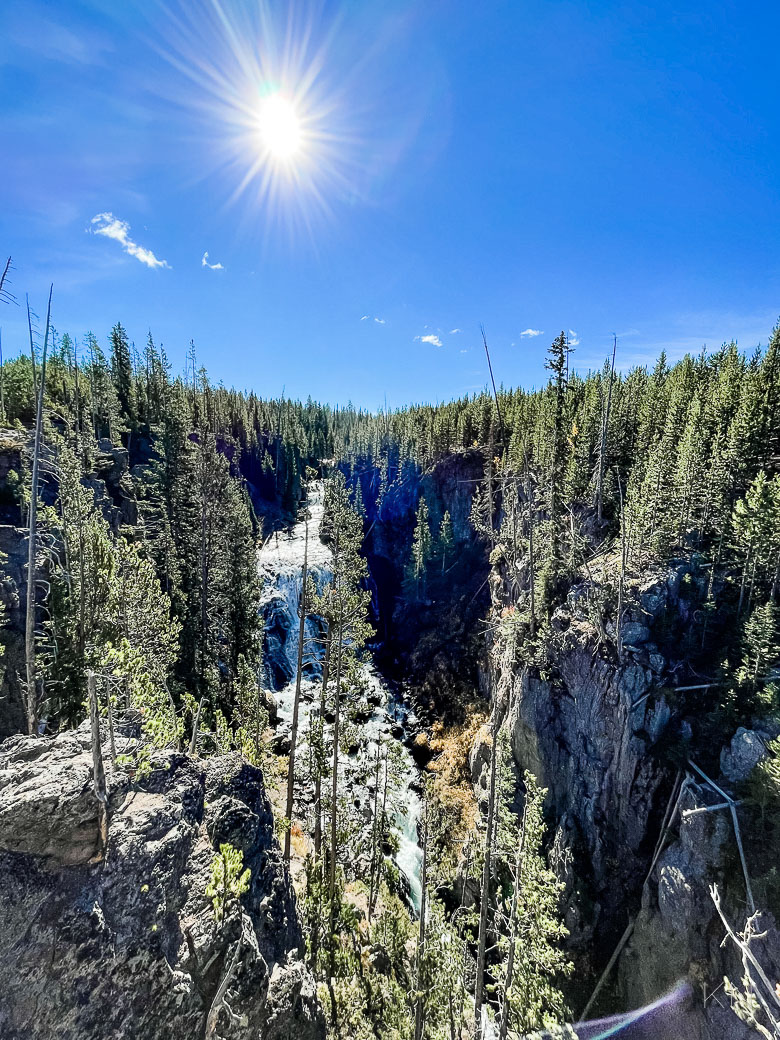 We headed to Old Faithful on the first day in Yellowstone and was surprised to see 1. it's actually only one of a LOT Of geysers in the upper geyser basin (just the most well known, most regular, and most predictable), and 2. you go through the welcome center to come out on the backside to see it. The welcome center (go there first so you can see anticipated eruption times for all the geysers) had posted times for all the main geysers and we lucked into seeing Castle erupt while we were at the park. It's big, strong, constant, and (that one specifically) lasts for 20ish minutes. It also only erupts every 14 hours so we felt lucky to see it.
This wasn't steam– this is water.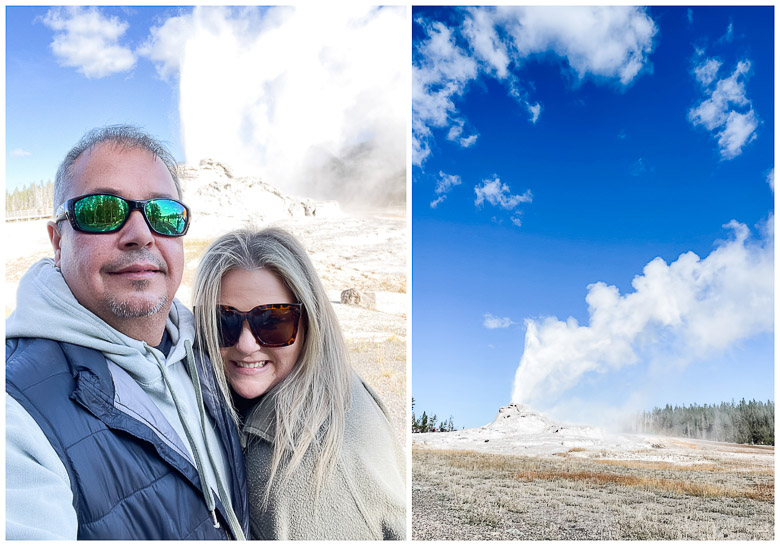 You could spend a whole day in the Upper Geyser Basin park but after we caught Castle erupting, we continued on our journey.
We missed out on Old Faithful Inn (which we understand is really cool to see) and even though the General Store was open, they were closing down for the season two days later. As a result, the shelves were largely barren and ransacked so this was our Yellowstone road trip lunch. I wish we had had the foresight to have prepared a picnic for our Yellowstone day and if you're planning a day of exploration in the park, definitely pack something yummy and utilize one of the picnic spots. Our "lunch" for our second Yellowstone day (on the way to Montana) was Dot's pretzels. Yummy but also sad haha.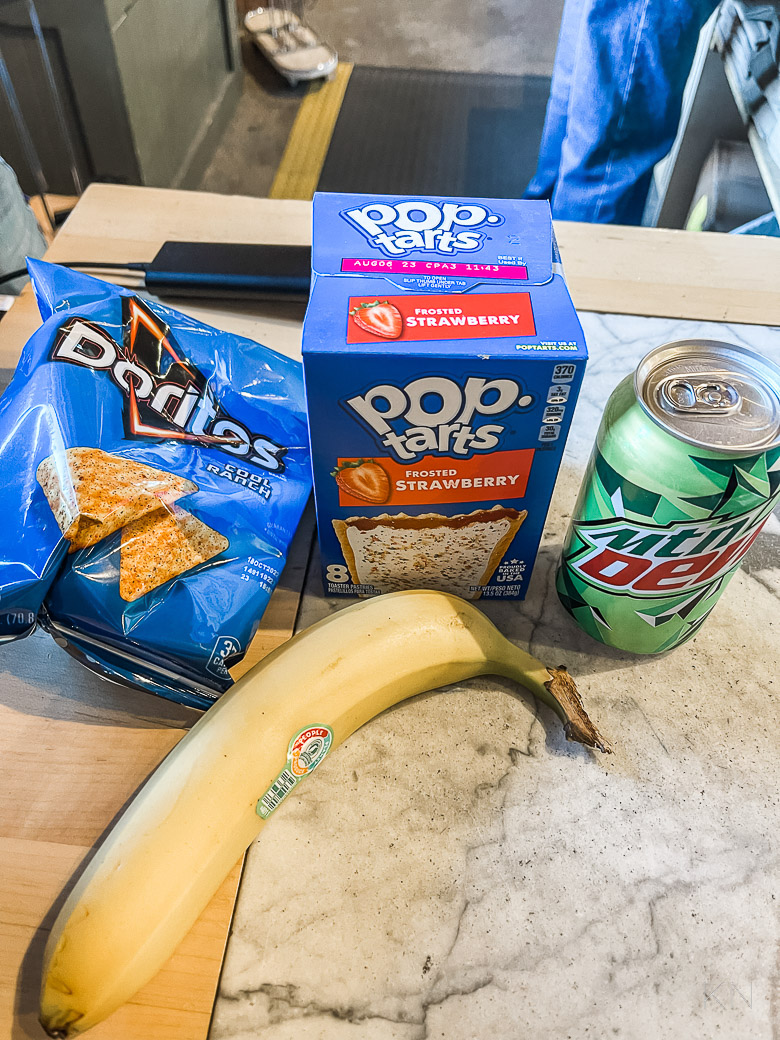 We encountered a buffalo at one stop that was totally unaffected by people and while we stood back a good distance, others were lucky they weren't attacked they got so close. It was an incredibly cool encounter and it crossed right over the boardwalk we were on.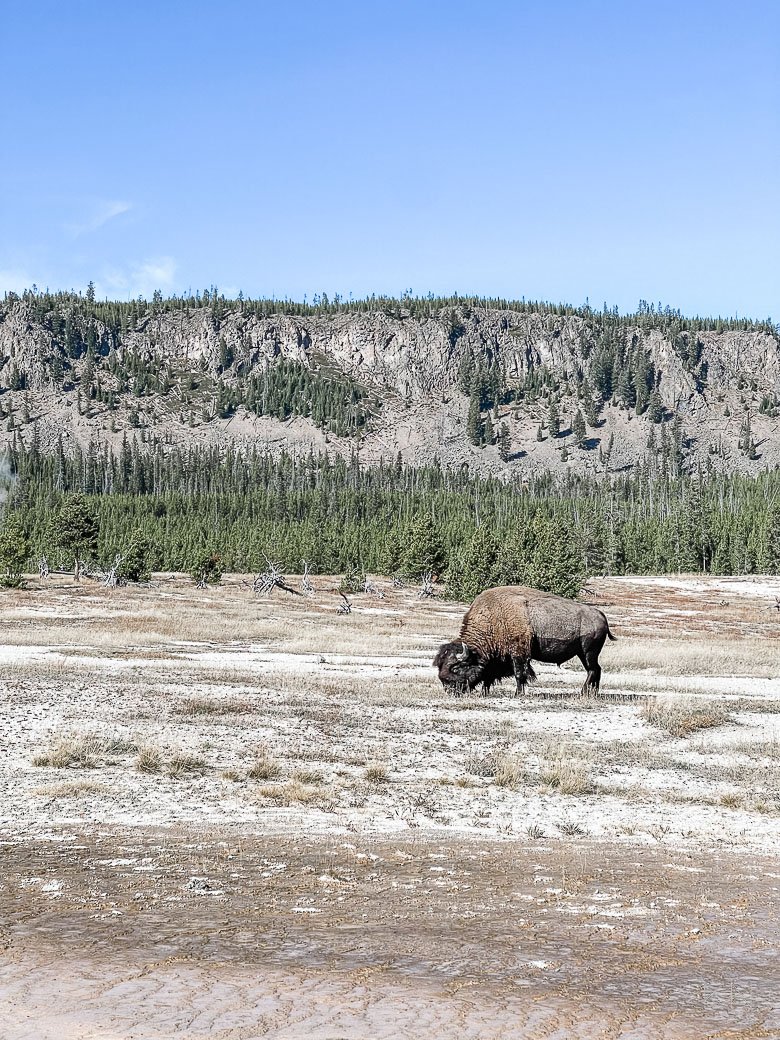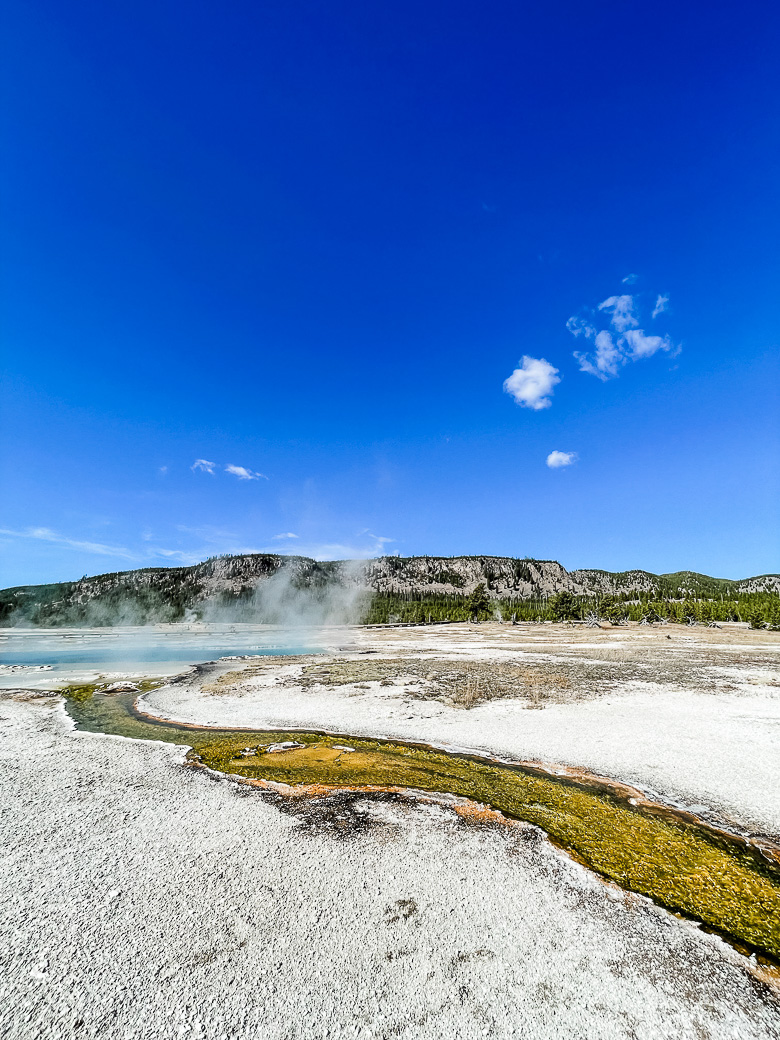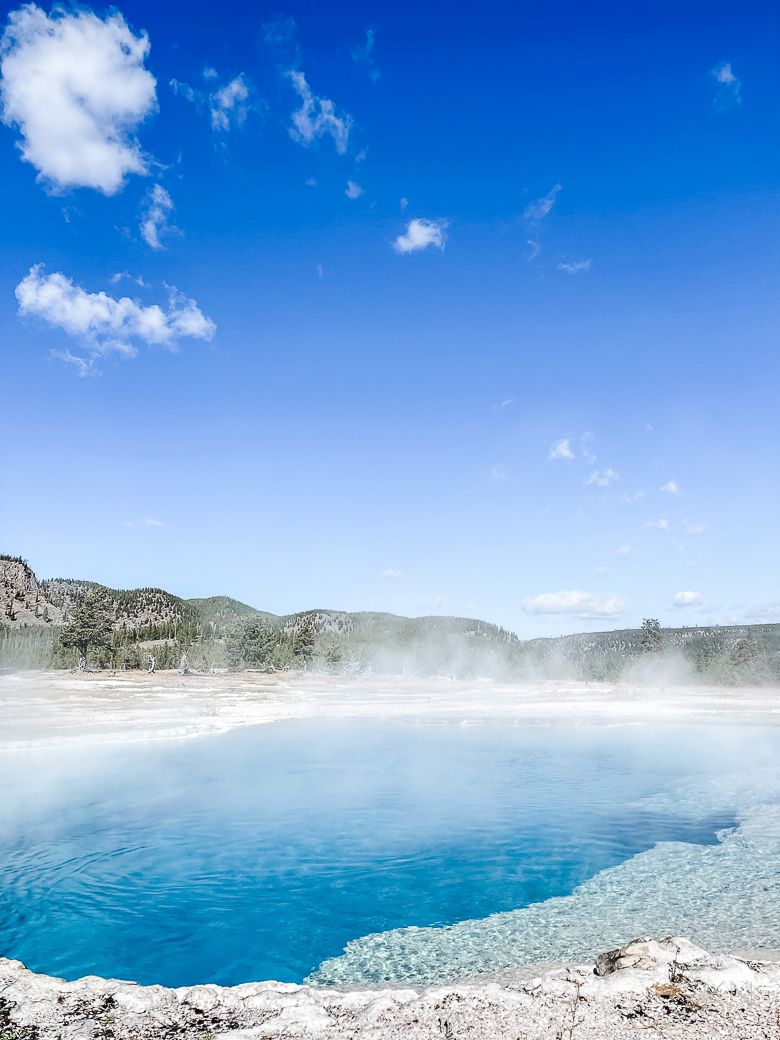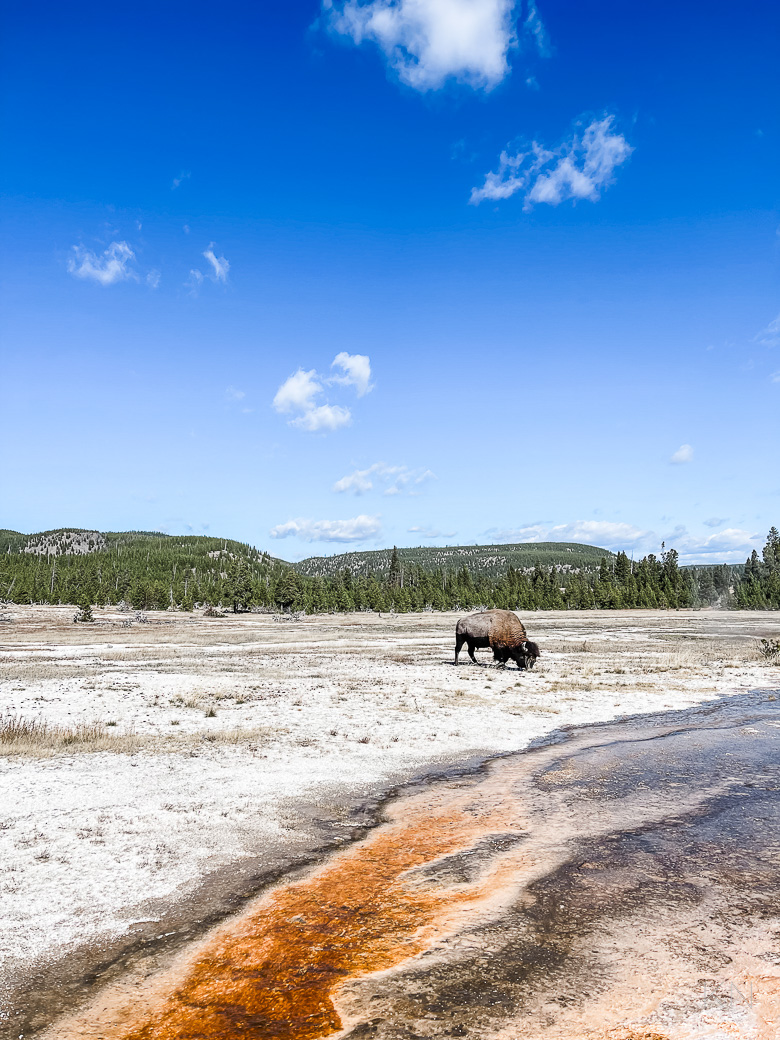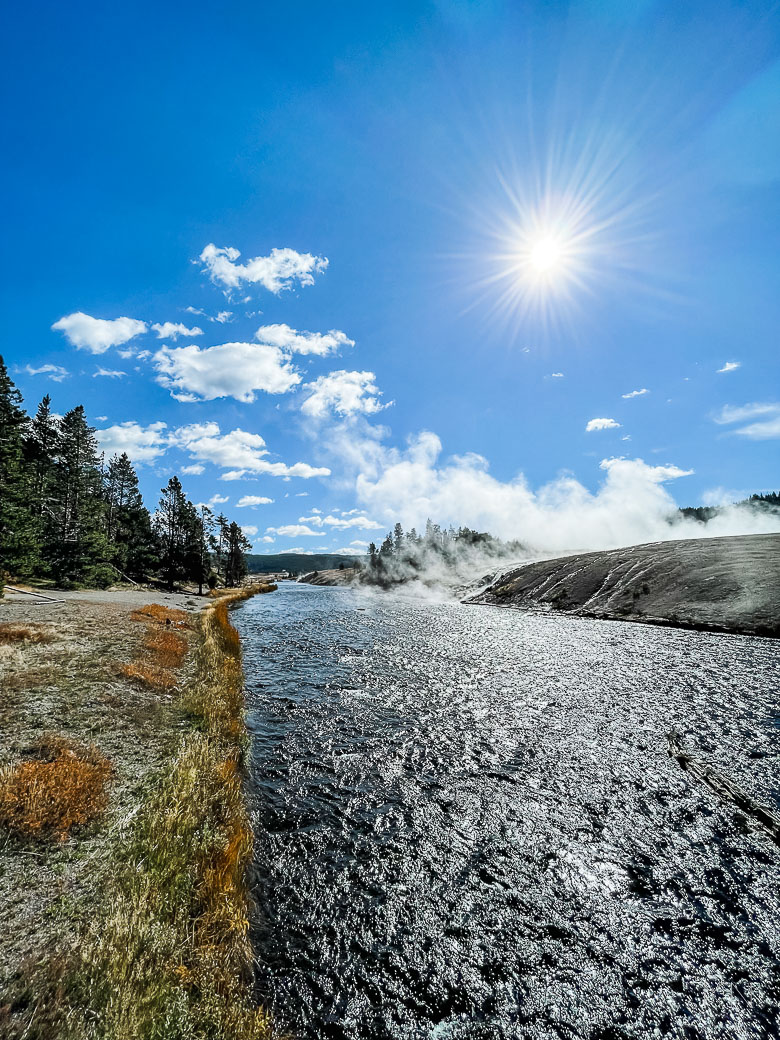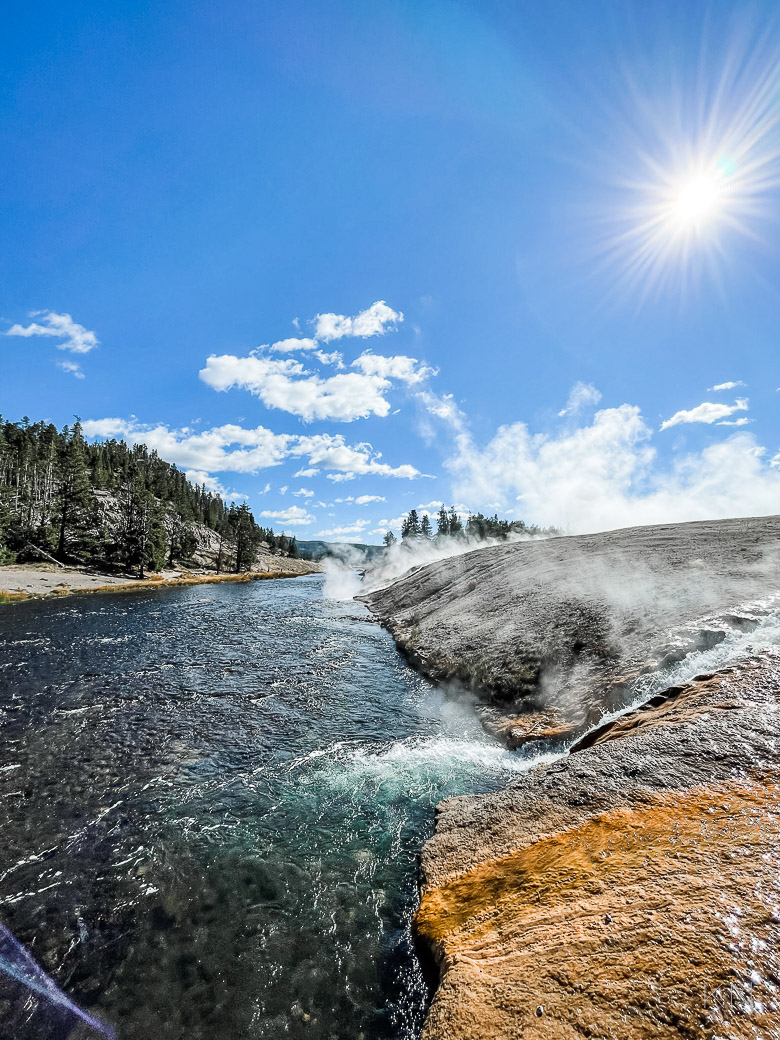 The Grand Prismatic's colors weren't as bold or easy to see when we were there with the amount of steam rolling off the surface of the water (and also, maybe the time of year).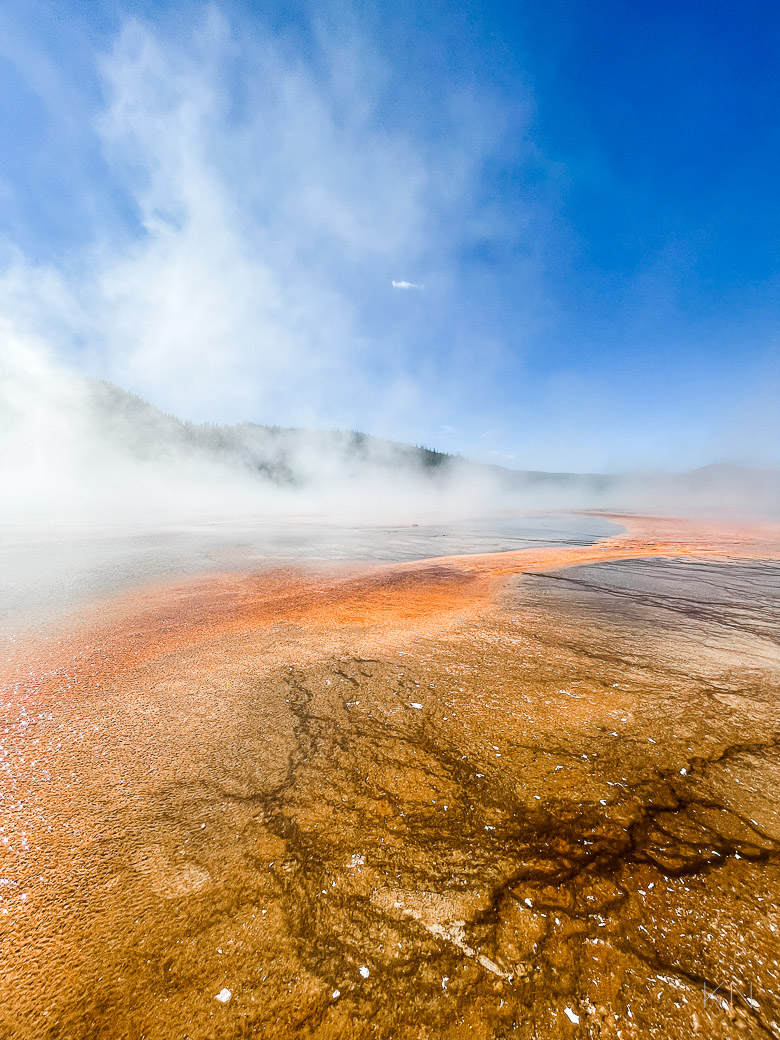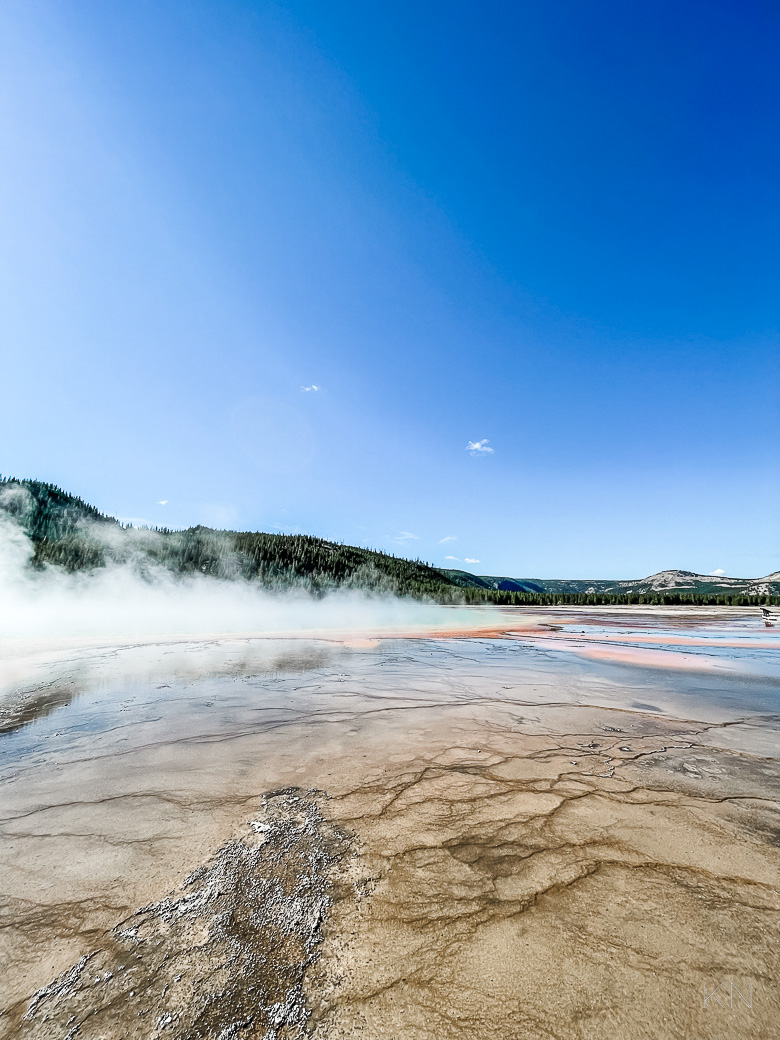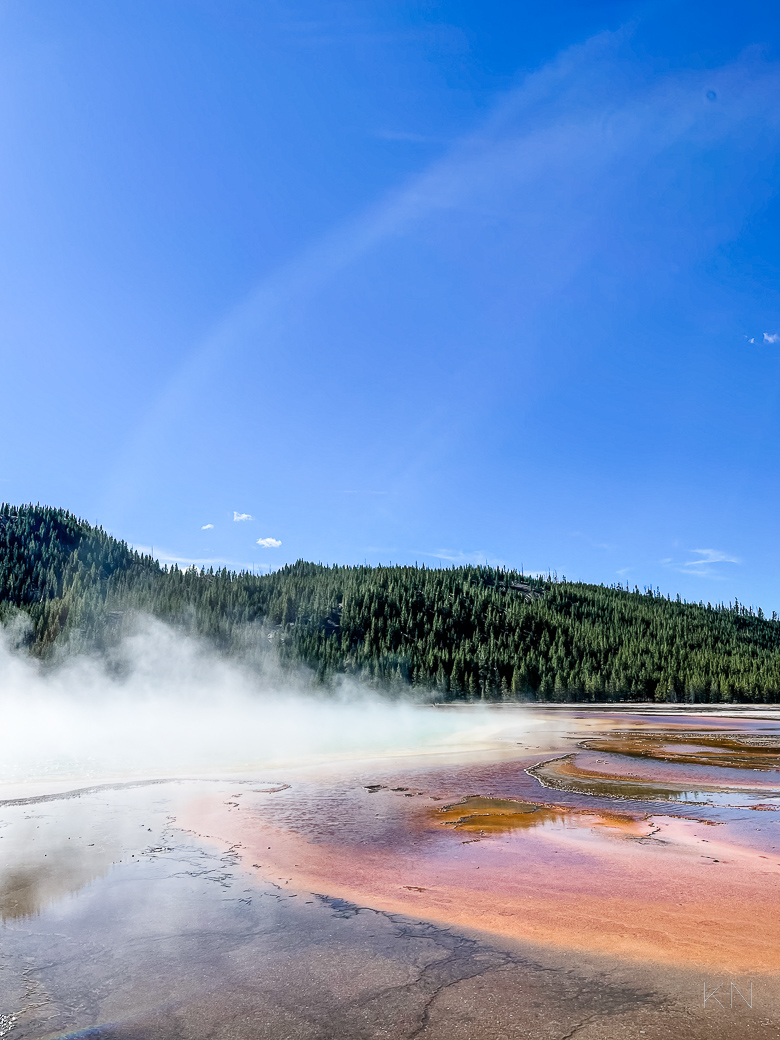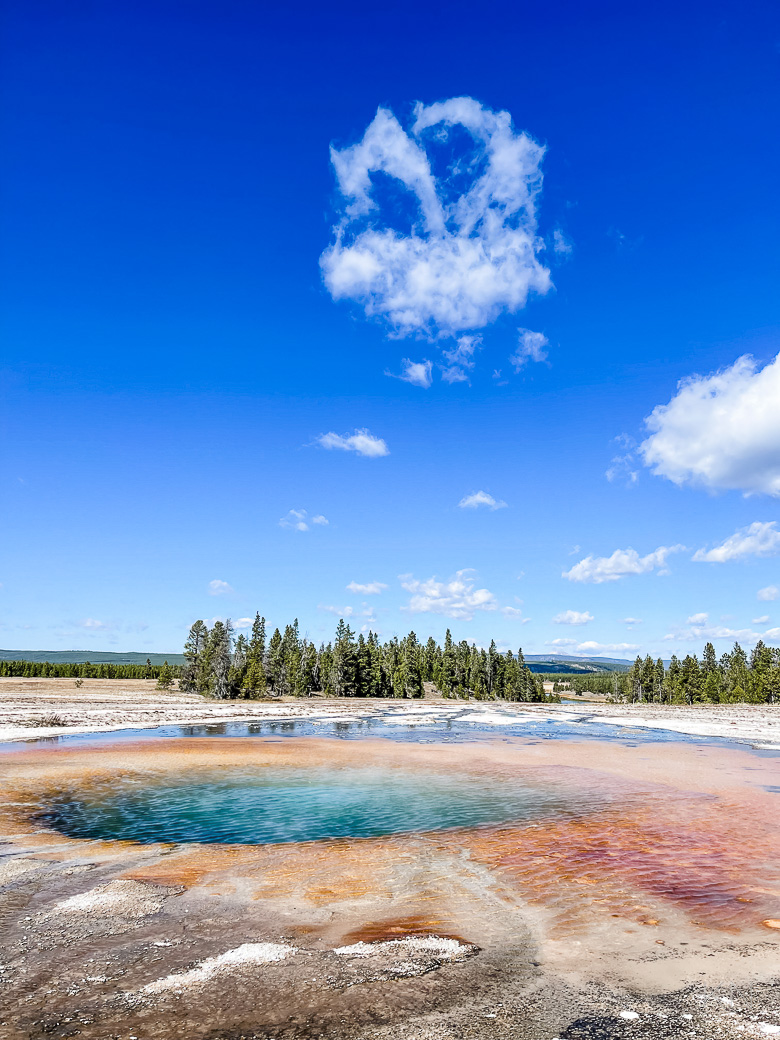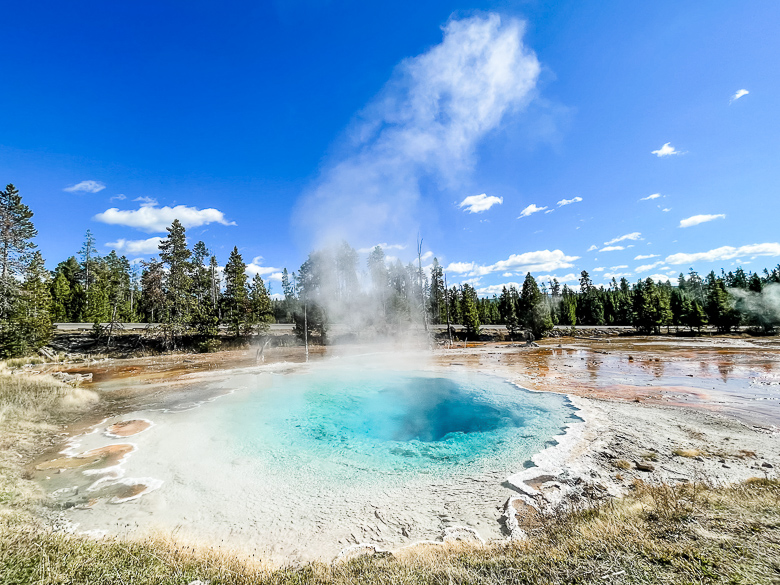 We ventured over to  the Yellowstone Fishing Bridge (again, check out how clear that water is!) on our trek back up to Montana on Friday and I think we only encountered one other car.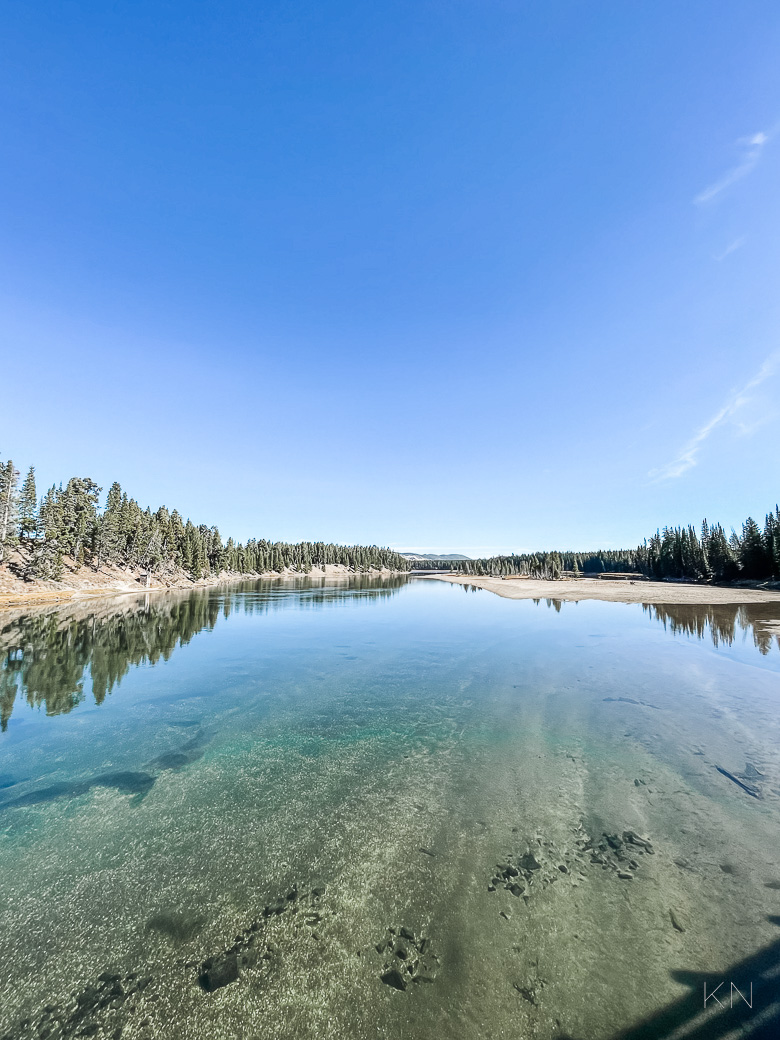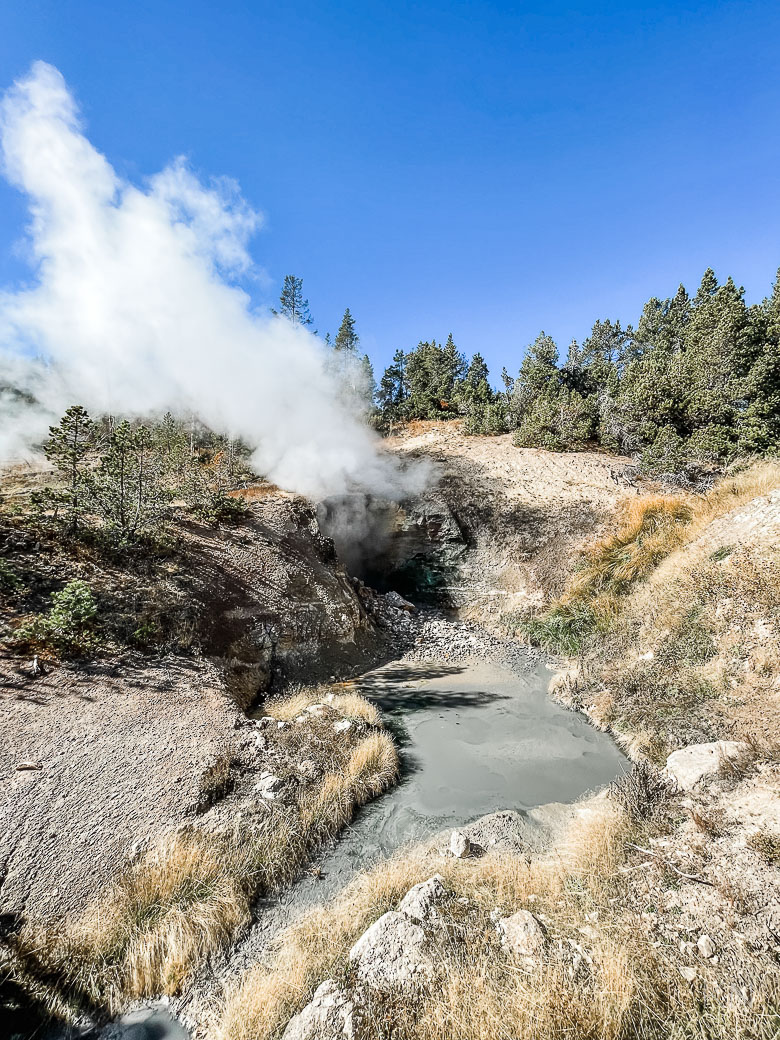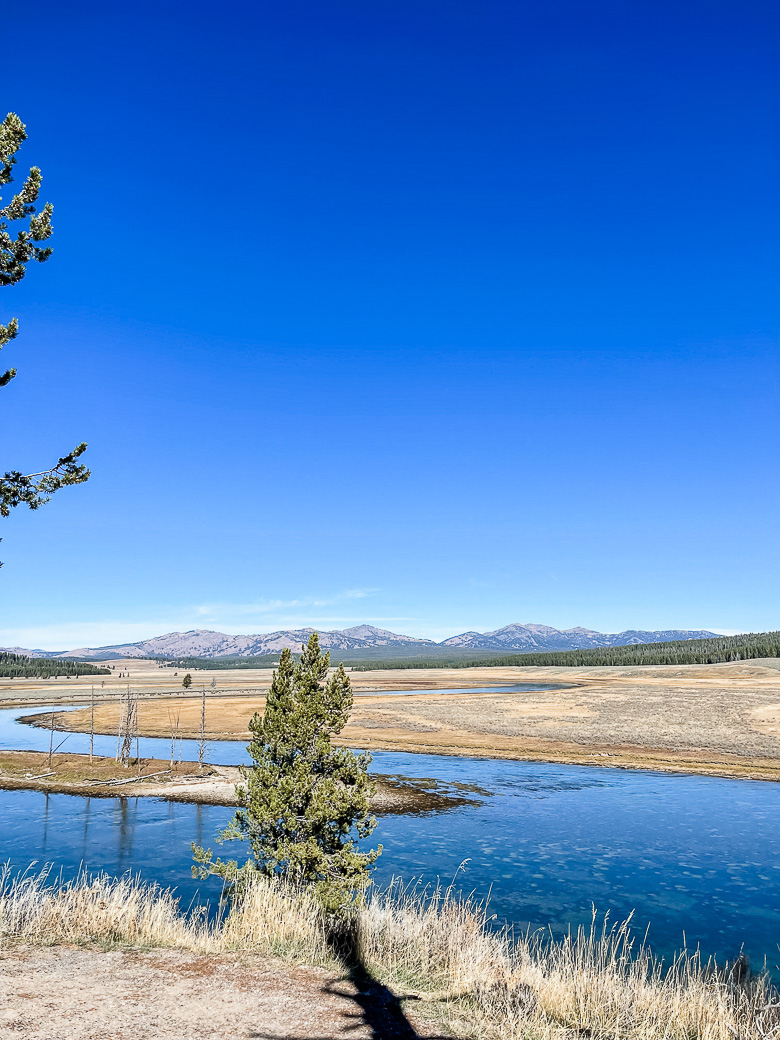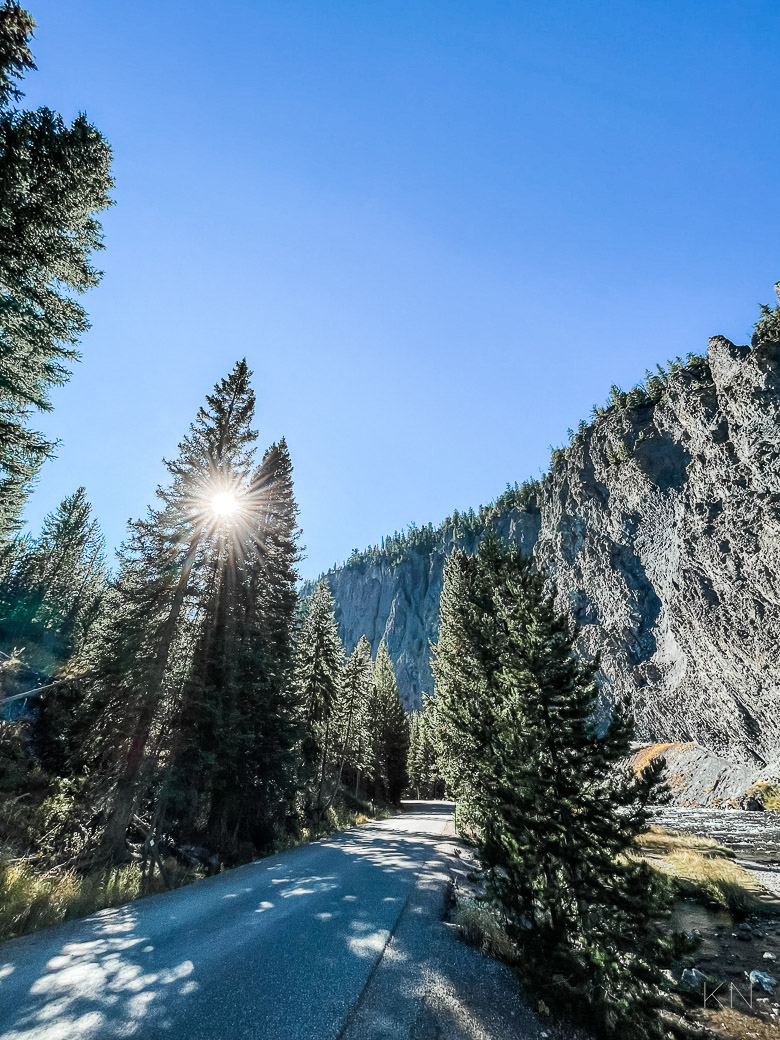 The main event for our Friday drive back was The Grand Canyon of the Yellowstone — catching the cliffs, waterfall, Yellowstone River, and that huge divide.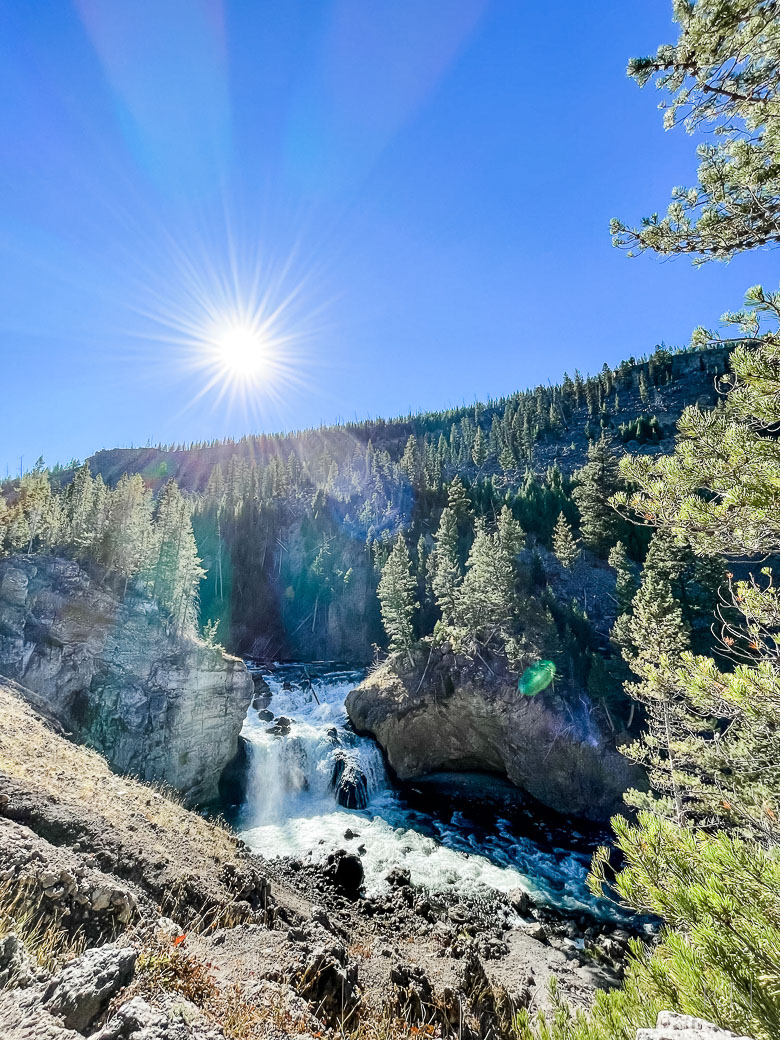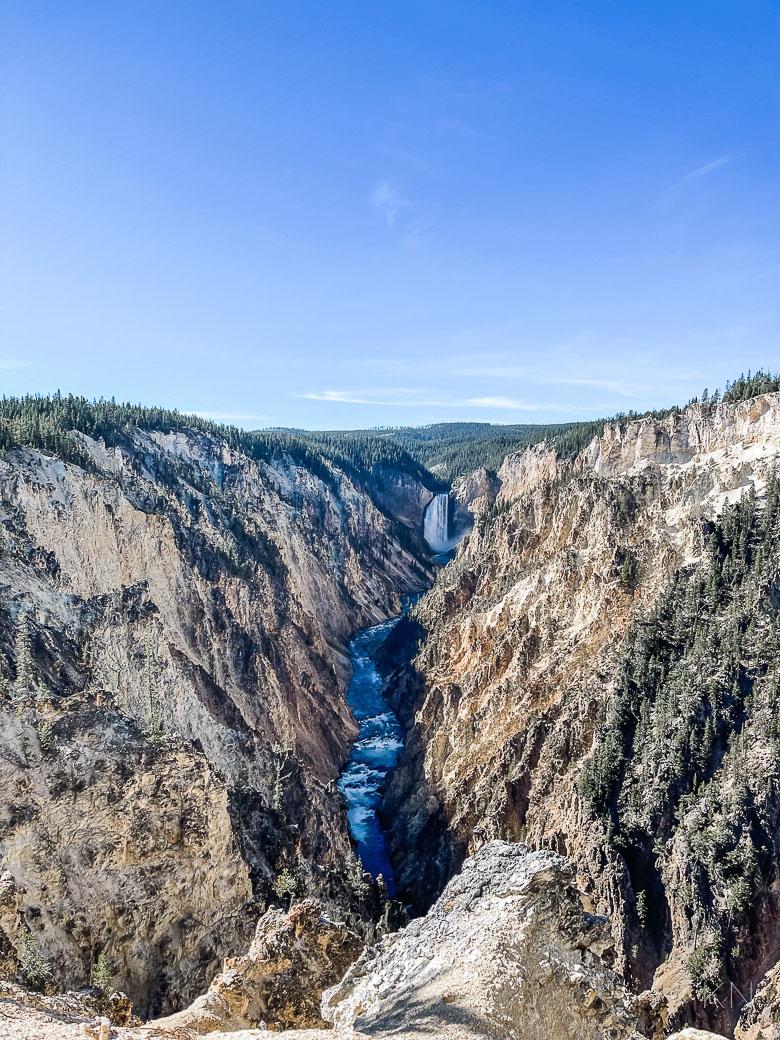 Even on our mostly-in-the-car-driving-for-hours days, we would still get more than 10k steps. For perspective, our Jenny Lake hike day in the Tetons was close to 25k for the day.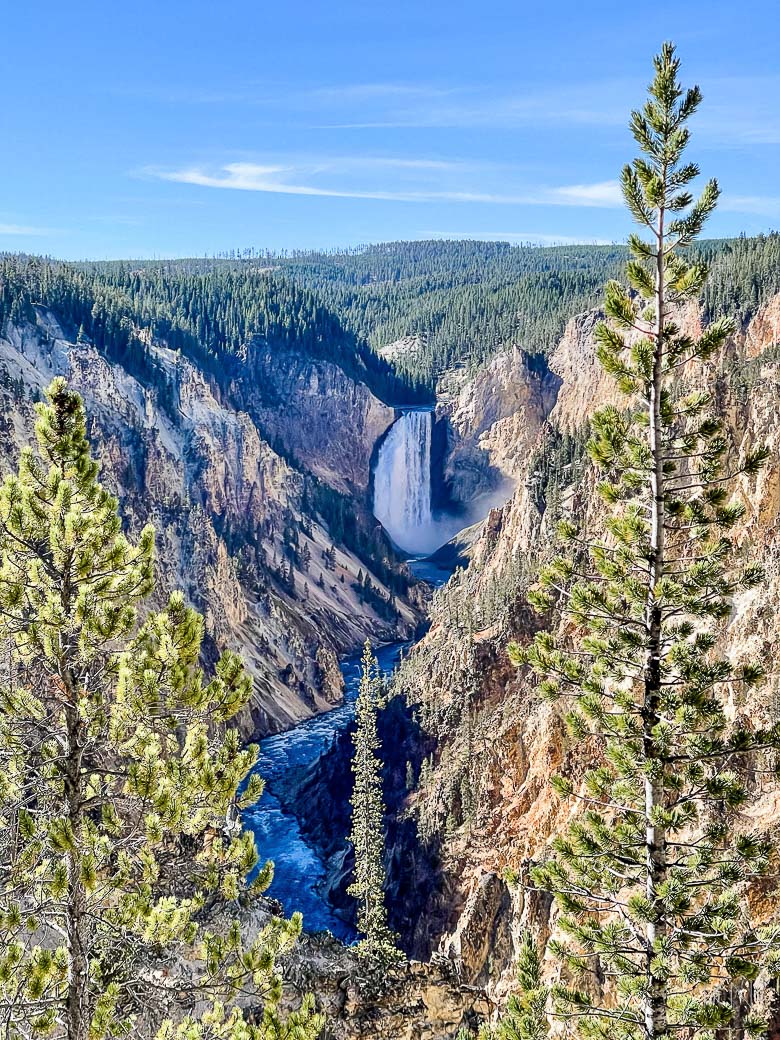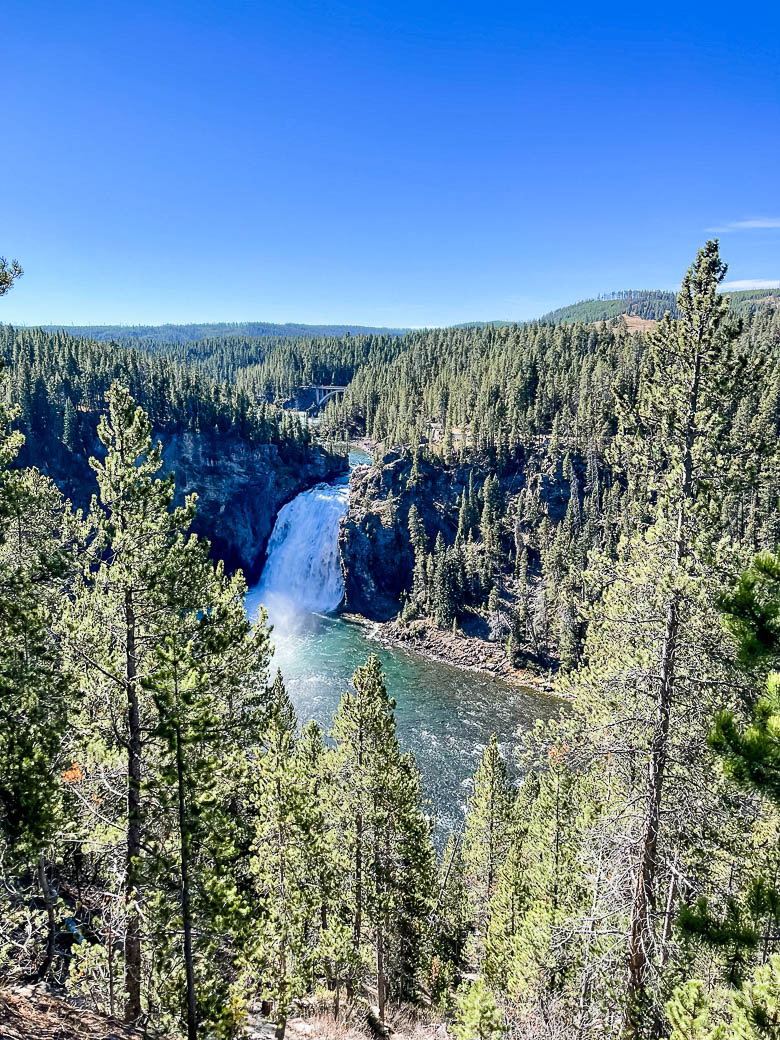 We even caught a rainbow at the top.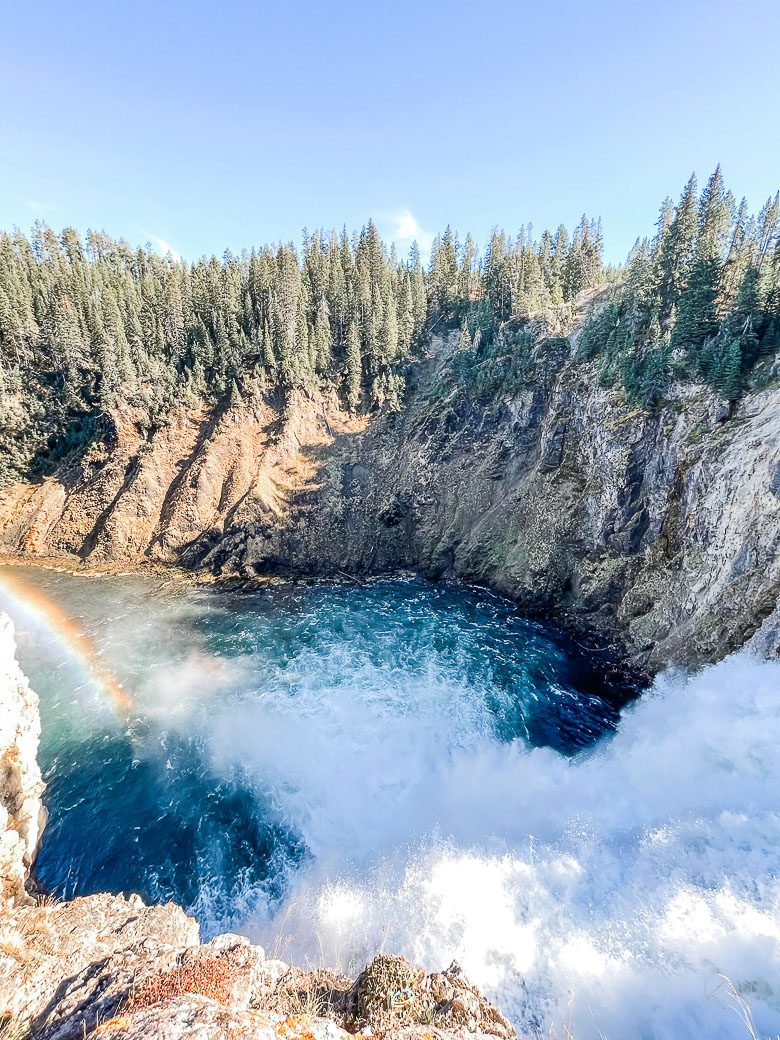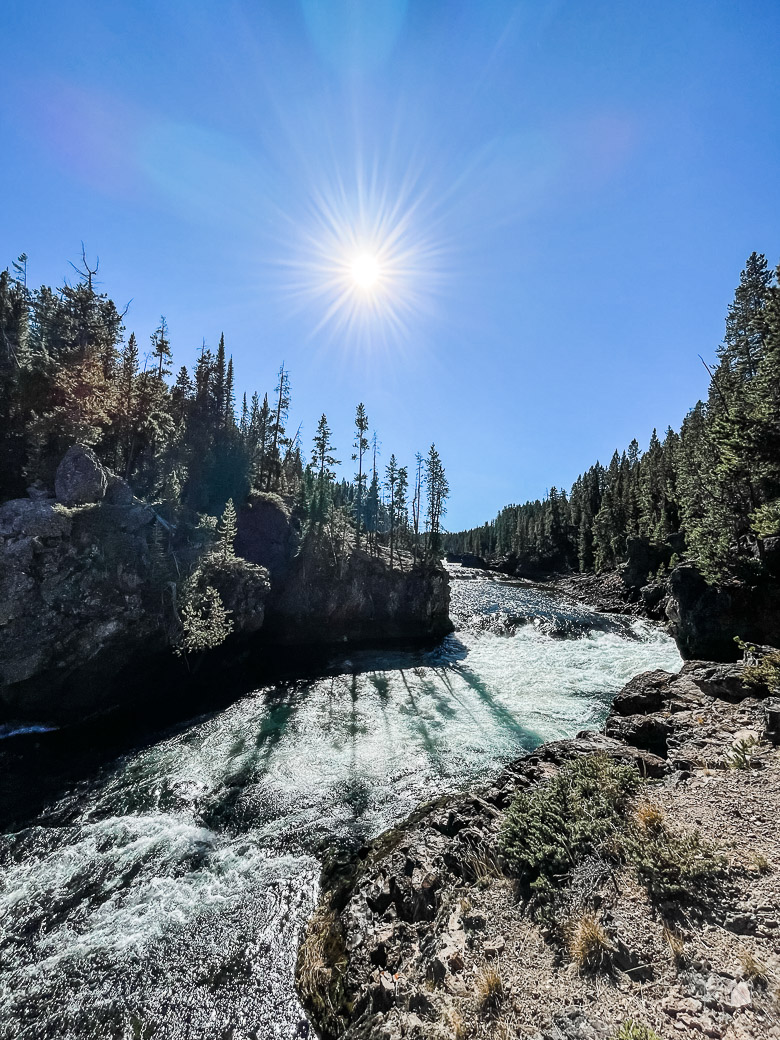 Downtown Jackson
This is where we ate, strolled, walked, and drove through/to/from each day. I was under the impression that there was a single elk antler arch but there isn't — there's actually an elk antler arch at each of the four corners of the town square.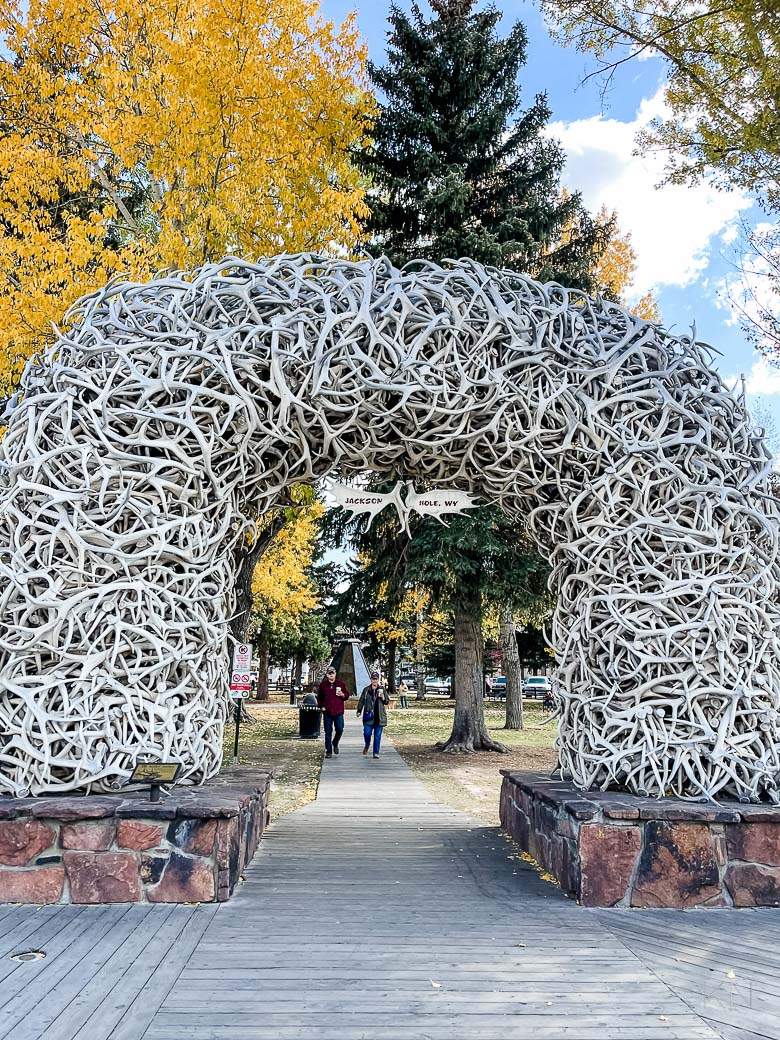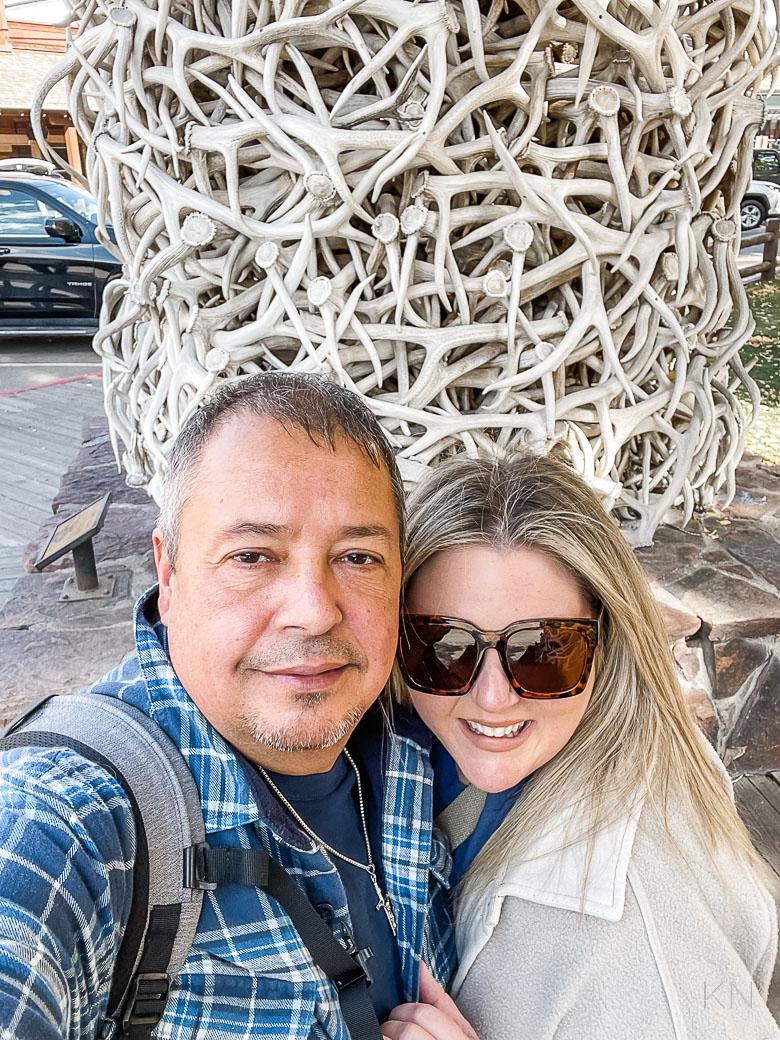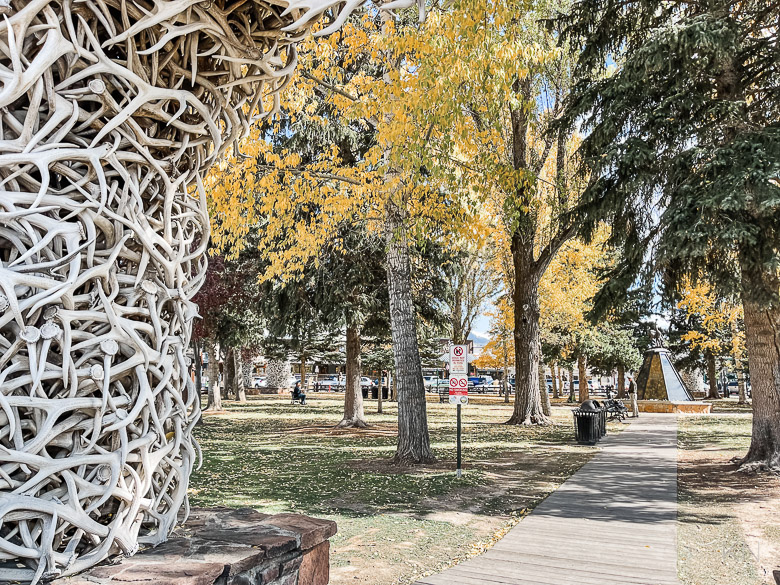 It was such a cute downtown area and while we bopped in and out of a few shops, we definitely could have spent more time. I would have liked to have dedicated more time to some of the art galleries that we failed to explore.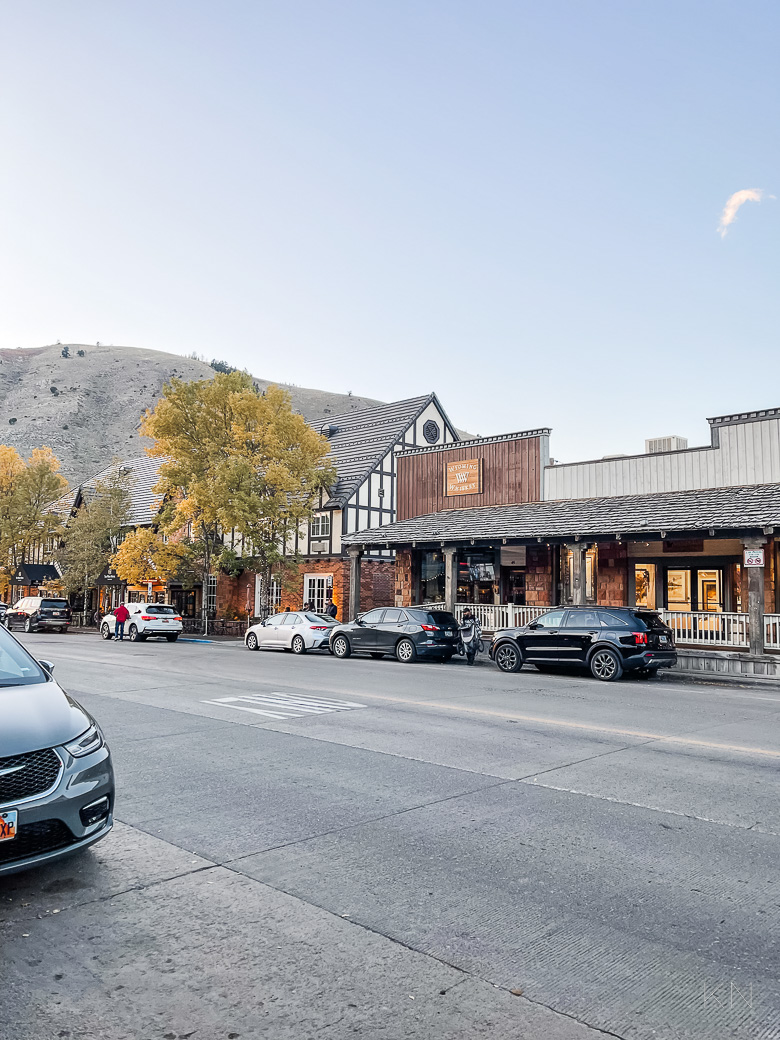 Most restaurants were added to our list, based on recommendations from you all! I loved Hatch for lunch — it was great to have a different option than the usual (meat) that's more typical in Jackson.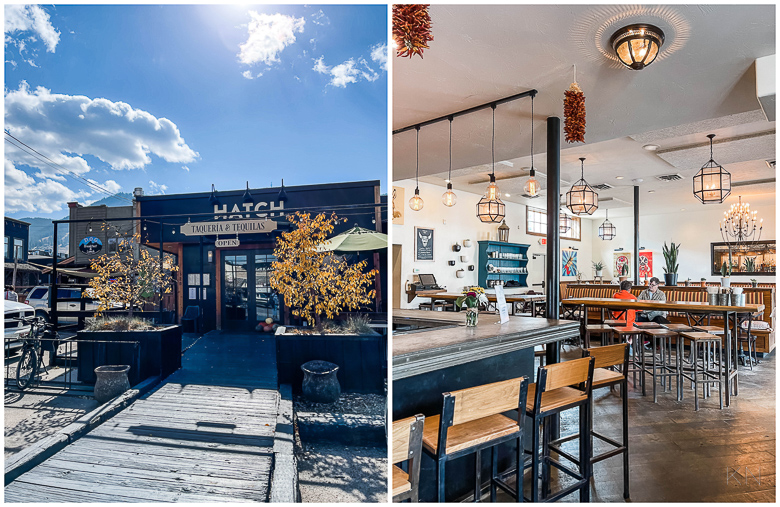 The guacamole was phenomenal, as were the margaritas. I also enjoyed my chicken rice bowl and Dave loved his street tacos (and he's incredibly picky).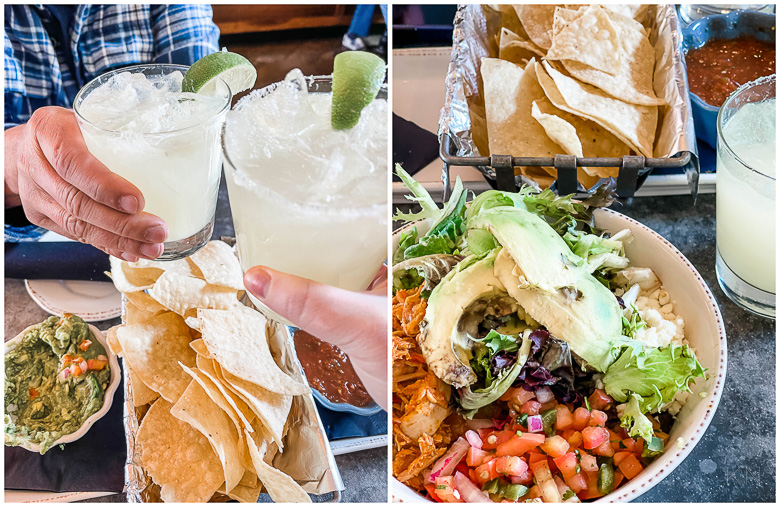 We almost didn't fit Jackson Drug in and I'm so glad we did. We ate here for lunch and had the loaded cheese fries (I would have been thrilled even with just the homemade cheese sauce) and side garden salads (with homemade ranch). Dave also had a cup of the chili and said it was great. We grabbed milkshakes (mine Heath; his Huckleberry — which is huge out there) to go.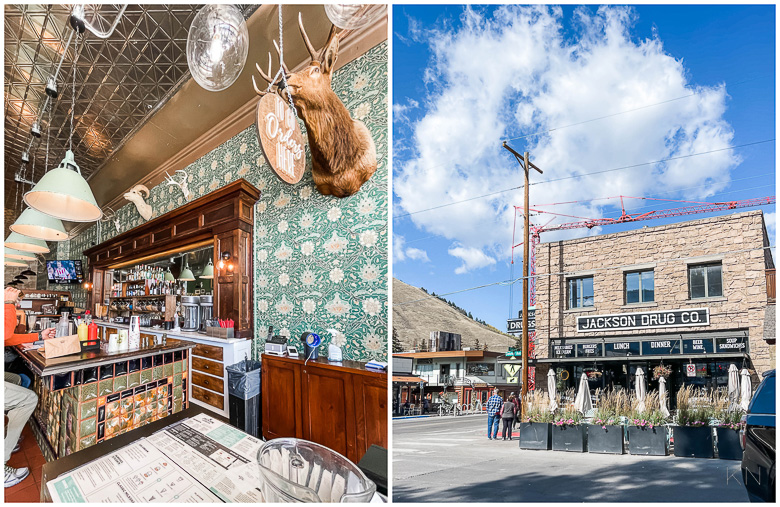 We had a quick after dinner drink at the Million Dollar Cowboy Bar but were too early for the live music.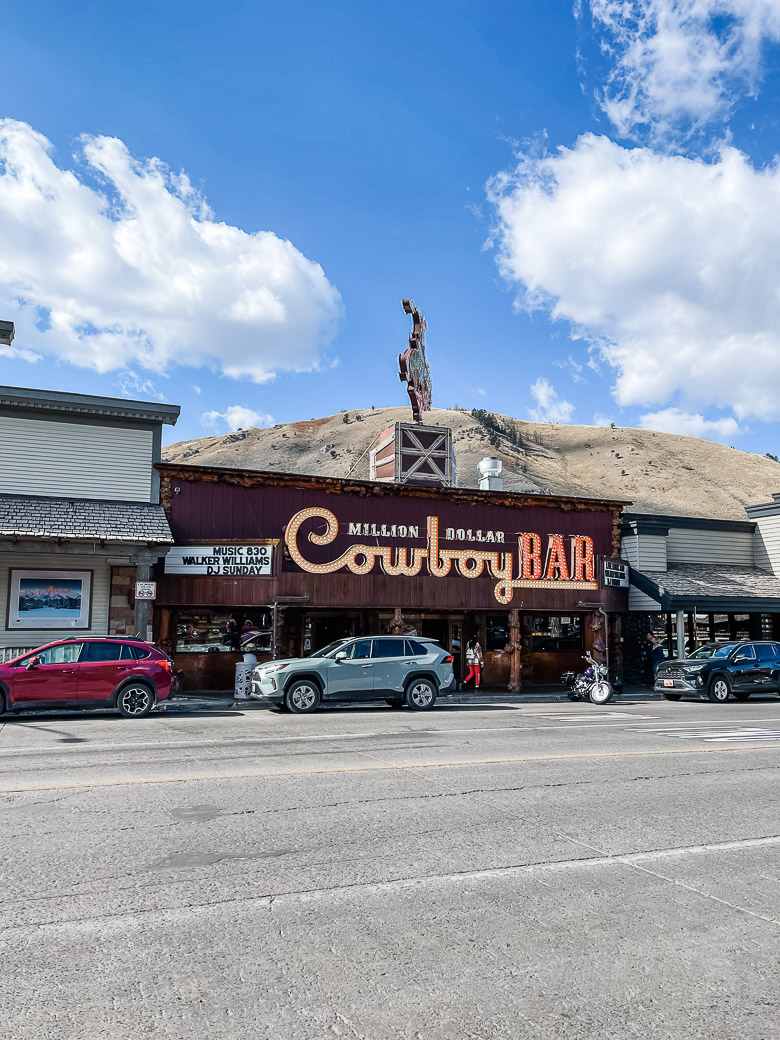 We sat in the saddle stools for the full experience (I had a local cider) and were going to try to come back the next evening to play pool and catch a few live songs… we never made it back.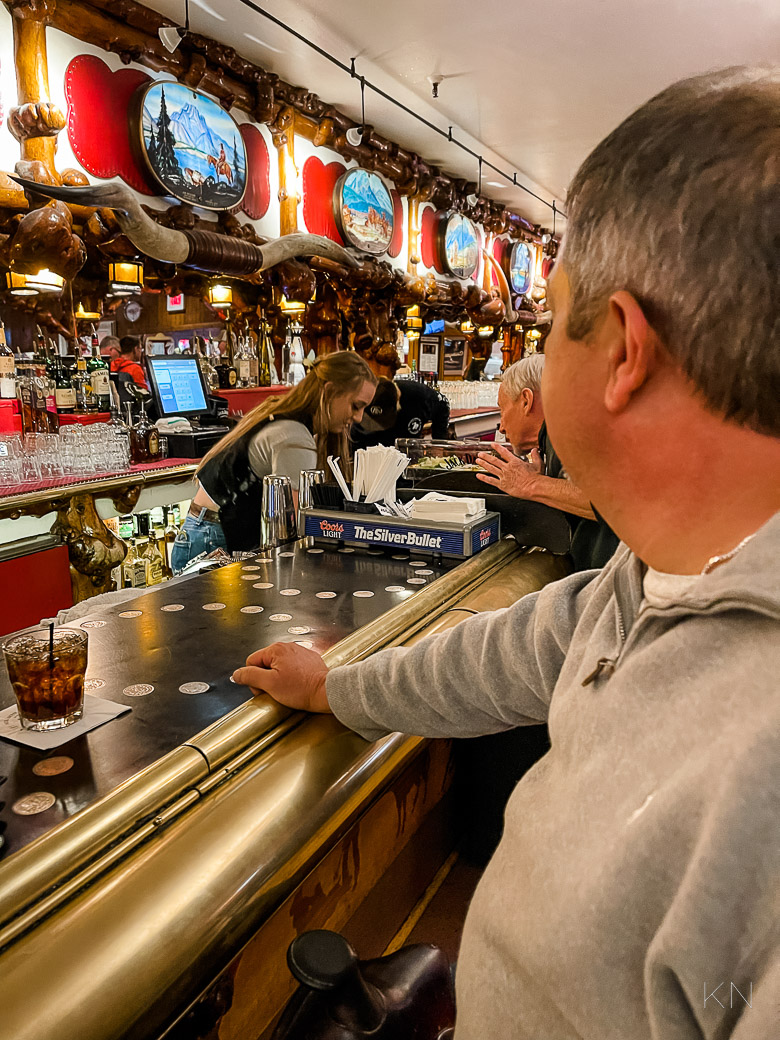 It was a really cool atmosphere, though.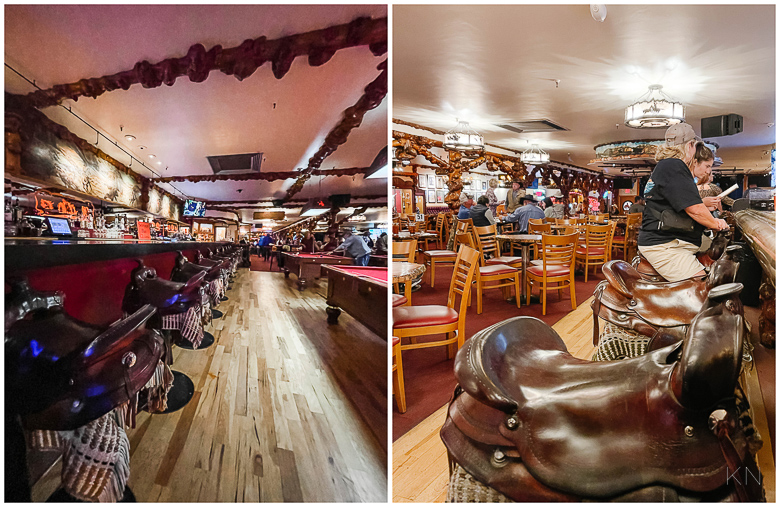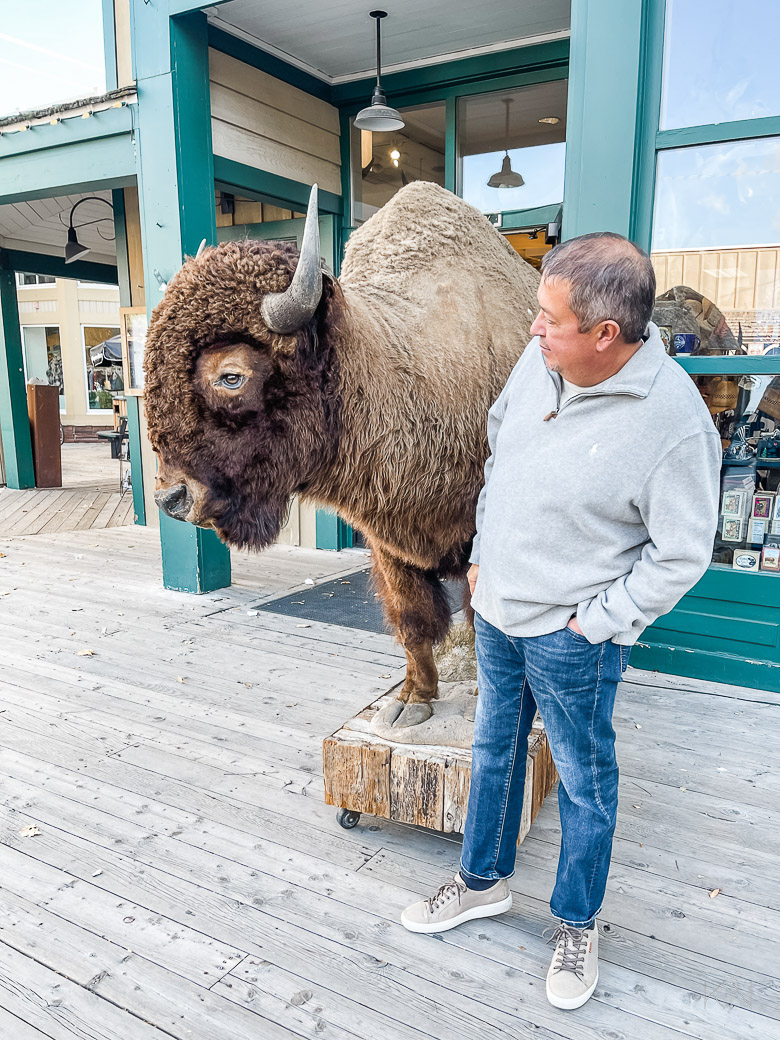 The most recommended restaurant of our trip was Snake River Grill. I made reservations more than two months in advance (recommended by the hotel); unfortunately, I made them for the wrong night. Woops. They still accommodated us and sat us at a two-top facing the sun, but I was surprised, caught off guard and embarrassed at the host stand. We really liked the potato appetizer we ordered (we overlooked the towering onion rings, but they looked amazing!) but for both Dave and myself, the food was the most underwhelming of the trip. He ordered a steak (the corn side was awesome!) and I ordered the vegetarian squash option (I'm not a big meat eater and there wasn't much on the menu for me). Here's what my artsy plate looked like, fresh out of the kitchen. The server was lovely and I'm sure on a different day, it would have been better. We still enjoyed it but preferred other spots in the area.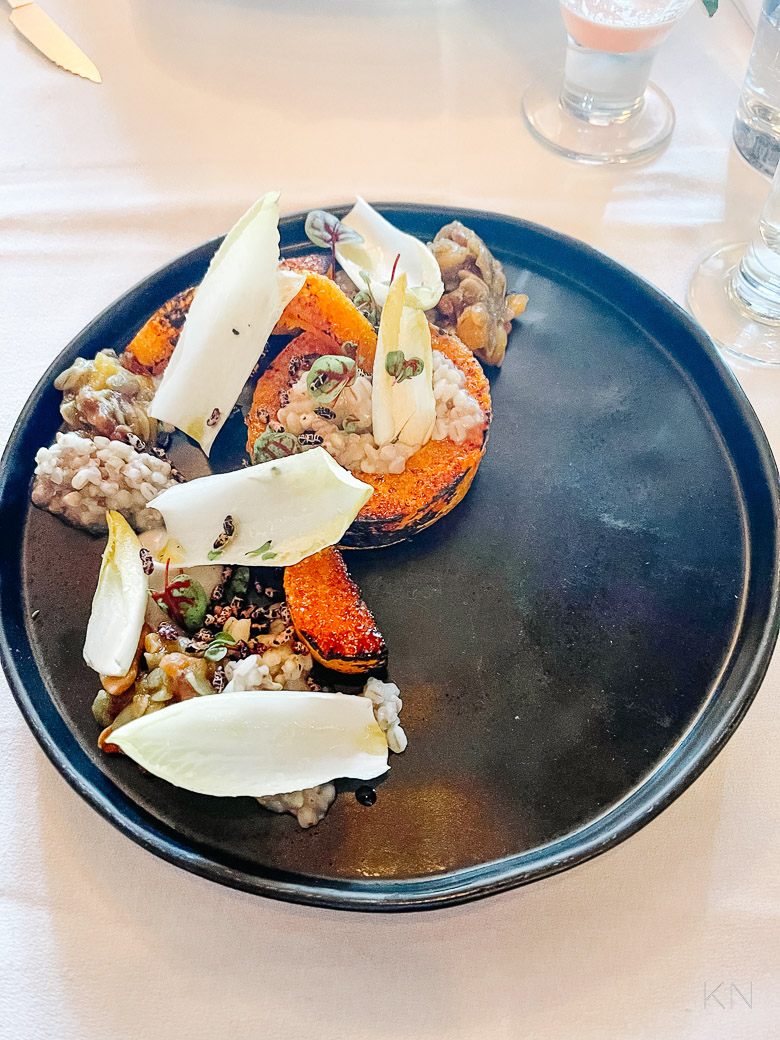 Local, on the other hand, has a similar menu and was the only other restaurant we reserved ahead of time. Also, you have to pay a $35 reservation fee when you book at both restaurants, which was new to me. I really enjoyed my dinner here — a filet with mashed potatoes and sautéed spinach. The house bourbon steak sauce was incredible and the mashed potatoes were probably the best I've ever had. Dave also preferred the steak he had here and was a big fan of the Brussel sprouts.
We made a special trip to Persephone also — the second most recommended spot to grab a bite — and like SRG, our experience wasn't the same as some of those who had raved about it. I did think the slice of banana bread I grabbed for breakfast on the road was yummy. I'm sad we didn't make it to The Bunnery.
Hand fire pizza after a long day of exploring was great and the pizza was top notch.
In general — and this is just our experience and opinion so please don't come for me — no one was mean but we didn't encounter a lot of friendly people, either. I know there were a lot of tourists but employees weren't as effusive and accommodating as we're used to where we live in the south. There were plenty of pleasant people, still, and it didn't detract from our trip.
We did come across Beaver Creek Hat Company — a family owned hat and leather company on the Jackson square. They measured and fit me a for a hat, I customized one a little, and brought it home as the ultimate keepsake (my anniversary gift). They will shape them, brand them, etc. We've only been back for a week and I was already able to wear it to a local farm this past weekend.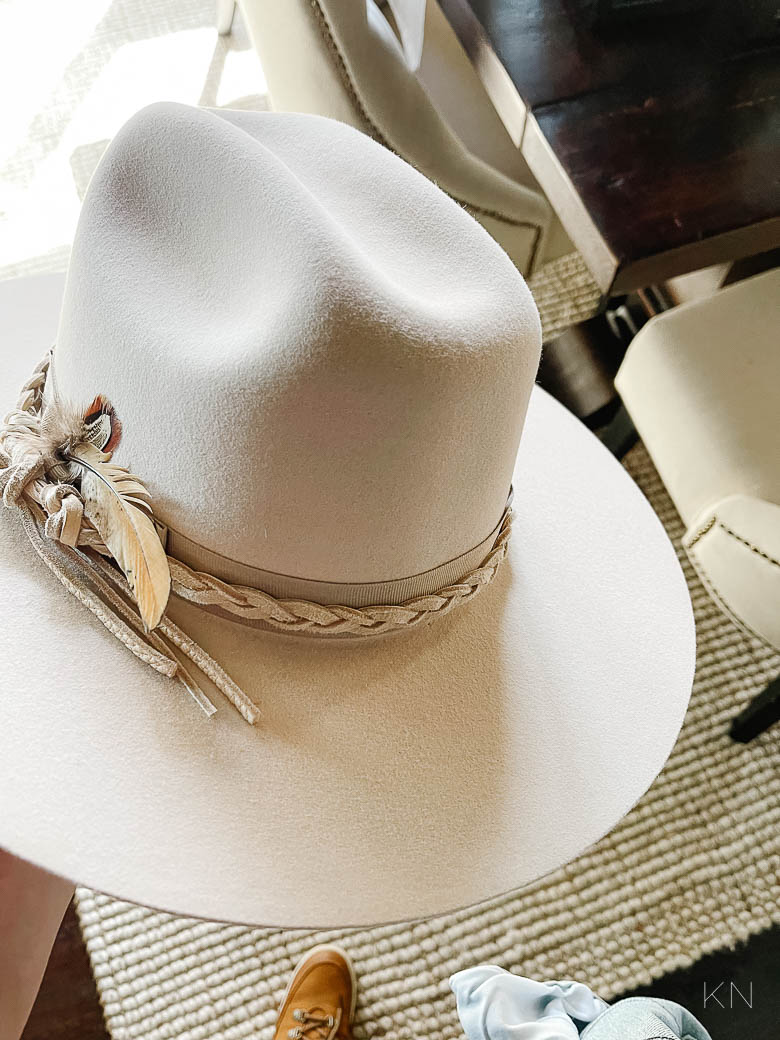 Jackson Hole Itinerary & Schedule
Before our trip — and again, really knowing nothing in terms of what made sense geographically — I made the following schedule. There was a lot I would have loved to have included that we didn't have time for on this trip, and we actually canceled the horseback hour-long session on Wednesday. Here's what the pre-trip schedule looked like…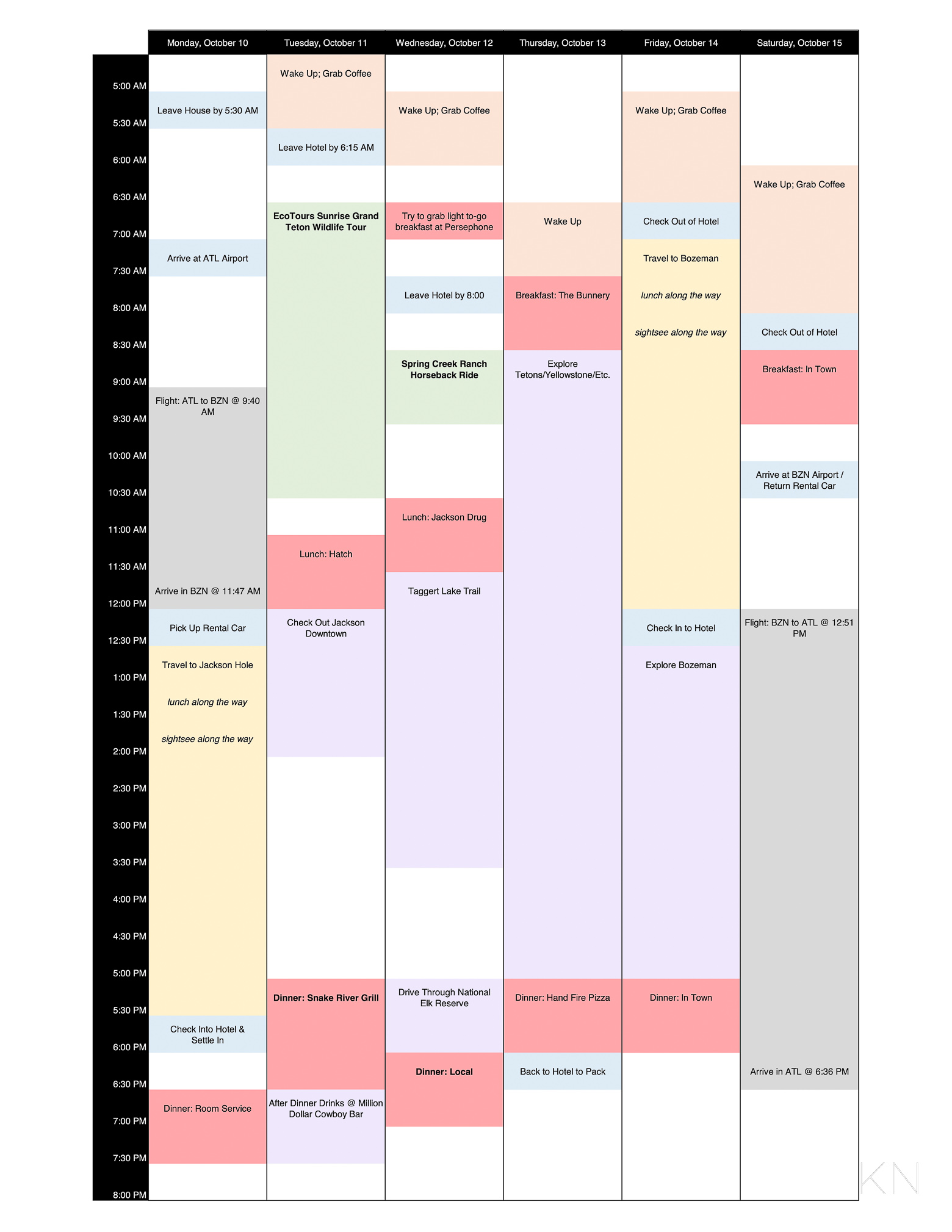 While some of our trip was mixed around to allow more time for some things and less for others, we actually did do most of what we set out to do. Here's what each of our days actually looked like.
Monday — flight; get rental car; lunch in Big Sky; travel through Montana & Idaho. Check in at the hotel; unpack; cocktail downstairs at at fire pit; order room service; lounge and watch tv.
Tuesday — EARLY morning. Grab coffee and met at downtown Jackson visitor's center. EcoTours tour (exploring Grand Tetons locales and animal scouting until almost noon. Lunch at Hatch in downtown Jackson. Walk around and shop in downtown Jackson. Head back to hotel, get ready for dinner (should have skipped this and gone in the clothes we were in, or, gone back earlier and relaxed with a pre-dinner cocktail). Dinner at Snake River Grill at 5:00 p.m.; after dinner drink at Million Dollar Cowboy Bar; back to the hotel.
Wednesday — EARLY morning. Got ready early and had room service for breakfast (we wanted a full breakfast since we doubted having lunch). Headed to Yellowstone south entrance and toured all along the south/lower loop (thank goodness for the Gypsy app). Spent the entire day exploring and made stops along the way back to Jackson. Went straight to Local for dinner; returned to hotel.
Thursday — Early start and headed to Persephone to grab breakfast. The tiny place (only a handful of tables) was already full by 7:15 so we grabbed a pastry to go. Headed Grand Teton National Park to the Jenny Lake trailhead and spent the morning hiking (to Hidden Falls and back). Headed back into town to eat lunch at Jackson Drug (I didn't want to forfeit this place and also wanted to check a few shops); did some Jackson shopping (my hat; his binoculars); and headed back out for a driving tour around the Tetons. (Again, thanks, Gypsy). Was late getting back and we got a late(er) dinner at Hand Fire Pizza. Back to the hotel and packed.
Friday — Up early and checked out at the hotel. Grabbed a biscuit at a McDonald's drive-thru and headed toward Yellowstone South entrance. Traveled a different path to explore a different section of Yellowstone, ultimately heading toward the west entrance, taking us into Montana. Scenic drive to Bozeman and stopped in at Fresco Cafe for dinner. We both had the chicken parm and loved the charming ambiance, setting, food, and staff (graciously fit us in without a reservation, kind, wonderful). One of our fave dining experiences on the trip and definitely recommend! Headed to SpringHill Suites and watched a movie before nodding off to sleep.
Saturday — Checked out of the hotel and headed to Murdoch's — a ranch/home/tack/hunting/outdoor/western super store we don't have in our part of the country. We were amazed and envy all of you who have one! We picked up a cowgirl hat and THESE Roper boots for Eliza, THESE Carhartt beanies for the fam, and a few other souvenirs we were able to (thankfully) stuff into the last remaining inkling bits of suitcase/carry-on space. Headed to the airport, returned the rental car, checked in, ate lunch at Copper Horse (the pleasant, full service restaurant right in the center of the small airport). Flight around noon; arrived home around 8:30 EST.
It was a trip that truly has something for everyone and can be whatever you want it to be. Strenuous, relaxing, exploratory or you could just pick a fireplace and curl up. And, it's definitely a part of the country that we will want to return to in the not too distant future — maybe with Eliza in tow next time 😉 Have you been to the Jackson Hole area? What were your favorites parts? And what about Glacier? If you've been to the northerner parts of Montana, I'd love to hear about it 😉