I started making a few additions to my own collection a few months ago, but deep in planning mode, today, I'm sharing Target Christmas decor — available now for the 2022 holidays. Sleek, simple, nordic style, and warm, earthy textures (old brass, wood, and rattan) will continue to trend this year with retailers, and while some of my holiday tastes shift and ebb in and out, I continue to mix them all together. I make a few timeless investments here and there, but it's hard to beat some of the more affordable Target prices when looking to incorporate new moments or trends. Today, I'm sharing several holiday pretties — many can stand on their own, and many can be purchased in multiples for statement moments.
*Posts on KelleyNan.com may contain affiliate links. Click HERE for full disclosure.
Target Christmas Decor for 2022
Tap the links below each graphic to be taken directly to each listing.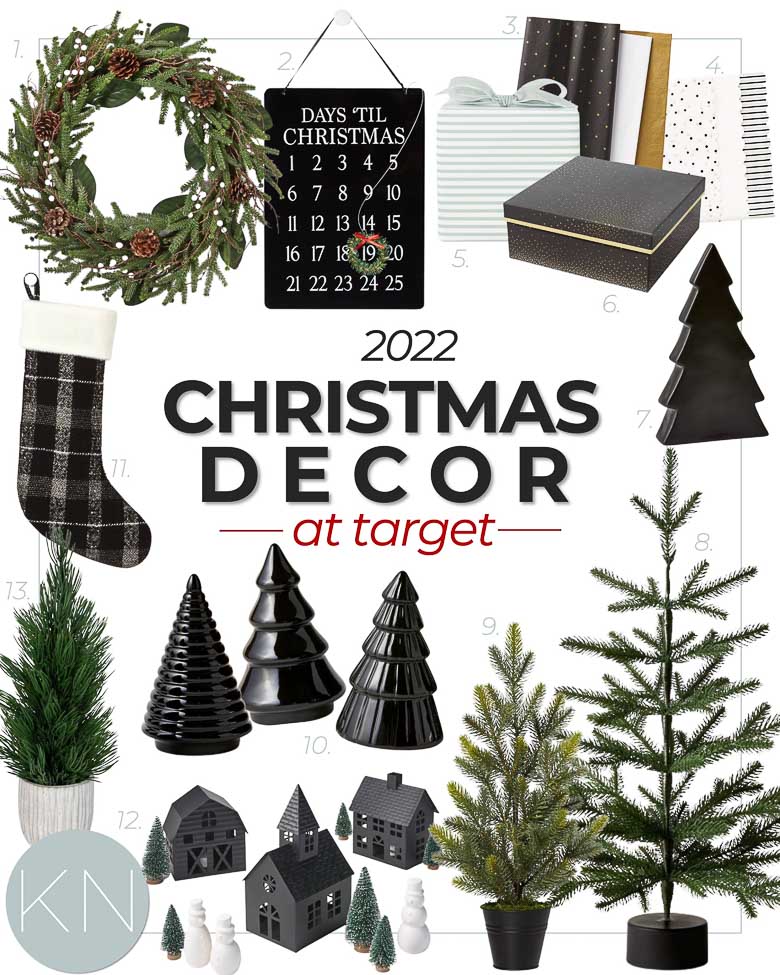 Sources: 1. Wreath w/White Berries & Pine Cones | 2. Black Metal Advent Calendar | 3. Black, Gold & White Tissue Paper | 4. Scallop Cream & Black Tissue Paper | 5. Mint Stripe Wrapping Paper | 6. Gold Dotted Black Box | 7. Black Ceramic Christmas Tree | 8. 24″ Christmas Tree | 9. Christmas Tree in Black Bucket | 10. Ceramic Christmas Tree Set (3 pcs.) | 11. Black Plaid Stocking | 12. Metal Village Set (12 pcs.)| 13. Mini Fir Tree w/Cement Base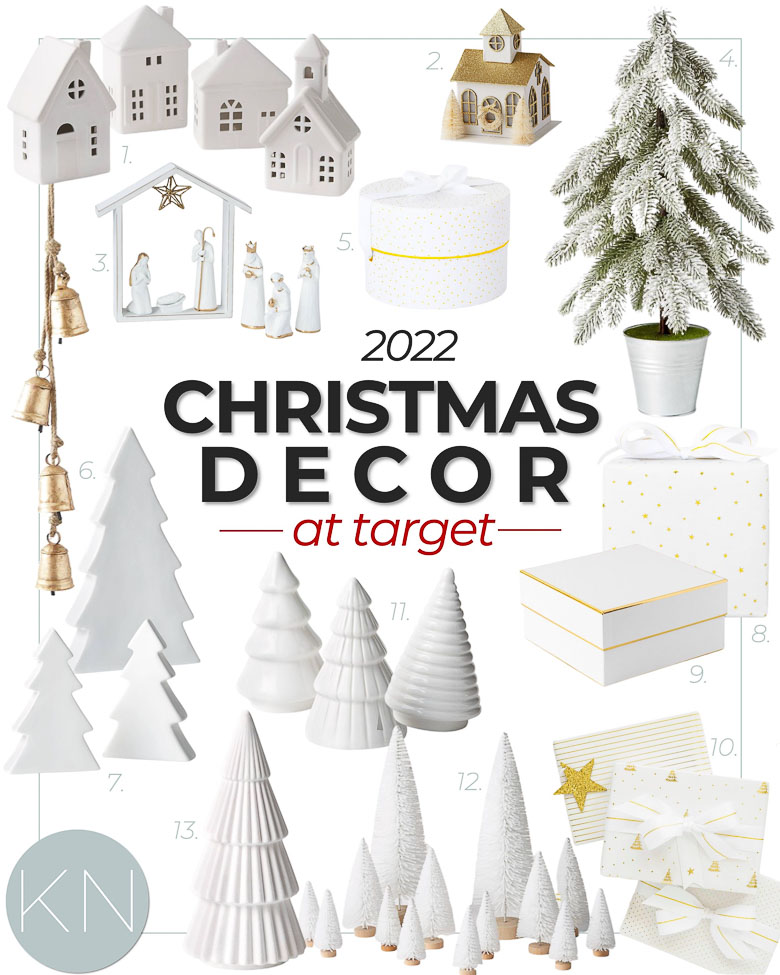 Sources: 1. White Battery-Operated Village Set (4 pcs.) | 2. Battery-Operated Paper House | 3. White Nativity Set (7 pcs.) | 4. Flocked Christmas Tree in Galvanized Bucket | 5. White & Gold Dot Round Box | 6. Gold Metal Bell Strand | 7.a. 10″ White Ceramic Tree | 7.b. 5.75″ White Ceramic Tree Set (2 pcs.) | 8. White & Gold Star Wrapping Paper | 9. White & Gold Square Box | 10. Gold & White Gift Wrap Trio | 11. White Ceramic Tree Set (3 pcs.) | 12. White Bottle Brush Tree Set (14 pcs.) | 13. White Tree Figurine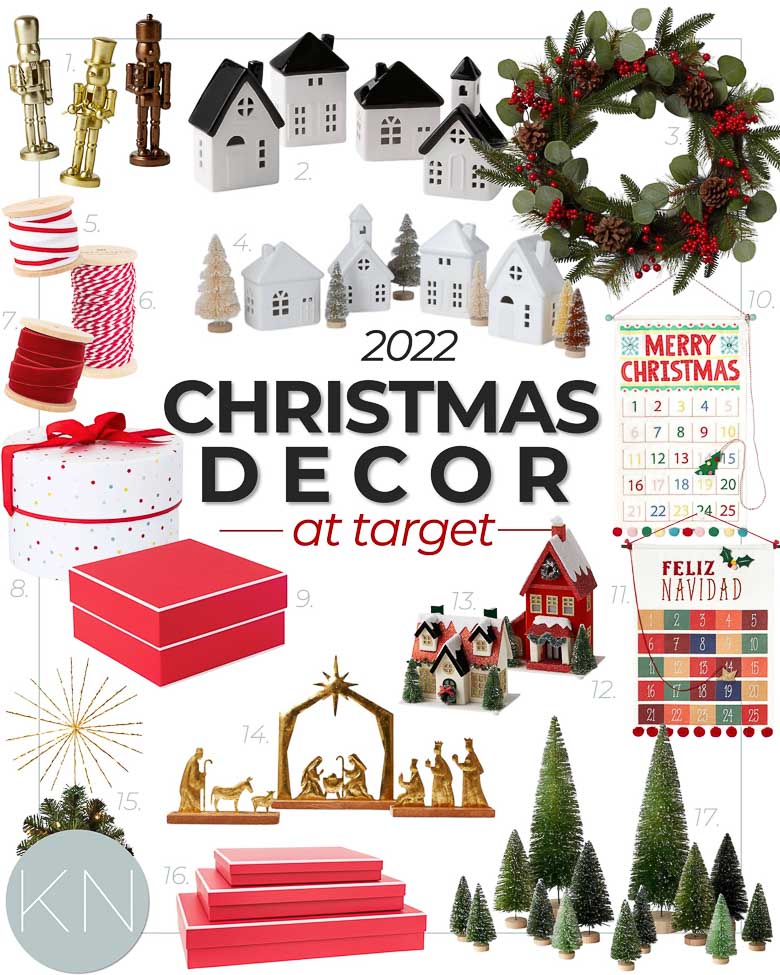 Sources: 1. Wood Nutcracker Set (3 pcs.) | 2. White & Black Battery-Operated House Set (4 pcs.) | 3. Wreath w/Red Berries & Pine Cones | 4. White Battery-Operated Village & Tree Set (10 pcs.) | 5. Red & White Grosgrain Ribbon | 6. Red & White Baker's Twine | 7. Red Velvet Ribbon | 8. Round Box w/Multi-Colored Dots | 9. Red Square Box w/White Edge | 10. Hanging Advent Calendar w/Pom Poms | 11. Feliz Navidad Hanging Advent Calendar | 12. Red Battery-Operated House | 13. Paper Battery-Operated House| 14. Gold Nativity Set (3 pcs.) | 15. Star Burst Tree Topper | 16. Red Shirt Boxes w/White Edge (3 pcs.) | 17. Green Bottle Brush Tree Set (14 pcs.)
Sugar Paper Wrapping
Also available now are some of my go-to holiday gift wrap and boxes. When it comes to the nice quality boxes, I actually keep those within our family so I can use and reuse year after year. I've collected enough where I even use empty boxes to decorate some of my secondary tree bottoms, as you may have noticed over the years. Here are some of the pieces — from foil printed tissue paper and ribbons to paper and boxes and tags, available in a few key colorways…
Scroll & Tap to Shop




In the bedroom, I usually have a hodgepodge of what's already in the space (baskets, stool, etc.) mixed with soft linens and incorporated stacked boxes…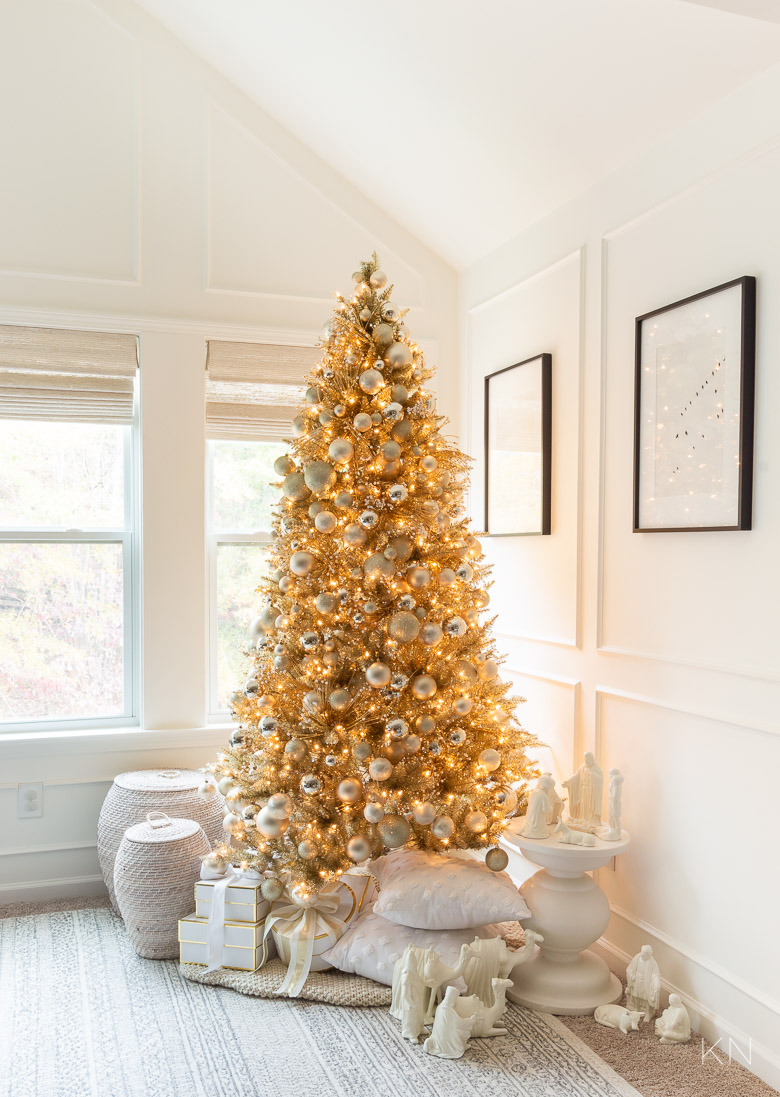 And they're always great for leaving open and storing extra ornaments in, too…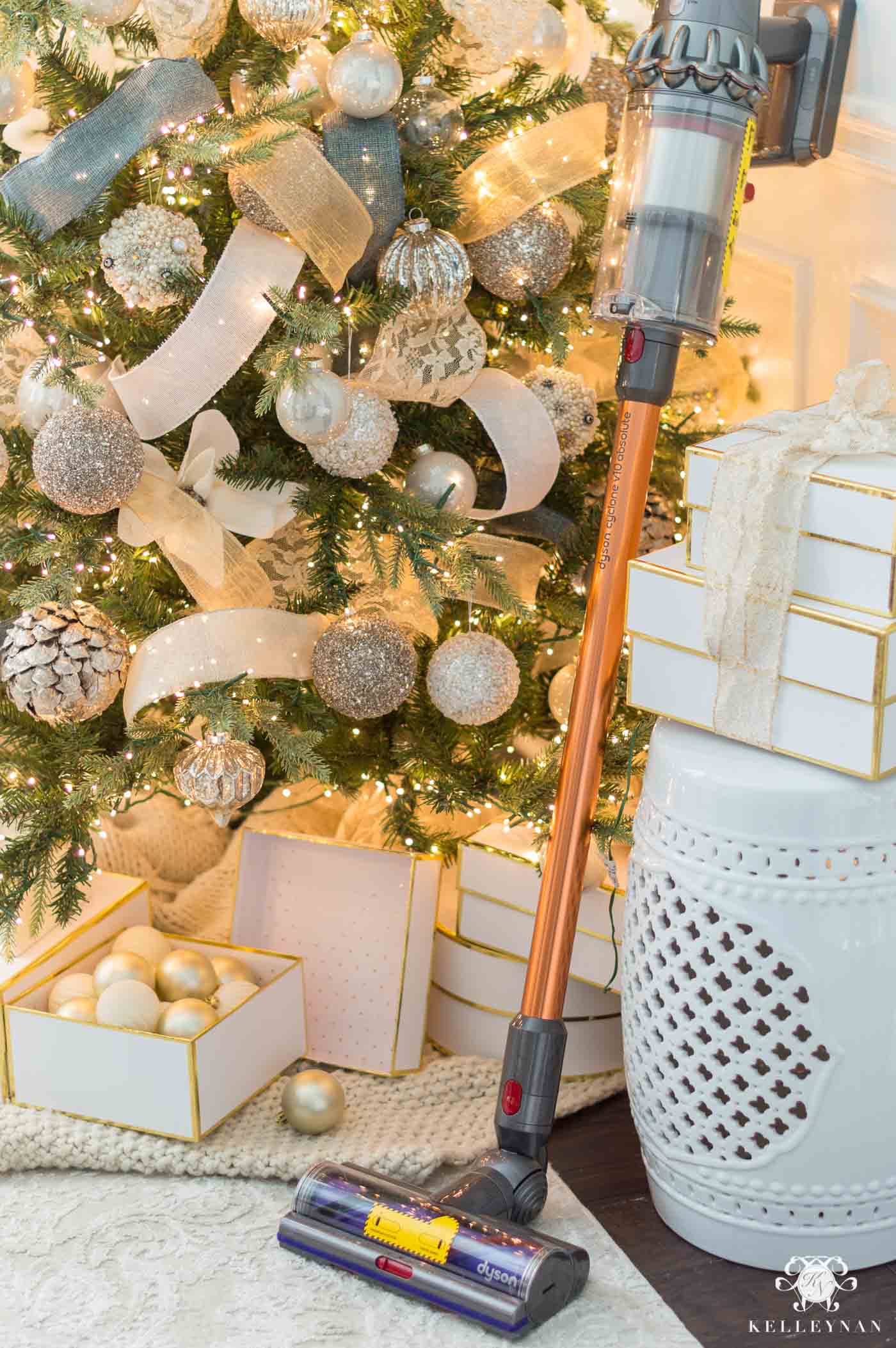 When I'm not using them, I keep them in tact, nestled inside one another, and stacked on shelves in the office closet.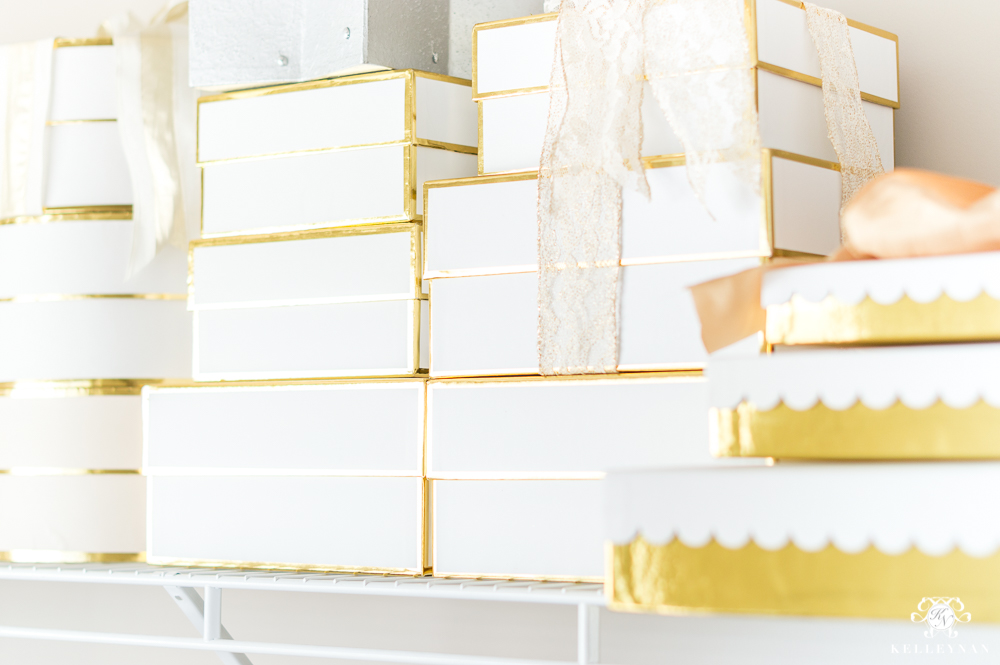 Have you started your holiday prep yet? Do you add to your collection each year? Only when you see something that goes with what you've collected over the years? If you aren't already, subscribe to emails for all the upcoming holiday *things* and my favorite time of year on KN!