These days, with increasingly busy schedules and a three year old, it seems like we approach each season/holiday/event a little more frantically. Blink and it's gone. Do it now or save it for next year. We look at the calendar to schedule seasonal activities but inevitably, time slots tend to already be filled with all the "regular" routine commitments, before even attempting to fit in the "special" stuff. All of these factors, combined with the anxiety and pressure of grand plans, grand displays, and grand events can be just… well… too much. They can be daunting or unachievable, can suck the fun right out of it all, and can lead to planning paralysis — where nothing else is done or enjoyed because that one thing is consuming all your focus, energy, effort, and time. I love getting to practice creativity and strive to bring a little bit of magic to each occasion — it was one of my favorite things about my mom growing up. But the time we live in doesn't showcase and celebrate small, simple, fun efforts as much as show-stopping professional-grade comprehensive extravaganzas. So today, we are focusing on the small things… the simple things with XX easy Halloween activities for kids and families.
*Posts on KelleyNan.com may contain affiliate links. Click HERE for full disclosure.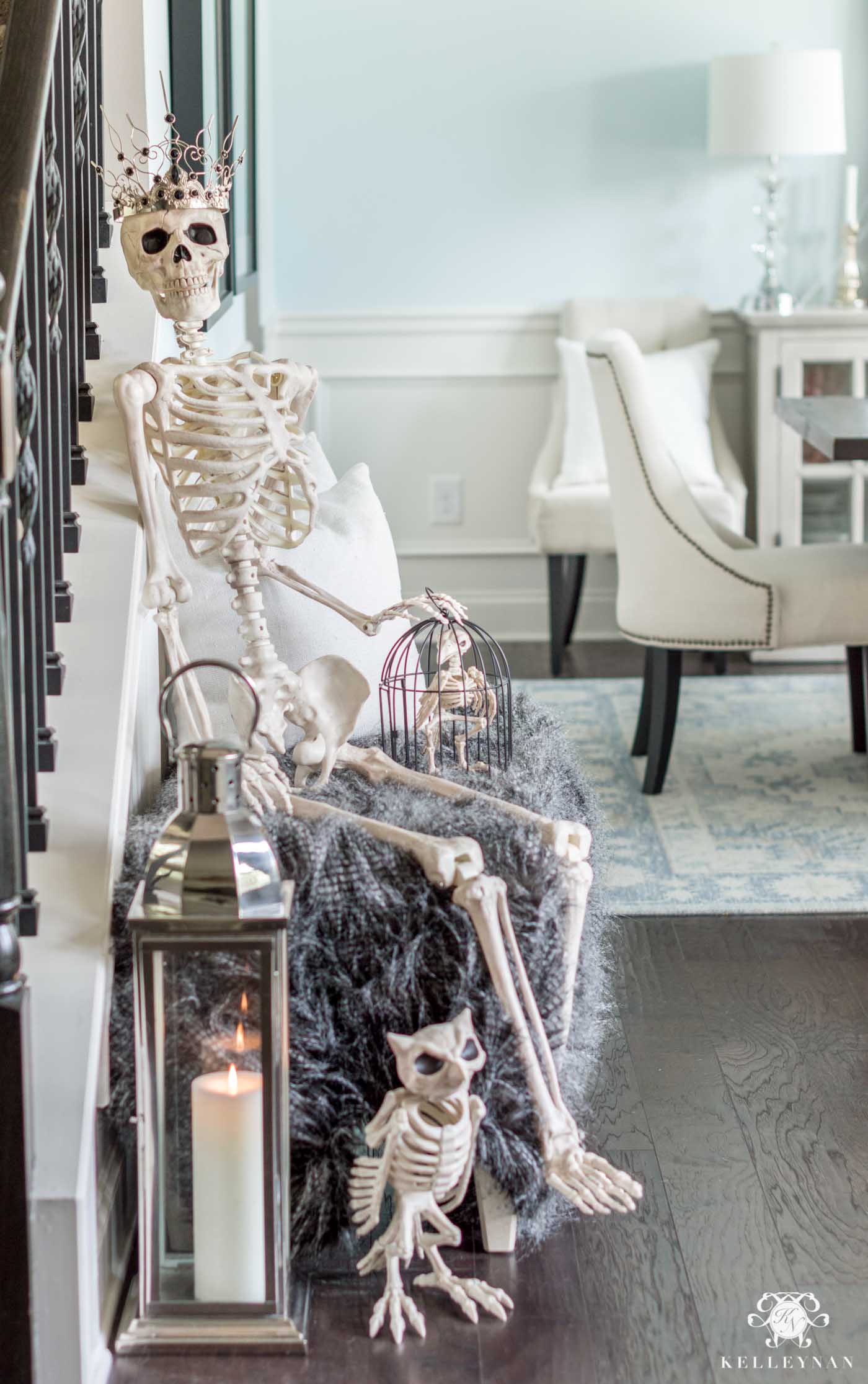 Just the idea of a "treat", "surprise", or something out of the norm is exciting for Eliza. It doesn't matter what it is. So if you're up for easy things to do or simple ways to mark the Halloween season with your people, check them out below.
1. Build a Boo Basket Surprise to Start the Season
A fun start to the Halloween season (seriously, such a fun kick-off to set the tone!), this one is pretty common. But, if you're in any mom groups, you've probably seen the threads of women posting their perfectly curated boo baskets. Like I said before, I love opportunities to showcase creativity (hello, that's what this entire blog is based on), so I'm not slighting anyone — props to all those parents whose baskets have been planned to a "t" and the joy it gives them. For me, as in most things, I have to keep it low pressure. I imagine a lot of you are built similarly, so, keep it simple. If you can start collecting a few things early as you're out and about, even better.
In general, I like to pick up small items for Eliza that I know she will like and keep them stashed away. I don't want to spoil her with constant gifts so occasional seasonally themed gift baskets make for a good, purpose-oriented solution. We do this for summer/Fourth of July, too.
A few go-tos every time? Pajamas, a book, and a treat. Here's what made its way into this year's basket…
THESE SUPER SOFT affordable pajamas were an Amazon find and made me cut down dramatically on some of my expensive pajama purchasing. Now, it's my first go-to when I buy new pjs for Eliza. I got her a black pair for Halloween last year (she wore them to school for Halloween pj/costume day (we added ears and accessories so she was a black kitty), and this year, I ordered the orange set. They come in tons of colors and in both long sleeve/pants as well as short sleeve/short versions.
THIS book (currently $5 on Amazon HERE) was included and has already been read more than a handful of times.
Soft $10 Target Halloween throw blanket — she has slept with this every night since she got her basket.
Old school wax fangs — grabbed mine at a local pumpkin farm and could only find them in bulk on Amazon HERE.
Melamine witchy kitty plate ($3 HERE) for October snacks and simple meals
Musical snow globe
Personalized trick or treat bag (themed to her costumer)
Paper bats for her room (similar)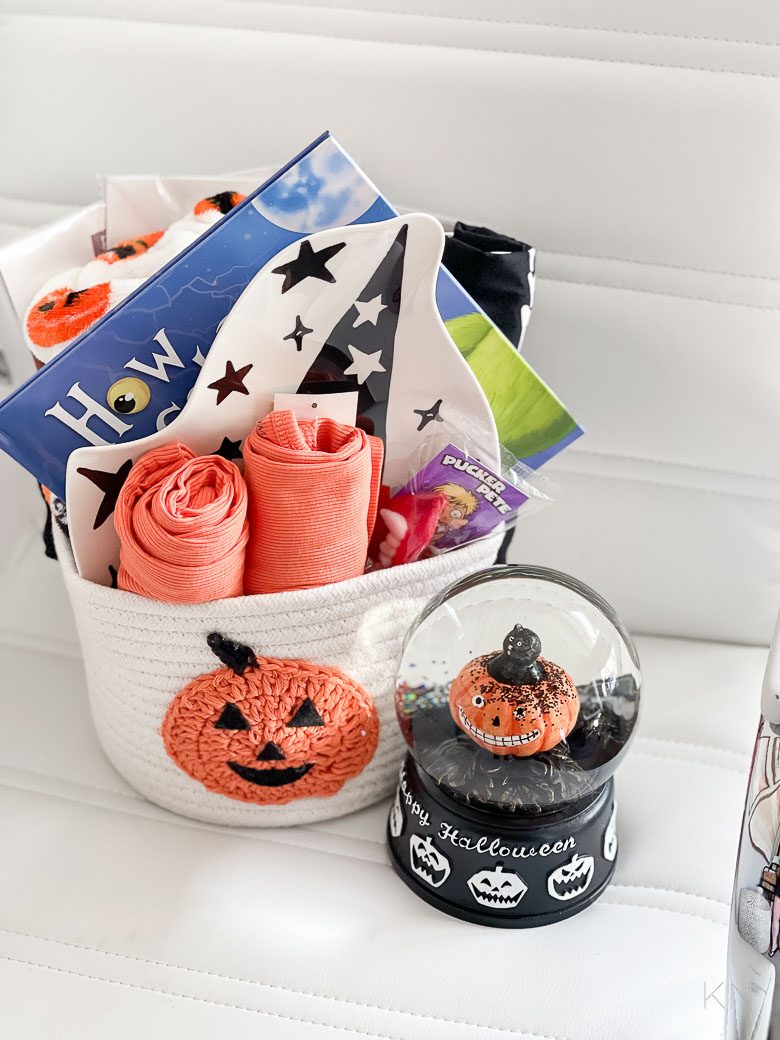 Sources: Rope Basket (similar) | Orange Pajamas | Wax Fangs | Melamine Black Cat Plate | How to Catch a Monster Book | Soft Jack O' Lantern Throw | Trick or Treat Bag | Halloween Snow Globe is from Home Goods
*SEE THE VIDEO OF THE BASKET COMING TOGETHER HERE.
If you're stumped, head to the Target Dollar Spot, but as you know if you're a Target fan, you must go early in the season for the best selection of items.
2. Focus on Simple, Inexpensive Decor
Emphasis on the simple and inexpensive. Even if you aren't a go-all-out-for-Halloween type of person, it takes almost no effort, just a tiny bit of time, and very little money to incorporate a few spooky additions to your everyday/fall decor. Paper, plastic, candy, and webs — I'm here for it.
Here's just two examples — these hanging paper bats were a Target find — I purchased two packs of 12 bats at $1/pack ($2 spent, total). I'm not sure if they still have them but you can find a big pack on Amazon for a few dollars HERE.  After including them in Eliza's Boo Basket, I surprised her by having them already hung in her room when she got home from school. Emerging from her window and swopping down to her round mirror and dressing area, she was tickled. I love this addition for anywhere in the house, though 😉
PS: Even if you buy bats that are flat card stock, you can fold the paper so it makes their wings look more mobile (just a little tip I wanted to pass on since I've seen a lot of flat-against-the-wall-bats out there 😉 )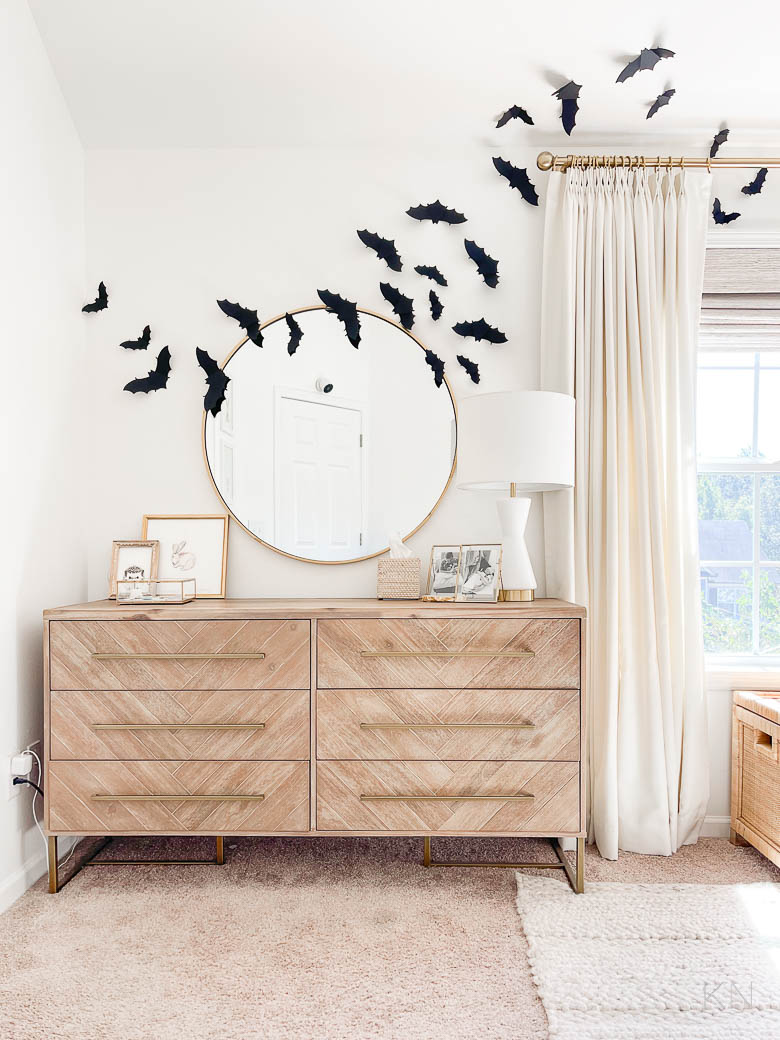 Sources: Dresser | Mirror | Lamp | Glass Trinket Box | Bunny Art | Hedgehog Art | Curtain Rod | Curtain Rings | Rattan Trunk | Rug | Bats (similar – streamer) | Bats (similar – 120 pcs)
*SEE THE VIDEO OF THE BATS HERE.
Even easier than hanging paper bats… is nestling plastic spiders. Trail them over a surface and call it a day! Extra points for webbing, but totally not necessary.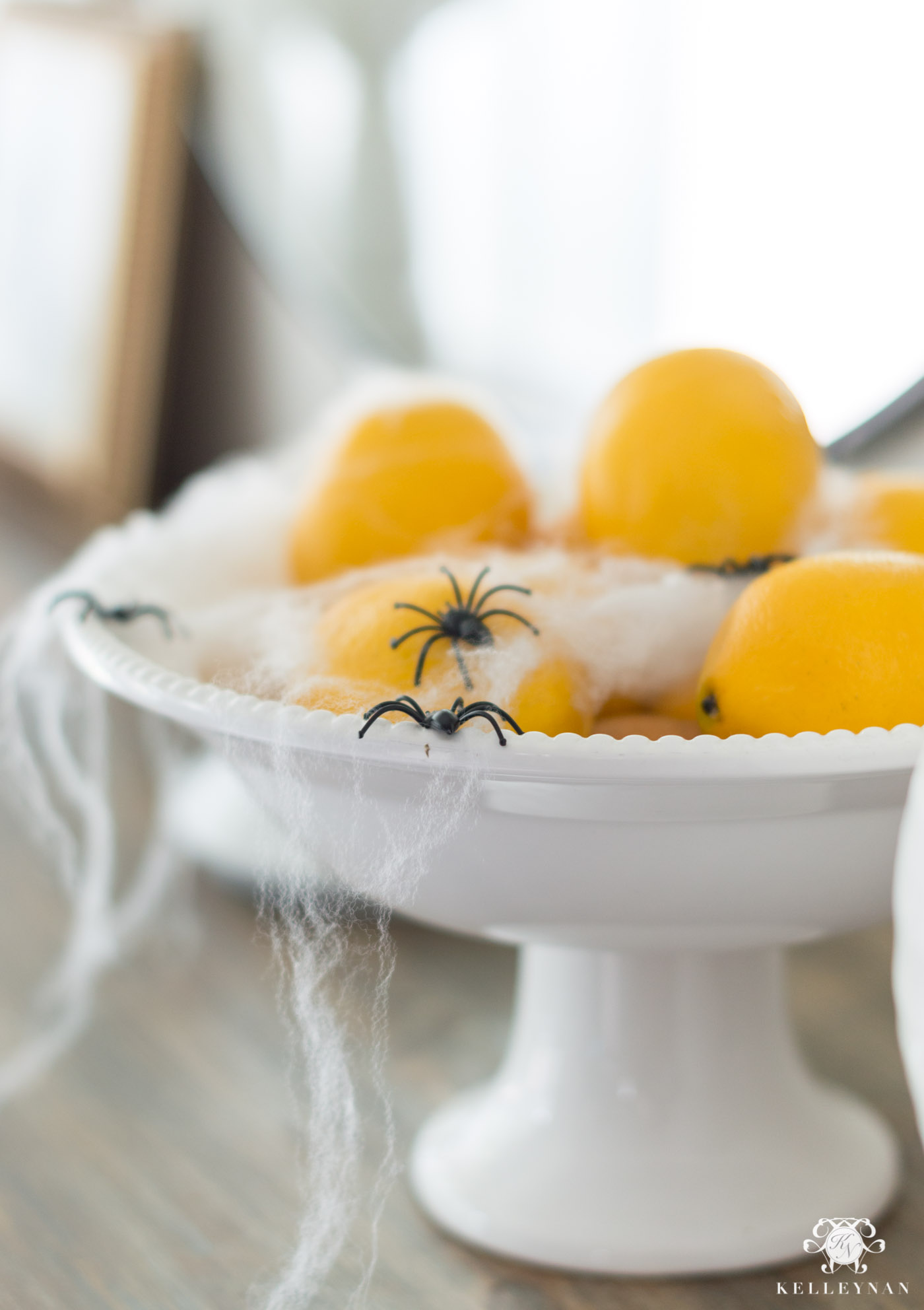 Sources: Faux Lemons | Spiders (similar) | Spider Web
The point is, you don't have to plan a grand cemetery or crazy scene to incorporate spooky touches your family can enjoy and your kids will love!
3. Freeze and Serve Spider Ice
Speaking of spiders, these spider ice cube balls add the perfect spooky touch to any drink or party bucket. I used THIS round ice mold to make these ice spheres, complete with one of THESE spiders frozen inside. The ice mold has both round and block mold options in the kit, and came with a tiny funnel to help fill the spheres completely. I served the spider ice spheres with apple cider for the season, but I love the idea of adding this spider ice to a punch bowl full of Halloween party punch! Or, if you're having friends over, toss a few in your wine bucket you're using to chill the wine.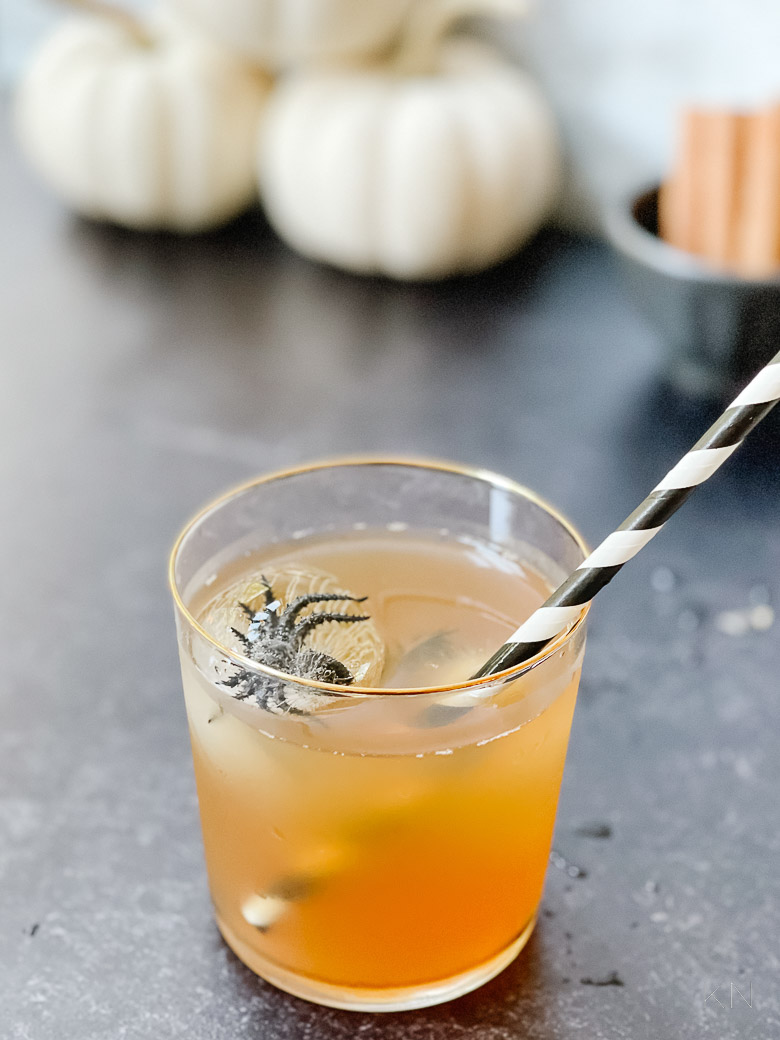 Sources: Sphere Ice Mold | Spiders | Black and White Straw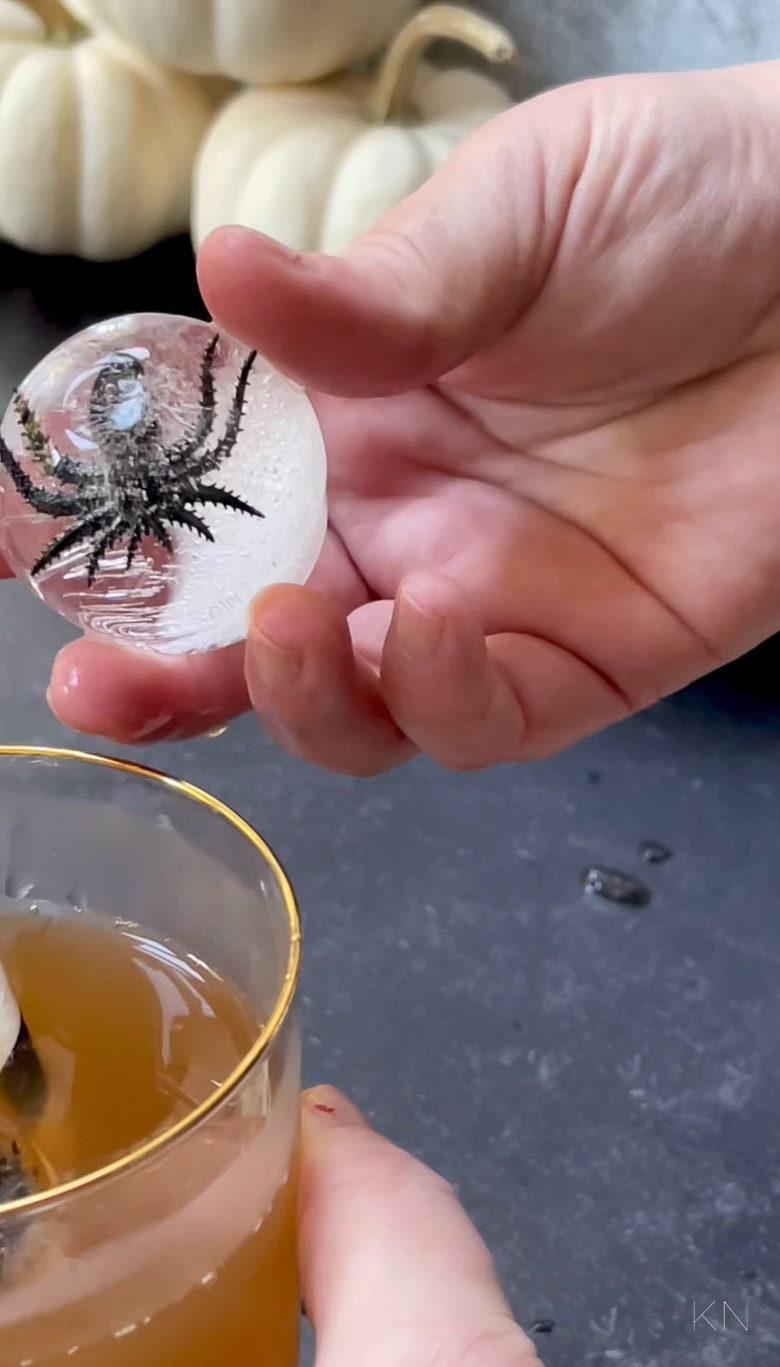 *SEE THE SPIDER ICE PROCESS & IN ACTION IN THE VIDEO HERE.
4. Look for Opportunities to Theme Snacks & Meals
Halloween is an especially easy time to use your imagination and creativity with food. Literally, you can throw a glob on a plate and call it a "swamp mud". Add THESE candy eyes (on anything) and it's suddenly a monster. Here's a few ways I've prepared some spooky noshes this year and in the past…
Bento Box Lunch
Eliza adores using her Bento boxes, even for lunches at home.) Her sparkly box can be found HERE and THIS is another favorite one she uses — especially good for "snack around the plate" lunches at home. I just use the Bentgo liner for a fraction of the price and put it in her soft lunchbox, but you can find the full bento lunchbox HERE.
This one had mummy pigs in the blanket, leaf tortilla chips and guacamole, mandarin oranges with celery tops, green grapes, chocolate pumpkins and gummy worms. (Full disclosure, we're still in grape-quartering stage so after I presented her lunch, I robbed her grapes and cut them up first).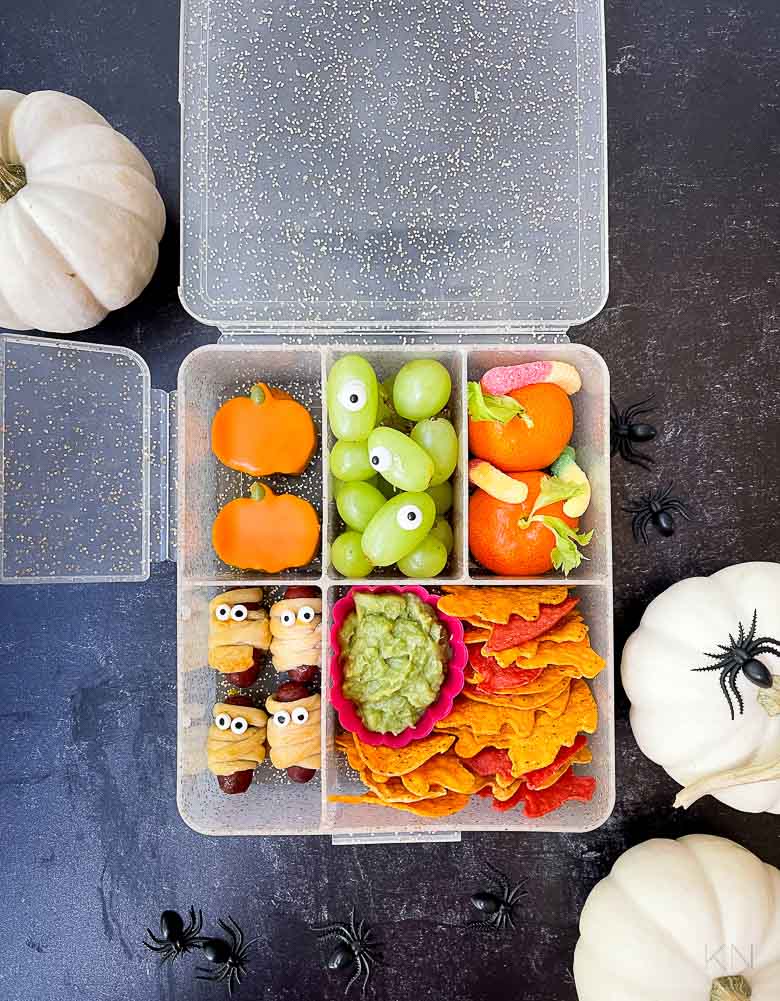 *SEE THE BENTO BOX ASSEMBLY VIDEO HERE.
Grazing Board
You can find the full board and all the details — from the spooky Nutter Butters and pumpkin rolls, to pretzel rods, scary chocolate mice and more — HERE.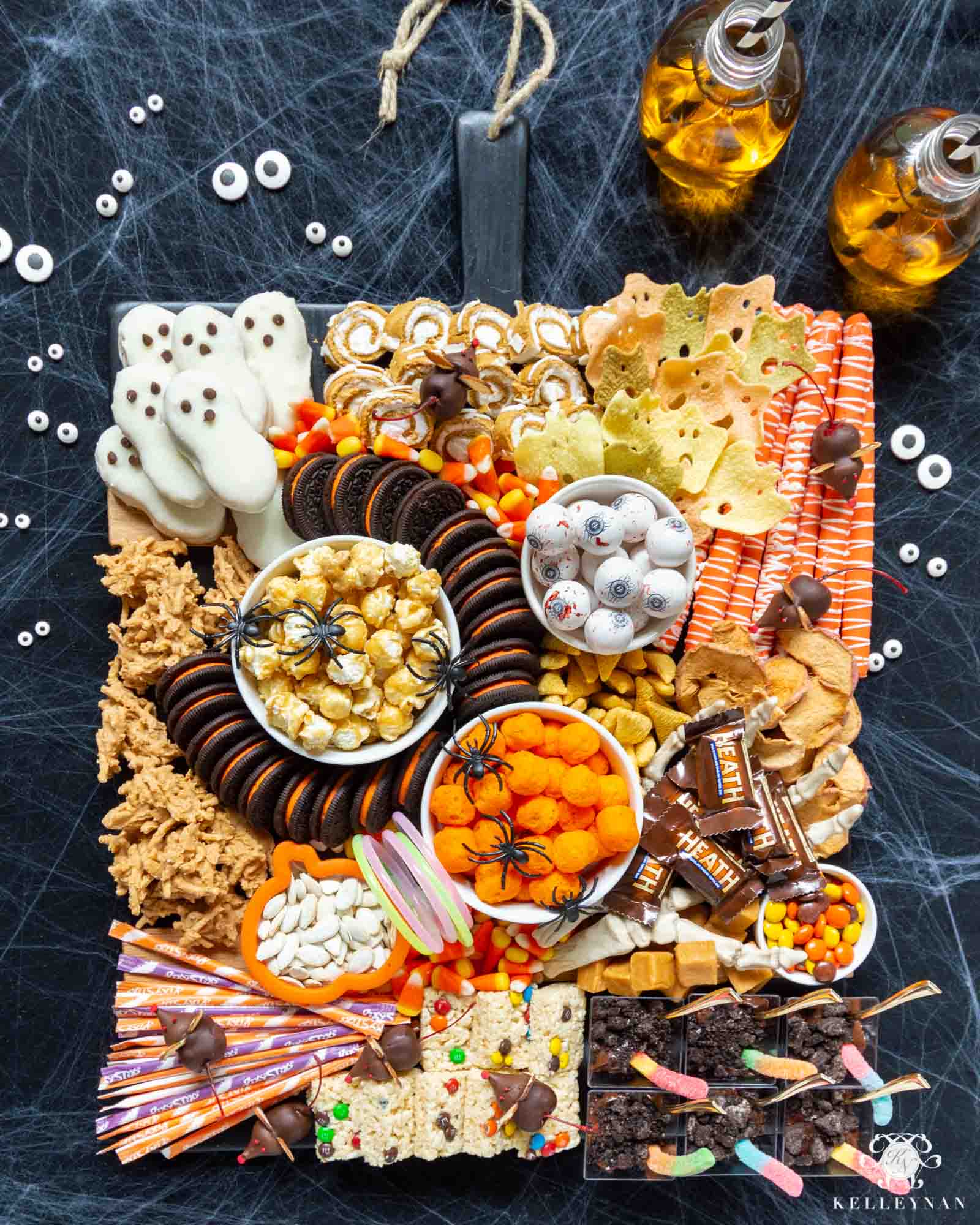 Sources: Black Charcuterie Board (currently on sale!) | Pumpkin Cookie Cutter (similar) | Plastic Dessert Cups | Small White Bowl | Glow Stick Bracelets | Foil-Wrapped Eye Balls | Candy Eyes | Pixie Sticks | Spider Web
Simple Snacks
These funny donut hole faces don't get any easier. I started with powdered sugar and chocolate glazed donut hole munchkins from our neighborhood Dunkin Donuts and dabbed on THESE candy eyes for little ghost and goblin faces. Done. And, adorable. I used mini chocolate chip morsels on the powdered sugar donut holes and I affixed all the features with a toothpick dabbed in a thin white glaze/icing made from some powdered sugar and a bit of milk.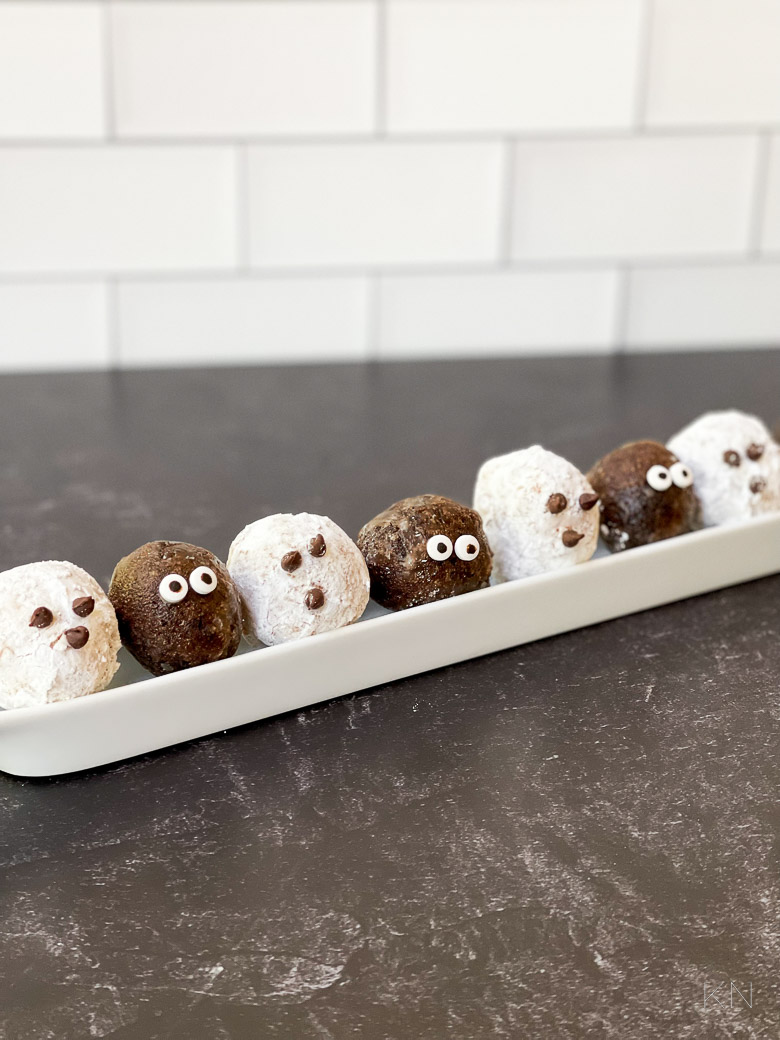 *SEE THESE LITTLE FACES COME TO LIFE IN THE VIDEO HERE.
Caramel Apple Bar/Board
With all the fixins'! You can prep full caramel apples and toppings as a bar…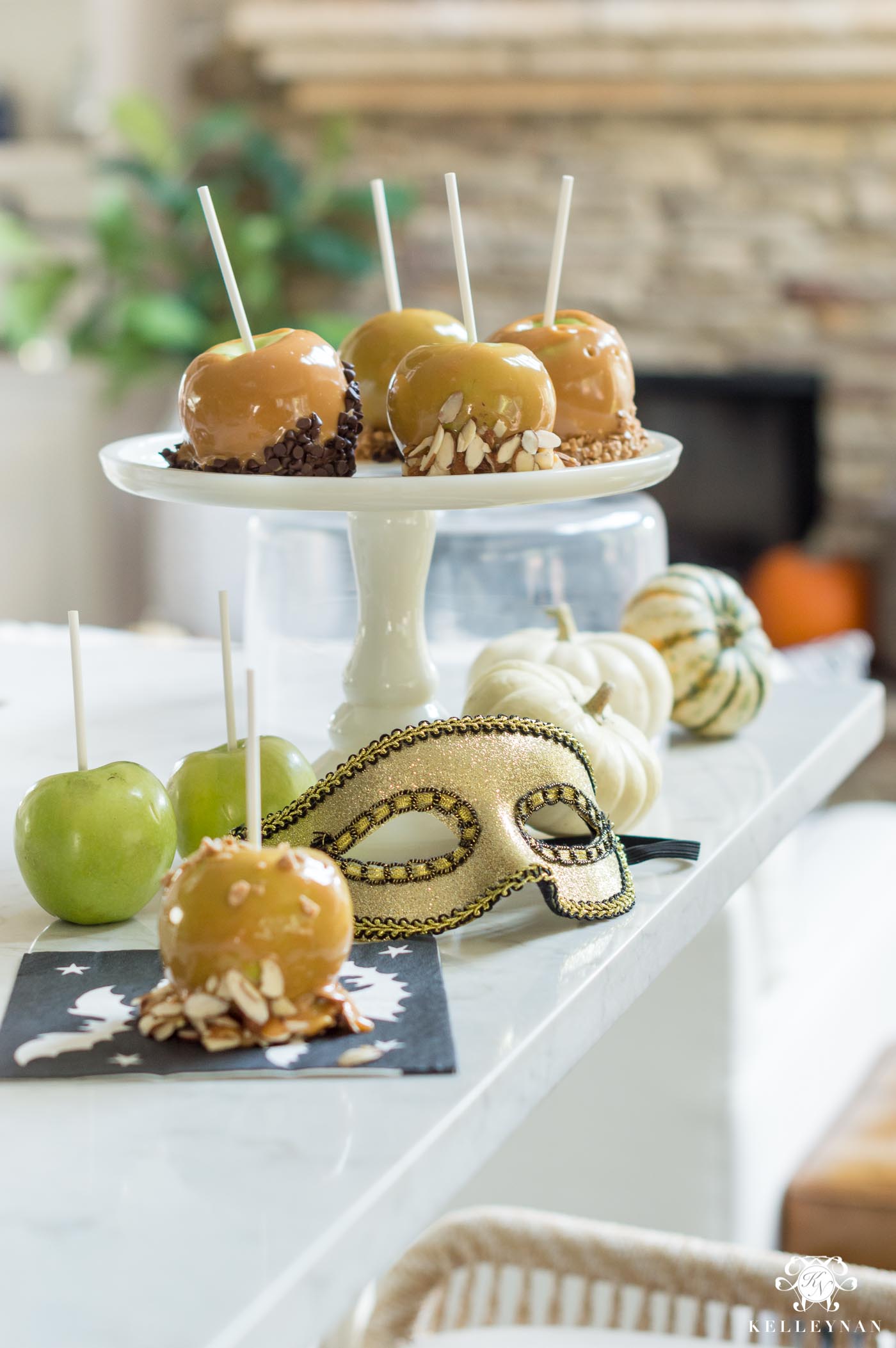 Or pre-cut slices (soak quickly in a 1:1 water/lemon juice to keep them from browning) on a grazing board for lots of customizable bite options!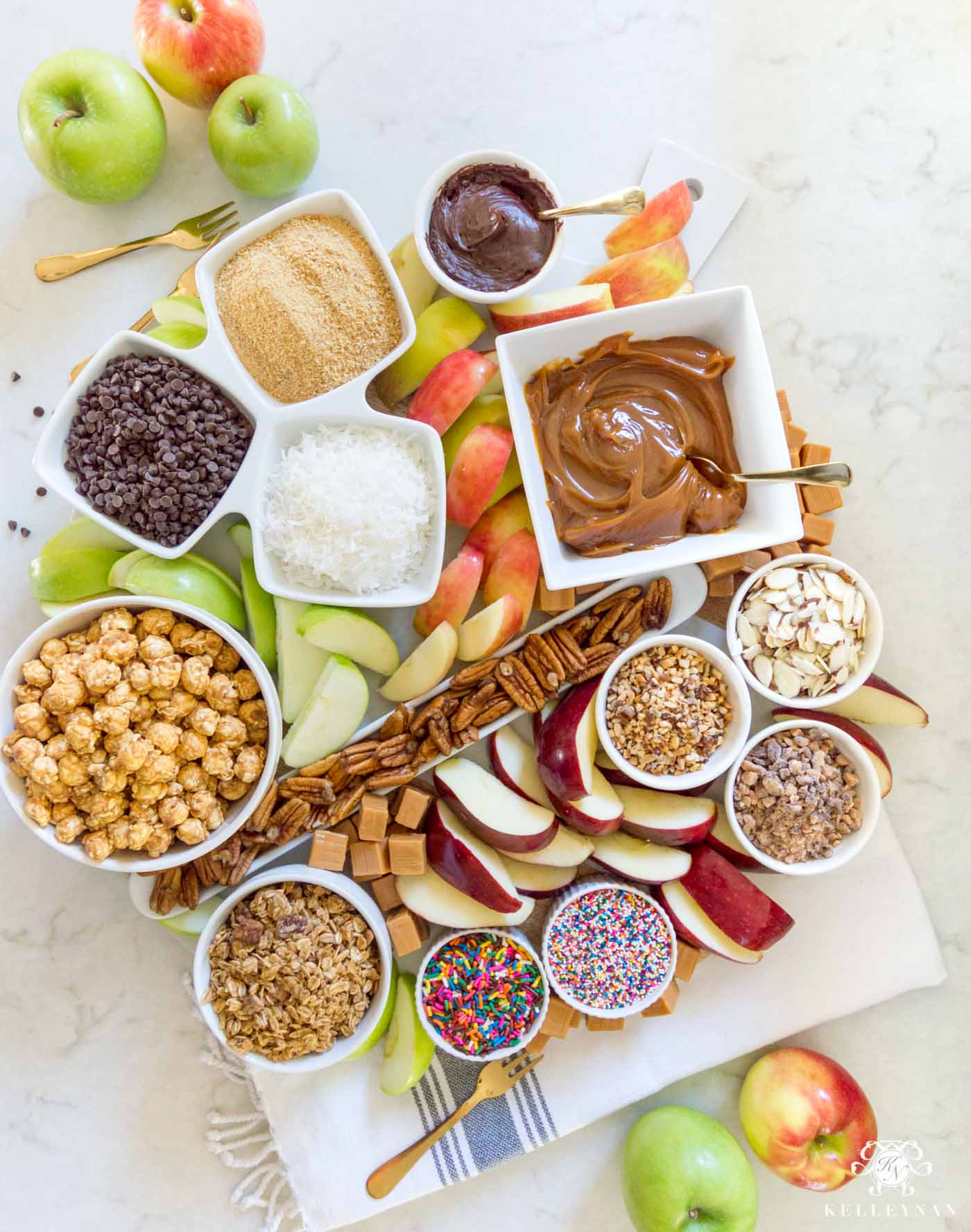 Cookie/Haunted House Decorating
This is supposed to be about keeping it simple and easy — you can get as homemade or store bought as you like with cookie decorating or haunted house kits (we've done both). And seriously, it's more about the activity than the gourmet aspect — building haunted houses with all the ingredients included is so fun.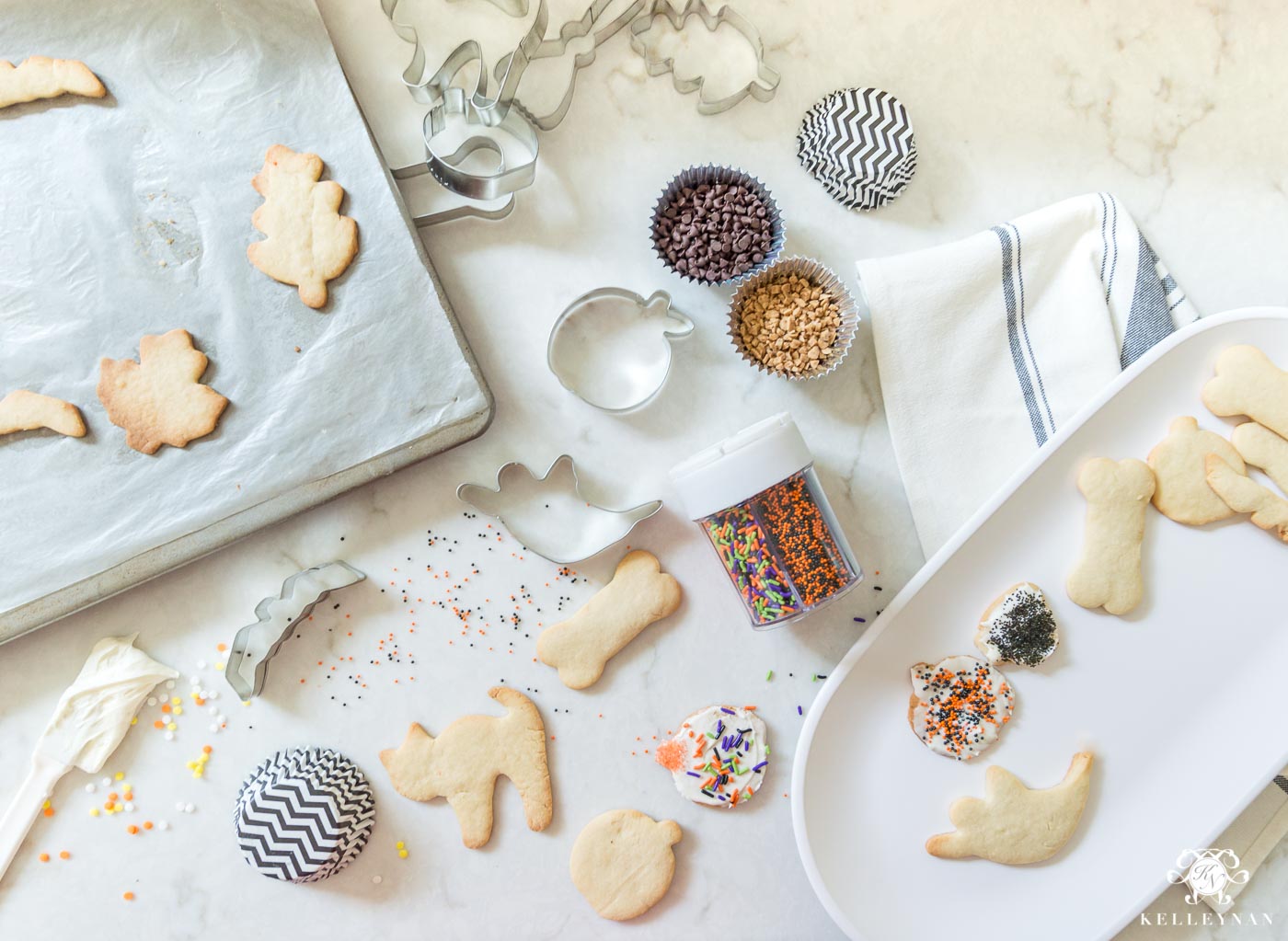 In General…
I like to shop for several seasonal food items and goodies early in the season that we can use throughout the next month(s). I picked up my Trader Joe's haul a few weeks ago and snagged some pumpkin cinnamon rolls (delicious!), cinnamon whisk broom, fall leaf tortilla chips (featured above in the bento box), mini pancake puffs (seasonal and one of Eliza's favorites!), Hold the Cone mini pumpkin ice cream cones, pumpkin bread and muffin mix (I add chocolate chips and nuts), and spiced apple cider (the beverage shown with the spider ice spheres.) I also grabbed a $2 pie pumpkin for Eliza to paint — she decorated it with stickers this past week. In general, TJs is a fantastic place to grab all sized pumpkins (including coveted baby boos and heirloom pumpkins) for great prices.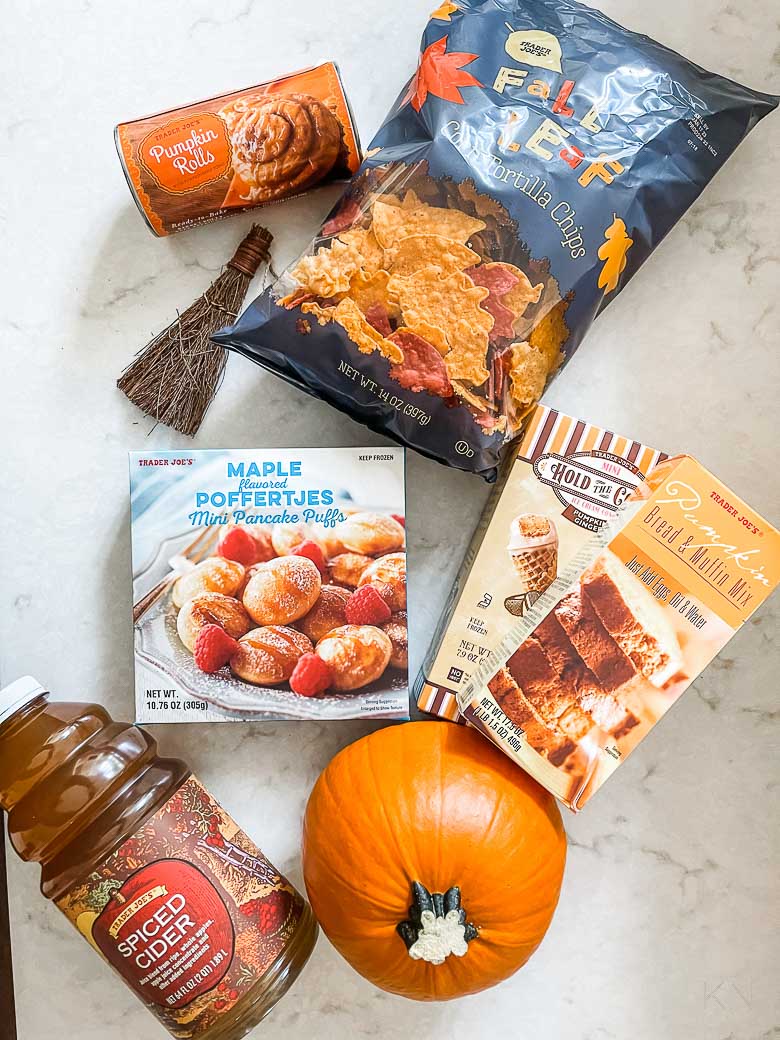 Since I've already been sprinkling in small fun home Halloween activities and low-effort surprises, I know that even if my schedule becomes all-consumed and difficult for the rest of the month, we've been celebrating the season well. Anything else is just gravy 😉
Eliza picked her own Halloween costume — she was emphatic about it — and I'll share it after the 31st . Here, the days are growing shorter and the temps are getting lower. Some of our leaves are starting to turn to the glorious fall colors that I love! I'd love to hear from you on some of the Halloween and fall fun and traditions you're having or plan to have with your families and friends!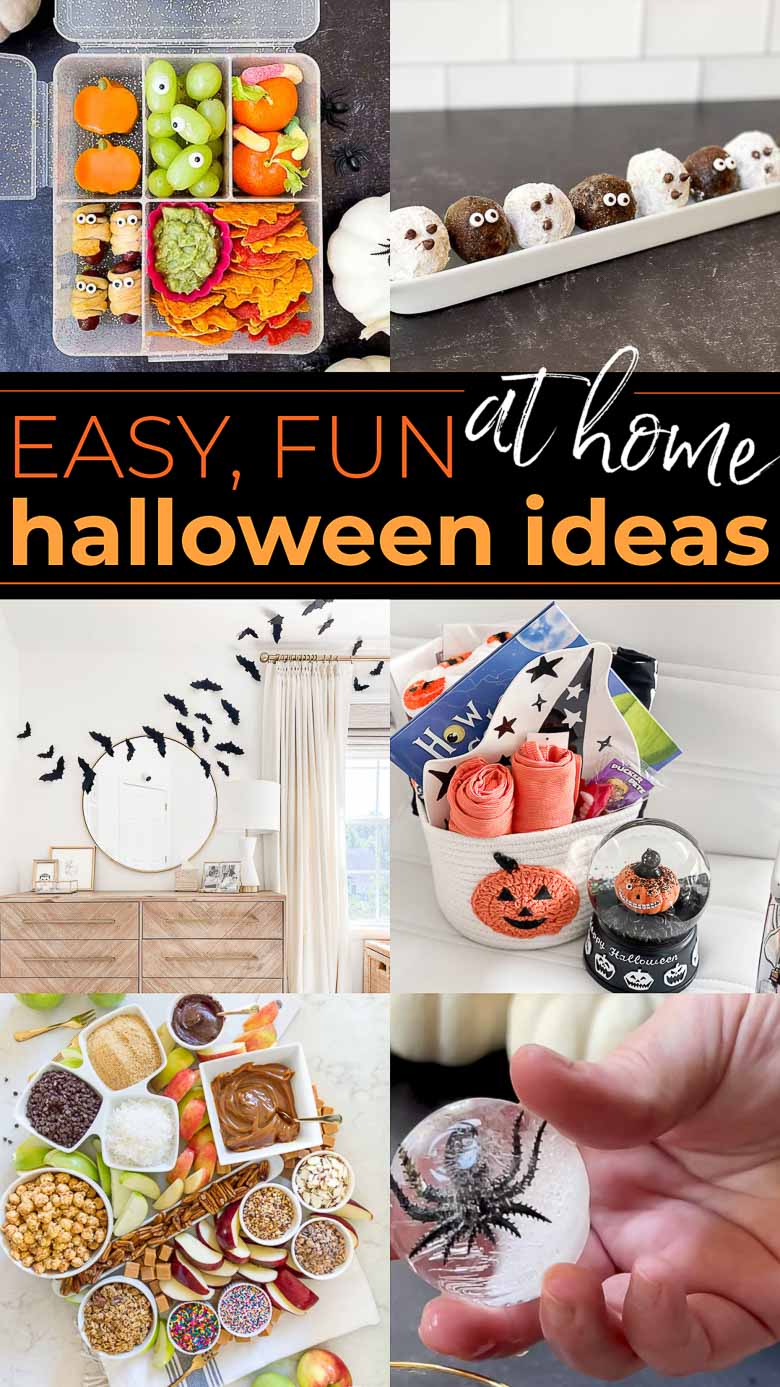 A Few Other Posts You May Like: