One of my favorite parts of holiday decorating are the tables (ok, that's probably not news to you all 😉 ). I love that even if you don't decorate your entire home seasonally, you can decorate your table and let that be enough. I'll be honest – between the living room and kitchen projects, I haven't been super motivated to pull out more stuff, when so much is already in disarray. So, I worked small and kept things a bit more contained this year, but you better believe I didn't miss a chance to dress up our dining room a bit with a fall centerpiece 😉 I do have Thanksgiving table decorations coming soon so before we get into that in a couple weeks, I wanted to round up some of my fall tables – from Halloween to Thanksgiving and everything in between – to show how many different directions you can go.
*Posts on KelleyNan.com may contain affiliate links. Click HERE for full disclosure*
Fall/Thanksgiving Table Centerpiece
This year's fall centerpiece is proof that you don't have to set out intricate place settings, all around the table, to make a statement. I used a few new pieces along with some year-round standards and even though the center of the table is loaded down with detail, the more simple fall table gave me the visual rest I needed.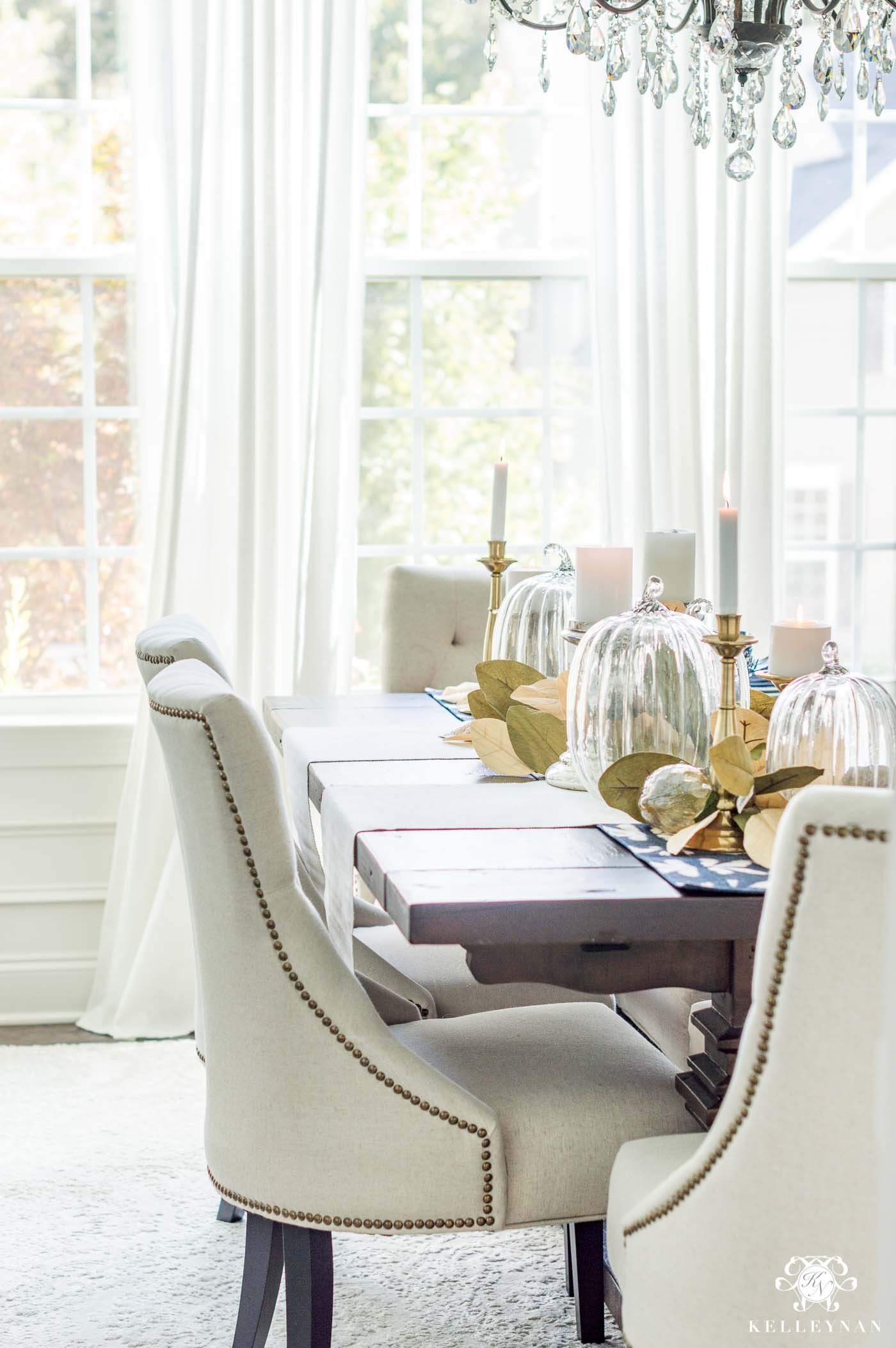 Leaf garland is kind of like my magic trick. It's super forgiving and makes some staggered pumpkins and candles look way more complicated than they really are. It covers gaps easily and you'll notice that it's my go-to in most tables. Like I said- my "magic trick". 😉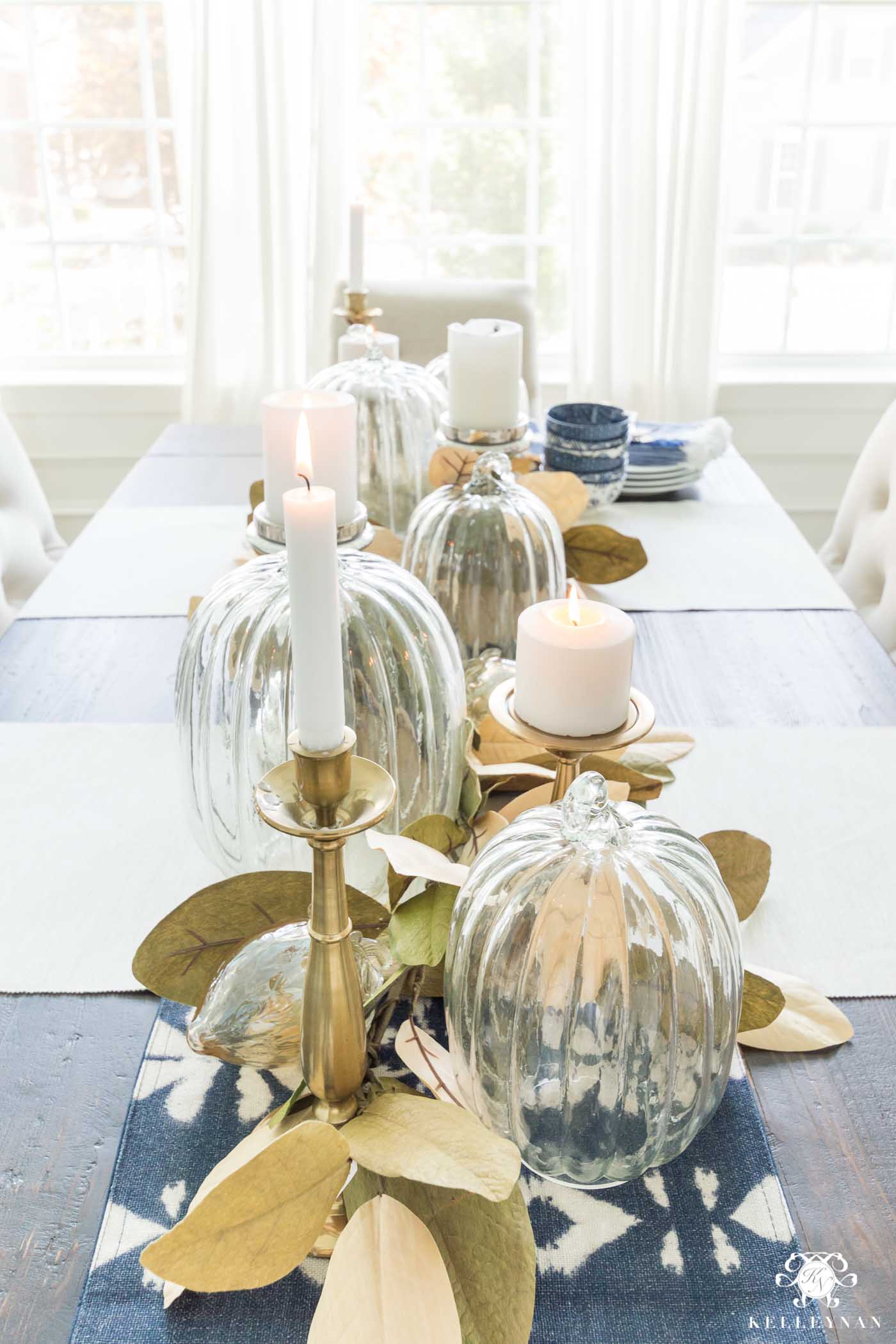 If you don't have access to some malleable garland, you can use some bendable stems to serve the same purpose.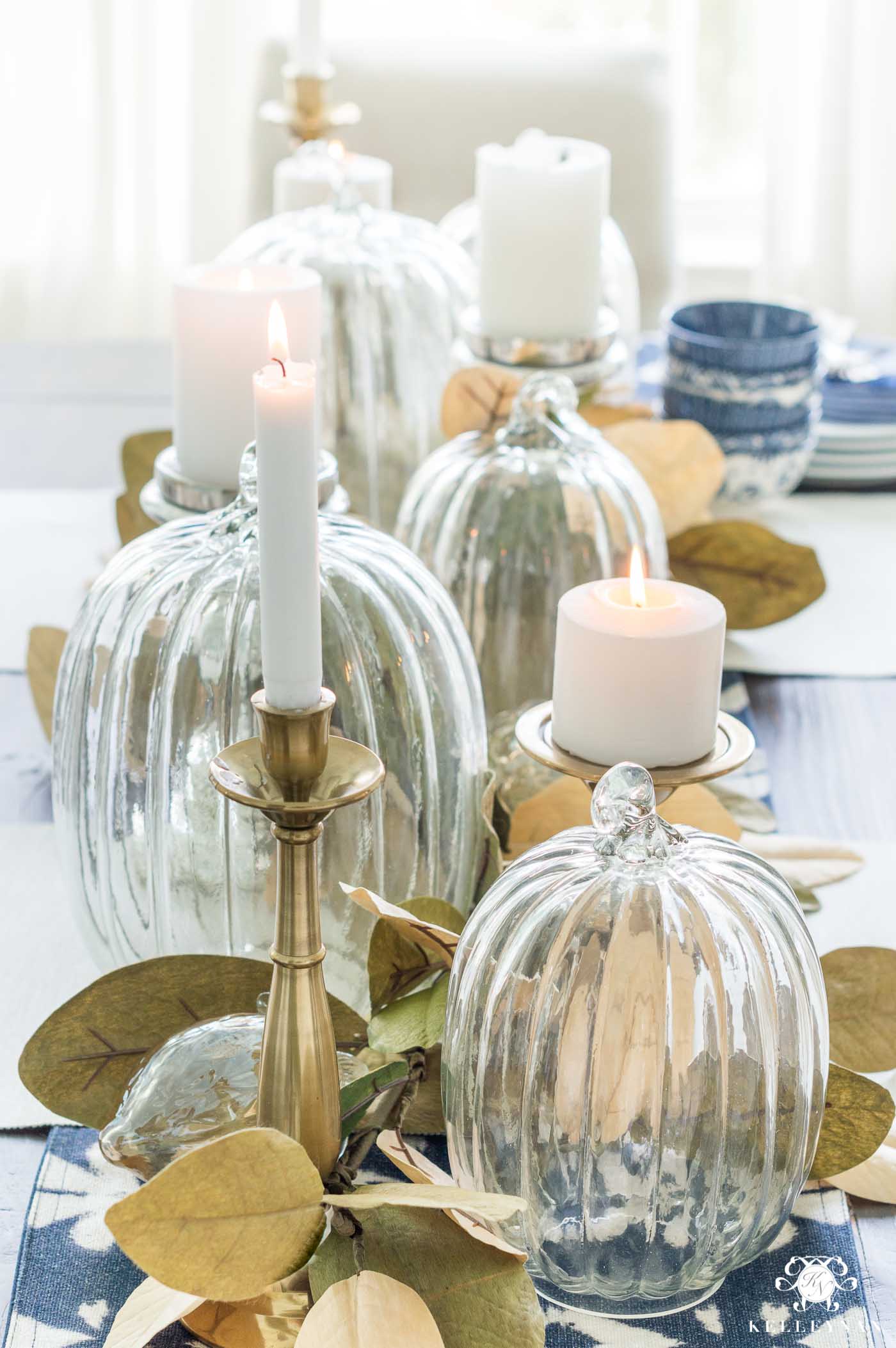 I lay the fabric (table runners) first, then the garland, then start layering in objects (like these glass pumpkins and acorns. Then I added in varying height candle holders and when everything was set, pulled leaves out, up, over, and every way I could to make them look random and full.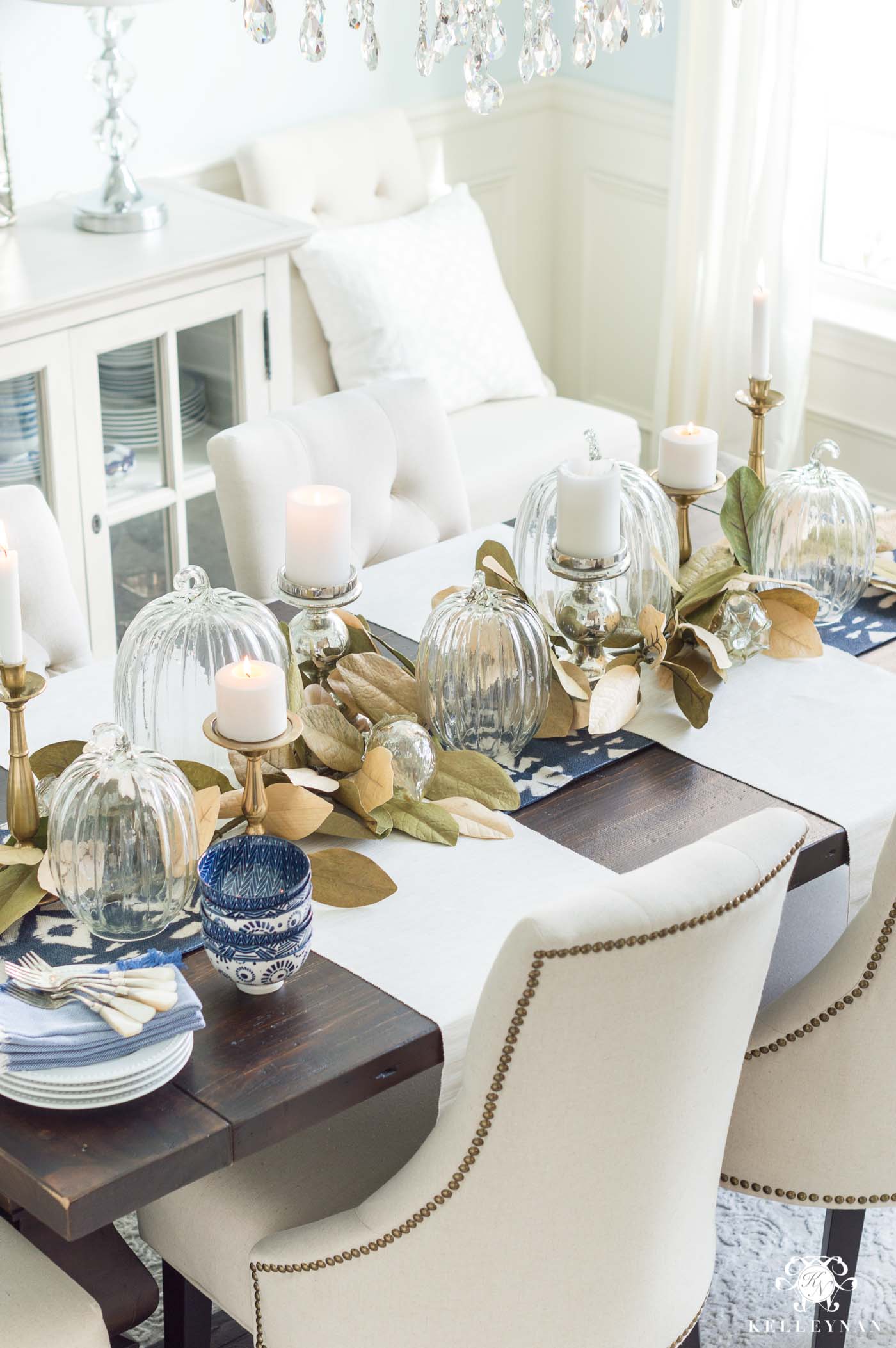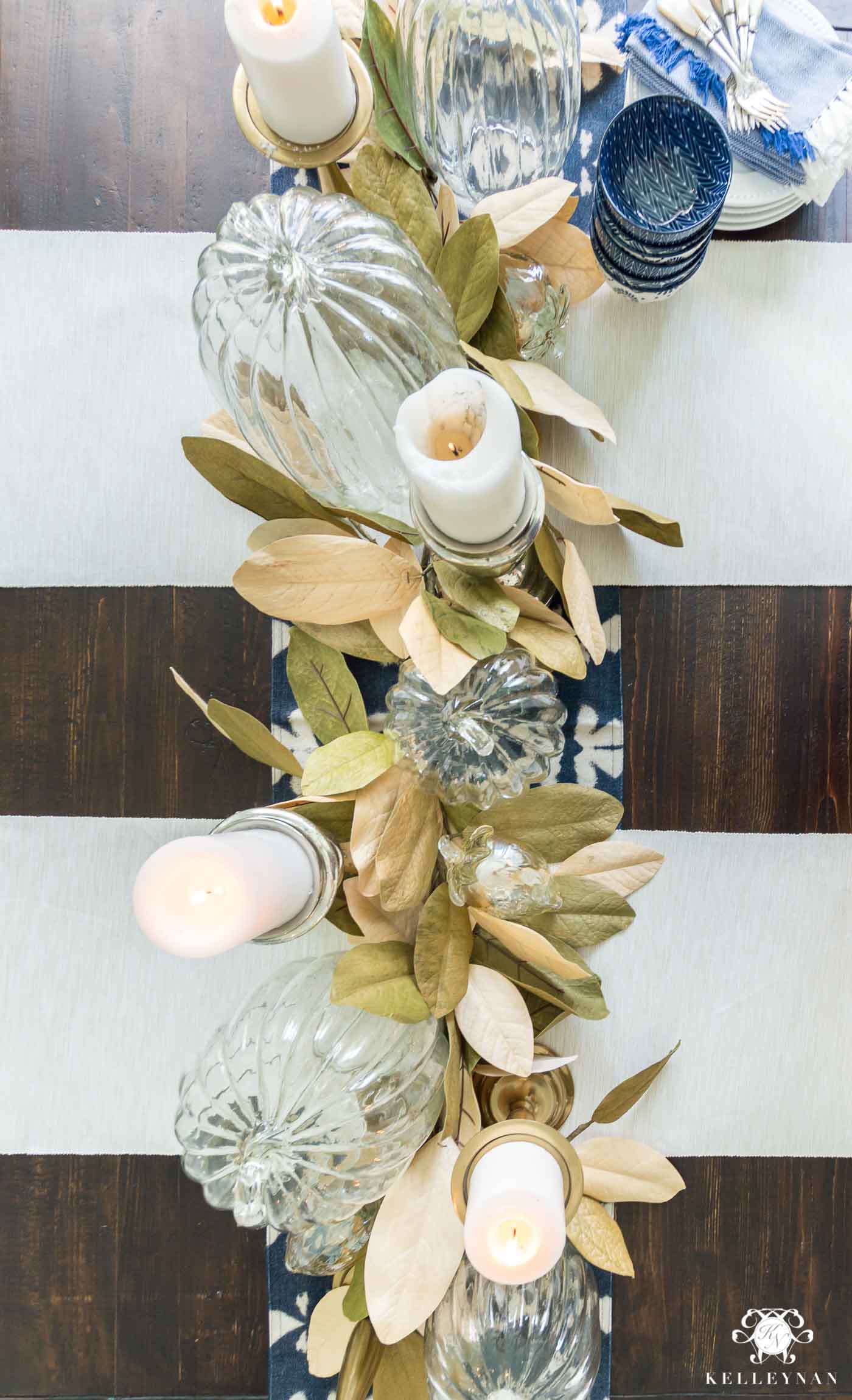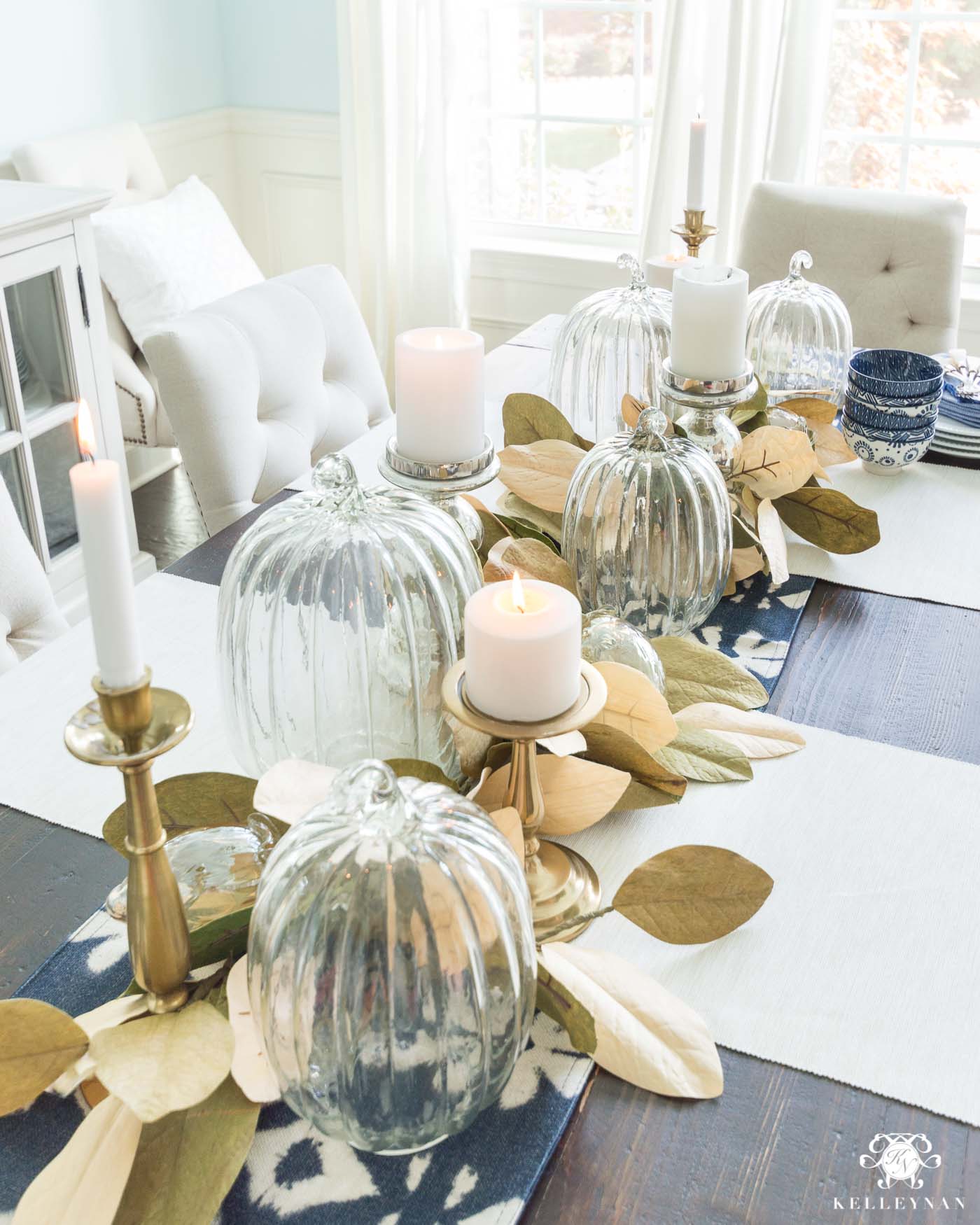 Centerpiece Sources
Chairs – Linen | 12-Light Chandelier
 | Dining Table:  (84″ in Salvaged Brown) | Buffet: (72″ in Distressed White) | Curtain Panels
: (98″ in White) |  White Beaded Plates | Neutral Table Runners | Gold Candle Sticks (Tapered) | Gold Candle Sticks (Pillar) | Silver Mercury Glass Candle Holders | Blue & White Runner; Glass Pumpkins; Acorns, Magnolia Garland; Bowls; Napkins: AtHome Stores | Pearl Handle Forks: Vintage | Paint: Lauren's Surprise by Sherwin Williams | Flooring: Nottaway Hickory in Weathered Saddle
You can tap on the heading links of each of the tables below to see each table/party in its entirety. All sources for each table can be found within the respective posts.
My First Fall Tables
These were some of my VERY first posts on the blog and as you can see, most of my methods are pretty similar today. The first table is the actual Thanksgiving table we sat at that year while the second is where it started earlier in the season.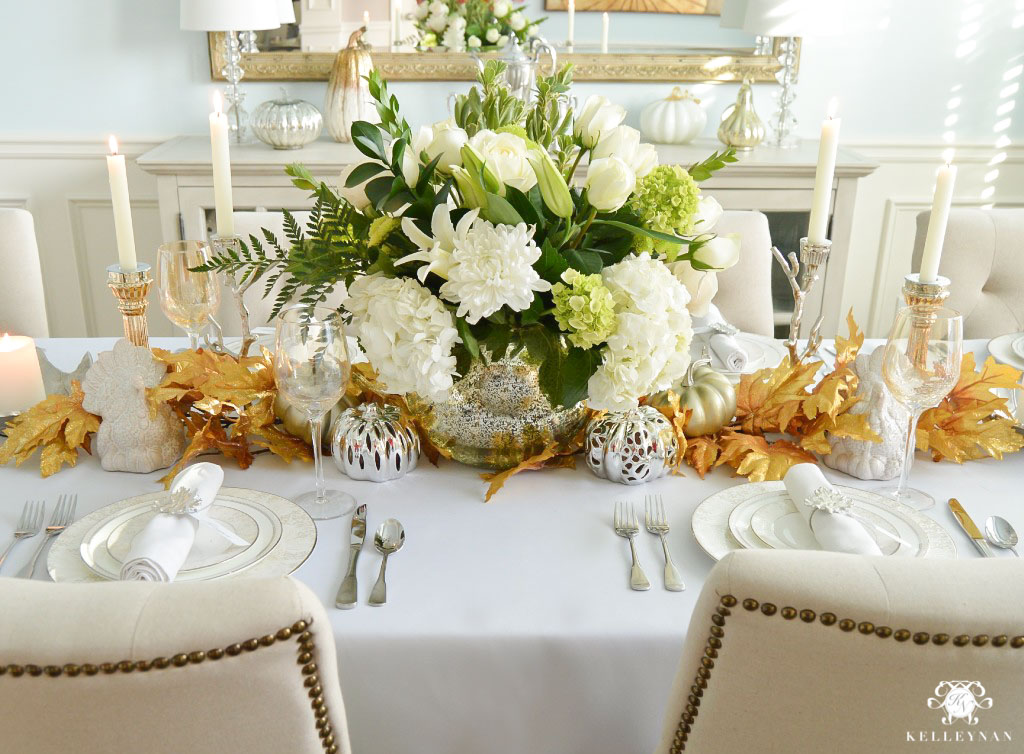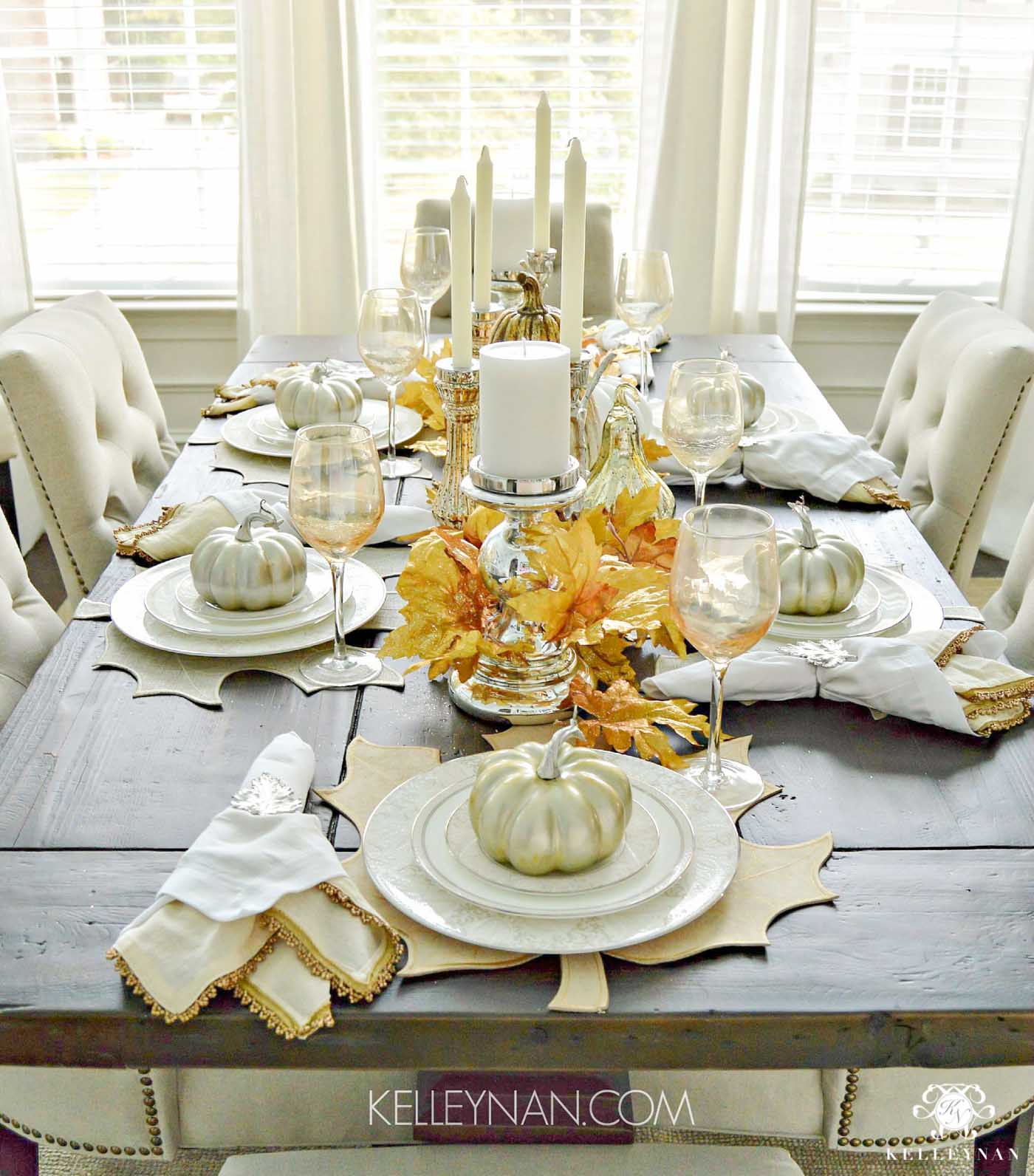 To catch my upcoming Thanksgiving table decorations and ideas (and OF COURSE all the Christmas goodness to come), be sure to subscribe to my emails at the bottom of the post.
FAVORITE GO-TO & FALL TABLE DECORATIONS