I think I have been saying "goodbye" to summer for three weeks now. But, that's exactly what I've done- nothing more, nothing less. While I've been planning to bring out autumn in our home every day for weeks, I haven't actually gotten around to the "doing it" part. But, I did manage to get my act together for some Halloween entertaining ideas. I don't go crazy for Halloween but I love any excuse to create a themed dinner party. Remember my gothic table setting from last year (HERE)? This year, I considered what I already had – my mind immediately went to my peacock feather placemats – and I set out to create a masquerade dinner party for Halloween.
*post contains affiliate links*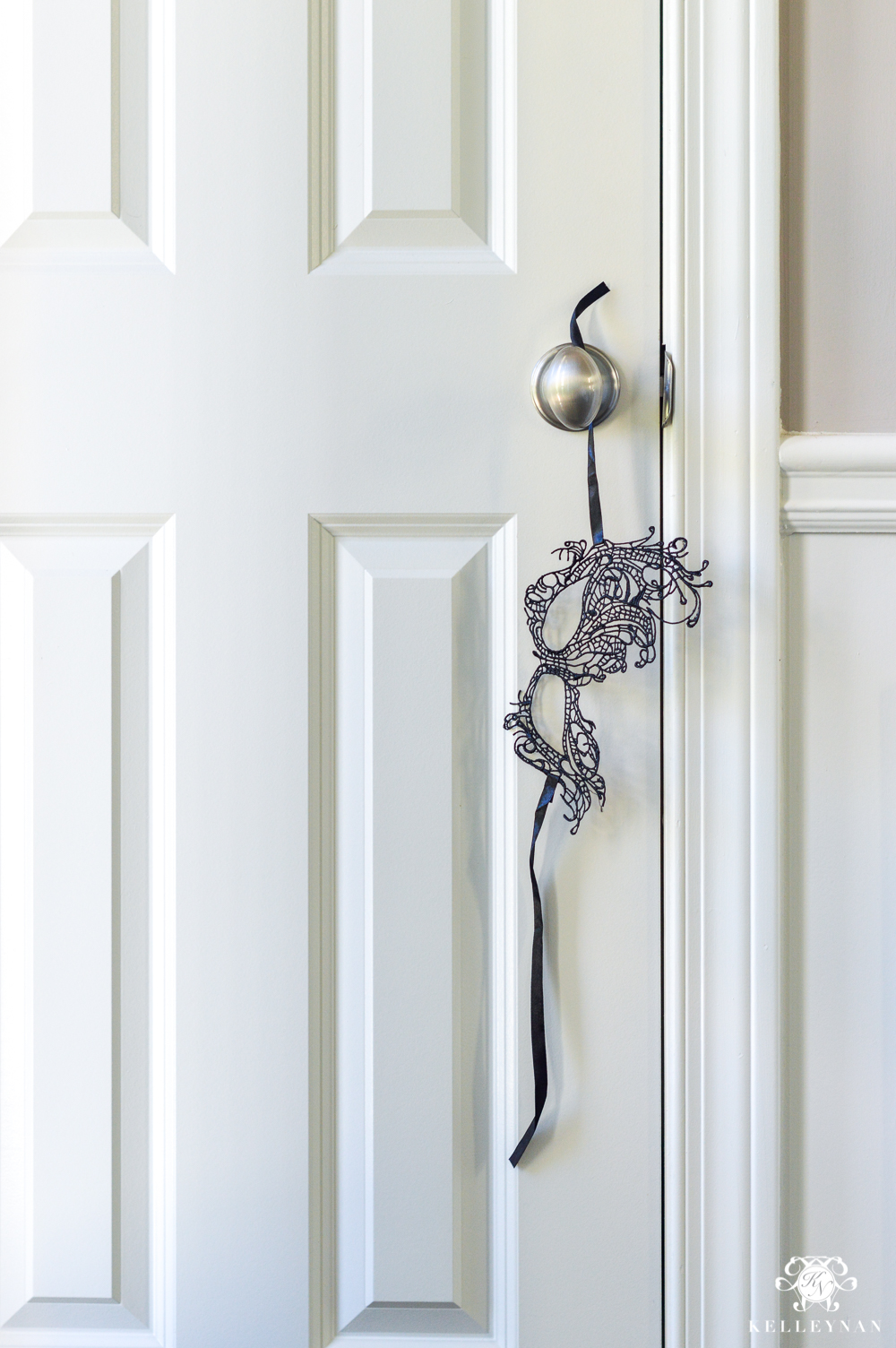 No worries, y'all- you aren't entering a "50 Shade of Gray" zone, here haha! It didn't hit me until I edited this picture why it made me feel a little embarrassed. And then, of course, I had to include it 😉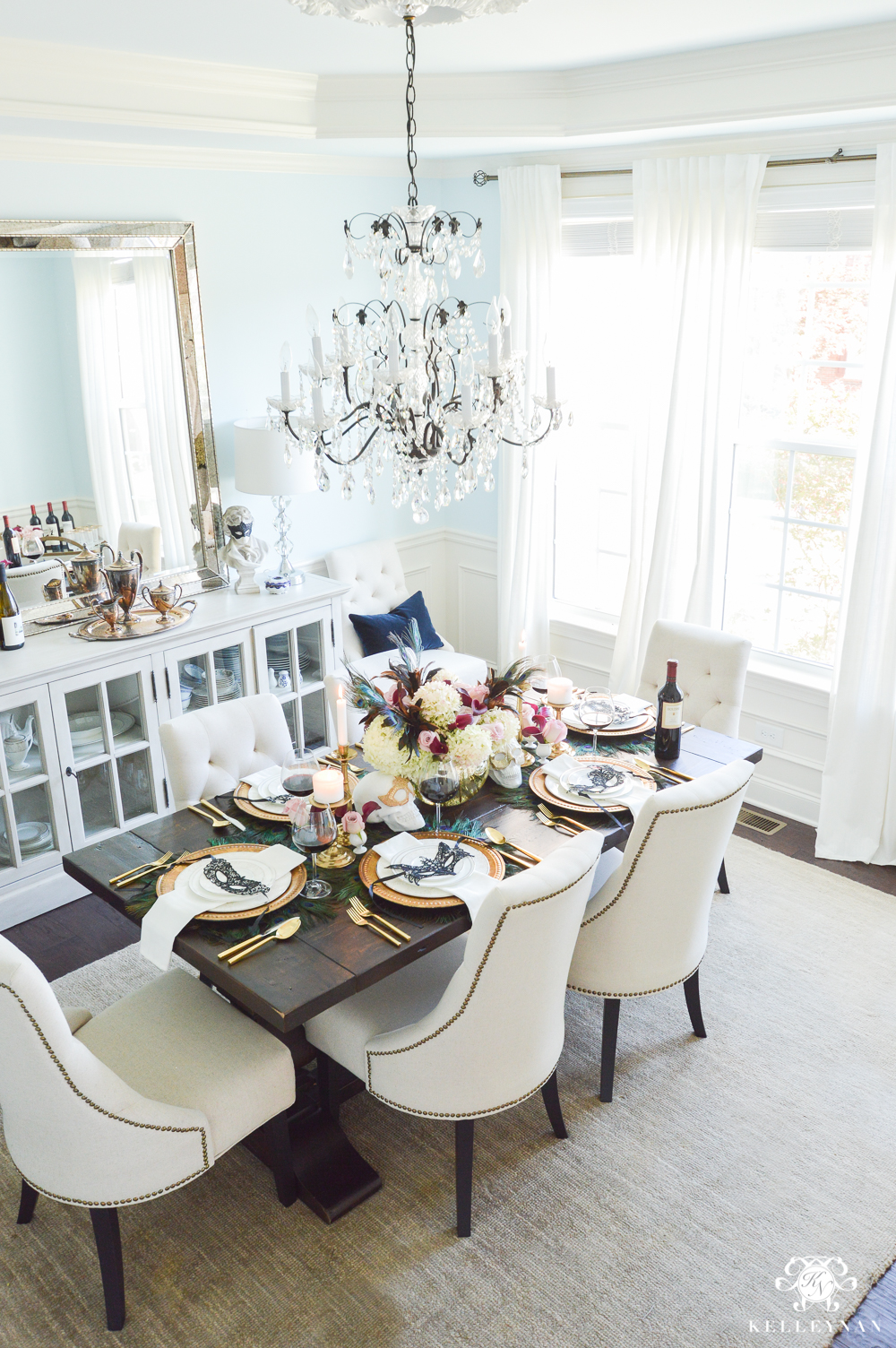 I am asked all the time, "where do you store all of your stuff"? The truth is, yes, I have a lot; yes, I am lucky to have basement storage; but, I don't have as much as it may appear, even with all the entertaining and tablescapes I create. I am always looking to repurpose what I already have in different ways. Believe it or not, the only items I purchased to bring this table together were the masks, skulls, and a few stray peacock feathers.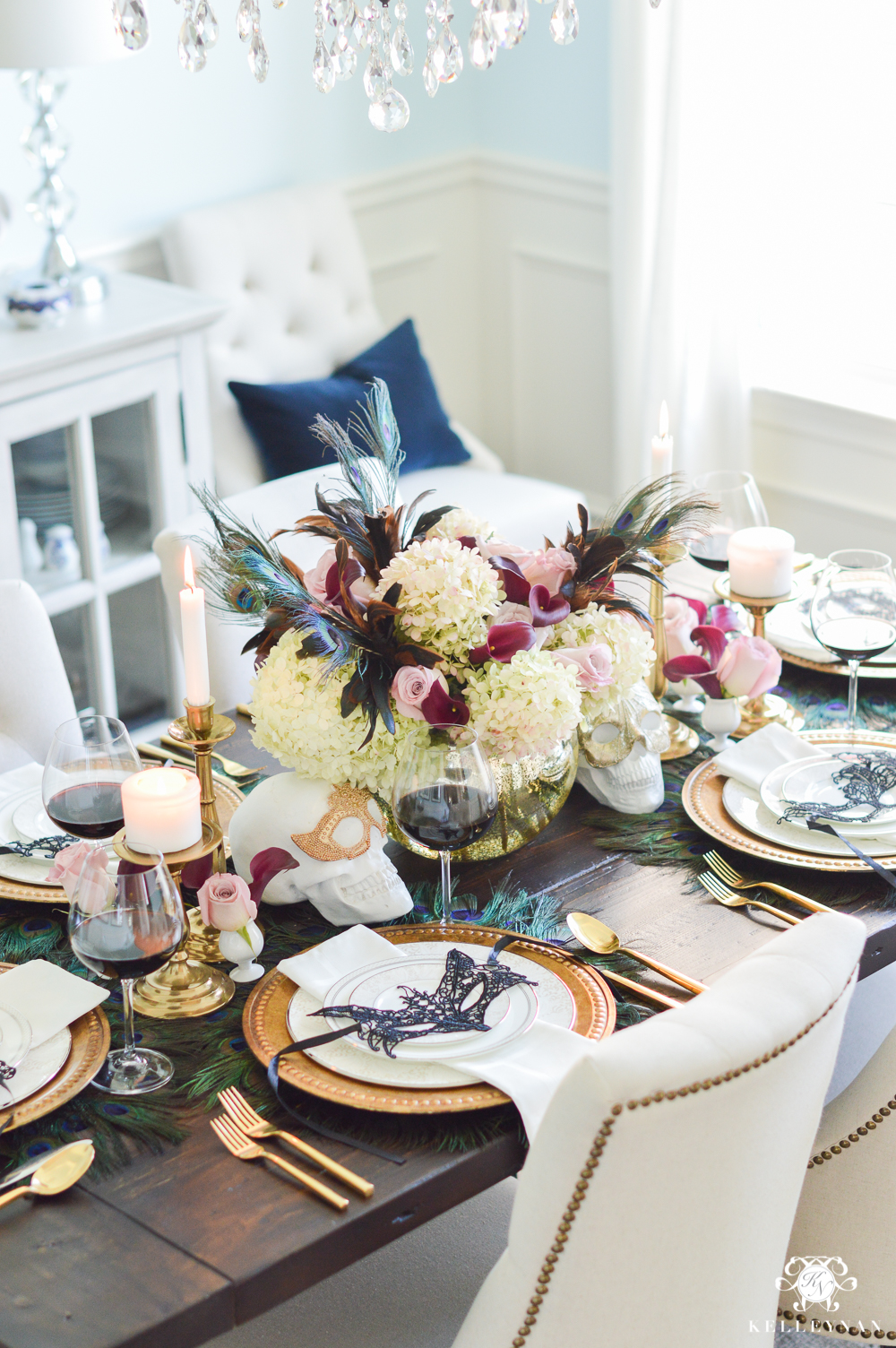 Ok, so I said in coming up with this year's concept, I thought about what I already had – peacock feather place mats (mine are no longer available but I found some fraternal twins HERE) – which made me think of costumes – which made me think of masquerade. So fun and so simple. Then, I found super affordable (8 for $8) masks HERE for each place setting. They are each just a tad different and even if you aren't planning a dinner, they make for an excellent favor. OR, if you are planning ahead for New Year's Eve, they would be a hit!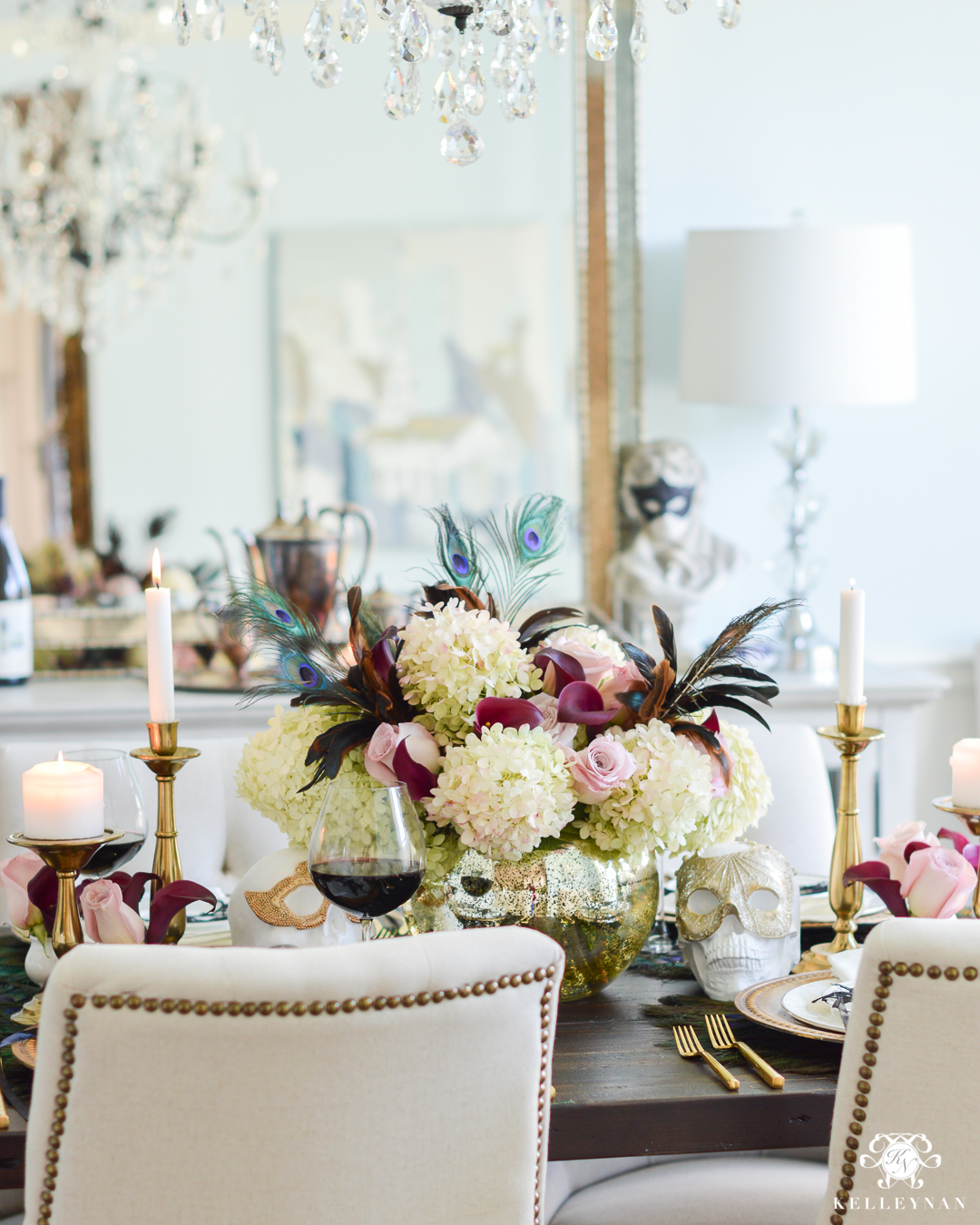 The entire table concept was born from those two items- lacy black masks and peacock feathers. Could I have gone out and bought all new items- black plates, a lace tablecloth, goblets, etc.? Sure! But what's the fun in that? It is far more enjoyable (and sensible) to choose one point of inspiration and see how your table and party evolves from that. Shopping my home is basically my sport of choice 😉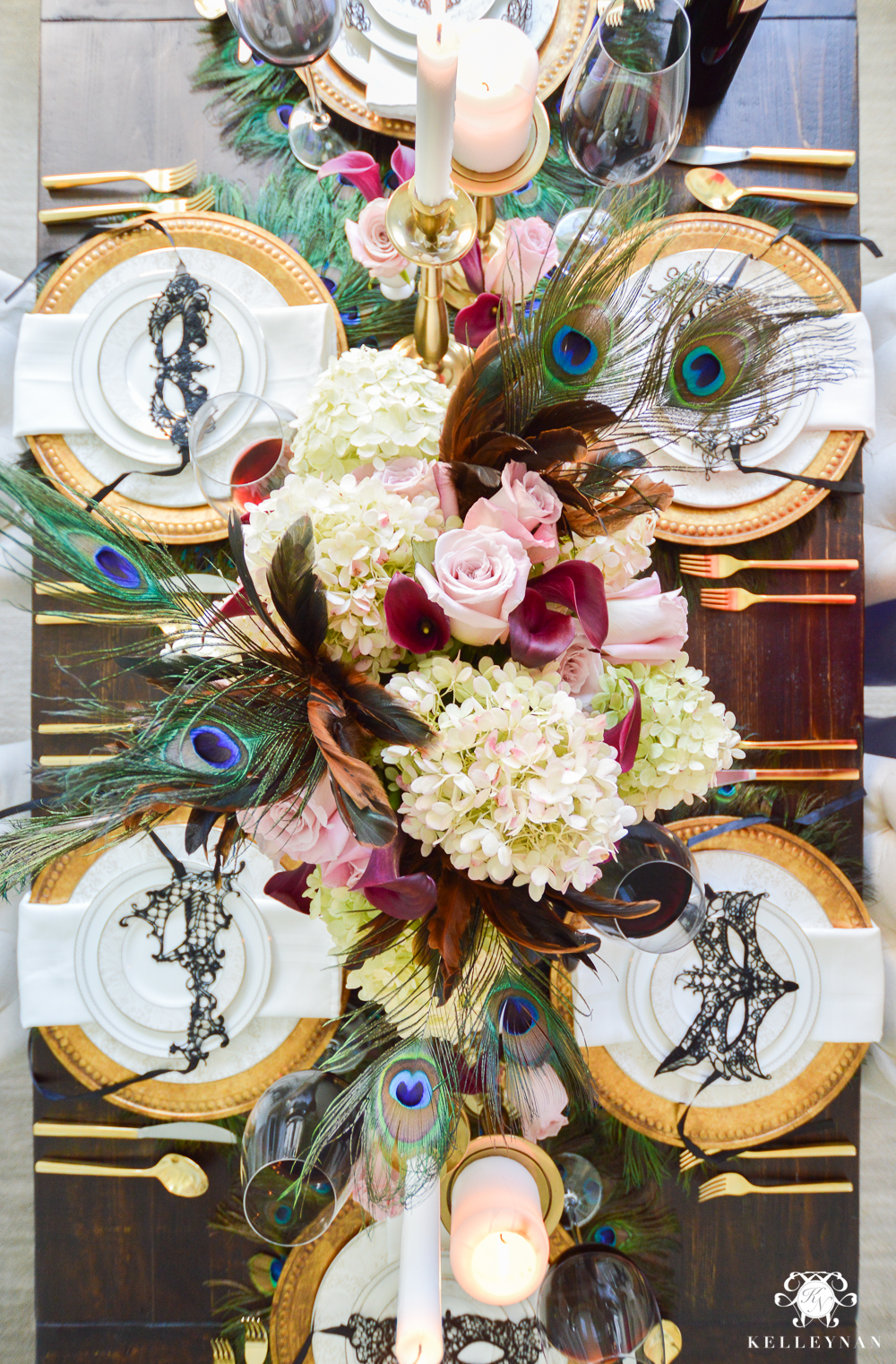 Per the usual, my floral centerpieces are usually dictated by the local Costco/Trader Joe's offerings. I mixed some pink and plum with hydrangeas from the yard. They are on their way out for the season so they are starting to get a dappling of purple. I finished off the arrangement, just to tie it all together in a slightly obnoxious way, with some peacock feather picks from Michaels. But, they have a more abundant and less expensive selection HERE.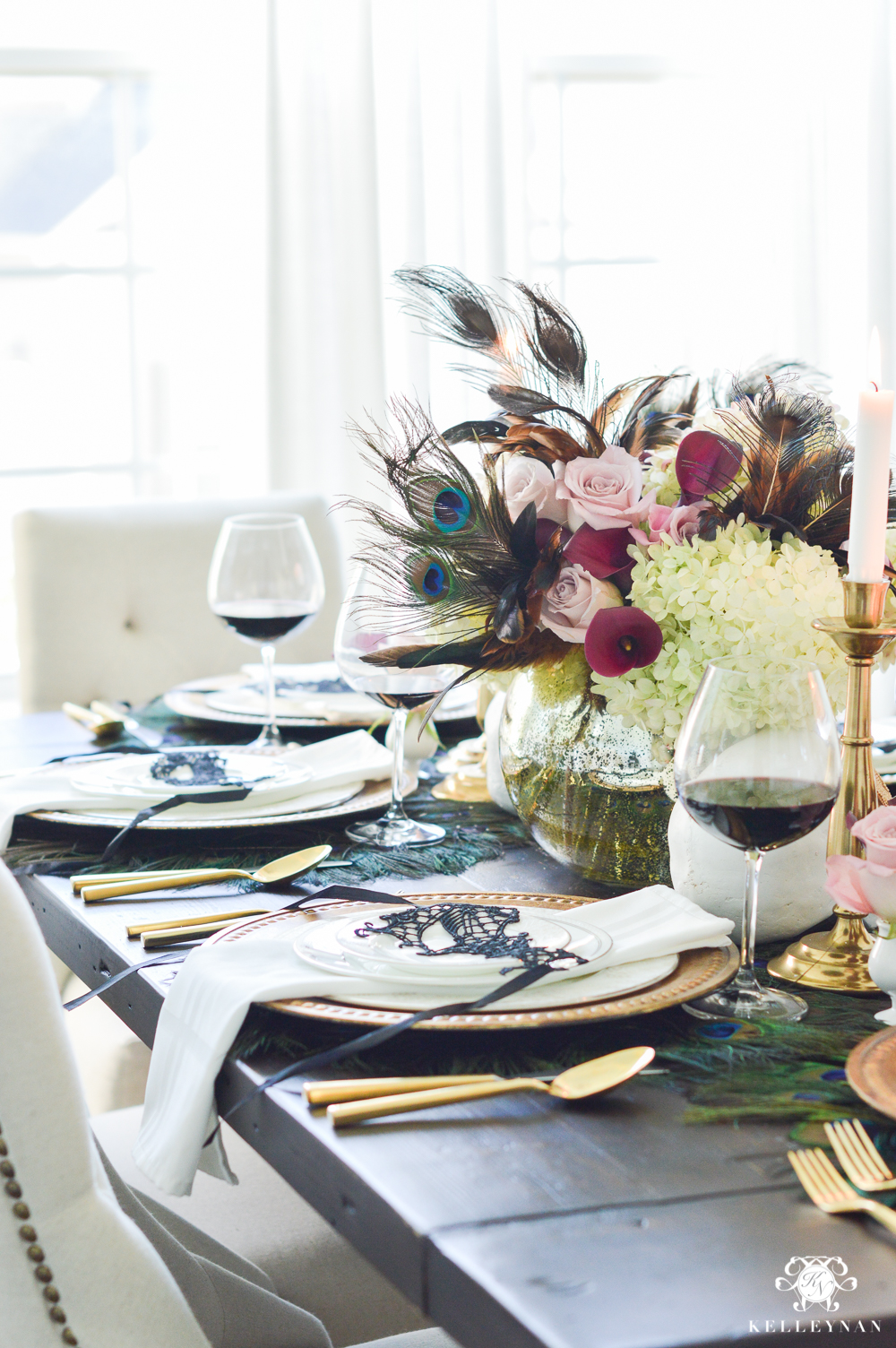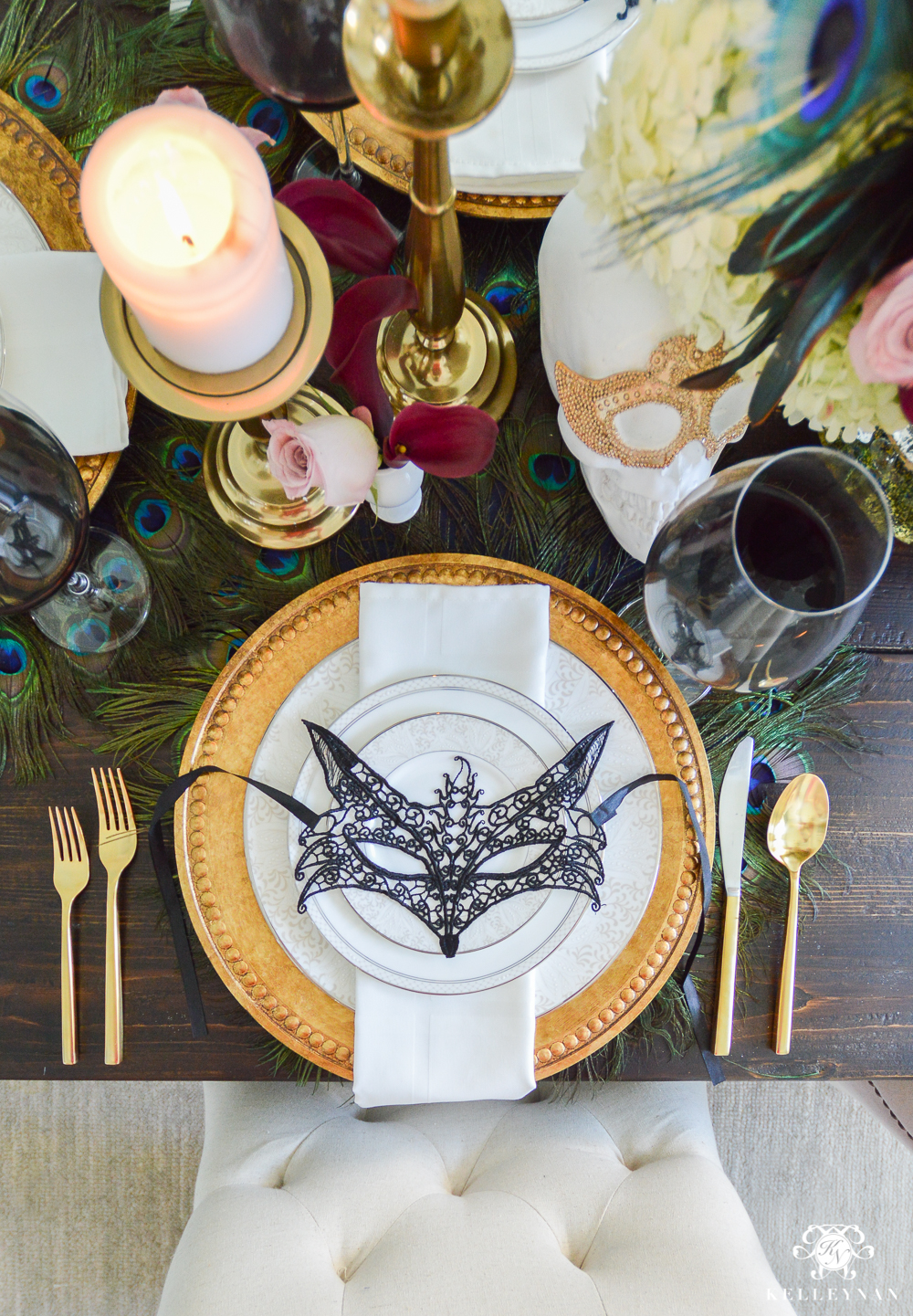 While I was hunting for dog beds in HomeGoods (is that anyone else's go-to for pets?), I had to pass through the Halloween aisle. I had zero intentions of purchasing anything… but then, I saw them. Skulls with masquerade masks.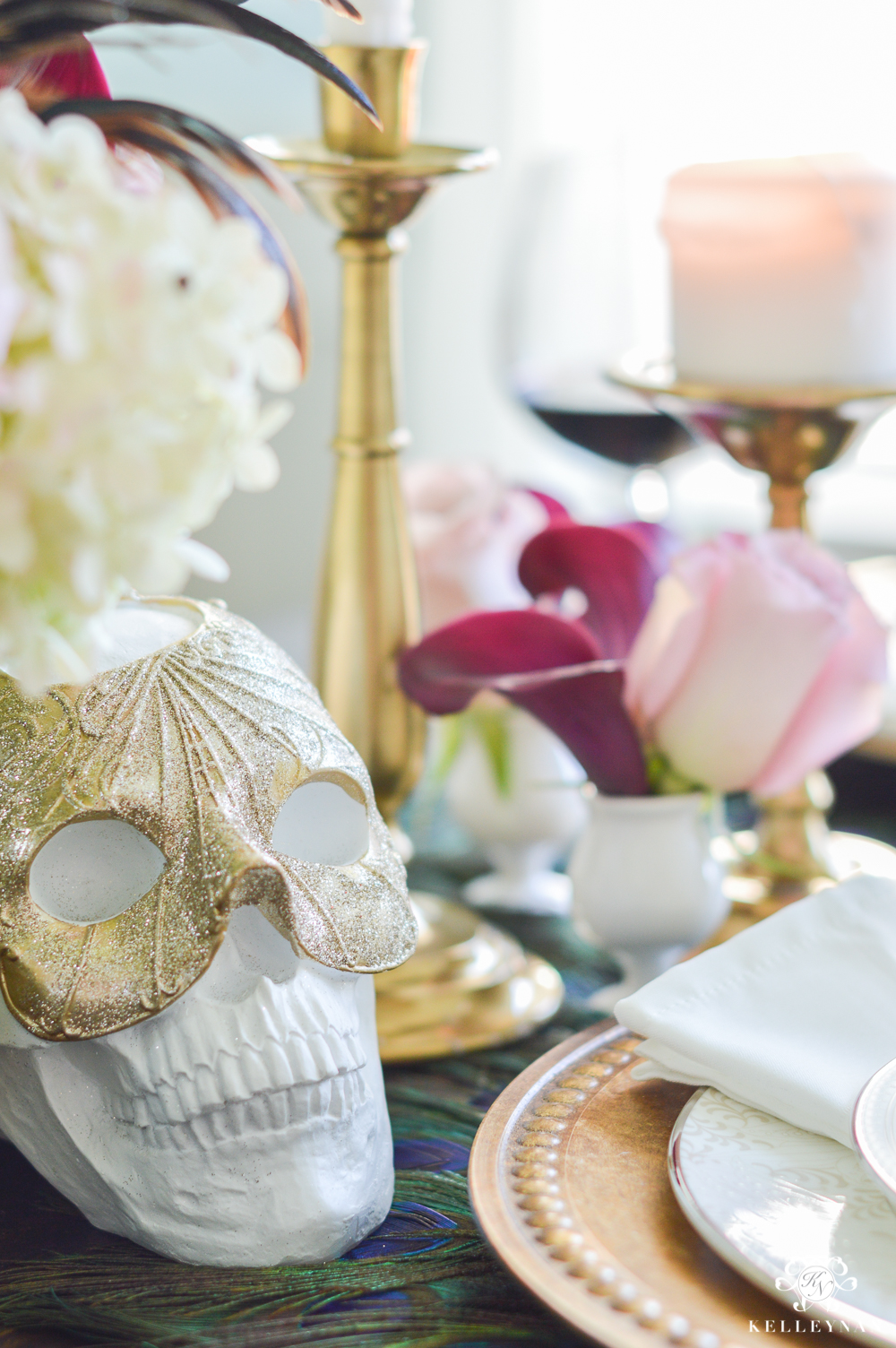 In typical Kelley Nan fashion, I obviously bought five of them. Also in typical Kelley Nan fashion, I only actually used two 😉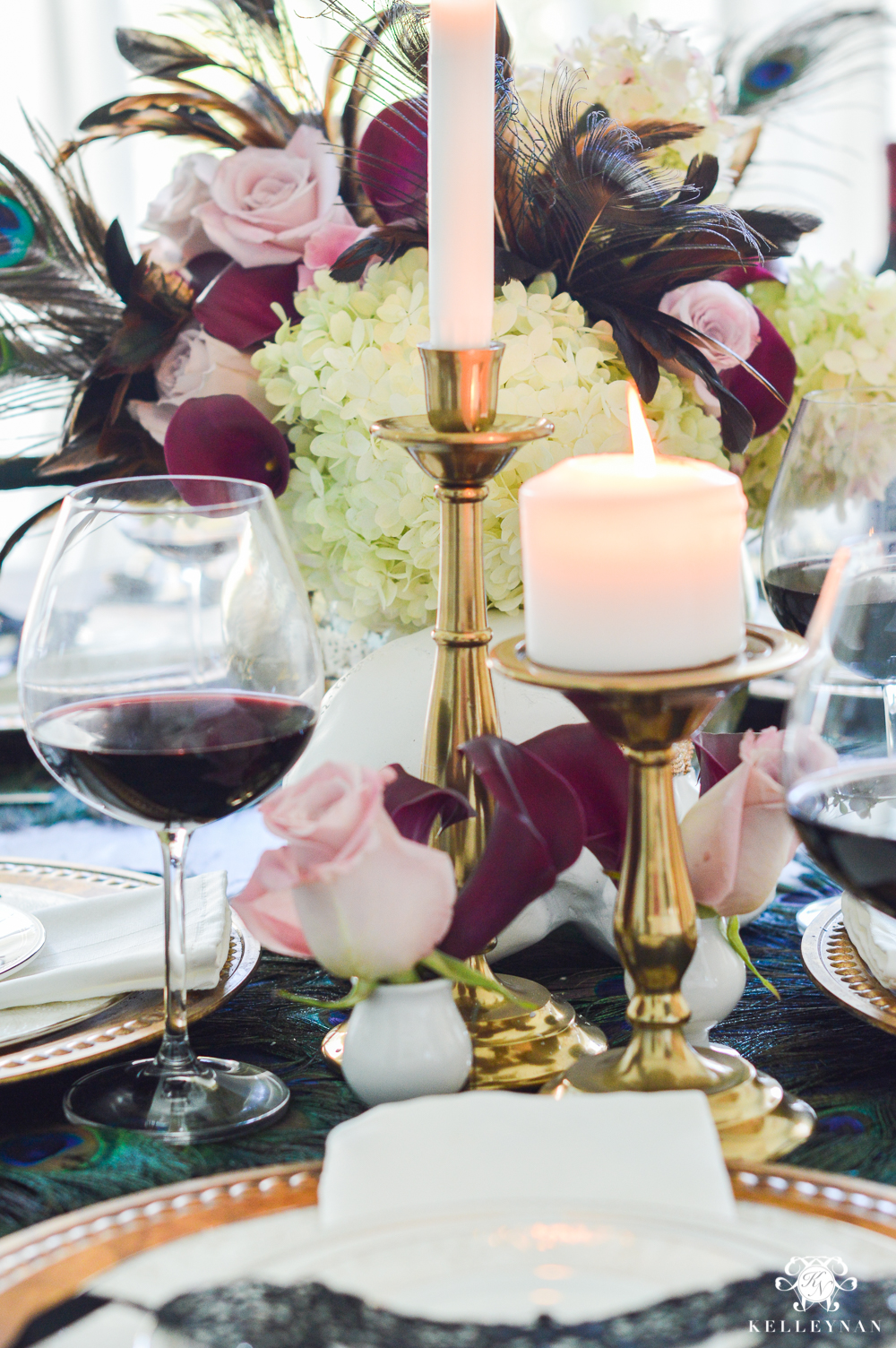 Ok, and maybe this guy too.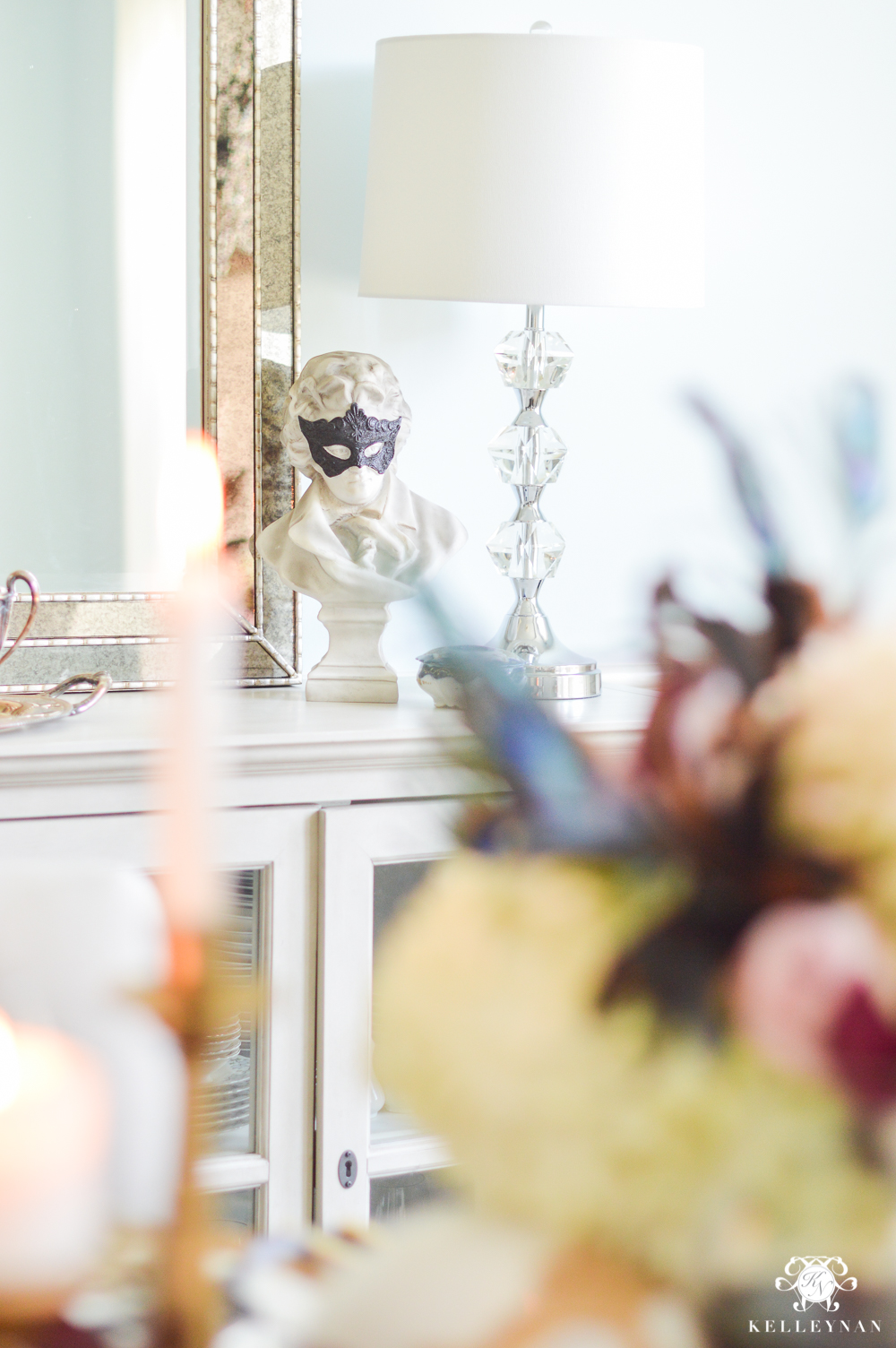 I kept the bar cart setup super simple – extending a few details from the table to tie it together.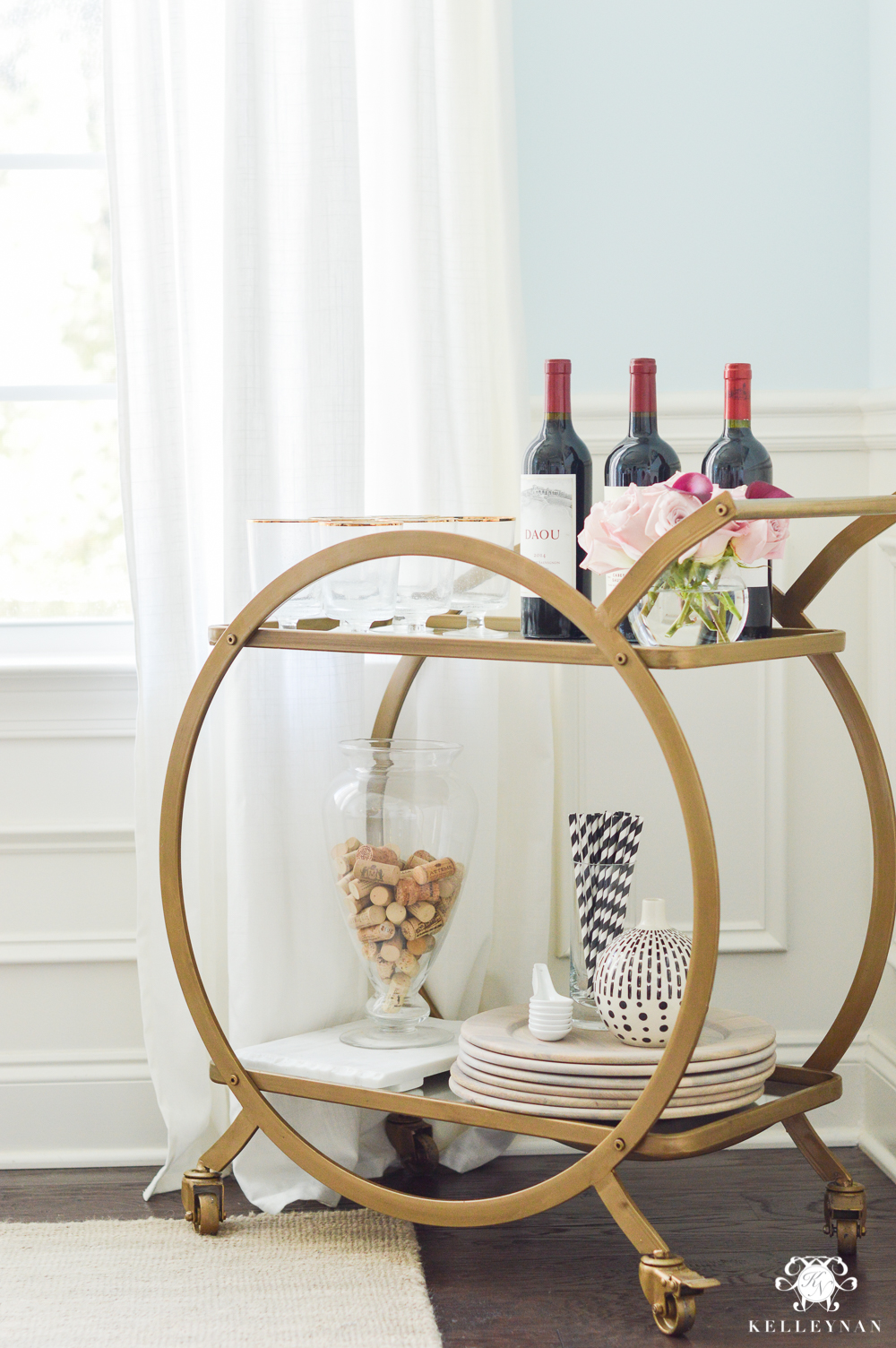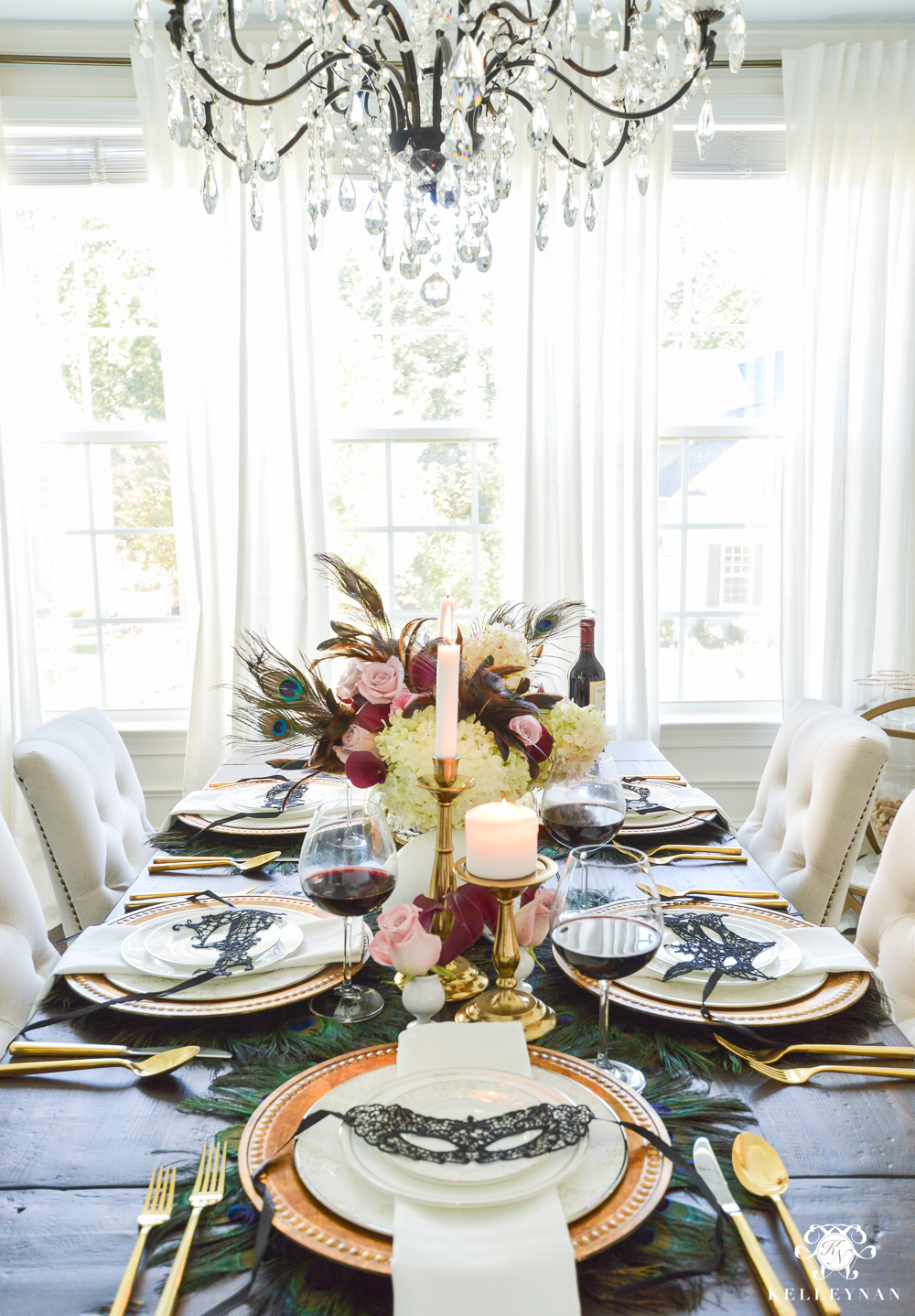 For any dinner party, especially a masquerade dinner party for Halloween, it's fun to have a few activities up your sleeve 😉
MASQUERADE DINNER PARTY GAME- THE ICEBREAKER
During cocktails and appetizers, it's the perfect chance to get everyone talking and especially if guests don't know each other, an opportunity to play a simple icebreaker game. You can get as creative as you want but try to find a way to stick with the theme of mystery and secrets for your masquerade. A classic icebreaker is to have each guest list off three "facts" about themselves- two being truths and one lie. Have each person around the table guest which is the false fact. This is an instant way to find common interests and experiences with those you don't know as well, and discover things you didn't know from even your closest friends.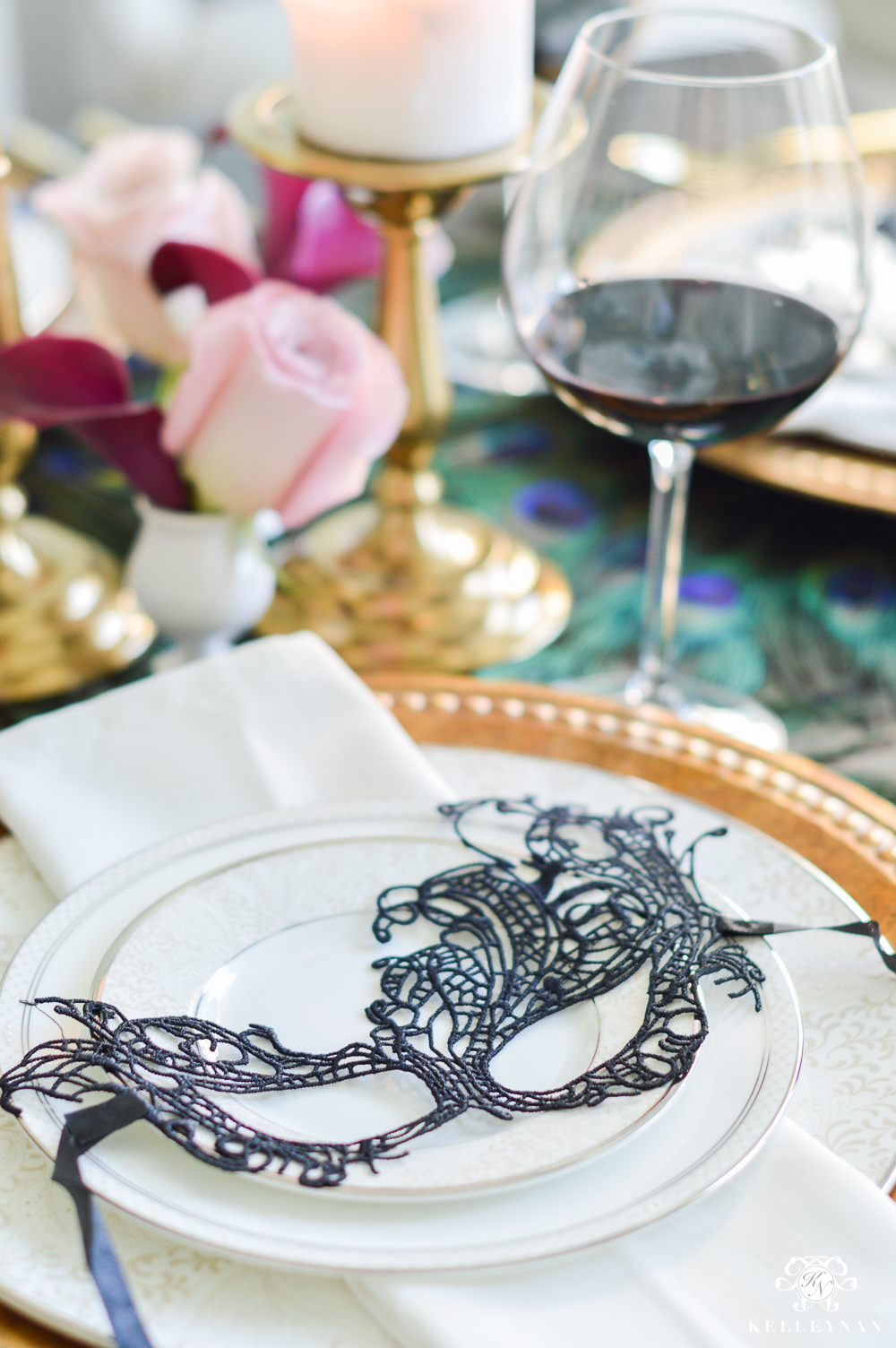 MASQUERADE DINNER PARTY GAME- THE TASTE TEST
Also sticking with the theme of mystery, following your meal, you can serve guests a variety of beverages in tasting glasses. There's a couple different approaches you could take but each guest will only be able to rely on their senses to determine the beverages they prefer. Here's an easy activity. Choose one type of wine but across varying prestige/price points. Label the bottles with numbers so you know what you're serving. Have your guests rank the tastes and at the end of the experiment, everyone will be able to see if their personal preferences have been swayed by pricier varieties in the past.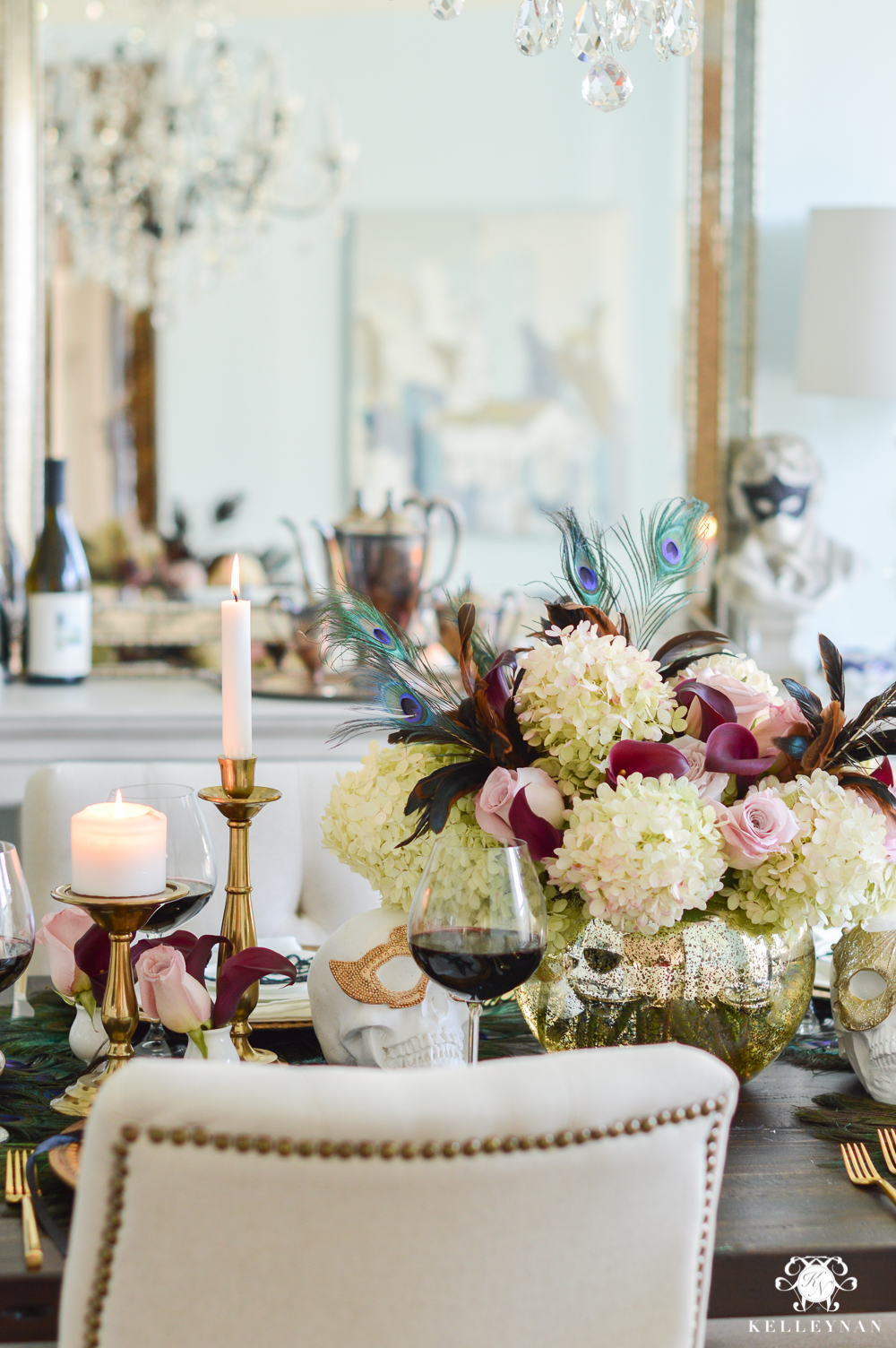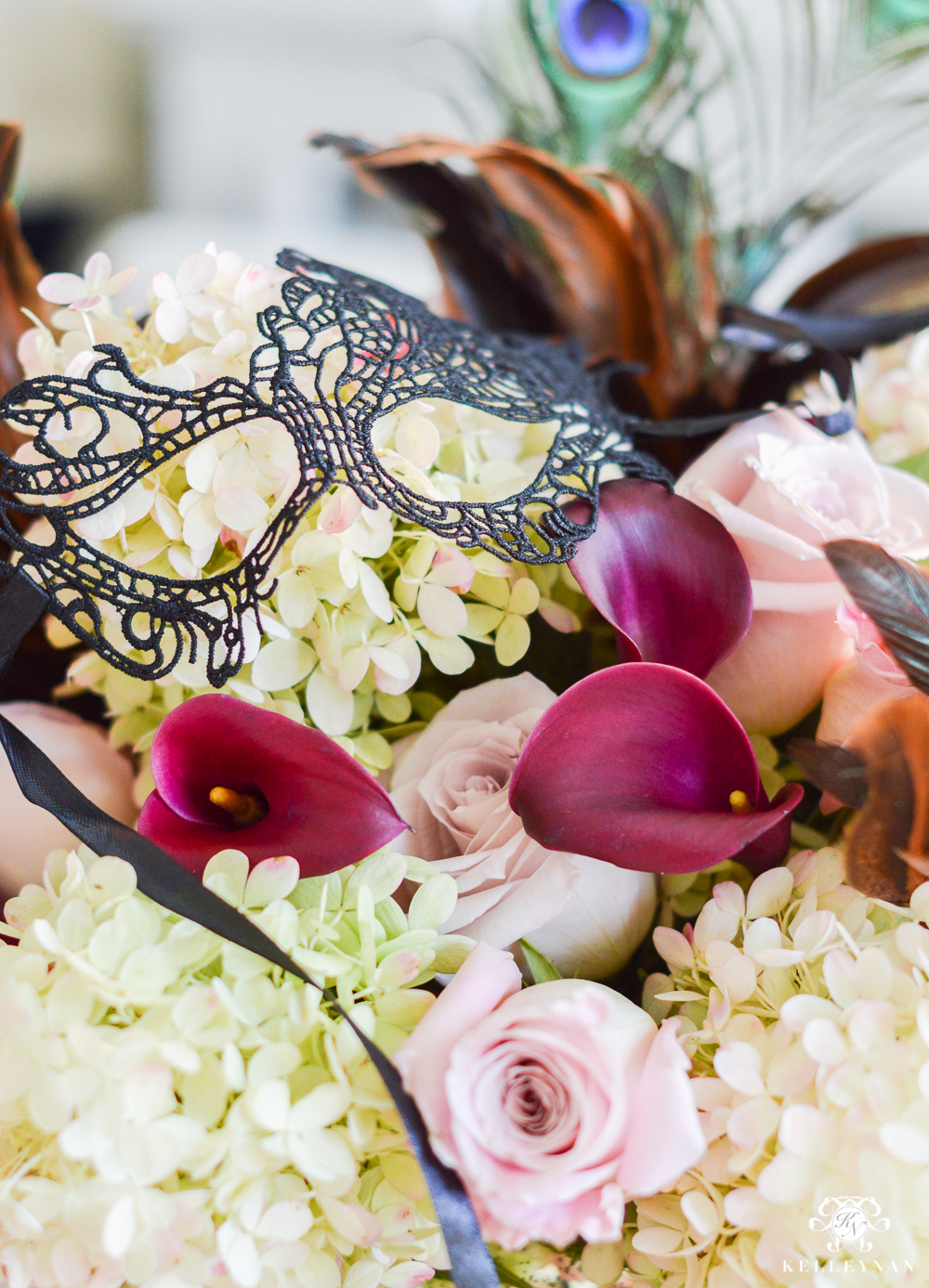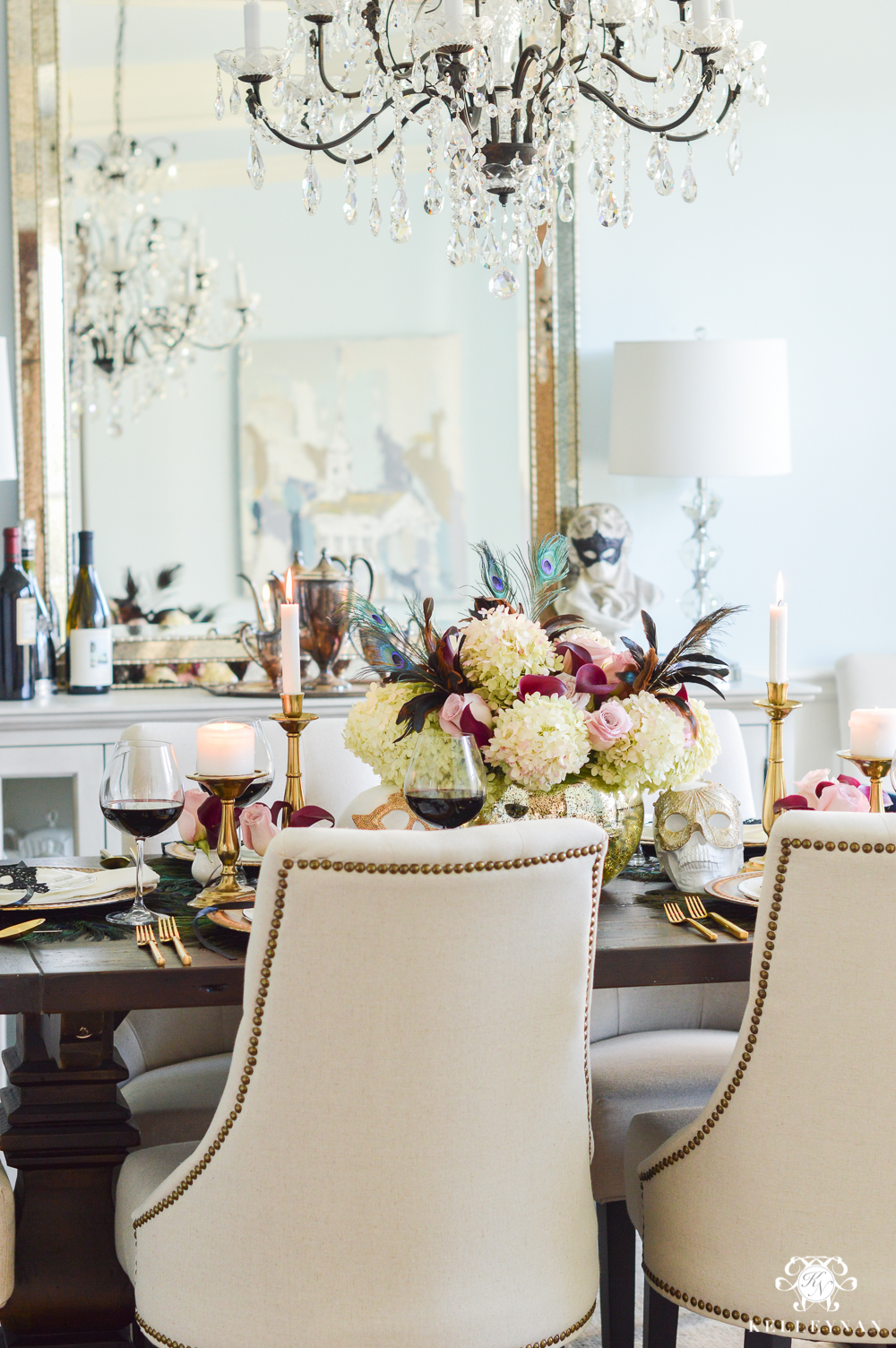 We will actually be heading out of town on November 1 so our Halloween will be minimal (not that it isn't always, but especially this year). But, fall is most definitely happening THIS WEEK. Stay tuned for upcoming seasonal fun; my fall home tour will be going live on September 21.



Chairs – Linen | Bar Cart | 12-Light Chandelier
 | Candle Holders | Mirror: Homegoods – (SIMILAR) | Dining Table:  (84″ in Salvaged Brown) | Buffet: (72″ in Distressed White) | Masks | Curtain Panels
: (98″ in White) | Rug: HomeGoods- Calvin Klein wool (SIMILAR) | Lamps: HomeGoods – (SIMILAR) | Gold Flatware | Gold Chargers | Silver Tea Service: Family Heirloom – (SIMILAR) | Place Mats (SIMILAR) | Gold Candle Sticks (Tapered) | Gold Candle Sticks (Pillar) | Peacock Feathers | Skulls: HomeGoods | Centerpiece Bowl: HomeGoods | Waterford Padova China | Waterford Bassano China | Velvet Navy Pillows | Church Painting | Water Lillies Art | Paint: Lauren's Surprise by Sherwin Williams | Flooring: Nottaway Hickory in Weathered Saddle